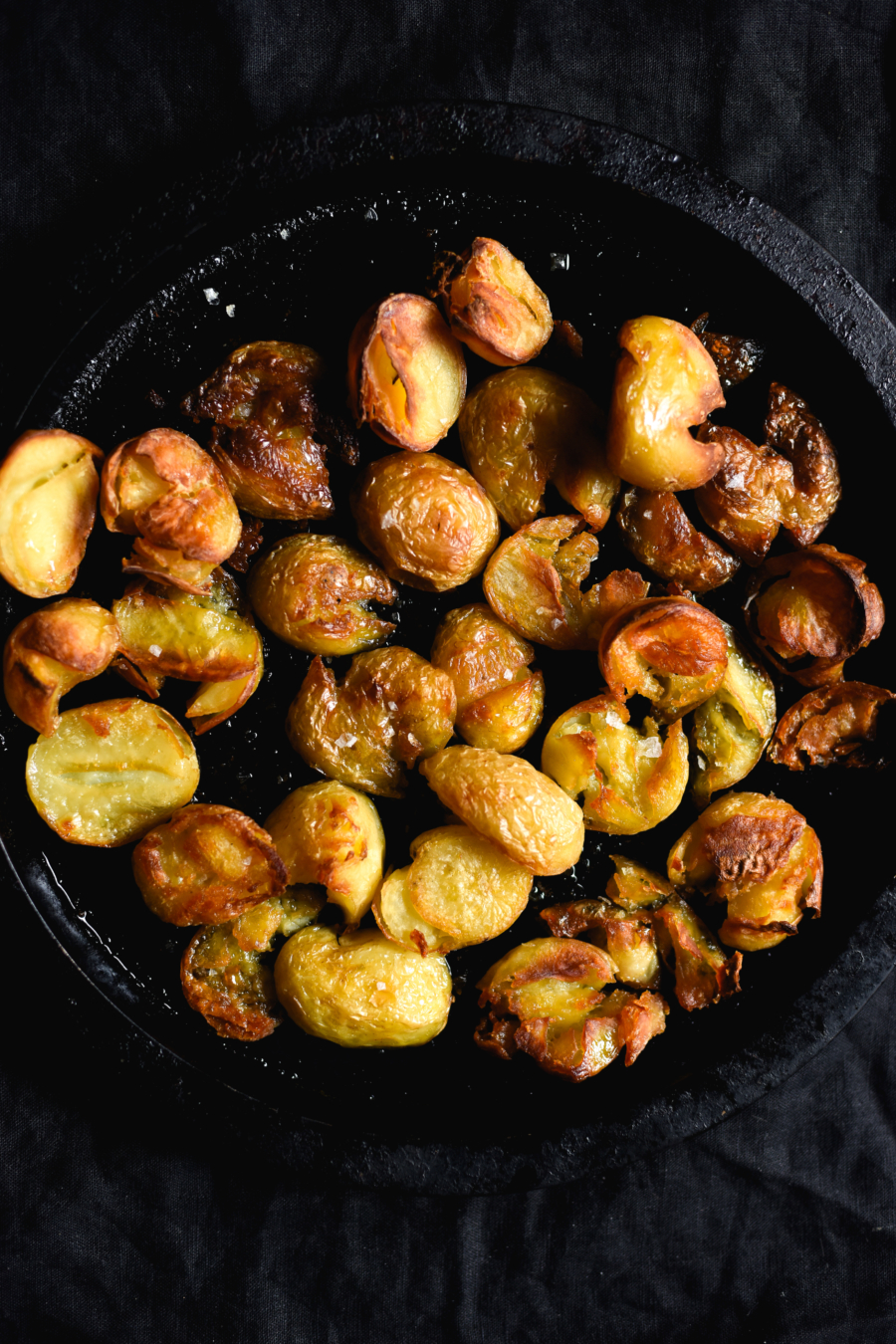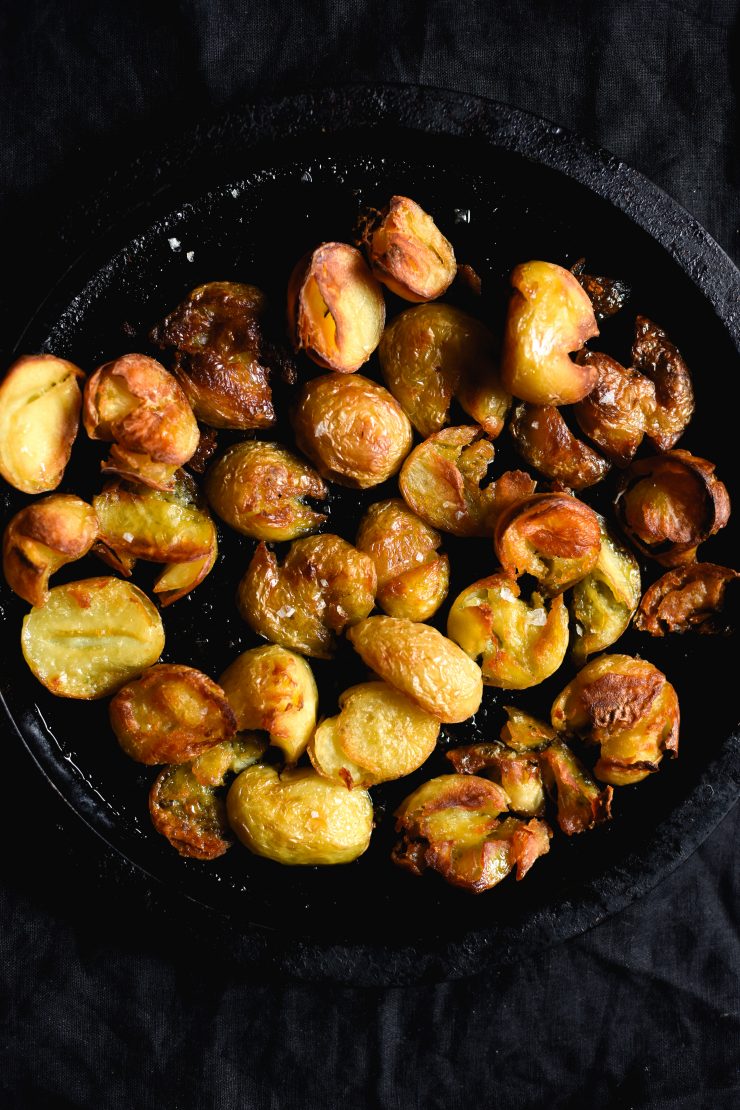 Hello and welcome to this post, 'all the potato recipes I've written in one convenient space.' While writing up the potato recipes I had planned for Christmas, I became stuck on which recipe to post. That's when it hit me – why choose? Why limit the power of the potato?
So today I'm sharing a little bit of a Christmas inspired recipe roundup of all the potato recipes I have written to date. Everybody knows that potatoes are compulsory at Christmas (and most other occasions, really.) However, the treatment said potatoes receive is up for debate. Crispy? Lemony? Baked? The choice is personal, which is why I'm linking all the potatoes I can. Please enjoy.
A bit of important business first, however! Let's settle in for a quick rundown of the most important potato choice you make. The potato variety. Much to learn, so little time. Here's a refresher course courtesy of my post on crispy oven chips.
THE POTATO VARIETY FOR THE POTATO RECIPES 
Let's talk potato varieties. Australian supermarket offerings seem to suggest that only white, pink and unbrushed varieties exist. This is not so. There are a multitude of potato varieties (although not as many as in Peru, depressingly) and they all have different applications in which they shine the most. Today we'll be focusing the best varieties for chips only. Starchy and thus floury potatoes are supposedly ideal for chips, but here's a quick rundown of the options:
POTATO CHARACTERISTICS:
Starchy: Like the classic Idaho or Russet, these potatoes are (obviously) high in starch and low in moisture. They're fluffy, making them great for boiling, baking and frying, but they don't hold their shape well, so they should be avoided in dishes like casseroles, gratins and potato salads. If you knick a starchy one with your fingernail, it will be more starchy than liquidy.
Waxy: Like Red Bliss or New Potatoes, these have a low starch content and are often characterized by a creamy, firm and moist flesh that holds its shape well after cooking. They're typically great for roasting, boiling, casseroles and potato salads. My favourite here in Australia is Dutch cream. If you knick one with your fingernail, it will be more liquidy than starchy.
All-Purpose: These potatoes have a medium starch content that fall somewhere in between the starchy and waxy potatoes. They're a true multi-purpose potato, and therefore can be used for just about any cooking application. A classic example is the Yukon Gold. My favourite here in Australia is Sebago, because I seem to be able to get them quite easily.
OPTIMAL POTATOES FOR ROASTING AND BAKING 
Maris Piper – a golden skinned potato with a fluffy white interior
Coliban – A waxy number with a creamy taste.
Yukon Gold – 'not too waxy, not too starchy.' Perfect.
Dutch Cream – A creamy potato that results in a creamy potato taste.
King Edward – a pale skinned potato with splotches of pink. Also fluffy, which is important for a good chip
Russet – a golden skinned potato with a dry, floury interior. The skin becomes chewy when cooked.
Sebago – easily found in Australia and a great all rounder
OPTIMAL POTATOES FOR MASH
Your number one choice, according to my new font of potato knowledge, Better Homes and Gardens, is Yukon Gold. In their words; 'they're in between waxy and starchy, so they're in that sweet spot where they're creamy but they don't absorb too much water.'
Dutch Creams – creamy potato, creamy mash.
Russet – just make sure you let them thoroughly steam dry before using.
THE ACTUAL POTATO RECIPES
First up: these crispy potatoes with vegan, FODMAP friendly pesto. They're low maintenance and cater to practically everyone at the table.
Next, a newbie! Welcome to my potato recipes collection, lemon roasted potatoes. As above, they're vegan and FODMAP friendly. Add some rosemary or lemon thyme to kick it up a festive notch.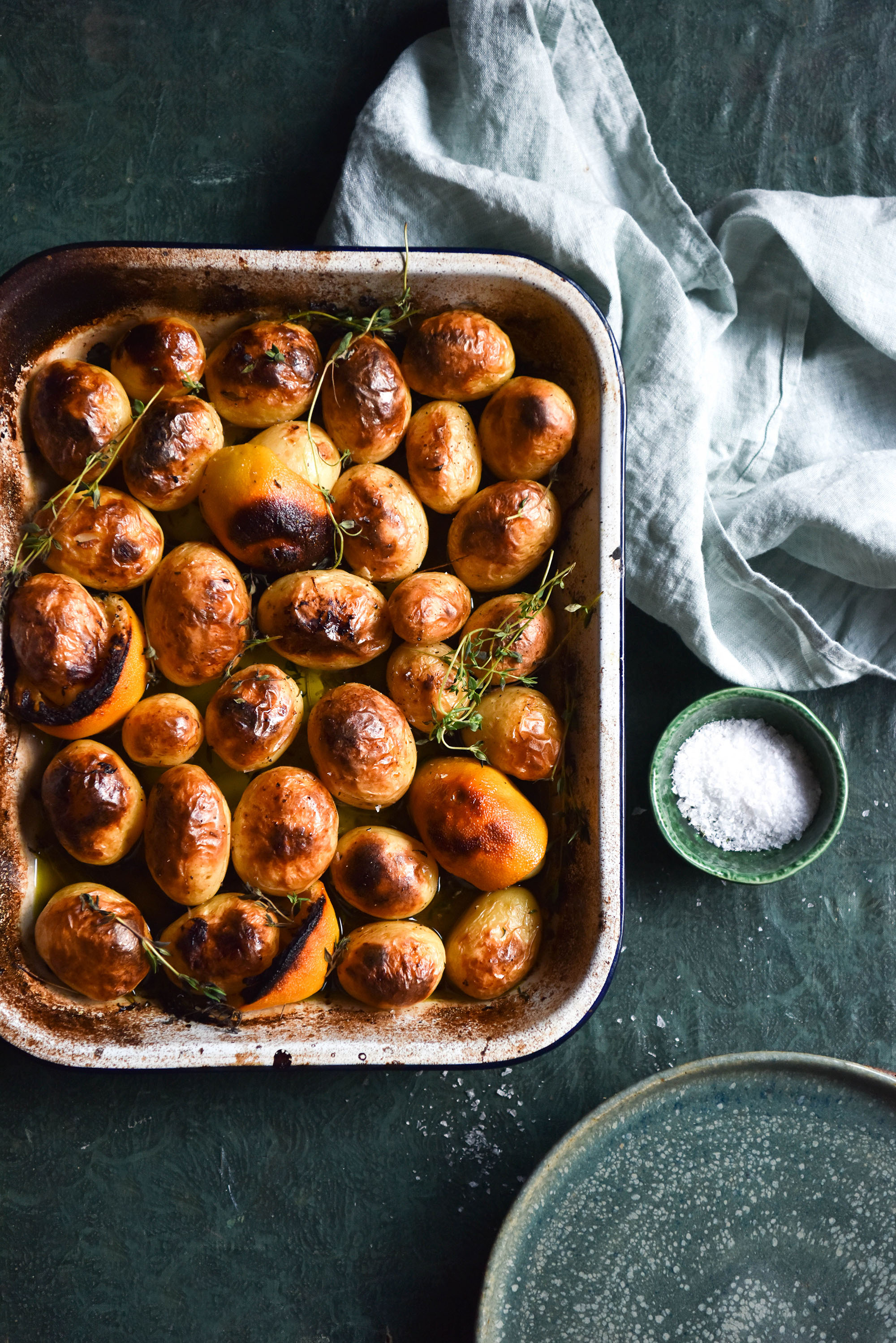 Arguably one of my most popular potato recipes ever: salt and vinegar potatoes. These are appearing on my Christmas table and I'm counting down the days.
In the mood for Italian? Try the cacio pepe potato bake.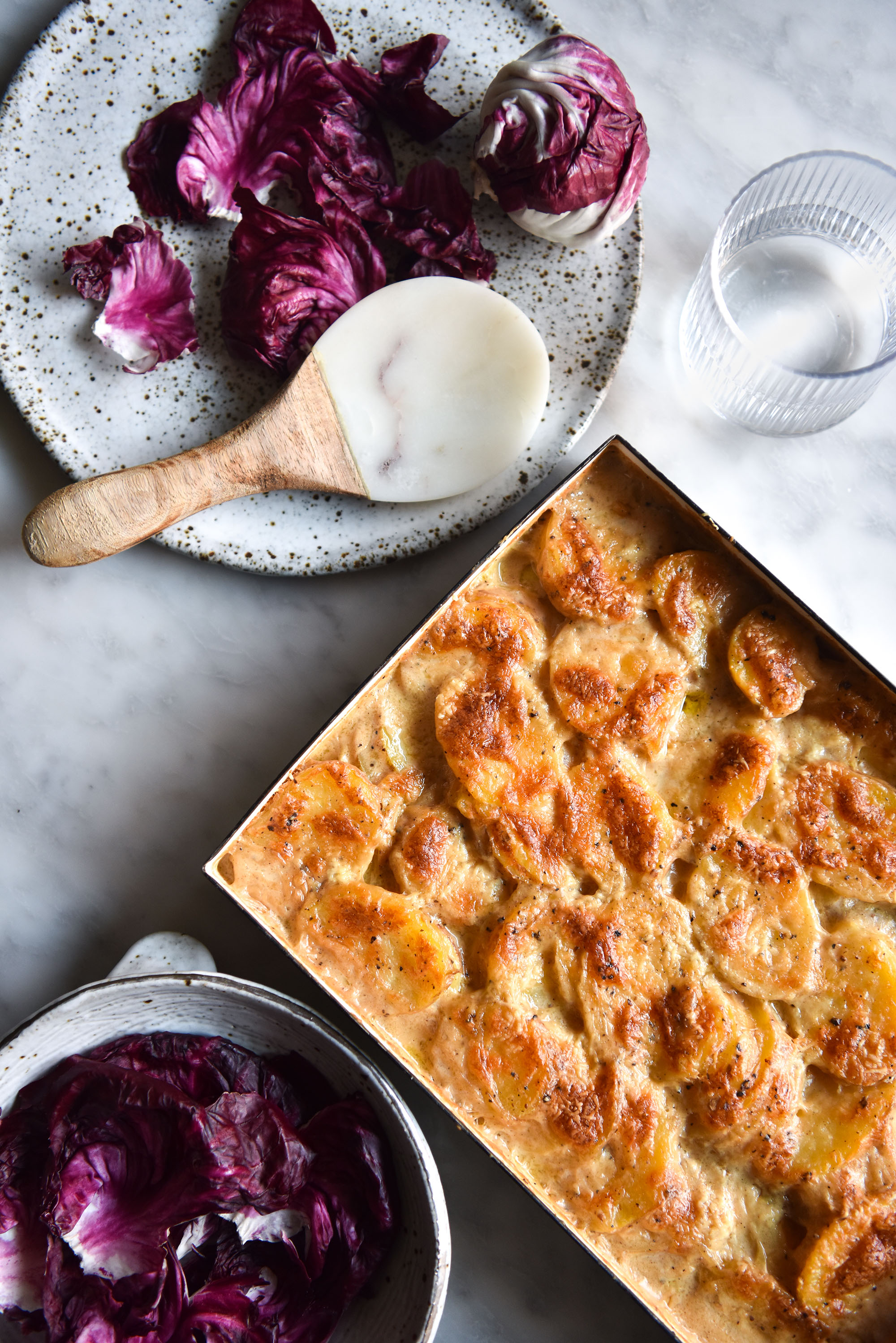 Fancy a bake, but one that caters to a vegan crowd? Say no more fam. Vegan cheesy hasselback potato bake, coming right up.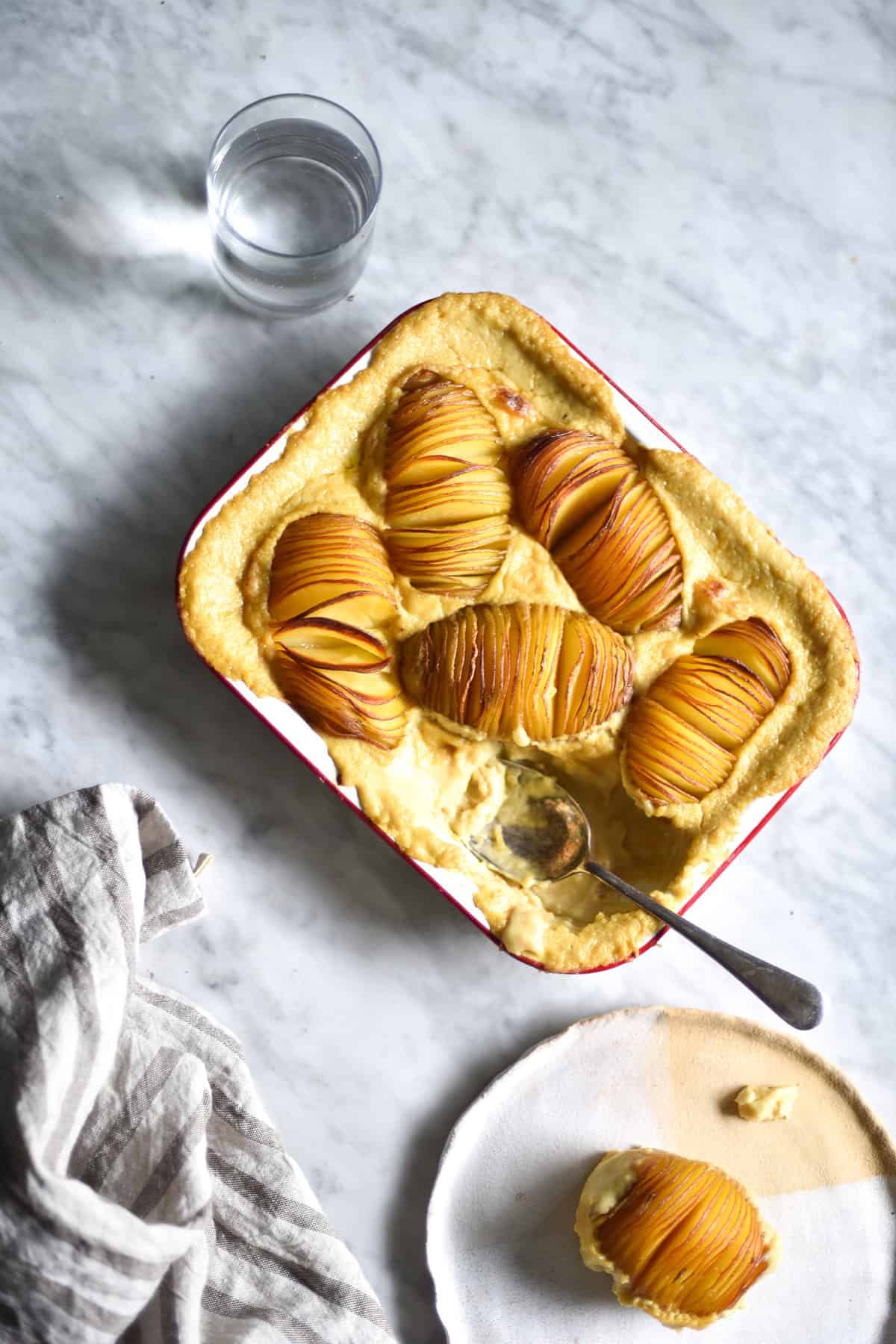 A vegan option for an Australian Christmas? Try this punchy, herby and generally delicious vegan potato salad.