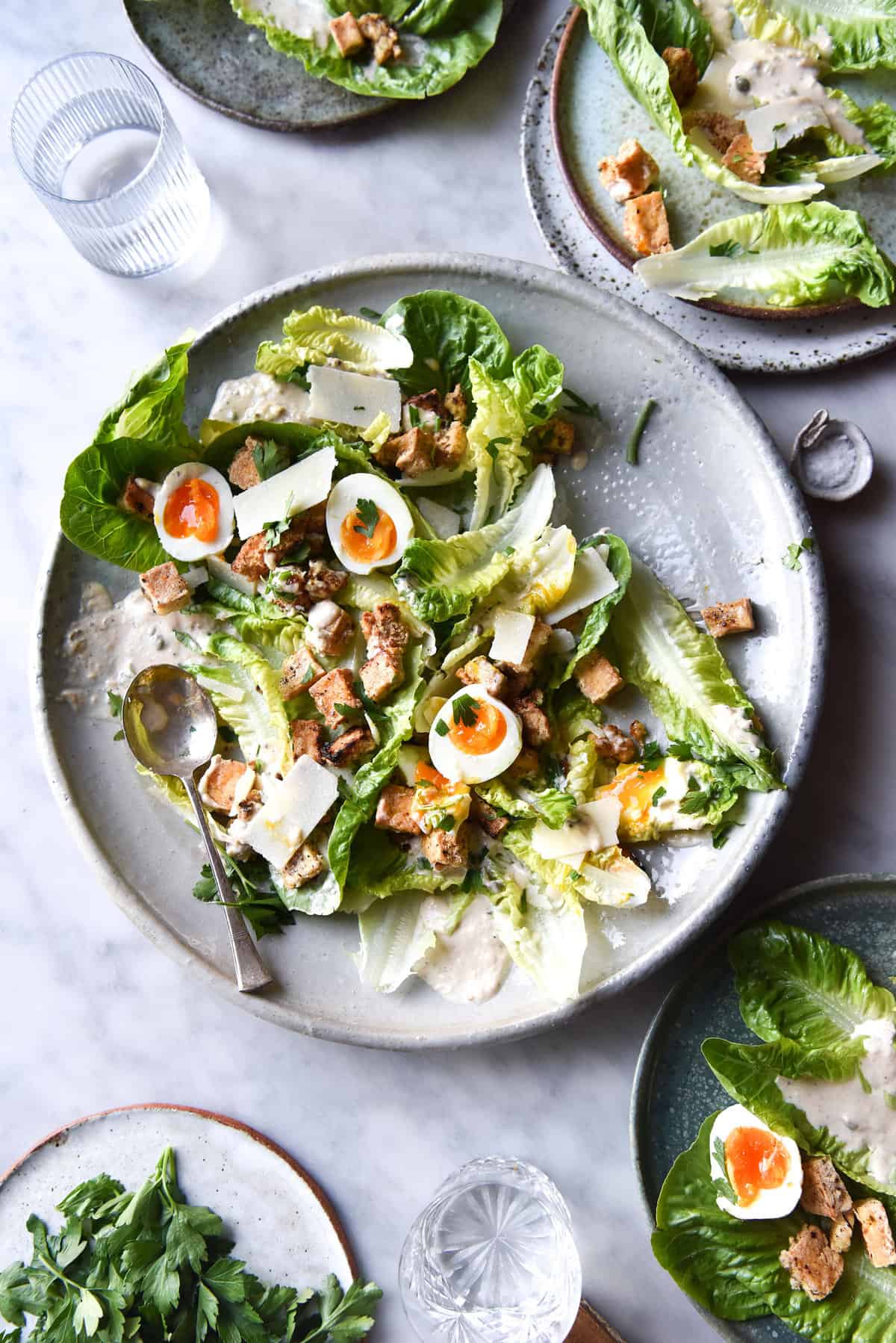 I am always on the hunt for low FODMAP salad recipes. Figuring you might be too, I decided to create a roundup of all my favourite low FODMAP salads on my site. These salads are all gluten free and vegetarian or vegan. I always try to give options for other dietary restrictions, too, so there is something for everyone.
Low FODMAP salad recipes
When onion and garlic are out of the question, it can be difficult to inject flavour into your salads. Fear not! This is my ultimate collection of FODMAP friendly, onion and garlic free salad and salad dressing recipes to keep salad exciting.
Where possible, the recipes all provide options for nut free, dairy free and vegan diners. They also aim to be free from other common allergens when they can be.
If you enjoy recipe round up posts, I have a few more low FODMAP and gluten free ones that you might find helpful:
Dressings, sauces and accompaniments
Low FODMAP salad dressing
Before we get into the salads, we need to discuss the dressing! This FODMAP friendly salad dressing hits all the right notes, and is easily customised to fit the flavour profile of your salad.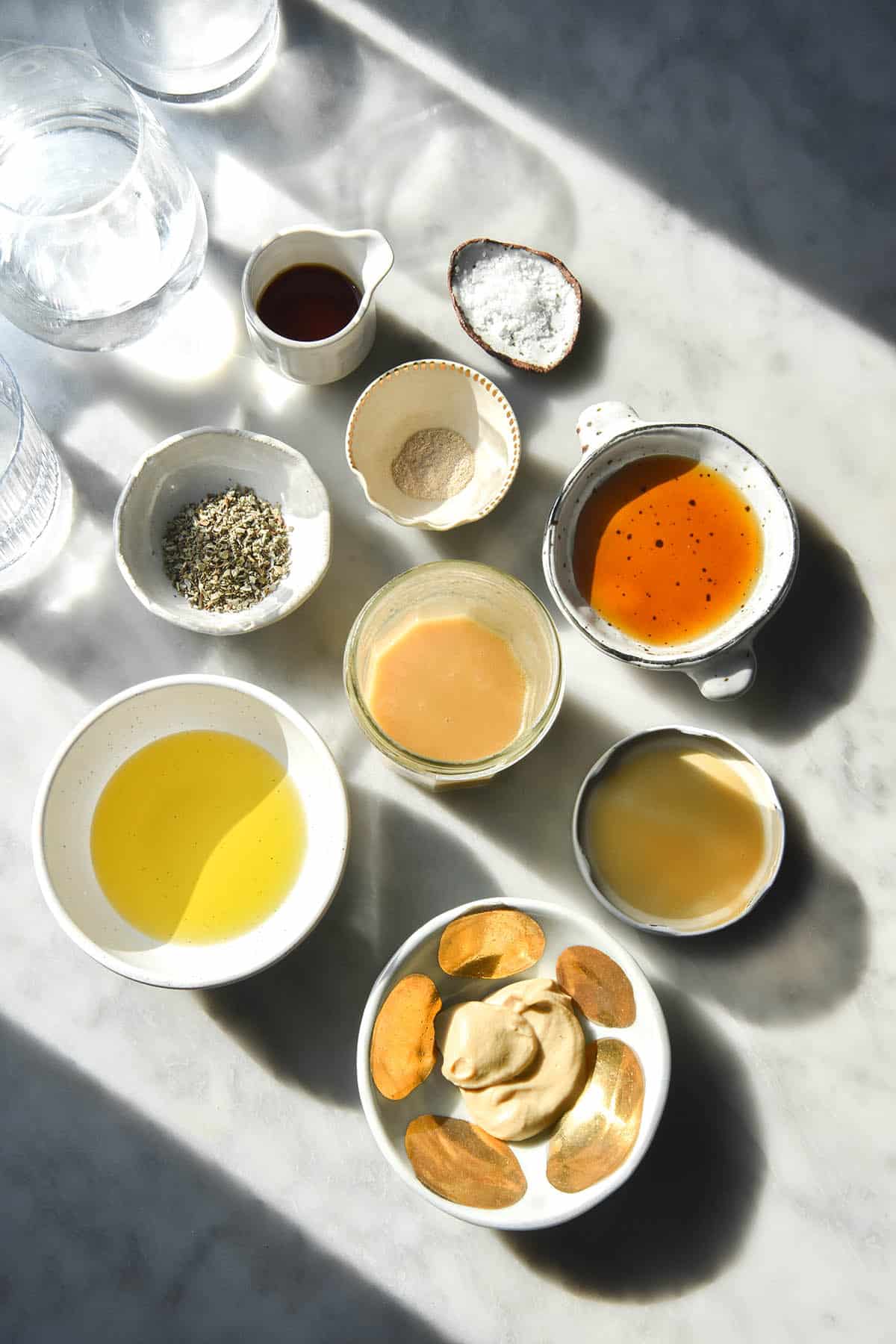 Vegan Caesar salad dressing
A few easy substitutes and you've got a FODMAP friendly vegan Caesar salad dressing that's just as good as the original.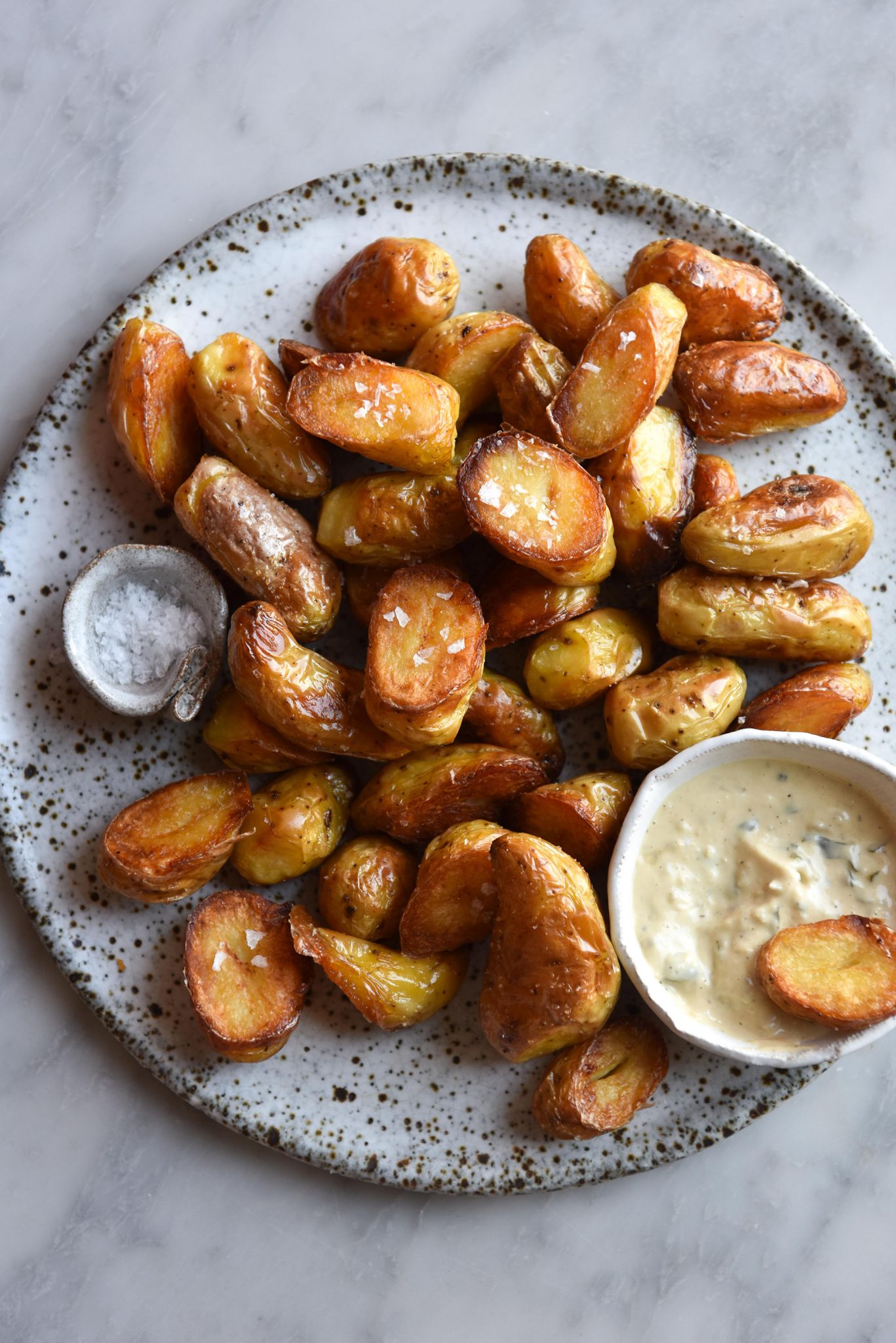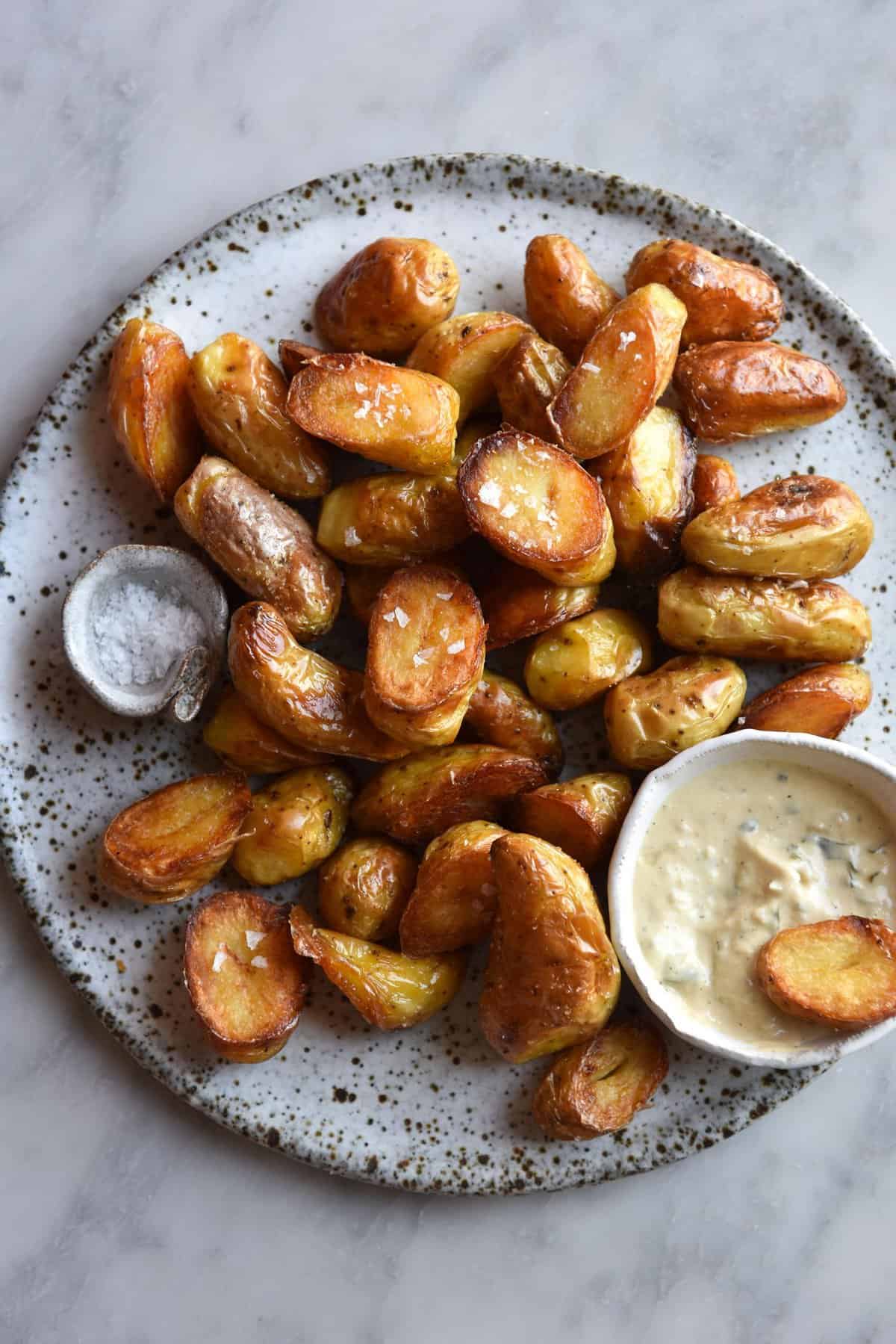 Garlic infused olive oil
Homemade garlic infused olive oil is one of the easiest ways to inject some low FODMAP flavour into your salads. I personally think homemade is infinitely better than store bought, and cheaper to boot.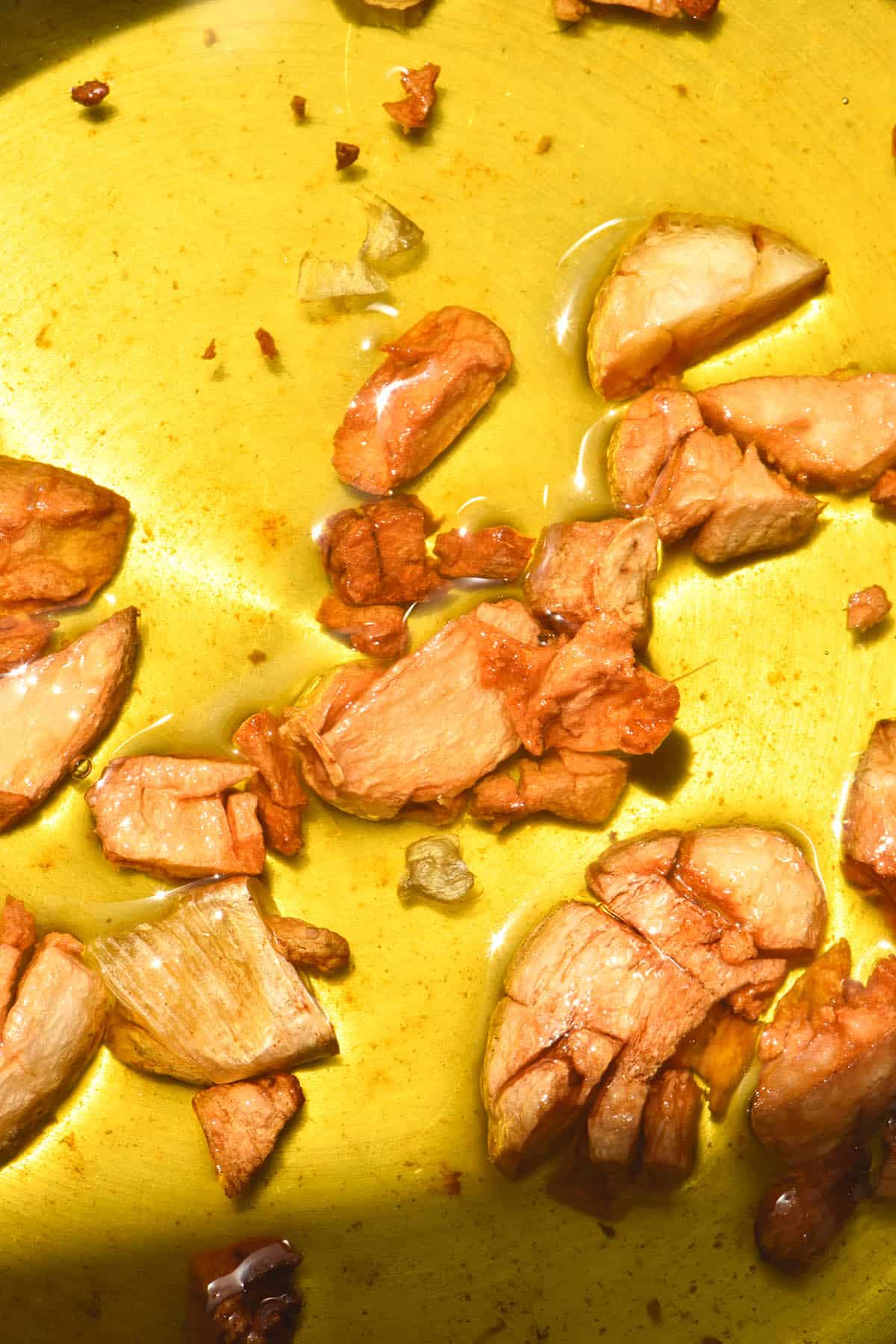 Low FODMAP pesto
This easy low FODMAP pesto is handy to have on hand for Mediterranean inspired salads. It adds a pop of flavour and can be enhanced further if made with homemade garlic infused oil.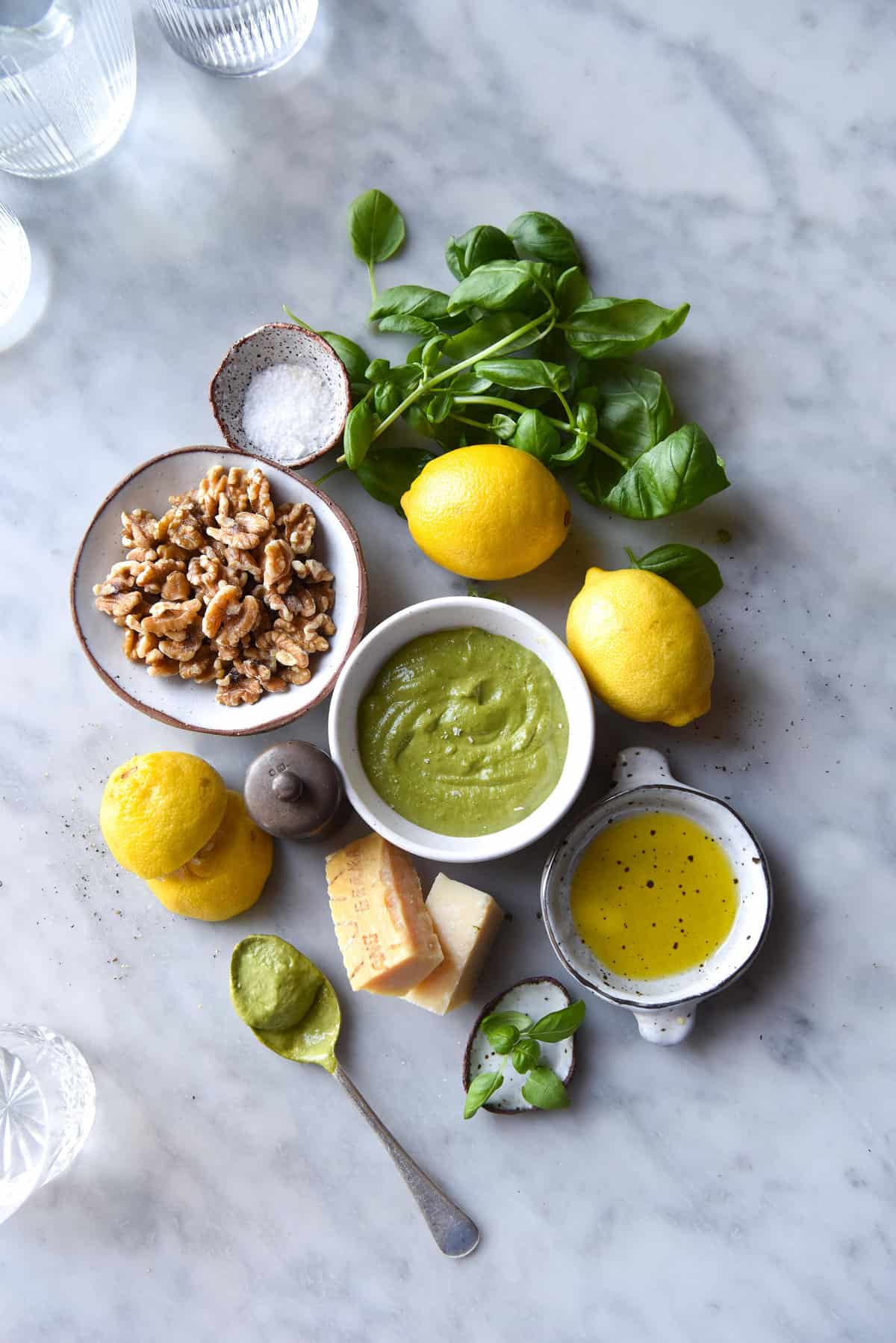 Low FODMAP tofu hummus
This hummus is garlic and chickpea free, thanks to firm tofu and a healthy dose of tahini. Hummus is the perfect salad base, and this one contains protein to keep you feeling full.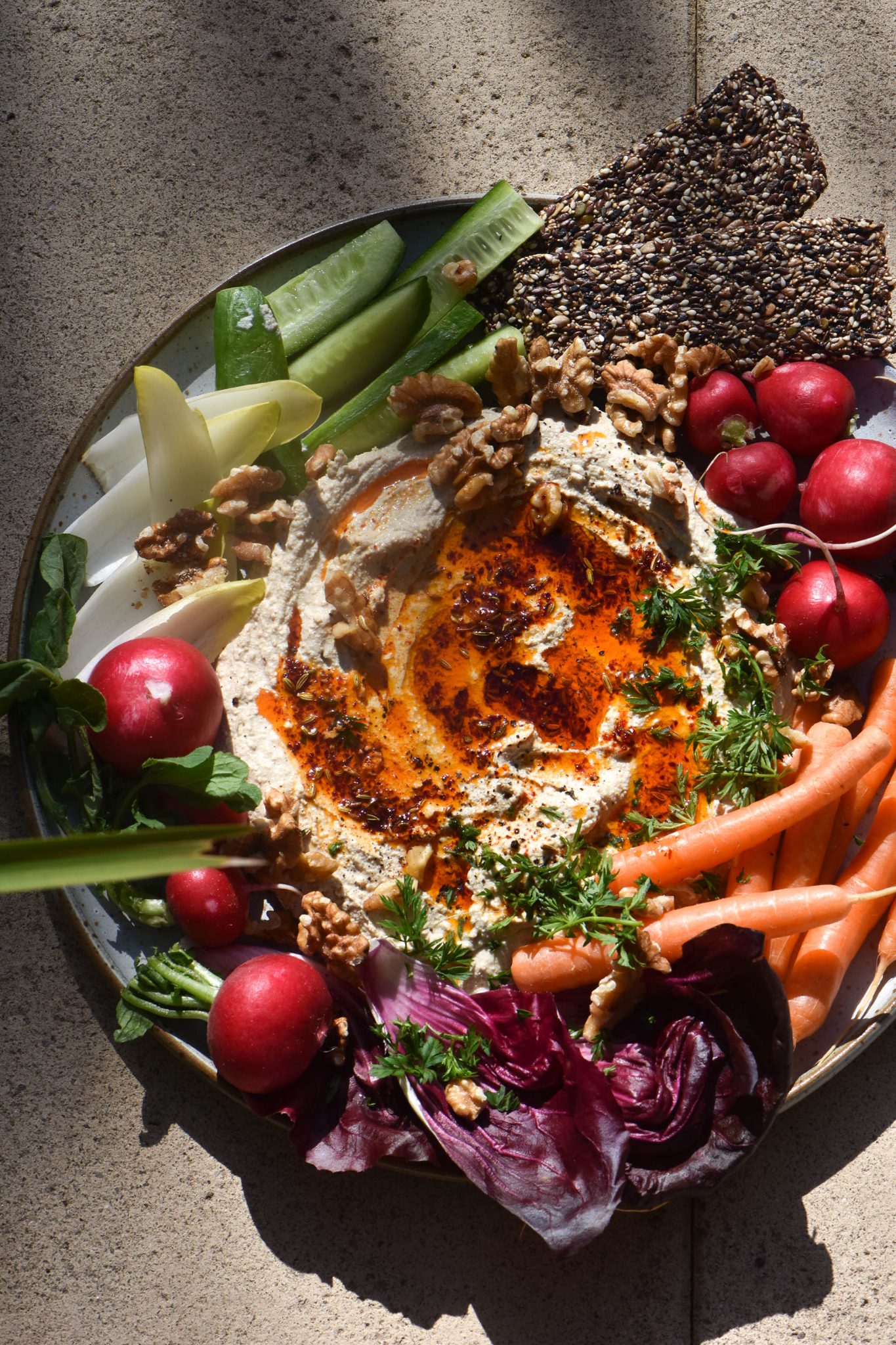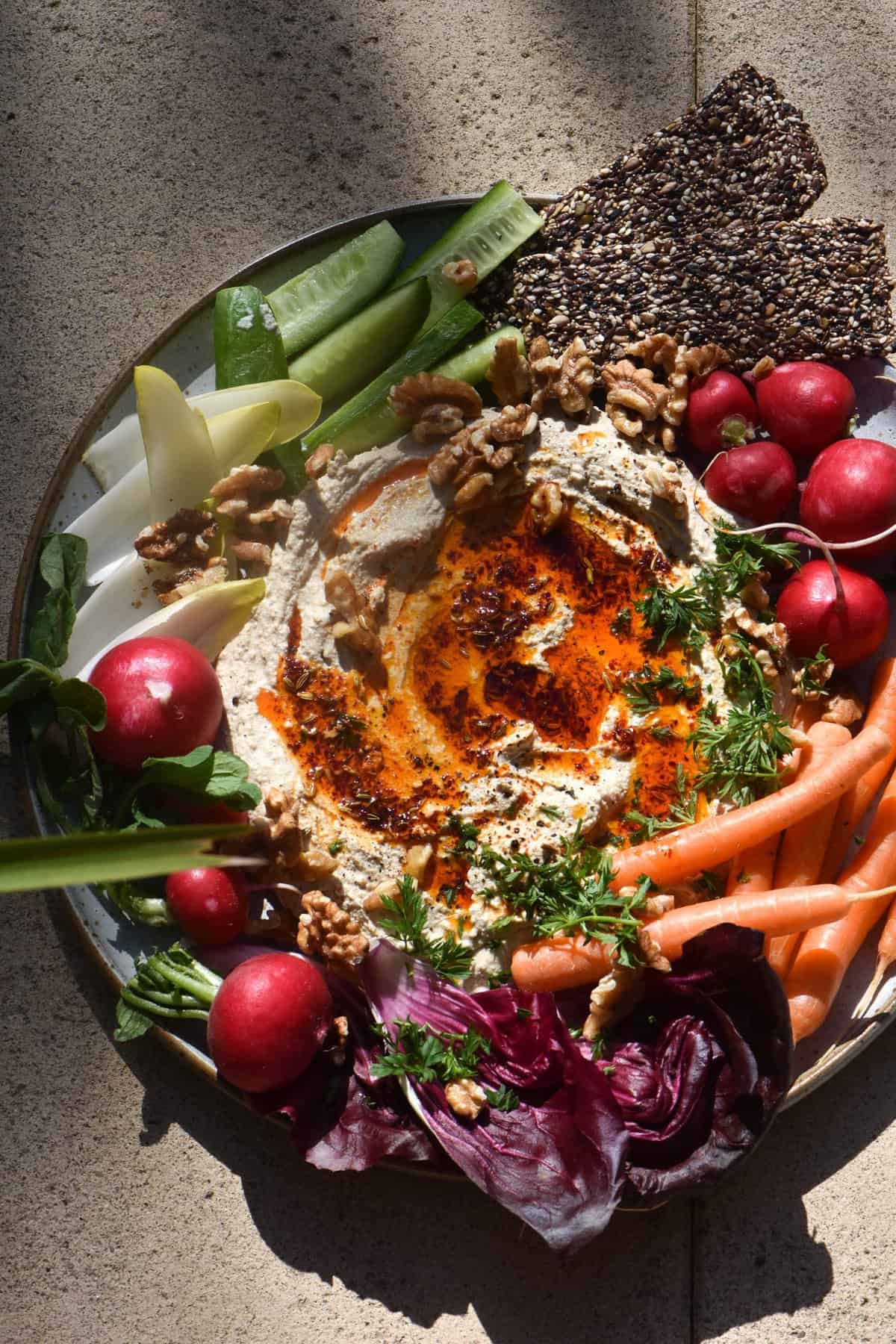 Low FODMAP 'pickled red onion'
This faux pickled red onion uses mandolined red cabbage, pickling solution and a hefty dose of asafoetida powder to achieve a low FODMAP pickled red onion that tastes pungent and oniony, just like the original.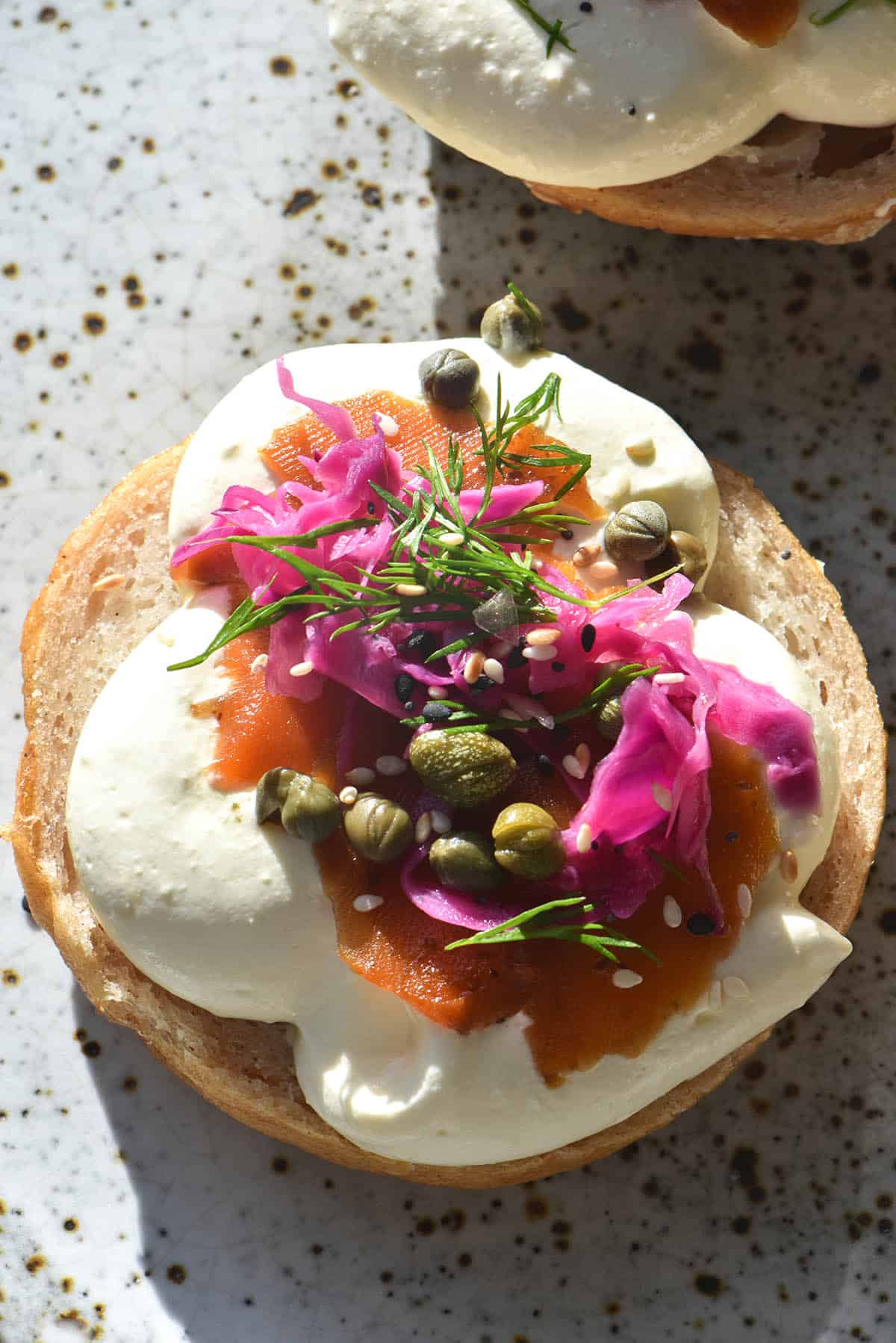 Low FODMAP cheesy salad accompaniments
Vegan macadamia mozzarella
This vegan mozzarella is made with macadamias instead of cashews for the PERFECT low FODMAP vegan cheese. It slices beautifully and has a mild, creamy taste that is right at home in a vegan salad.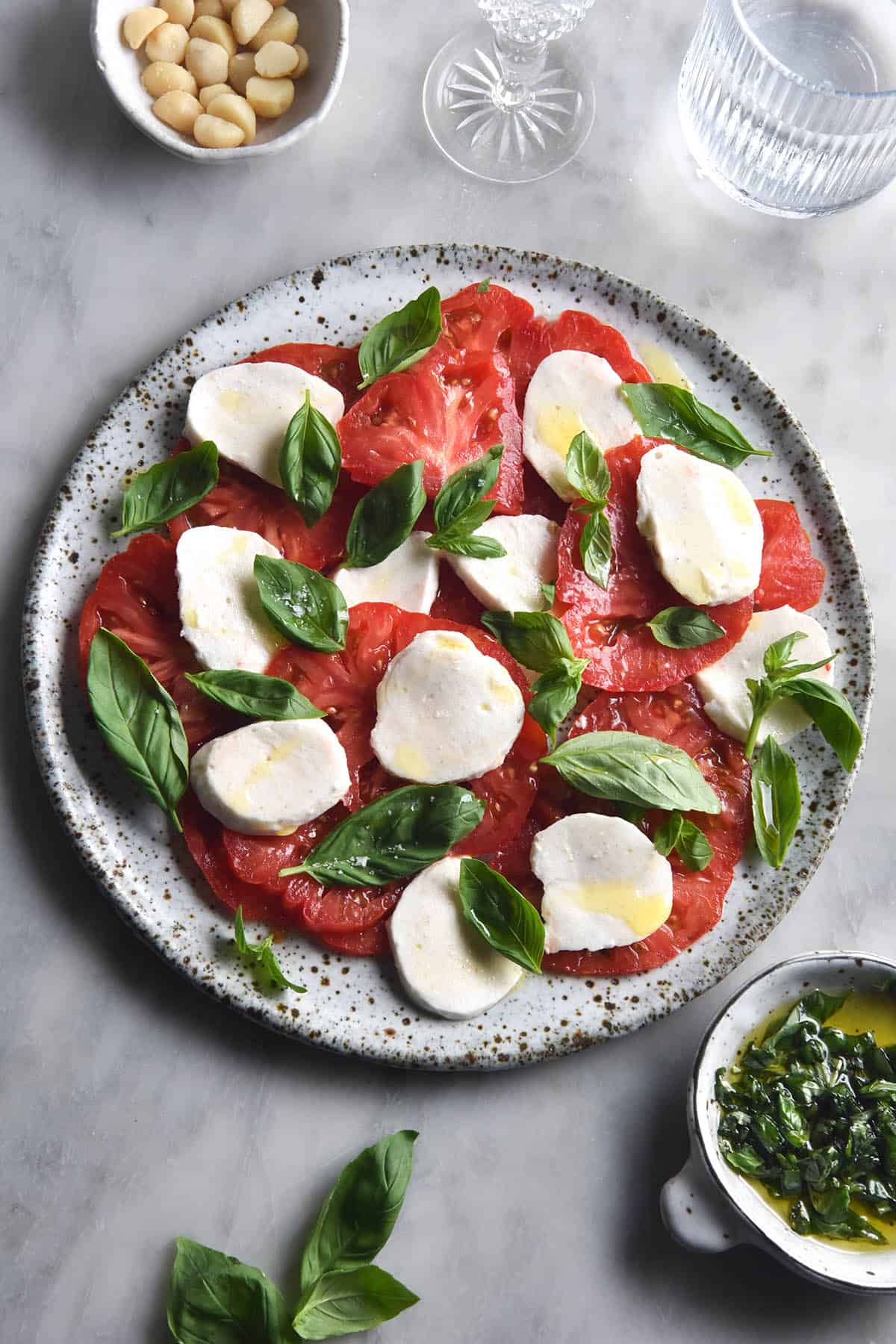 Lactose free ricotta
Homemade lactose free ricotta is the perfect creamy addition to a Mediterranean style salad.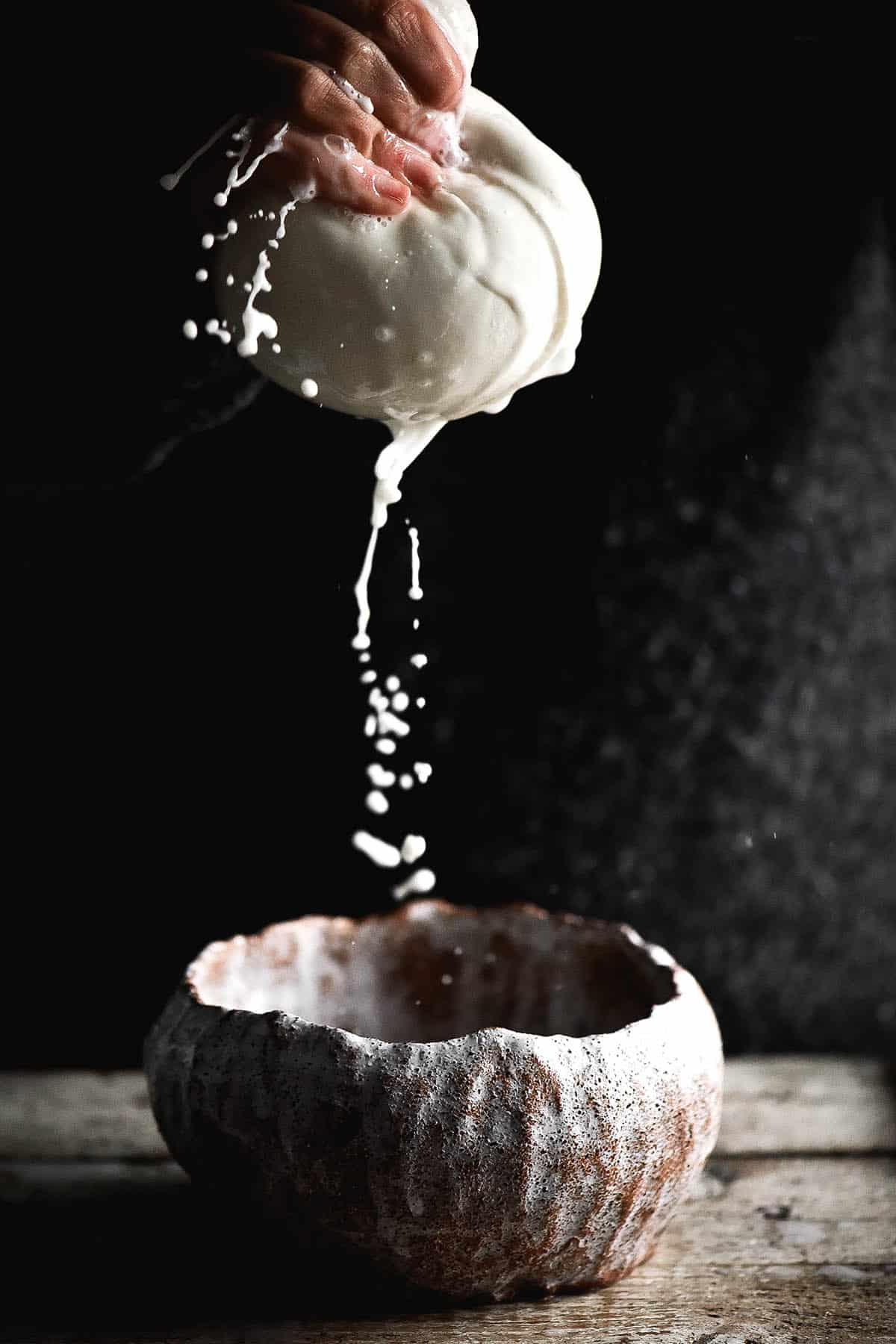 Lactose free mascarpone
A rich and decadent treat to include in your next low FODMAP salad, this mascarpone is undetectably lactose free.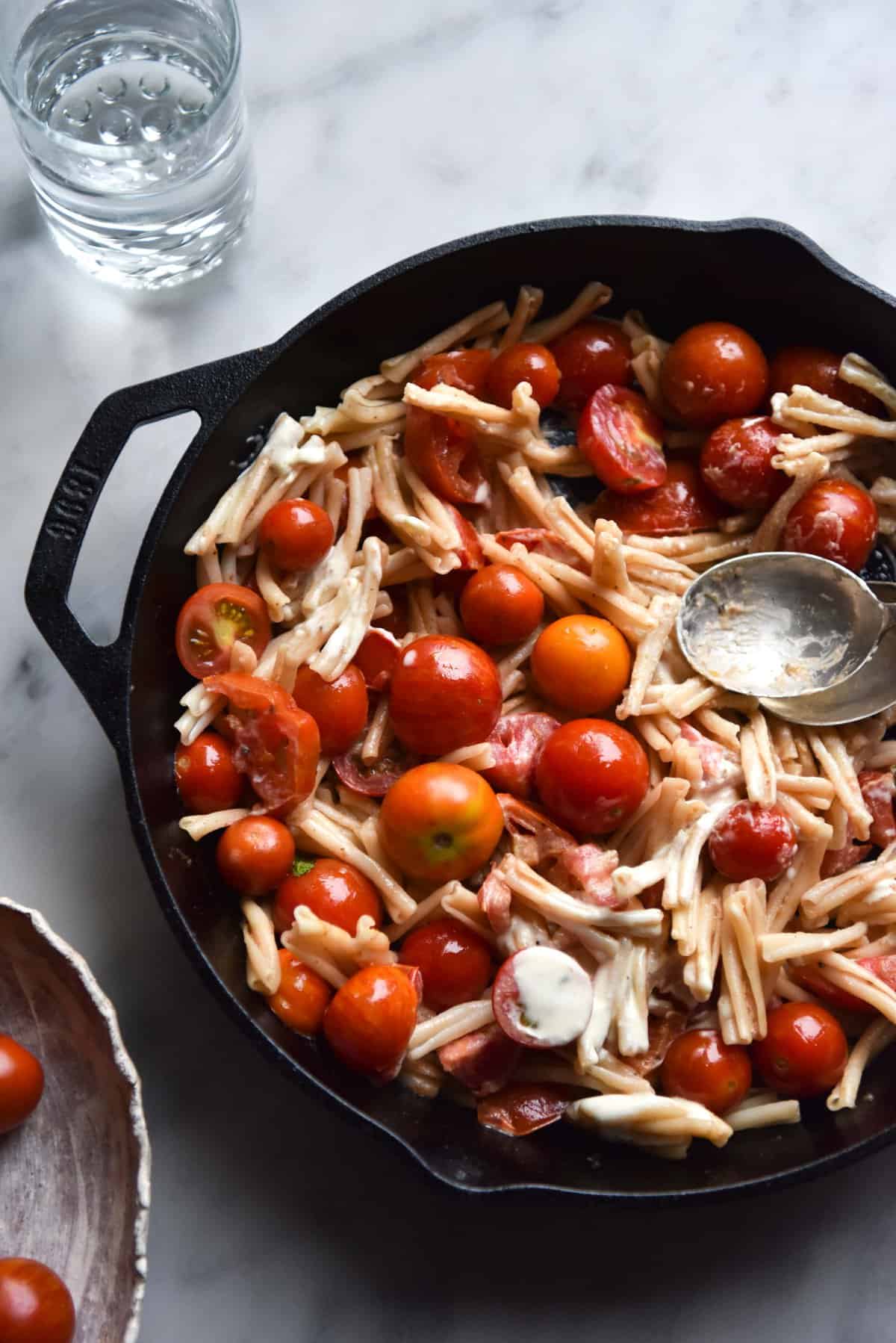 Low FODMAP salad recipes and veg forward sides
Cinnamon roasted pumpkin with yoghurt and preserved lemon
Is it a salad? Not quite. Is it a delicious low FODMAP vegetarian and easily vegan vegetable number? Absolutely.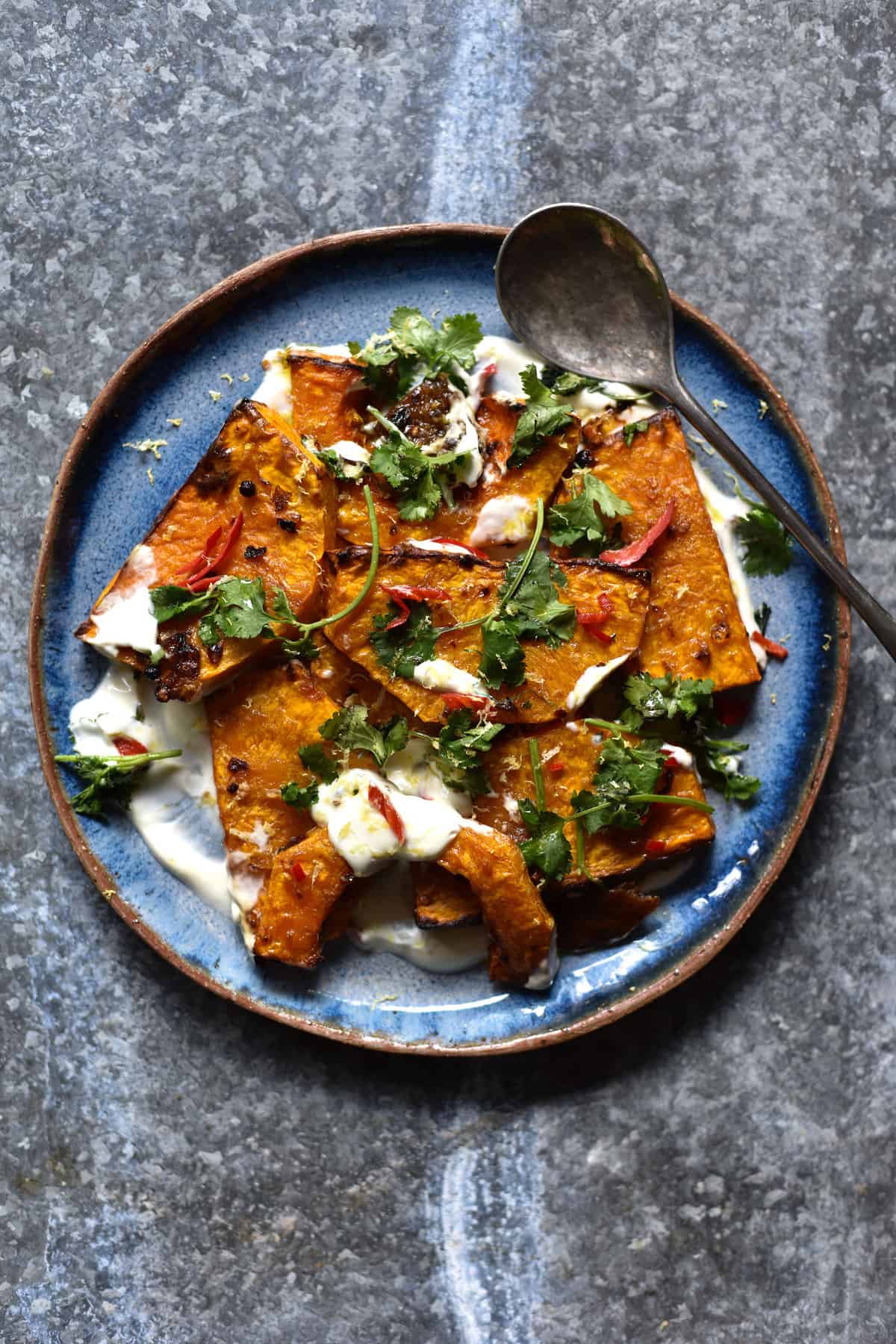 Vegan Vietnamese style coleslaw with crispy tofu
Fresh, vibrant and delicious, this coleslaw is one of my favourite salads to make on hot summer nights.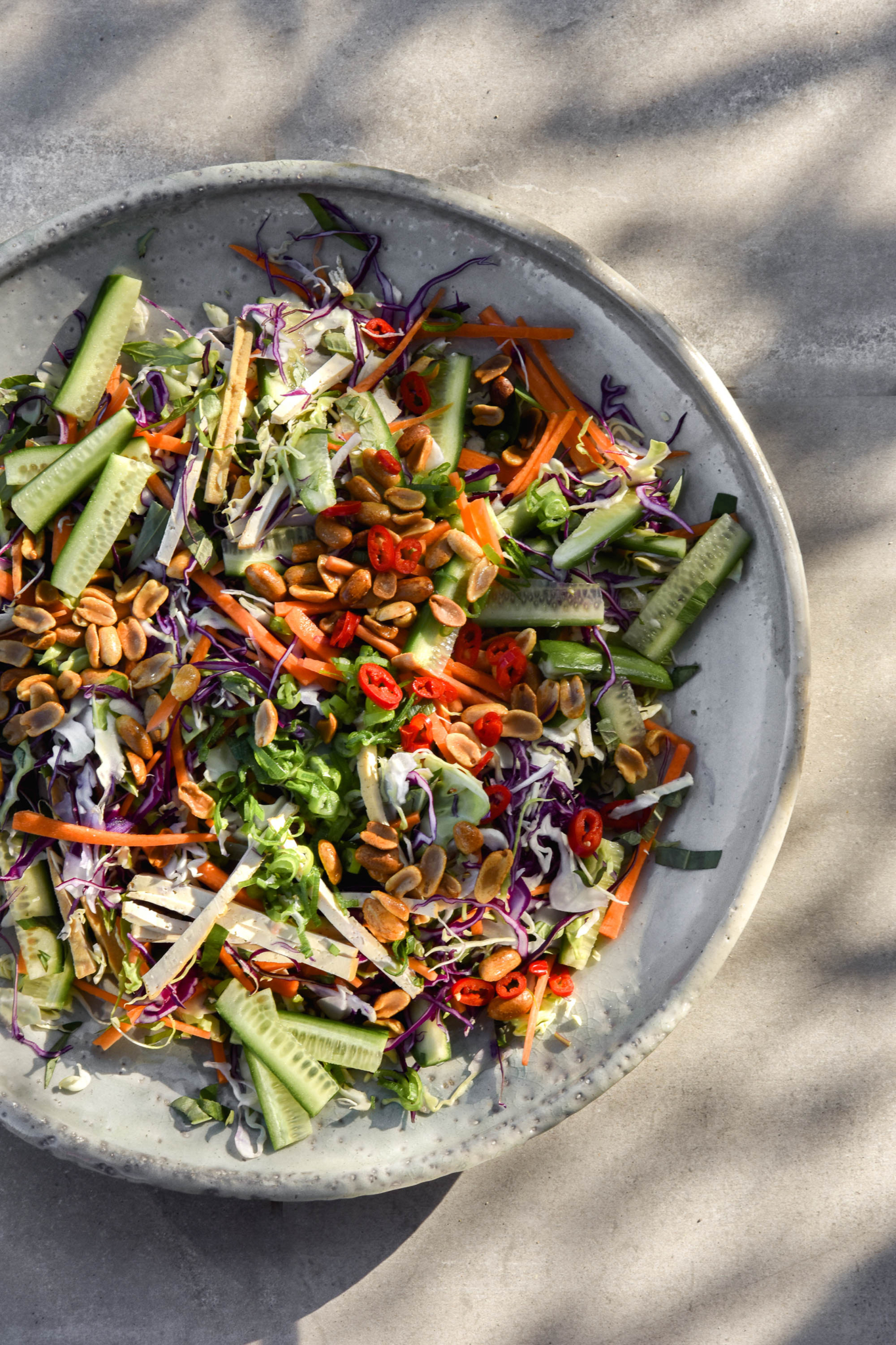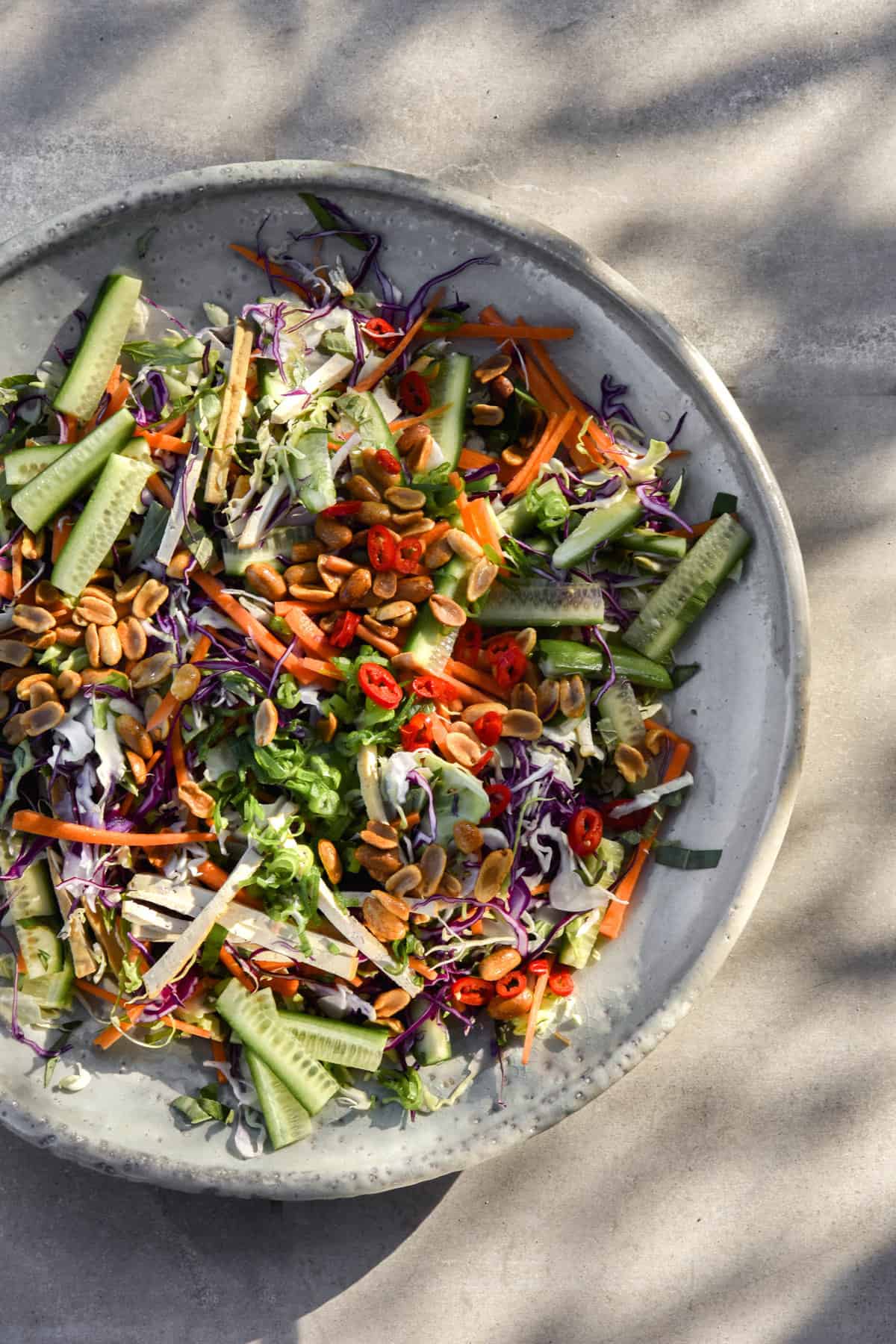 Honey and butter roasted carrot and haloumi salad
This delicious and rich low FODMAP salad uses roasted heirloom carrots, haloumi and a herby sauce for a full flavoured and delicious side salad.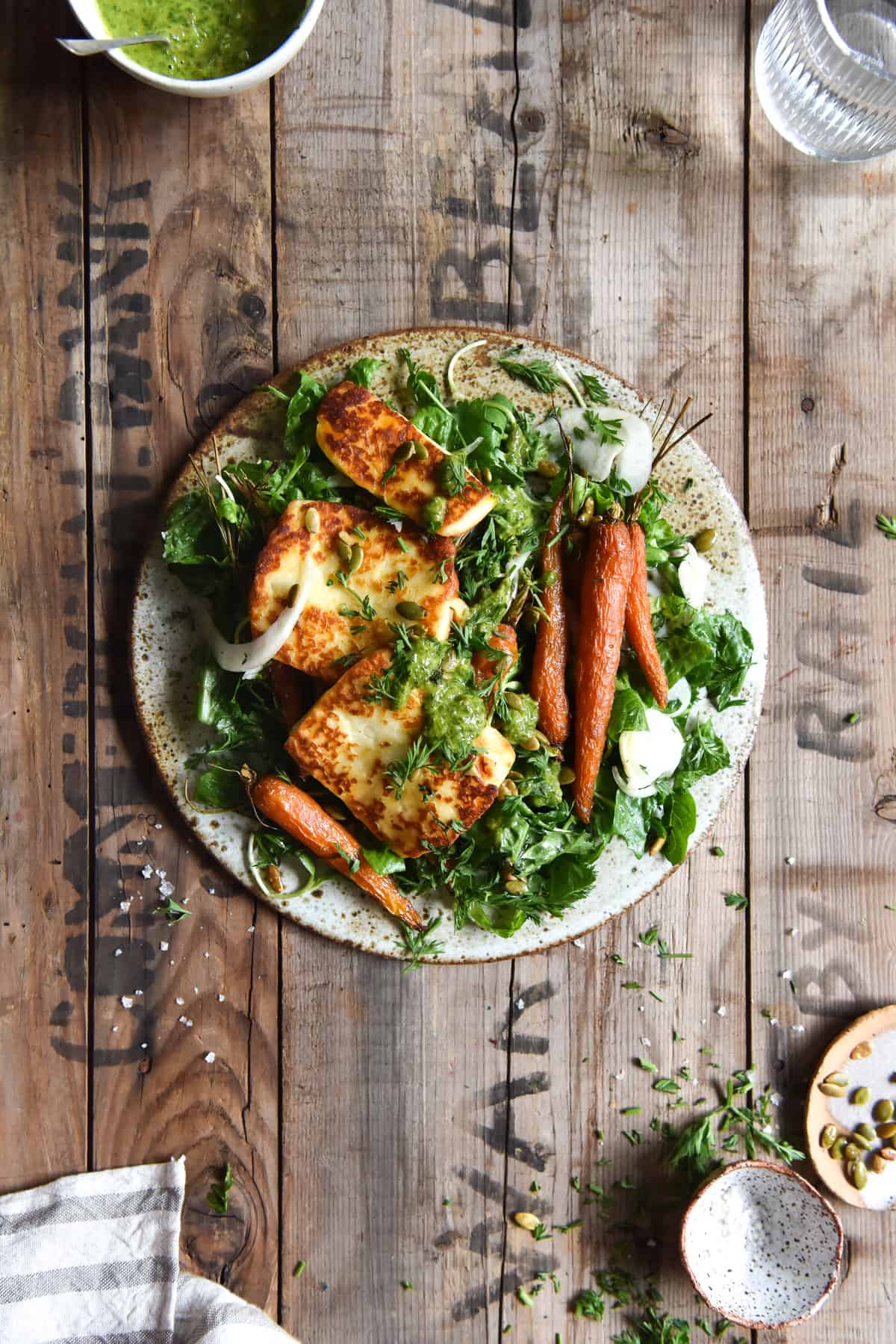 Roasted pumpkin, quinoa and kale salad
This autumnal cosy salad can be served hot or cold, and features a whole array of colours and textures to keep things exciting.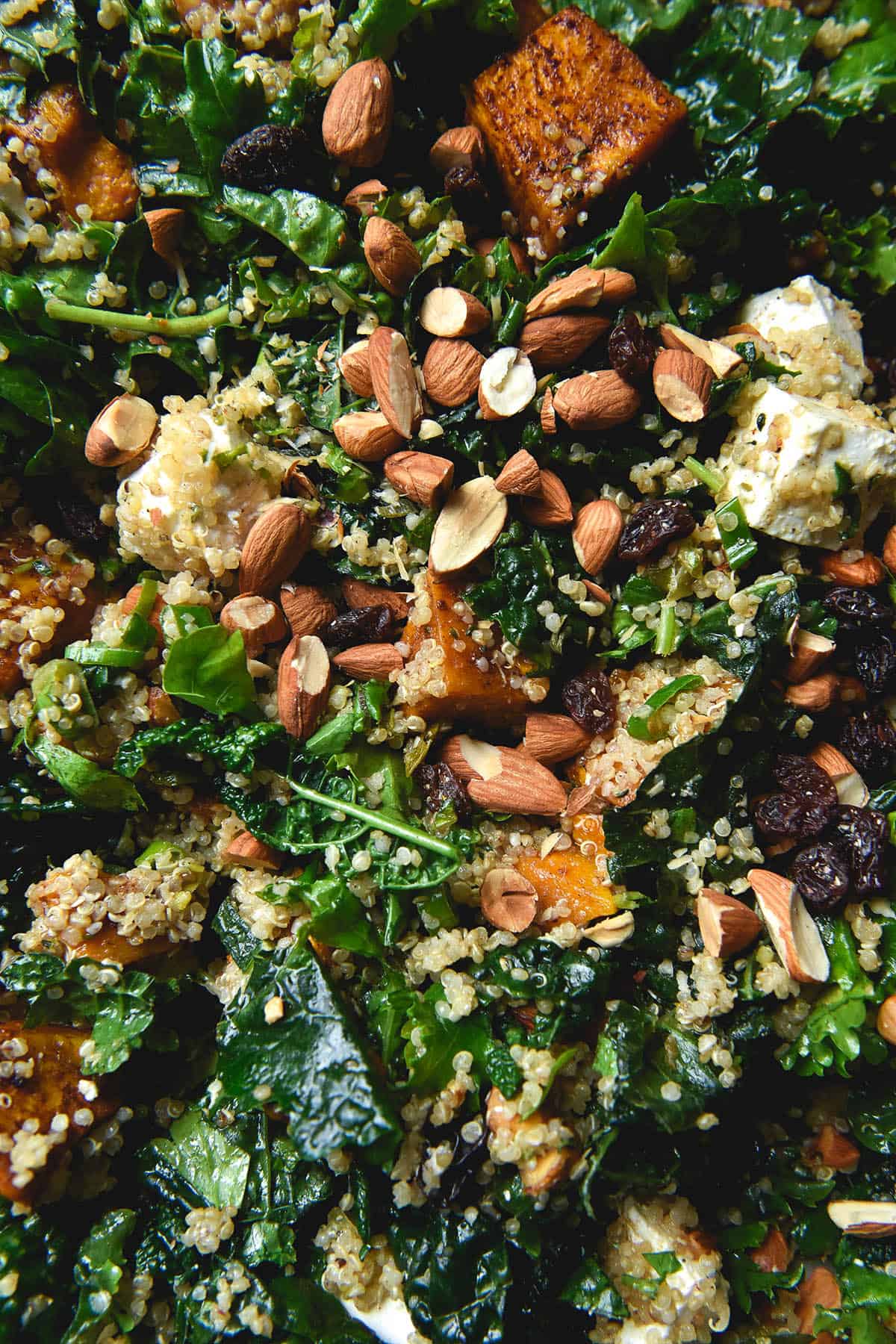 Radicchio orange salad with goat cheese and chilli maple walnuts
This winter salad is full of flavour and crunch, complemented perfectly by the sweet spiciness of the maple chilli walnuts and the creamy tang of goat cheese.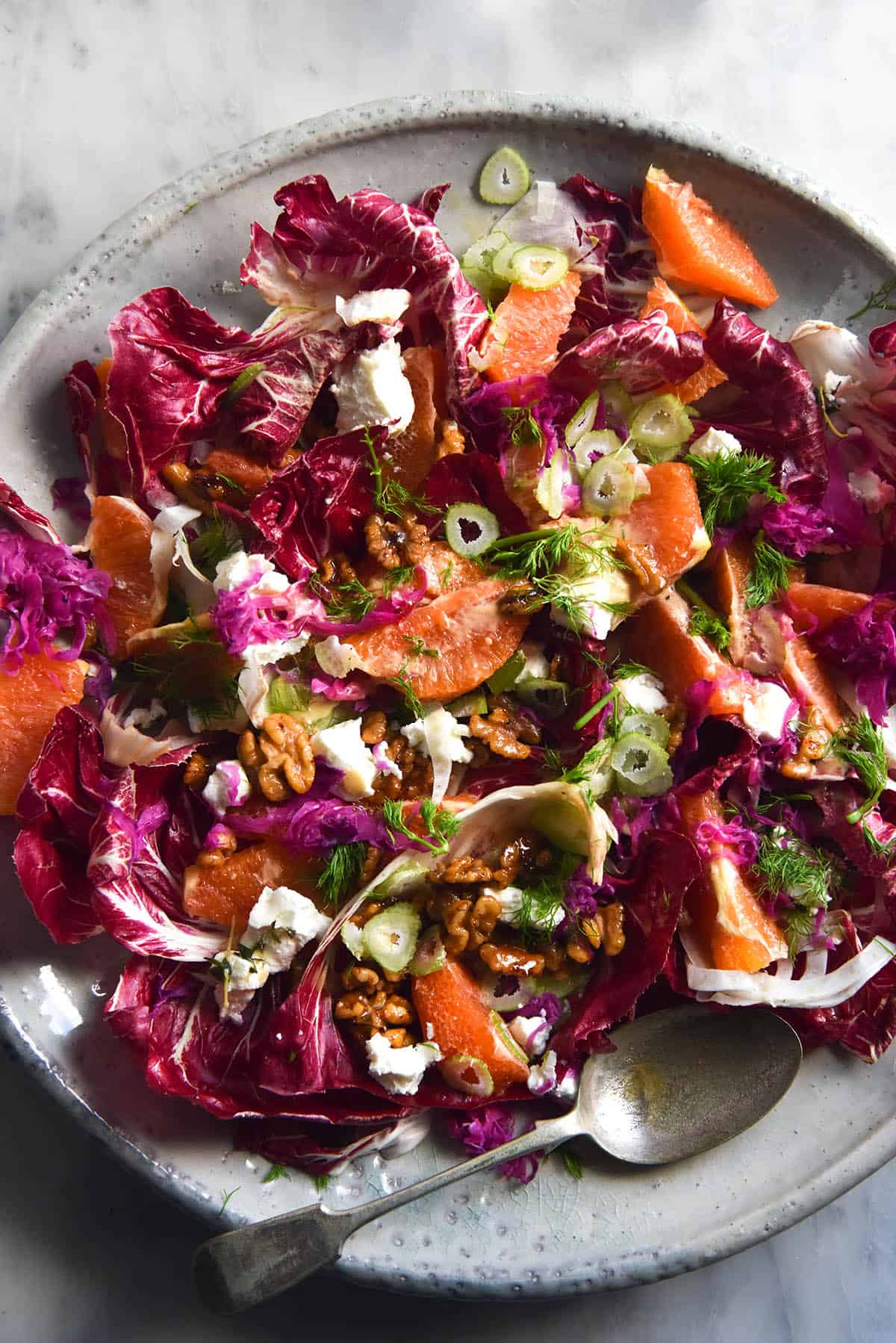 Kale, feta and crispy chickpea salad
This salad brings full on flavour and uses a low FODMAP quantity of canned chickpeas for some protein and crunch. Ensure you use the lower volume of raisins to keep the salad FODMAP friendly.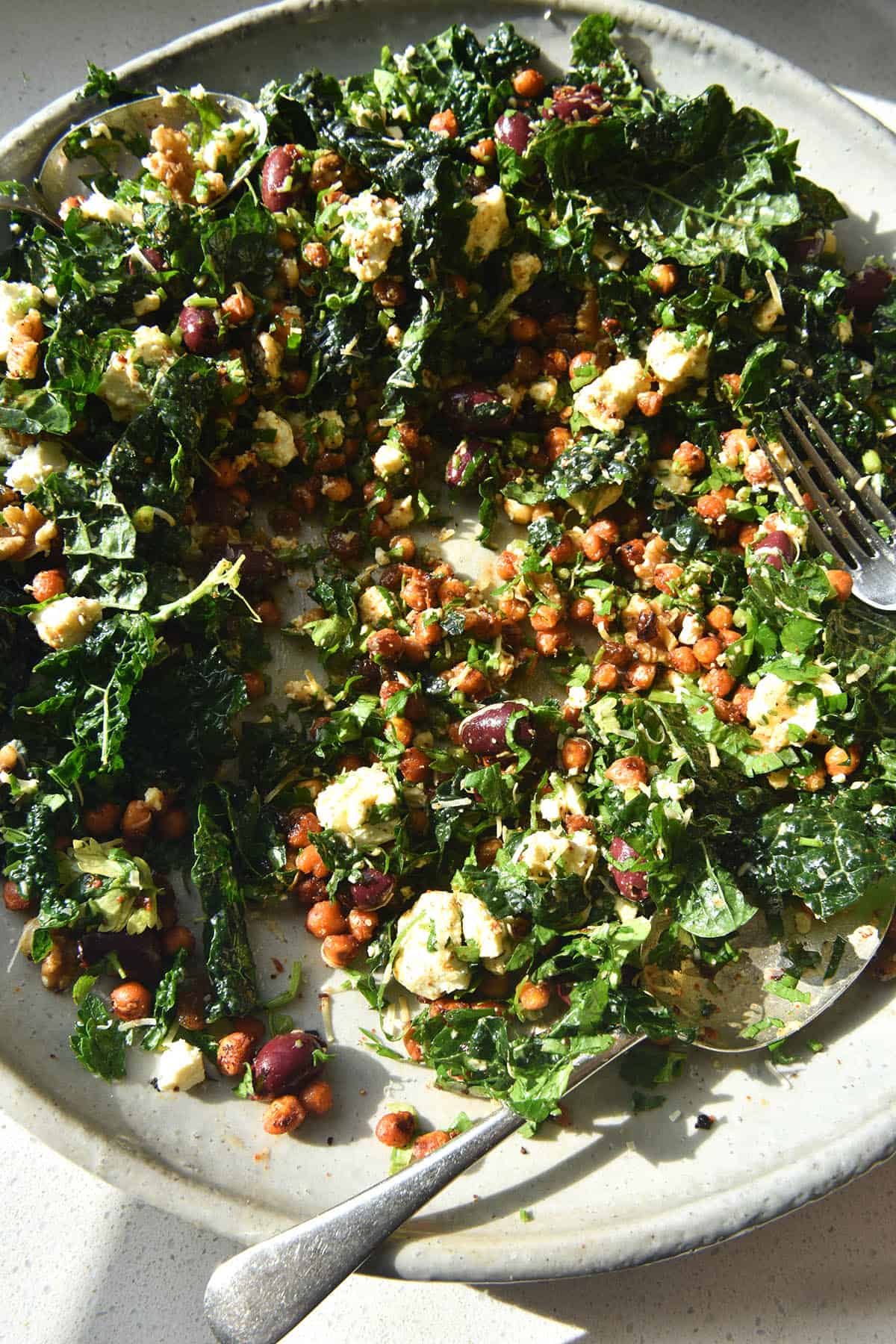 Vegetarian kind of Cobb salad
This Cobb salad uses a smoky baked tofu and blue cheese to form the backbone of a delicious and fresh protein filled salad. Choose from a creamy based or oil based dressing to complete one of my favourite low FODMAP salad recipes.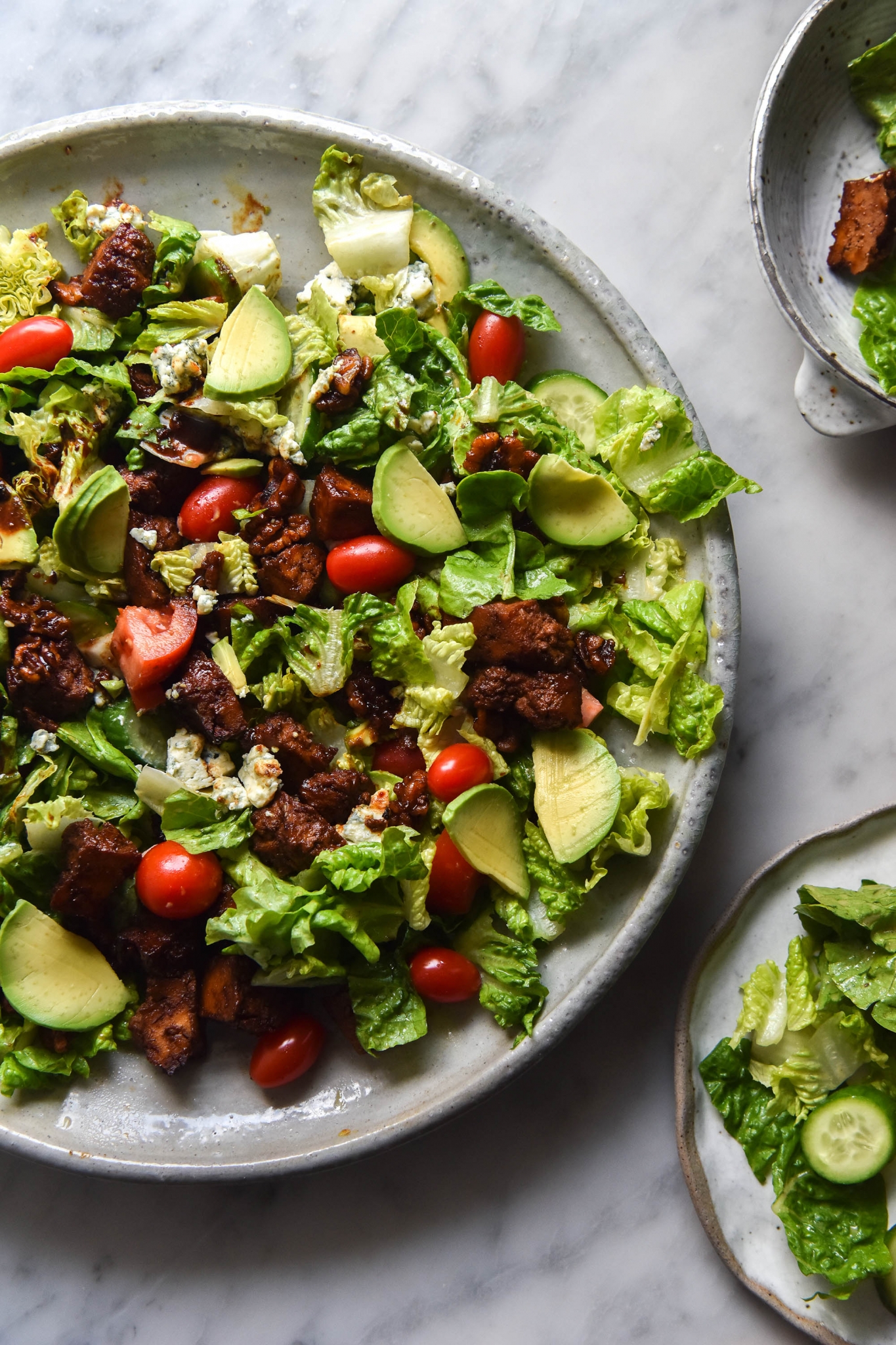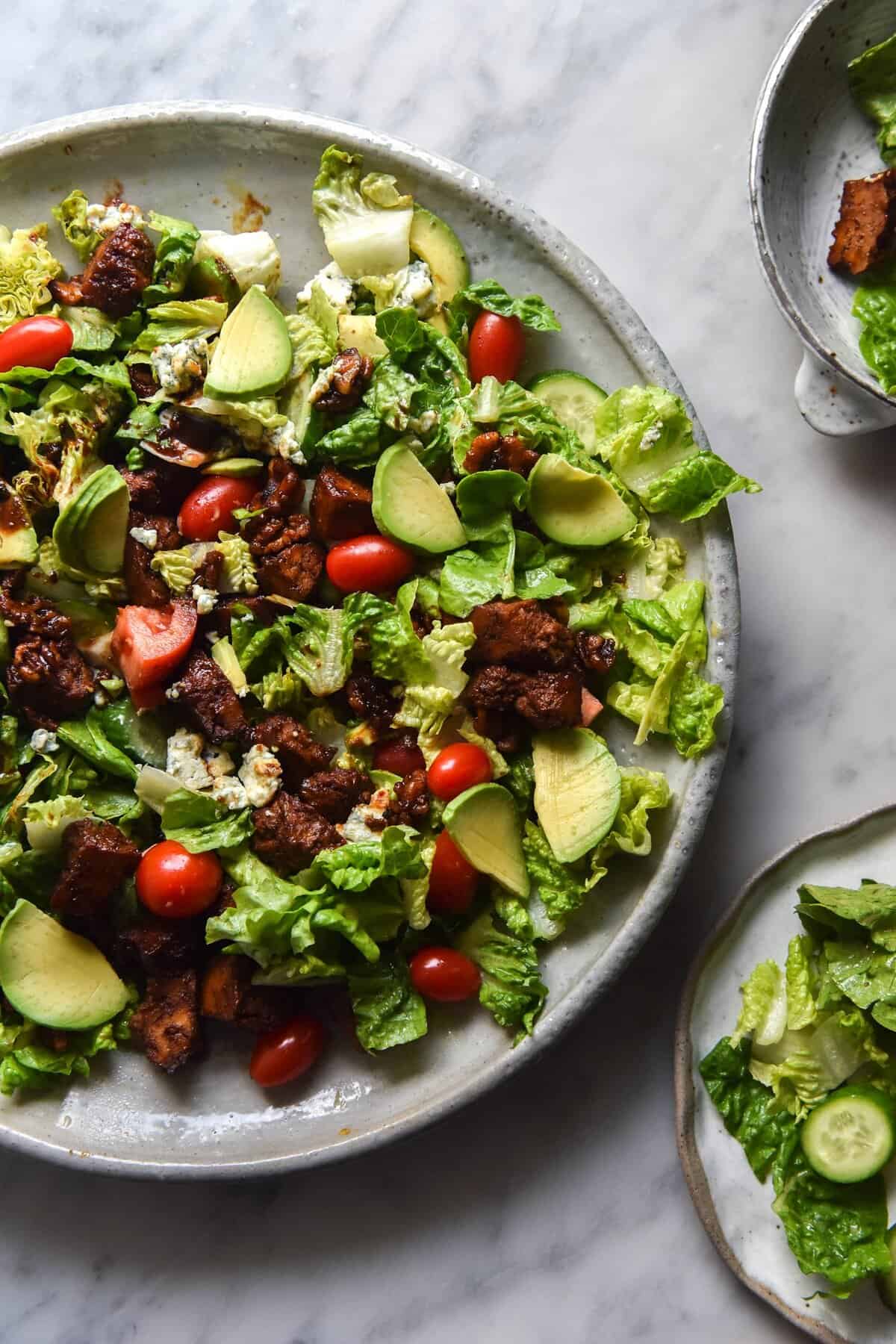 Quinoa salad with spiced lemon butter and roasted pumpkin
A delicious wintery grain salad that is full flavoured, filling and low FODMAP.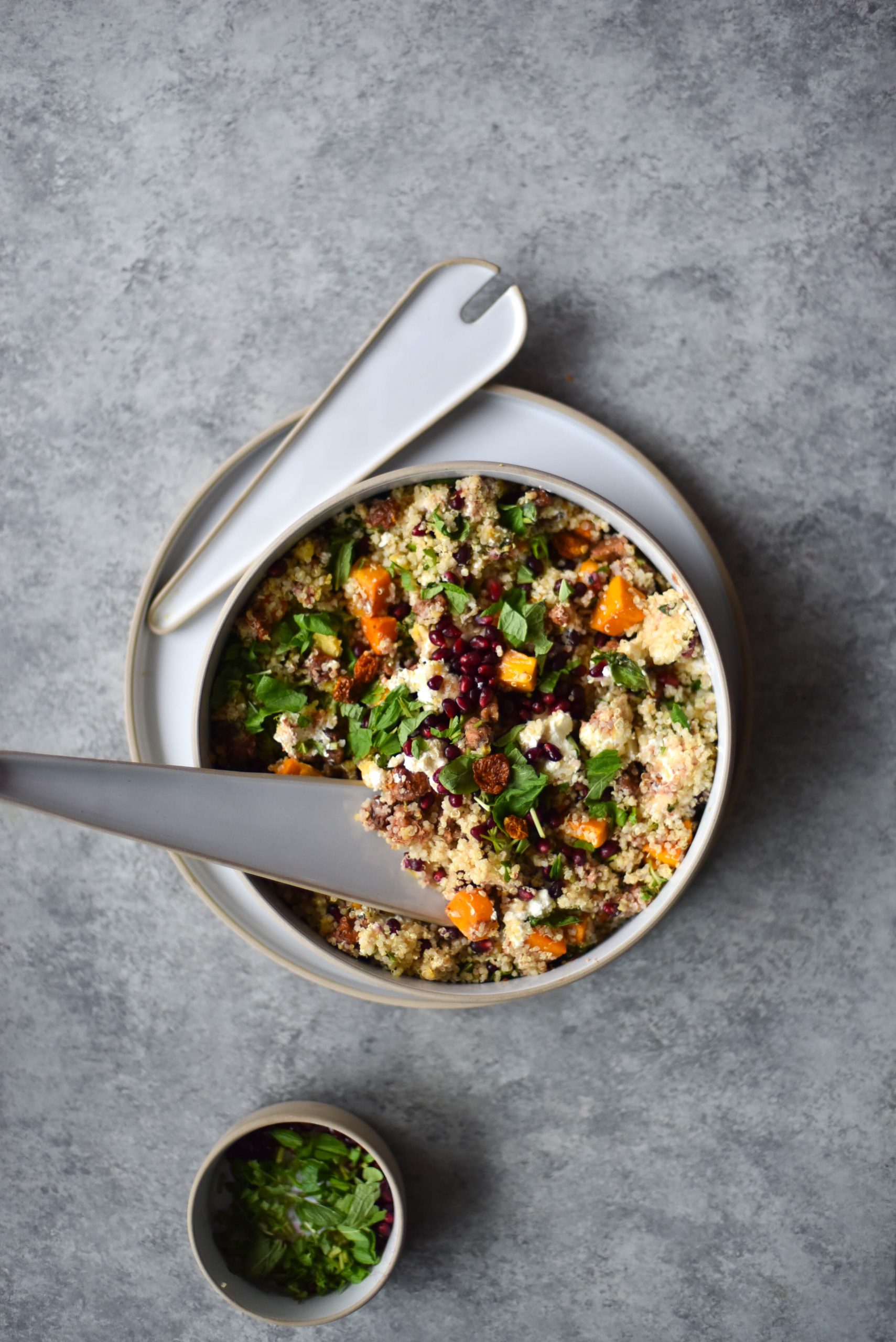 Salt and pepper tofu with green salad and ginger satay sauce
A filling and delicious tofu based salad with a low FODMAP ginger satay sauce to bring everything together.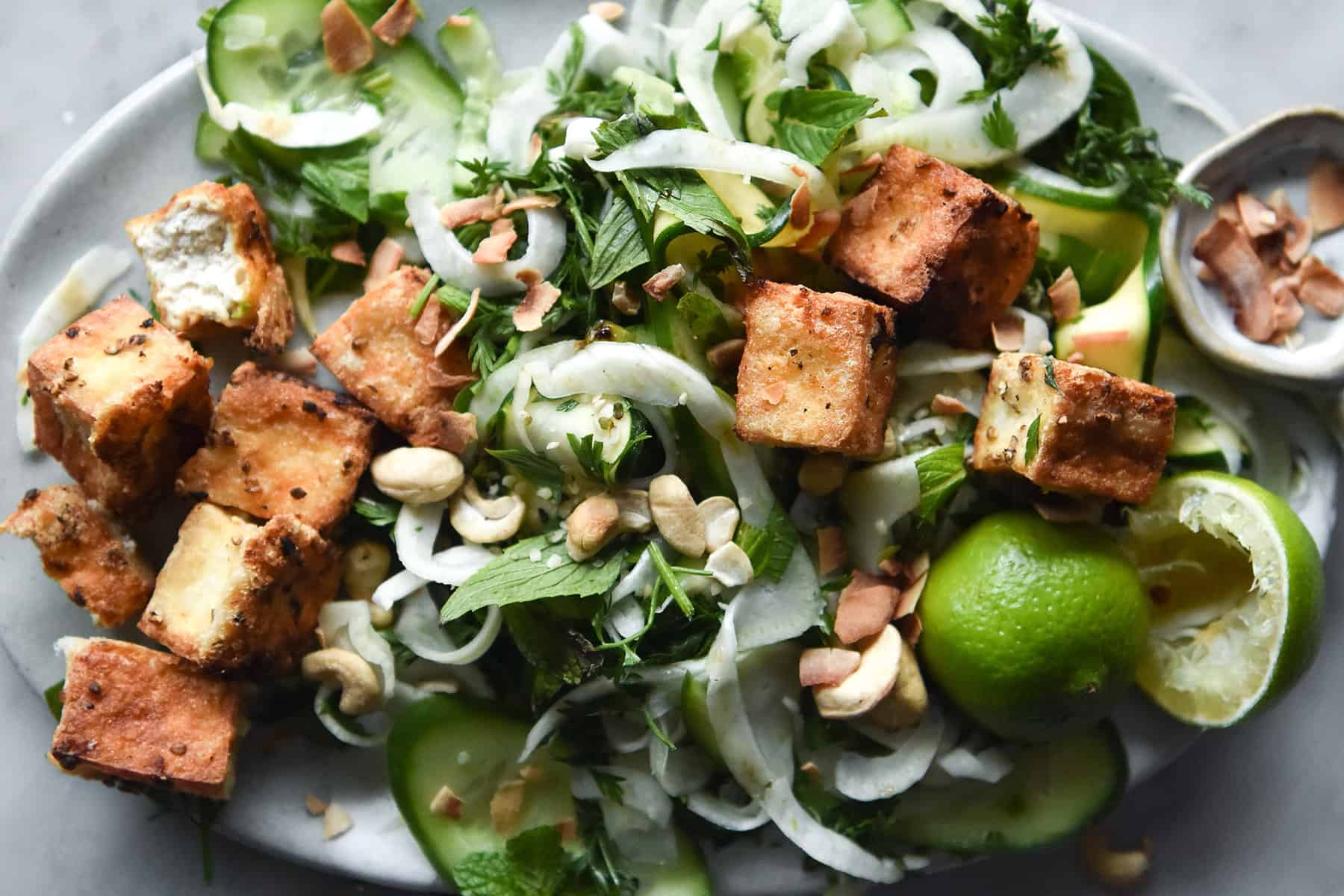 Crispy roasted potatoes, zingy yoghurt and herb salsa with a garlic infused chilli oil
Is this a salad? Maybe not. Do I love it so much that I try to include it everywhere humanly possible? Absolutely. This dish is one of my all time favourites, and it looks so good on the table.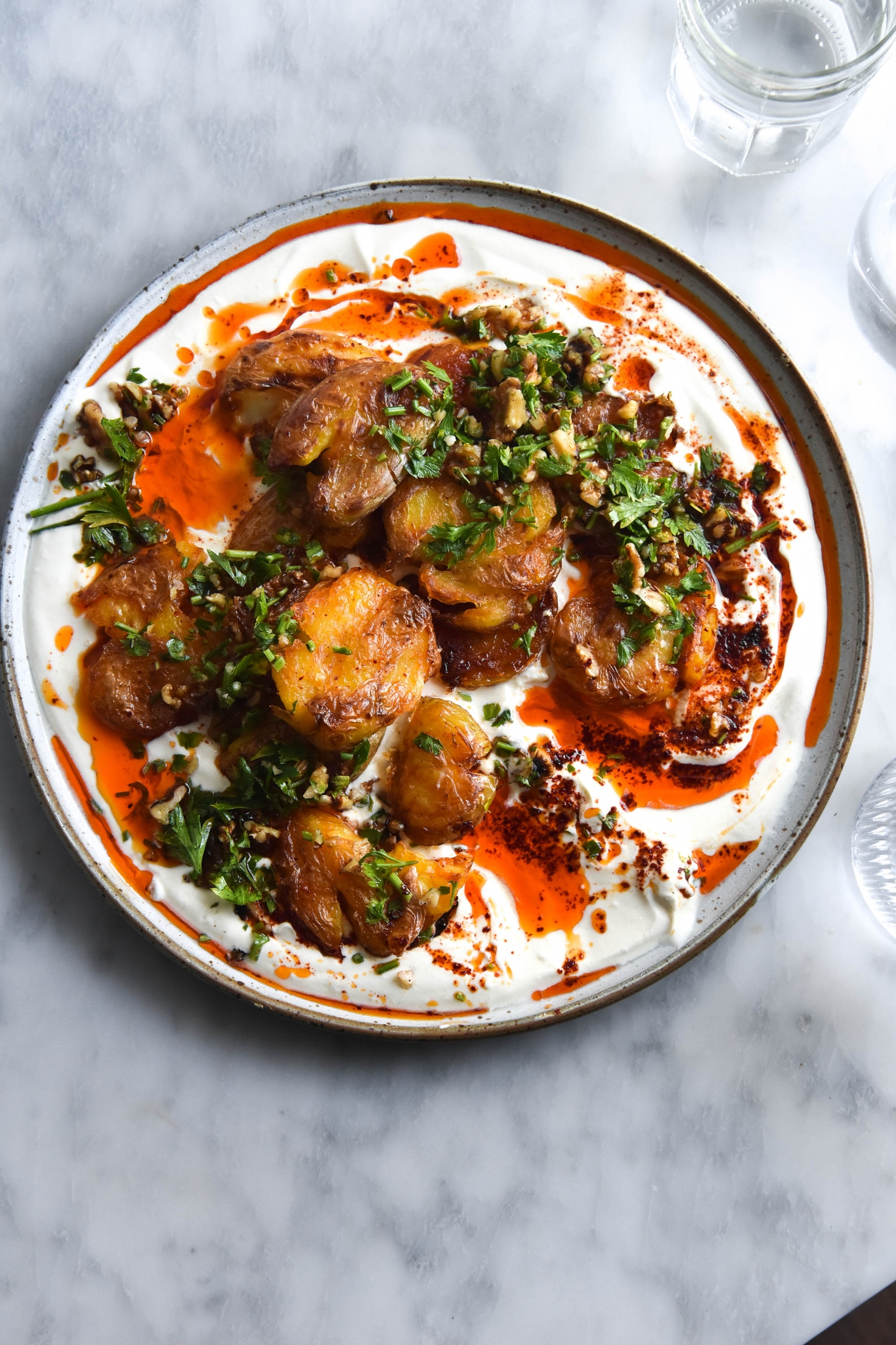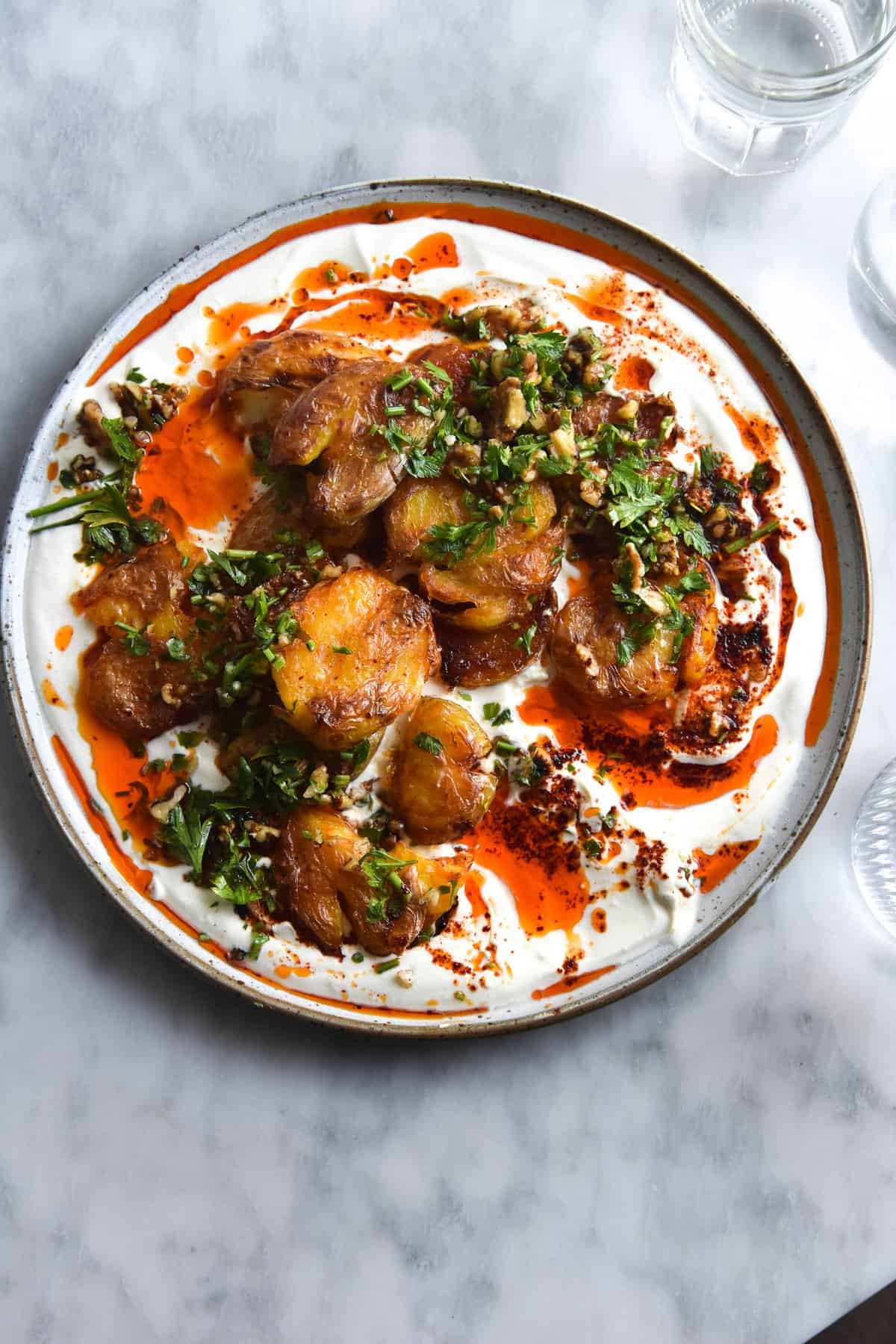 Spice roasted pumpkin and haloumi salad with pomegranates and preserved lemon herb sauce
This pumpkin salad was one of my most popular early salad recipes. It's beautiful, flavour filled and makes use of my favourite ingredients.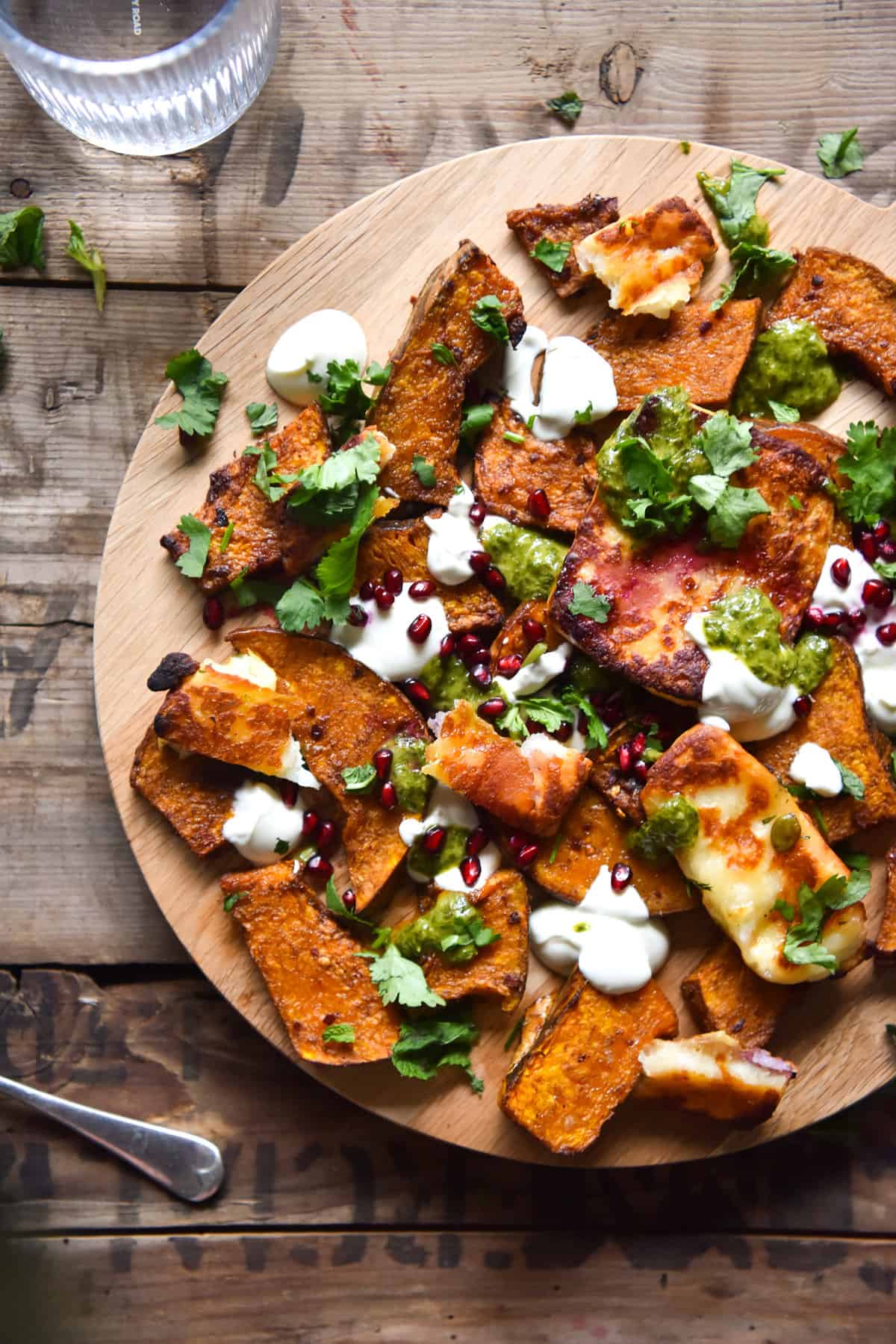 Low FODMAP vegan potato salad
This zingy and delicious vegan potato salad is jam packed with flavour while being undetectably plant based and low FODMAP.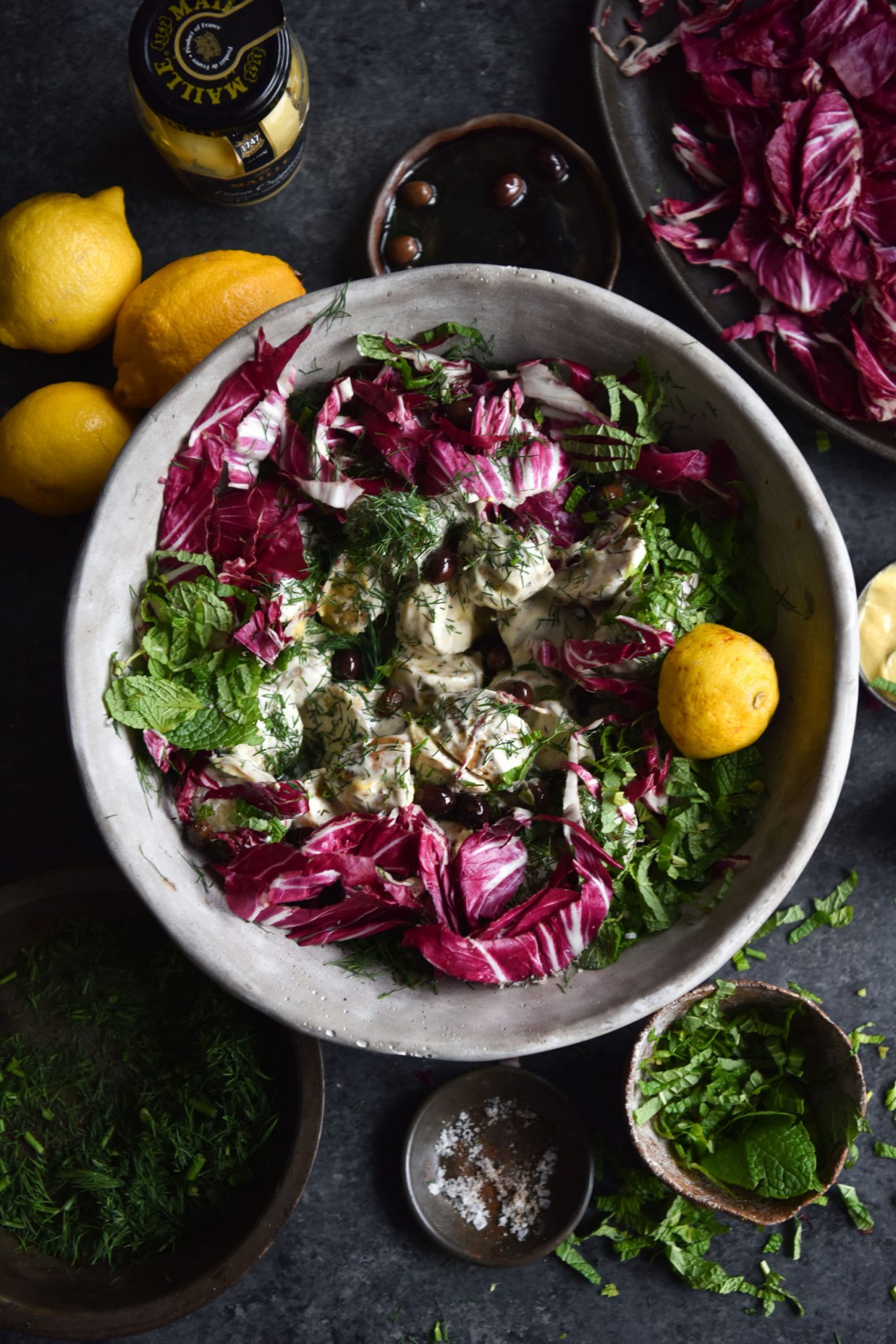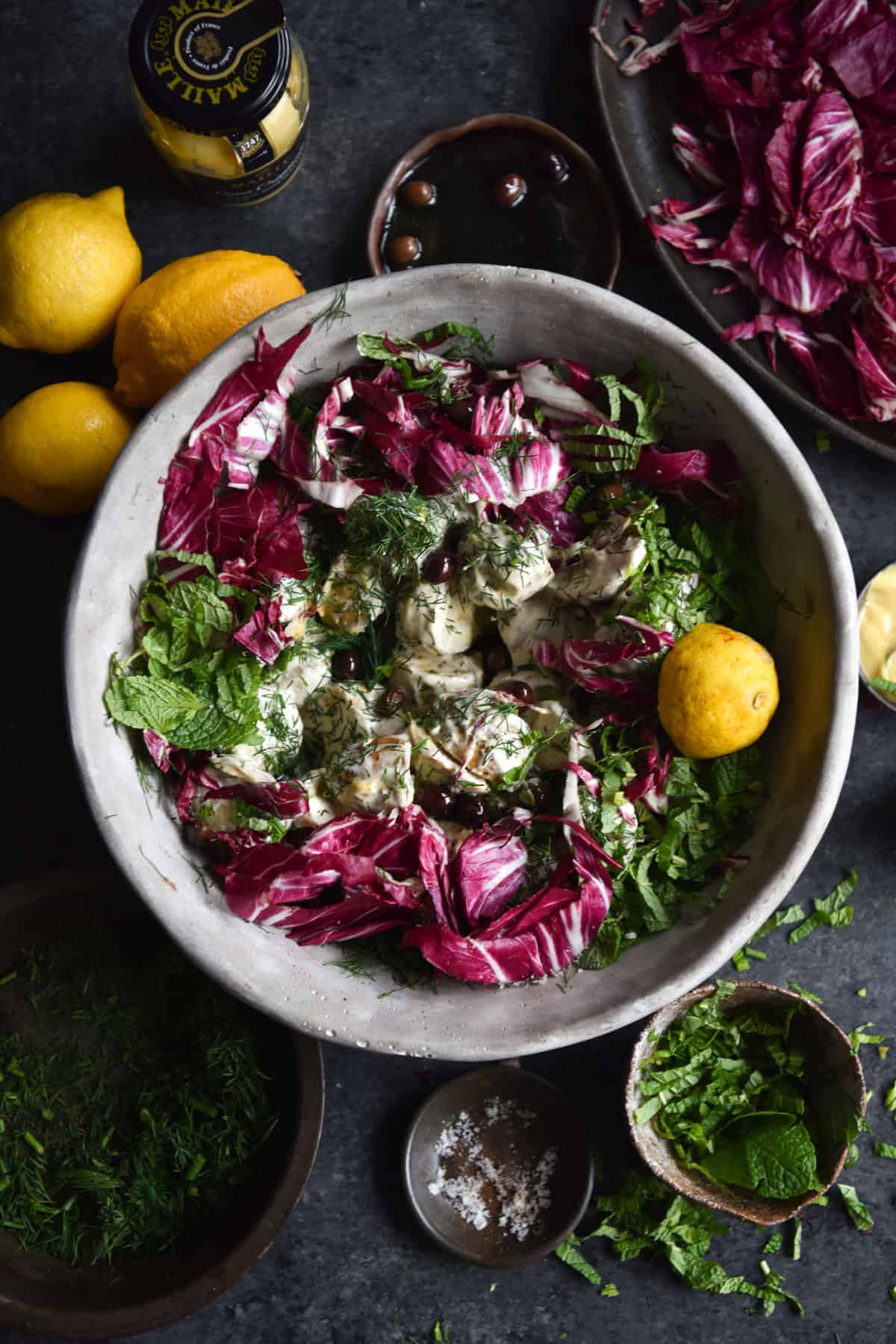 Low FODMAP tofu larb
Larb is traditionally a Laotian meat based salad. Here, I've used tofu and a few different ingredients to make this delicious delicacy low FODMAP and vegetarian/vegan.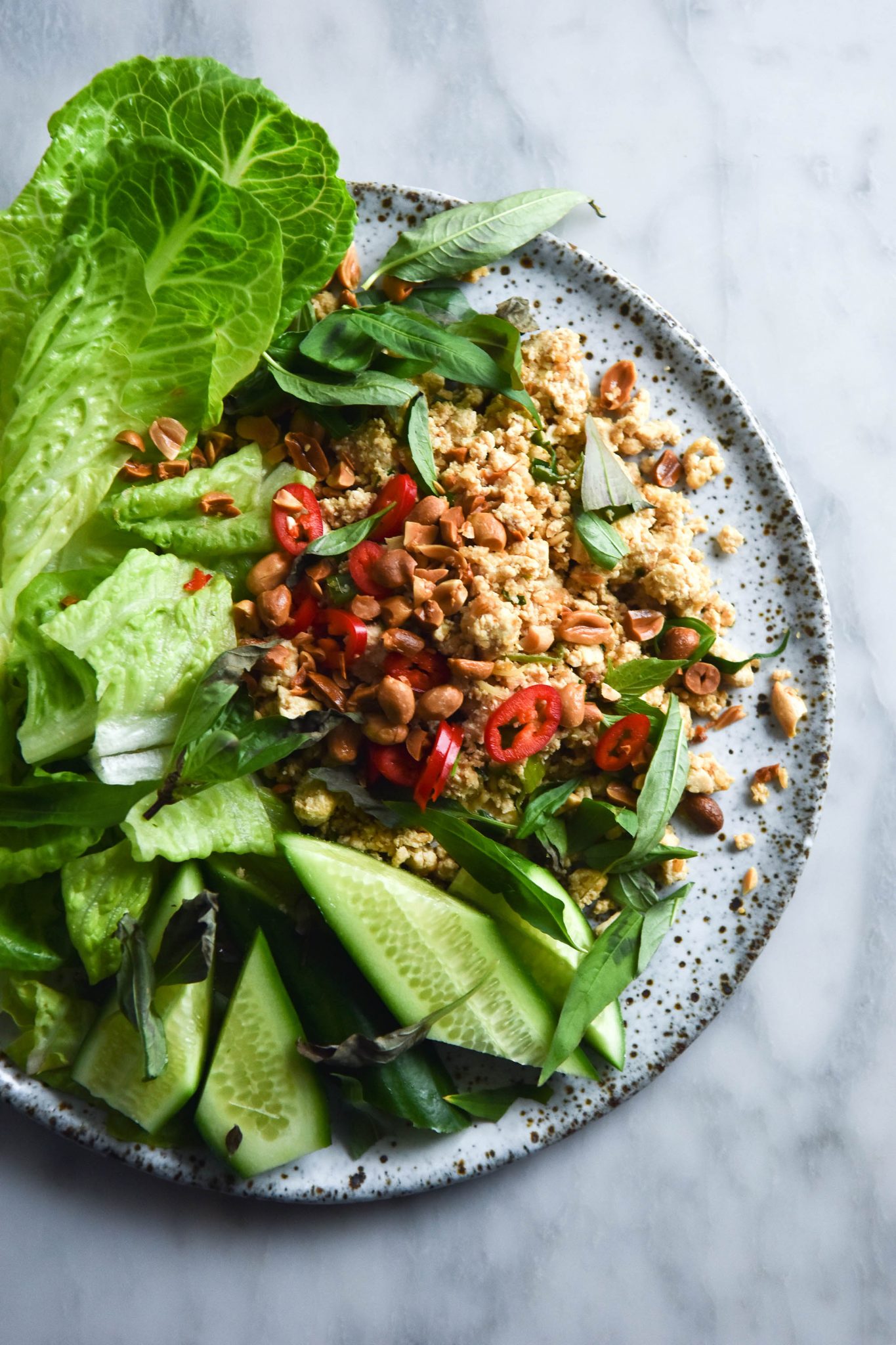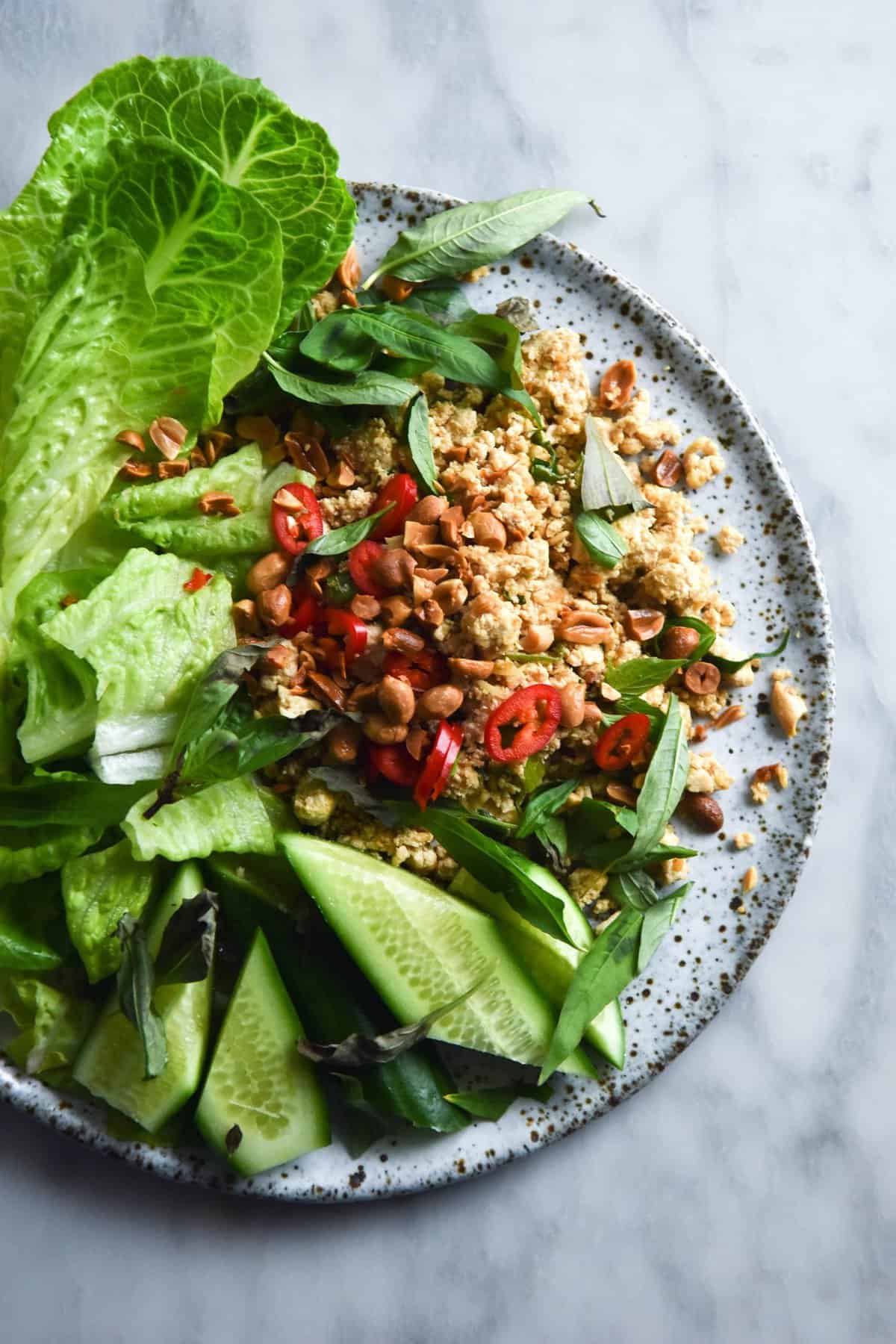 Salt and pepper tofu and tomato salad with a makrut lime and tamarind dressing
This salad is inspired by a delicious salad I had at Hanoi Hannah in Melbourne. Monash has recently updated the quantity of tomatoes that is considered low FODMAP, so consider replacing some of the tomatoes with cucumber if you react to tomatoes.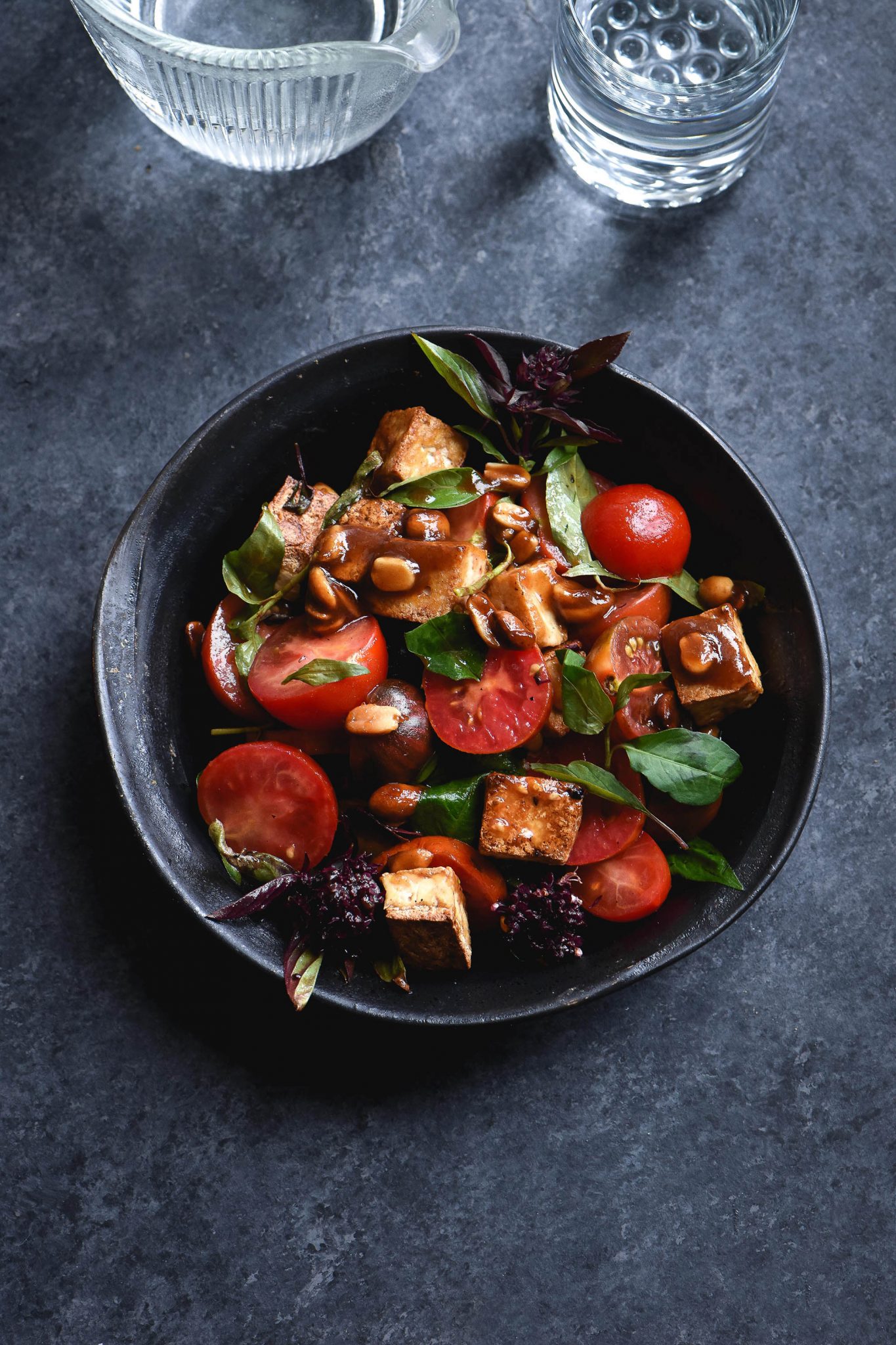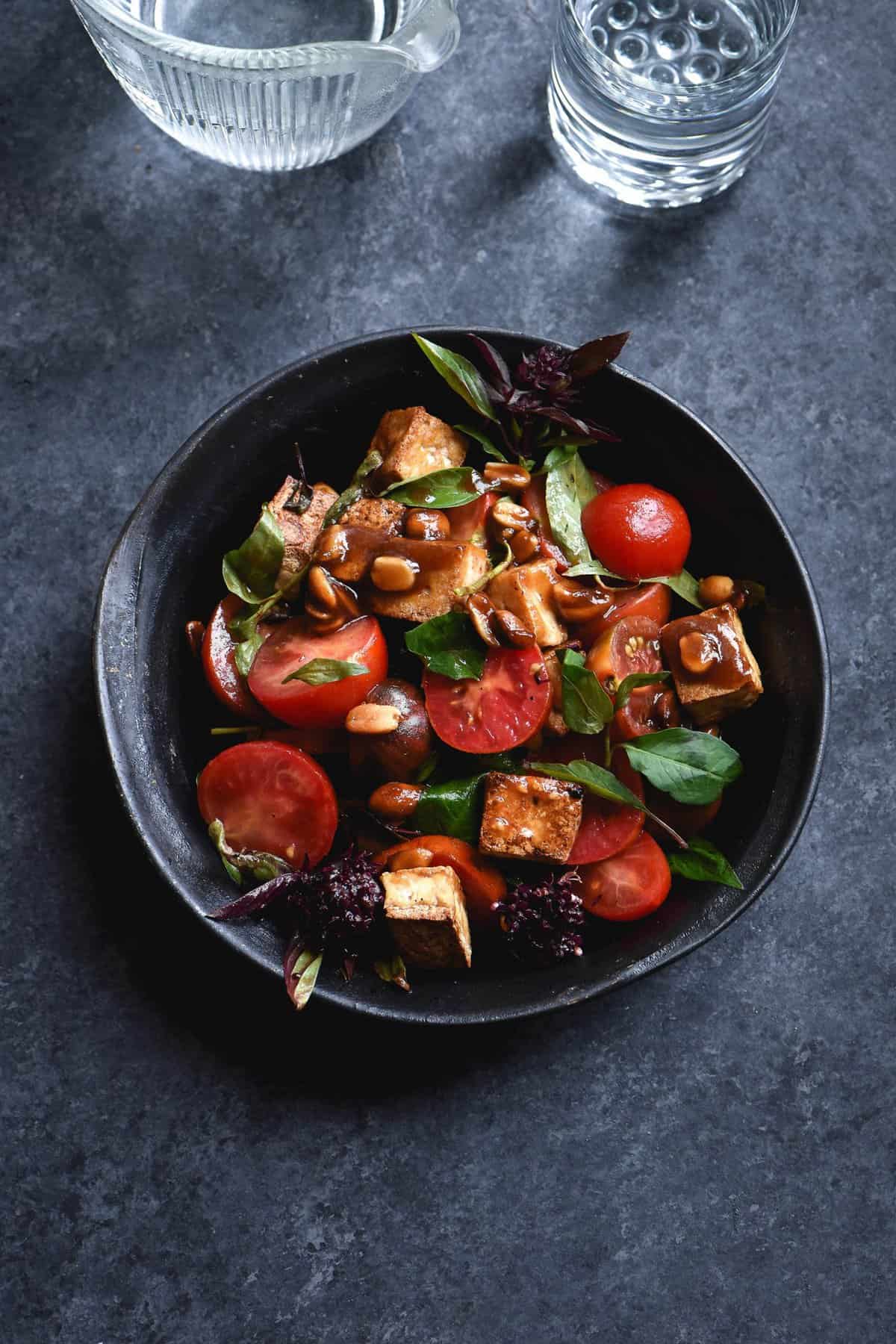 Radicchio salad with blue cheese and honey cinnamon walnuts
I am a radicchio girl through and through, so this salad is one of my all time favourites. There's the option to add roasted pumpkin and tajin roasted chickpeas, if you'd like to make it more substantial.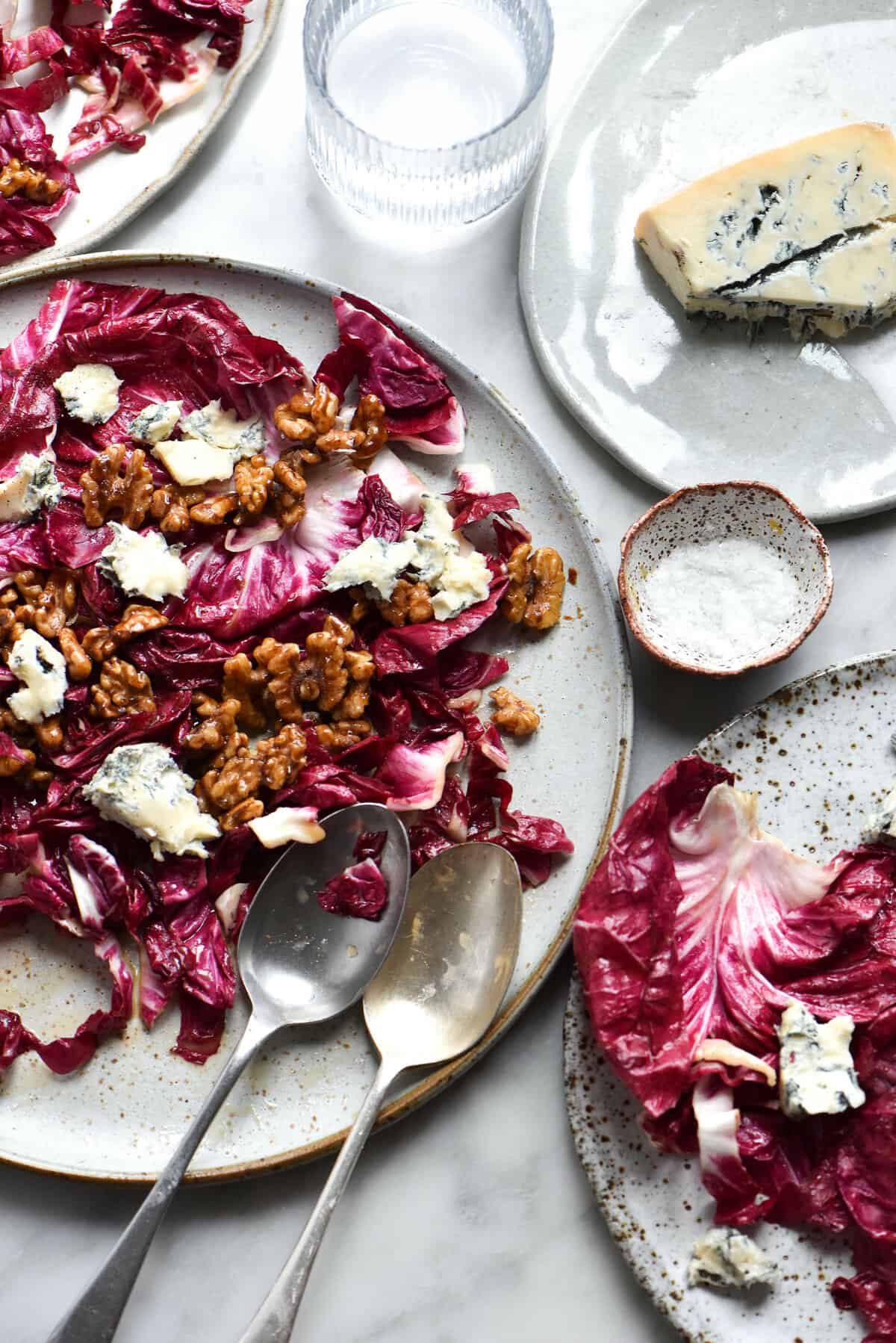 Tomato, cucumber, feta, olive and walnut salad
I hate to play favourites, but this is a salad I could eat forever. It's basically a jazzed up Greek salad with added herbs, walnuts and a dressing with a hint of sweetness. Monash has recently changed the quantity of tomatoes that is considered low FODMAP. Make sure to factor that in if you react to tomatoes.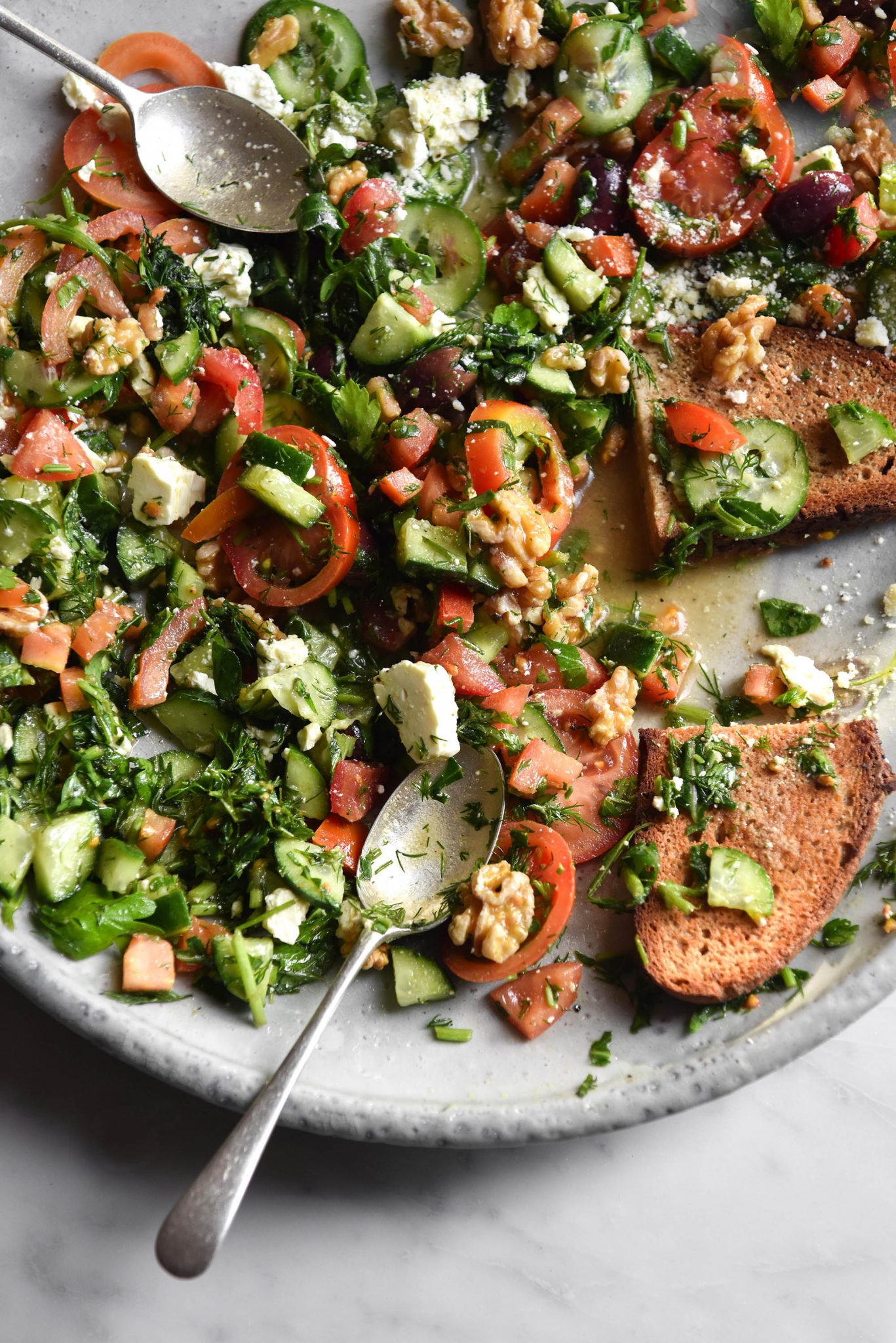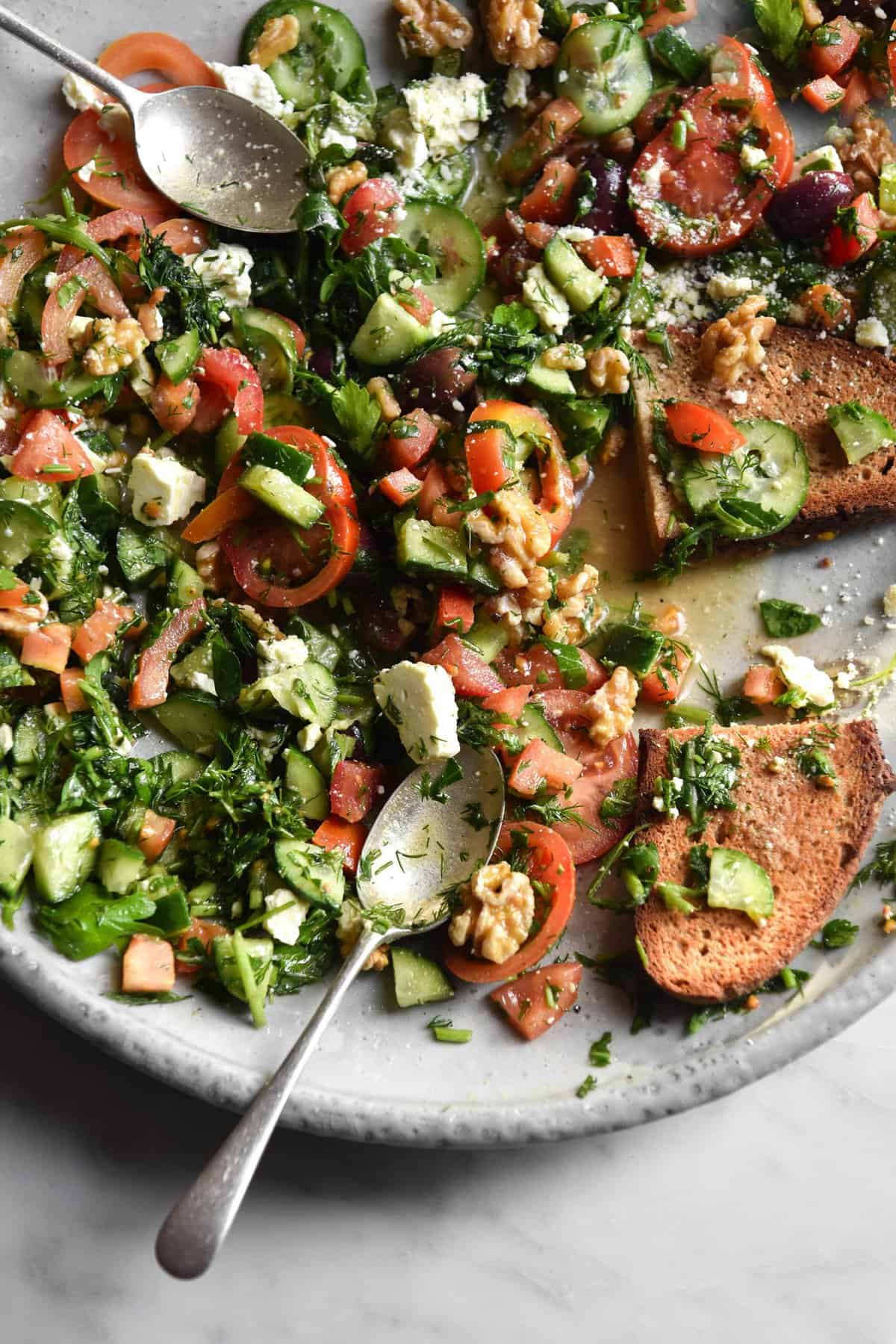 Low FODMAP green potato salad
This potato salad couldn't be easier – blend up the sauce, steam the potatoes and you're good to go. Packed with flavour as well as nutrition.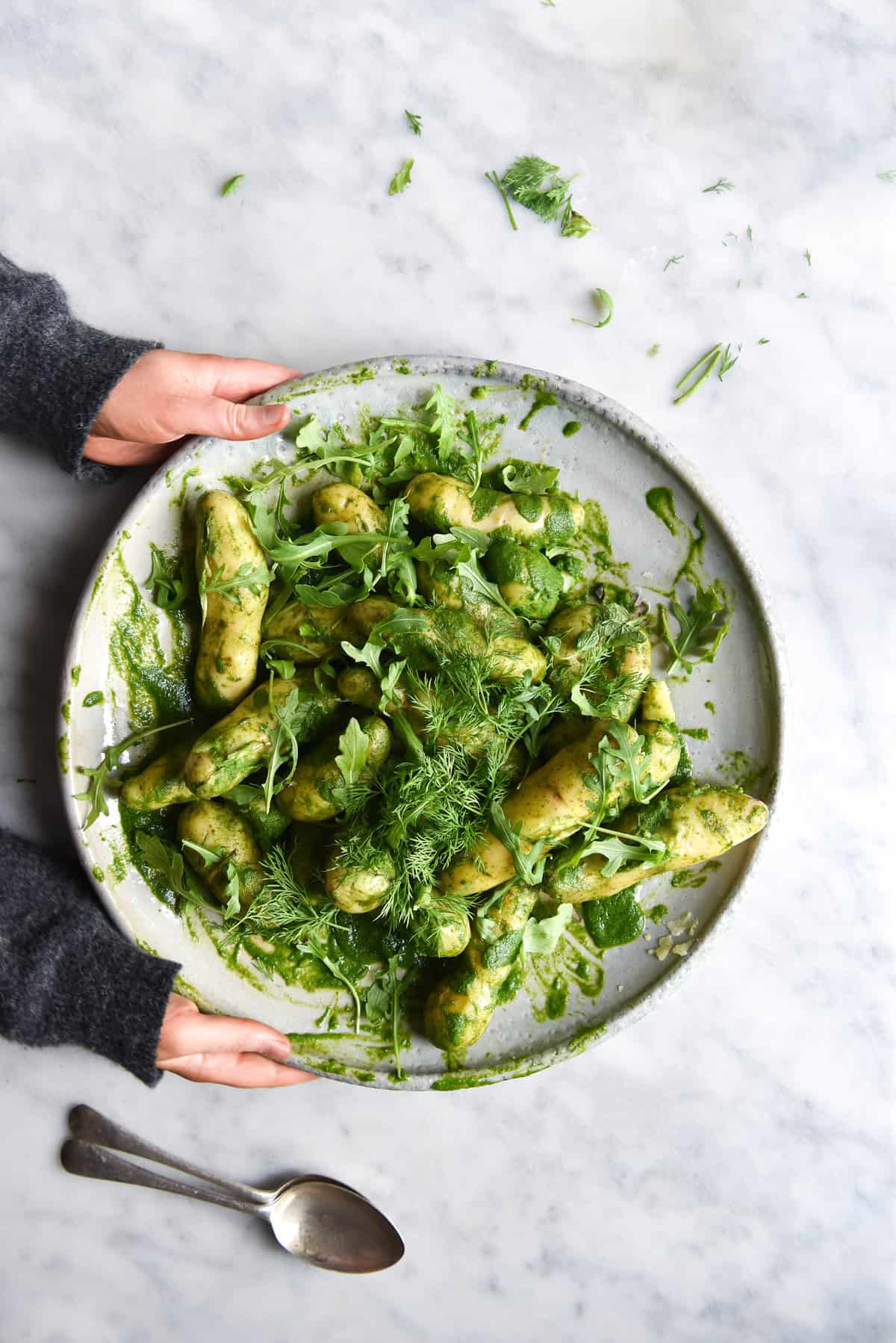 Dukkah roasted carrots with zucchini hummus and a green tahini sauce
This delicious roasted carrot dish uses a quick and easy homemade zucchini hummus for a low FODMAP alternative to the traditional chickpea hummus. Bonus points for finishing it off with some garlic infused oil.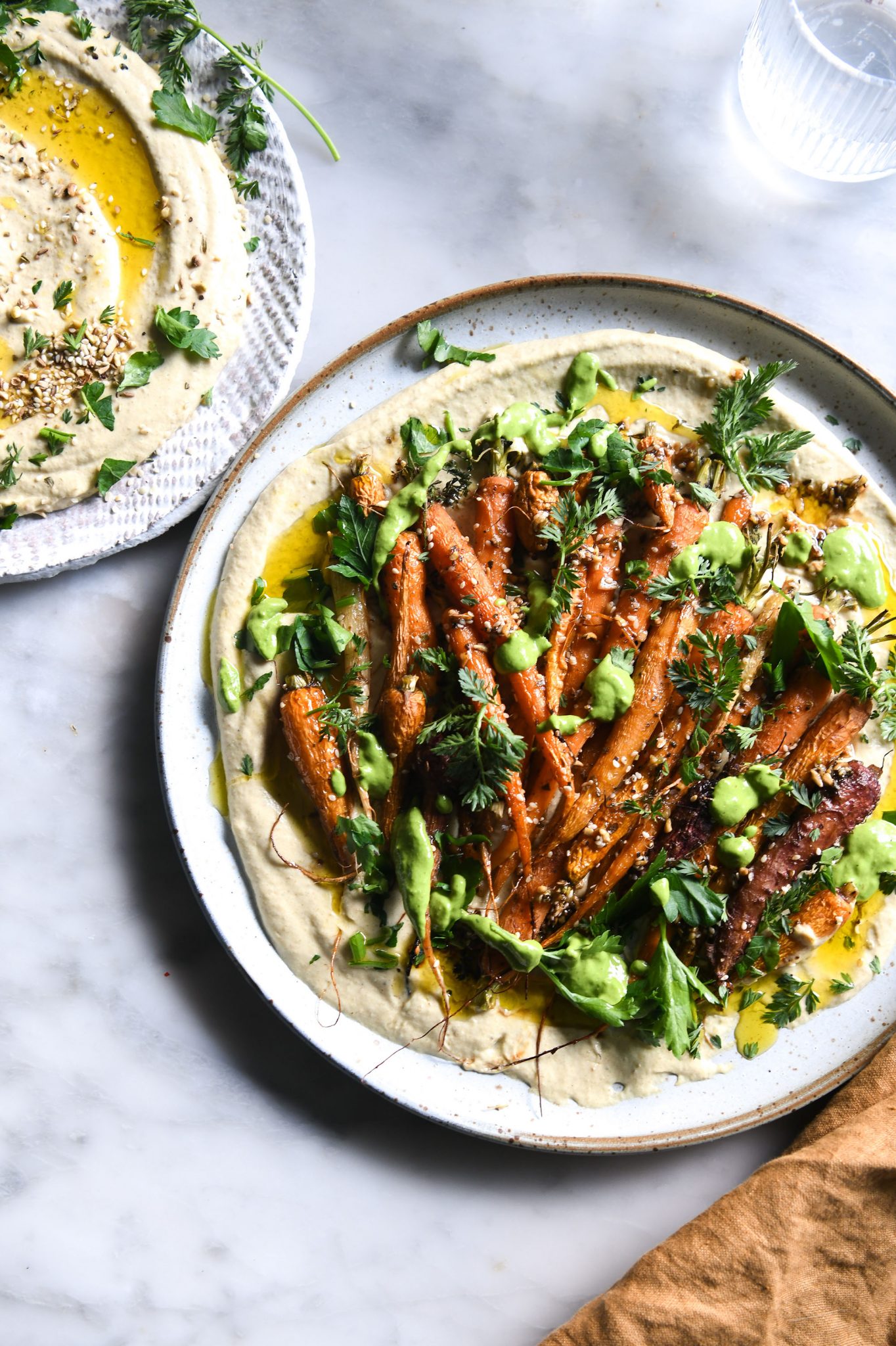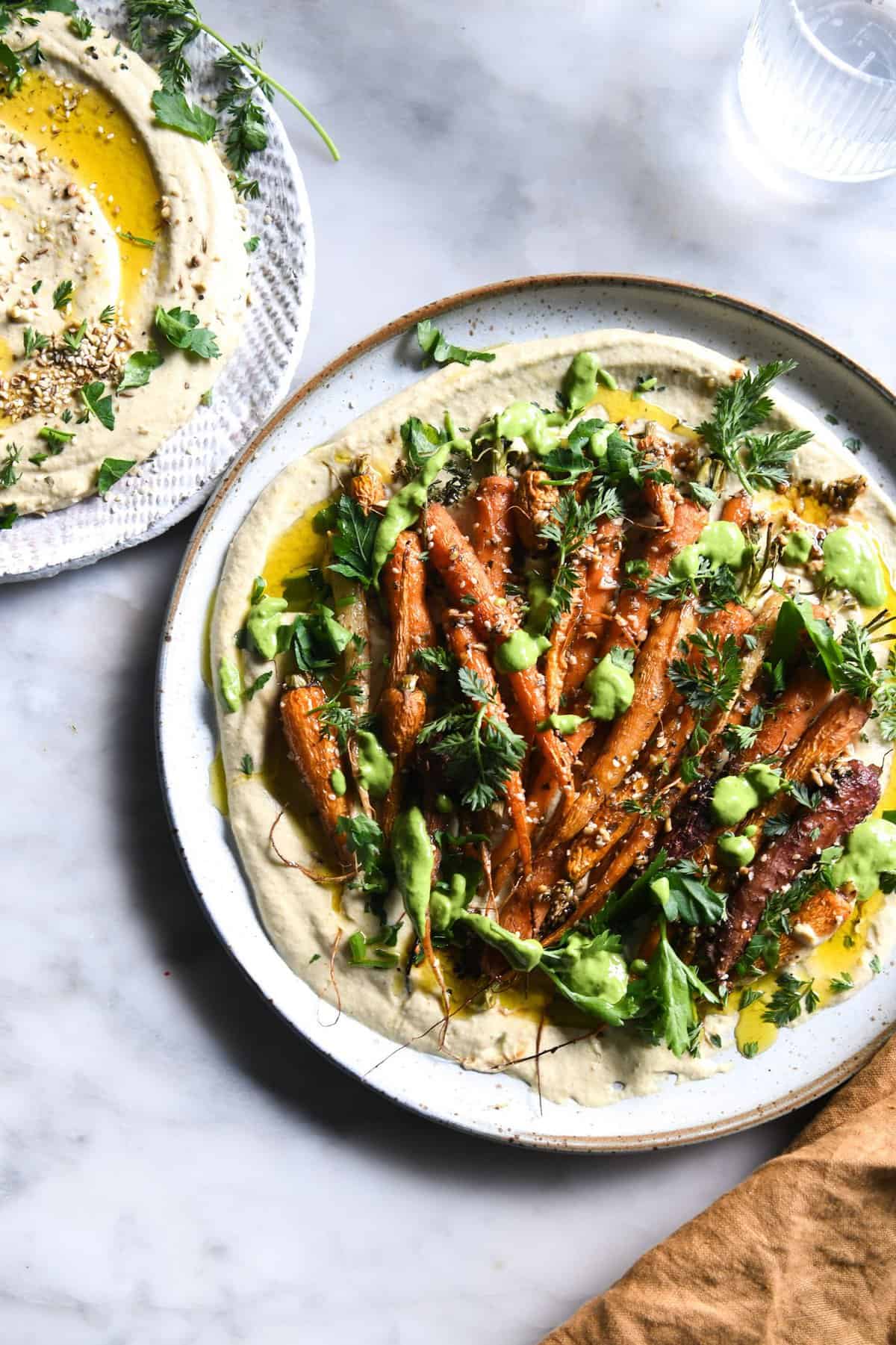 Spiced pumpkin salad with radicchio, feta, pine nuts, mint and a Christmas spiced dressing
My fruitless Christmas pudding was the inspiration for this festive spiced dressing. It's vibrant and zingy and brings so much to this delicious low FODMAP salad.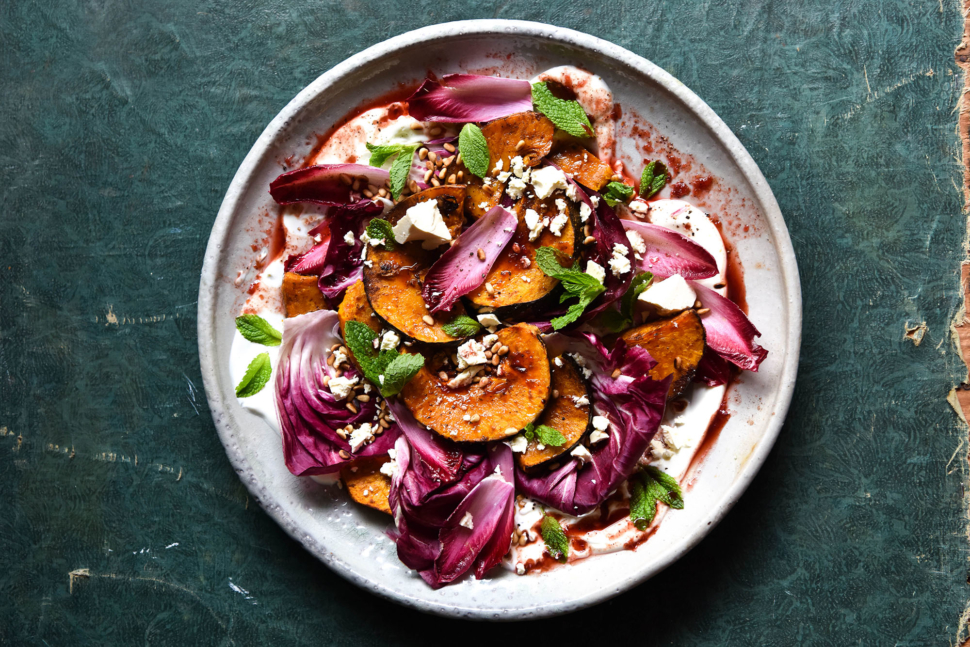 Blood orange, burrata and pine nut salad with a festive spiced dressing
First of all: this salad (and burrata) is perhaps only for those of who are OK with moderate amounts of lactose. Second of all: if you're lucky to be in that category, this salad packs a flavour punch and looks beautiful at the same time.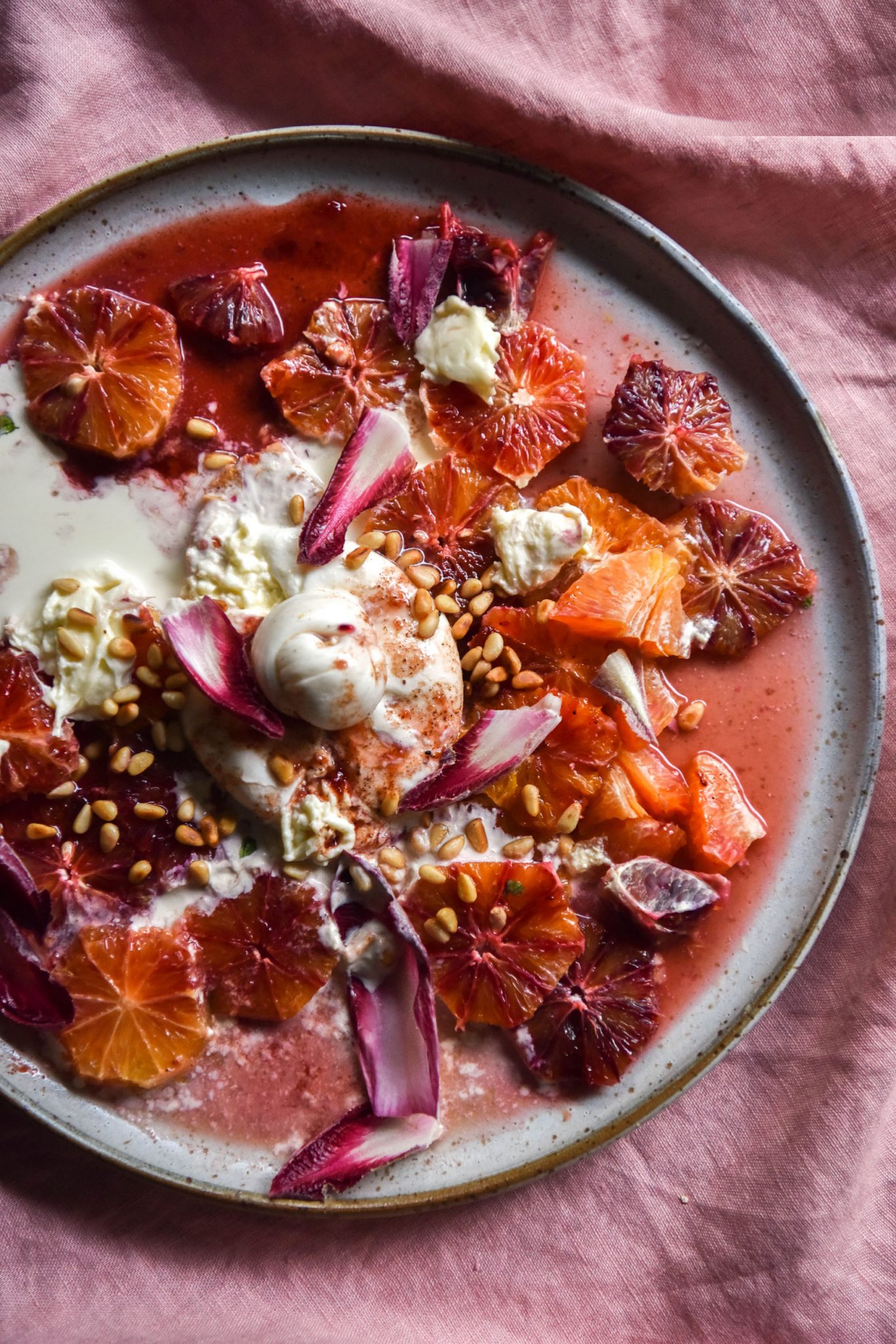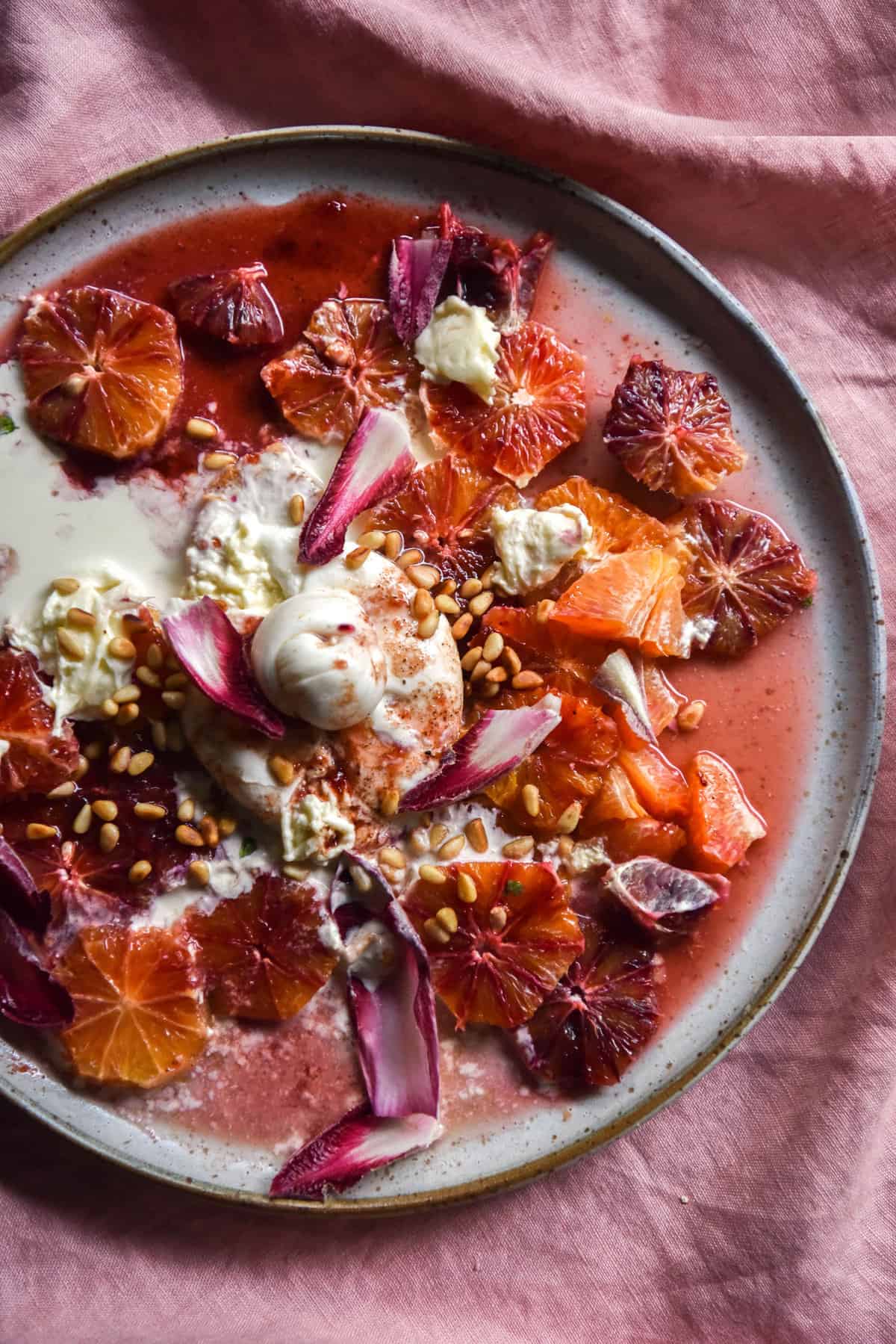 Vegetarian Caesar salad with salt and pepper tofu 'croutons'
The classic Caesar is reimagined with salt and pepper tofu croutons in place of regular croutons. This switch adds in some vegetarian protein and makes the dish suitable for grain free diets, too.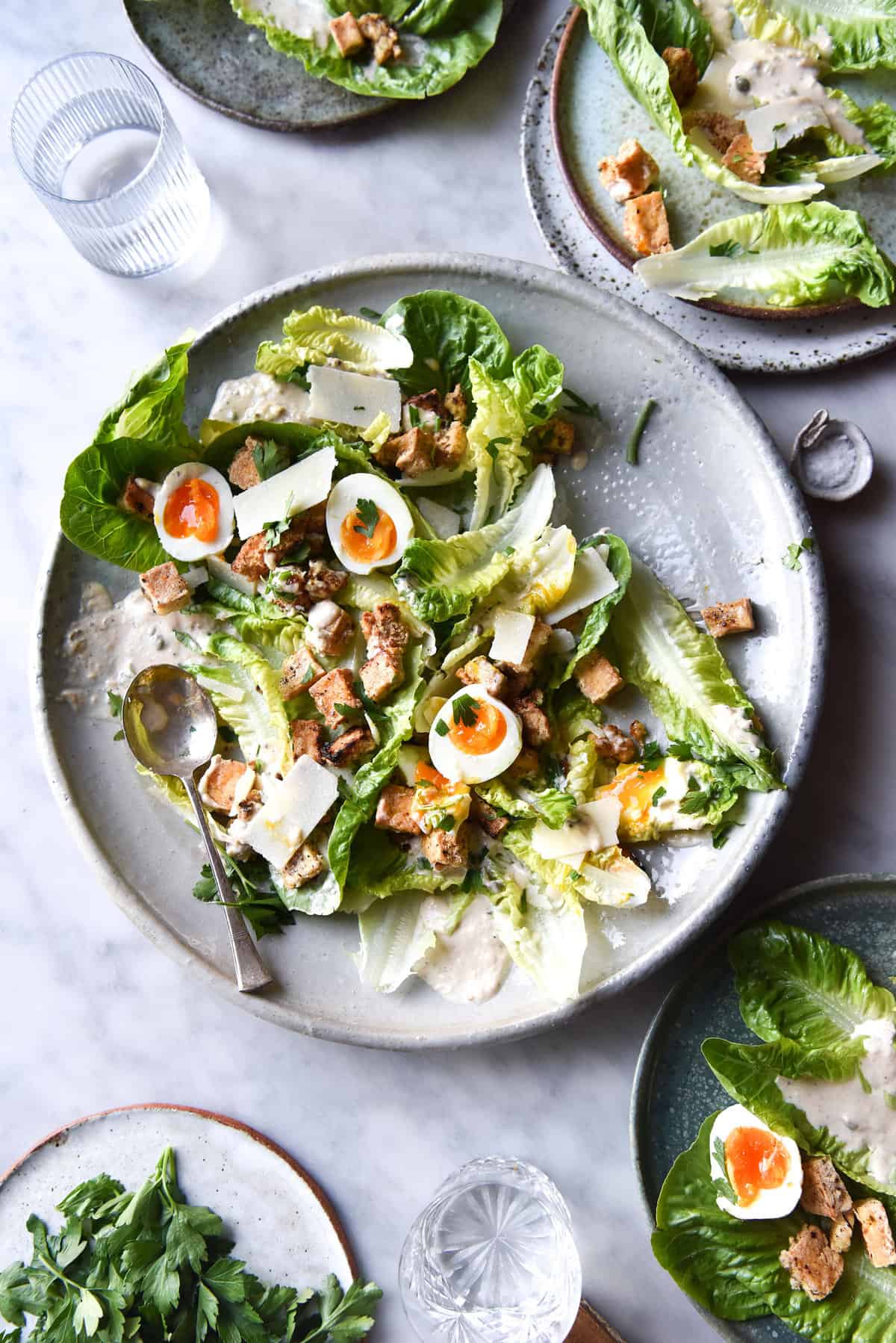 Green salad with haloumi and almond pesto
An easy and delicious greens salad with haloumi, fennel, avocado and an onion and garlic free pesto. Works well some of my low FODMAP salad dressing recipe drizzled over the top.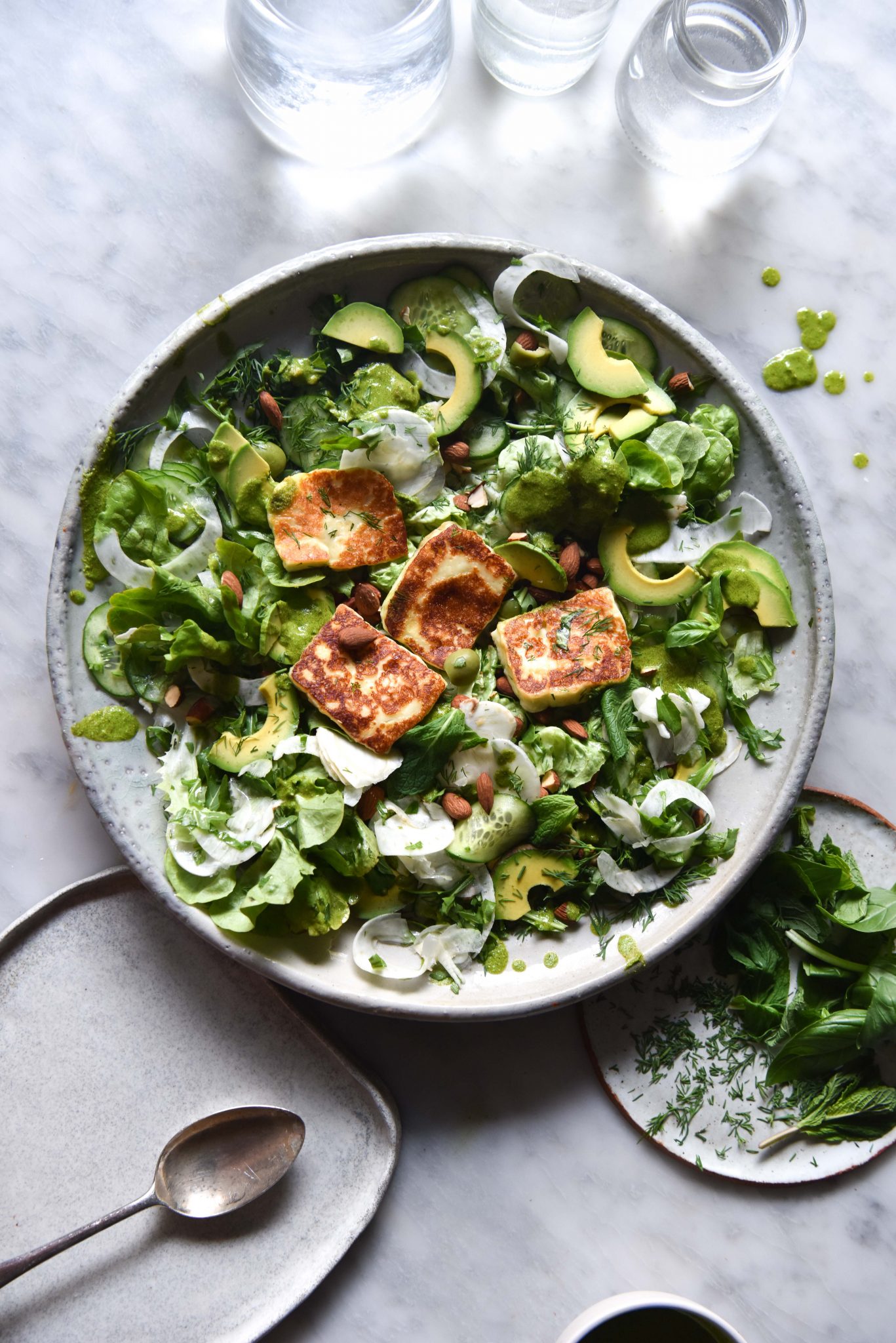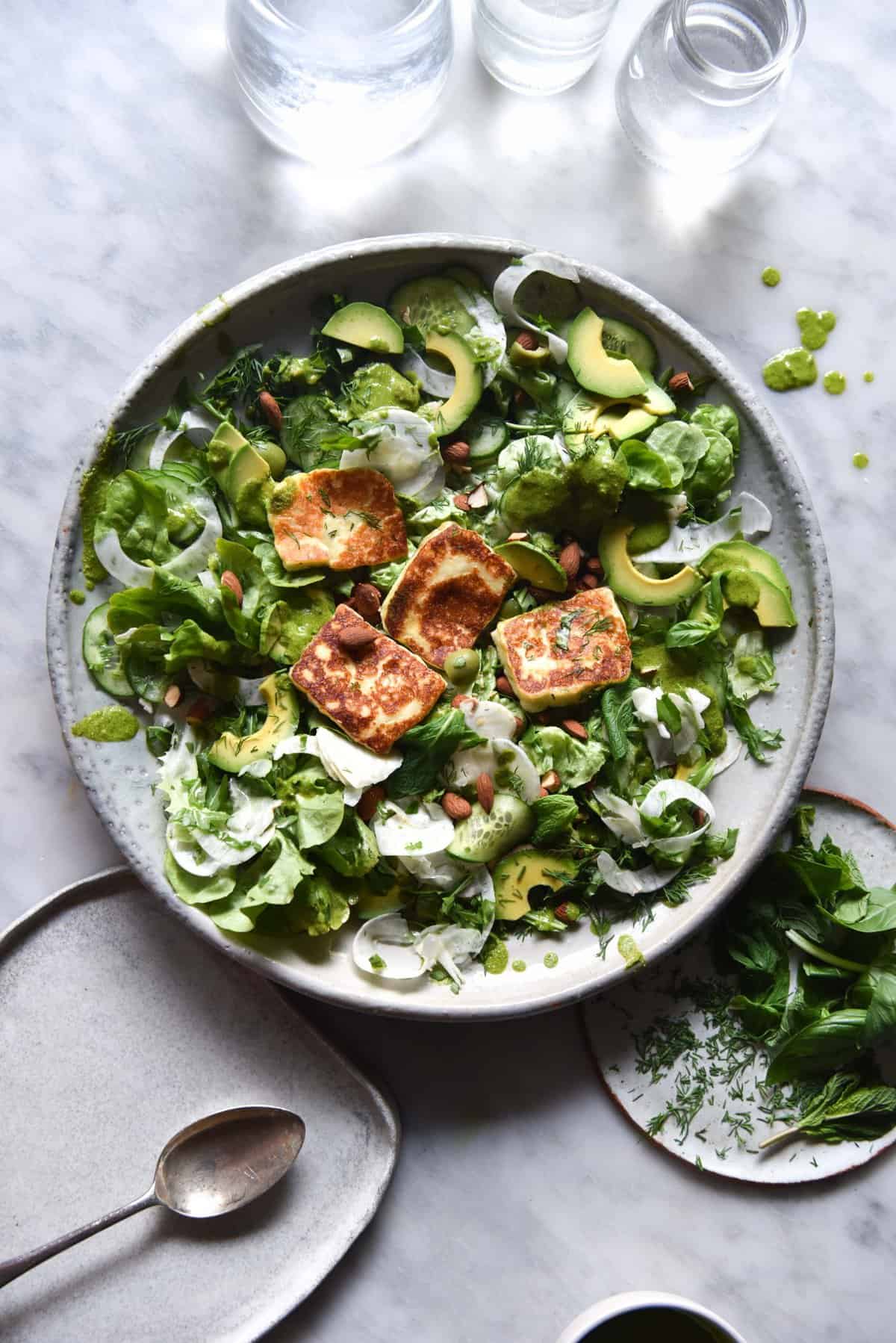 Summer heirloom tomatoes with whipped lactose free lemony ricotta
Monash recently changed the FODMAP limit to include significantly less tomato, so this is a bit of a cheeky inclusion. However, this concept can be applied to any fresh vegetable. It's a summery side that looks great on the table.