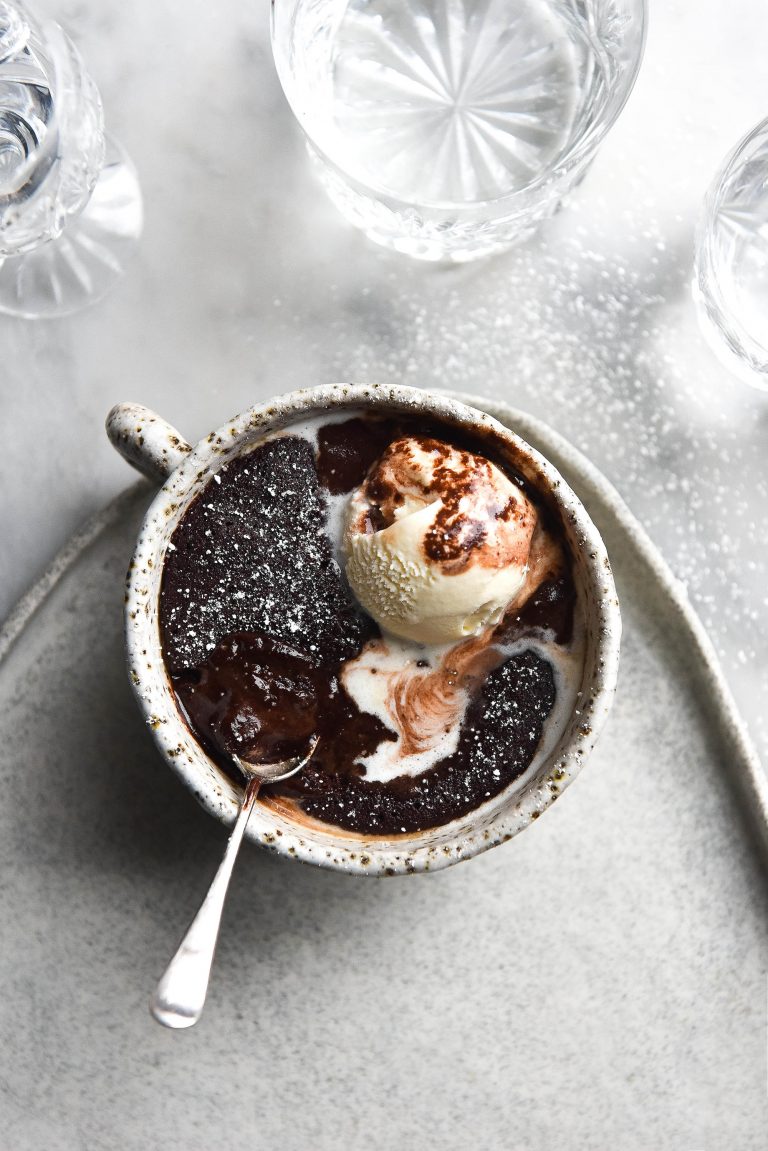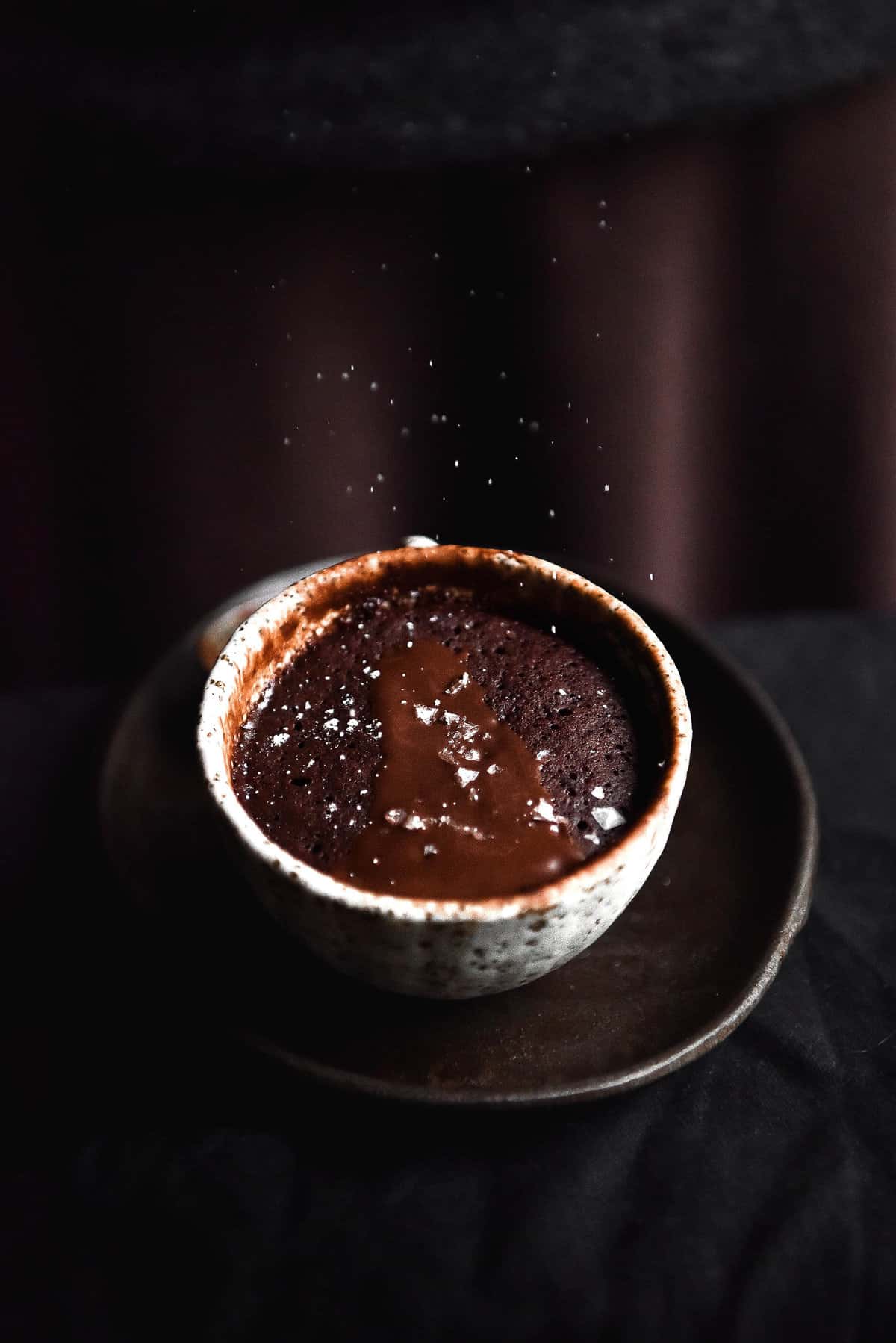 When I published the gluten free, vegan mug cake recipe recently, I had no idea that it would be so popular. I assumed that everyone thought mug cakes were a bit passé (as I did) – but I was wrong! People have gone nuts for it, which is why today's recipe is a refined-sugar-free chocolate mug-cake. There are so many hyphens because I wanted this as my key word, obviously.
Firstly, a note on unrefined sugar: it goes down the same way as sugar. That said, I'm not here to judge people on their food habits. People do it to me all the time and I know how it feels – not great. I just feel it's my duty to point this out, because I know a lot of people (my past self included) can be a bit too into the label of 'refined sugar free.'

A NOTE ON UNREFINED SUGARS FOR YOUR CHOCOLATE MUG CAKE:
Secondly, a note on the unrefined sugars I've tested for this recipe. Spoiler alert: I have only tested maple syrup, and this is for a couple of reasons. It's easy to find, delicious, FODMAP friendly, and has a sweetness on par with light brown sugar. In a similar manner to light brown sugar, it also adds a caramel-like depth of flavour to the refined-sugar-free chocolate mug cake.
Make sure you buy pure maple syrup, not maple flavoured syrup. I have been buying a lovely deep flavoured maple syrup from my local bulk food store and it's the nicest I have ever had. It's a deeply rich caramel flavour with a hint of treacle like depth. If you can find some good maple syrup like this, I highly recommend it.
I didn't try using rice malt syrup because I think it would be too dull of a sweetness in this recipe. While it works in others (the snickers cookies, for example) I think it would result in a bland mug cake.
Another unrefined sugar I didn't try? Coconut sugar. I don't often use coconut sugar anymore because of it's higher fructose content. This can be troublesome for people with digestive issues. HOWEVER! I had a lovely reader contact me to say that she used coconut sugar in the original mug cake recipe – 3 tablespoons, the same quantity as the original light brown sugar.
So, if you'd like to use coconut sugar, please follow the other recipe and substitute coconut sugar in place of light brown sugar. The quantities for this recipe are different to account for the liquid nature of maple syrup, so this recipe isn't suitable for a granular unrefined sugar. In the same vein, if you'd like to try using maple sugar as opposed to syrup, please use the original recipe.

REFINED-SUGAR-FREE CHOCOLATE MUG-CAKE RECIPE SUBSTITUTIONS
This recipe makes 1 large or 2 small servings. It is quite rich, so you might like to divide it between two people.
You can use either Dutch processed cocoa or cocoa powder for this recipe. Dutch processed often results in a deeper, more 'chocolate' flavour. Regular cocoa lends more of an up front, fruity chocolate flavour. Serious Eats has a bit more information here, if you're interested.
As mentioned, I have tested this recipe with maple syrup. I haven't tested it with anything else, sorry! You'll have to experiment if you plan to try any other sweeteners.
You can use an oil that you have on hand. I actually really like olive oil in sweet baking, which is why I used it. Avocado, vegetable or canola would work. Coconut oil is also an option, if you're open to a hint of coconut flavour.
The potential for experimentation with different gluten free flours is high. I'd recommend softer flours like toasted quinoa flour, buckwheat flour or millet flour. See below notes on flours.
A caveat to the above: the 1 tablespoon of tapioca flour is not optional. In the absence of eggs, it binds the cake together. I have found that omitting it results in an overflow of cake in the microwave.
Almond meal is not an appropriate option here – for whatever reason, it results in a volcano of cake. I haven't tested a grain free version of this recipe yet, but I'll keep you posted when I do.
A SPECIFIC NOTE ON GLUTEN FREE FLOUR AND FLOUR SUBSTITUTIONS
As mentioned above, tapioca flour (a starch) is compulsory in this recipe. It replaces the elasticity of an egg, and is always important to lighten up gluten free flours. However, I was asked on Instagram if there were any starches that could replace tapioca flour. Please note that I haven't tested any of these, so you'll be doing a bit of experimentation. The closest substitutes are arrowroot flour or starch (I often use them semi interchangeably if I'm desperate) potato starch and glutinous (or sticky) rice flour.
I have tested this recipe with brown rice flour and sorghum flour as the grain based flours. I am a giant sorghum flour groupie, but I found the mug cake looked a lot more aesthetically pleasing with brown rice flour. It had a smoother top and looked more cake like. That said, both were delicious and the quality was unaffected. Just thought you might like to know.
You could also try quinoa flour, millet flour, or maybe buckwheat flour. If you can, I'd probably recommend using 1/2 buckwheat and 1/2 rice flour however, because buckwheat can be quite strong and also quite absorbent.
In the original recipe, some readers had success with using all gluten free flour blend – 3 tablespoons. This will differ from blend to blend and I haven't tried it, but it did work for some people.

REFINED-SUGAR-FREE CHOCOLATE MUG-CAKE TIPS AND NOTES
Salt changes the game, I promise. It deepens and enriches the chocolate flavour and I don't recommend omitting it.
This mug cake recipe can also be cooked in the oven, if you don't have a microwave. It takes 15-20 minutes in a 180C or 356F oven (more on how to do that below).
How long you cook the mug cake depends a little on your microwave. Apparently different microwaves have different wattages and therefore different strengths. This means you might need to experiment with cooking yours a little more or less.
That said, because this is a vegan mug cake, it doesn't matter if the cake is undercooked. In fact, it's kind of ideal – this is when your mug cake becomes a self saucing mug cake.
HOW TO COOK YOUR MUG CAKE IN THE OVEN:
Firstly, you'll need to choose a vessel that is oven safe. I've found that the cake doesn't rise and fall as dramatically in the oven, so it doesn't need to be huge. However, it does need to be able to withstand the oven. Generally speaking ceramics will say on the bottom if they're oven safe. Personally, I recommend using a ramekin or a little oven dish (I have a mini casserole dish, because why wouldn't I?) I wouldn't recommend cooking it in your favourite, artisan ceramic mug. If yours are anything like mine there are no mass produced labels on the bottom, and I don't want to risk you ruining your favourite one-off piece.
INSTRUCTIONS
Preheat the oven to 180c or 356F.
Once the oven is ready, prepare the mug cake batter as per the instructions in the recipe card below.
Use a silicon spatula to decant all the batter into the oven safe, small vessel of your choosing. I used a mini ceramic casserole dish which has a 1 1/2 (Australian) cup capacity.
Place the cake in the oven for 15-20 minutes. 15 minutes will result in a gooey, self saucing pudding, whereas 20 minutes will result in a fully fledged cake. Because of the liquid content, I find the maple syrup version (as opposed to the original) will always have a little 'self saucing' spot. Again, this is ideal because the cake is vegan so a bit of squidge isn't dangerous – it means cake and sauce in one!
Sprinkle with a little icing sugar and/or top with some cream, ice cream or yoghurt. Best served immediately but keeps well in the fridge if you can't finish it.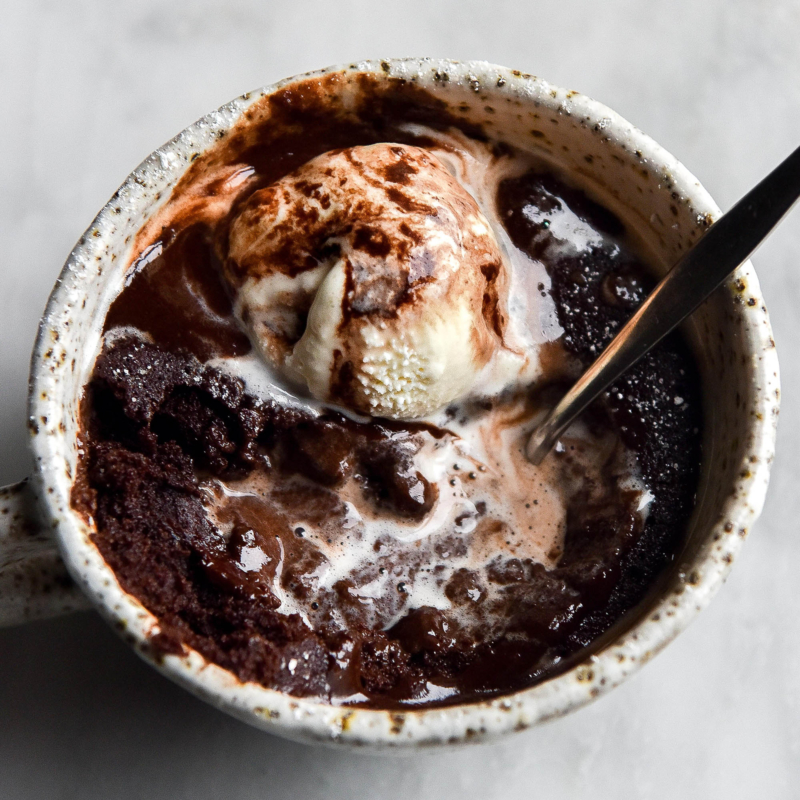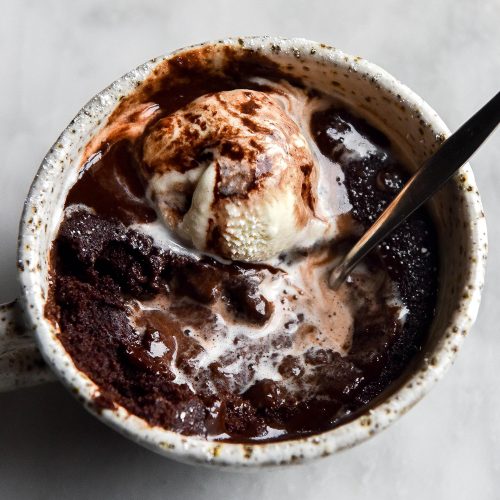 REFINED SUGAR FREE, GLUTEN FREE AND VEGAN CHOCOLATE MUG CAKE
Gluten free, vegan, refined sugar free, nut free, FODMAP friendly
Ingredients
2

tablespoons

cocoa

see notes

3

tablespoons

boiling water

2 1/2

tablespoons

pure maple syrup

1 1/2

tablespoons

oil

see notes

1

tablespoon

tapioca flour

2

tablespoons

wholegrain gluten free flour like brown rice flour or sorghum

see notes

1/2

teaspoon

baking powder

Pinch

of fine salt
Instructions
Whisk the cocoa with the boiling water in a small bowl. Add the maple syrup and oil and whisk until smooth.

Add the tapioca flour and whisk until there are no lumps. It will look like an oily mess, but adding the tapioca flour before the brown rice flour results in a smoother batter at the end.

Add the brown rice flour (or gluten free wholegrain flour of your choice, see notes) and whisk until smooth. Finally, add the baking powder and salt and combine well.
To bake in the microwave:
Decant the batter into a large, microwave safe mug with enough space for the cake to rise. Microwave for one minute or until cooked to your liking. Because the cake is vegan, it's ok to have some saucy bits down the bottom or in the middle (but you can also keep cooking it if you prefer.)
To bake in the oven:
Preheat the oven to 180C or 356F. Pour the batter into an oven safe ceramic baking dish (I use a 1 1/2 cup capacity ceramic mini casserole dish).

Place the cake in the oven for 15-20 minutes. You can leave a few fudgy bits of allow to cook until completely done. Serve with ice cream, cream or yoghurt.