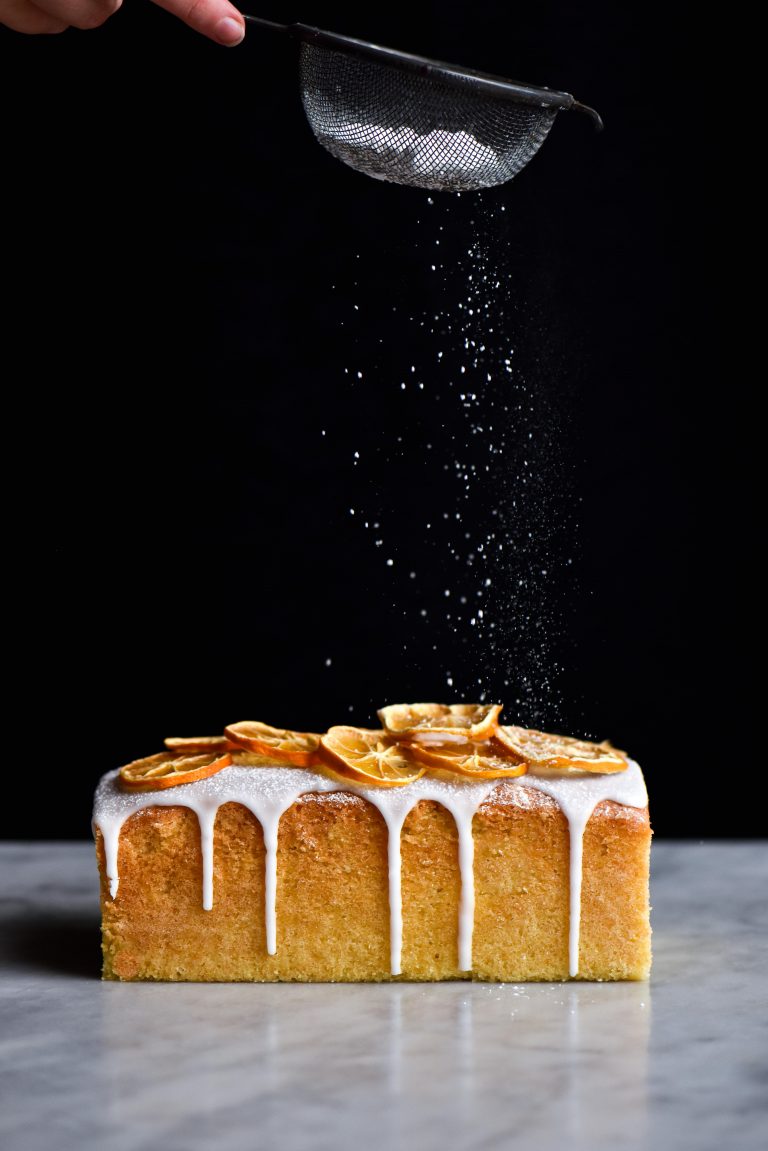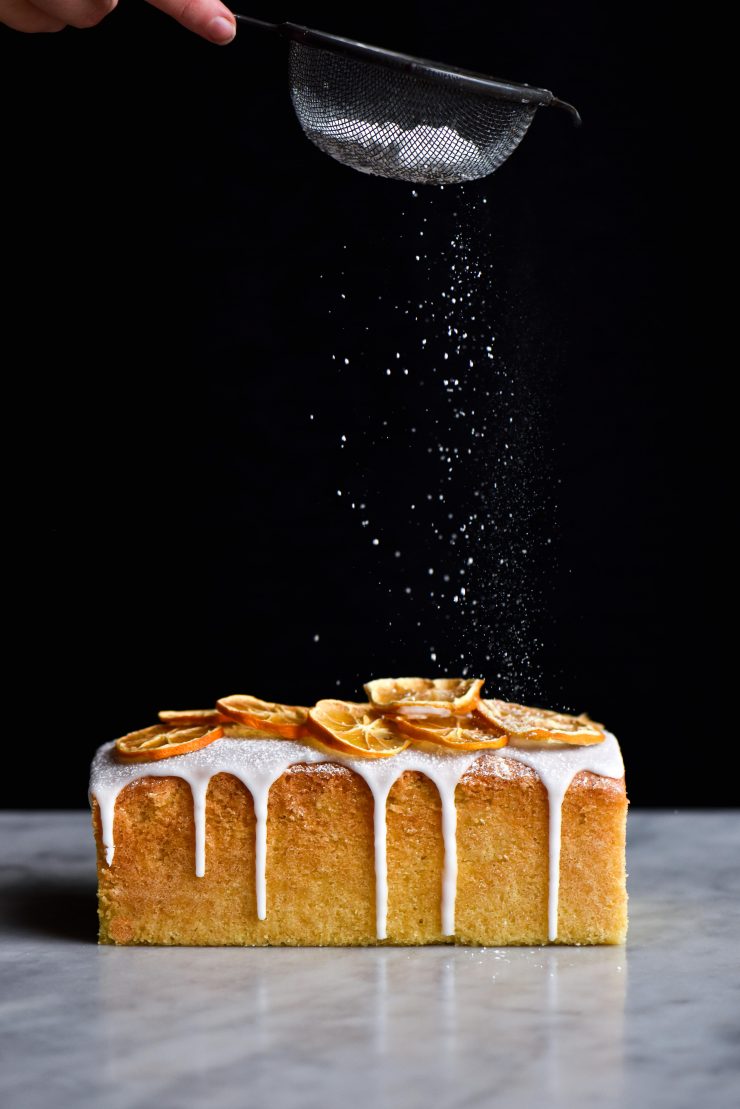 There are some sweets that every baker needs in their arsenal. Chocolate cake, brownies, a basic choc chip cookie. Today we're talking about a cake I've only just discovered I needed; a gluten free lemon drizzle cake.
Gluten free lemon drizzle cake without xanthan gum
This cake has been a real adventure! I assumed it would be a quick development process, but I assumed wrong. It took me nearly a month of obsessive research to get to this point (which was well worth it). My recipe for gluten free lemon drizzle is FODMAP friendly, xanthan gum free, nut free and uses ONLY ONE gluten free flour: rice flour. As a result, the cake is also starch free. It is finished with a super zingy lemon drizzle and an additional (optional) lemon icing. An delightfully easy cake for your repertoire.
Notes for your gluten free lemon drizzle cake
If you have the foresight, get your butter out of the fridge the night before. It saves SO MUCH time when you have properly room temperature butter.
Creaming will take a lot longer if you're starting from cooler butter, so factor that in. Pay attention to the colour and texture of the mixture as opposed to the timing on the recipe card. You want the butter and sugar to be super light yellow, almost white. It should look fluffy.
I always recommend buying more lemons than you need because sometimes they can be deceptively dry. This advice comes from many occasions where I've had to go back to the shops.
I always use extra large eggs. They might be called jumbo where you are.
Allow the cake to cool a little before you throw syrup on it, or you might deflate the centre. Learnt that one the hard way.
The icing is optional but nice to cover up all the little holes for letting the syrup in. Finishing with extra lemon zest ON TOP of the icing is also optional.
We'll go into the sunken centre issue below, but please note: if yours sinks in the middle, it doesn't matter! Nifty trick: Allow it to cool for 15 minutes or so, then simply flip it upside down. You can trim the new bottom of your cake or just leave it as it. Now you have a flat surface into which you can poke holes and add drizzle.
My recipe suggests 3 tablespoons of sugar and lemon juice for the drizzle. I've found that with this recipe, this is the perfect amount to flavour the cake without making it soggy. You can experiment with quantities if you prefer.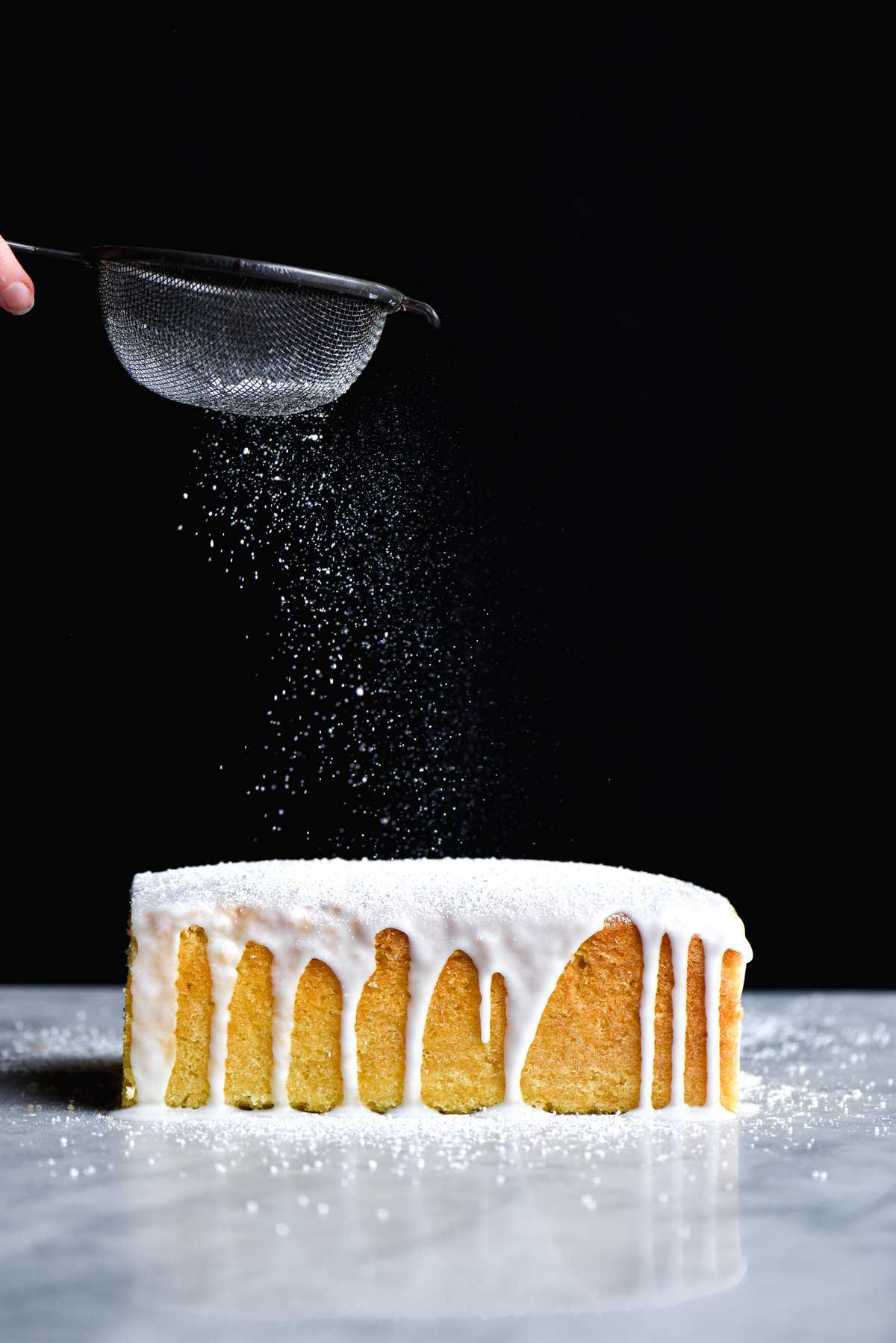 Tips and tricks for your gluten free lemon drizzle cake
As I peruse the internet, I can't help but notice that lemon drizzle cake can often sink in the middle. I perused this specific topic because of the sheer number of times this happened to me in the process of developing this recipe.
The loaf comes out of the oven looking lovely, only to sink the middle as it cools. This doesn't really matter much, except that it does create an uneven lemon drizzle. The syrup obviously abides by the laws of gravity, meaning the middle of the cake becomes more syrupy than the outer edges.
So I did a deep dive into why this happens, and developed a recipe that should be foolproof.
Why might my gluten free lemon drizzle cake be sinking in the middle?
Cream the butter and sugar well, but don't over-cream. Beating the mixture for too long can result in a sunken middle. Take the time indication for creaming as a guide only.
Cream the butter and sugar on a medium-high speed, rather than a low one. You need to whip some air into the mixture. I use speed 6 on my Kitchenaid. Note that as above, creaming is impacted by the temperature in your kitchen. It took me around 15 minutes in winter, but only 3 or 4 minutes in summer. See the picture for what your creamed mixture should look like.
Don't keep opening and closing the oven. You can quite easily knock the wind out of your loaf, so to speak. If you really need to open the oven, do it 3/4 of the way through baking and do it quickly, but also be gentle opening and closing the oven door. No whooshing doors, please.
Don't take the loaf out before it's totally cooked in the centre. When the middle of the cake remains a little uncooked, it will sink as it cools. Every oven is different and yours might bake differently to mine, so do a skewer test. Make sure the skewer comes out completely clean. If in doubt, bake it a little longer. This gluten free lemon drizzle cake contains lots of butter and 4 extra large eggs, so it's unlikely to come out dry if you bake it a bit longer. Plus, drizzling the syrup over at the end makes the cake even more moist. In essence: over bake rather than under bake.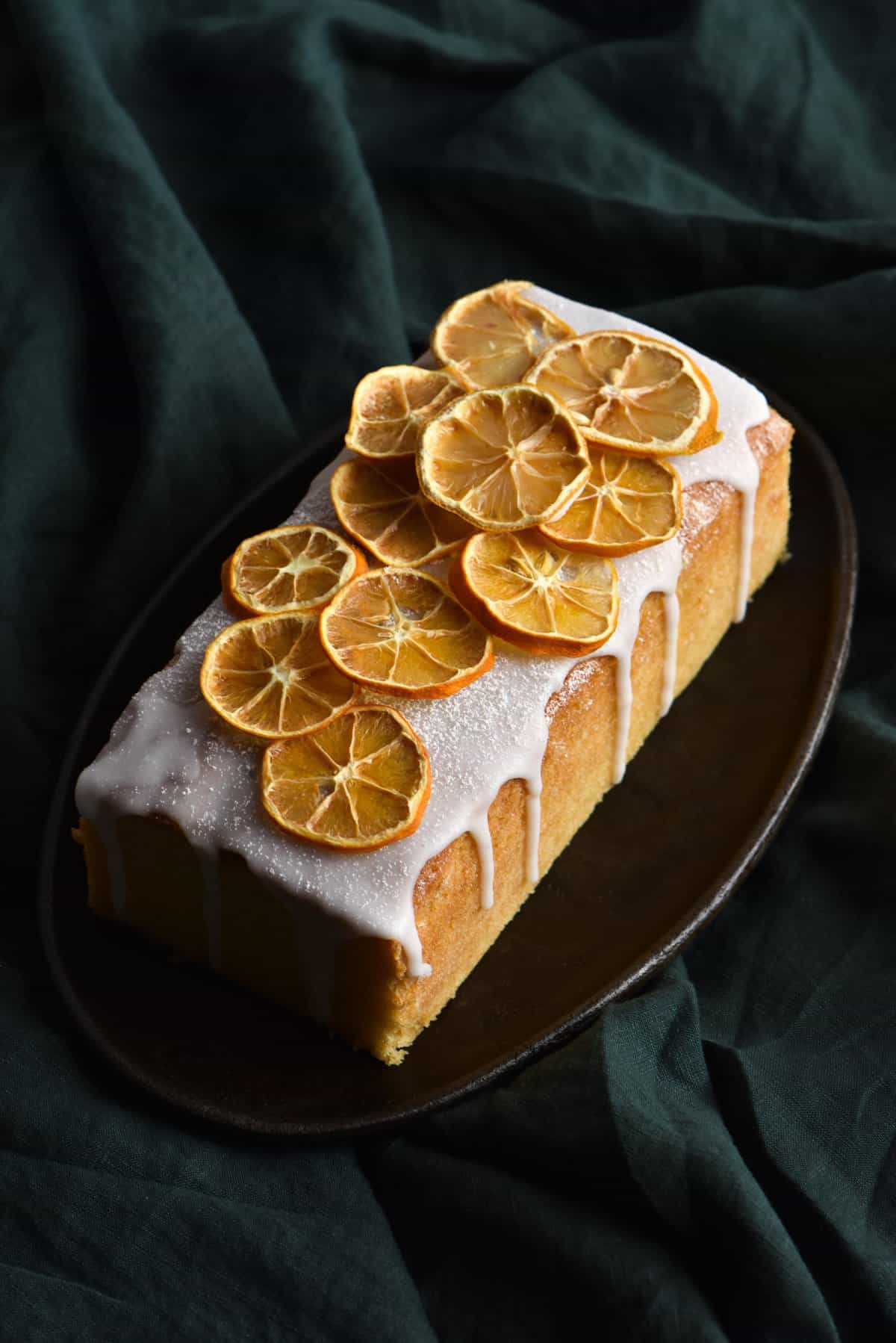 More potential issues
Oven temperatures can vary hugely and your dial might not always be accurate. If your loaf sinks after cooling but has a very brown top, your oven might be hotter than you think. The loaf ostensibly appears well cooked, but still has under baked innards. Try lowering the temperature by 10-15 degrees and see if that helps.
To the same end: a lighter coloured top and a sunken middle indicates that the oven wasn't hot enough to cook the cake all the way through. I like to preheat my oven to 200C/400F, and then drop the temperature back when I put the loaf in. That way I know the oven is sufficiently hot for liftoff.
According to my research, salted butter can actually contain around 18% more liquid than unsalted. Because the fat in butter is what creates a stable batter, this isn't ideal. We want more fat and less liquid, because fat is a predictable variable whereas liquid is not. So if you are continually getting sunken loaves and you're a salted butter fiend (guilty as charged) consider trying unsalted.
On that note: if you have the means, buy European butter. It has a higher fat content.
Butter is actually a very finicky ingredient. The line between it being too soft and too firm for creaming is paper thin. Apparently the ideal creaming temperature is when you can indent a finger into it but the whole block doesn't squish under your hand. Have a read of this article by King Arthur Baking.
The temperature in your kitchen can have a big impact on cake baking. Humid climates make baking tricky (as does altitude).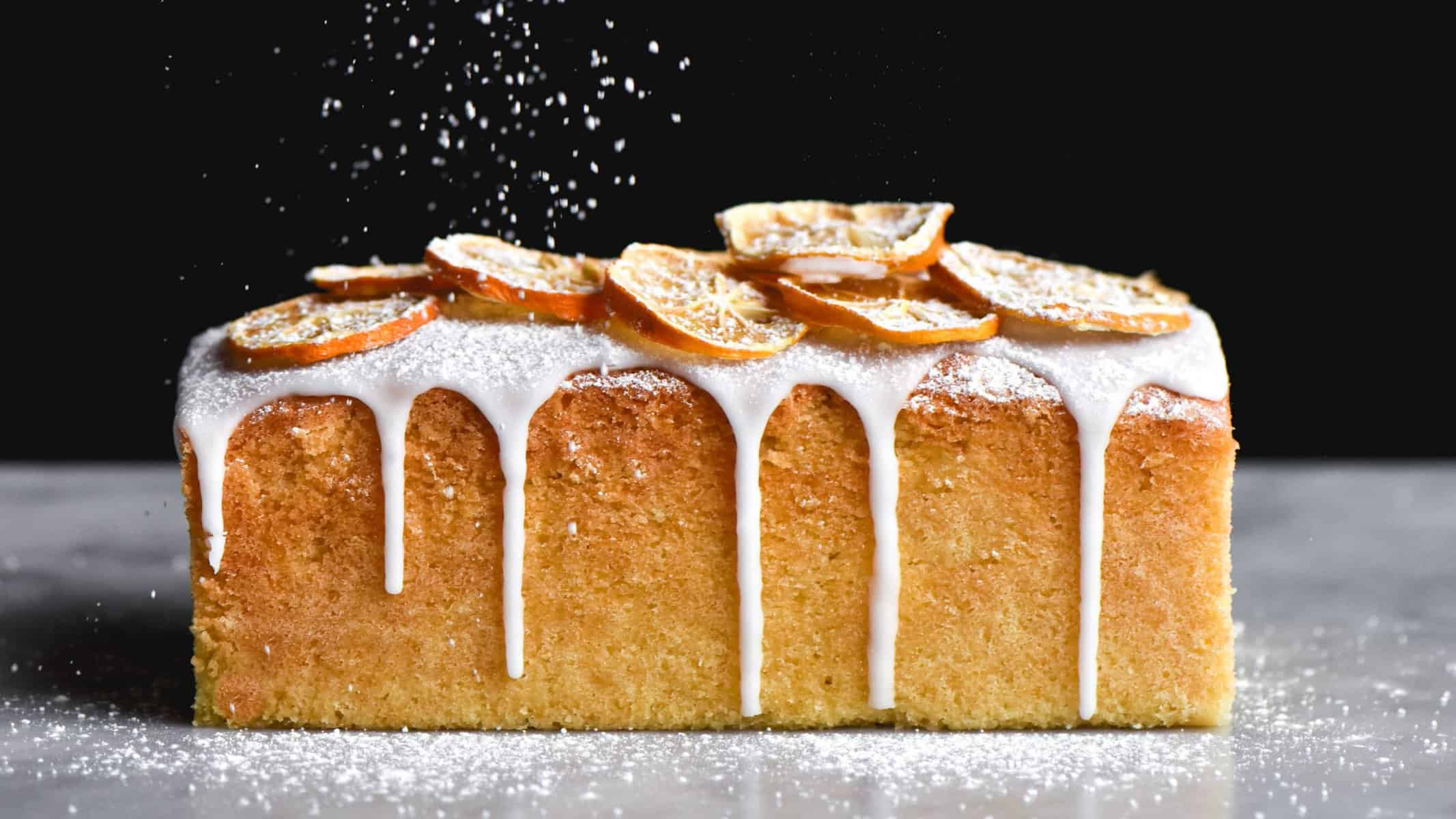 General observations of lemon drizzle cake recipes
In the process of developing this recipe, I read a lot about lemon drizzle cakes, both regular and gluten free. What I noticed is that they all vary in their ratios, oven temperatures, inclusion of almond meal and quantity of baking powder.
Because each recipe is very different, it's hard to transfer this knowledge onto a different lemon drizzle cake. However, here are some specific things that worked for staving away a sunken middle in my experience.
A well preheated oven, dropped down to 160C/320F before baking. This ensures the oven is sufficiently hot, but then allows the loaf to cook slowly. This will assist it in rising evenly.
Less baking powder. A lot of the other recipes online (particularly the gluten free ones) used an inordinate amount of baking powder. I tried to find an article of the science of a lemon drizzle that would affirm the need for so much raising agent, but I couldn't find one. In the photo below, you'll notice that the most reliably flat surfaced loaf contained the least amount of baking powder. The one with the biggest crater contained the most. According to Sally's Baking Addiction, a rough guideline for baking powder is 1 teaspoon per cup of flour, which is what we're using in this cake. Any more and the cake is prone to rising dramatically before cooking through, and then collapsing in on itself.
If you can, I found that turning the oven off and leaving the cake in there to cool a while will prevent a mini crater. I suspect this is because the residual heat cooks any slightly undercooked batter. As we'll discuss below, undercooked batter will sink as it cools, so this is an easy way to help prevent that.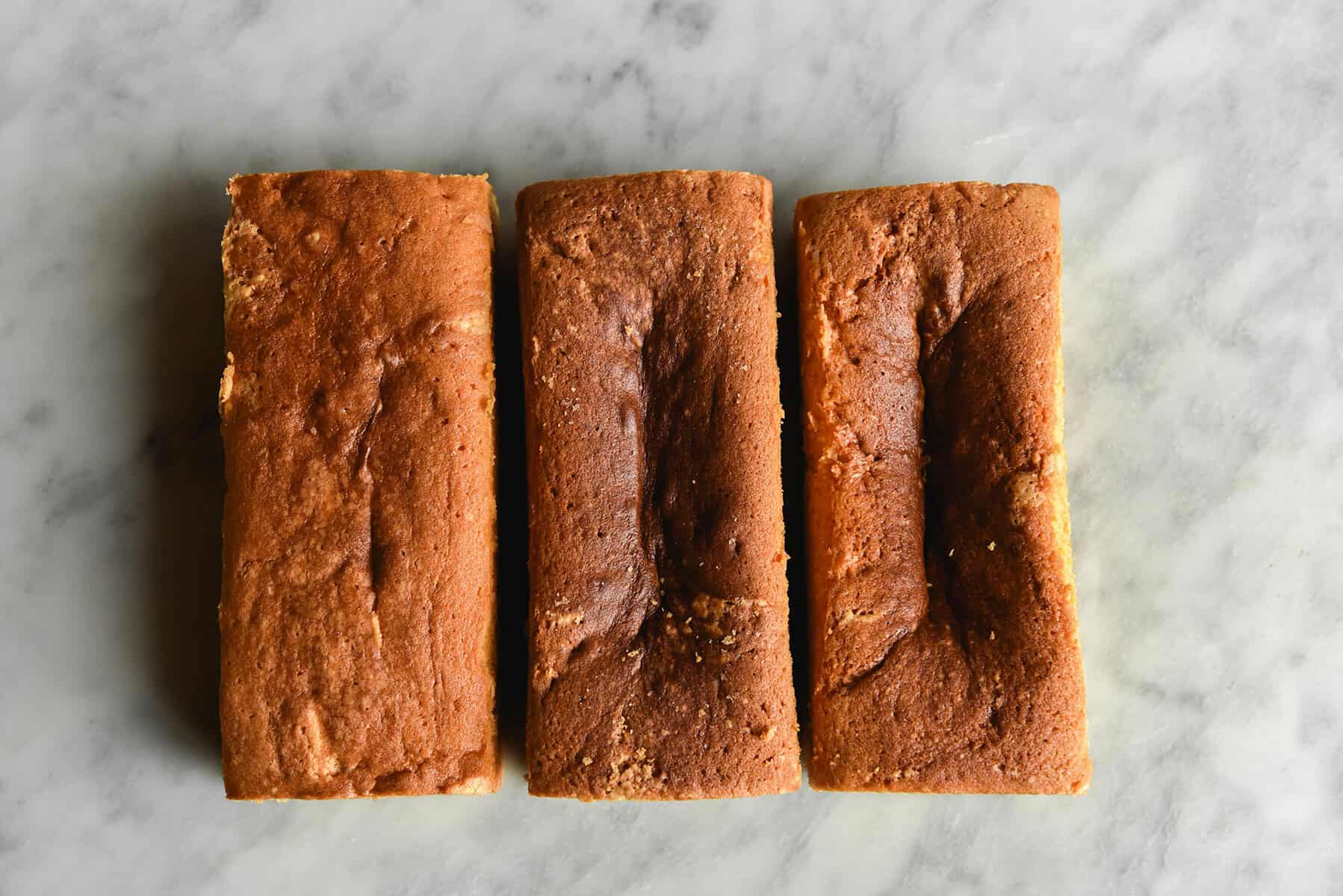 So! Let's discuss these three cakes. The cake on the left has 1 teaspoon of baking powder, the middle cake has 2 teaspoons of baking powder, and the cake on the right has 3 teaspoons of baking powder. Other than the baking powder quantity changing, there is no other change in the recipe I used. You'll notice that the cake with 3 teaspoons is actually shorter in width than the other cakes, even though they were cooked in the same pan.
Moral of the story? Unless there's a scientific reason why you're using more baking powder, it can adversely impact your cake. This recipe uses 1 cup (160g) of brown rice flour, so 1 teaspoon is a suitable amount of baking powder. It will allow your gluten free lemon drizzle cake to rise while minimising the risk that it collapses on itself.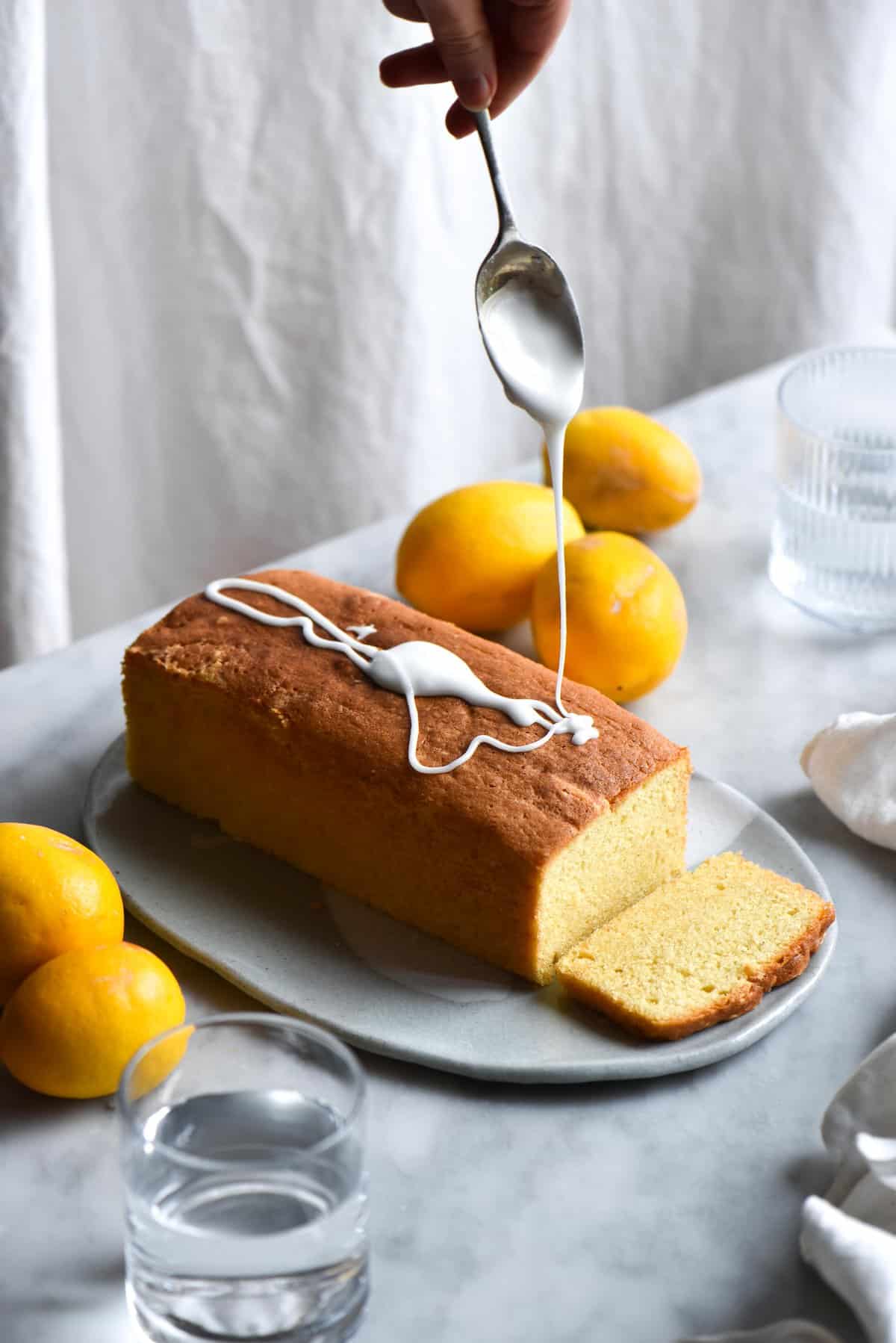 Substitution options for your gluten free lemon drizzle cake
I haven't tested this recipe with anything but white and brown rice flour. There's only so much cake I can have in the house!
Personally, I prefer to omit the lemon zest from the cake. I really like zingy lemon flavour, so I focus on the lemon drizzle and lemon icing instead. Incidentally, you could use this cake recipe for any sort of tea cake you like – it doesn't need to be a lemon drizzle.
Although I haven't tried it, people say you can easily use a butter substitute in lemon drizzle cake to make it dairy free, too. I recommend choosing one you trust with a mild flavour and a high fat content.
I haven't tested this cake in any other pan, so I can't say how long it will take. I will update the post as I bake it in other vessels.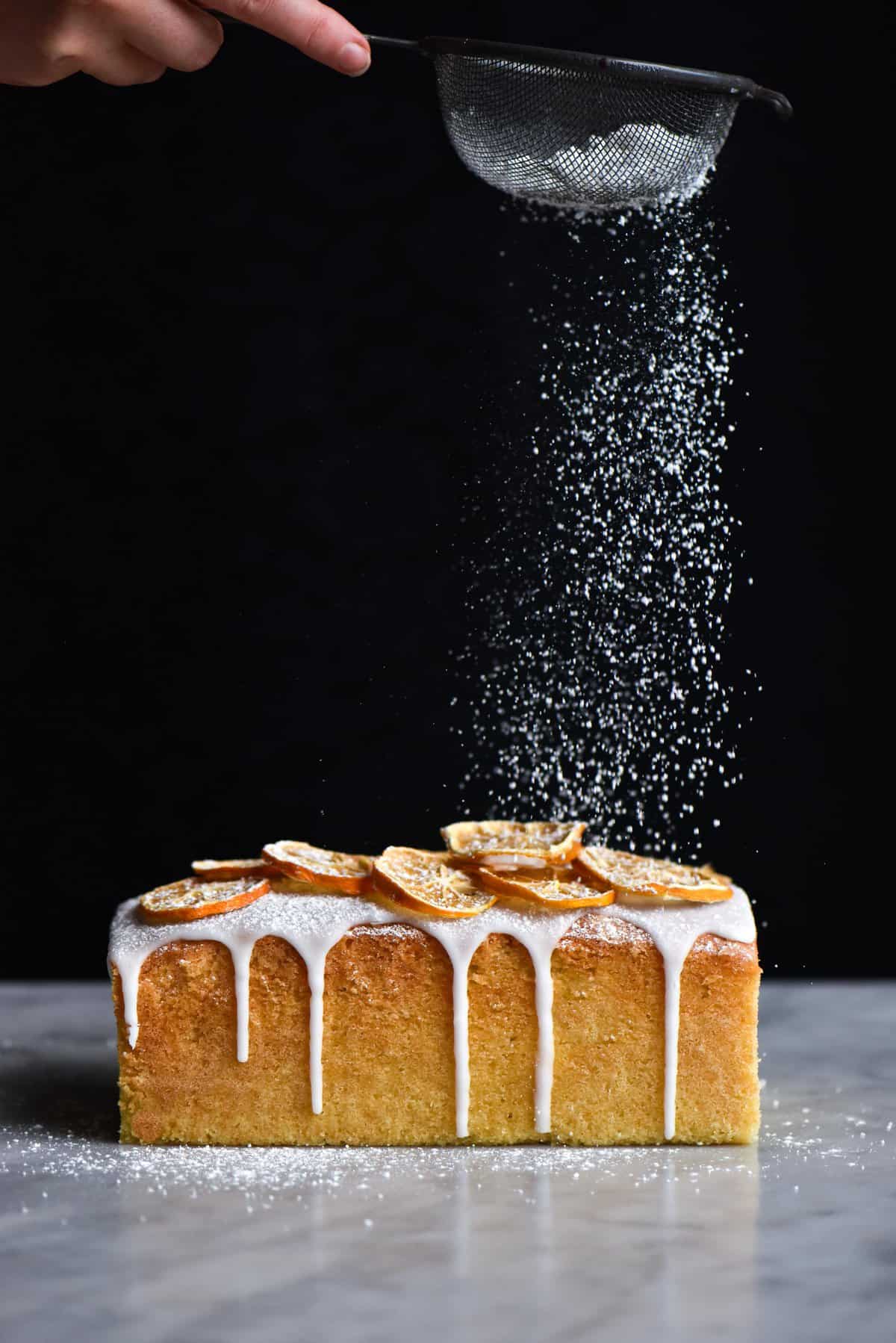 Lemon drizzle and lemon icing notes
As far as I have been able to ascertain, people generally make either the lemon drizzle (which soaks into the cake) OR the lemon icing. I say, why not both? Because I don't like lemon zest in the cake (weird, I know) I like to double down on the lemon accompaniments. I also like to decorate with dehydrated lemon slices, as you can see from some of the pictures.
For the uninitiated, the lemon drizzle is a mixture of sugar and lemon juice. Once the cake has cooled for 10-15 minutes, you add the drizzle by poking holes in the cake with a skewer, and drizzling it over the top. This way, it soaks into the cake, resulting in a zingy delicious crumb that stays moist for days. I have mostly used caster/bakers/superfine sugar for this purpose, just because it's what I have on hand. If you use granulated sugar, you'll end up with a crunchy shell of sugar after all the drizzle has been absorbed.
The icing is a mixture of lemon juice and icing sugar. The consistency is up to you – I prefer a thick icing that takes it time to run down the sides of the cake.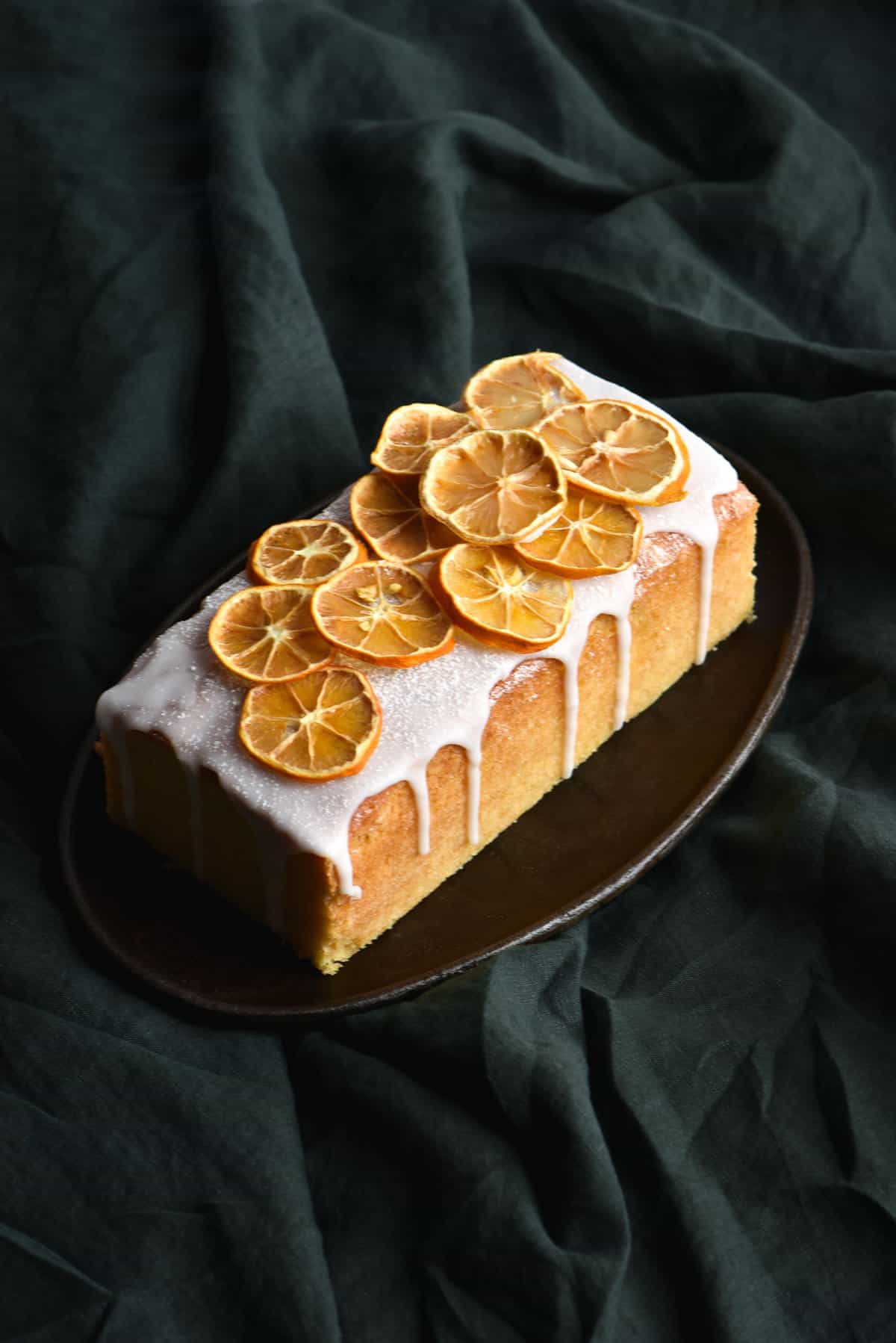 My suggestions for the icing
Some recipes weren't overtly clear on the icing suggestions, so here are mine:
Use both. This really drives home the lemon theme with a cake that not only looks good, but tastes delicious. It's also great because it covers up the poke holes from the lemon drizzle. If you use both, I recommend using caster/superfine sugar for the drizzle, and a thick icing. This way the drizzle will sink (mostly) all the way in, leaving a clean slate on which to pour the icing.
Use lemon drizzle only. If you would prefer to go this route, you could use a granulated or courser sugar for the drizzle. This way it almost ices itself as the sugar dries and becomes crunchy. This is also more likely to cover the poke holes.
Finally, you could use icing only. If this is your choice, I'd recommend making making it a tiny bit thinner so it can seep it into the upper layer of the crust.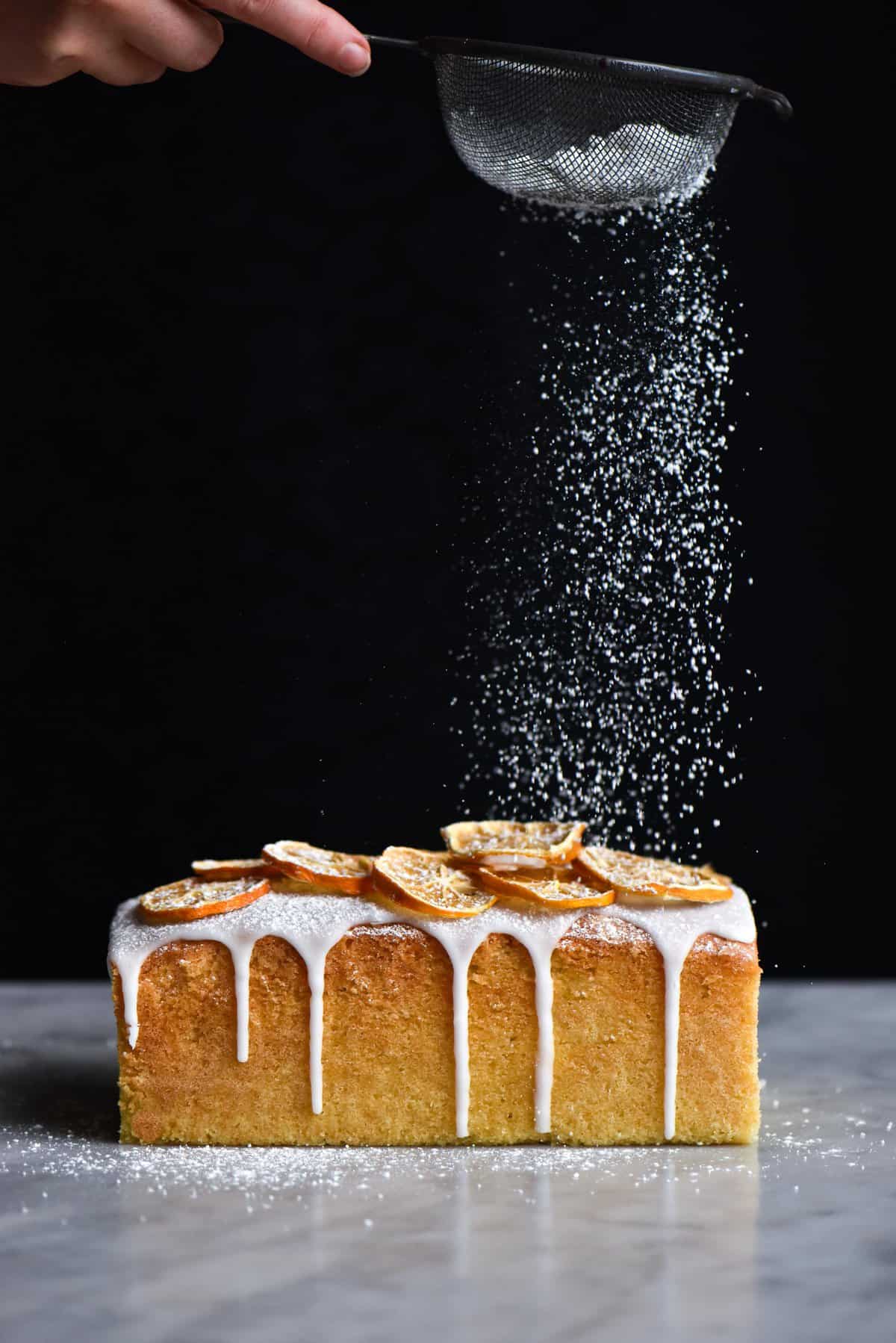 More of my favourite gluten free cake recipes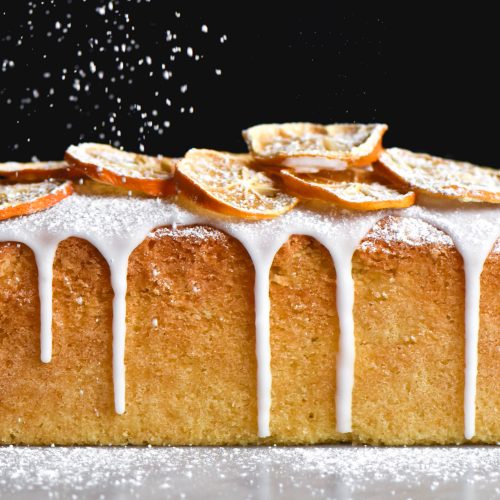 Gluten free lemon drizzle cake
Gluten free, nut free, FODMAP friendly
Equipment
1 x L24cm x W11cm xH10cm metal loaf tin (I used a USA pan)

Stand mixer with a paddle attachment (you could also probably use hand beaters
Ingredients
For the cake:
160

g

white or brown rice flour

1

teaspoon

baking powder

1/4

teaspoon

fine salt

200

g

unsalted butter at room temperature

not melted, not rock hard

1/2

tablespoon

oil

any light plain flavoured oil, I used vegetable

200

g

caster sugar

1

teaspoon

vanilla bean paste or extract

optional

1

tablespoon

milk of choice

I used soy milk

4

extra large eggs

(45-55g per egg, weighed out of shell)
For the lemon syrup:
3

tablespoons

lemon juice

3

tablespoons

sugar
For the lemon drizzle icing:
1

cup

icing sugar

1-2

tablespoons

lemon juice

to your preferred thickness
Instructions
To make the cake:
The night before, get your eggs and butter out of the fridge. See notes.

Preheat the oven to 200C/400F. Grease and line your loaf pan.

Weigh out the sugar in small bowl and set aside.

Weigh out the flour and whisk it together with the baking powder and salt. Sieve once and set aside.

Place the room temperature butter in your stand mixer with the paddle attachment. Beat on a low-medium speed until it is soft and pliable, scraping down the bowl as necessary. Depending on the temperature of your butter, this might only take a minute or two.

Once the butter is soft and pliable, add the oil and sugar. Scrape down the sides and turn the mixer to a medium-high speed (I use speed 5 or 6 on my KitchenAid). Beat for 3-5 minutes until the mixture is super light in colour and fluffy in texture. This may take longer in winter, so be patient (but don't leave it for too long or you'll deflate the mixture).

Once the butter and sugar are creamed, turn the mixer to a low speed and beat in one egg at a time. I find I need to scrape the sides down after each egg.

After the 3rd and 4th eggs, the batter will look a little lumpy and split. This is normal – gluten free baking requires more moisture than regular baking. Continue scraping the sides down and beating on low until the eggs are combined (even if it looks lumpy).

Add the vanilla bean paste while the mixer is off (it gets tangled in the paddle) and mix just to combine.

Add the flour mixture in 3 lots while the mixer is running on low. In between adding the flour, add the tablespoon of room temperature milk.

Continue adding flour and mixing until just combined until you have incorporated all the flour. Scrape down the sides to ensure there's no butter heavy bits, and gently mix one last time.

Use a spatula to gently transfer the mixture to the lined and greased loaf tin. Gently spread the mixture into all corners of the tin and create an even top.

Place the tin in the oven and turn the heat down to 160C/320F. Bake for 1 hour 10 minutes or until a skewer comes out clean.
To make the lemon drizzle:
Combine all the ingredients in a small saucepan and cook for 5 or so minutes until the mixture has become slightly more viscous. Set aside.
To make the lemon icing (optional but delicious):
Place the icing sugar in a small mixing bowl. Add the lemon juice incrementally until you reach your desired consistency for icing. Add a pinch of fine salt to balance the flavours. You could also add some fine lemon zest here for an extra lemon hit.
To finish your lemon drizzle cake:
Once the cake is cooked, remove it from the oven and allow to cool for 5-10 minutes. Use a skewer to poke lots of little holes through the cake (the holes act as syrup entry points). Pour the syrup, slowly and increments, onto the cake. Allow it to absorb while the cake cools completely in the pan.

When the cake is cool, add the lemon icing and serve.
Notes
Room temperature eggs and butter are crucial for this cake. In winter, I recommend getting them out the night before. I actually never keep eggs in the fridge, but Australia has decent egg safety standards. In summer, get them out an hour or two before, or just long enough to allow them to come to room temperature.
For best results, read through the body of the post. I have covered tips and tricks extensively.
Don't open the oven to check on the cake until about 1 hour into the cooking time (and even then, only if you must). It is cooked on a very gentle heat, so the risk of burning is low. The risk is high for deflating the centre by opening the oven, though, which is why I suggest not doing that.
If you can, it can help to leave the loaf to cool in the oven. If there's even a hint of undercooked centre, this will help it from deflating dramatically.
I recommend a steel loaf pan for this recipe – silicon doesn't have enough structure to keep the loaf from expanding outwards.