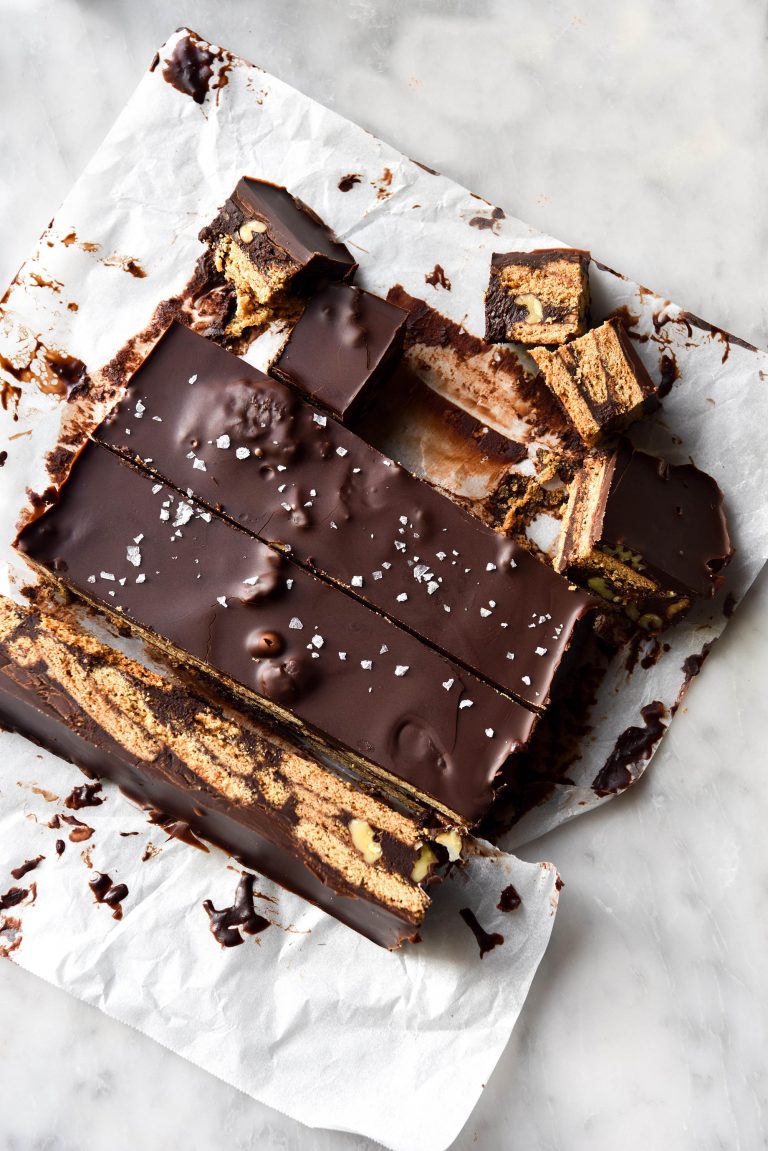 In the spirit of fairness, I'm back today with a recipe for vegan, gluten-free Hedgehog slice as alluded to on Instagram. And by the spirit of fairness, I mean the spirit of me getting to eat more Hedgehog slice. Obviously.
I'm pleasantly surprised by how easy it was to adapt my original Hedgehog slice recipe for a vegan diet. A few simple switches to my gluten free graham cracker recipe, some supermarket hacks or easy DIYs, et voila! Vegan, gluten-free hedgehog slice. With a nut free option to boot.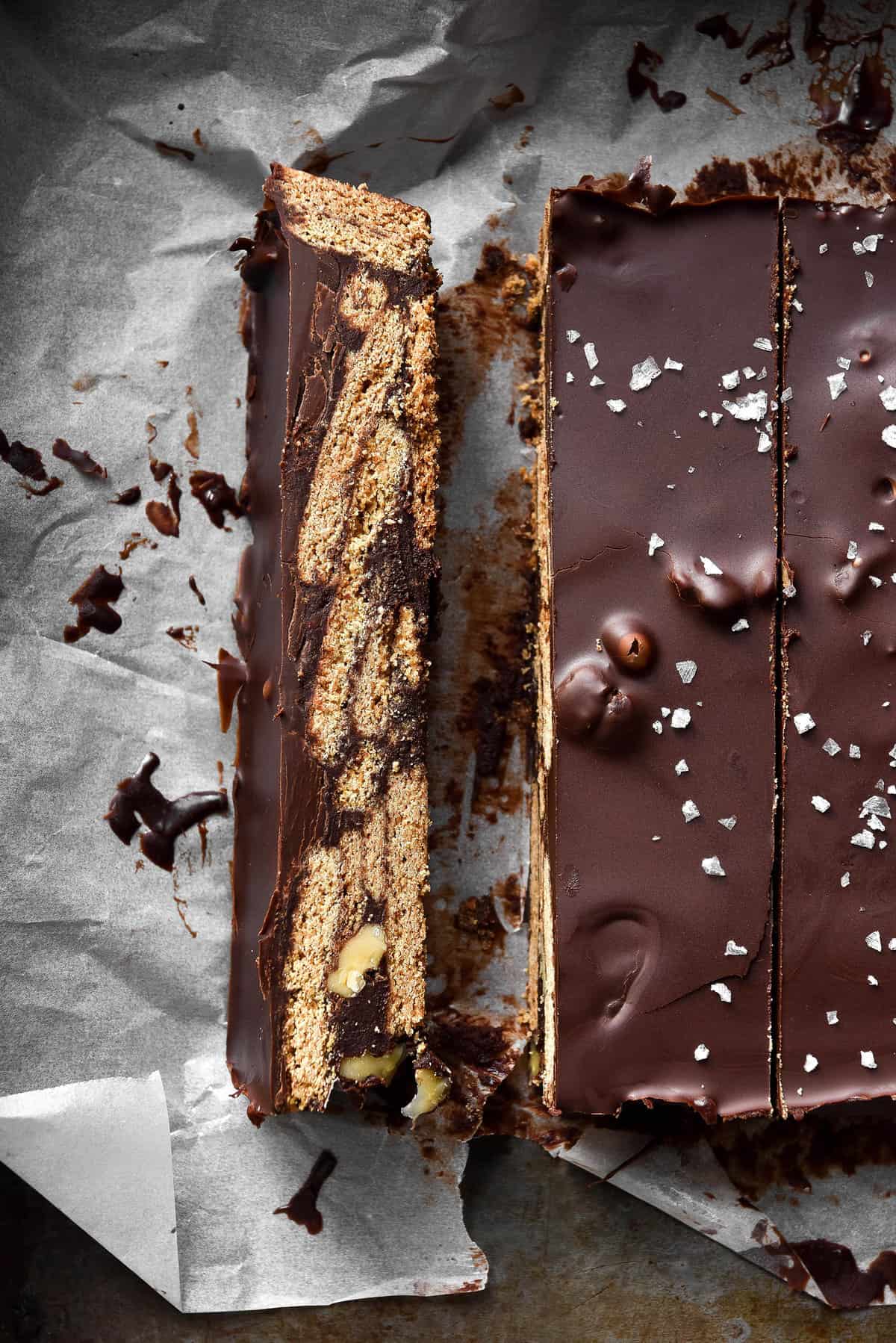 Vegan gluten free Hedgehog slice
This Hedgehog slice uses a few swaps to make this quintessential Australian dessert plant based. I have developed recipes for the vegan condensed milk, as well as the gluten free vegan Graham crackers. If you have a store bought version you enjoy, by all means use it!
The Hedgehog slice is the perfect festive treat. It can be made without nuts and the graham crackers can be made without xanthan gum.
What ingredients do I need to make vegan gluten free Hedgehog slice?
A plant based vegan condensed milk. I have written a post about all things vegan condensed milk, which you can find here. In Australia, Pandaroo makes a a coconut condensed milk that you can buy at some supermarkets. It is generally in the international section, but can also sometimes be near the condensed milks or long life milks. Please note that coconut milk or cream are not a substitute for coconut condensed milk. They're two very different ingredients.
Some vegan, gluten free graham crackers, or a similar, neutral flavoured sweet biscuit. My recipe for vegan, gluten free graham crackers can be found here. You could also buy some from the shops to save on time, but I don't have any information on brands that fit the bill. Note that you can obviously use non-gluten free biscuits if you don't need the slice to be gluten free.
Vegan chocolate. My preference for this is by far Lindt 70% dark chocolate. It's available at all supermarkets, is high quality and incidentally vegan. It's great to choose a chocolate that you'd ordinarily eat, and I eat this ALL THE TIME. The only downer is that you'll need quite a lot of it, which is pretty packaging heavy. If you're in Australia and near a Source Bulk Foods, their chocolate hexagons are actually Lindt 70%, so you can buy them package free. 
Your choice of nut or seed. Traditionally speaking, Hedgehog slice is made with walnuts and coconut flakes (the thick ones). I love me a walnut, but I have no time for coconut in dessert. You could add coconut or use a different need/seed to fit your dietary needs.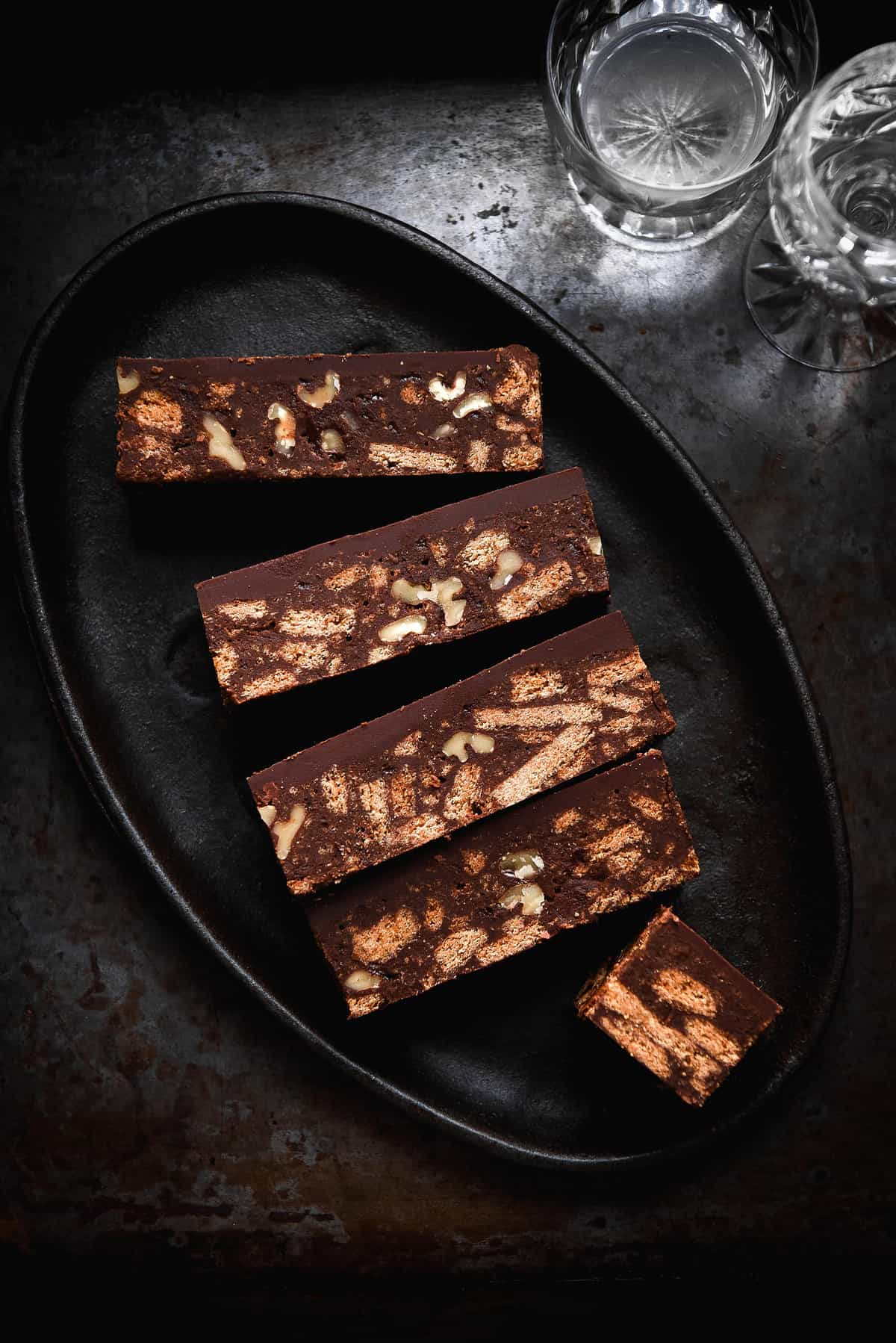 Vegan Hedgehog slice recipe notes
As mentioned, coconut cream is not a suitable replacement for condensed milk. Condensed milk is viscous, sweet and malleable. It is particularly important in this recipe, because Lindt 70% is not very sweet. It also holds the slice together so you can cut it coherently without it crumbling.
I have not tested a refined sugar free version of any of these recipes and I don't have any plans to. Enjoy your slice with a bit of sugar!
Keep in mind that this slice doesn't set up as firmly as as a regular hedgehog slice, particularly on the bottom. I found the base was a little sticky irrespective of recipe tweaks. So, I wouldn't recommend taking this one to the beach on a summer day. I left one out on the bench for 4-5 hours in Australian winter and the bottom was quite sticky when I dug in. Which I guess you might expect, but still.
In fact, the vegan hedgehog keeps well in the fridge, but might work even better straight from the freezer. Just an option, but an option very reminiscent of those single serve nutella packets straight from the freezer.
I haven't tried this recipe with coconut oil based vegan chocolates, and I imagine it would become quite expensive given how much the little bars cost. I also can't vouch for the results. As I have said, I have used Lindt 70% for all these hedgehog slices. It's delicious, rich, readily available and goes on sale relatively often.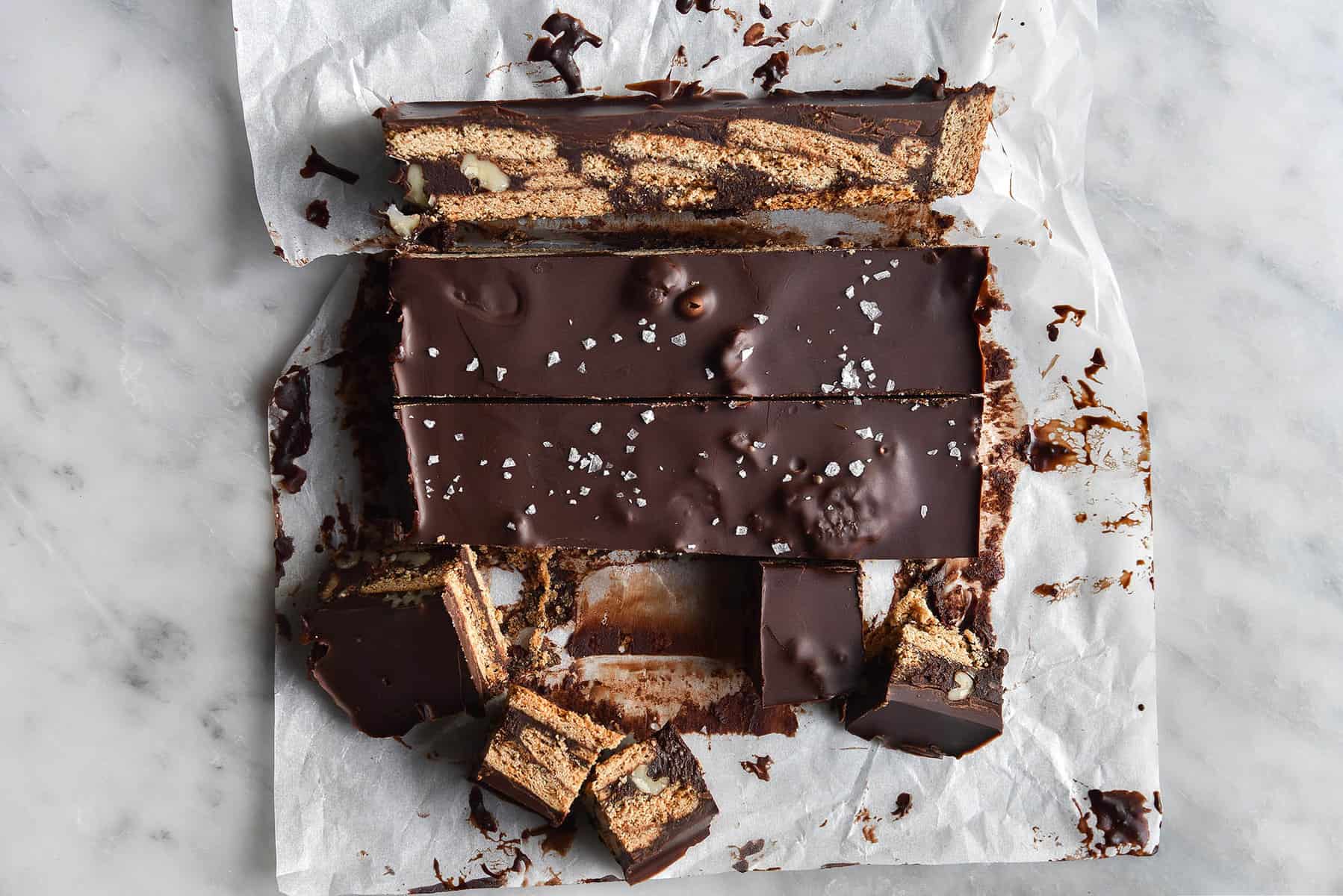 More vegan, gluten free dessert recipes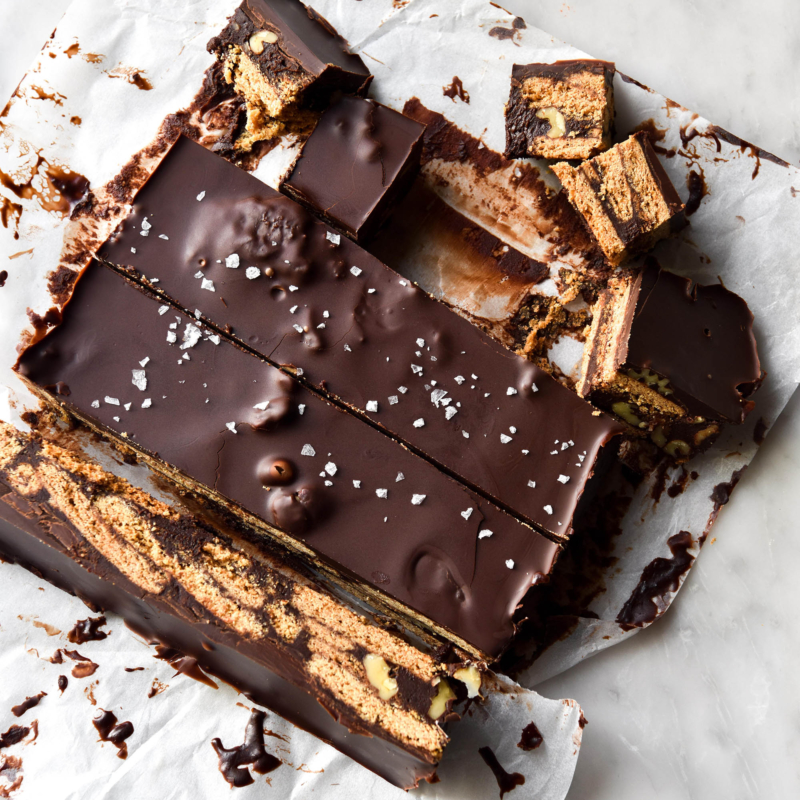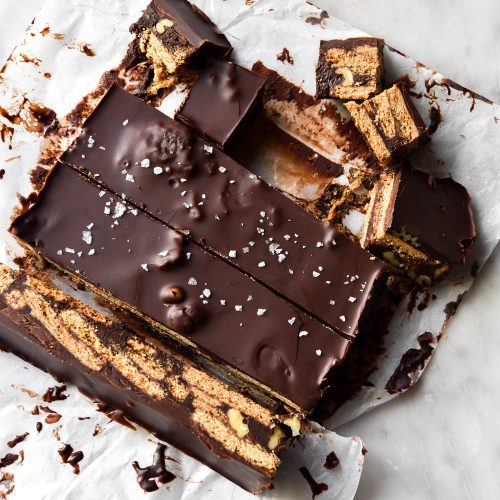 Vegan, gluten free hedgehog slice
Vegan, Gluten free, FODMAP friendly, adaptable to be nut free
Ingredients
For the slice:
200

g

vegan dark chocolate like Lindt 70%

snapped into smaller pieces (see notes)

100

g

vegan butter substitute

I used Nuttelex buttery

295

g

plant based condensed milk

see 'what you'll need'

300-350

g

vegan gluten free Graham Crackers

see notes

2-3

tablespoons

cocoa powder

Dutch processed or regular

1/2

cup

50-75g walnuts (optional)

1

teaspoon

sea salt flakes

use less if you're using fine salt

1-2

teaspoons

vanilla bean paste

extract is fine too
For the chocolate topping:
200

g

vegan dark chocolate

see notes

2

tablespoons

oil of choice

I used olive
Instructions
To make the slice:
Grease and line a 24cm x 24cm baking tin with baking paper. Try to get the baking paper as flush up against the tin as possible by folding in some edges of the paper.

Place the chocolate, butter and condensed milk in a medium sized heatproof bowl. Half fill a small saucepan with water and place the bowl on top, ensuring the water doesn't touch the bowl. Turn the heat to low-medium and allow the mixture to melt. Stir intermittently until it is completely melted and combined. It should be chocolate in colour and have a thick, shiny appearance.

While the chocolate mixture is melting, crush the biscuits roughly in a large bowl. You can use your hands to break them up or the end of a rolling pin. I prefer to keep lots of bigger chunks because they tend to continue breaking down as you stir the chocolate through.

Add the cocoa powder and walnuts to the crushed biscuits and stir.

When the chocolate is done, add the sea salt and vanilla bean paste, stirring to combine. Pour the chocolate mixture over the biscuits and use a large spoon to completely incorporate.

When the mixture is well combined, pour it into the lined container and use a spatula to get the top as flat as possible, taking it right to the edges. This is important so that the chocolate topping has an even surface to spread over.

Place the slice in the fridge for at least two hours or until completely set.
To make the chocolate topping:
Melt the chocolate in the same double boiler method you use before. Once melted, add the oil and stir well to combine.

While hot, pour over the refrigerated slice. Work quickly to spread the chocolate evenly or it will begin to harden.

Return to the fridge for an additional hour or so, or until the chocolate has totally hardened.
To serve:
Allow the slice to sit on the bench for 15-20 minutes (weather dependent) before slicing. This will allow the chocolate to soften and lessen the likelihood of the chocolate cracking. Store in the fridge or freezer. Keeps well in an airtight container for a number of days.