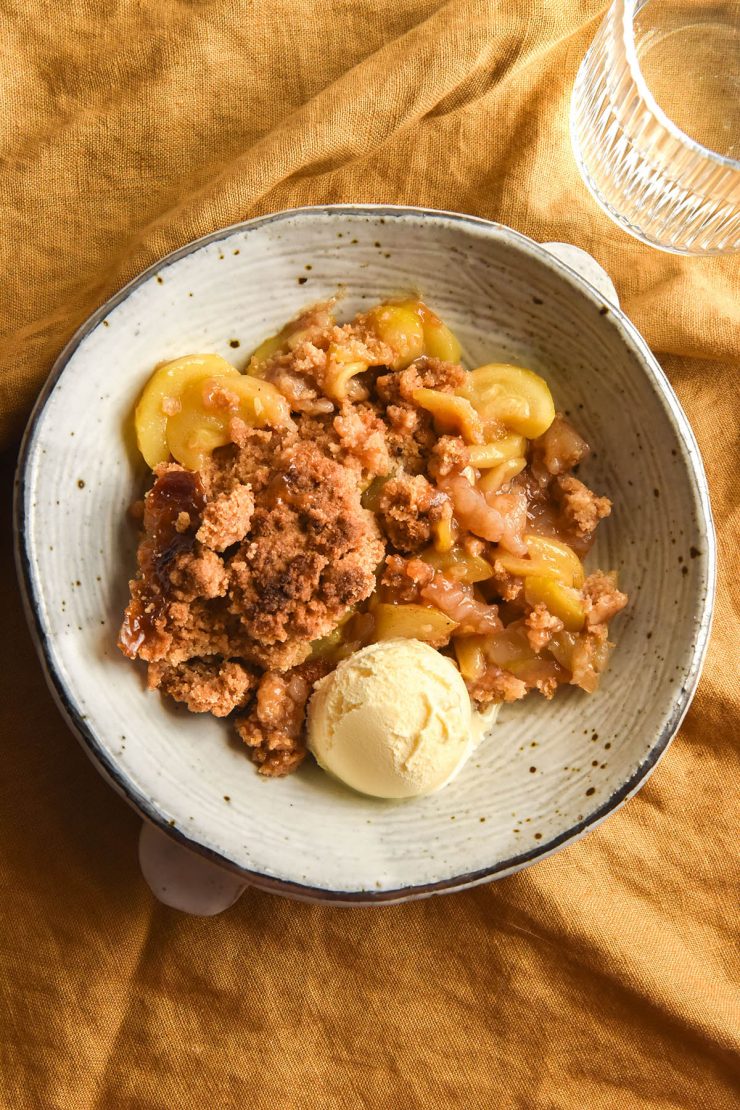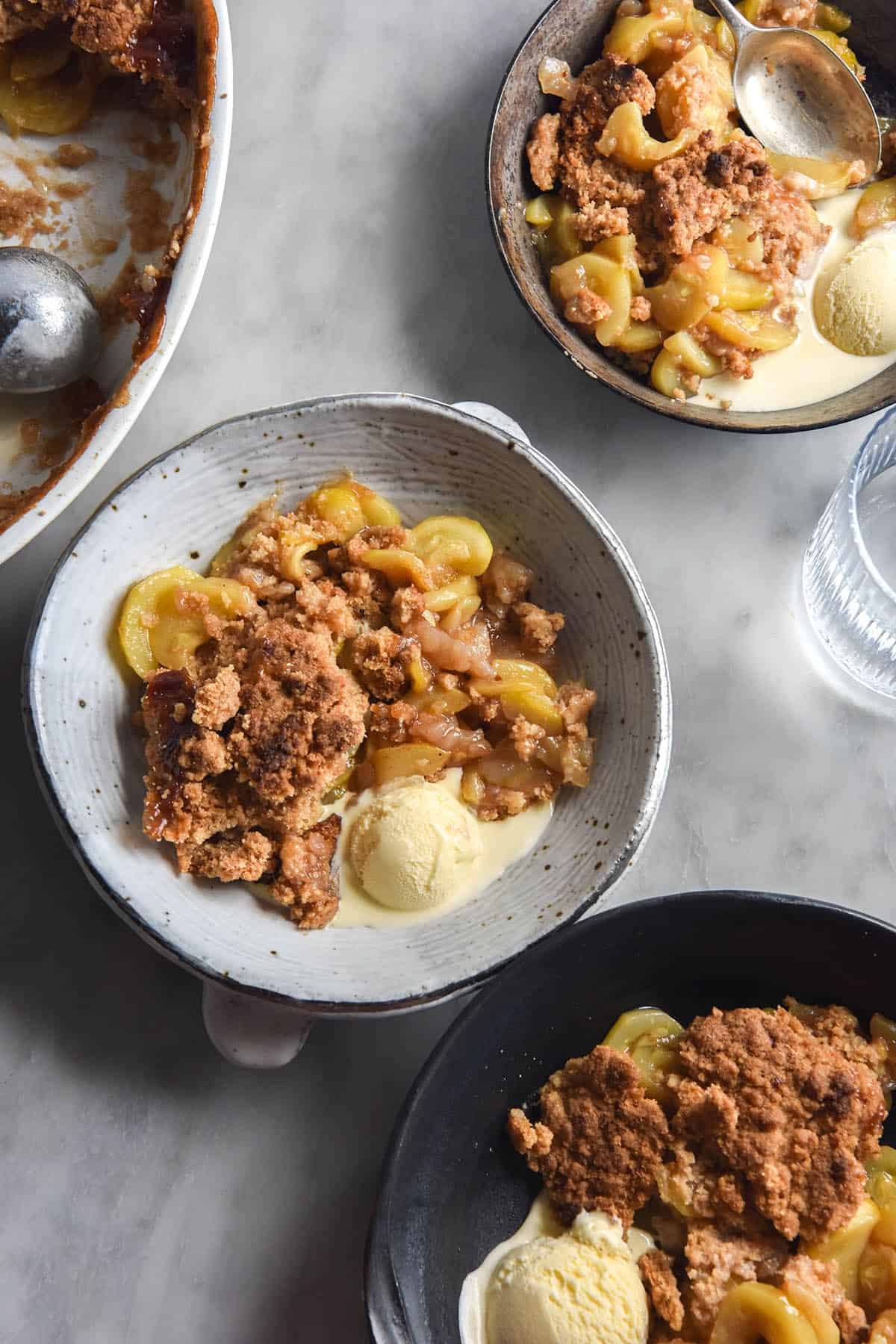 I saw the concept of a gluten-free zucchini 'apple' crumble or crisp on TikTok the other day, and knew I had to try it. I'm no stranger to using vegetables as a replacement for fruits – my gluten free fruitless Christmas pudding is one of my favourites. And the fruitless mince pies? A close second.
Zucchini is not super low FODMAP when compared to pumpkin (the fruit replacement I have used in my previous recipes). It is considered friendly in 65g servings per person. That said, it is much more friendly than apple. All in all, this isn't a FODMAP friendly recipe. It's a FODMAP friendlier one, and a great option for people who can't tolerate fructose but can tolerate fructans. It's also great if you're gluten free or you have a glut of zucchini to use.
This gluten-free zucchini apple crisp is fructose friendly, lower (but not low) FODMAP and gum free. It can easily be made vegan and dairy free by using a vegan butter alternative. You can experiment with whatever gluten free flour you have on hand, too – I like white rice flour or sorghum flour, but you can use what you have.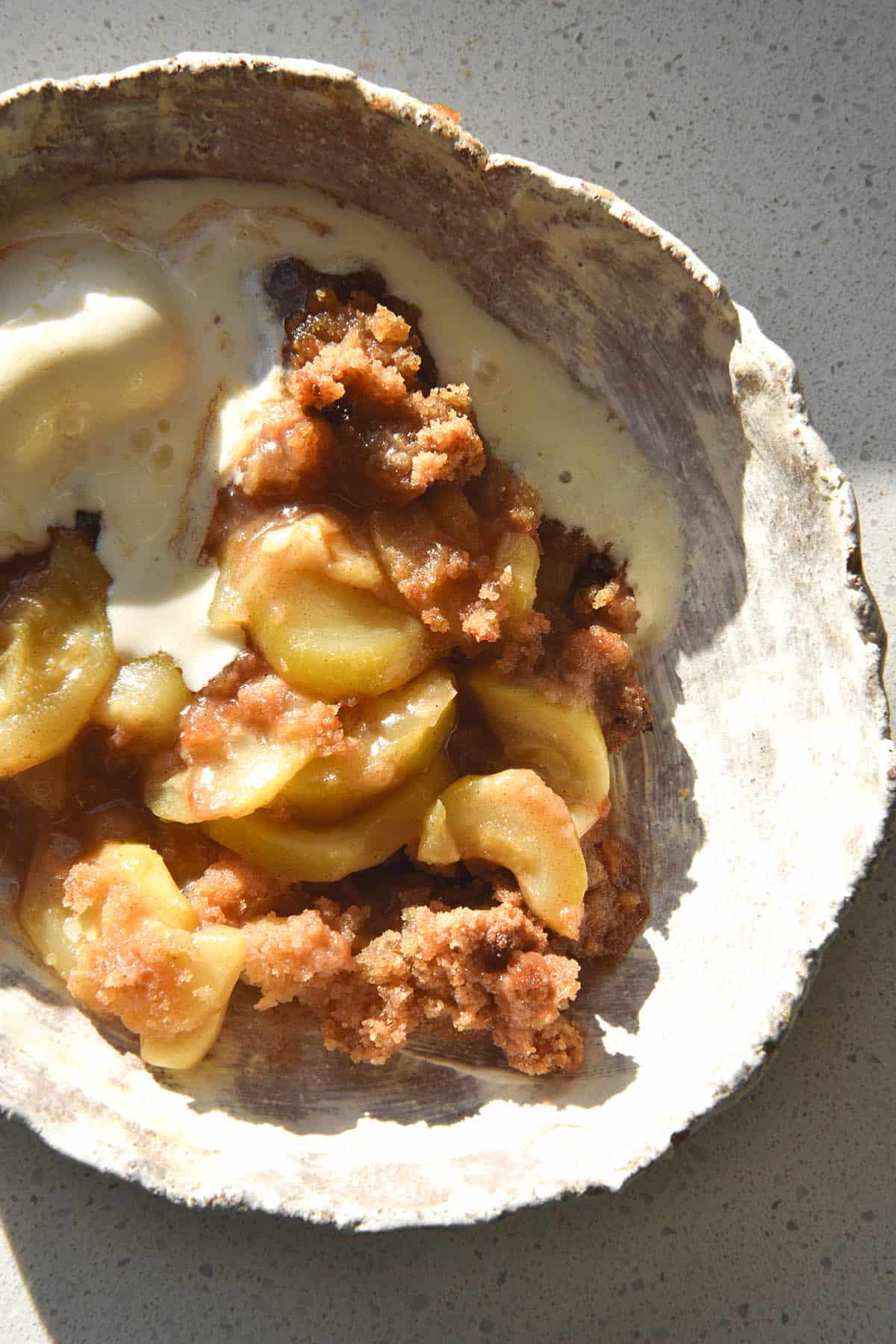 Gluten-free zucchini 'apple' crumble notes
In case it wasn't abundantly, clear, zucchini replaces the apple for this recipe. If you want to use apple, I'd recommend finding a recipe for the fruit portion that specifically uses apple. This faux apple crumble or apple crisp uses lemon juice to emulate the tartness of an apple, so using real apple would make this too tart.
I also have a recipe that uses jicama as a low FODMAP apple alternative here, if you'd prefer.
As we've discussed, this is not an overtly FODMAP friendly recipe. Monash states that zucchini is FODMAP friendly in 65g serves per person. At 75g, they contain moderate amounts of fructans.
Apples (Granny Smith) are FODMAP friendly in 25g (2 teaspoon!) serves. In 30g serves, they contain moderate amounts of sorbitol, and in 165g they contain high amounts of sorbitol and fructose. If FODMAPs are a concern for you, use whatever filling works best for your specific concerns. And if fructans, sorbitol AND fructose all present issues, use the berry version linked here.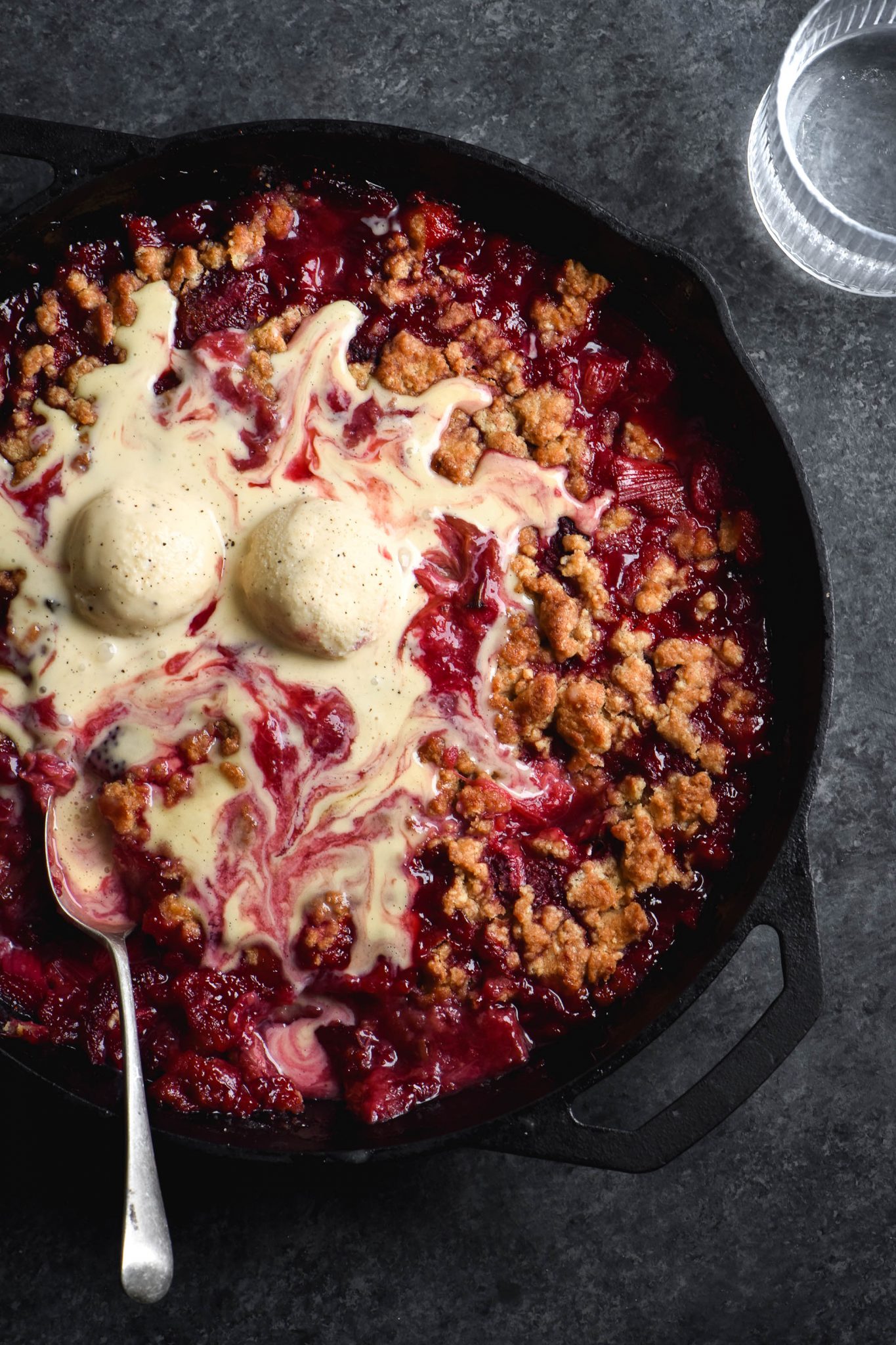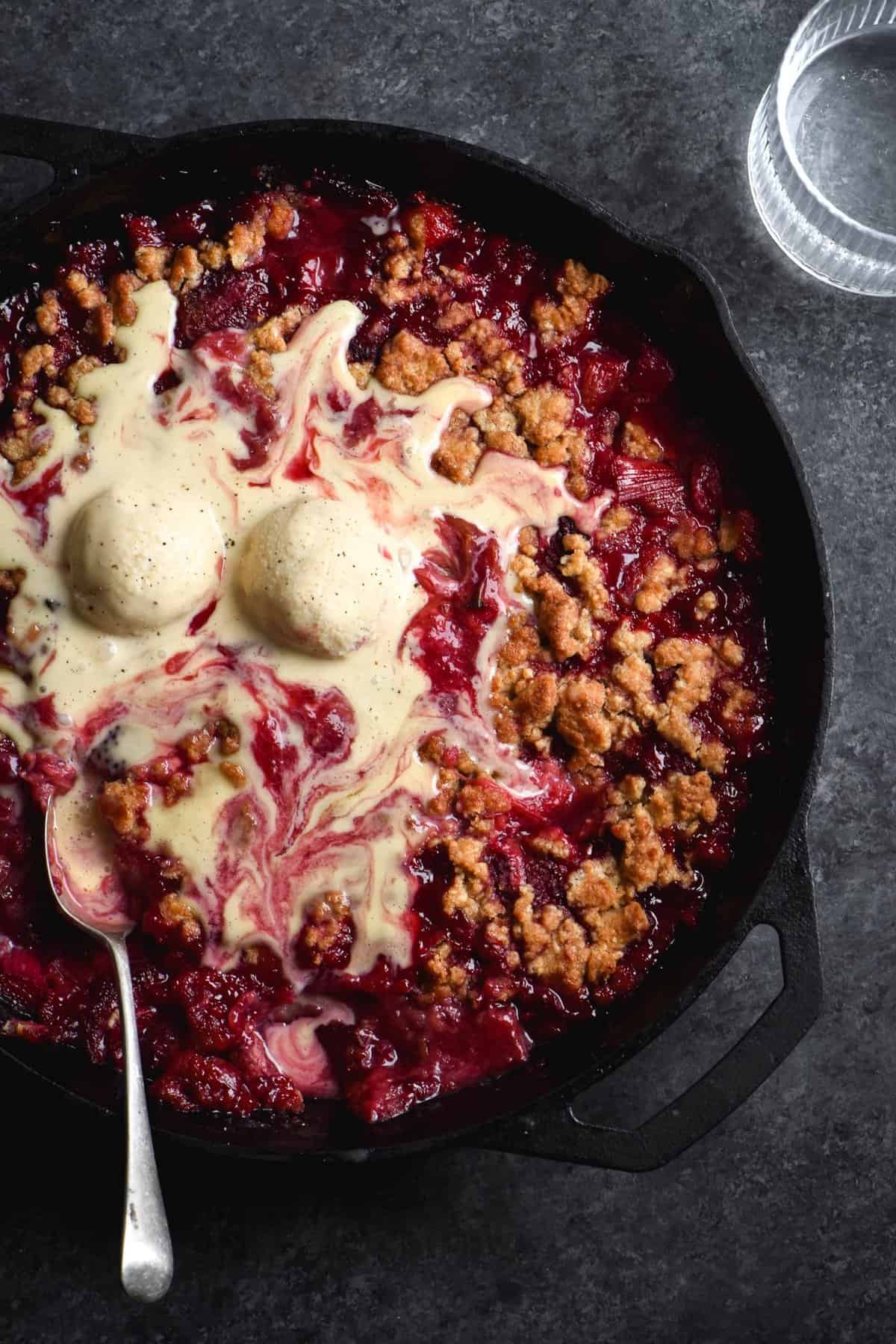 Gluten free crumble notes
I have tested white rice and sorghum flour for the crumble. I daresay it would also work with brown rice flour and perhaps buckwheat flour. Both millet and quinoa would likely be too bitter on their own. I would recommend using half rice flour and half one of these flours if you'd like to try them.
You can use caster sugar or light brown sugar for the crumble, too. Heck, you could use panela or another unrefined sugar of your choosing. Coconut sugar is not appropriate for anyone who is fructose intolerant.
To make this crumble vegan, you can easily use plant based butter and milk. I recommend choosing a butter with roughly 80% fat per 100g, to be best emulate butter. Make sure it doesn't contain too many weird ingredients, either.
If you prefer a drier, more crumbly crumble, you can omit the milk or add just a splash. The filling of this gluten-free zucchini 'apple' crumble is quite wet, so the two balance each other out.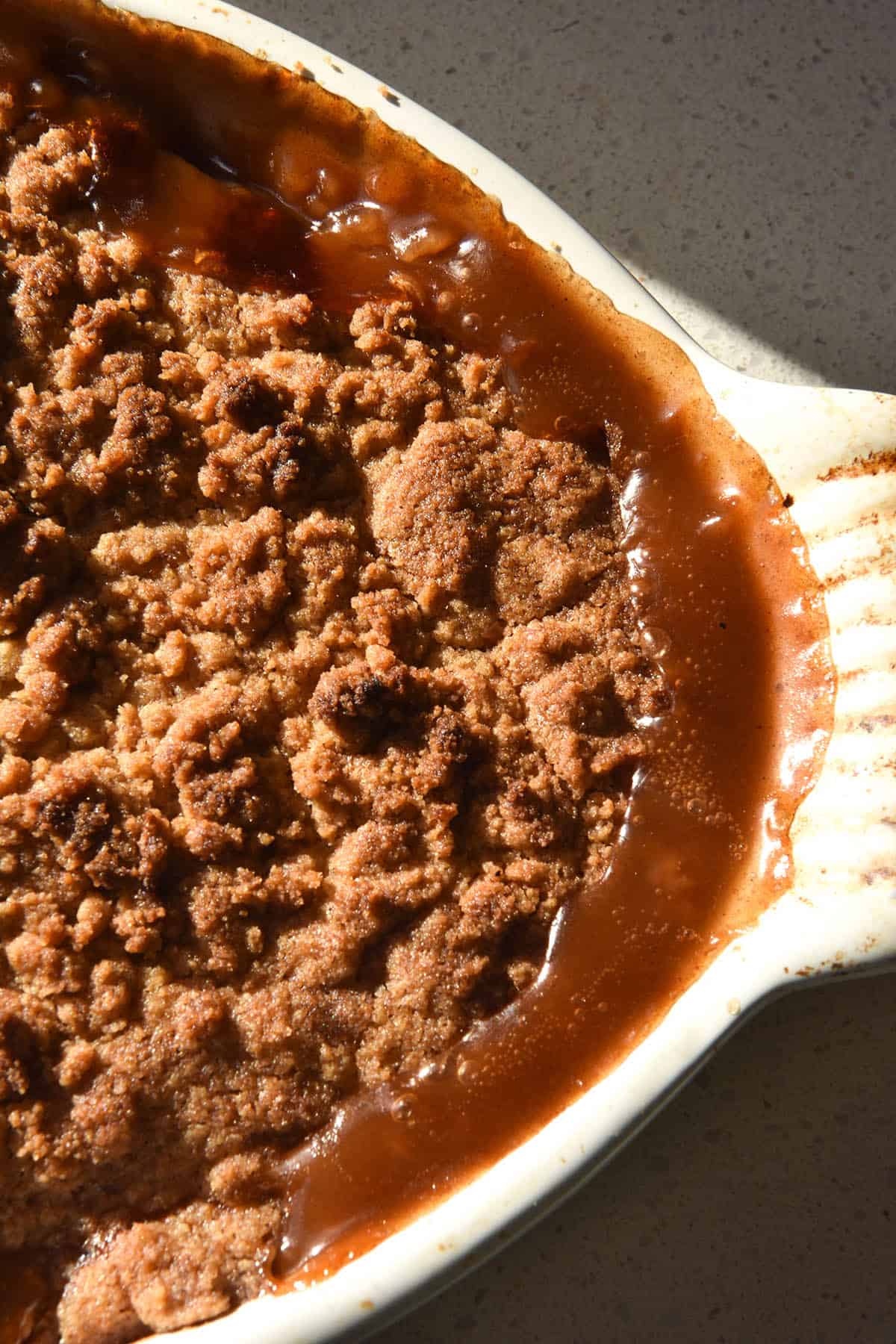 Tips and tricks
During testing, I found that the zucchini filling is best cooked on the stove before baking the crumble. I found that a crumble made with zucchini cooked raw took forever to cook because the zucchini was still firm after 40+ minutes.
Another thing I noticed was the importance of peeling the zucchini (duh) but also slicing the zucchini thinly. Zucchini has a distinct fibrous sort of texture that apples do not have, so slicing them thinly helps disguise that.
Making a slurry with the corn starch and lemon juice helps keep it from clumping in the mixture. In doing this, it provides more effective thickening power, as it is able to easily disperse.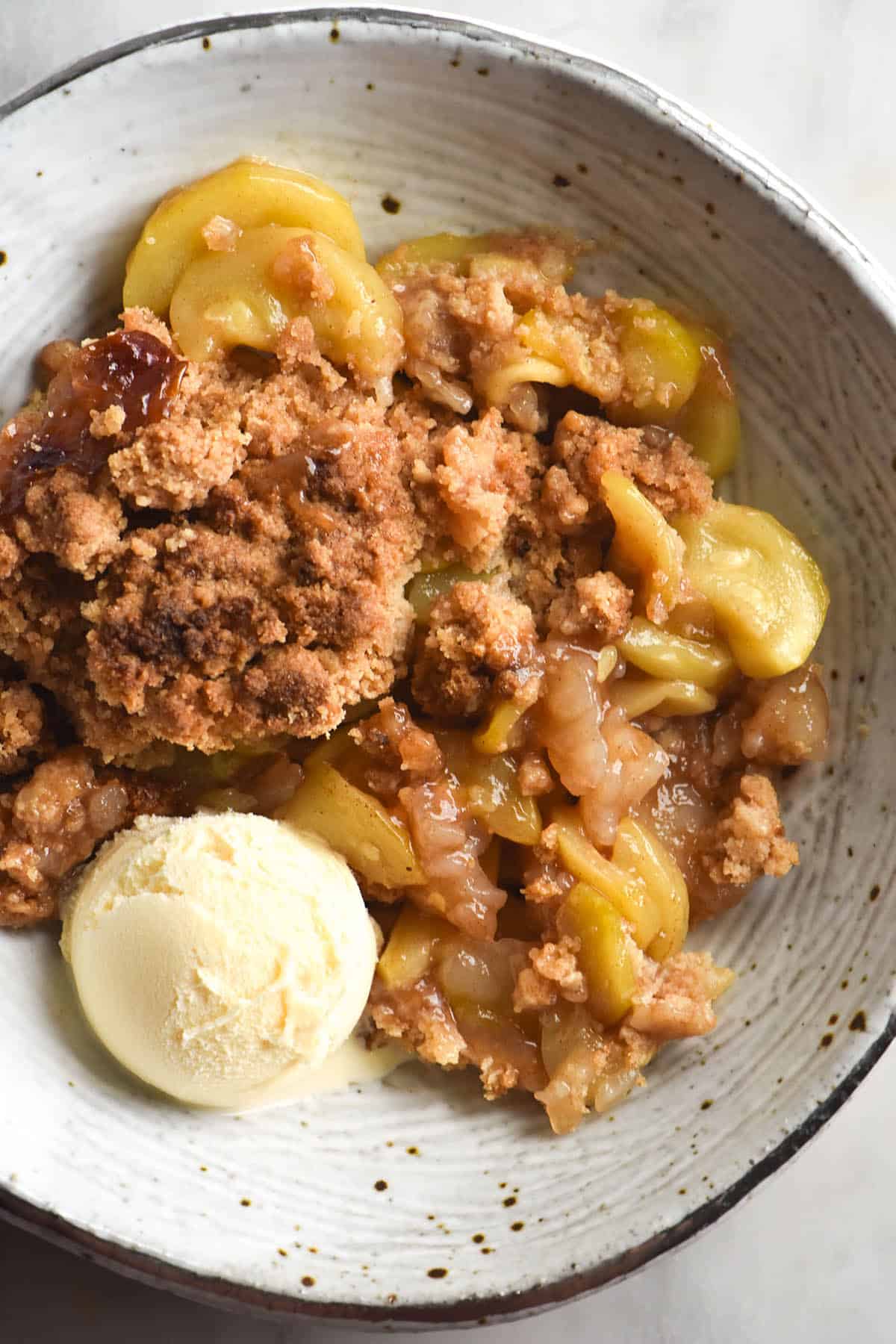 On the liquid content of zucchini
Every zucchini will have a different content. It depends on the season, the size, how they're grown, etc. While 'regular people' fruit crumbles often use flour as a thickener, we're using cornflour (known as cornstarch in some places). Gluten free flours act a little differently to regular flour and some would make for a gritty result as a thickener.
After cooking the zucchini, you'll see how much liquid you're working with. Because this liquid contains a lot of the 'apple' flavour, I really don't recommend draining it off, if you can avoid it. My zucchini filling has been wet, but the liquid is delicious. It will thicken and firm up in the fridge overnight, but it is also delicious drizzled over the top of the crumble or the ice cream.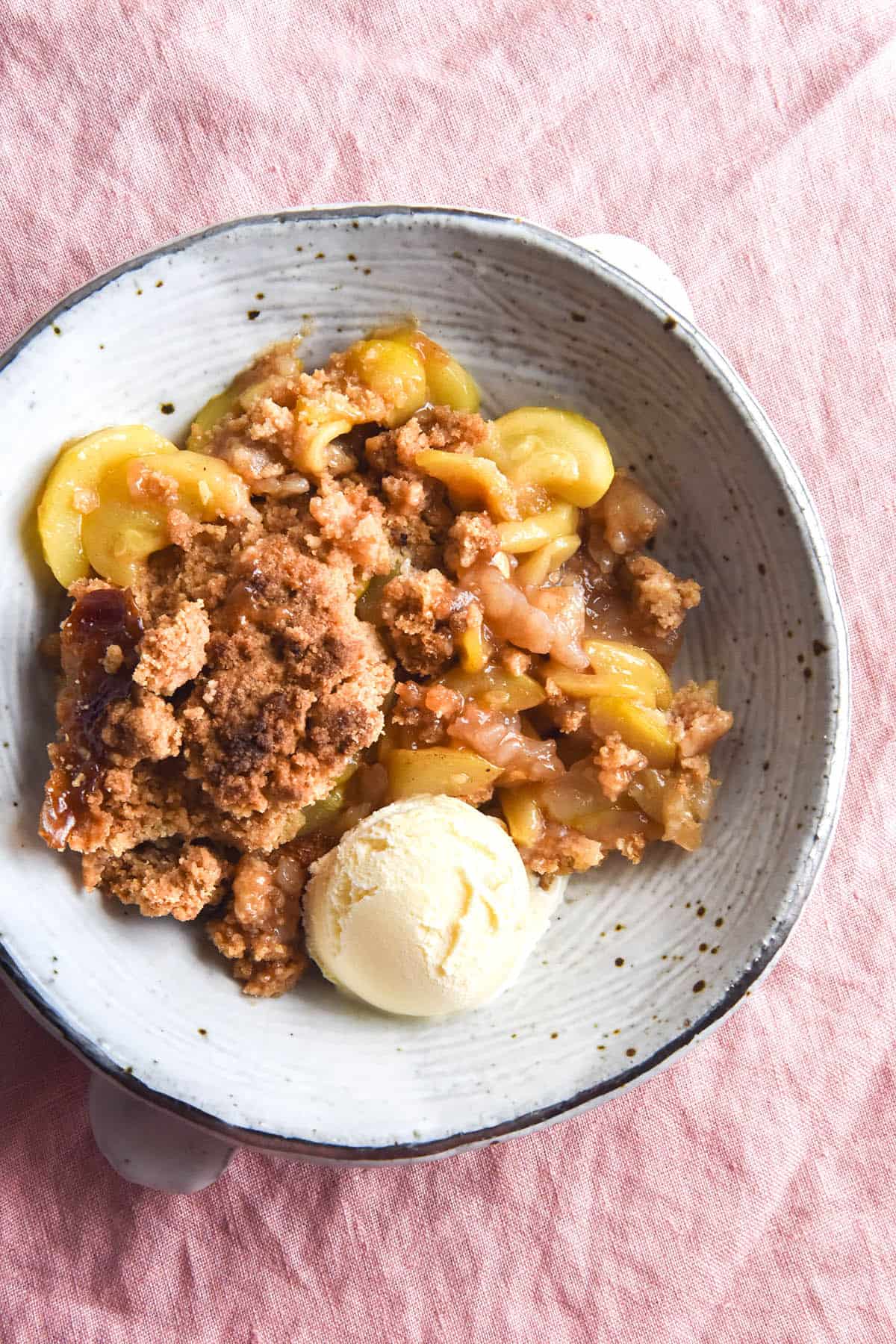 More gluten free dessert recipes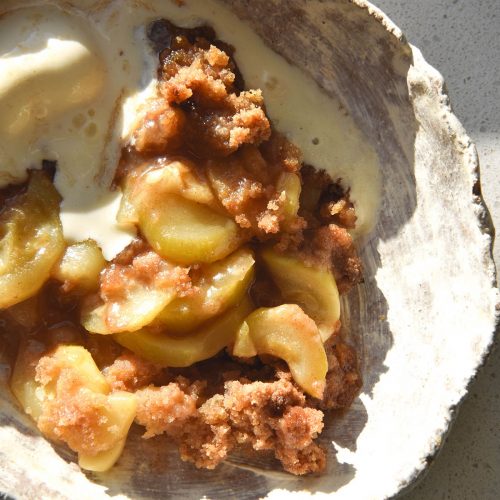 Gluten free zucchini 'apple' crumble
Gluten free, fructose friendly, nut free, dairy free/vegan option
Ingredients
For the filling:
1

kg

zucchini

weighed after peeling

1/2

cup

(125ml) fresh lemon juice (reserve 1/4 cup or 60ml for the corn starch slurry)

1

cup

(220g) white sugar

2

teaspoons

cinnamon

3

tablespoons

cornflour

Good pinch of fine salt
For the crumble:
160

g

(1 cup) white rice flour or sweet white sorghum flour

100

g

sugar

white or light brown

1

teaspoon

baking powder

1

teaspoon

ground cinnamon

125

g

butter

room temperature, cubed

1/4

cup

(60ml) milk of choice, optional

Good pinch of fine salt
Instructions
To make the filling:
Preheat the oven to 200C or 400F.

Finely slice the peeled zucchini into coins and then slice those into half moons. Place them in a large pot with half of the lemon juice, (1/4 cup or 60ml) the sugar and cinnamon. Cook over a medium heat until the zucchini is softened and juicy, about 5-10 minutes. The zucchini don't soften too much more in the crumble, so aim for a texture you'd like to eat.

Whisk together the corn starch and remaining 1/4 cup (60ml) of lemon juice, then pour that into the zucchini mixture. Stir to thoroughly combine, then turn off the heat. The corn starch will be cooked again in the oven to thicken, so no need to cook it now.

Transfer the zucchini mixture, liquid and all, into a 30x20cm baking dish (I use a rectangular Le Creuset). Set aside while you make the crumble.
To make the crumble:
Whisk the dry ingredients together in a medium mixing bowl. Add the cubed butter and rub it into the flour using your fingertips until a course, moist crumble forms. If you prefer a drier crumble, add no milk or just a splash. If you prefer a spread, moist crumble, add the milk.

Sprinkle the crumble evenly over the zucchini apple. Place the baking dish on a sturdy baking tray to catch any drips, and then put your crumble in the oven for 30 minutes or until the crumble is browned and the filling is bubbling up through the crumble. This is a sign that your corn starch has done it's work.

Serve with ice cream or custard while warm. The apple filling will thicken as it cools, particularly in the fridge overnight. Leftovers keep well for a number of days.
Notes
Use plant based butter and milk to keep this recipe vegan.
I haven't tried a different starch for any corn allergies, but I would suggest trying potato starch. I find it to be the next best thickener – tapioca seems to produce a more gloopy result. It thickens things more than corn starch though, so use less to suit.
I recommend white sugar for the filling. Either white or light brown sugar works for the crumble, although your crumble will be darker using brown sugar (I used brown sugar for these photos)