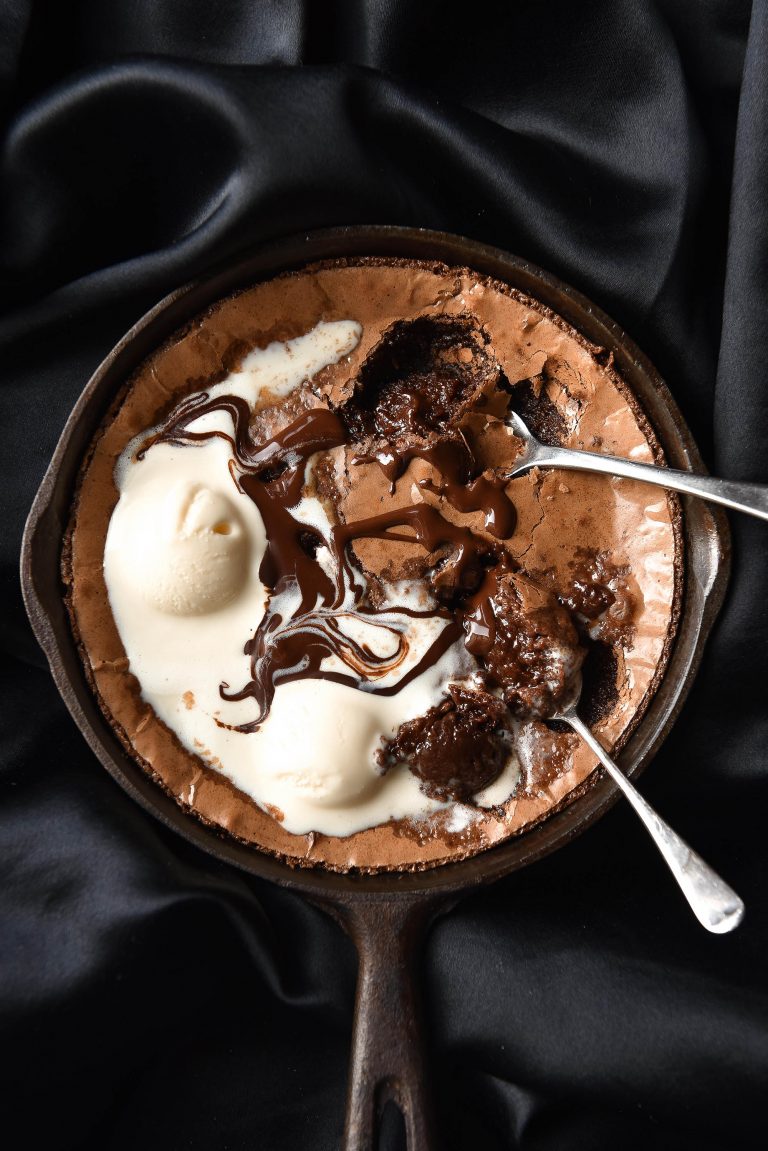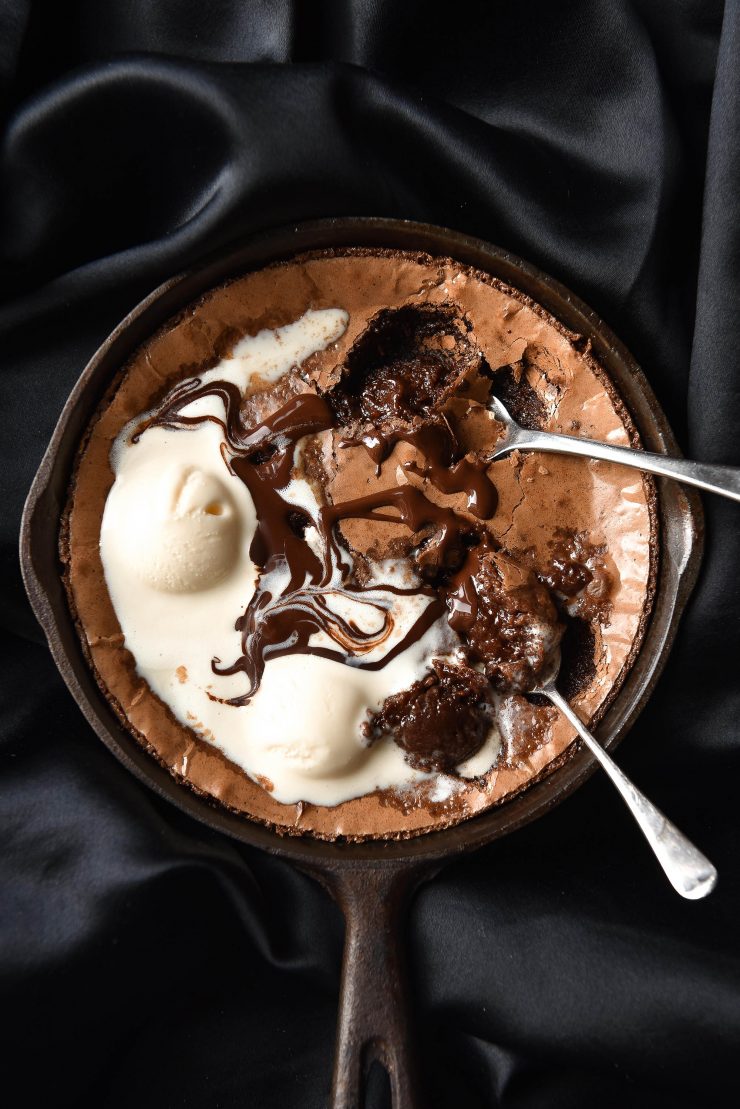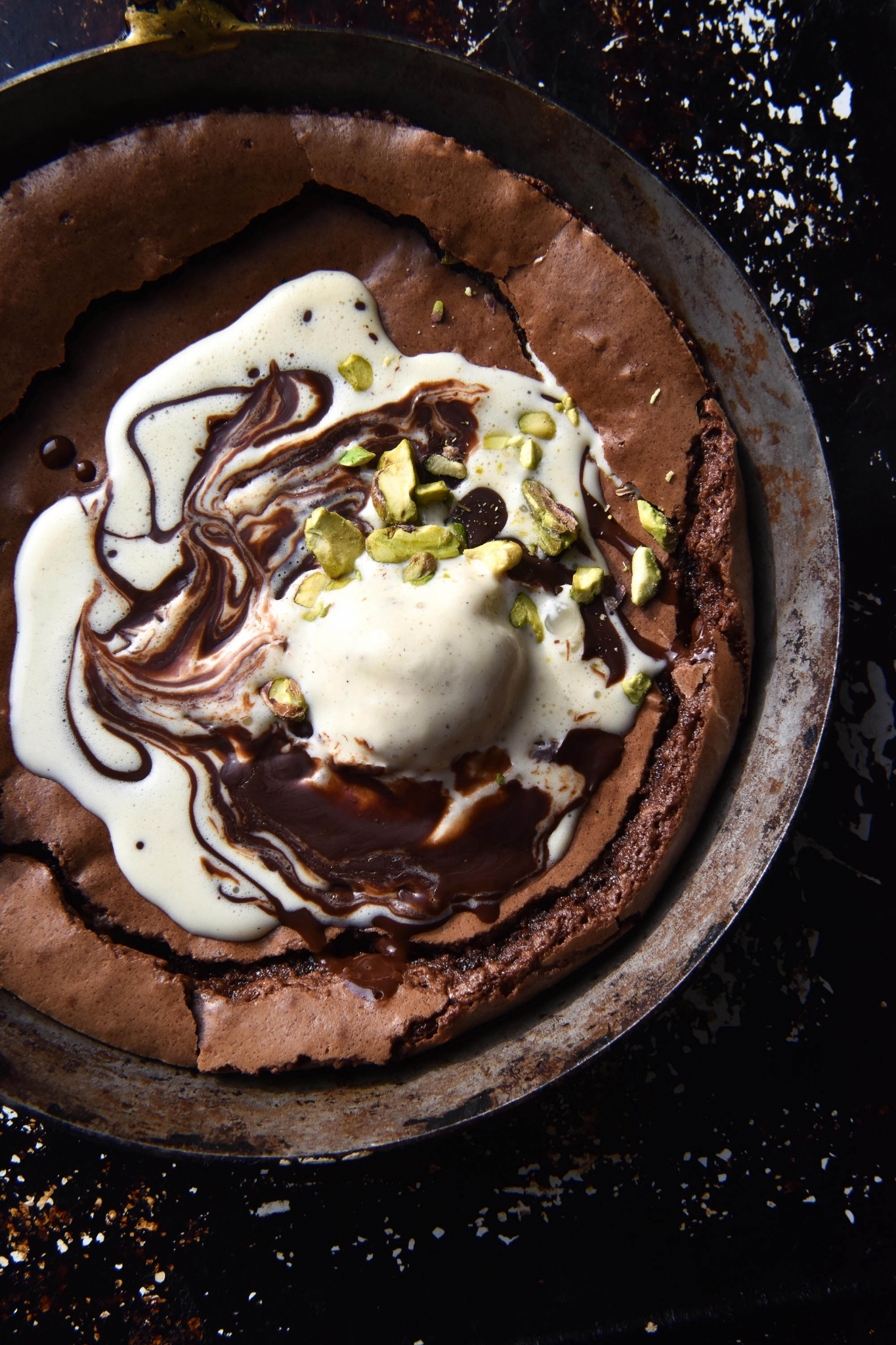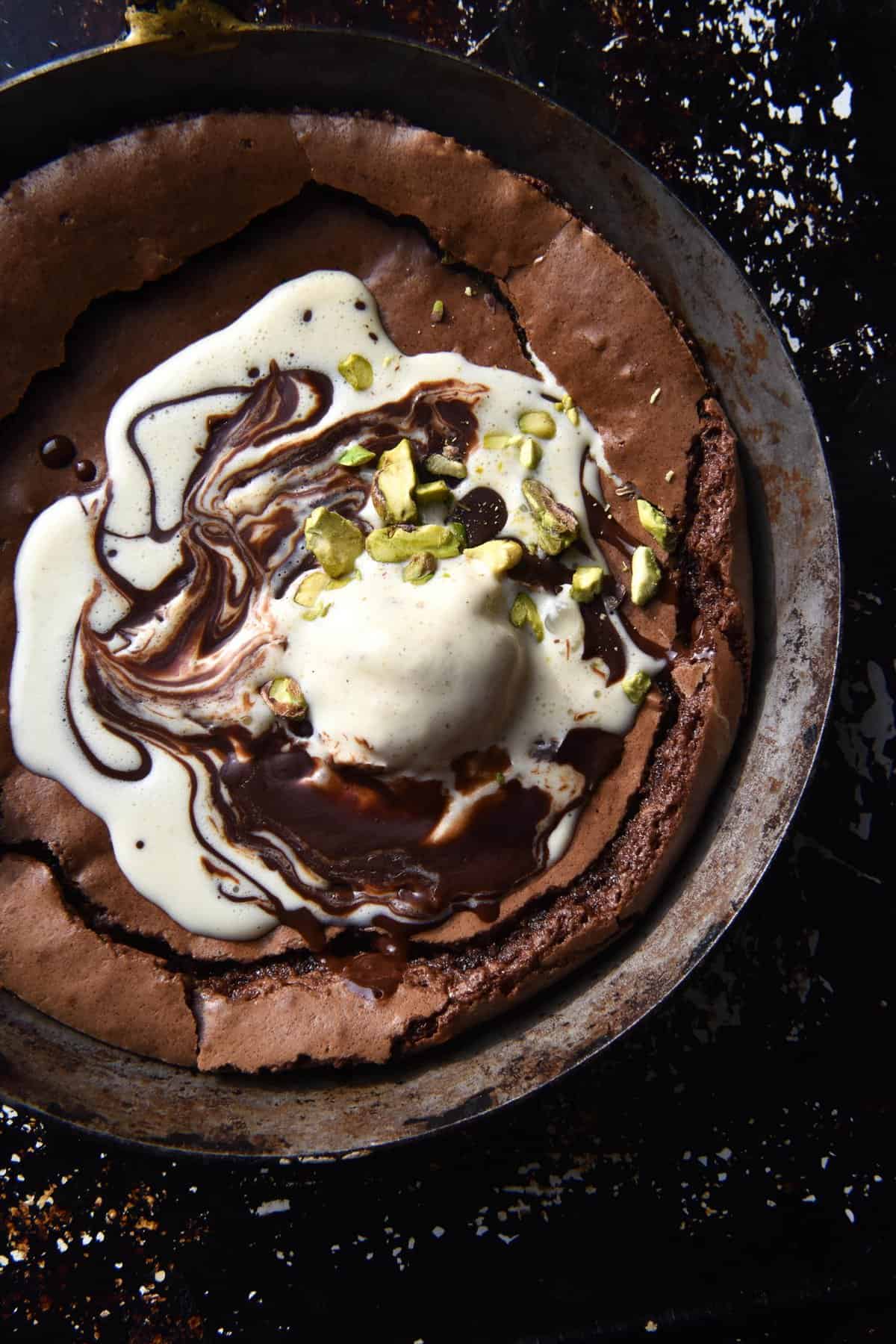 After the gluten free chocolate mug cake went wild (and as I continue my quest for the secret to crinkly brownies) a small batch brownie seemed inevitable. Gluten free small-batch brownies that are easy, quick and perfect for two. Let me confess, though: this recipe is essentially a small-batch version of my best-ever gluten free brownies. I had intended to create cute little mug brownies, but it transpired that the microwave is not conducive to a crackly top. Then I figured that they may as well be small batch brownies.
I reasoned that there must be other people out there who cannot have a whole batch of brownies in the house, for fear of eating them all in a day. If you are that person: I see you. I feel you. I am you.
Gluten free small batch brownies with almond meal
These gluten free small-batch brownies are FODMAP friendly, gluten and grain free and low in lactose. They're the perfect treat for two (or three, because they're incredibly rich and fudgy).
These fudgy gluten free brownies are made with almond meal or almond flour. They use browned butter for a delicious complexity of flavour, as well as a pinch of salt to round everything out.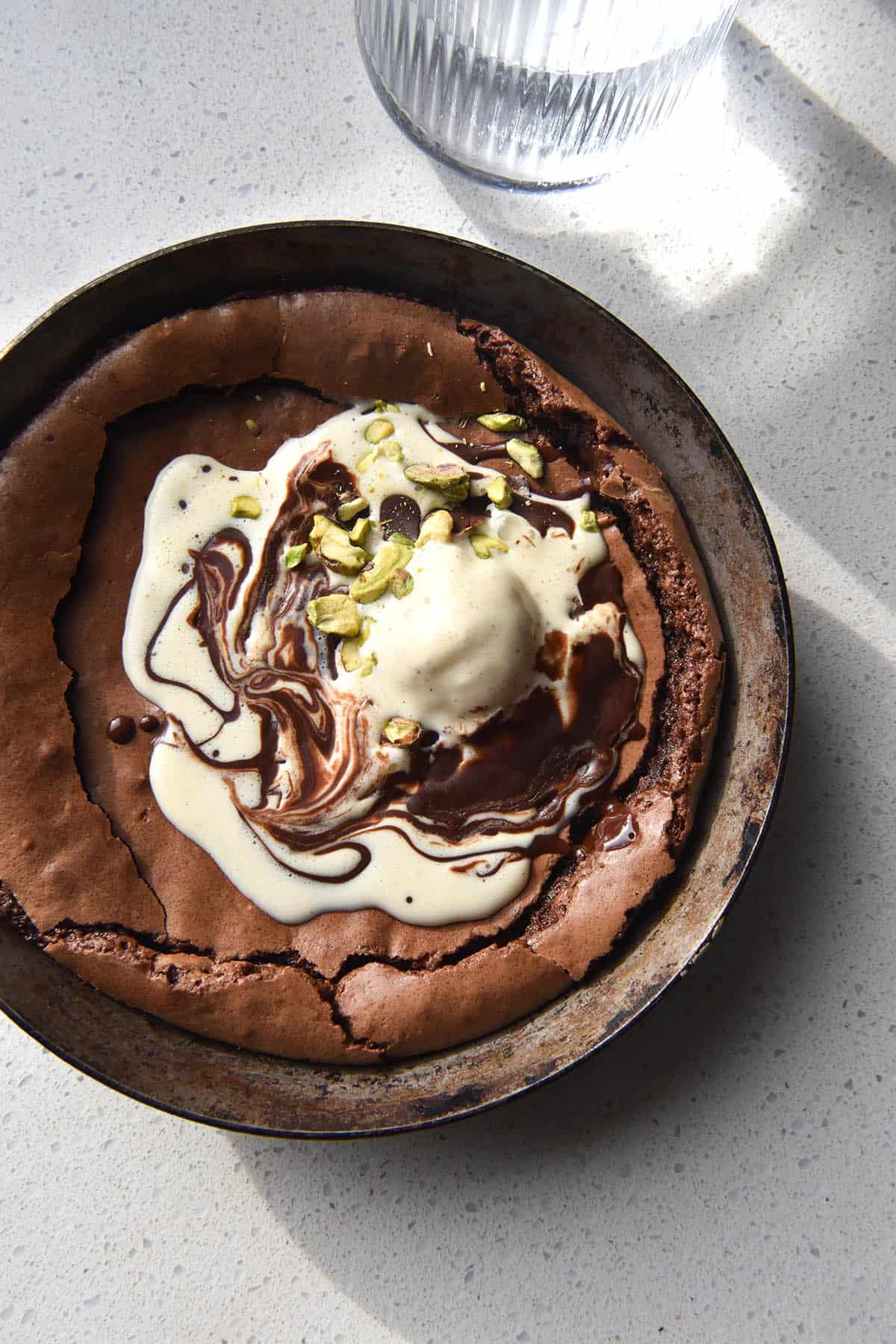 Recipe notes for your gluten free small batch brownies
At the moment, I'm using 45% dark chocolate for my brownies. It's not as deep a chocolate flavour as 70%, but it's more foolproof in creating a crackly top.
I use regular cocoa for my brownies currently. I find that dutch processed tends to produce a brownie top with a reddish earth hue. That's not a bad thing, it's just a phase I'm entertaining.
You can use 30g caster sugar and 30g light brown sugar, if you'd like. I tend to use the whole 60g caster sugar for ease. One thing I don't recommend is using all 60g light brown sugar.
Some optional additions include 1/2 teaspoon vanilla bean paste or 1/2 tablespoon espresso (in place of 1/2 the water). Both of these will amplify the chocolate flavour and add more nuance to your brownie.
I made these in a mini skillet. You could also use two mini loaf tins or small ramekins. I like my brownies to be reasonably thin.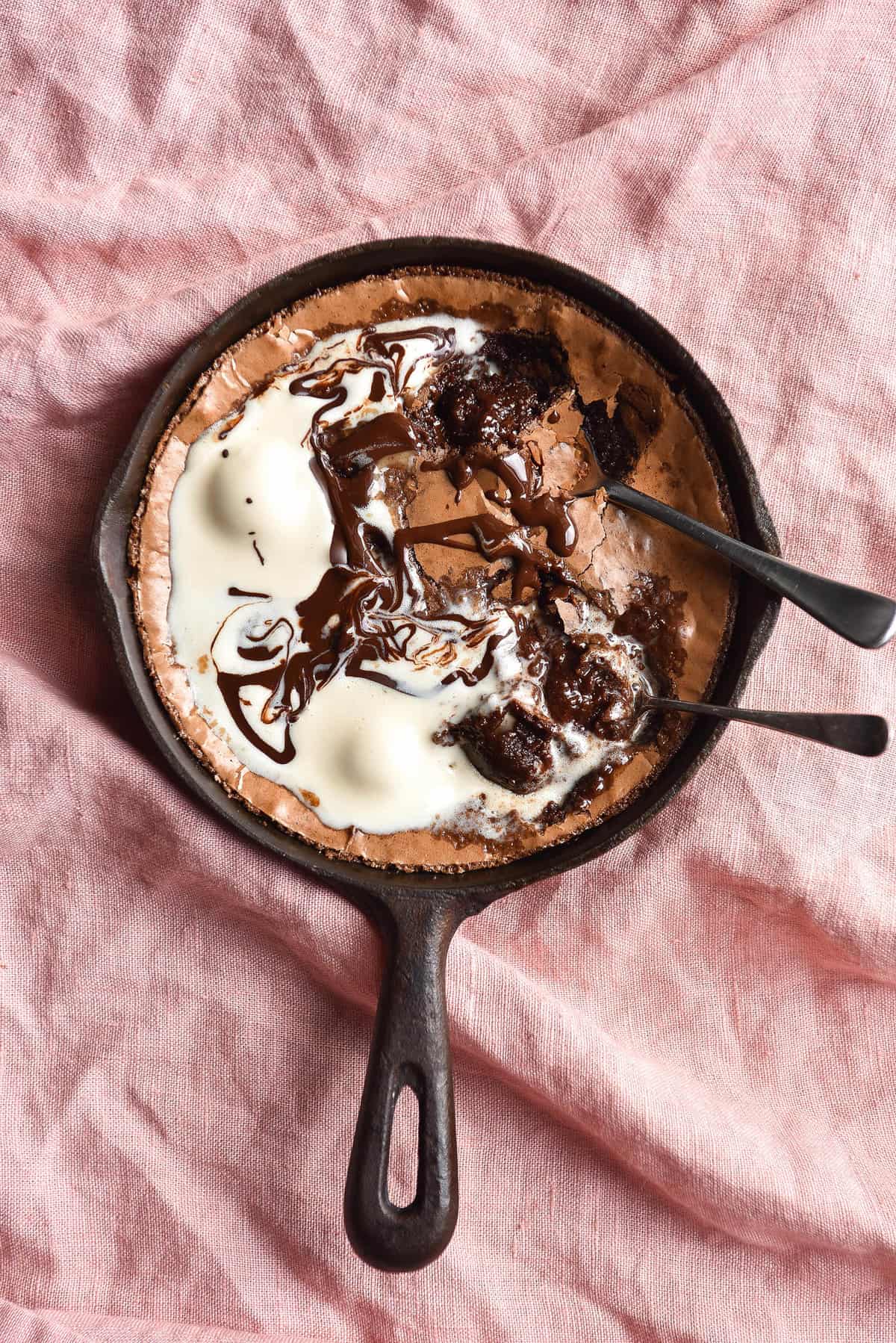 Substitution options
I used almond meal for this recipe. Aside from it being grain free, I tend to find that it produces shinier brownies than a gluten free flour. However, if you need to keep these nut free, you could try 2 tablespoons of quinoa flour or buckwheat flour in it's place.
If you're into the nut theme but fancy mixing it up, you could also use hazelnut meal.
Brown butter is extremely low lactose, if not lactose free. If you absolutely must you can use a dairy free spread, although the results may vary due to their varying compositions and fat contents. Use about 5-10g less to account for the liquid evaporation during the browning process.
If you'd like a vegan version, you could potentially use my vegan brownie recipe (please note I haven't tried this). Just divide the ingredients by 3.
I don't have a substitute for regular sugar or for eggs in this recipe.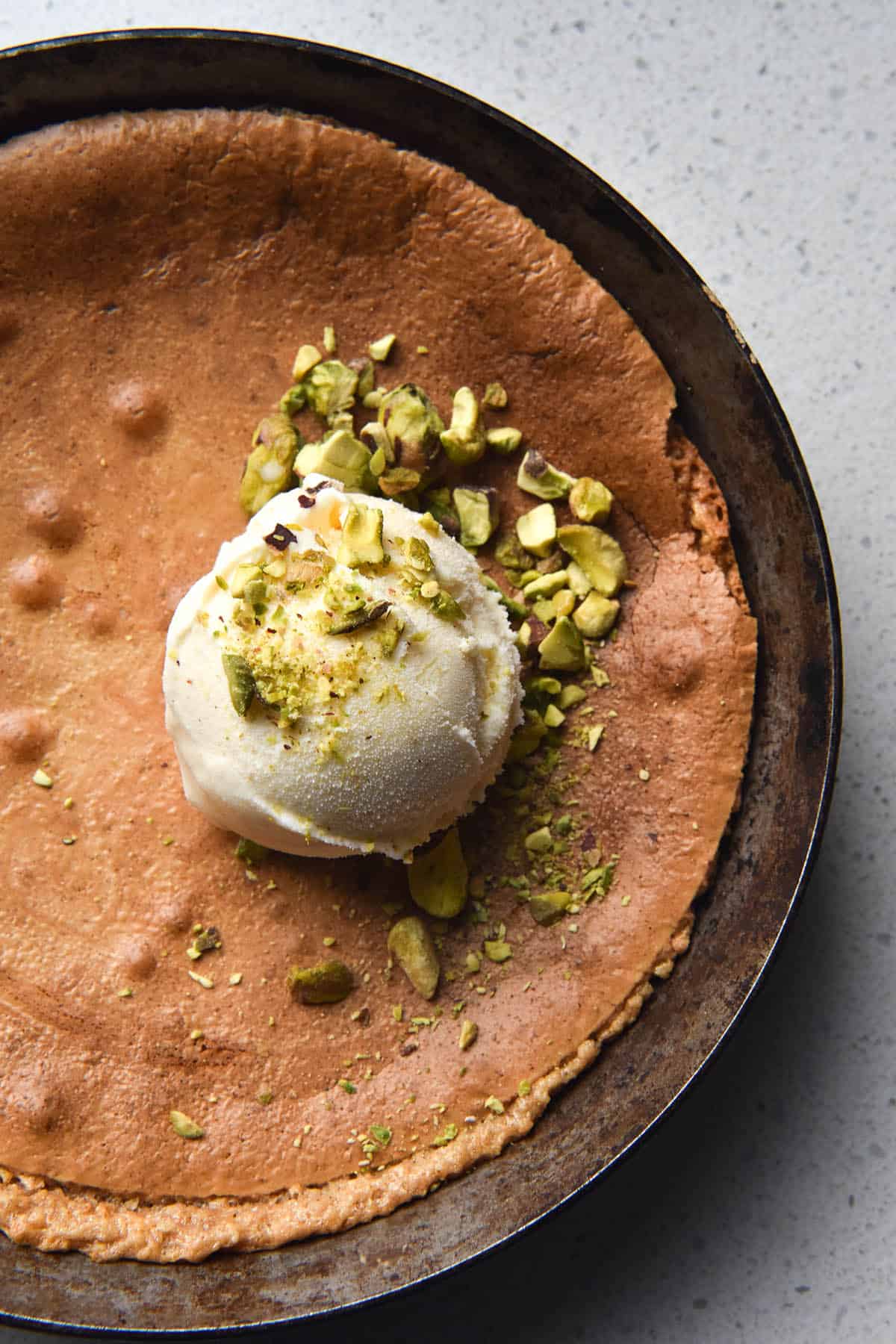 To make a Caramilk small batch gluten free brownie
I am a sucker for Caramilk, so I had to see if it worked in this small batch brownie. Let it be said that Caramilk (and white chocolate in general) are not low lactose. Let it also be said that pistachios are not overtly FODMAP friendly. So, if you're catering to FODMAP concerns, I recommend using 70% dark chocolate and/or leaving off the decorative pistachios. If not:
Use Caramilk in place of the chocolate
Melt the Caramilk in the brown butter (as per below). Whip the egg and sugar together alone, then add the Caramilk butter mix, the almond meal and salt.
Omit the cocoa and water and add an extra 10g or so of almond meal
Bake for 15 minutes.
I find it's easiest to melt white chocolate in a fat so as not to 'curdle' it. I simply make the brown butter and then add the chocolate to the saucepan off the heat. Stir to combine until the chocolate is melted.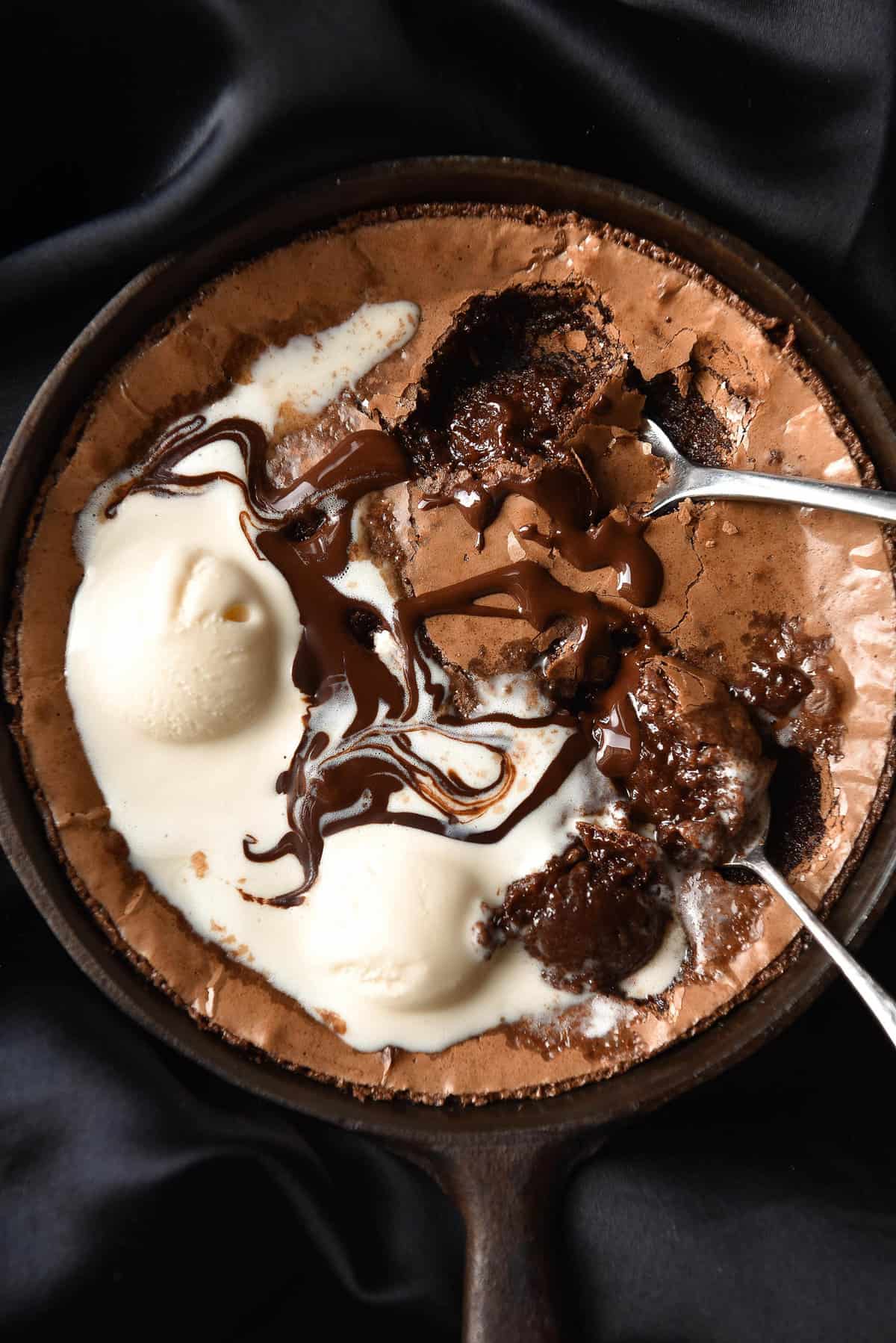 More gluten free chocolate recipes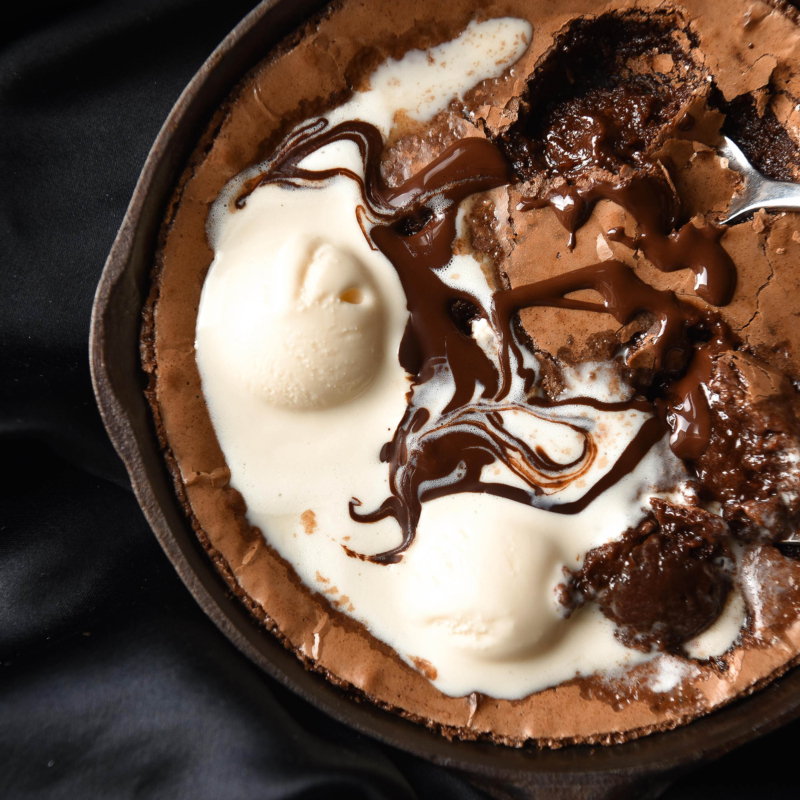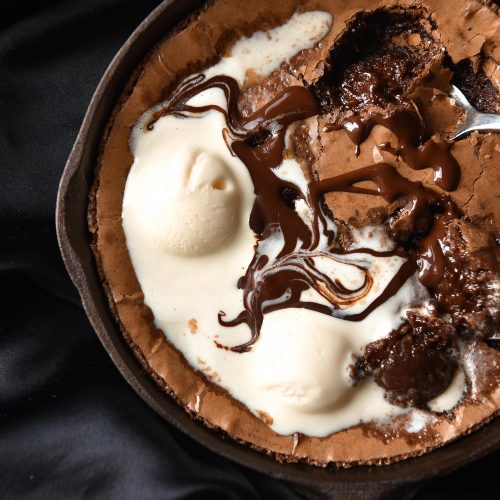 Gluten free small batch brownies
Gluten and grain free, FODMAP friendly, low lactose
Makes 3-4 medium brownies
Equipment
1 mini skillet (16cm diameter, 3cm height, 2 cup (Australian) capacity (or similar vessel)
Ingredients
60

g

butter

browned

75g

(1/3 cup) caster/superfine sugar

1

extra large egg

65

g

dark chocolate

I use 45% for shine or 70% for taste

1/2

tablespoon

cocoa powder

dutch processed or regular

1

tablespoon

water

(see notes)

35

g

(1/4 cup) almond meal

Pinch

of fine salt

about 1/4 teaspoon
Instructions
Preheat the oven to 180C or 356F.

In a small saucepan, brown the butter over a low heat until toasty and a warm dark brown in colour. Transfer to a medium sized mixing bowl and mix in the sugar, before allowing to cool for 5 minutes.

Half fill the small saucepan with water and place it back on the heat. Place a heatproof bowl on top (ensuring it doesn't touch the water) and add the chocolate. Allow to completely melt.

While the chocolate is melting, use a hand beater to beat the egg into the butter sugar mixture. You can also use a stand mixer, but I find they struggle with small quantities. Do this for 3 minutes at a high speed. The mixture should become syrupy and a light brown in colour. It should have a vague sheen, similar to beginnings of meringue.

Once the chocolate has finished melting, add the cocoa and hot water or espresso. Stir just to combine – the chocolate will begin seizing up so don't stir more than necessary.

Use a spatula to scrape all the chocolate mixture into the liquid sugar, butter and egg batter. Use the hand mixer on a low speed to combine. The mixture should turn from light brown to a deep chocolate brown.

Add the almond meal and a good pinch of salt. Continue mixing until combined and glossy (it's OK if you see almond meal granules).

Use the spatula to decant the brownie into your vessel of choice. I used a mini skillet (16cm diameter, 3cm height with 2 cup (Australian) capacity. Ideally you'll use something with similar dimensions, and with a wide top so as to showcase the crackly brownie.

Place into the oven for 13-15 minutes, depending on your vessel and how fudgy you like your brownie.

Add a scoop of ice cream on top and serve.