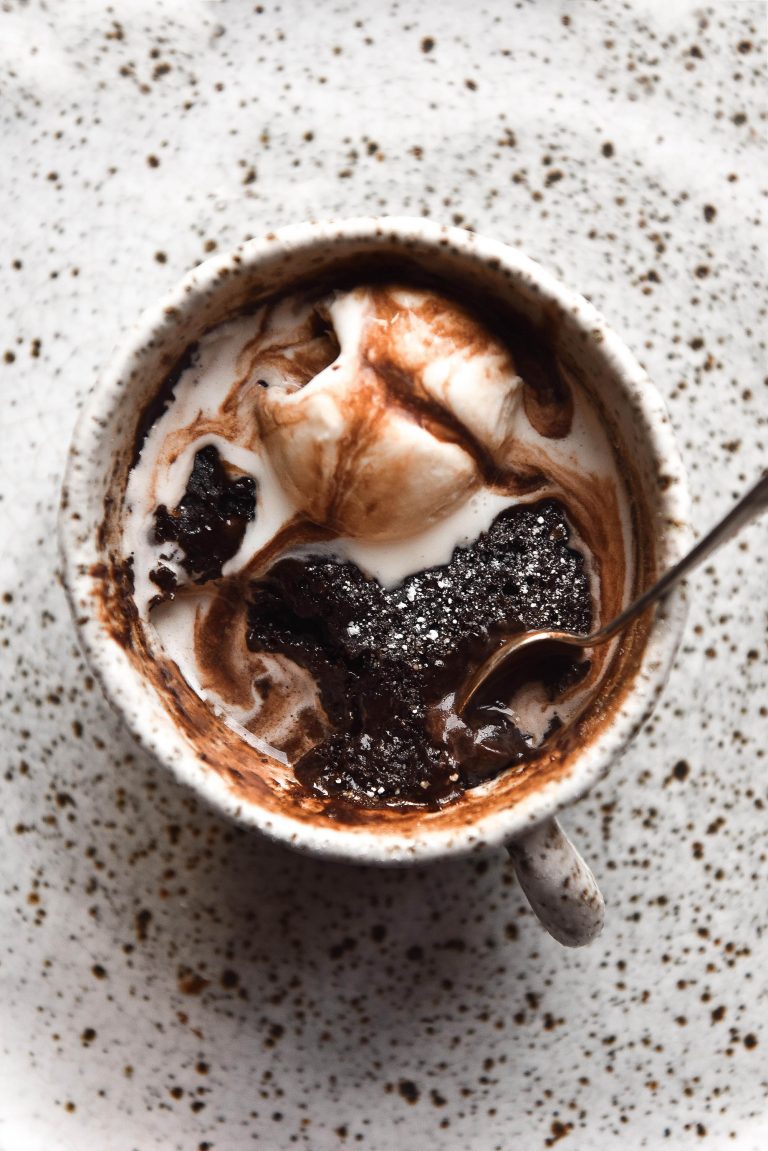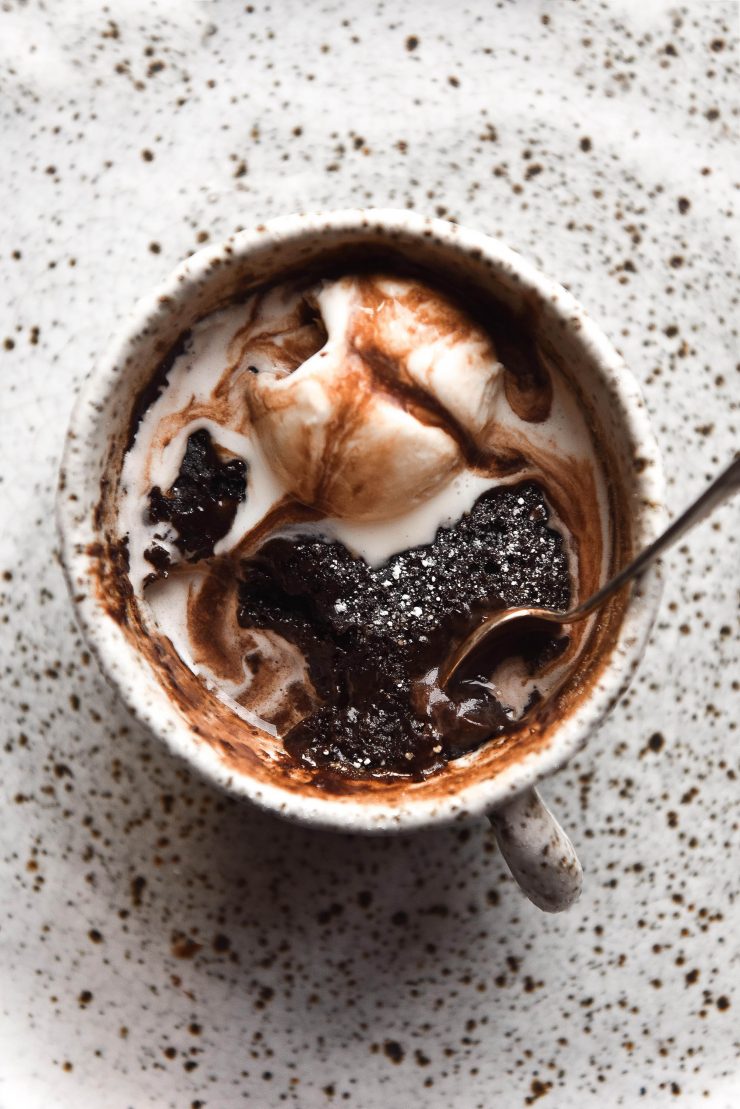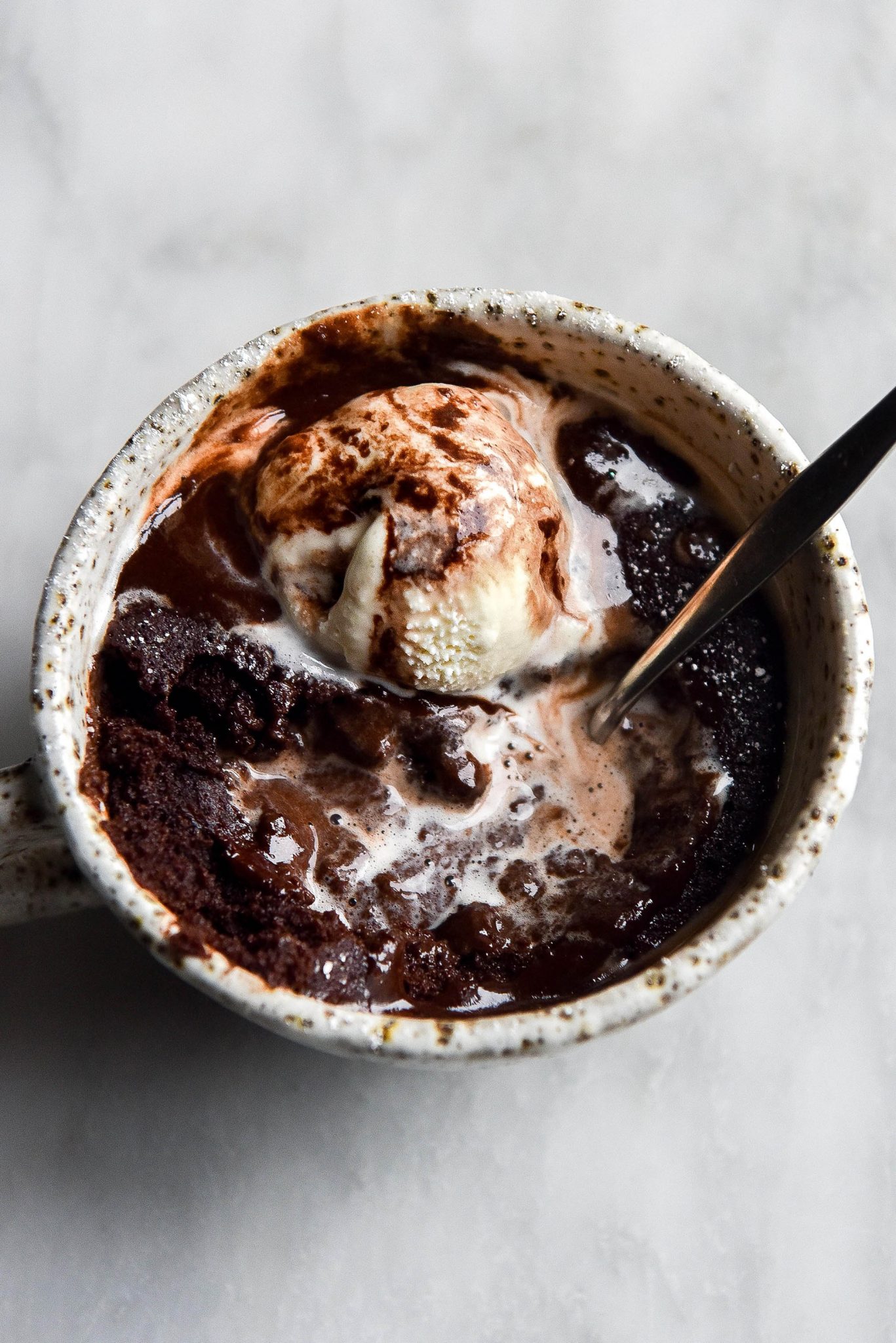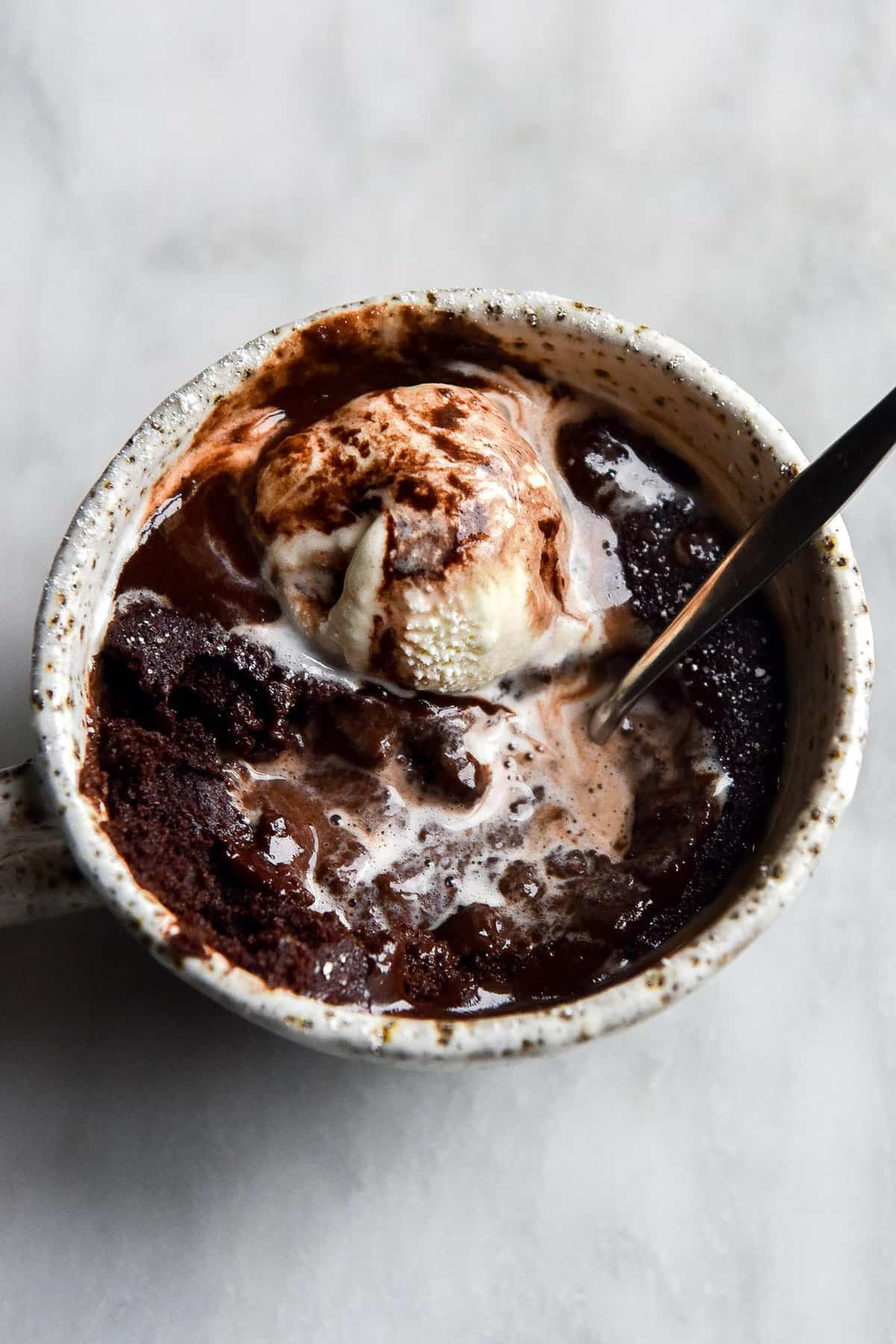 I only recommend products I use daily and all opinions are my own. This post contains affiliate links, and I earn a small commission for any qualifying purchases made through the link, at no extra cost to you
Ironically, this gluten-free chocolate mug cake was inspired by having too much chocolate cake in the house. It's hard to imagine having too much chocolate cake in the house. Yet this is something I experienced firsthand while developing my gluten free chocolate cake recipe recently. Along with my gluten free sourdough brownie recipe. Along with every other recipe I have ever made. There's something incredibly practical about a single serve recipe that satiates a craving in the moment. With that in mind, let's chat more about this gluten-free chocolate mug cake.
Gluten-free chocolate mug cake that is vegan
This gluten-free chocolate mug cake is vegan, nut free, FODMAP friendly and ready in three minutes. It is made without eggs, without dairy and without xanthan gum. The mug cake uses a simple mix of rice flour and tapioca flour for the perfect chocolatey crumb.
Speaking of, It is incredibly chocolate-y in flavour thanks to a quick process of blooming the cocoa in boiling water. The cake is also very easy to make, using inexpensive and pantry friendly ingredients. Can it get better though? Why yes, it can! By microwaving it for less time, you'll end up with a chocolate mug self saucing pudding. Honestly, it's an all round offensively good cake.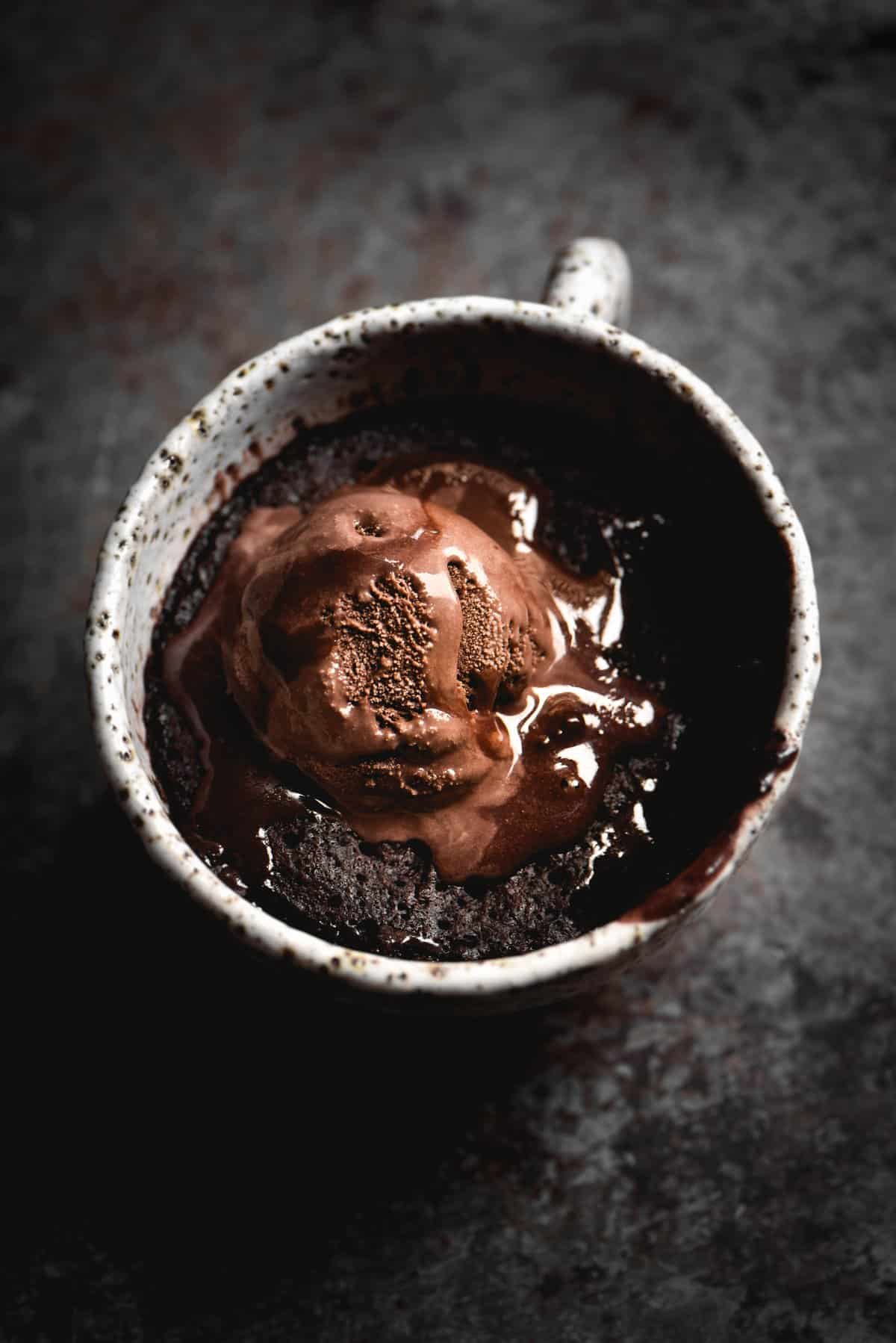 Recipe notes and substitutions for your gluten-free chocolate mug cake
You can use either Dutch processed cocoa or regular cocoa. In terms of taste, Serious Eats tells me that Dutch processed has a deeper chocolate flavour, while regular is more astringent or floral.
You can use an oil that you have on hand. I actually really like olive oil in sweet baking, which is why I used it. Avocado, vegetable or canola would work. Coconut oil is also an option, if you're open to a hint of coconut flavour.
The potential for experimentation with different gluten free flours is high. Because they're not deeply important to the structure here, feel free to mess around. After all, the waste potential for failure is incredibly low.
A caveat to the above: the 1 tablespoon of tapioca flour is not optional. In the absence of eggs, it binds the cake together. I have found that omitting it results in an overflow of cake in the microwave.
Almond meal is not an appropriate option here – for whatever reason, it results in a volcano of cake. If you want a grain free cake, you can use two tablespoons of tapioca flour. It's a little chewier than the grainy option, but is still delicious.
In terms of flour experimentation, I'd recommend softer flours like toasted quinoa flour, buckwheat flour or millet flour. You can use rice flour (I tested a batch with it) but you might find a hint of grittiness in your mug cake.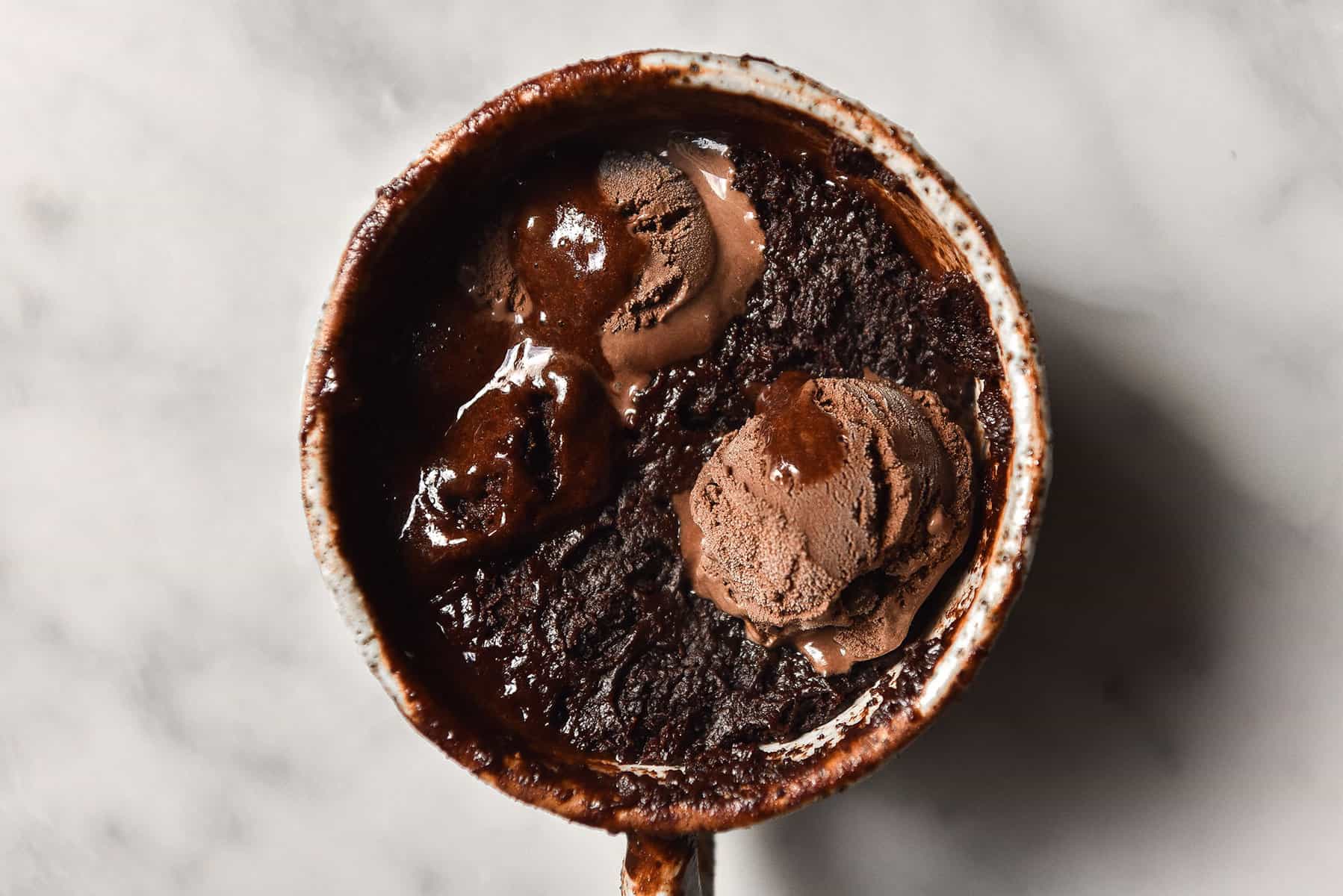 Unrefined sugar options
Since posting the recipe, I have been asked a lot about unrefined sugar alternatives. Personally, I have finally come to the realisation that sugar is sugar. However, I am all about catering to everyone's dietary needs without judgement. So if you're an unrefined sugar kind of person, the following are suitable 1 to 1 replacements for the brown sugar:
If you want to use maple syrup or another liquid sweetener, please see my recipe that caters specifically to liquid sugars. It will not work in this recipe as there will be too much liquid in the batter to form a coherent cake.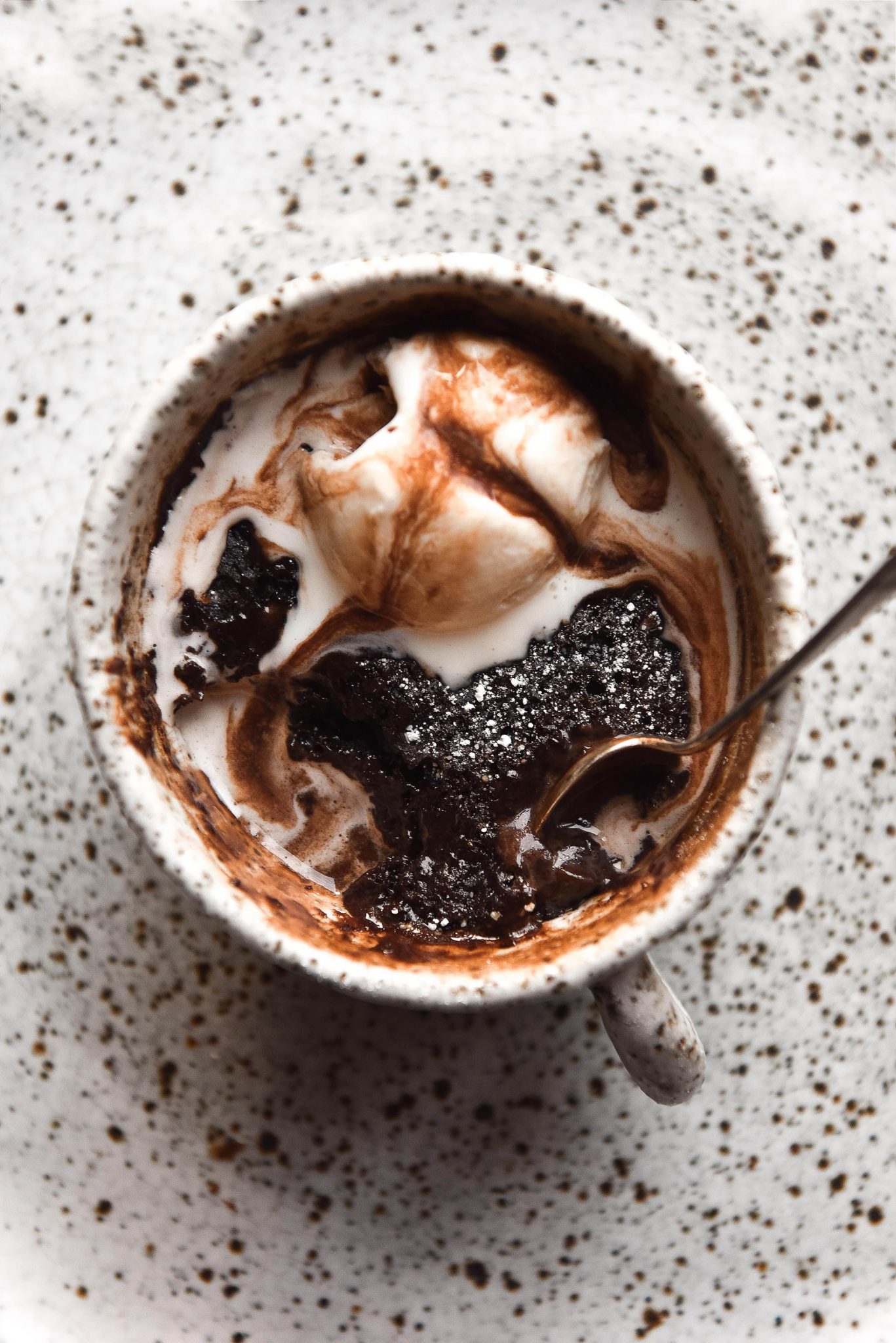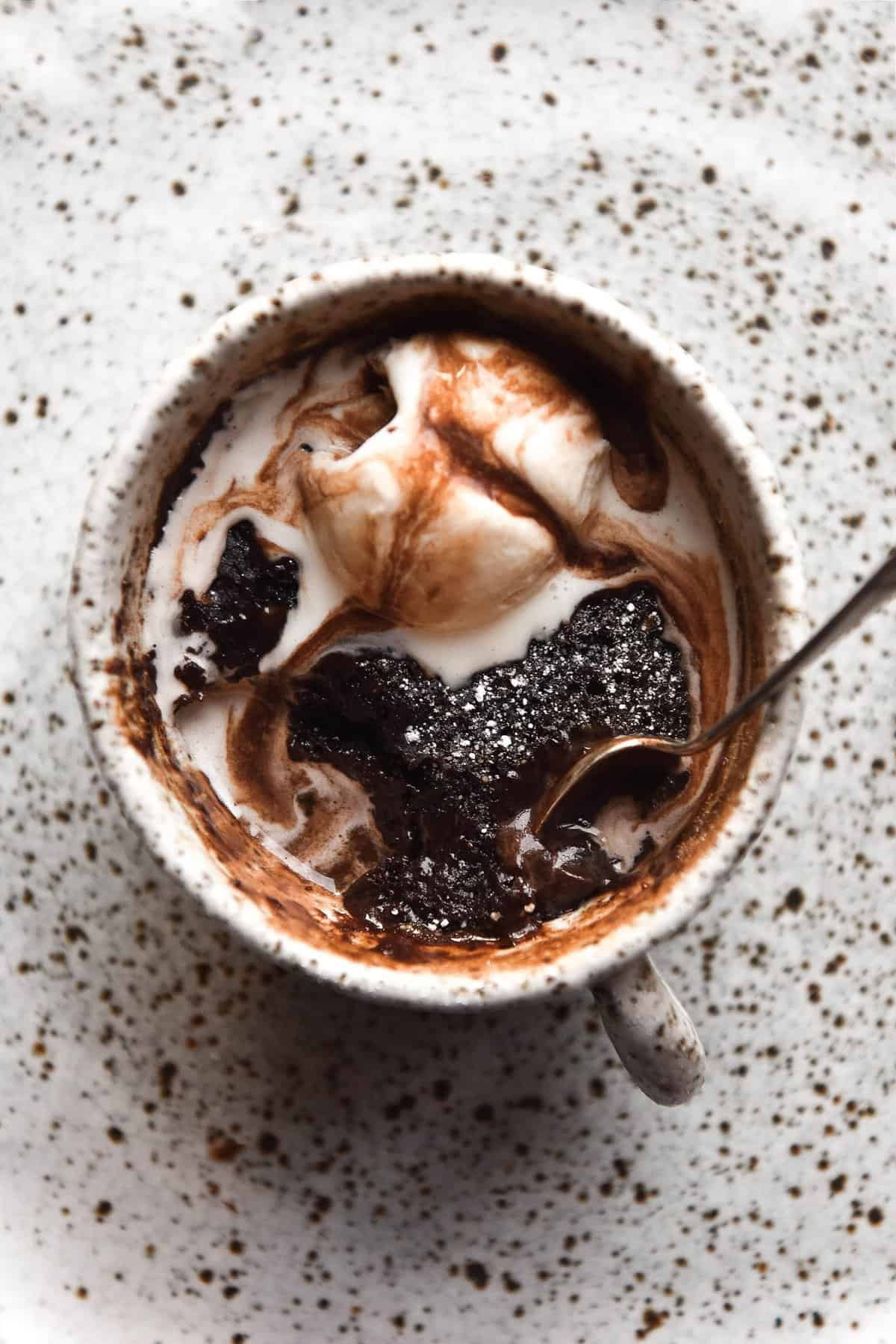 Things to add to your mug cake
A tablespoon of peanut butter, nut butter of any kind inserted into the middle before cooking.
Some Nutella (or vegan nutella aka vego) inserted into the middle, as above (alternatively, melted with a little coconut oil and poured over the top)
Some vegan chocolate (I like Lindt 70%) chopped and added to the batter. This or chocolate chips.
A tablespoon of vegan protein powder in place of the flour. This additive/swap will make the mug cake grain free, but it does come with a few caveats. Firstly, the result will depend on the type and brand of protein powder. I used plain brown rice protein, and it was a tiny bit gritty but definitely served it's purpose. Secondly, the mug cake will be a little more chewy than the grain based version. Again, nothing offensive, just a tinge of chew.
How to cook your gluten-free chocolate mug cake in the oven:
Little did I know that mug cake would be do damn popular when I pressed publish on this recipe. A lot people have asked me for instructions on how to mix up this mug cake in different ways. If you don't have a microwave and you need to bake this gluten-free chocolate mug cake in the oven, this section is for you.
Firstly, you'll need to choose a vessel that is oven safe. I've found that the cake doesn't rise and fall as dramatically in the oven, so it doesn't need to be huge. However, it does need to be able to withstand the oven. Generally speaking ceramics will say on the bottom if they're oven safe. Personally, I recommend using a ramekin or a little oven dish (I have a mini casserole dish, because why wouldn't I?) I wouldn't recommend cooking it in your favourite, artisan ceramic mug. If yours are anything like mine there are no mass produced labels on the bottom, and I don't want to risk you ruining your favourite one-off piece.
Instructions
Preheat the oven to 180c or 356F.
Once the oven is ready, prepare the mug cake batter as per the instructions in the recipe card below.
Use a silicon spatula to decant all the batter into the oven safe, small vessel of your choosing. I used a mini ceramic casserole dish which has a 1 1/2 (Australian) cup capacity.
Place the cake in the oven for 10-20 minutes. 10 minutes will result in a very gooey, self saucing pudding, whereas 20 minutes will result in a fully fledged cake. For me personally, I'd say somewhere between 13-15 minutes would be my own personal sweet spot.
Sprinkle with a little icing sugar and/or top with some cream, ice cream or yoghurt. Best served immediately but keeps well in the fridge if you can't finish it.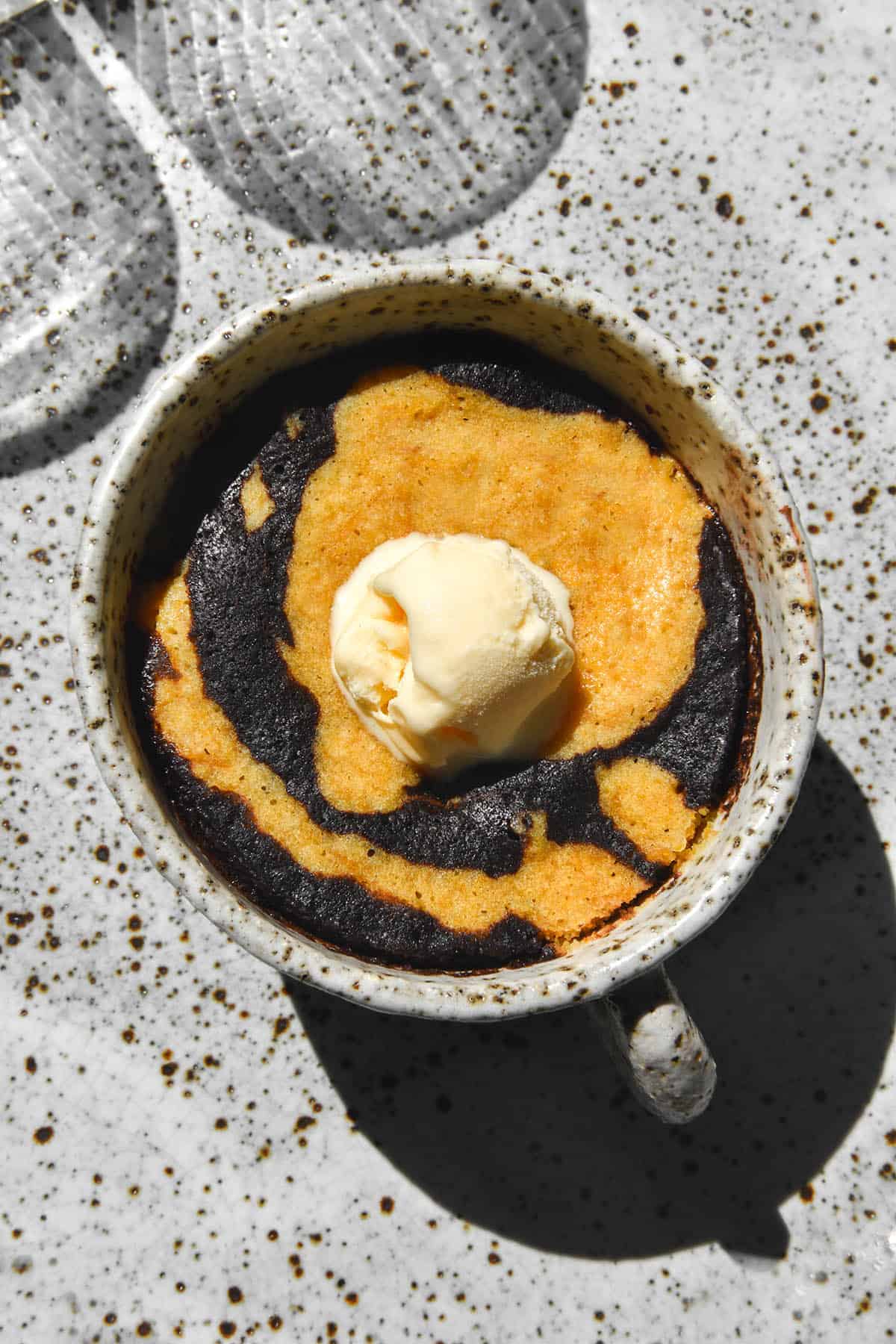 To make pumpkin and chocolate marbled mug cakes (serves two)
Make one batch of this chocolate mug cake, and one batch of the pumpkin mug cake.
Alternate spoonfuls of each mixture into two microwave safe mugs. I haven't tried this in the oven, but as with each mug cake recipe, I'm sure it would work. See the section above on oven baking for more information.
Proceed with the recipe as written.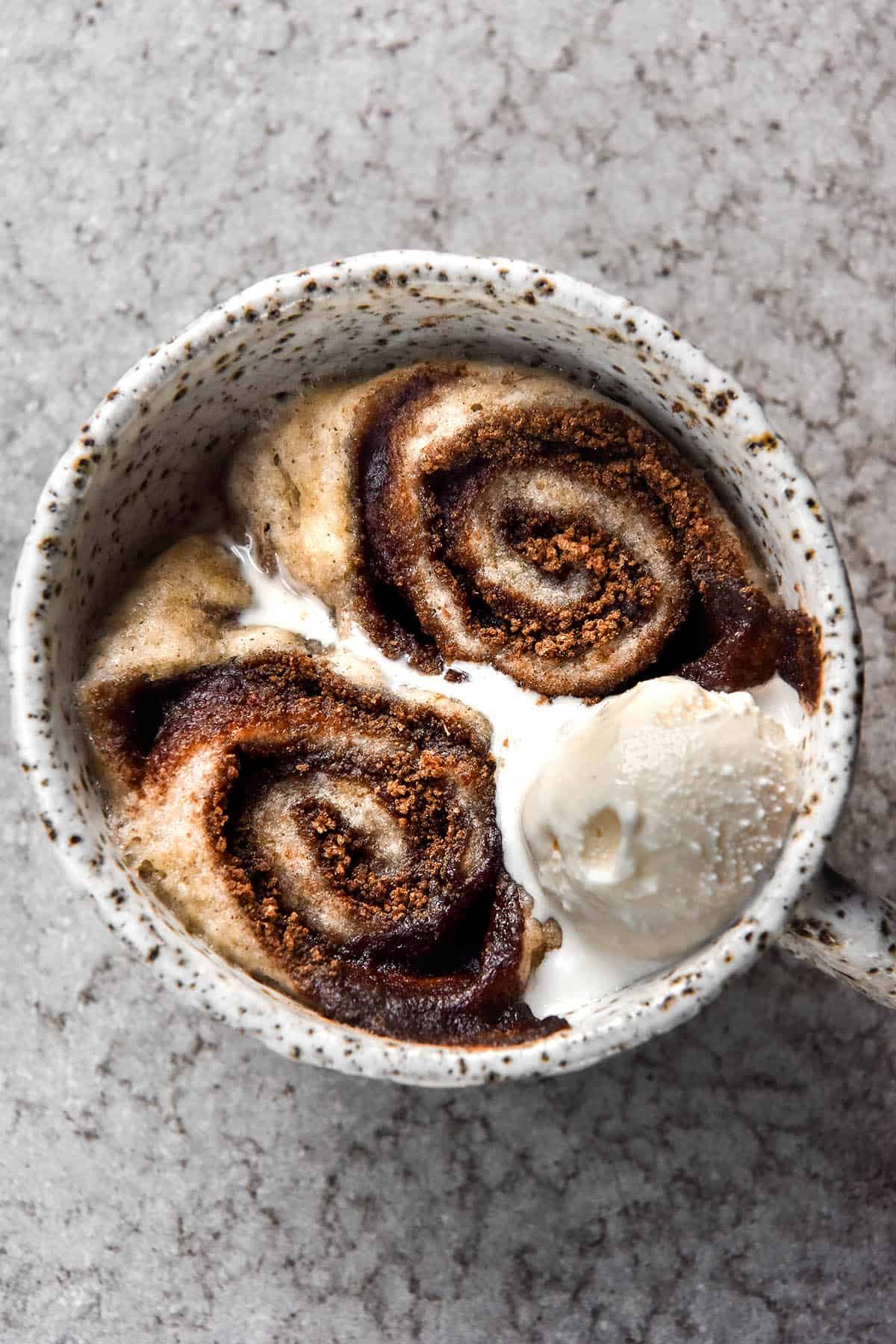 Other vegan gluten free mug cake recipes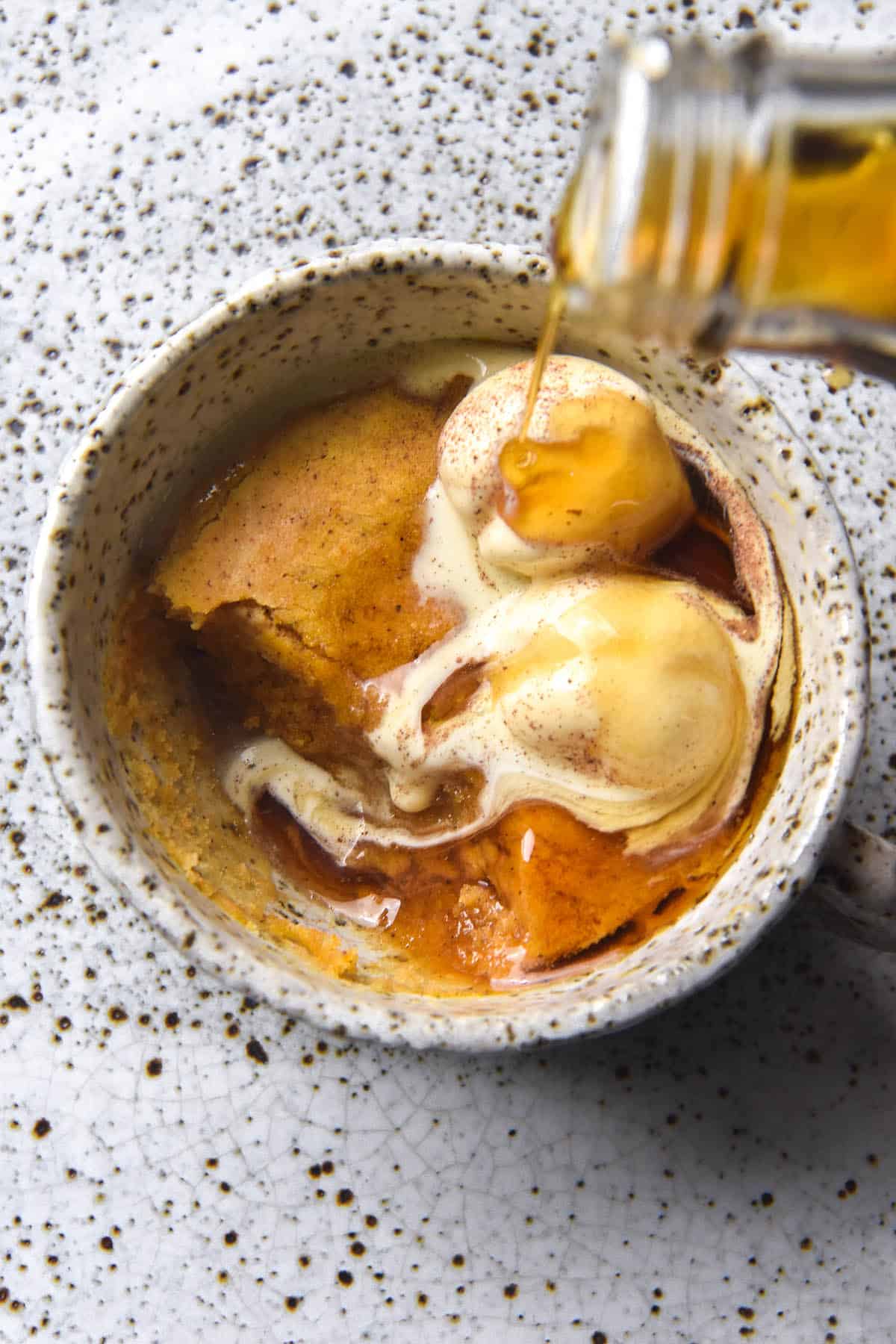 Have you tried this recipe? Let me know in the comments!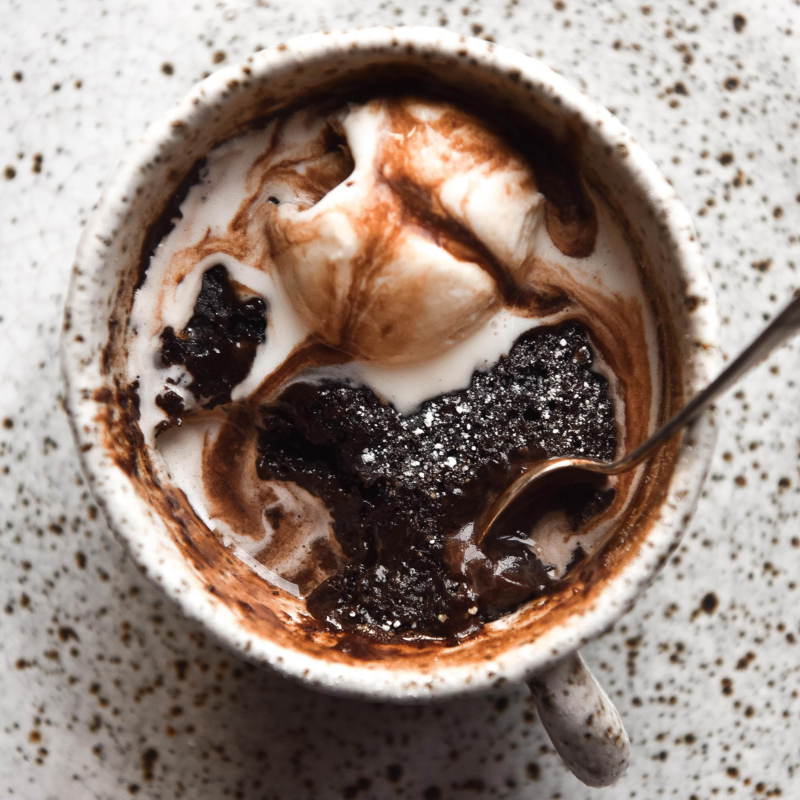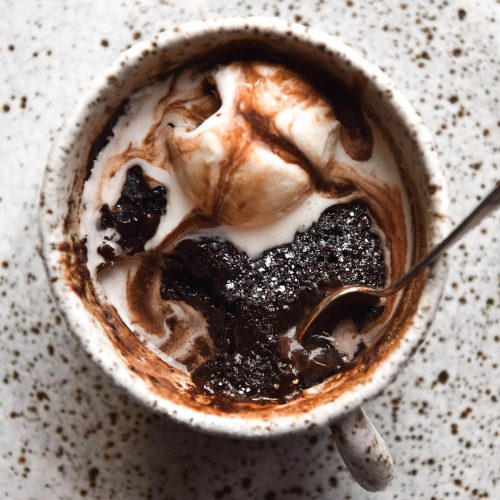 Gluten free vegan chocolate mug cake
Gluten free, nut free, vegan, adaptable to be grain free, FODMAP friendly
This recipe uses Australian measurements.
*1 Australian tablespoon = 4 American, Canadian and New Zealand Teaspoons.
*1 Australian tablespoon = 3 1/2 British teaspoons
Ingredients
2

tablespoons*

cocoa

dutch processed for a deeper flavour, regular for a more floral chocolate taste

3

tablespoons*

(60ml) boiling water

2

tablespoons*

(40ml) olive oil or oil of choice

1-3

tablespoons*

light brown sugar

depending on your sweet tooth

1

tablespoon*

finely milled quinoa

sorghum or buckwheat flour

1

tablespoon*

tapioca flour

1/8

teaspoon

fine salt

1/4

teaspoon

vanilla bean paste or extract

optional, for depth of flavour

1/2

teaspoon

gluten free baking powder
Instructions
Whisk together the cocoa and boiling water in a small bowl before adding the remaining ingredients. The boiling water will bloom the cocoa and result in a deeper chocolate flavour.

Whisk well until a smooth batter forms and pour into a large mug. You want the batter to go up about halfway – any fuller and it will overflow in the microwave.

Place the mug in the microwave for 1 minute for a self saucing mug cake with a chocolate sauce down the bottom. You can cook it a little longer if you'd prefer a fully set cake, but it's vegan so you don't need to do this for food hygiene purposes.

Every microwave is a little different in terms of power, so you might need to cook yours a little less or more than mine.

Serve on it's own or with a scoop of ice cream – regular, vegan or lactose free.
Notes
You can halve the ingredients for a smaller mug cake. Microwave for 20-30 seconds.