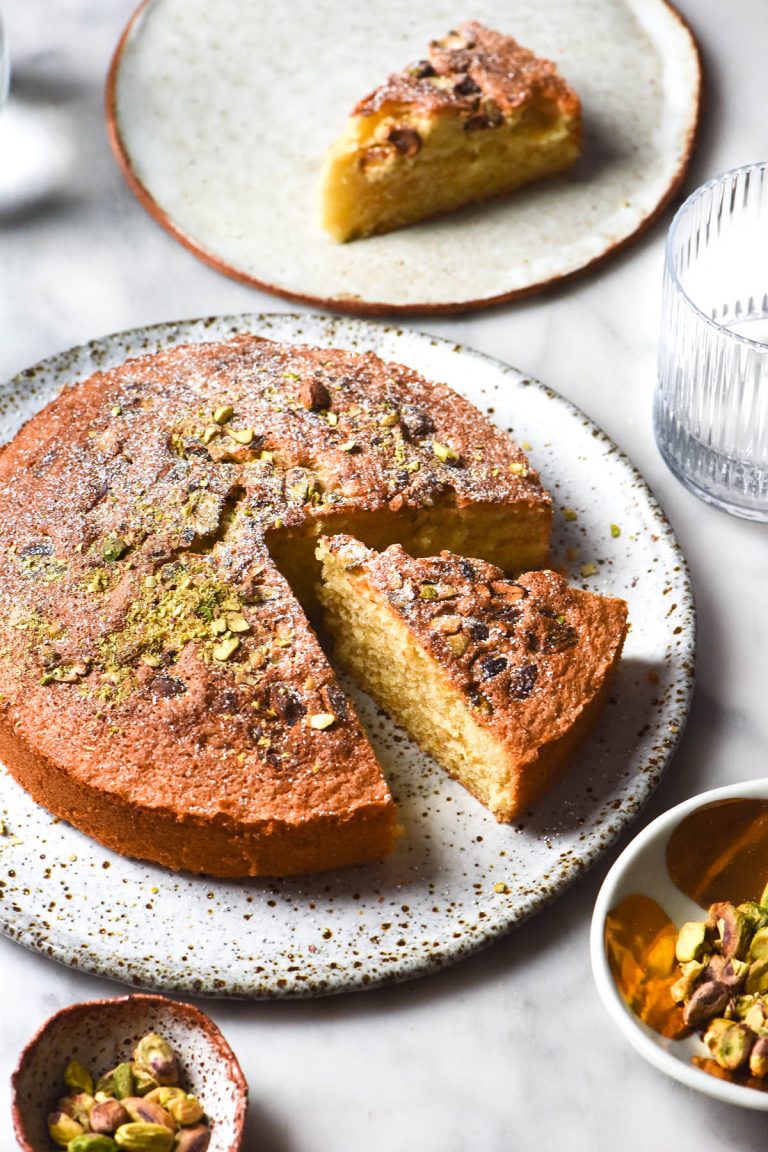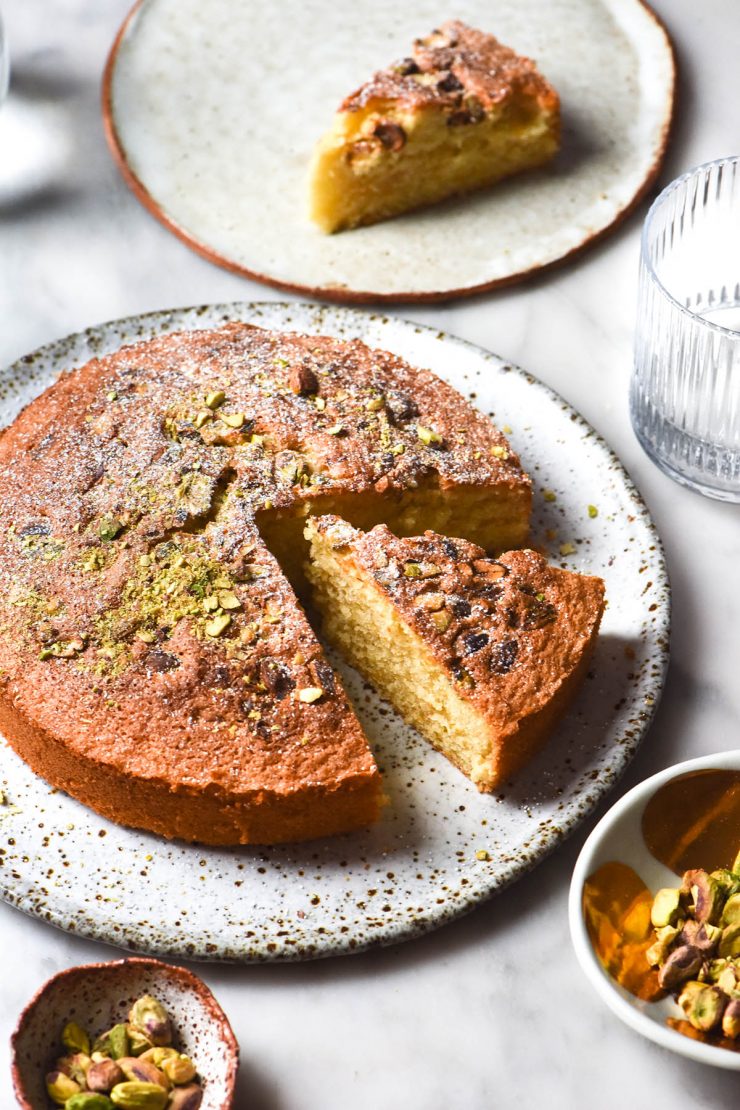 This gluten-free olive oil cake has been something I've tinkered with for a while now. As a classic recipe, I wanted to make sure I did it justice. This recipe hits all the right notes for me: light, airy and sweet but punctuated with herbaceous olive oil and a hint of lemon. Sophisticated and allergy friendly to boot.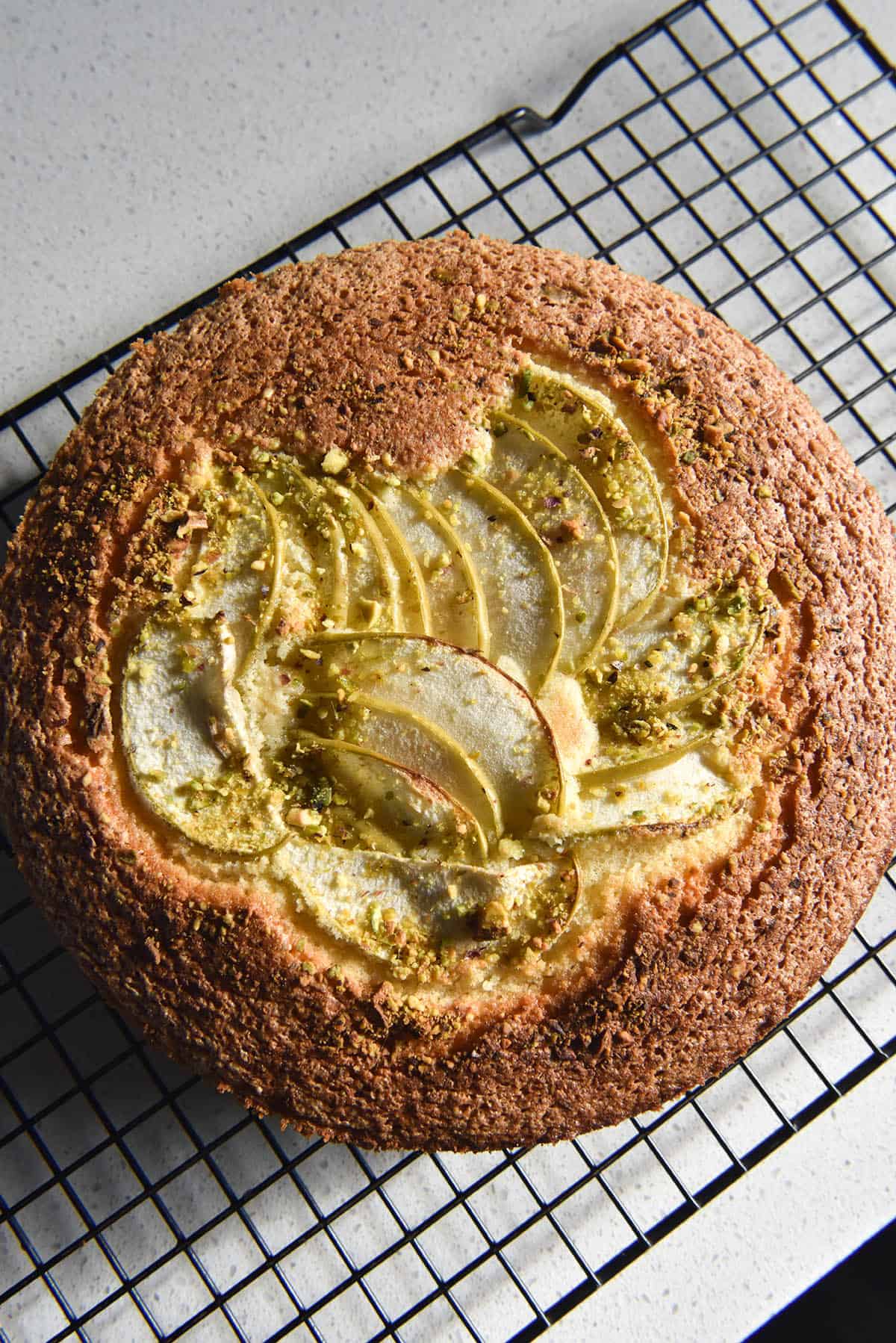 Gluten-free olive oil cake
This olive oil cake is light and airy yet rich and delicious. It is naturally dairy free and also gluten free (obviously!) I choose to make most of my desserts without xanthan gum, because it doesn't agree with me. As such, this gluten-free olive oil cake is xanthan gum free, too.
What I love about this recipe is that the cake is really customisable. You can top it with berries, sliced apple (not low FODMAP) or leave it plain. It works equally as well with a neutral oil such as vegetable, for a mild and sweet tea cake style cake.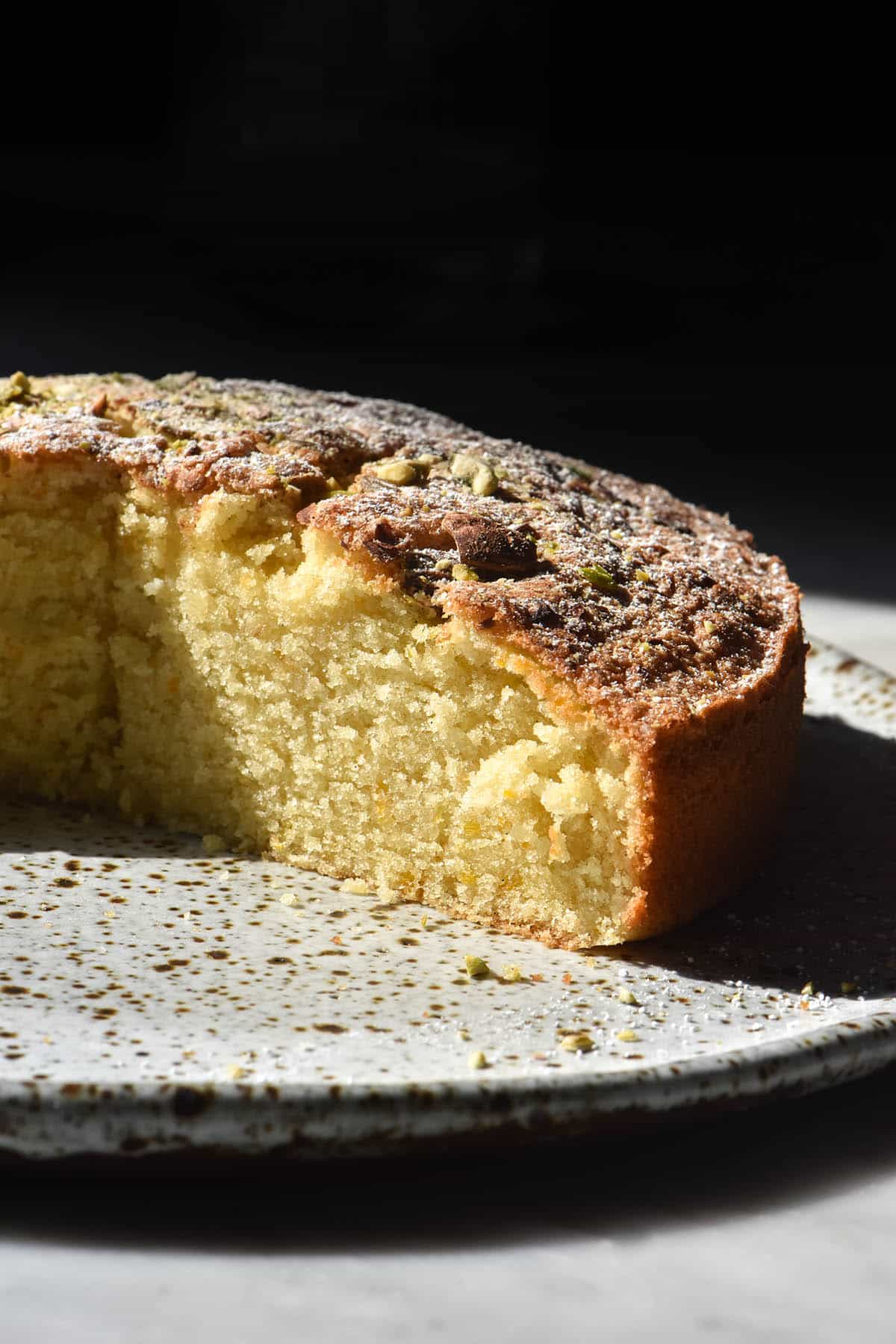 Tips for your gluten-free olive oil cake
My number one tip for any cake recipe is to try as hard as possible to use the cake tin size specified. I have had a few people come to me confused as to why their cake didn't work, only to find they used a 28cm cake tin instead of a 20cm. A larger cake tin means a thinner, flatter cake that is more likely to burn in the specified time.
On the contrary, a smaller cake tin means the cake will take longer cook, and might be too brown on the outside by the time the inside is cooked through. So, my number one tip is to use the specified cake tin size where possible.
Another tip is on the topic of creaming. In this recipe, the oil, sugar and and eggs are creamed (beaten) together until light and fluffy and increased in volume. This process is responsible for creating air in the cake, which helps retain the oil used. If you don't cream your ingredients sufficiently, you will end up with a dense and oily cake.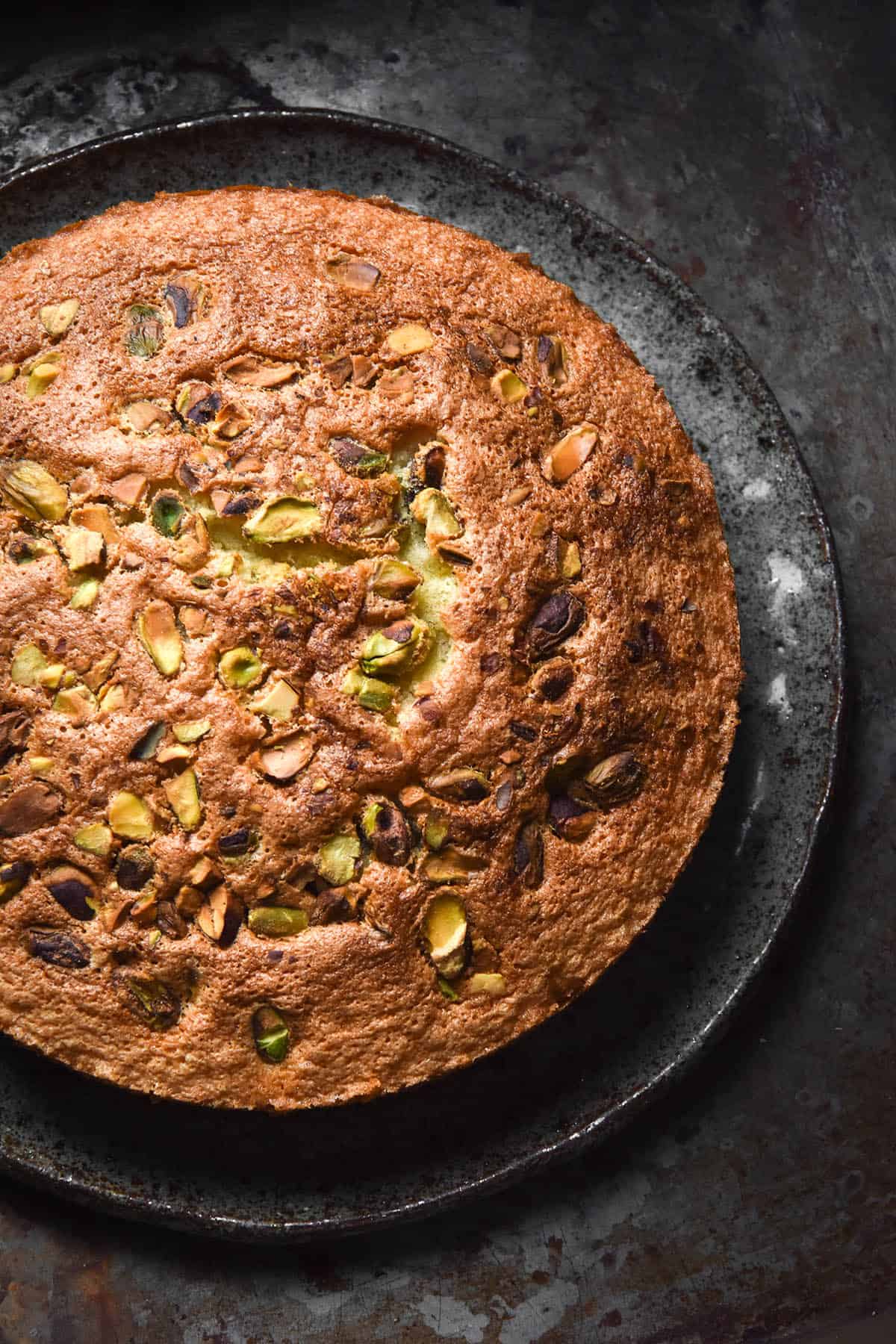 What should I top my gluten-free olive oil cake with?
The sky is the limit with topping this olive oil cake. Some suggestions:
A handful of berries in the batter or on top of the cake after baking
Thinly sliced apple or pear and chopped pistachios
A simple lemon icing, as in my banana cake recipe
A lighter style creamy icing, such as whipped mascarpone or ricotta (lactose free recipes linked)
Citrus fruit or sliced banana (you could also make this in an upside down cake style)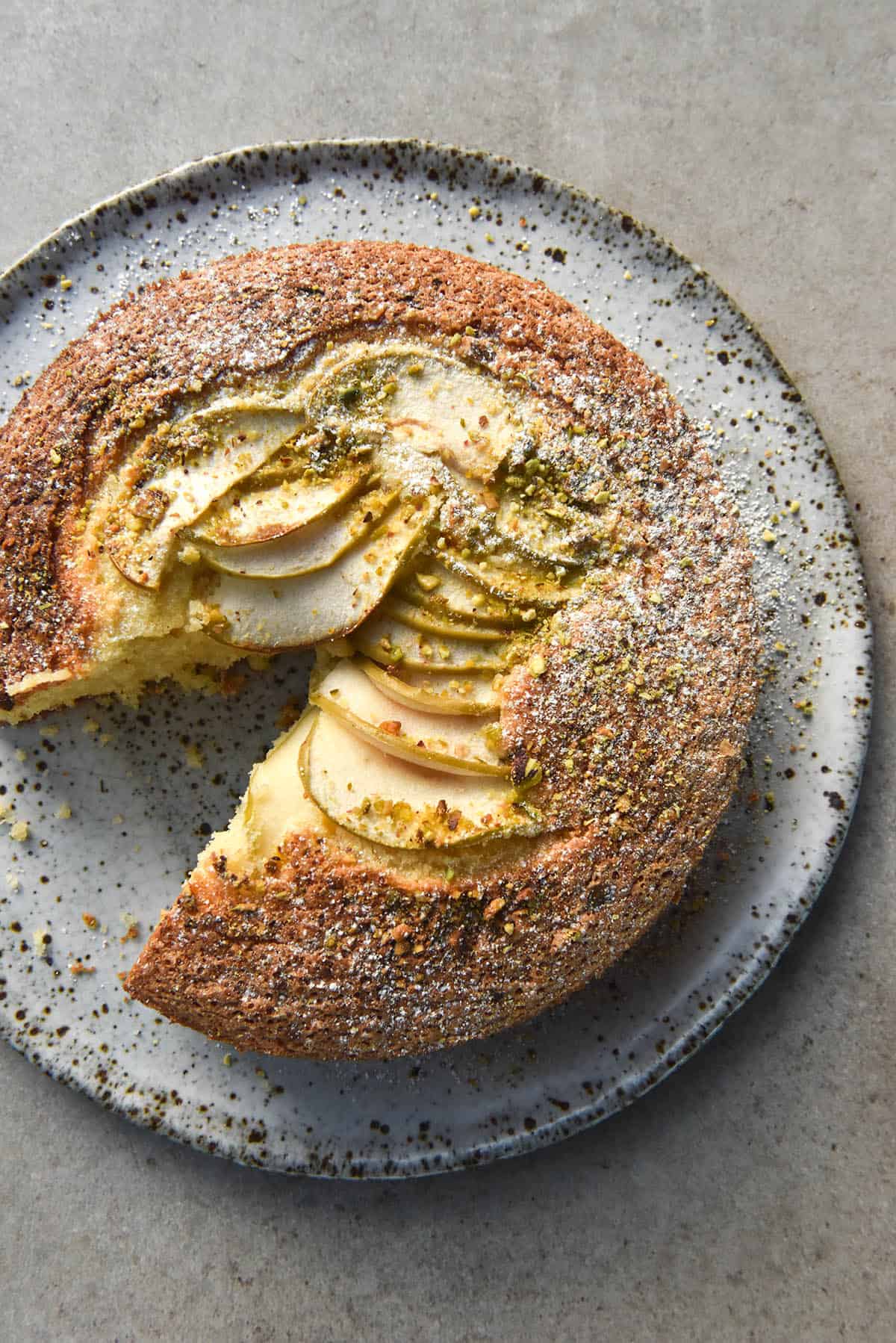 More gluten free cake recipes without xanthan gum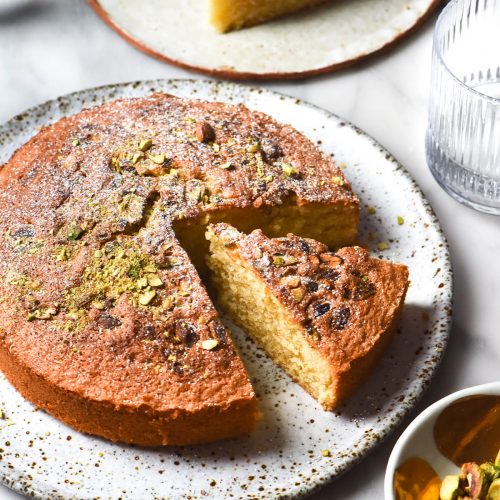 Gluten free olive oil cake
Xanthan gum free, dairy free option, contains nuts
Measurements are in Australian cups and tablespoons. Use gram weights for international accuracy
Equipment
1 X 20cm (8 inch) cake tin (not springform)
Ingredients
160

g

(1 cup) fine white rice flour

50

g

(1/2 cup) almond meal (see notes)

30

g

(1/4 cup) tapioca flour

5g

(1 1/4 teaspoons)

baking powder

pinch of fine salt

Zest of 1 lemon

1/2

cup

+ 1 tablespoon oil

(145ml)

2

extra large eggs

175

g

caster or superfine sugar

1

teaspoon

vanilla bean paste

2/3

cup

(170ml) milk of choice
Instructions
Preheat the oven to 180C/356F. Grease and line a 20cm cake pan (not a spring form as the batter is on the thinner side).

In a medium mixing bowl, whisk the flours and almond meal with the baking powder, salt and lemon zest. Set aside.

Add the oil, eggs, sugar and vanilla bean paste to a medium bowl or the bowl of your stand mixer. Use hand beaters or the whisk attachment to cream the mixture until pale in colour and light and fluffy in texture. It should have grown in volume and look aerated. This will take 2-3 minutes.

Add in a quarter or so of the flour, and beat on low to combine. Add a quarter or so of the milk and beat until combined. Continue this pattern until you have used all the ingredients, finishing with flour. The batter should be quite thin – about the consistency of a thinner custard.

Pour the batter into the prepared cake tin. If you're adding some fruit, add it gently now. I found that berries tend to sink, whereas thinly sliced apple stayed afloat.

Bake the cake for 30-40 minutes (toppings dependent) or until golden brown and cooked through. Cakes with a top layer of fruit will take longer than plain cakes. You can lightly tent the cake with foil if it is taking on too much colour.

Once cooked, allow the cake to cool before running a knife around the edge. Gently invert the cake from the tin, peel off the cake liner and place it on a cooling rack to cool. Serve warm or cooled. Leftovers keep well in an airtight container on the bench.
Notes
To make a nut free cake, use 50g tapioca flour in place of the almond meal, for a total of 80g of tapioca flour. 
Use a plant based milk of choice for a dairy free cake, or lactose free full cream milk for a lactose free cake.