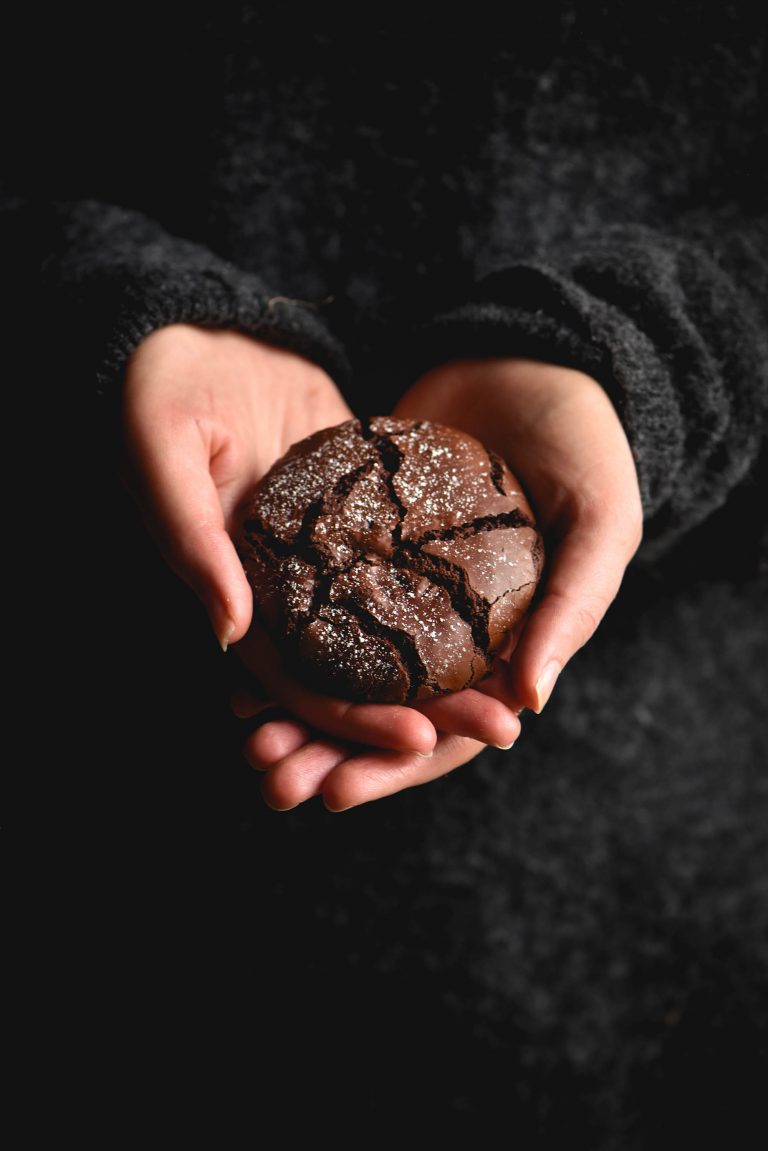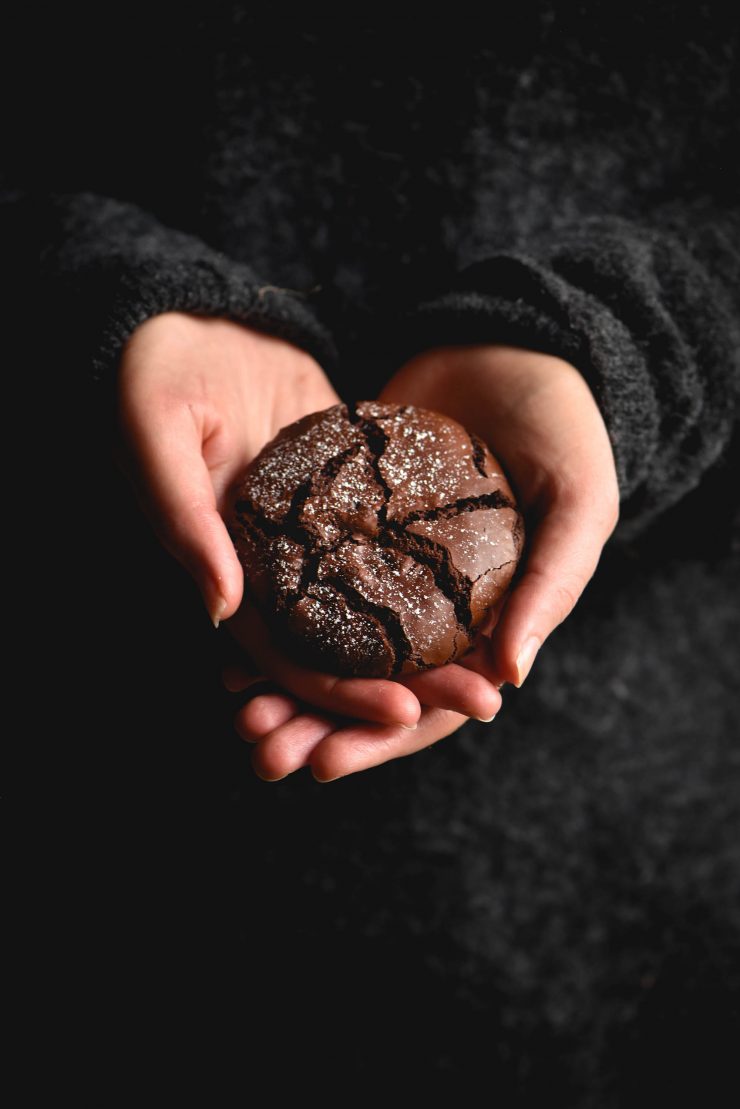 I'll put this out there before we begin: I don't think this is the traditional way to make a gluten-free chocolate crinkle cookie. However, given that my gluten free brownie cookies are easily one of my popular recipes, it seemed contrary to Christmas spirit not to share this method. In my eyes, excellent cookies trump traditional methods every time.
Gluten free chocolate crinkle cookies (vegan option)
Although the recipe card contains a version with butter and eggs, these gluten free chocolate crinkle cookies can be made with any of my brownie cookie recipes. I have a flourless (and nut free) brownie cookie recipe and a vegan, gluten free brownie cookie recipe. The method of sprinkling the icing sugar atop a crackly cookie works the same way for all recipes.
All of these brownie cookies are nut free, gluten free and xanthan gum free. The vegan cookie (needless to say) is free from eggs and dairy. There is an option for everyone!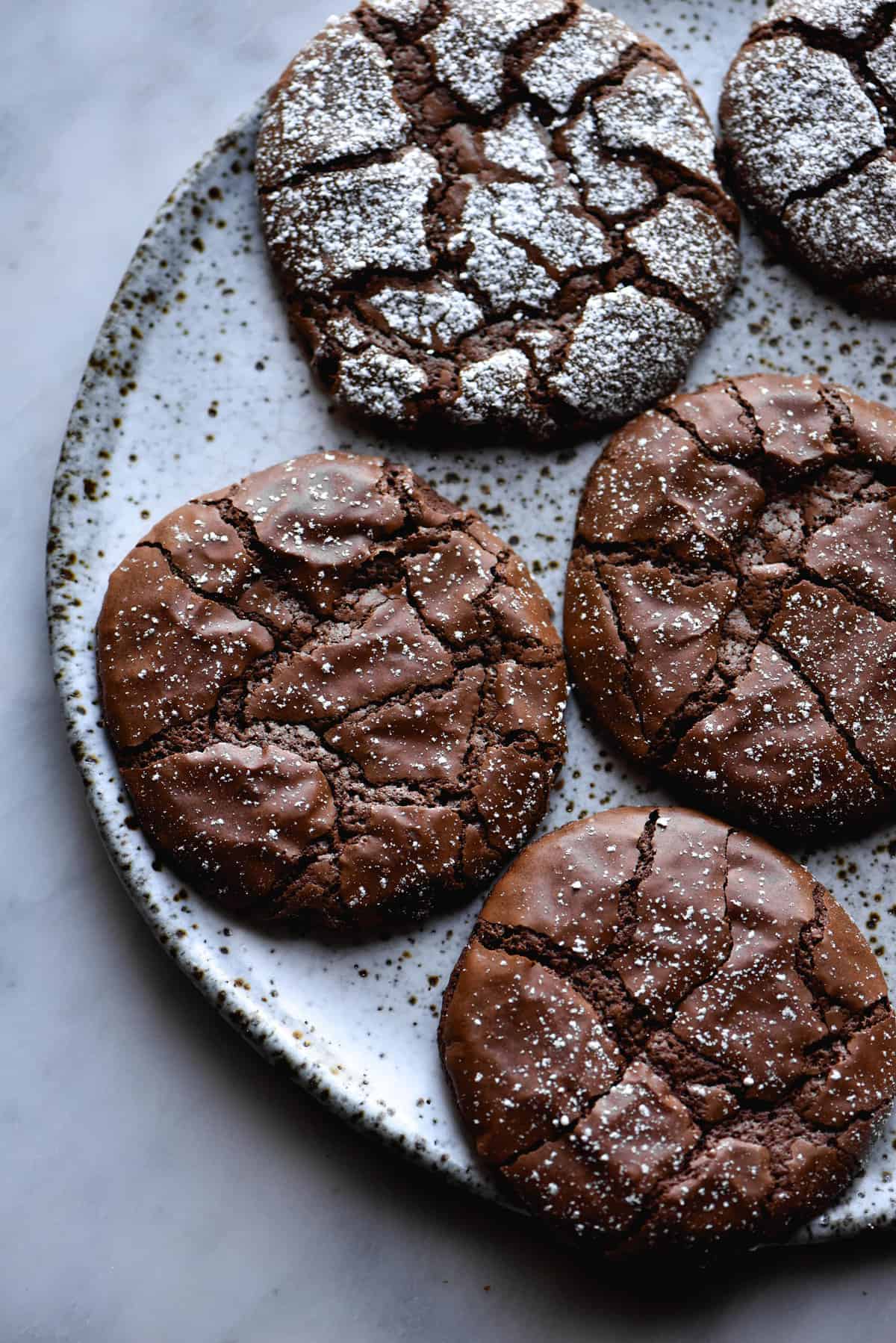 Recipe notes for your gluten free crinkle cookies
Firstly, let's discuss some recipe notes for your gluten-free chocolate crinkle cookies that are relevant (almost) across the board. After that, we'll go into adjusting the recipe for your unique dietary requirements.
I use extra large eggs. The extra moisture is always a welcome addition to gluten free baked goods.
The sea salt, or at very least the salt within the cookie, is NOT WORTH SKIPPING. Courtesy of Samin we've all established that salt belongs in sweet things to balance out the sweetness.
I used to recommend a 45% dark chocolate for these cookies. Now I recommend a 70% sweetened dark chocolate. It makes for a great depth of flavour. I always buy cooking chocolate because I know that it's easily accessible to my Australian readership.
Another thing I've tested is omitting the vanilla bean paste, because I know some people don't have access to it. They worked very well (although I missed the extra depth).
To make these into miso brownie cookies, add 25g (1 tablespoon) of light miso to the butter after browning. Whisk it in as best you can, off the heat. It will bubble up a little, and some small chunks are fine (they will be mixed out later). Instead of adding the full amount of salt, add just a pinch or two.

Gluten free flours that work in the brownie cookies
If you've read the recipe card, you'll know that quinoa flour is the flour that I've used for the original recipe. As time has gone on and I've made more brownie cookies, I have been testing some options for you.
Sorghum flour works – I would recommend using 45-50g as opposed to the lower 40g. I tested some with 40g and they were delicious, but thinner and more fudgy on the inside than I probably would have liked. That said, I did make that batch with 45% dark chocolate, which may have impacted the result.
Buckwheat flours also works well in these cookies – I used 50g and the result was some very puffy bois. I've captioned images of the buckwheat flour cookies so you can see what I mean. Because buckwheat is quite a sticky flour, I think you could safely use 40g for a regular level of puff.
I have used brown rice flour as a quinoa flour substitute, and I daresay white rice flour would be a success too.
As I've mentioned, there's a grain free version in the bushfire e-book.

To make the flourless or gluten free vegan crinkle cookies options
Here's where the composite aspect comes in. All you need to do to make these options is:
Follow the links below to the recipe you want to use.
Follow the recipe as stated and scoop the dough into balls on the tray.
Once they have formed a little bit of a skin (this should really only take the length of time it took you to portion them all out) sprinkle them with a dusting of icing sugar. As much or as little as you like.
Bake!
So yes, composite. I've tested all these versions anew to ensure they crinkle and taste as they should. And hot damn, they taste good.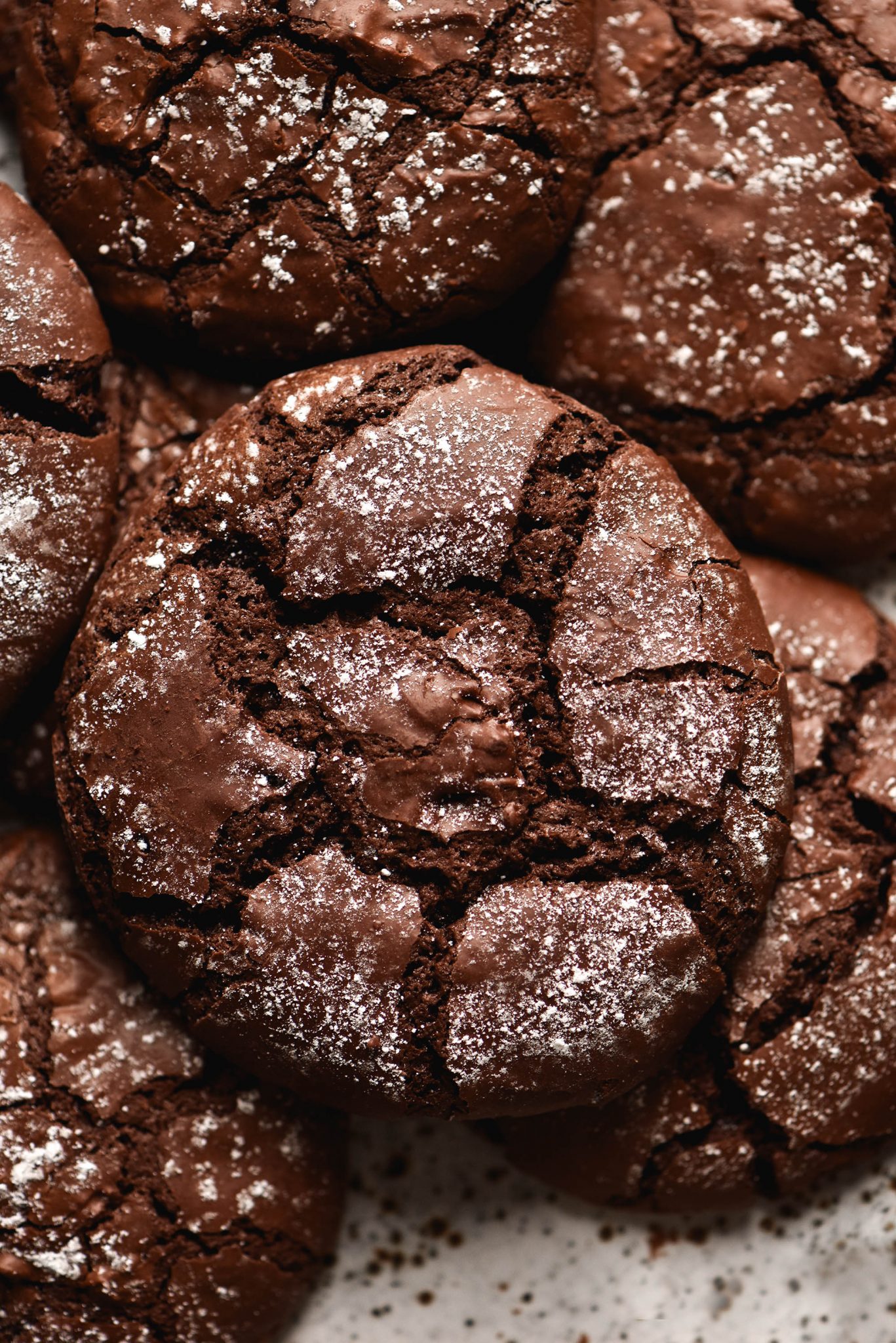 More gluten free festive desserts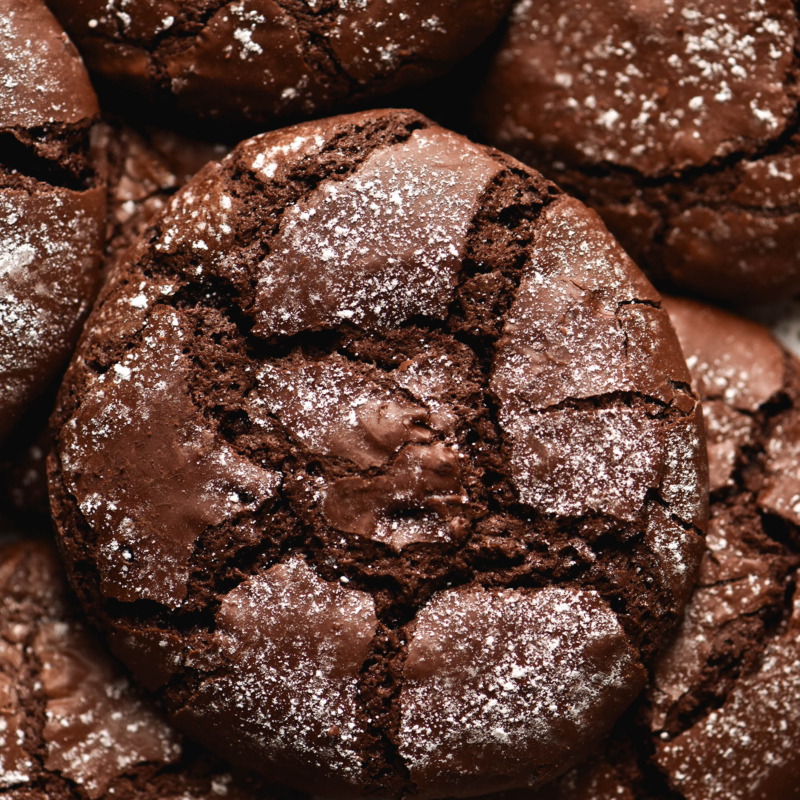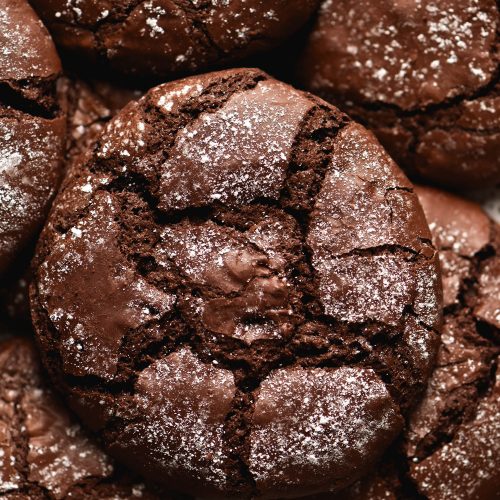 Gluten free crinkle brownie cookies
FODMAP friendly, low lactose, nut free
Makes 10-12
Ingredients
200

g

dark chocolate

I used 70% sweetened cooking chocolate

75

g

butter browned

becomes 60g after browning

3/4

cup

(150g) caster sugar

2

extra large eggs

3-4

tablespoons

40-50g quinoa flour (toasted is delicious) See notes for alternatives

2

tablespoons

cocoa powder

both Dutch processed and regular are fine

1/4

teaspoon

baking powder

1/4-1/2

teaspoon

fine salt

1

teaspoon

vanilla bean paste

optional

Pure icing sugar

sieved, to finish
Instructions
Preheat the oven to 180 degrees Celsius or 320 Fahrenheit.
TO BROWN THE BUTTER:
Place the butter in a small saucepan over a low-medium heat. Stir intermittently for a few minutes – the butter should start to bubble and then flecks of brown appear on the surface. Keep going until the flecks are dark brown before removing from the heat.

Weigh the melted browned butter to ensure you've cooked off enough liquid – it should weigh 60g or thereabouts. A number a little over is fine, but if it's significantly under, add a little fresh butter to make up the number.

Place the brown butter in the bowl of your kitchen mixer.
TO MAKE THE BATTER:
Half fill the small saucepan you used for the brown butter with water and place it on a medium heat. Put a metal or heatproof bowl on top of the saucepan, ensuring the water doesn't touch the bottom of the bowl.

Add the chocolate to the saucepan and stir intermittently until it is completely melted. Remove from the heat and set aside.

While the chocolate is melting, add the caster sugar and eggs to the bowl of the kitchen mixer. Using the whisk attachment, beat for 7-10 minutes on a medium-high speed until light and kind of fluffy. This helps create lift and a shiny meringue-like top.

While this is happening, whisk together the cocoa, quinoa flour, baking powder and salt in a small bowl.

Once the egg mixture is sufficiently lightened in colour, lower the speed of the mixer and pour in the melted chocolate while the motor is still running. Use a spatula to get every last bit. It shouldn't be hot, but it shouldn't be completely cool either. Lukewarm but molten is the aim of the game.

Once the chocolate has fully incorporated, spoon in the flour mixture (while the mixer is on a very low speed), letting each spoon mix in before adding more. Stop and scrape down the sides of the bowl with a spatula as necessary.

Once the flour has been incorporated, turn the mixer off briefly to add the vanilla bean paste. If you don't turn it off, the vanilla paste tends to get tangled in the whisk attachment. Continue mixing until combined.

The batter should fall off the whisk attachment in thick ribbons. It is thick, but still slightly thinner than a traditional cookie dough – you'll need to use spoons to assemble.
TO BAKE:
Very lightly grease two large baking trays and line them with baking paper. The grease will stop the paper slipping around while you're scooping the cookie batter onto the tray.

Using two spoons, scoop roughly 1 1/2 tablespoons of batter per cookie onto a lined baking tray, leaving a little space for spread. Use less for smaller cookies. I like to spoon six medium – large cookies per sheet. Set aside for 10 minutes – the cookies will form a skin during this time which will help create a flakey, shiny top.

Dust each cookie with pure icing sugar and place both trays into the oven. Cook for 7-10 minutes or until the tops are crackly but the cookies are still soft. Swap the trays, and continue to cook for an additional 7-12 minutes. All up, the cookies should be in the oven around 15-20 minutes, depending on how done you like them. You can judge this by how done you like traditional brownies.

Once cooked to your liking, remove from the oven and allow to cool and firm up on the baking tray. You won't be able to pick them up instantly – they solidify as they cool.

For best, chewiest results, allow the cookies to cool completely before eating.

Sugar draws moisture from the air, so for best results store uneaten cookies in an airtight container in the fridge.