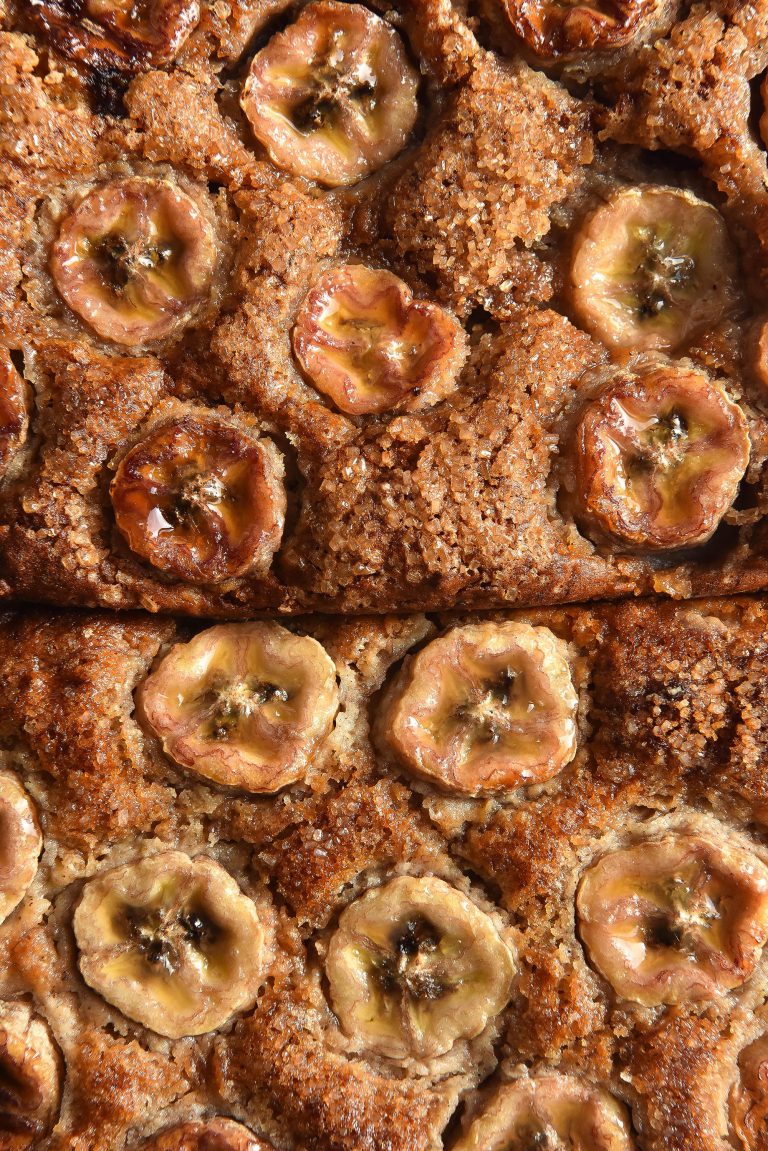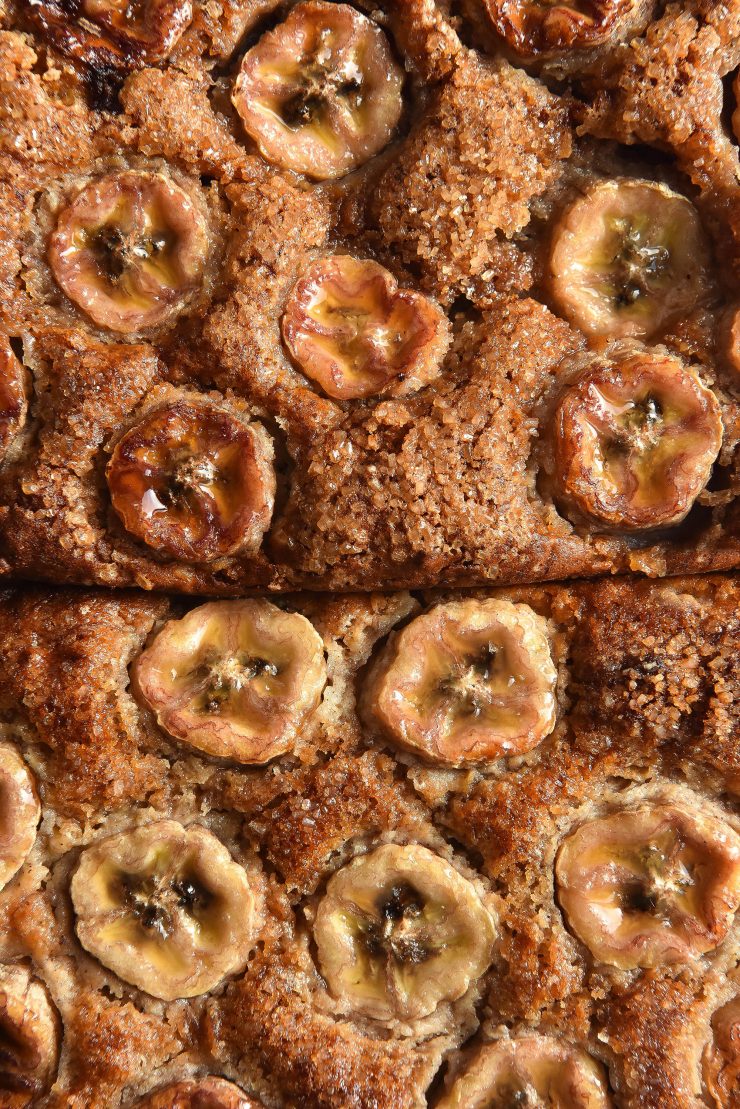 Yes, I'm writing another sourdough related recipe. Courtesy of my new obsession with gluten free sourdough, I have a lot of sourdough discard on my hands. I've made many snacks with it – namely gluten free sourdough brownies and gluten free sourdough crackers. Before I move back into the serious territory of sourdough breads and foccaccia, however, I wanted to add another treat to the sourdough list. That's why today we're chatting gluten-free sourdough banana bread.
This gluten-free sourdough banana bread is nut free, FODMAP friendly and probably the lightest and fluffiest of all my banana bread recipes. It is just sweet enough and takes complexity from the sourness of the sourdough discard.
If you don't have any sourdough starter, here are my other banana bread recipes:
RECIPE NOTES
You'll need a thick, bubbly and active gluten free sourdough starter for this recipe. At the moment my sourdough starter is about 110% hydration and is made from white rice flour. I find it very effective once you've gotten your starter going. As always, I recommend quinoa and sorghum to start.
If your sourdough discard is not thick, bubbly, active and mature, this is probably not the discard recipe for you. You can try it, but you'll need to use your own judgement in adding liquid as you see fit. Note that if you use a super strong smelling starter that hasn't been fed in a while, that overpowering flavour will translate into your banana bread. See the section below on starter.
If you're using a different sourdough starter, you might have to adjust the recipe a little to suit. Keep an eye on the batter and adjust as necessary.
I use light brown sugar in this recipe for the complex caramel flavour. I haven't tried it with any other sugars, 'refined' or not. Personally, I don't see why it wouldn't work with panela sugar or coconut sugar, but I haven't tested them myself. There's a refined sugar free banana bread recipe linked above, if that's what you're looking for.
I don't see why you couldn't use frozen bananas for this recipe. That said, see below for my tips.
If you're using them, I highly recommend cutting your banana coins super finely. Not only does this mean using less banana (for the fructose aware) but it also ensures the sections under the banana aren't raw at the end of baking.

WHAT KIND OF STARTER DO I NEED FOR THIS RECIPE?
Firstly, as this is a gluten free recipe, you'll need a gluten free starter. See my guide to making your own here.
Note that the flours you use in your starter will translate into the flavour of the loaf. At the moment, I use a 100% white rice flour starter. It's cost effective and seems to be very happy. However, as I mention in the starter post, I find a combination of sorghum and quinoa flours the best for getting a starter going. It seems to be a good combination of wholegrains and protein content.
You can use a starter that has been fed the night before and thus not on a peak rise. This means the recipe will use up some discard, leaving space for you to feed the starter and refresh it.
It is also possible to use starter that is on rise and has been fed 3-4 hours prior. This might result in a loftier loaf.
A few starters that are not a great fit for this recipe? A starter that has been left unfed for a few days, a runny starter, or a very new starter. The ideal consistency of your starter for this purpose is like a bubbly, airy light yoghurt. Anything less might adversely impact the banana bread.
USING FROZEN BANANAS IN THIS RECIPE:
As I mentioned above, I tested this recipe with fresh, super ripe bananas that I cultivated (ie left on the bench) specifically for this recipe. That said, with a few tweaks I'm confident you can use frozen bananas in this recipe.
Peel the frozen bananas if you haven't already, and weigh them. Slice them into chunks.
As you're preheating the oven, place the bananas in a small, lined baking dish. I use my reusable baking paper and leave the edges scrunched up so the juices don't escape.
Once the oven is ready, pick up the bananas and drain off all the liquid.
Proceed with the recipe, but pay attention to the liquid-ness of the batter. I've included a photo of the ideal viscosity – add a little less milk if your batter is a lot thinner.

BANANA BREAD AND FODMAP
I'm going to head this one off before it even begins – yes, this loaf contains bananas. It is a banana bread, after all. And yes, bananas can be a problematic food for people who malabsorb oligos-fructans. However! 250g of banana is approximately 2-3 medium-large bananas, and this loaf makes about 8-10 slices. So even if you use ripe bananas (which are worse in FODMAP terms) a slice of this loaf should be within acceptable limits for you. If you'd like to lower the FODMAP content, use unripe or just ripe bananas, and roast them for longer in the oven. If you still have concerns, maybe try the pumpkin chai loaf instead.
GLUTEN-FREE SOURDOUGH BANANA BREAD ADDITIONS
I mean, this is always fairly self explanatory. That said, the following are my suggestions:
A handful of blueberries or strawberries
Some chopped walnuts
Spices such as cinnamon, nutmeg or mixed spice
Chopped dark chocolate (vegan if it needs to be)
A tablespoon or two of peanut or almond butter
GLUTEN FREE SOURDOUGH BANANA BREAD
Gluten free, low lactose, FODMAP friendly, nut free
Ingredients
For the sourdough banana bread:
250

g

banana

weighed after peeling

120

g

(3/4 cup reasonably well packed) light brown sugar

50

g

butter, deep browned

(it should weigh close to 40g once browned)

130

g

(1/2 cup) sourdough discard

1-3

tablespoons

milk of choice (I used soy)

Add depending on the thickness of your starter - 1 for a thinner starter, 3 for very thick

2

extra large eggs

130

g

(1 cup) fine brown rice flour

1

teaspoon

baking powder

1/2

teaspoon

baking soda

1/4 - 1/2

teaspoon

fine salt

1/2

teaspoon

cinnamon

1/2

teaspoon

nutmeg

1

teaspoon

vanilla bean paste
Optional but very recommended, to finish:
Extra banana coins, very finely sliced (about 1/2 a banana)

A sprinkling of finishing sugar
Instructions
Preheat the oven to 200c or 400F. Place a silicon loaf tin on a baking tray (this helps keep it even). I also like to lightly grease mine, even though people say you don't need to grease silicon. A combination of butter and oil does the trick every time.

Mash the banana in a large mixing bowl (see notes if you're using frozen) and add all the wet ingredients. If the brown butter is hot, allow it to cool a little before adding to minimise the risk of curdling the eggs. Whisk to thoroughly combine.

In another mixing bowl, whisk together all the dry ingredients. Add the dry to the wet, and continue whisking until the mixture is well combined. It should be a reasonably thick batter that feels 'fluffy' against the whisk.

Pour the batter into the prepared baking tin. Arrange the banana coins on top and finish with the sprinkling sugar, if you're using them.

Place the banana bread on the tray in the oven for 40 minutes to an hour. Allow to cool slightly before removing from the tin.

You can eat warm or store in an airtight container for a few days.