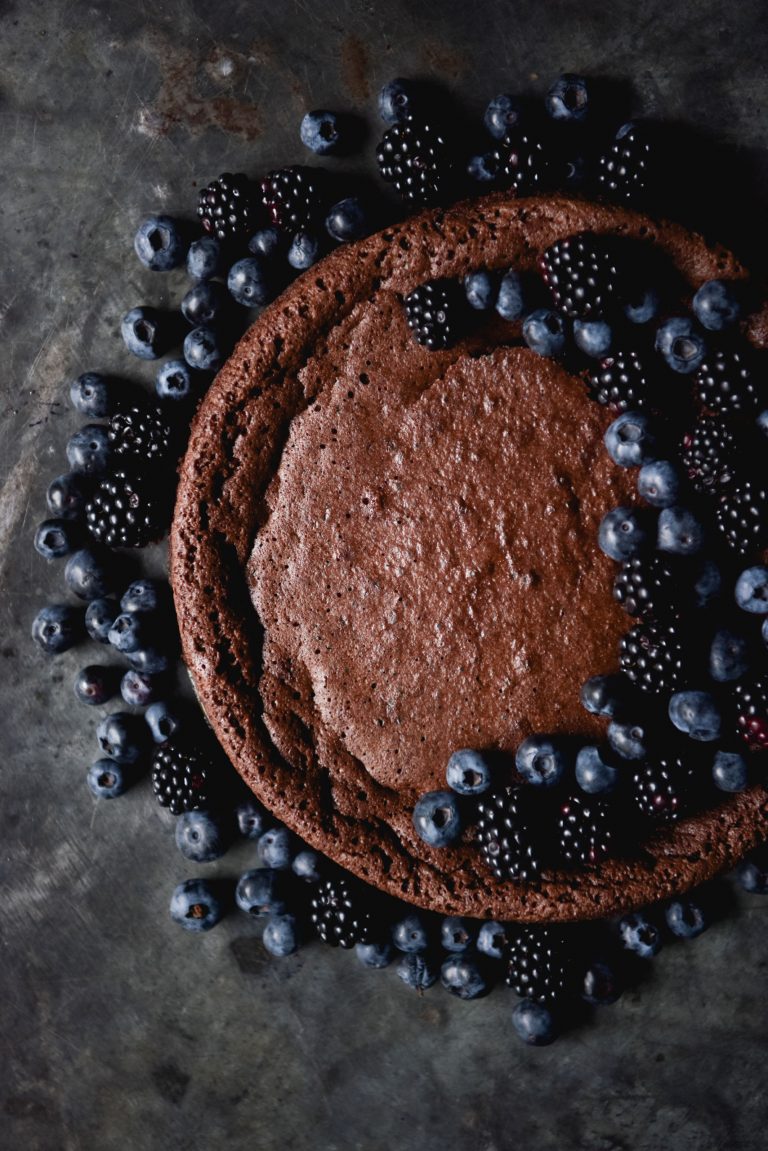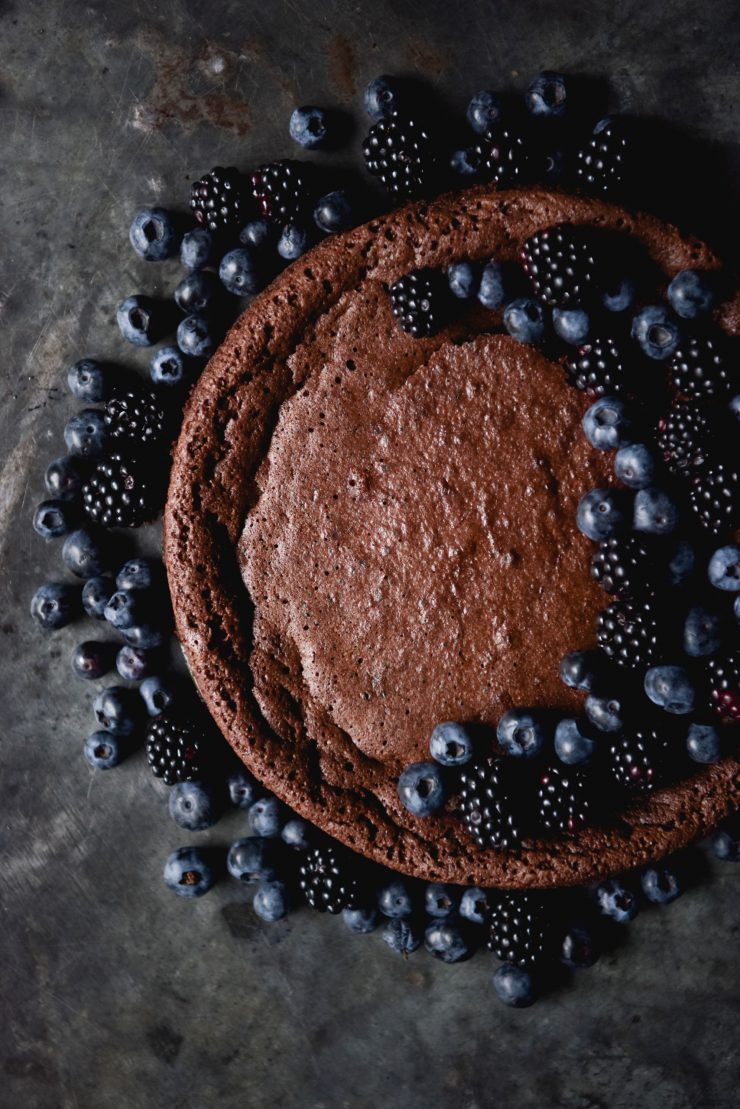 If you watch my Instagram stories, you'll know that this cake was a rather happy accident. I was making the flourless chocolate cake from the cookbook for a friend's birthday. In my extremely overtired state, I forgot to add almond meal. The result? Well, it could have gone either way. However, luckily enough for me and the people I was serving it to, it ended up as this delicious flourless chocolate cake without nuts.
Flourless chocolate cakes generally rely on a quantity of almond meal to keep them propped up. This is fine, unless you're catering to a nut free crowd that is also gluten free. Flourless chocolate cakes are unrivalled in their rich fudgy quality, so it is understandable that people would want the best of both worlds. This flourless chocolate cake without nuts (inadvertently) is exactly that.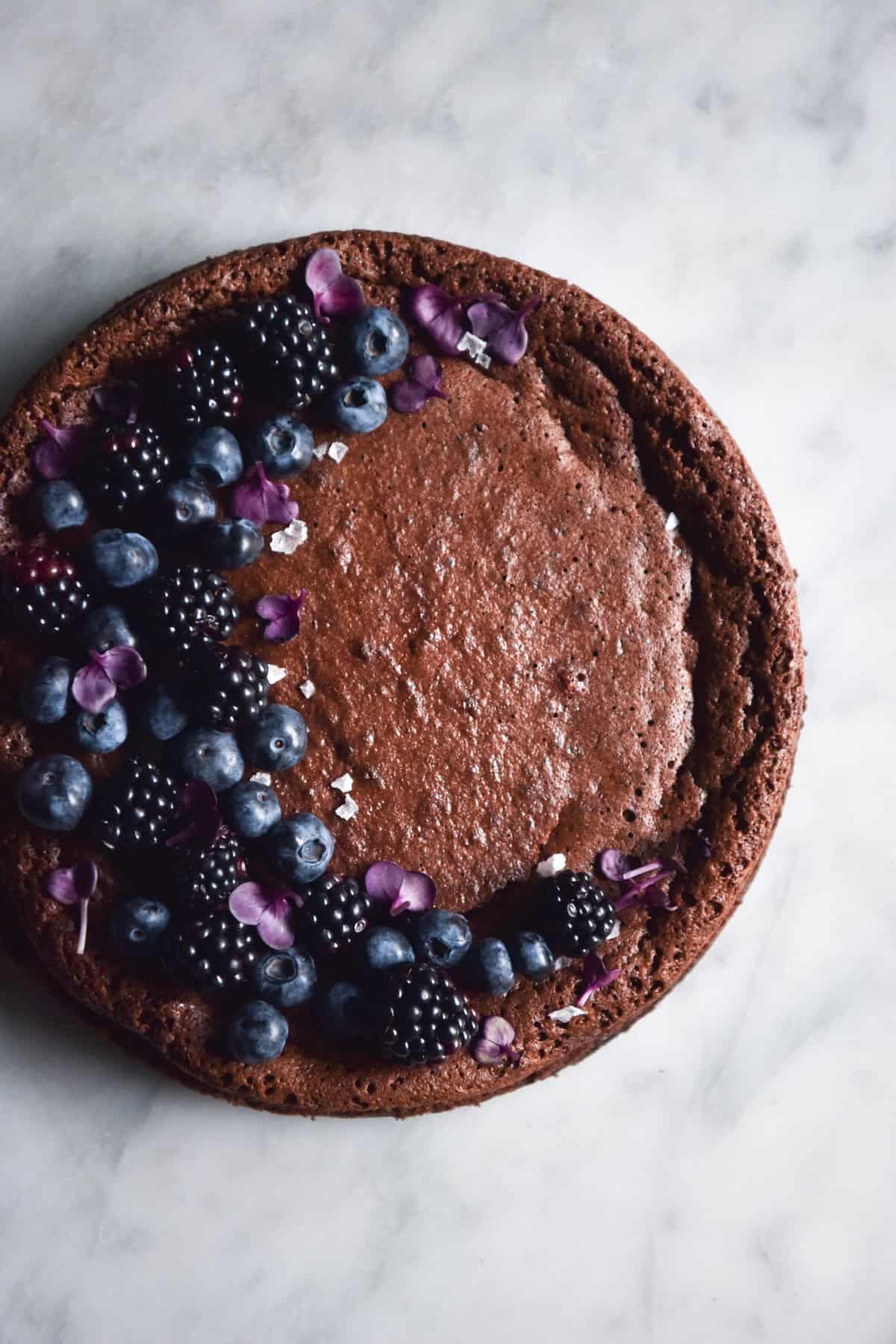 Flourless chocolate cake without nuts
If you're looking at the words gluten free, nut free, whatever free and assuming this cake is healthy, please look away now. Without any form of flour, this cake is essentially a combination of butter, chocolate, eggs and sugar. Seriously, there isn't much more added. I suppose in some sense it could be described as a brownie mousse type cake. It is RICH, super fudgy, and slices more like the innards of a chocolate tart than a cake.
I have a couple of other recipes for chocolate cake if you want a light and fluffy variety: this Coles mudcake style gluten free chocolate cake, or even this easy gluten free chocolate cake (which is incidentally one of my favorites to date.) However, if you're looking for a 'one slice is more than enough' dense and insanely rich chocolate cake, this is your guy.
The flourless, nut free chocolate is (obviously) nut and flour free. This means it is also gluten and grain free. Beyond that, it is FODMAP friendly, and could likely be made lactose free, by using Nuttelex (or your preferred vegan butter substitute) and a dairy free dark chocolate.
Things it isn't, and probably can't be? Sugar free, refined sugar free, or vegan. The sugar (both in the chocolate and in it's pure form) is responsible for much of the cake's structure. The beaten egg whites, too, hold the cake up in the absence of any sort of flour. Although you could potentially try with aquafaba and something rich to compensate for the six egg yolks, it will no longer be as FODMAP friendly.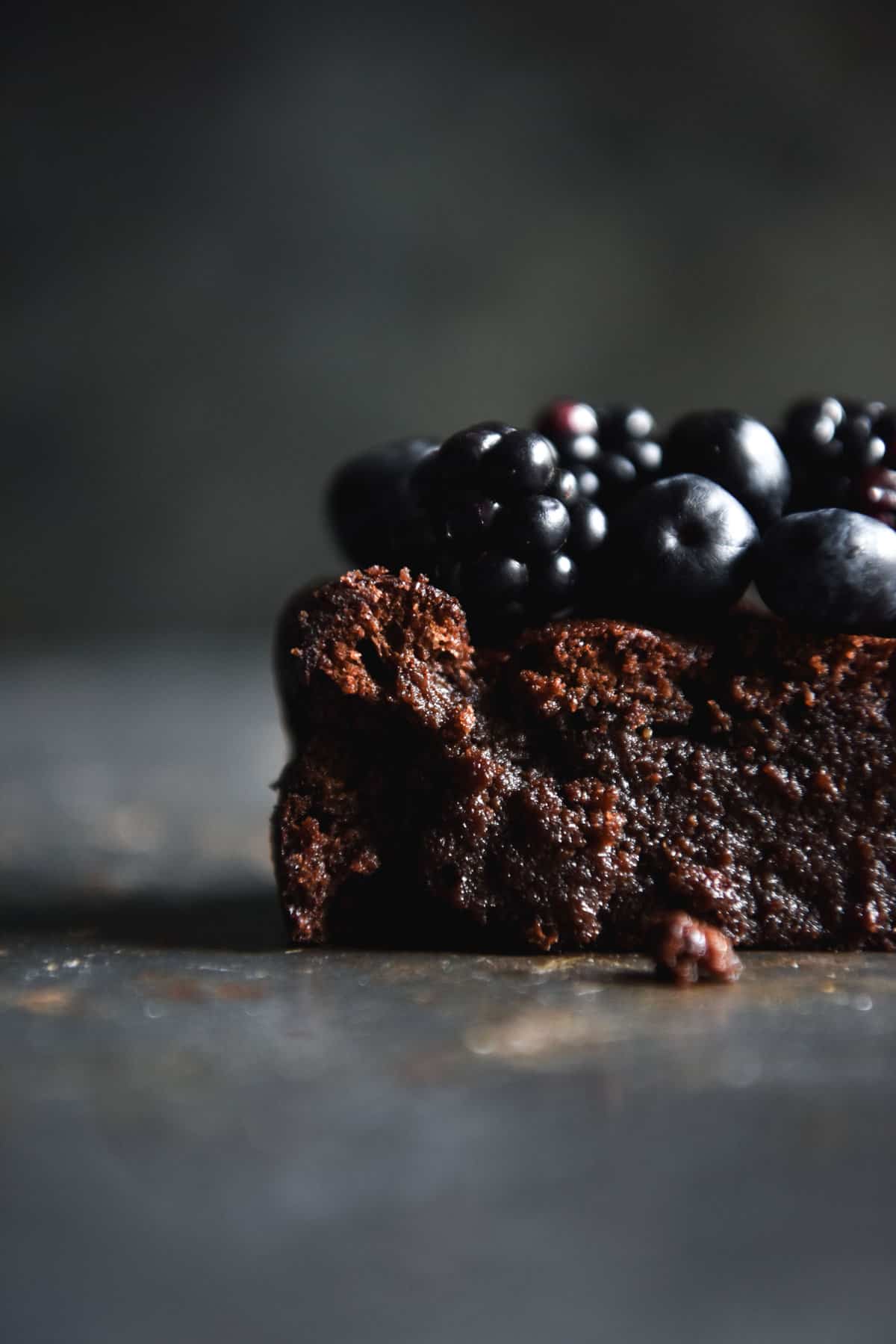 Recipe notes for your flourless chocolate cake
Salt and espresso greatly amplify the chocolate taste of chocolate. I HIGHLY recommend using them, even if you're a little worried about them. They work, I promise. If you absolutely hate coffee (blasphemy, in my house) you can lower the amount to 1 tablespoon. You won't even know it's there.
Different salts have different salinities – I use Maldon sea salt flakes, but if you're using something else (table, for example) add it to taste.
Because this is a very dense, mousse like cake, it very much benefits from an overnight rest in the fridge to solidify. I recommend making it the day before.
If you eat it straight out of the oven, your first thought will be 'too much butter!' It really needs to cool and solidify to become it's fudgy best. I'll work on a version with less butter, but in the meantime – COOL IT FIRST.
I recommend using dark chocolate, although I have used a combination of milk and dark, to great results. Whatever you do, make sure your chocolate has sugar added – you only adds an additional 1/2 cup of caster sugar, so it really needs the sugar from the chocolate. Remember, sugar adds structure as well as sweetness.
Make sure your egg beating vessel is extremely clean before using it. Fluffy, stiff egg whites are integral to the success of the rise in this cake, so make sure you get off on the right foot.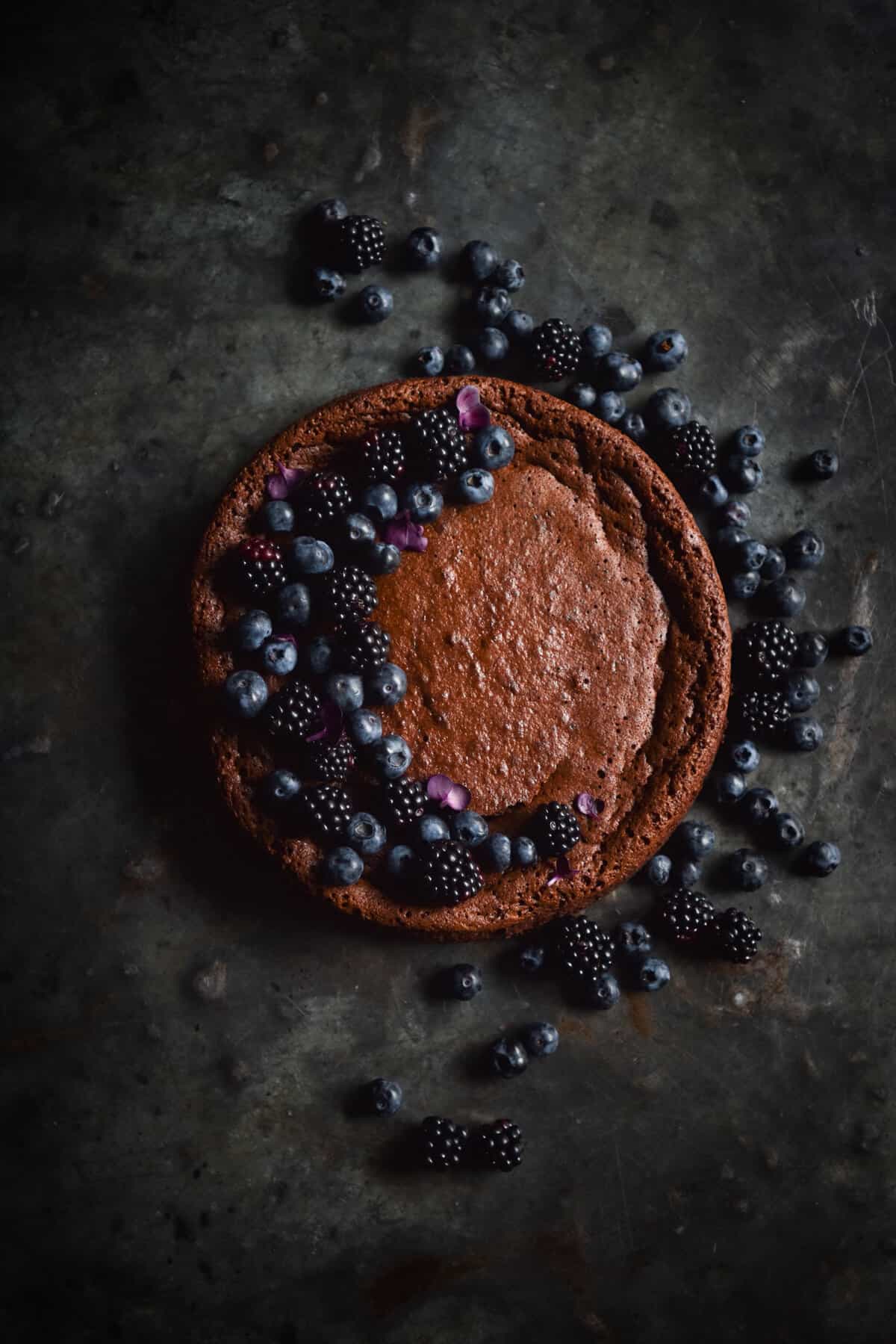 Other gluten free or grain free chocolate recipes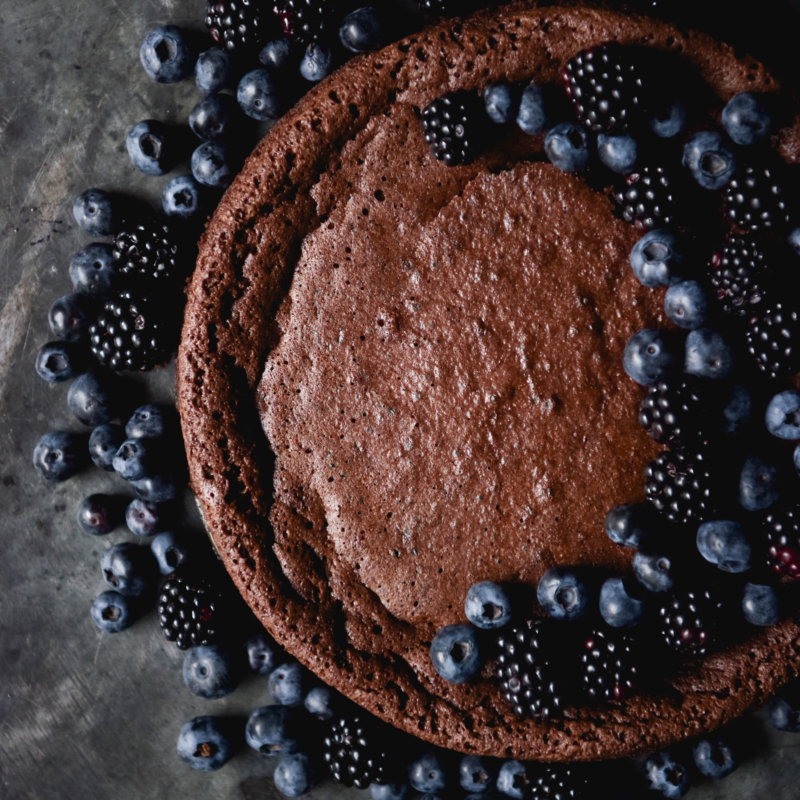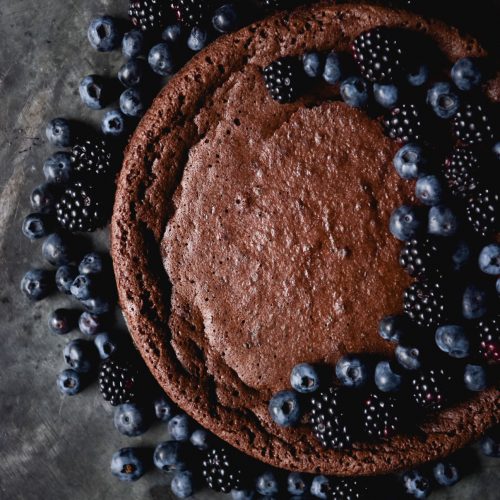 Flourless chocolate cake without nuts
Gluten free, grain free, nut free, FODMAP friendly, low lactose
Ingredients
300

g

butter (either salted or unsalted)

375

g

chocolate

dark or a combination of dark and milk – make sure it contains sugar as this is how the cake is basically sweetened

1-2

tablespoons

freshly brewed espresso

1-2

teaspoons

vanilla bean paste

Pinch of salt, to taste

110g (1/2

cup)

caster sugar

6

extra large eggs, room temperature

45-55g per egg, weighed out of shell
Instructions
Preheat the oven to 180 degrees Celsius or 356 degrees Fahrenheit. Grease and line a 24cm springform tin. Place it on an oven tray – this will help make sure you can evenly lower it in and out of the oven.

Place the butter and chocolate in a medium-large metal bowl over a small pot of water. Turn the heat to medium, and allow the steam to melt the chocolate and butter, stirring intermittently. It should eventually reach a smooth consistency.

Add the coffee, sea salt, vanilla bean paste and caster sugar to the chocolate mixture, and mix well to combine. Turn the heat off and carefully remove the bowl from atop the saucepan. Set aside to cool a little.

Separate the egg yolks and whites in super clean bowls, ensuring no yolk gets into the whites. Whip up the whites using your preferred method (I use a KitchenAid) until they are super fluffy and firm – about 5-10 minutes. When the butter chocolate mixture is cool enough, mix the egg yolks in, stirring thoroughly to combine.

Transfer the chocolate mixture into a large, clean mixing bowl. A little at a time, use a spatula to fold the egg whites through the chocolate mixture. The idea is to create a smooth batter without bashing the air out of the whites. Gently scrape them against the surface of the bowl, and continue to do so until the mixture is mostly smooth, but still fluffy.

Pour the cake batter into the lined springform tin, and place it into the oven. Cook for 50 minutes to an hour, and then remove from the oven. Remove it even if it looks wobbly or it will become dry.

Allow the cake to cool completely before serving. For best results, allow it to sit in the fridge overnight. Slice with a hot knife – it is very fudgy.