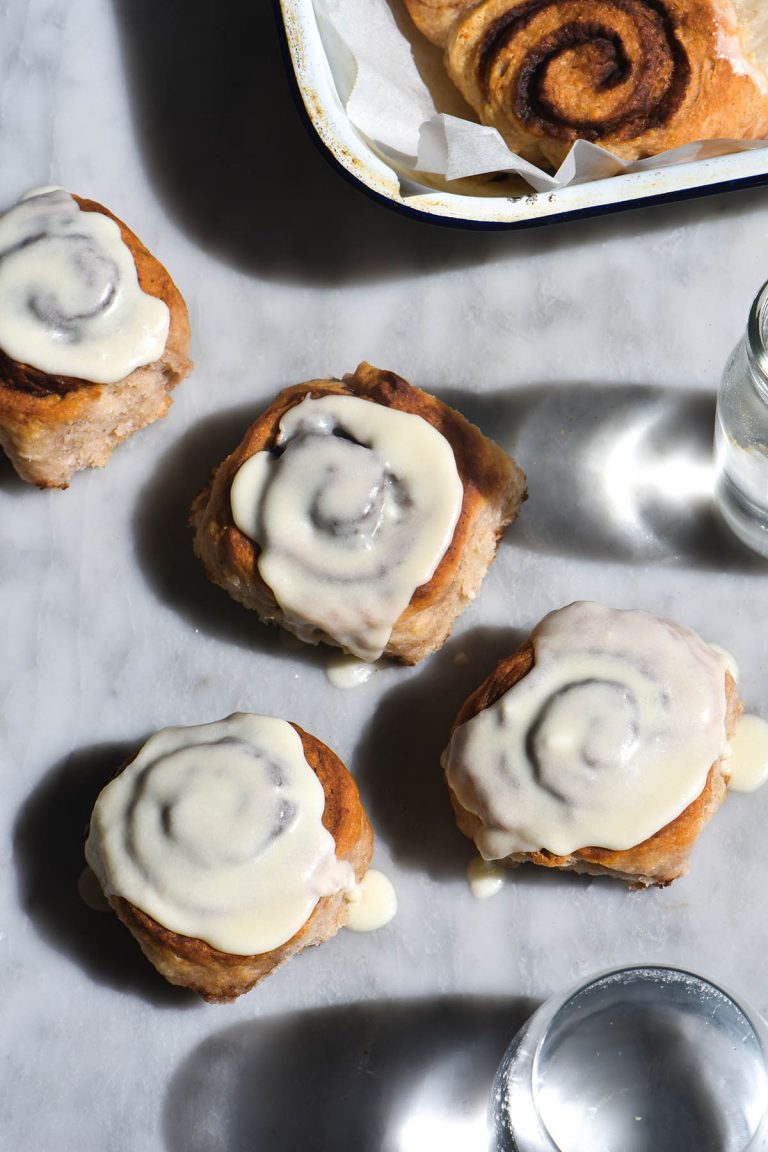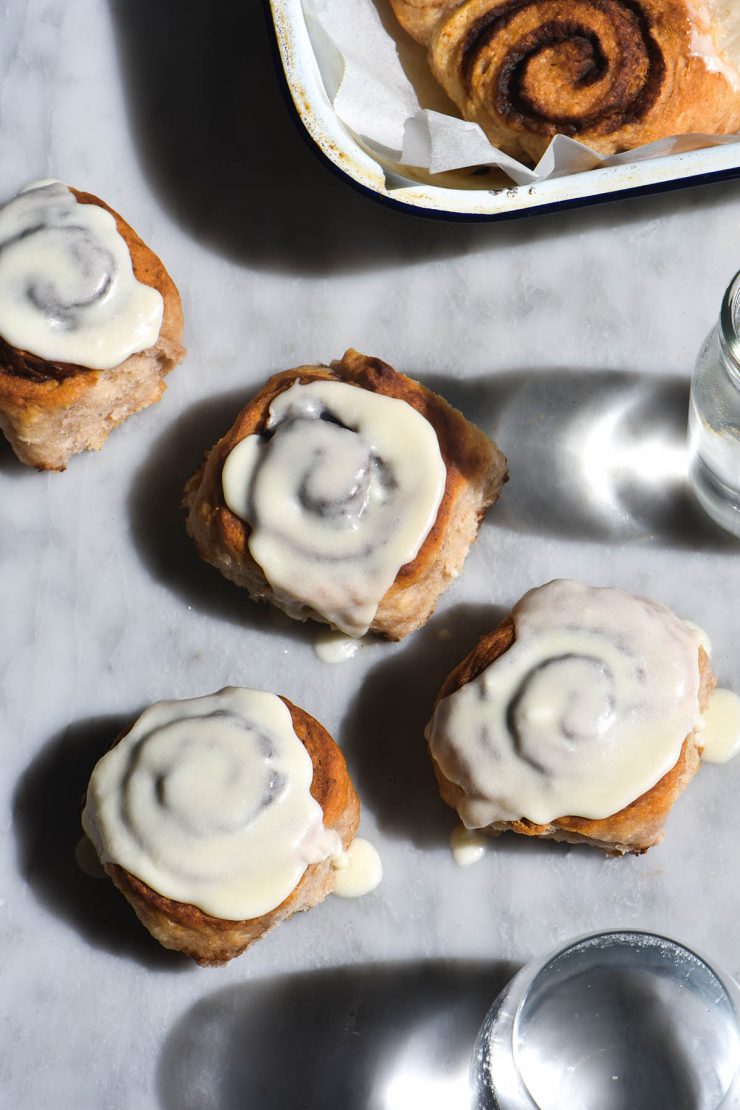 These vegan gluten free cinnamon rolls were originally developed as bonus recipe to accompany my new cookbook. Now that the cookbook is out in the world, though, I wanted to share them here. These cinnamon scrolls are utterly addictive, easy to make and use only two flours. They're vegan, nut free and FODMAP friendly. The rolls are made without xanthan gum and eggs or dairy. They also have a savoury cousin: these pesto and cheese savoury scrolls.
I cannot resist a cinnamon scroll. As such, I am quietly building out a suite of cinnamon scroll recipes to suit every diet. Last year I published my gluten free (not vegan) cinnamon scrolls. After that, a gluten free, vegan and yeast free cinnamon roll. Next up, a single serve, gluten free and vegan version (that can be baked in the microwave). Yes, microwave cinnamon scrolls. You know how I love to make cake in the microwave.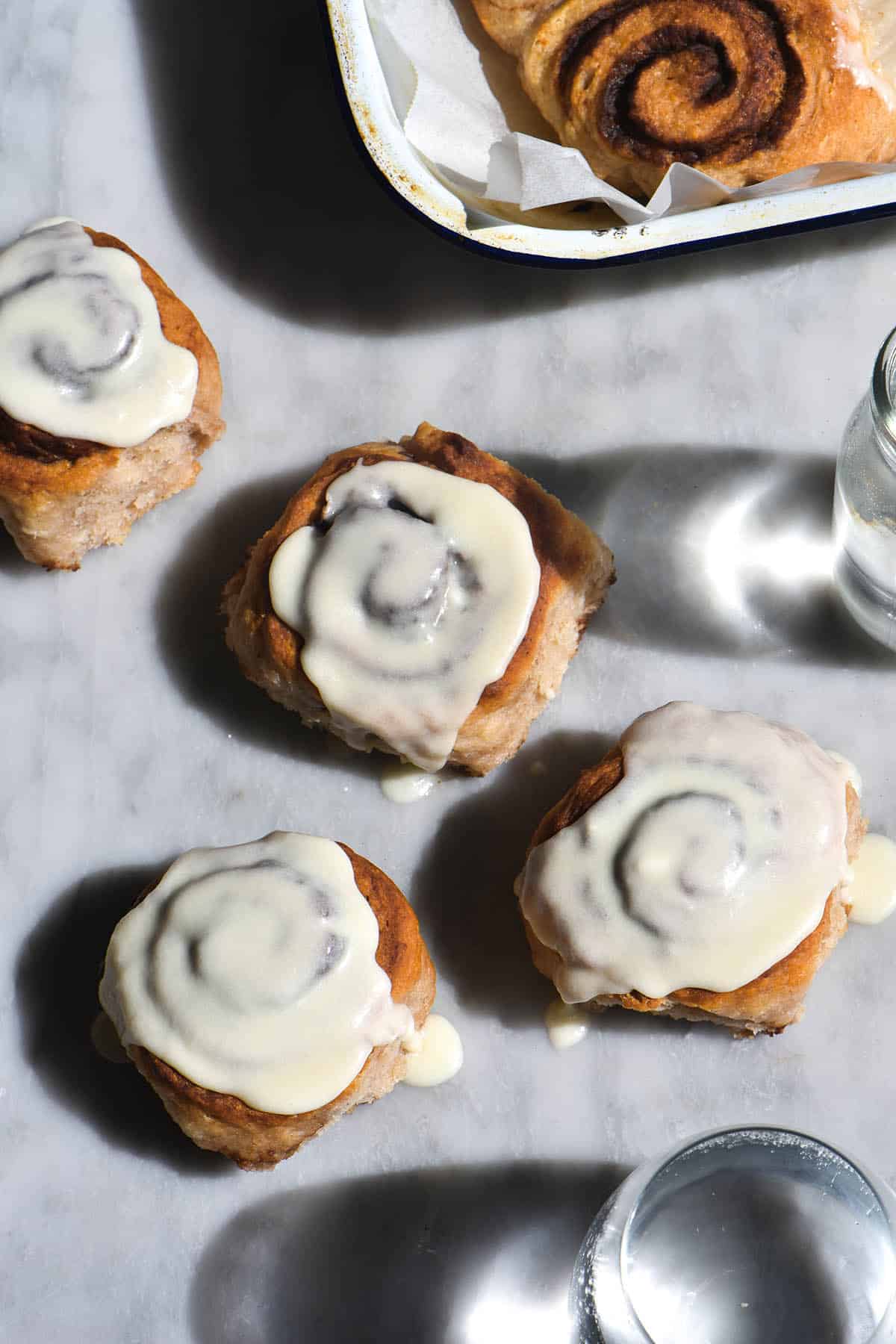 Vegan gluten free cinnamon rolls
These cinnamon scrolls are an easy and delicious allergy friendly treat. They use white rice flour and glutinous rice flour (which is 100% gluten free) or tapioca flour to form the backbone of the dough.
A mix of psyllium husk powder, plant based milk and plant based butter provide fat, elasticity and moisture. Sugar adds sweetness, of course. Finally, yeast, baking powder and baking soda work together to create lift and to provide flavour and browning for our vegan gluten free cinnamon rolls. Vegan baking has a tendency to stay quite pale in the oven, so baking soda really helps create that golden brown crust here.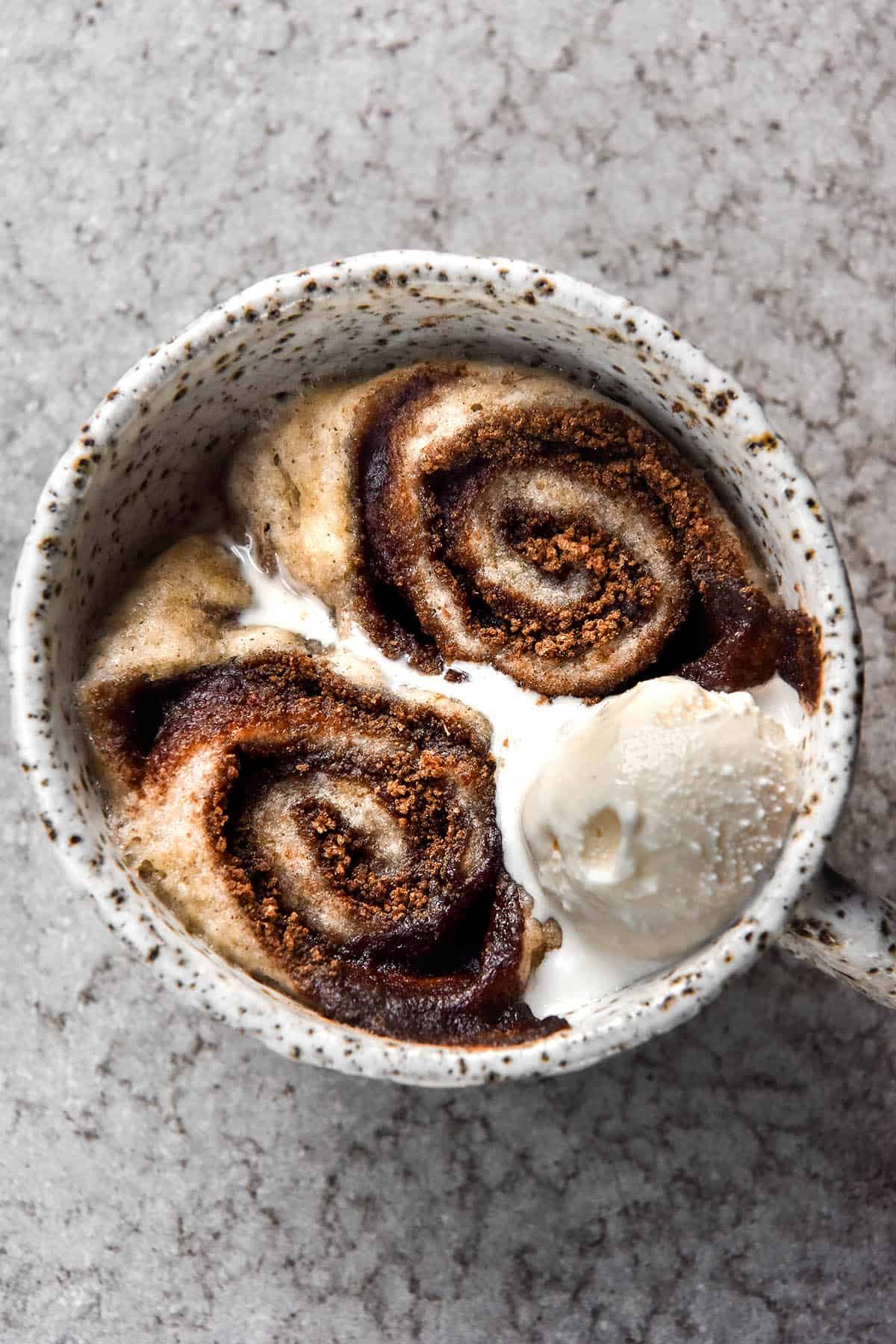 Ingredient notes for your vegan gluten free cinnamon rolls
How much milk you use depends on a number of factors, from how finely your flour is milled to where you live. You might need to do some experimenting to see how much milk works for you. More milk equals a fluffier cinnamon scroll, but it can come, at least in part, at the expense of them holding their shape as well.
Keep allergies in mind when choosing a plant based milk. In Australia, oat milk is not considered gluten free (and almond milk contains nuts, obviously!)
I have used Nuttelex buttery for all my tests. It is accessible and reliable. They have recently released a new version for baking which I really like too. If you don't have access to Nuttelex, use a brand you trust with 80% or more fat. This mimics the fat to water ratio of traditional butter.
Glutinous rice flour bears no relation to wheat flour and is 100% gluten free. In Australia, it is easily purchased at the supermarket in the Asian section, generally down the bottom of the shelf.
Psyllium husk powder is more absorbent than the flakes, so they are not directly interchangeable. You can make your own powder by grinding flakes in a spice grinder.
If you only need these to be egg free but not vegan, you can use regular milk and butter. Interestingly, I found that they needed less milk, so I suggest starting with 60ml (1/4 cup) less milk. Omit the baking soda too – they get sufficient browning from the dairy ingredients.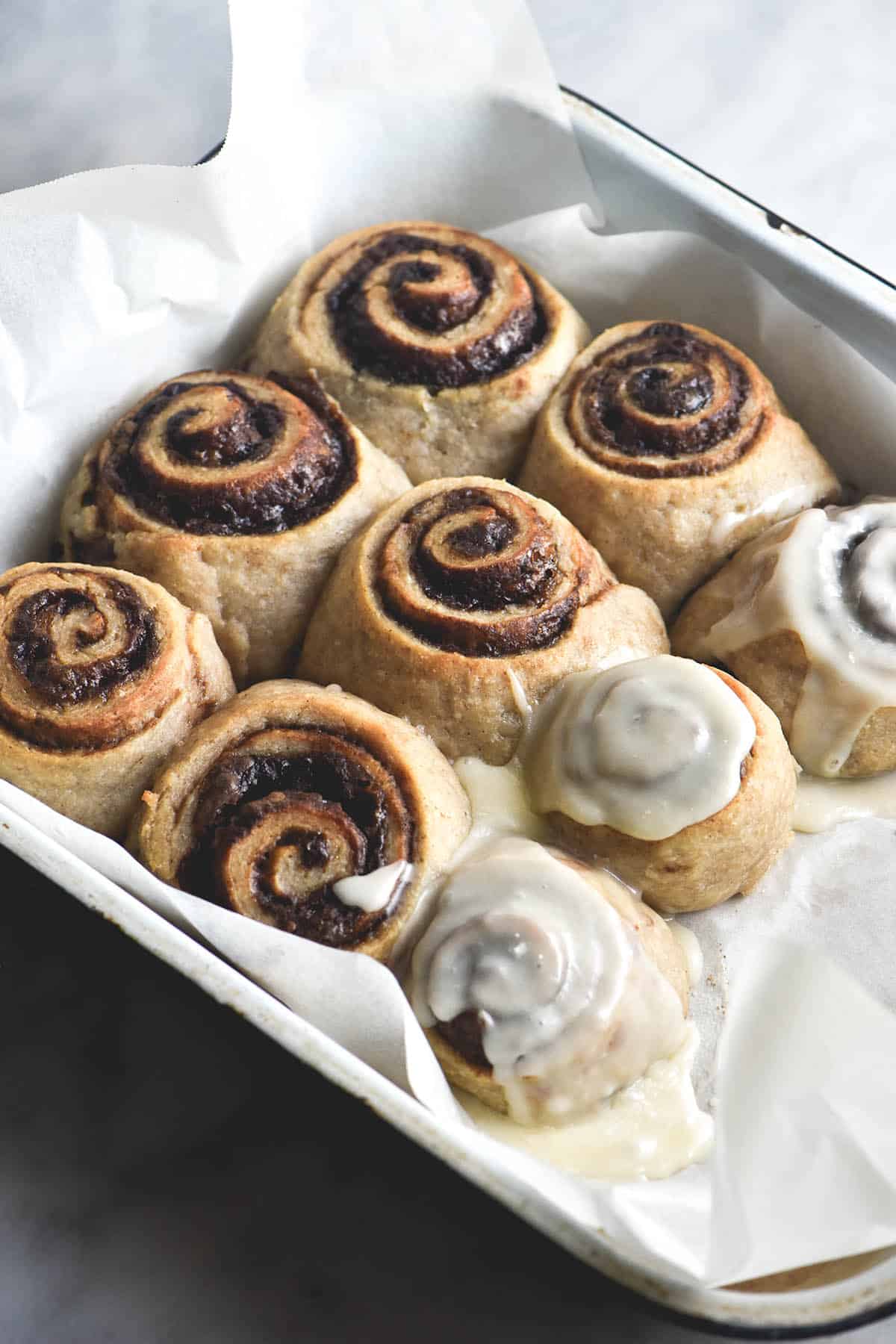 Recipe tips for your vegan gluten free cinnamon rolls
The cinnamon scrolls need to be relatively snug in a baking dish in order to hold their shape. I use a 30x20cm rectangular baking dish and place mini pans behind the baking paper to tuck them in. If you have a smaller baking dish, you can use that. Personally, I prefer the look of scrolls baked in a rectangular dish, but that is just me.
One thing I will never go back to cutting the log of cinnamon scroll with a knife. Because the dough lacks the strength that regular dough does, it's a tricky feat. I highly recommend using thread or a non-flavoured tooth floss. You simply thread it underneath the log and pull in opposing directions to slice each scroll. This method creates a quick, thick and seamless cut that doesn't squash the scrolls out of shape.
Proofing times will always vary depending on the climate and season. Dough with a higher hydration proofs faster and more dramatically than dough with lower hydration, too. Keep an eye on your scrolls and pop them into the oven when they are doubled in size.
How absorbent gluten free flours are varies from batch to batch, brand to brand. If you find your dough is too wet, drop the milk back by 1/4 cup next time.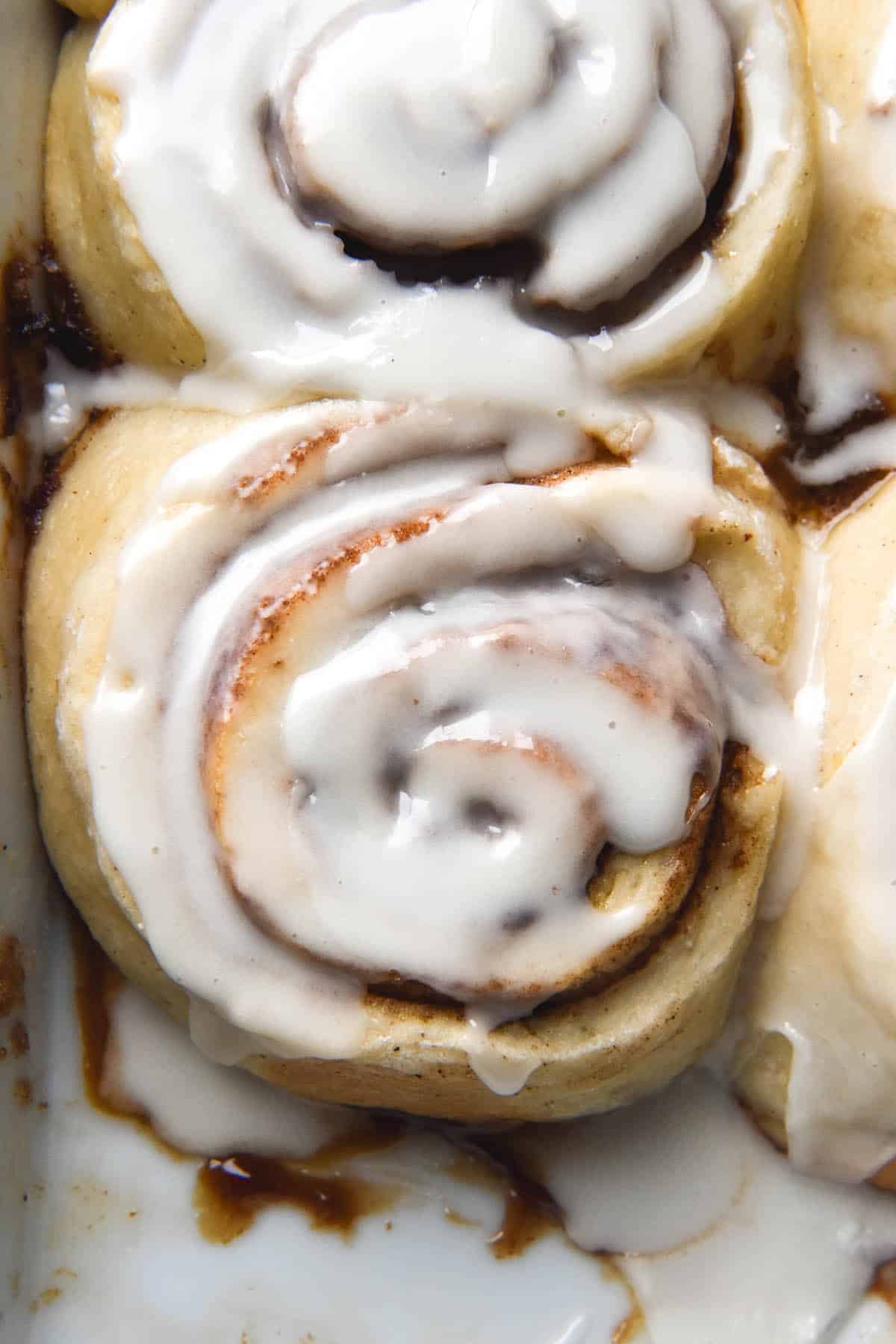 Can I make these cinnamon rolls without yeast?
I have a yeast free gluten free vegan cinnamon roll recipe here. It is still free from xanthan gum or nuts, but uses baking powder instead of yeast for leavening.
More gluten free vegan dessert recipes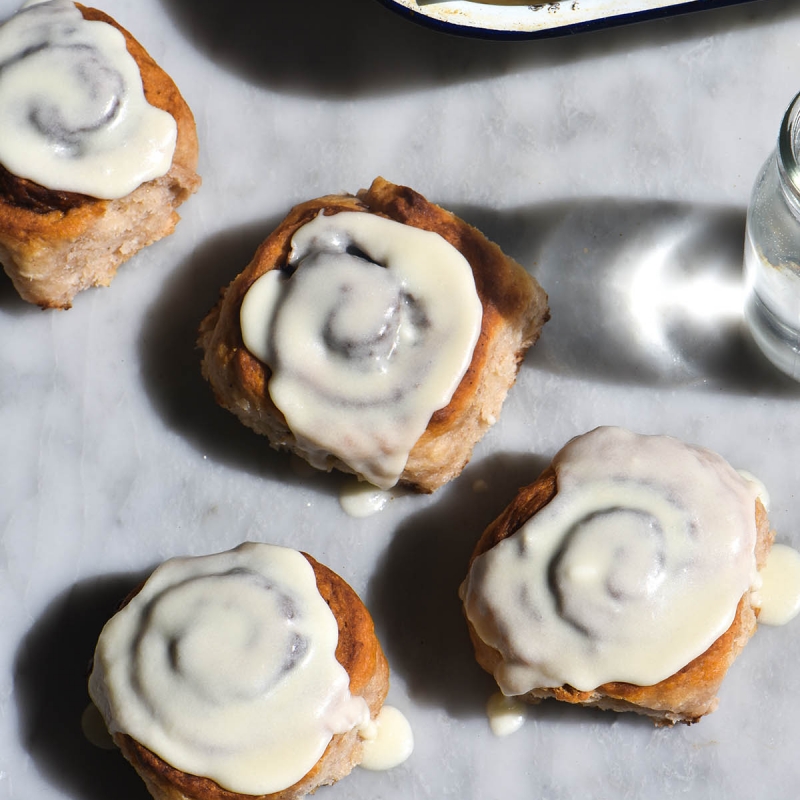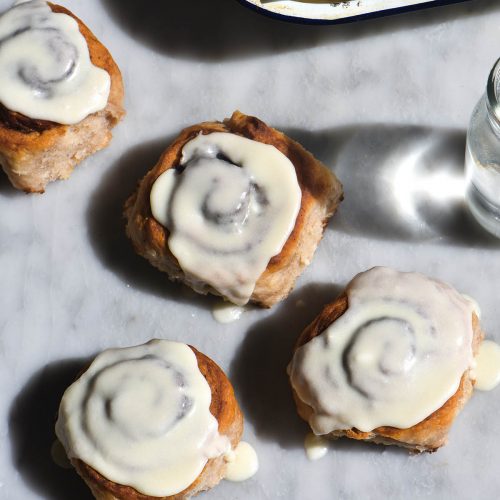 Vegan gluten free cinnamon rolls
Gluten free, gum free, egg free, vegan
*Recipe is in Australian cups and measures. Use gram weights for international accuracy.
Ingredients
For the binder:
500ml

(2 cups)*

hot milk of choice, see notes (I used soy)

75

g

vegan butter

melted

20

g

psyllium husk powder
For the dough:
240

g

(1 1/2 cups)* fine white rice flour

120

g

(1 cup)* glutinous rice flour

150

g

caster sugar

7.5g

(1 sachet) instant yeast

8g

(2 teaspoons)

gluten free baking powder

1/4

teaspoon

baking soda

for browning
For the cinnamon filling:
100

g

light brown sugar

4

teaspoons

cinnamon

40-40ml

(2 tablespoons)*

extra milk
For the glaze:
160

g

pure icing sugar

1/2- 1

tablespoon

vegan butter

melted

Milk

to make your ideal icing consistency

Vanilla bean paste

to taste (optional)
Instructions
Whisk together the wet ingredients for the binder in a medium sized mixing bowl. Sprinkle over the psyllium husk powder, then whisk vigorously until it is fully incorporated and no clumps remain. Set aside for 10-15 minutes to form a gel.

While you're waiting, combine the ingredients for the dough in a large mixing bowl. Add the psyllium husk gel to this bowl when it's ready, then use your hands to squelch the binder through the dough until it forms a cohesive ball. There should be no flour left in the bowl – just a ropey but moist, juicy dough.

Before we roll out the dough, we need our filling ready to go. Combine the cinnamon and sugar in a medium bowl. We'll use the milk later to adhere the sugar to the dough.

Grease a large piece of baking paper, roughly 40 cm long, with a scant 1 teaspoon of oil. Place the scroll dough on the paper. Lightly oil your rolling pin, then roll the dough out into a large rectangle. This dough has a bit of elasticity and tends to spring back a little, so take your time.

The size of the rectangle isn't super important. I normally aim for approximately the size of the sheet of baking paper. The longer and wider you roll it, the more 'rings' your scroll will have. Make sure the dough is reasonably thin (roughly ½–1 cm) but without any holes. Using the back of a spoon, spread the chocolate filling over the dough, leaving a small 1 cm margin on both long sides of the rectangle.

Beginning on the long side, use your fingers to fold the 1cm border of the dough up onto itself. You want to create a tight roll, so try and make this first notch as small as possible. Continue folding the dough up until you can begin to use the baking paper to roll the dough onto itself. Take it about 80% of the way, then take the far side of the dough and bring it up over the log. You should have a log of dough with the seam facing upwards.

Line your baking dish with baking paper. Gently thread your piece of string underneath the log. Eyeball about one ninth of the dough log and think of the string as your knife. Holding one end of the string in each hand, pull in opposing directions to slice through one-eighth of the dough. Gently flip that first cinnamon scroll upright and use your hands to gently cup and mould it. Press it down a little so that it has a solid base, then place it into the prepared baking dish. Repeat with the remaining dough and scrolls.

Place the cinnamon scrolls in a jumbo ziplock bag or jumbo airtight container. Proof for one hour or until they feel fluffy and have expanded visibly. About 20 minutes before they finish proofing, preheat your oven to 180C/356F. Place a baking dish filled with boiling water at the bottom of the oven to create a steamy environment. This will help keep them nice and moist during baking.

When the scrolls are proofed and ready, place them in the steamy oven (stand back as you open it) and bake for 30 minutes. When baked, they should feel firm to the touch and be lightly golden on top.

Whisk the ingredients for the icing together. I recommend adding a teaspoon or two of milk at a time until you reach your desired consistency – icing sugar needs less liquid than you might think. You can ice the scrolls warm or slightly cooled – it will melt into them if warm, or sit on top a little more if cooled. Store leftovers in an airtight container, and gently microwave leftovers to restore them to their former glory.