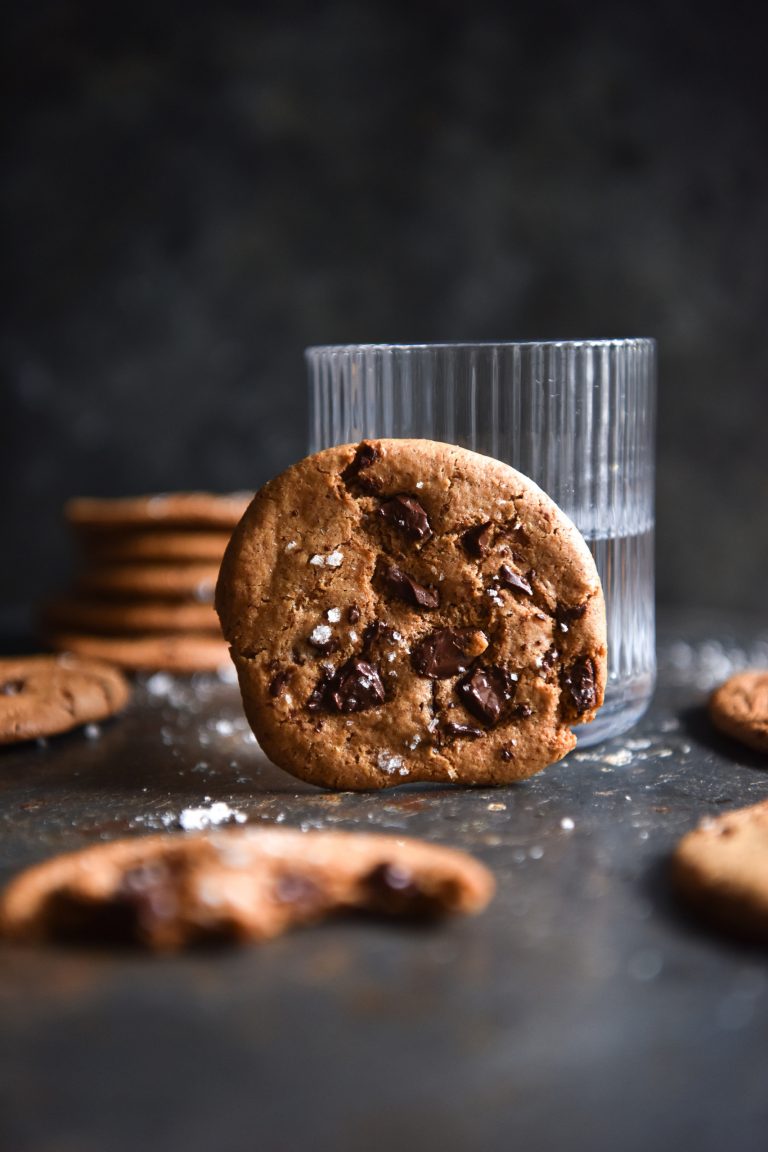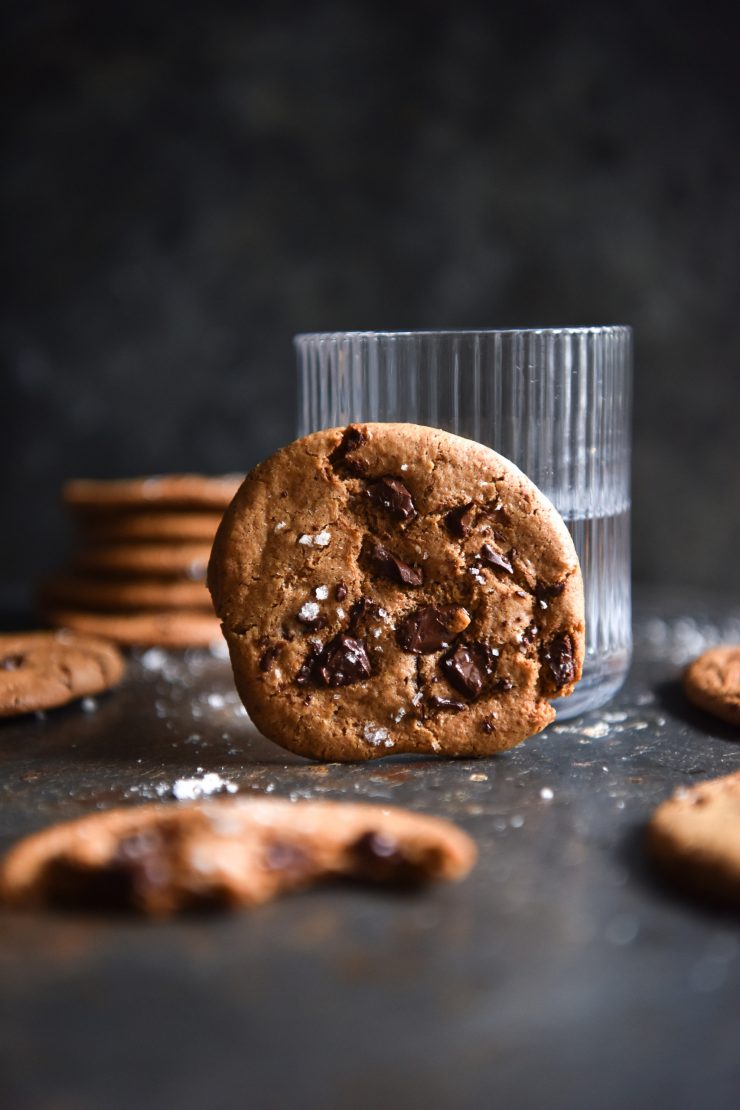 These vegan almond butter cookies came about while I was developing gluten free vegan choc chip cookies. For something that is so simple, a regular cookie is a hard thing to master. There are so many variables when it comes to a good quality cookie. The flours used, the butter (is it brown? Regular? Vegan? Coconut?) – to name but a few. Regular cookies are subject to the whims of oven temperatures, the effects of different oven trays, the weather. Guess what isn't, though? These vegan almond butter cookies.
I've seen almond butter cookies floating around on Pinterest and the internet in general. I definitely had my doubts about them. One part of my reluctance to accept them was my overconsumption of the almond meal cookie that 'Healing Belle' pioneered. After eating one too many, the mere memory of the almond batter and how much of it I scoffed is enough to make me nauseous.
However, as I talk about every now and then, my feeble digestive system is currently taking a break from grains where possible. I find they exacerbate my bloating issues, so I'm minimising them where possible. Obviously, a gal cannot go without a sweet treat every now and again, which is why I swallowed my pride, and as a result, a lot of almond butter cookies.
Vegan almond butter cookies
These almond butter cookies don't actually taste reminiscent of those almond flour ones. The batter has the consistency and appearance of cookie dough, and the final cookie tastes a lot like, um, a cookie.
The cookies are vegan, made without eggs or dairy. They are refined sugar free, using maple syrup as the sweetener. The cookies are grain free, gluten free and make a great little snack. They are easy to make and can be made with other nut butters, too. See my snickers cookie recipe and tahini cookie recipes for examples.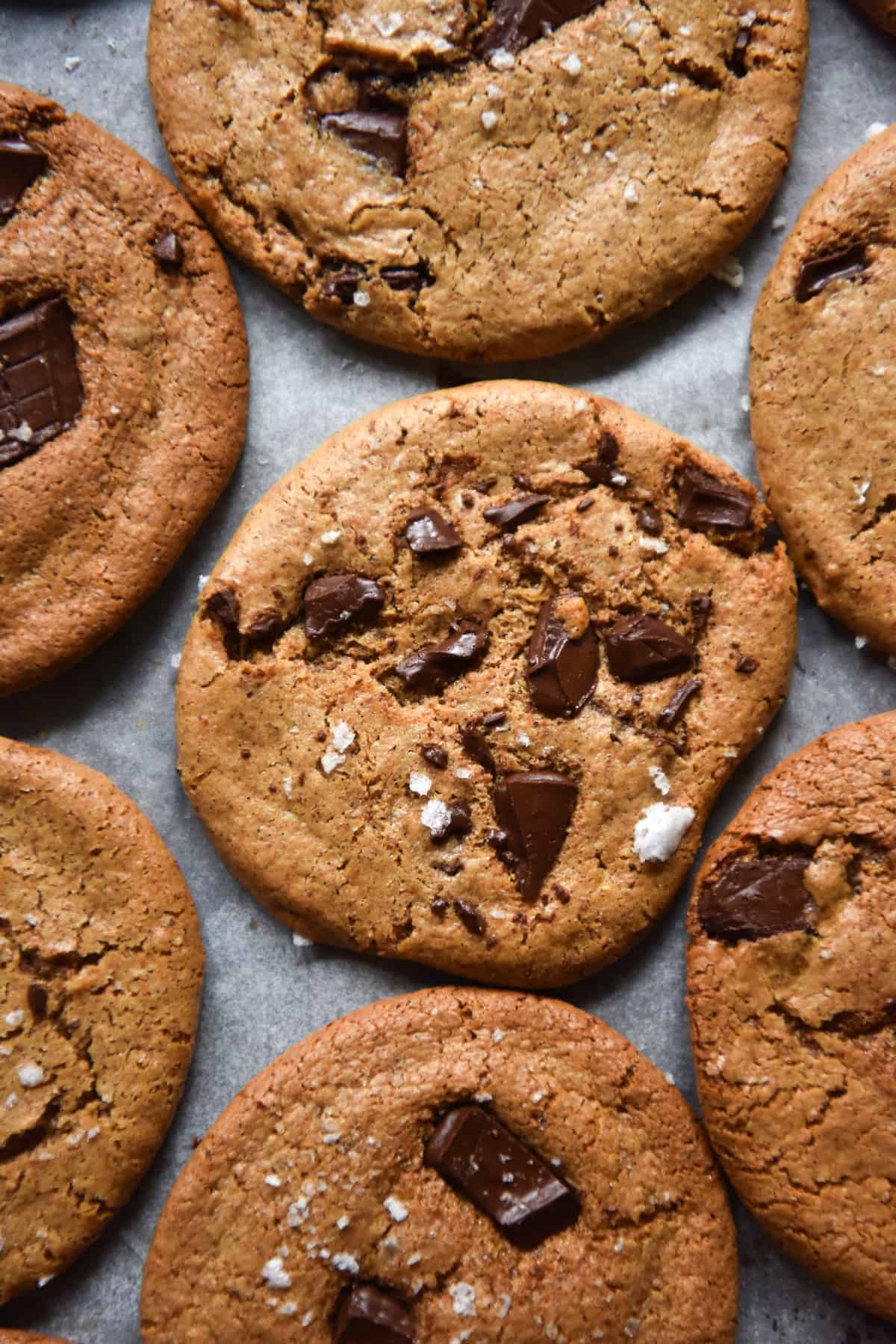 What sort of almond butter should I use for the vegan almond butter cookies?
These vegan almond butter cookies are simple to make with a store bought NATURAL variety (aka no weird additives, just almonds.) Almond butter is also very easy (and more cost effective) to make at home, which I normally do. That said, there are a few caveats.
Firstly, don't process the almond butter for as long as you normally might. I have a recipe for dark roasted almond butter in a Nutribullet can be found here, where I suggest processing the butter until runny. However, with these cookies, it is helpful if the almond butter isn't super runny. It won't ruin everything if it is, but it will be a lot easier if the consistency is that of a store bought roasted almond butter.
Secondly, because we're basically trying to make these taste like cookies and not like almonds, I don't recommend dark roasting. I have tried it both ways, and I much prefer the cookies with a light roasted almond butter – 10 minutes roughly, if you're making it at home. You can use my recipe, but I recommend adjusting it as follows:
-Using 2 cups of raw almonds, roasted for 10 or so minutes at 180 degrees Celsius. This will give you enough for about 2 batches of cookies, maybe a little extra.
-Processing the almond butter until smooth but not runny. You'll know roughly when you get there, when the almond butter still has some chunks, and you need to spoon it out of the container.
Whatever you end up doing, please don't buy almond butter that is raw. Raw almond butter is responsible for one of my worst childhood memories – biting into what I thought was a peanut butter sandwich, only to discover raw almond butter. Still scarred Mum.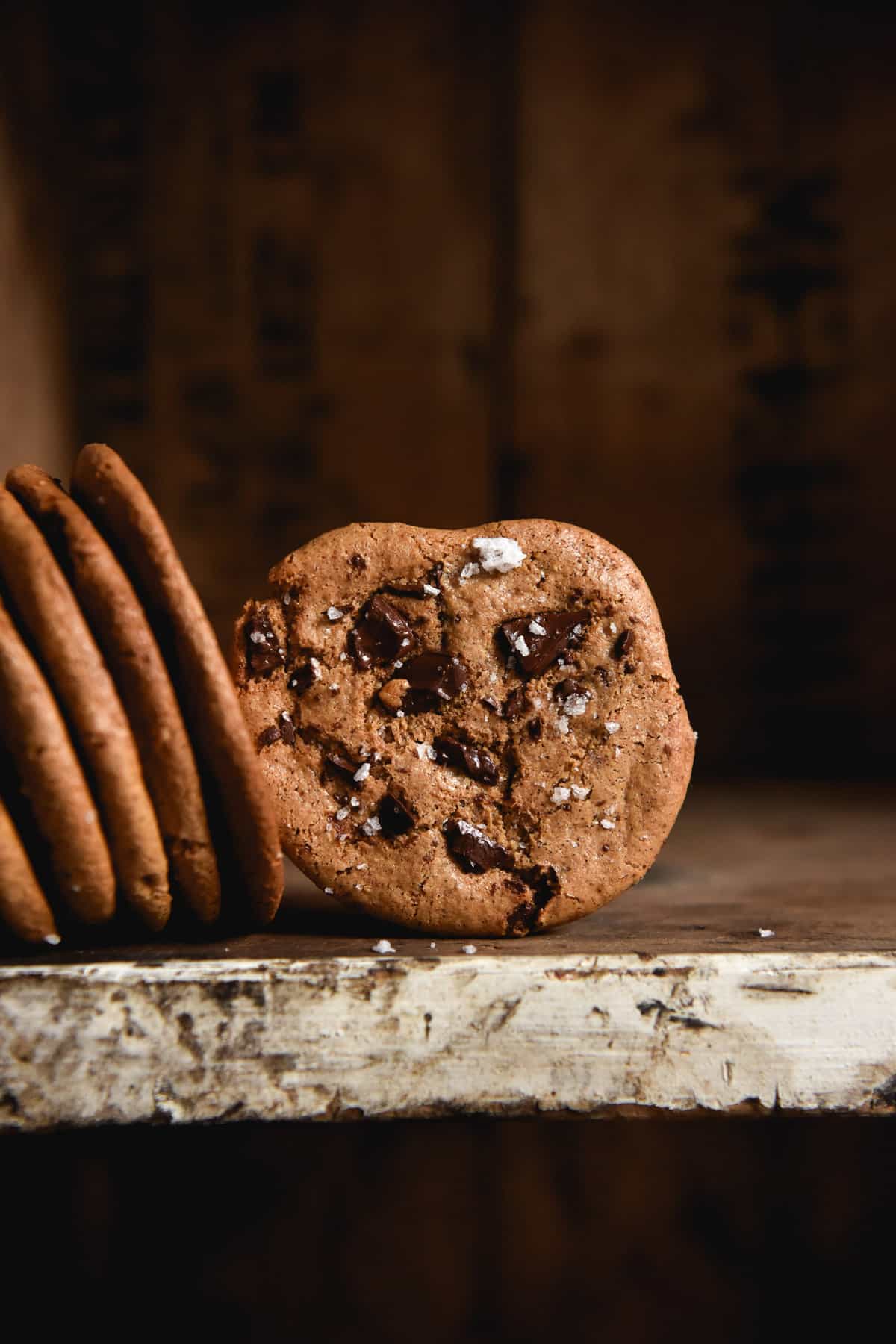 What sweetener and flavour enhancers should I use for the almond butter cookies?
I use maple syrup as the sweetener, but you could also use rice malt syrup, for a lower FODMAP alternative. The sweetener needs to be liquid in order to thicken up the almond butter, so things like coconut sugar are not suitable in this instance. I don't use coconut sugar much anymore, because it actually has quite a high fructose content, and I don't need that sneaking into my food.
The chocolate you use depends on your likes. I have (somewhat ironically) used dark cooking chocolate not specified as vegan, but vegan chocolate would be great too (obviously!)
2 teaspoons of vanilla bean paste helps with the sweetening, and it seems like a lot, right? It is, but that's for good reason. In the effort of making these almond butter cookies taste like regular cookies, we need a helping hand. Vanilla bean paste is one of those, along with good quality chocolate and sea salt flakes.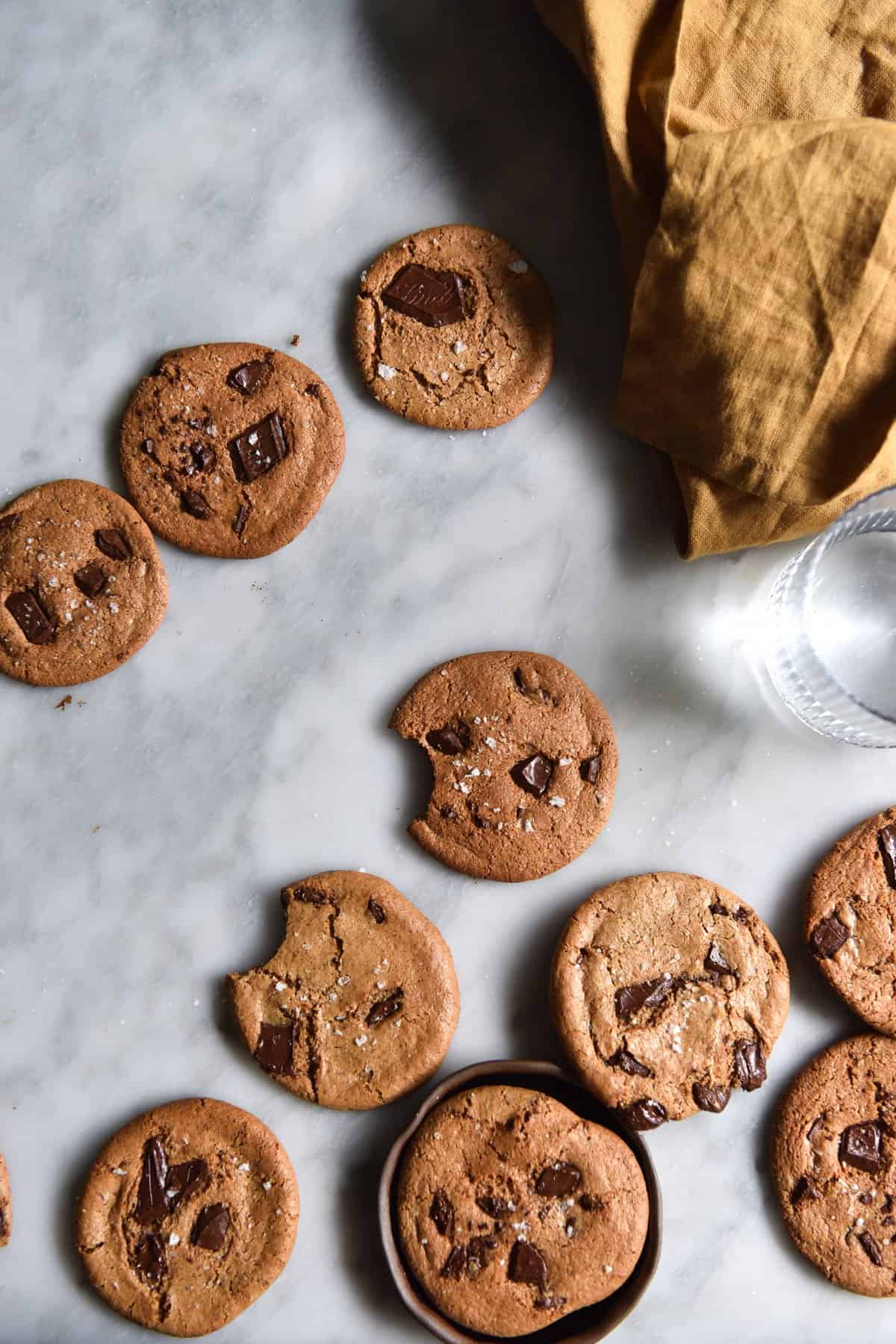 FODMAP notes
Almonds and almond butter are not always the friendliest in terms of FODMAPs. As I mentioned earlier, I have developed this recipe as an alternative to grains, which are too rough for me at the moment. Monash suggests that almond butter is FODMAP friendly in servings of 1 tablespoon (or 20g) per serve. This recipe contains 80g of almond butter, meaning you can safely consume 1 1/2 cookies per sitting. I seem to be fine with a couple of them, but do whatever works for you. It's not about blindly restricting everything, remember?
If you'd like to lower the FODMAP content a little, use rice malt syrup in place of maple syrup. You might need to use a little more for sweetness. On the note of maple syrup, always make sure it's the pure, 100% stuff, Canadian where possible and where budget allows. There are a lot of cheap 'maple flavoured' syrups on the market, so keep your eyes peeled.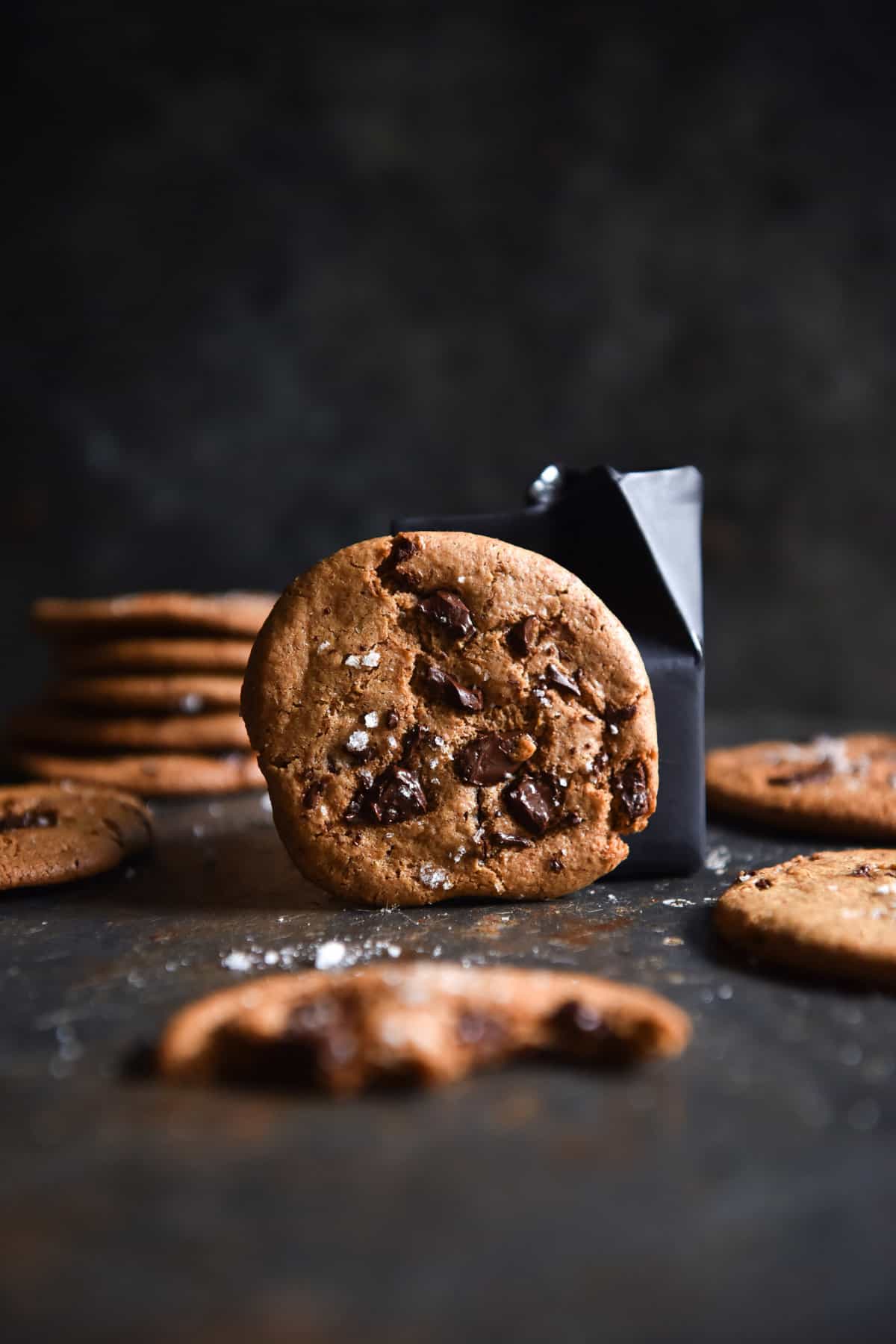 Can I use a different nut butter?
I have tried these cookies with sunflower butter, and they flattened out into one oily, horrid mess. I do plan to tweak them for a nut free variety, so watch this space.
I have also tried (and failed) using cashew butter. For whatever reason, they burned and became flat and hideous.
As for peanut butter, see my recipe for vegan snickers cookies.
You can also use tahini – my specific tahini cookie recipe can be found here.
In terms of other nut butters, I can only guess. Cashew would be nice but it is very expensive and not widely available. ABC (almond, brazil nut and cashew) butter is more widely available in Australia, and I daresay that would work a treat.
Recipe notes for your almond butter cookies
I have successfully made these cookies without vanilla bean paste. It adds a beautiful, cookie like flavour but it is optional.
Baking powder is technically not always grain free, as it often uses rice flour (or wheat flour) in the formula. Make sure you choose the variety that is right for you.
I haven't seen grain free baking powder in the shops, but here's a recipe from King Arthur Flour if you'd like to make your own.
Please don't be alarmed when you see such a small quantity of batter. This is how the recipe is designed – to make 5-6 small cookies. Almond butter is expensive and these cookies are best eaten fresh.
On that note: don't disregard the suggestion to roll the cookies into 6-8 balls. Once you flatten them out with your hand, you will have a regular sized cookie. They're not monstrously sized.
Troubleshooting
I mean, not a lot can go too wrong with these cookies (unless you've seen my Instagram stories today) but I thought I'd write this up anyway.
Firstly, when transforming the almond butter mixture into a rollable consistency, elbow grease is key. Even if it doesn't look like it will get there, it will. HOWEVER, if you've done the best you can and it's still not rollable, use some plain flavoured oil (just a touch) and cover your hands with it. From there, you'll be able to pick up and roll the mixture.
Secondly, don't dump all the ingredients in the bowl up front. Give the almond butter and maple syrup time to thicken before adding the other stuff.
Thirdly, chocolate goes in LAST, if at all. It's very hard to keep mixing the batter to the right thickness with chocolate chunks in the way, so only add it once you know the batter is good to go.
Finally, please add the sea salt. It is crucial to finishing off that 'cookie rather than almond butter cookie' flavour. IMPORTANT because we're disguising healthy-ish foods and hopefully getting away with it.
More gluten free vegan cookie recipes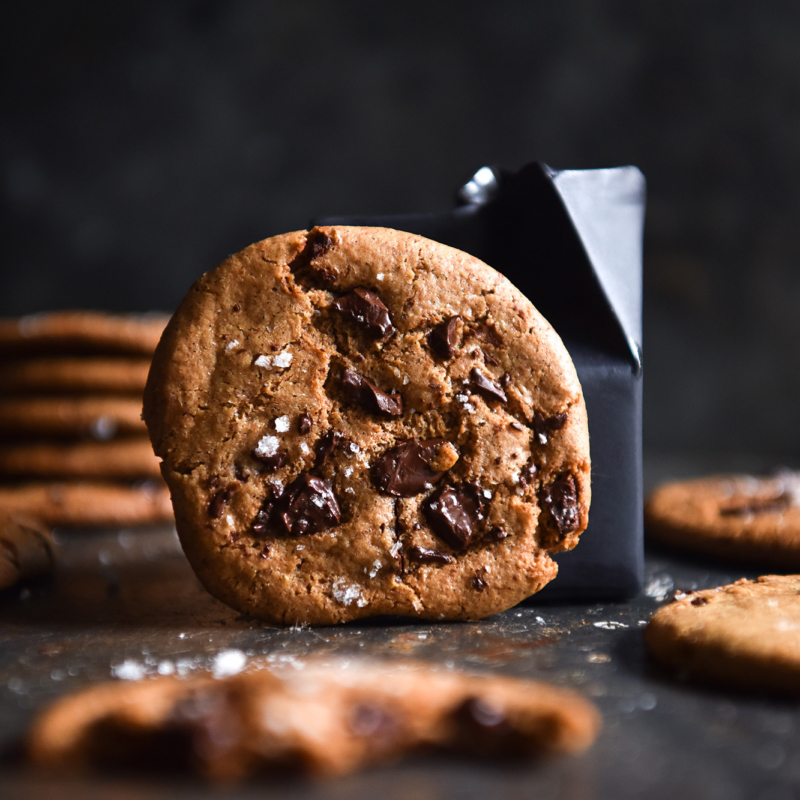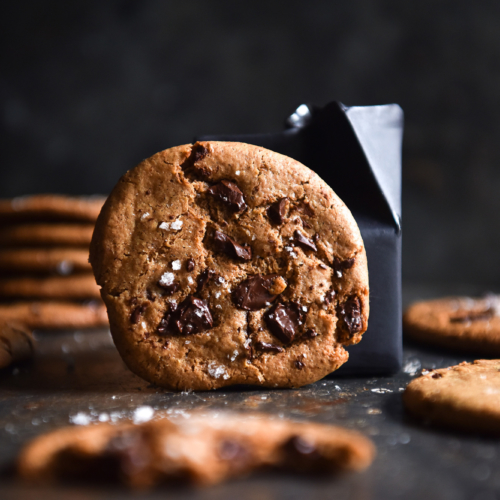 Vegan almond butter choc chip cookies
Vegan, gluten free, grain free, refined sugar free
*Cups and measures are in Australian cups and measures. Use gram weights for international accuracy.
Ingredients
1/3

cup

almond butter (80g)*

40-60ml (2-3

tbsp)*

maple syrup

2

tsp

vanilla bean paste (see notes above recipe)

1

tsp

baking powder

30-50g

chocolate (keep it vegan if it needs to be)

pinch

of fine salt, just for flavour complexity
Instructions
Preheat the oven to 180 degrees Celsius.

Combine the almond butter and maple syrup in a medium sized mixing bowl. Use a spoon to mix vigorously – after a couple of minutes, it will begin to thicken and harden. If it doesn't, add the third tablespoon of maple syrup.

Once the mixture thickens, add the vanilla bean paste and baking powder, and continue mixing until you are able to pick blobs of the mixture up, and roll them into a ball with your hands. Note that this is more difficult with a runnier almond butter – if you are making your own, leave it on the thick side, like store bought. If the butter you are using is runny, you could add a tiny bit of coconut flour, or oil your hands before picking up the mixture.

Once the mixture is ready, gently mix through the chocolate chunks and sea salt flakes. Place 6-8 even sized balls of mixture onto a lined baking tray, and use your palm to gently press them into cookie shape. Note they will spread a little.

Place the cookies in the oven for 7-10 minutes, depending on how you like them. You can also experiment with dropping the tray to create dimples in the cookies. I like to set the timer for 5 minutes, drop them against the oven rack to flatten them out, and then continue to cook for 2-5 minutes. Allow to cool a little before serving, and keep in mind they harden as they cool.

To keep the cookies crisp, store them in an airtight container, in the fridge if you're in a warm climate.