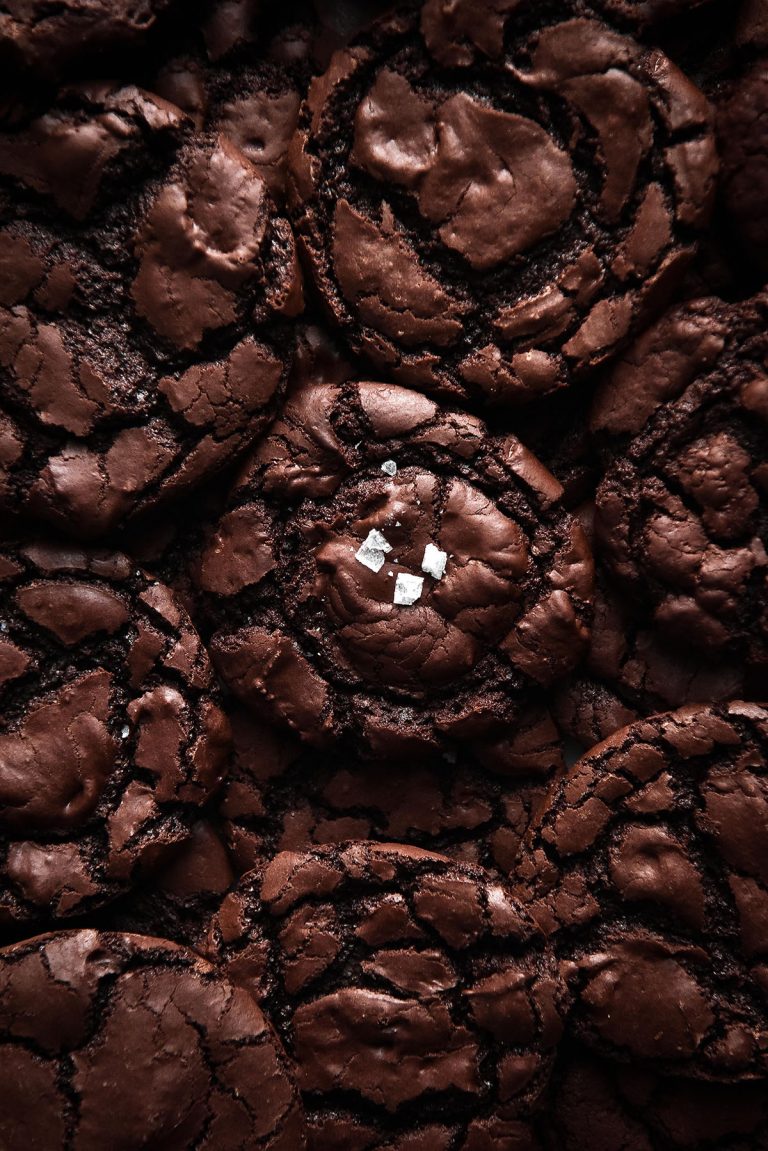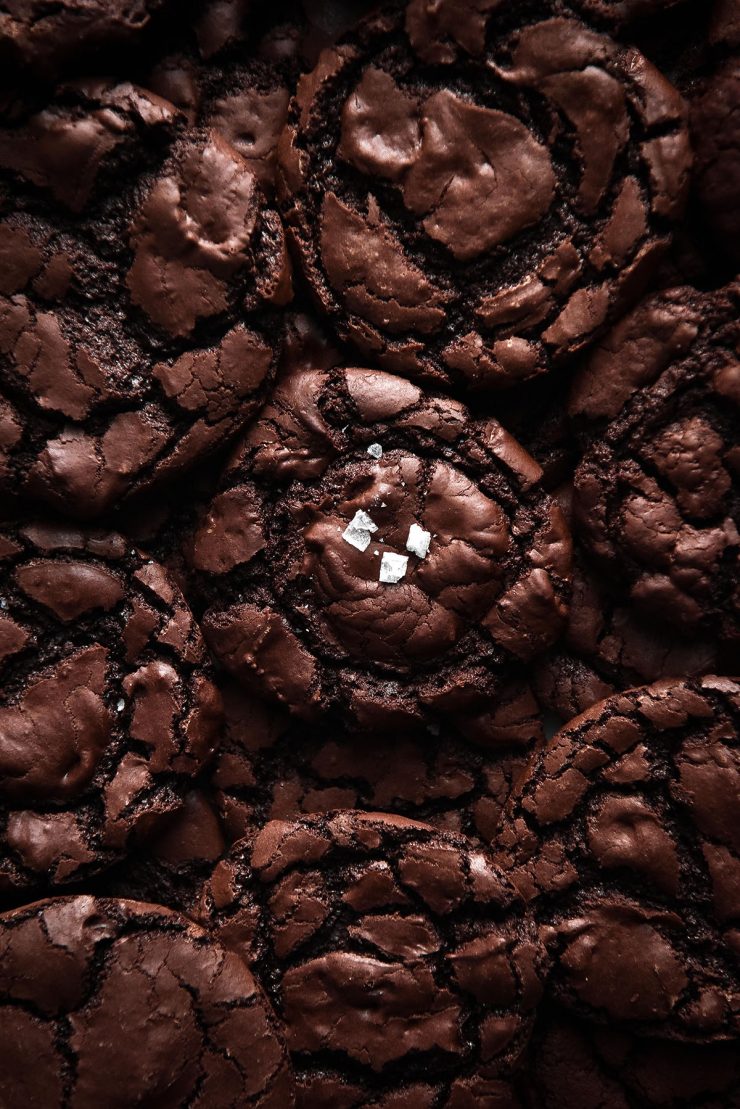 If you've been watching my Instagram stories, you'd already know that this recipe for vegan, gluten free brownie cookies is coming. My passion for developing recipes that suit every diet is only surpassed by my passion for eating a brownie cookie for breakfast. So, after my success in developing a totally flourless brownie cookie, I turned my sights on to vegan brownie cookies.
This delicious gluten free vegan brownie cookies are made without xanthan gum, nuts or starches. They contain no eggs or dairy, so they are a great option for people who cannot eat eggs or dairy. The result is fudgy, rich brookies that are undectectably vegan, gluten free and nut free.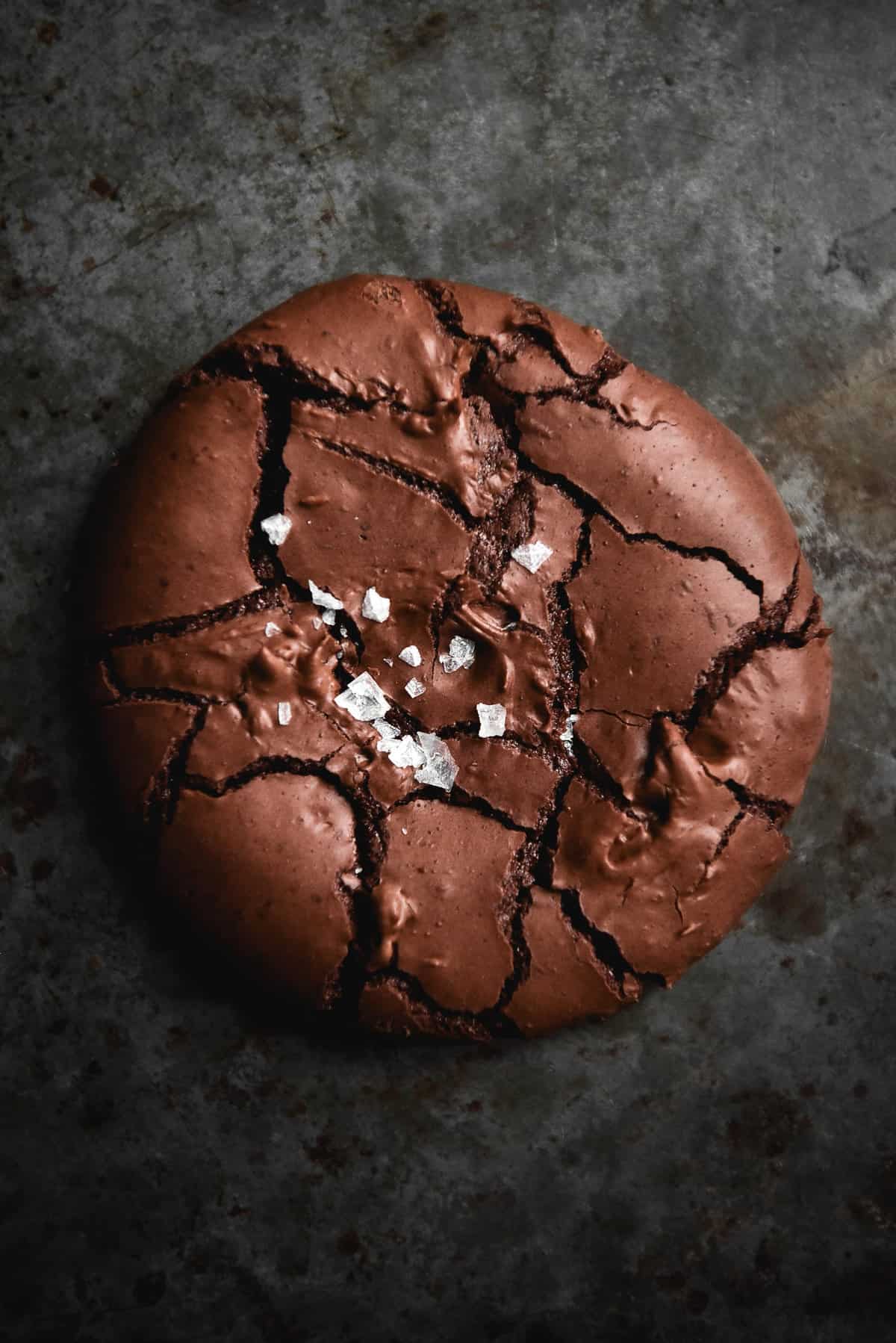 Vegan brownie cookies that are gluten free and xanthan gum free
These vegan brownie cookies were originally developed around my vegan condensed milk guide. I figured that condensed milk would be a suitable replacement for the sugar whipped into and dissolved in eggs in my original brownie cookie recipe. However, I found that in this case, condensed milk overcomplicated what would have otherwise been a quick recipe. Further, given that each plant milk results in a different viscosities, it was difficult to create a reliable result.
So, how to dissolve the sugar to create a shiny, delicious brownie cookie? The answer is simple. Water.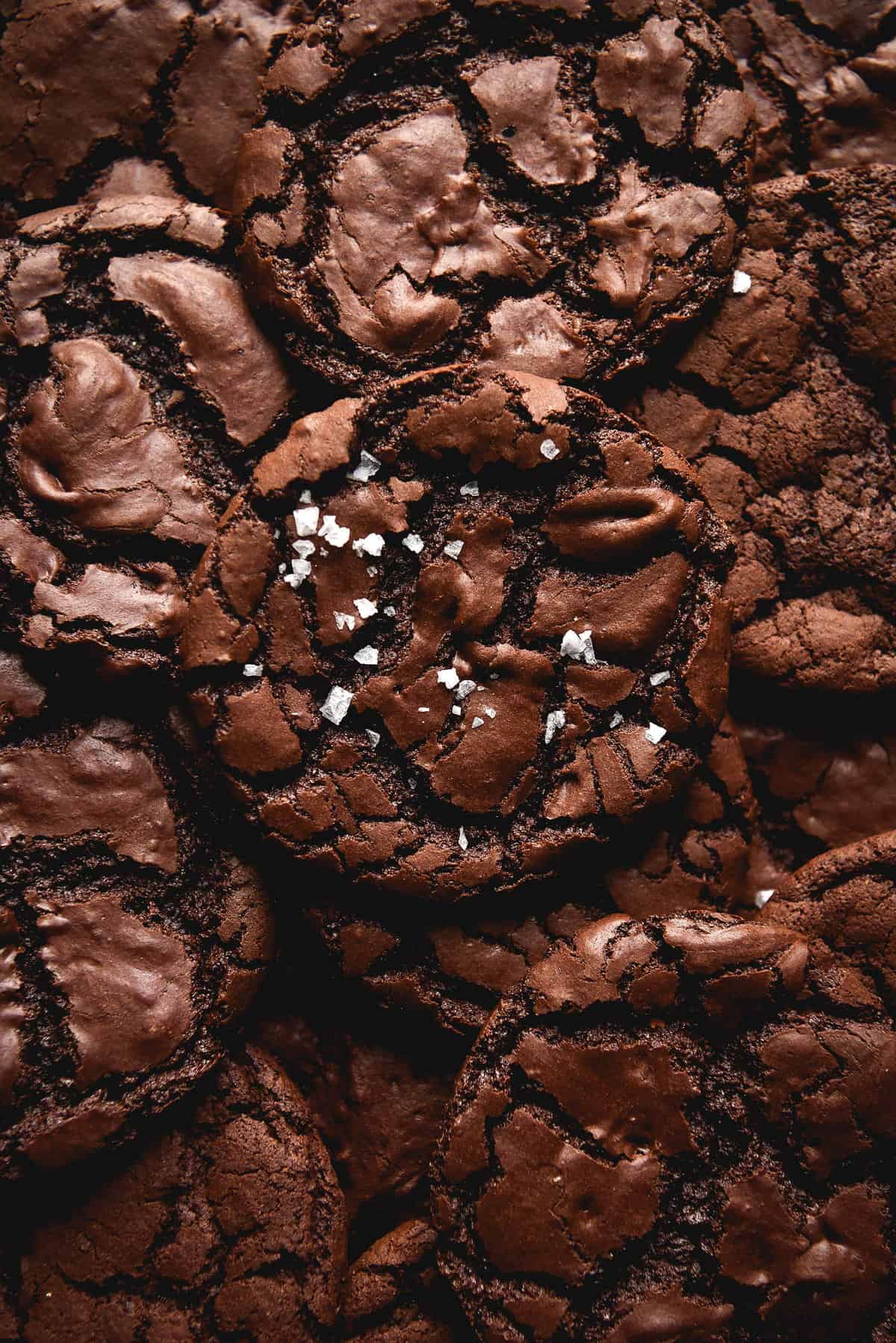 How these vegan, gluten free brownie cookies work
Before we begin, I think it's important to chat quickly about what makes these brownie cookies work. This will give you some insight into how to change their texture to suit your own needs and wants. It also gives me an opportunity to create brownie(ish) science, which we all know is my favourite pastime.
90g (weight) of water is used in these cookies to replace the weight of the eggs. In Australia, an extra large egg (what I normally use) is around 50-60g per egg. I subtracted a little to account for the fact that the liquid in this case doesn't assist with binding or leavening.
Melted chocolate is essentially the binder in this recipe. This is what makes a brownie cookie much easier to develop than a vegan, gluten free chocolate chip cookie.
As an added bonus, chocolate and cocoa are also both acidic ingredients. The baking soda in this recipe reacts with the acidity of the chocolate (and to a lesser extent, the brown sugar). This assists, in tandem with the baking powder, in the cookie leavening (rising).
Light brown sugar and caster (or bakers/superfine) sugar play two different roles in these cookies. Firstly, as we learned from the choc chip cookies, light brown sugar creates a depth of flavour that caster cannot. It also, as we discussed, is an acidic ingredient that assists in rising. It puffs up as opposed to spreading out. On the other hand, caster sugar spreads instead of rising. It adds sweetness and structure, but no depth of flavour. This is why a combination of the two sugars is important.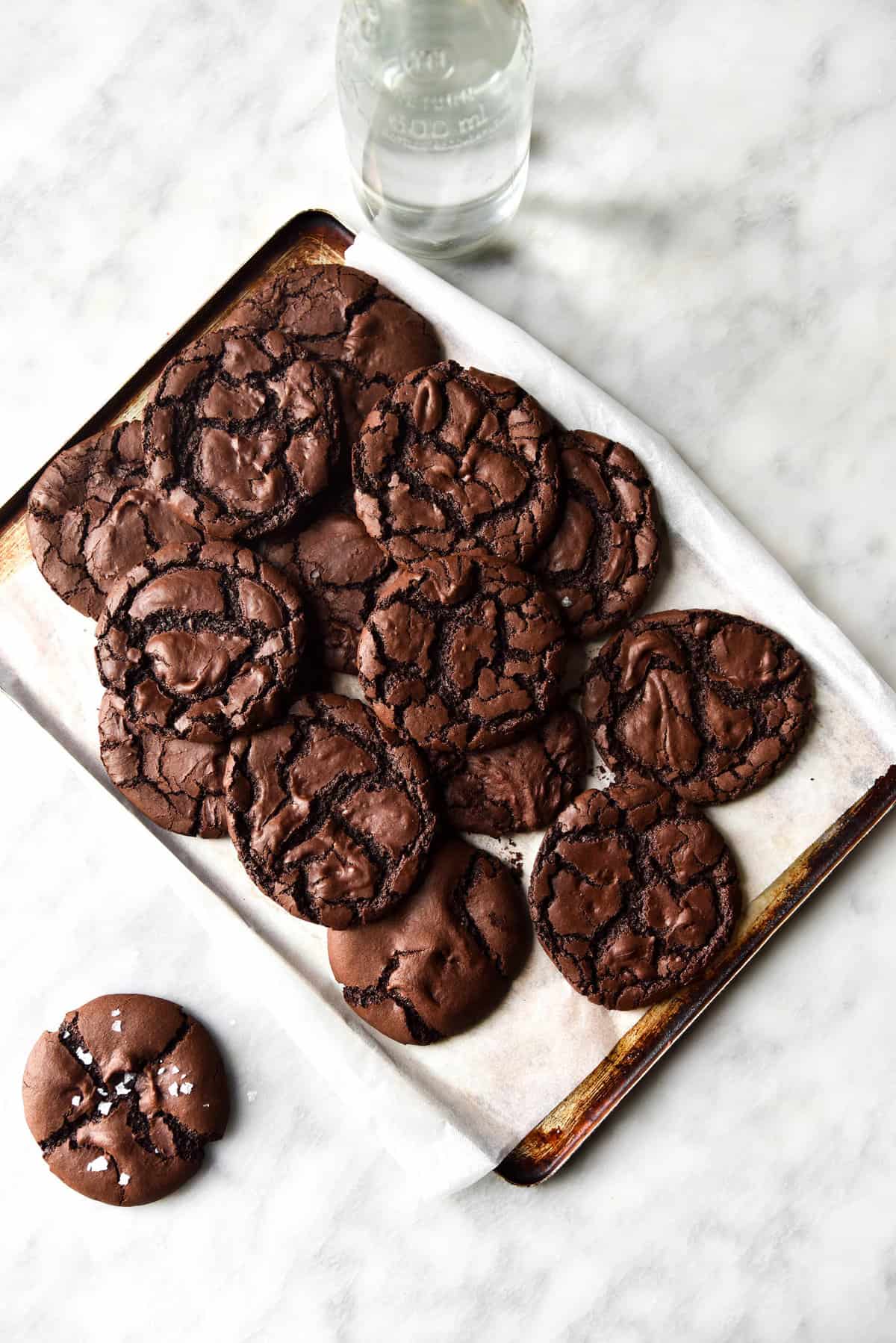 General recipe notes for your vegan brownie cookies
An important preface: I learned, as I have time and time again, that different brands of buckwheat flour/cocoa in different countries have different consistencies. You might find you need less buckwheat flour, you might find you need more. These cookies have been extremely well tested (10+ times now) so any variances can likely be attributed to the core ingredients. Needless to say, if you use a chocolate other than Lindt, this will also have a big impact on the result.
I find for the best, shiniest results, it's helpful to spoon the dough onto the tray quite quickly. They can be left to sit, but when the mixture has time to settle and dry, the cookie tops become more jagged.
I have been asked before for altitude baking tips. Australia is one of the lowest altitude continents in the world, and thus I have no experience with it. Soz.
You would think, reading the recipe, that you could kill two birds with one stone by placing the bowl of chocolate over the sugar syrup as it cooks. This is how I was baking the cookies for a while, but I found it led to inconsistent cookie results. Another thing that led to inconsistent results was pouring the sugar syrup over partially melted chocolate, using the residual heat to finish melting it. I recommend cooking them both separately and completely.
The cookies might look done at the 10-12 minute mark, but underneath they can remain undercooked. This is normally great, but in this instance they often stick to the tray, so I suggest trusting in the cooking time. They'll still be fudgy inside, I promise.
Making these vegan brownie cookies your own
There are a few little things you can do to make these cookies according to your preference. I would suggest making the recipe as is for a thinner, chewier brownie cookie. From there, test 1 cookie and adjust as necessary.
For a puffier cookie, add the extra 5g cocoa and 5g buckwheat. You could potentially add a little extra, but I find that if you push it too far, you will lose the aesthetically pleasing cookie top. 
If you like, you can experiment with skewing the sugar content more towards light brown sugar as opposed to white. Although I haven't tried it, this should create a puffier, chewier cookie.
I wouldn't recommend skewing the sugar content more towards white sugar, however. These cookies are quite capable of spreading without extra help.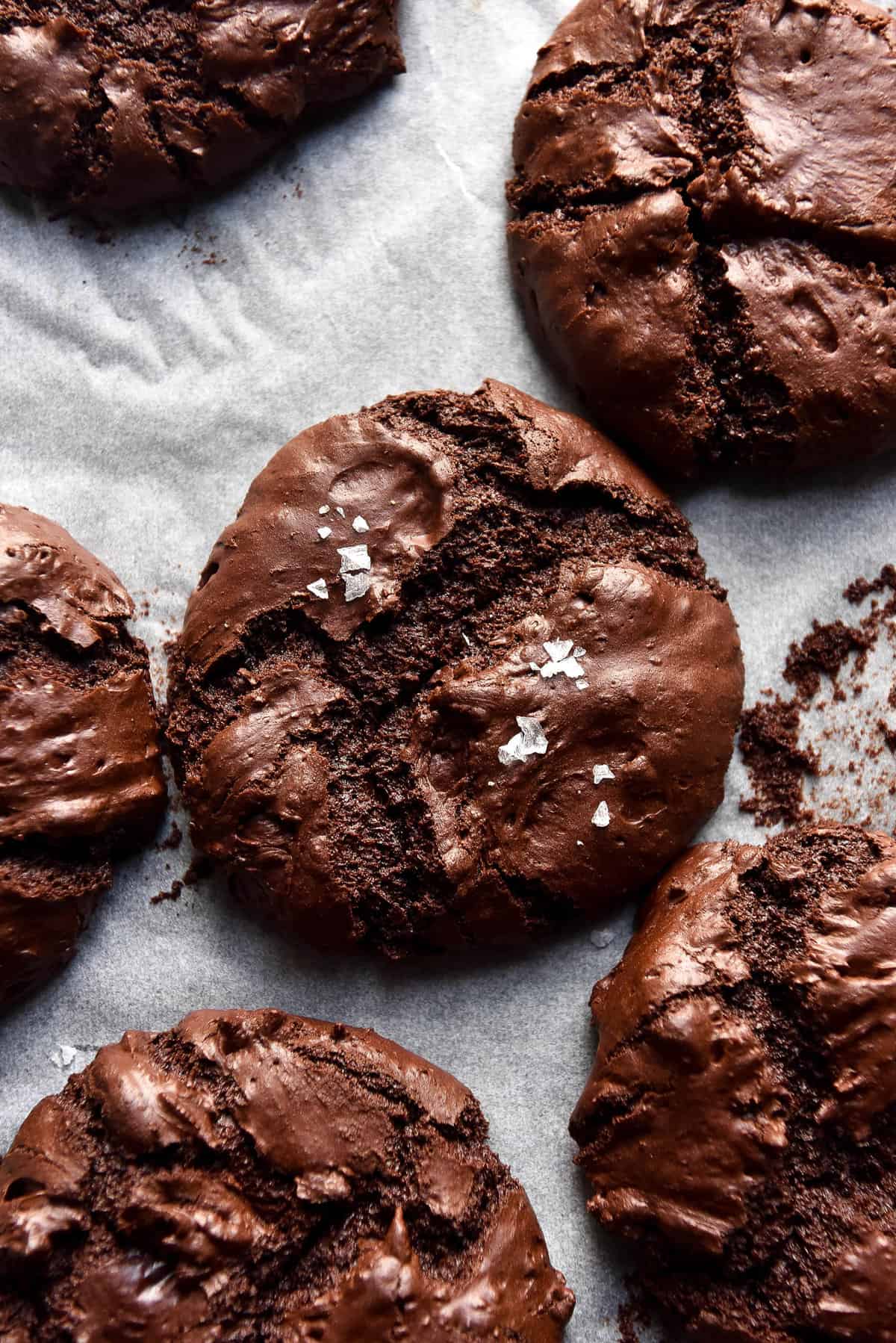 Ingredient notes for vegan, gluten free brownie cookies
As with all my vegan chocolate recipes of late, these cookies use 70% Lindt dark chocolate. It is easy to acquire, reliable, and based on cocoa mass as opposed to coconut oil. I have not tried these cookies with a coconut oil based chocolate and I don't intend to.
On the note of Lindt, I have found that Lindt 70% 'smooth' makes for a shiny topped brownie cookie. The only differing ingredient in smooth vs regular is soy lecithin, so I have to imagine it plays a role in the sheen. Big implications for my shiny brownie research, for those as emotionally invested as I am.
There won't be a refined sugar free version of this recipe. It is designed to be as sugary, fudgy and rich as it's traditional counterpart. However, I do have a recipe for refined sugar free and grain free chocolate cookies here.
There is only a small amount of vegan butter in this recipe (inspired by the small quantity in the flourless version). However, it plays a critical role in the richness and mouthfeel of the end result. In testing, I tried a version with olive oil, but I found it lacked the rich flavour depth of a traditional brownie cookie.
Salt is an important ingredient in these cookies. Because there is not much 'butter', egg fat or any flavours aside from the chocolate, salt is critical in adding depth and dimension.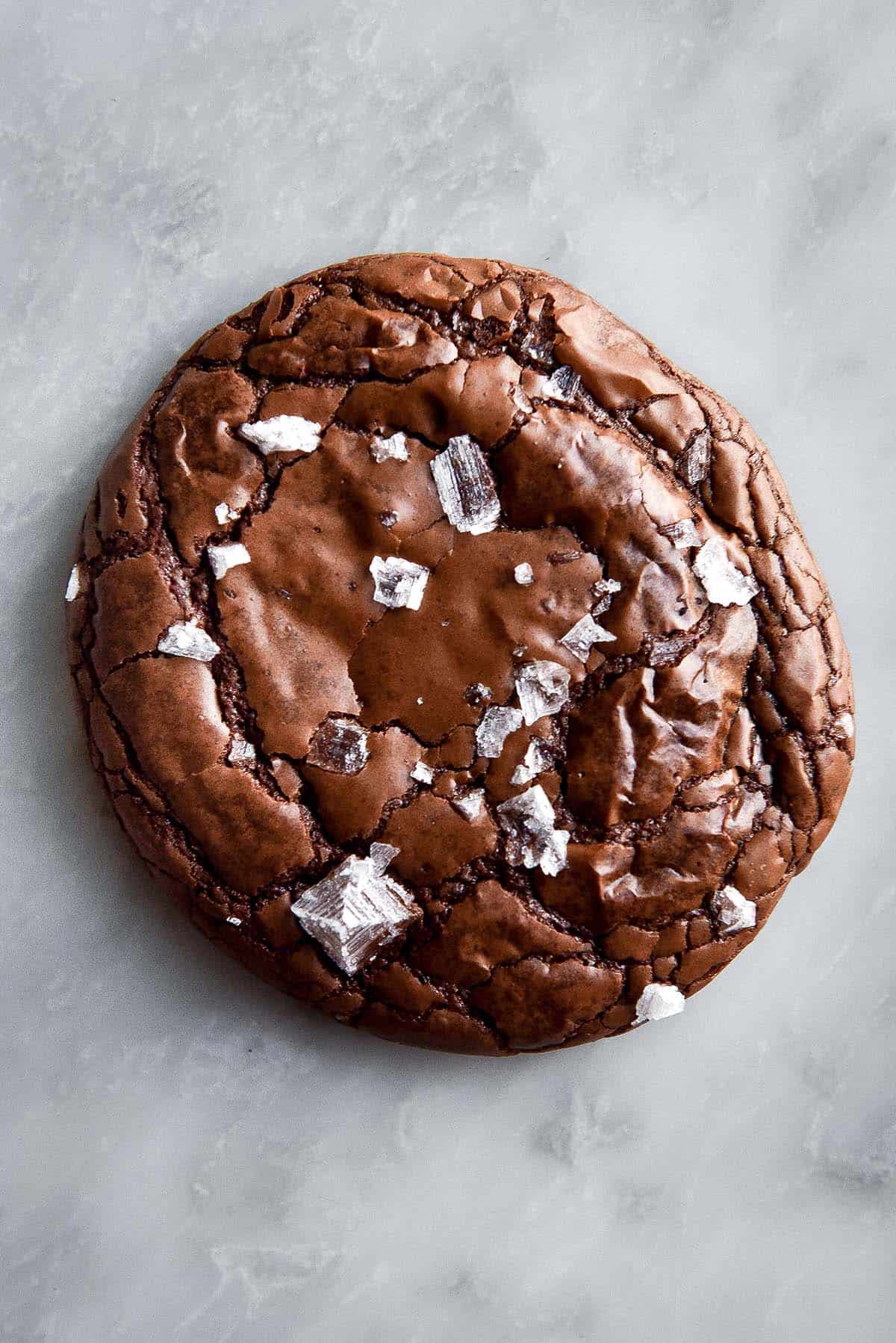 Substitution notes
There are only a few substitutions options for this recipe. Firstly, you can omit the vanilla bean paste if you don't have access to it. You could instead probably use vanilla extract without any issue.
The other substitution option is the flour. I used buckwheat because it's easily acquired and goes well with chocolate. However, I daresay you could also experiment with a heavier gluten free flour like sorghum, brown rice or (toasted) quinoa. Stay tuned for a grain free version, coming soon.
The cocoa you choose for this recipe might have some implications, but I daresay they won't be huge. As this article from King Arthur explains, regular cocoa is better for baking soda related leavening than dutch cocoa. That is because regular cocoa is more acidic (dutching cocoa removes acidity to allow the chocolate flavour to shine through). That said, this recipe contains a number of other acidic ingredients (the chocolate itself and the brown sugar) so I don't think the cocoa is critical. I used regular cocoa for all my tests, but if you only have Dutch processed on hand it should be OK.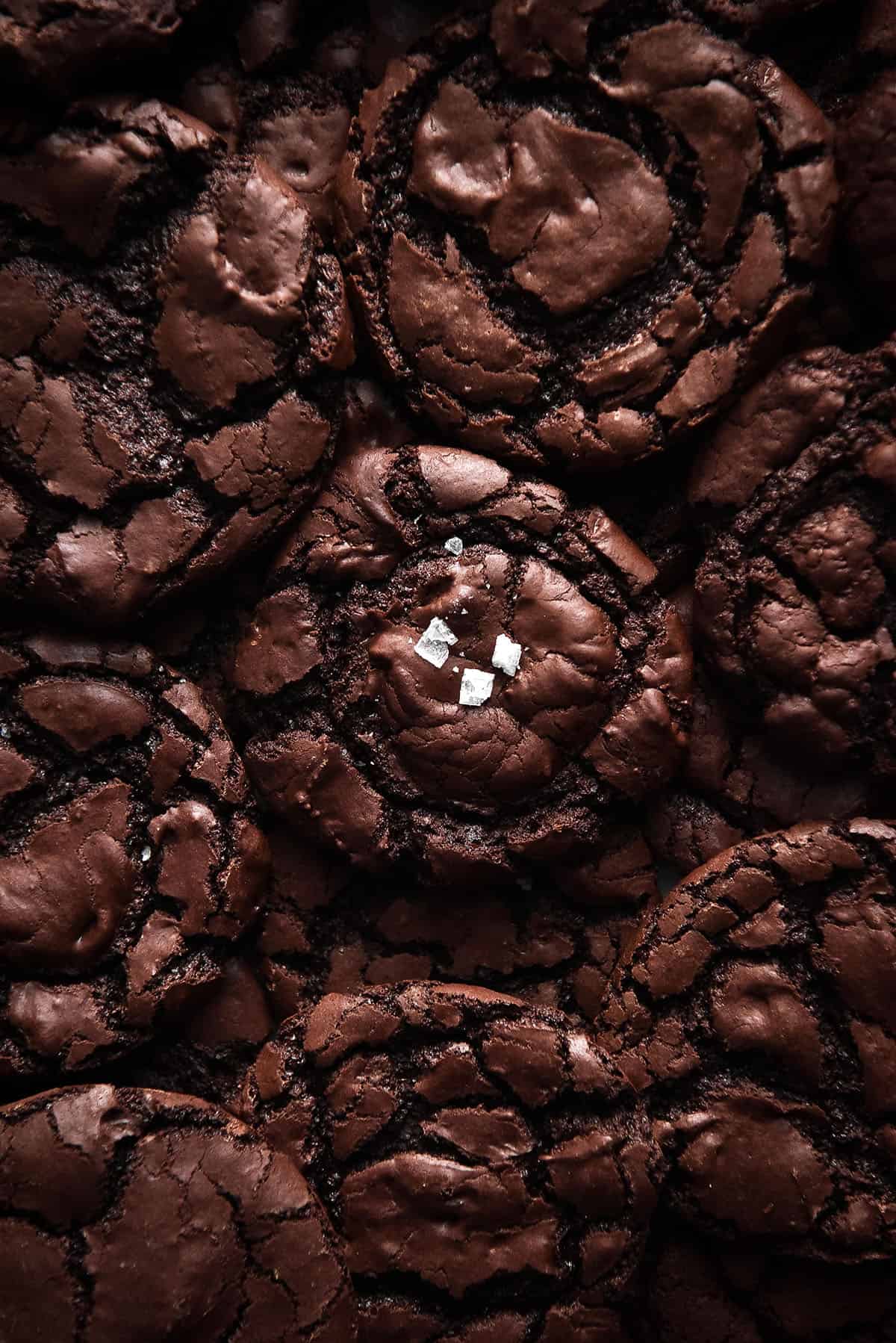 More gluten free vegan dessert recipes without xanthan gum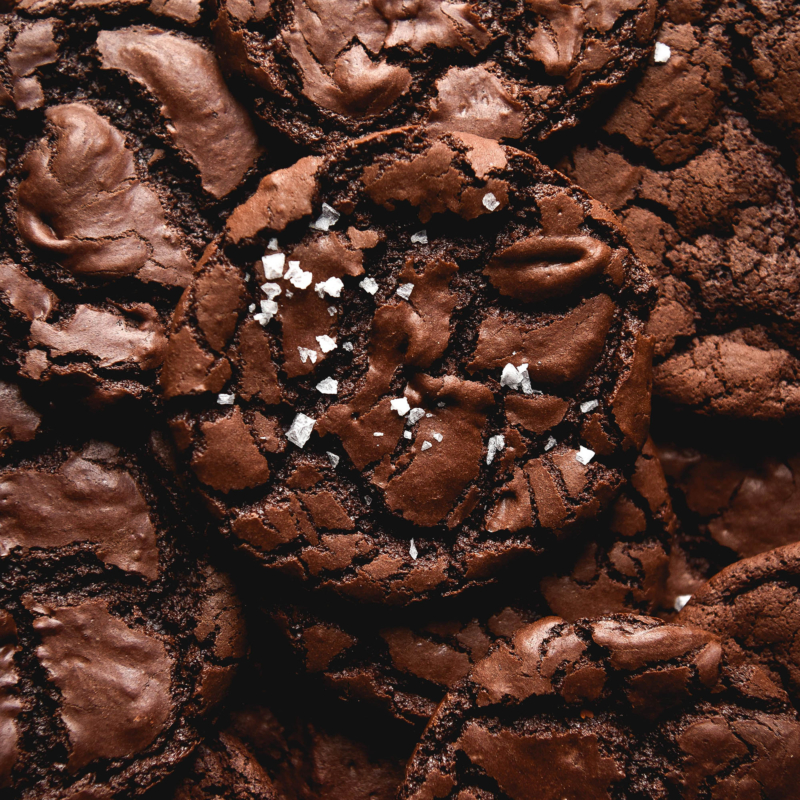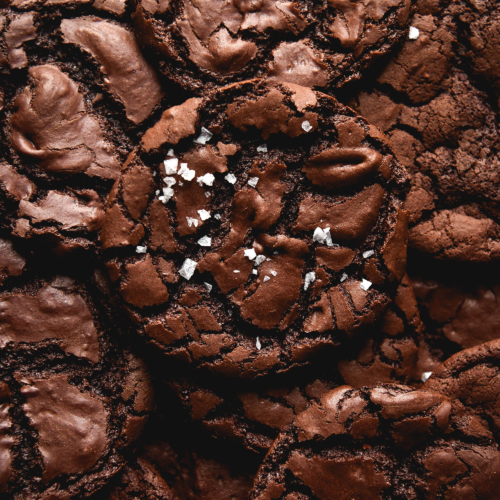 Vegan, gluten free brownie cookies
FODMAP friendly, nut free All cup measurements are in Australian cups
Ingredients
80-90

g

water

100

g

(1/2 cup) caster or superfine sugar

40

g

(1/4 cup) reasonably well packed light brown sugar

200

g

Lindt 70% chocolate

use the 'smooth' version for a shinier top, see notes

30

g

vegan butter

I used Nuttelex Buttery

40-45

g

regular cocoa, see notes

60-65

g

(1/2 cup+) buckwheat flour, see notes

4g

(1 teaspoon)

baking powder

3g

(1/2 teaspoon)

baking soda

1/2

teaspoon

fine salt

I used table salt

1

teaspoon

vanilla bean paste
Instructions
Preheat the oven to 180C or 356F. Put a tiny dab of oil in the 4 corners of 2 baking sheets and line them with baking paper. The oil will stop the baking paper moving around when you spoon the cookie batter on.

In a small saucepan, combine the water and sugars and stir. Place over a low-medium heat and gently cook until the sugar has completely dissolved, around 3 minutes. Take it off the minute it's ready, don't let it bubble and start caramelising.

In a medium heatproof bowl, combine the chocolate and vegan butter. Place it atop another small saucepan half filled with water, ensuring the water doesn't touch the bottom of the bowl. Place over a medium heat and cook, stirring intermittently, until the chocolate has melted. Remove from the heat.

In a small bowl, mix together the cocoa, buckwheat powder, baking powder/soda and salt. This will give the chocolate and sugar syrup a few minutes to cool.

Whisk the cooled sugar syrup into the chocolate mixture. Once combined, whisk the cocoa and flour mixture in until completely smooth, around 1 minute. Add the vanilla bean paste and whisk again to combine.

Use a spoon to make 10-12 circular cookies across the two trays. You can smooth over the tops a little if necessary. Place into the oven for 13-15 minutes. Allow to cool on the tray before gently removing, and allow to cool before placing in an airtight container. These cookies store really well for at least a week.