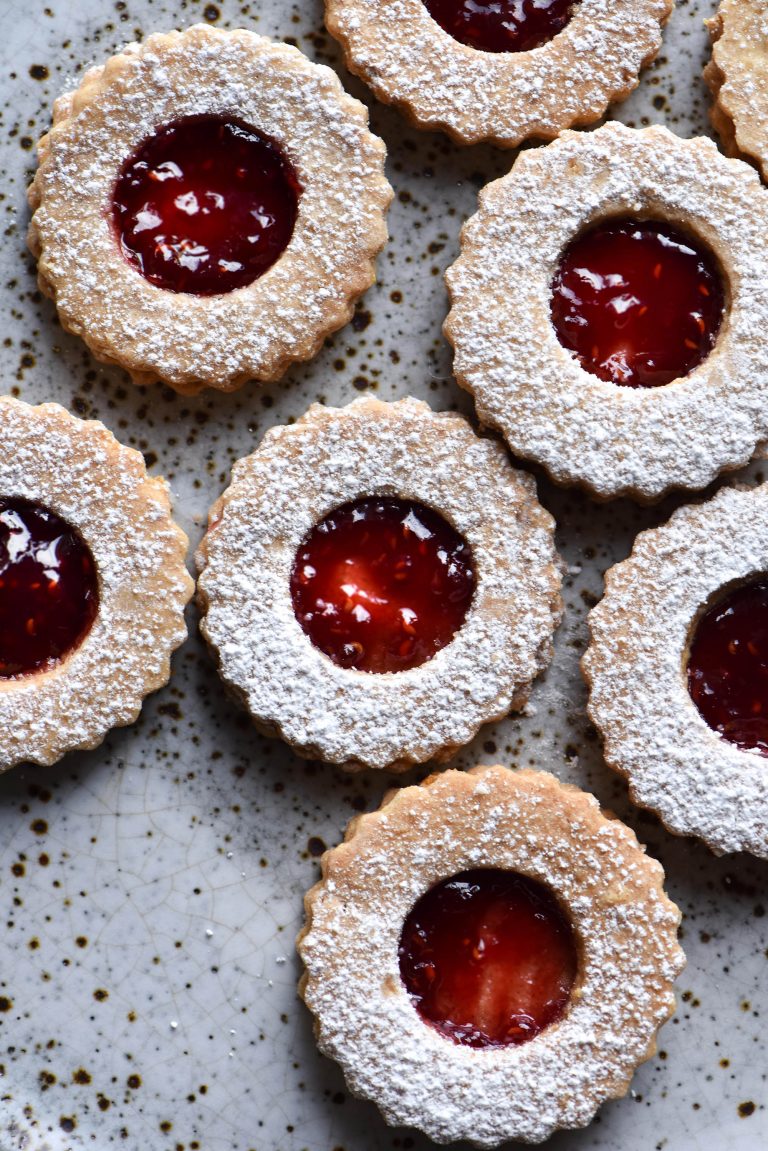 I've always admired the gorgeous images of Linzer cookie when I see them on Instagram. As a result, of course, today's recipe for gluten free Linzer cookies. I do have a confession, though: I have never actually eaten one myself (until now, obviously.) Because I have had digestive issues for such a long time, there's a lot of recipes I develop that I haven't actually eaten before. Lemon drizzle cake, for one. So, it took me a little trial and error, but I believe I have come up with a delicious, gluten free linzer cookie that almost everyone can enjoy this Christmas. Apologies, people with nut allergies, I'm working on it!
These gluten free linzer cookies contain no xanthan gum and no flour blends.
One ingredient note that deserves your utmost attention: don't even bother trying to make these with a cheap, gritty rice flour. Because it's the only gluten free flour, you will absolutely taste it in the end result. I recommend buying rice flour from a bulk food store – it's better quality than the supermarket and because it's constantly getting scooped up, it's fresher than a packet (which is important taste wise).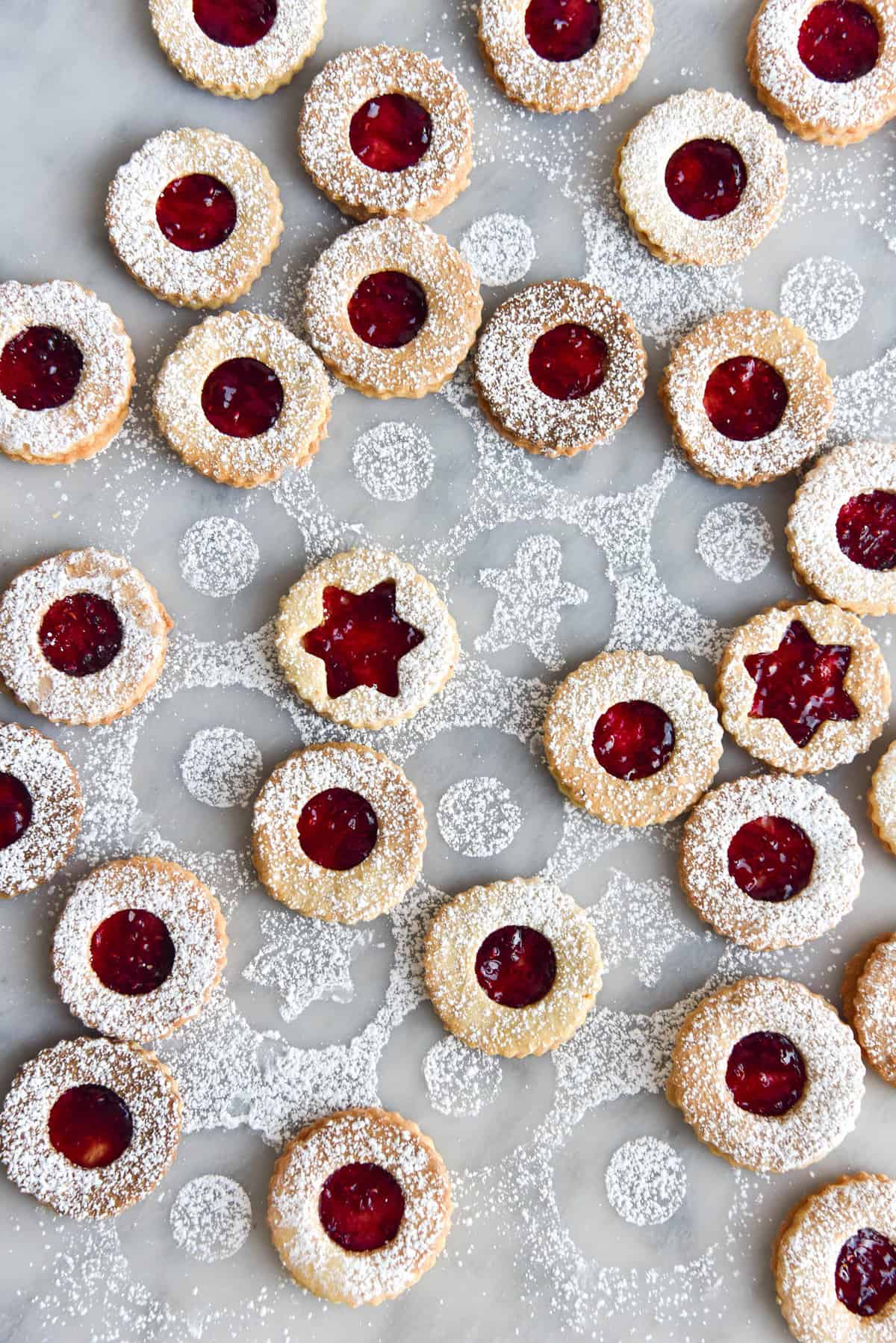 Gluten free Linzer cookies
There is a finite amount of sugar that can be added to linzer cookies. This is because high sugar doughs tend to spread, and we don't want any spreading here. The dough might not taste sweet enough to you (yes, I eat dough) but I promise the cookies will be sweet. You have to consider that we're layering them with jam and then sprinkling them with icing sugar.
This is a high butter dough, which means that it will soften very quickly. There's no getting around this fact. Work speedily and refrigerate or freeze the dough in between rolling out cookies. The minute it starts sticking, it needs to cool down.
Related: don't skip the refrigeration time and don't try to speed it up. You'll end up with an unworkable dough and wonder why. Gluten free baked goods need more moisture than regular ones – this is a fact of life. Don't skip the fridge and then wonder why the dough was too sticky, please! To that end, it's far easier to make them the night before – that way the dough is fully chilled and ready to go in the morning.
I used a scone cutter for the cookies and a thin, sharp wine bottle bottle cap for the inner circle cut out. Any small cap with cutter like, thin edges will work if you (like me) don't own a tiny little cutter.
I found it easier to use a very thin metal spatula to pick up the cookies and shake away the excess dough. It makes them far easier to pick up and it also prevents the delicate edges from being squished.
Aesthetically, a thin scraping of jam looks better. But I'm not going to prescribe how much jam you use.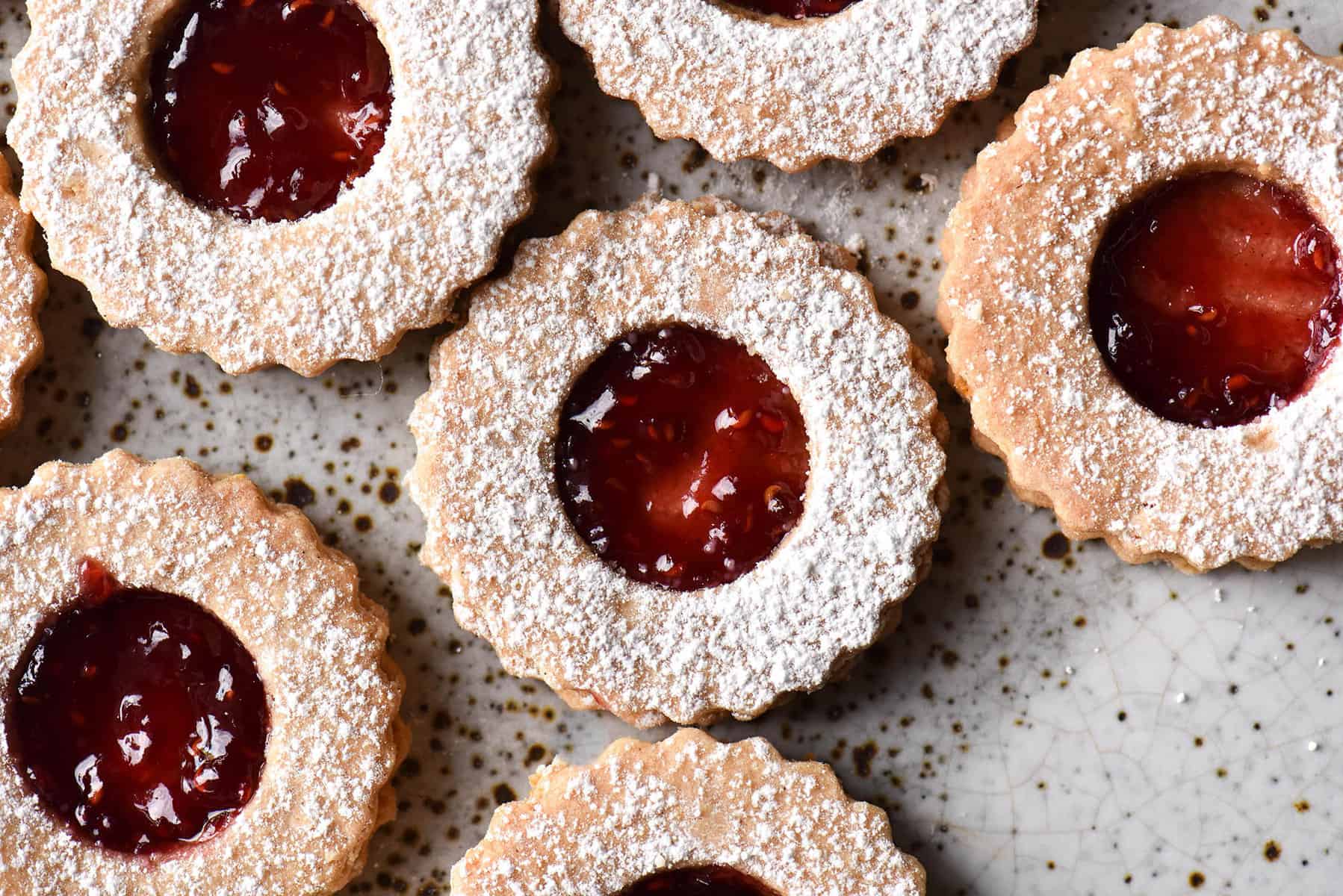 Substitution options for your gluten free Linzer cookies
There is no substitute for caster/bakers/superfine sugar in this recipe. Not only does it provide sweetness, but it's properties (in the specified quantity) are what keep the cookie from spreading, relative to other sugars (ie light brown sugar.) I have no substitutions.
I haven't tried it, but according to everything I have read you can use either hazelnut meal or almond meal. 
On the note of nut meal, I have no nut free option at this time. The nut meal is traditional in linzer cookies and I wanted to respect that.
I haven't tried any flour other than white rice flour. I use this because it's cheap and easily accessible to most Australians in supermarkets. You could potentially use brown rice flour or sorghum flour, but I haven't personally tried them so you'll be experimenting. 
You can use any jam you fancy for the centre of the cookies – this includes chia jam alternatives. Use whatever flavour you want. 
PLEASE don't omit the lemon zest, cinnamon or vanilla (you can use extract if you don't have paste). I have a weird thing with lemon zest in desserts, so trust me when I say that it elevates them to another level. The combination of these flavours also makes the cookies taste sweeter, which is a good thing.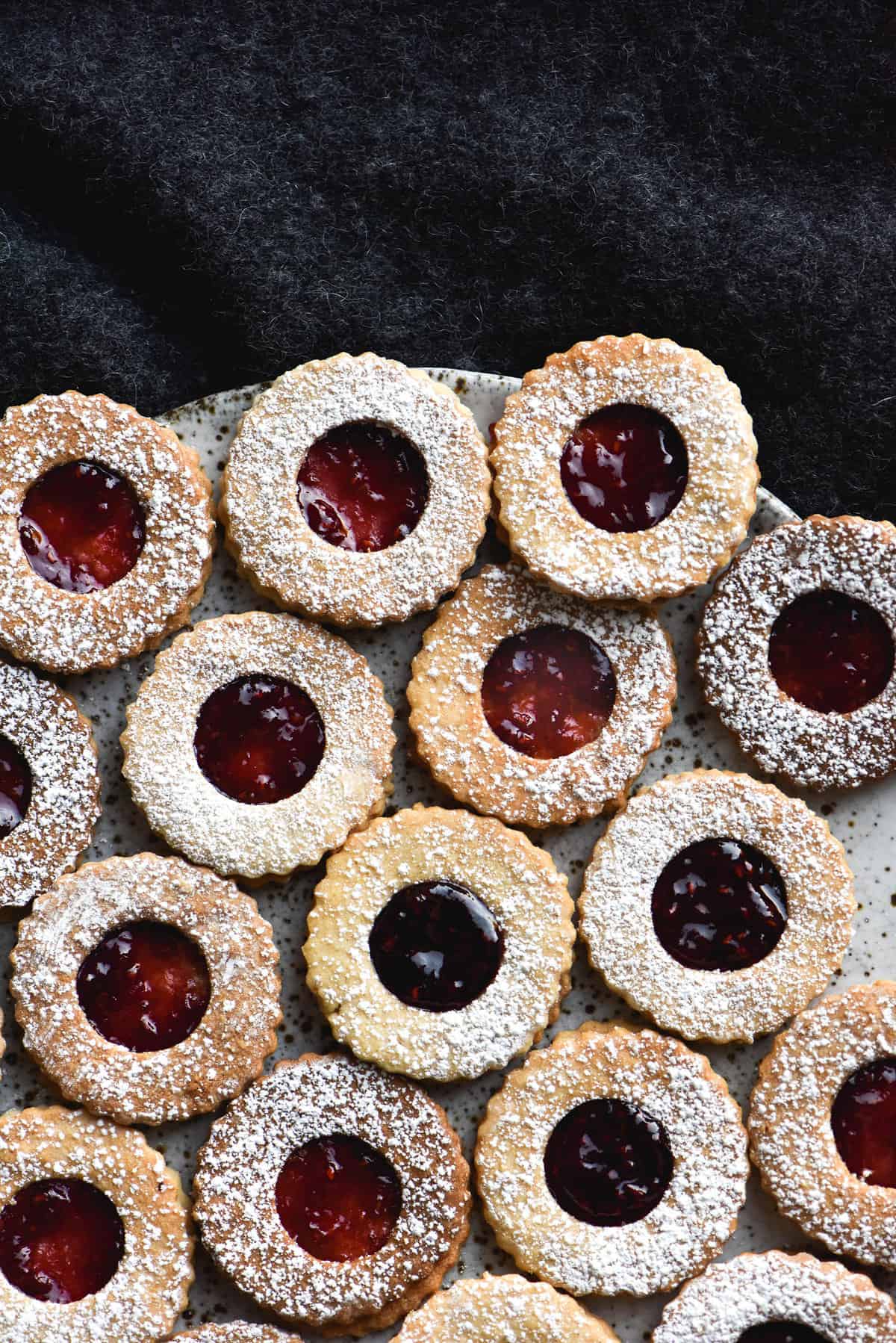 Tricks for working without gluten free Linzer cookie dough without xanthan gum
The age old dilemma of a summer Christmas – butter based doughs are hard to work with in a hot kitchen. The delay in posting this recipe stemmed from the fact that my dough kept melting in a 32C (90F) kitchen. So, I won't beat around the bush – this dough is very temperamental. As, I think, is the dough for regular linzer cookies, as far as I can ascertain.
The high quantity of butter is what makes them so delicious, but also so volatile. If you're making these in summer or a hot kitchen, be prepared to use your fridge or freezer a lot as you roll them out.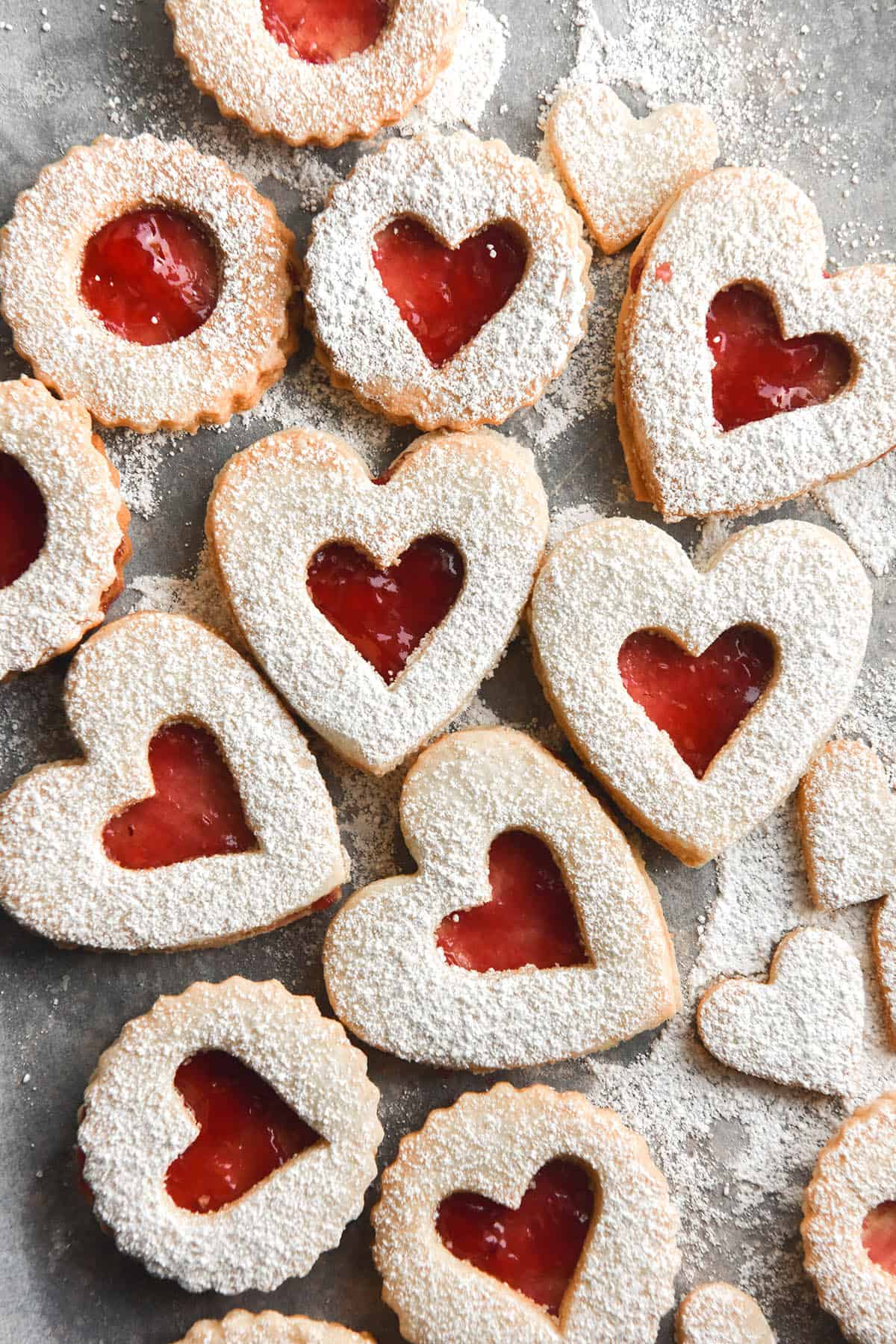 Tips and tricks for successful gluten free Linzer cookies
Roll the dough out on baking paper that is well floured. Flour the dough itself (getting all the moist bits) before putting it down on the floured baking paper. Be generous with the flour, but try to use the least amount possible. The more flour you add, the drier the end result. Honestly, tapioca flour is the way to go – for whatever reason, it makes them so much easier to roll out. Arrowroot flour/starch or cornflour would also work – any gluten free starch.
Think of this like rolling out a block of butter. If it breaks apart, just force it back together as best you can. Try not to touch it too much, just because the heat of your hands will contribute to it melting.
If you're working in a hot kitchen, I suggest rolling the dough, cutting the cookies and then placing the whole thing back in the fridge for 5-10 minutes.
Because there's a bit of back and forthing, I recommend making each tray an equal amount of tops and bottoms. So, half normal cookies, and half with the centre cut out. This way you don't have to panic about whether you have an even amount of each.
You can either gather up and re-roll the little centre pieces, or bake them. I bake them, mainly because I'm sick of rolling out dough by the time I have finished.
How long should I bake these gluten free Linzer cookies?
Although this should be a straightforward answer, it isn't! It depends on how thinly you roll out your cookies, which depends on how much time you're willing to sacrifice (looking at you, southern hemisphere friends). The thinner you roll them, the quicker they will cook, obviously. I recommend cooking them for 10 minutes and then in 2 minute increments after that. You can always (carefully) remove the cookies that are over browning and continue cooking the rest through.
On that note, the cookies are fairly malleable while they cool. So A) be careful but B) know that you can correct any edges that are bent upwards (thanks to wonky baking paper) if you lay them flat.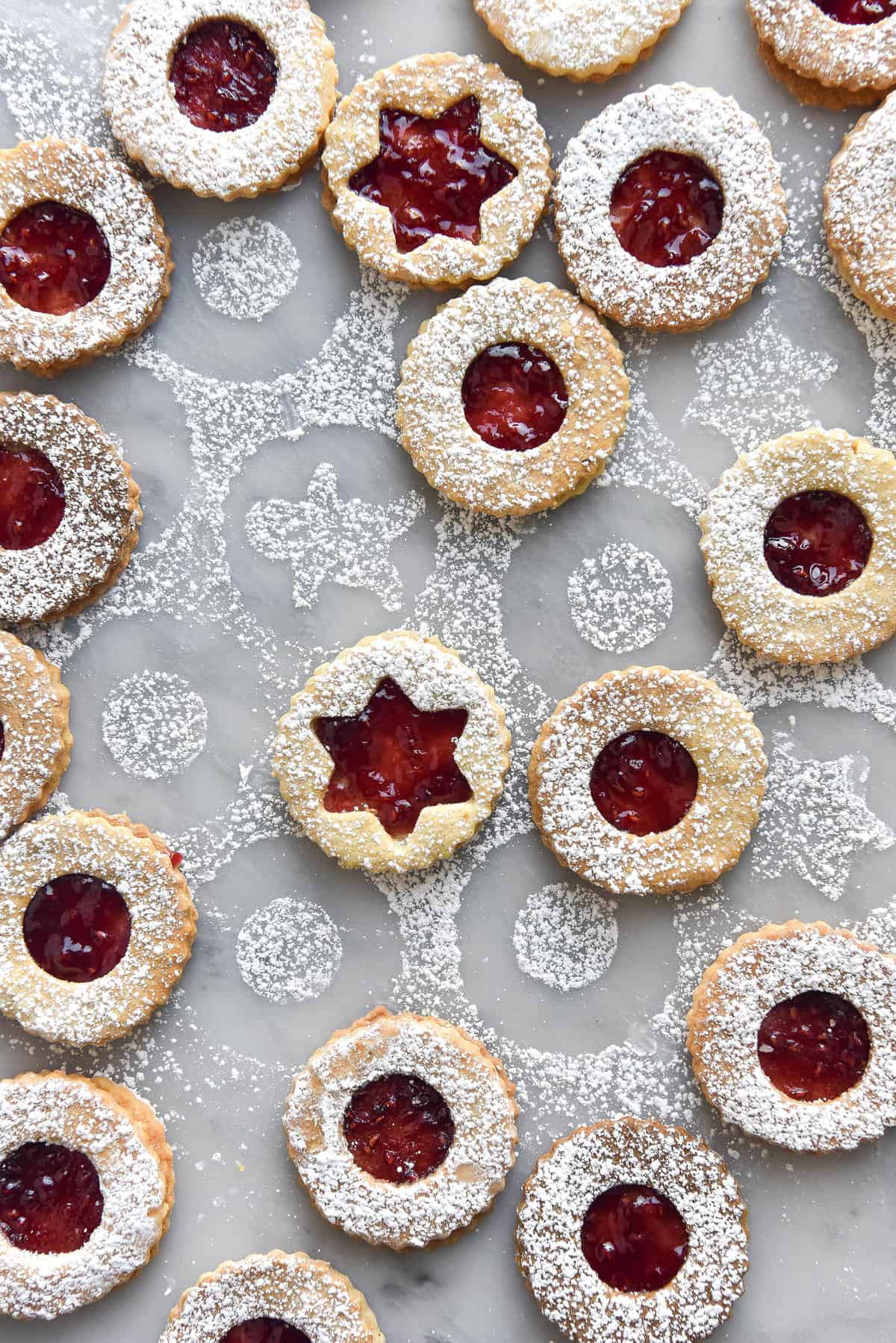 Other gluten free cookie recipes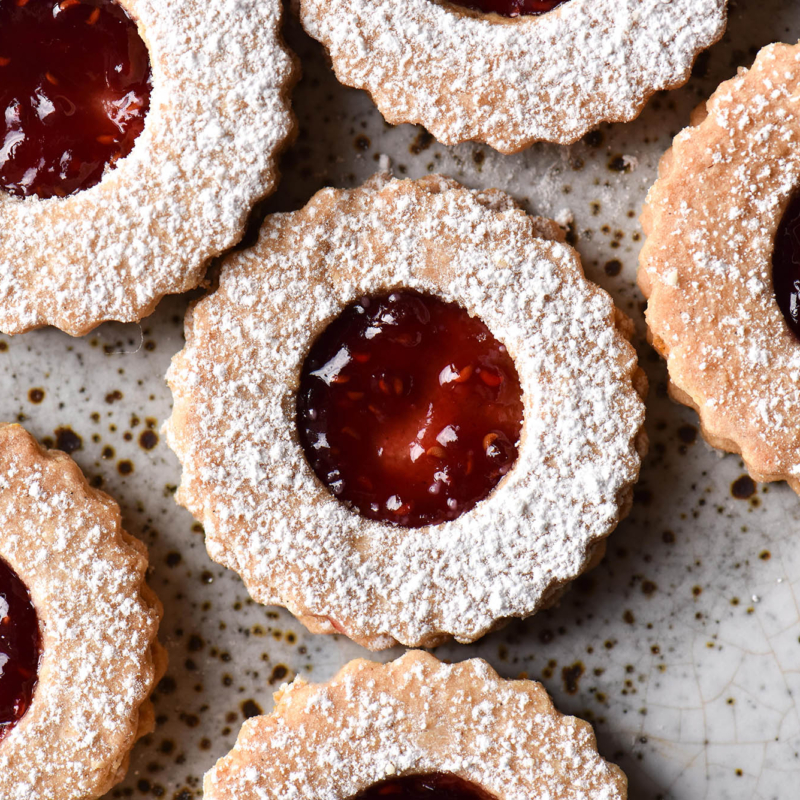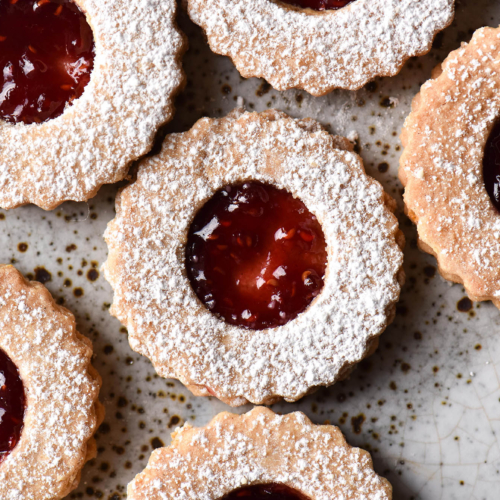 Gluten free linzer cookies
Gluten free, FODMAP friendly, no xanthan gum
Ingredients
For the gluten free linzer cookies:
150

g

butter

room temperature

110

g

(1/2 cup) caster sugar

100

g

almonds or almond meal

100

g

fine white rice flour

100

g

tapioca flour

1

extra large egg

1

teaspoon

vanilla bean paste

1/4

teaspoon

cinnamon

Zest of 1/2 a lemon
To finish:
Jam, any flavour or variety (roughly 1/2 cup)

Icing sugar, for sprinkling (roughly 1/3 cup)
Instructions
If you're making the whole almond version, preheat the oven to 180C/356F. Toast the almonds for 10-12 minutes (watch them carefully) until they are golden brown. Remove from the oven and allow to cool. Once cooled, blitz to a fine meal in a food processor.
The night before (or at least 3-4 hours ahead of time):
Place the butter in the bowl of your stand mixer with the paddle mixer attached. Mix on a low-medium speed until the butter is soft and malleable. Depending on the temperature of your kitchen and the butter, this could take 15 seconds or a couple of minutes.

Once the butter is soft, add the sugar. Scrape down the sides of the bowl and turn the mixer to a medium high speed (I use speed 6 on my Kitchenaid) for around 3-15 minutes. It should be light in colour and texture, fluffy and creamy and uniform in colour. If you use a spatula to scrape the bowl, you should meet no resistance from the butter at the bottom.

While you're waiting for the butter to cream, whisk together the almond meal and flours in a medium sized bowl. Set aside.

Once the butter mixture is light and fluffy, add the flavourings and the egg. Scrape down the sides of the bowl again, and mix on a low speed for 2 or so minutes, until the egg has been incorporated into the butter mixture. It is ready when it looks like buttercream in texture.

Add the flour mixture and mix just to combine.

Use a spatula to gather all the mixture and place it in the centre of a beeswax wrap or plastic wrap. Make sure you have enough wrap to totally enclose the dough.

Wrap it up nicely and pat it into a rectangle. Place it in the fridge overnight or until completely firm. I'm a strong advocate for doing it the night before.The butter will firm up overnight.
To bake the linzer cookies:
The next day, lay a large piece of baking paper on a bench and flour it generously with tapioca flour.

Line 2-3 baking trays with baking paper and preheat the oven to 170C/338F.

Cut 1/2 the dough and place the remainder back in the fridge in the wrap. This may not be as important in cool climate kitchens, but it is very important for a summer bake.

Use a (floured) rolling pin to press the block down into an even surface before you begin rolling. If you're baking in summer, work quickly. I find it helpful to do big strokes – roll fully in one direction and then the other. Use tapioca flour and the fridge as often as necessary to avoid sticky, melted dough. If the dough cracks in the middle as you roll (it will) leave it. Just cut out cookies without cracks and then you can re-roll the scraps later.

Once you're happy with the thinness, use your circular cutter to cut as many cookies as you can some that piece of dough. If the dough has softened and it's hard to pick the cookies up, place the whole thing on a tray in the fridge for 10 minutes. Work on the next piece of dough while it cools.

Irrespective of how many cookies you have on a tray, keep half as full cookies and cut a centre circle in the other half. This ensures you have an equal amount of top and bottom cookies.

Bake each tray for 10 minutes and then assess. They cook depending on their thickness – thin cookies take a lot less time than thick ones. Mine generally take about 12 minutes. They should look cooked through and lightly golden.

Repeat this process of rolling, refrigerating and baking until you have used up all the dough and baked all the cookies. Allow them to cool (this shouldn't take long).
To assemble the cookies:
Divide the cookies into top and bottom cookies.

Sprinkle icing sugar liberally on the cookies with holes in the top. Dollop the bottom cookies with a teaspoon or so of jam in the centre. Gently sandwich a top and bottom cookie together and serve.
Notes
The toasted almond version of these cookies has an incredible flavour. I highly recommend the extra step, if you can. 
You can make the cookies a day ahead, but don't assemble them until the day of. The jam will make the cookies soggy.
Store all cookies, assembled or not, in an airtight container. They will soften if left out on the bench overnight.