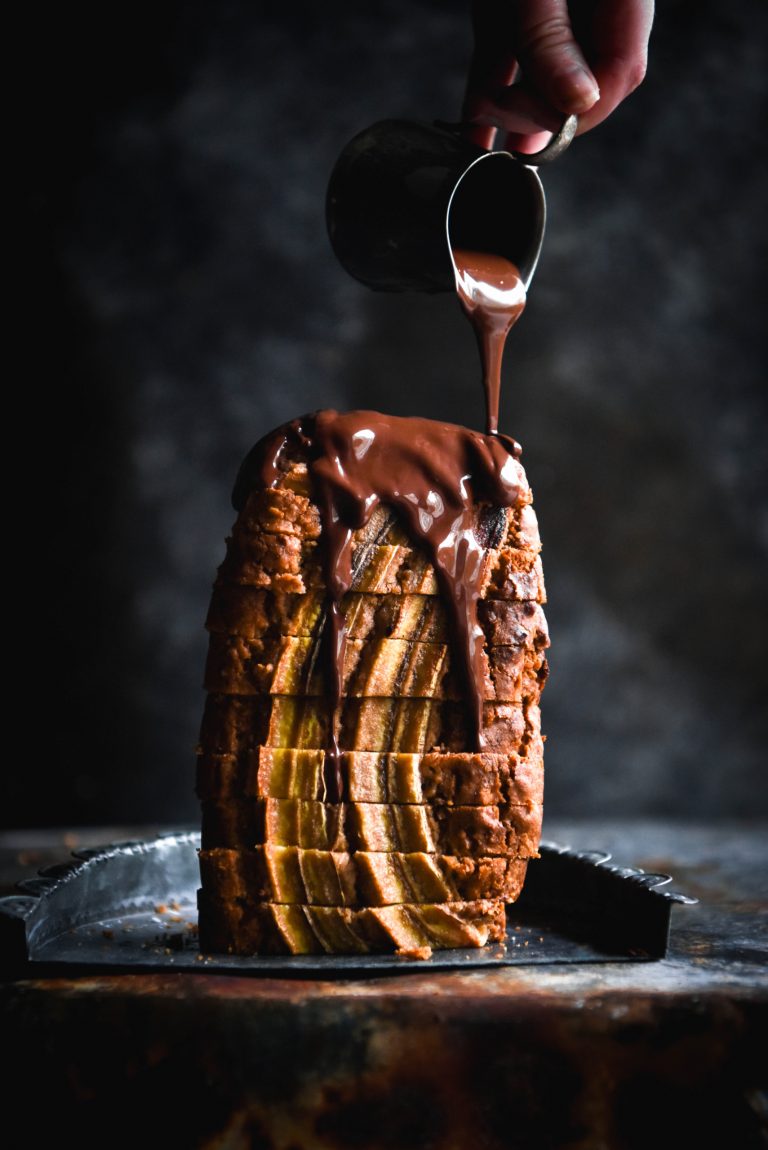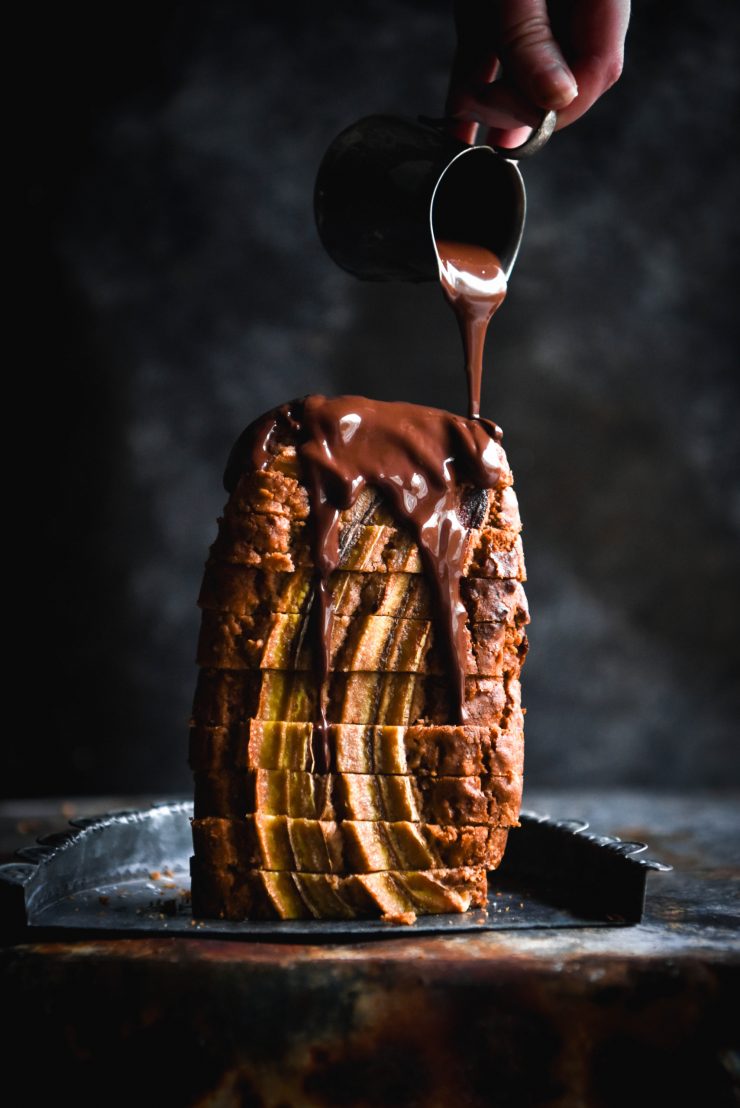 We all know the universal symbol of banana bread: a freezer entirely overrun with darkened, overripe bananas. I counted at least 9 in my freezer the other day, so I decided it was well and truly time to bake, and to bake vegan, gluten free banana bread.
I've previously shared a recipe for a brown butter, chocolate and blueberry gluten free banana bread. Obviously, this recipe contains butter. I also have a banana bread recipe in my first cookbook which uses almond meal. So today we're talking the trifecta, the WHOLE PACKAGE: Vegan, gluten free, nut free, refined sugar free and FODMAP friendly. Nobody can complain you haven't sufficiently catered.
Vegan, gluten free banana bread without xanthan gum
This loaf is made using a simple mix of white rice flour and tapioca flour. It is free from xanthan gum and nuts. The banana bread is egg free and dairy free. It uses maple syrup as the sweetener and olive or vegetable oil in the batter (so no hunting for vegan butter).
FODMAP notes for your vegan, gluten free banana bread
I'm going to head this one off before it even begins – yes, this loaf contains bananas. It is a banana bread, after all. And yes, bananas can be a problematic food for people who malabsorb oligos-fructans. However! 350g of banana is approximately 4 medium bananas, and this loaf makes about 8-10 slices. So even if you use ripe bananas (which are worse in FODMAP terms) a slice of this loaf should be within acceptable limits for you. If you'd like to lower the FODMAP content, use unripe or just ripe bananas, and roast them for longer in the oven. If you still have concerns, maybe try the pumpkin chai loaf instead.
Aside from the bananas, this loaf is relatively smooth sailing, provided you don't inhale the whole loaf. And if FODMAP is foreign language to you? Excellent! Because I'm bored of talking about it, so let's get into the recipe.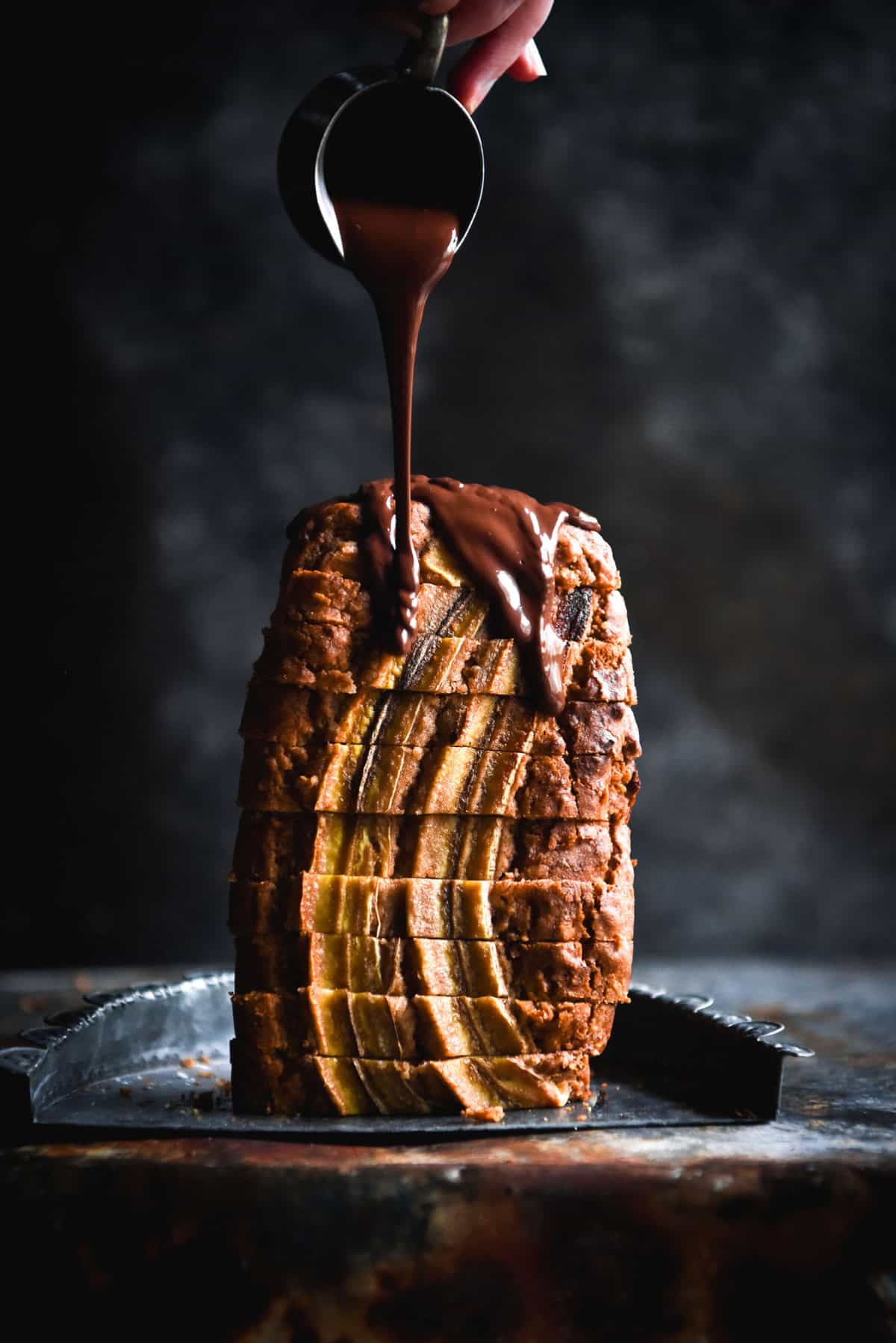 Recipe notes for your vegan and gluten free banana bread
I have used both frozen and regular bananas for this recipe. I'm not entirely sure what the science is on their respective liquid contents – I found the banana bread with frozen bananas took a little longer to cook, and was a little more moist than the regular banana version. The only reason I bring this up is that without eggs, this banana bread is quite liquid dependent, to hold things together. Use your discretion, and add a little extra milk if you suspect it looks dry. You should be fine either way, but I love me a caveat.
I haven't tried this loaf with rice malt, although again, I imagine it would be fine. You might need to add a little extra coconut sugar to sweeten it up.
Coconut sugar can be replaced with brown sugar, if that's all you have. It will no longer be 'refined sugar free' but sugar goes down the same way, guys!
Olive oil is a pleasant dessert ingredient to me, which is why I used it. I imagine there would be no issue with using coconut, vegetable or peanut in it's place.
Additions! There are many. You can change up the spices, add some chocolate chips, or even some nuts. Just don't go too crazy as we don't have eggs as a binder here.
How to make vegan gluten free banana bread
This banana bread is incredibly easy to make and can be made in one bowl. The dry ingredients – flours, baking powder, cinnamon and nutmeg – are mixed together in a large mixing bowl.
From there, the wet ingredients are whisked in – bananas, maple syrup, milk and oil, to form a batter.
The banana bread is then baked for 40-60 minutes until golden brown and cooked through. Too easy.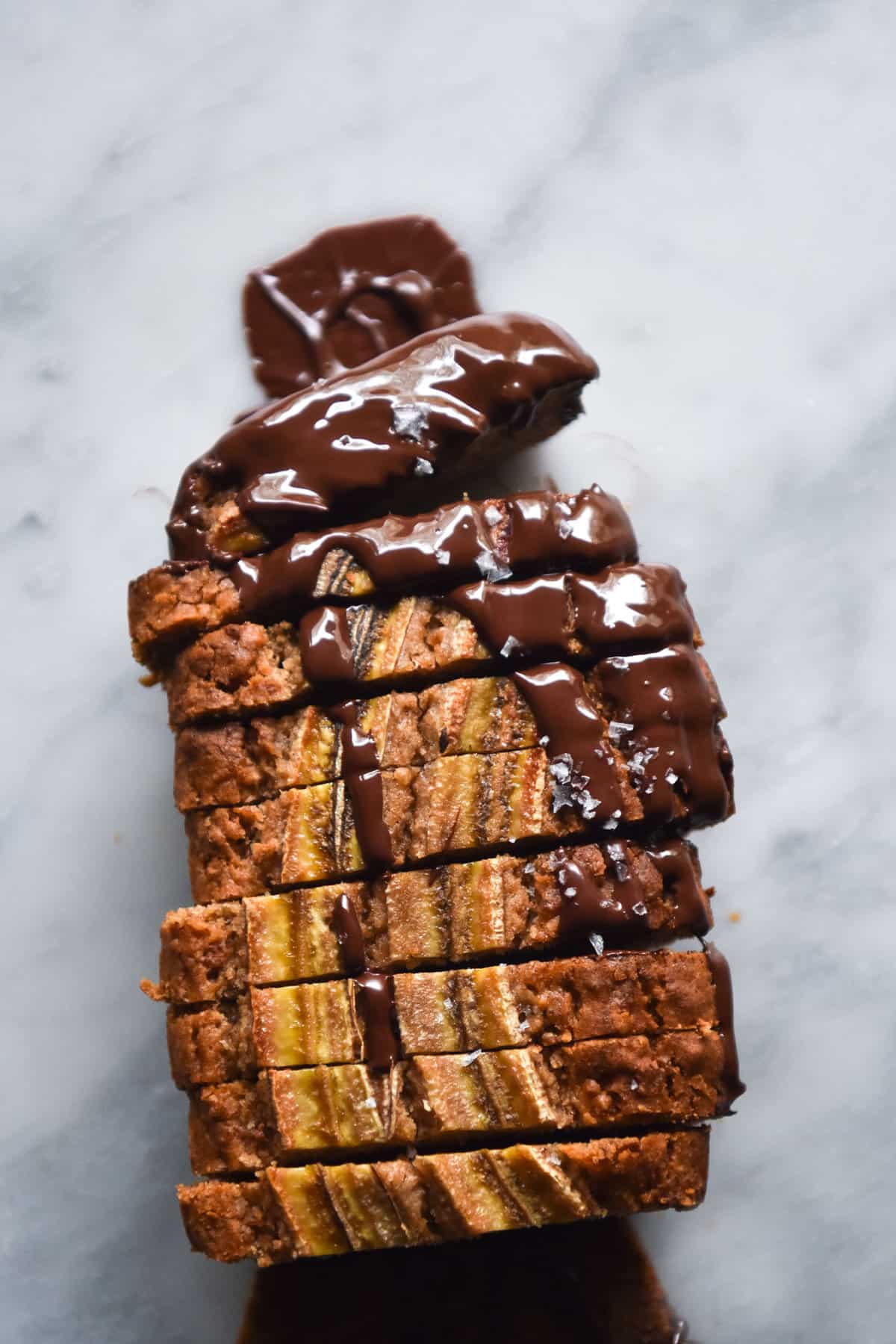 More vegan, gluten free dessert recipes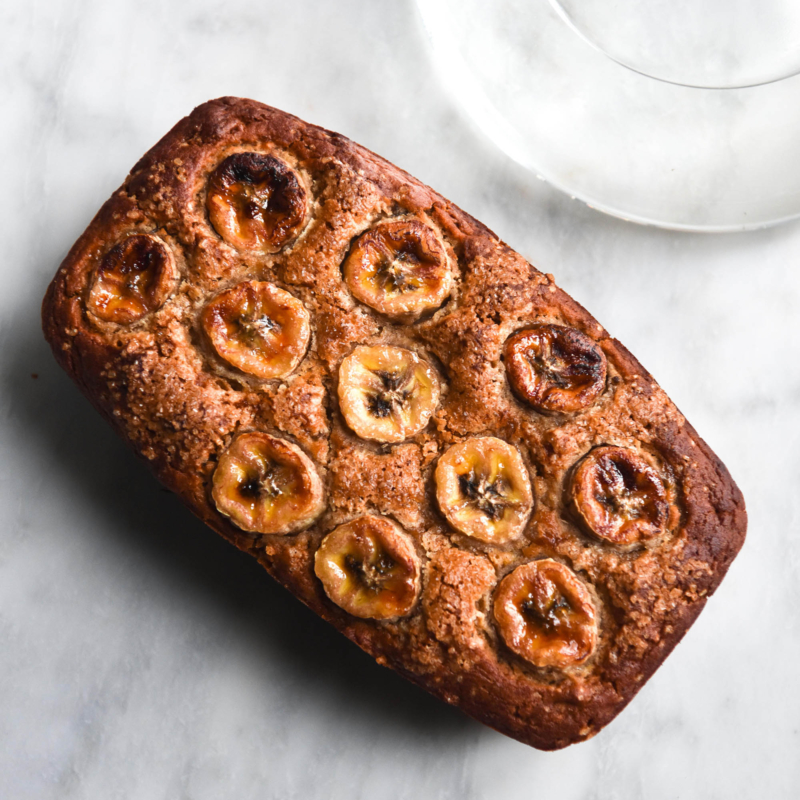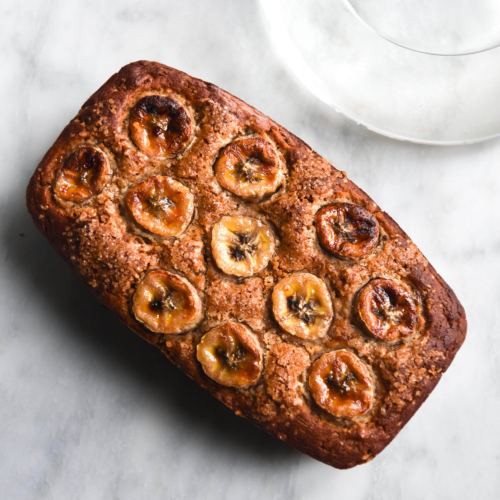 Vegan, gluten free banana bread
Refined sugar free, nut free, no added xanthan gum
Ingredients
1

cup

(160g) fine white rice flour

3/4

cup

(90g) tapioca flour

1 1/2

teaspoons

(7.5g) baking powder

1

teaspoon

(5g) cinnamon

1

teaspoon

(5g) nutmeg

300

g

frozen or fresh bananas (see notes)

weighed after peeling

1/2

cup

(125ml) pure maple syrup

1/3

cup

(80ml) plant milk of choice

I used soy milk

1/3

cup

(80ml) oil

I used olive

1-2

tbsp

coconut sugar or brown sugar (optional)

1/4

teaspoon

fine salt

1

teaspoon

vanilla bean paste (optional)
Instructions
Preheat the oven to 180 degrees Celsius or 356 Fahrenheit. Place the frozen bananas on a lined baking tin to defrost as the oven heats. They don't need to be cooked, just thoroughly defrosted. Mash the banana bits up a little on the tray.

In a large mixing bowl, combine the flours, baking powder and spices.

Mix the wet ingredients into the dry, stirring to incorporate. Add any vegan mix ins here if you're using them.

Pour the mixture into a silicon loaf pan that is sitting on a baking tray. This just makes it easier to keep even and steady. Cook for around 40 minutes, or until the top is perfectly golden. If a skewer doesn't come out clean, cover with foil and continue to cook for another 10-15 minutes, or until cooked through. Allow to cool a little in the loaf pan before transferring to a wire rack to cool.