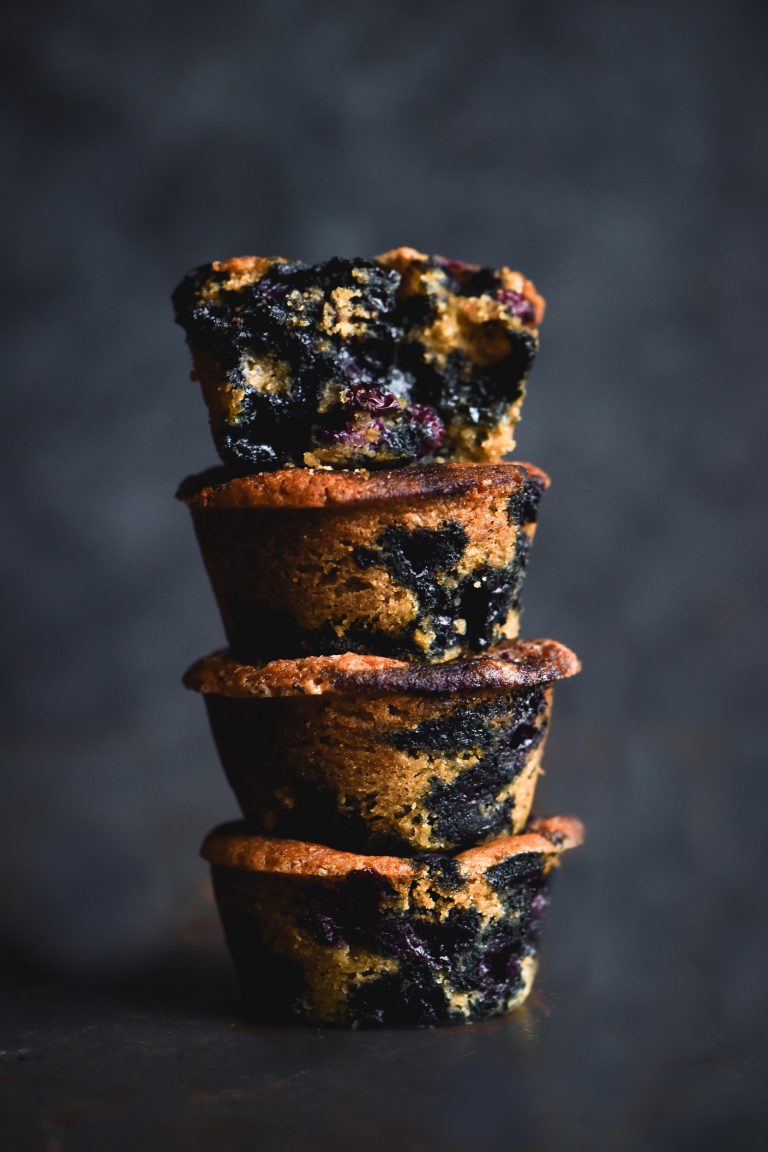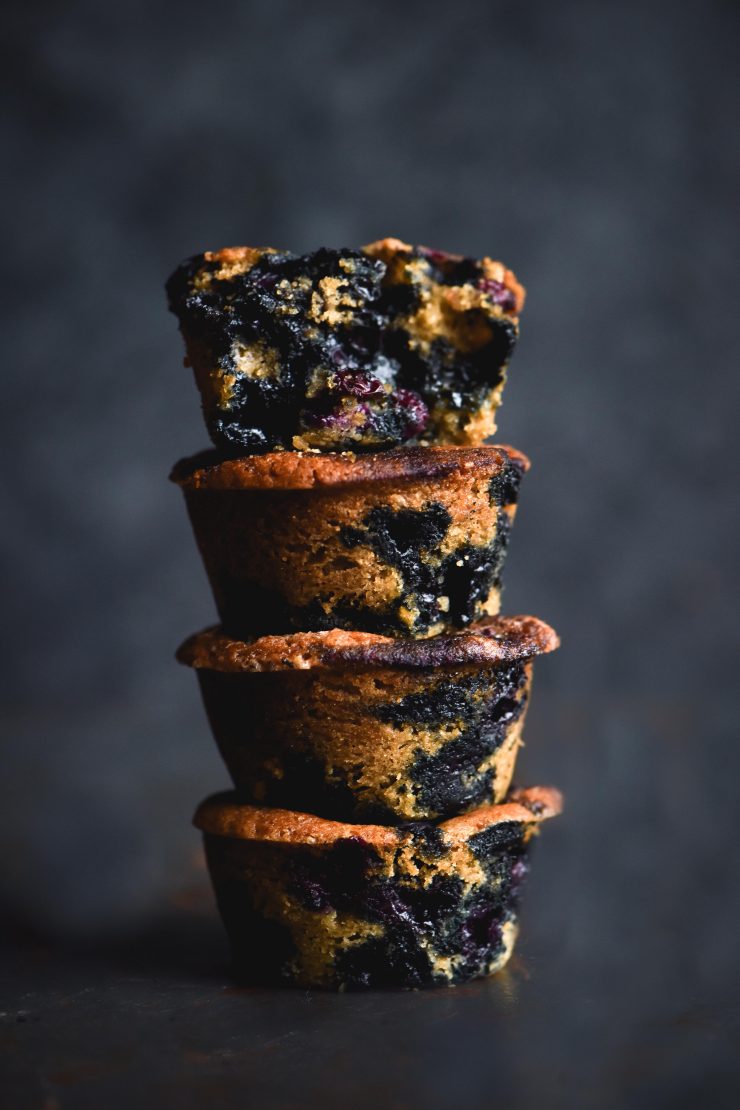 I only recommend products I love and use daily and all opinions are my own. This post contains affiliate links, and I earn a small commission for any qualifying purchases, at no extra cost to you.
When I published the recipe for my gluten free blueberry muffins recently, I said I'd be back with more iterations. Little did I know that this iteration, vegan gluten-free blueberry muffins, would be far easier than the original. Dare I say: I like vegan, gluten free blueberry muffins even more?
For starters, these muffins are nut free which I know is important to a lot of you with lunchboxes to fill. What's more? They use a single flour (no blends!) a single sugar and no xanthan gum. Finally, these muffins use melted butter, so there's no mixer or butter creaming required. With a few special ingredients (namely: vegan butter and vegan yoghurt) you are well on your way to moist, delectable vegan muffins that taste exactly like the original. No eggs, no xanthan gum, no worries.
I decided that I wanted this recipe to be a smaller batch, so it makes 5-7 muffins, depending on how the vegan yoghurt reacts with the dry ingredients. That said, I was initially using it as a half batch, so you can easily double the ingredients if you'd like double the muffins.

Vegan gluten free blueberry muffins without xanthan gum
There are a few crucial aspects that go into making these muffins a success. Let's jump in.
Because these muffins rely on a single gluten free flour (spoiler alert: it's rice flour) you will need to source a good quality product. If you buy gritty, rancid rice flour from the supermarket, you'll end up with gritty, rancid muffins. I highly recommend your rice flour from a bulk food store if you can – it's more finely ground and a lot fresher. If not, a health food store is your best bet.
Next up is vegan butter. This isn't a super tricky one, because I used Nuttelex Buttery for all my tests. It's easily available at supermarkets in Australia. If you're from elsewhere or can't find it, try to buy the vegan butter with the highest fat content. This will best emulate butter, which has about 80g of fat per 100g. I always look for the highest number possible when buying vegan butter.
You can substitute the butter with 1 1/2 tablespoons of oil. I used vegetable oil, which is nice and bland.
The muffin batter is ~just~ sweet enough, in my opinion. I recommend using a sweetened yoghurt for this reason. It adds a little extra sweetness, which brings the muffins to a perfect level. I would suggest they probably wouldn't be sweet enough with a plain variety.
On the note of sweetness, I have also tried these muffins with panela/rapadura sugar and they worked a treat.

What sort of vegan yoghurt works in these vegan, gluten free blueberry muffins?
Not all vegan yoghurts are created equal. For this recipe (and for all baking uses, really) you want a thick yoghurt. That's why I don't recommend almond yoghurt for any baking purposes – it seems to be a lot more watery than it's counterparts.
I have, however, successfully used almond in this recipe, just to check. If you really insist on using almond yoghurt, the psyllium husk is not optional. It will help suck up the extra moisture and stop them from becoming a soggy mess.
This is not even remotely sponsored, but I am currently OBSESSED with So Delicious blueberry yoghurt (the one made with cashew). Using a flavoured yoghurt in muffins is a trick I learnt from the one and only Izy Hossack. Initially I was dubious of a yoghurt based muffin, but honestly, I have never tasted a more blueberry blueberry muffin!
The So Delicious website doesn't seem to list the cashew variety on their website, but that's the one I have been using. I haven't tried the coconut one a I haven't seen it on the shelves. I have, however, tried Nakula (coconut) blueberry yoghurt, and that worked very well.
Without a doubt, blueberry flavoured yoghurt is what makes these muffins taste so much like regular blueberry muffins. I recommend seeking some out. I've tested the recipe with regular vegan yoghurt, and while they're good, they're not quite as goos.
If you can't find So Delicious (I can't find it on all shelves) look for a coconut or soy yoghurt. There's a brand you like that is nice and thick? Brilliant!
If you're just here for a nut free blueberry muffin, you can use regular butter and regular yoghurt. I tried a batch with Chobani Greek blueberry yoghurt and they were very good indeed.

Which gluten free flours can I use in these muffins?
I've tried this recipe with white rice flour and brown rice flour. I found the brown rice flour version to be a little floury and pasty, which was not nice. In my opinion, brown rice flour tends to soak up more liquid than white rice flour, which would account for that. If you absolutely must use brown rice flour, I would recommend adding a bit of extra milk, yoghurt or butter. Note that I haven't tried that and I don't intend to right now. So basically the takeaway is: if you intend to use any flour other than white rice flour, you will be doing your own experimenting.
White rice flour is the lowest common denominator of gluten free flours in Australia. It's available at supermarkets, health-food stores, bulk food store and online. If you have a flour mill or very high powered blender, you could even make your own. It's not hard to acquire, so I do recommend acquiring it for the best vegan gluten-free blueberry muffins possible.

Which muffin tin to use and tips for getting the muffins out of the tray
I use this muffin tin for all my muffin recipes. It works here, too, because the amount of muffin holes allows me to spread the muffins out in the hope of better muffin tops.
Onto muffin bottoms: because we're making a muffin without eggs or gluten as a binder. These vegan gluten-free blueberry muffins are fragile, and should be treated as such. There are a couple of things you can do to ensure you don't lose your muffin tip. The blueberry kind, that is.
I have taken to adding 1/2 teaspoon of psyllium husk to them, just for a binding boost. I really recommend this if you have some on hand, but it's not the end of the world if you don't.
If not, I suggest greasing the muffin holes with a bit of butter and oil. The double whammy goes a long way in ensuring your muffin doesn't get stuck.
I hesitate to recommend them because I think they're a waste, but muffin liners can be handy, particularly when a blueberry sinks to the bottom.

Can I use frozen blueberries in these muffins?
Although I much prefer the version with fresh blueberries: yes! You can use frozen blueberries. However, there are a few caveats. I highly recommend cooking the extra liquid off before you begin the recipe. These muffins don't have much holding them together, so too much liquid will create a soggy mess.
Cook the blueberries over a low heat with about a teaspoon of sugar. Once they've released liquids, turn the heat off and allow them to cool. Then, use your hands or a sieve to gently drain them of a little more liquid.
As with using a thin vegan yoghurt, the psyllium husk is advisable here.
Finally, only JUST fold the blueberries in. If you completely fold frozen blueberries in (complete with their juiciness) you'll end up with grey muffins. In the photo below I really only folded them in once before scooping into the muffin pan.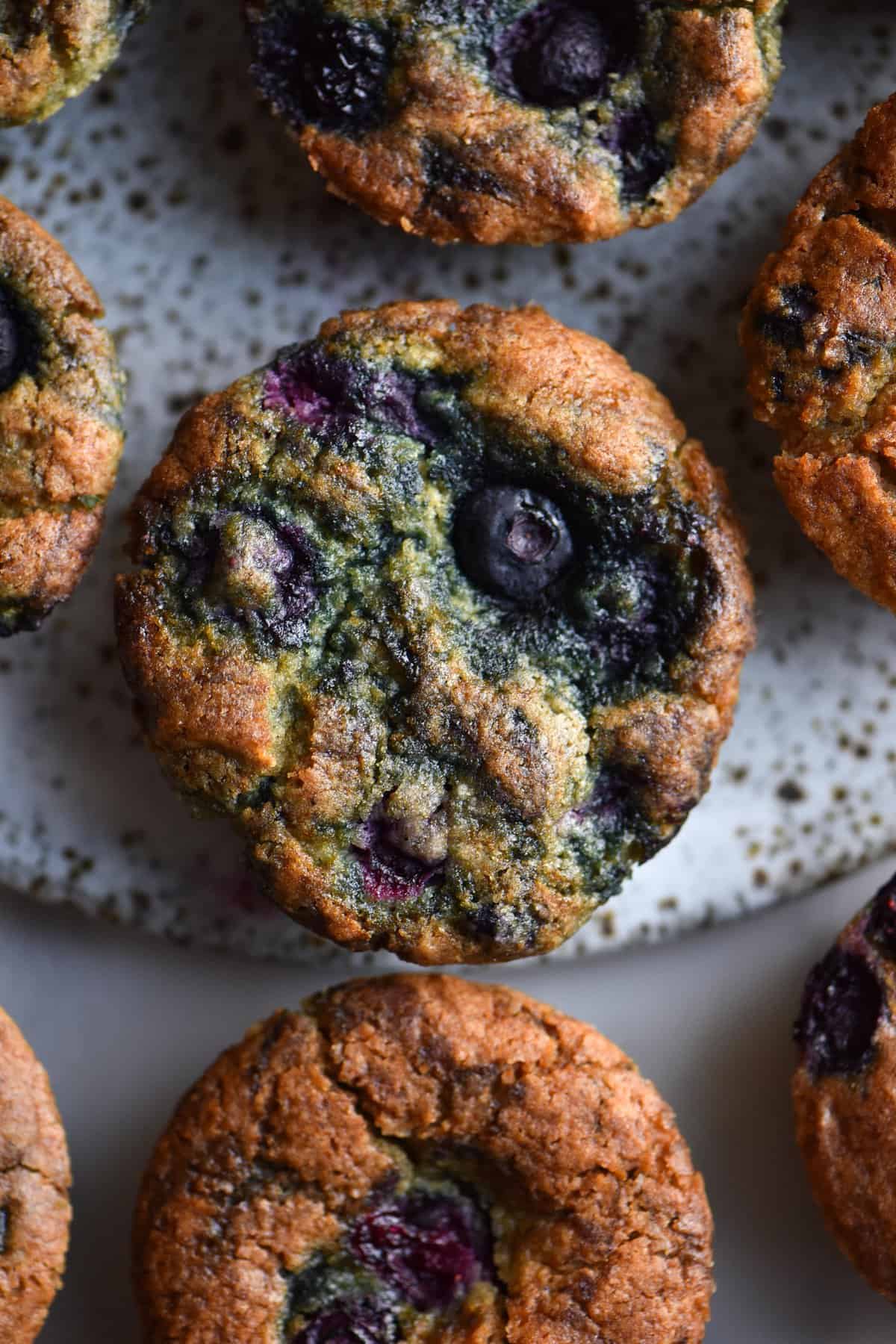 More vegan gluten free dessert recipes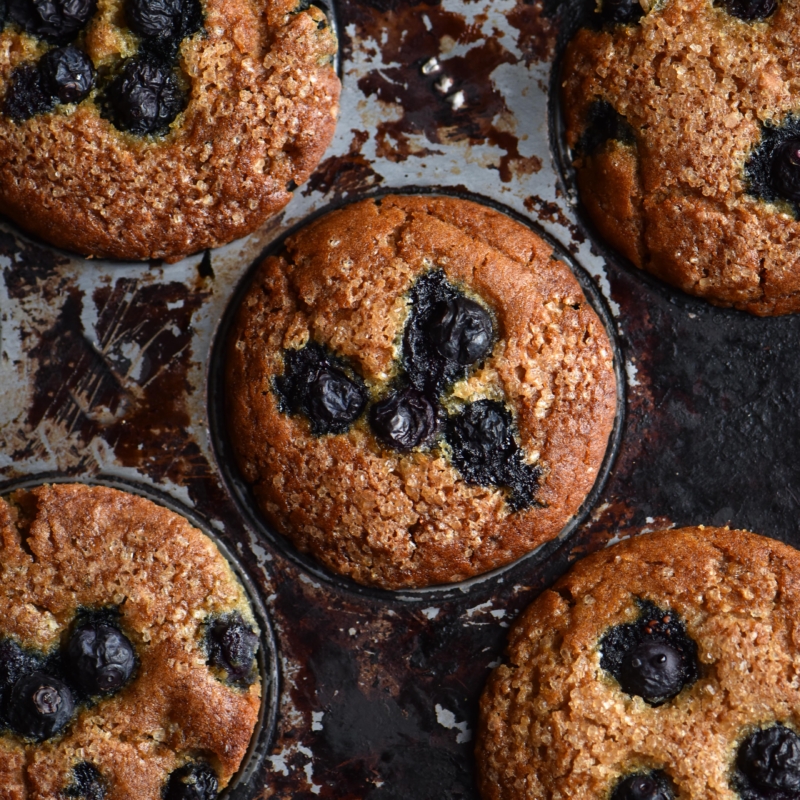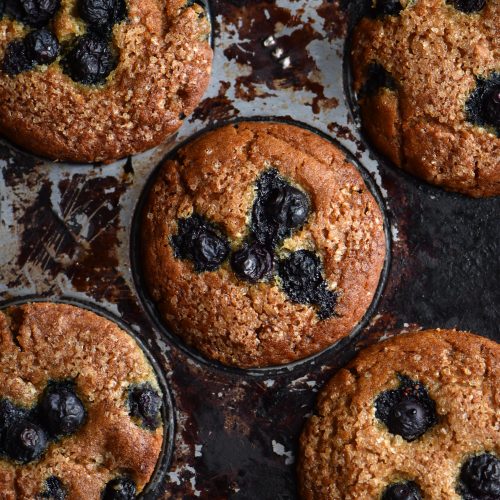 Vegan gluten-free blueberry muffins
Nut free, egg free, dairy free, FODMAP friendly
Ingredients
100

g

blueberries

fresh or frozen (see notes)

1/2

cup

(125ml) plant based milk of choice

I used soy

3

teaspoons

apple cider vinegar or lemon juice

160

g

(1 cup) white rice flour

1

teaspoon

baking powder

1/2

teaspoon

baking soda

1/2

teaspoon

psyllium husk

optional, see notes

75

g

vegan yoghurt

ideally blueberry flavour

50

g

vegan butter

melted

100

g

light brown sugar
Instructions
Preheat the oven to 200C or 400F. Grease your muffin pan with vegan butter and oil. This ensures the delicate muffins won't get stuck to the pan.

If you are using frozen blueberries, gently cook them in a small saucepan with 1 teaspoon of caster sugar until they thaw and release some juices. Turn off the heat and set aside.

In a small bowl, combine the milk and apple cider vinegar or lemon juice. Set it aside to curdle and form buttermilk.

While you're waiting, combine all the dry ingredients in a large mixing bowl.

Now that the buttermilk is ready, you can add in the vegan yoghurt, melted vegan butter and light brown sugar. Mix until smooth.

Pour the wet ingredients into the dry ingredients and whisk to combine. The mixture should be about the thickness of the yoghurt, and when left for a minute it should become a little bit light and bubbly.

Add the blueberries to the mixture (reserving a few for topping) and use a spatula to gently fold them in. If you're using frozen blueberries, gently squeeze them to remove excess liquid before adding to the bowl, and only ~just~ combine the batter. If you mix in the blueberry juice too much you will end up with grey muffins.

Spoon the batter into 5-7 muffin holes (see notes – this will depend on the yoghurt you use) and top with the remaining blueberries. As an option, you can finish the muffins with a sprinkle of finishing sugar.

Place the muffins in the oven for 25 minutes or until they are well browned on top and cooked through. Remove them from the oven and allow to cool for 5-10 minutes before very gently removing them from the muffin pan. Allow to cool completely on a baking rack before storing.

These muffins keep really well in an airtight container in the fridge for at least 3-4 days. They can also be frozen and defrosted before eating.
Notes
Fresh blueberries are preferred for this recipe because they don't add the uncontrolled variable of extra moisture. However, you can also use frozen – see the section on using frozen blueberries.
I highly recommend using a blueberry flavoured vegan yoghurt for these muffins – I have used So Delicious cashew and Nakula.
A silicon muffin tin is ideal for this recipe because the muffins are delicate. If you plan to use a metal or fixed shape muffin pan, I recommend using the psyllium husk option.