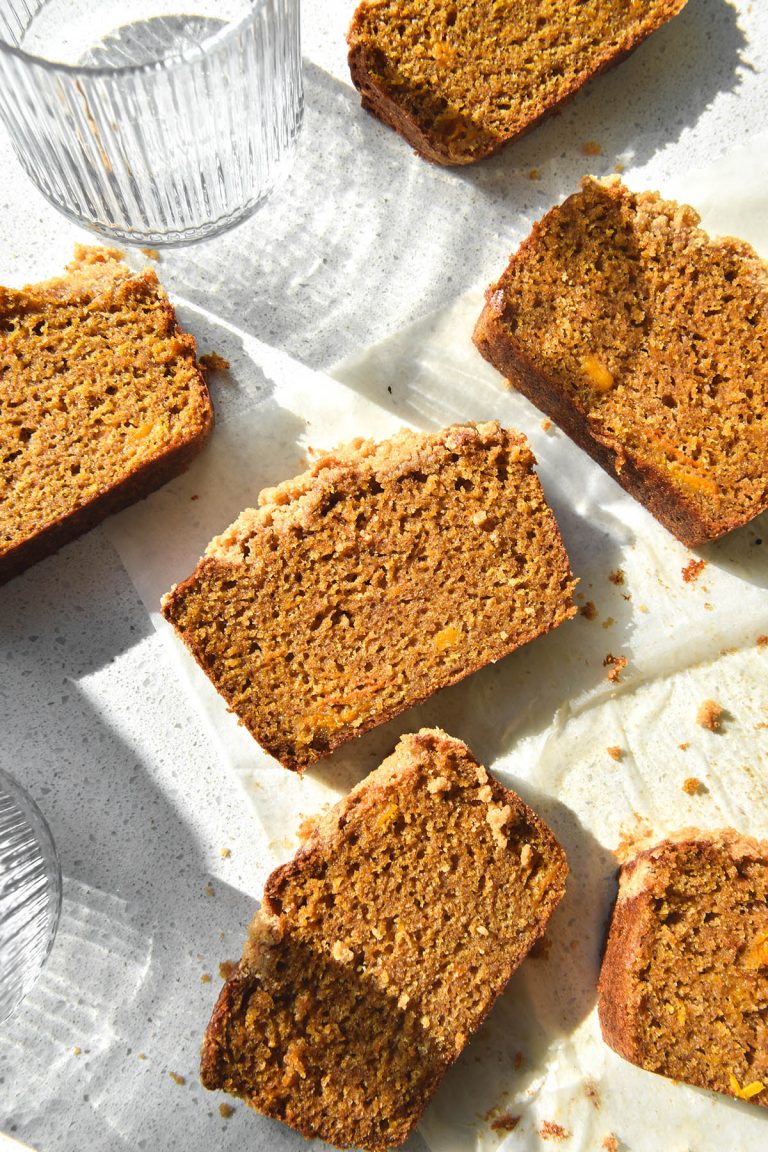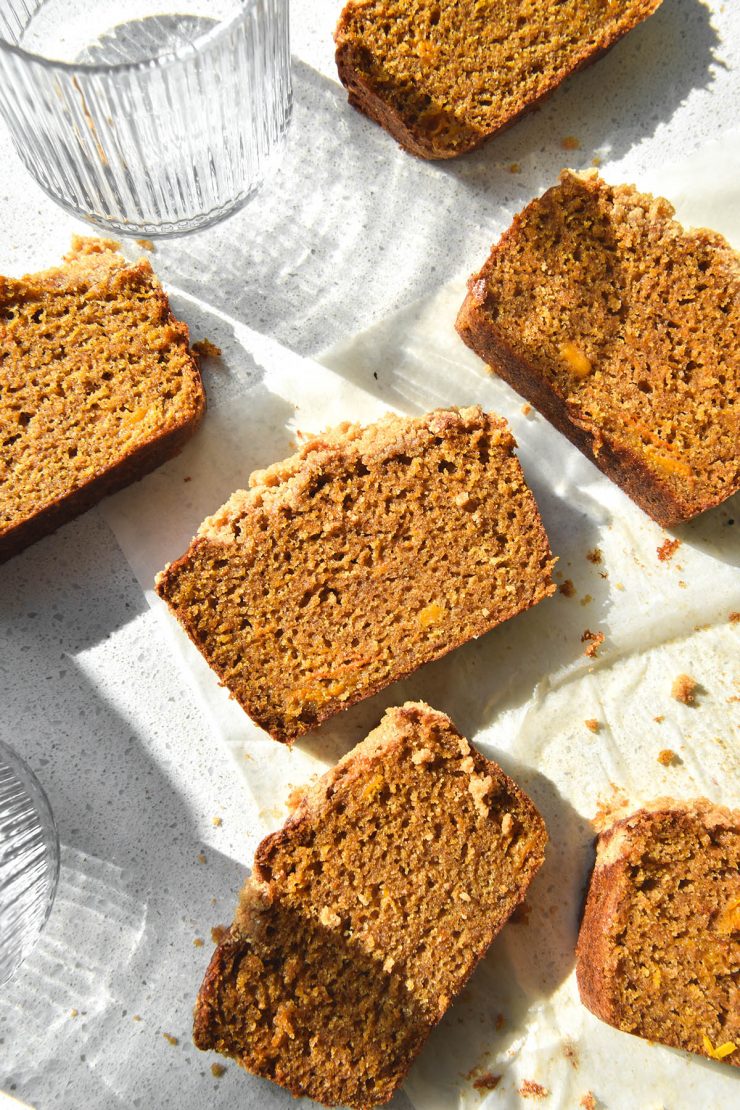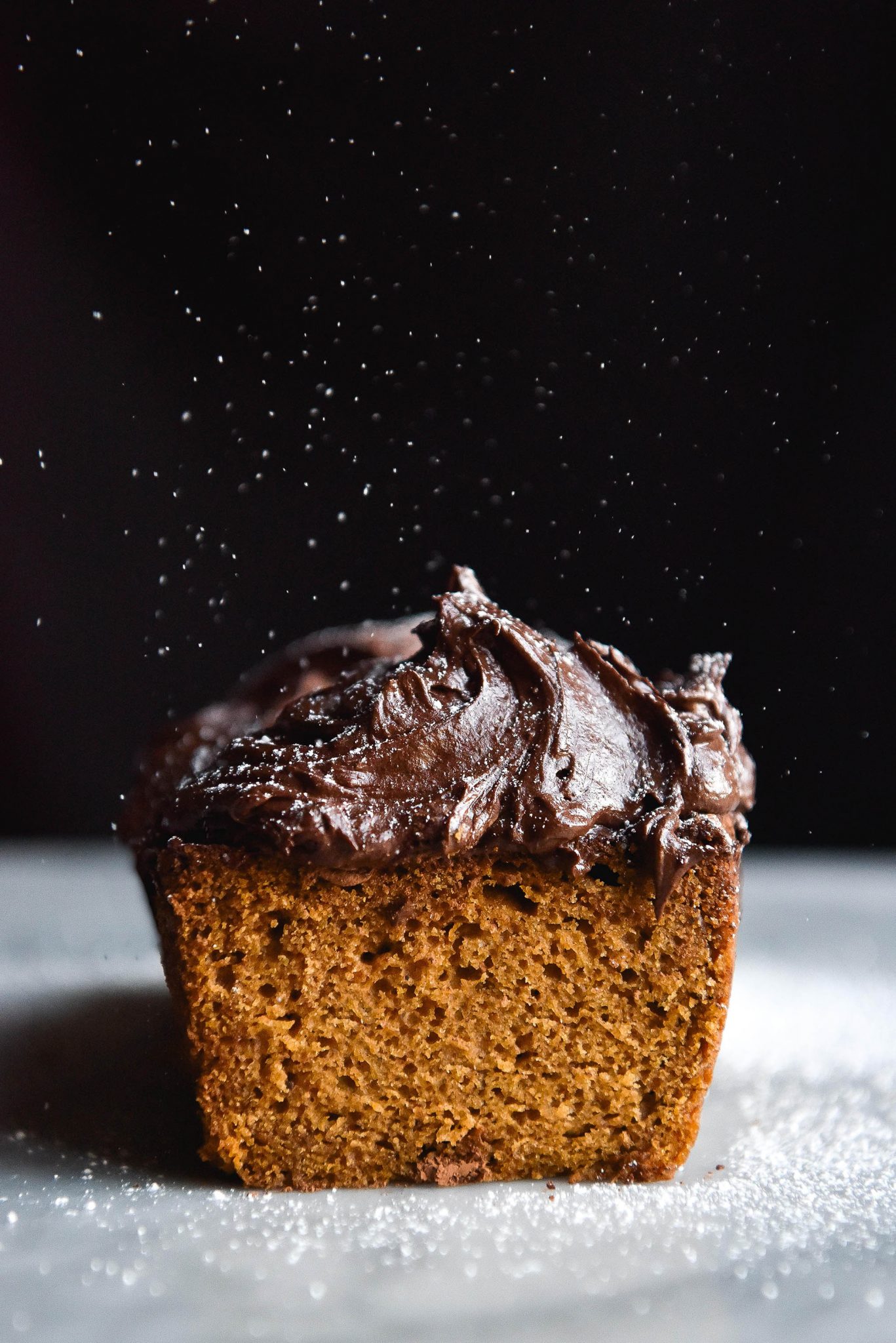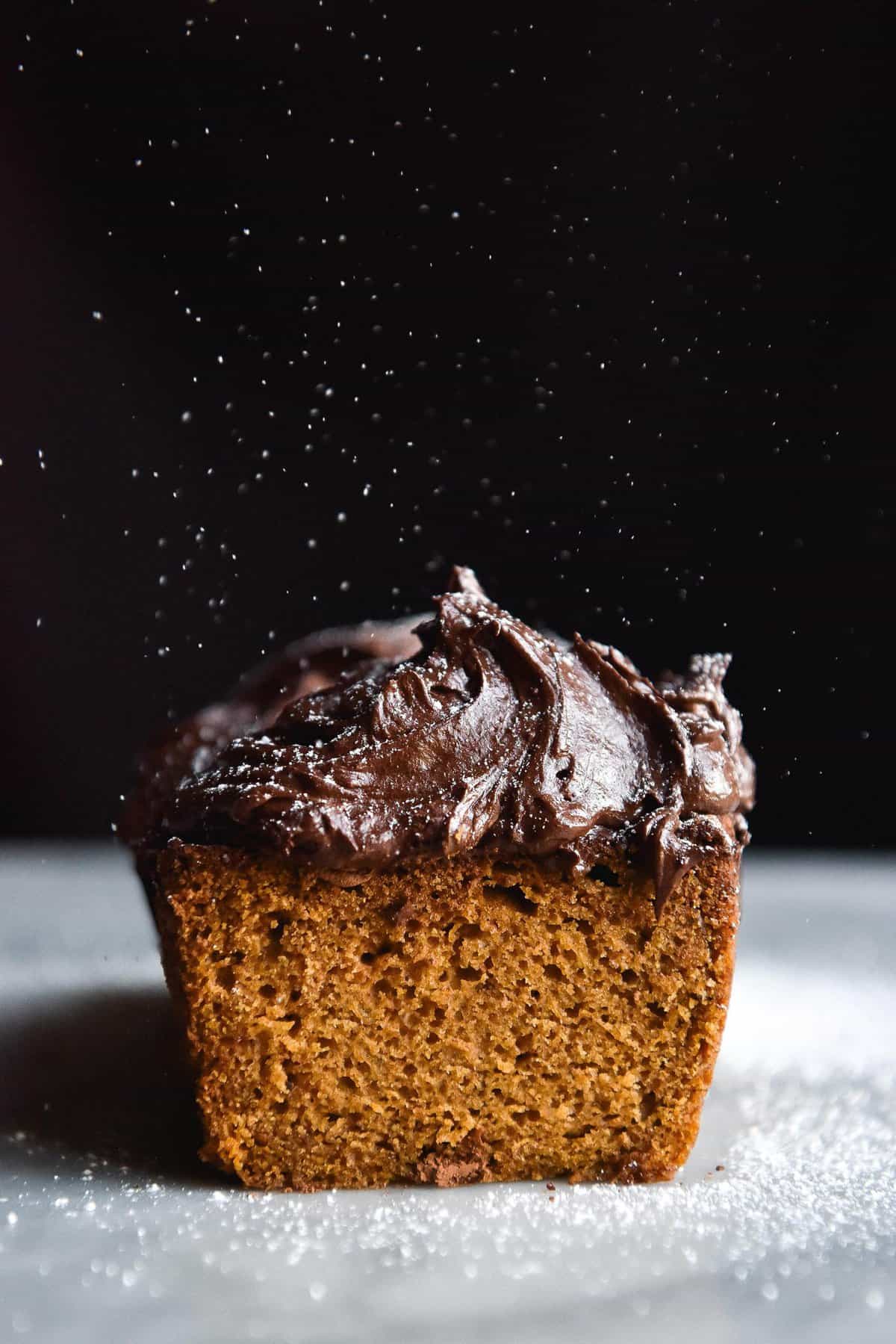 Gluten free pumpkin bread has been high on my agenda since my return from the USA. Pumpkin spice was just about in full swing when I left and I was very much on board. So, the first thing I did upon my return was to dive into all things pumpkin spice.
First, I made this vegan, gluten free pumpkin mug cake. I also made a pumpkin spice version of my microwave cinnamon scroll. A spiced pumpkin quinoa salad was next on the agenda. Now, here we are! Talking all things gluten free pumpkin bread.
A note, before we dive in: pumpkin bread in this context is sweet. America seems to call a sweet loaf pumpkin bread, so that's what I have called it. I am working on a savoury pumpkin loaf, so stay tuned for that.
A second (and final) note on dietaries: this gluten free bread is FODMAP friendly, nut free, gum free and dairy free. I haven't tested a vegan version yet, but I promise you will be the first to know when I do.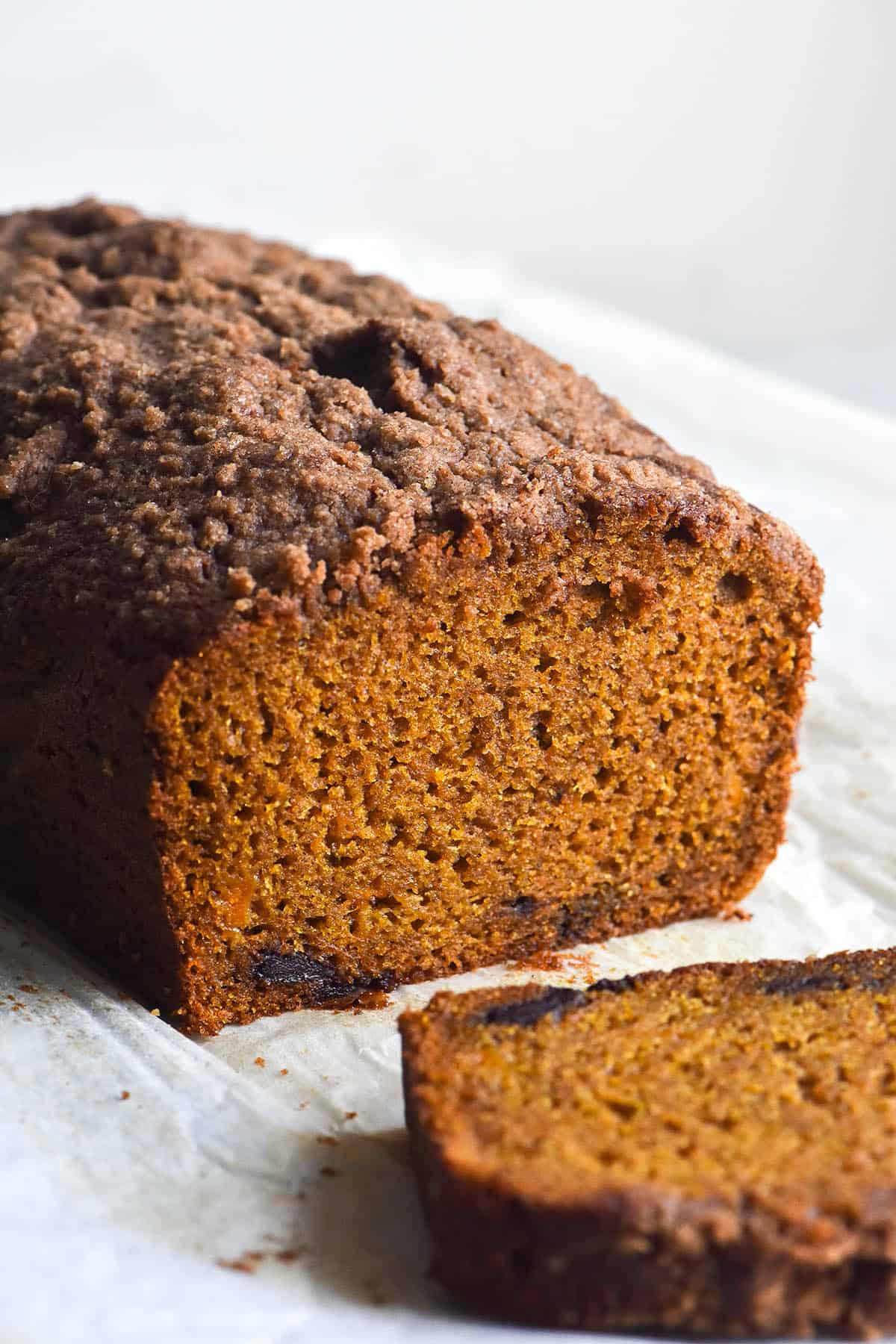 Gluten free pumpkin bread notes
We don't have canned pumpkin puree as a common item at supermarkets in Australia. As such, I make my own pumpkin puree using Japanese or Kent pumpkin. This ensures the FODMAP content stays low, as other varieties of pumpkin are slightly higher. Not enough to make much of a difference in this case, but still.
If you are making your pumpkin puree, see below for notes. The cooking method is important.
All that to say: I haven't tried canned pumpkin puree in this loaf. I can't see why it would make a difference, but worth pointing out.
Another thing we don't have? Pumpkin spice. I have used a mix of cinnamon, nutmeg and a pinch of clove. You can add whatever works for you, including pumpkin spice. Add it judging by how much you have used in the past (I have never used it).
I have used all light brown sugar for depth of flavour. I have used vegetable oil to keep the oil neutral.
I haven't tested any other flours or an egg free alternative. I'm getting there, I swear!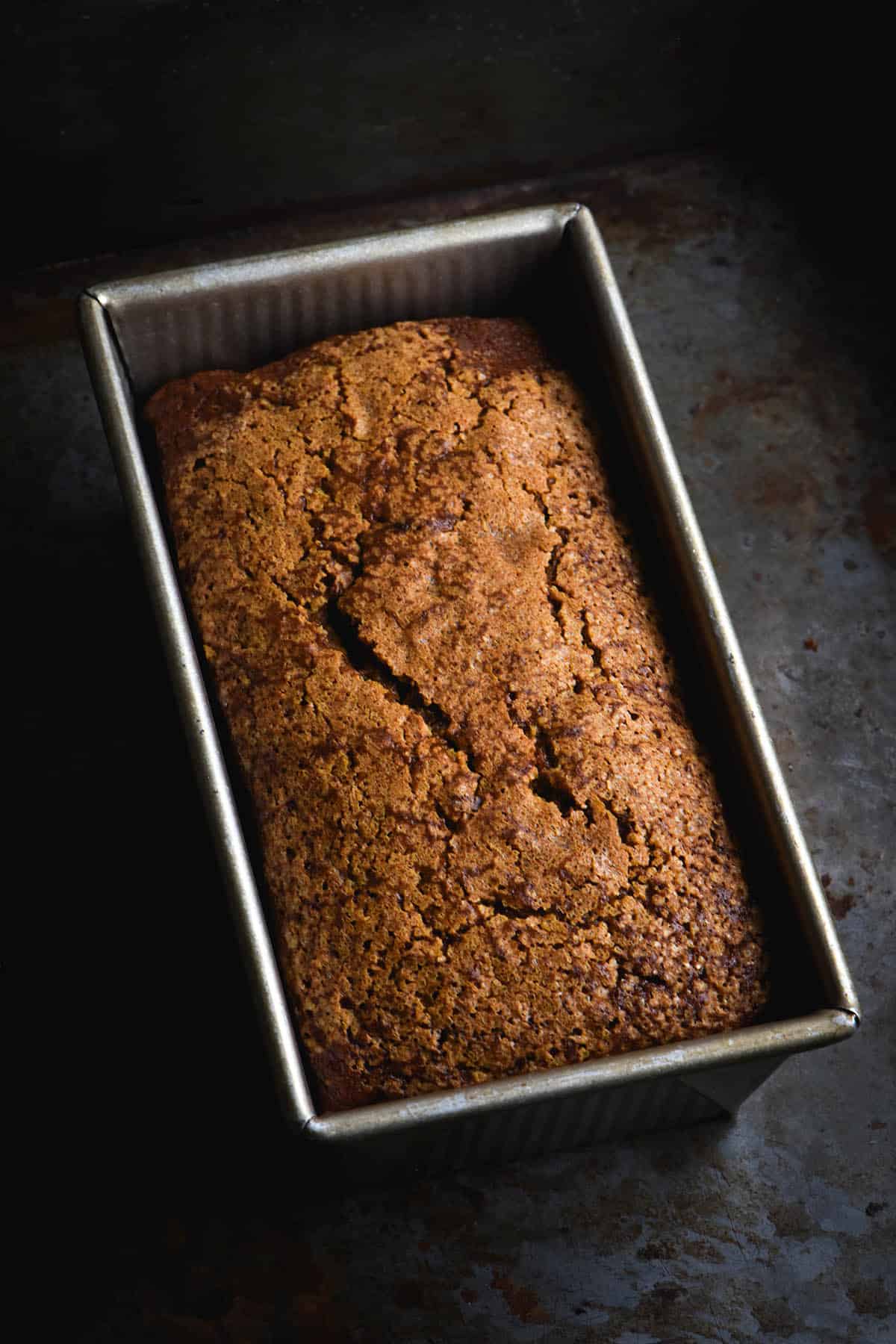 An important note on making pumpkin puree
Much like with potatoes and gnocchi, how you cook your pumpkin for puree has a huge impact on it's water content. I always used to cook my pumpkin in boiling water, which is a mistake when the liquid content of an ingredient is key to success. Cooking pumpkin directly in water introduces water to the flesh, which is not accounted for in the recipe. You might find that your loaf is too soggy, because the pumpkin had a high water content.
Two solutions! Firstly, you can cook your pumpkin over boiling water in a steamer basket (without it touching the water). This will cook the pumpkin flesh through without introducing excessive liquid.
Secondly, you can microwave it. Chop the pumpkin into relatively small cubes and place it in a microwave safe ceramic bowl. Microwave for 6 or so minutes, keeping in mind that microwaves vary in strength and thus cooking time. I've seen people suggest that you wrap the bowl with cling film – there is no need to do that. A microwave is a small environment that will steam the pumpkin regardless. I am also a little suss on using plastic in the microwave. When the timer goes off, crack the door but leave the pumpkin for a few more minutes. It should be steamed to perfection and ready to mash.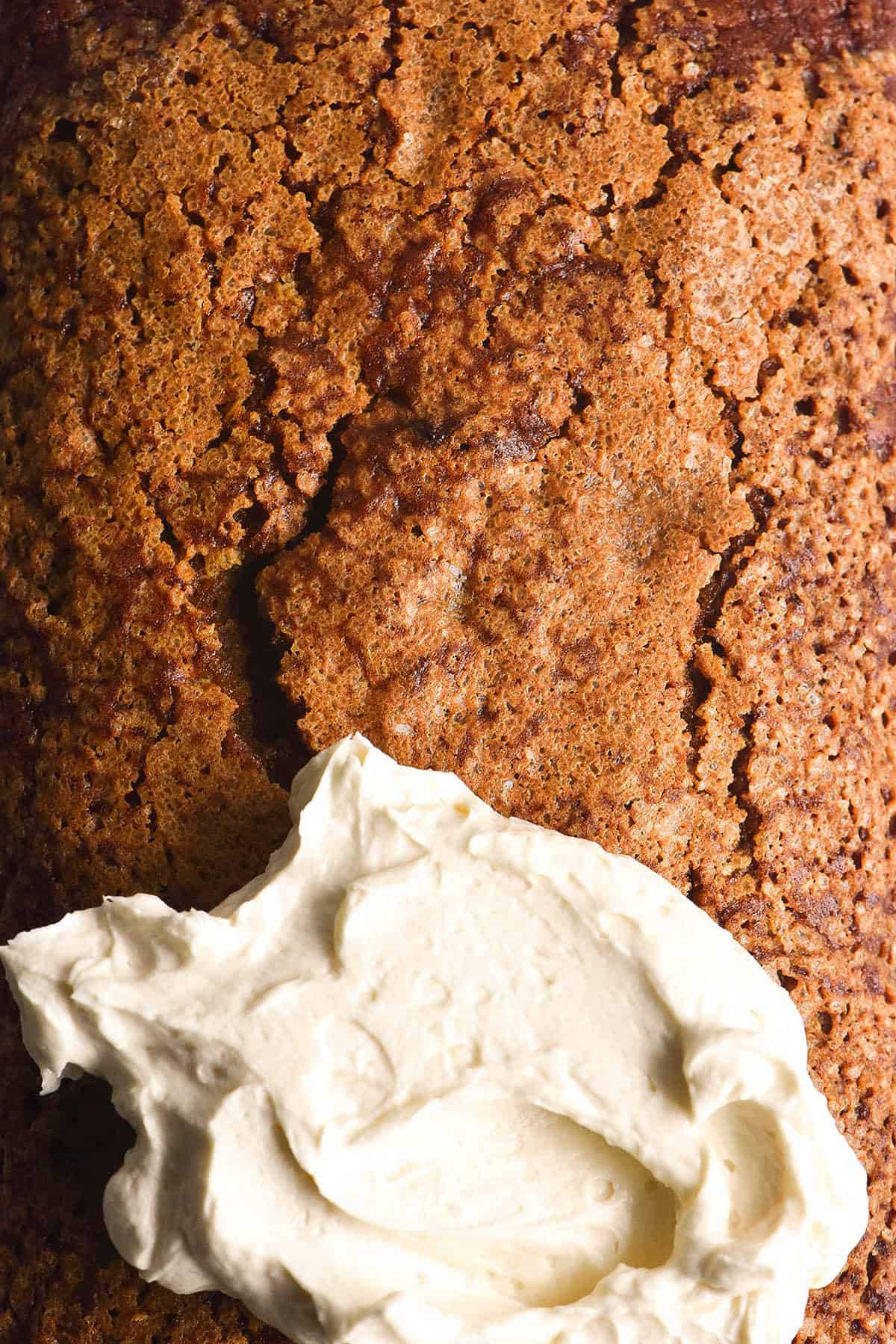 Another important note on pumpkin puree
If you make your own pumpkin puree, please be aware that 250g of raw pumpkin doesn't (or hasn't, for me) translate into 250g pumpkin puree. In one test I did, 250g of raw microwave cooked in the microwave turned into 160g of puree.
Because every single pumpkin you have ever used will have a different water content, I expect this quantity will vary from batch to batch. It might vary when steaming on the stove vs in the microwave. I daresay it would also vary season to season, country to country.
The lesson is: buy more than 250g pumpkin and steam more than 250g pumpkin. I generally steam about 500g to be on the safe side. Of course if you are using canned puree, this doesn't apply.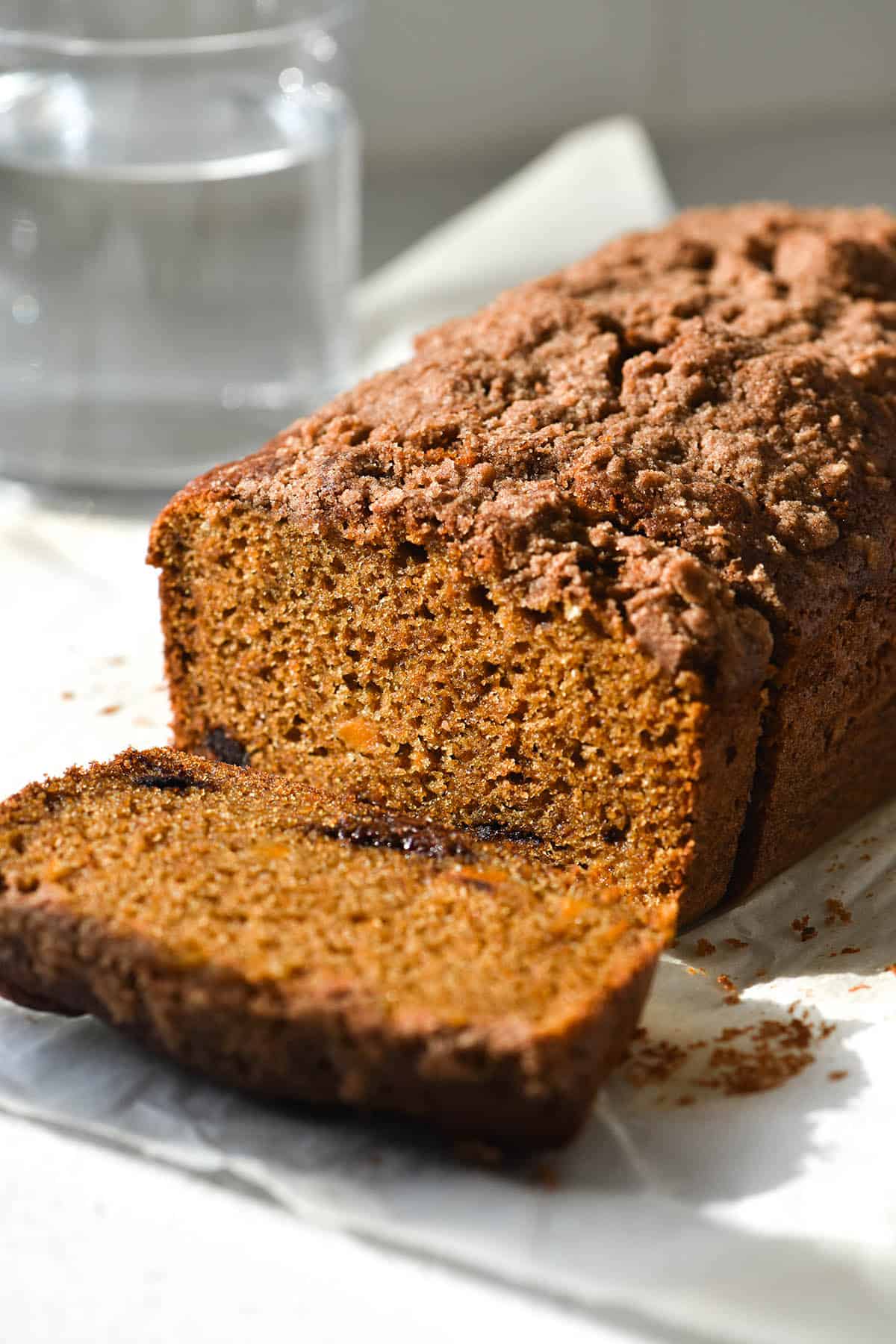 So, what happens if you end up with excess pumpkin puree?
Pumpkin puree recipes (all gluten free)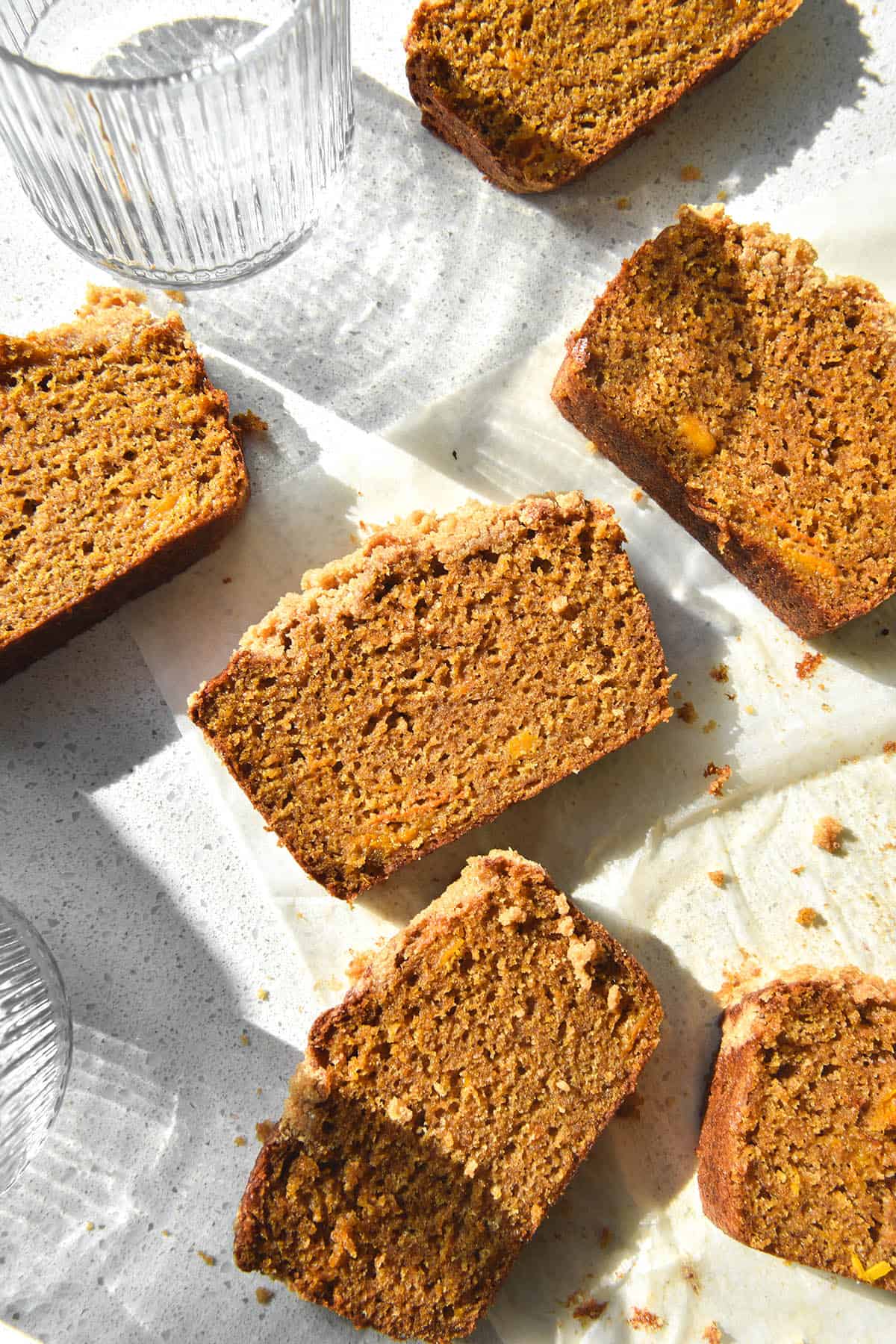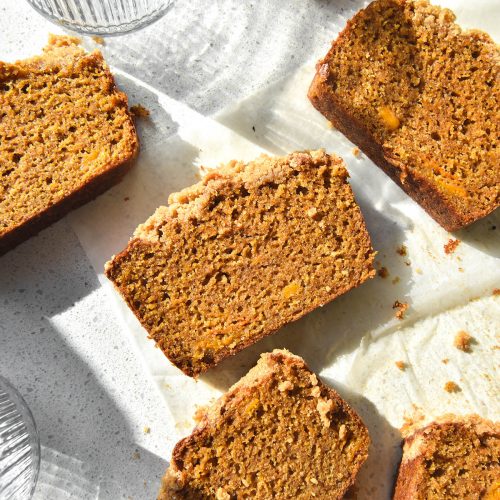 Gluten free pumpkin bread
Gluten free, dairy free, FODMAP friendly, gum free
Ingredients
For the bread:
120

g

(3/4 cup) fine white rice flour

60

g

(1/2 cup) tapioca flour

150

g

light brown sugar

1

teaspoon

baking powder

1/2

teaspoon

baking soda

1 1/2

teaspoons

cinnamon

1/2

teaspoon

nutmeg

see notes

Pinch

of clove powder

250

g

pumpkin puree

see notes

3

extra large eggs

1/4

cup

(60ml) vegetable oil
Optional extras:
75

g

dairy free chocolate

chopped (I like Lindt 70%)
Streusel topping:
2

tablespoons

white rice flour

3

tablespoons

light brown sugar

1/4 – 1/2

teaspoon

cinnamon

1 – 1 1/4

tablespoons

vegetable oil
Instructions
To make the bread:
Preheat the oven to 180C/356F. Grease and line a 22 X 12cm loaf pan.

Combine the dry ingredients (sugar included) in a mixing bowl and whisk until combined.

Add the wet ingredients and whisk until a smooth orange batter forms. The batter should be about the consistency of a thick but flowing yoghurt.

Add the chocolate, if you're using it, and then decant the batter into the lined loaf pan.

Top with the crumble, if you are using it. You can also use some finishing sugar or leave the loaf pan.

Place into the oven and bake for 30 minutes or until a skewer comes out clean and the loaf is firm without any wobble. Allow to cool for 10 minutes before transferring to a wire rack.

Keeps for a number of days in an airtight container.
To make the (optional) crumble topping:
Combine all ingredients in a small bowl. Massage together until a crumb forms.
Notes
If you're using fresh nutmeg or grating your own, use less than recipe specifies.
You can also use pumpkin spice if you have it. I have never tried it, but I would recommend starting at 2 teaspoons. 
I make my own pumpkin puree from Japanese or Kent pumpkin. See the body of the post for my method (it's important!)
Personally, I find the best way to enjoy this pumpkin cake is with a sprinkle of sugar as the topping, rather than the streusel. I wanted to include the option, but I find the streusel makes the cake beneath taste less sweet and less spiced than it is.