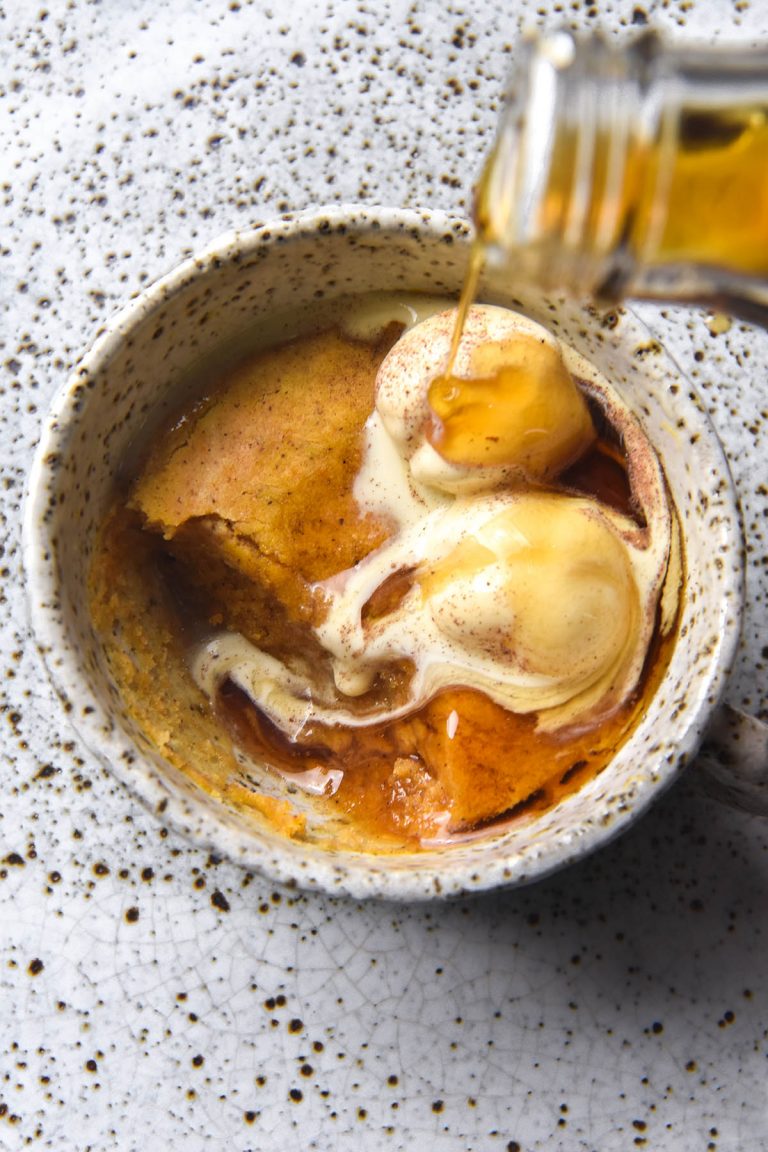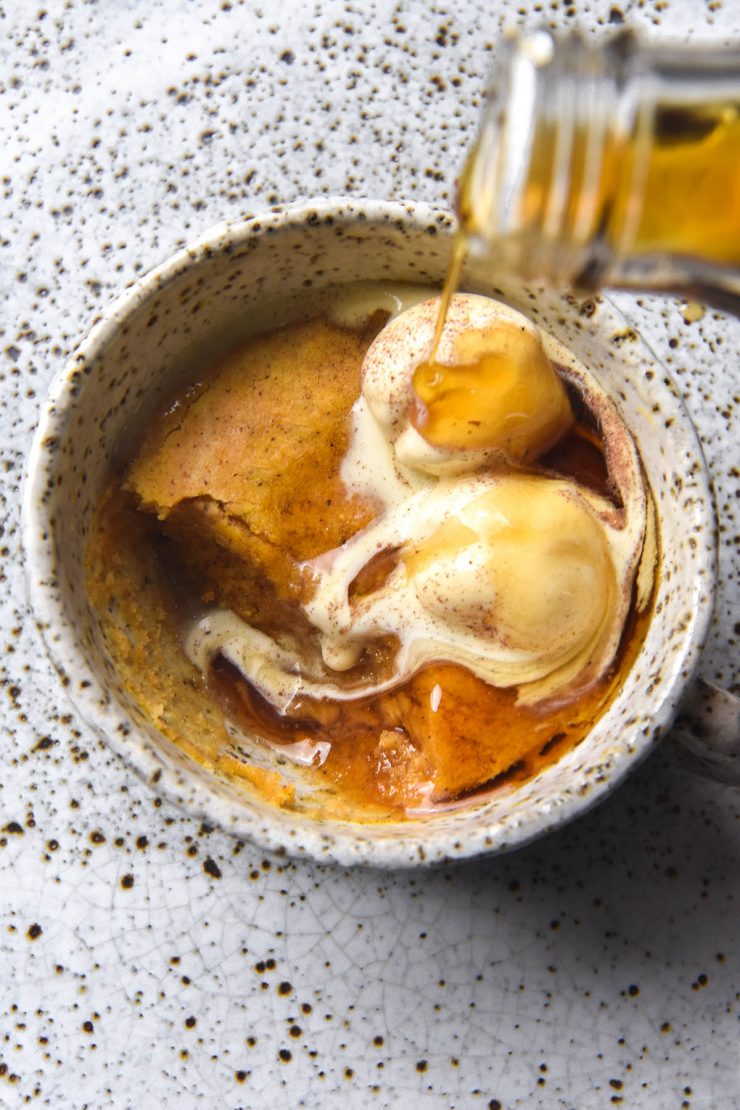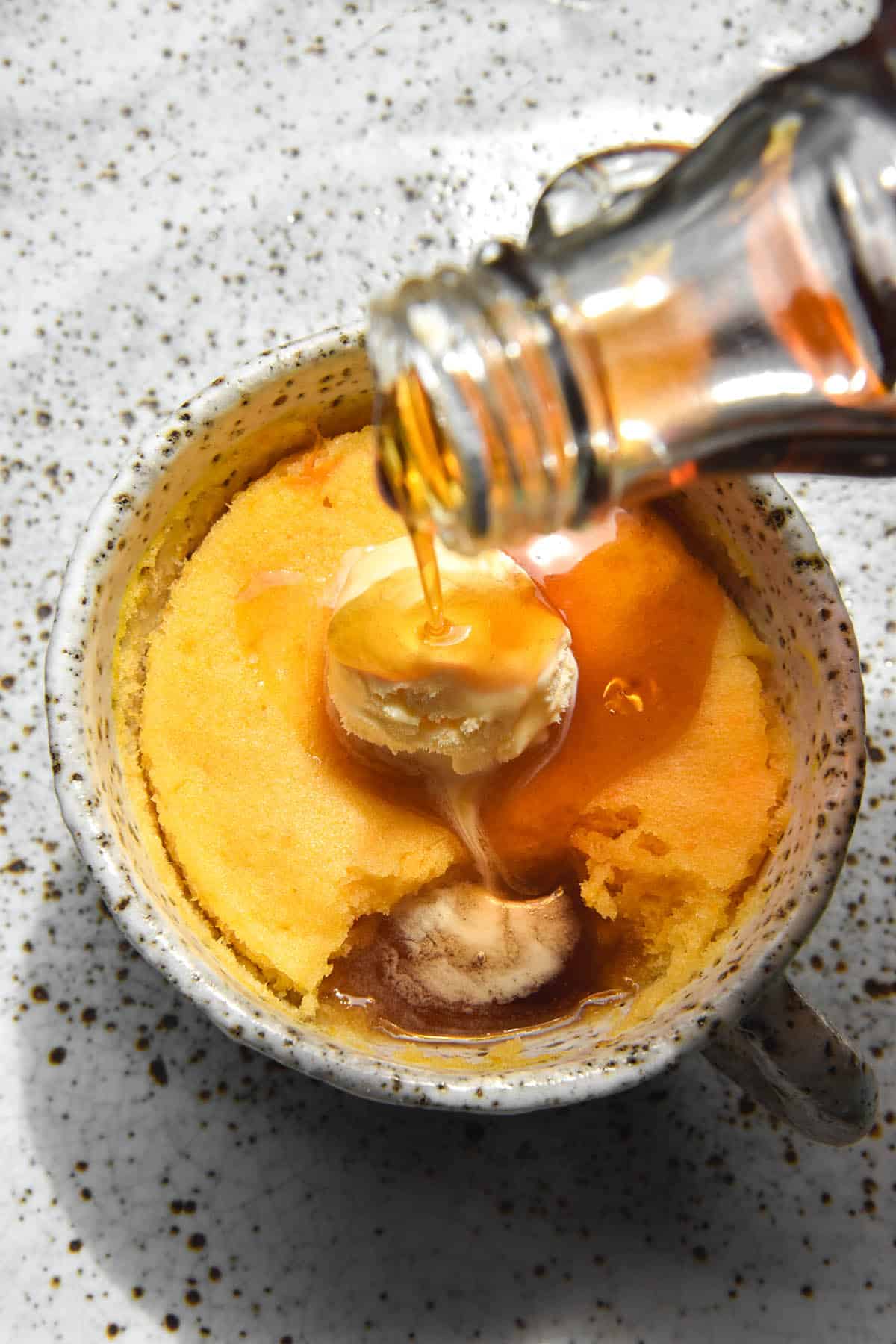 Gluten free pumpkin mug cake
This gluten-free pumpkin mug cake is my direct response to returning from America just as fall has begun. I am a cool weather girl at heart, and my recent trip to Maine has revealed to me that I'm a fall leaf fanatic, too. So with this spiced, festive gluten-free pumpkin mug cake, I'll be pretending that I'm back in Camden revelling in all things Fall.
This mug cake is very easy to make. It's also nut free, gum free, starch flour free and FODMAP friendly. The binding moisture that pumpkin provides means it only uses a single flour, too. You can experiment with a flour that works best for your needs.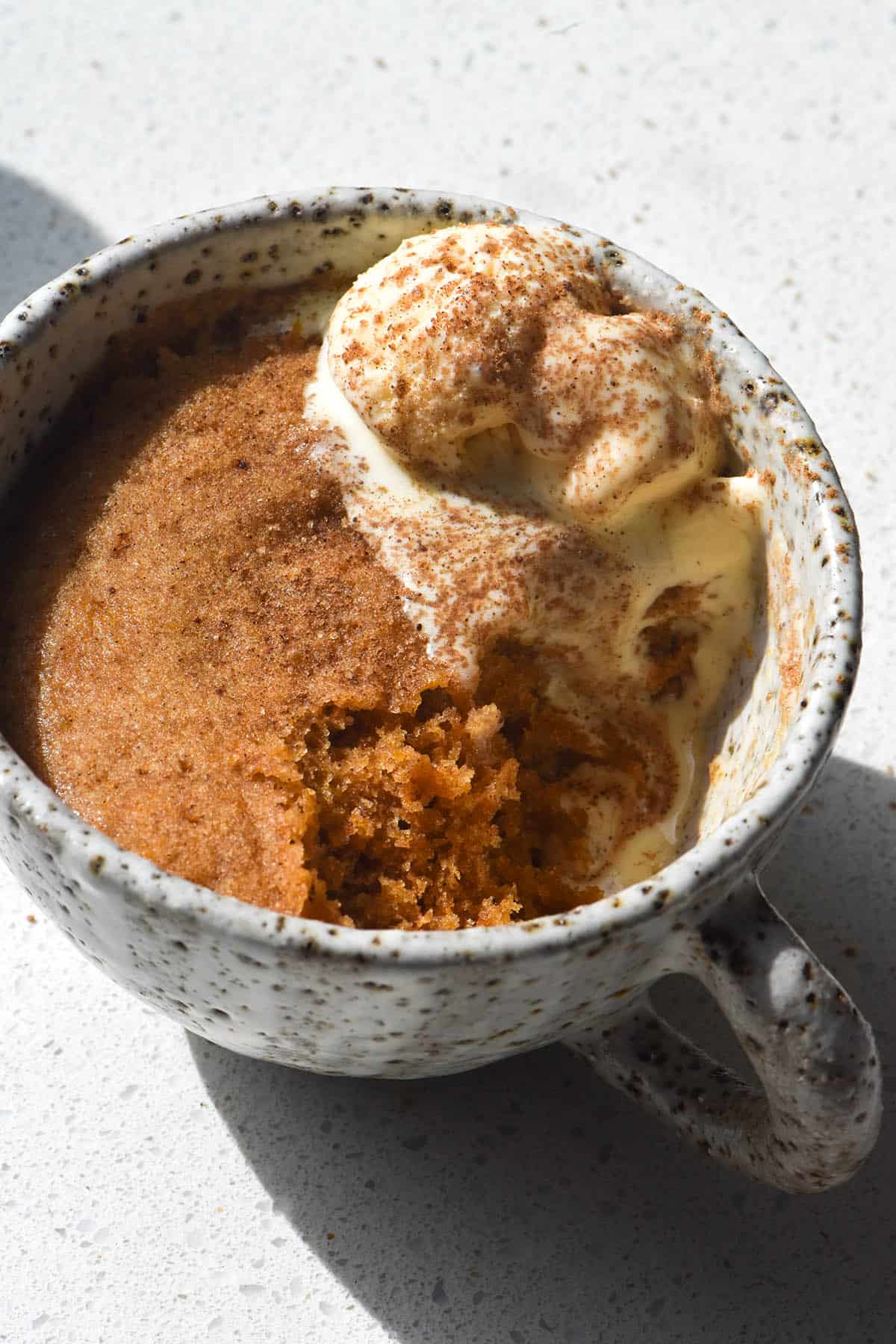 Love a mug cake? Try my other gluten free recipes: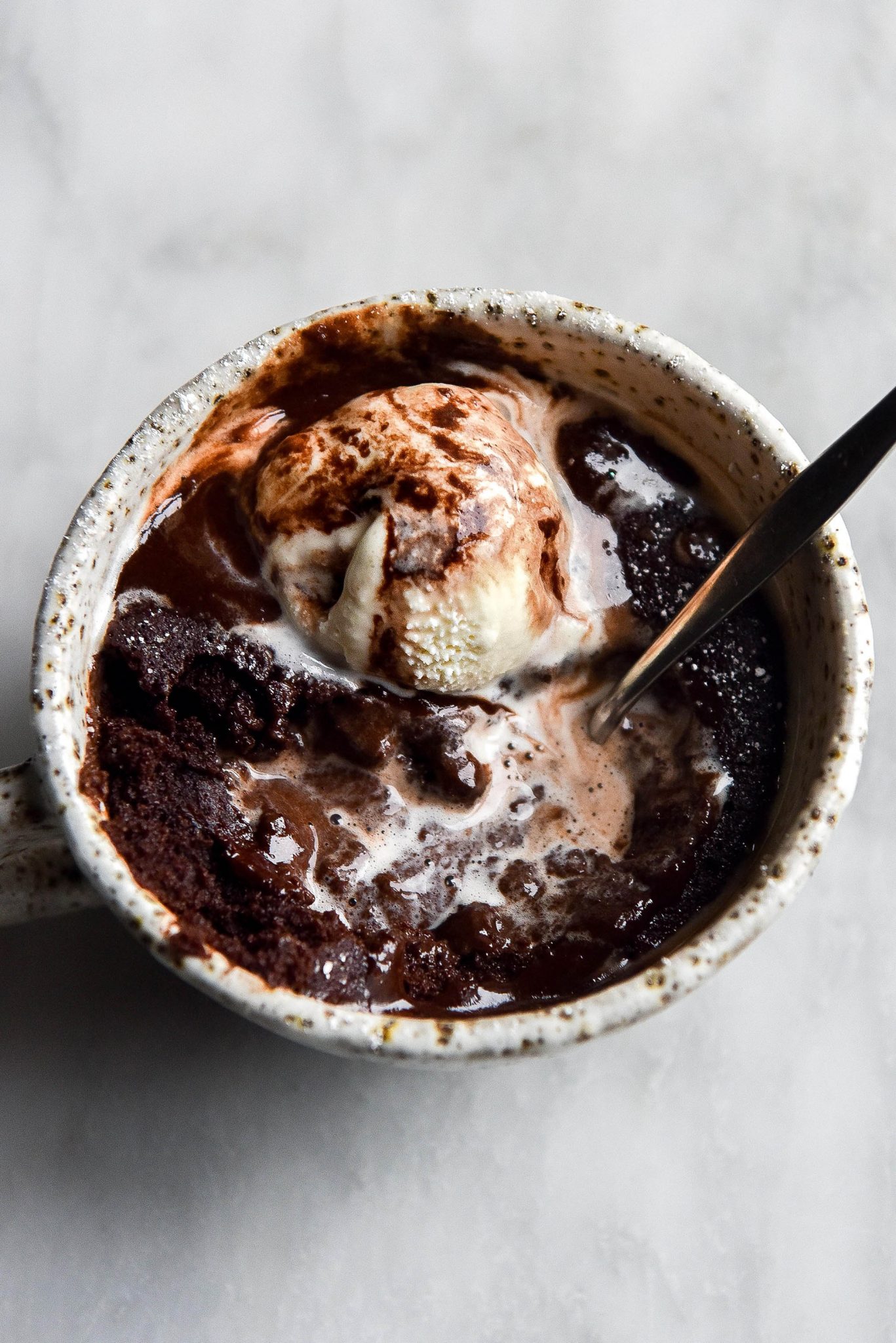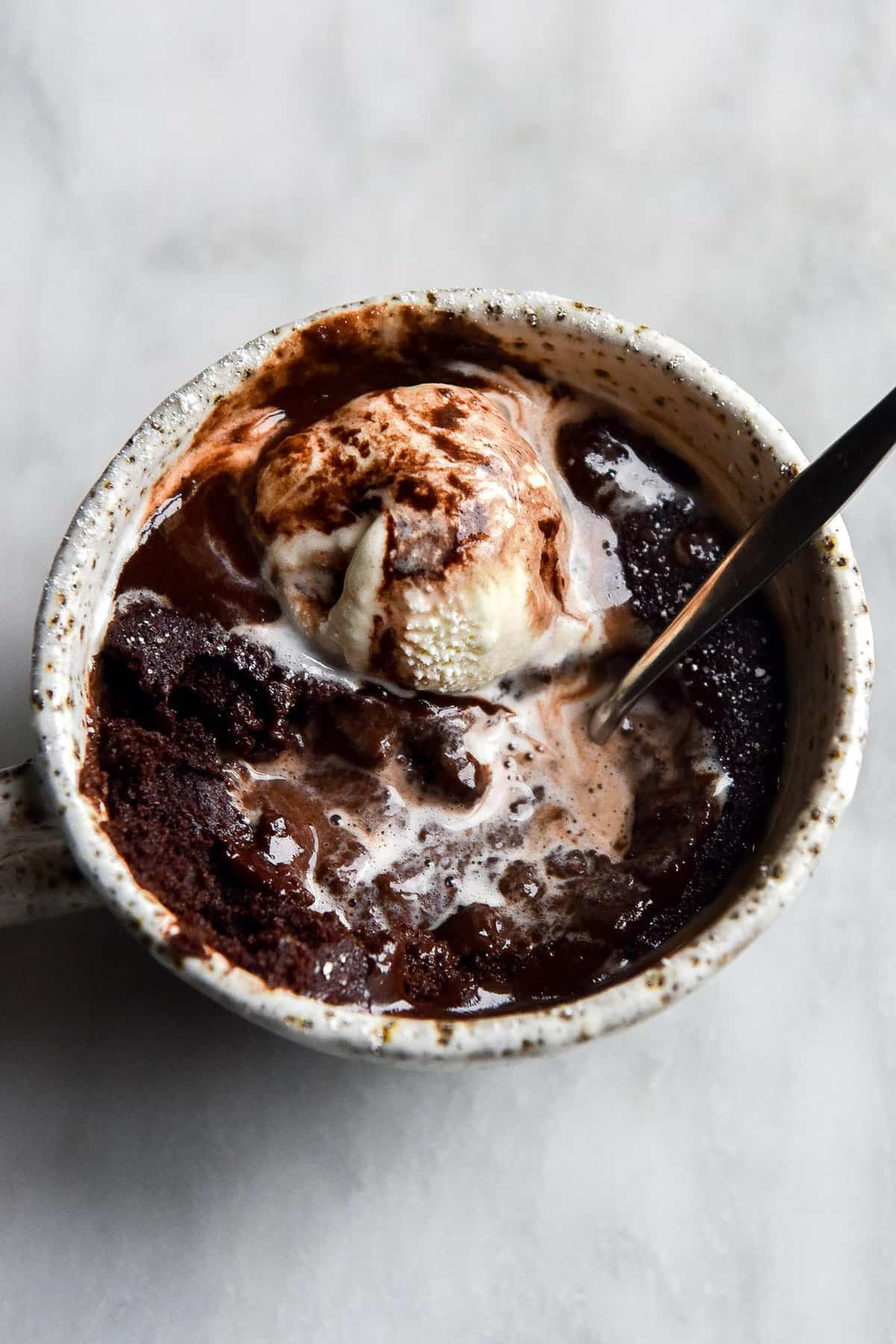 Notes for your gluten-free pumpkin mug cake
See the section below on using canned pumpkin. We don't have much canned pumpkin here in Australia, so I most use often use steamed pumpkin which I mash with a fork.
To keep the FODMAP content lower, I recommend using Kent or Japanese pumpkin in this gluten-free pumpkin mug cake. 50g of any pumpkin is within a FODMAP threshold, but if you are making your own pumpkin puree, you will have more pumpkin to use.
I have only tested the flours outlined in the recipe card. If you'd like to use a different variety, let me know how it goes!
Another thing I haven't tested is using a liquid sweetener like maple syrup. I will update the post if I try this.
You can use white sugar if you don't have any light brown sugar. It doesn't add as much depth of flavour but it works in a pinch.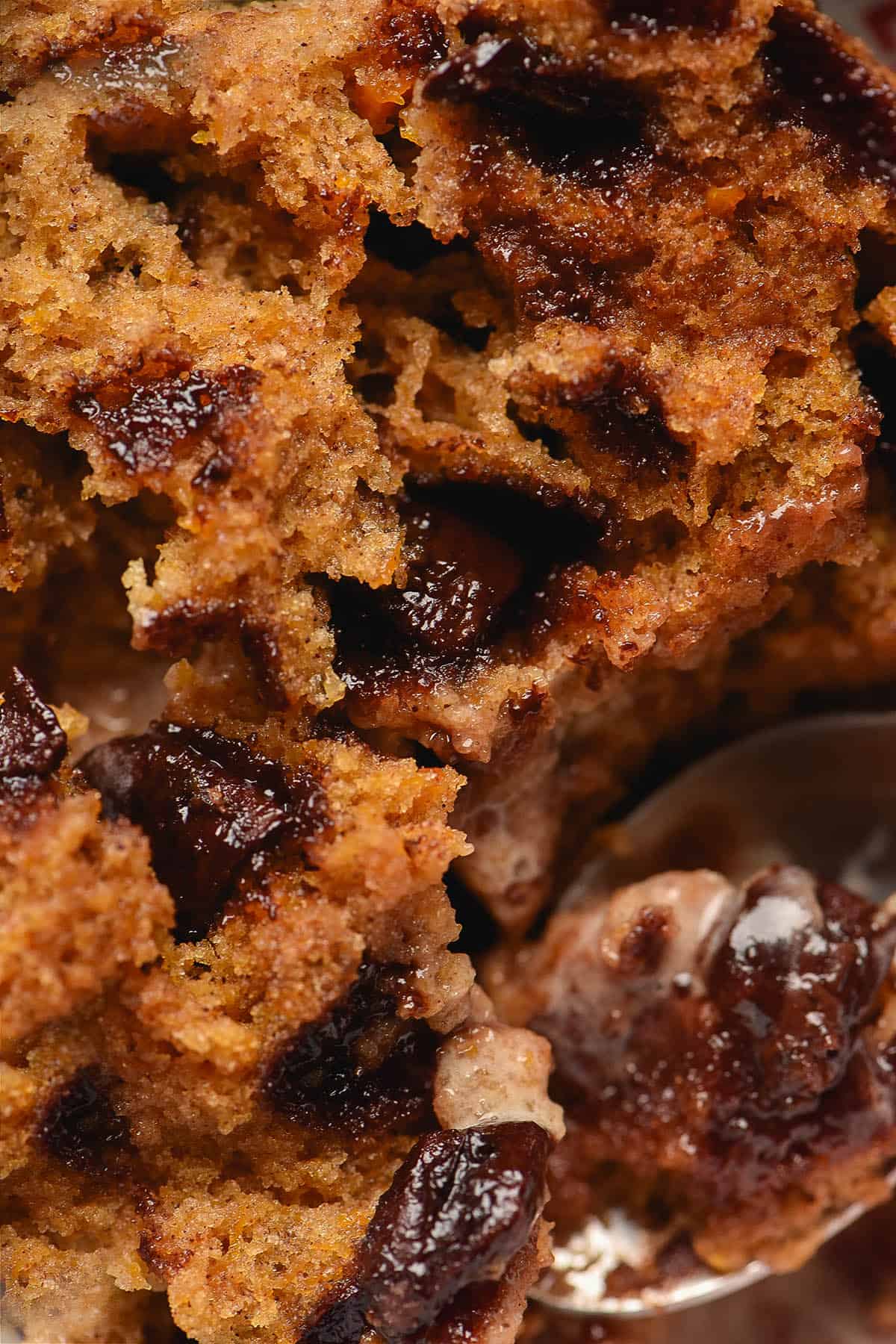 Can I use canned pumpkin in this recipe?
Yes, you can. I have tested this recipe with Libby's canned pumpkin and it worked well. However, I will say that, unless I got a dodgy can, canned pumpkin seems to be a lot less sweet than homemade pumpkin puree.
I'm going to say something bold: I didn't really love the taste of canned pumpkin compared to freshly steamed. It tasted quite savoury and had a sort of tea like tannin aspect. Whether this comes down to the sort of pumpkin I'm used to eating here in Australia, I don't know.
Either way, I might suggest adding a little extra sweetener if you use canned pumpkin. I topped my mug cake with vanilla ice cream and maple syrup, so I didn't notice a lack of sweetness.
If you intend to eat yours plain, however, I would recommend maybe 30-35g light brown sugar to account for the less sweet pumpkin.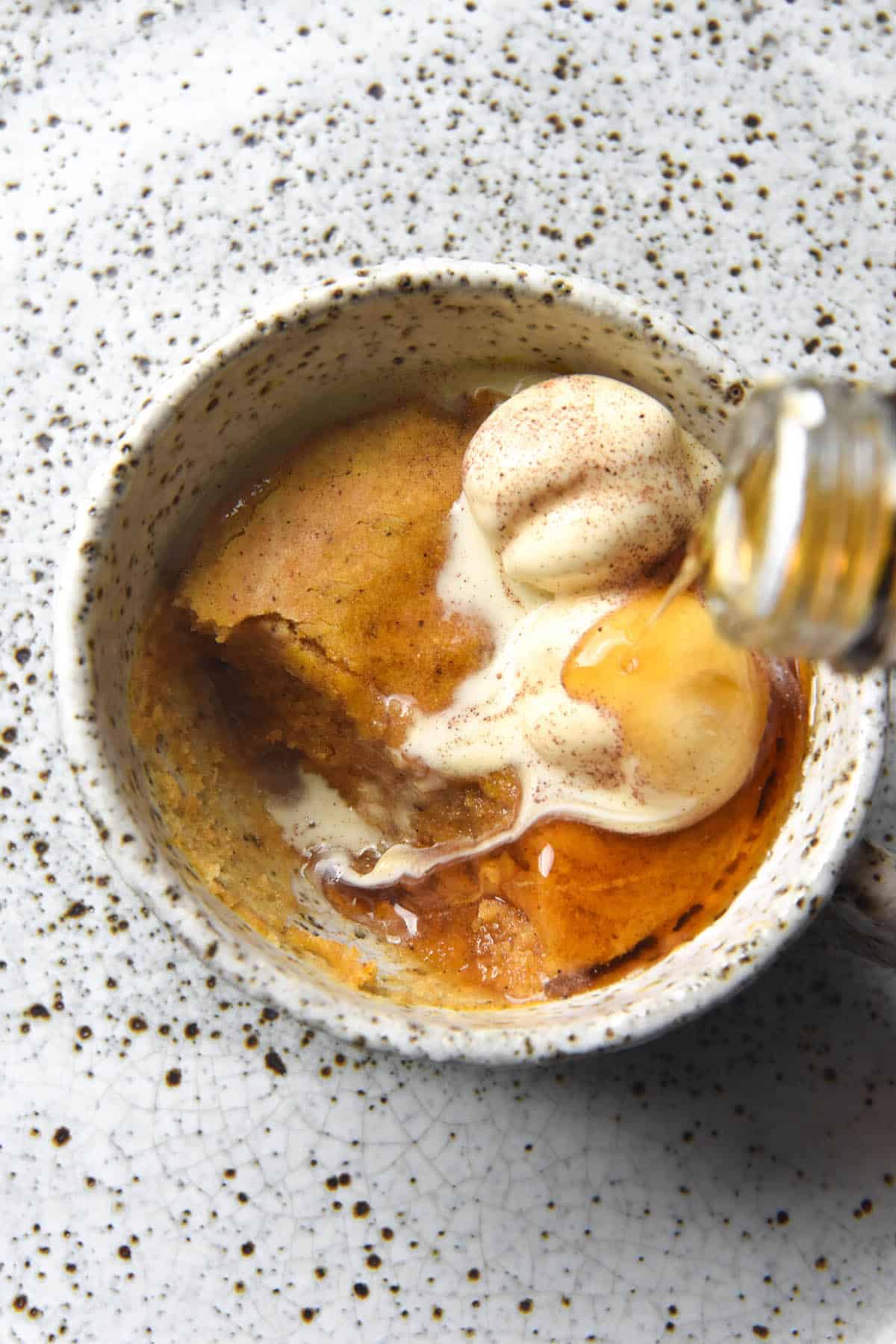 How to make a gluten-free mug cake in the oven
Although this recipe is designed to be made in the microwave, it can easily be made in the oven.
Firstly, you'll need to choose a vessel that is oven safe. I've found that the cake doesn't rise and fall as dramatically in the oven, so it doesn't need to be huge. However, it does need to be able to withstand the oven. Generally speaking ceramics will say on the bottom if they're oven safe. Personally, I recommend using a ramekin or a little oven dish (I have a mini casserole dish, because why wouldn't I?) I wouldn't recommend cooking it in your favourite, artisan ceramic mug. If yours are anything like mine there are no mass produced labels on the bottom, and I don't want to risk you ruining your favourite one-off piece.
Preheat the oven to 180c or 356F.
Once the oven is ready, prepare the mug cake batter as per the instructions in the recipe card below. I recommend using 1 teaspoon or so less oil – the oven cake seems to need less.
Use a silicon spatula to decant all the batter into the oven safe, small vessel of your choosing. I used a mini ceramic casserole dish which has a 1 1/2 (Australian) cup capacity.
Place the cake in the oven for 10-20 minutes. 10 minutes will result in a very gooey, self saucing pudding, whereas 20 minutes will result in a fully fledged cake. For me personally, I'd say somewhere between 13-15 minutes would be my own personal sweet spot.
Sprinkle with a little icing sugar and/or top with some cream, ice cream or yoghurt. Best served immediately but keeps well in the fridge if you can't finish it.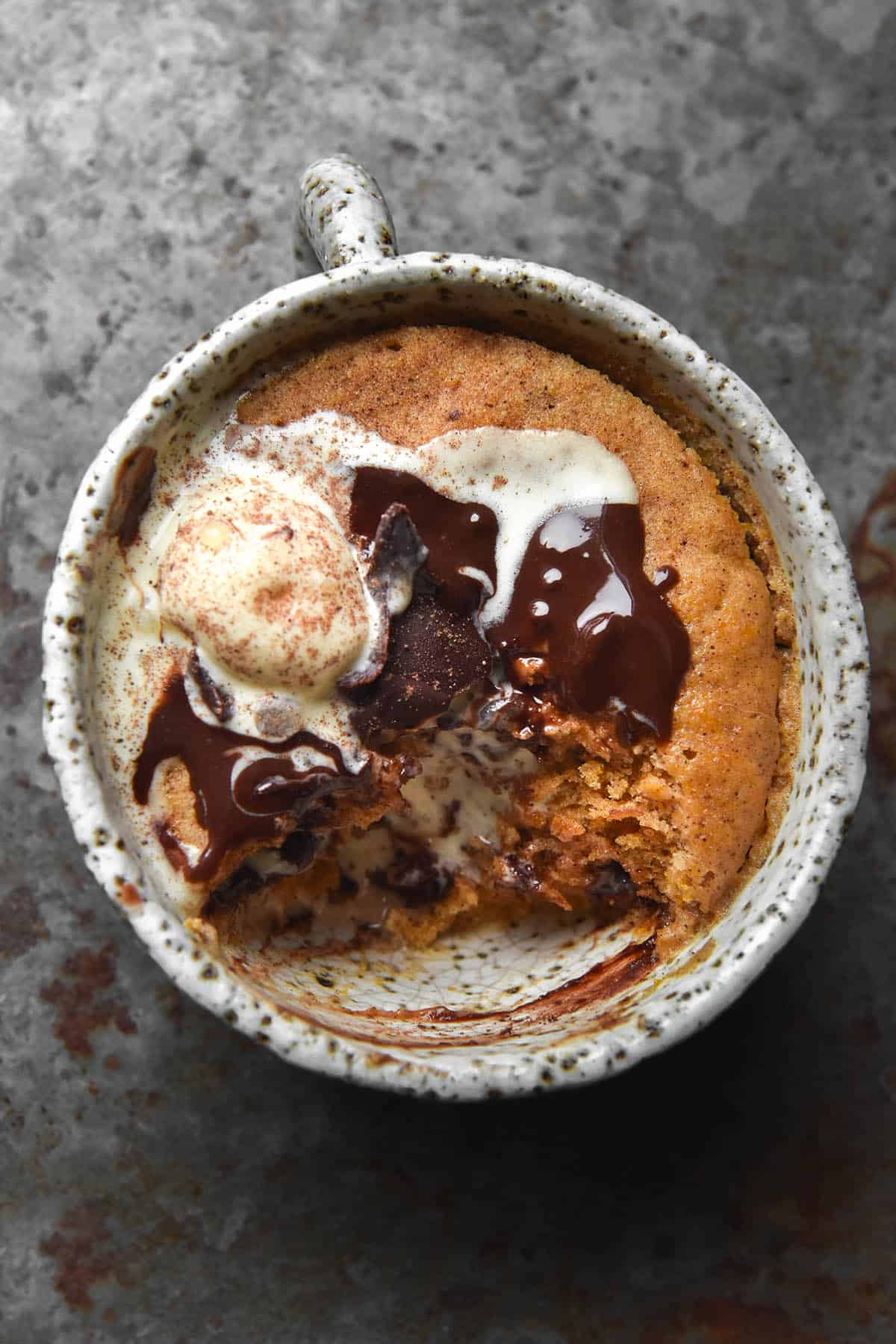 Flavour, addition and topping suggestions
Cinnamon or pumpkin spice are mandatory, obviously!
I love some vanilla ice cream on top, but yoghurt or cream would also be nice.
You can put chocolate chips into the mug cake itself, or pour a chocolate sauce on top. Make sure the choc chips are vegan if you need them to be.
A sprinkle of cinnamon sugar atop the ice cream never goes astray.
Another thing that works an absolute treat? A drizzle of maple syrup to finish.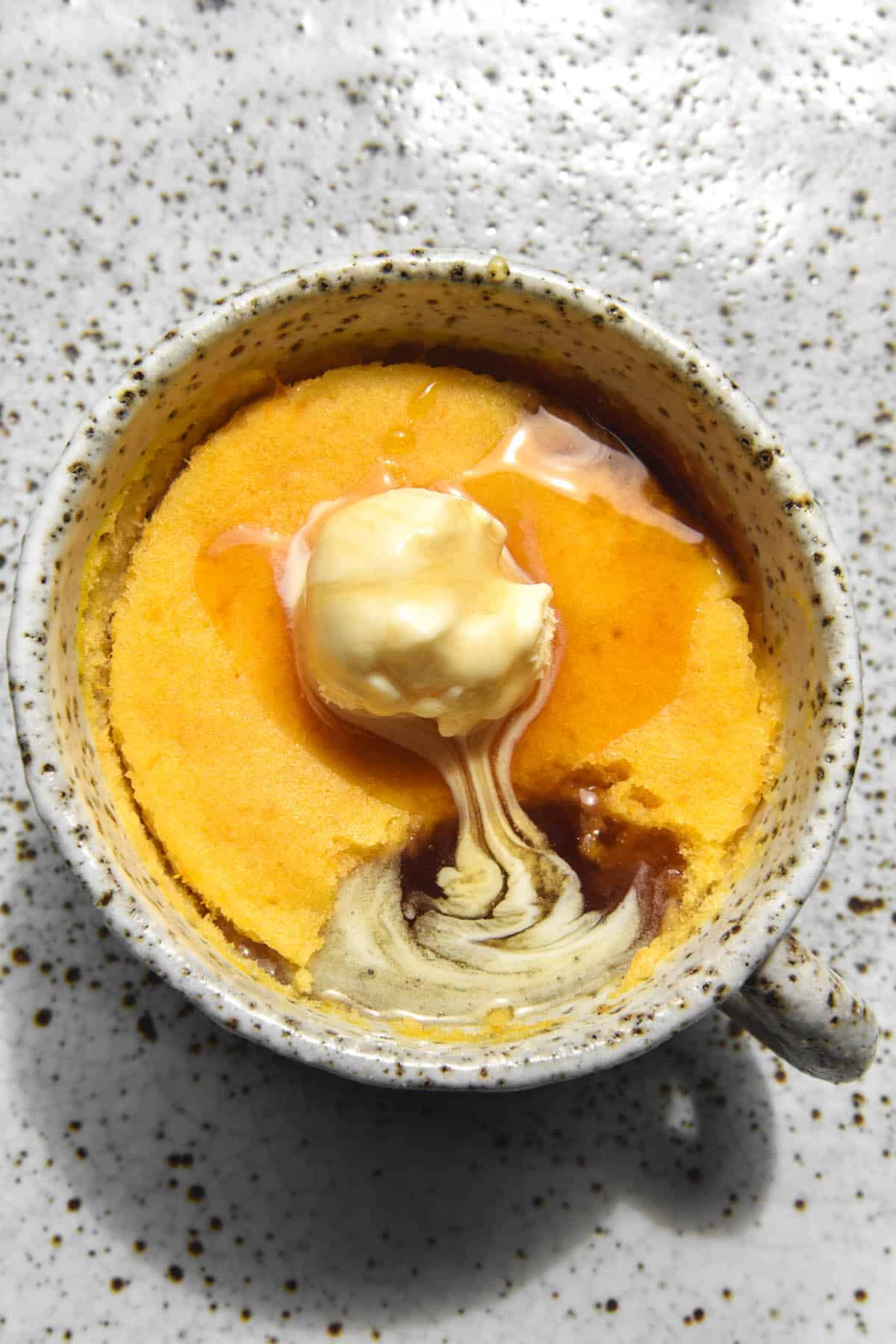 To make pumpkin and chocolate marbled mug cakes (serves two)
Make one batch of the pumpkin mug cake, and one batch of the chocolate mug cake.
Alternate spoonfuls of each mixture into two microwave safe mugs. I haven't tried this in the oven, but as with each mug cake recipe, I'm sure it would work. See the section above on oven baking for more information.
Proceed with the recipe as written.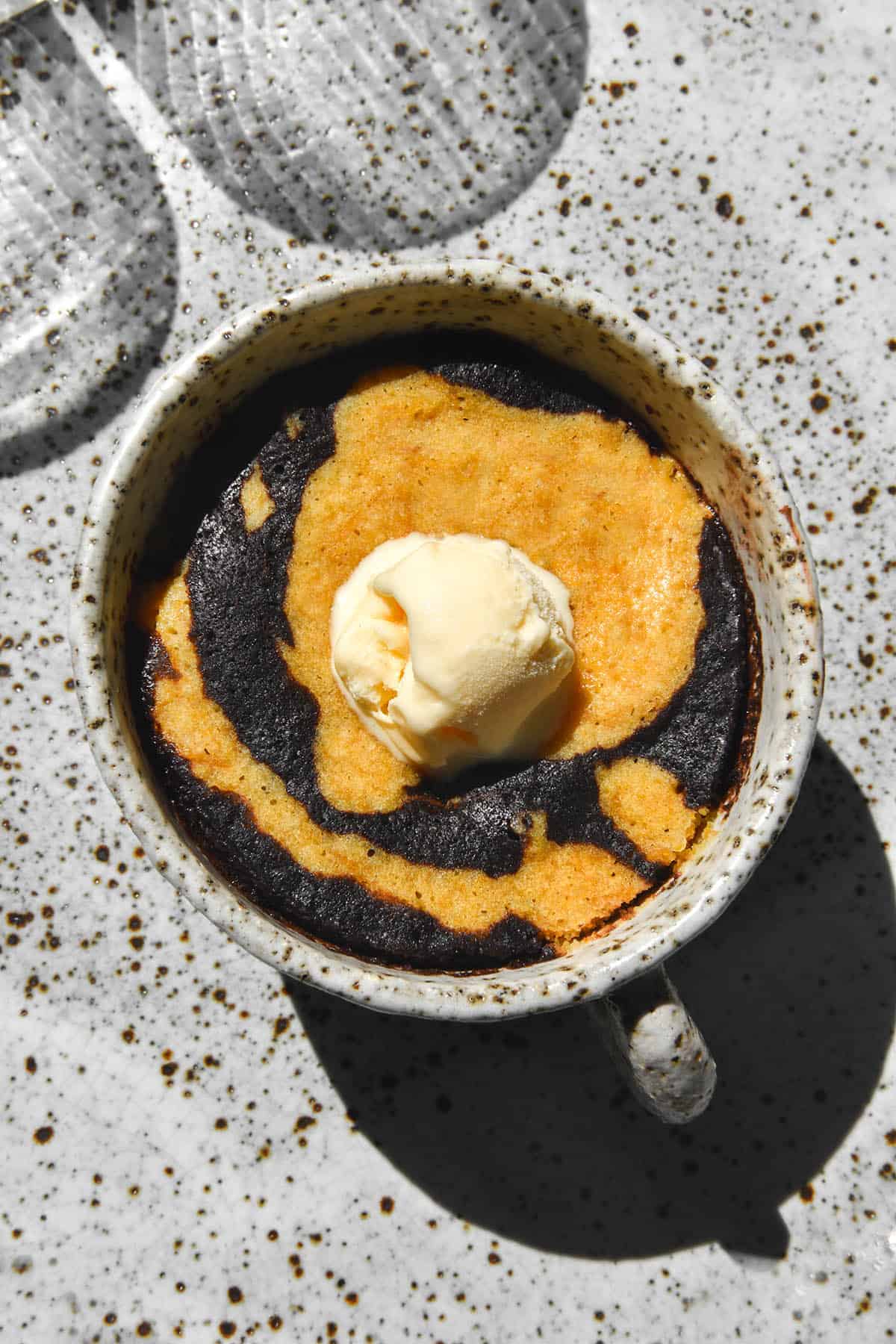 More gluten free pumpkin recipes
Excuse me just living vicariously!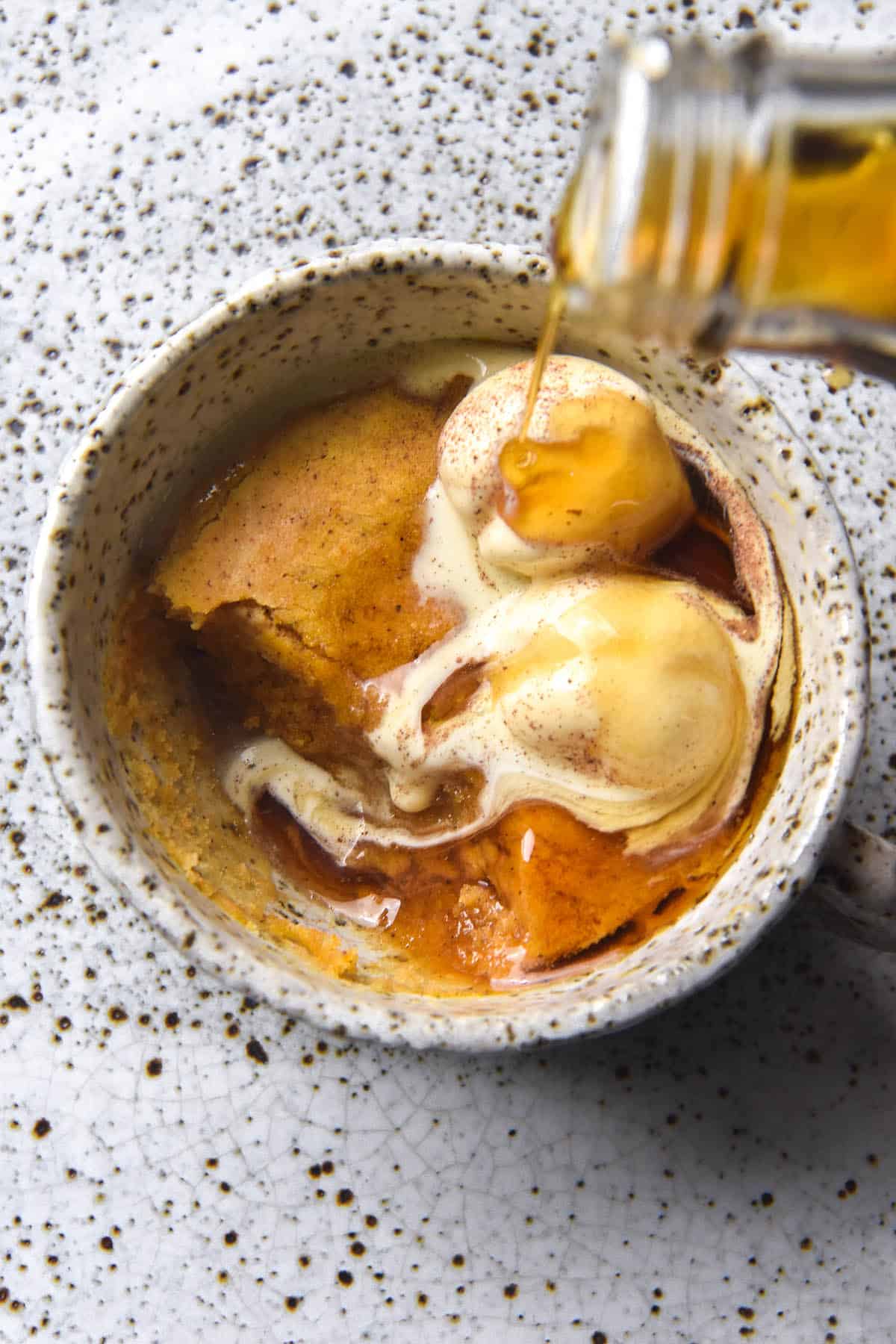 Love a mug cake? Try my other gluten free recipes: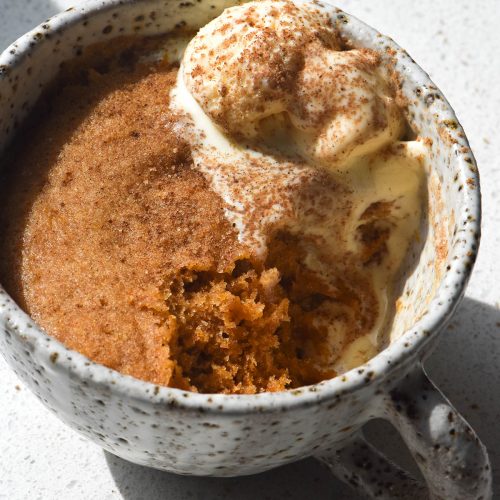 Gluten-free pumpkin mug cake (vegan)
Nut free, gum free, starch free option, egg free
Ingredients
50g

pumpkin puree (see notes)

25g

light brown sugar

2

tbsp

(30g) fine white rice flour

2

tsp

(10g) tapioca flour (optional, see notes)

1/2

tsp

baking powder

1/4 – 1/2

tsp

ground cinnamon (see notes)

Pinch

each

nutmeg and clove powders (see notes)

2

tbsp

(40ml) milk of choice

3-4

tsp

(15-20ml) vegetable or olive oil
Instructions
Combine all ingredients in a small bowl and stir thoroughly to combine and form a batter.

Decant the batter into a microwave safe mug and microwave for 1 minute, then assess. If it remains undercooked, cook again for 20 seconds or until there is no spongy surface to the mug cake. All microwaves vary greatly in speed and power so keep an eye on it.

Allow to cool for 2-3 minutes before eating to allow the cake to finish cooking. Results can be dense or mushy if you don't give it this extra few minutes (it's worth the wait!)
Notes
Canned pumpkin puree isn't easily accessible in Australia, so I use steamed Japanese pumpkin which I mashed with a fork. 
I have tested this recipe with Libby's canned pumpkin and it works nicely. However, I found the canned version to be a lot more savoury than fresh, so I recommend using a little extra sugar to compensate. 
The tapioca flour is optional, but gives the cake a tiny bit of chew, akin to a cake with eggs. You can omit it if you'd like – the cake will just be fluffy without any elasticity to the crumb. You might need to add a teaspoon less milk.
A gritty, stale rice flour will result in an unpleasant mug cake. Make sure yours is fresh and super finely ground.
Add spices to your tastes and preferences. You can use pre-bought pumpkin spice, if you would like. Again, this isn't easily accessible in Australia but add as per your tastes. 
To keep this pumpkin mug cake vegan, use a plant based milk. To keep it nut free, use a nut free milk. 
There are notes on making the mug cake in an oven in the body of the post. I recommend adding 1-2 tsp less oil to the oven baked version as it seems to need less.