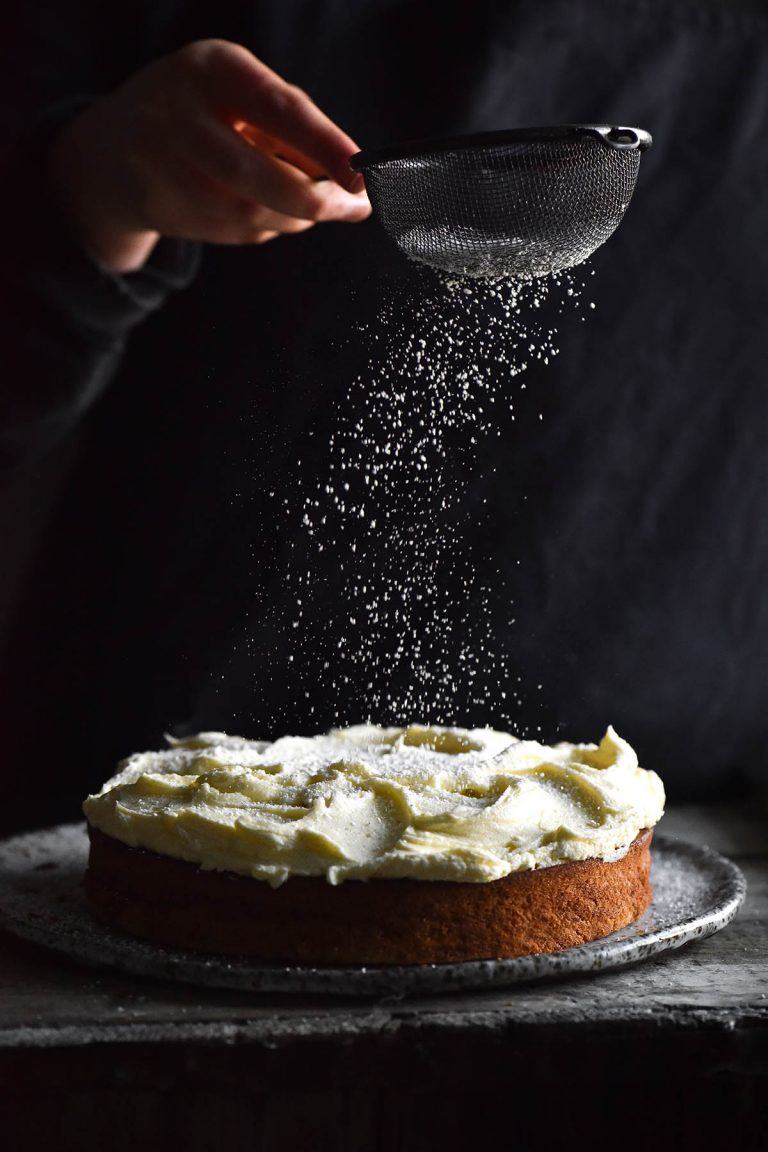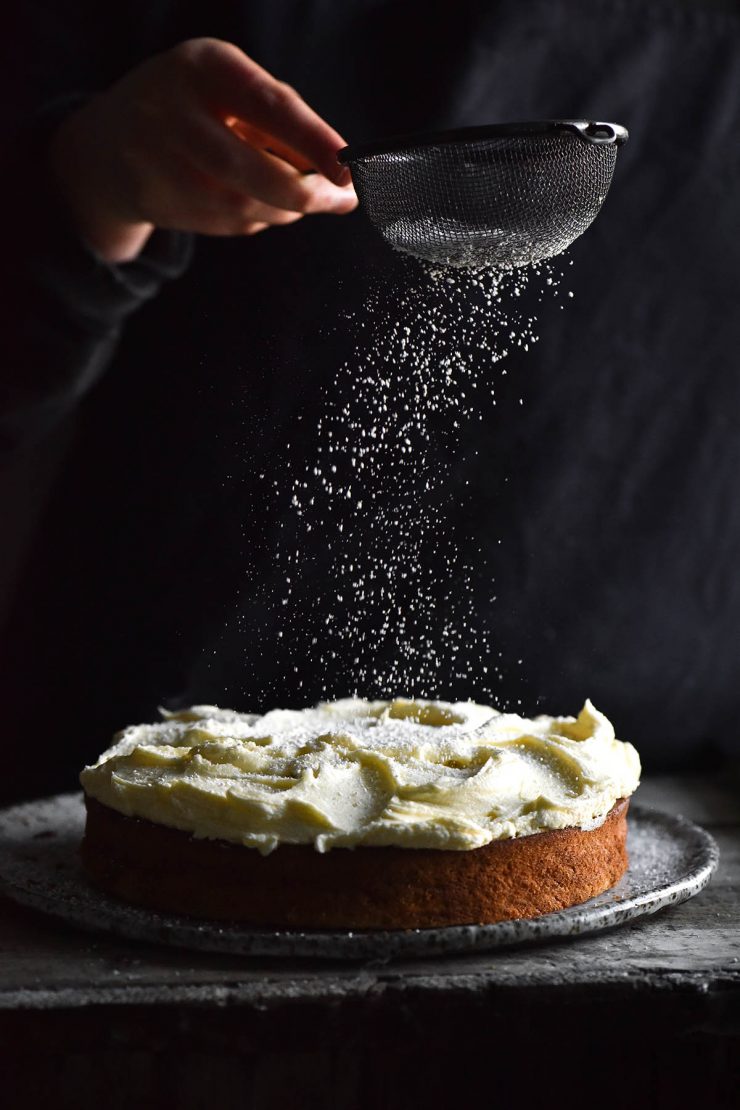 This gluten free banana cake is an adaptation of my favourite banana cake recipe in Intolerance Friendly Kitchen. Otherwise known as: my inspiration for this recipe was me. Lol. Banana cake was THE cake of my childhood (aside from flourless chocolate cake). My nan used to make it for me exactly like this: dense, super moist and sweet. This version is gluten free, xanthan gum free, egg free and easily vegan.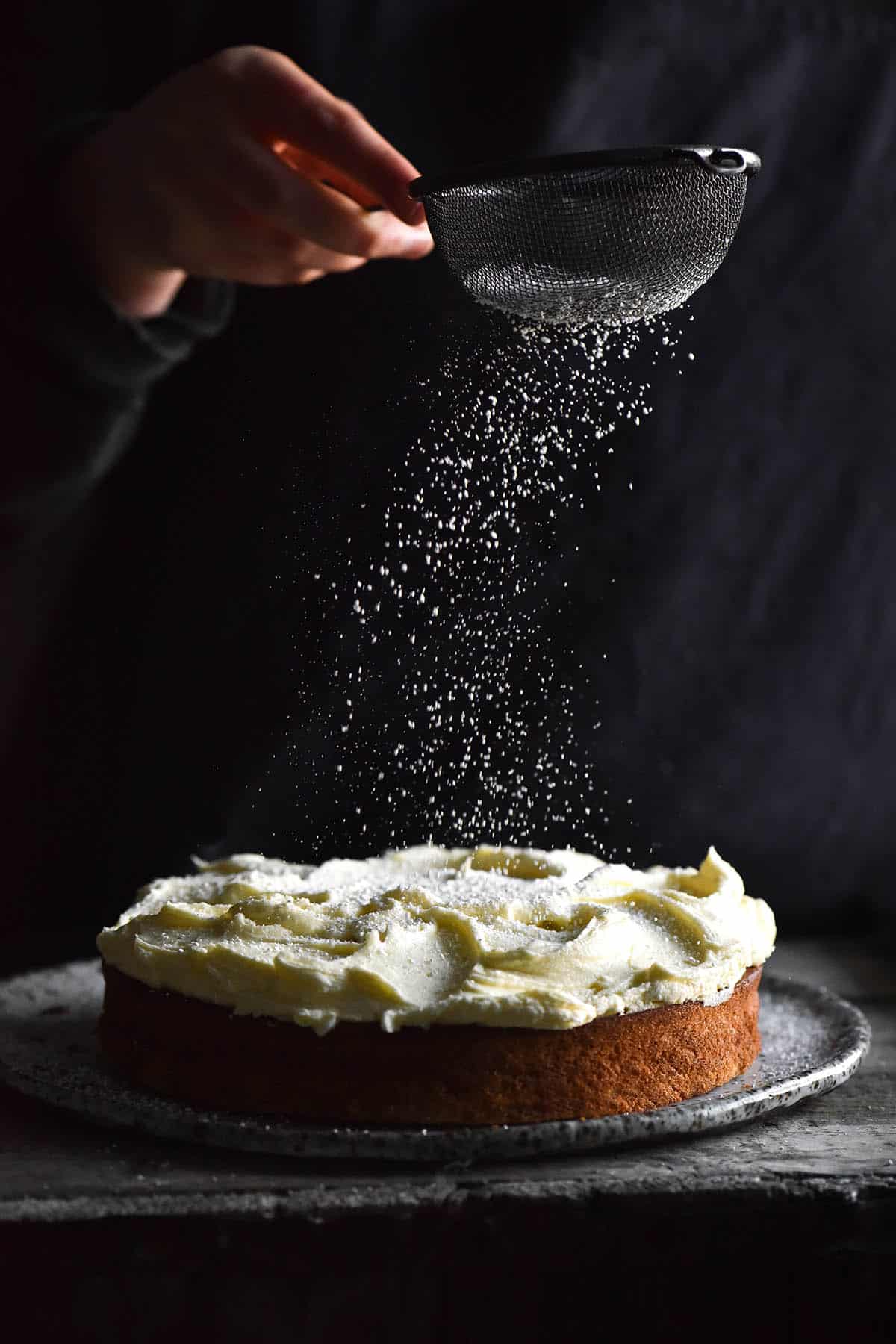 Gluten free banana cake without xanthan gum or eggs
This banana cake is made from a very simple mix of white rice flour and tapioca flour. It contains no xanthan gum and no nuts. The cake is also very easily made dairy free, and is naturally egg free. This means that the gluten free banana cake is very easily made vegan, too!
The cake is a super moist and rich banana cake. It's not airy light and fluffy – it has a tight, moist crumb. I prefer my banana cake to be just a tiny bit under-baked inside (is that weird?) and because this recipe contains no eggs, we can do that with ease.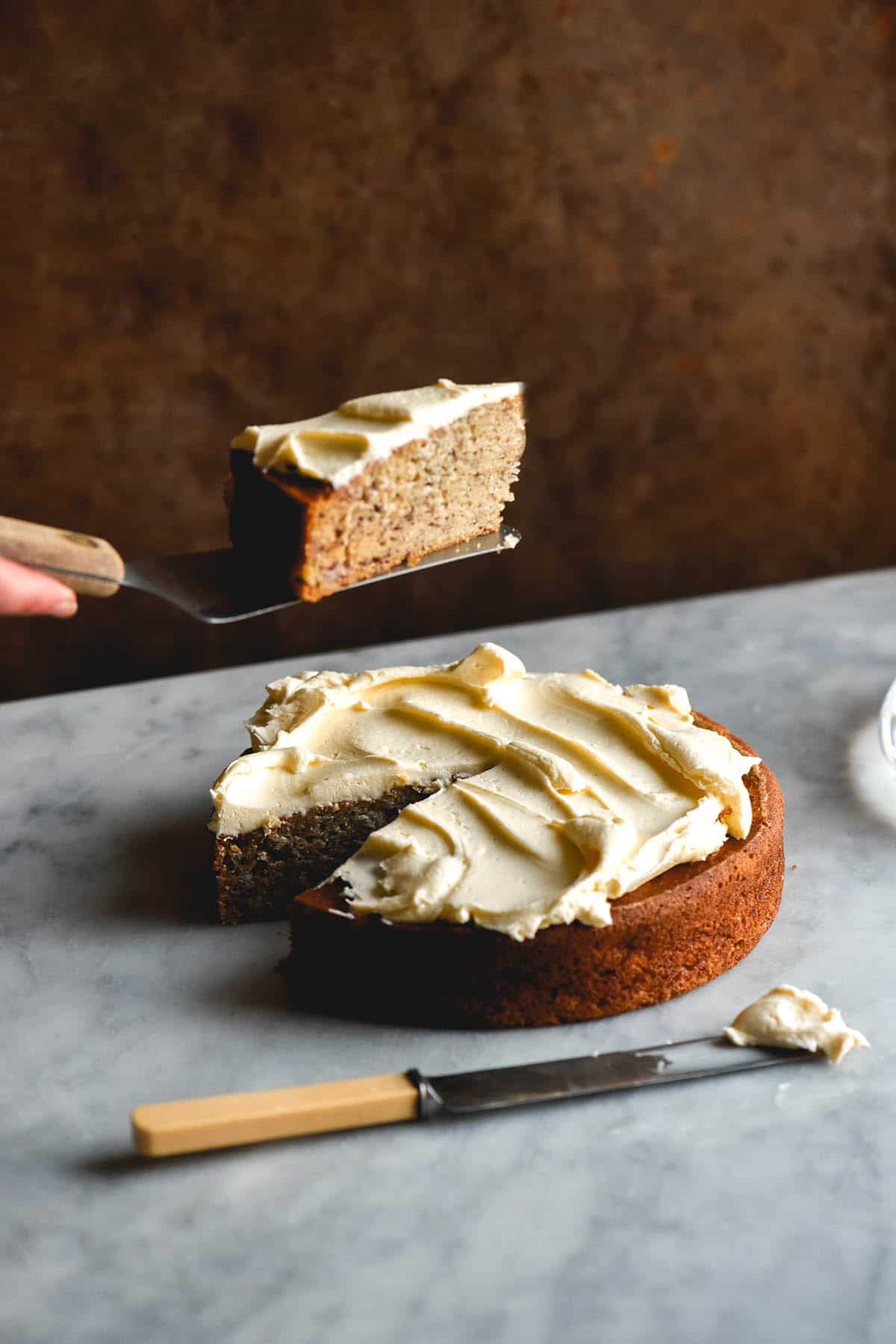 Can I make this gluten free banana cake with frozen bananas?
Yes, you can. Allow the frozen bananas to defrost in a sieve over the sink. Once they're mostly defrosted, peel the bananas and allow them to drain of excess liquid.
Alternatively, defrost the bananas in the microwave and then drain them of excess liquid. You need 300g of banana.
This brings me to an important point: this recipe needs 300g of banana, which is weighed after the bananas are peeled. I have found I generally need 4-5 large frozen bananas to be left with 300g drained weight of banana flesh.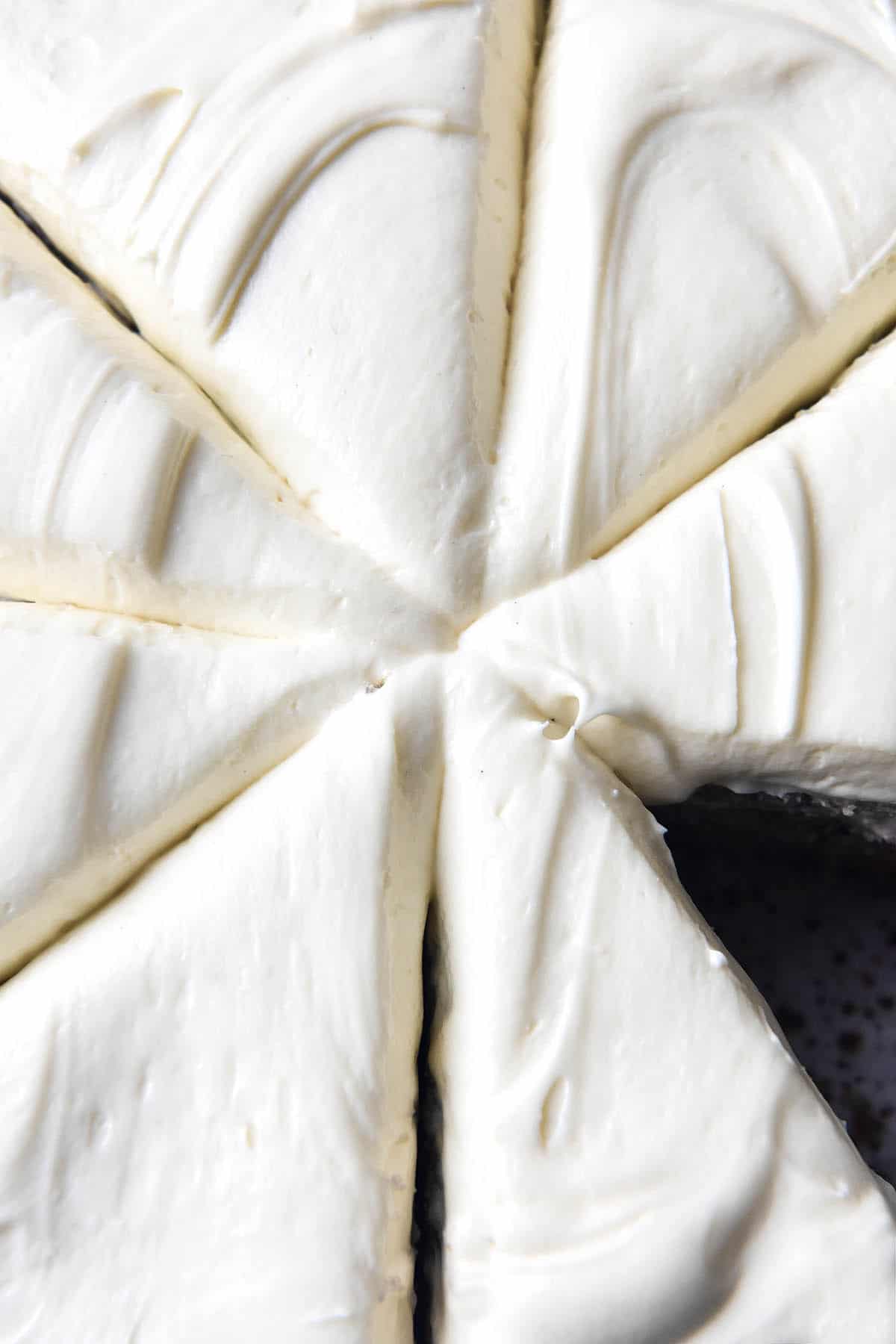 Can I make this cake as a loaf?
Yes, this cake can easily be made as a loaf. Simply prepare the batter as per the recipe card, then pour it into a greased loaf pan. I used my USA pan which I love. Bake for 35-40 minutes or until the top of the loaf is golden brown and a skewer comes out clean. If your loaf pan is narrow in width, you might need to bake your loaf for a bit longer. My USA pan is the small – 454ml capacity, measures 21.5cm x 11.4cm x 6.9cm.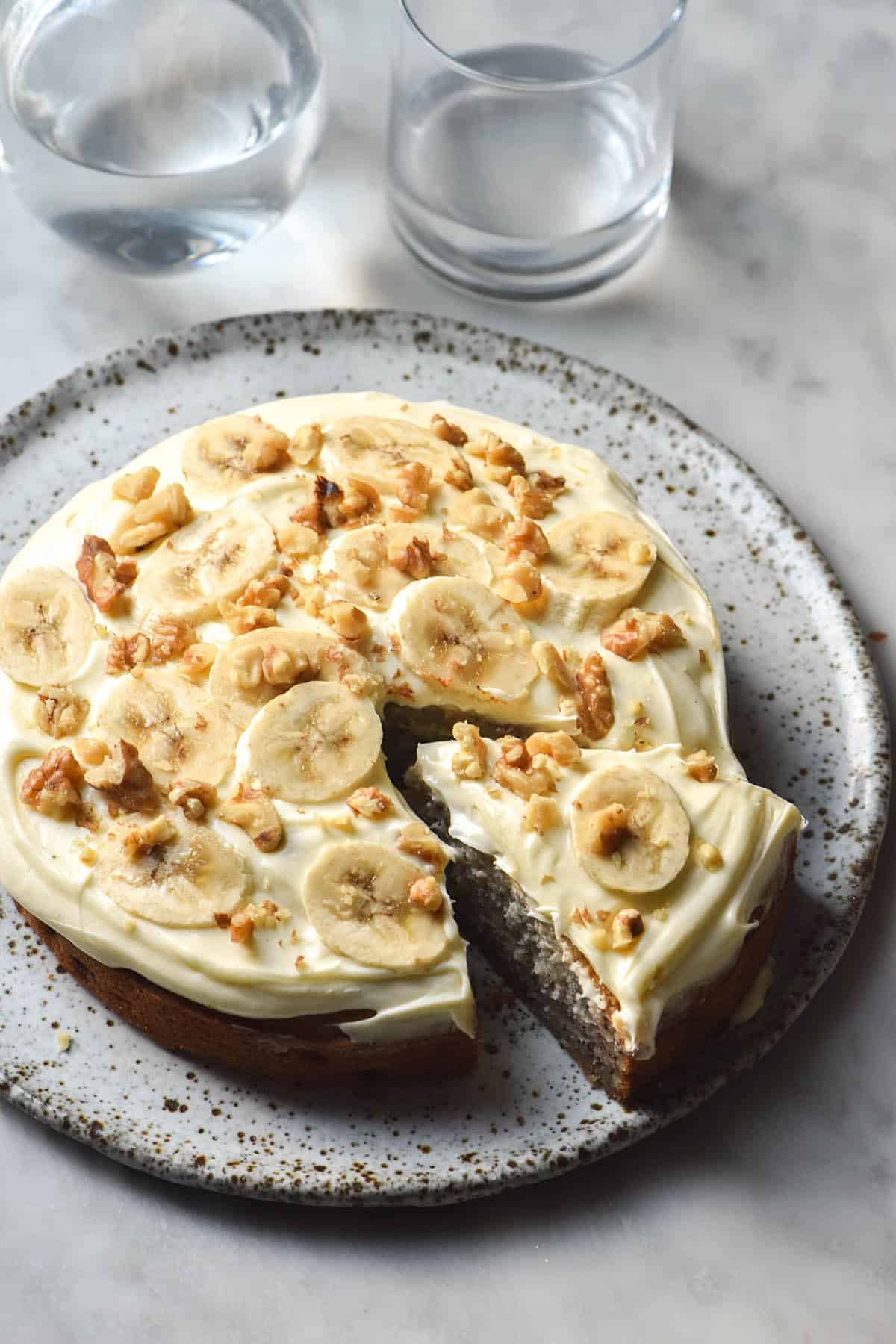 Can I make this gluten free banana cake dairy free?
Yes, this banana cake is very easily made without dairy. Simply use a dairy free milk in the cake itself, and a dairy free replacement for the cream cheese icing.
Can I make this gluten free banana cake vegan?
Yes! While testing this recipe, I accidentally omitted the eggs. The result was excellent – so much so that this recipe is naturally egg free. If you'd like to make a gluten free vegan banana cake, the process is the same as the dairy free option. Simply use a plant based milk of choice in the cake and a vegan alternative for the cream cheese icing or the lemon icing.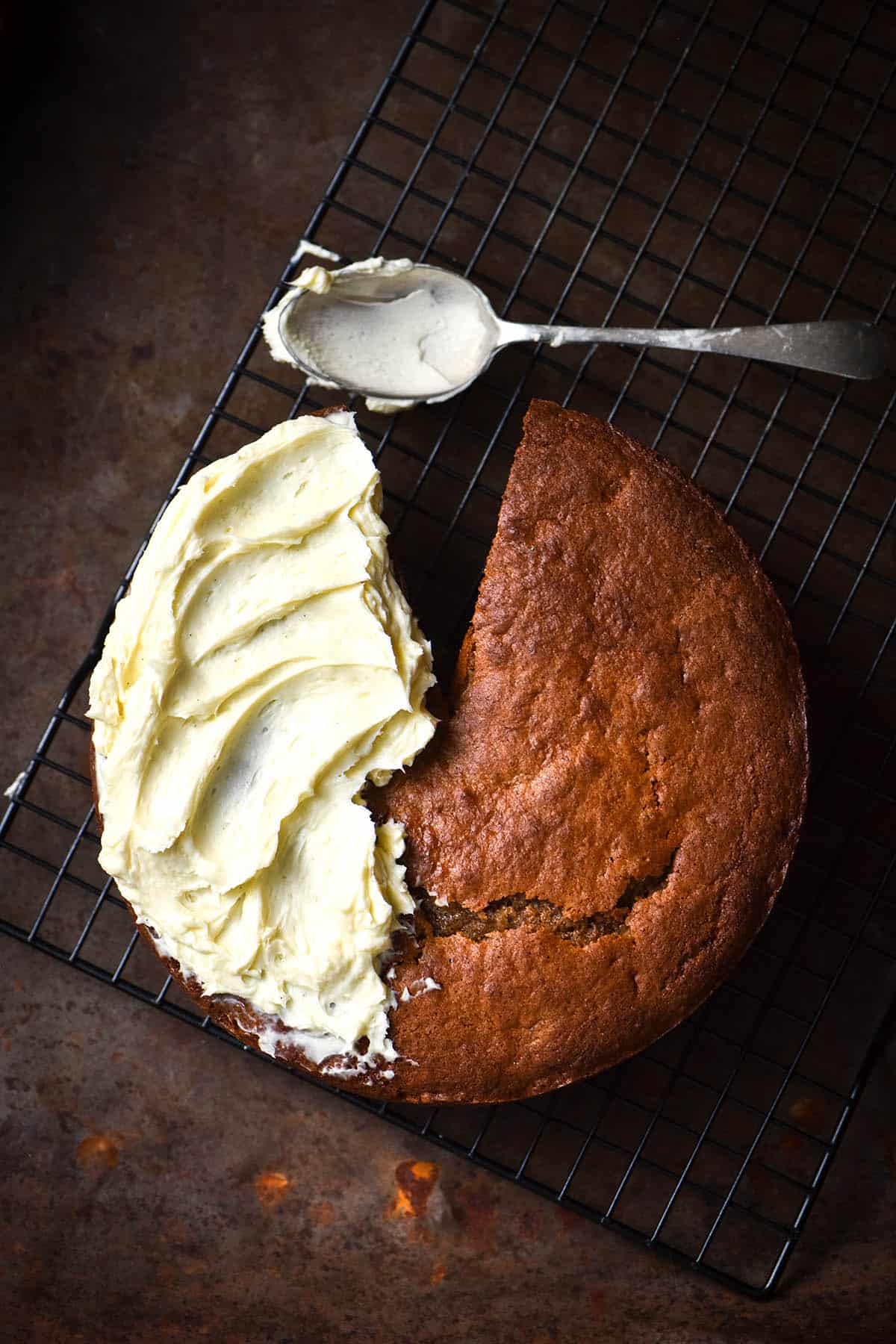 Is this gluten free banana cake low FODMAP or fructose friendly?
Not specifically, no. However, there are a few easy tricks you can use to make this banana cake FODMAP friendly.
Ripe common bananas are low FODMAP in 35g serves per person. This cake contains 300g banana, so it will need to serve 9 if you use ripe bananas.
Firm common bananas are low FODMAP in 100g serves. This means the cake is well within FODMAP thresholds if you use firm bananas. If you find their flavour a little bland for banana cake, try roasting them before you bake the cake. This can help bring out their banana flavour.
Ripe sugar bananas (the little baby bananas) are low FODMAP 112g serves, so a cake made with these will also be well within FODMAP limits.
Bananas aside, the two other ingredients worth discussing are the milk and the cream cheese. You can use lactose free full cream milk if you don't need the cake to be vegan. If you do, I recommend rice milk or soy milk made with soy protein as opposed to the whole beans.
If you don't need the icing to be vegan, use lactose free cream cheese. And if you need the icing to be vegan, use the lemon icing option.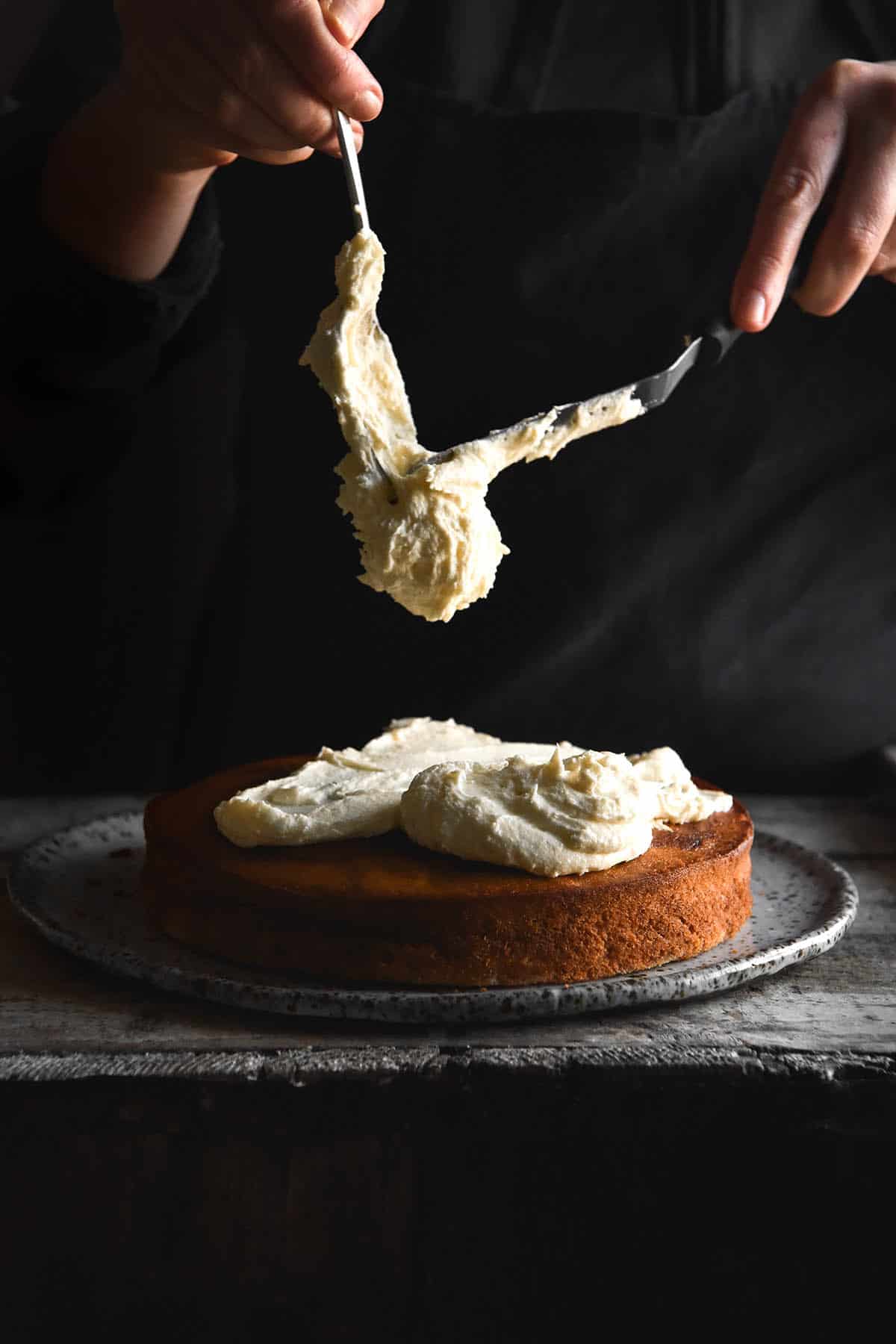 Recipe notes, tips and tricks
This banana cake uses a 20cm cake pan. Don't make the cake in a larger tin or it will be too thin. The cake does rise, but not enough to account for a large cake tin.
Baking soda aids in browning and rise for this cake. The vinegar helps offset some of the baking soda, which needs an acidic ingredient to activate.
I used caster sugar in this recipe. Plain white sugar is fine, too, for those countries where caster sugar isn't common. Caster sugar is just a finer grain white sugar – I use it because it's easy across the board.
Personally, I want my banana cake to be sweet, banana heavy and without any spices. This might be an Australian thing, but that's how I have always had banana cake. It's how my Nan used to make it, too. If you like some spices in yours, go right ahead.
Make sure your white rice flour is fine and fresh. Australians – the red box at the supermarket doesn't cut it here. If you can, buy it from your local health or bulk food store. They are generally more finely milled and a lot fresher.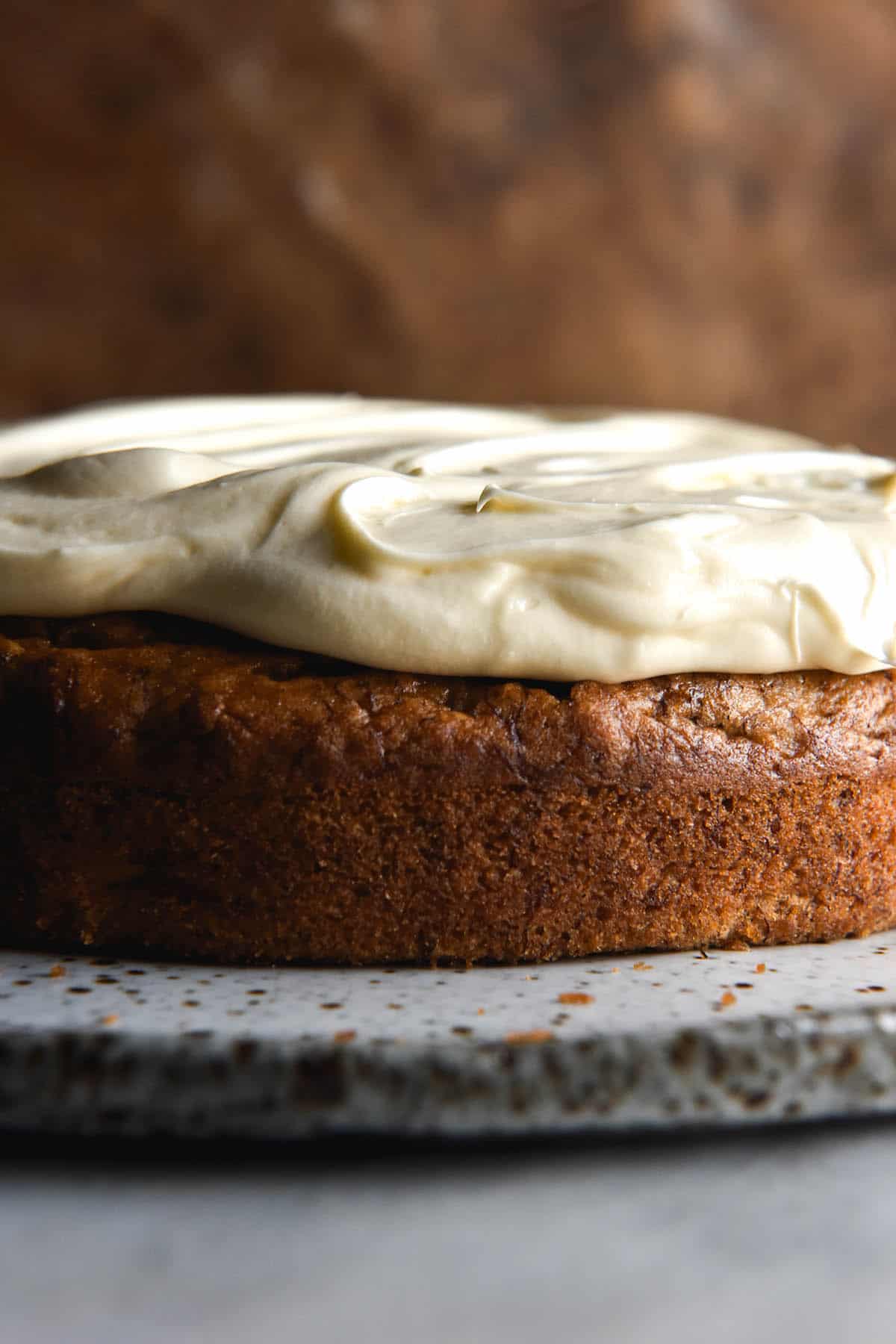 Flour notes and substitution options
In the absence of eggs, the tapioca flour really helps bind this banana cake together. White rice flour is a solid backbone flour with a neutral flavour.
At the moment, I don't have any flour substitutions for this recipe. I plan to work on a rice flour free option, but I haven't developed it just yet.
You can use light brown sugar in place of the white sugar, although the flavour and appearance of the cake will be a little different.
Any neutral oil works here. I use vegetable oil because it is easy and cheap to buy, but if you have a preference for something else – go for it.
Personally, I think the cream cheese and banana cake combination is unbeatable. If you'd prefer to use a different icing, that works too. Off the top of my head, I'd say my brown butter chocolate buttercream would be a very viable candidate.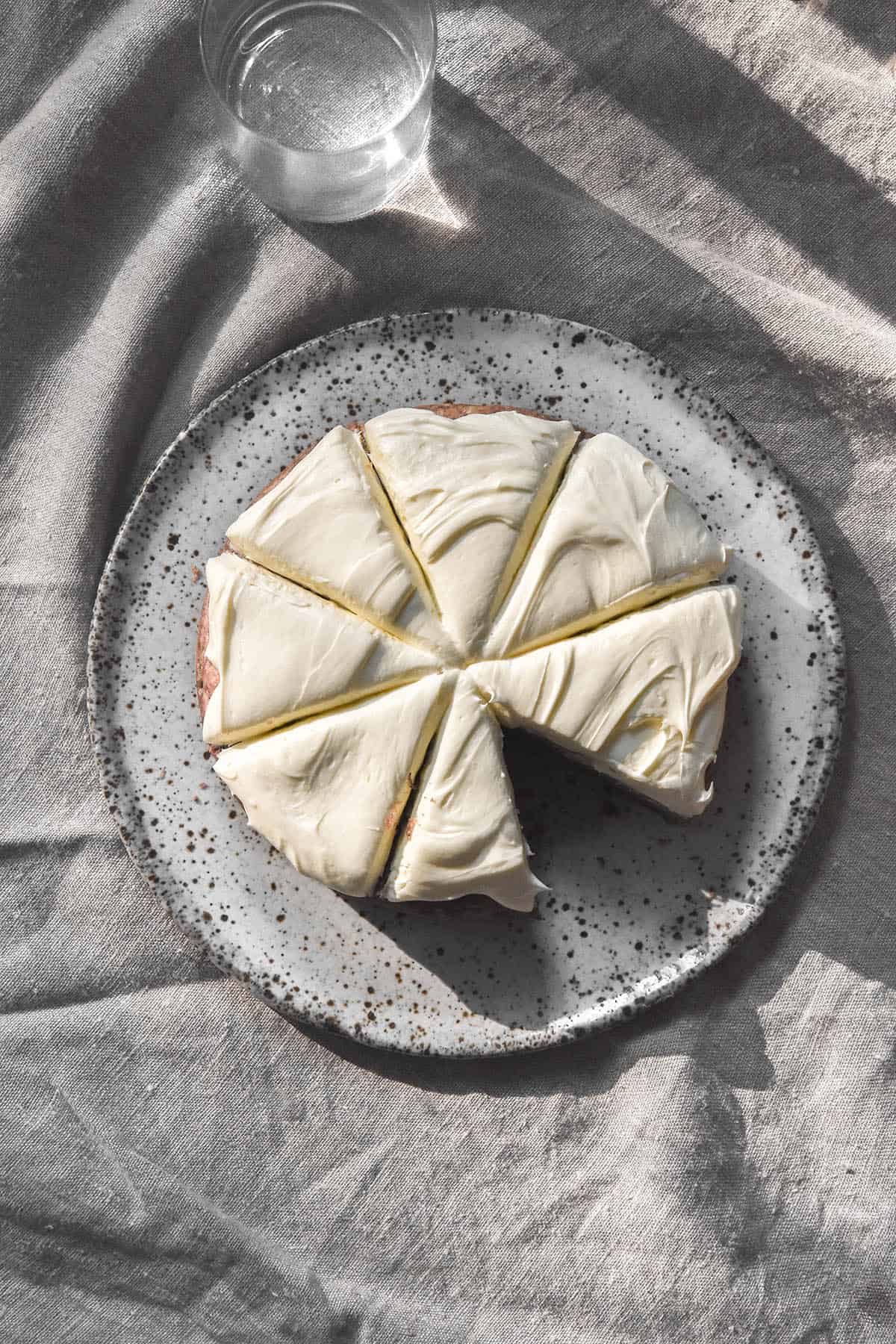 Icing notes
The cream cheese icing recipe makes a really good amount of icing. If you love a thick layer of icing, this is perfect for you. If you prefer a thin layer of icing, you could make half the icing quantity. Another option is to make a layer cake, and keep the icing quantity the same.
If you need the cake to be vegan, there are some vegan cream cheeses out there these days. I haven't tried them and I don't know if any are low FODMAP (if you need them to be) but something to consider.
Another option for a vegan and dairy free banana cake is to use the lemon icing option. I love the lemon icing for it's ease and nostalgic quality. It also cuts through the banana flavour really nicely and makes for a delicious gluten free and vegan cake.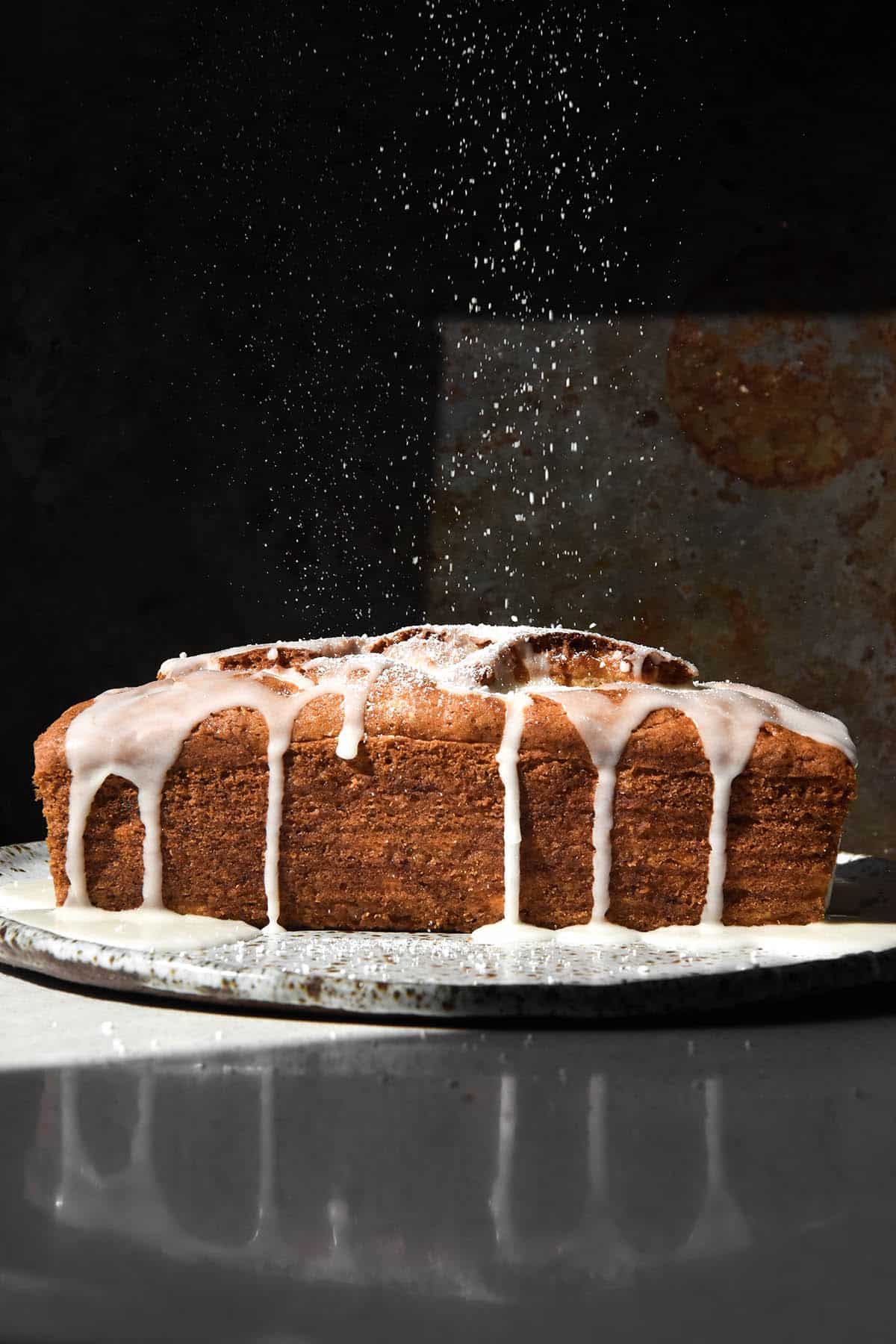 More gluten free desserts without xanthan gum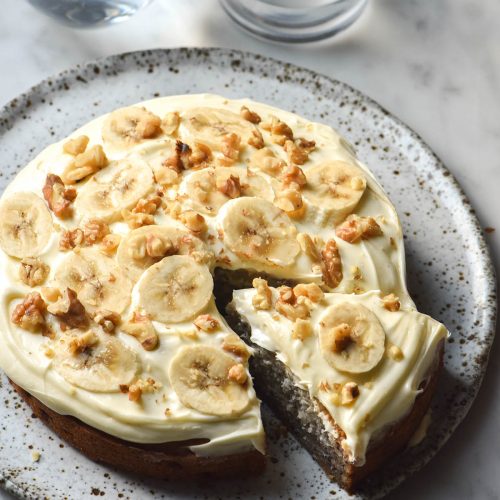 Gluten free banana cake (vegan option)
Xanthan gum free, egg free, dairy free option, vegan option
Equipment
1 X 20cm (7.8 inch) cake tin
Ingredients
For the banana cake:
160

g

(1 cup) fine white rice flour

60

g

(1/2 cup) tapioca flour

1/2

teaspoon

baking powder

1/2

teaspoon

baking soda

1/2

teaspoon

fine salt

300

g

banana

mashed (see notes)

125

g

caster sugar or white sugar

125

ml

(1/2 cup) milk of choice (I used rice milk)

125

ml

(1/2 cup) oil (I used vegetable oil)

1

teaspoon

(5ml) white vinegar or lemon juice

1

teaspoon

vanilla bean paste

optional
For the cream cheese icing:
250

g

cream cheese, room temperature

(see notes)

50

g

room temperature butter

80

g

(1/2 cup) pure icing sugar, sieved

1

teaspoon

vanilla bean paste

optional

Squeeze of lemon juice

to taste (optional)
OR for a lemon icing:
160g

(1 cup)

pure icing sugar, sieved

2-3

tbsp

Lemon juice, just until your ideal consistency is reached
Instructions
To make the cake:
Preheat the oven to 180C/356F. Grease and line a 20cm (7.8 inch) cake tin.

In a large mixing bowl, combine the flours, baking powder, baking soda and salt.

In a medium mixing bowl, combine the banana, sugar, milk and oil.

Whisk the wet ingredients into the dry, then add the vinegar and vanilla bean paste if you're using it. Whisk again to combine.

Pour the batter into the lined cake tin and bake for 25-30 minutes or until golden brown and cooked through. If you like a JUST slightly unbaked banana cake, take it out now. Otherwise, cook the cake for an additional 5 or so minutes. Lightly tent the cake with foil if it is taking on too much colour.

Remove from the oven and allow to cool for 10 minutes before removing the cake from the tin and placing on a wire rack to cool completely before icing.
To make the icing:
Use hand beaters or a stand mixer to process the cream cheese and butter until smooth, combined and lump free. Add the icing sugar, turn the speed to medium high and beat the mixture until fluffy. Add the optional flavours to taste, beat to combine, then spread atop the cooled banana cake before serving.
Notes
See the body of the post for method to use frozen bananas
Room temperature cream cheese is so important for a smooth cream cheese icing. Allow it to come to temperature before use.
Use lactose free cream cheese (available at most Australian supermarkets) for a lactose free option. Use a plant based alternative for a vegan option.