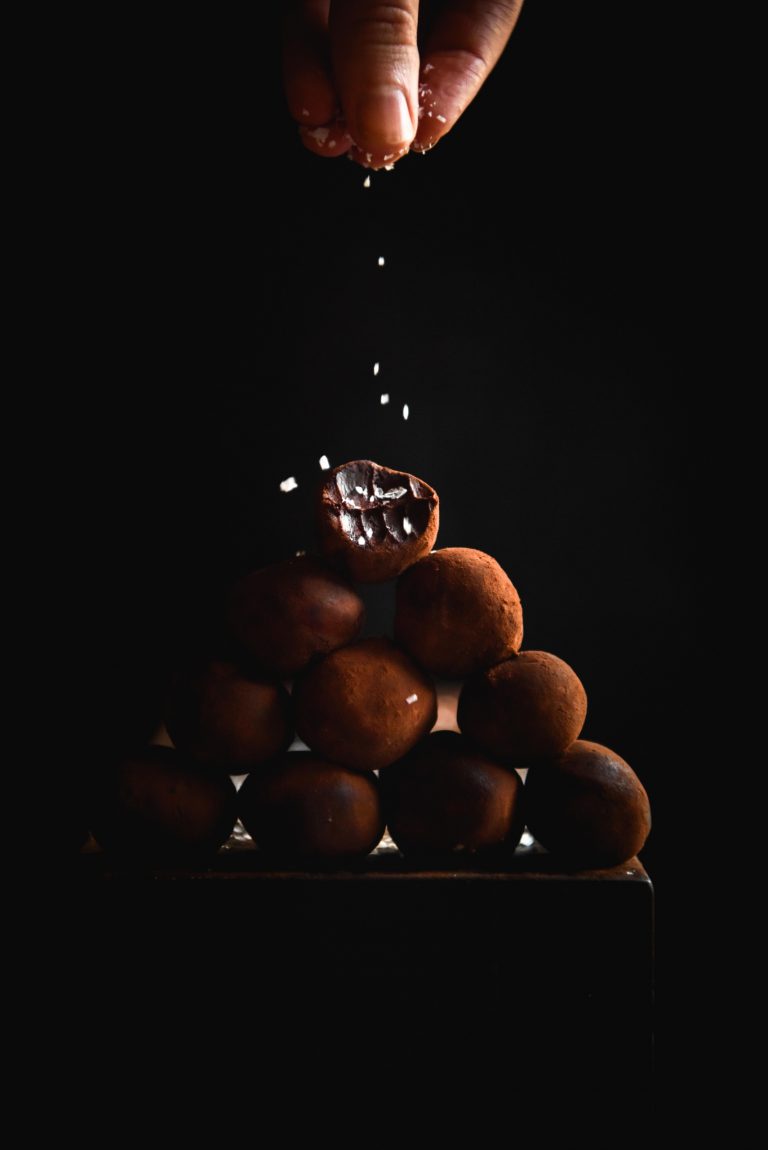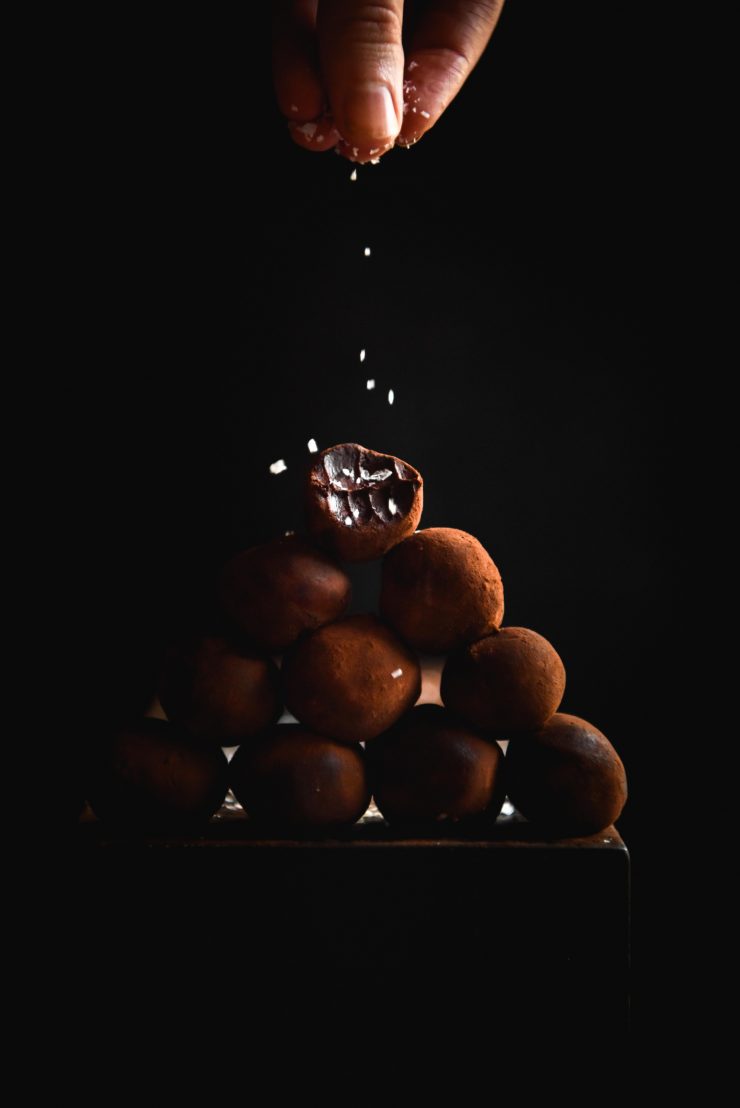 Vegan salted 'nutella' truffles. Yes. What started as cream-laden, mezcal and smoked salt truffles has quickly morphed into a truffle that's definitely better than my original. Obviously I plan to share the original variety too, but my zest for this version is unrivalled. I've dropped about 4 deadlines in order to press publish on these vegan salted 'nutella' truffles, so please enjoy them.
Vegan 'Nutella' truffles
These salted vegan Nutella truffles use a simple mix of Lindt 70% dark chocolate (which is vegan) vegan chocolate hazelnut spread and coconut cream. They are rich, luscious and perfectly balanced with a pinch of salt. You can also add the alcohol of your choice for a festive vegan treat.
The truffles are vegan and dairy free (obviously) but also gluten and grain free.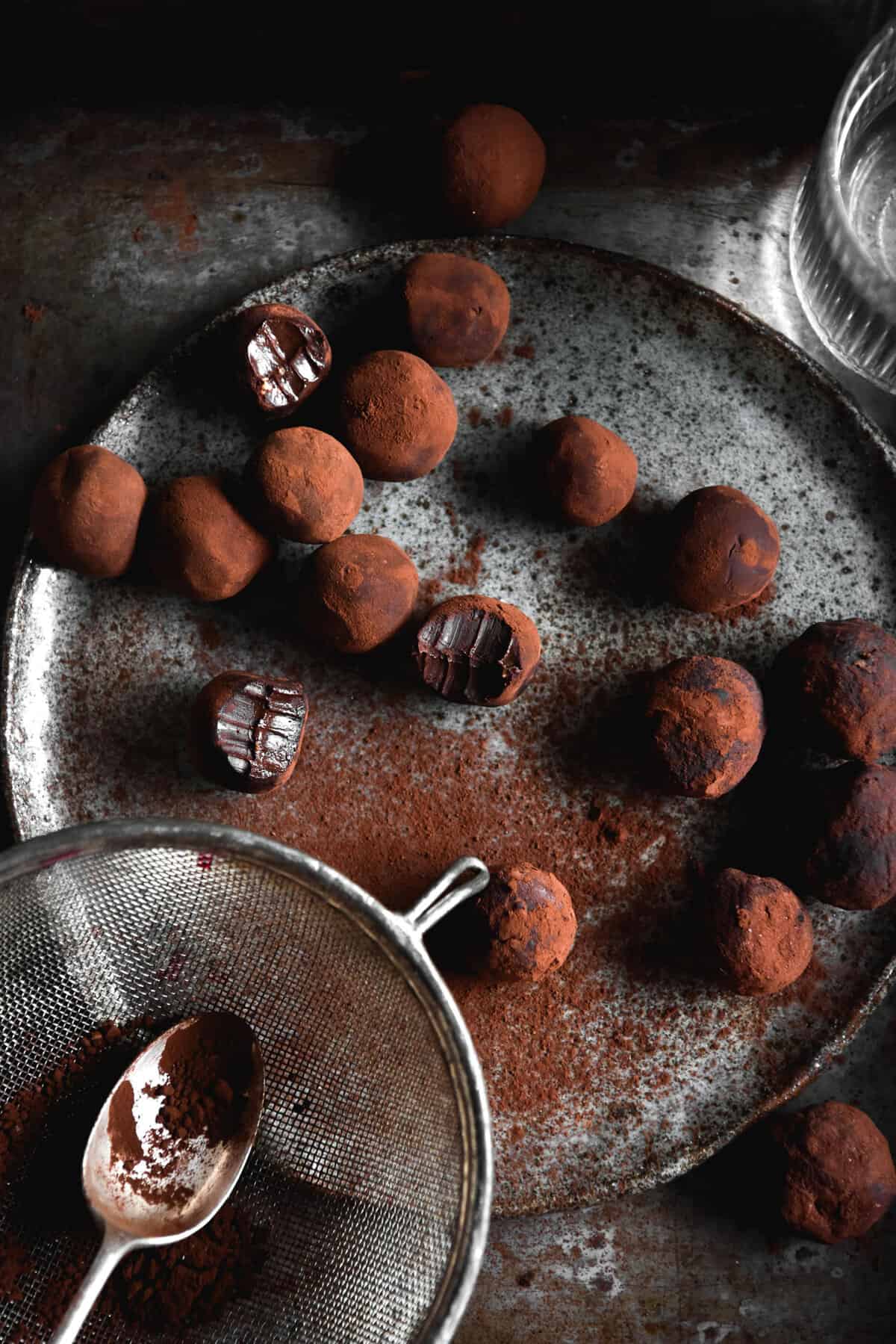 Tips for your vegan chocolate and hazelnut truffles
I highly recommend using the brands I have used, if you can find them. Not for any #sponcon reason (Lindt, still waiting for that call) but because other formulations will give very different results. Lindt 70% or above is conveniently vegan AND found at the supermarket. A truffle home run.
Same goes for Vego vegan 'choc-hazelnut' spread. It is essentially Nutella without the animal product or palm oil, which is environmentally questionable.
For a nut free option, simply omit the spread and use 3/4 cups of coconut cream. Coconuts are technically a fruit, before you point out the whole nut thing.
Salt and vanilla bean paste are optional but highly recommended. They enhance the flavour an untold amount!
It's Christmas! If you'd like a boozy recipe, omit 1 tablespoon each of the 'Nutella' and coconut cream to add your liquor of choice. Rum is traditional, but I'd suck alcohol out of mouthwash so I'm probably not the best to ask.
Get a good quality cocoa for the coating, it really does make a difference.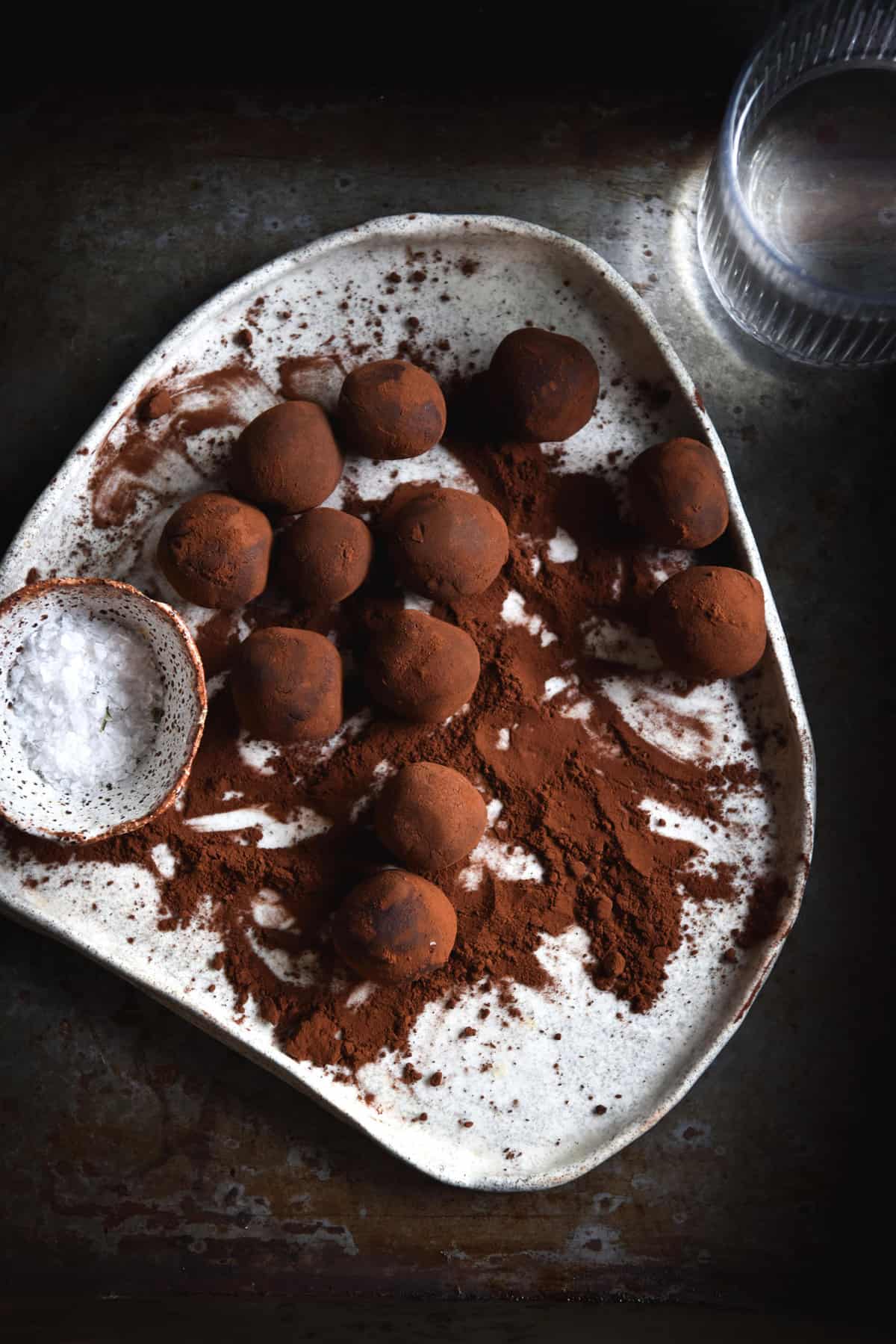 Recipe notes
Many truffle recipes use the heat of warmed dairy to melt the chocolate. However, many of them go on to specify that you can use the double boiler method or a microwave if the chocolate hasn't melted sufficiently. I don't own a microwave and I find it far easier to set up a double boiler than to faff around and hope my coconut cream is hot enough but not too hot. As a result, this recipe uses the tried and true method of placing a steel bowl atop a half filled small saucepan of water. The heat and steam gently cook the chocolate without overdoing it.
If you can't find Vego spread, you can simply omit it! It is, however, available at some supermarkets and a lot of health food stores here in Australia.
It is important to taste the 'raw' truffle batter before making it into truffles – how it tastes in the making is how the final product will taste. Because Lindt 70% is not overly sweetened, you might like to add a teaspoon or two of icing (powdered) sugar or maple syrup into the mix. The cocoa coating is bitter too, so make sure you're happy with the overall sweetness before rolling. Personally this wasn't an issue in the 'nutella' version, but more so in the two ingredient version.
If you decide upon rolling the first one that they're not sweet enough, simply add a little powdered sugar to the cocoa for coating. It will become a little lighter in colour, but will still be delicious.
Unless it's a very hot day, these are OK out of the fridge. They are definitely on the softer side, but they will hold their form. I recommend serving them at room temperature to get the full flavour profile and general truffle experience. You might like to take them out of the fridge an hour or two before eating.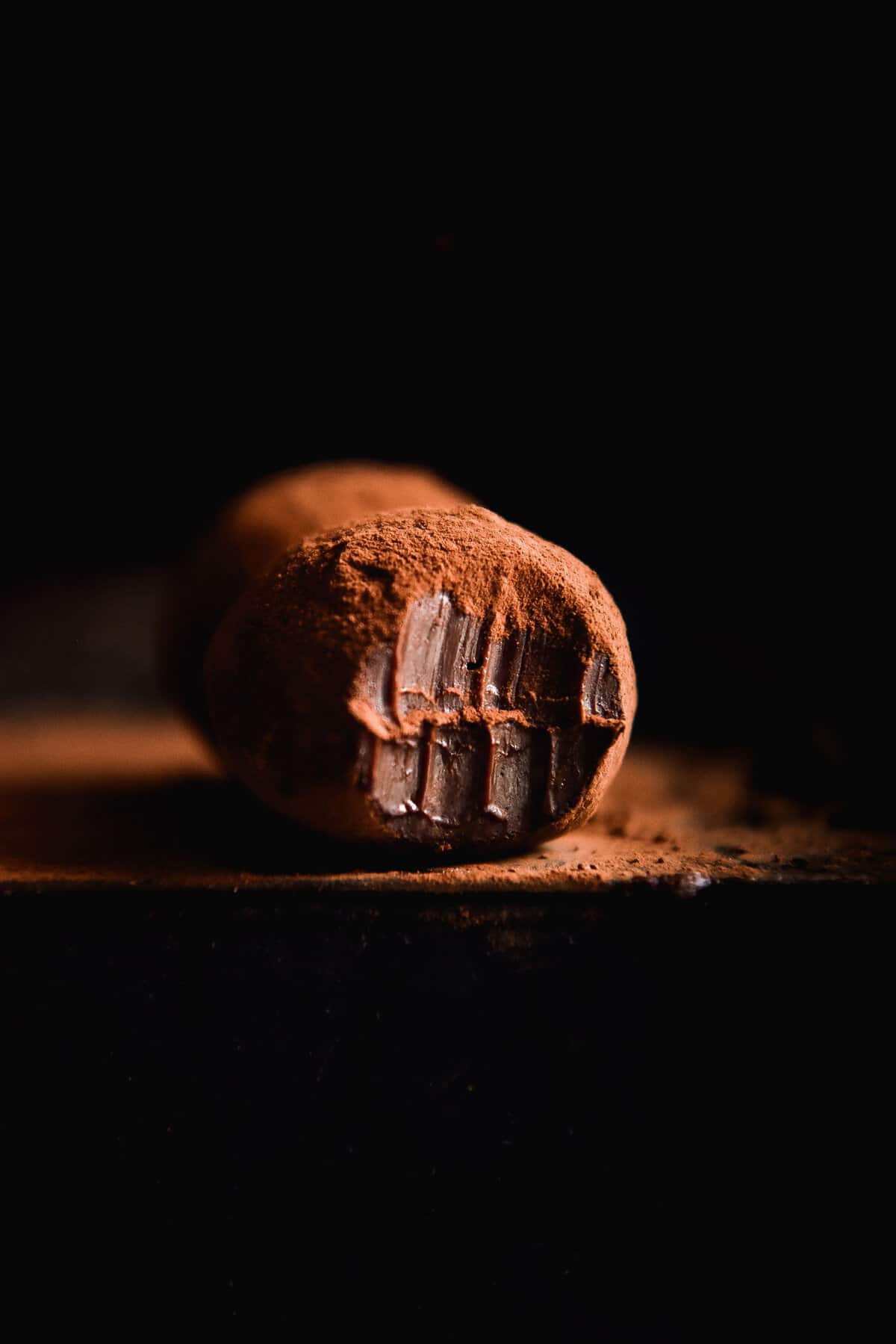 More vegan dessert recipes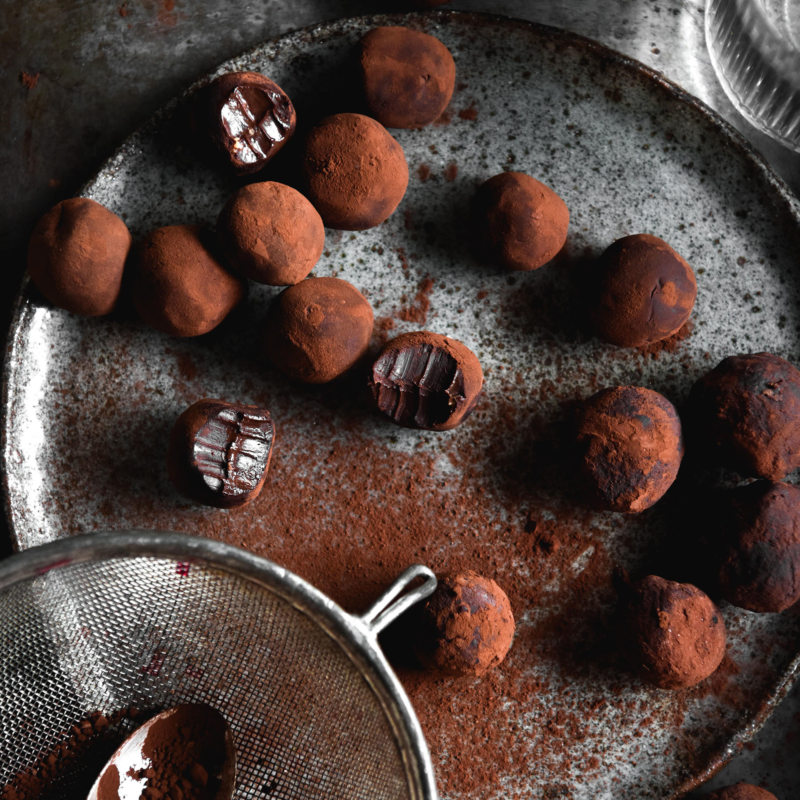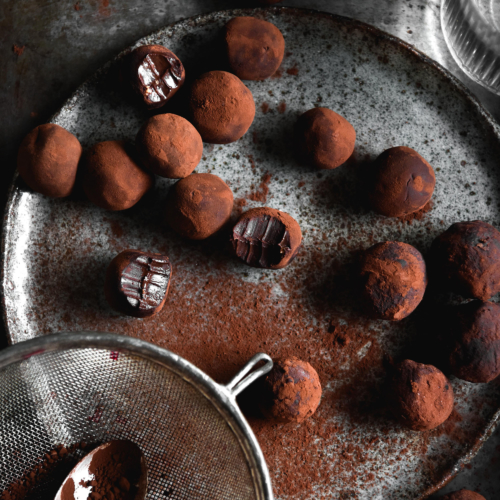 Vegan salted 'nutella' truffles
Gluten free, grain free dairy free, FODMAP friendly, nut free option
Makes 12-14 truffles
Ingredients
200

g

Lindt 70% dark chocolate (or another brand that contains cacao butter sugar and cacao, not a coconut oil based one)

1/2

cup

coconut cream

not milk

1/2

cup

Vego vegan choc-hazelnut spread

see notes if you can't get your hands on this

1/2

teaspoon

fine salt

optional but highly recommended

1-2

teaspoons

vanilla bean paste
Instructions
Roughly chop the chocolate and place it in a medium sized metal bowl. Half fill a small saucepan with water and place it over a low-medium heat. Place the bowl atop the saucepan of water, ensuring the water doesn't touch the bottom of the bowl. Add the coconut milk and vegan choc-hazelnut spread. Use a spoon or whisk to combine the ingredients, stirring until the mixture is a smooth ganache. Remove it from the heat before adding the salt and vanilla bean paste. Taste to ensure the sweetness is to your liking, and add a teaspoon or two of icing sugar if it isn't. Stir just enough to combine (salt can sometimes make things seize up) and place the bowl in the fridge or on the benchtop to harden. This will take a couple of hours, so you could do it the night before.

When you're ready to roll the truffles, line a tray with baking paper and place a generous amount of the cocoa on a large plate. Use the cacao to dust your hands before plucking some mixture from the bowl and rolling it into a little ball. You can also use an ice cream scoop or spoon, but I find hands the most efficient. Place the rolled balls onto the lined baking tray and repeat until all the ganache has been used.

Place the truffles in the fridge to set, and bring them to room temperature 1/2 -1 hour before servings, depending on the climate you're in.

The truffles keep well in an airtight container in the fridge.