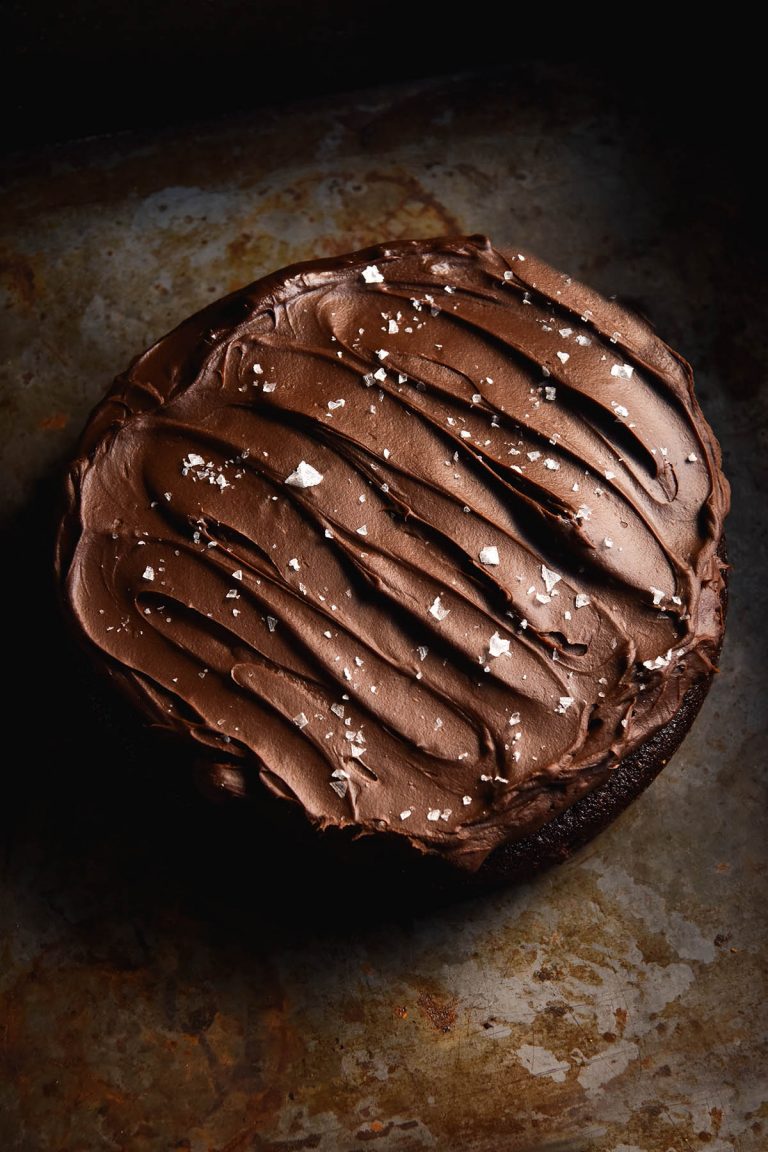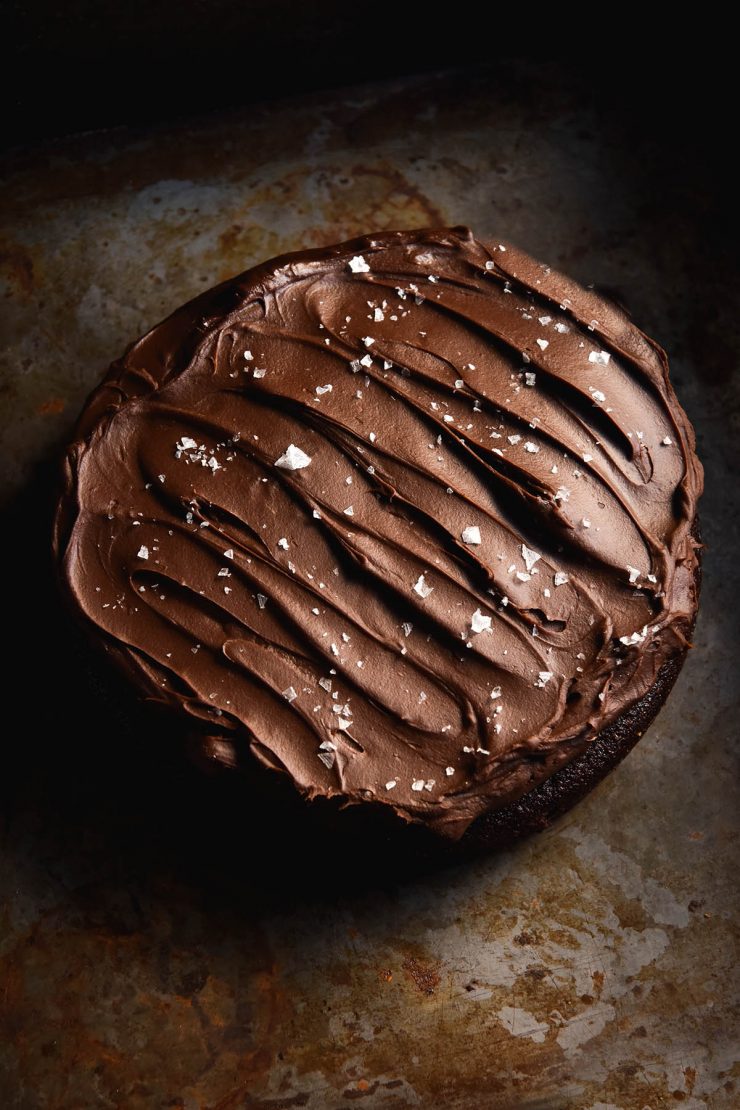 Today's recipe for gluten-free chocolate olive oil cake is one that I made by using cocoa and 70% dark chocolate. It is an intensely chocolate flavoured cake that is both fudgy yet light. Olive oil adds an extra layer of flavour, while allowing the chocolate to shine.
Gluten-free chocolate olive oil cake
The cake is made without xanthan gum or guar gum. It is also starch free and extremely simple and easy to make. If you use a dairy free 70% dark chocolate (like Lindt 70%) and a dairy free icing, the cake is also dairy free.
It is a double chocolate cake, and triple if you count the optional ganache or chocolate buttercream frosting. The flavour of olive oil adds a lovely complexity, and the use of oil as the base keeps the cake fresher for longer.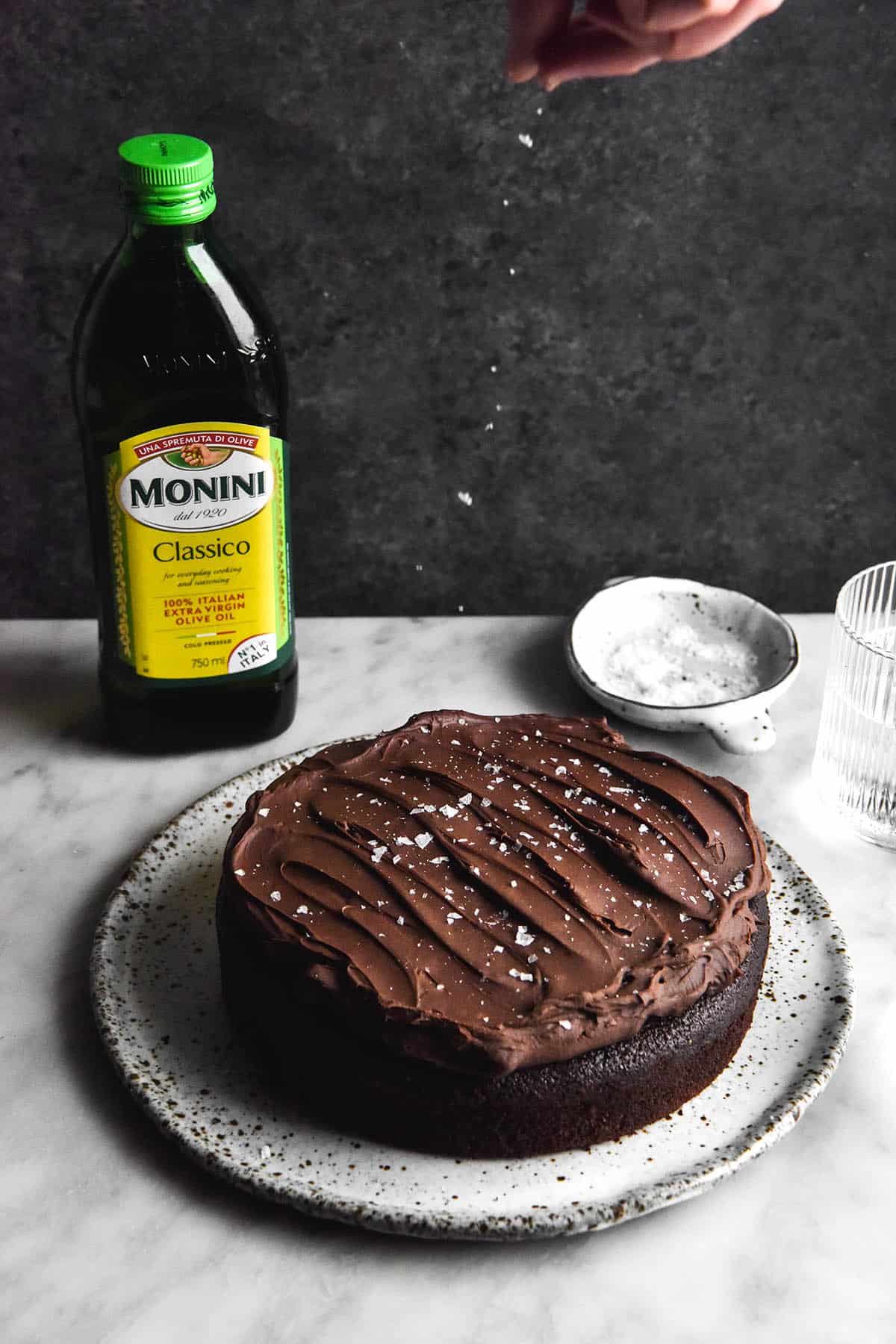 Which chocolate to use for this chocolate olive oil cake
As we briefly chatted about above, the chocolate (milk aside) is what will determine if the cake is dairy free. 70% cooking chocolate generally contains milk solids, whereas 70% Lindt (for example) is actually dairy free/vegan.
What sort of chocolate you use is up to you, but I recommend using a non coconut oil based chocolate. I haven't tried that variety here, but I feel like it would make your cake too oily. Choose a brand that is made with cocoa solids and cocoa butter. Make sure it's 70% – this is super important for flavour, as we'll discuss below.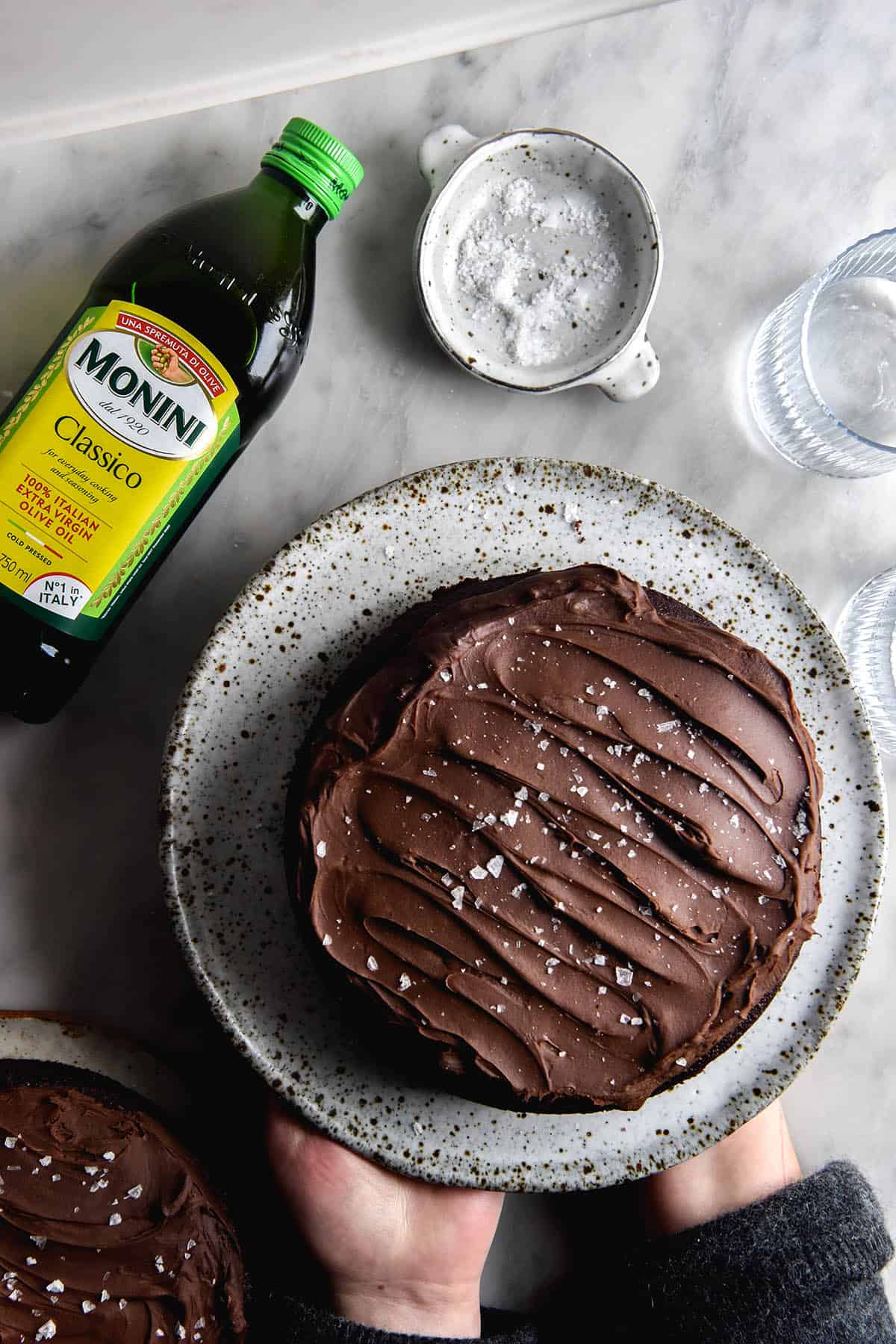 Ingredient notes for your gluten-free chocolate olive oil cake
The chocolate needs to be 70% for a few reasons. Firstly, it adds a rich and powerful chocolate flavour that is often missing from cocoa based cakes. Secondly, it adds just enough sweetness to complement the sugar already in the cake. Using milk or 40% dark chocolate would not add enough chocolate flavour, and would likely make the cake too sweet.
I always use Dutch processed cocoa for chocolate cake, so this is what I recommend here.
This cake uses almond meal to achieve a lovely crumb without starches or gums. If you need to make a nut free cake, use this gluten free chocolate cake recipe. If you need to make a vegan and gluten free chocolate cake, there is a recipe in Intolerance Friendly Kitchen.
See the flour section below on what I have tested as an alternative to white rice flour.
This cake uses olive oil for a flavoursome oil base. Oil based cakes are my favourite because they stale far less quickly and can easily be made dairy free. I also find that the chocolate has a chance to shine when it's not competing with the richness of butter.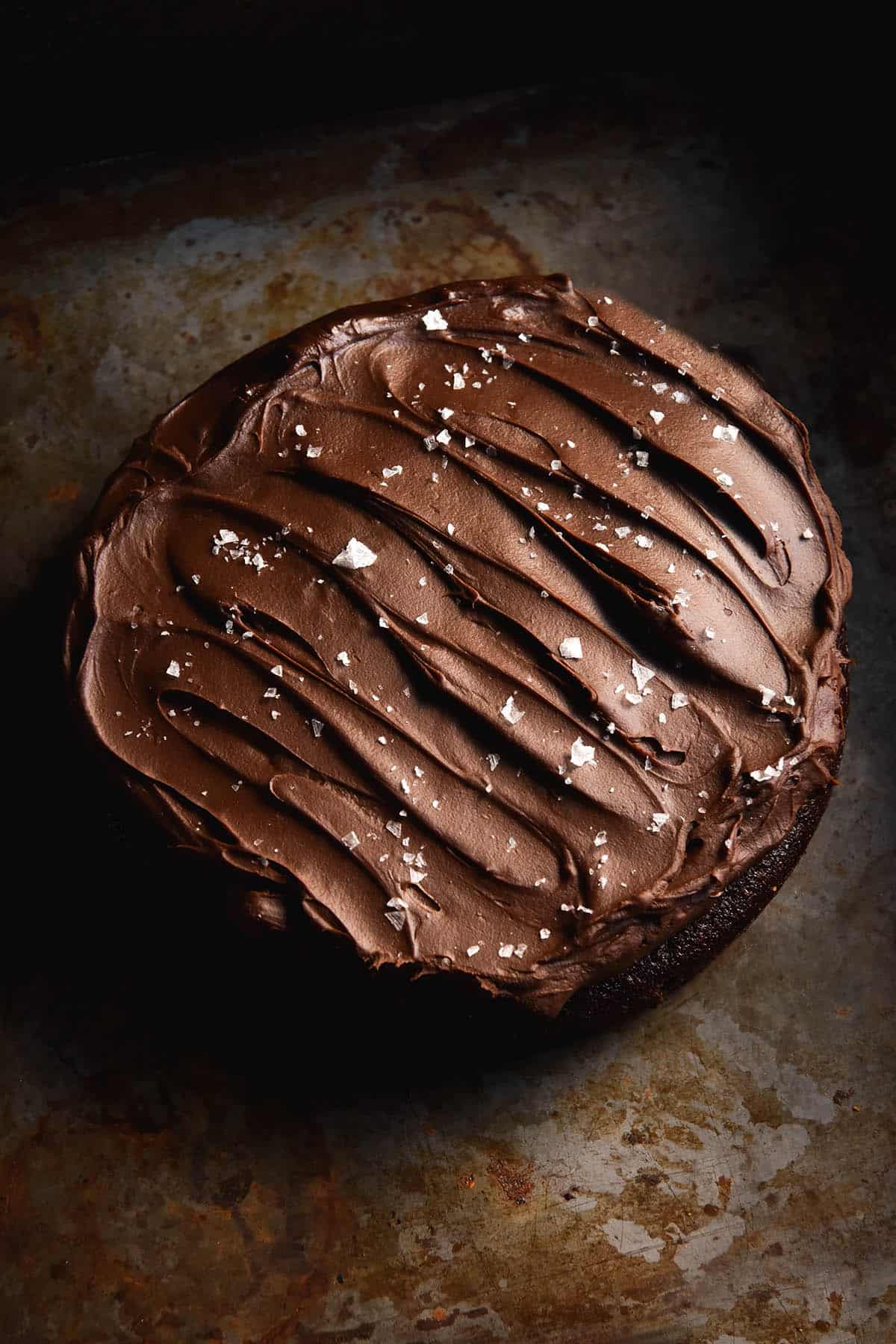 Flour substitutions for your gluten-free olive oil cake
Firstly, there is no substitute for almond meal. If you need a nut free cake, use this recipe here. Please note the recipe linked (not this recipe you're on) makes two cakes, so halve it if you only need one.
Secondly, there are only so many chocolate cakes I can make (particularly in this economy!) so I cannot try everything.
I have tested sweet white sorghum flour as an alternative to white rice flour. Sorghum flour in large quantities can be quite bitter, but the almond meal balances it out in this instance. Use 1/4 cup (60ml) less milk than the recipe card calls for.
Buckwheat flour can be used in place of the white rice flour – keep all other ratios the same. I personally thought this somehow tasted less sweet, so you might experiment with adding 25g extra light brown sugar.
For a grain free version, you can use tapioca flour in place of the white rice flour. Keep all other ingredients the same. I found it needed 10 extra minutes in the oven and was more fudgy than the other versions.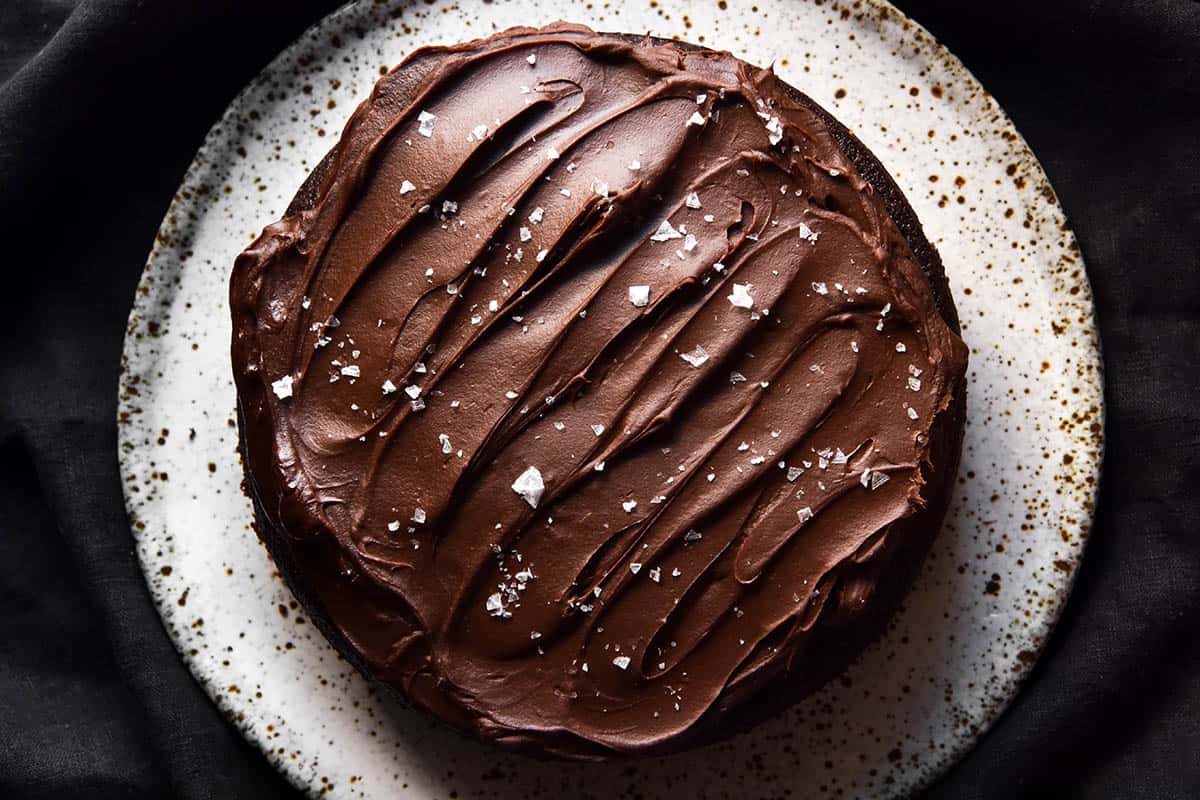 Options and tips for the chocolate icing
There are two options for icing here – chocolate buttercream or chocolate ganache. Buttercream adds a bit of 'fluffiness' to the cake, whereas ganache is full on indulgent. Which you choose depends on what sort of mood you're in.
If you choose the buttercream, make sure your butter is softened and your icing sugar sifted. This will ensure a nice seamless process and a smooth buttercream. You can use Dutch Processed or regular cocoa for the buttercream.
If you choose the ganache, use cooking chocolate. It contains emulsfiers to ensure the ganache doesn't split.
Ensure you don't get any liquid in your ganache after you add the hot cream. This might split the ganache (and it ain't cheap!)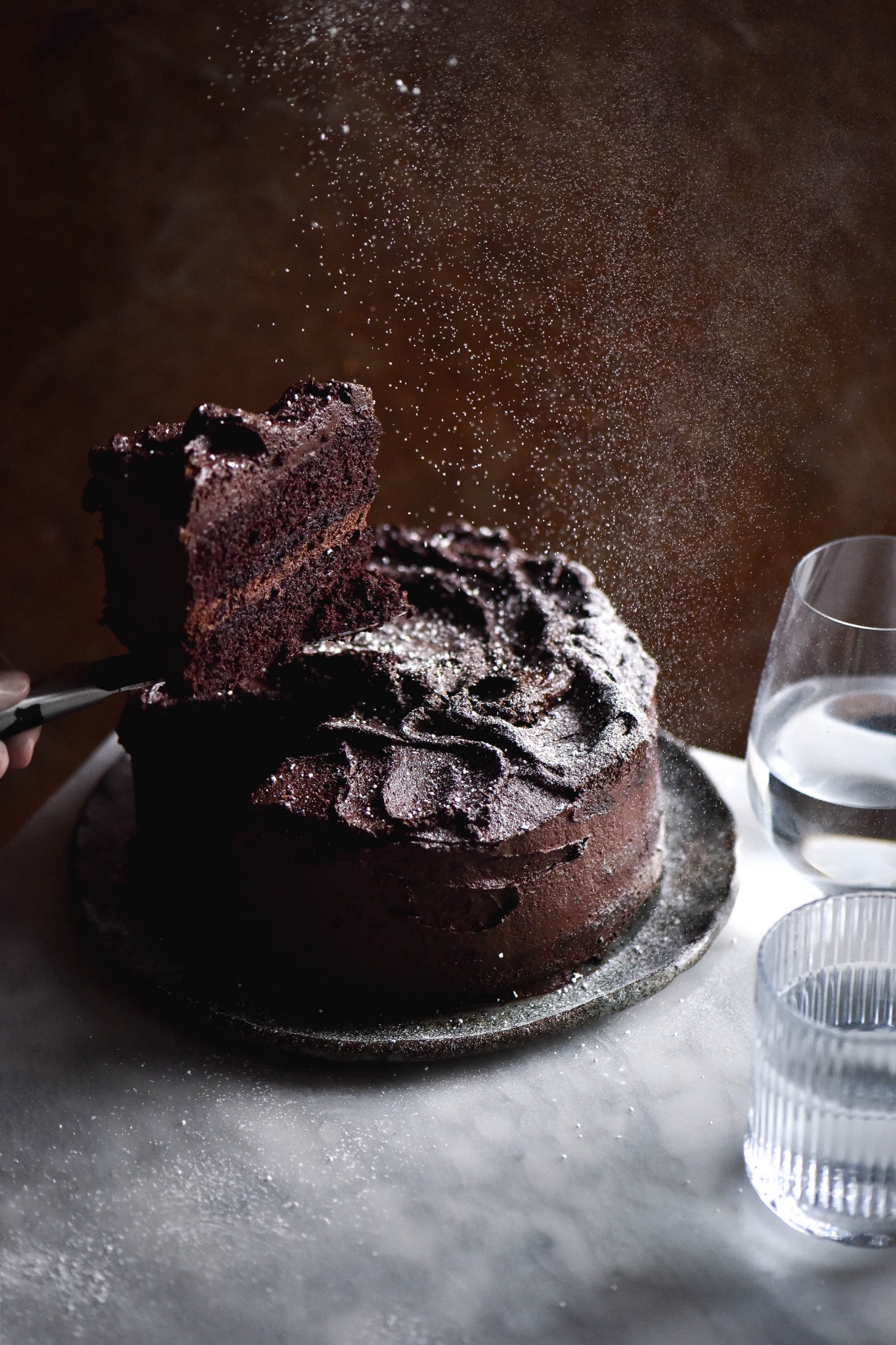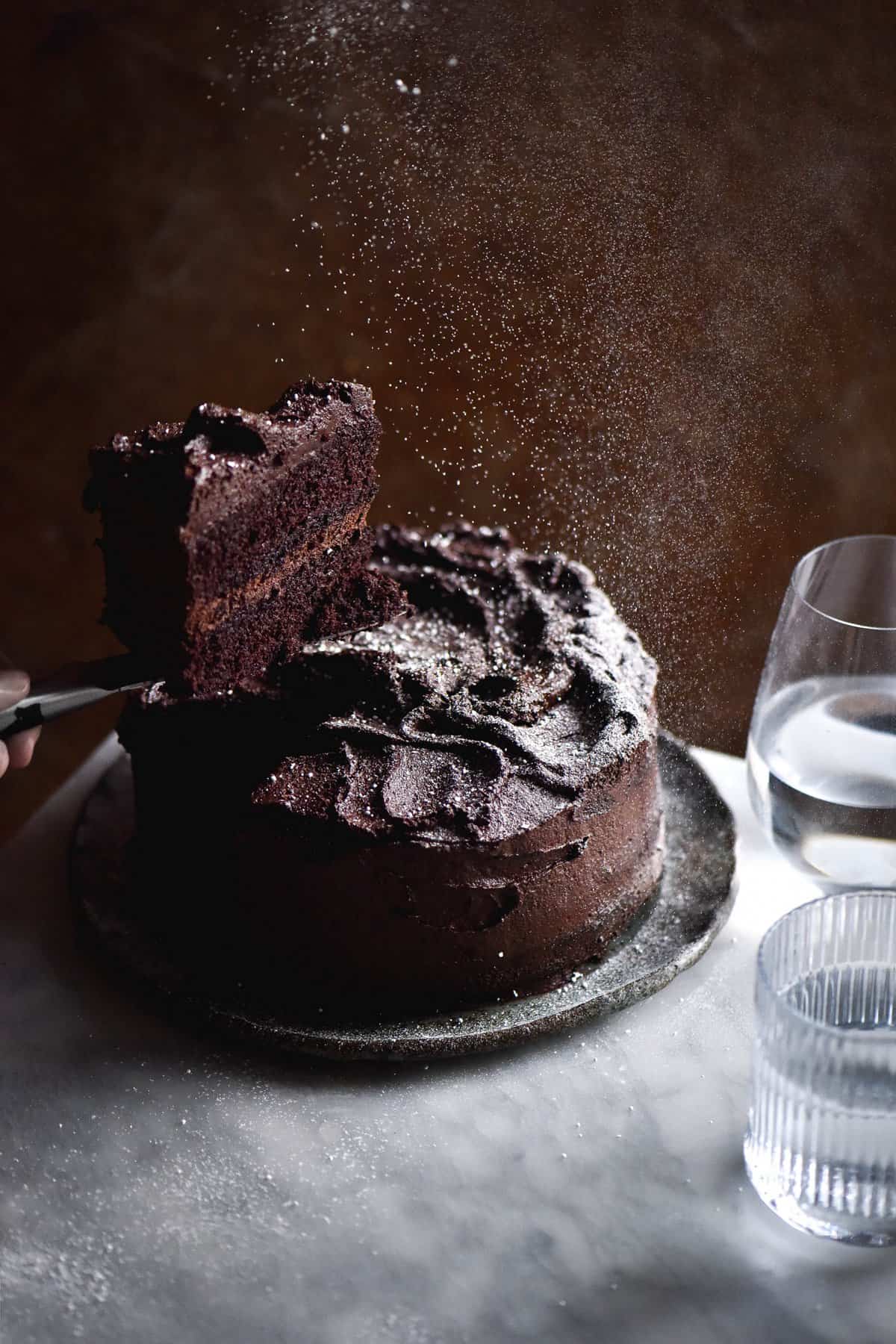 My favourite gluten free chocolate recipes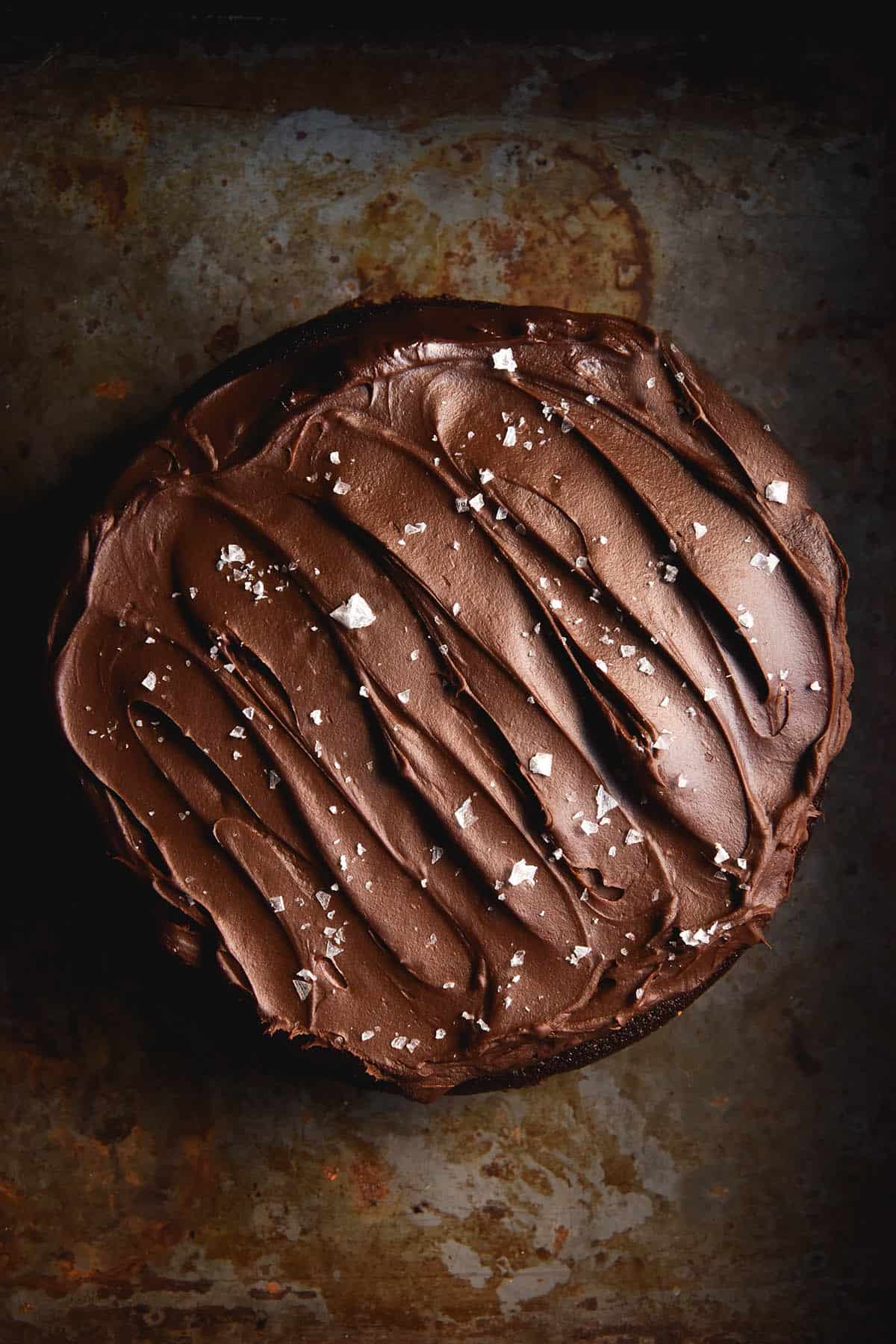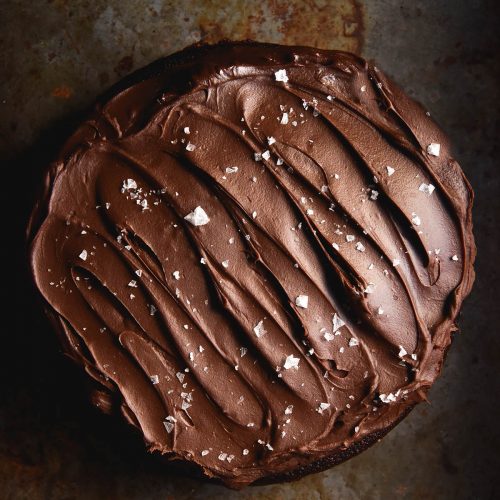 Gluten free chocolate olive oil cake
Gum free, starch free, dairy free option Contains nuts
Ingredients
For the cake:
100-150

g

70% dark chocolate

(see notes)

30

g

Dutch Processed cocoa

1

teaspoon

espresso powder or 1 tablespoon fresh black coffee

optional

1/2

cup

(125ml) boiling water

80

g

(1/2 cup) fine white rice flour (see notes)

100

g

(1 cup) almond meal

110

g

(1/2 cup) white sugar

50-75

g

brown sugar

depending on your sweet tooth

1/4

teaspoon

salt

1/2

teaspoon

baking soda

3

extra large eggs

1/2

cup

(125ml) olive oil

1/2

cup

(125ml) milk of choice (I used full fat lactose free milk)
For the chocolate buttercream icing:
100

g

room temperature butter

160

g

(1 cup) pure icing sugar

30

g

cocoa

Dutch Processed makes a dark buttercream, regular makes a slightly more orange toned buttercream

3-4

tablespoons

cream or milk

to achieve your desired consistency

Pinch

of fine salt

to taste
For the chocolate ganache icing:
150g

50% sweetened dark chocolate

150

full fat thickened cream (I used lactose free)
Instructions
To make the cake:
Grease and line a 20cm cake tin. Preheat your oven to 180C.

Break the chocolate into pieces and add it to a heatproof bowl along with the cocoa and espresso powder or coffee, if you're using it. Pour over the boiling water and stir to combine. Set aside to melt, and if there are still some chocolate chunks left, pop it over a small saucepan half filled with water over a medium heat until smooth.

Combine the remaining dry ingredients in a medium mixing bowl and whisk well. Add the eggs, olive oil and milk and whisk until a batter forms.

Use a spatula to scrape the chocolate mixture into the batter and whisk again until everything is combined. The batter should be a chocolate colour and slightly on the runny side.

Decant the batter into the lined cake tin and bake for 35-40 minutes or until a skewer comes out clean. Remove the cake from the oven and allow to sit for 10-15 minutes. Run a knife around the edge of the cake to gently remove it, then place on a baking rack to cool.
To make the chocolate buttercream icing:
Beat the butter in a stand mixer or using hand beaters until light and fluffy. The timing depends heavily on how soft your butter is and whether your kitchen is hot or cold. Once fluffy, add the sifted icing sugar and continue beating until pale and fluffy. Add the cocoa and beat until combined. Add the milk or cream, a tablespoon at a time, until your desired consistency is achieved. Add a pinch of salt to taste.

When your cake has cooled completely, ice it with as much buttercream as you fancy. Best served the day of icing, but leftovers keep well in the fridge in an airtight container for a number of days.
To make the chocolate ganache icing:
Thoroughly chop the chocolate into fine pieces and transfer into a medium heatproof bowl. Fine chocolate shards help the chocolate to melt quickly and evenly.

Heat the cream to a simmer in a small pot over a medium heat. Steam should be rising up and small bubbles starting to appear, but it should not be bubbling wildly. If the cream is too hot it risks splitting the ganache.

Pour the hot cream over the chocolate shards and allow to sit untouched for 5 minutes. Be careful not to let any liquid into the bowl or the mixture might split. After that time, whisk to combine. If the chocolate isn't completely melted, place it over a small bowl of boiling water and whisk intermittently until all chunks are gone.

Remove the bowl from the hot water bowl and set aside to cool for 15-20 minutes, or until the ganache has reached a spreadable, thick consistency. Place the ganache onto the cake and use an offset spatula or the back of a spoon to spread it evenly over the cake and create a lovely swirled top. Finish with some sea salt flakes, sprinkles, if you like, and serve.  
Notes
How much chocolate you add is up to you – 100g to 150g. 100g makes for a lighter cake. 150g makes for a more chocolatey but slightly more dense cake.
You need to use Dutch processed cocoa in this recipe. The baking soda works in tandem with the Dutch processed cocoa to help the cake rise. Regular cocoa won't work the same way. 
I recommend a cocoa butter based chocolate as opposed to coconut oil chocolate for this recipe.
See the body of the posts for some substitution options if you can't have white rice flour. 
Make sure your almond meal is finely milled to avoid a chunky consistency in the end result. I find a lot of supermarket brands are more coarsely milled these days.
You can choose to use the chocolate buttercream or chocolate ganache icing.
If you want to make a dairy free buttercream, you can substitute a good quality plant based butter for regular butter. It generally needs less whipping time and more time in the fridge.