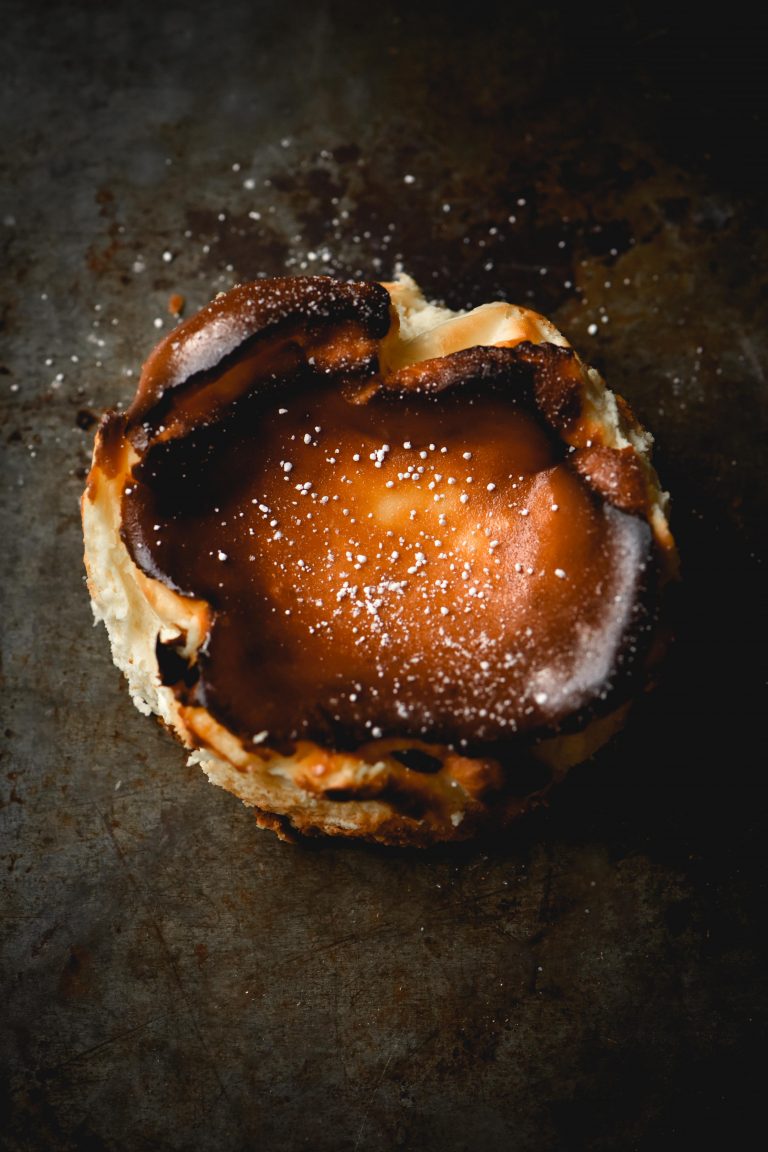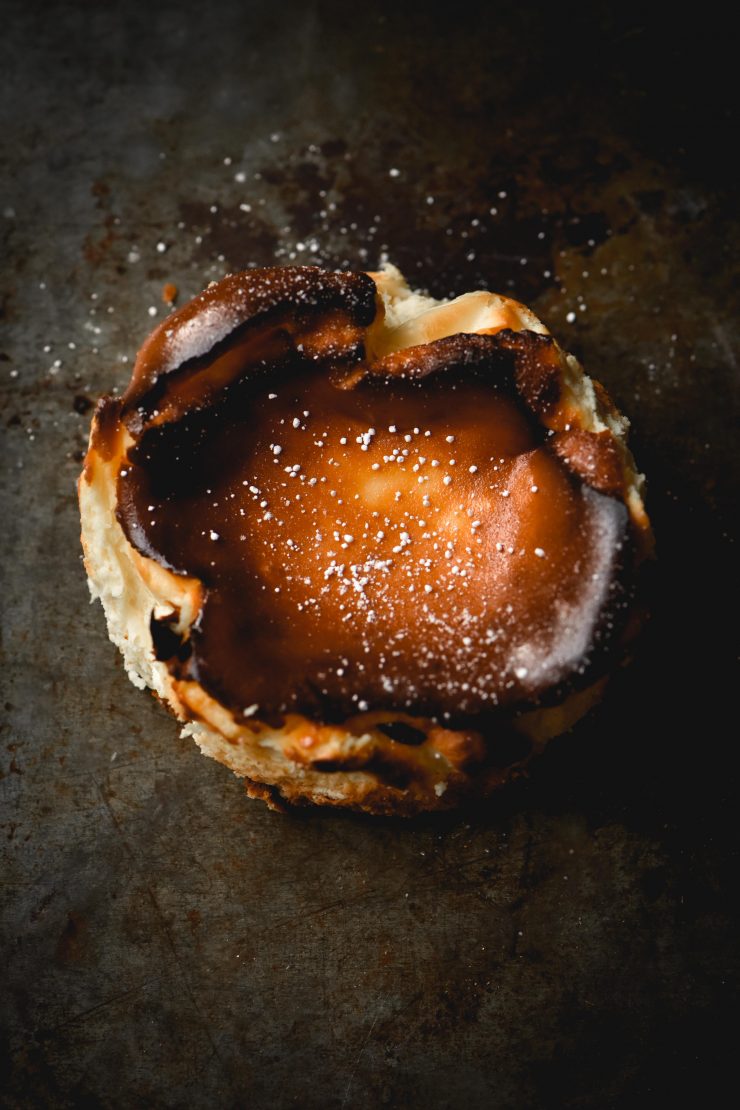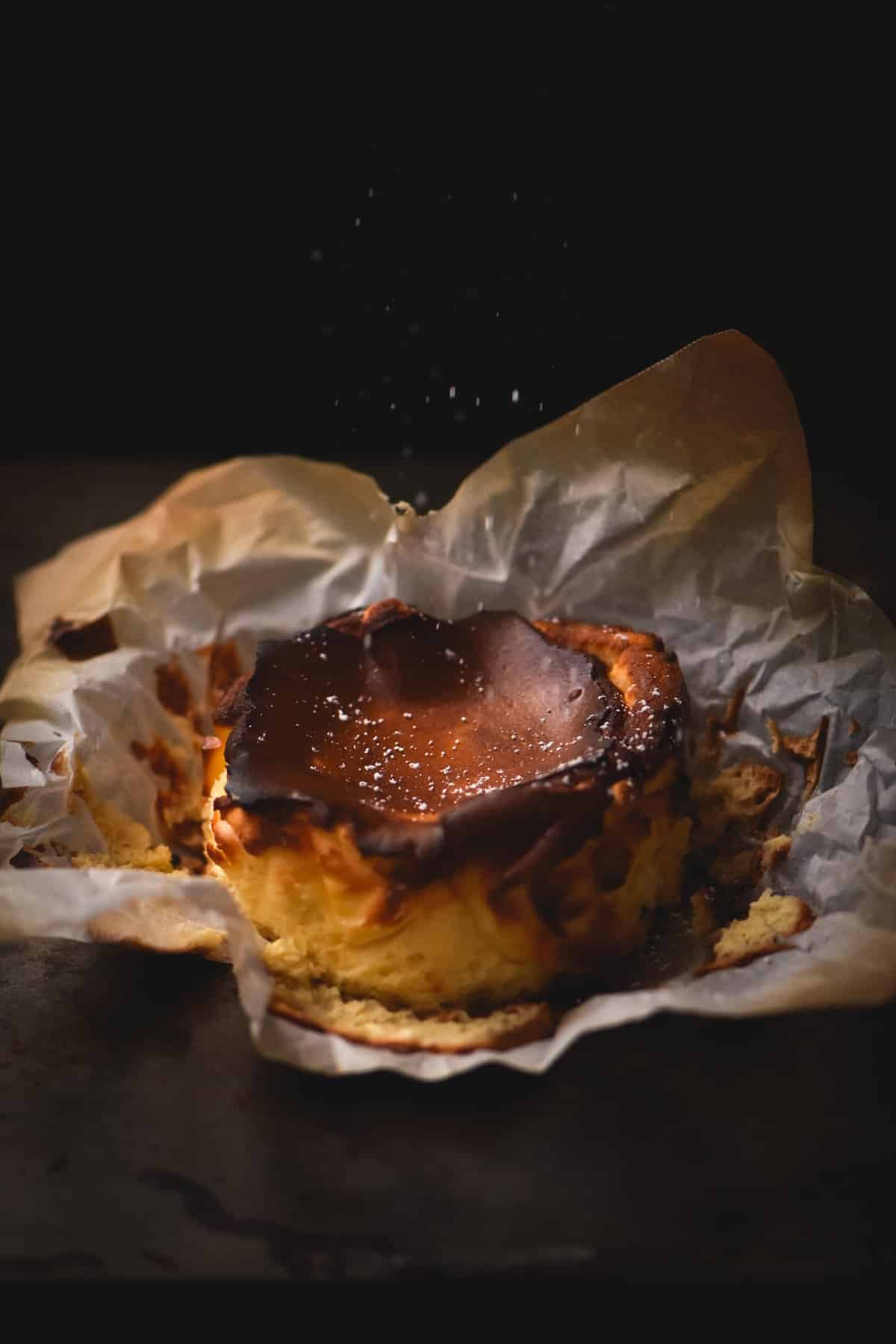 This three ingredient mini cheesecake came about by accident. I was attempting to make cream cheese danishes when I realised that I had an excessive amount of cream cheese filling. Not keen to waste some perfectly good cream cheese, I threw it in the oven, Basque cheesecake style. The result? An adorable, delicious cheesecake for two, made with just three ingredients.
Here in Australia, we're lucky enough to have two different brands of lactose free cream cheese. They're widely available at all the big supermarkets. I have heard from international readers that this isn't the case everywhere. Fear not, however! You can make your own lactose free dairy products using lactase drops. Here is an article on how to DIY, if you're so inclined.
THREE INGREDIENT MINI CHEESECAKE NOTES
Needless to say, with only three ingredients this cheesecake does not have a base. It is inspired by Burnt Basque Cheesecake. Although it's very similar, Burnt Basque cheesecake contains some additional ingredients, which is why I chose not to name it as such.
As with any cheesecake, room temperature cream cheese is very necessary here. It's the only way you will create a lump free cheesecake. You can leave it out on the bench before starting, or pop the pack (sans cardboard) in some warm water before you open it.
Lactose free cream cheese is made by Philadelphia and Liddell's here in Australia. A godsend is lactose (not dairy) is an issue for you. If you have a dairy allergy, these three ingredient mini cheesecakes aren't suitable for you.
Bake your cheesecake based on your own preferences. Basque cheesecakes are traditionally custardy and under-baked in the middle – I like mine fully baked. If you'd prefer under baked, experiment with cooking the cheesecake on a higher temperature for less time. It's all about balancing the bronzed top with the inner texture of your choosing.
FLAVOURING OPTIONS
Personally, I think this cheesecake is delicious as is. That said, you might want to add one or a few of the following.
1 teaspoon vanilla bean paste, vanilla extract or lemon juice. These are all easy flavour boosters to regular cheesecake and work well here, too.
A tablespoon or two of sour cream or cream. Both dairy products have a lactose free version available in Australia (Bulla and Pauls Zymil respectively). A lot of people say that an additional dairy is compulsory in cheesecake, but I find it just as pleasant without.
Peanut butter. As per my peanut butter cheesecake recipe of the distant past, I can confirm that it makes an incredibly good addition. I'd say 1 tablespoon would be a good amount here.
You can top the mini cheesecake with berries, but I find the top is so pretty that you won't want to.
A NOTE ON MINI CAKE TINS
As I've mentioned in the recipe, my mini springform cake tin is 11cm/4.3inches in circumference. It's C&D brand, which is the inexpensive one you generally find at supermarkets or bargain shops.
The cheesecake fills this tin to the brim, so you might be able to get away with using a 12cm tin if you have one, but adjust the cooking time to match. I wouldn't recommend going any larger than that or you'll end up with a flat and burnt cheesecake.
In Australia, I have bought/seen mini cake tins in Coles, Kmart and Big W, or House and other specialty cooking stores. If you have a large ramekin you could potentially also use that (and even divide it into two mini-er single portion cheesecakes).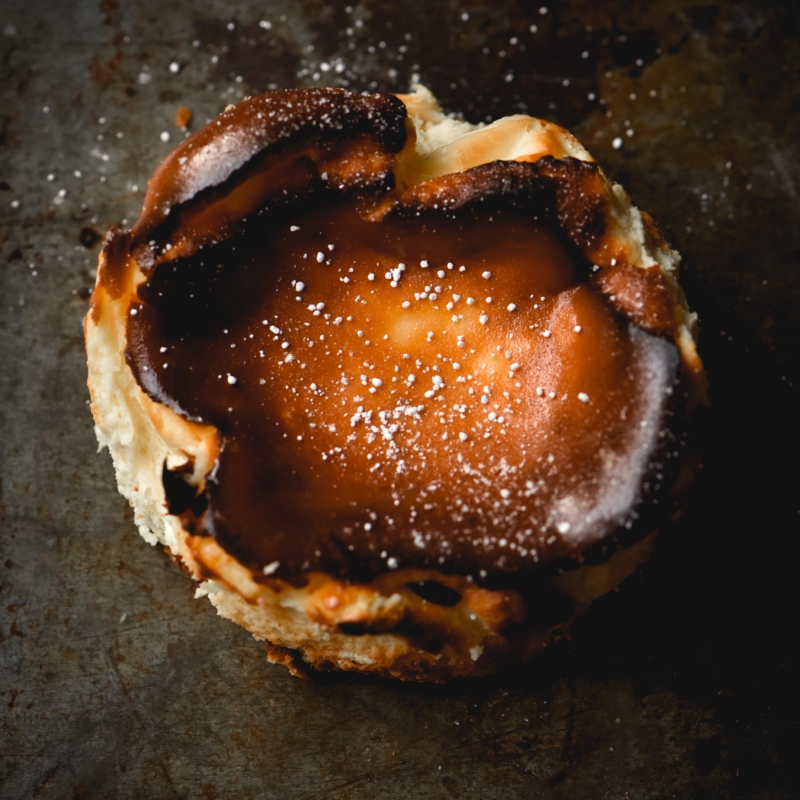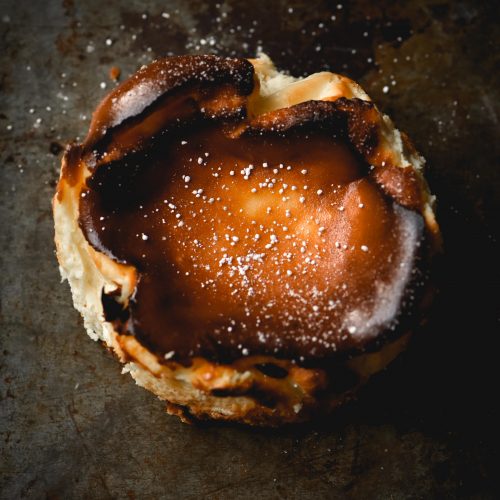 Three ingredient mini cheesecake
Gluten free, lactose free, FODMAP friendly
Ingredients
1 x

250g cream packet lactose free full fat cream cheese

65g

(1/4 cup) caster or superfine sugar

1

extra large egg
Instructions
Make sure your cream cheese is room temperature before starting. You can heat it gently in a bowl of warm water, provided the silver packaging is in tact. Preheat the oven to 200C/400F.

Add the cream cheese to the bowl of your stand mixer with the paddle attached. Beat on a low speed until the cream cheese is completely smooth.

Scrape the sides of your mixer down and add the caster sugar. Beat on a medium speed until the sugar has dissolved, about 2-3 minutes.

Scrape down the sides of your stand mixer again before adding the egg. Beat on a medium speed for about 5-10 minutes or until the mixture begins to look and feel a little fluffy. Initially it will look a little thin and watery but will progress past this stage to the fluffy stage.

Line your 11cm/4.3inch mini cake tin with a piece of baking paper big enough that it hangs over the edges of the tin. It will serve as handles and also just add to the aesthetic of your mini Basque style cheesecake.

Decant the cheesecake batter into the tin and place into the oven for 20 minutes or until the top of the cheesecake is golden brown. You can adjust the cooking time based on your oven and preferences. If you prefer a little jiggle, cook it for less time.