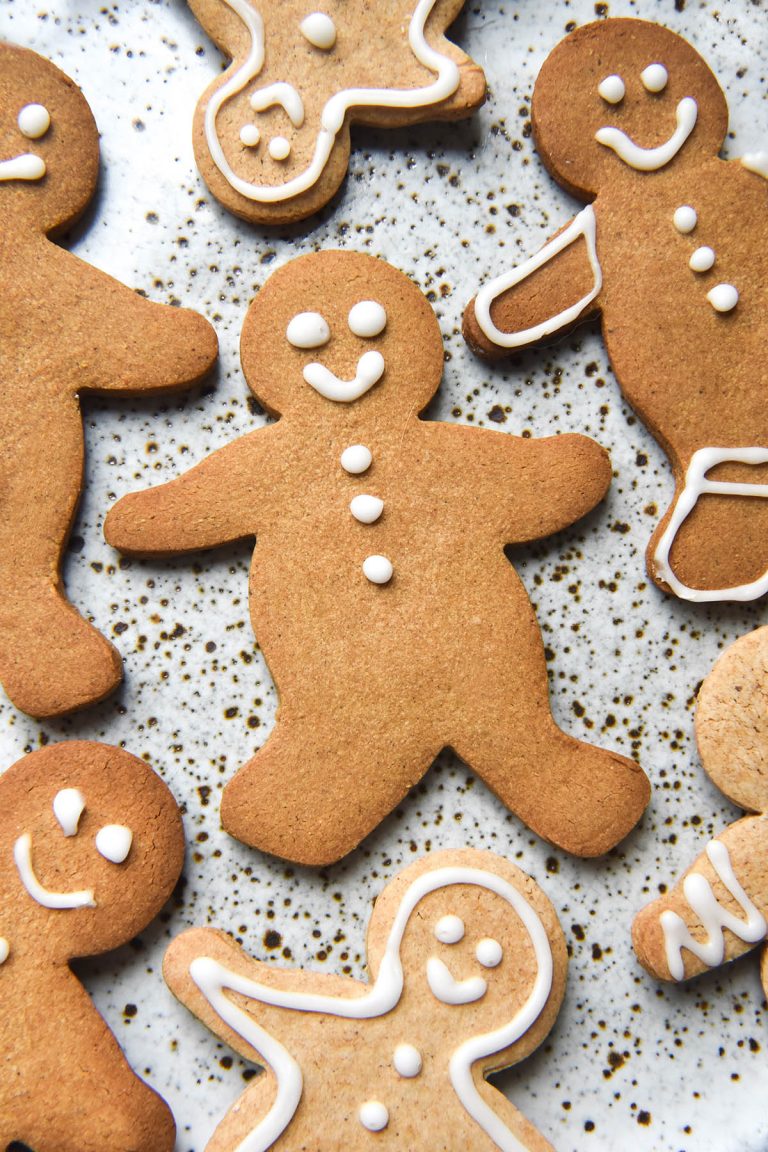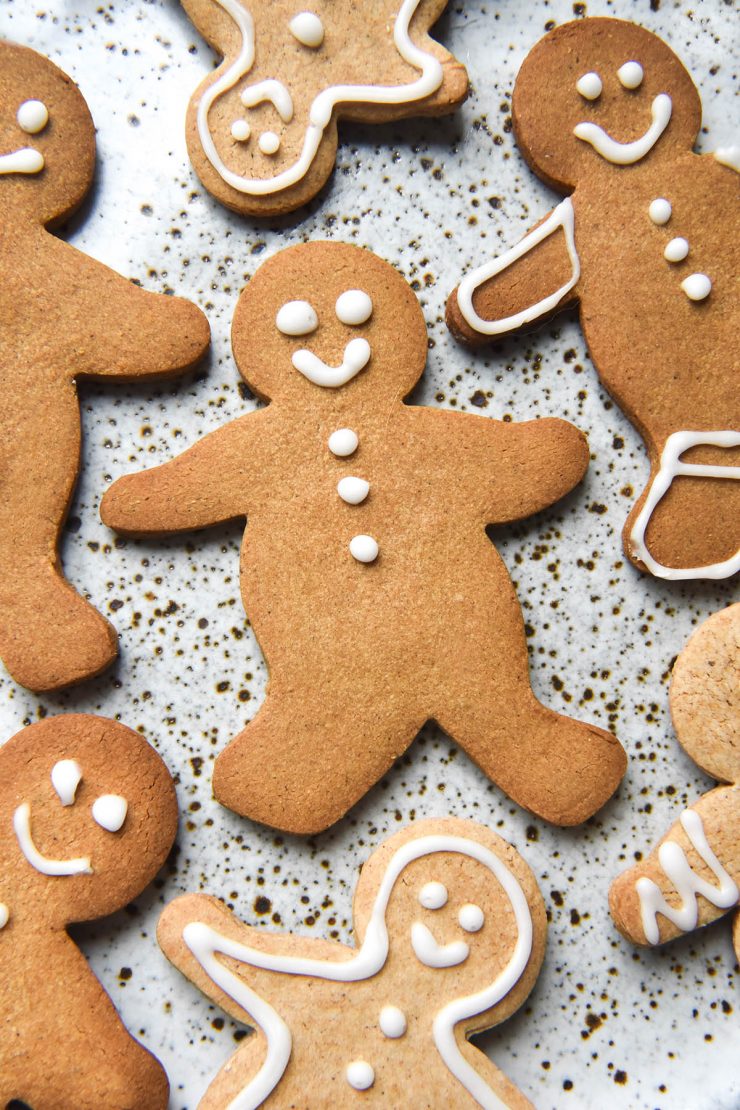 Gluten free gingerbread cookies have perplexed me for a long time. They often require an intricate mix of gluten free flours, and very regularly end up rock solid. These gluten free gingerbread use a single flour (!!) to make a soft and chewy yet crispy gingerbread that is incidentally grain free. If you're a regular around here, you might have guessed that the flour in question in cassava flour.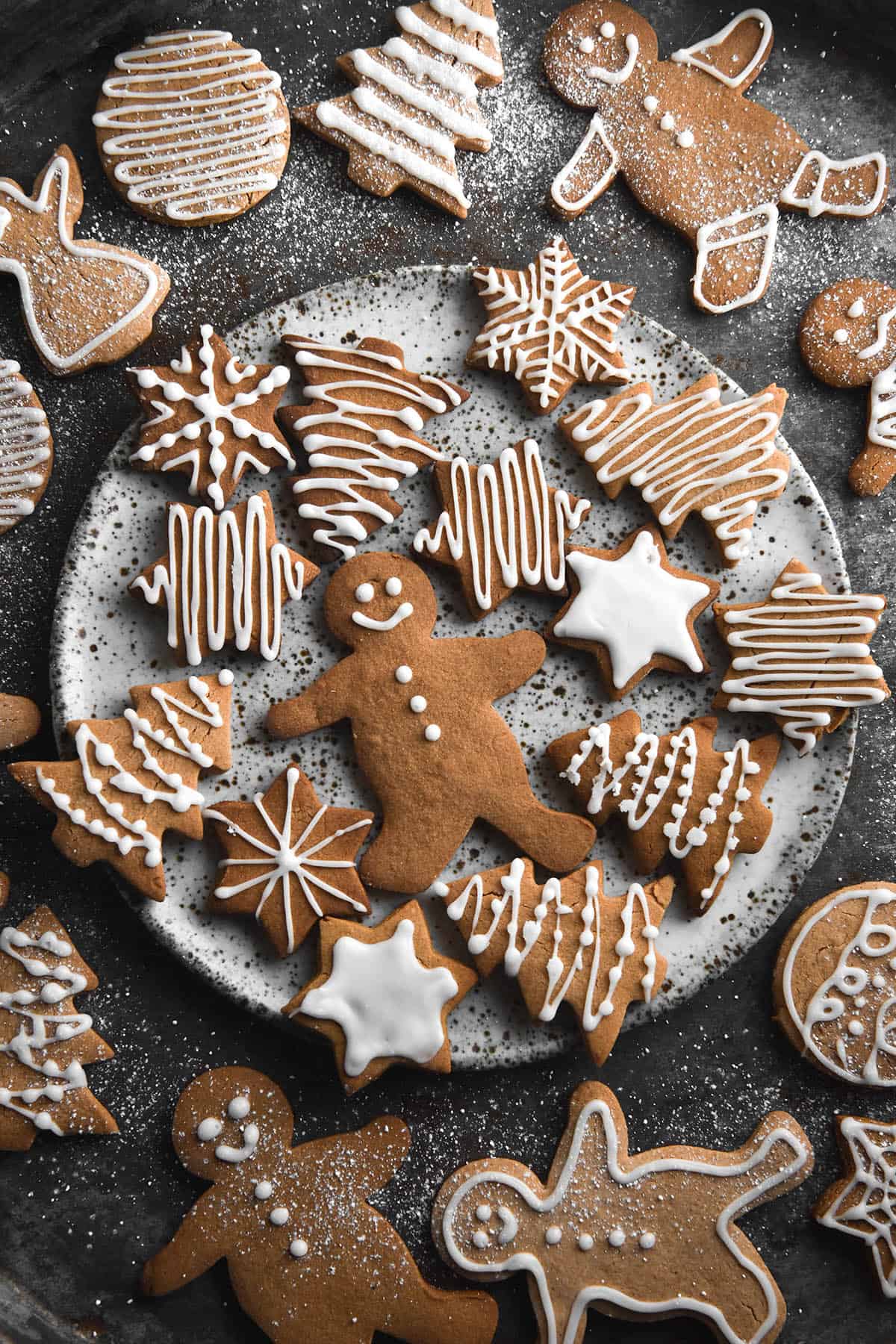 I have used cassava flour for a number of recipes now. There's the grain free white bread, the grain free rough puff pastry and these easy pancakes. Other recipes that use cassava flour: the starch based flour free option of my gluten free shortbreads and gluten free bagels, the grain free tortillas and the grain free self saucing chocolate pudding. As you can tell, I'm a big fan. We'll go into cassava flour more below, but it's such an incredible gluten free flour to add to your repertoire.
A final note before we dive in: it goes without saying that I do not have the patience for icing cookies. Please go easy on me.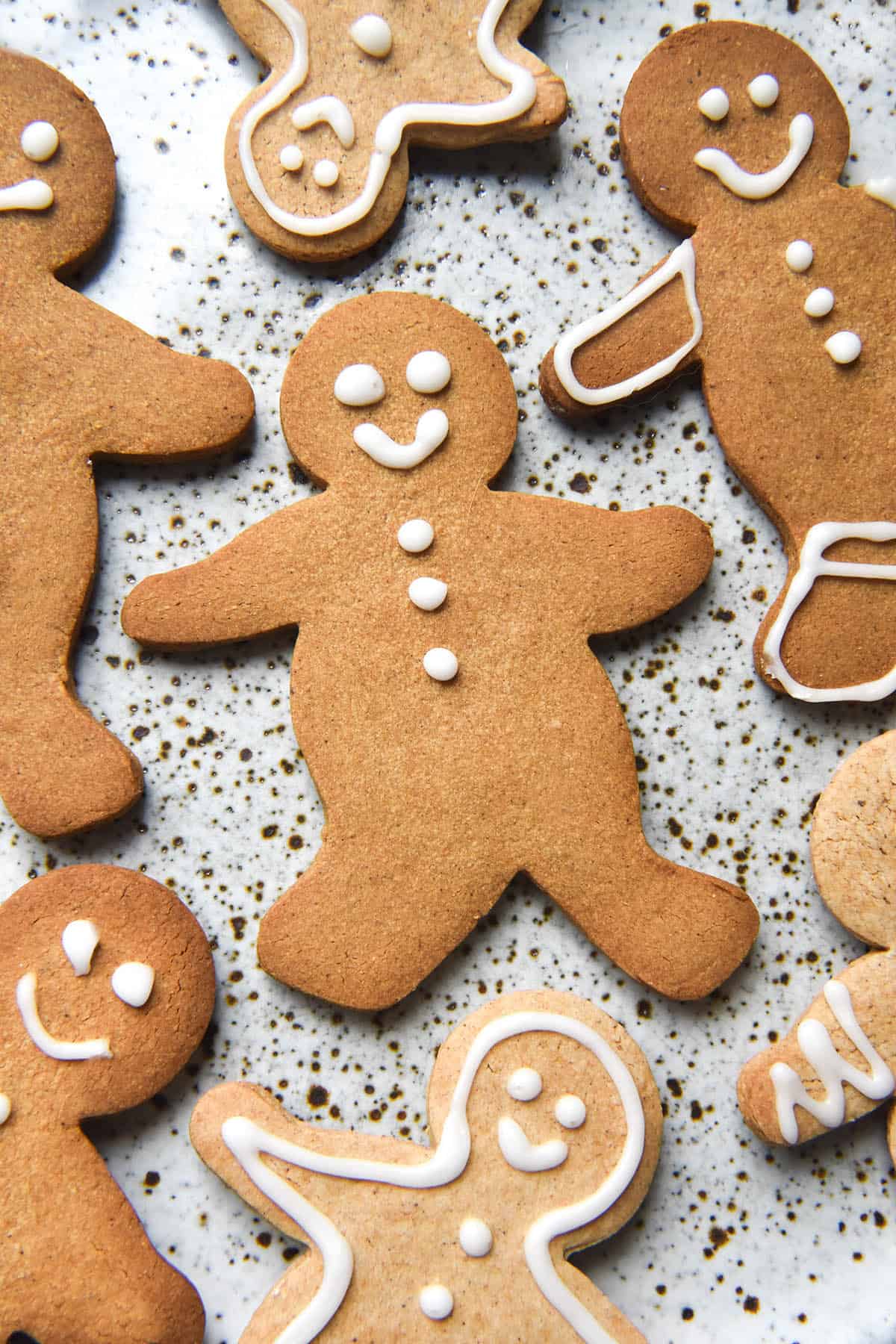 Gluten free gingerbread cookies without eggs or xanthan gum
These gingerbread cookies are made without xanthan gum or eggs. They are free from nuts and starch based flours (like cornstarch or potato starch). They are incidentally completely grain free, too. The gingerbread is incredibly easy to make – you can get away without any refrigeration time. They can also be made with rapadura or panela sugar for a refined sugar free option, and plant based butter for a vegan option.
I have developed the recipe to be relatively low in sugar for two reasons. Firstly, I think the amount of sugar in these gingerbread cookies is just sweet enough. Secondly, this allows you to substitute the molasses for maple syrup, if you want to make gluten free gingerbread cookies without molasses.
Can I make these gluten free gingerbread vegan?
Yes, these gingerbread can easily be made vegan. The only ingredient that needs to be substituted is the butter. I used Nuttelex buttery for my tests and it worked well. If you have access to good quality plant based stick butter, I imagine that would work well.
Two things to keep in mind are the ambient temperature and the chilling time. Vegan butter tends to melt much more quickly than regular butter. If you're working in a hot kitchen, you might need to chill your butter during the creaming process. The texture should be the same as outlined in the recipe card, so if you notice your butter is melty or weeping, get it into the fridge straight away.
As a result of the above, gluten free vegan gingerbread need to chilled for a fair bit longer before it is firm enough to cut. I like to give my dough about 1-2 hours in the freezer to firm up when I use vegan butter.
One last note: I have tested the vegan gingerbread using maple syrup and molasses. Both worked well.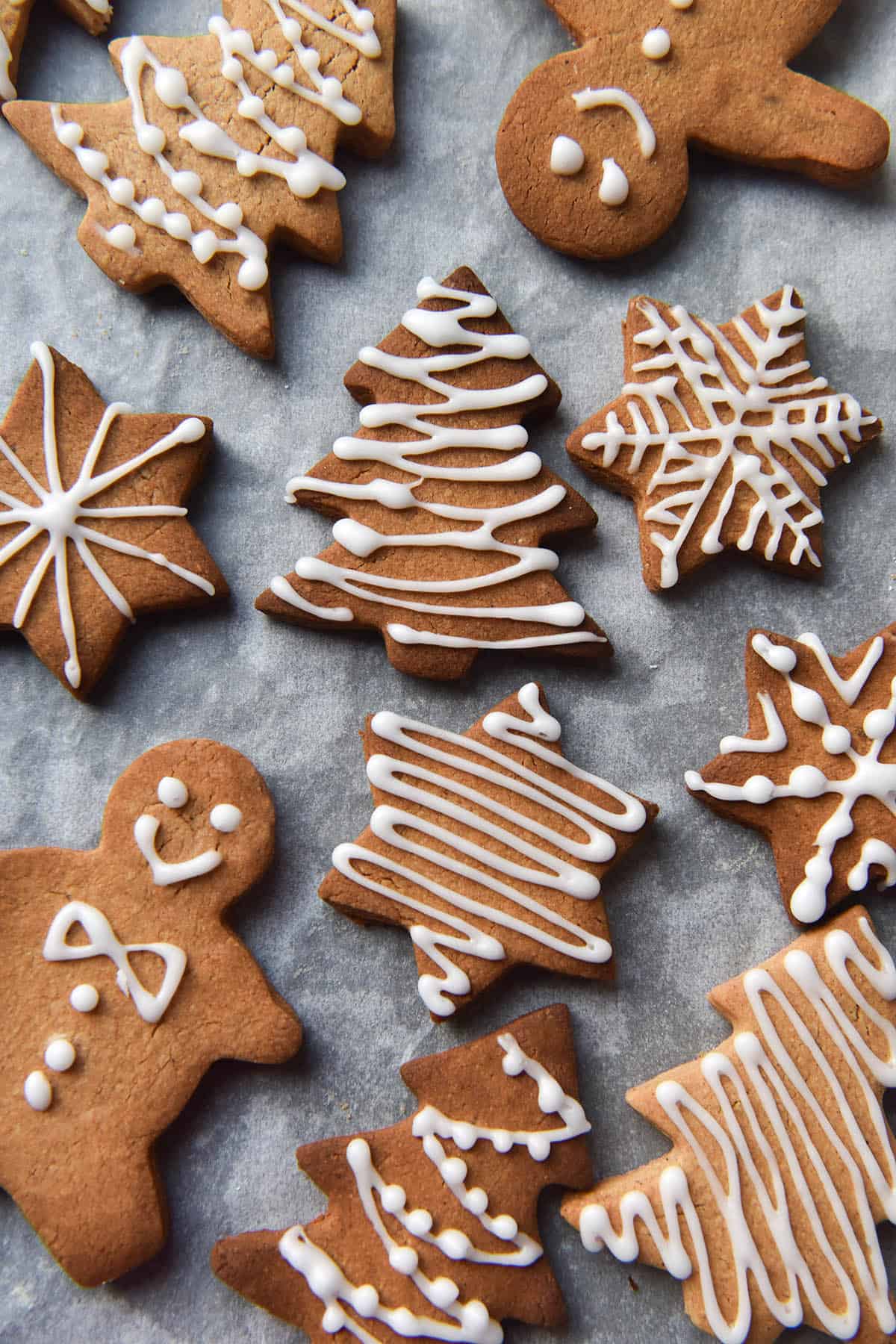 I only recommend products I love and use daily and all opinions are my own. This post contains affiliate links, and I earn a small commission for any qualifying purchases, at no extra cost to you.
What is cassava flour?
Cassava flour is a wholegrain, grain free flour made from the cassava root. It has a mild, sweet taste and has excellent elasticity, unlike most gluten free flours. Cassava flour is the cousin of tapioca flour. While tapioca flour consists of the starch produced from the dried cassava root, cassava flour uses the whole root – grain and starch.
This grain and starch hybrid is one of the many reasons cassava flour is great for gluten free and grain free baking. It can become gummy if too much liquid is added, but this is rarely an issue for something like cookies. It makes for great grain free gingerbread with chew.
Because cassava flour is a one of a kind ingredient, there is no substitute. These gingerbread cannot be made with any other flour. I buy cassava flour at my local bulk food store, but you can buy it online.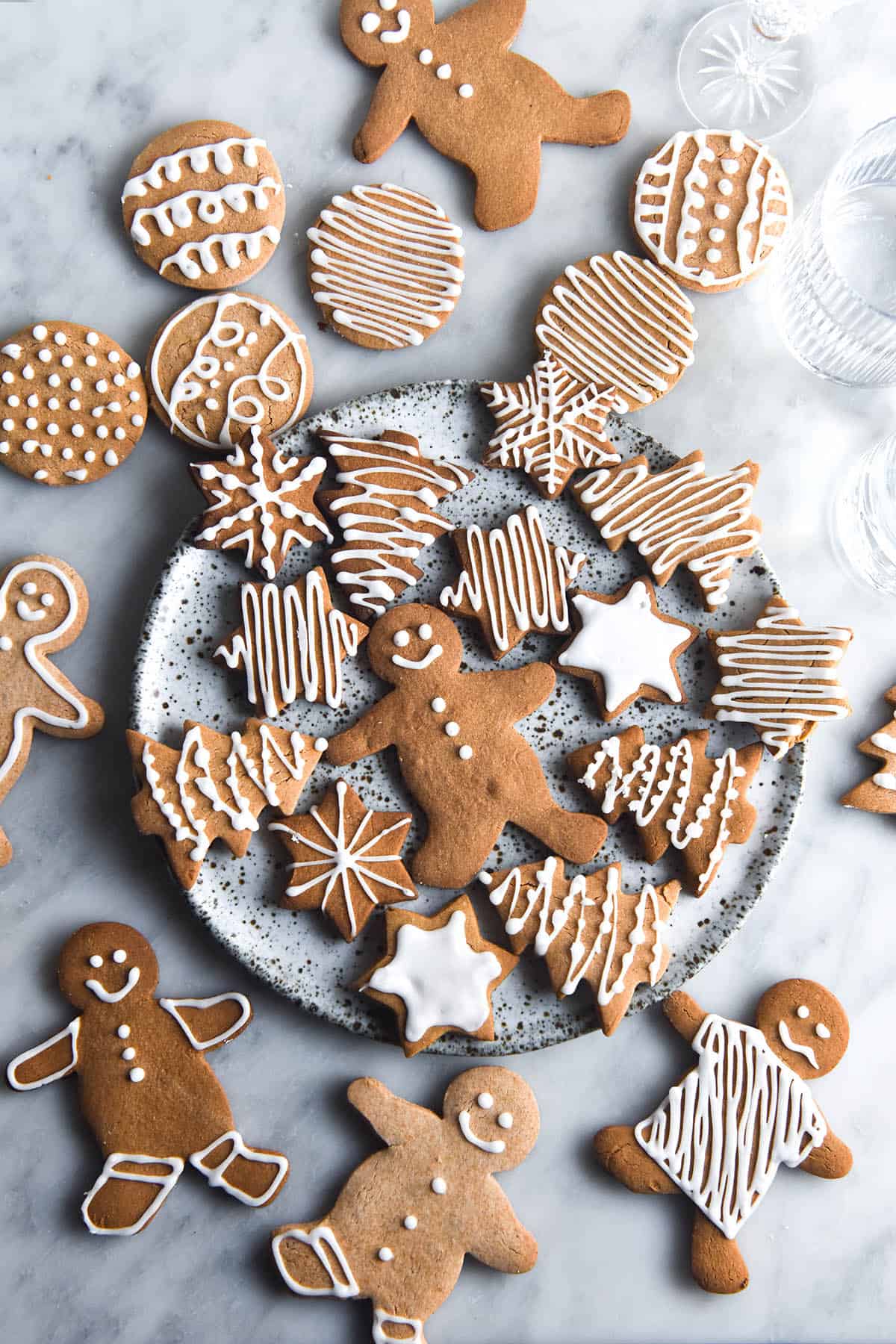 Recipe notes for your gluten free gingerbread cookies
There is no substitute for cassava flour in this recipe.
Australia isn't well known for an amazing selection of plant based butters. I have tested these gingerbread with Nuttelex Buttery and that worked well, if you'd like to make these gluten free gingerbread vegan as well.
Light brown sugar can be substituted for rapadura/panela sugar. I have not tried any alternative sugars like monkfruit.
Personally, I'm a fan of a well spiced gingerbread. If you are not, use less dried ginger.
Currently, I haven't tried using this gingerbread to create a gingerbread house. The post will be updated when this changes.
Baking soda (or bicarb soda) is used in gingerbread recipes because they contain acidic ingredients (brown sugar and molasses). I found that adding baking powder made the tops of my gingerbread crack, while the baking soda version did not. So, baking soda is not able to be substituted in these gluten free gingerbread cookies.
See the notes below on how to use different liquid sugars in this recipe.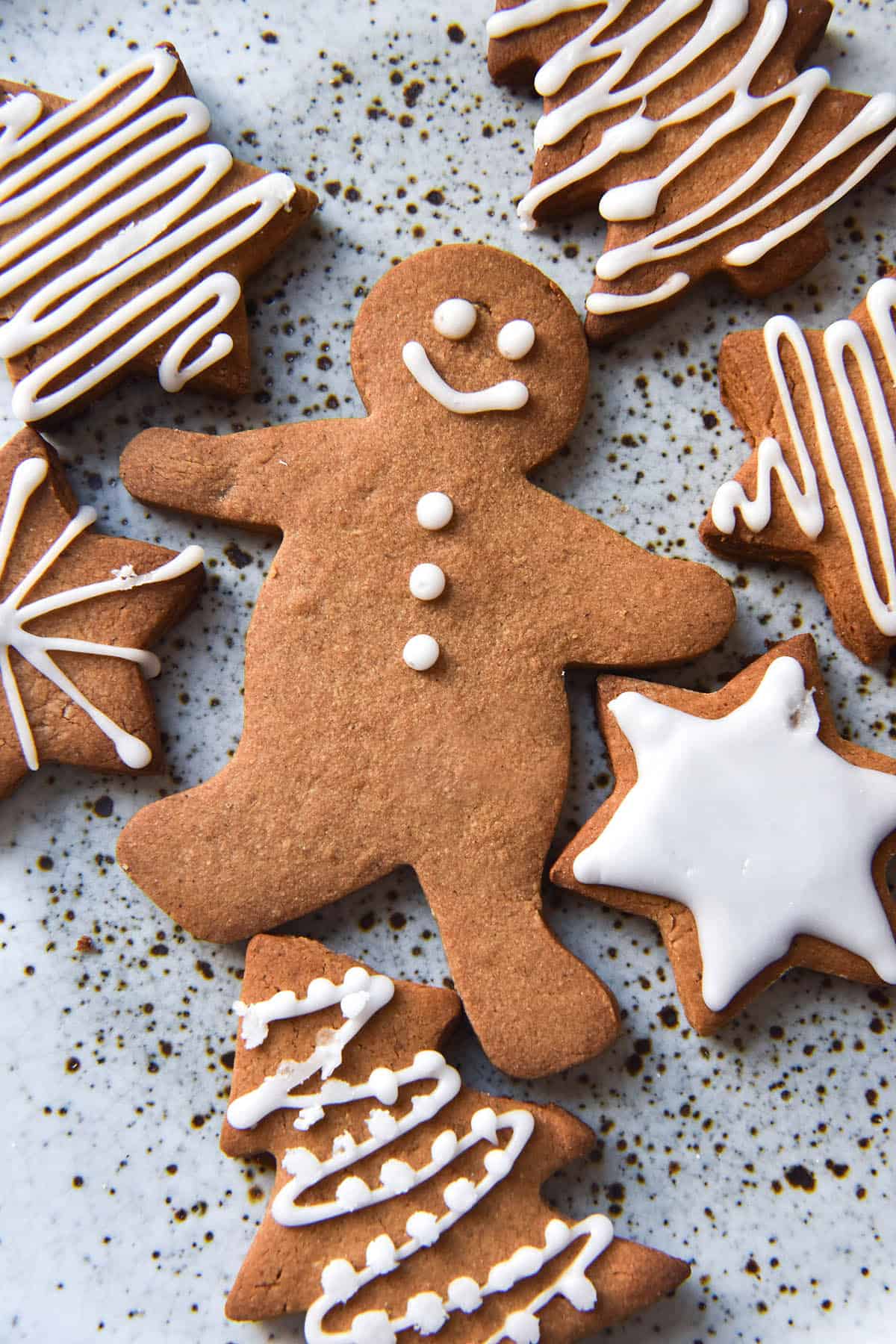 How to make gluten free gingerbread
The process of making gingerbread begins with a simple mix of creamed butter and sugar. This mixture will form the backbone of the shortbread and provide the dough with light and airiness. This is an important step, as it creates a lovely texture for the gingerbreads once baked. You can cream butter and sugar with hand beaters or a stand mixer.
Properly creamed butter and sugar should be light in colour and fluffy in texture. If you scrape the bowl down with a spatula, there should be no resistance or thicker butter in parts of the bowl. All the whipped butter should be light and fluffy, and the spatula should slide around the bowl easily.
Next, the molasses or maple syrup is added to the creamed butter. After that is incorporated, the flour, spices and baking soda are added. They are processed on a low speed (to prevent the flour escaping) until a dough forms. I like to process the mixture on low, and then speed it up once the flour is incorporated. This ensures everything is mixed thoroughly, so you can accurately assess the dough.
If the dough feels too soft to roll out, wrap it up and refrigerate or freeze it for 30-60 minutes, or until it is a workable texture for rolling out. If the dough feels firm and workable, you can roll and your gingerbread straight away.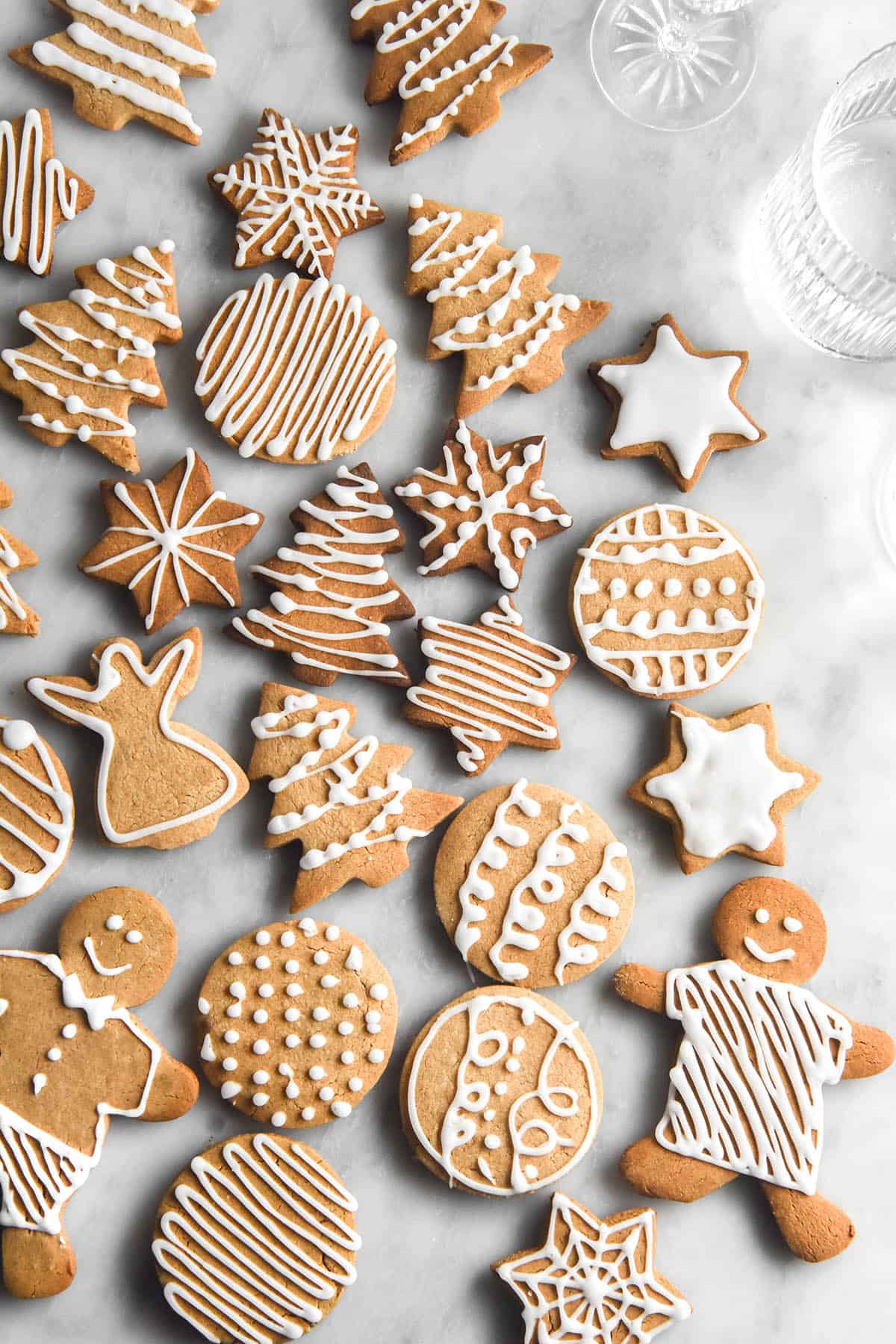 Rolling out gluten free gingerbread dough
This gingerbread dough is incredibly easy to work with, even without xanthan gum or eggs. Cassava flour can vary in it's absorbency, and as such I found that some batches didn't even require refrigeration before rolling.
Tapioca flour is generally the best gluten free starch for rolling out dough. It is light and airy, super smooth and doesn't contribute any grittiness. Tapioca is also widely accessible in Australian supermarkets.
To roll out the dough, simply flour a piece of baking paper with tapioca flour and get to work! I roll my dough into roughly 1cm thickness. I find this is a good thickness for a gingerbread that's chewy in the middle and a bit crisp on the arms and legs. If the dough cracks, cut the gingerbread around the cracks and then gather up the dough to re-roll it. Ideally, you don't want to re-roll it too many times, but it is quite a resilient dough. Unlike other butter based doughs, gingerbread doesn't often get too warm to roll out.
Keep in mind that smooth topped gingerbread need to be cut from smooth topped dough. Make sure you roll the dough out with a smooth surface for best results. This doesn't necessarily correlate with the vegan option, though. I found the vegan gingerbread more prone to superficial cracks after baking.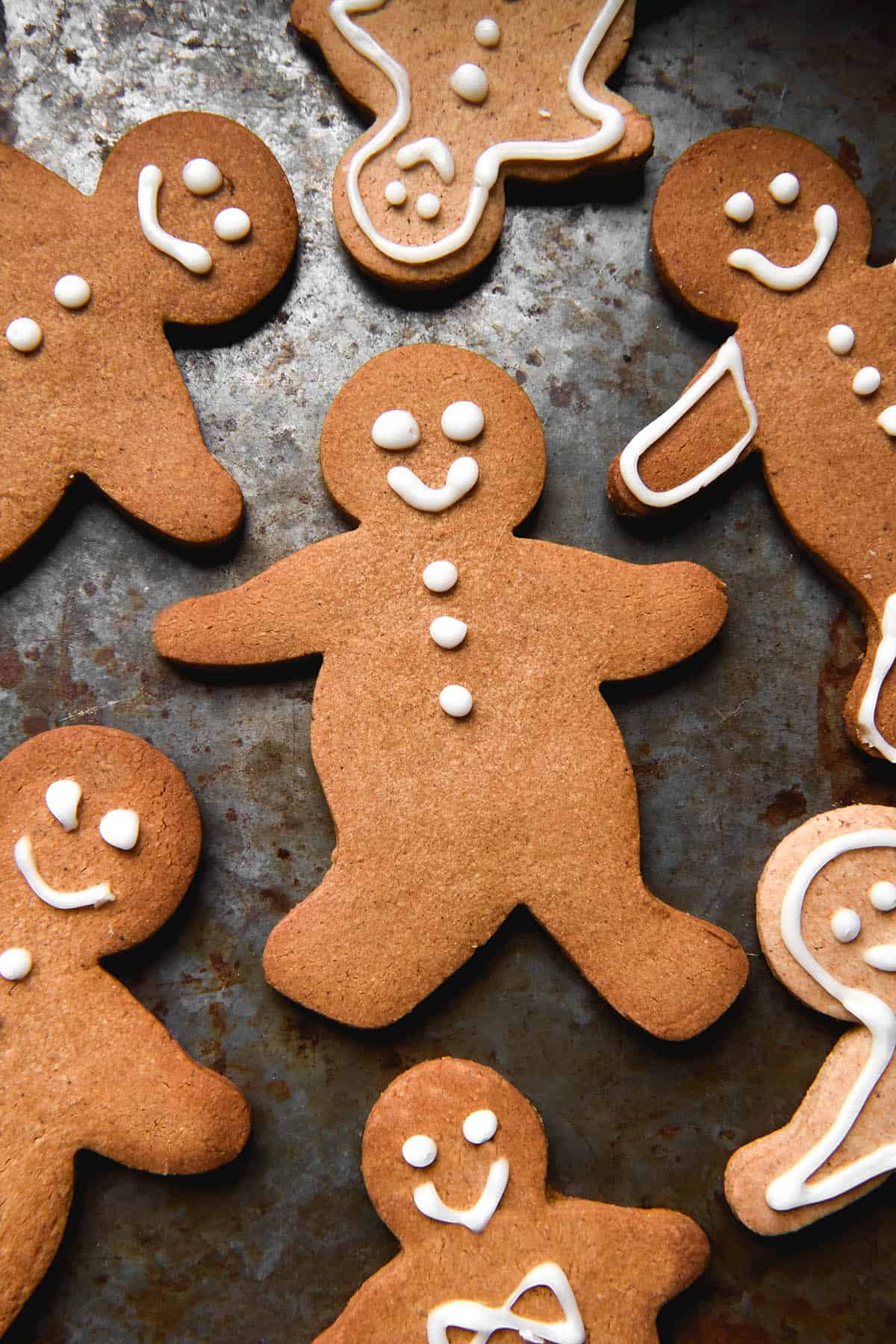 Tips for your grain free gingerbread
Properly creamed butter is important for the light airiness of your gingerbread. The butter and sugar should be pale in colour and light and fluffy in texture. If you use a spatula to scrape the bowl, you should meet no resistance from any butter that is darker in colour or firmer in texture. The mixture should be uniformly light and fluffy.
How long you bake your gingerbread depends on how thin you cut them. My gingerbread are all approximately 1cm in height and they bake for about 10-12 minutes.
In a similar fashion, the thinner the gingerbread, the crispier it will be. Because the gingerbread will bake through completely if it is thin, you'll have a crisp cookie.
Don't touch your gingerbread until they have cooled. Before cooling, the gingerbread are fragile and easily broken. They will crush up into a sandy texture if you try to pick one up. Wait until they have cooled (at least 10 minutes) before touching them.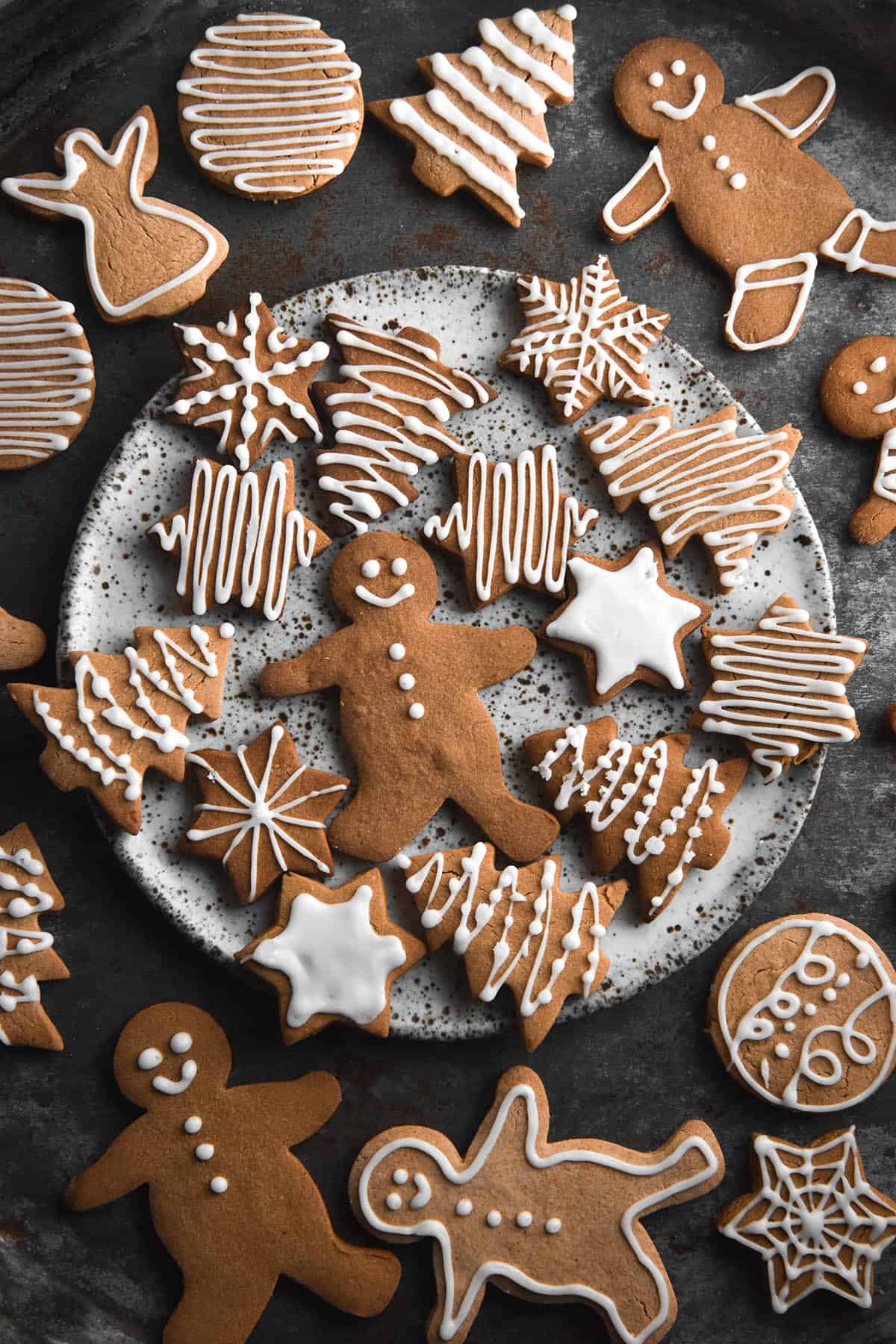 How to bake these gingerbread according to your texture preferences
If you prefer a crisp, non chewy gingerbread, bake your gingerbread for slightly longer. You can also experiment with cutting them slightly thinner than the recipe specifies, but make sure you watch they don't burn.
If you like a slightly chewy gingerbread with crispy edges, follow the recipe card. This is my preferred gingerbread texture. If you like a really chewy gingerbread, you could experiment with adding a bit of xanthan gum. I haven't tried this, but xanthan gum does give baked goods a chewier texture.
If you like a soft gingerbread, cut them slightly taller than the recipe specifies, and bake them for slightly less time. They should still be golden brown on top, but the insides will be softer and lighter in texture.
Finally, if you over bake your gingerbread slightly when you prefer a soft texture, leave them on the bench. They will soften if they're not in an airtight container.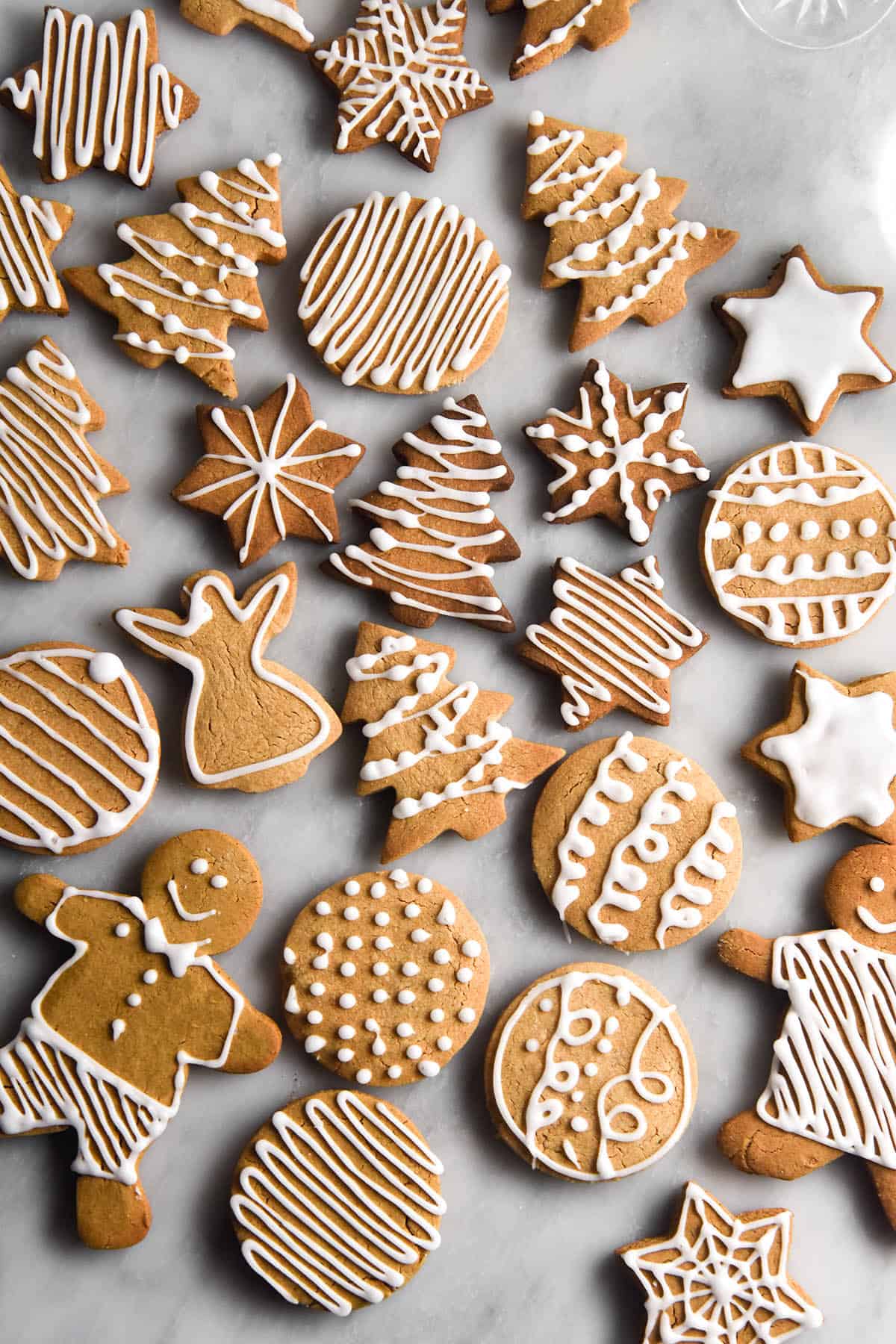 What can I use in place of Molasses?
I totally understand that some people don't like Molasses. There is also the FODMAP concern, as molasses is a higher FODMAP ingredient. As such, I have tested this recipe with a number of different sweeteners as a replacement.
You can successfully use maple syrup or rice malt syrup in place of the molasses. I found the maple syrup version to be quite sweet when warm, but mellowed out when cooled. Depending on your sweet tooth, maple syrup is a good alternative. I would recommend, though, that you ramp up the spice a bit to compensate for the complexity of the molasses.
Another option, if you like, is to use half molasses and half maple syrup or rice malt syrup. This is an option for people who like a light molasses flavour or who like molasses but have FODMAP constraints. It is worth noting here, though, that Monash hasn't given a FODMAP limit for cassava flour, and as such this isn't an overtly FODMAP recipe.
TLDR:
You can use molasses, rice malt syrup or maple syrup as the liquid 'sweetener' component of these gingerbread cookies.
My ideal gingerbread uses a combination of maple syrup and molasses, but I didn't want to start involving too many extra ingredients. If you have them on hand, great.
I recommend using some molasses in the vegan version of this gingerbread. It helps disguise the vegan butter flavour.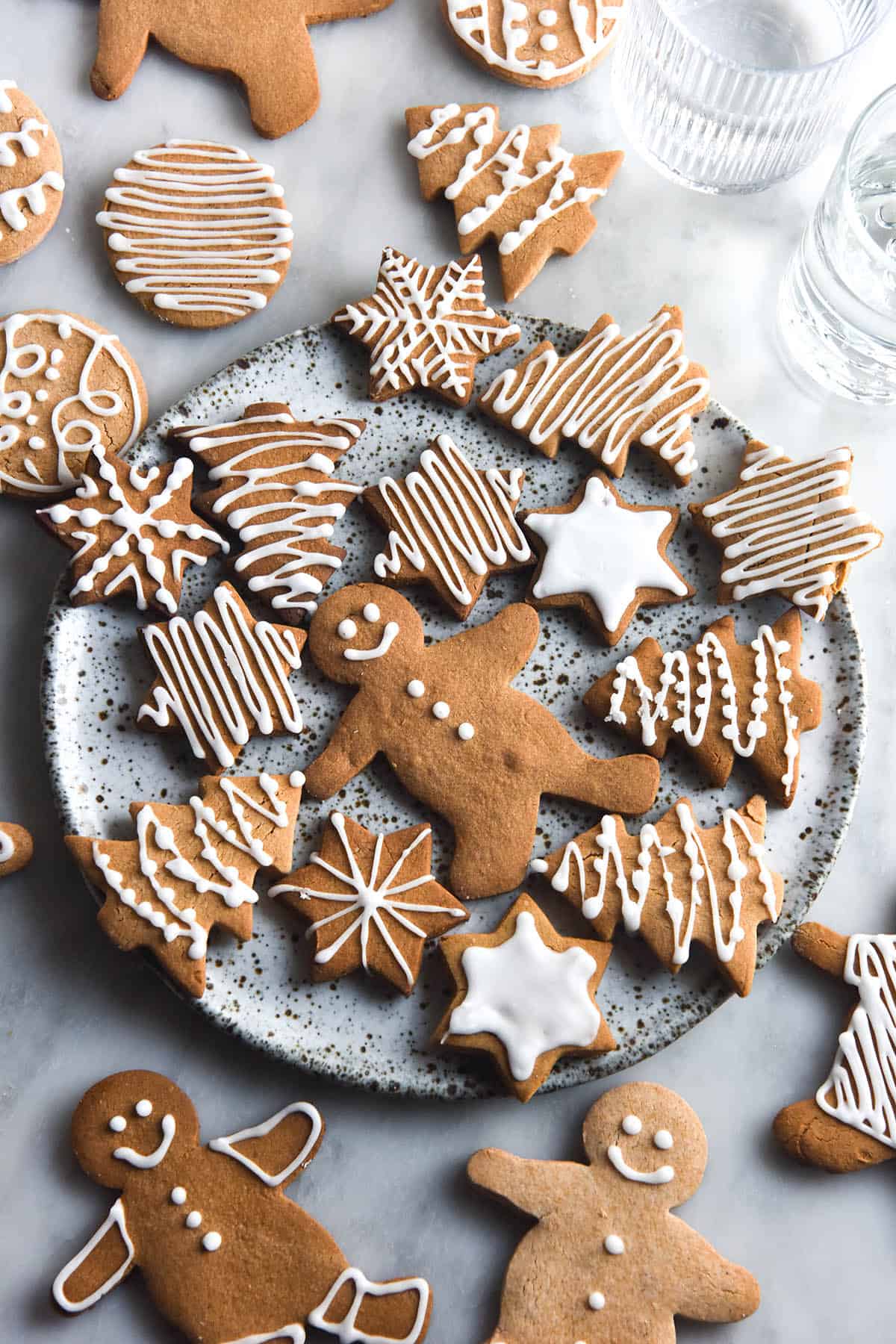 More gluten free Christmas recipes without xanthan gum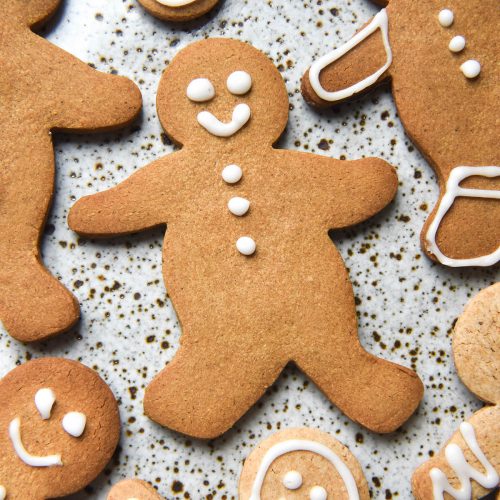 Gluten free gingerbread without eggs
Grain free, egg free, vegan option, xanthan gum free
Measures are in Australian tablespoons, use gram weights for accuracy
Ingredients
200

g

cassava flour

6g

(1 tablespoon)

ginger powder

2.5g

(1 teaspoon)

cinnamon powder

2.5g

(1 teaspoon)

nutmeg powder

3g

(1/2 teaspoon)

baking soda

150

g

salted butter (or use unsalted and add a pinch of salt to dry mixture)

room temperature

100

g

light brown sugar

3

tablespoons

(60ml) molasses or rice malt syrup
Instructions
Combine the flours, spices and baking soda in a bowl and whisk to combine. Set aside.

Cream the butter and light brown sugar in a stand mixer or with hand beaters until pale in colour and light and fluffy in texture. This can take anywhere from 2-20 minutes, depending on the season you're baking in. Don't rush the process or the gingerbread will be dense. Scrape down the sides of the bowl to ensure all the butter is creamed and the mixture is uniform in its light airiness. This air is what will make the texture of our gingerbread lovely.

Once the mixture is light and creamy, add the molasses or rice malt syrup. Scrape down the sides of the bowl and continue mixing on a low-medium speed until incorporated.

Turn the mixer off and add the flour. Process on a low speed until the flour is mostly incorporated, then turn to a high speed until all the flour is incorporated and the dough begins to ball up.

The dough should be reasonably firm and on the borderline of being able to roll out immediately. If it is significantly drier than this, add 1/2 tablespoon milk and process until you reach the desired consistency. If the dough is softer than this, it will just need to chill for longer.

Wrap the dough in an airtight wrap then refrigerate for 30-60 minutes or until firm enough to roll out. You can also freeze the dough to speed up the process (I recommend this for the vegan option).

When the dough has chilled, preheat the oven to 180C/356F. Line two large baking trays with baking paper.

Flour a piece of baking paper with tapioca flour and begin to roll out the dough. I roll mine out to 1cm thickness (1/3 inch). Don't worry if the edges crack, just roll the dough out and cut the shapes around the cracks. Gather up the pieces of dough (dusting the bottoms if they have a lot of flour on them) then continue rolling and cutting until you have used all the dough.

Bake each tray for anywhere from 7-12 minutes, depending on how thick you have cut your gingerbreads.

Allow the gingerbread to cool before touching them – they will crumble if you attempt to pick them up while hot.

If you want to ice them, mix up around 1/2 cup of pure icing sugar with a scant amount of water until you reach a thick, pipeable consistency. I don't use a recipe for this – I just eyeball it. Keep extra icing sugar on hand in case you need to thicken it up or mix more up. How much you use will depend on how heavily you plan to decorate your gingerbread.
Notes
There is no substitute for cassava flour in this recipe. 
Light brown sugar is the mainstay acidic ingredient to activate the baking soda and cannot be substituted. 
Maple syrup or rice malt syrup can be used in place of the molasses. The gingerbread will be lighter in colour and flavour. 
My ideal gingerbread uses a combination of maple syrup and molasses, but I didn't want to start involving too many extra ingredients. If you have them on hand, great.
I recommend using some molasses in the vegan version of this gingerbread. It helps disguise the vegan butter flavour.
Add spice according to your penchant for spicy gingerbread. I like spicy gingerbread, but you might not.
Add less spice if your spices are particularly fresh. This goes for freshly ground nutmeg especially.
See notes in the body of the post on how to bake the gingerbread according to your texture preferences.
I haven't included a recipe for the icing because I didn't use one. I simply use pure icing sugar, sifted, with a teaspoon of water added at a time to reach a thick, pipeable consistency. It sets up nicely without being overly hard once set.