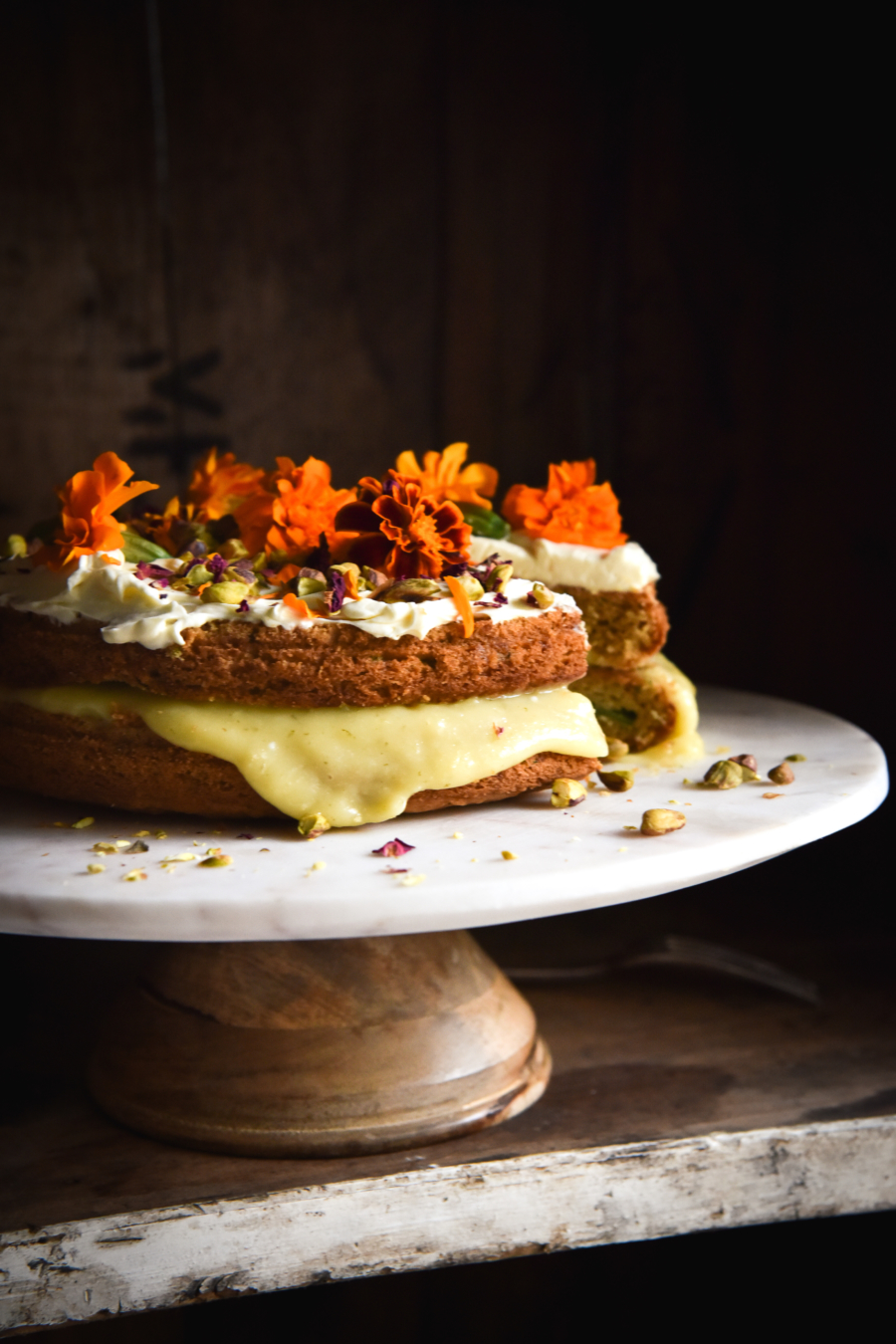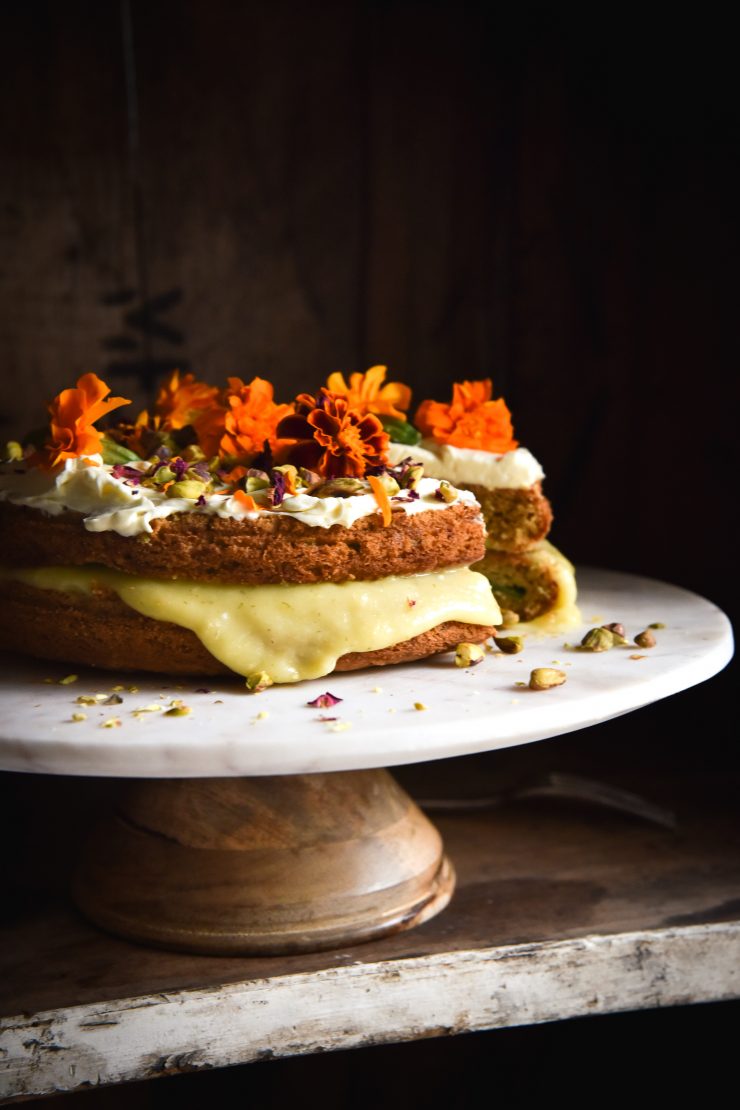 This gluten free version of Nigella's zucchini cake (or courgette cake) is something I make every year for Mother's Day. Mum has been requesting it since I can remember, and so (apart from a brief attempt at salted caramel donuts, which was quickly abandoned for it's less than impressive results) I've obliged.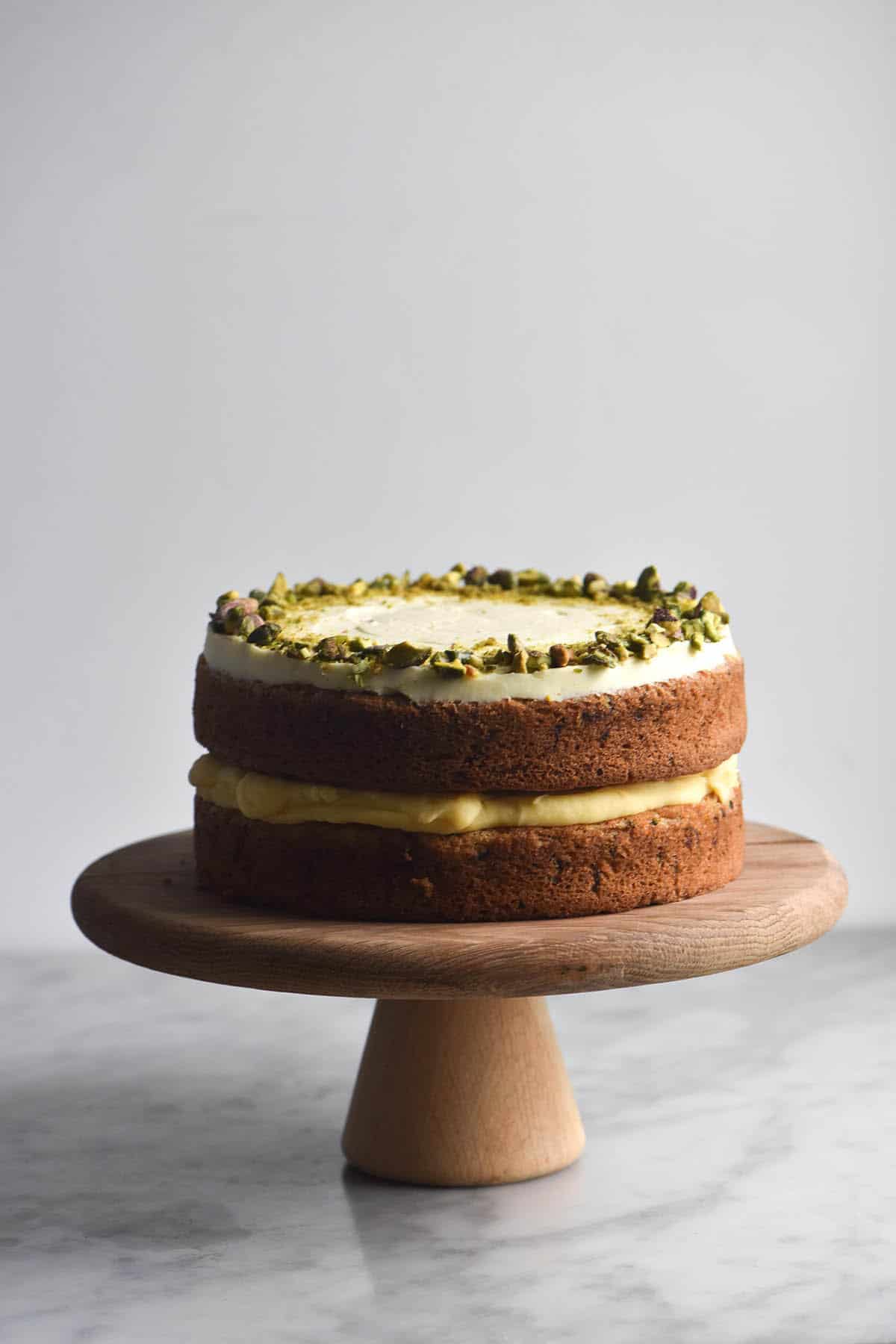 Gluten free zucchini cake with a lactose free lime curd
I went gluten free about 5 years ago now, but it's only been in the last couple of years that I've truly come to appreciate the alchemy that is gluten free baking. That's not to say I've completely mastered it (I'm not quite that arrogant) but I have come a long way since using exclusively almond meal (hey, it has a good crumb) or relying on flour blends.
Don't get me wrong, flour blends have their place. If you're not an avid baker, it might seem overwhelming to invest in 5 different flours, a gum, and the patience of a saint. My reasons for making the transition are threefold: 1) I once had a terrible experience with a flour blend whose primary flour was chickpea. FODMAP me was not impressed. 2) I can't control the results of different flour blends, and since they all contain different flours and quantities, it's only logical that the results will vary. I don't want anyone to waste their time and flour(s) on something that might only POTENTIALLY taste good. Food waste is not cool, nor is time waste. 3) I've actually come to enjoy the process.
Getting into the groove of gluten free baking is HARD. Most often, quite literally. But there's something so satisfying about getting that result you wanted. And even about smothering a lot of dry baked goods with peanut butter along the way.
So yes! This courgette cake contains a few flours. However, they're easy to find at the supermarket, or better yet, at the bulkfood store (say no to plastic!) The quinoa flour adds a beautiful nuttiness to the cake, and it is light and fluffy without a fault. The original Nigella recipe for Nigella's glutenous variety of the courgette cake is in her book How To Be A Domestic Goddess, but it can be found by googling 'Flora's famous courgette cake.' All hail Nigella. All hail courgette cake. All hail the word courgette.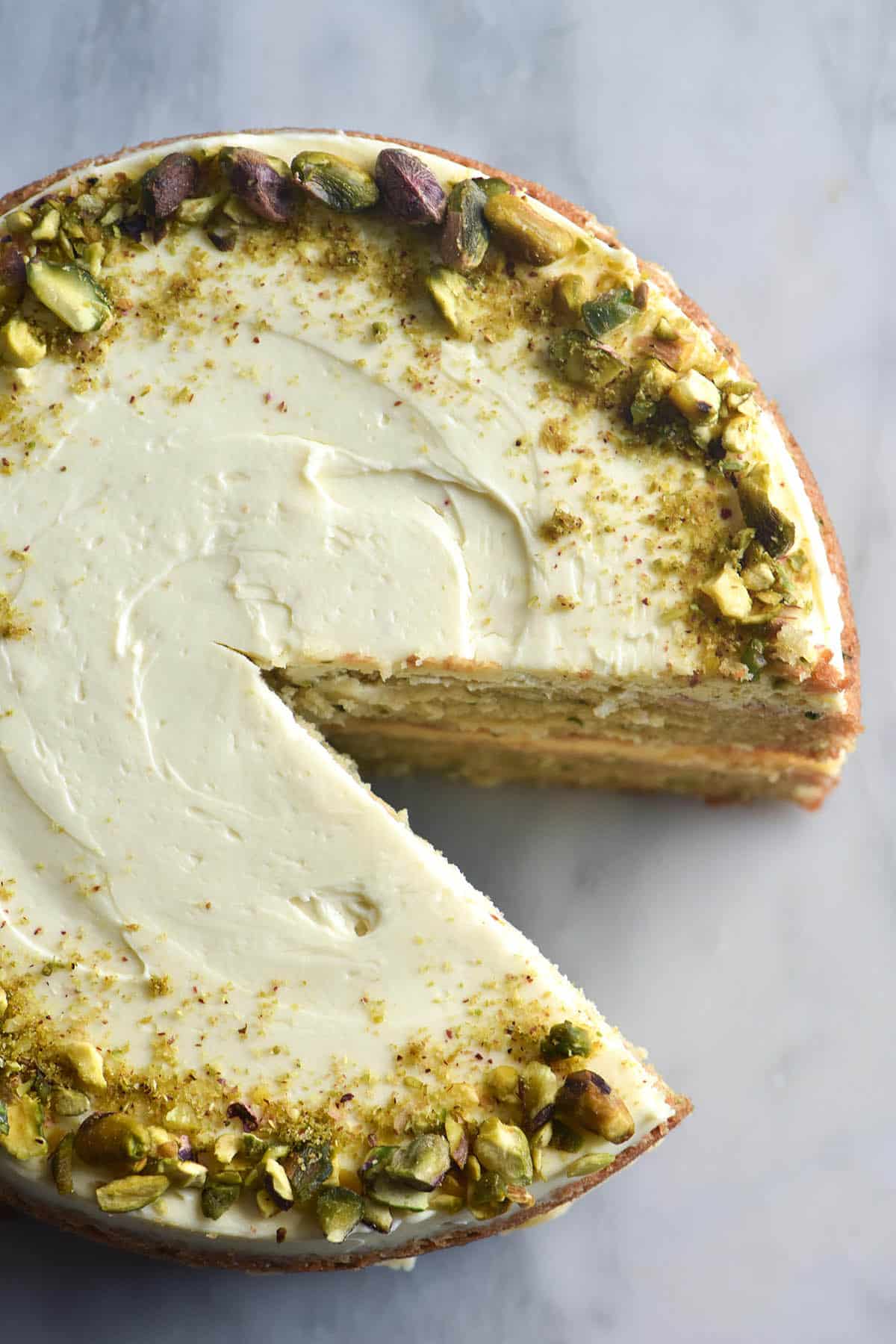 Gluten free zucchini cake notes
I use extra large eggs. In Australia, this means that they weigh 45-55g per egg, weighed out of the shell.
Make sure you use the large edge of the grater or your zucchini will turn into absolute mush.
As I mentioned, this recipe quantity yields ONE OF THE TWO cakes in the picture. If you'd like to create a layer cake as I have, you'll need double the quantity. The reason I haven't straight up doubled the recipe is A) a single cake is handy too and B) I haven't tested batch preparing this cake batter – I did it cake by cake. Personally I foresee no issues but it's worth mentioning.
I use a 20cm cake tin which results in a reasonably thin cake. It doesn't rise tremendously, so I'd advise against a bigger tin than 20cm.
This is much easier to make the night before, ensuring all elements are cool before icing the next day. If you're in a hurry, I suggest making the curd first, and allowing it to cool fully in the fridge. That way as soon as the cake is cool, you're ready to go.
Room temperature cream cheese is SO MUCH EASIER to deal with than straight out of the fridge. If you forgot to take the cream cheese out, zap it in the microwave (out of the foil, obvs) in ten second intervals until it's soft but not hot or melty. If you don't have a microwave, turn the oven on and place it on the stovetop for a while.
You won't use all of the curd (as you can tell from the photos, I got a bit too excited) but it pairs beautifully with pancakes, crepes, anything sweet, or can even just be eaten as is. That said, store bought curd exists if you don't want to make some, but it's expensive and it often contains gluten.
More gluten free cake recipes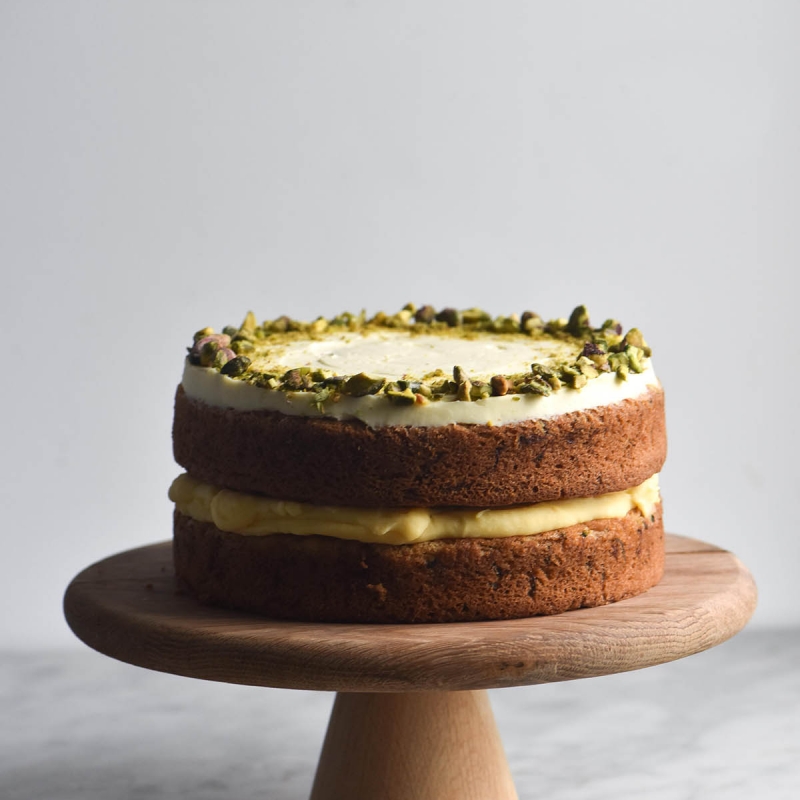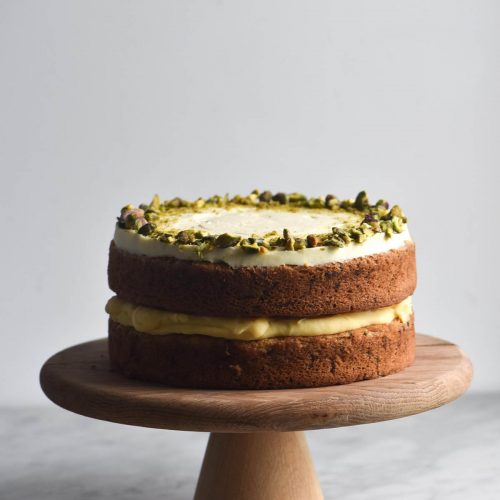 Gluten free zucchini cake with dairy free curd and lactose free cream cheese icing
Gluten free, FODMAP friendly, dairy free
This recipe needs to be doubled for the layer cake style in the photos
Ingredients
FOR THE CAKE:
250

g

zucchini

weighed before grating

1/2

cup

(100g) white sugar

1/4

cup

(60g) brown sugar

2

extra large eggs

125

ml

(1/2 cup) olive oil

3/4

cup

(90g) white rice flour

1/2

cup

(60g) quinoa flour

1/4

cup

( 30g) tapioca flour

1

teaspoon

vanilla bean paste

(optional)

2

teaspoons

baking powder
FOR THE DAIRY FREE KAFFIR LIME CURD:
1/2

cup

(110g) caster sugar

3/4

cup

lime juice

freshly squeezed

Finely grated zest of 1 large kaffir lime

you can substitute lime zest if you can't find a kaffir lime

3

eggs

I use extra large, but large would work here

1/2

cup

melted coconut oil
TO FINISH:
250

g

cream cheese

buy a lactose free brand for a lower FODMAP version

1-2

tablespoons

maple syrup

or icing sugar

Handful of chopped pistachios

or another nut for a lower FODMAP option

Edible flowers or rose petals

absolutely optional
Instructions
To make the cake:
In a medium sized metal bowl, combine the kaffir or regular lime zest with the sugar for the curd. Massage it together with your fingers to release the oils, and set aside.

Preheat the oven to 180 degrees Celsius, and grease and line a springform tin (mine is 20cm – grease 2 if you are double batching the recipe)

Place the sugars, eggs and olive oil in your kitchen mixer with the beater attached, and beat until the mixture is light in colour and almost like a cake batter consistency.

While that is happening, grate the zucchini with the large side of the grater, and place it into a sieve. Using your hands or a clean towel, wrap it up and squeeze all the life/moisture out of it. Really, go to town.

In a large bowl, mix together the flours and baking powder, and gradually add it to the olive oil mixture in the kitchen mixer (turn it to a low speed so the flour doesn't blow up in your face) and keep adding until all the flour has been incorporated. Add the (optional) vanilla bean paste and wrung out zucchini, and mix on low until just combined. Allow the batter to sit for a minute or so – it should loosen and become a pourable consistency. Scrape the bottom to ensure there isn't any stagnant batter, and mix it through if there is.

Pour the batter into the greased and lined springform tin, and place it into the oven for 25-30 minutes.
To make the curd:
Place the metal bowl with the sugar lime mixture over a small saucepan, half filled with water. Add the remaining curd ingredients, and use a whisk to even out any lumps. Continue whisking over a medium heat for about 10 minutes, or until the curd has thickened to the point that it can coat the back of a spoon. Take it off the heat, and set aside. Once it has cooled slightly, transfer it to the fridge to cool completely.
To make the cream cheese icing:
Beat the cream cheese together with the maple syrup or icing sugar until a smooth consistency has formed.
TO FINISH:
Once the cake has cooked, remove it from the oven, run a knife around the edge, and release the springform side. Once it has cooled slightly, gently remove the base and transfer the cake to a cool rack to cool completely, otherwise the curd and icing will melt off.

Layer curd and icing as you see fit. If you have two cakes, spread the curd in the middle, and the icing on top. Nigella tops hers with chopped pistachios, and I've added some edible flowers and rose petals, just to be horrendously excessive.