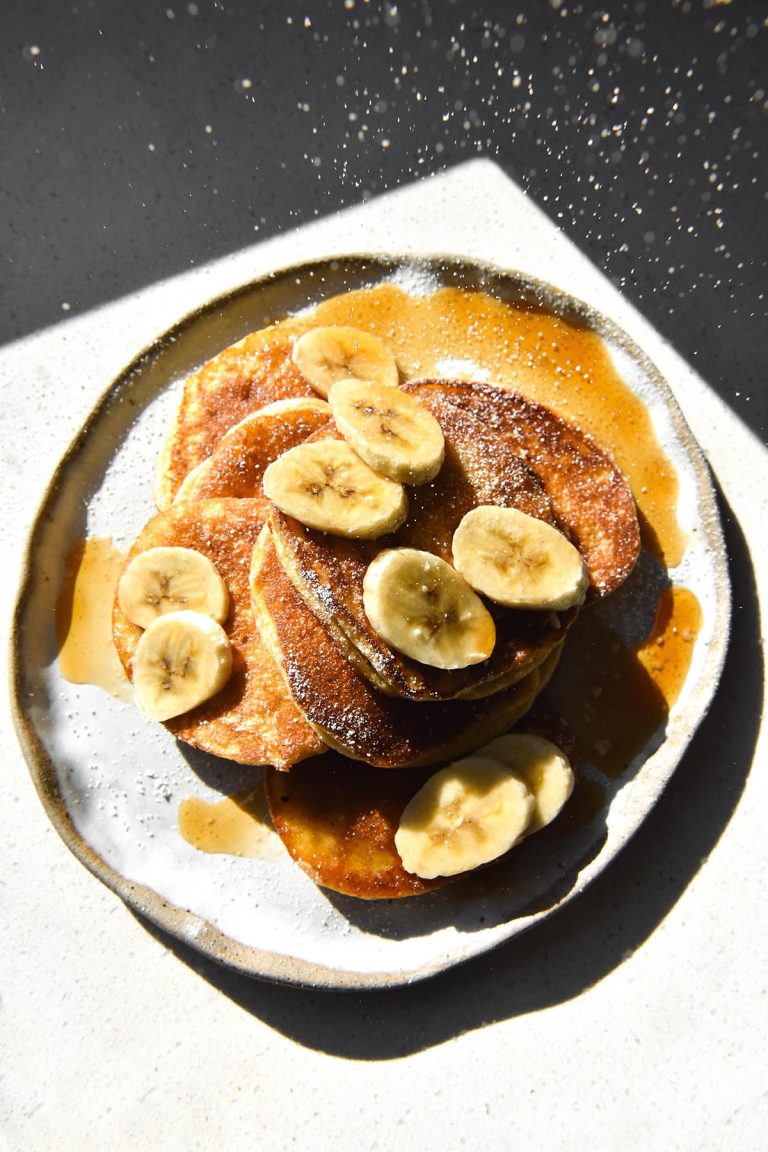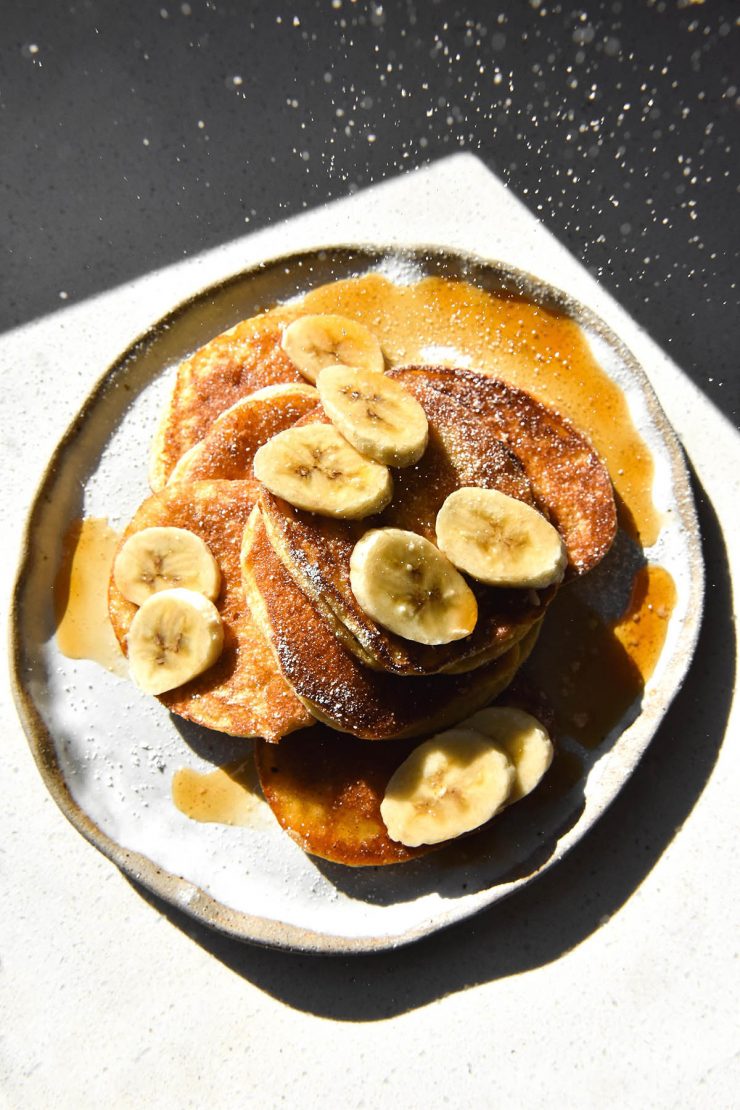 These cassava flour pancakes are the product of my recent interest in experimenting with cassava flour. An Instagram follower asked if I had used it, and then I saw it at my local bulk food store. Fate!
Cassava flour pancakes (gluten and grain free)
Cassava flour is made from the whole root of the cassava plant. Tapioca flour is made from the starch of the cassava plant. So while the two are related, they are distinctly different and cannot be substituted. I'm new to cassava flour, but I am so impressed by the potential. It is bland in flavour and has elasticity without needing a starch. People say it's the most similar to wheat flour in performance, and I can see why.
These cassava flour pancakes utilise cassava flour and a simple mix of baking powder, butter, maple syrup, eggs and milk. They are made without xanthan gum, grains and starches. They also don't need any beaten egg whites or fancy pancake tricks.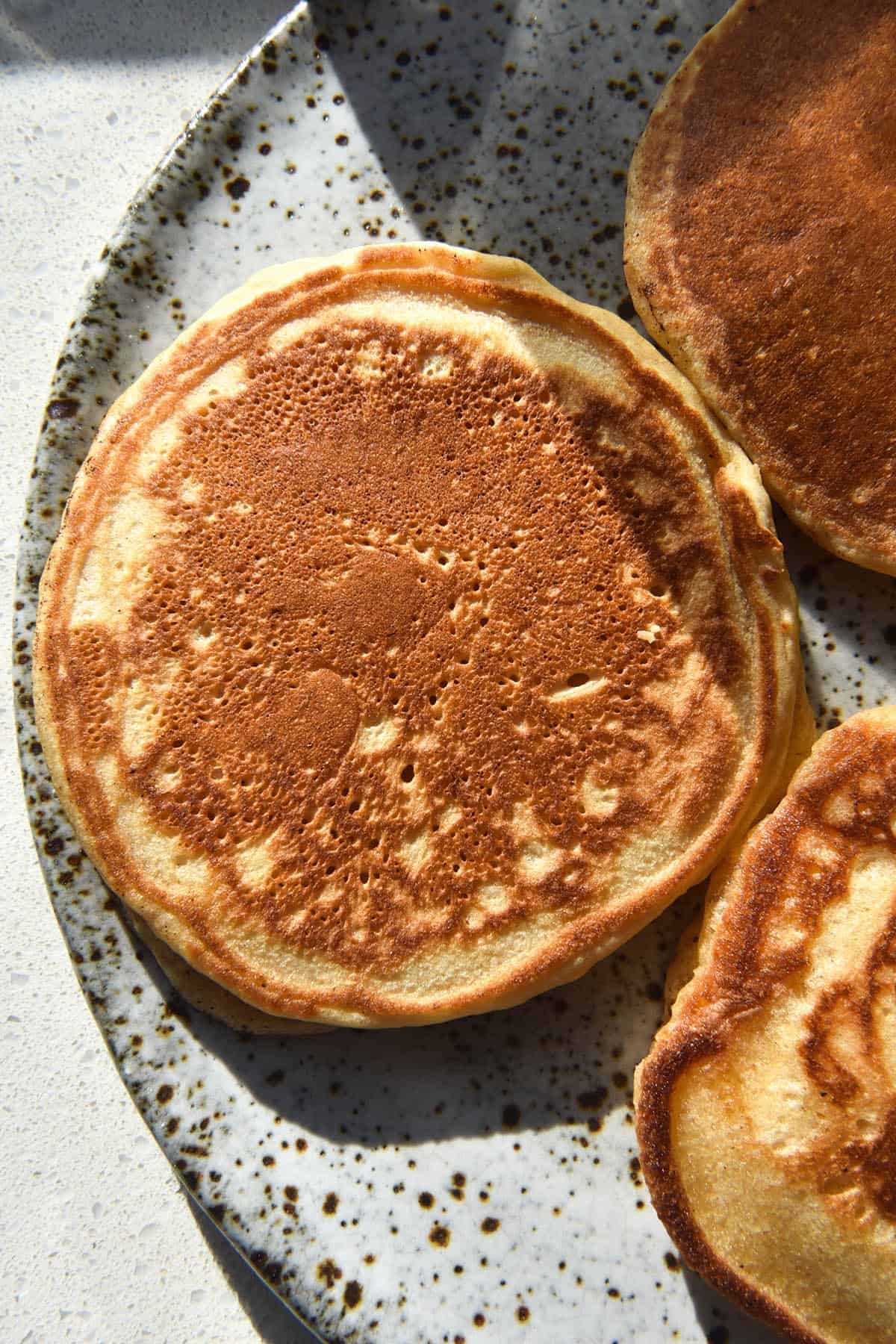 FODMAP notes
It is worth noting that cassava flour isn't overtly FODMAP friendly. It is gluten free and grain free, though, so these are for the gluten free but not FODMAP amongst us.
Monash says that whole cassava is FODMAP friendly in 75g servings. They don't have an entry for cassava flour. Some websites say that the flour is only FODMAP friendly in 15g serves. I'm not entirely sure what the discrepancy is. I have been inhaling these pancakes without issue, but they're not strictly FODMAP. Patiently waiting for Monash to add the flour to the app.
What is cassava flour and how is it different to tapioca flour?
I promise I'm not writing this section for the sake of filling space. I do think this warrants an explanation, because cassava flour is really unlike any other gluten free flour and cannot be substituted.
Cassava flour is made from the whole root of the cassava plant. Tapioca flour is made from the starch of the cassava plant. Cassava flour, in baking terms, combines the wholegrain backbone of, say, rice flour, with the elasticity, stretch and lightness of tapioca flour. Some people say it performs most similarly to wheat flour out of all the gluten free flours.
One thing I have learned about cassava flour in my experiments is that it behaves like tapioca flour if over hydrated. That is, if you add too much liquid, it will turn into a starchy, jelly like mass.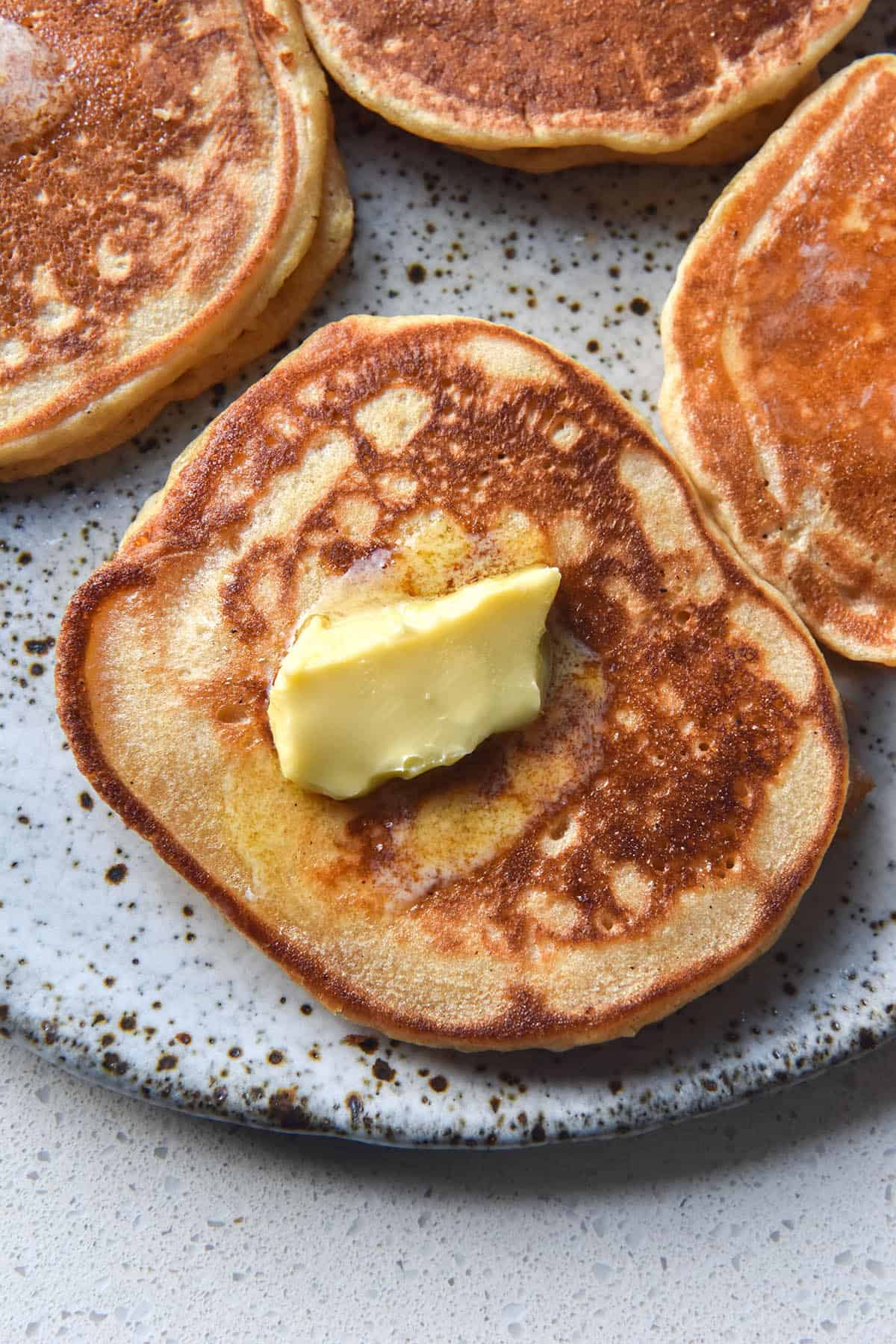 Recipe notes for your cassava flour pancakes
Anything other than cassava flour is not suitable for this recipe. There are a number of gluten free pancake recipes in my cookbook that do not require cassava flour.
I find cassava flour to be quite a thirsty flour – similar, in a sense, to coconut flour. Although it tastes nondescript, it does soak up a lot of liquid. It is also my understanding that there is a lot of variation from brand to brand.
With that in mind, be open to adding more or less liquid to suit your batter. I find that these pancakes are delicious whether they are thick or thin, so the margin for error is low, but keep this in mind.
If you'd prefer you can use sugar instead of maple syrup (or, quite likely, no sweetener at all). Adjust the liquid content to suit.
Use plant based butter and milk for a dairy free alternative. At the moment I do not have a vegan version of these.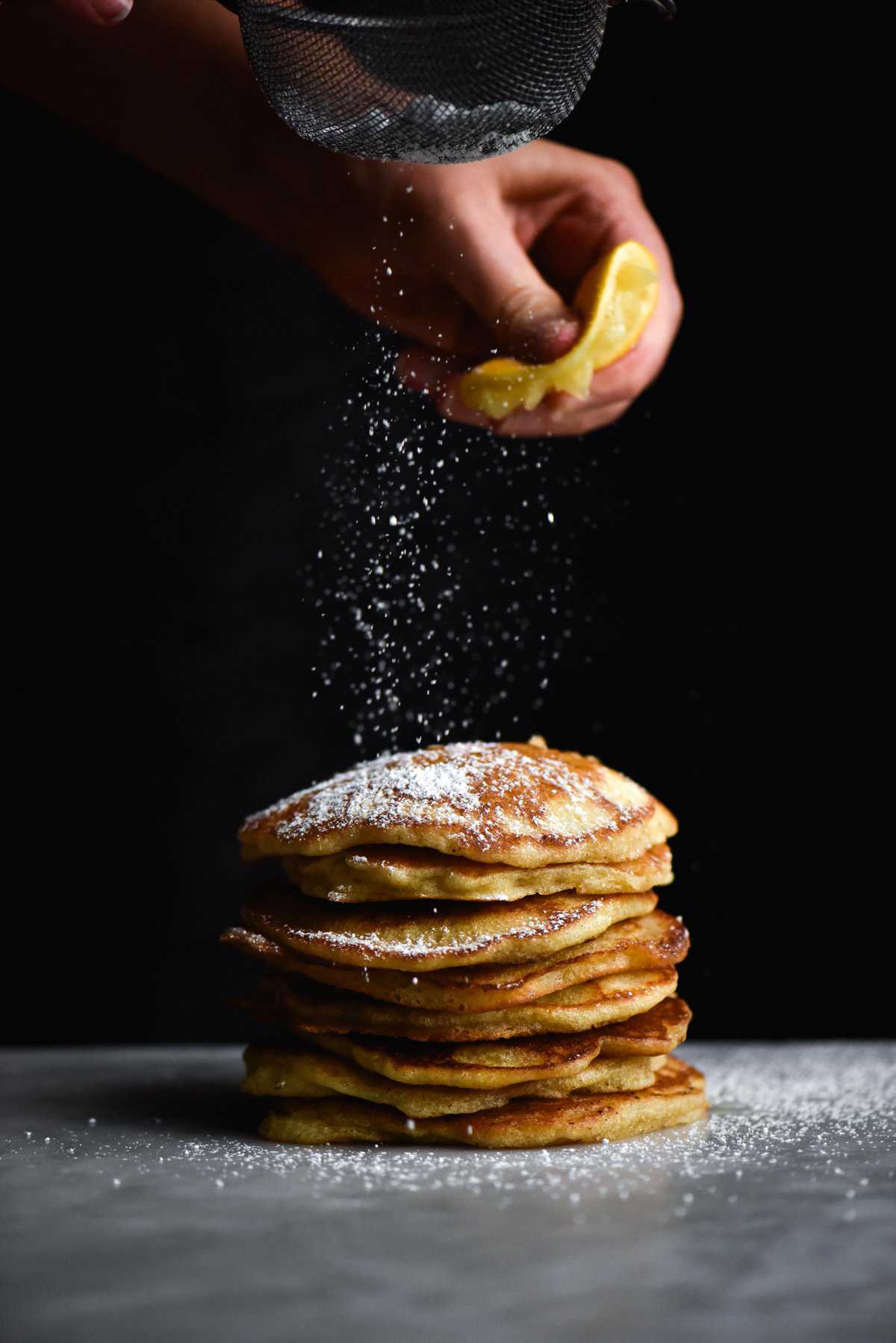 Tips for cassava flour pancakes
As we've discussed, add milk to suit your flour. Cassava flour is quite a thirsty flour. The best way to figure out how much milk you need is to add some and wait five minutes. The cassava flour will thicken the batter within that time and you can figure out if you need more milk.
Because cassava flour needs a lot of hydration, you don't want to add too little milk or they will be dry. This is also why I added maple syrup as the sweetener – for an extra hydration boost.
Keep in mind that the pancakes do puff up a little when you flip them, so don't panic if they look a little thin as you pour them in.
You could play around with whipping the egg whites to make the pancakes extra fluffy, if you need. I wanted this recipe to be a quick and easy weekday breakfast sort of batter, so I chose not to.
These cassava flour pancakes cook really quickly and only need a minute or so each side.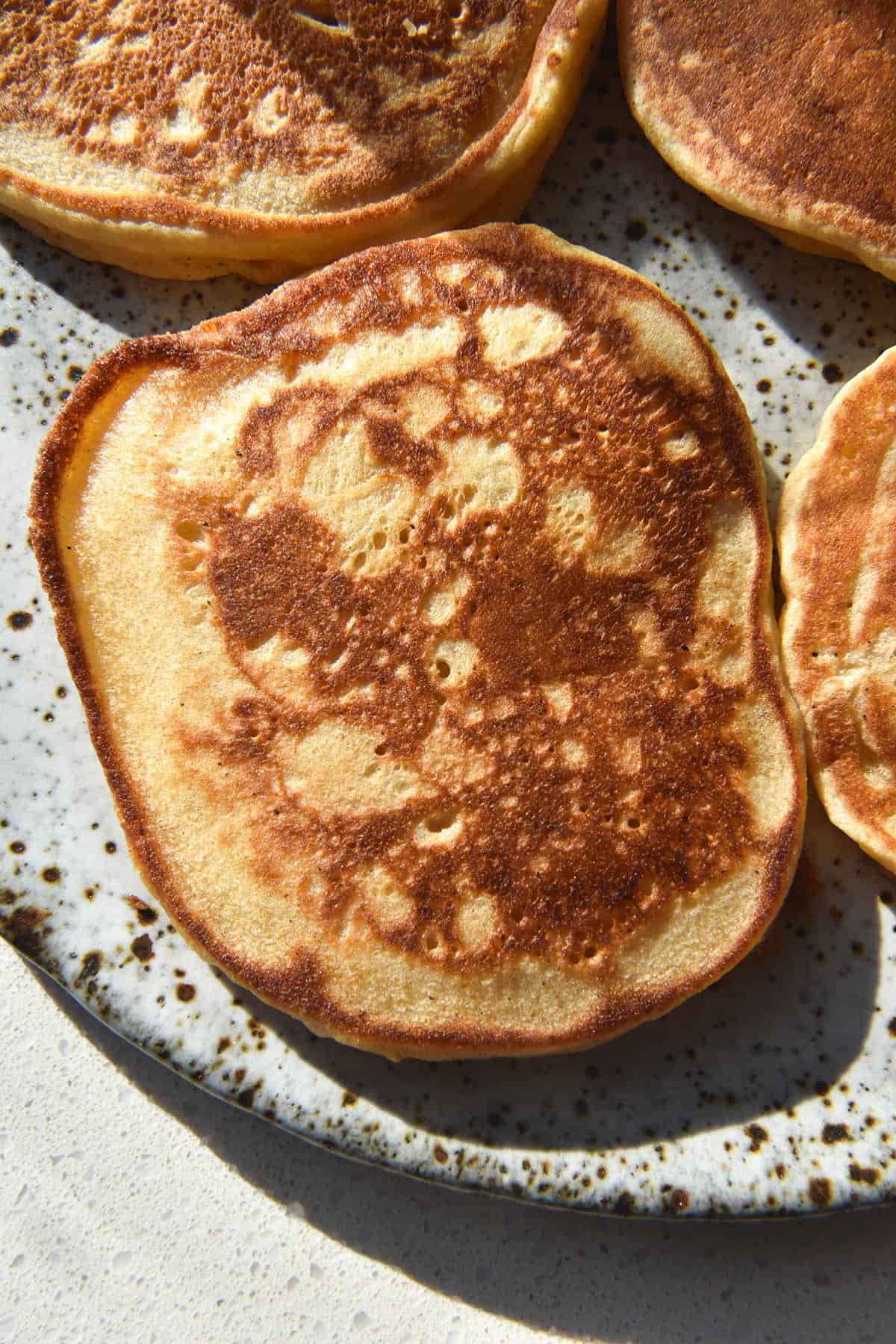 Other breakfast recipes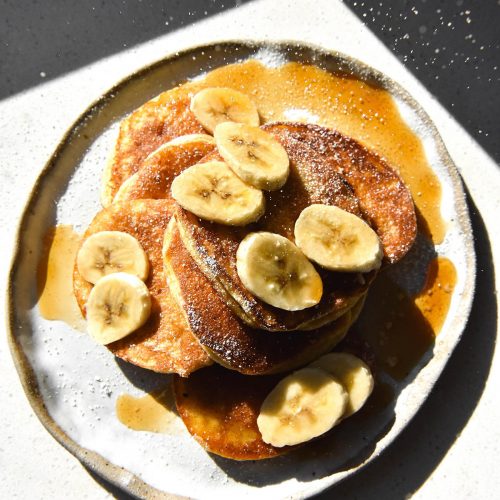 Cassava flour pancakes
Gluten free, grain free, dairy free option
Makes 6-8 pancakes
Serves 3-4 people
Ingredients
160

g

(1 cup) cassava flour

2

teaspoons

baking powder

Pinch

of fine salt

50

g

melted butter

regular or dairy free

1/4

cup

(60ml) maple syrup

2

extra large eggs

1/2 – 2/3

cup

(125-170ml) milk of choice (I used lactose free full cream)

Butter or vegetable oil

for frying
Instructions
Whisk the dry ingredients together in a medium mixing bowl. Add the butter, maple syrup, eggs and 1/2 cup (125ml) milk. You can add some vanilla extract or cinnamon here if you like, too. Sit aside for five minutes to thicken, then assess the batter. If it looks super thick, add the extra milk. If you're happy, we're ready to bake.

Preheat your saucepan over a medium heat for a couple of minutes, then add the butter or oil. Add 2 large tablespoons of batter to the pan, and cook until bubbles form on the surface and the edges are firm. Flip and cook for another minute, then remove from the pan.

Repeat with the remaining for 6-8 pancakes (this will depend on how much batter you use per pancake and how much milk you add).

Serve warm with the toppings of your choice. Leftovers keep well in the fridge but are best microwaved to add some moisture back in (particularly if you use less milk).
Notes
I have made blueberry and chocolate chip versions of these pancakes without issue.