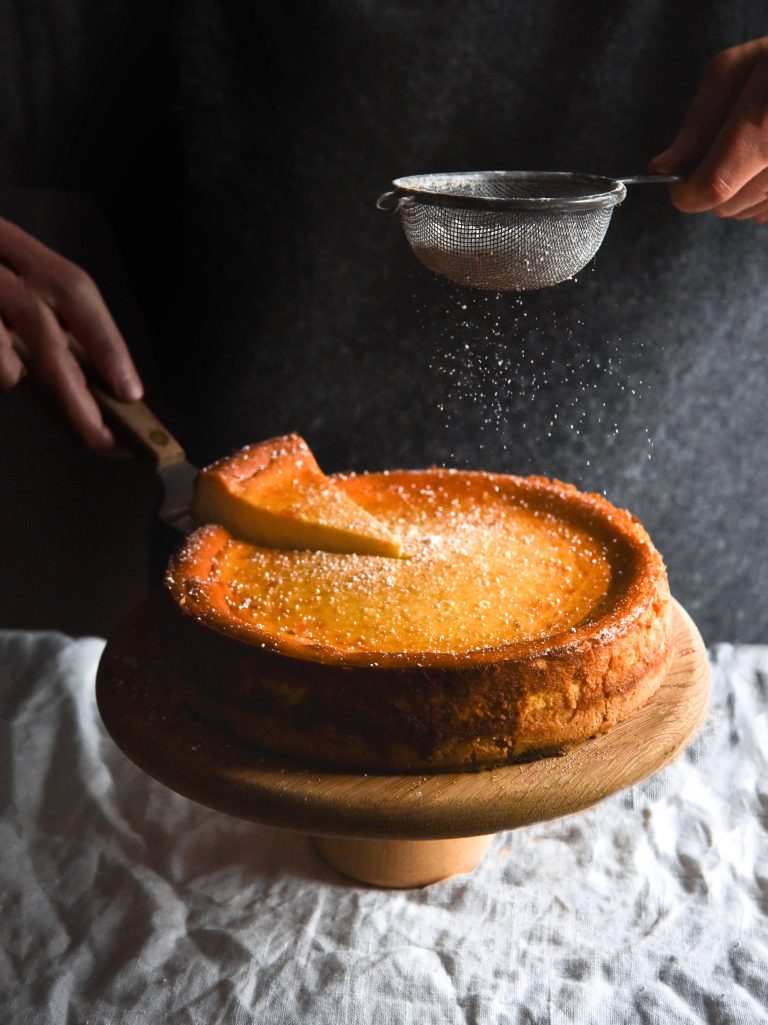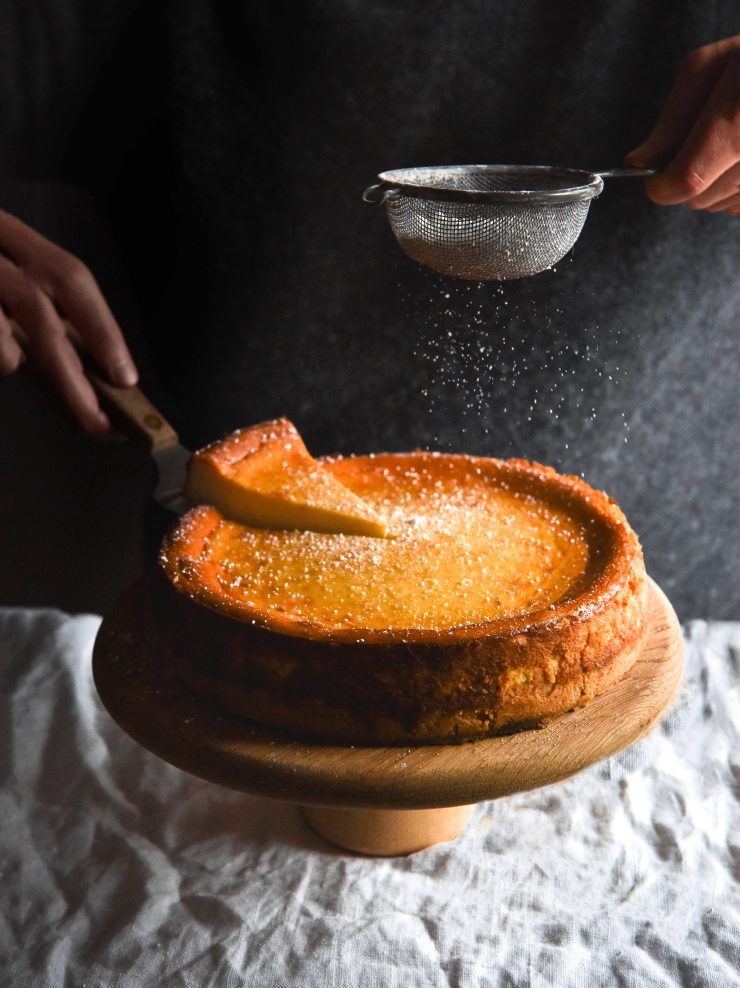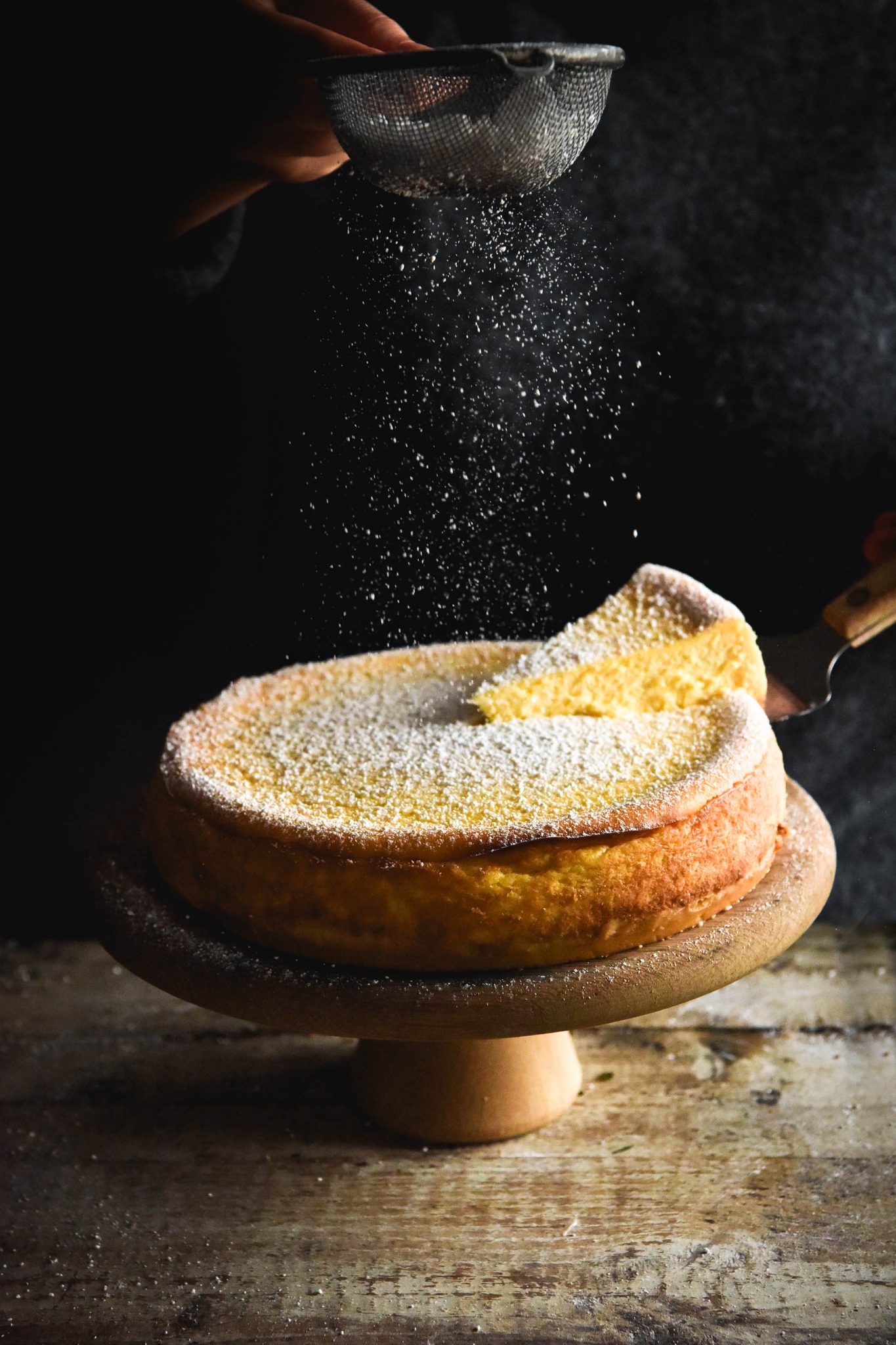 Hard to believe that after all this time, this is my first recipe for a lactose free vanilla cheesecake. I've posted a chocolate and peanut butter rendition before, and my cookbooks (past and upcoming) have a cheesecake recipe. But today, I'm sharing this easy and delicious version with a gluten free shortbread base.
Lactose free cheesecake with a gluten free shortbread base
This lactose free cheesecake uses lactose free cream cheese and cream to keep the lactose content down. The base is made from a single flour: white rice flour. The base is xanthan gum free, although most commercial cream cheeses do contain xanthan gum.
A few important notes: lactose free does not equal dairy free. This recipe utilises lactose free cream cheese and cream to make it suitable for people with lactose intolerance. It is not suitable for people with dairy allergies, as it still does contain dairy. Lactose free dairy products have the lactase enzyme added to them, which 'digests' the lactose. The end product tastes and looks the same, but contains a lot less lactose.
Secondly: butter does contain a negligible amount of lactose. It is such a small amount that Monash says 'butter does not contain carbohydrates (FODMAPs)'. If you need the cheesecake to be totally lactose free, use the plant based butter option in the recipe.
Alright, now onto the important stuff!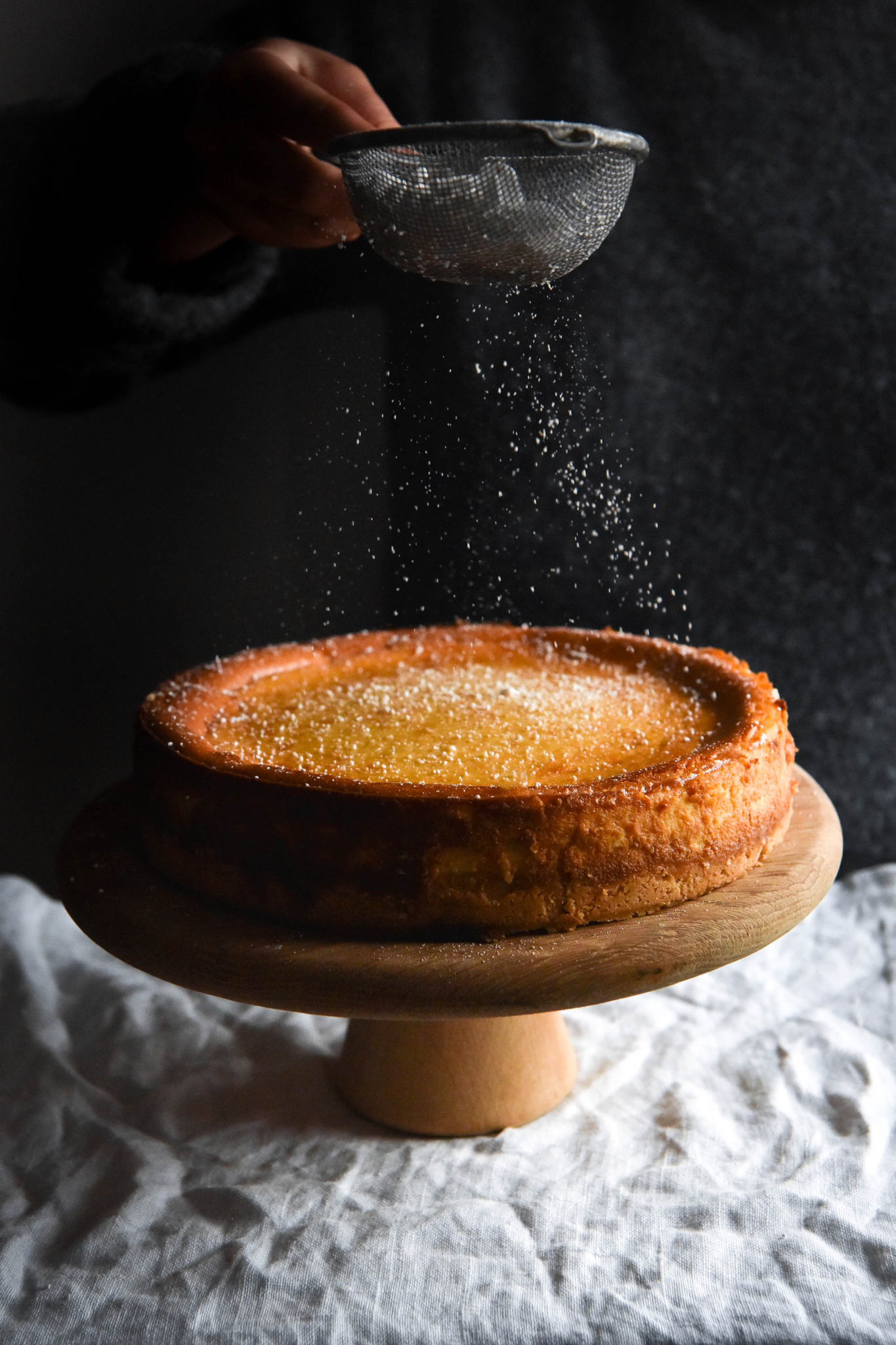 Ingredient notes for your lactose free vanilla cheesecake
Firstly, the vanilla bean paste. I have been a huge fan of vanilla bean paste since it hit the shelves. Queen Vanilla Bean Paste is my favourite because it's lovely and thick and has lots of vanilla bean flecks. You can use vanilla bean extract if you don't have access to vanilla bean paste.
Lactose free dairy is an important cornerstone of this lactose free vanilla cheesecake. In Australia, we are lucky enough to have a number of brands that make lactose free cream cheese and cream. Of course, if you don't need the cheesecake to be lactose free, you can use regular dairy.
The base of this cheesecake is an adaptation of my gluten free shortbread recipe. It is made with fine white rice flour and glutinous rice flour, both of which are available at Australian supermarkets. Glutinous rice flour is found in the Asian aisle. It is made by the brand Erawan in a see through bag with green writing. It is most often found down the bottom of the shelves.
If you are using the plant based butter option, I recommend Nuttelex buttery. It's easily purchased at supermarkets and is FODMAP friendly. This is the only butter substitute I have tested in the shortbreads.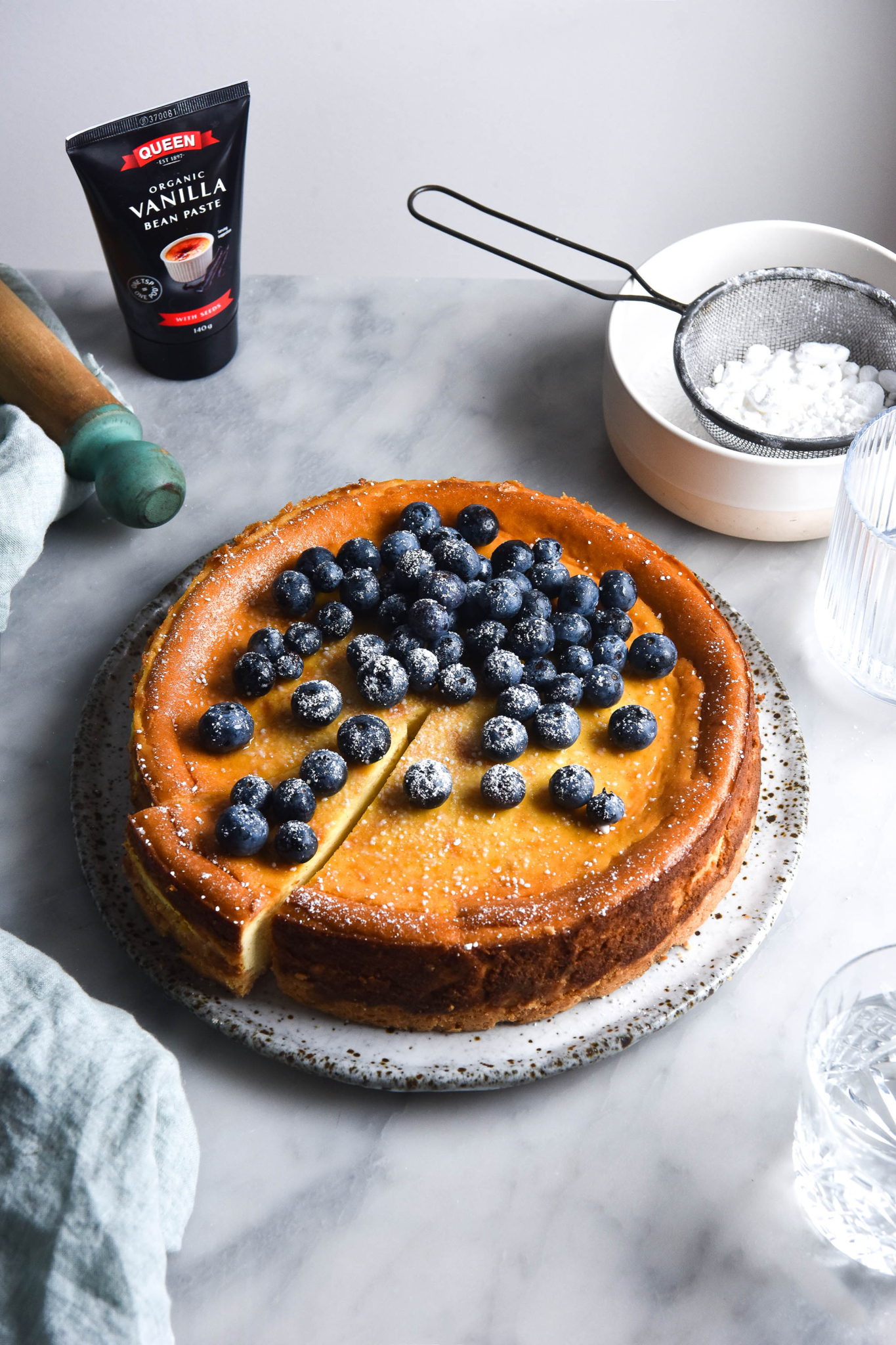 Recipe notes
Room temperature dairy is critical to the smoothness and general success of a cheesecake. If you try to use cold cream cheese, it will end up a lumpy mess. Take the cream cheese out of the fridge well in advance, or pop the (unwrapped, watertight) foil packets in some warm water to heat them up before use.
Make sure you mix the cream cheese and sugar for long enough. Sugar that has not been totally combined will create lots of little brown spots on the top of the cheesecake once it has finished baking. This doesn't affect the taste, but it does affect the aesthetic.
As we have discussed, you can use plant based butter for a totally lactose free option. Plant based butter is generally a lot softer than regular butter when creamed, you make sure it's cold before you start. You might also need to refrigerate the creamed butter before adding the flour. Use less milk (or no milk) if the mixture is sticky when the flour has been added.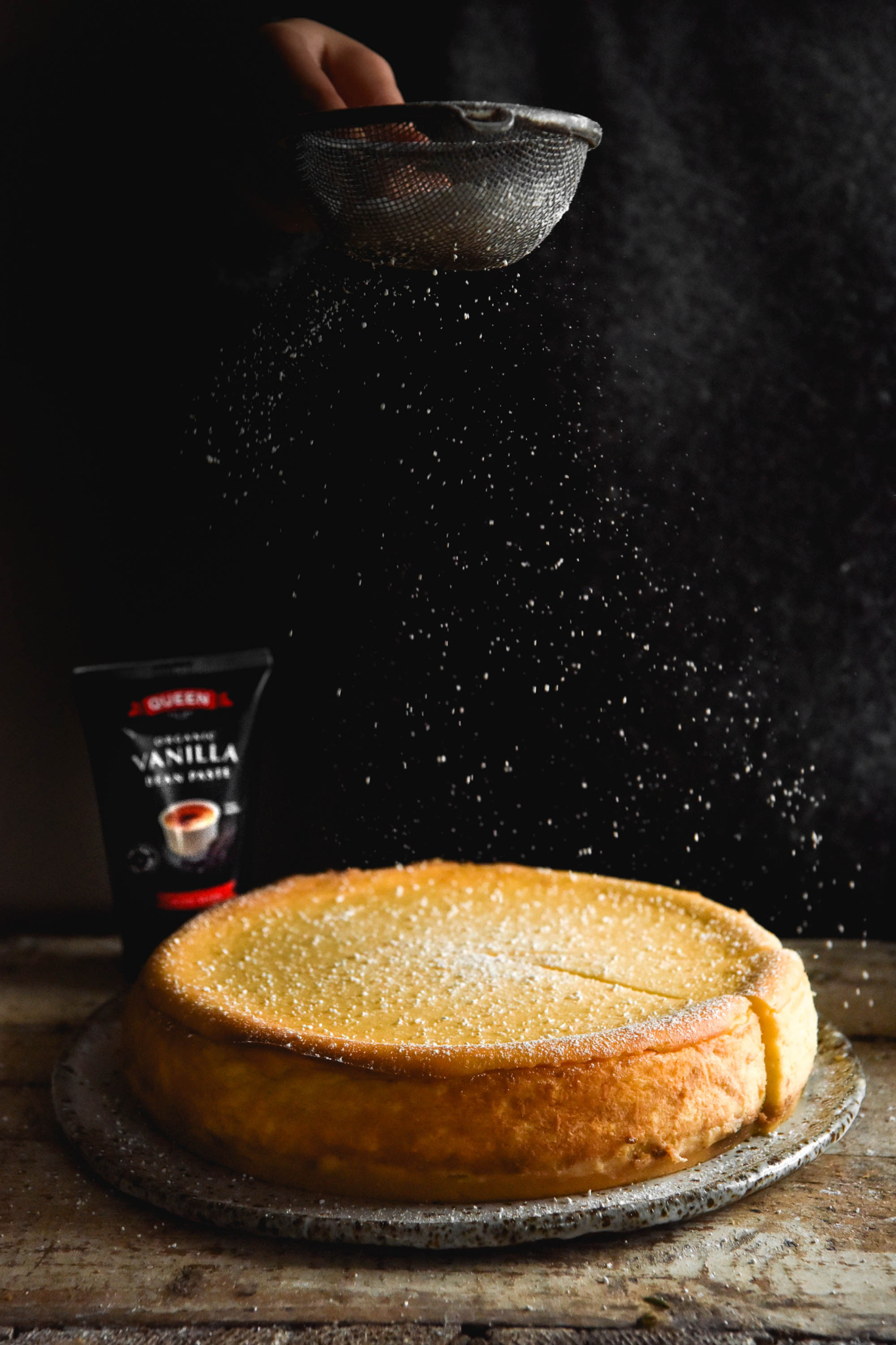 Notes on the gluten free cheesecake base
The shortbread base was inspired by my recipe for gluten free shortbread cookies. It makes for a THICK, chunky base, which is just the way I like it. If you prefer a thinner base, retain a little bit of the dough to use for shortbreads.
It is a little different to my shortbread recipe, though. During testing, I found that using a starch in this recipe, as I did for my shortbread recipe, resulted in a weird, slimy layer where the cheesecake meets the base. We're not into that, right? As such, this cheesecake base uses only fine white rice flour instead of a starch as well.
To make sure you get the best tasting cheesecake, buy super fresh fine white rice flour. I like to buy mine from the bulk store, but there are other options, too. When I can't get to the bulk store, I buy Tonkah foods brand. It's the freshest tasting of any supermarket brand I have tried, and I haven't had a stale bag yet. I have also heard good things about Erawan brand rice flour, but I have only ever seen their tapioca flour and glutinous rice flour.
More gluten free, lactose free dessert recipes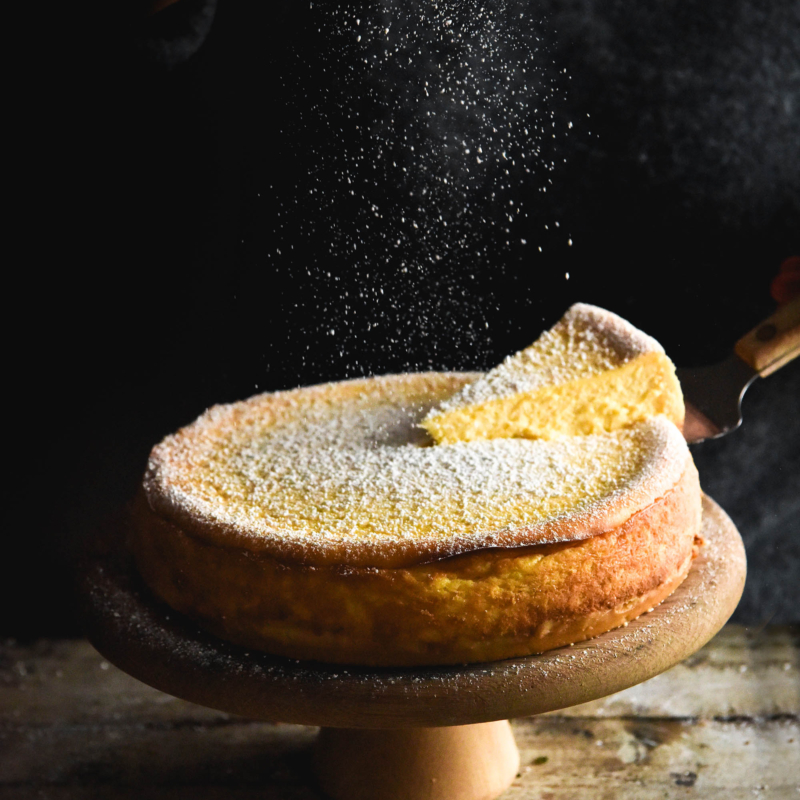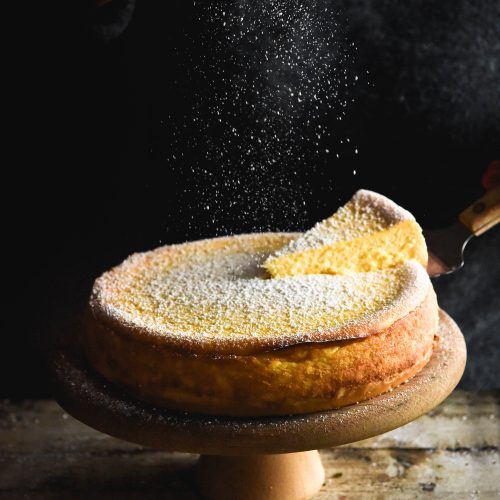 Lactose free vanilla cheesecake with gluten free shortbread base
Low lactose, FODMAP friendly, gum free, nut free
Equipment
1 x 20cm spring form pan

a Kitchen mixer or hand beaters
Ingredients
For the shortbread base:
125

g

plant based or regular butter

room temperature (see notes)

90

g

(2/3 cup) pure icing sugar, sieved

180

g

(1 cup + 2 tablespoons) fine white rice flour

1/2

teaspoon

Queen Vanilla Bean Paste

1-2

teaspoons

milk (I used lactose free full cream)

only as necessary
For the lactose free vanilla cheesecake:
1

kg

lactose free full fat cream cheese

220

g

(1 cup) caster (superfine) sugar

250

ml

lactose free full cream

room temperature

4

extra large eggs

3

teaspoons

Queen Vanilla Bean Paste

Pinch

of fine salt
Instructions
To make the shortbread base:
Preheat the oven to 170C/338F. Grease and line a 20cm spring form tin with baking paper and a little butter. Lightly grease the sides, too – this can help prevent a cracked cheesecake.

Place the room temperature butter and sieved icing sugar in the base of your kitchen mixer. Use the paddle attachment to beat on a medium high speeduntil the mixture is pale in colour and light and fluffy in texture. Scrape down the bowl as often as needed. This can take anywhere from 3-20 minutes, depending on the temperature of your kitchen and butter. Be patient – well creamed butter equals ethereally light shortbread.

Once the mixture is well creamed, scrape down the side of the bowl then add the flour and vanilla bean paste. Process on low to incorporate the flour, then turn the mixer to high. If it balls up then there's no need to add extra milk. If it stays in a crumbly, dry form, add the milk as necessary.

Decant the mixture into your lined spring form pan. Use your hands to press the mixture out to cover the base. Ensure you pack it down firmly. Once you have a nice, compact smooth base, pop it in the oven for 20 minutes. It should be lightly golden and baked through. Set aside to cool while you make the cheesecake filling.
To make the lactose free cheesecake mixture:
Wash your stand mixer, then place the soft cream cheese and sugar in the bowl. Mix on low for 3-5 minutes, scraping down the sides as necessary. Ensure all the sugar has dissolved into the cream cheese for a lovely cheesecake top (undissolved sugar will leave brown spots). Scrape down the sides of the bowl thoroughly with a silicon spatula.

Add the cream and allow it to incorporate. Scrape down the bowl again.

Add the eggs, one at a time, allowing each egg to incorporate before adding the next. Add the vanilla and mix on a low speed to combine. Scrape the bowl one last time: ideally there will be no chunks of cream cheese left on the bottom of the bowl.

Pour the cream cheese mixture on top of the prepared base. Smooth the top out by shaking the cheesecake from side to side. Drop it gently on the bench a few times to remove any air bubbles.

Place the cheesecake in the oven and bake for 40 minutes to 1 hour. The cheesecake should be lightly golden and jiggle in the pan.

Turn the oven off, leave the door ajar and allow it to cool for around 15-20 minutes. Gently and carefully run a knife around the very edge of the cheesecake to prevent cracking as it cools. Leave the oven door ajar and allow to cool completely in the oven (I leave mine overnight if it's not too hot out).

Once cooled, pop in the fridge to firm up for 3-4 hours to make for easy slicing.

Leftovers keep well in an airtight container in the fridge.
Notes
For a 100% lactose free cheesecake, use plant based butter. If you're OK with small amounts of lactose, use regular butter. Regular butter has an almost negligible lactose content, but it does contain a tiny amount. Personally, I use regular butter because I'm fine with lactose. 
This cheesecake is best made the night before as it has time to firm up in the fridge. This makes it infinitely easier to slice.