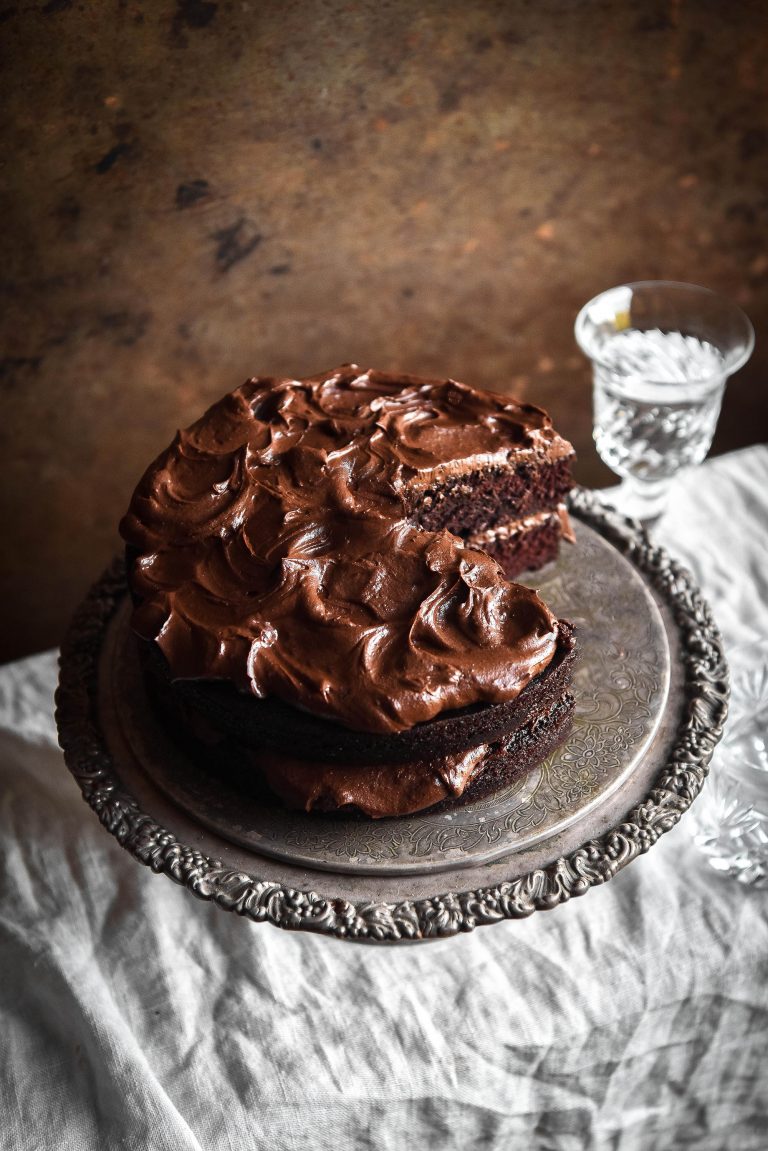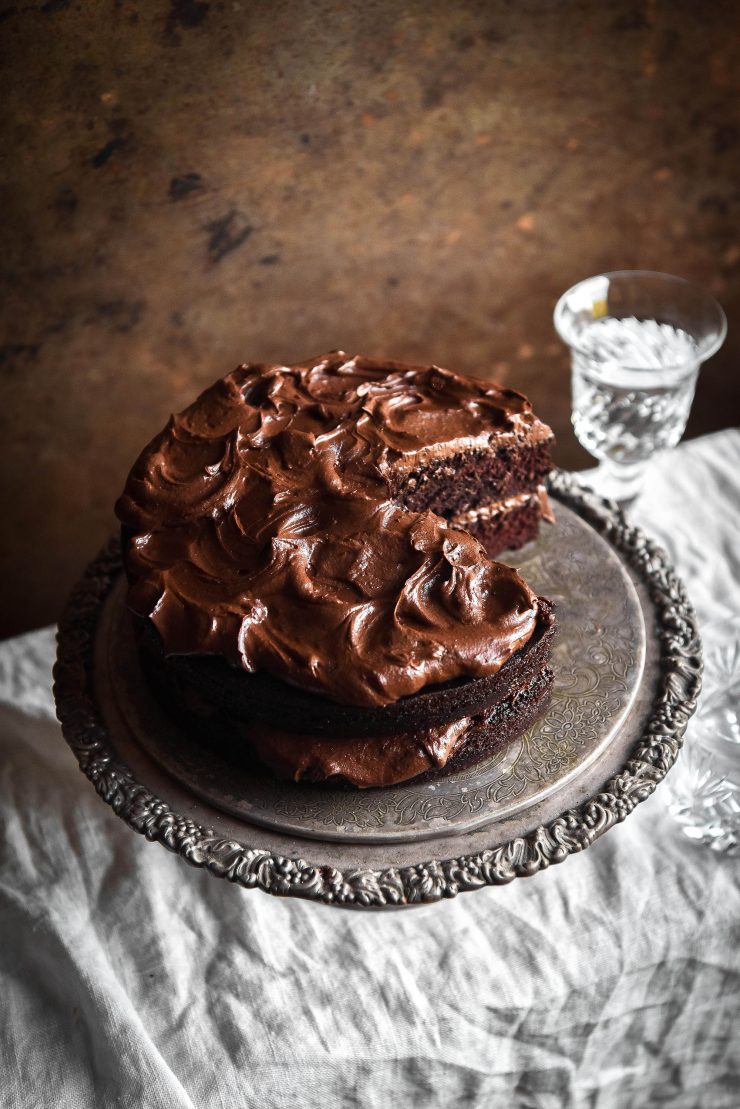 It has been a while since I've developed a gluten-free chocolate cake recipe. My last one, this quinoa chocolate cake, was a solid few years ago. And while a good chocolate cake recipe never goes out of style, the times have changed somewhat since that recipe.
I wanted to develop a gluten-free chocolate cake recipe that could be whipped up from pantry basics. One that could be flexible in adapting to the ingredients on hand, or the ingredients available at the supermarket. As such, this super simple gluten-free chocolate cake recipe was born. Have I mentioned that it requires only ONE gluten free flour? No blends, no weird ingredients, just finely milled white rice flour.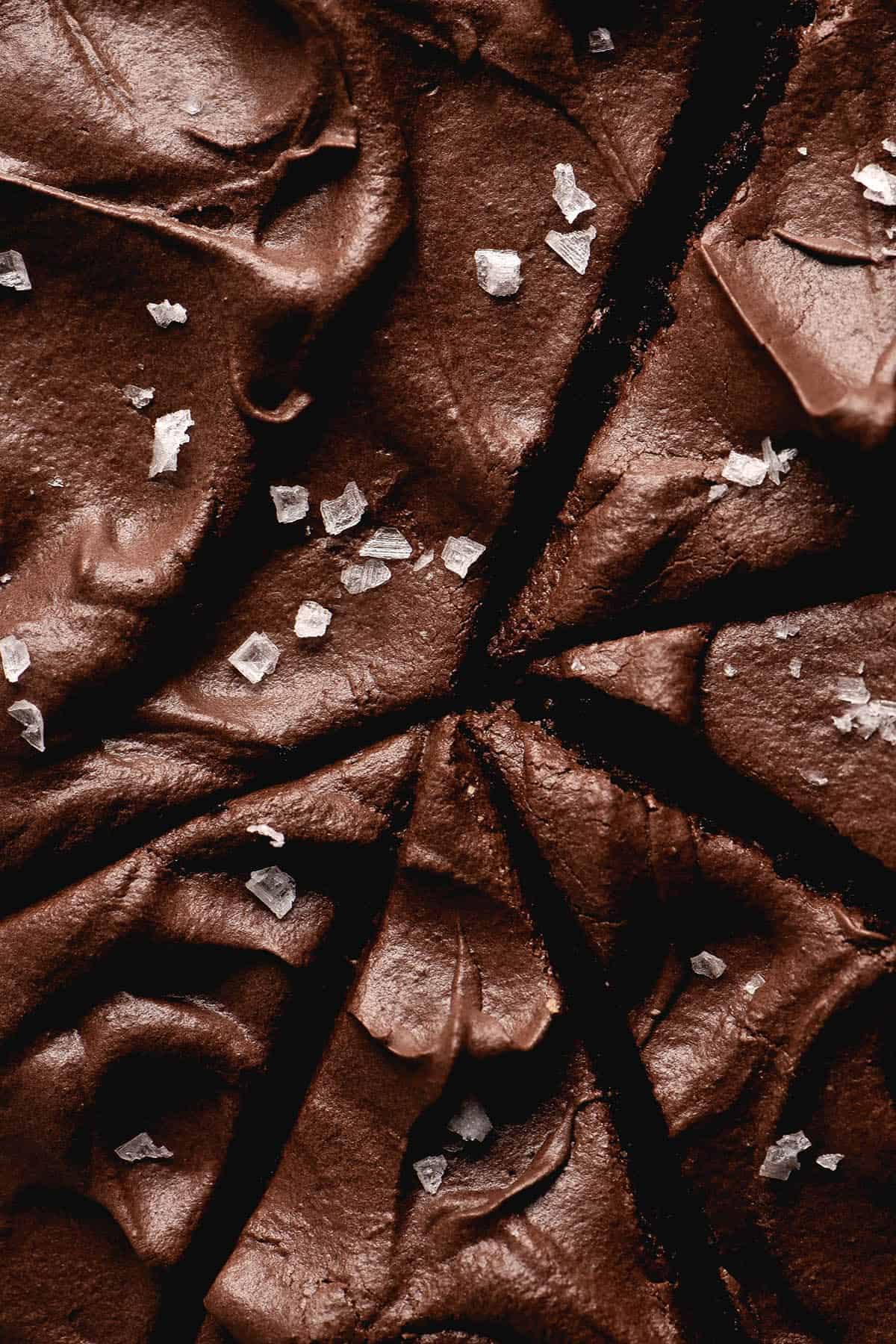 Gluten-free chocolate cake recipe
This cake is gluten free, FODMAP friendly, nut free and easily made dairy free. It is free of xanthan gum, and uses only a single flour: white rice flour. There are plenty of substitution options, which we'll dive into below.
Notes on the (finely milled white) rice flour
The recipe uses fine white rice flour alone as the backbone of the cake. Rice flour is a good sturdy gluten free flour, and one that is readily available both at supermarkets and health food stores. Because we're only using one flour for this cake, however, there are a few caveats.
Firstly and most importantly, choose a good quality, finely milled white rice flour. Because we're using one simple flour, it's quality is critical to the quality of your cake. I highly recommend buying your white rice flour at the health or bulk food store – they have a tangibly better taste than the supermarket variety. They're also generally more finely milled.
If you're in Australia, please don't buy the rice flour in a box. It's gritty and it will make your cake taste gritty. My first choice is always my local bulk food store, but in pandemic times I have also used Lotus brand white rice flour for this cake.
Secondly, I have no substitute recommendations for white rice flour at this time. I haven't tried any other gluten free flours, brown rice flour included. If you'd like to do so, you'll be experimenting 🙂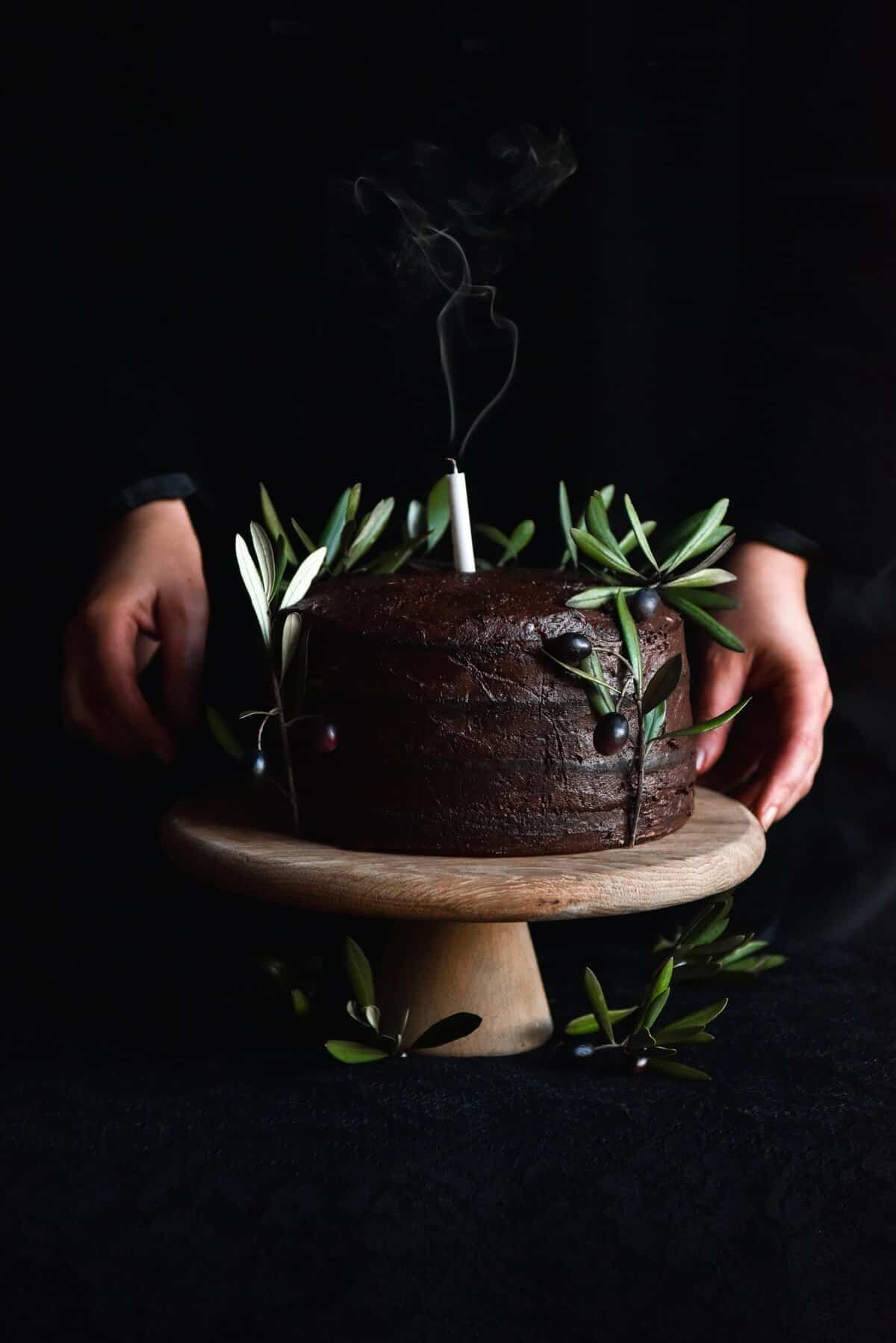 Notes for the brown butter chocolate icing
Continuing on with the theme of using simple pantry basics to make something delicious, the icing for this cake uses brown butter. Browning butter is the easiest possible way to create extra flavour with barely any additional work.
Brown butter has a beautiful nutty and complex taste that lends a whole other element to this chocolate buttercream. If you'd prefer not to brown the butter, you can just add a little less milk at the end. Browning butter drives off liquid content, so you'll need less moisture as a result.
I've tested this recipe a few different ways, so here is my advice for an icing quantity that best suits your needs
For a medium layer of icing (scant or naked cake style): use the amount specified in the recipe card
For a well iced cake with sides and top generously covered: make double the icing recipe
As mentioned, you could substitute a dairy free spread in this recipe (just don't try and brown it) or use your own favourite dairy free recipe.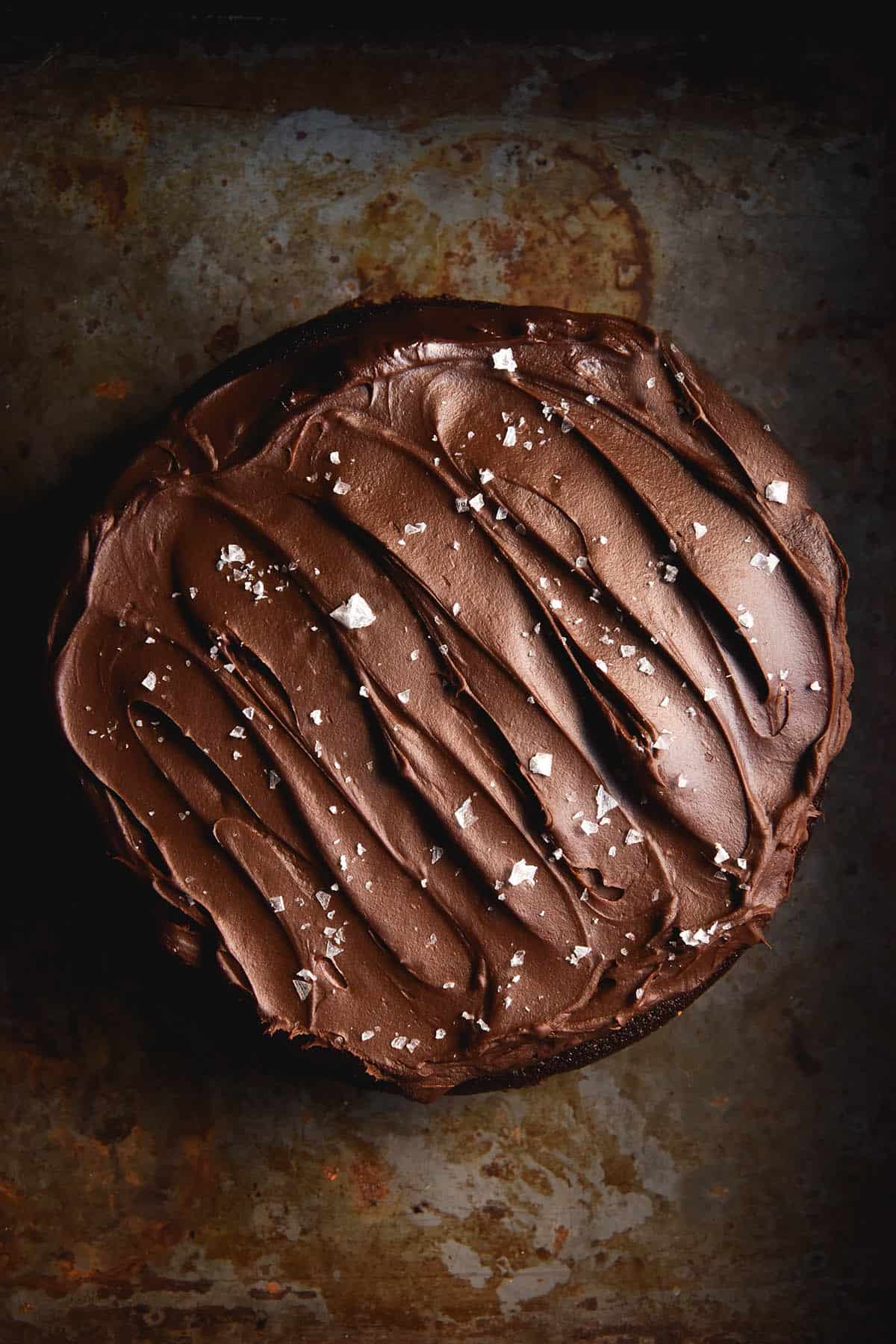 Gluten free chocolate cake recipe notes
Before mixing the boiling water into the batter, you'll think 'this looks like a good consistency!' You'll panic, debating whether to add the water. You definitely need to add the water. First and foremost, the boiling water creates a beautifully soft crumb, something that is often hard to achieve in gluten free baking. Secondly, it blooms the cocoa, creating a deeper flavour and colour in your cake. It won't curdle the eggs and it won't ruin your cake. Trust me!
Coffee and salt enhance the flavour of chocolate. This is a scientific fact. I promise you won't taste either – they will simply make the cake super chocolatey. You can use a strong brewed instant coffee, and even decaf. If, however, you're dead set on avoiding it (please don't!) just use extra hot water.
In a similar fashion to the above, the light brown sugar adds a depth of flavour to the cake that white sugar can't bring. I haven't tested the recipe without it.
Use as good a quality cocoa powder as you can find or afford. It honestly makes such a huge different to the taste of the cake. I wouldn't recommend it if I didn't believe it, but as someone who used to buy generic brand cocoa powder, I can confirm the rumours are true.
I haven't tested this recipe without eggs. You can knock yourself out, but you'll be experimenting!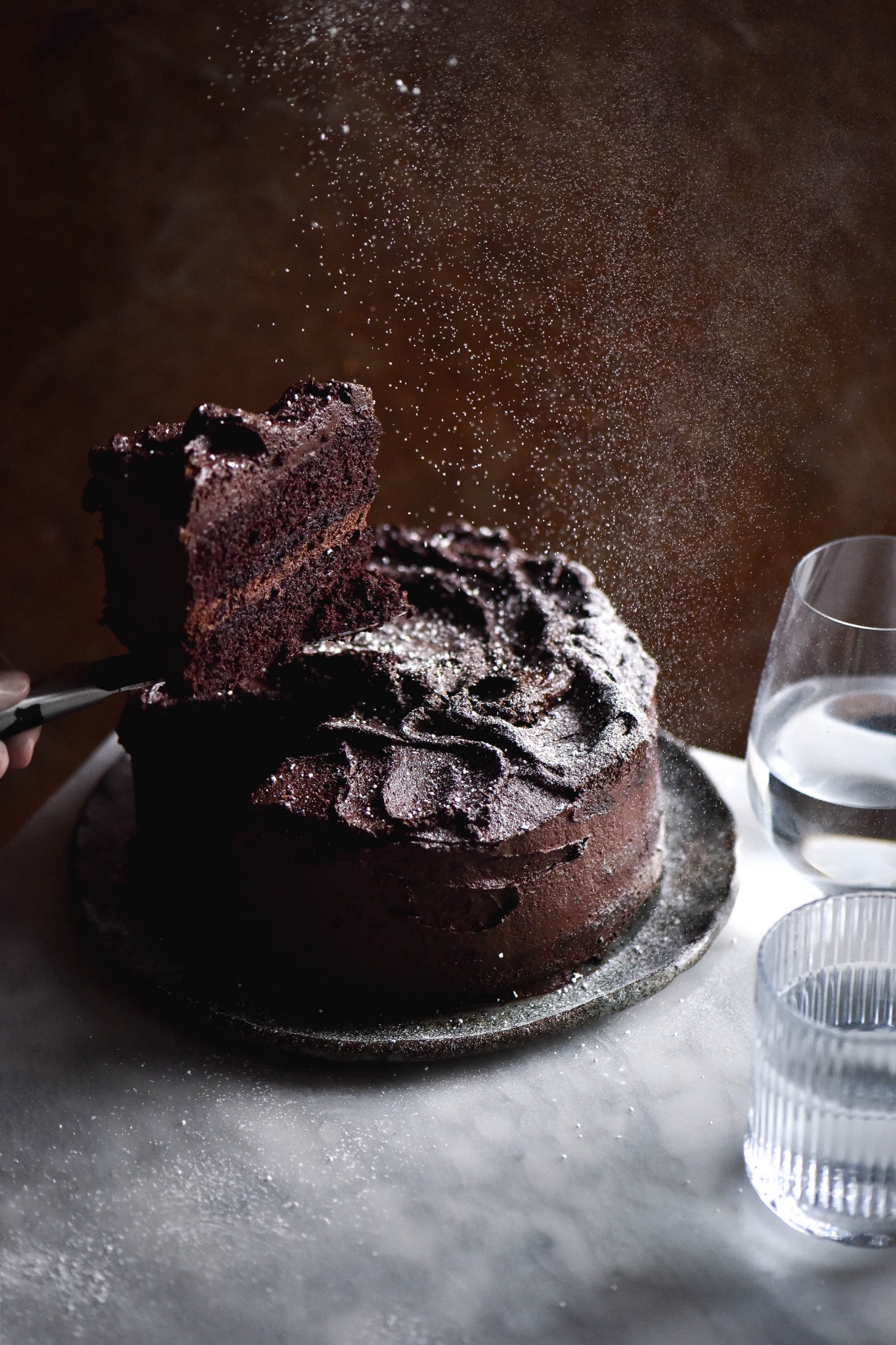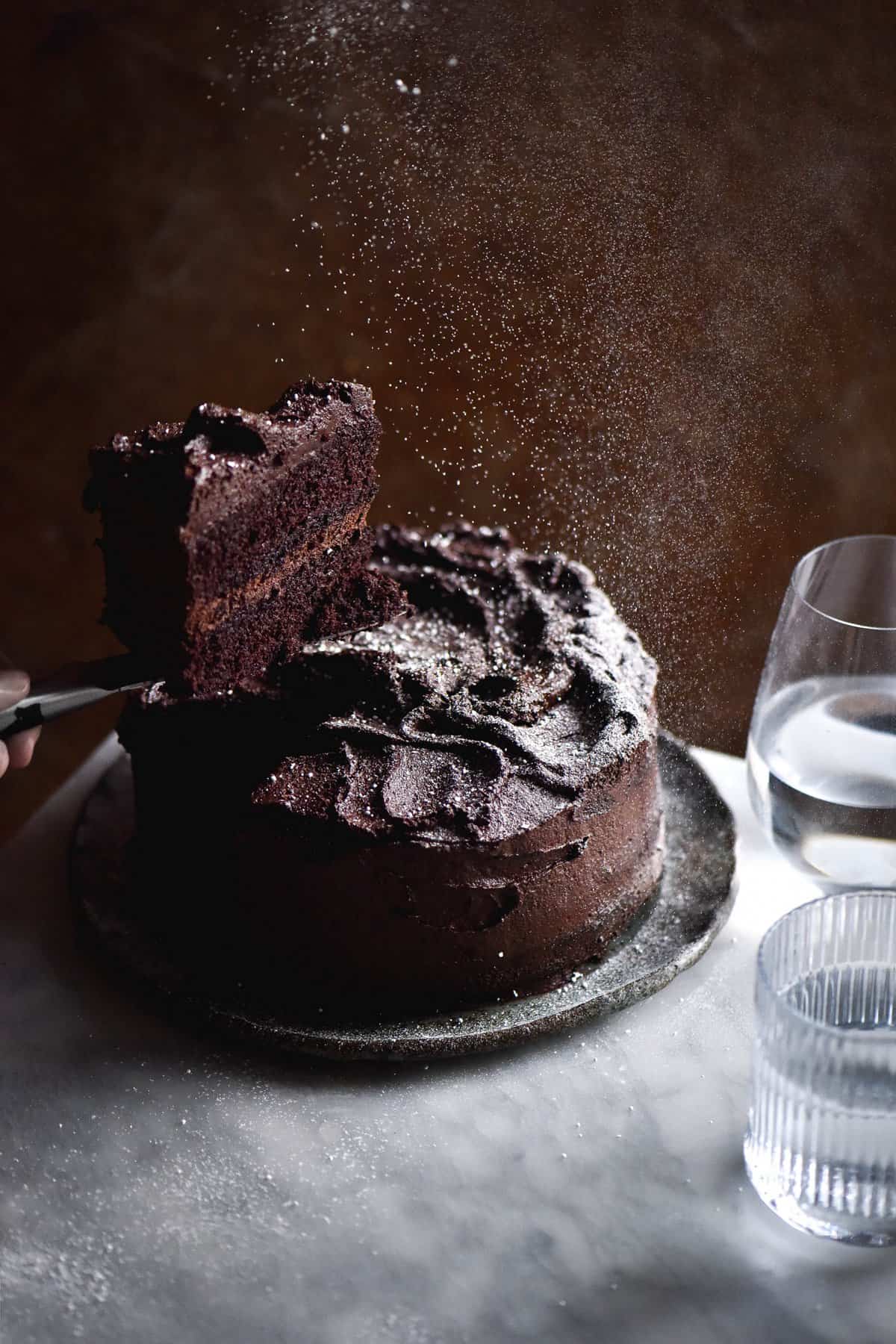 Which oil can I use in this gluten free chocolate cake?
The next ingredient in this sinfully easy gluten free chocolate cake is oil. Oil is such a helpful ingredient in cakes – they're soft and they stay soft on the bench.
I have tested this cake with vegetable oil and olive oil. Personally I found the vegetable oil version to be slightly fluffier, but I don't know whether that is data driven or I'm just delirious from all the sugar. Either way, both oils are suitable, depending on what you have.
You could also try canola or avocado oil – I haven't tried them but I assume they would be worthy substitutes.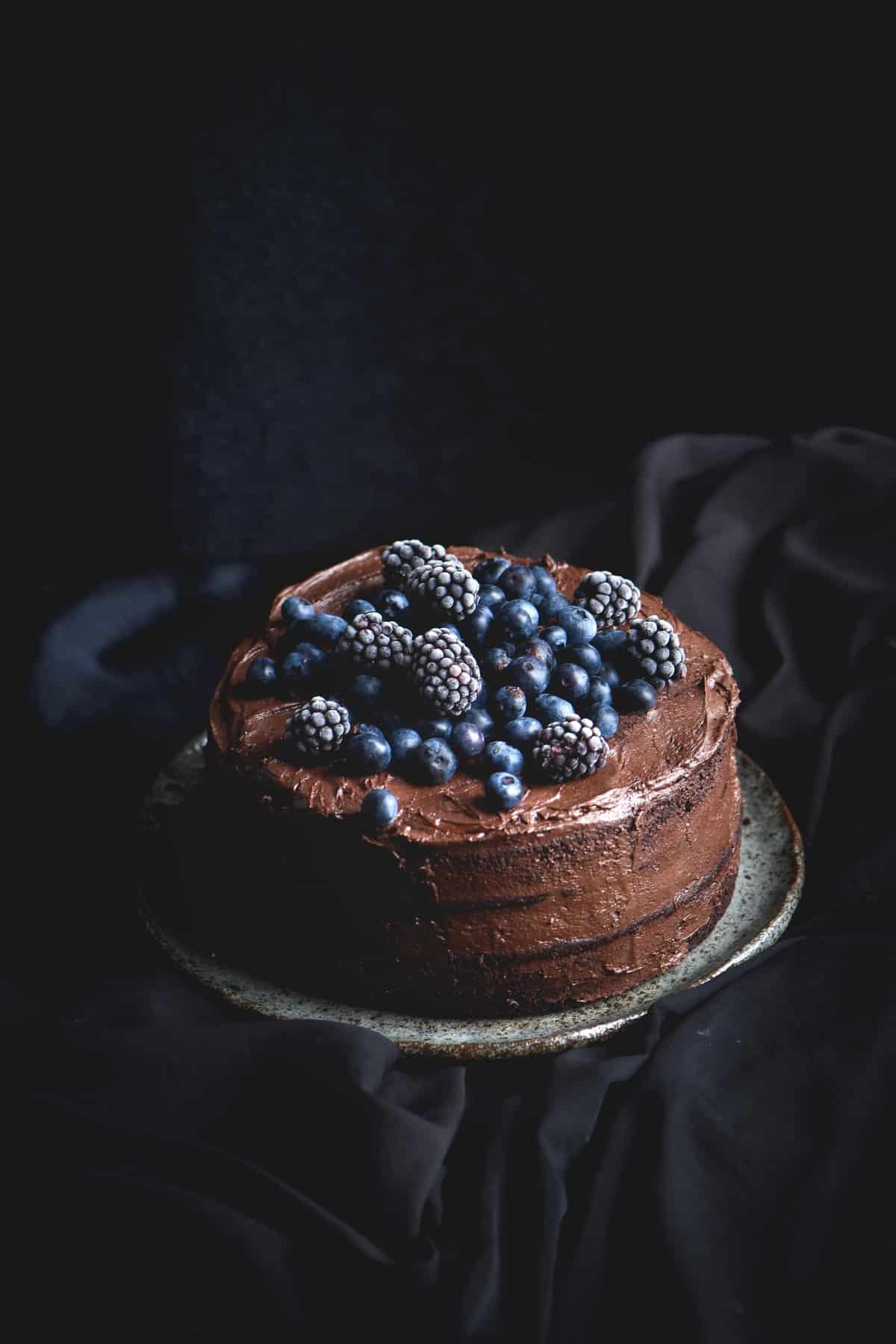 What sort of cake tin is best for your gluten free chocolate cake?
I am normally a die hard spring form (or drop bottom) cake tin fan. This is what I grew up with, and anything else always feels weird to me. However! In this instance, the batter is too thin for a spring form tin. Unless your tins are stupendously high quality (sorry Coles brand) then they will leak batter. They will probably do it over the base of your oven.
I recommend using a cake pan for this recipe. I myself use these cake pans, which are the perfect size for this cake. I personally find that you get the best results from using 2 cake pans in this instance. The cake comes out fluffier and lighter.
I used to recommend the option of baking all the batter in one tin. I don't recommend that any more. I think it contributes to a gummy layer in the middle of the cake, which we want to avoid. 20cm cake tins are easily purchased at the supermarket and you will get a lot of use out of them. You can also divide the ingredients in half to make a single 20cm cake.
Can I make this a gluten free vegan chocolate cake?
I have a similar recipe for a gluten free vegan chocolate cake which you can find here. It uses a little bit of tapioca flour and psyllium husk to replace the elasticity of the eggs. The cake also has a dedicated vegan chocolate buttercream recipe, because vegan butter doesn't brown like regular butter.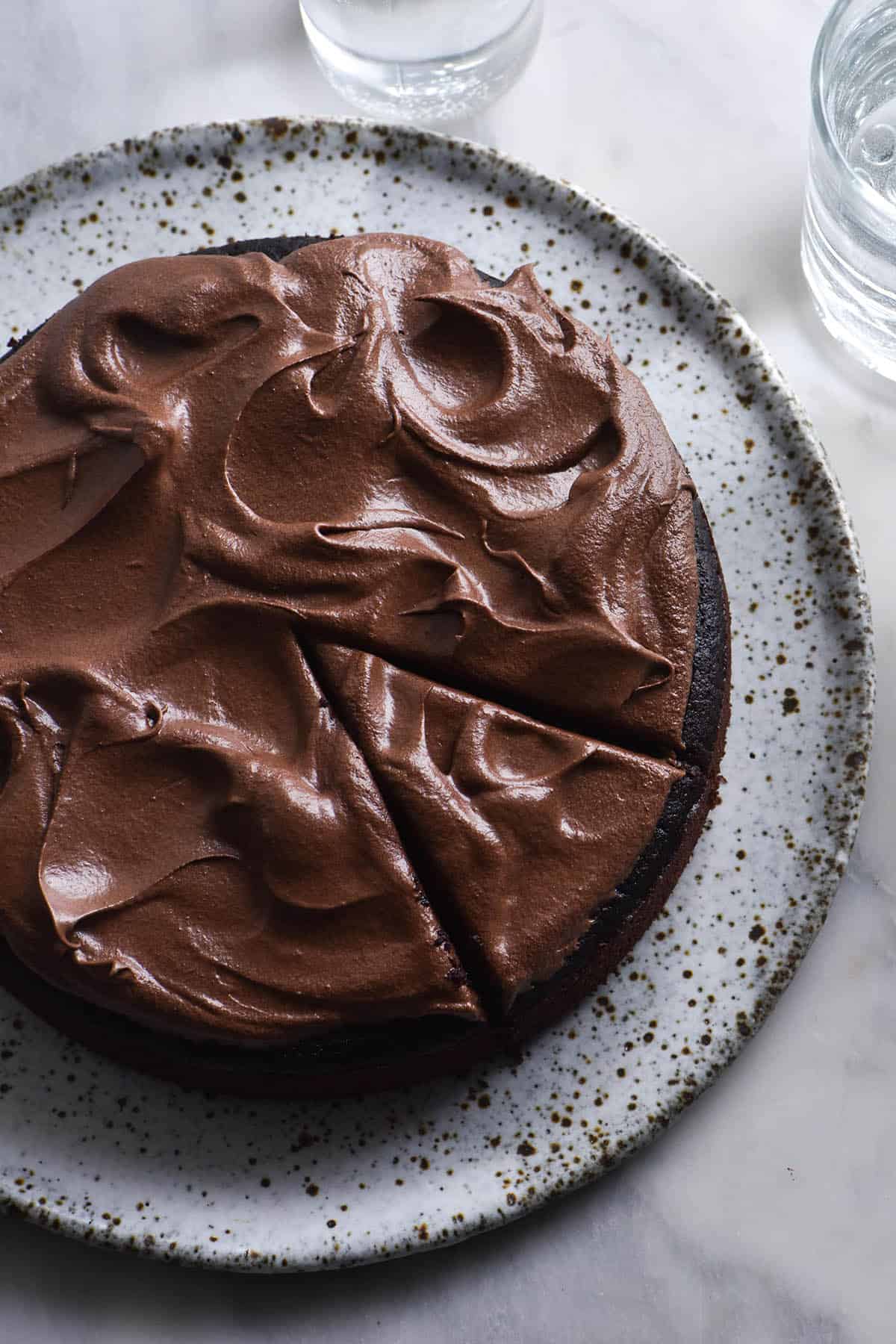 Recipe substitution options
You can use any oil you deem suitable for this recipe. I used vegetable oil, because it is light and inoffensive in a cake. Other appropriate oils include olive, canola or potentially even avocado, if that's your thing.
I have used fine white rice flour for this recipe. As mentioned, you can try another gluten free flour but you will be doing your own experimenting. There's only so many chocolate cakes I can make!
Needless to say, you can use whatever milk you see fit. I used both soy and lactose free full cream, but any plant milk will also work.
If you don't have apple cider vinegar, you could also use white vinegar or lemon juice.
To make a dairy free buttercream, simply substitute the butter with a dairy free brand you like. I've heard great things about Miyokos.
You can omit the vanilla bean paste, or add vanilla bean extract as a substitute.
You can also omit the espresso if you absolutely must – just sub in the same amount of boiling water or milk.
More gluten free chocolate recipes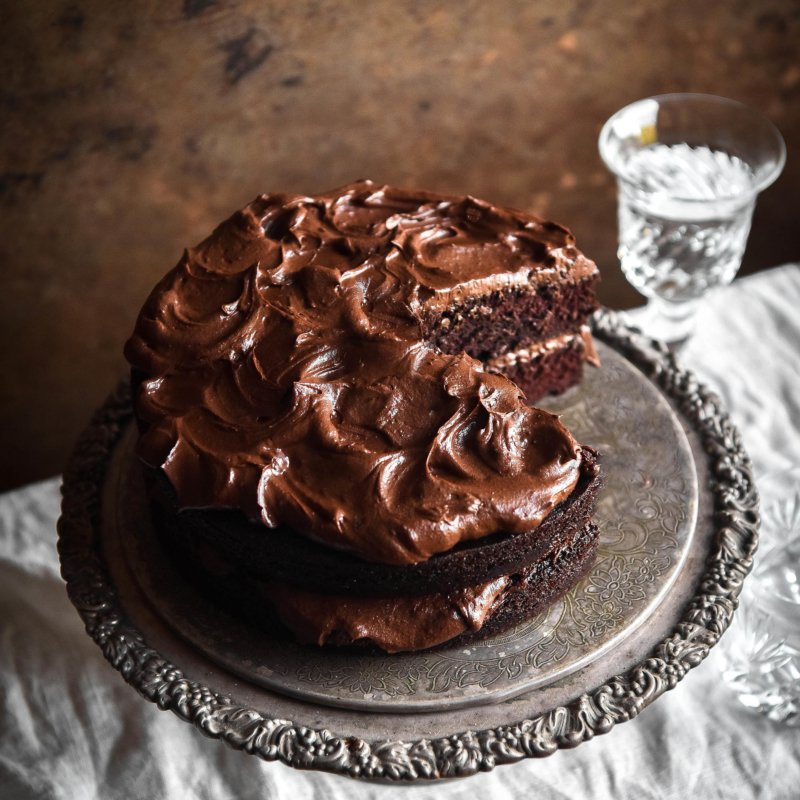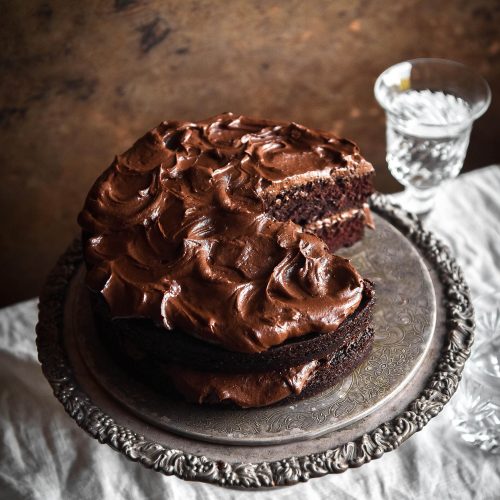 Easy gluten free chocolate cake
Gluten free, nut free, easily made dairy free, FODMAP friendly
• This recipe makes enough for a 2 layer cake (as in the picture on this recipe card). If you want a double cake, as in some of the other photos, make a double quantity of both the cake and icing. I mix them up separately.
• The icing quantity is enough for a naked cake with a reasonably thin layer of icing between each cake. If you prefer a thick layer of icing, you can halve again or even double the icing mixture.
*Cups and measures are in Australian cups and measures. Use gram weights and ml for international accuracy.
1 Australian tablespoon = 4 American, Canadian and New Zealand teaspoons.
1 Australian tablespoon = 3 1/2 British teaspoons
Ingredients
Dy ingredients for the cake (makes 2 x 20cm cakes)
1

cup*

(220g) caster sugar

1/2

cup*

(50g) light brown sugar

1 1/4

cup*

(210g) fine white rice flour

3/4

cup*

(75g) dutch processed cocoa powder

8g

(2 teaspoons)

baking powder

1

teaspoon

baking soda

1 1/4

teaspoon

salt

(I used table)
Wet ingredients for the cake:
250ml

(1 cup)*

milk of choice

(I tested full cream lactose free and soy)

1

tablespoon*

apple cider vinegar

(see substitution notes)

180ml

(3/4 cup)*

(180ml) vegetable oil

(see substitution notes)

60ml

(3 tablespoons)*

fresh espresso

(see substitution notes)

2

teaspoons

vanilla bean paste

(see substitution notes)

2

extra large eggs (45-55g each, weighed out of shell)

250ml

(1 cup)*

boiling water
For the buttercream:
185

g

butter

1 1/2

cups

of icing sugar

3/4

cup

of cocoa

125ml

(1/2 cup)*

of milk

1/2

teaspoon

vanilla bean paste

(optional)

Pinch

of fine salt
Instructions
To make the cake:
Preheat the oven to 180 degrees Celsius or 356 Fahrenheit. Grease and line two 20cm baking pans.

In a large bowl, weigh out all your dry ingredients (do it!) and whisk together until they become a lovely chocolate brown.

Mix the milk with the apple cider vinegar and allow to sit for a few minutes. This will form a buttermilk. It might not curdle dramatically but the buttermilk will assist in flavour development, leavening and general fluffiness.

Add all the wet ingredients except the boiling water to the dry. Continue whisking until a smooth batter has formed. It will look moist enough to go into the oven and you might think you don't need the water. You do! It blooms the cocoa, developing the chocolate flavour. It also creates a beautifully fluffy cake.

Add the boiling water and whisk to combine. Pour the mixture into the prepared cake tins and bake for 30-40 minutes or until cooked through.
To make the icing:
Place the butter in a small saucepan and brown very well over a low-medium heat. If you haven't browned butter before, see the notes section for some handy links.

Once browned, pour the butter into a silicon cake tin and place in the fridge or freezer to set. It will take about 15-20 minutes in the freezer.

Once the butter is completely cooled, break it up and place it in the bowl of your stand mixer. Beat the butter with the whisk attachment until it is light and fluffy, scraping down the sides as necessary. Don't be fooled – this isn't a quick process. It will take about 10-15 minutes of beating and scraping down. The mixture should be light and fluffy – not quite white but a very pale beige.

While this is happening, sieve the icing sugar and the cocoa together. I hate sieving so I wouldn't instruct you to do this unless it was totally necessary for a smooth icing, I promise.

When the butter is ready, turn the speed to low and mix in the icing sugar mixture and the milk. It might form a cloud of icing if you go too quickly. Add the salt and vanilla bean paste (stop the machine to add vanilla or it gets tangled in the beaters) and mix until combined. Taste and adjust if necessary.
To assemble:
Once the cake has completely cooled, it's time for icing! You can either plonk it all on top or carefully slice the cake in half to ice between each layer. The recipe makes enough icing for a reasonably thin layer between each piece. As the notes suggest, halve it again or even double it if you're a very thick icing kinda person.

Use an offset spatula or a flat edged knife the spread the icing over the cake. I find it helps to dip your knife in boiling water and dry it off before icing the crummy sections of the cake. The heat makes the knife glide over the top and avoids picking up too many crumbs.

While it's tempting to keep fiddling with the icing all day, simple is best. Get in there, ice it with confidence and move on, you know?

This cake keeps well in the fridge for a few days.