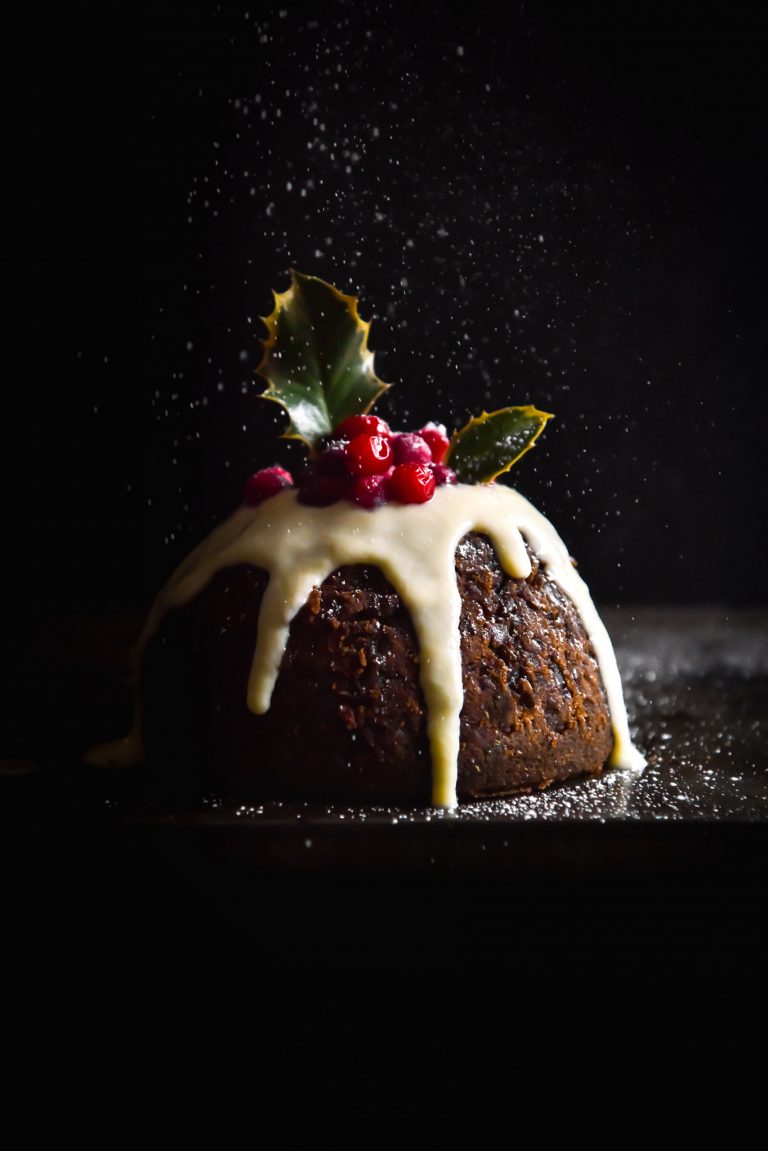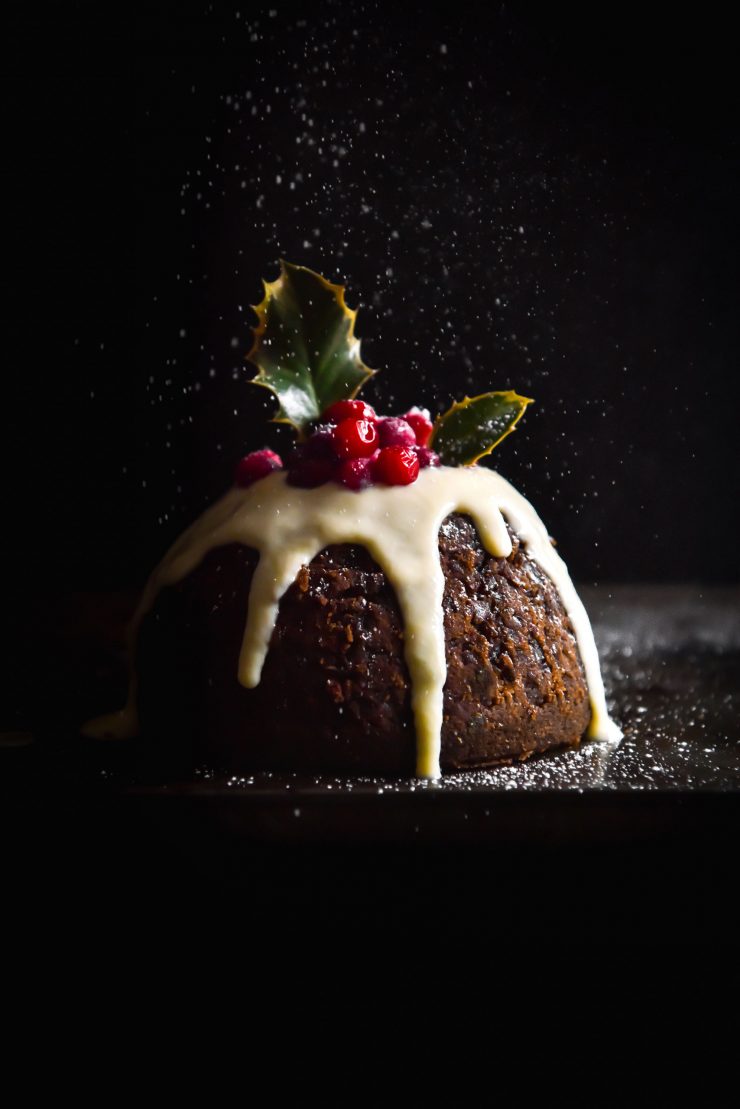 Today I'm sharing a recipe for one of my proudest recipe inventions to date. It's a FODMAP friendly Christmas pudding that is both gluten free and fruit free. Yes, fruit free. No longer do you have to politely choke back sultanas in public, only to suffer the consequences in private. This recipe uses a homemade fruit mince made with (drum roll please) PUMPKIN.
FODMAP friendly fruitless Christmas pudding
Thanks to our hero of the day (pumpkin) this FODMAP friendly Christmas pudding is a lot of things. It is gluten free, grain free, fruit free and adaptable to be completely dairy free. It's also (according to a number of my 'normal' friends, 'better than regular pudding.' Their words.
This fruitless Christmas pudding uses a mix of candied pumpkin, citrus juice, spices and a simple blend of grain or gluten free flours. It is easy to make and keeps well in the fridge for weeks (I have kept one for nearly a year). The pudding is a delicious option for those who need a low fructose, fruit free and gluten free Christmas pudding.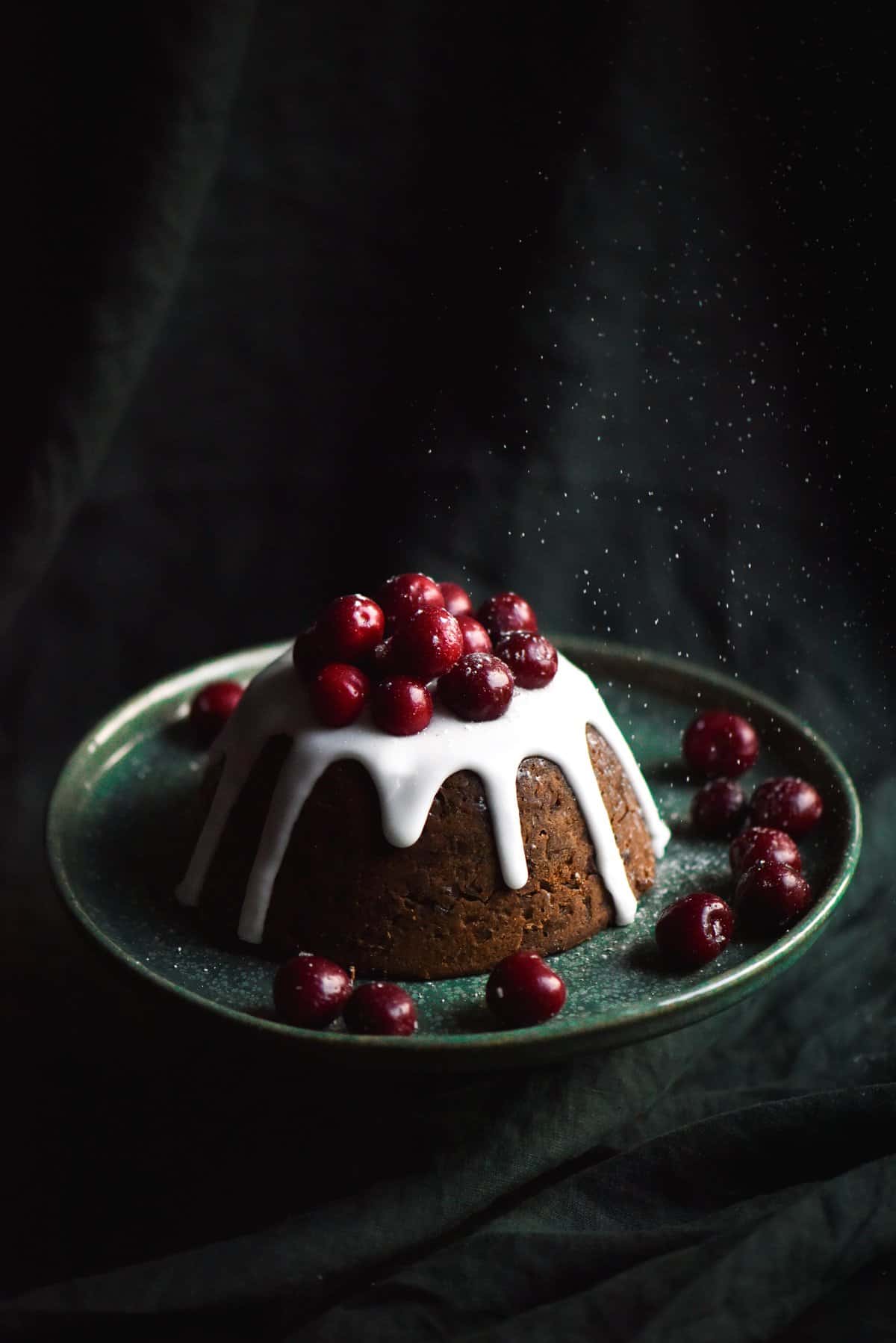 FODMAP friendly Christmas pudding tips and tricks

Cubing the pumpkin finely is the best way to ensure your guests don't realise they're eating a vegetable. It's laborious work, but goes by quickly if you pop on the tv and slowly chip away at it.
You can double this pudding if you're feeding a large crowd. It will seem like a lot of ingredients, but I promise it works.
Because pudding has had the life steamed out of it, it keeps for a long time. Make sure the leftovers are in the fridge in an airtight container. Mine has lasted over a year.
The slower you cook the fruitless mince, the chewier and more reminiscent of dried fruit it will be. I recommend going low and slow if you have the time for it.
How long you need to cook your pudding will depend on how liquidy the fruit mince syrup is. It will also affect the texture of the batter as you pour it in. Not to worry – this is a fairly foolproof recipe, you will just need to adjust the cooking time to suit. The only time you should be concerned about the batter is if it is somehow dry and crumbly before you pour it into the pudding bowl. I can't see how this could happen, but add an extra egg if it does.
Grease your pudding bowl liberally. I like to use both butter and olive oil. I also recommend lining the top circle with baking paper if your pudding bowl has a flat base like mine does.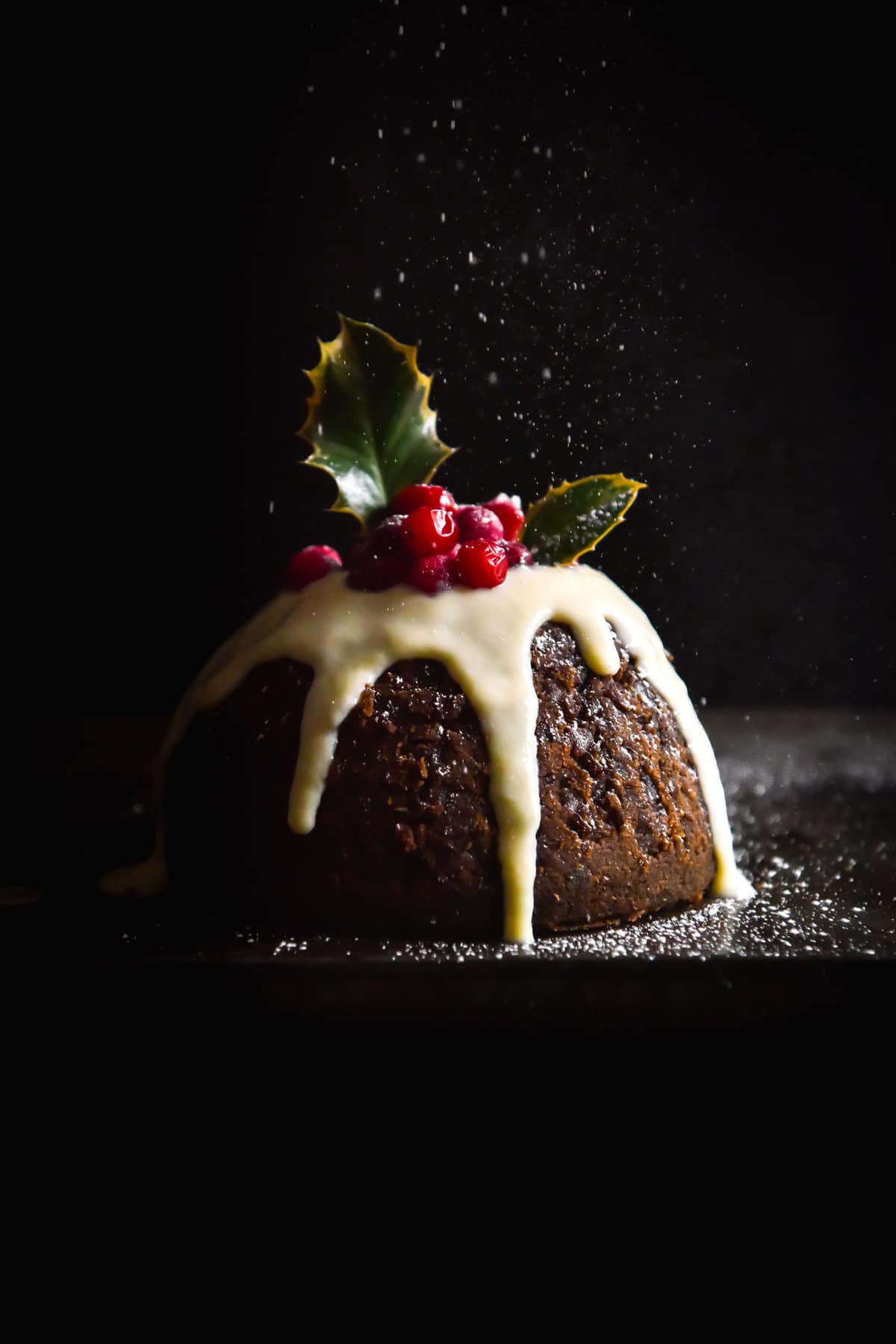 General ingredient notes for your FODMAP friendly Christmas pudding
If you don't have dark brown sugar on hand, light brown sugar is a suitable replacement. You could also use maple syrup, but you will need to cook the pudding a little longer.
I use extra large eggs. The more moisture and binding, the better!
To mix things up, you can use a little finely chopped celeriac in place of the pumpkin. I prefer the pumpkin version, but it is an option.
I don't have a refined sugar free option at this point. It's Christmas, treat yo'self (unless you don't want to, which is also fine).
You can use whatever booze you like in this recipe. I like Campari, but something like brandy or rum would also be nice. You could also substitute the alcohol for extra lemon and orange juice. I'd suggest extra lemon in the fruit mince, but extra orange in the pudding mix.
While the recipe card contains my original recipe for a grain free pudding, I also have a nut free version. Read the 'nut free pudding' notes if you'd like to pursue that option.
Making the candied pumpkin
The candied pumpkin aspect of this pudding is what makes it taste so much like fruit mince. Candying pumpkin in sugar, citrus and spices allows it to become chewy and moist, much like dried fruit.
You don't need to worry about the pumpkin becoming mash like – it will retain it's form in the candying process, no matter how small you cut the cubes. It sits in the candying liquid overnight, so it will not become mash once you start cooking, even if the cubes are tiny.
On that note: how small should you cut the pumpkin cubes? This is a question I failed to answer when I first published the recipe, hence this section. Because the idea of the pumpkin is to emulate dried fruit, you want to cut the pumpkin to a small, dried fruit size. I like to cut 1/2 centimetre or 1/5th of an inch. I find that really small pieces of pumpkin better disguise themselves in the pudding. That said, anything 1cm or less is great.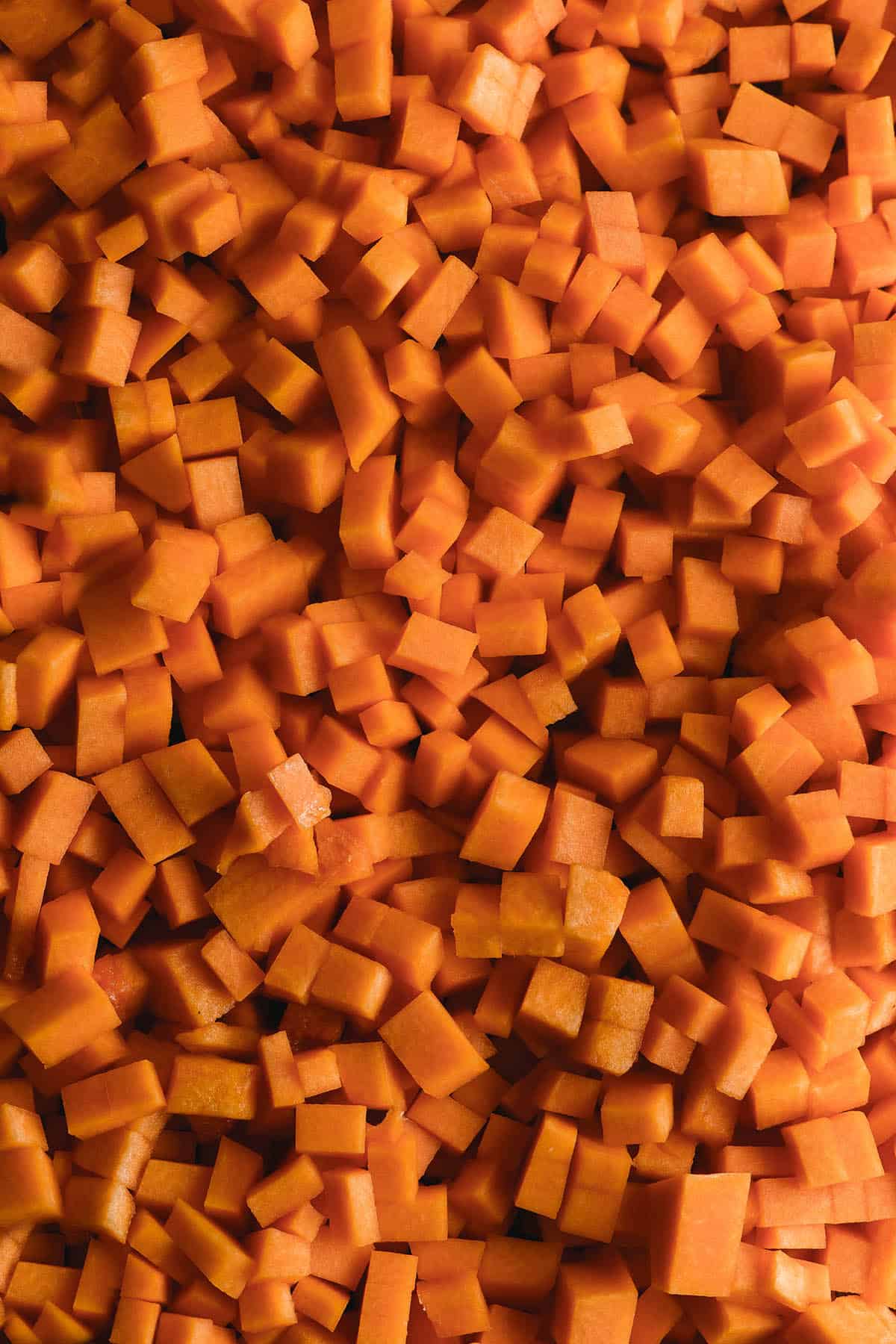 FODMAP notes
Be sure to use Kent or Japanese pumpkin to keep the FODMAP content down. Butternut is a higher FODMAP variety.
The recipe uses almond meal, but divided between the individual servings it should be of no FODMAP related concern. If you would like a nut free option, read the notes below.
If you'd like the FODMAP friendly Christmas pudding to be completely dairy free, substitute a butter substitute for the butter. Nuttelex is an easy option as it is available in the supermarket here in Australia.
If you'd like a little colour, you could also add some fresh or frozen cranberries to the pudding. Fresh are ok for fructose intolerants, whereas dried are not. I found some frozen ones at an Italian deli in Brunswick, if you happen to be my nextdoor neighbour or thereabouts.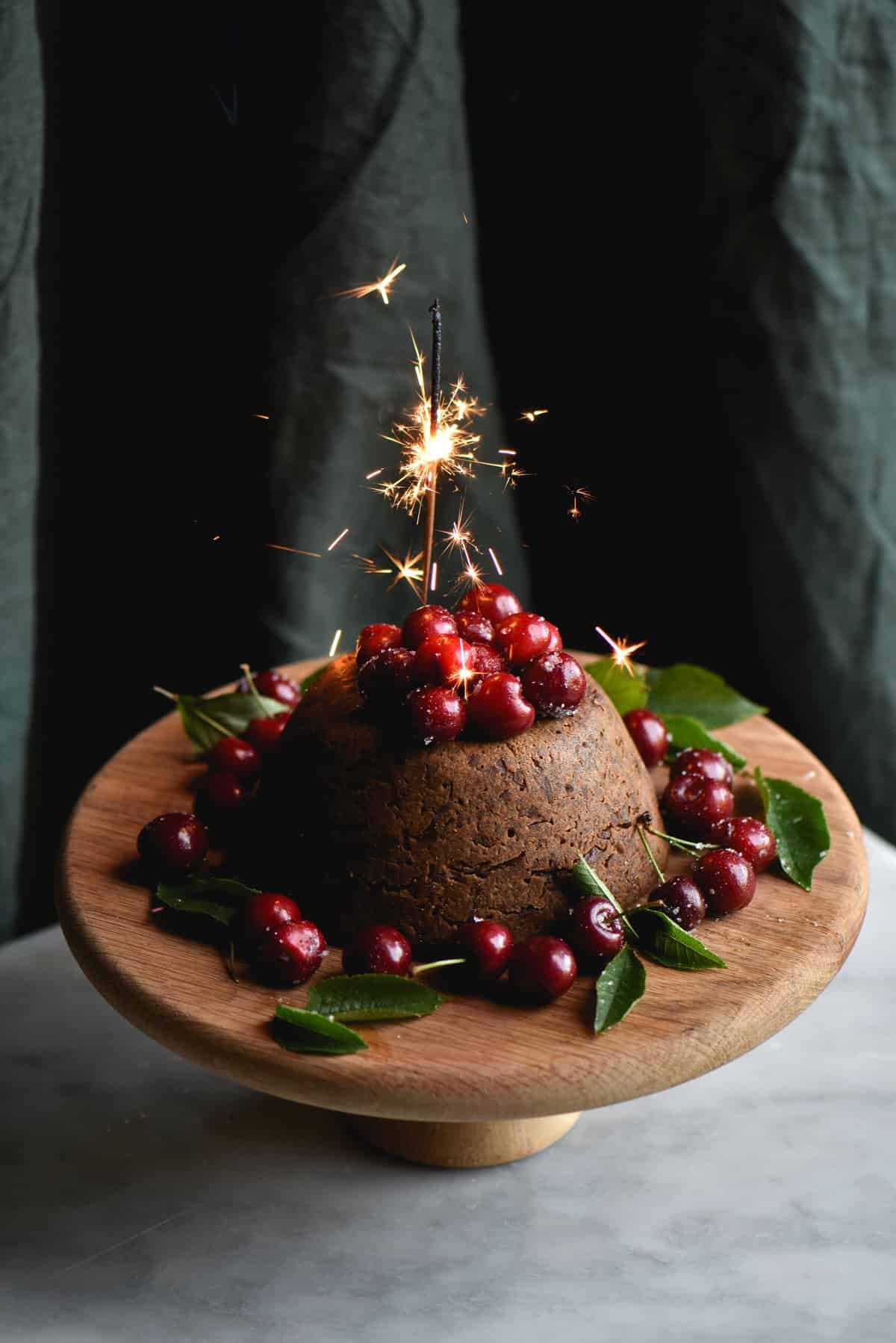 How to make this FODMAP friendly Christmas pudding gluten free AND nut free
While the recipe card contains the recipe for a grain free Christmas pudding, I have developed a nut free version for those with nut allergies in the family. To make a nut free option, make the following adjustments:
Substitute the almond meal AND tapioca flour with 120g (3/4 Australian cups) white rice flour. I daresay you could also use brown rice flour, sorghum or millet flour here, too. As I've mentioned, add extra liquid (an egg, some extra butter or orange juice) if the batter looks dry with an alternative flour. Note that I wouldn't recommend buckwheat here as it's very thirsty and pronounced in flavour.
Use 100g of melted butter as opposed to 75g.
Add an extra tablespoon of Campari or orange juice.
Personally, I like to cook this pudding for 3 hours. It won't go dry and it avoids the hassle of untying and retying the pudding if it hasn't cooked through.
There you have it! A nut free, gluten free, fruit free FODMAP friendly Christmas pudding. Too easy.
A note on the icing
You'll see that in some of the photos I have used a white icing and in some I have used custard. Custard or a brandy sauce are the more traditional things to top a christmas pudding with. That said, a quick mix of icing sugar and water or lemon juice also works in a pinch.
More festive gluten free recipes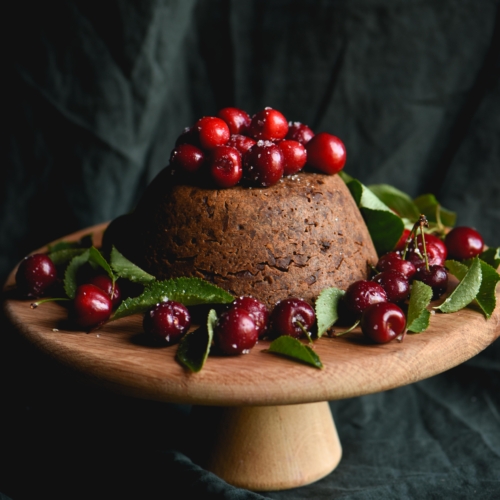 FODMAP friendly Christmas pudding
Gluten free, grain free, fructose friendly, adaptable to be dairy free, nut free option
Serves 6-8 with ice cream
Ingredients
To make the fruit mince:
500

g

Kent or Japanese pumpkin

chopped into 1/2 – 1 centimetre cubes

280g

(1 1/4) cups

caster sugar

5

tablespoons

(100ml) fresh lemon juice

5

tablespoons

(100ml) fresh orange juice

2

tablespoons

(40ml) Campari or other liquor (or 1 extra tablespoon each orange and lemon juice for alcohol free version)

2

teaspoons

cinnamon powder

2

teaspoons

nutmeg powder

1

teaspoon

ground clove

1

teaspoon

vanilla bean paste
To make the pudding:
1

quantity of fruitless fruit mince, above

3

tablespoons

dark brown sugar

2

tablespoons

(40ml) Campari or other liquor (or orange juice for an alcohol free version)

1

teaspoon

nutmeg

1

teaspoon

cinnamon

1/4 – 1/2

teaspoon

ground clove

3

extra large eggs

1

cup

(100g) almond meal

See notes for a nut free version

3/4

cup

(75g) tapioca flour

75

g

butter, melted and cooled

regular and plant based both work

Pinch

of fine salt
Instructions
To make the fruit mince:
The night before, combine all the ingredients for the fruit mince and allow to sit in a non-reactive bowl overnight. This will begin the process of flavouring and candying the pumpkin.

The next day (or at least 3-4 hours later) pour the mixture into a large saucepan or skillet. Place over a low-medium heat, and allow to cook for around 30 minutes, stirring intermittently. The slower you cook the mixture, the softer the pumpkin will be, so if you have the time you can cook it low and low for up to an hour.

The mixture should bubble throughout the cooking process. Eventually, a thickened syrup will form while the pumpkin pieces remain intact but soft. Once that syrup is sufficiently thick, remove the mince from the heat and allow to cool completely. If you have used the rosemary sprig, gently remove it and discard.
The make the pudding:
Just fill the bottom of a large soup pot with water. Place something waterproof and crack proof in the base so that the pudding is elevated just above the water. I used an inverted steel pie tin.

Grease your pudding bowl liberally. You can line the circular base of the pudding bowl as an insurance policy, if you like.

Mix together all the ingredients for the pudding and stir thoroughly to combine. Pour the mixture into the pudding tin. You can place a piece of baking paper on the bottom of the pudding too – this will stop any rogue water getting in but also result in a smooth base.

Layer two pieces of foil over the pudding and secure tightly with string. Place the pudding on the little island you've created and pop the lid on.

Turn the heat to a low-medium, and set the timer for 2 hours.

Once the two hours are up, open the pudding carefully (so you can continue to cook if necessary but also so you don't get a steam burn.) If there is a bit of squishiness when you press the centre of pudding, cook in additional 15 minute increments until the centre feels completely firm.

Allow to cool a little before gently running a knife around the edge (if necessary) and inverting onto a plate. Serve with lactose free custard or ice cream and some berries.