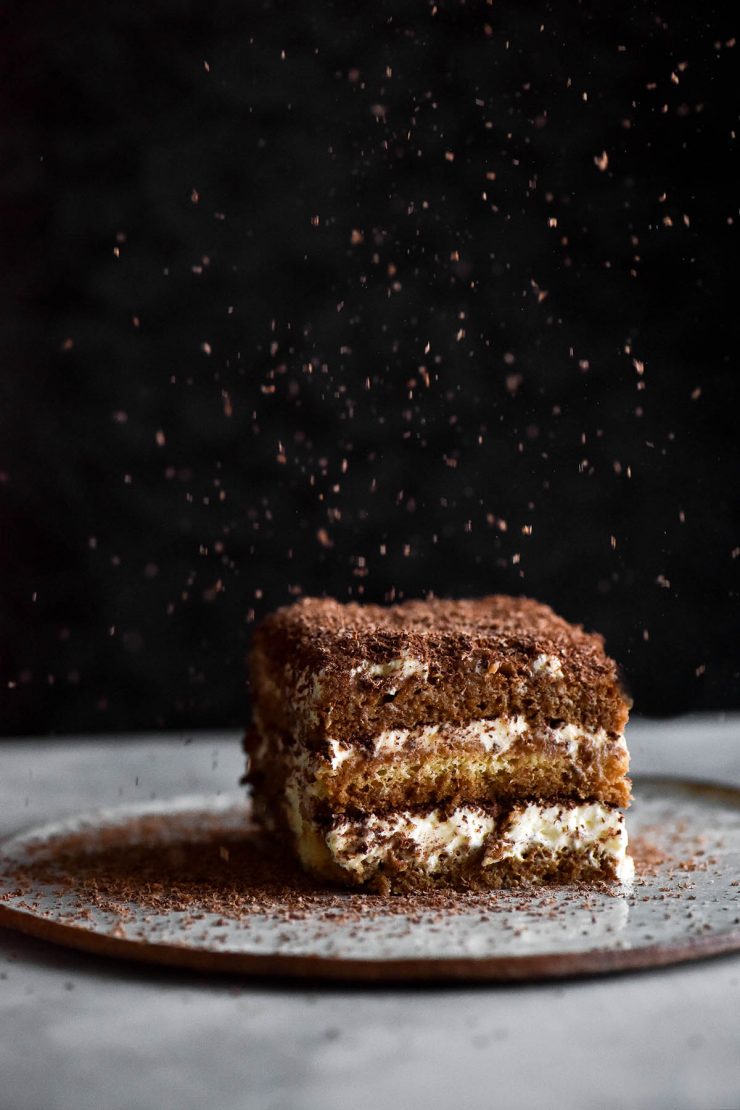 Given the amount of coffee I drink, you'd think this gluten free Tiramisu would have happened sooner. While I think I was intimidated by making my own savoiardi, a gluten free lactose free tiramisu is not as unattainable as you'd think. With a few nifty tricks (like making your own mascarpone the night before) the coffee centric dessert is well within your FODMAP adverse grasp. Life is good sometimes.
I may not have persuaded you with all this talk of 'making your own.' Tiramisu is quite a straightforward, throw together dessert for normal people, I know. But with a bit of effort comes great reward. A gluten free, lactose free tiramisu that you can enjoy with (semi) reckless abandon.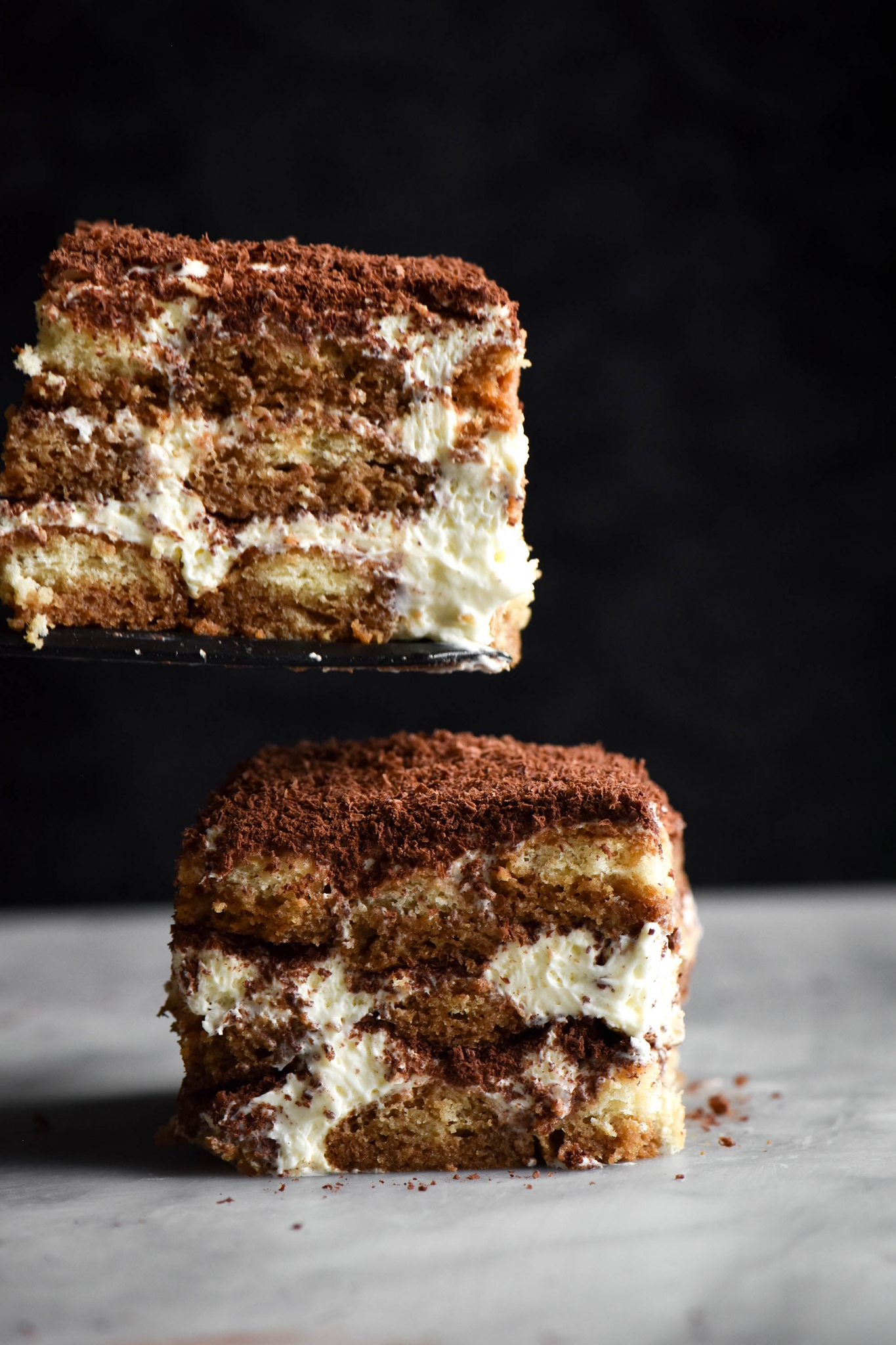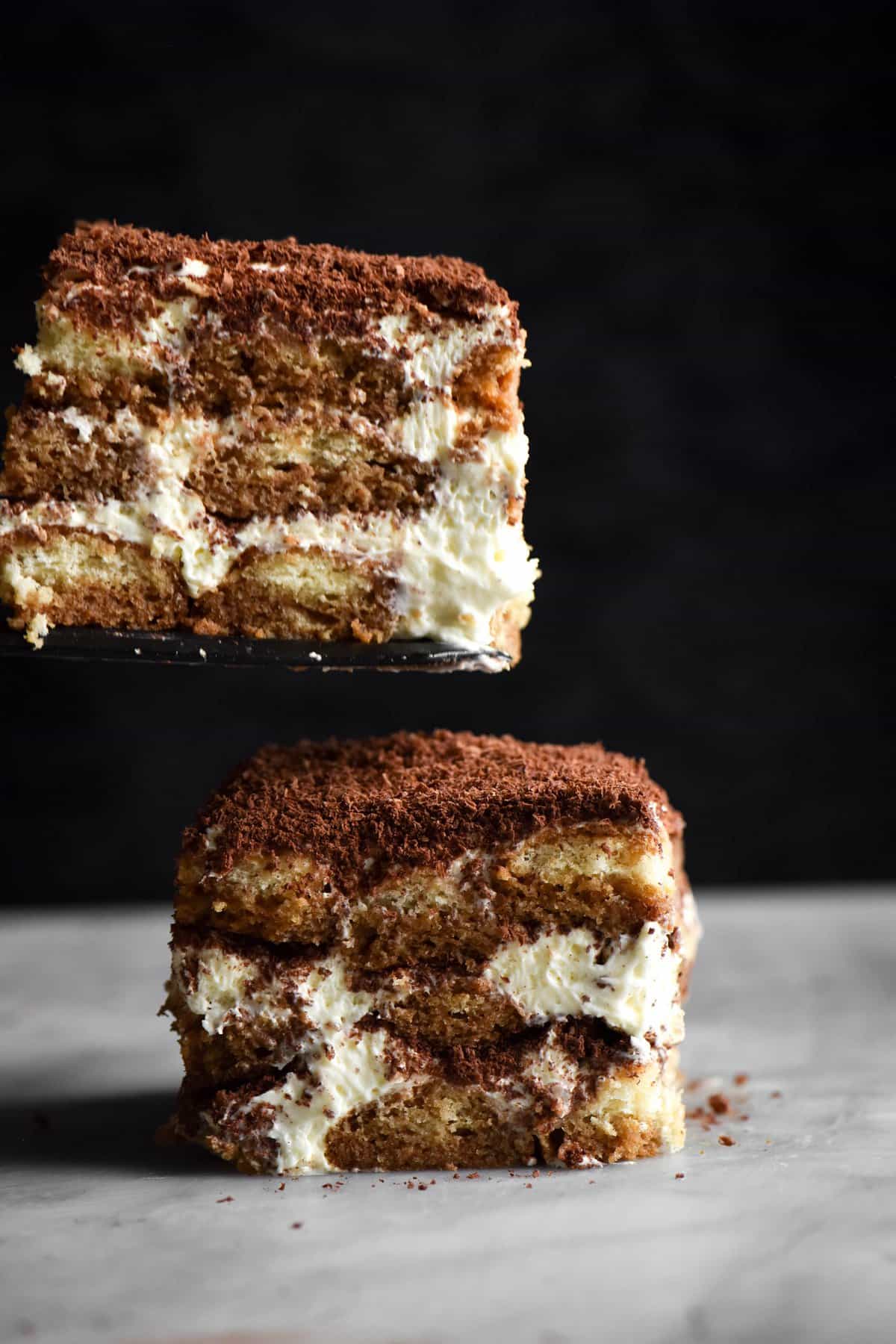 Gluten free Tiramisu with lactose free cream
This gluten free Tiramisu is:
Made with lactose free dairy
FODMAP friendly
Nut free and xanthan gum free
Made with a blend of two simple gluten free flours
Every bit as delicious as regular Tiramisu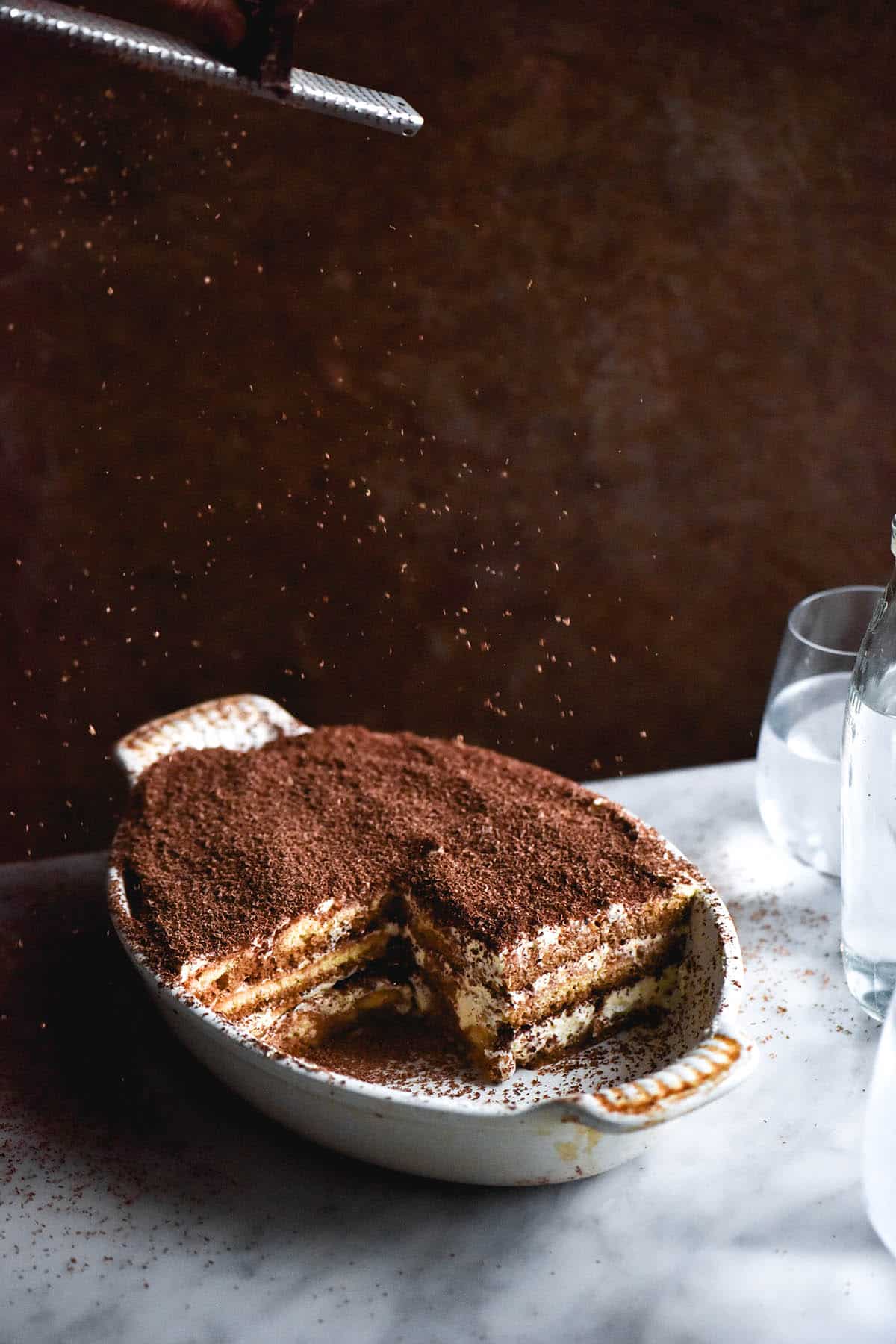 How to make lactose free mascarpone
Making cheese sounds hard. It sounds labour intensive, and it sounds like something I can't be bothered doing. If we're the same person, then let me proudly inform you that making mascarpone is probably the easiest thing you've done this week. Mascarpone is basically cream that has been cooked and curdled with an acid – lemon juice, in this case. The whey is then drained off overnight, and the result is a thick, tangy and delicious cheese.
Why are we making our own mascarpone, you ask? We're making it because the variety bought at the shops is choc-a-block with lactose. This is despite the whey draining off overnight. So, by using a lactose free cream, we create a FODMAP friendly variety, with about 15 minutes work. My kind of job. I have written a whole post on lactose free mascarpone here.
You do have a few other options, if you're not into cheese making. Firstly, you could add some lactase drops to regular mascarpone. That said, to convert the lactose takes around 24 hours, so it's really no quicker than making your own. Secondly, you could use regular mascarpone, and take some lactase after the fact. Thirdly, if you're lucky and dairy isn't a trigger for you, you can simply use regular cream and mascarpone. There's probably a more suitable recipe for you out there if so, but happy to have you here xoxo.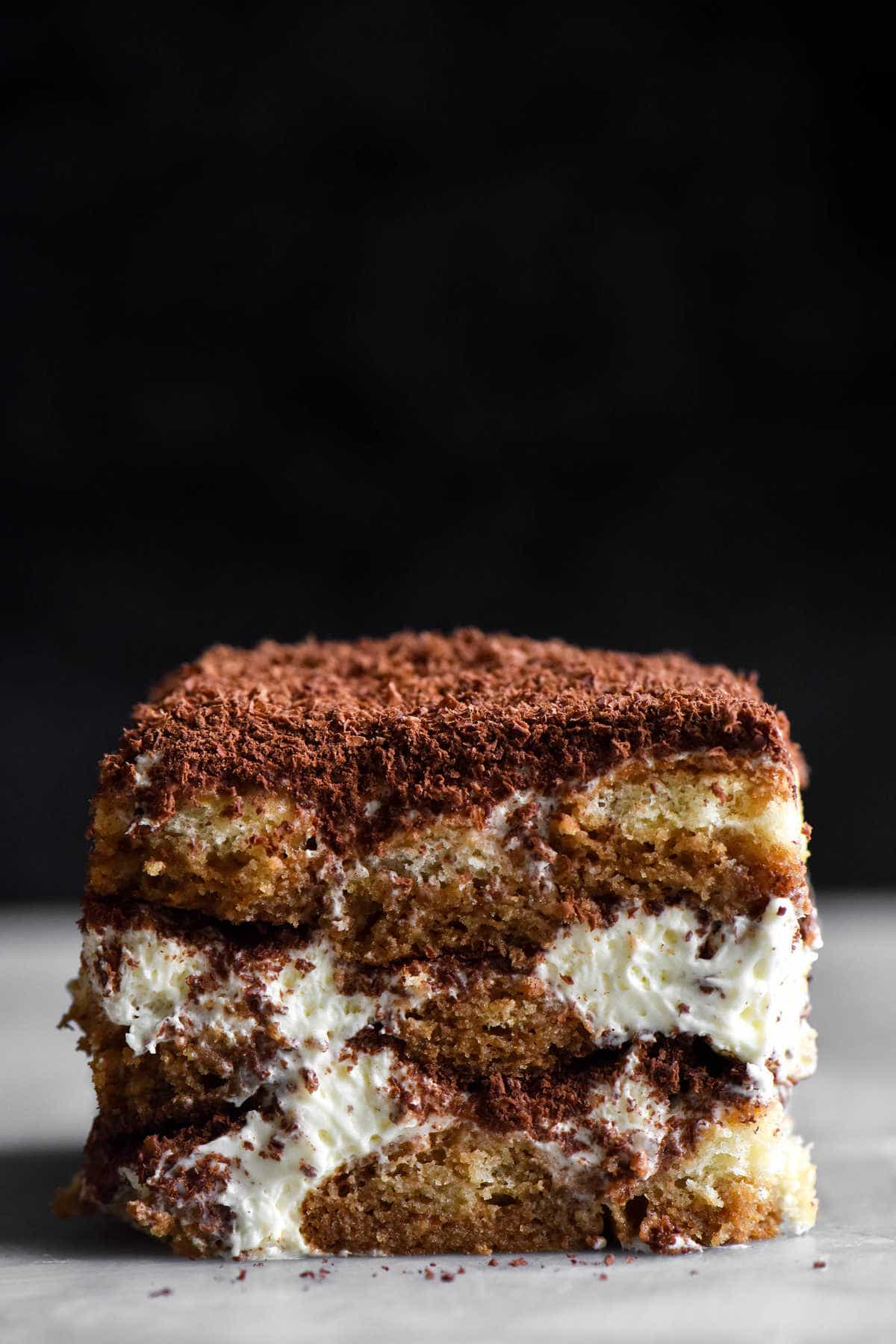 How to make gluten free Savoiardi
Again, it sounds difficult, but again, it is very simple. No more difficult than making a meringue crossed with a biscuit. Which is basically what savoiardi are, in my opinion. I'm sure there would be specialty stores at which you could purchase gluten free savoiardi. However, for the most straight forward gluten free lactose free tiramisu, my money is on the DIY.
To make the savoiardi, we're following a similar method to a traditional Italian way of making the biscuits. By beating half the sugar into egg yolks, and the other half into egg whites, our lil sponge fingers are light and, well, spongy. This post gave me a bunch of tips, and has pictures of the steps if you're feeling a little lost.
I decided to use fine white rice flour and tapioca flour. I'm sure you could play around with flours and create an absolutely perfect version, but I haven't. Personally, I am always put off by recipes that involve loads of expensive flours I'll have to order online. I would rather create something that is accessible to everyone. I have another gluten free Savoiardi recipe in my cookbook, Intolerance Friendly Kitchen.
Notes for a successful gluten free Tiramisu
Let's get down to what everyone is actually here for. The gluten free lactose free tiramisu itself. A few quick notes to ensure recipe success:
If you're making the mascarpone, do so the night before. It needs time to drain.
You can buy lactose free cream in Australia from all the big supermarkets.
I used Kahlua and white rum for the alcohols of choice. It is reasonably priced and easy to find. You can use whatever you prefer.
To keep the tiramisu completely lactose free, use a lactose free chocolate. Lindt dark chocolate varieties are often completely lactose free.
I haven't tried a vegan version of this yet. That will take a bit of time, given how integral eggs and dairy are. Watch this space.
If you can, buy your flours at a bulk food store. All the nut packets you have ever used are still here, sitting in a tip somewhere.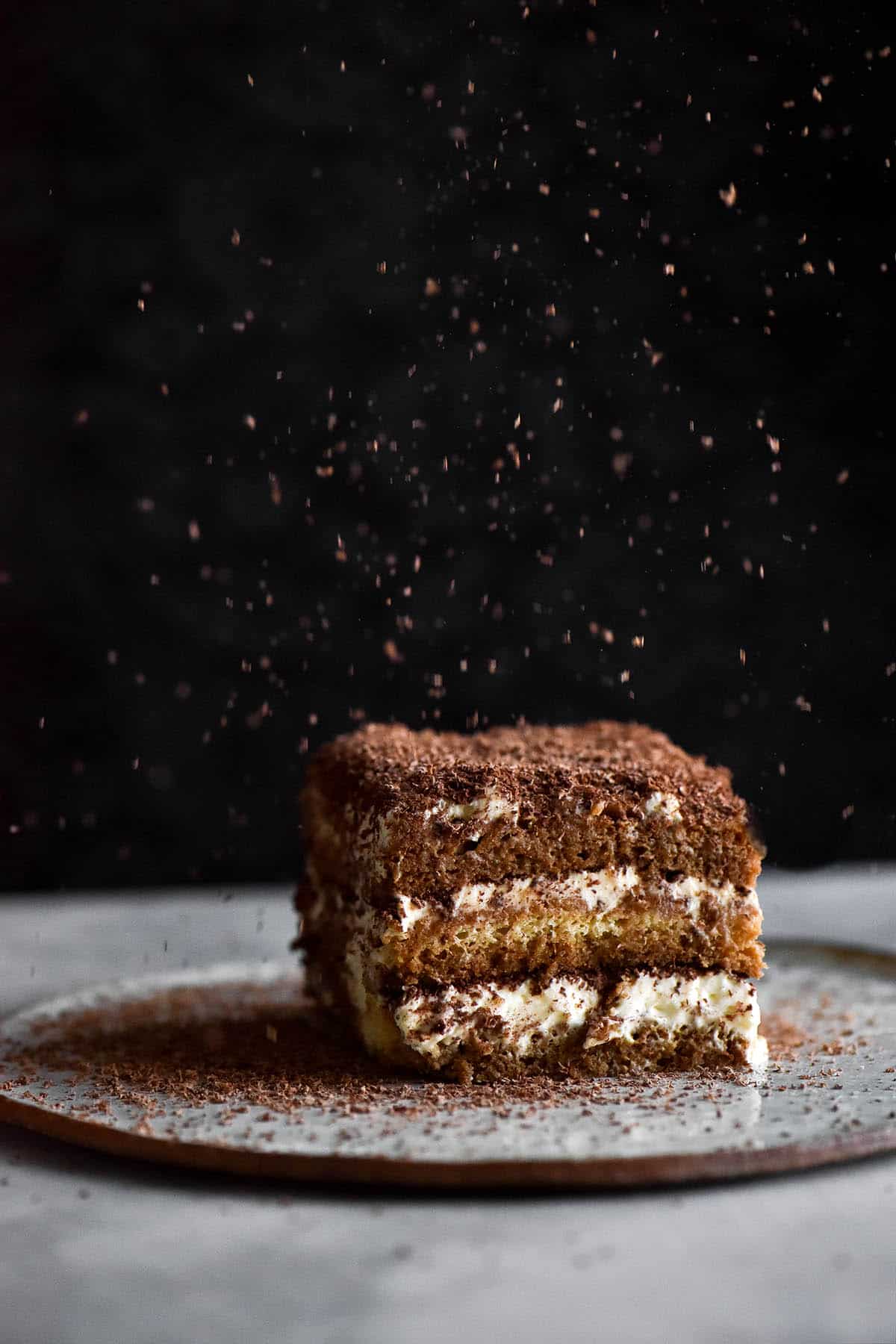 More notes for your FODMAP friendly Tiramisu
I find, for safety, it is always better to buy a little extra of your tiramisu ingredients. Things happen, some savoiardi soak up more coffee, some cream seems to have been accidentally replaced with coconut cream (this happened to me) … Better to be safe than to be scrambling to the supermarket at 9.45pm.
An egg and mascarpone mixture is the traditional way of making the creamy layer of a tiramisu. Because we are hand making our mascarpone and savoiardi, however, I decided to make this step a little quicker, and use cream.
I do not have any substitutions for coffee or booze in this recipe. If you don't like coffee and you don't like booze, maybe consider making another dessert.
I personally found that using both Tia Maria and rum made an outrageously big difference in the deliciousness of the tiramisu. It really elevated it from average to amazing, and I don't recommend omitting either. I used Bacardi from my university days of drinking whatever was on special.
I haven't yet tried making the tiramisu with a dairy alternative – there is only so much tiramisu a single girl can sustainably make and eat. Once I have had some time off tiramisu, I will return and test that one for you, too.
The savoiardi keep really well in an airtight container in the fridge, if you have any leftover.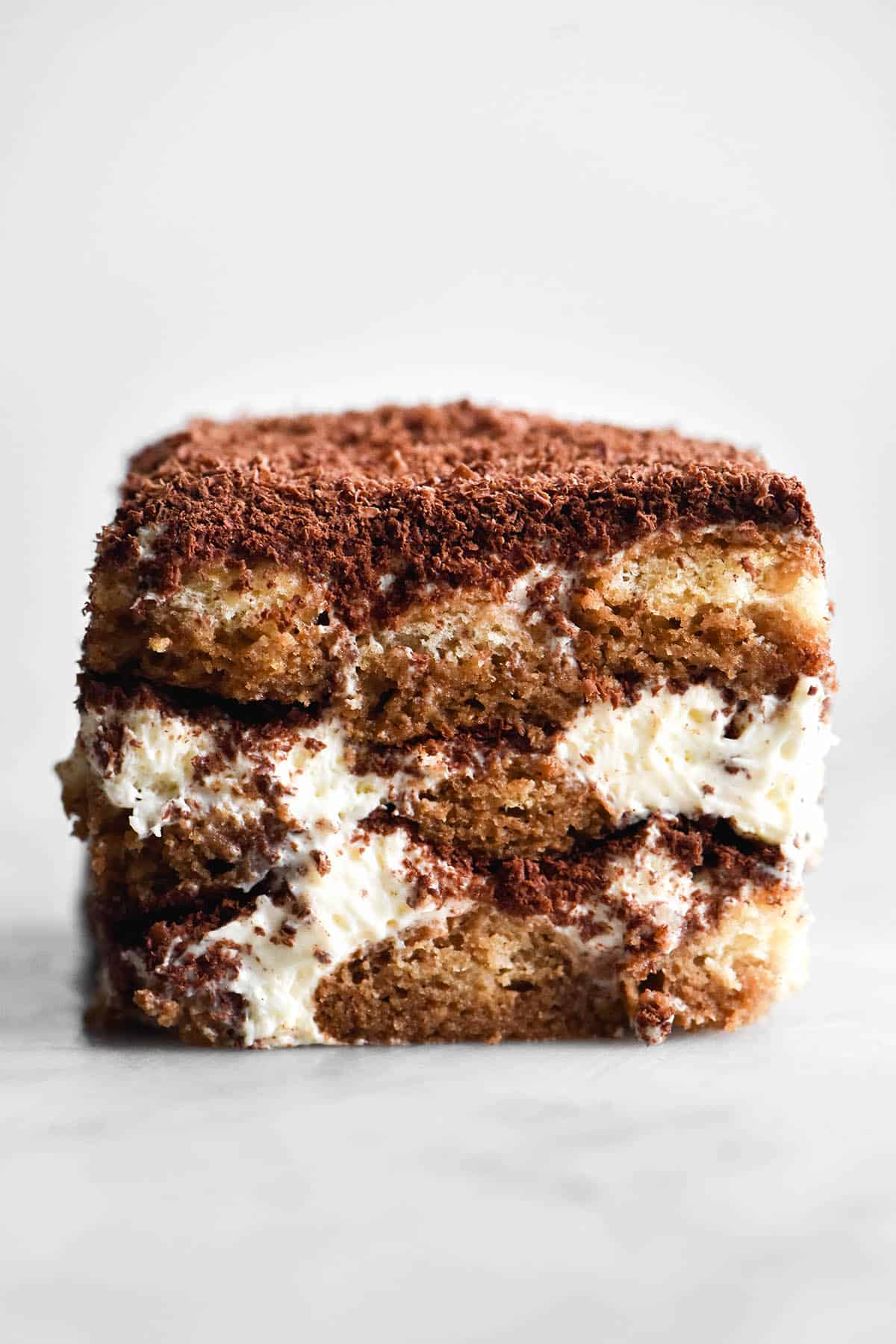 More gluten free dessert recipes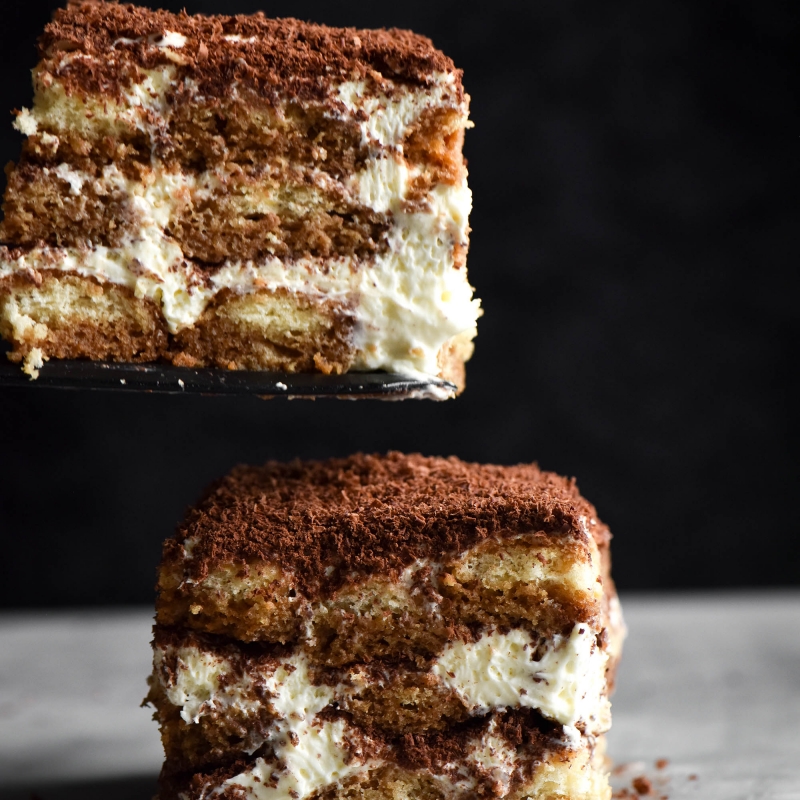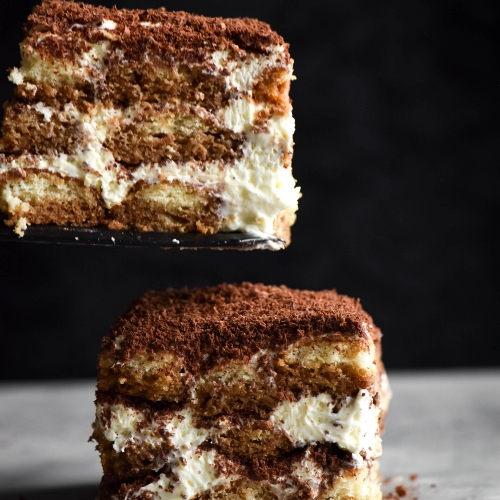 Gluten free, lactose free and FODMAP friendly Tiramisu
Ingredients
For the lactose free mascarpone: (see introduction for options)
2 X 250

ml

tubs of lactose free cream

1

tablespoon

lemon juice
For the savoiardi (makes about 60 biscuits, you may have some leftover but it's better than not having enough)
5

extra large eggs

separated

1

cup

(220g) caster sugar

2

teaspoons

vanilla bean paste

3/4

cup

(120g) fine white rice flour

1 1/2

cups

(190g) tapioca flour
For the coffee liquor mixture:
6

tablespoons

(100ml) fresh espresso

6

tablespoons

(100ml) Kahlua

2

tablespoons

(40ml) white rum

I used Bacardi

3/4

cup

(180ml) water
For the cream mixture:
2 X 250

ml

tubs of lactose free cream

1/3

cup

icing sugar

The mascarpone that we made or purchased
To assemble:
50

g+ dark chocolate

use 70% or above to keep the recipe lactose free
Instructions
TO MAKE LACTOSE FREE MASCARPONE:
Place the 2 250ml tubs of cream in a saucepan, and place over a low medium heat. Stir intermittently. Once the cream starts to bubble, allow it to cook for a couple more minutes, before adding the lemon juice. Allow to cook for a couple more minutes.

The mixture should be a little gritty and thicker than when you poured the cream into the pot. This is less of a dramatic change when using lactose free cream, I find. I also found that this was pretty hard to mess up – if the mixture is a little undercooked, more whey drains off and all is well. Plus, you're mixing the mascarpone into cream, so don't worry too much about it. If you are in the business of following great instructions, these ones helped me enormously. More than my own did.

Allow the mascarpone mixture to cool completely in the saucepan. Once it has, take some muslin cloth doubled over itself, or two nut milk bags (one inside the other – this is what I used) and place it over a large, tall container. Pour the mascarpone mixture into the cloth, and tie it up, hanging over the container. This is to allow the whey to drain off the mixture overnight, so don't allow the bottom of the mascarpone to sit in the drained whey. I tied the nut milk bag around a wooden spoon, and rested the spoon on the edges of the container, to let the bag hang into the container, without touching the sides of bottom.

Place the mixture and container in the fridge, and allow to drain overnight, ideally 24 hours.

The next day, gently untie the bag, and remove the mascarpone. It is now ready to use, and should make approximately 1 cup, which is what you'll need for the tiramisu.
TO MAKE THE SAVOIARDI:
Preheat your oven to 180 degrees, and line two large baking trays with baking paper. I like to spray a little oil on the tray first, so the paper doesn't slide around when I pipe.

Separate the eggs into clean, dry bowls. Add the egg yolks, 1/4 cup of caster sugar and 1 teaspoon of vanilla bean paste to the bowl of your kitchen mixer. Beat the mixture on a medium high speed for 10 minutes, until it is light and fluffy.

Using a beater (or working in turns if you only have one beating apparatus) whip the egg whites and remaining sugar until stiff peaks form.

Gently fold half of the egg yolk mixture into the egg white mixture. Repeat with the remaining half until it is just combined. Sieve in the flours together, and gently continue to fold until the flours are just incorporated.

Place your piping bag in a long, tall glass, and add the mixture to the bag. Twist the top to seal. Pipe the mixture into roughly 10cm biscuits, two laps of piping each. I have included images for that last instruction because I am an incredibly visual learner and bad instructor. Ironic, really.

Place the savoiardi, one tray at a time, in the oven for 10-13 minutes, or until the tops are golden. Once cooked, allow them to cool before removing from the baking tray. They will stick a little – apparently sprinkling icing sugar on the baking paper minimises this a little, but I didn't find much difference. Repeat until all the savoiardi are cooked.
TO MAKE THE COFFEE LIQUOR MIXTURE:
Place all the ingredients in a wide bowl and mix to combine. Set aside.
TO MAKE THE CREAM MASCARPONE MIXTURE:
Add the cream to a large mixing bowl, and beat on a low speed for 5-10 minutes, until it appears thicker and more 'fluffy.' I find that lactose free cream doesn't quite get to the 'whipped'-ness of regular cream, but as long it the bowl feels airy and light, you should be fine. The cream mixture seems to aerate while in the tiramisu itself, so it will be nice and fluffy when you go to eat it.

Sift in the icing sugar, and continue to beat until the mixture starts to thicken. Once it does, add the mascarpone, and beat to combine. Set aside.
TO ASSEMBLE:
Choose your vessel depending on how thick you like your layers of cream to be. I decided on a large tray, keeping the servings of dairy to a minimum per slice. What you choose is up to you, but you might have extra savoiardi leftover if you go for super thick cream layers.

Quickly dunk each savoiardi in the coffee liquor mixture. The crunchier the savoiardi, the longer you can leave it to dunk.

Arrange the dunked savoiardi in the bottom of your baking dish, covering all bases but not double layering. Continue until the base is covered. It's ok if there are little gaps, because the mixture firms up amazingly and it will be easy to scoop out regardless.

Follow the savoiardi with half the cream mixture. It's more important to completely cover the top of the tiramisu (for aesthetics, anyway) so make sure you save enough for that.

Top the cream layer with a really generous grating of dark chocolate. I use a microplane, and I keep going until I can no longer see any cream peaking through. I think this chocolate layer makes the difference between an OK tiramisu and an amazing one.

Repeat the savoiardi layer, using up all the rest of the coffee mixture. In my tests, the liquid proved exactly the right amount for the savoiardi, but if you have some leftover, drizzle it over the savoiardi layer. If you don't have enough, whip up a little more – nobody wants a tiramisu without the coffee or the booze. That's basically a weird scone.

Finally, top the tiramisu with the final layer of cream. Spread the cream really carefully – the tops of the savoiardi are delicate, and you can easily end up with cream full of crumbs. I like to dollop the cream evenly across the tiramisu, and then use a small, nimble knife or spoon to gently spread it around. Continue spread until the entire top of the tiramisu is covered.

Finish the tiramisu with a super generous grating of the dark chocolate. I use the entire 50g (between both layers.)

Tiramisu is best served the next day, when the flavours have had a chance to meld and the cream has set nicely. This one keeps covered in the fridge for a few days, if you can restrain yourself for that long.