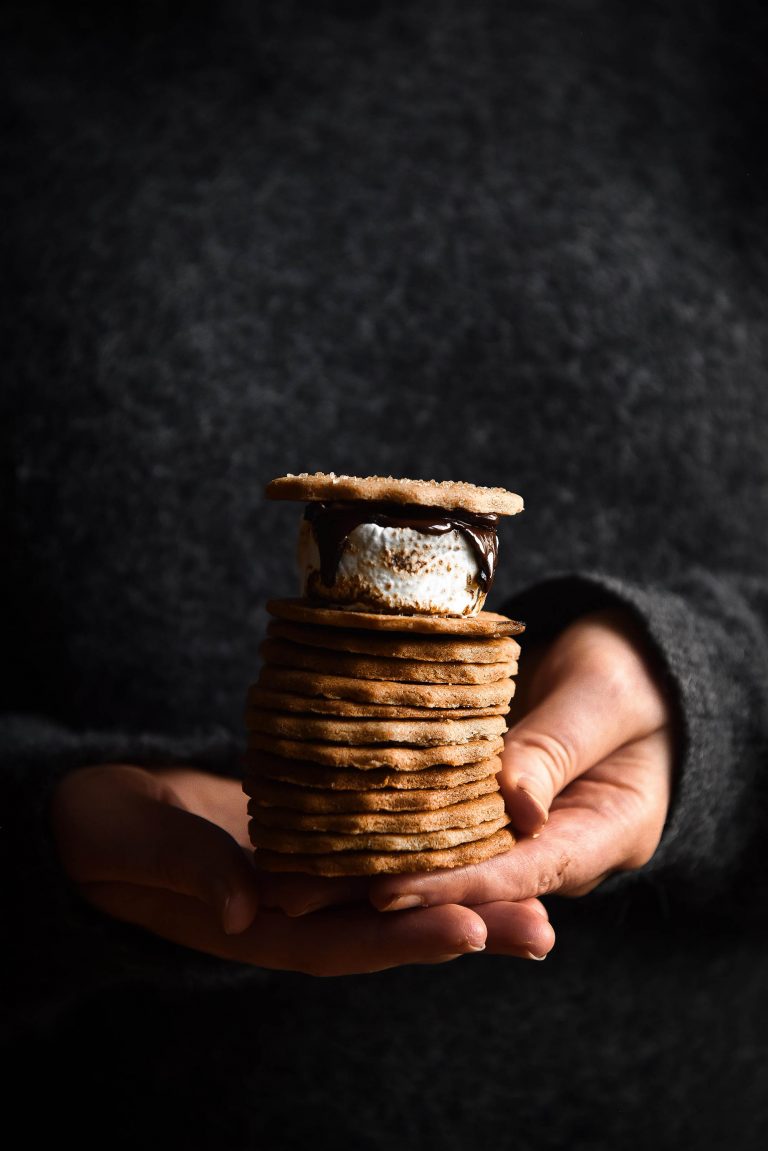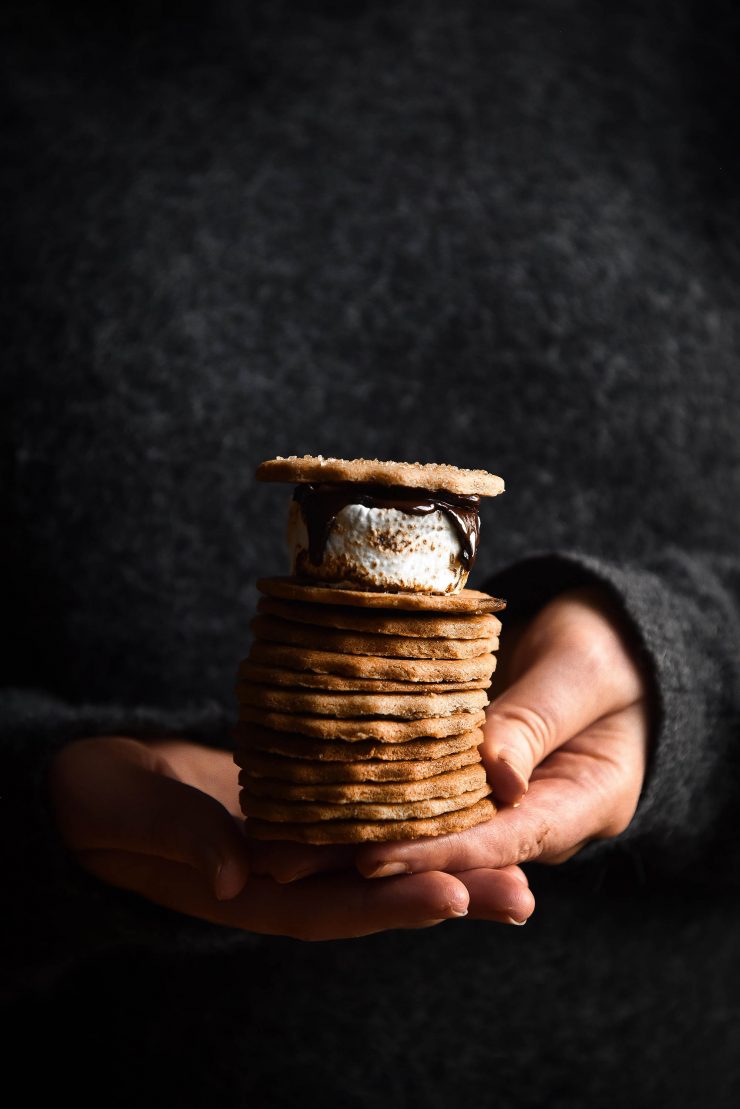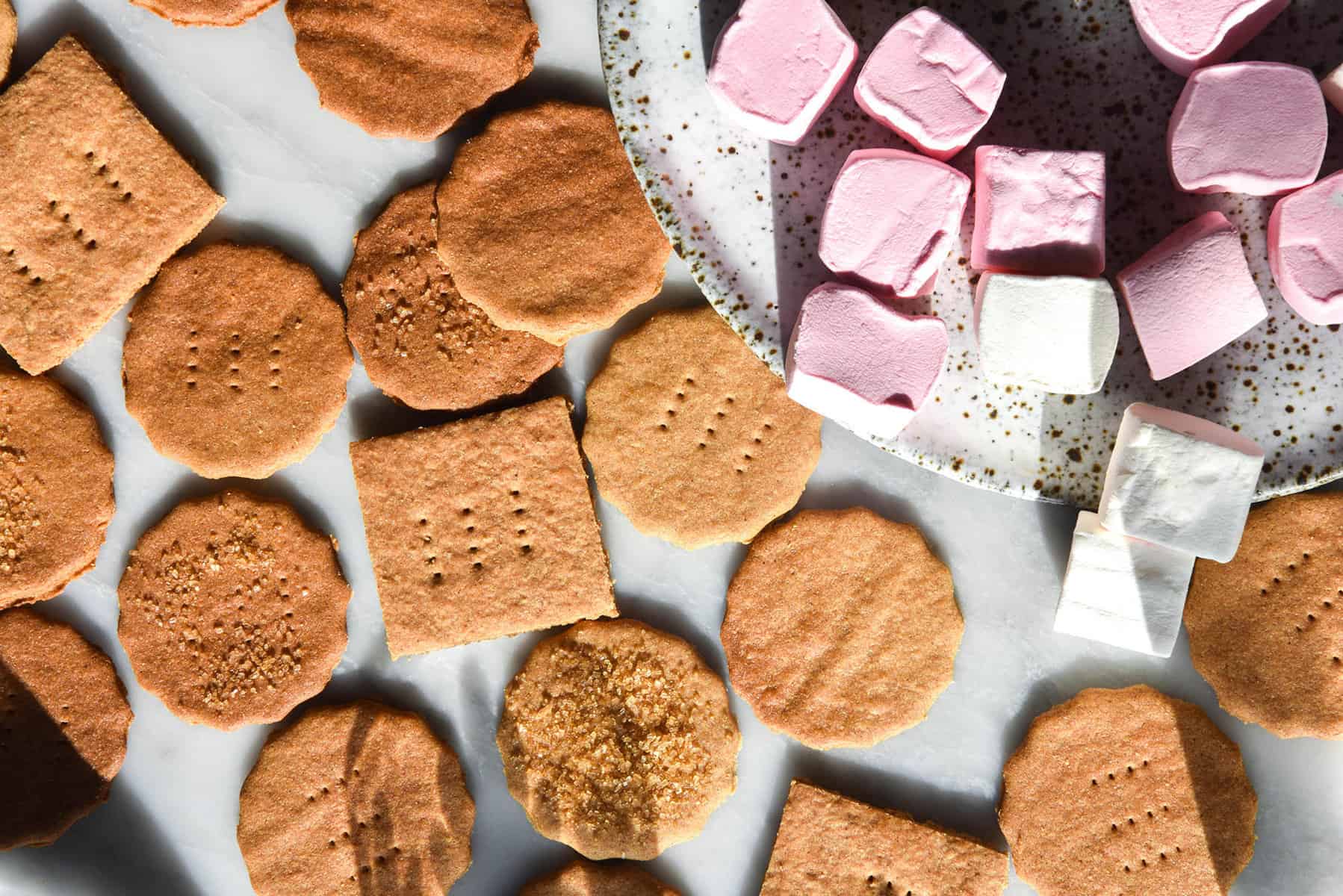 I am SO excited about today's recipe for gluten free Graham crackers! While I was making my gluten free sourdough recently, I had a cracker epiphany. It struck me that toasted quinoa flour and rice flour smelt strikingly similar to a digestive biscuit. Digestive biscuits are essentially a less sweet, more ambiguous and plainer version of Graham crackers, for those who haven't encountered them.
Gluten free Graham Crackers
So, there is your insight into my pea brained inspiration for today's recipe. These gluten free Graham crackers are gluten free, nut free, FODMAP friendly and so addictive I cannot even tell you! Stay tuned for a Graham cracker tart/cheesecake base, too.
An important note: the best version of these graham crackers contains xanthan gum. I've gone into it below, but I highly recommend getting your hands on some. The texture difference between the version with xanthan and the one without is pretty amazing. Xanthan gum gives the cracker dough elasticity, allows them to hold their shape and results in a snappier cracker. I also find it results in a more uniform colour. You guys know that I don't use it often, so please trust the recommendation here. That said, there's a xanthan gum free gluten free graham cracker option, too. I want everyone to have crackers.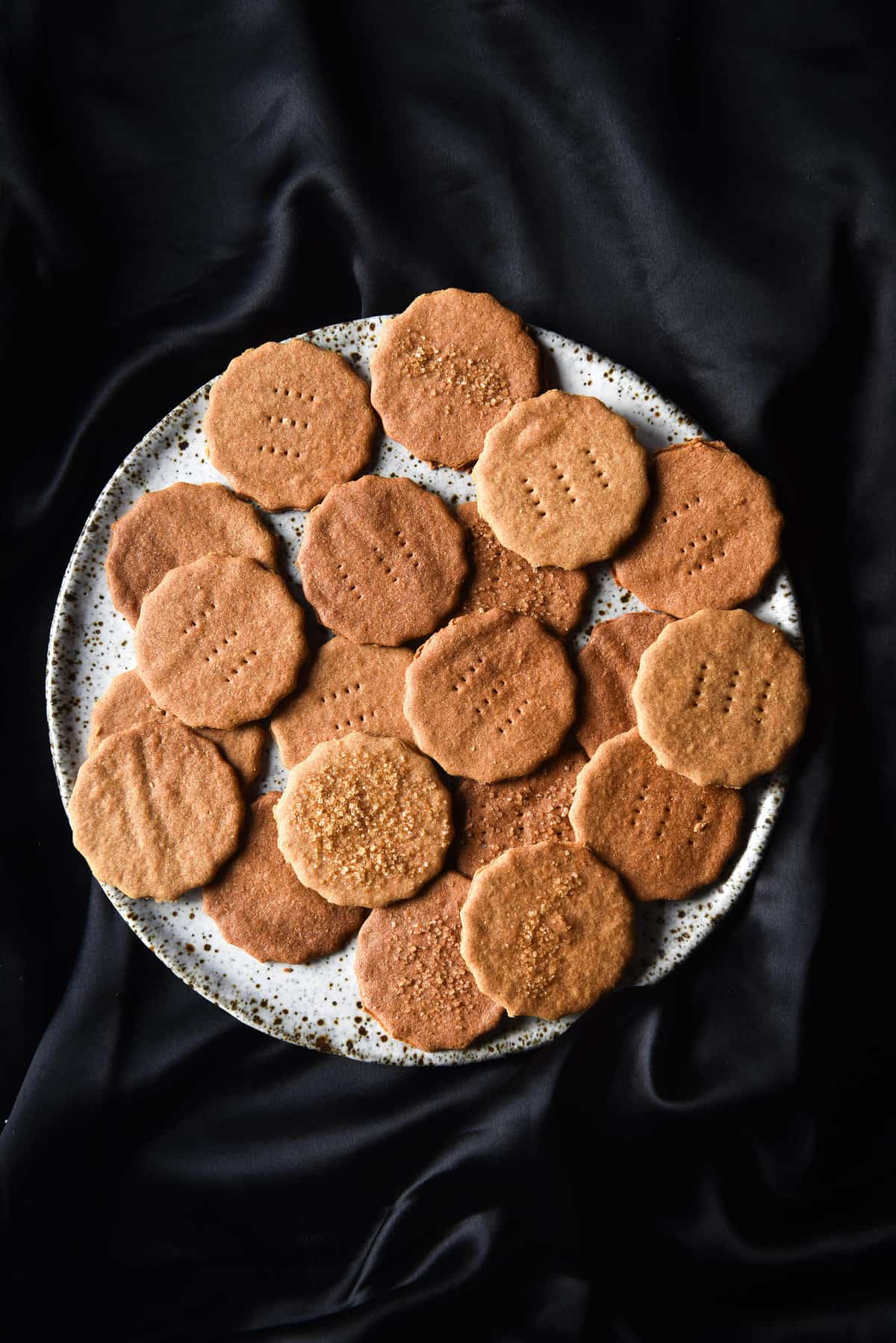 Gluten free Graham crackers – substitution notes
This recipe has been designed around two important flours – toasted quinoa flour and rice flour. When combined with brown butter, they create the nutty, toasty flavour that we want for the crackers. I have no substitutions for these flours aside from what's in the dot points below. Changing them up defeats the purpose of the recipe.
The gluten free graham crackers also contain tapioca flour. It is important for lightening up the mixture, giving it a little flexibility and making snappy biscuits. I haven't tested this recipe with a substitute. If you're desperate, however, you could try arrowroot flour. I know they're different but I sometimes use them interchangeably when I can't find tapioca.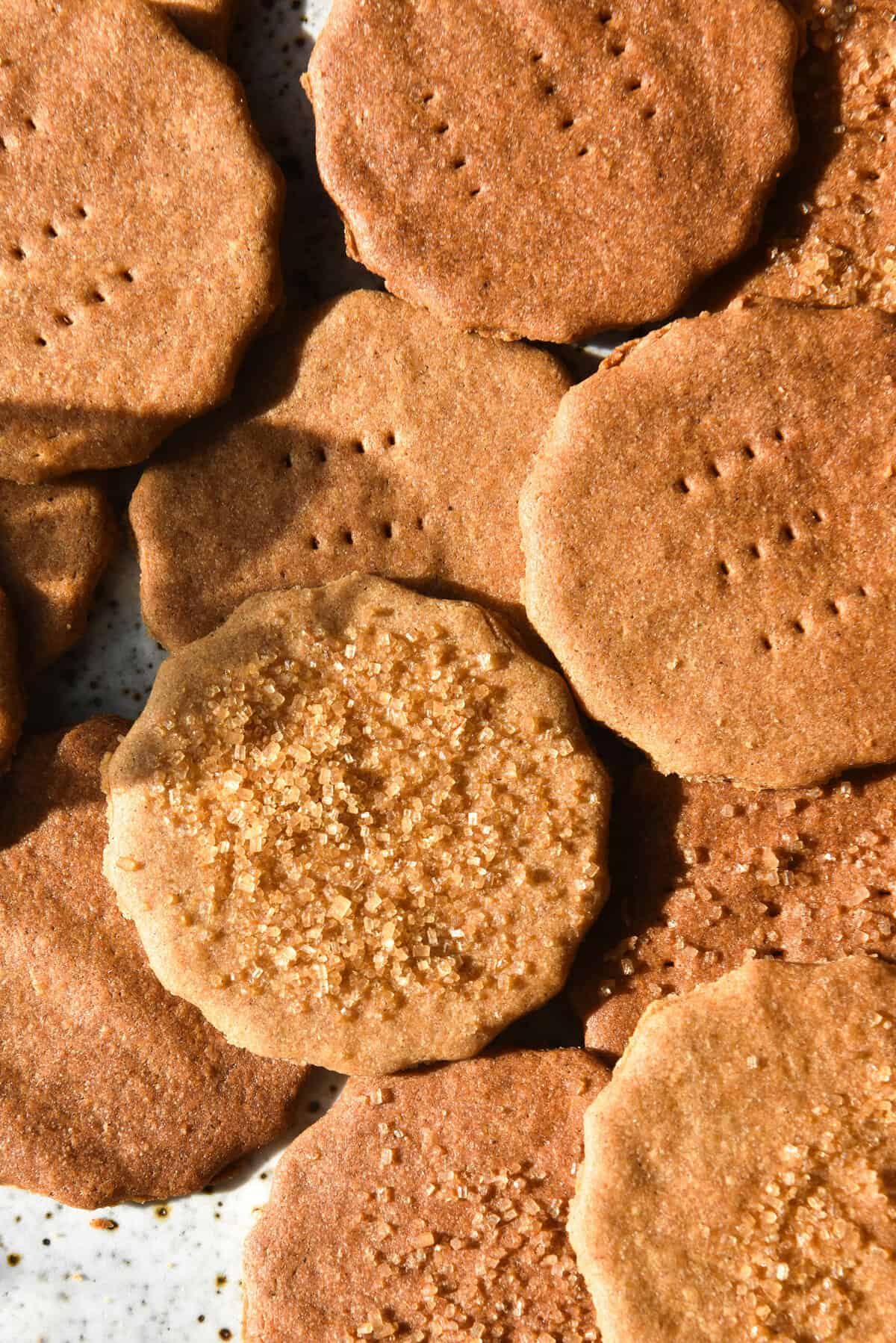 Recipe notes
I have a guide on making and toasting your own quinoa flour right here. Cliff notes version: if you can't find quinoa flour, you can buy the whole white grains and grind it yourself in a food processor. Toasting is not optional – it adds to the nutty flavour and changes the absorbency of the quinoa flour. If you can't be bothered toasting it in the oven, you can dry toast in a pan over a low heat. It burns quickly, so keep an eye on it.
You must use light brown sugar for this recipe. White sugar doesn't give enough flavour depth here, and it reacts differently in the oven. As we learnt in the cookie recipe, white sugar spreads whereas brown sugar puffs. We need the puff here.
On the note of sugar, I have not tried any unrefined sugar substitutes and I don't intend to. These gluten free Graham crackers are designed to replicate the original as best as possible.
Another thing that I haven't tried? Making these vegan or replacing the honey. Again, we're replicating the originals. Experimentation on that front is all your own 🙂
However, I have tested the crackers with a dairy free butter substitute. See the dairy free section below on how to make that happen.
I try to avoid xanthan gum where I can, because I believe it's mostly unnecessary. It can also cause unwanted upset to people with sensitive digestive systems. That said, the xanthan gum version of these is far superior to the version without. I have included an option (see the binder section below) but I highly recommend the xanthan gum in this case. It's easily acquired at health food stores, bulk food stores or online.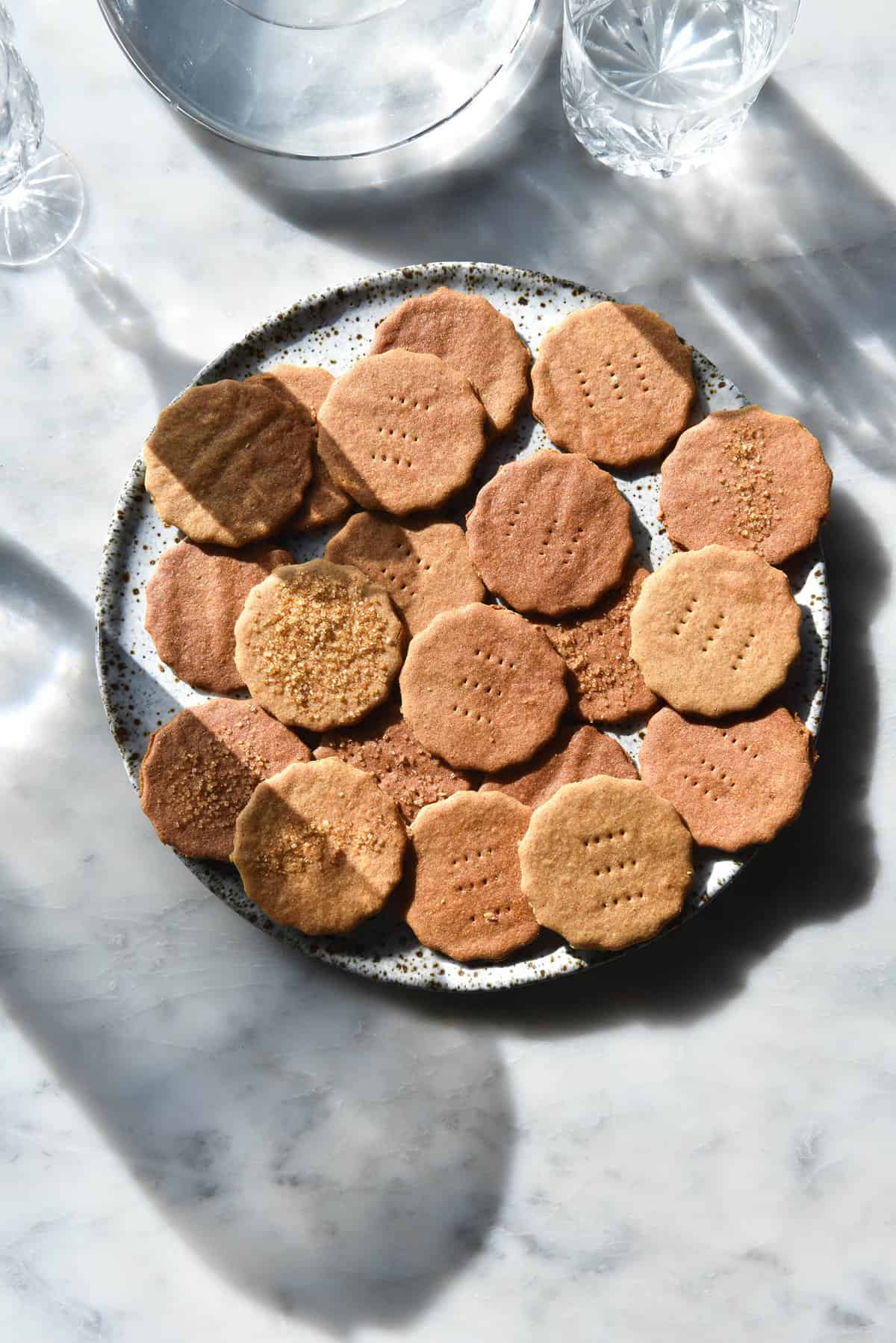 How to make these gluten free Graham crackers dairy free
Firstly, I'd like to point out that butter is very low, if not negligible, in lactose. Moreover, we're browning it! Browned butter, if you skim out the little browned bits, is the same as clarified butter (otherwise known as ghee) which is lactose free.
So, if you're dealing with a lactose intolerance, you will be fine using butter. Lucky you – the brown butter contributes a lot of that nutty wholegrain flavour. However, if you need to avoid dairy altogether, following the next steps.
Replace the 100g of regular butter with 85g dairy free butter (I used Nuttelex Buttery). We use a lesser amount to account for the liquid regular butter loses as it browns. 
Consider adding a little extra cinnamon or 1/2 teaspoon vanilla bean paste to disguise the faux butter flavour. Unless of course you're into it. 
Consider very lightly oiling the bottom piece of baking paper to prevent sticking. 
How to make these gluten free Graham Crackers without xanthan gum
As I've mentioned, I will only ask you to use xanthan gum when it it truly necessary. In this instance, I truly believe it is. While you can successfully make these graham crackers without it, they're infinitely more fragile and prone to cracking. Don't message me and ask why they're fragile when you haven't used xanthan gum – consider yourself politely warned.
Another thing worth mentioning is that the xanthan actually helps the fork holes and any crimped sides retain their shape. So, if you decide not to use xanthan, be prepared for your graham crackers to lose that. I ALSO found that the crackers without xanthan had an uneven colour when they came out of the oven. Nothing super offensive, but they browned quicker in certain places.
That said, I know we're in a pandemic so I have figured out how to make them without. Again, I don't recommend it if you can get some xanthan gum. It makes all the difference in the world!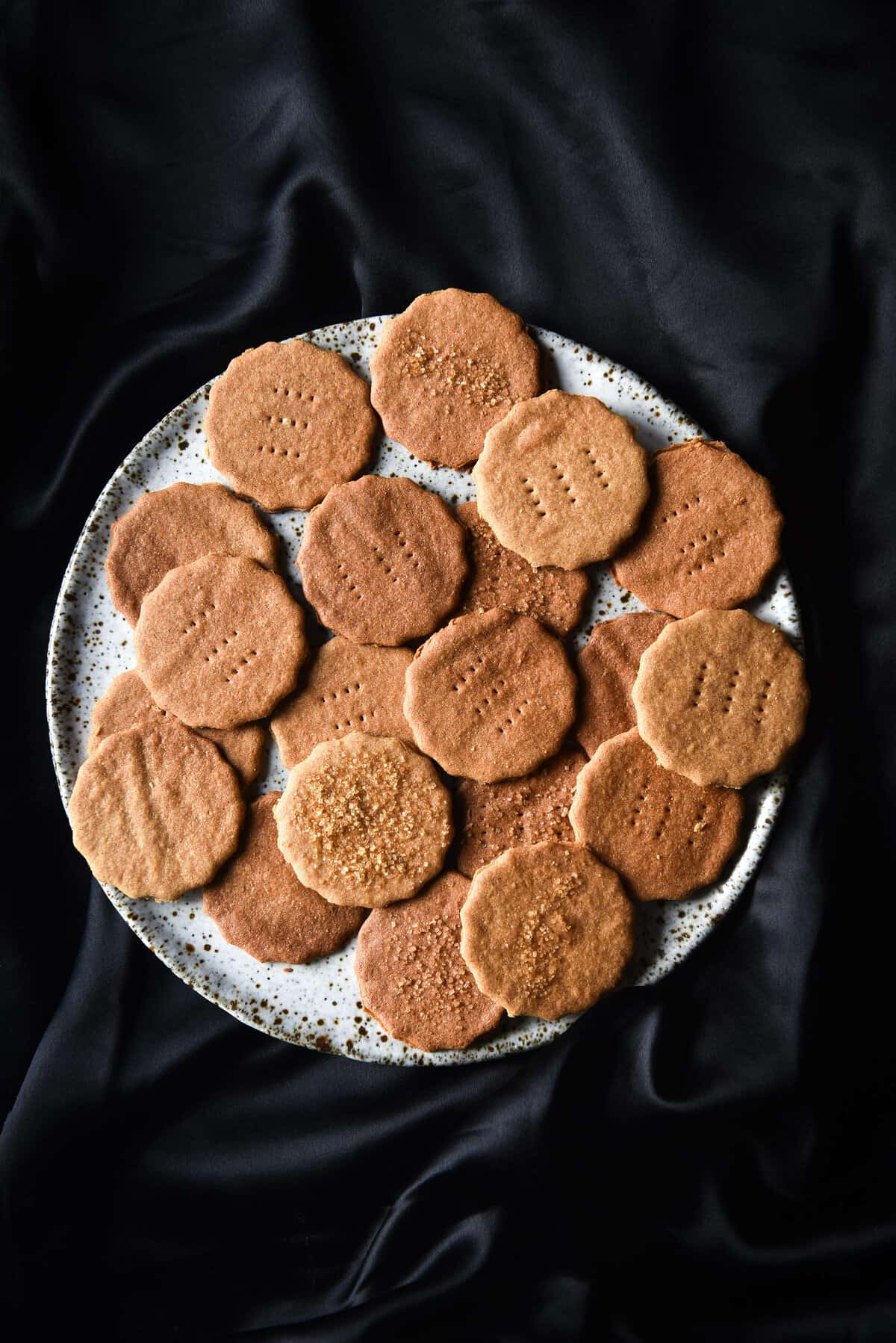 Graham crackers without xanthan gum
Add 1 teaspoon psyllium husk and an extra 1/2 tablespoon of honey to batter. This will add a little extra binding, although not nearly as much as the zanthan.
You need to allow these crackers to totally, absolutely cool before touching them. They're incredibly sensitive and they will crumble if you touch them before cooling.
When breaking the sheet of crackers up, gently place your hands underneath a section of cookies and snap upwards. I found that snapping downwards (by applying pressure to the sheet of crackers from above) crumbled a lot more cookies than the former method did.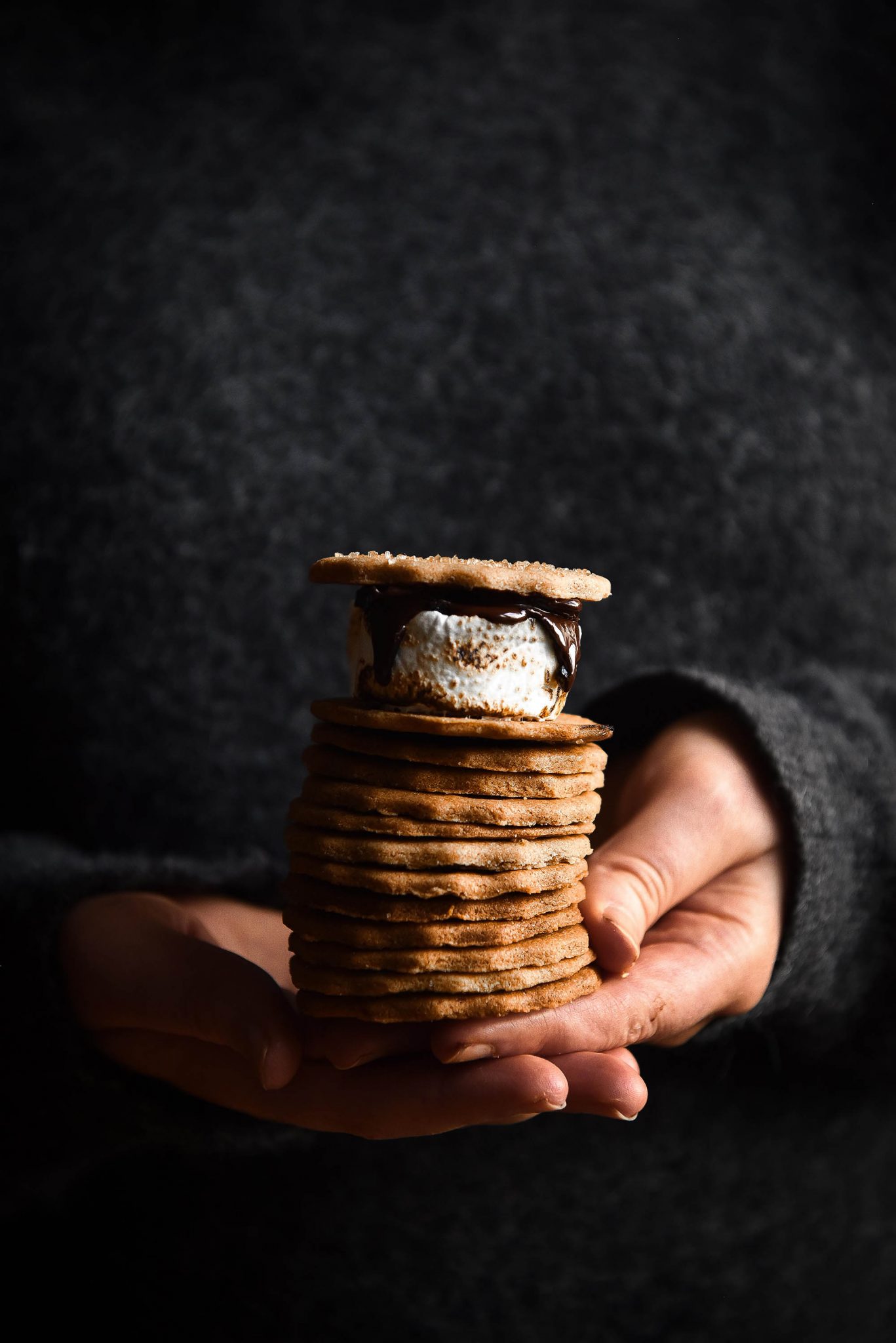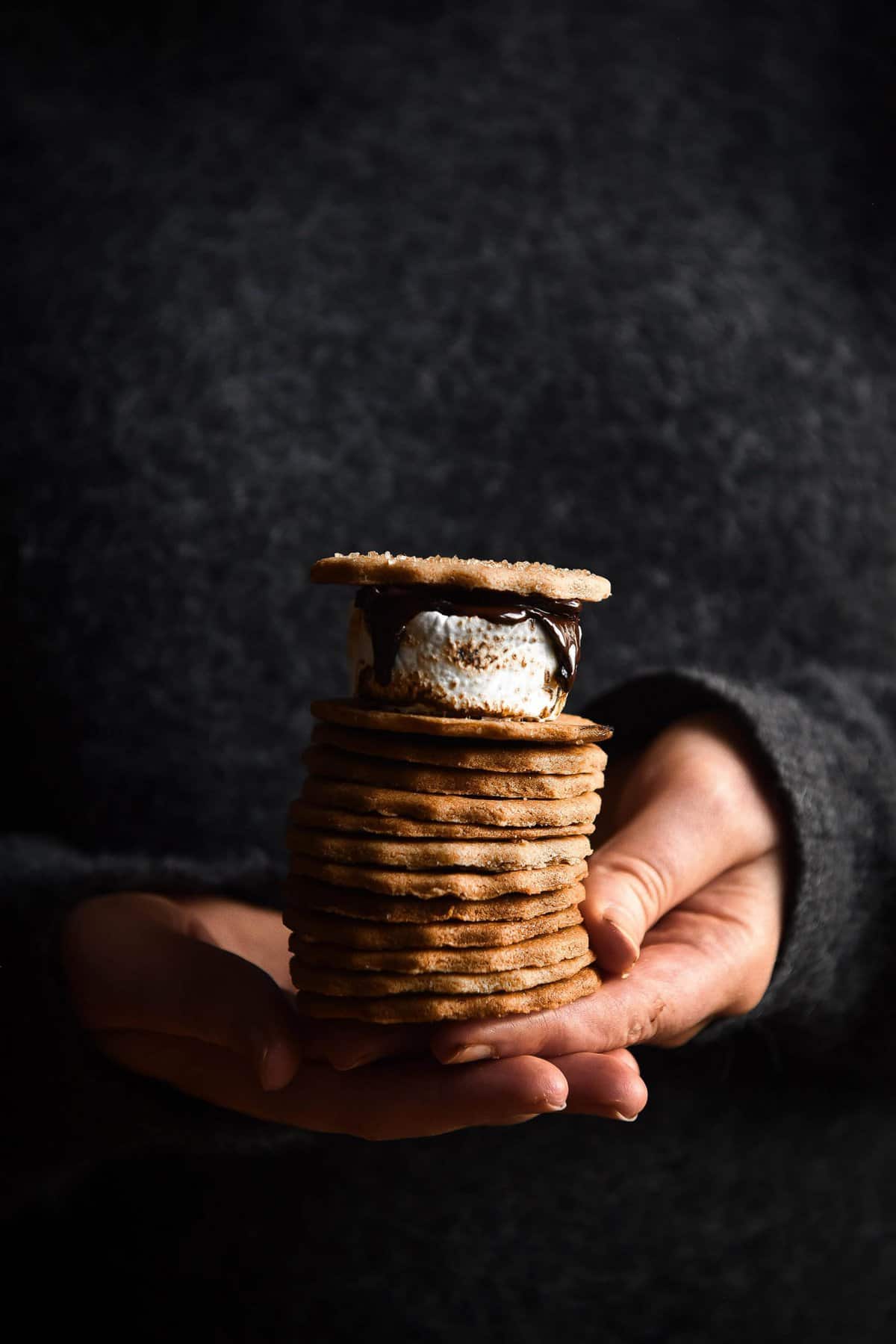 More gluten free biscuit and cookie recipes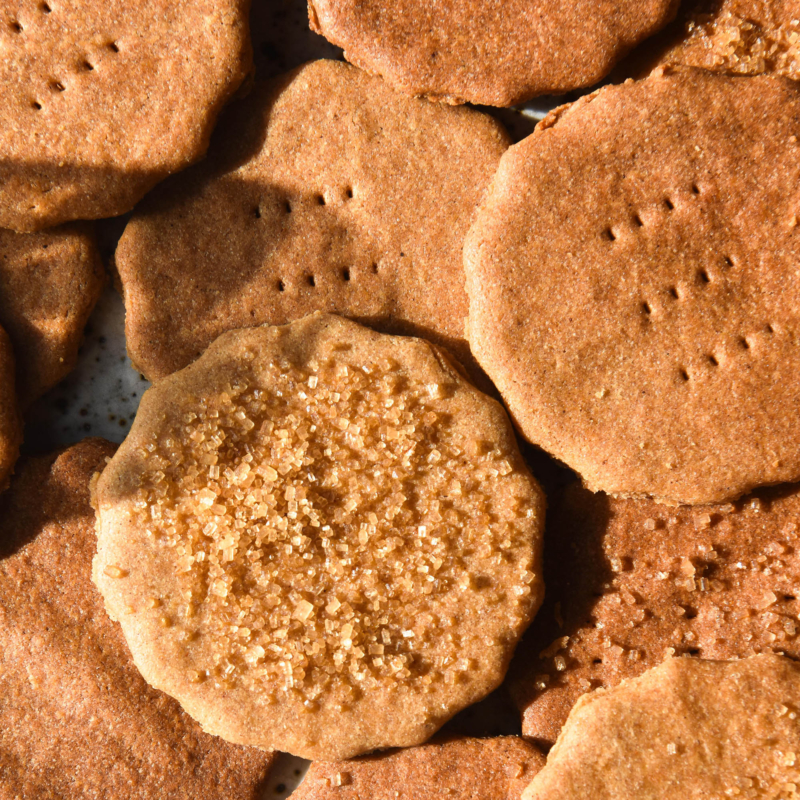 Gluten free Graham crackers
FODMAP friendly, nut free, low lactose
Makes 14-24 crackers
Ingredients
100

g

(generous 3/4 cup) tapioca flour

60

g

(1/2 cup) brown rice flour

60

g

(1/2 cup) toasted quinoa flour

100

g

light brown sugar

1

teaspoon

cinnamon

1/4

teaspoon

fine salt

1/2

teaspoon

xanthan gum

(see notes for substitution option)

1

teaspoon

baking powder

100

g

butter

deep browned (see notes for dairy free option)

1

extra large egg

1/2

tablespoon

honey
Instructions
Preheat the oven to 150C or 302F.

Weigh out and mix together the flours, sugar, cinnamon, salt, zanthan gum and baking powder. Use a whisk to combine, and break up any light brown sugar lumps with your hands if necessary.

Brown the butter until it is a toasty dark brown in colour and smells nutty. It should lose 15g in weight and become 85g.

Take the butter off the heat and add in the honey. Use the whisk to combine – it should bubble up a little like ANZAC biscuit mixture does.

Pour this bubbly mixture into the dry ingredients and use to a spoon to combine. You will have clumps of moistened and dry batter.

Add the extra large egg and continue mixing. At this point you'll need to get in there with your hands and squish the dough through your fingers until it is all evenly moistened. Continue kneading the dough for 30 seconds to 1 minute – this helps make the xanthan gum nice and adhesive.

By the end you should have a reasonably smooth ball of dough. It will feel a little fragile and like you could smash it apart with your hands. It should also feel a little greasy.

Place the dough onto a piece of baking paper, and place another sheet on top. Use a French rolling pin (or a wine bottle) to roll it out into a big rectangle.

How thick you want to roll it is up to you – but note that it will vary the cooking time. I generally roll mine 1/4 – 1/2 centimetre thick. If you're not using zanthan gum I'd suggest rolling them a bit thicker as the dough isn't nearly as flexible.

Peel the top sheet of baking paper off. The dough will probably look greasy and that's fine. From here, you can slice the dough as you see fit – with a pizza cutter or cookie cutters. The amount of crackers you get from a batch will vary wildly depending on how you cut them, how thick you roll them, etc. You can get anywhere from 14-24 crackers from a batch of dough.

If you'd like to, use a fork to poke 3 sets of holes underneath each other on each cracker. This is for aesthetic purposes only so it's optional. You can also sprinkle over a little granulated/finishing sugar for crunch and glitter.

Whichever way you've chosen to score them, place them on a flat baking surface – for me, this is the back of a baking tray (so the sides don't interfere with the crackers). Bake them for 15-20 minutes, checking and turning the tray at the 10 minute mark. If you've rolled thick crackers, you might need to cook them for longer.

Once golden brown, remove from the oven and allow to cool completely before gently snapping into individual crackers. I advise placing your hands under the sheet of crackers and gently snapping upwards.

They keep well in an airtight container.