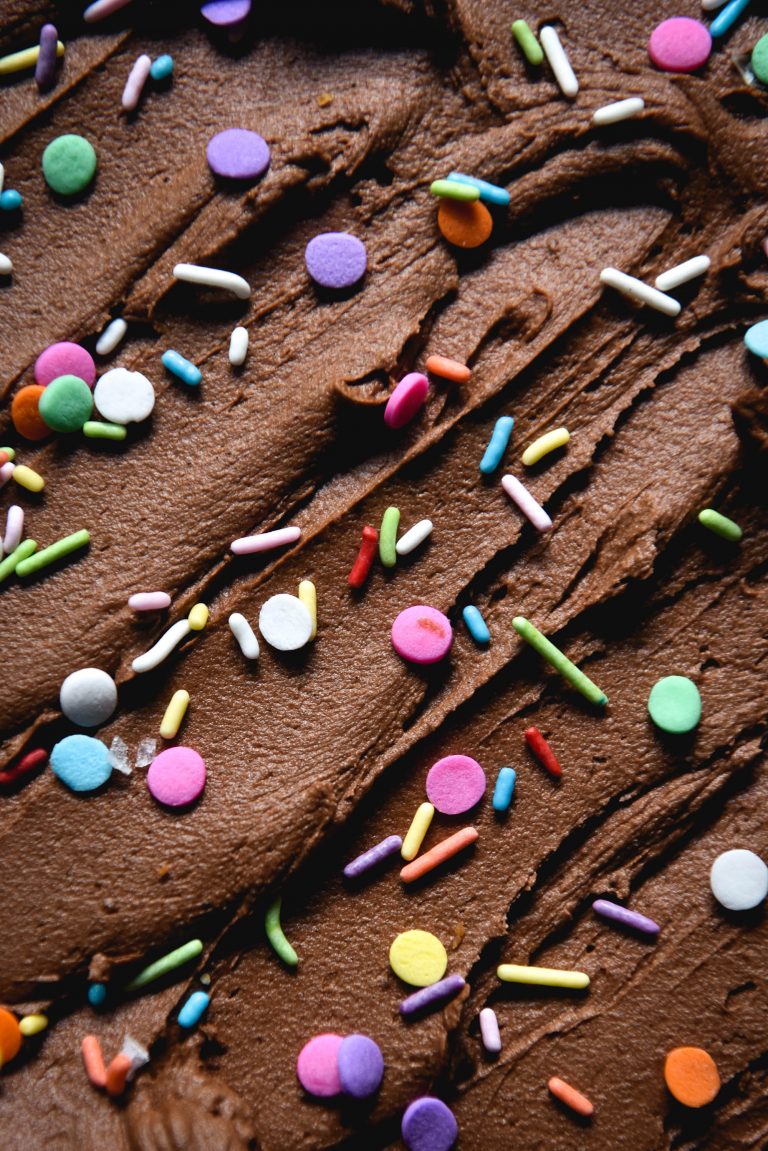 I have wanted to post an easy gluten-free funfetti cake recipe for a long time now. What has thwarted me, though, is how hard it is to develop a recipe that successfully suspends sprinkles in the batter. My first 124983 attempts lead me to the same place: a pale yellow cake up top, a dense and grey layer of melted sprinkles down the bottom.
Enter: this easy gluten-free funfetti cake. It's ready for the oven in 5 minutes. Better yet? It is free of gums, starches and nuts. It's not vegan yet, but stay tuned for the vegan version which is currently in the works.
Is it my easy gluten-free vanilla cake with added sprinkles? Yes, yes it is. This gal believes in recycling (it's good for the planet!)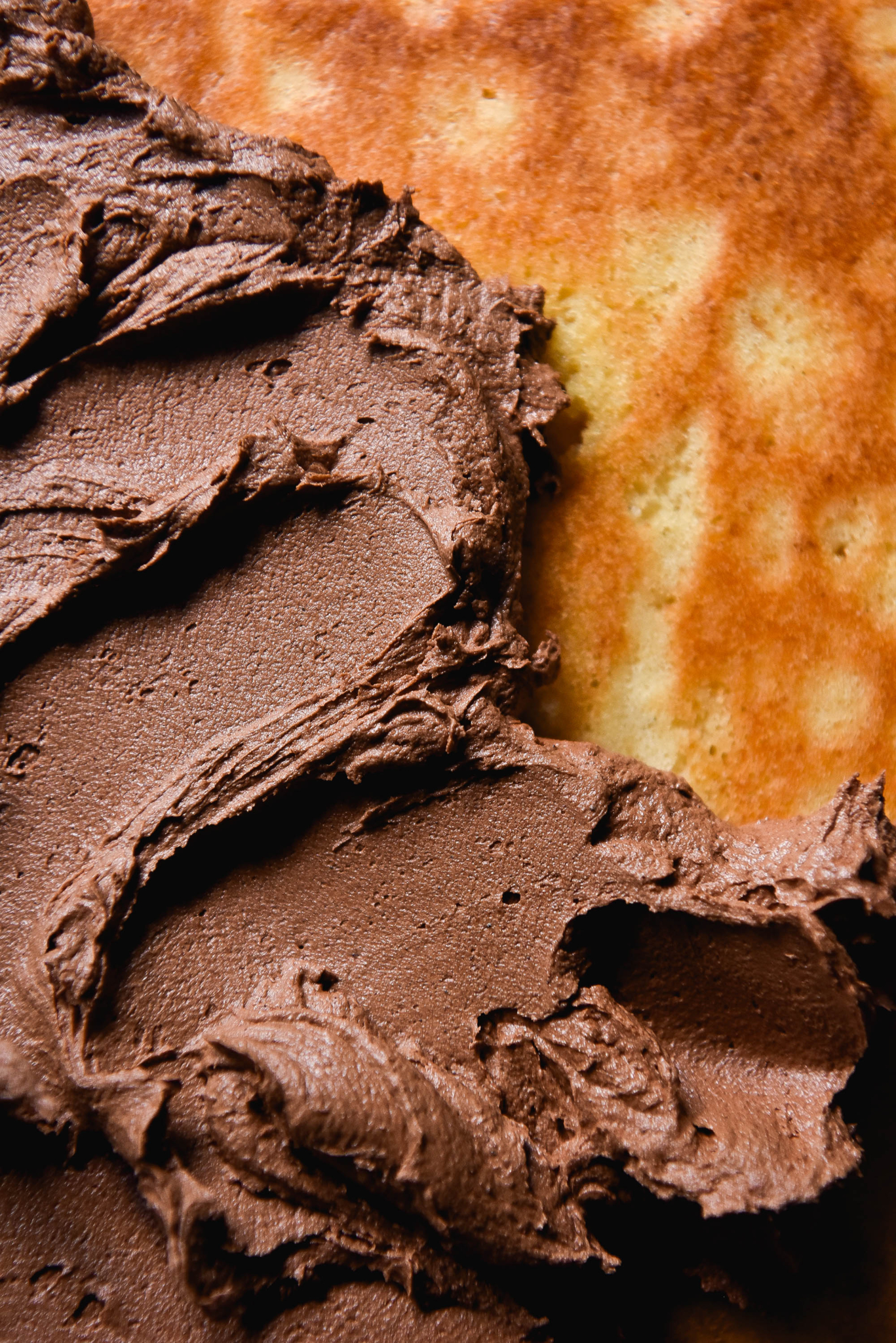 Easy gluten-free funfetti cake ingredient notes
A fresh, good quality white rice flour is critically important to the success of this cake. See the white rice flour notes below for more information. At the moment, I have no substitute for the flour.
You can use any sort of milk for this cake – soy, lactose free, regular, etc. Oats and oat milk are not considered gluten free in Australia, which is why I don't suggest it.
I have only used full fat greek or plain yoghurt in this cake. I recommend Greek (Jalna does a gluten free Greek yoghurt here) or pot set lactose free (again, made by Jalna – sponsor me already?)
A neutral flavoured oil is important in this cake – I have used vegetable and sunflower.
Salt balances out the sweetness of the caster sugar and I don't recommend omitting it.
On the note of the sugar, caster is all I have tried and suggest. I have no refined sugar free suggestions.
Vanilla and almond extract add a delightful complexity of flavour to this cake. Almond extract is a little niche (I have some for the almond croissants in my upcoming cookbook) but well worth the investment, if you find some. It is, however, optional.
I currently have no substitution suggestions for the eggs. I will test a vegan version of this cake, though, so stay tuned.
Not all sprinkles are created equal and not all of them are gluten free. I found a lot of shitty, cheap sprinkles on my path to this funfetti cake. More in the sprinkles notes below.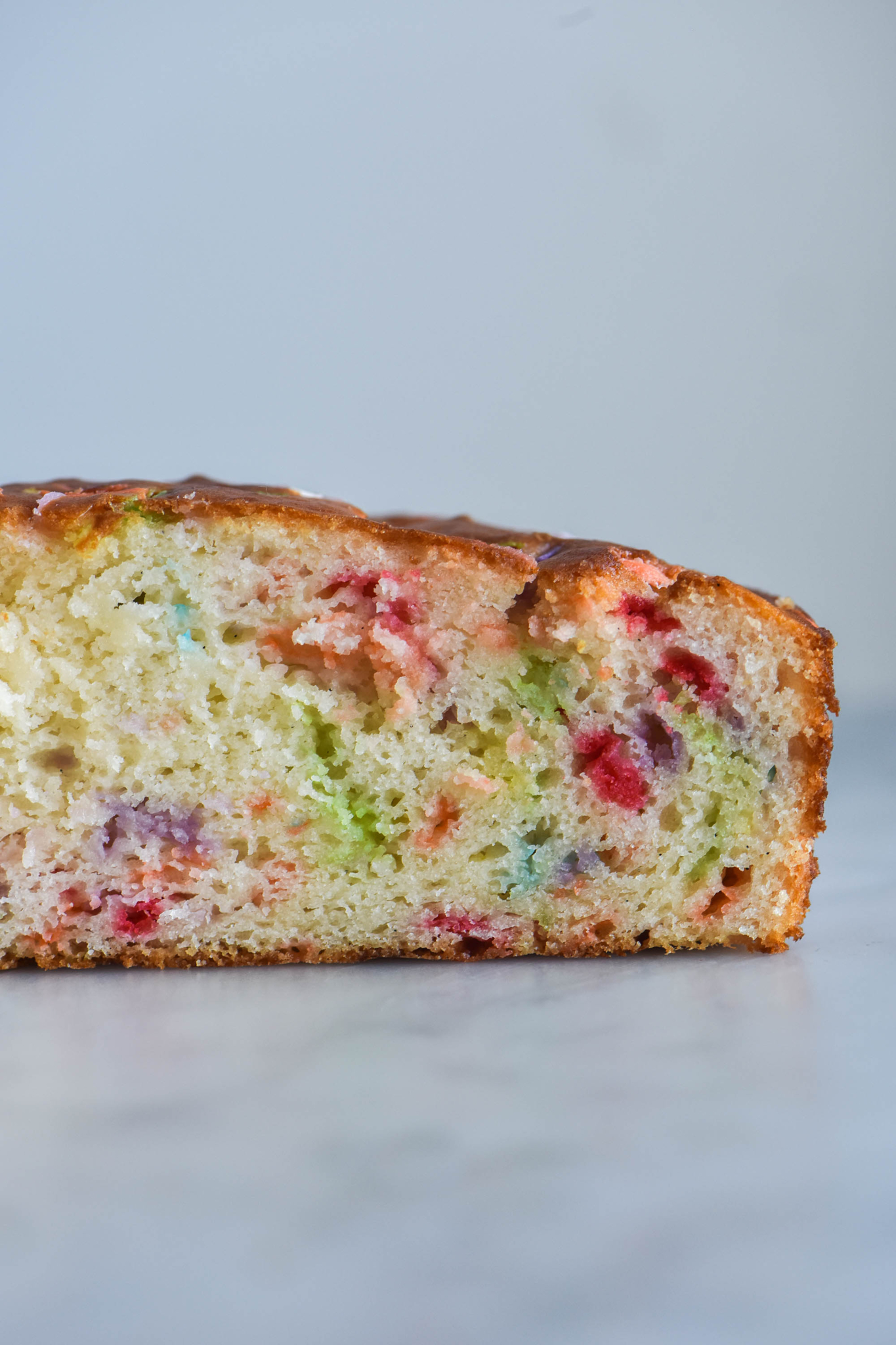 Notes on the gluten free white rice flour
You'll know from my previous recipes that I love a single flour recipe, and I love using white rice flour. I have a few reasons for this: firstly, it's easy to acquire and easily accessible. Secondly, when it's a good quality batch, white rice flour can look and taste a lot like a regular baked good. I want to make gluten free baking as easy and doable as possible, so white rice flour works for the above two reasons.
There is, of course, a caveat! Stale, old white rice flour from the supermarket tastes like it smells. It's a musty, floral sort of taste that immediately gives the game away and taints whatever it touches. In some baked goods, like a chocolate cake, you might be lucky enough to get away with it, hidden behind chocolate. But in this easy gluten-free vanilla cake, you have nowhere to hide.
Success of this cake, then, depends on buying a good quality and super fresh white rice flour. I always suggest buying at a bulk food store if you can – white rice flour seems to be quite a high turnover item so it will be fresh. It shouldn't smell like much at all.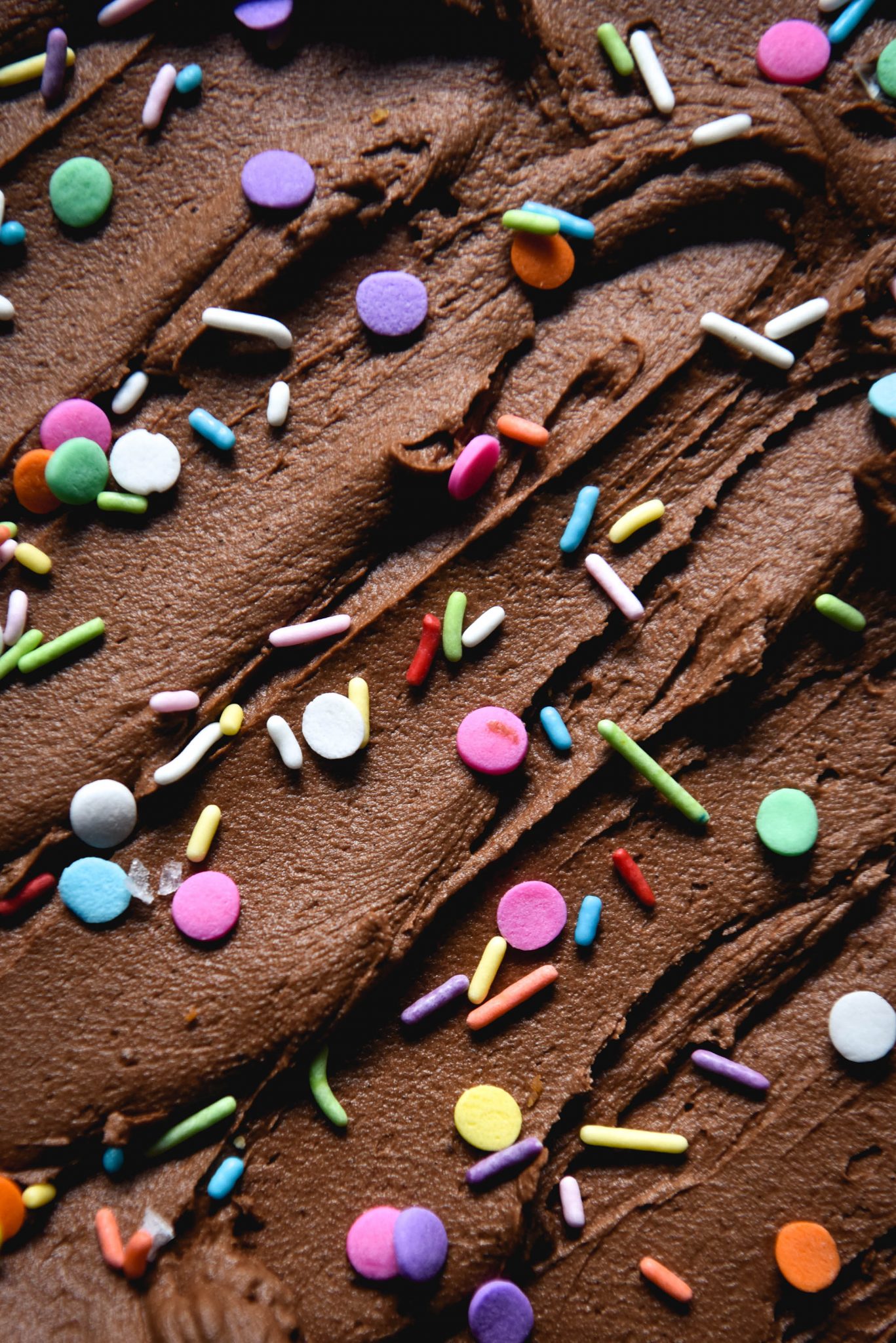 Notes for choosing good quality, gluten free sprinkles
As I discovered when I first started working on a funfetti cake: Australia has a terrible selection of sprinkles. The ones from the supermarket are cheap, nasty and filled with weird ingredients that dissolved in the batter. Here I should probably stop and say: all sprinkles are full of trash, as it turns out. Not just the ones at the supermarket!
Anyway, back to the sprinkles. After a lot of digging and driving around (pre-covid, obviously) I found a brand in Australia called Over the Top. They're gluten free jimmies (turns out there are many types of sprinkles) and they hold up really well in baking.
I have purchased them at Lombards (in Flemington, north of Melbourne) and also online in bulk at Baking Pleasures, who may I say have insanely speedy service. They're not vegan, so next time I would probably try and find a vegan brand. I recommend buying your sprinkles ahead of time and choosing some good quality jimmies. Poor quality sprinkles will bleed in your cake and make a grey mess. Google gluten free vegan jimmies and a brand local to the country you live in should come up.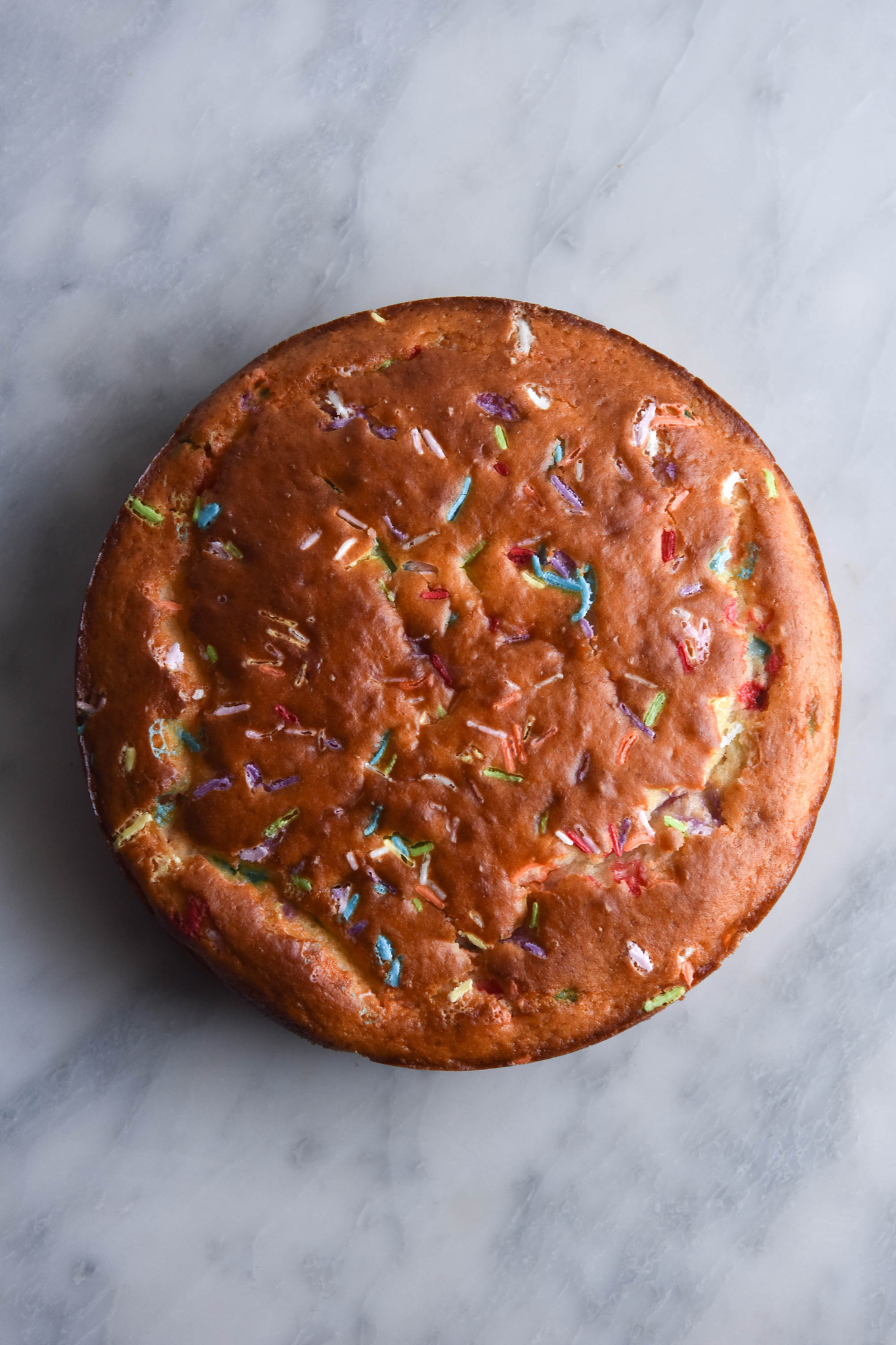 Notes for the yoghurt
I figured this deserved it's own space, as I often get questions about the dairy product in recipes. I have tested this recipe with full fat Greek yoghurt and full fat lactose free yoghurt. I'm lucky that I grew out of my lactose intolerance, so Greek yoghurt isn't too much of an issue for me. It's not super lactose friendly, but it's an accessible option for regular people who don't have any lactose issues.
I have not yet tested this recipe with a dairy free yoghurt, so I can offer no advice there (yet). My issue with dairy free yoghurts is the amount of starches and gums they often contain. Necessarily so, but still. I'm yet to find one that I really like, and in a particular a non sweetened version. I will update this post as I test some out.
You will notice that the recipe gives you the option to use 150g or 175g yoghurt. In my tests, I found that 175g yoghurt produced a fluffier cake. The catch was that the sprinkles tended to sink to the bottom third of the cake. Using 150g yoghurt, the sprinkles were less likely to sink. So, choose what you prefer – more even sprinkle distribution or a fluffier cake.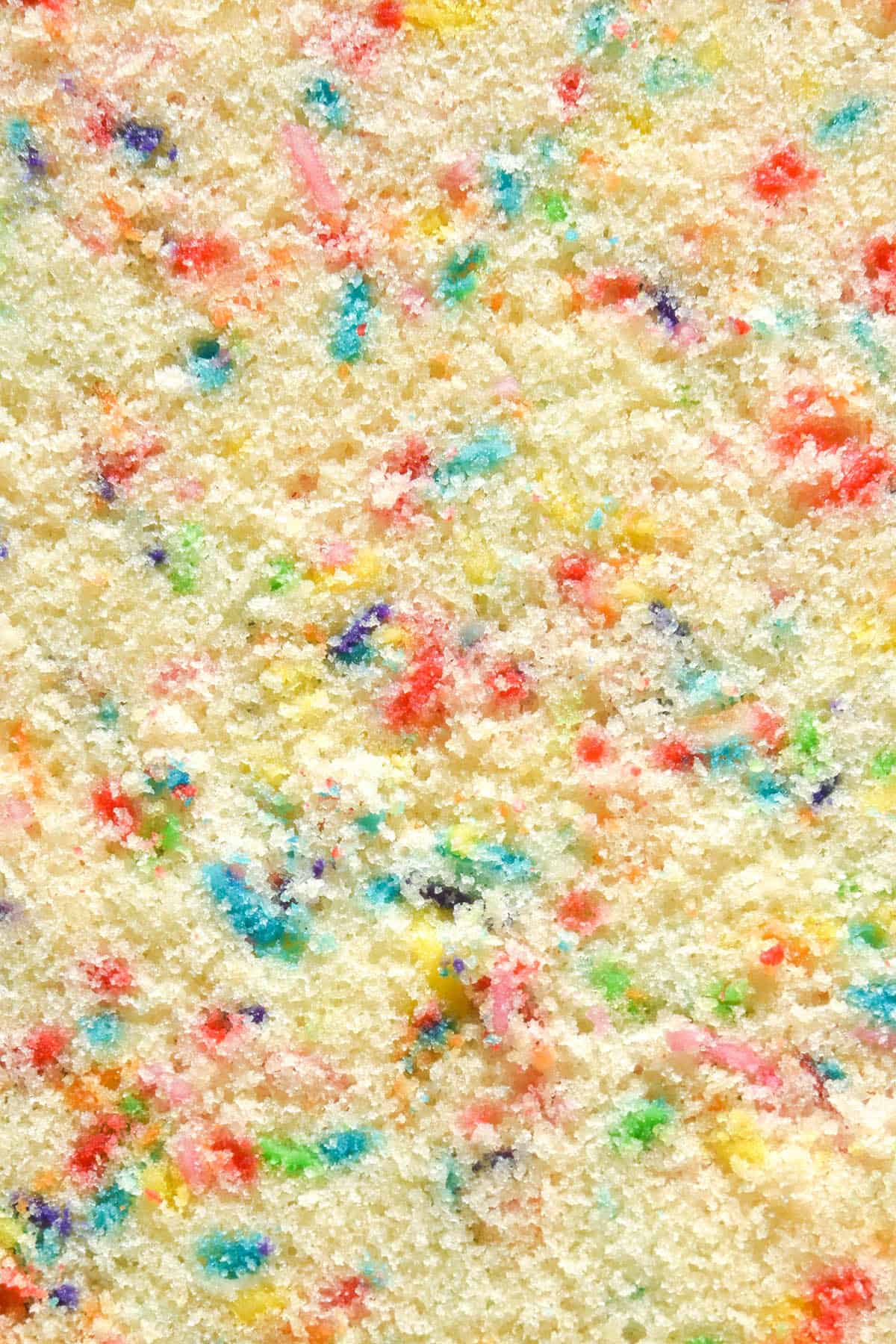 Sprinkle troubleshooting
I figured I would head this one off now: most issues with sprinkles (whether they bleed, lose colour or sink) is to do with the sprinkles themselves. Bad sprinkles are bad sprinkles – there is no getting around that fact. You really cannot outrun a bad sprinkle in a funfetti cake.
I spent a good two years working on and off an easy gluten-free funfetti cake recipe, so I learnt a fair bit. The first thing I learned was that the vast majority of sprinkles at the supermarket (In Australia, at least) are rubbish and will let you down. Yes, even the ones that look really good. Second: if they're not shit, they're not gluten free.
But what if you've bought some good sprinkles and are still having trouble?
The consistency and absorbency of white rice flour is different the world over (and even in the next town over). So, if your sprinkles are sinking, there is not enough viscosity in your batter to suspend them while it bakes. Try dropping the oil back to a 1/4 cup and see where that gets you. It's all about creating a slightly thicker batter to help keep the sprinkles afloat until the cake has set.
Icing your gluten free funfetti cake
I haven't included an icing recipe here because I figured you would have a favourite of your own. If not, however, I have one suggestion: the brown butter chocolate buttercream from my easy chocolate cake recipe. It is without a doubt my favourite icing recipe. For a single cake, you'll only need half a batch.
More gluten free cake recipes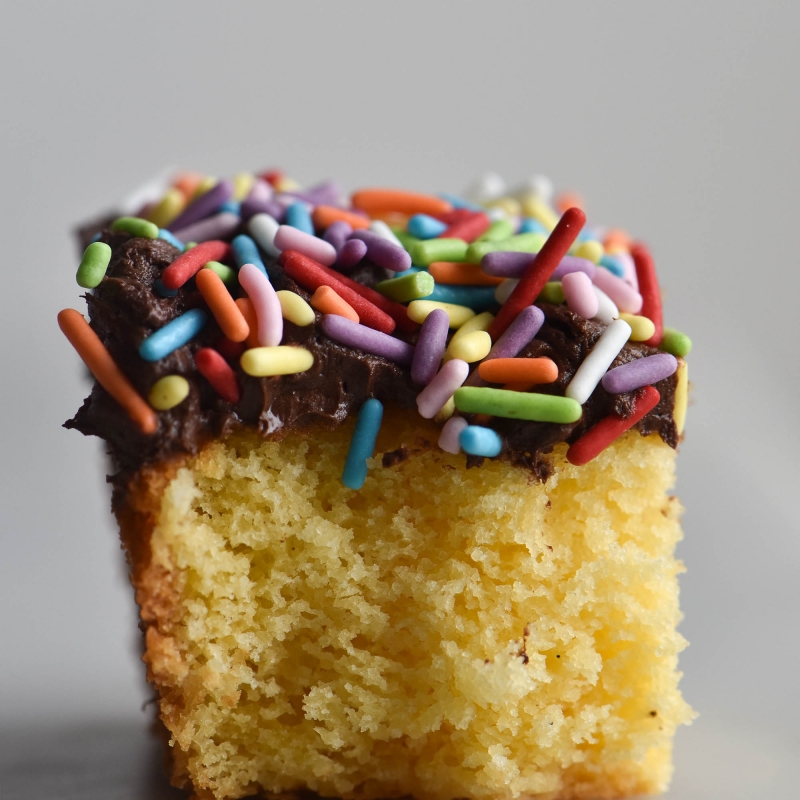 Easy gluten free funfetti cake
FODMAP friendly, nut free, gum free, starch free, lactose free option
Ingredients
For the cake batter:
175

g

fine white rice flour

150

g

caster sugar

1/2

teaspoon

baking powder

1/2

teaspoon

baking soda

heaped 1/4 teaspoon fine salt

150-175

g

plain full fat yoghurt

(I have used Greek and lactose free pot set yoghurt) see notes

1/2

cup

(125ml) milk of choice

I have used regular, lactose free and soy

2

teaspoons

white vinegar or lemon juice

1/3

cup

(80ml) vegetable or sunflower oil

2

extra large eggs

1-4 – 1/2

cup

sprinkles (roughly 40-80g depending on the sort you use)

see notes
optional flavourings:
1/4

teaspoon

almond extract

1

teaspoon

vanilla bean paste
Instructions
Preheat the oven to 180C/356F. Lightly grease and line a 20cm cake tin.

Combine the flour, sugar, baking powder, baking soda and salt in a large mixing bowl. Whisk to combine.

In a smaller mixing bowl, whisk together the milk and yoghurt, then add the vinegar. The mixture should thicken almost straight away.

Add the yoghurt mix, eggs and oil to the flour and whisk until completely smooth. Add the optional flavourings here, if you're using them.

Whisk in the sprinkles, then transfer the batter into the greased cake tin. Bake for 30-35 minutes or until the top is golden brown and a skewer comes out clean. The centre middle is the last to cook, so make sure you check it is done.

Once cooked, allow to cool for 5-10 minutes before gently removing from the cake tin. You might need to run a knife around it first. Take the baking paper off and set on a cake rack to cool. Allow to cool completely if you're icing.

The cake keeps well for 2-3 days in an airtight container.
Notes
Greek yoghurt is not particularly FODMAP friendly, I know. I have included it as an option for regular gluten free folks who don't need to avoid lactose. Use a full fat lactose free yoghurt (I like pot set because it's nice and thick) if you need this to be lactose free. 
Grease the cake tin thoroughly but lightly. Over greasing the tin is often the culprit for an oily and dense lower section of a cake.
20cm cake tins are easy to find – I bought mine at the supermarket. I don't recommend using a larger cake tin as the result will be markedly different and potentially not great. The batter is reasonably thin, so I don't recommend using a springform tin in this instance.
If your sprinkles dissolve during baking, it is to do with the brand of sprinkles. As I've mentioned, Australia has a very poor selection of sprinkles so I do recommend buying some good ones online. See the sprinkles section above for what I used.
If you want to bake two cakes, I highly recommend mixing them up separately and baking them individually. When I attempted to bake two at once they came out with overly brown tops and a liquid centre. Not cute.
I found that adding the full 175g of yoghurt made for a fluffier, lighter cake, but that the sprinkles fell to the bottom 3rd of the cake while baking. You can choose what is most important to you – use less yoghurt for more even sprinkle dispersion, and more yoghurt for a slightly fluffier cake.