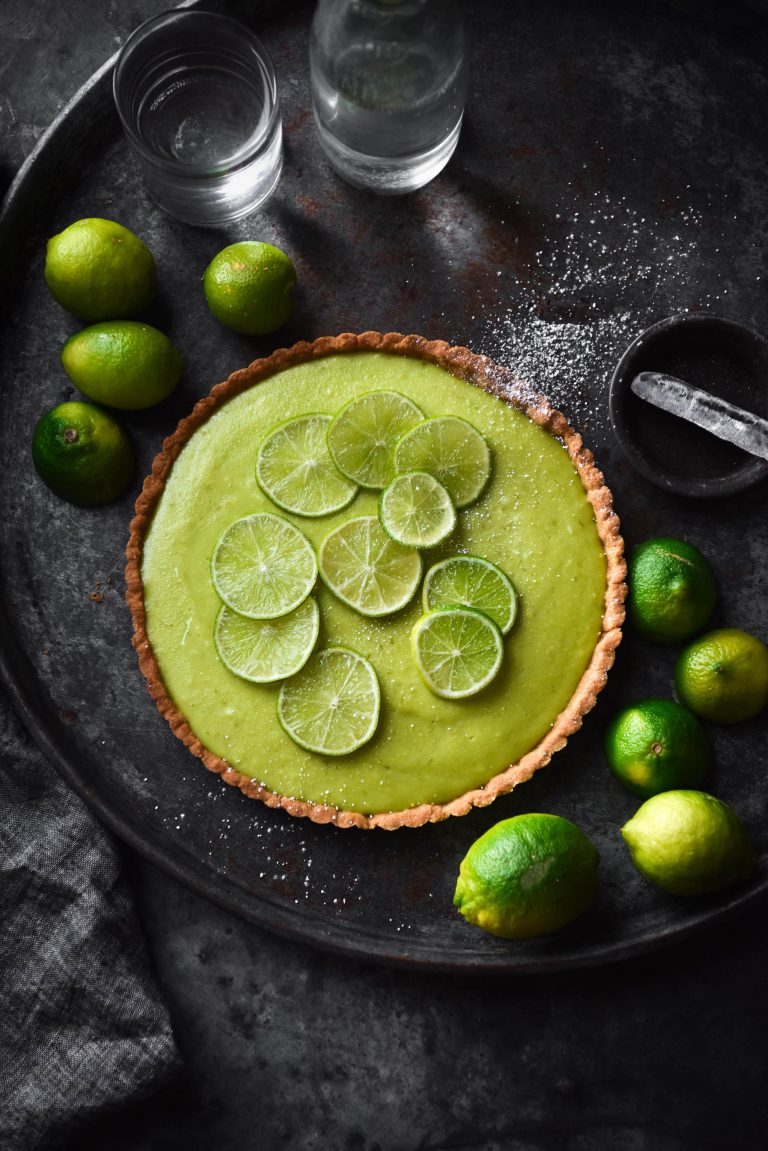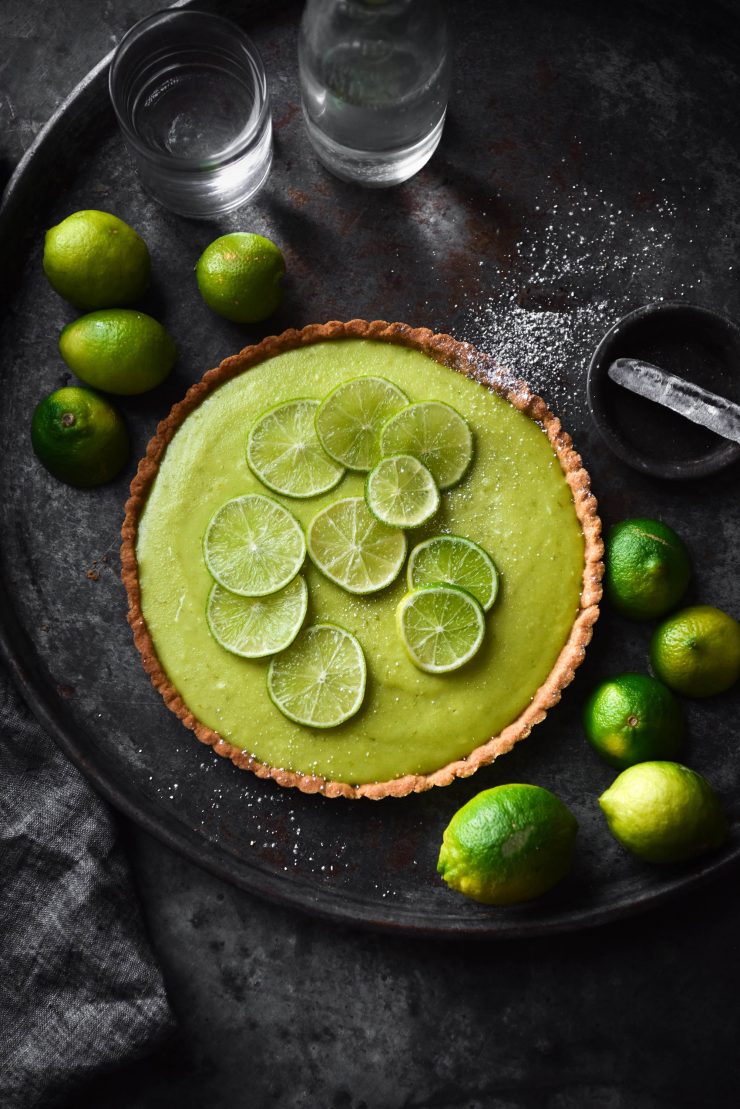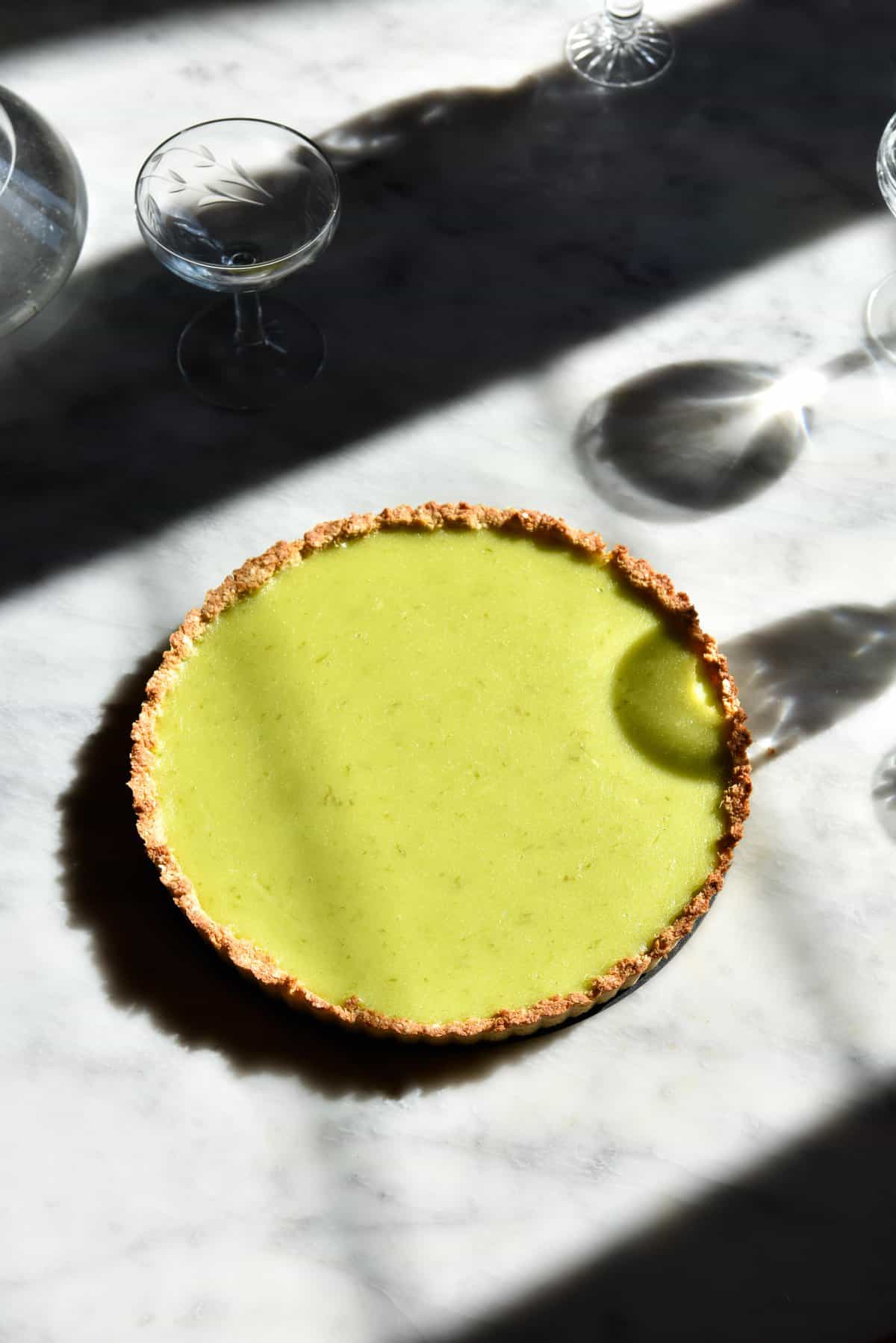 This gluten-free lime curd tart was inspired by a few things. Firstly, I was lucky enough to find some finger limes at a local farm produce store, Torello. Finger limes are a native Australian delicacy – they're almost like a tart fruit caviar, little balls of citrus that burst with flavour. Secondly, I had always wanted to make a lime version of the original lemon version in my cookbook. In a similar vein, I wanted to try an oat free base.
When I wrote the cookbook, gluten free oats were on the shelves in Australia. Since then they have been removed, and I personally have found that they don't work well for me anyway. As a result, this is a completely gluten-free lime curd tart.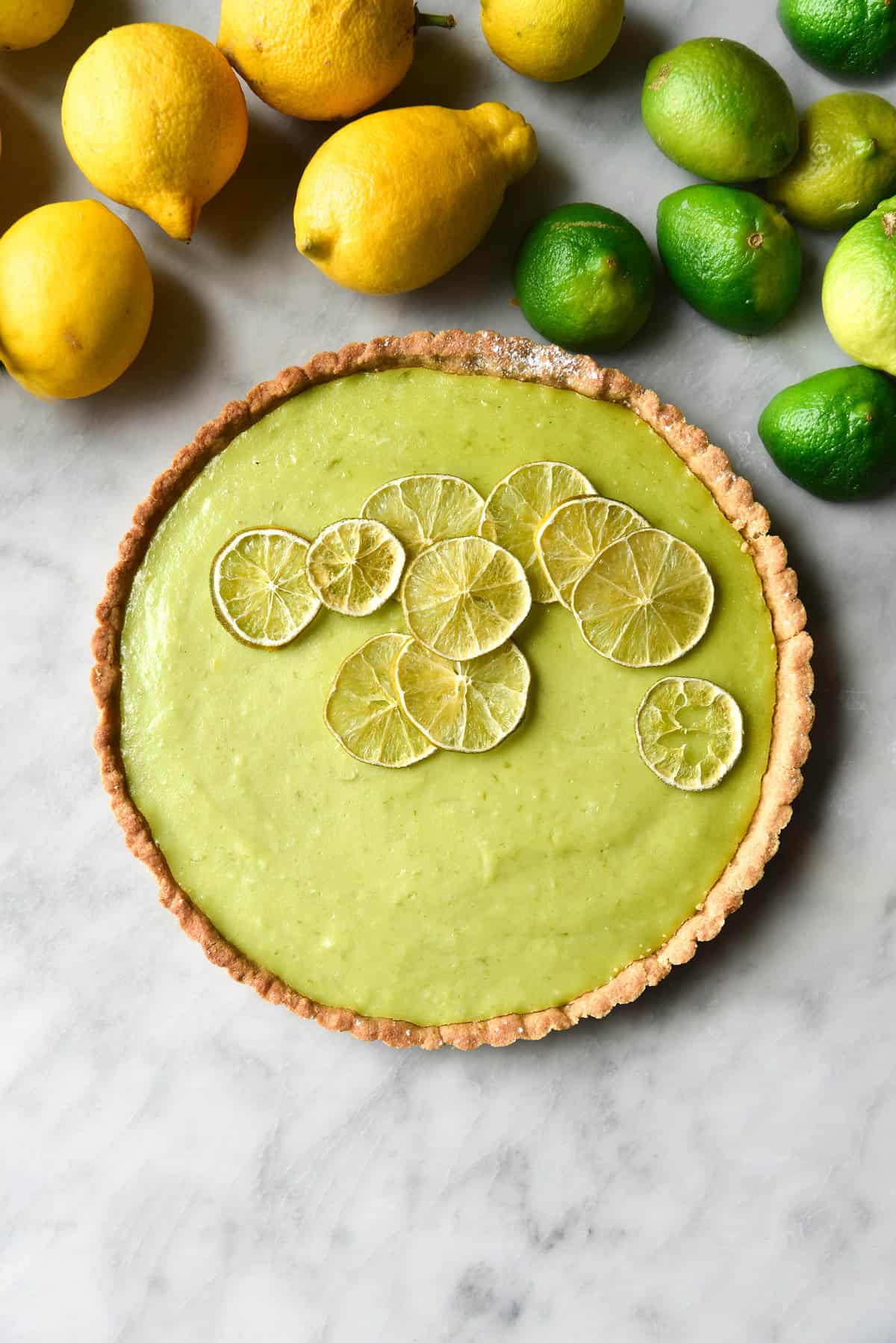 Gluten free lime curd tart with a Graham cracker crust
The curd recipe is dairy free, using coconut oil as a replacement for butter. I said it in the cookbook and I'll say it again: I prefer a dairy free curd. While I can honestly eat butter by the spoon, I find it overpowers and dulls the bright citrus flavour. And while I'm not generally a huge coconut oil fan, it is absolutely perfect in this curd. Personally, I can't detect a hint of coconut and that's the way I like it.
As for the crust: the inspiration was finishing off this gluten free graham cracker recipe. It's honestly the tart base flavour I've been missing since going gluten free, so I decided to develop 101 recipes around it. With butter, the crust isn't dairy free. You can, however, use a lactose free butter substitute, if that's your thing.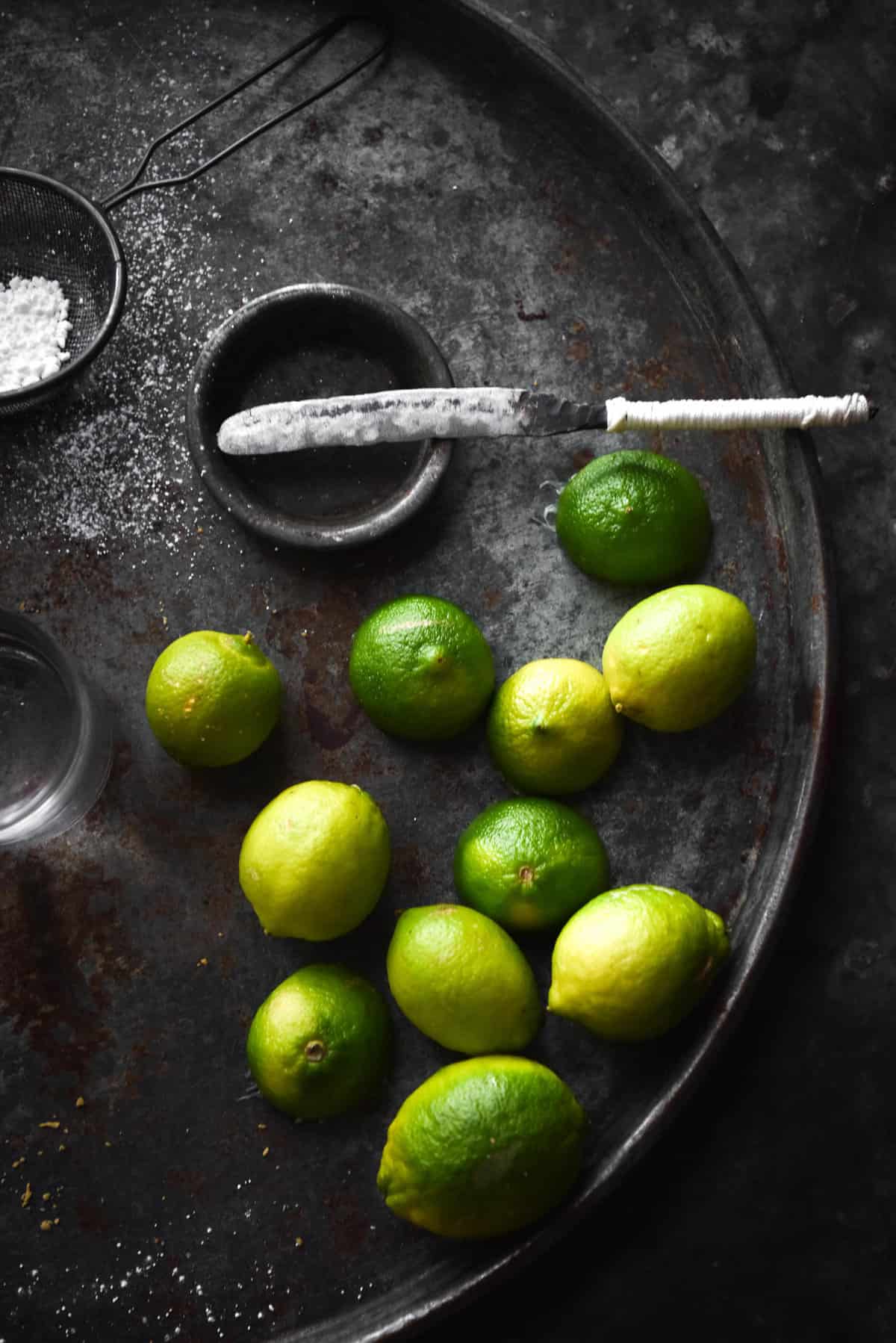 Gluten-free lime curd tart recipe notes
Needless to say, this recipe works with both lemons and limes – whatever you have on hand.
I will unashamedly admit that I used a bit of food colouring to make my curd a brighter green. Let a girl live! You could use spirulina for a natural colour, or you can just omit it. It will obviously still taste delicious.
Rubbing the citrus peel into the sugar before using it goes such a long way in developing the lime flavour. You can even leave it to do it's thing for half an hour or more, if you have the time.
There is the option to make the curd ahead of time, if you'd like. You can also use the curd for other things – on it's own or even in a cake (like my gluten free version of Nigella's courgette cake).
Currently, I have no egg free options for the lime curd. A vegan version is in the works, however, so hang tight.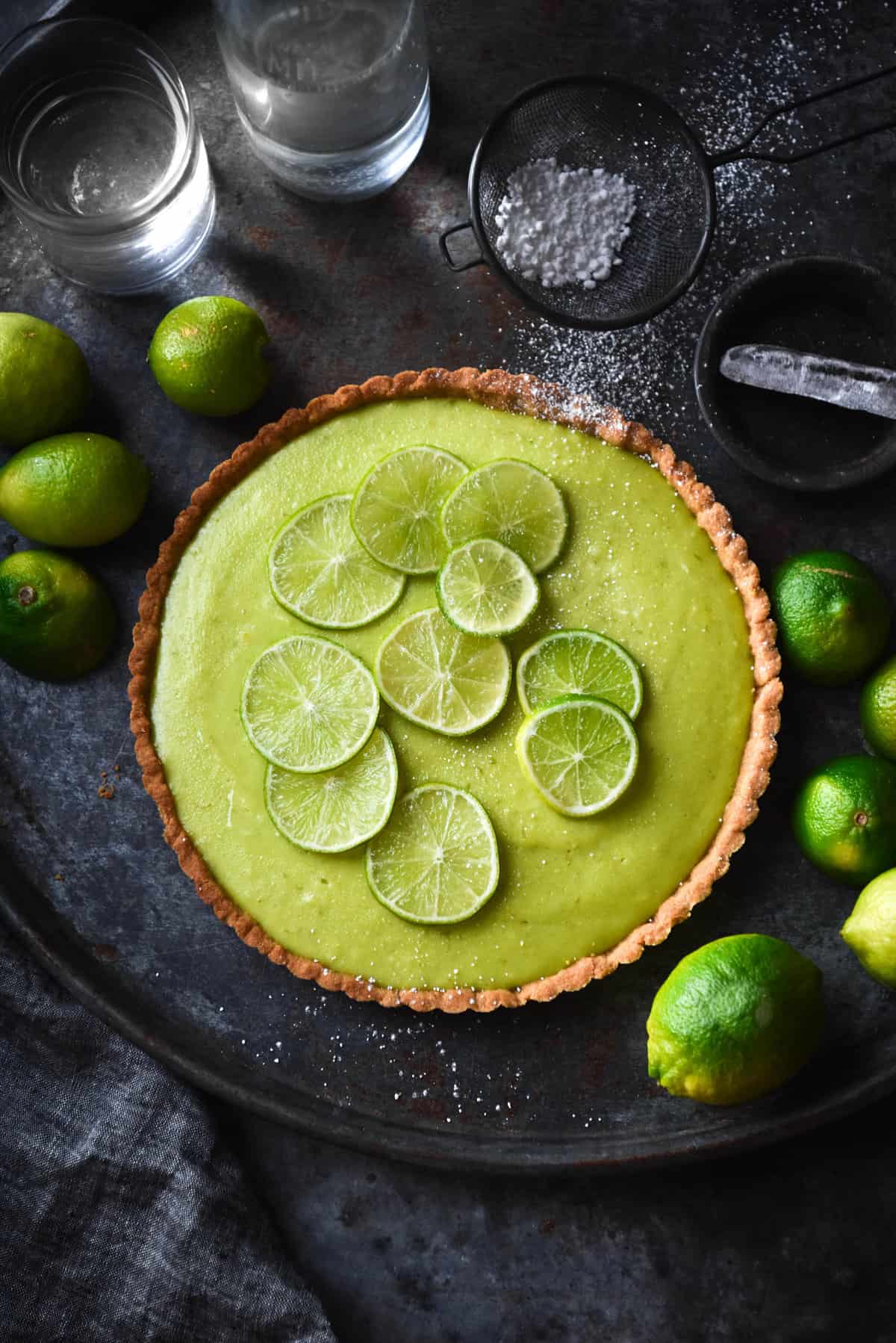 Gluten free Graham cracker pie crust notes
The crust recipe is very closely modelled on my gluten free graham crackers, sans brown butter. I designed the crust recipe so that there's no need to bake the crackers and then smash them into bits for a crust, because who has time for that?
As mentioned, you can use a butter substitute in place of the butter if you need the tart to be completely dairy free.
Rice malt syrup is a suitable replacement for honey, if you'd prefer it.
There is a vegan graham cracker recipe on the site, but I haven't yet converted that into crust format. Stay tuned.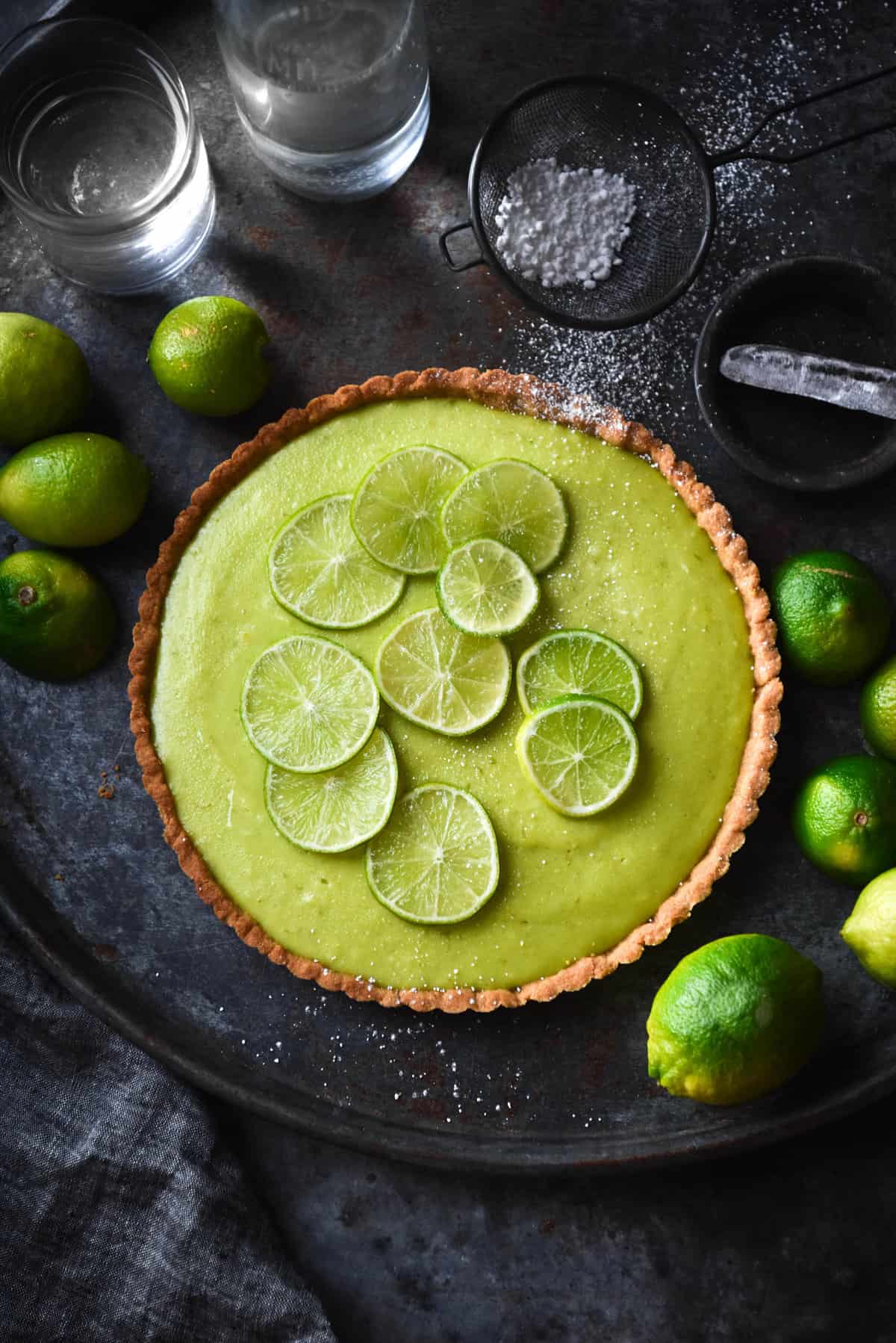 More lactose free gluten free recipes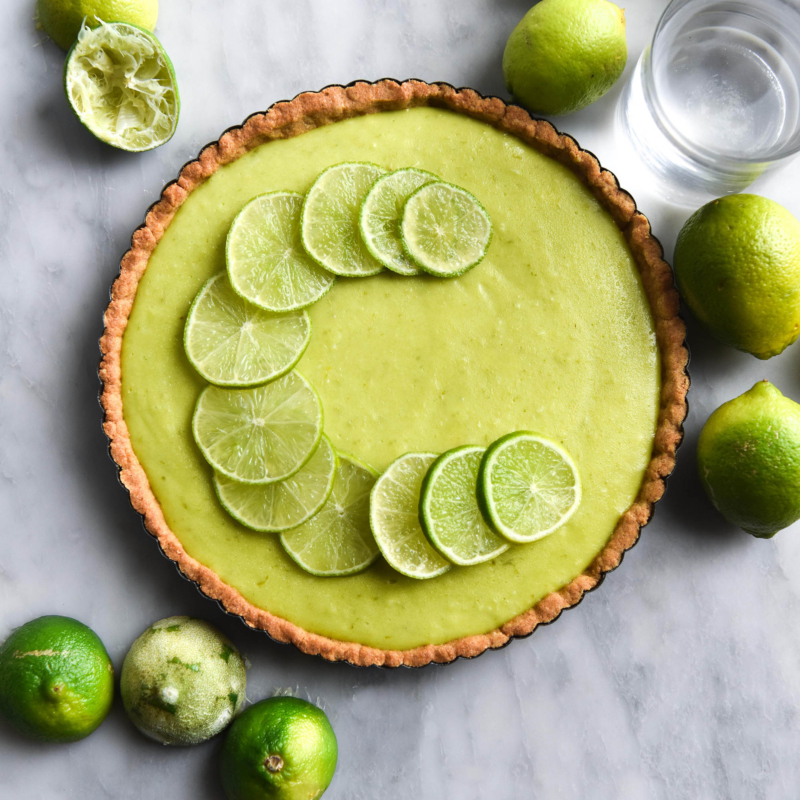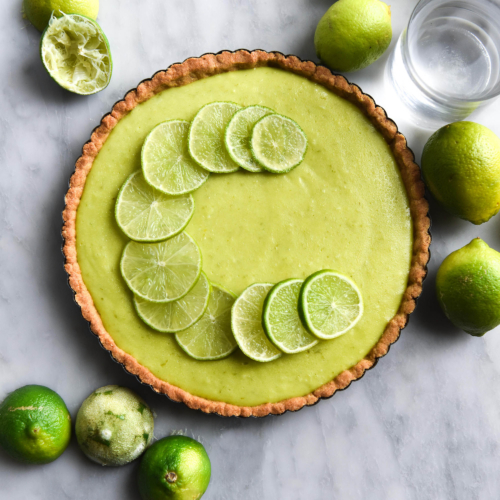 Dairy free lime curd tart with a gluten free graham cracker crust
Gluten free, FODMAP friendly, nut free
Equipment
1 x 26cm fluted tart tin with 2.5cm edges. The edges can be higher but the pastry and curd fit perfectly in this sized fluted tart tin
Ingredients
For the gluten free graham cracker tart base:
100

g

tapioca flour

40

g

(1/4 cup) brown rice flour

50

g

(just under 1/2 cup) toasted quinoa flour

50

g

light brown sugar

1/4

teaspoon

xanthan gum

1/4 – 1/2

teaspoon

cinnamon

1/4

teaspoon

fine salt

115

g

butter or butter substitute

cold and cubed

1

extra large egg

1/2 – 1

tablespoon

honey

1-3

tablespoons

cold water, just to bring the dough together
For the dairy free lime curd:
110

g

1/2 cup caster or white sugar

Zest of 1 large lime

180

ml

3/4 cup lime juice

125

ml

1/2 cup melted coconut oil

4

extra large eggs

1

egg yolk

Green food colouring

about 4 drops if you're into that
Instructions
To make the graham cracker crust:
In a large mixing bowl, combine the dry ingredients. Add the cubed butter, and use your hands to rub it into the flour until it resembles dry, wet sand. This should take around 5 minutes. Unlike pie dough, we don't want big chunks of butter, so take your time to rub it all in.

Add the egg, honey and water and use your hands to bring the dough together. It will be very sticky. Once the dough is completely combined (with no dry spots) gather it into a ball and press it together. Place the pastry into an airtight wrap and press it into a circular pat. This will make it easier to roll out later. Place this into the fridge for about 30 minutes.

Preheat the oven to 180C or 356F.

You can either press the pastry straight into the fluted tart tin or roll it out and lay it in. The former is straightforward, but the latter should be done between two sheets of baking paper – the dough is sticky. Any time you're having trouble, place it back in the fridge for 10 minutes.

Roll the pastry reasonably thin, and a little larger than the rim of the fluted tart tin. Peel the top layer of baking paper off, and then carefully invert the pastry into the tart tin. Press the edges gently into the corners of the tin. Here, I find it useful to place the pastry back in the fridge for 10 minutes – this makes it easy to peel the last layer of baking paper off. Once off, use your hands to neaten the crimped top of the pastry and patch up any holes as necessary.

Once the mixture is neatly pressed into the tin, use a fork to poke steam holes in the base. These will prevent the shell from puffing and cracking as it cooks.

Place the tart shell on a baking tray and into the oven for 25 minutes. The baking tray will ensure you don't crush the sides as you take it out of the oven.

Once cooked, allow to cool a little while you make the curd. It's fragile as it cools so be gentle.
To make the lime curd:
Place the sugar and lime zest in a medium heat proof bowl. Use your fingers to rub the lime zest into the sugar. Set the bowl over a small saucepan 1/4 filled with water over a low-medium heat. Ensure the water won't touch the bowl.

Add the remaining ingredients and whisk to combine. It will take a few minutes for them to come together. Once they do, continue whisking for 5-10 minutes, or until the curd has thickened and will coat the back of a spoon. As soon as it does, remove it from the heat. If you're cautious, you can plunge the bowl base into an ice or cold water bath to stop the curd from cooking. I don't generally find that necessary, but each to their own.
To finish:
Pour the curd into the tart shell (still on the baking tray) and use the back of a spoon to smooth out any dimples. Place the tart into the oven for 10-15 minutes, just to set the curd.

Allow to cool completely before slicing and serving. Keeps well in the fridge for a few days.