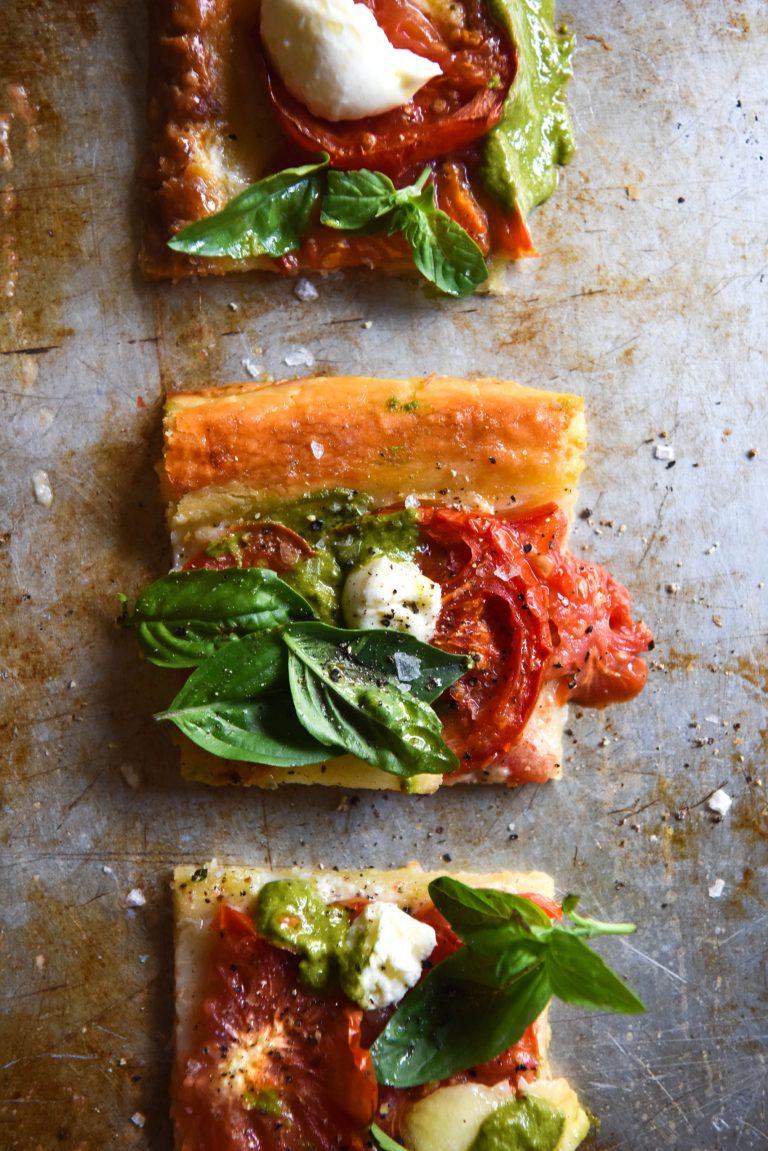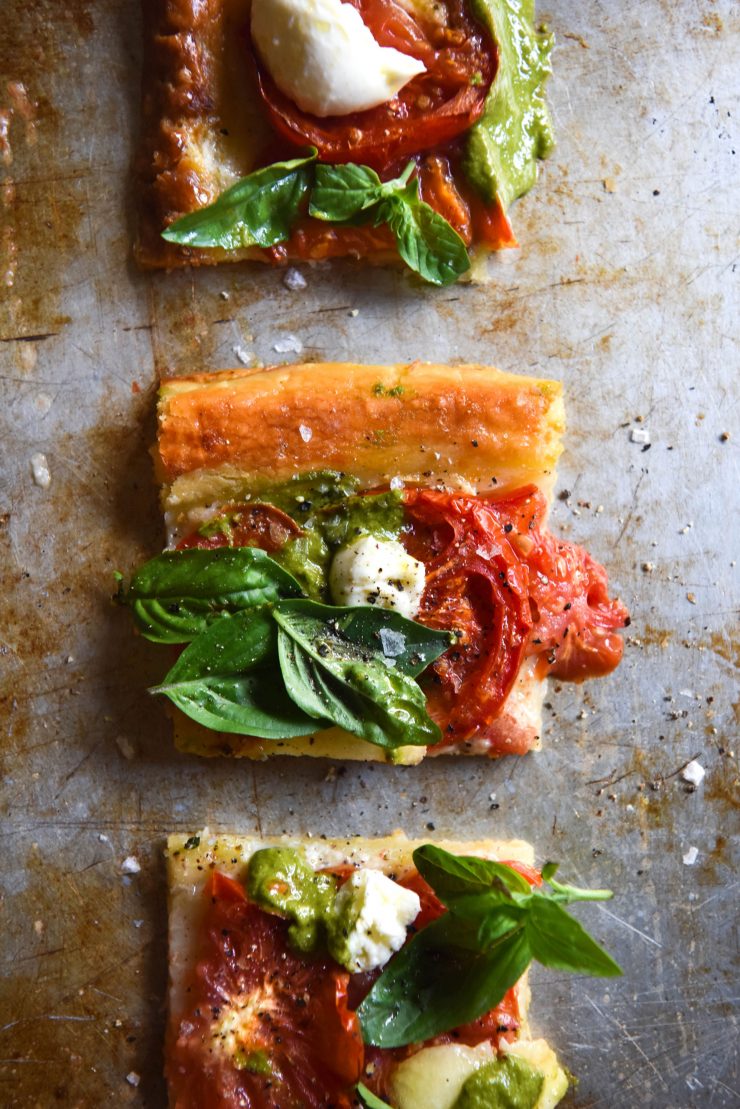 I told you I'd be back with more pastry recipes, didn't I? After testing recipes on some guinea pigs (aka friends) at Friendmas, I've got a new pastry recipe to share. Say hello to your festive, dietary requirement hail Mary: the gluten free tomato tart.
Friendmas taught me a few things this past week. Firstly, it's probably impolite to refer to your friends as guinea pigs. Secondly, oven real estate is truly a challenge when you're cooking everything for a meal. Thirdly and finally, including dishes that can be half-prepped ahead of time is key to avoiding a heart attack on the day. This gluten free tomato tart is one of those recipes.
Gluten free tomato tart with pesto
The pastry for the tart can be made days or weeks ahead and stored in the fridge or freezer. When the time comes, simply bring it to a workable temperature and Bob is your uncle. The tart takes about 15 minutes to roll out and assemble, and takes 20 or so minutes in the oven. It also prevents the last minute realisation that you've not catered for your allergic to life cousin – it is FODMAP friendly, gluten free and easily made nut free. Can I get a hallelujah?
I chose tomato, gruyere and pesto in keeping with it's festive colour scheme. However, you can use basically whatever you fancy. To keep it nice and quick, slice your veg of choice thinly, particularly if you decide to include something like potato or pumpkin.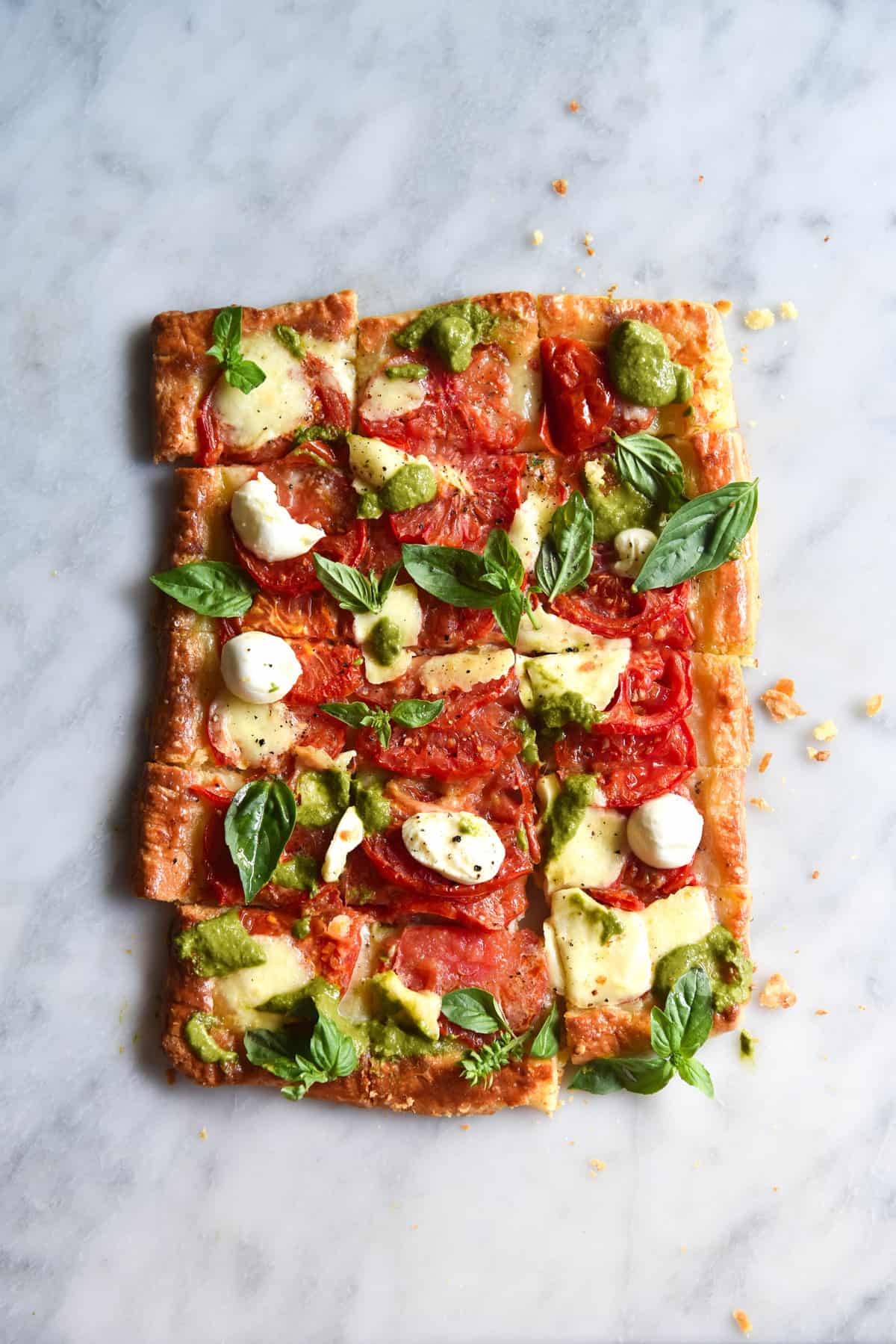 Gluten free tomato tart tips
Hello yes I am a broken record: weigh your flours. I don't make the gluten free baking rules.
If you need some pastry making refreshers, check out my pumpkin pie post for a full rundown or the brie cranberry wreath for a speedy version.
If you can, use good quality tomatoes for this recipe, as they are the star of the show. Same goes with the butter in the pastry – get as good quality as you can afford.
'Folding' the pastry helps to create layers and flakiness, which are important in a flat tart such as this. Here's a handy Youtube link to get a feel for how I generally fold my pastry. There are also two videos below to show you how to make the pastry – regular or 'rough puff' style.
To make this nut free, simply omit the walnuts from the pesto – the result will be a basil oil instead of a makeshift pesto.
Here is the link for the easy FODMAP friendly pesto I used, except I used walnuts instead of almonds. The recipe makes a batch of pesto but I doubt you need help in using pesto up.
FODMAP notes
As discussed in previous posts, there seems to be a lack of lactose free full fat sour creams available in Australia at present. I recommend using the full fat lactose laden version as oppposed to light lactose free sour cream. Light sour cream is a lot less thick and has a higher water content. This means that your pastry will contain more water and be less rich and flaky. Between 12 squares, you'll be eating less than 10g of lactose from sour cream per serve.
Tomatoes are fine, gruyere is fine and the pesto contains no garlic. The rest is smooth sailing, my friends!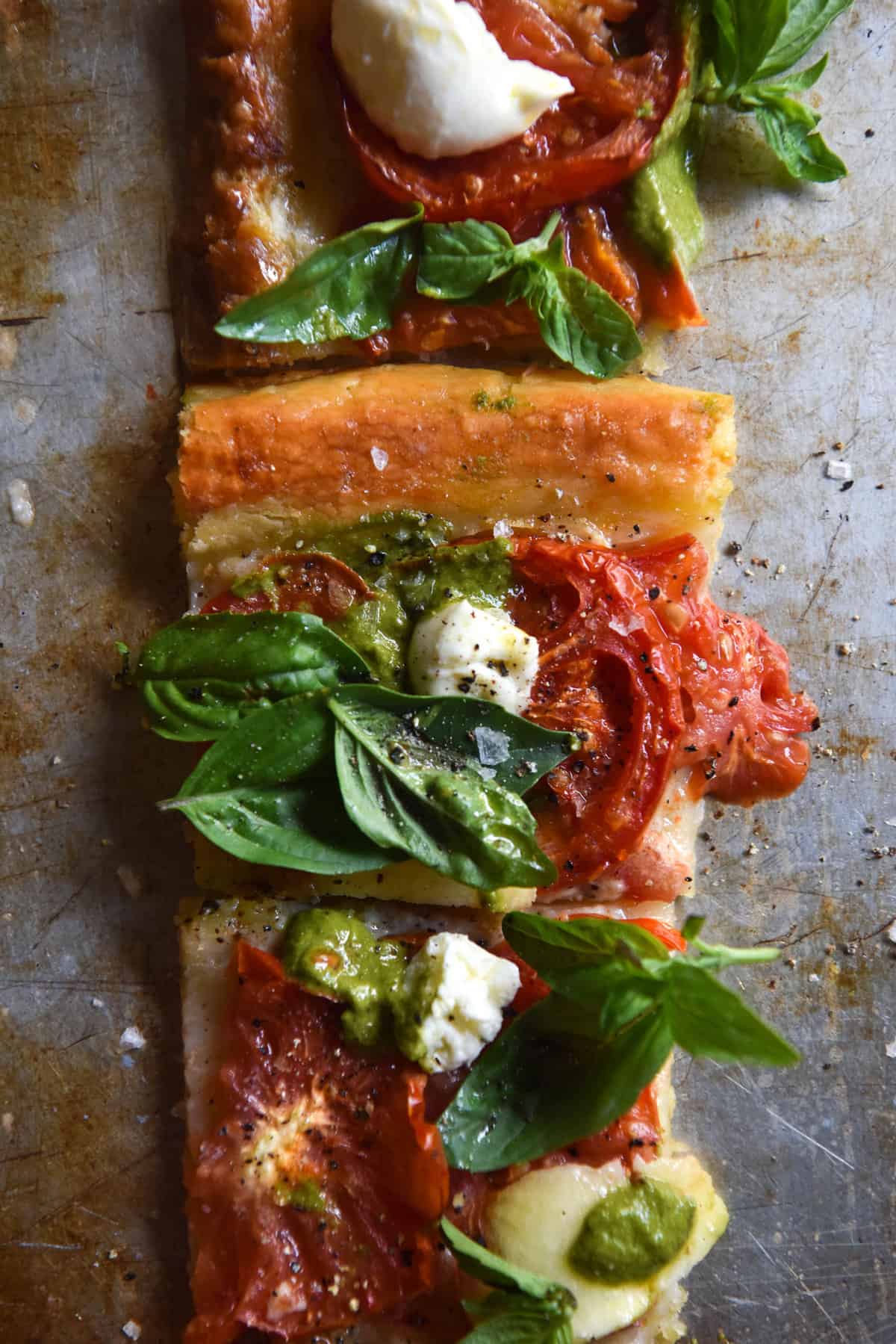 Notes for your gluten free pastry
The original recipe here calls for both tapioca flour and glutinous rice flour, which works well. However, I have discovered that you can also just use tapioca flour.
In terms of the wholegrain options, brown rice flour and sorghum flour work here. I'm yet to try other flours, but I will update the recipe when I do.
As you'll see in my guide to easy gluten free pastry, I LOVE using xanthan gum in this recipe. I'm a big believer in only using it when necessary, and I deem pastry necessary. It works very well without it (all the pictures were taken of a pastry without xanthan) but it is SO EASY to roll it with xanthan included. Not as important for a simple tart shape, but it makes a lot of difference when you're making an ornate pumpkin pie or a brie and cranberry wreath. I assume it would be extremely helpful in a lattice pie, too.
Options for rolling out the gluten free pastry
You have two options for rolling out the pastry: a simple, shortcrust style or a laminated version. They're both delicious – the difference is that a laminated version is flakier, but requires some more rolling out. It's up to you which you want to do as they both work a treat.
Personally, I would be more inclined to laminate pastry for this galette than I would a pumpkin pie. This is because laminated pastry puffs, which can make it tricky to keep the edges of the pie while it bakes. It will still work, it just might be a more of a gamble.
So, I've made some videos of both style of pastry. In case you haven't noticed: they're the same, its just that laminating the pastry has a few extra roll outs and folds.
More tart recipes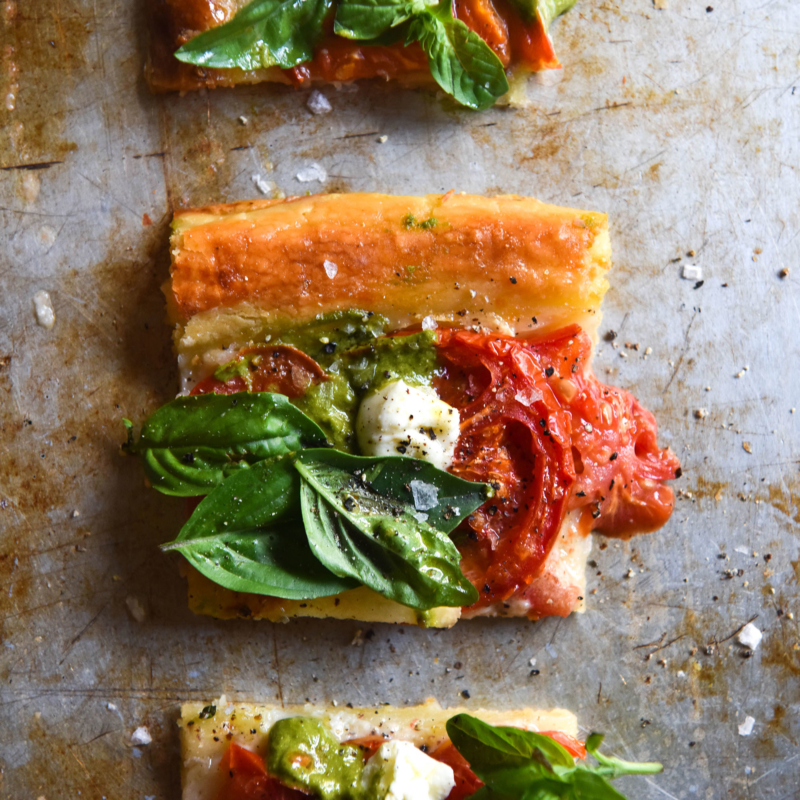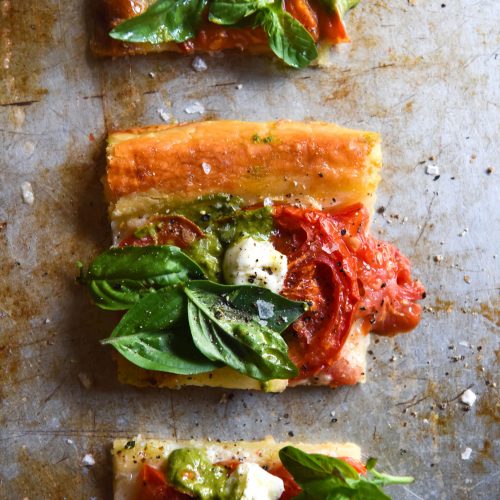 Gluten free tomato tart with gruyere and pesto
Gluten free, FODMAP friendly, adaptable to be nut free
Ingredients
For the pastry:
160

g

(1 cup) fine white rice flour

30

g

(1/4 cup) tapioca flour

30

g

(1/4 cup) glutinous (otherwise known as sticky) rice flour

1/2

teaspoon

fine salt

100

g

cold butter

100

g

full fat sour cream

Ice water only as needed
To finish the tart:
Gruyere cheese

for grating (I'd suggest 50-100g)

3-4

large tomatoes (see notes)

I used Oxheart

FODMAP friendly pesto (see notes for the link)

Extra basil

to top

Freshly cracked pepper and sea salt flakes

to taste

1

egg

for eggwash
Instructions
To make the pastry:
Start by ensuring that all your liquid ingredients are super cold. Put the butter and sour cream in the freezer, and put ice in your water ahead of using it.

Mix the flours and salt together in a large mixing bowl. Add the cubes of cold butter and coat them with the flour mix. Now, use your fingertips to gently rub the butter into the flour mixture. At first it will be slow and difficult, but gradually you'll melt the butter with the heat of your hands and it will start to be more flexible. You don't want to completely melt the butter – just rub it into the flour in little sheets. This is what makes the pastry puffy and flaky.

Think of the hand motion as being the same as the one you make to click. Use your thumbs to push the butter up and back into the bowl. I've linked a couple of Youtube tutorials if you're more of a visual learner.

Once the butter has been rubbed into the flour mixture, it should look a bit like sand that had gotten a little wet.

Next, add the sour cream and use a spoon to agitate the mixture – distribute the sour cream without roughly mixing. Once most of the sour cream has been incorporated, use your hands to gently bring the dough together without smushing the butter bits too much.

Adding liquid here depends entirely on what your dough looks like at this point. If it comes together in a smooth-ish ball with no dry spots, don't add any water. If it is still dry and crumbly, add the ice water, a teaspoon at a time. Use your hands to bring the dough together between each teaspoon, and stop as soon as the dough is smooth.

Tightly wrap the dough in a beeswax wrap (I don't feel comfortable recommending cling film anymore) and place in the fridge for 20-30 minutes. You can make this pastry ahead of time and store in the fridge or freezer.
To assemble the tart:
Take the pastry out of the fridge and allow it to come to a workable temperature. You should be able to mould it with your hands and it shouldn't crack when you roll it out. That said, you never want it to become too warm. If the butter starts to melt at any point, pop it back in the fridge to cool down.

Preheat the oven to 200 degrees Celsius.

Lay the pastry on a large sheet of baking paper that has been liberally dusted with tapioca flour. Roll it out gently (flipping it intermittently to ensure it hasn't stuck) to a large rectangle. The size doesn't matter too much, but eating thick pastry isn't always pleasant so keep it around 1/2 a centimetre or less.

Once you have the pastry in a nice rectangular shape, flip the edges of the pastry up over themselves to create a crust or a lifted edge. Once you've done this all the way around the tart, liberally flour the top, and use a second sheet of baking paper to gently flip it over. You should have a lifted crust around the edges, seam side on the bottom of the tart. Use your hands to define the crust so no tomato falls out.

Dust off any excess tapioca flour if there is a lot. It does help absorb extra liquid though, so leave a little on there (particularly if you have watery tomatoes.)

Finely grate gruyere over the base of the tart, and season with sea salt flakes and freshly cracked pepper. Arrange the tomato slices over the top of the gruyere. You can douse the tomatoes in a little olive oil if you fancy.

Paint the edges well with egg wash before placing the tart in the oven for 20 minutes. After 20 minutes is up, give the pastry another quick paint of eggwash. Turn the oven to the grill setting. If you're adding mozzarella, now is the time to do it.

Return the tart to the oven and allow to cook for 5-10 minutes, watching closely to ensure nothing burns. When the pastry is golden brown to your liking and the mozzarella melted, remove the tart from the oven. Drizzle some pesto over the top before finishing with fresh basil leaves and a little extra seasoning if necessary. Best served while warm, but if you're serving it cold, wait to add the pesto and basil immediately before serving.
Notes
UPDATE:
Monash has recently updated the FODMAP friendly quantity of common tomatoes to 1/2 a tomato per serve if you have issues with fructose. Similarly, the new safe limit of cherry tomatoes is 3 tomatoes per serve. Please keep this in mind if you have previously reacted to tomatoes. If not, business as usual!