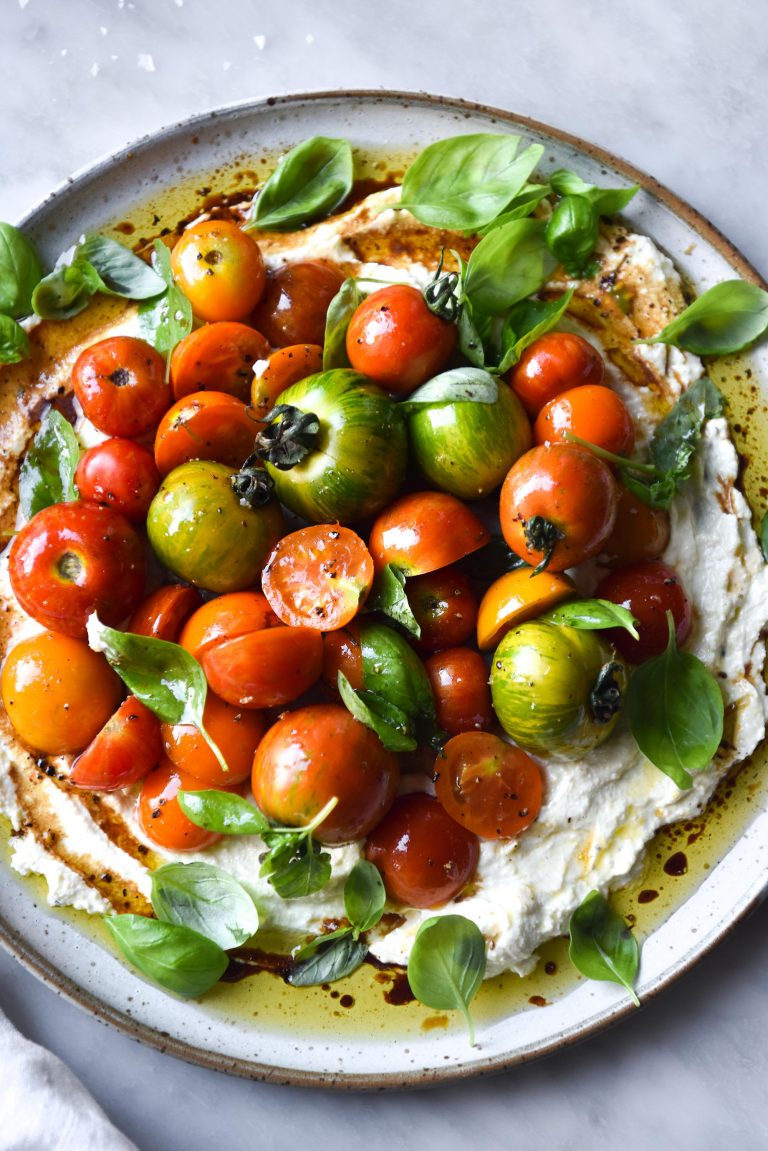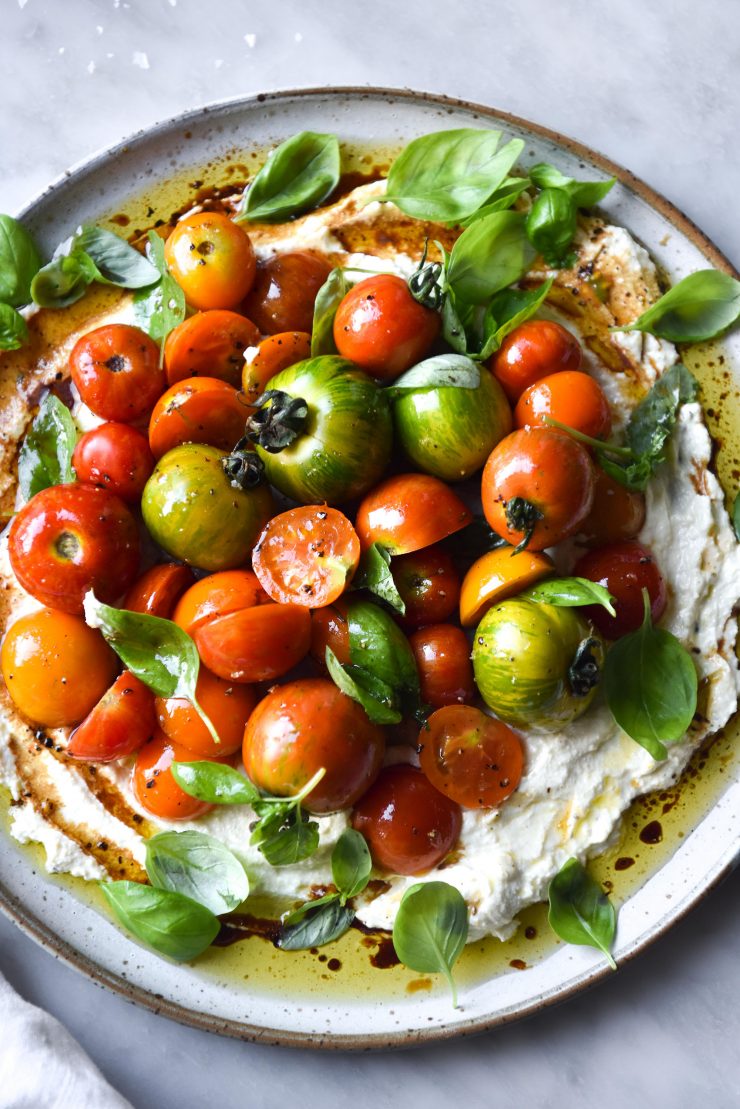 The other week I posted a very simple recipe for lactose free ricotta. Ricotta isn't something that generally makes it onto a FODMAP friendly menu, and I wanted to change that. I have very fond memories of the ricotta laden pasta that got me through my University days, and I wasn't about to let that go. Onto today's recipe, however.
As with the summer tomato pasta I posted recently, this recipe is best with juicy, summer tomatoes. However, if you're on the opposite side of the world: fear not! This lactose free lemon ricotta goes with basically any vegetable, cooked or raw. Simply choose your vegetable, prepare it as see you see fit, and choose a herb to match. If you like a bit of heat, I'd also highly recommend a drizzle of the Aleppo chilli oil from this roasted carrot recipe. Aleppo pepper has a smokey, mild heat which compliments vegetables so nicely.
This recipe is gluten and grain free, FODMAP friendly, lactose free and vegetarian. For a vegan version, I'd suggest making the vegan mascarpone linked in this recipe, and then following the recipe as per the instructions.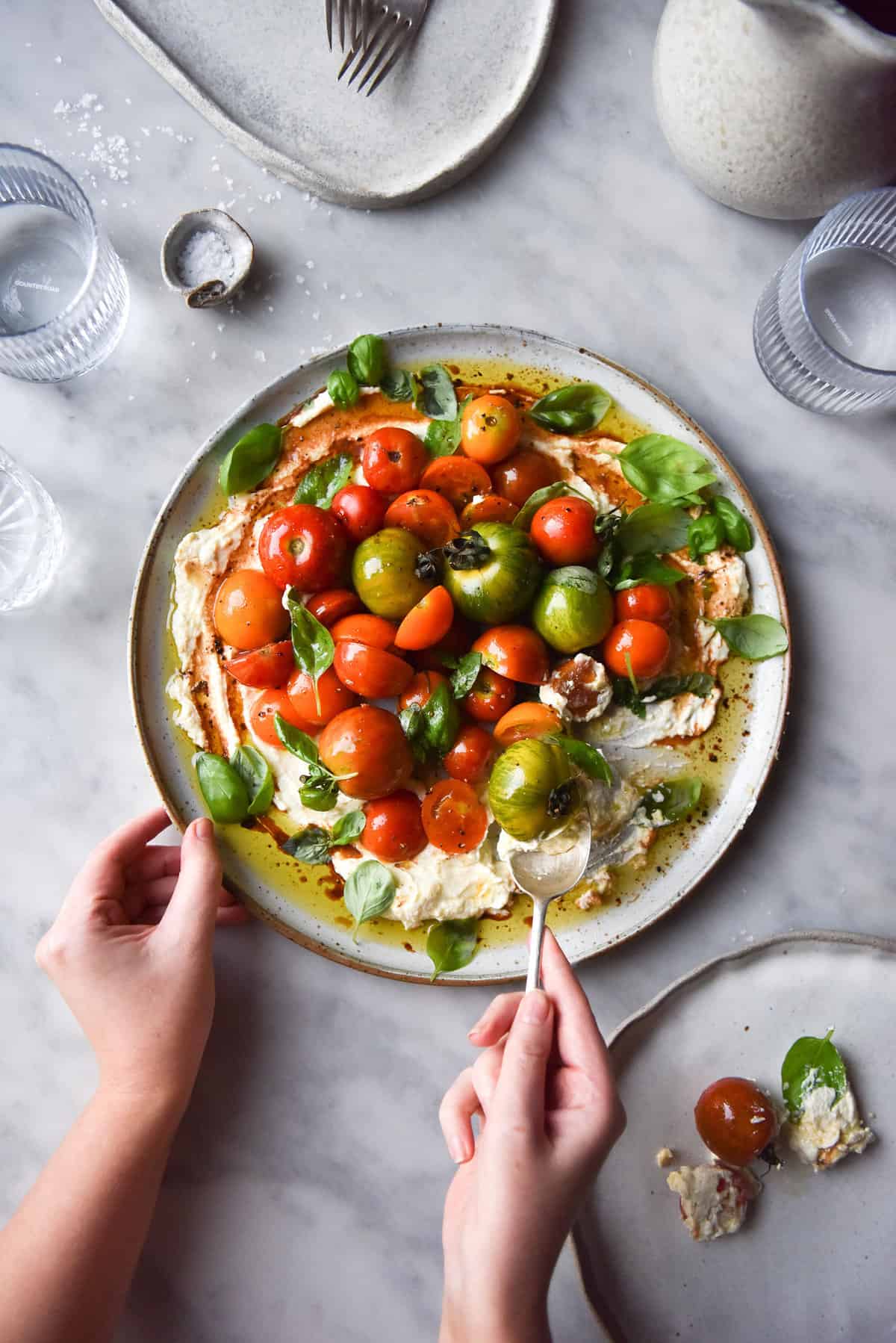 Lactose free lemon ricotta notes
Ricotta is traditionally made using the whey leftover from making cheese, which is then mixed with an acidic component to form ricotta. Here, we're using lactose free full cream milk to create a quick and easy lactose free ricotta style cheese.
Ricotta is quite a high lactose and FODMAP cheese, so this version is a great alternative for those with a lactose intolerance or on a FODMAP diet.
The ricotta can be flavoured with whatever you fancy – herbs, a bit of balsamic, truffle oil or a smoked salt. It is also delicious plain.
How much you drain the ricotta is up to you. If you prefer a runnier ricotta, you don't even need to leave it to drain – simply give it a good squeeze in the muslin cloth or nut milk bag and decant into an airtight container. If you prefer a drier ricotta, leave it to drain for 30 minutes or longer.
The same goes with salt – salt the ricotta according to your taste after you have drained it. The amount listed in the recipe is a suggestion and the salinity level that I prefer.
SAME GOES AGAIN with the lemon zest. Add as much as you fancy (I like a whole lemon's worth) and mix it all up. The longer you can leave it, the more intense the lemon flavour will be. You can also add a bit of lemon juice for a bit of acid.
You can use the leftover acidic liquid in smoothies, pizza bases, curries – basically any cooking process that requires liquid. You can also use it for a handy pre-salted and pre-flavoured water to boil pasta in. It adds a unique tang and a bunch of nutrients from the milk.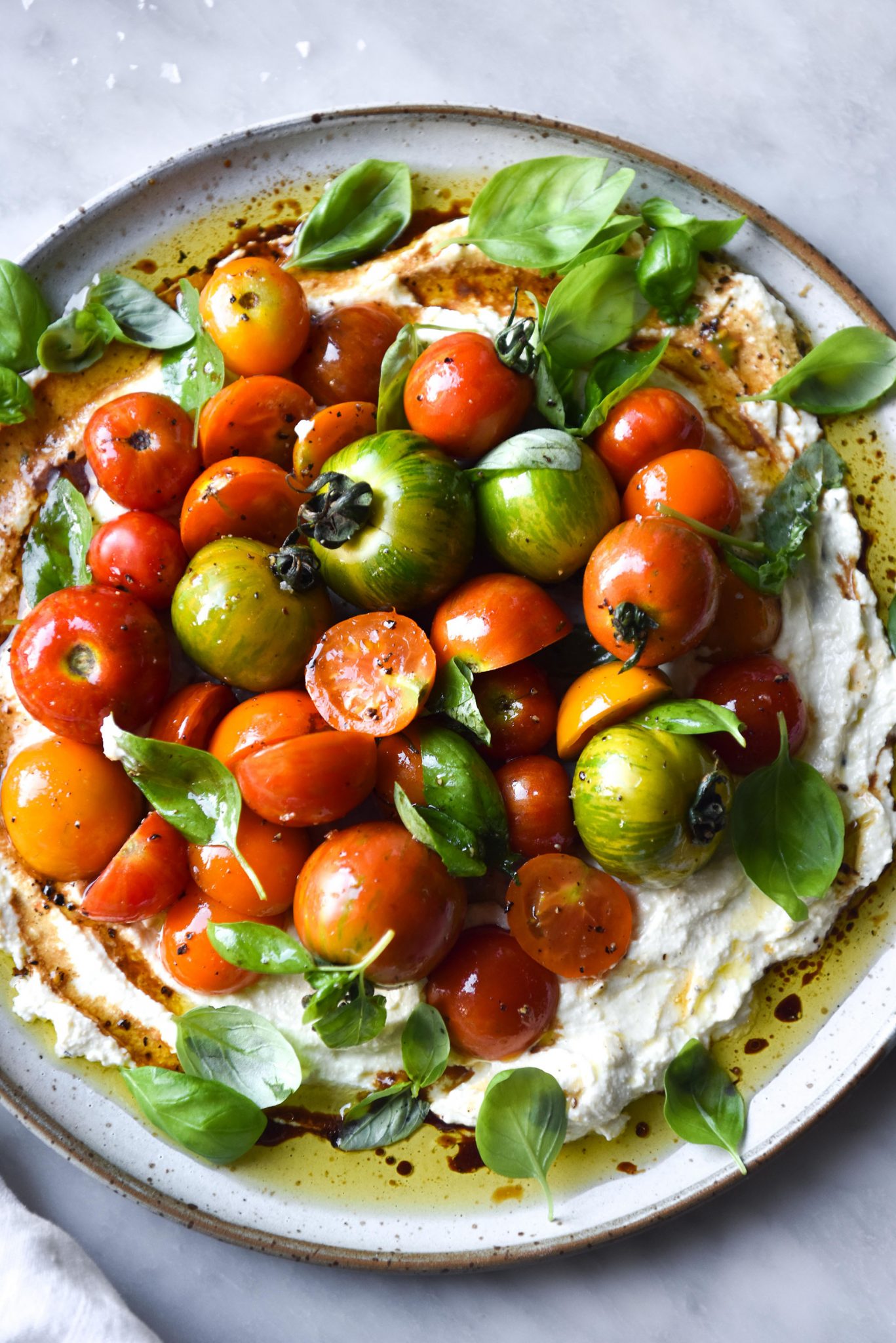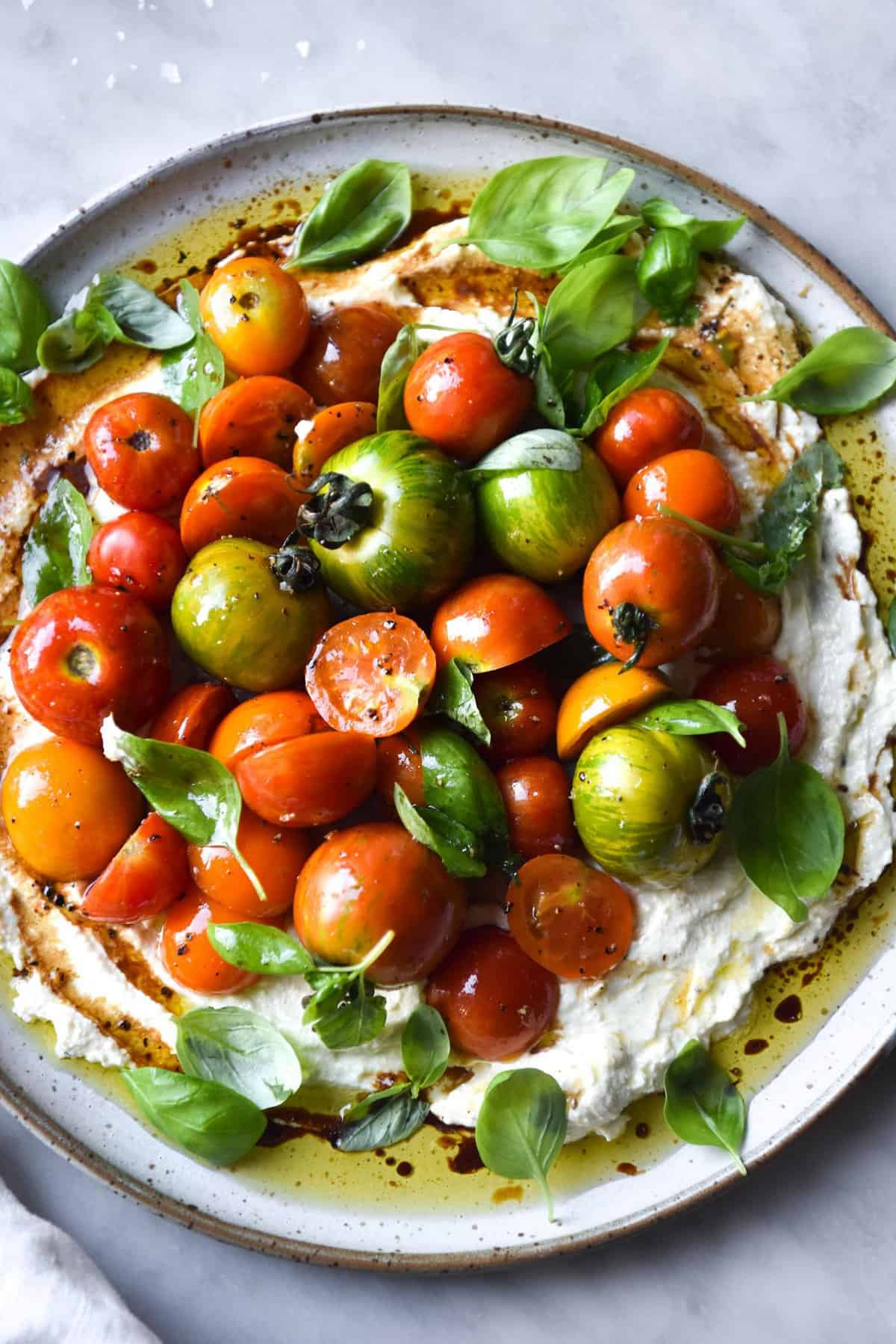 Ricotta making links
This recipe from Gourmet Traveller is a little more advanced, for the ricotta connoisseur. Just make sure you use lactose free milk and cream if you need to.
This 'It's Alive' tutorial with Brad on making ricotta. Any excuse to link an It's Alive episode.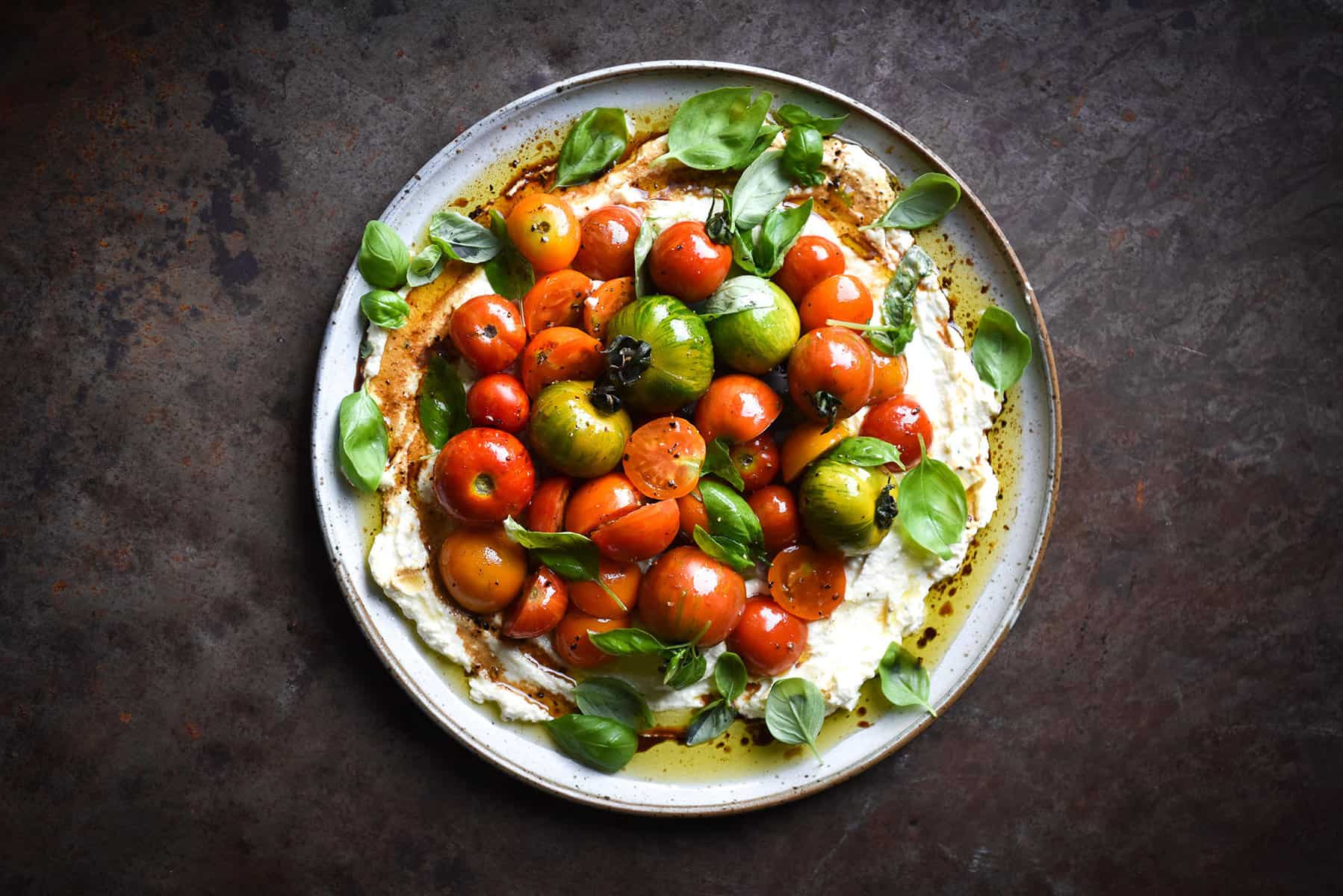 Update:
Monash has recently updated the FODMAP friendly quantity of common tomatoes to 1/2 a tomato per serve if you have issues with fructose. Similarly, the new safe limit of cherry tomatoes is 3 tomatoes per serve. Please keep this in mind if you have previously reacted to tomatoes. If not, business as usual!
More gluten free vegetarian recipes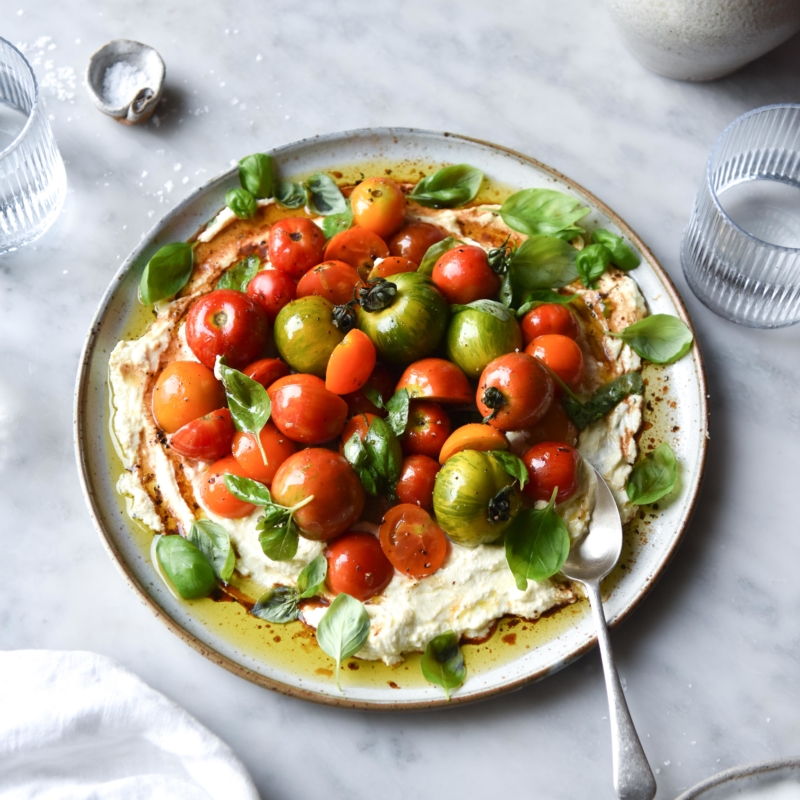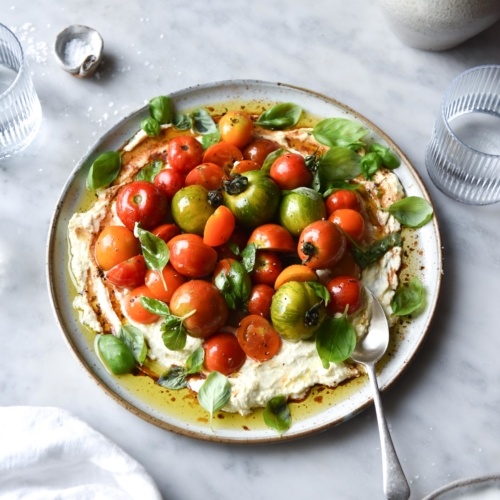 Lactose free lemon ricotta with summer tomatoes and basil
Lactose free, gluten free, FODMAP friendly
Serves 4-6 as a side
Equipment
Muslin cloth or a nut milk bag
Ingredients
To make the lemon ricotta:
1

litre (1000ml) full cream lactose free milk

60ml

(1/4 cup)

lemon juice (you can also use white vinegar or apple cider vinegar but these leave more of an aftertaste than lemon juice)

1/2

teaspoon

fine salt, or to taste

Zest of 1 lemon, or to taste

Freshly cracked pepper, to taste
To finish the tomato salad:
500g

fresh summer tomatoes (I like a mix of chopped and whole)

Good quality balsamic vinegar, to taste

Good quality olive oil, to taste

Freshly cracked pepper, to taste

Sea salt flakes, to taste

Bunch of summer basil
Instructions
To make the ricotta:
Place the milk in a large saucepan over a low-medium heat. Allow the milk to come to a simmer – about 10-15 minutes.

Once the milk is gently bubbling, turn the heat off and remove from the heat and the stove. Add the lemon juice and salt. Stir gently, only just to distribute the acid in the milk. Allow to sit for 15 minutes – the mixture should have curdled and become obvious 'curds and whey.' There should be ricotta like lumps of milk and an semi-transparent lemon coloured liquid

If the liquid is still milky and completely opaque, return the ricotta to a gentle heat until it begins to separate, and then take it off the heat again. You can add a little extra acid (a teaspoon at a time) as an insurance policy, although this might affect the taste of the final product.

Once you have left the mixture to sit for 15 minutes, the mixture should have obviously separated into the two distinct elements. Gently pour the ricotta through a sieve lined with muslin cloth or a nut milk bag. You can discard the whey or use it in smoothies or baking – see notes for a few more ideas.

How long you strain the ricotta is up to you – it depends on how runny you like your ricotta. I like mine on the more spreadable side, so I either give mine a good old squeeze and decant, or strain mine for a maximum of around 20 minutes. Anywhere from 20 minutes to 1 hour is a good ballpark. If you accidentally overstrain, you can add a little milk to loosen it up.

Check for seasoning and add in the lemon zest and pepper. Allow to cool, and if you're not using immediately, store in an airtight container in the fridge.
To assemble the salad:
Place the washed and prepared (chopped or whole) tomatoes in a large mixing bowl. Add the other ingredients according to your taste, leaving some fresh basil leaves for the top. Mix to combine the flavours.

Spread the ricotta over the base of your serving platter, and then top with the tomatoes. Add an extra drizzle of balsamic and olive oil around the edges, and then finish with salt, pepper, extra basil leaves and maybe an extra fine grating of lemon zest.