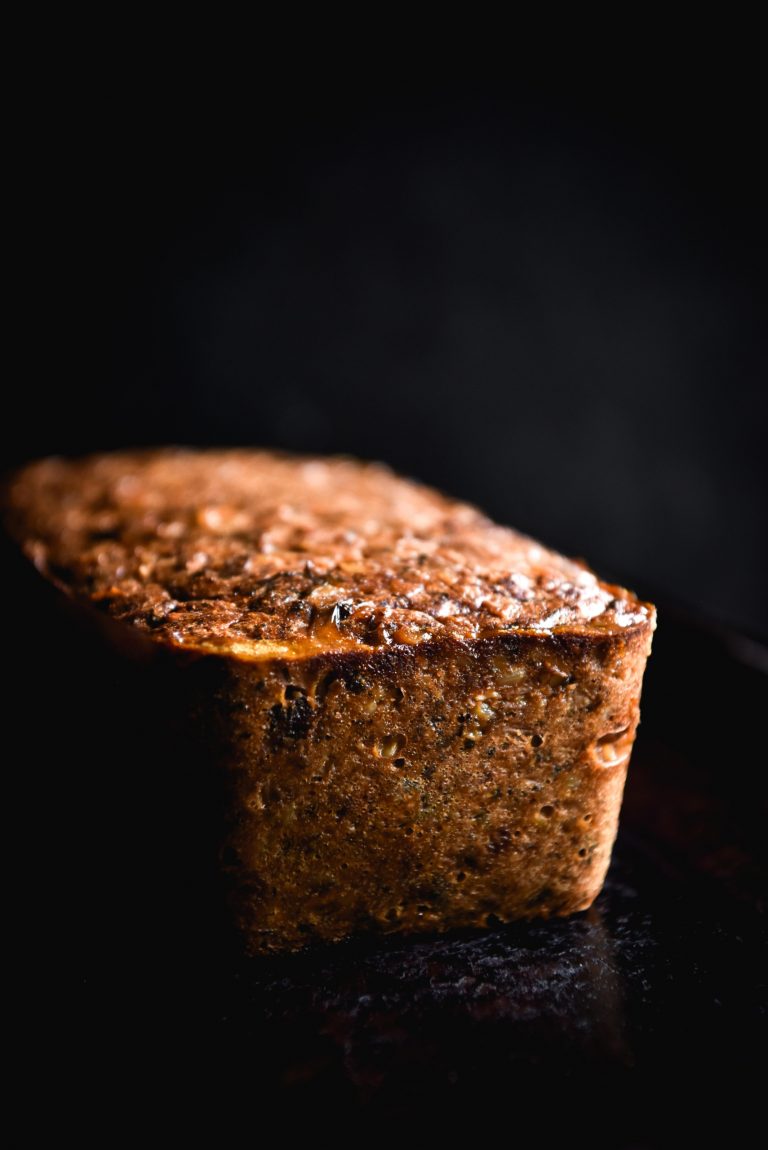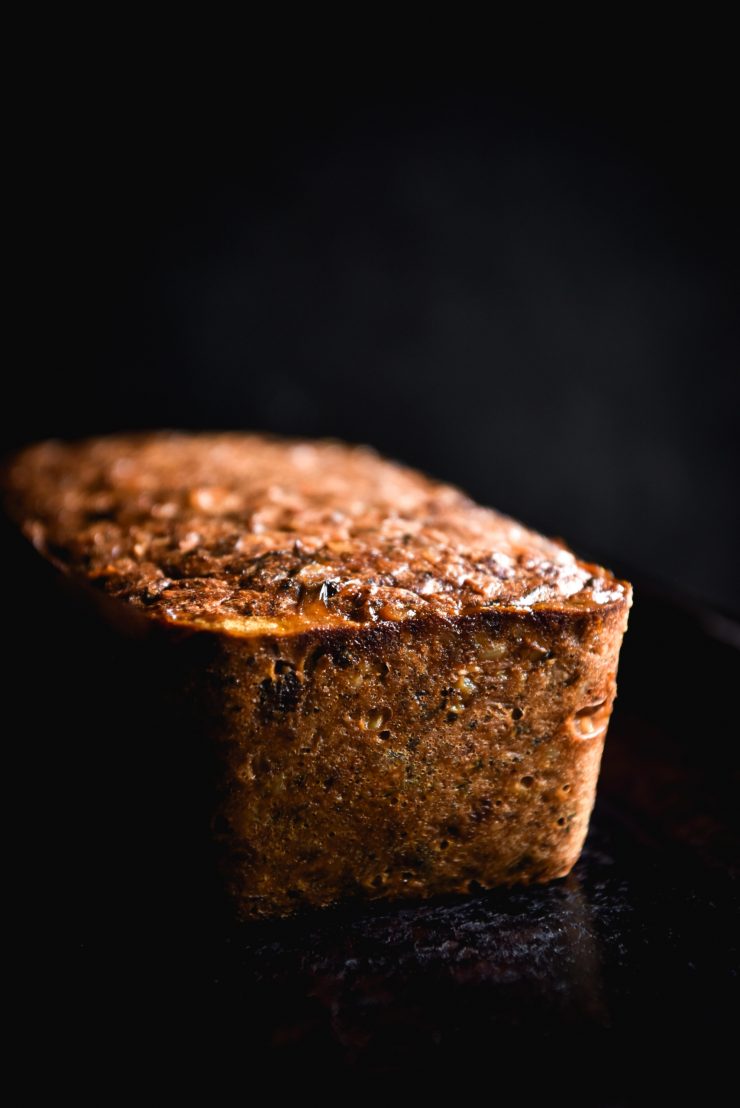 Are we calling it a nut roast or a nut loaf? Google didn't provide me with anything definitive. What it did tell me, though, is that there aren't many FODMAP friendly nut loaf (/roast) recipes around.
I have to say, nut loaf doesn't look overly appetising. As someone who stopped eating meat because of the taste, appearance and texture, it doesn't exactly appeal to my senses. However, with all that said, I can confidently say that this FODMAP friendly nut loaf can win over nut loaf haters and meat eaters alike.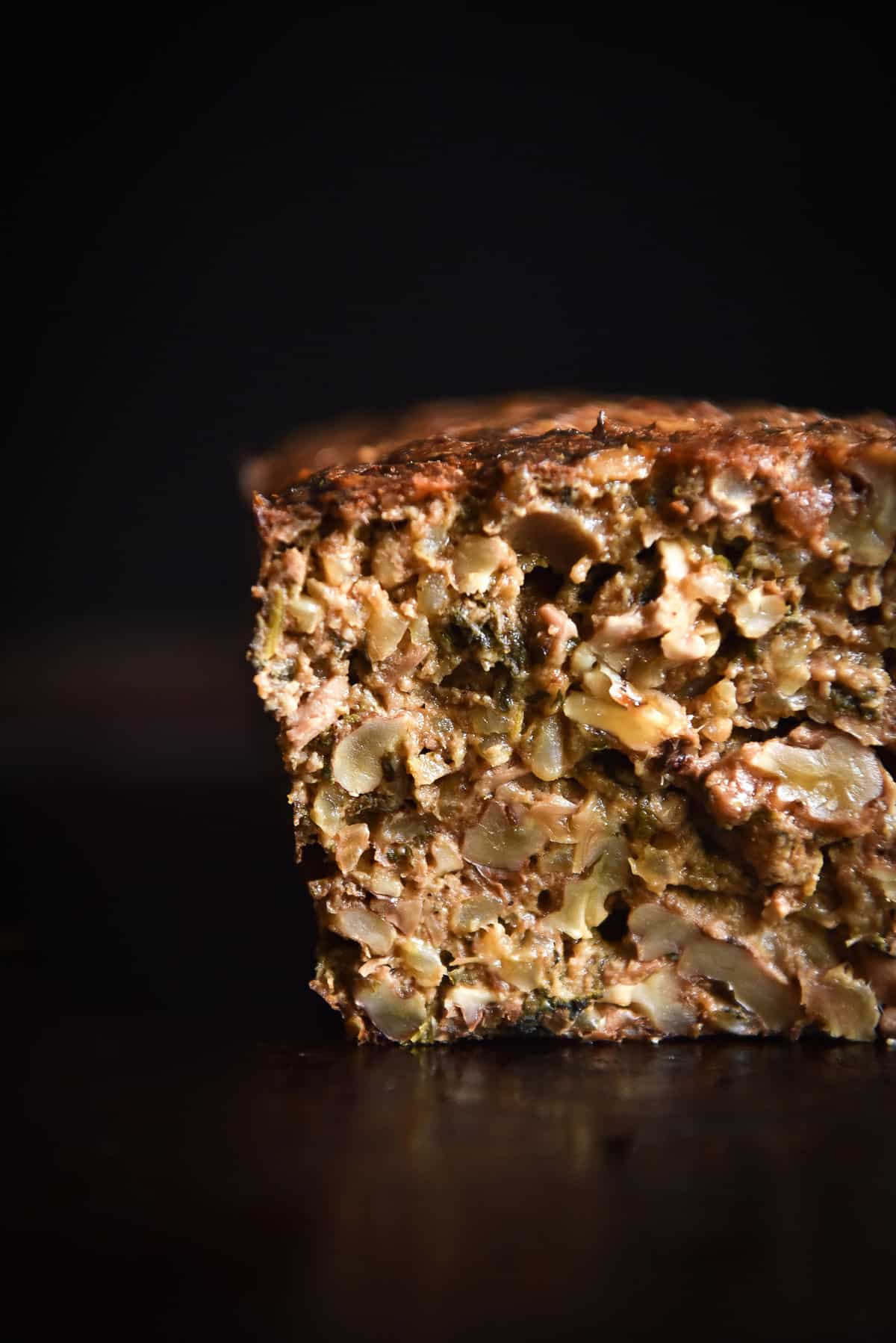 How do you make FODMAP friendly nut loaf?
Great question. Regular nut loaf generally contains onion and garlic as an aromatic base. This is layered with a fair serving of mushrooms (for the umami) and then, obviously, nuts. Some recipes use bread crumbs as a filler and binder, and some use dried fruit?
Obviously, there are a few FODMAP related issues here. Onion, garlic, mushrooms, some nuts, bread crumbs AND dried fruit. Also known some issues with the entirety of the loaf.
So what have I done to make a FODMAP friendly nut loaf? For starters, I have used caramelized fennel as the aromatic base. Fennel is an aromat, like onion, but is much more FODMAP friendly. It gives the nut roast a deeper, stronger flavour, sans FODMAPS.
Secondly, I have used oyster mushrooms, which are considered FODMAP friendly by Monash. They are now relatively easy to get at the supermarket (In Australia, anyway) or at your local Asian grocer.
Thirdly, breadcrumbs be gone! I use psyllium and eggs to bind the loaf together. No bread in sight.
In terms of nuts, I've provided a run down below of what you could experiment with, and what I have experimented with.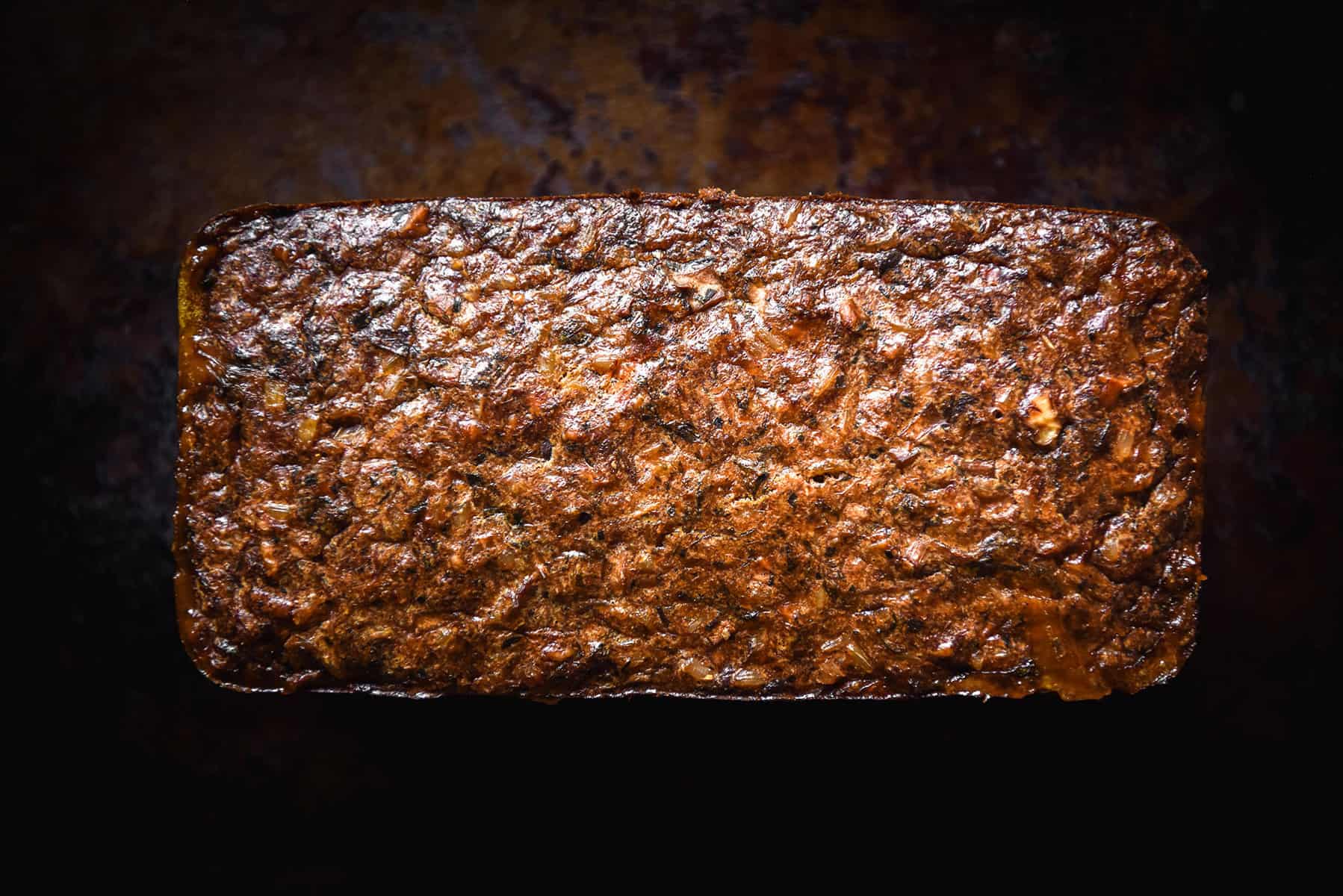 Nut options for your FODMAP friendly nut loaf
Let's talk nuts. Not all nuts are considered FODMAP equal, as you may be aware. My top choices for this nut loaf are walnuts, pecans and pine nuts. The loaf serves 8-10 people, so one cup total of any of these nuts is an acceptable level for a single serve.
I love pine nuts in the wild, but in this instance I found they swelled significantly with the liquid in the loaf. Not a bad thing, and certainly not an unpleasant thing, but if you really want a 'meaty' appearance for your loaf, either chop your pine nuts relatively finely, or use a combination of the other nuts.
Could I make a nut free nut loaf?
I'm planning to test alterations to this recipe for a nut free option. This probably sounds a bit ridiculous given that it's a nut loaf, but I know what it's like to be on a hella restrictive diet. Keep your eyes peeled.
Recipe notes
Make sure your oyster mushrooms are chopped relatively finely. Large chunks of oyster mushroom are a bit slippery and odd, so avoid that by chopping them thoroughly and finely.
The more sage and thyme, the better. Honestly, I see some nut loaf recipes with 2 sage leaves, and it's a no from me. The herbs give the roast a robust and wintery flavour. I recommend finding a grocer that sells them – they are bigger bunches than the supermarket variety, so you're saving plastic and money.
You can buy miso paste at the supermarket these days, or at your local Asian grocer. Make sure it's a legitimate miso paste (not just filled up with sugar and flavourings) and that it is gluten free, if you need it to be. Some miso pastes are made using fermented barley, among other things, so read the label. I currently use genmai, which is a lighter coloured paste made from brown rice flour. It's mild in flavour, and apparently not super traditional, but adds another layer of umami to the nut roast. If you want to suss out other types of miso, this article is helpful.
We're all about layering umami in this nut loaf. Why? Because umami is oft described a meaty flavour, which is what we're trying to emulate.
Yes, it defies rules and logic, but yes, there is vegetarian parmesan on the market. Parmesan often contains rennet as the enzyme (animal stomach) but a lot of Parmesan brands are popping up with an artificial, plant derived enzyme. Read the labels or ask around if you are catering to a vegetarian.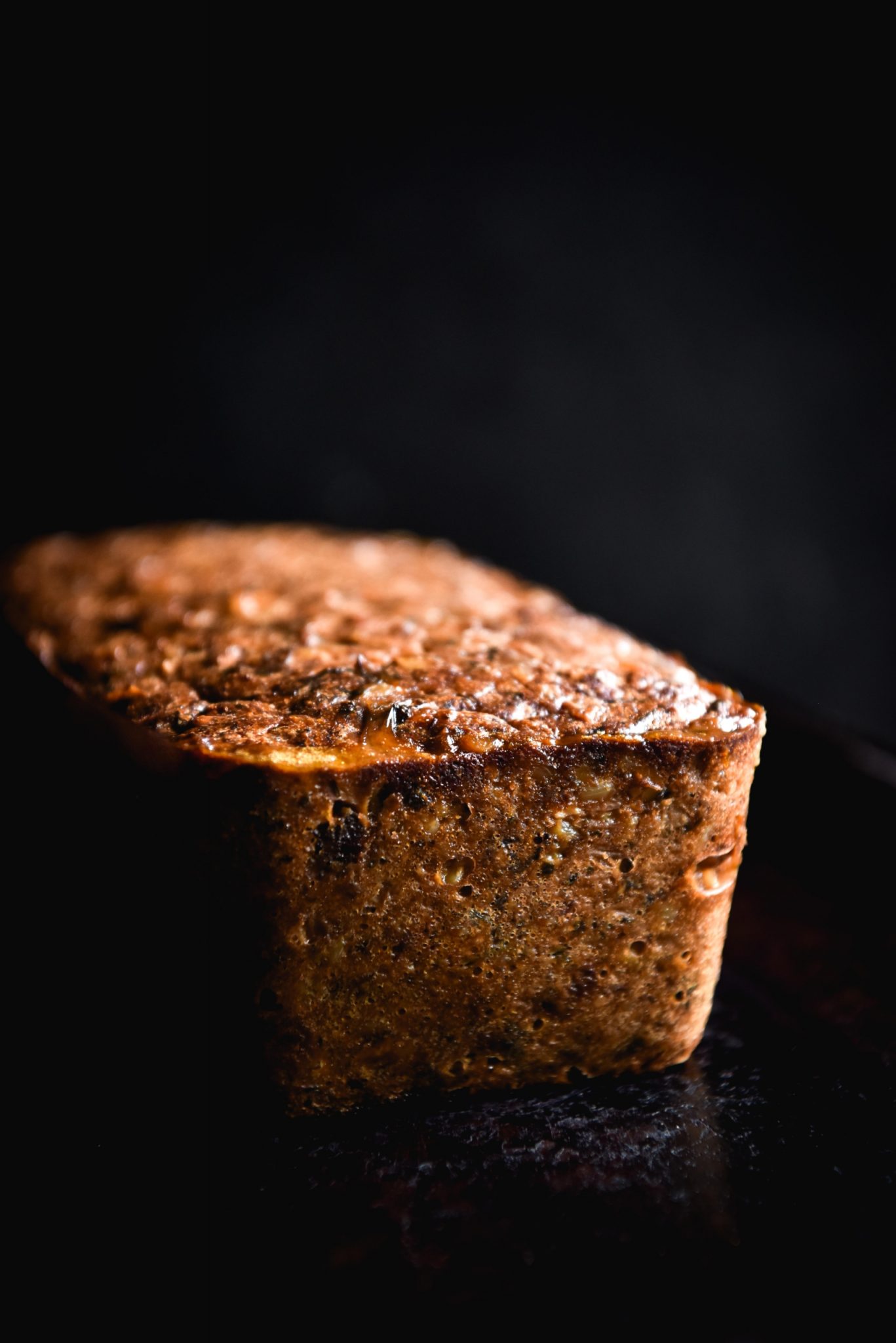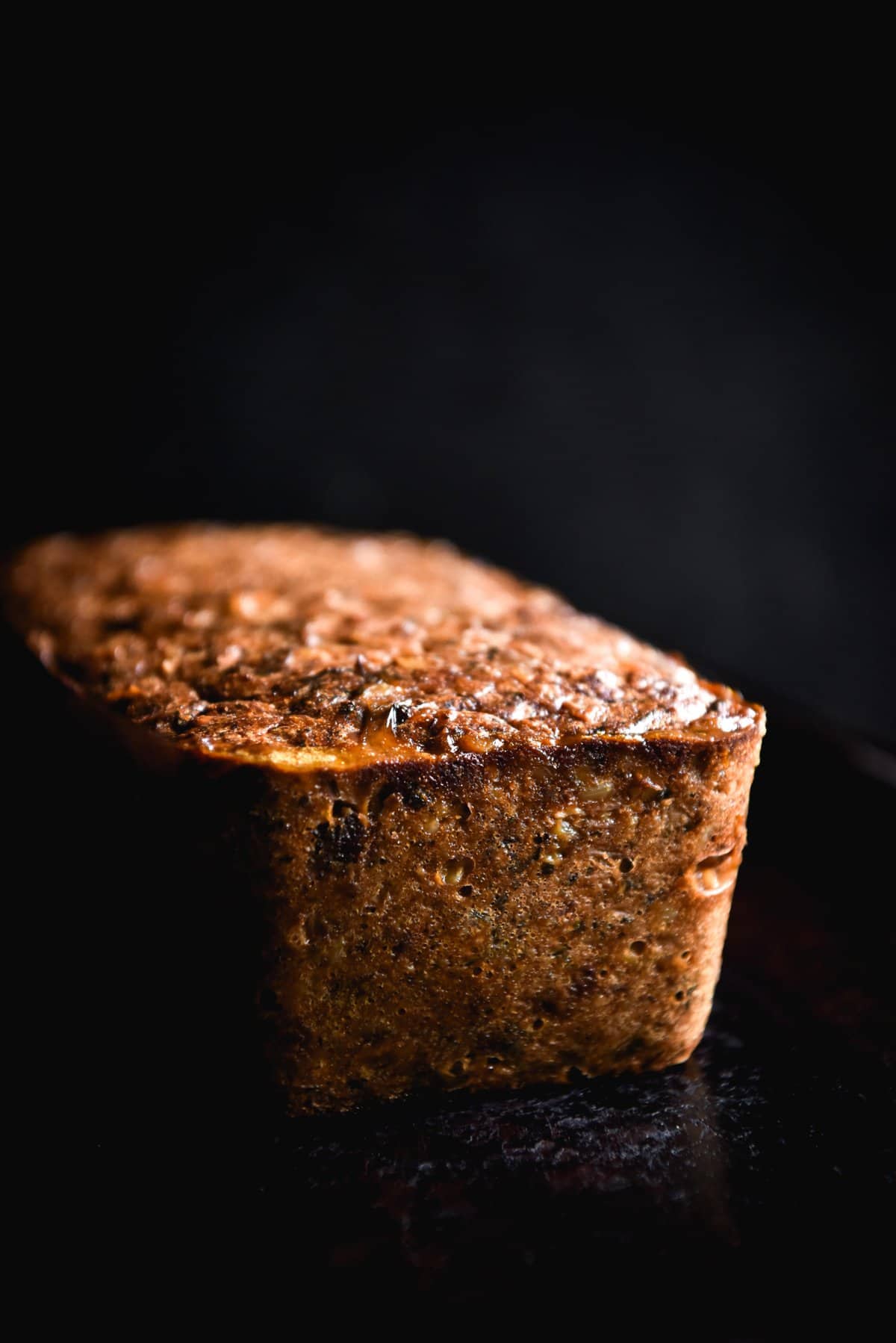 More low FODMAP festive recipes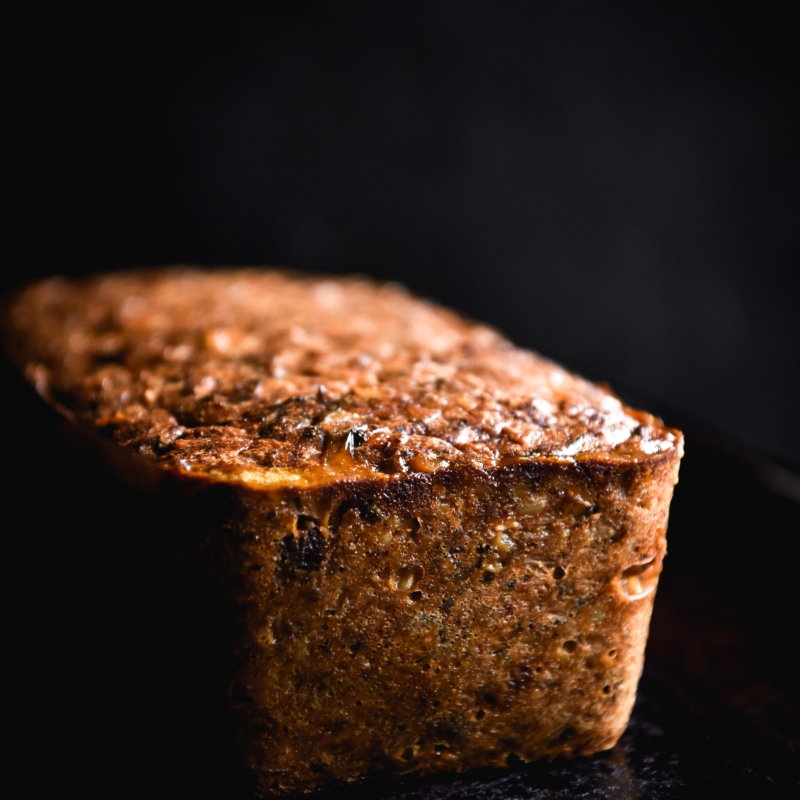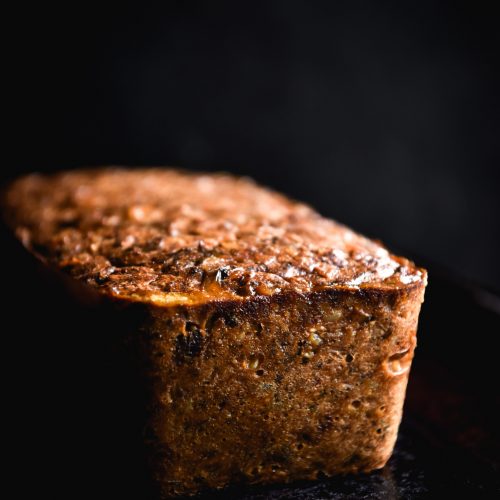 FODMAP friendly nut loaf
Gluten free, FODMAP friendly, onion and garlic free, vegetarian
Ingredients
Good splash of olive oil

1

fennel bulb

finely chopped

2

large bunches sage

1

bunch thyme

1

tablespoon

dried oregano

1

tablespoon

dried tarragon

2

tablespoons

tamari

150

g

oyster mushrooms

finely chopped

1

tablespoon

miso paste

1

cup

boiling water

1 1/2

cups

cooked brown rice

just under 3/4 cups of uncooked brown rice

1 1/2

cups

FODMAP friendly nuts (see notes above)

I used walnuts

3

extra large eggs

100

g

parmesan

50

g

cheddar

1

tablespoon

psyllium husk
Instructions
If you haven't already, prepare the brown rice. I do so by boiling it, because I have spent too many hours scrubbing rice off pots when using the absorption method.

Preheat the oven to 180 degrees Celsius.

Add the generous amount of olive oil to a large heavy bottomed saucepan, and heat over a medium heat. Once warm, add the finely chopped fennel, and turn to a high heat. Cook the fennel until it has taken on a golden colour, and then add the chopped herbs. Lower the heat, and continue cooking for around 15-20 minutes, until the fennel is very soft.

Add the dried herbs and tamari, and continue to cook. If at any time the mixture appears dry (which it will, she thirsty!) add a splash of water, or a splash of oil. Be more frugal with the oil – only use it if you can see it's necessary.

Use the cup of boiling water to dissolve the miso paste, and while it's dissolving, add the tamari to the pan. Stir to coat the herbs, and then follow with the boiling miso water. Stir to combine.

Add the chopped mushrooms to the herb mixture, and allow them to cook until completely soft. Add the rice and nuts and stir to coat and cook off any excess liquid.

Transfer the herb mixture to a large mixing bowl. Add the parmesan, cheddar, psyllium husk and nuts, and stir well to combine.

Add the eggs, and mix very well to combine. If your mixture seems overly runny, add a couple of tablespoons of almond meal. Place the mixture in a nonstick or silicon loaf tin, and gently flatten the top with your hands. Don't push down too much, or the sides will be bulged in your final product.

Transfer on an oven tray into the oven, and cook for 40-50 minutes, or until golden brown on top and firm throughout. Allow to cool for 10 minutes before transferring to a cooling rack. Allow to cool for an additional 15-20 minutes– it is easiest to slice when cool. Keeps in the fridge for a few days, although it will likely be polished off before that point.