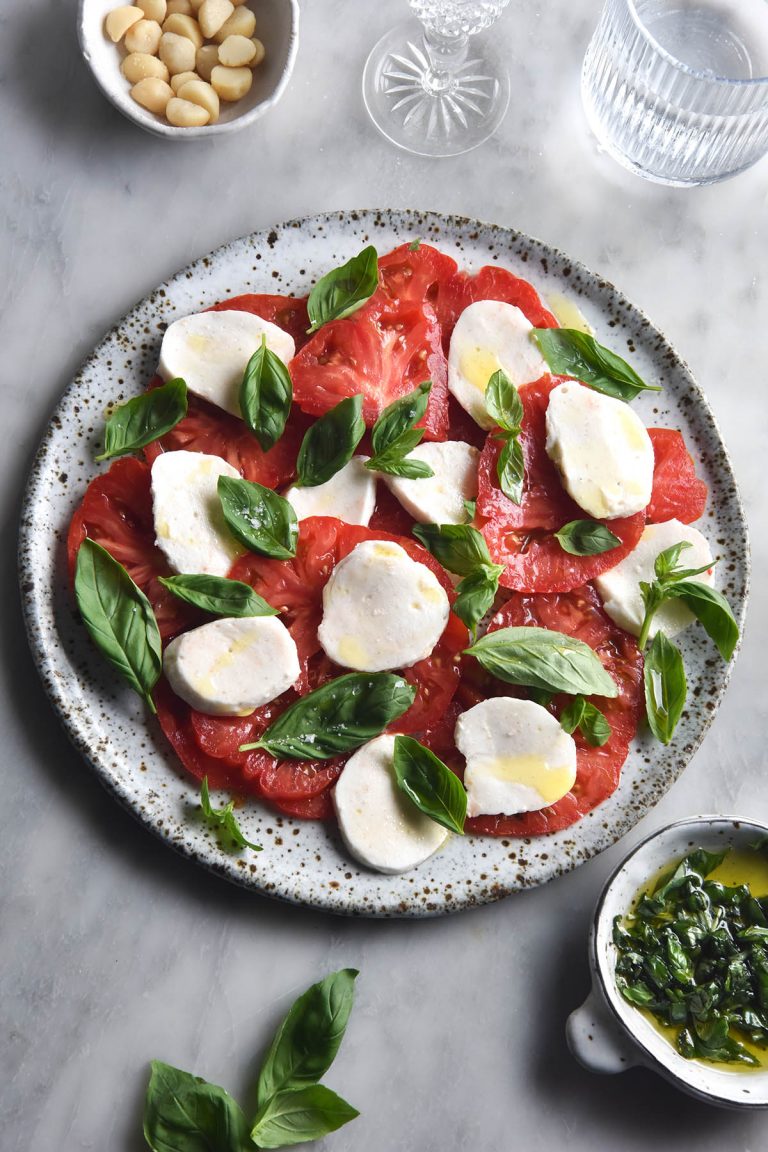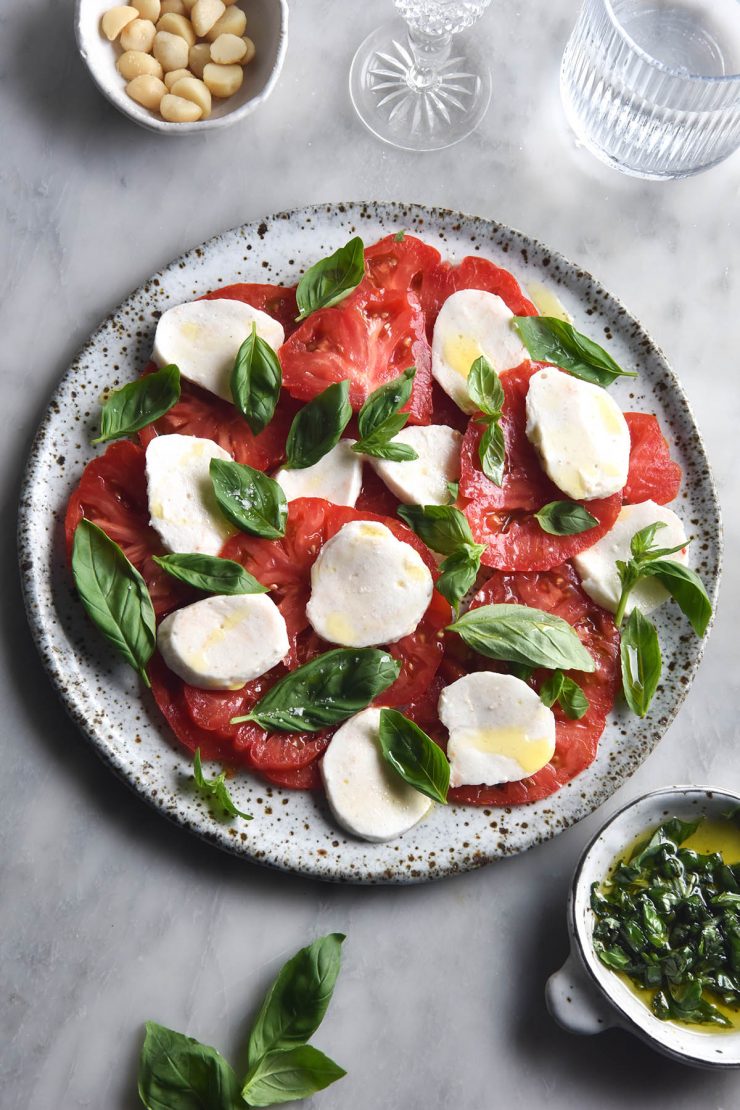 Australian Macadamias recently asked me to develop a recipe for vegan mozzarella using macadamias. For people on a low FODMAP diet, vegan mozzarella can often be off limits. It is generally made with lots of cashews, which are high FODMAP even in small amounts. This delicious, easy cheese uses macadamias for a delicious, low FODMAP vegan mozzarella.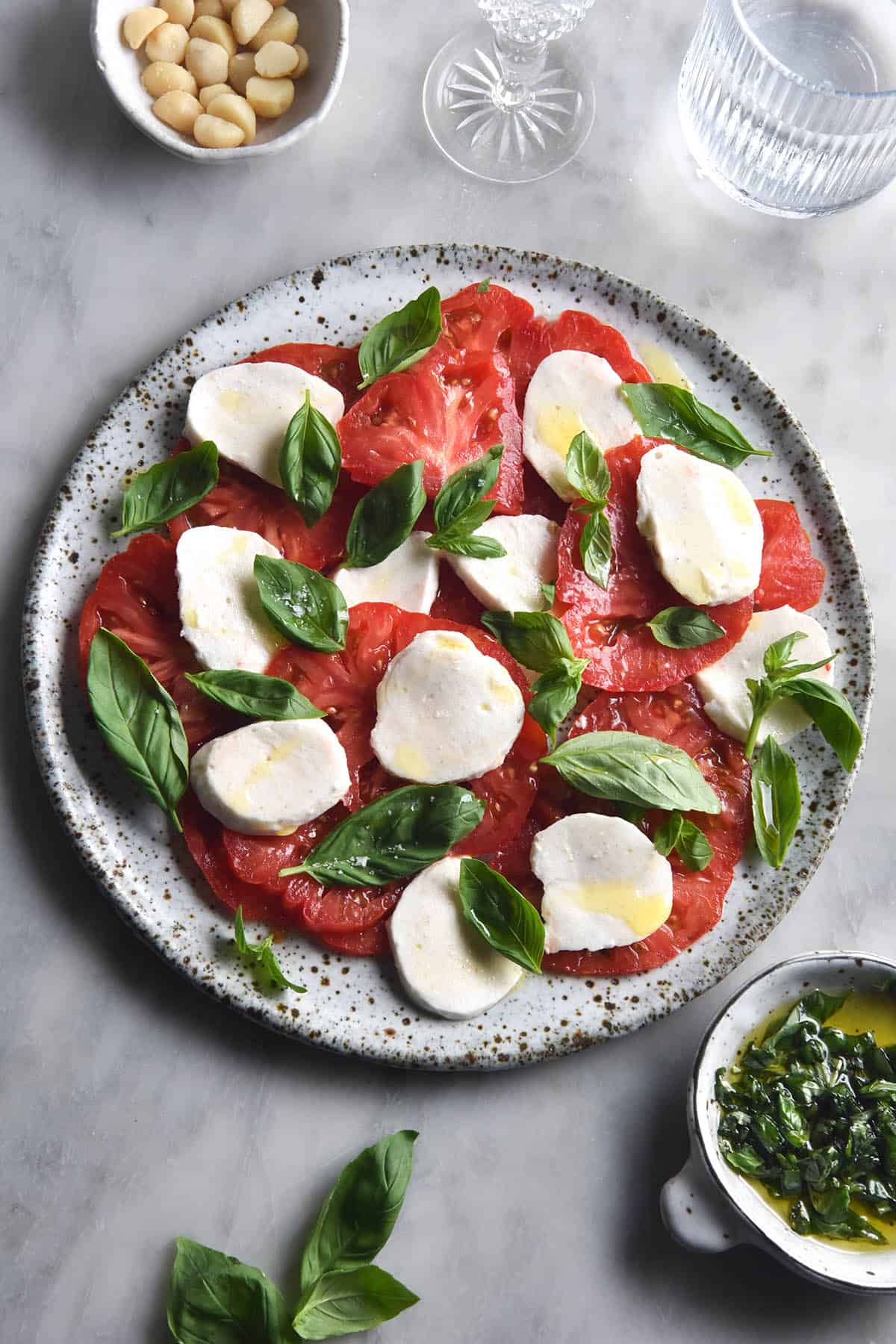 Vegan mozzarella with macadamias
This mozzarella is low FODMAP, grain free, gluten free and delicious. I wanted it to be sliceable for a festive Caprese salad, so that is the texture I have gone for. The mozzarella is sliceable, but not overly firm. You can pull it apart with your hands as with traditional mozzarella.
I had a few goals for this vegan mozzarella. Firstly, I wanted it to be creamy and salty yet plain in flavour – like traditional mozzarella. For this reason, my mozzarella recipe contains no nutritional yeast or lemon juice. This mozzarella is made without vegan yoghurt or tofu, as well. In testing, I found that these ingredients added too much of a taste to the mozzarella.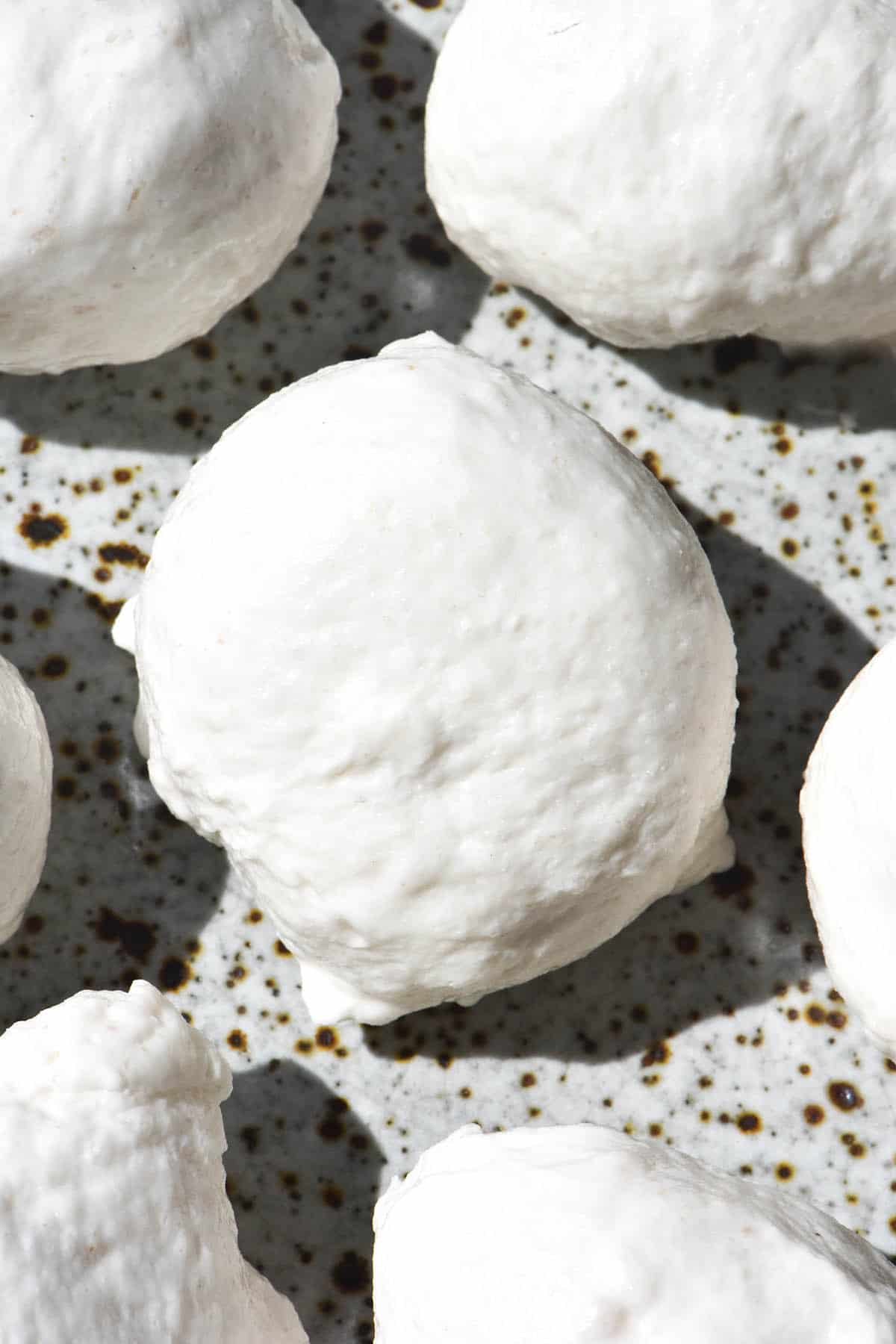 I only recommend products I love and use daily and all opinions are my own. This post contains affiliate links, and I earn a small commission for any qualifying purchases, at no extra cost to you.
Ingredients for your vegan mozzarella
I think it's worth diving into the ingredients here, because they have all been chosen specifically. Because this mozzarella doesn't use a vegan yoghurt for thickening, it's important to use all the ingredients specified.
Macadamias
Obviously, macadamias are the star of this mozzarella. They are rich and creamy, blendable and have a creamy, subtle flavour. Macadamias are also low FODMAP in 40g serves per person. In fact, Monash gives no upper limit for them, and says they contain only trace FODMAPs. They are the perfect nut to make a low fodmap plant based mozzarella. For a lovely, creamy tasting mozzarella, I use raw macadamias as opposed to roasted.
Deodorised coconut oil
Deoderised coconut oil (sometimes called refined coconut oil) is a miracle ingredient. It has absolutely all the coconut taste and flavour removed, so you get the benefit of the oil without any flavour. In this application, the coconut oil seizes up as it hits the ice water, giving the mozzarella a bit of added firmness. I use this brand and it is worth every cent.
Tapioca flour
Tapioca flour gives our mozzarella that classic stretch, as well as a snow white colour. It adds bulk and binding without contributing any noticeable flavour.
Agar agar powder
Agar agar is a plant based gelatin derived from seaweed or algae. It performs in a similar way as gelatin, helping to set the vegan mozzarella balls. It is mostly odourless and 100% tasteless in the finished product. There is no substitute – agar is a critical ingredient in this recipe. I use this brand for all my tests.
Psyllium husk powder
If I had to describe agar agar, I'd say it's more of a brittle jelly than a gelatin based jelly. This is where psyllium husk powder comes in – it adds some chew and extra binding. I couldn't quite perfect this mozzarella until I started using psyllium husk powder.
Psyllium husk is sometimes sold as powder and sometimes as flakes in Australia. I generally buy the flakes (they are more common where I live) and grind them to powder in this spice grinder. I use it for making icing sugar, spices and all sorts of things. Definitely worth the bench space.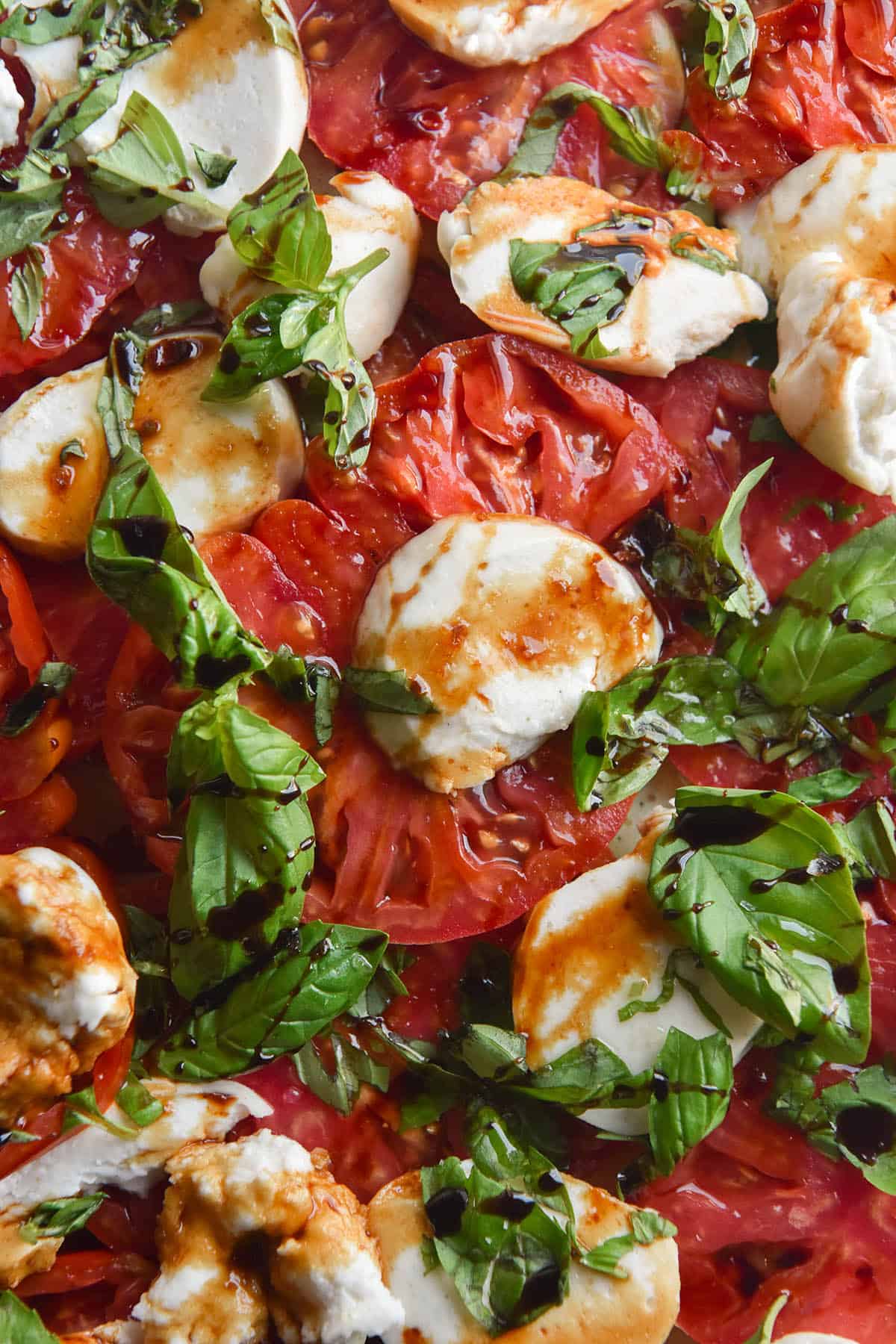 Working with agar agar powder
I have made a LOT of macadamia mozzarella to get to this point, so I have a lot to say about working with agar agar. It is fairly straightforward, but it does have some quirks.
Firstly, I have only been working with the powder. Apparently flakes exist, but these tips are for the powder only.
It is important to thicken the agar on the heat with just water before adding the creamy ingredients. I found this resulted in a more sliceable and firm mozzarella when compared to a version where I cooked all the ingredients together.
It is really beneficial to allow the agar sufficient time to gel up on the heat. In batches where I rushed this process, the mozzarella was not as firm.
Agar needs a sufficient amount of liquid to gel up. In my tests that used less liquid, the resulting mozzarella often tended to be less firm. I think this is because the agar needs enough liquid to thicken into a gel before the creamy ingredients are added.
Agar that has not had enough liquid added tends to taste a bit gritty.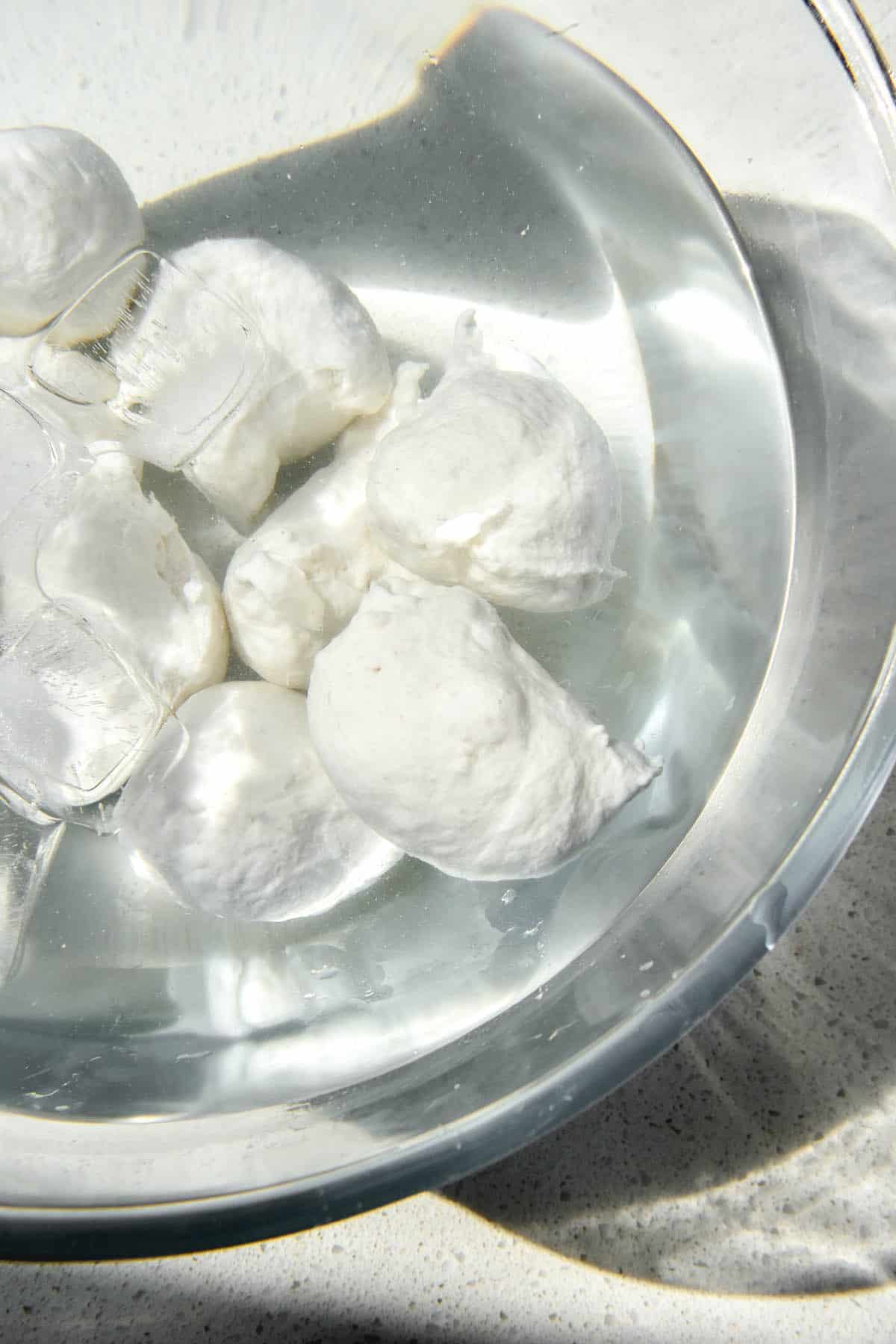 Recipe tips for this vegan mozzarella with macadamias
There are a few tips to ensure this vegan mozzarella is everything you want it to be.
Soaking the macadamias really helps ensure a smooth and non gritty end product, particularly with an older blender (see below).
The mixture will absolutely taste too salty when you first blend it. However, it will mellow considerably once you mix it with the agar gel, I promise.
Really make sure your agar has gelled up nicely before moving onto the next step. This will ensure your mozzarella sets up nicely.
Adding less liquid doesn't result in a firmer mozzarella, I have found. If you are struggling to get your mozzarella to set, I recommend cooking the agar longer and perhaps adding a little extra psyllium husk.
Over time, the mozzarella starts to disintegrate into the ice water. I would recommend making it the night before at the earliest. Ideally, make it the morning of.
To an extent, the more water you add to your agar agar mixture, the firmer your mozzarella will be. Weird, I know, but that's what has transpired for me.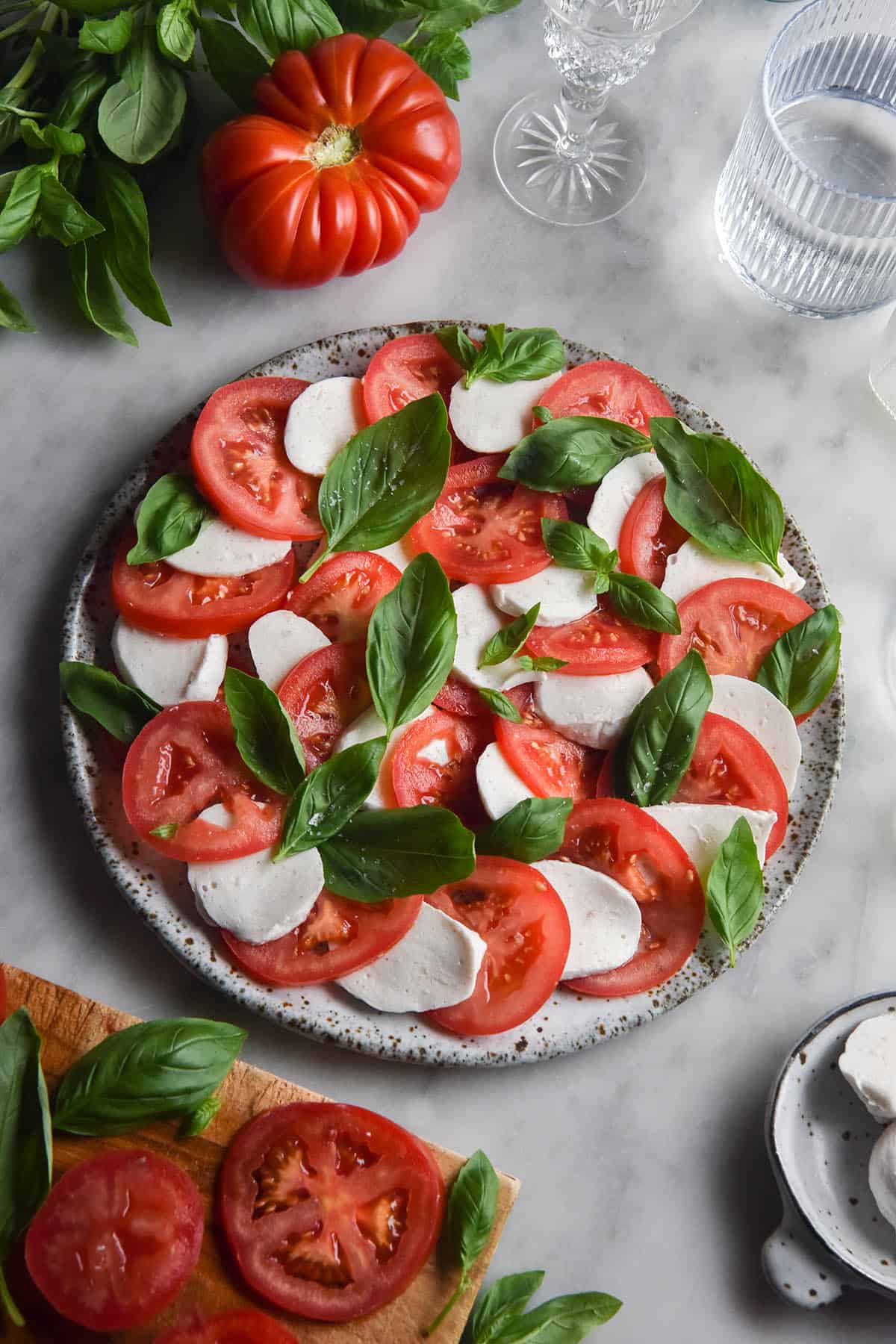 What sort of blender do I need for vegan mozzarella?
In an ideal world, we would all be able to afford to Vitamix. As a single freelancer with a cat who has expensive taste, there are other more pressing expenses in my life. If you're in the same boat, I am pleased to say that this vegan mozzarella can be made in a Nutribullet.
Some tips:
Soak the macadamias for half an hour in boiling water first. This will help soften them enough for the blades.
If they are whole, consider chopping them up a bit first. This will help your blender get all those chunks processed into a smooth and creamy liquid.
If you're using an old Nutribullet, consider giving it a little break. This way you can also stop and assess if all your macadamias are blended. There's a weird texture freakout when you bite into some whole macadamia mid way through your creamy mozzarella.
Which variety of plant milk should I use?
Firstly, the aim here is to use as neutral of a milk as possible. I wanted this mozzarella to taste as much like mozzarella as possible, which means no strong flavoured milks.
Secondly, this depends on whether you need this vegan mozzarella to be explicitly low FODMAP. If you do, I recommend rice milk or soy milk made with soy protein as opposed to whole beans. The whole beans are higher FODMAP, meaning the milk is as well.
If you don't explicitly need the mozzarella to be low FODMAP or gluten free, you can play around with oat milk or some of the 'milk like' plant based milks out there. I tried Not Milk in a bunch of tests and I was hugely impressed with how much it tastes like milk.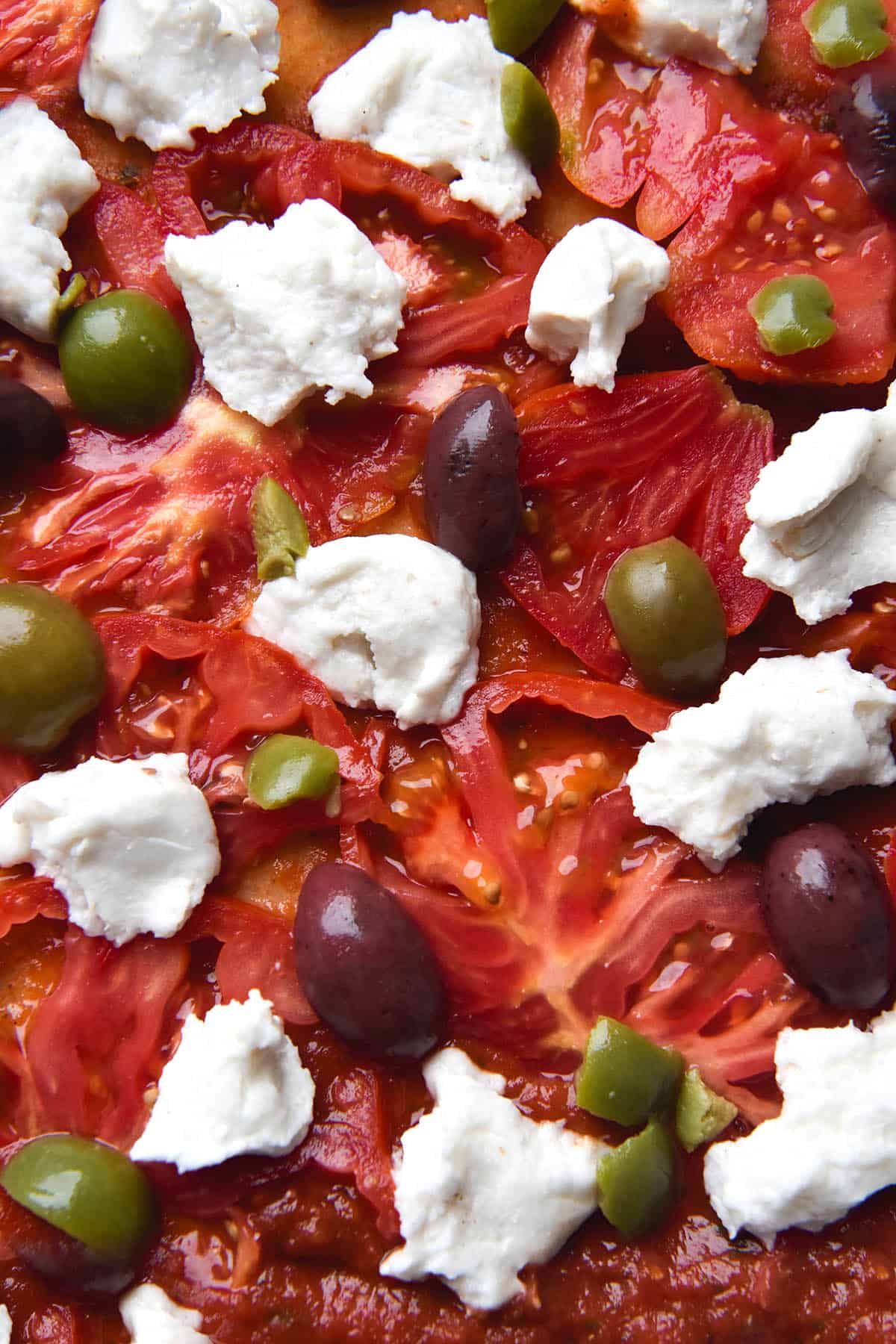 Does the mozzarella melt? Does it brown?
Yes! This vegan macadamia mozzarella does melt and it does brown. It melts a little differently to regular mozzarella, however. As you can see from the pictures below, it kind of holds it's shape after baking but is melty and stretchy underneath. I will continue to experiment with the mozzarella to see if I can make a super melty version.
Some tips: firstly, add a small container of boiling water to the oven before baking your mozzarella, so as to help it melt. A steamy environment allows the mozzarella to melt more efficiently than a dry, hot oven.
Secondly, I find it helps to spread the mozzarella out yourself mid way through baking. Use a fork to quickly spread the globs of mozzarella out. You'll notice they hold shape, but are very melty and stretchy underneath. Giving them a little nudge is a surefire way to get gorgeous spread.
As an aside, I have tried to grate a firmer piece of this vegan mozzarella. While it is possible, it made a bit of a mess and the individual pieces stuck together after grating. So, I'd recommend cutting it or pulling it apart instead.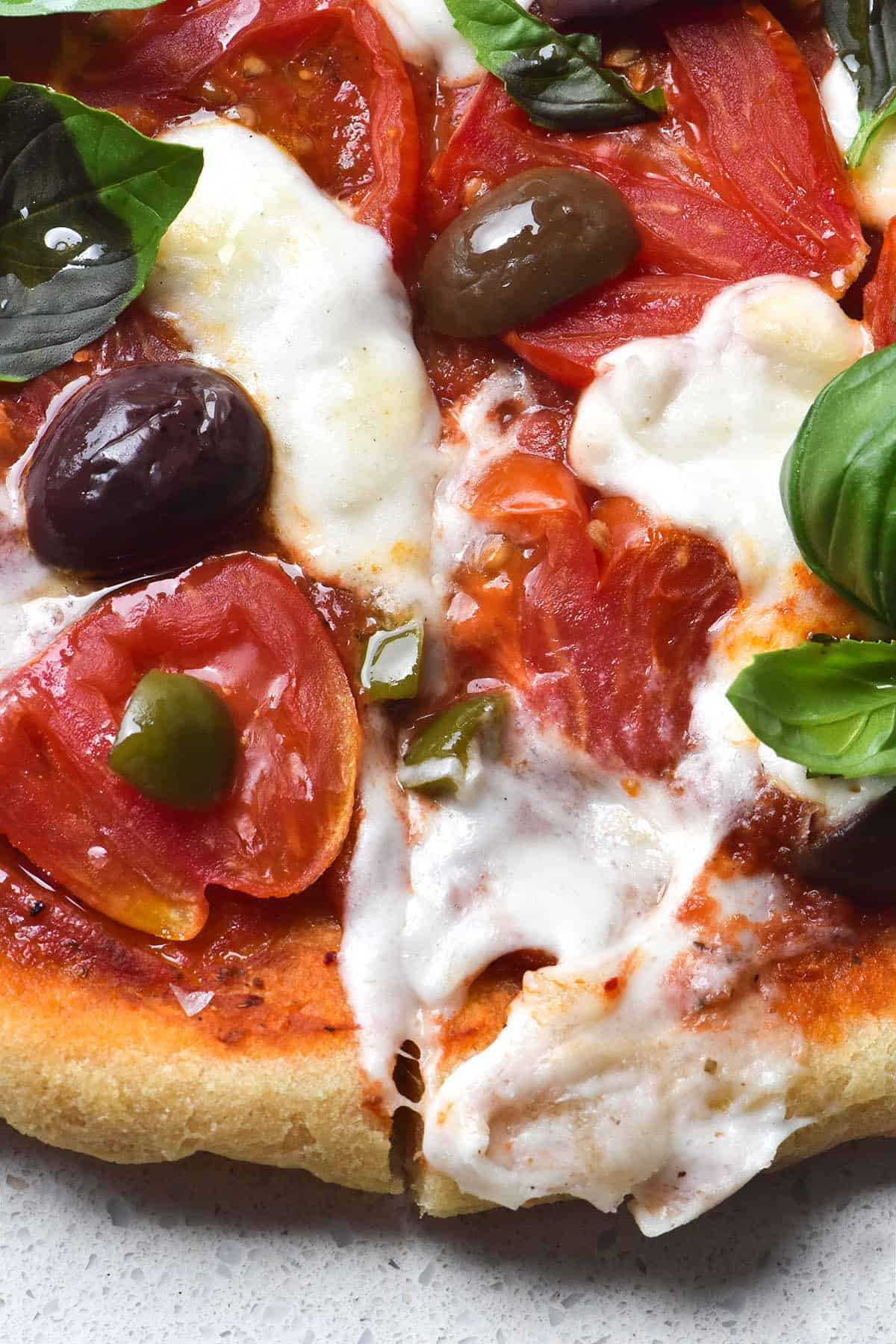 How to adjust the consistency of your vegan mozzarella
I have more experimenting to do before I can confidently say exactly how to adjust the texture of this mozzarella. During my trials, I noticed that batches made with less water actually resulted in a softer mozzarella. My theory is that the agar agar gels up before it has a chance to 'bloom' properly when less liquid as added. As such, the agar agar hasn't reached it's ideal gelling consistency, making for a softer mozzarella.
This also brings up the possibility of adding less agar agar, but I have not tested the theory yet. I wanted to create a firm mozzarella that could be used for a festive caprese salad, so that's what I did. Either way, here are my current suggestions, which I will update when I make more mozzarella.
To make a firmer mozzarella:
Add the full amount of liquid, and make sure you give the agar agar ample cooking time. Batches where I rushed through the agar cooking process were softer, so it's important to thoroughly cook the agar.
To make a softer mozzarella:
Add 1 cup (250ml) water as opposed to 1 1/4 cups (310ml).
Cook the agar agar for a lesser amount of time.
Leave the mozzarella in the ice water only briefly before use.
To make a vegan caprese salad
This mozzarella can be used for all number of things, one of which is a caprese salad. To make one, use 4-6 medium-large tomatoes, a bunch of basil, a drizzle of olive oil, sea salt flakes and some balsamic glaze. I made my own balsamic glaze by cooking down 1/2 cup (125ml) balsamic vinegar with 2 tablespoons of light brown sugar. The process took about 5 minutes.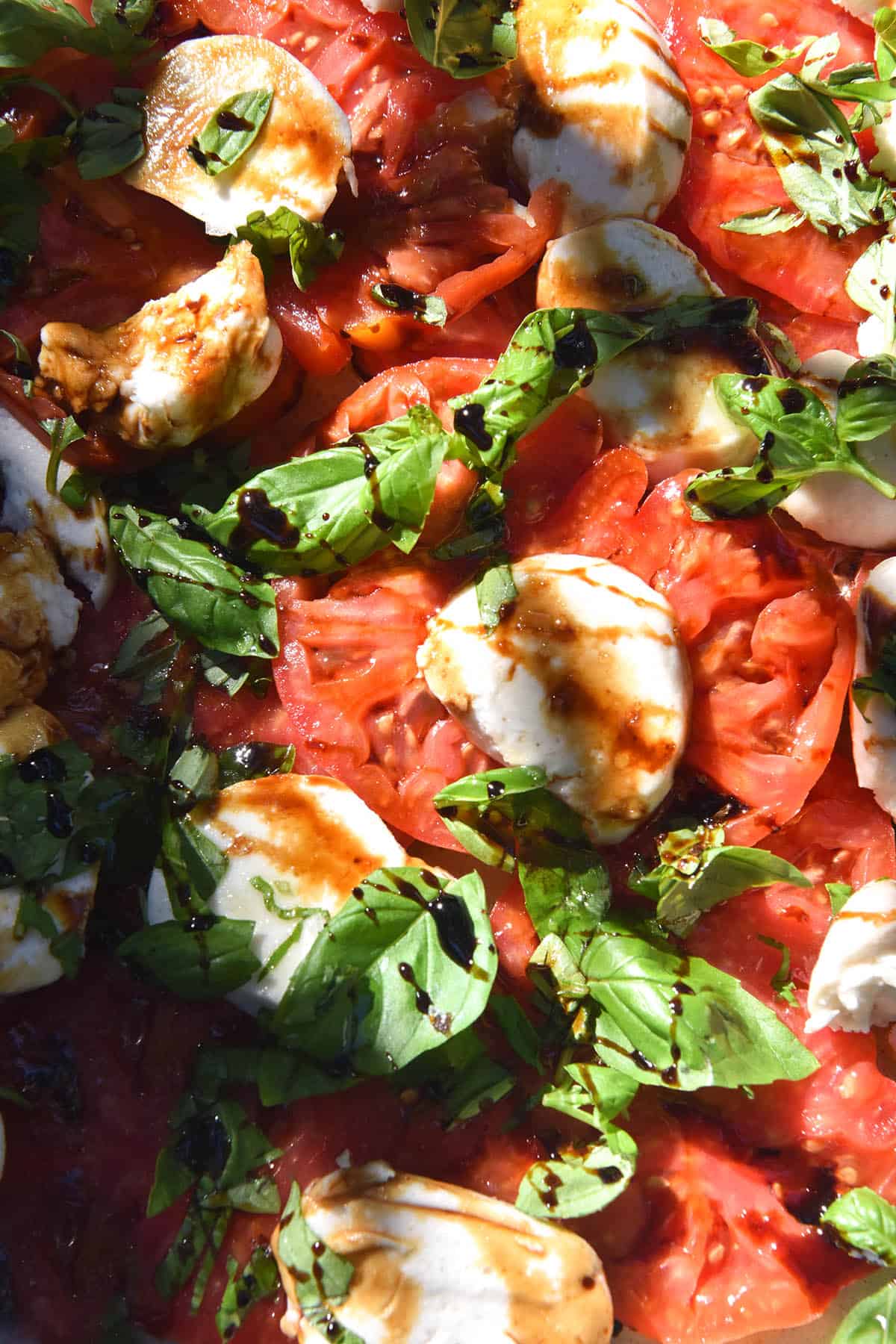 Where to use your vegan mozzarella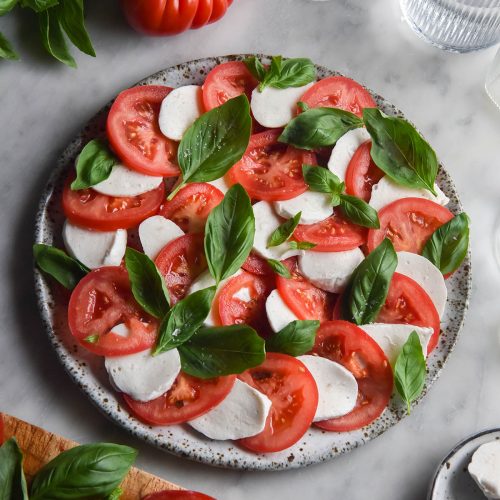 Vegan macadamia mozzarella
Low FODMAP, gluten free, grain free
Makes 8-10 medium mozzarella balls (enough for 1 large Caprese salad)
Measurements are in Australian tablespoons, use gram measures for international accuracy
Equipment
1 medium/large ice cream scoop

Food processor or blender (a Nutribullet works)
Ingredients
For the creamy mozzarella base:
125

g

raw macadamias

soaked in boiling water for 30 minutes and then drained

125ml

(1/2 cup)

plant based milk of choice (I used rice milk)

12g

( 2 teaspoons)

fine salt

see notes

30

g

(1/4 cup) tapioca flour/starch

45g

(1/4 cup)

deoderised coconut oil (weighed after melting)
To finish:
310ml

( 1 1/4 cups)

water

12g

(1 tablespoon)

agar agar powder

3g

(1 teaspoon)

psyllium husk powder
Instructions
Combine all the ingredients for the creamy mozzarella base in your high-speed blender or food processor. Blend for 2 minutes or until completely smooth.

In a medium saucepan, combine the water and agar agar powder. Whisk to incorporate, then place over a low medium heat. Cook for 2-5 minutes or until the mixture starts to thicken. It should become more cloudy and produce lots of little bubbles across the bottom of the pan. This step is important for a sliceable mozzarella, so don't rush the process.

When your mixture is ready, pour in the creamy mozzarella base and whisk to combine. The mixture should thicken quite quickly and become stringy and gloopy.

Sprinkle over the psyllium husk powder while whisking and whisk vigorously to ensure it doesn't clump. It should be evenly distributed with no lumps.

Continue cooking the mixture for 1-2 minutes. It should be a thicker béchamel consistency and take a few seconds to settle back into the pan if you lift it up with the whisk. As you whisk, you should be able to catch glimpses of the bottom of the pan as the mixture lifts.

Take the mozzarella off the heat and allow it to sit for 10 minutes. It will look too runny to scoop, but don't worry.

Prepare a medium mixing bowl with ice water. Use an ice cream scoop to scoop up 50c sized balls of mozzarella. Neaten the dangly, sticky edges of the mozzarella with a spoon or your fingers. Dip the ice cream scoop into the ice water to encourage the ball to vacate. The edges of the ball should set up on entering the ice water. Repeat with the remaining mixture.

Place the mozzarella in the fridge for 30-60 minutes. It should be firm and feel almost like a hard-poached egg on the outside. Slice and serve!

This mozzarella begins to soften after 24 hours in the ice water, so I recommend making it the day you want to use it. Leftovers keep for a few days in an airtight container in the fridge.