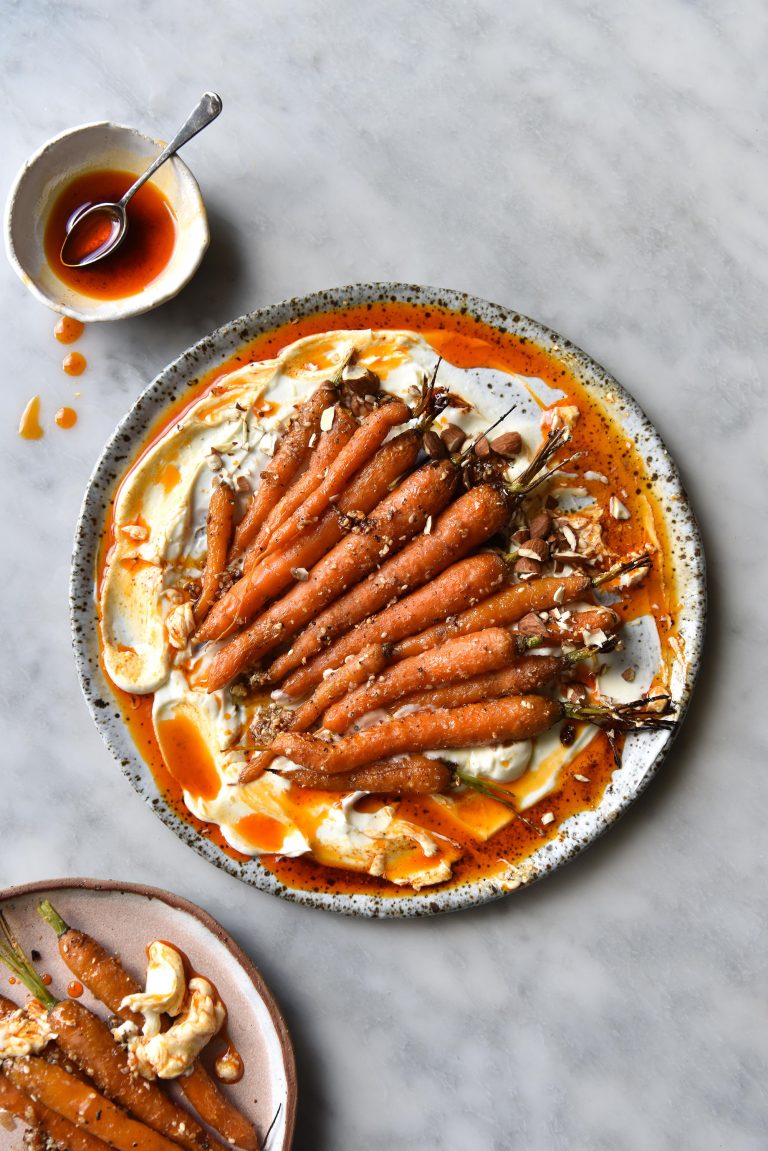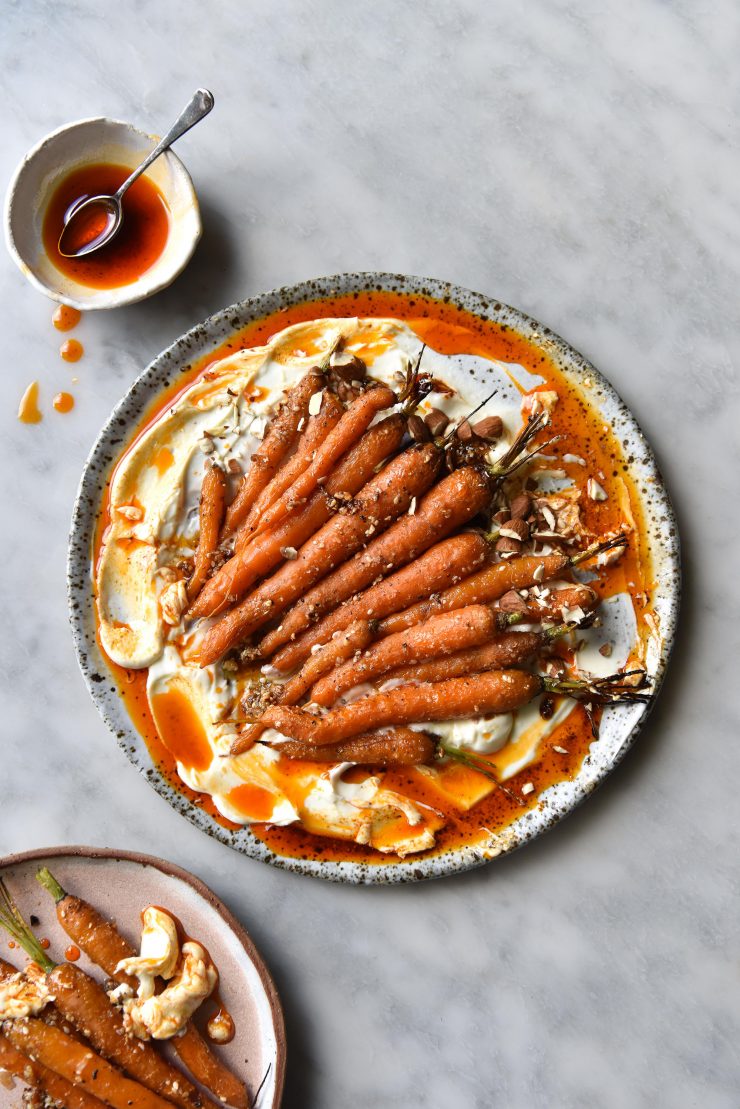 I've been enjoying playing around with lactose free versions of soft cheeses recently. First there was the mascarpone (as seen in both my Tiramisu and Summer tomato pasta recipes.) Next, there was a cheat's ricotta (something that features in a number of upcoming recipes.) Finally, today, there's this labne. These dukkah roasted carrots with labne, to be precise (and to appease the SEO Gods.)
This recipe bears a resemblance to my OG carrot recipe, I can't lie. Although it appears I have no imagination (somewhat true) this recipe came about in part for some yoghurt I needed to use, and in another some amazing carrots I found. Torello farm, in the unlikely event you live anywhere near me, is truly where it's at.
Regardless, this recipe is gluten and grain free, FODMAP friendly and vegetarian. To make it vegan, you could substitute the labne for coconut yoghurt or you could make a vegan labneh! I haven't tried this, but this Dolly and Oatmeal recipe is extremely trustworthy. Plus, the method seems scarily similar to the one we're using today.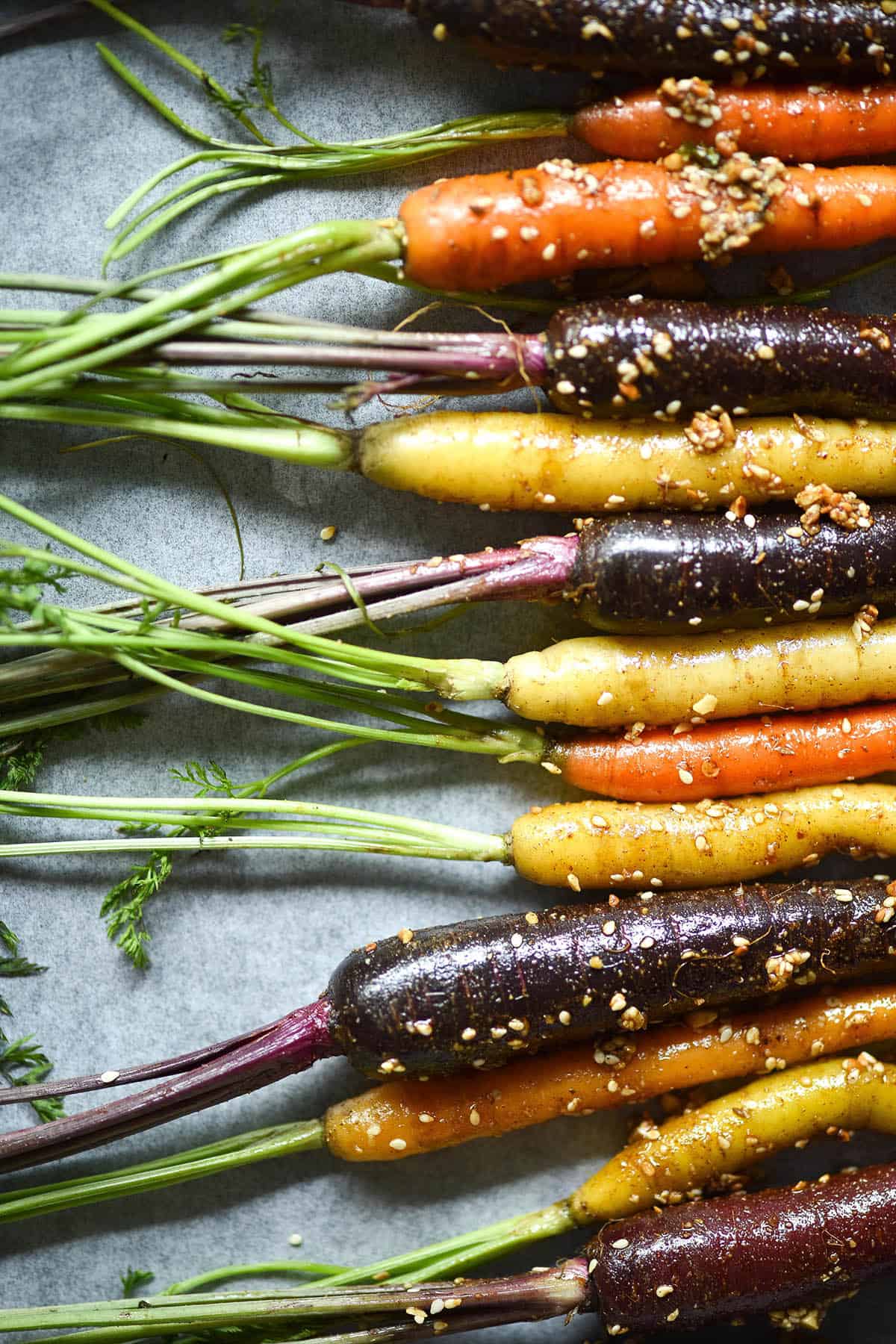 Lactose free labne
First and foremost, it's worth pointing out that you need only make this lactose free if you react adversely to lactose. You can proceed as usual with a lactose filled labne if you're fine with dairy.
Secondly, as previously mentioned, it seems that making a vegan labneh is entirely possible. See the link to Dolly and Oatmeal's recipe in the paragraph above.
Thirdly, my labne recipe is this recipe from Food 52 – credit where credit is due. The only thing I have done differently is use a lactose free variety of yoghurt.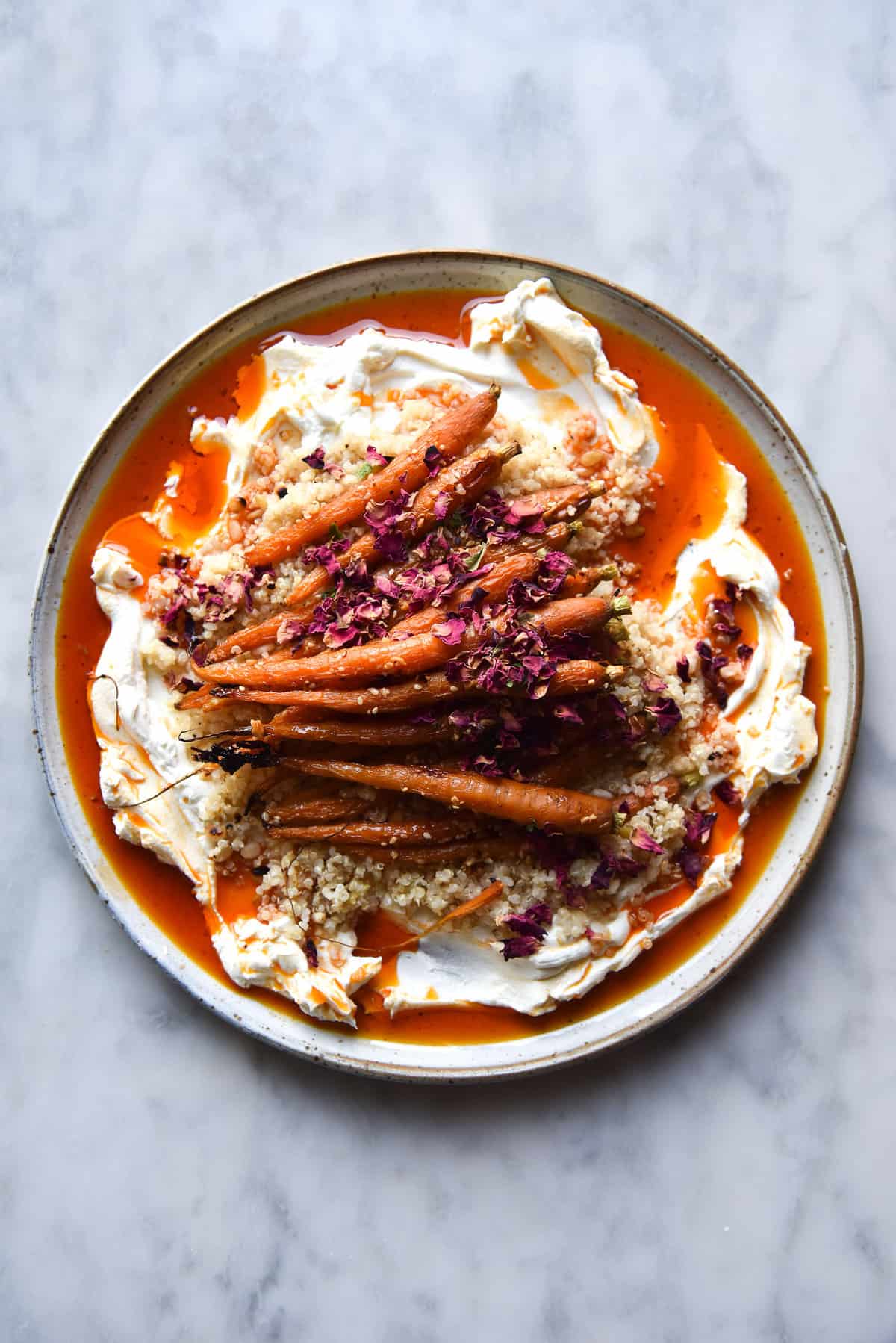 Which yoghurt should I use?
Again, only use a lactose free yoghurt if you need to, and make sure it's plain in flavour. I like Jalna Lactose Free Yoghurt, Barambah Organics Lactose Free Yoghurt, and Pauls Lactose Free Yoghurt. These are generally available in supermarkets in Melbourne.
If you don't need it to be lactose free, I really like Jalna, Barambah Organics and Schulz Organics. They all make great plain yoghurts with an emphasis on quality ingredients and bacterias.
A final reminder: nothing sweet, nothing flavoured. We're leaning towards a Greek style, very savoury yoghurt here. Please and thanks.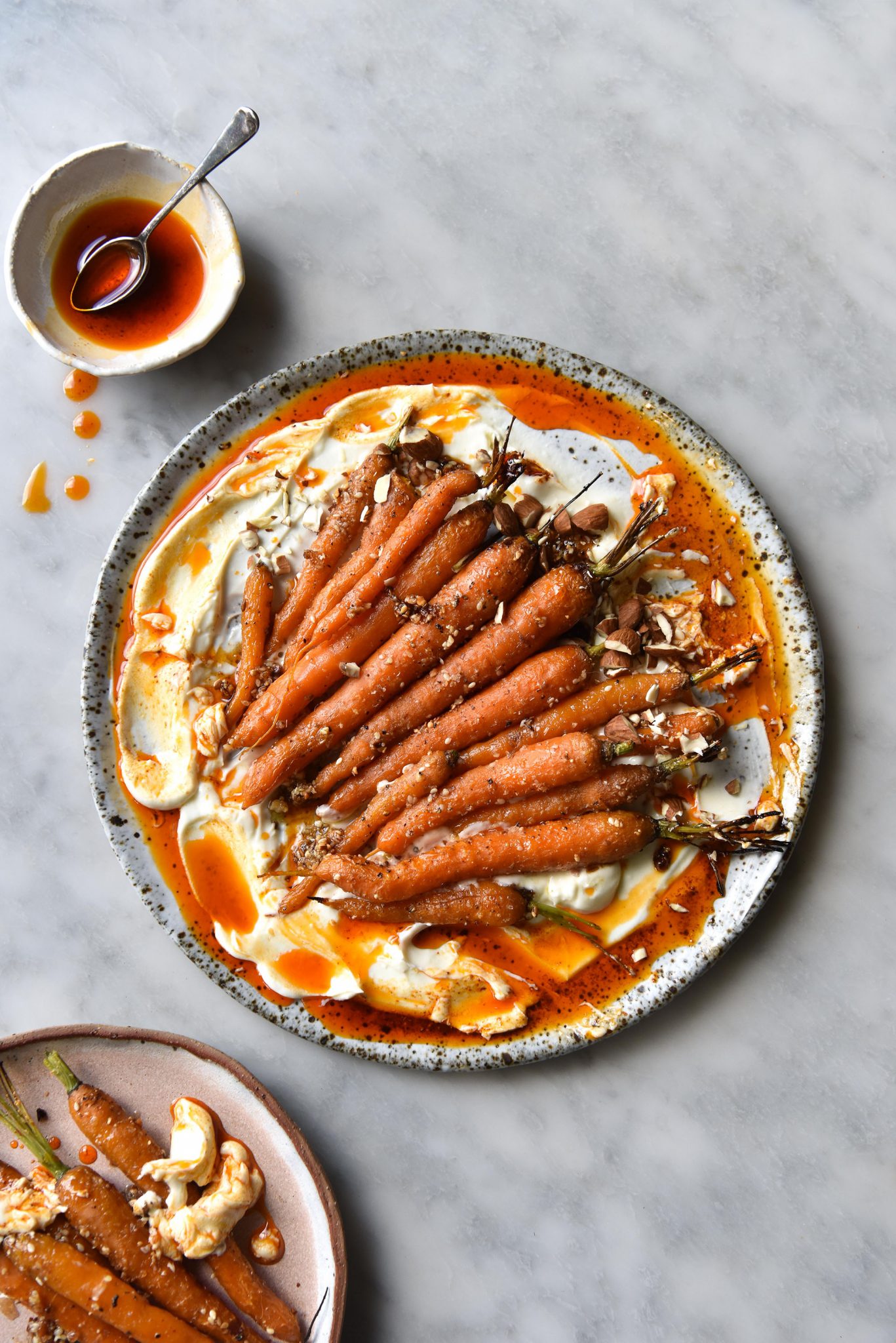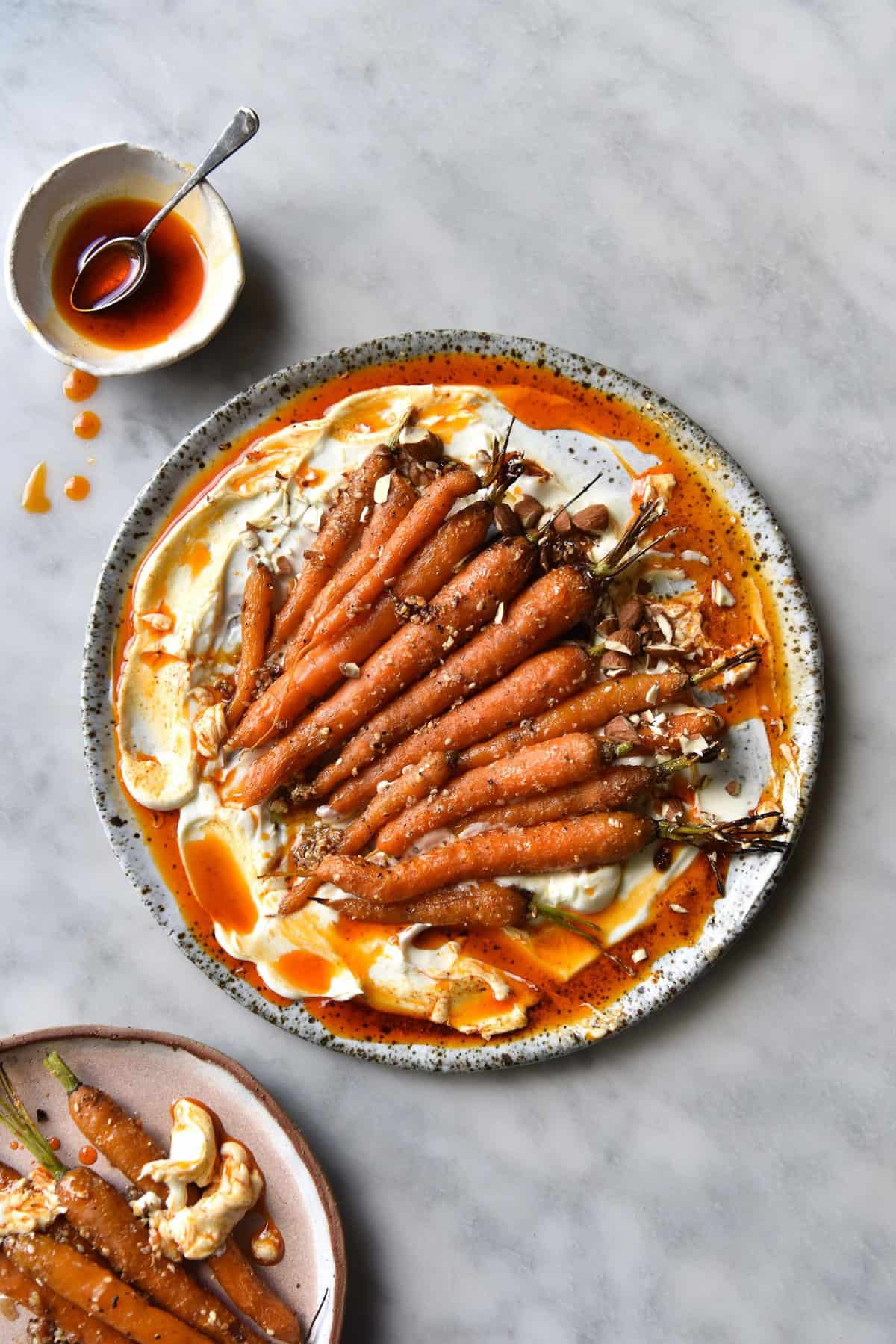 FODMAP notes
Because we're using lactose free yoghurt, the labne here is a FODMAP friendly ingredient.
The only other ingredient worth discussing then, is the dukkah. Dukkah recipes vary wildly and some contain nuts that aren't particularly FODMAP friendly. I have a recipe for a FODMAP in my first cookbook. However, if you keep the quantities down it should be fine.
And that's it! These dukkah roasted carrots with labne are smooth sailing.
General recipe notes
This labne recipe makes just enough for this dish. I'd actually recommend making double and having some extra in the fridge or on the dish itself. It's delicious on mostly everything and it doubles very easily.
Aleppo pepper is a sort of smokey, deep flavoured chilli that, according to BA, is about half as hot as regular chilli. I really like it because, as someone who is a chilli pleb, it adds flavour as well as heat. It's also a much more tolerable way to consume chilli. However, because of the Syrian war Aleppo Pepper can be hard to find. LA Times recommends using a mix of cayenne and paprika as a substitute, if you can't find it/
If you happen to have some, I think some Kashmiri chilli would also work well here. Like Aleppo pepper, it is much milder than regular chilli. It is often used for it's beautiful bright colour, so I think it would make a lovely oil.
On the note of chilli, keep your spice tolerance in mind when making the oil. This is particularly important if you're using regular chilli.
This dish can also be made into a fancy pasta sauce by chopping the carrots and tossing the whole thing through some cooked pasta. I used a gluten free casarecce.
You can use maple syrup or rice malt syrup in place of the honey, if you prefer. To keep this vegan, consider making the vegan labne linked above.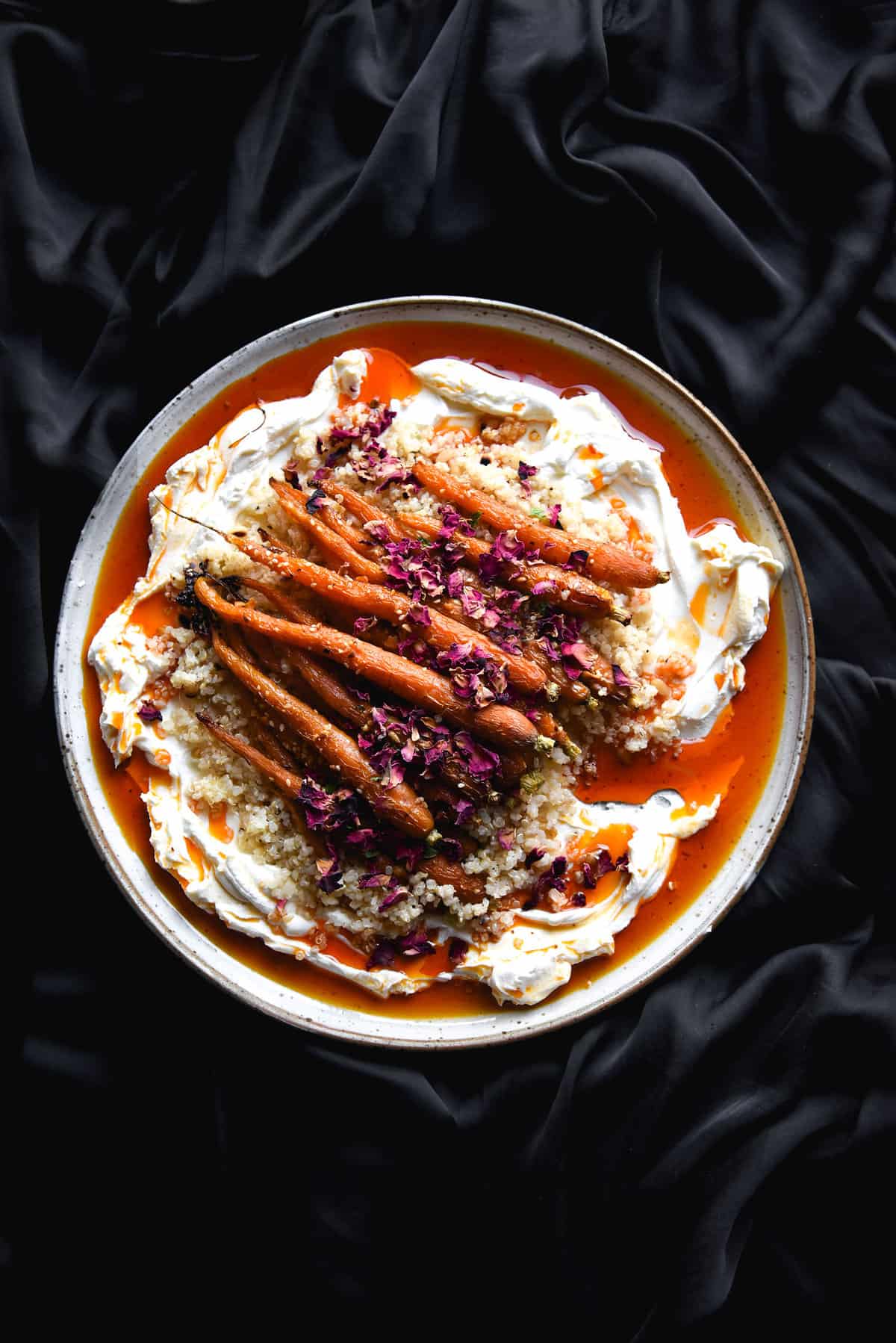 More gluten free vegetarian recipes
Dukkah roasted carrots with labne, Aleppo chilli oil and lemon scented quinoa
Gluten free (grain free option) FODMAP friendly, lactose free, vegetarian, vegan adaptable
Ingredients
For the labne:
300

g

lactose free

full cream plain yoghurt (see notes)

1/4

teaspoon

fine salt

1

teaspoon

lemon juice
For the lemon quinoa (optional):
1

cup

white quinoa

rinsed

1 1/4

piece

of preserved lemon

Zest and juice of 1 fresh lemon

Generous freshly cracked pepper

to taste

Sea salt flakes

to taste

A handful of toasted pine nuts
For the dukkah roasted carrots:
500

g

dutch baby carrots

1/2

tablespoon

olive oil

1/2

tablespoon

honey or maple syrup

2

tablespoons

dukkah

Sea salt flakes and freshly cracked pepper

to taste
For the Aleppo chilli oil:
1/3

cup

olive oil

1/2

tablespoon

Aleppo chilli flakes

(use more if you're good at chilli)

1

teaspoon

sweet paprika
For the carrot top dressing:
1

large handful

100g-ish carrot tops, finely chopped

1/2

cup

olive oil

2

pieces

of preserved lemon

1/2

green chilli

optional

Juice of 1 lemon
Instructions
To make the labne:
In a medium mixing bowl, combine all the ingredients for the labne. Note that the saltiness and lemon juice flavour intensifies as the mixture drains, so don't add more thinking you'll be adding extra flavour.

Spoon the mixture in muslin cloth or a nut milk bag in a colander or sieve atop a large bowl. You can place this in the fridge, or keep it on the counter if the house is cool. Allow the labne to drain for 12-24 hours. Note that this depends heavily on the thickness of the yoghurt you used and your personal preference. I prefer a more spreadable labne, so I drained mine for about 8-10 hours.
To make the lemon quinoa:
Place the rinsed quinoa in a medium pot and dry cook for 2-3 minutes, until the quinoa begins to hiss and spit but not stick to the bottom. Fill the pot with water and salt it well before adding the piece of preserved lemon. Cook for around 7-10 minutes, or until the quinoa has unfurled but is still firm. Strain the quinoa and place the strainer atop the pot it was in. Place a lid on the quinoa (this can be a sheet tray, an actual lid, whatever covers it) and allow to steam for 5-10 minutes.

Fluff well with a fork and add the remaining ingredients. Fluff and mix to combine the flavours, adjusting for taste as necessary.
To make the dukkah roasted carrots:
Preheat the oven to 200C or 400F. Thoroughly trim, wash and dry the carrots (encountering a piece of super crunchy dirt is truly the worst feeling) and place them on a lined baking tray. Pour over the oil, honey, dukkah and seasoning and use your hands to make sure the carrots are all coated evenly. Place them in the oven for 15-20 minutes or until the honey is caramelised and the carrots are cooked but still have a bit of crunch.
To make the Aleppo chilli oil:
While the carrots are cooking, combine all the ingredients in a small saucepan over a low-medium heat. Cook for a couple of minutes, stirring intermittently, until the chilli sizzles a little. Take off the heat and set aside.
To make the carrot top sauce:
While the carrots are cooking, combine all ingredients in a high speed blender. Make sure you chop the carrot greens finely first, as they tend to churn around without blending if placed in the blender whole.

Season to taste, and add a couple of tablespoons of water if necessary.
To plate:
Spoon and smooth the labne around the outside of your serving plate and place the carrots in the centre. Top with chilli oil, carrot top sauce and the remaining crunchy honey dukkah from the oven tray. Sprinkle with some finishing salt, a couple of cracks of fresh pepper, some extra dukkah and maybe a drizzle of honey.