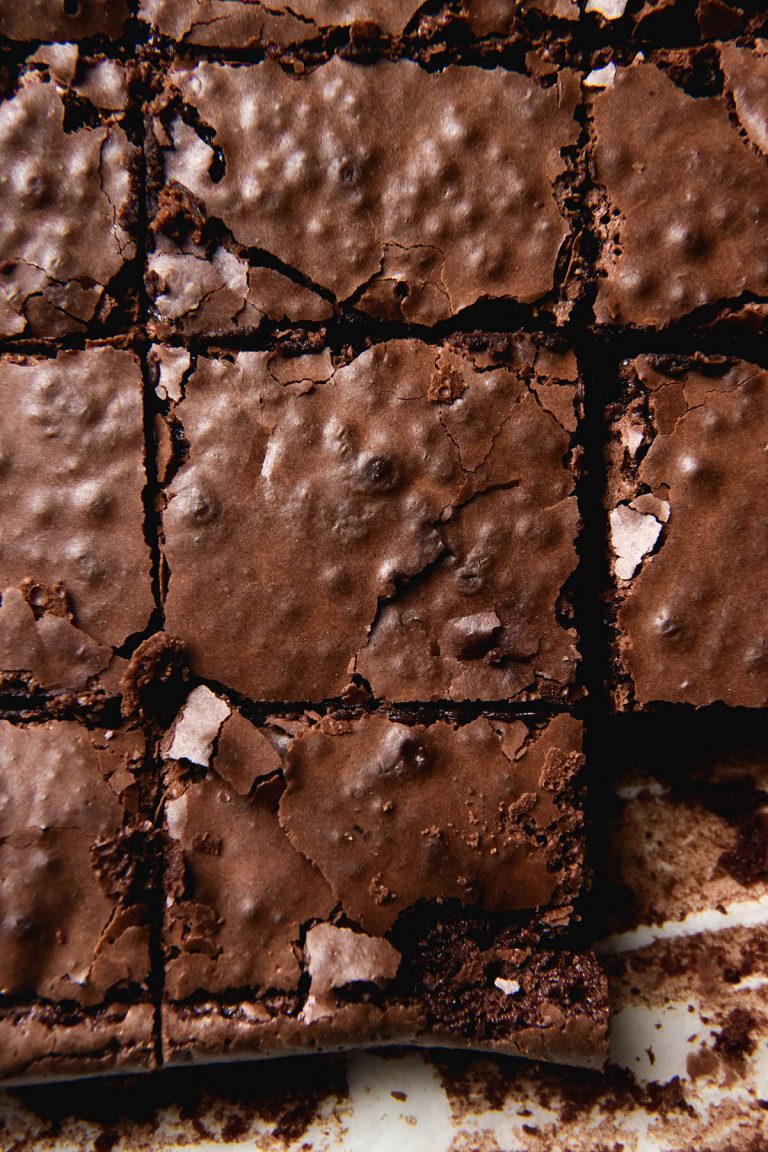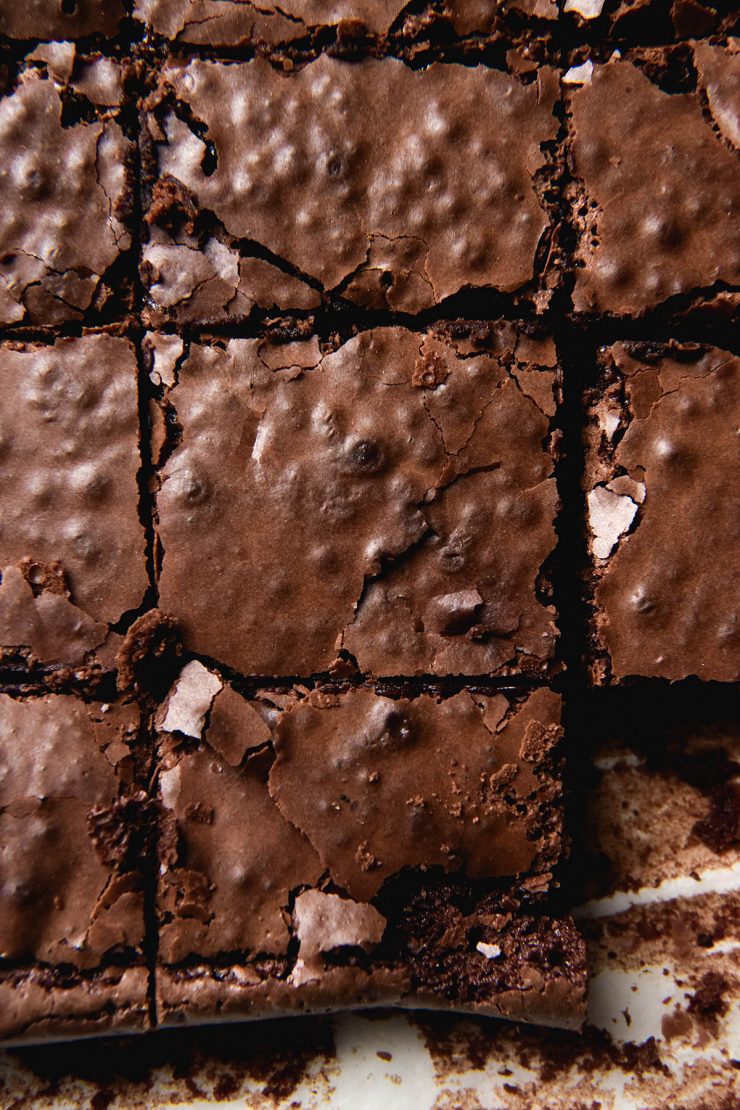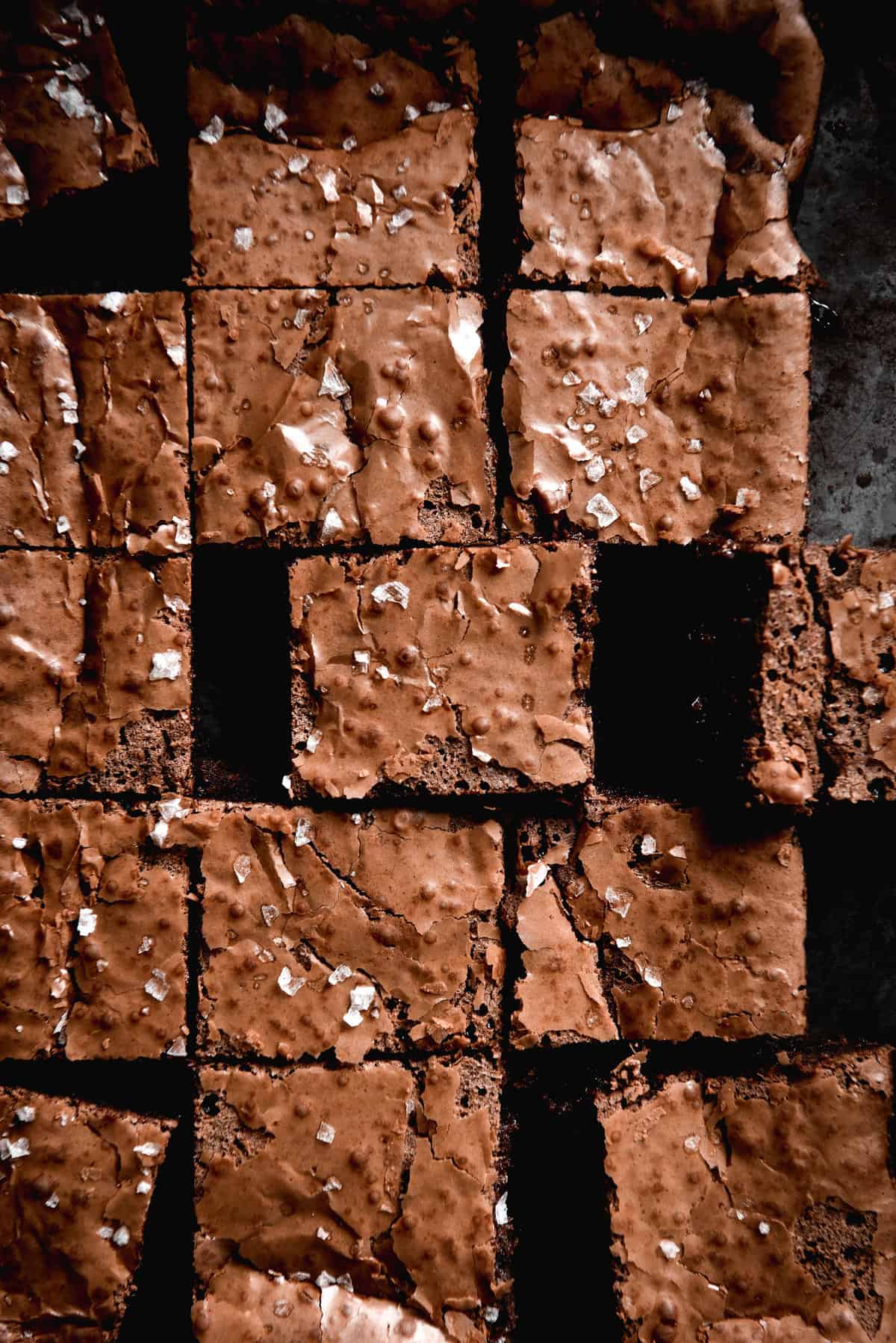 I did mention back when I did the gluten free brownies and the gluten free vegan brownies that I'd be back with some gluten free brownies without nuts. Having gorged myself on various iterations of gluten free choc chip cookies (vegan and regular) recently, I needed a cookie break. Naturally, I turned back to brownies. Gluten free AND nut free brownies. These flourless brownies are incredibly rich, fudgy and deeply chocolate flavoured. Consider them an adult brownie – they are serious business.
Flourless gluten free brownies without nuts
Using almond meal as a gluten free flour in brownies is all well and good. Until, that is, you find yourself gluten free AND nut free. So today we're talking gluten free brownies without nuts.
These brownies are made without xanthan gum. They don't even use flour! These brownies are completely flour and nut free.
Although other iterations of my brownies use brown butter, I decided to leave it out of this recipe. It just makes the whole process a little bit quicker.
The brownies are made with a 40-50% dark chocolate and either Dutch Processed cocoa or regular cocoa. It's important to use a lower percentage chocolate here, because they use a lot of cocoa. The cocoa replaces flour, but it also adds a rich chocolate flavour. In order to balance that out, we need to use a less intense chocolate.
These brownies are gluten free and nut free, but also FODMAP friendly and low in lactose. They're absolutely not sugar free, but the best things in life aren't, so!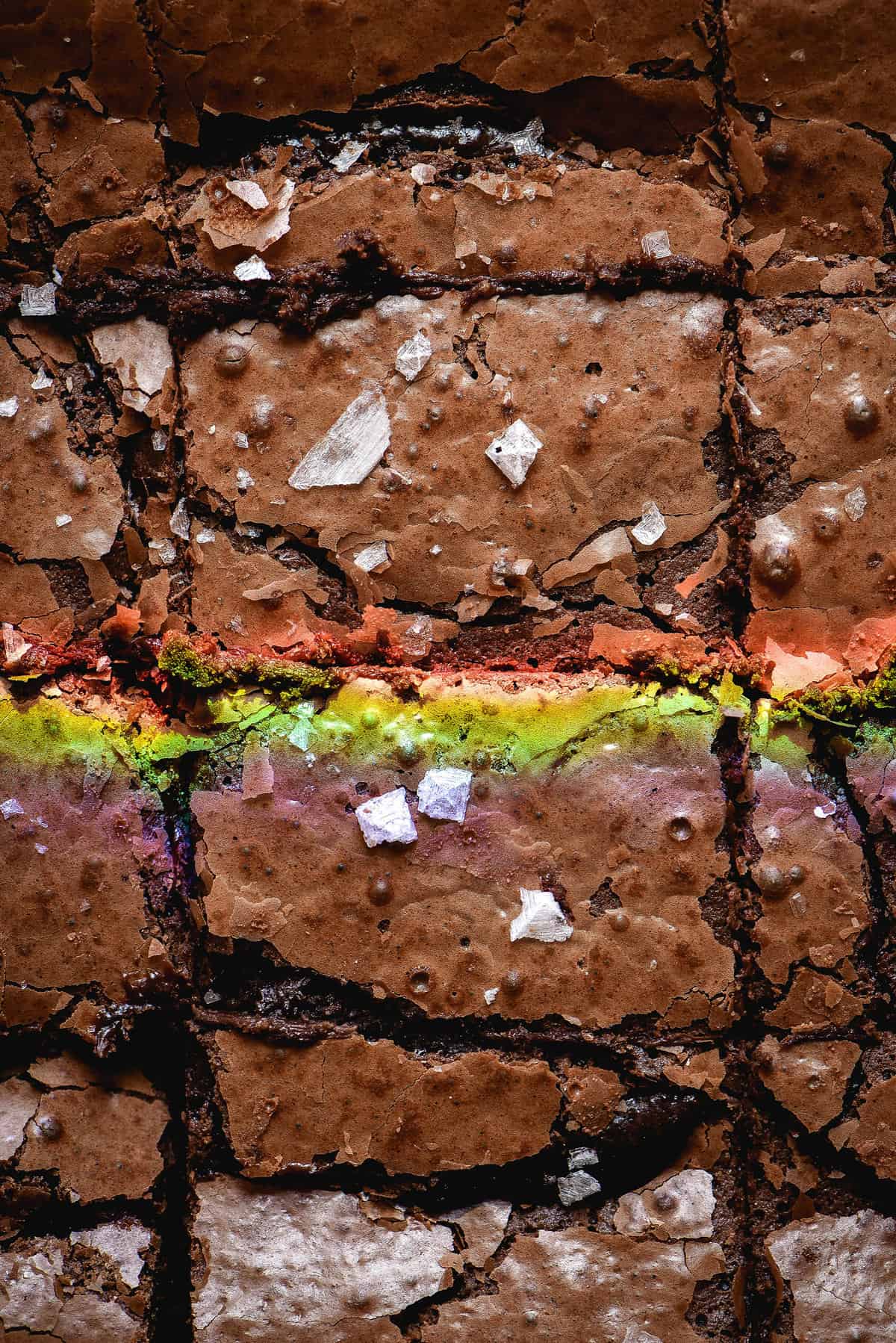 Gluten free flourless brownies without nuts
Firstly, try to get as good quality ingredients as you can afford. Given that brownies are basically chocolate and butter, it makes sense that the better those ingredients, the better they will taste.
Don't skip the salt! My advice for basically every dessert recipe, but nevertheless. The salt tempers the extreme sweetness involved in a brownie and adds a nuanced level of flavour. Salt is well known for enhancing the taste of chocolate, so don't skip it.
I have tested both regular and Dutch processed cocoa in these brownies, and both work nicely. If you prefer a little less of a chocolate flavour, go for the regular cocoa.
I use 40-50% chocolate here, as we have discussed. This is important to balancing out the rich chocolate flavour. I have not tried any dairy free or vegan chocolate in these brownies.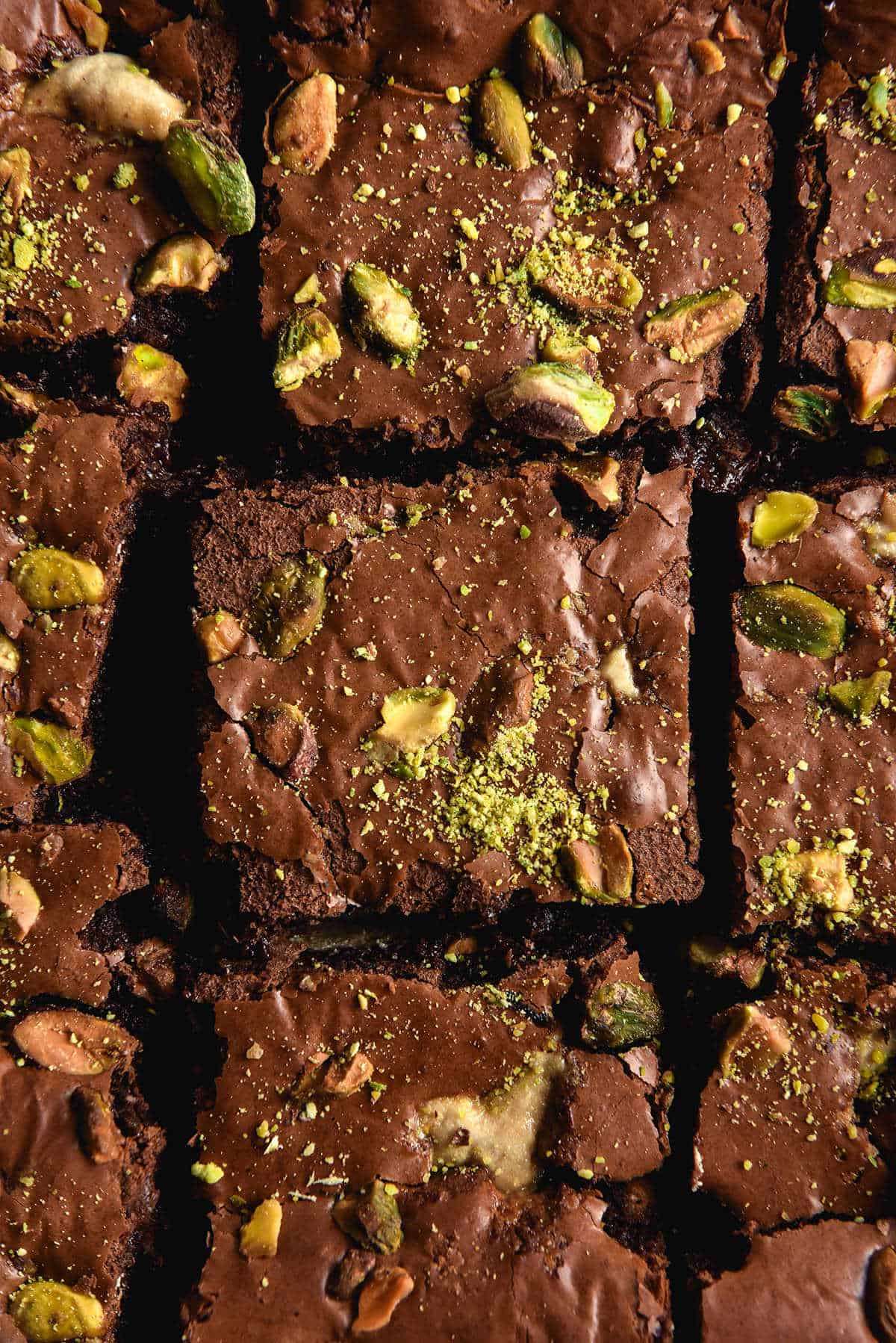 Tips and tricks for your flourless brownies
Weigh your sugars and your cocoa. Accuracy is as boring as my spiel about salt in dessert, but it is key.
I think the flavour and chewiness you get from combining white sugar and light brown sugar is well worth it. You can use all white sugar if you absolutely must, but I highly recommend using both.
Adding hot water to the cocoa helps to bloom it and develop the flavour. It's a little bit of a faff but well worth it for the flavour.
Make sure you don't forget the salt!
These brownies really benefit from time in the fridge. Because they have no flour, they can have an unruly texture coming straight out of the oven. After chilling, though? They are rich, chewy, fudgy and absolutely heavenly. I like to make mine the night before for this reason.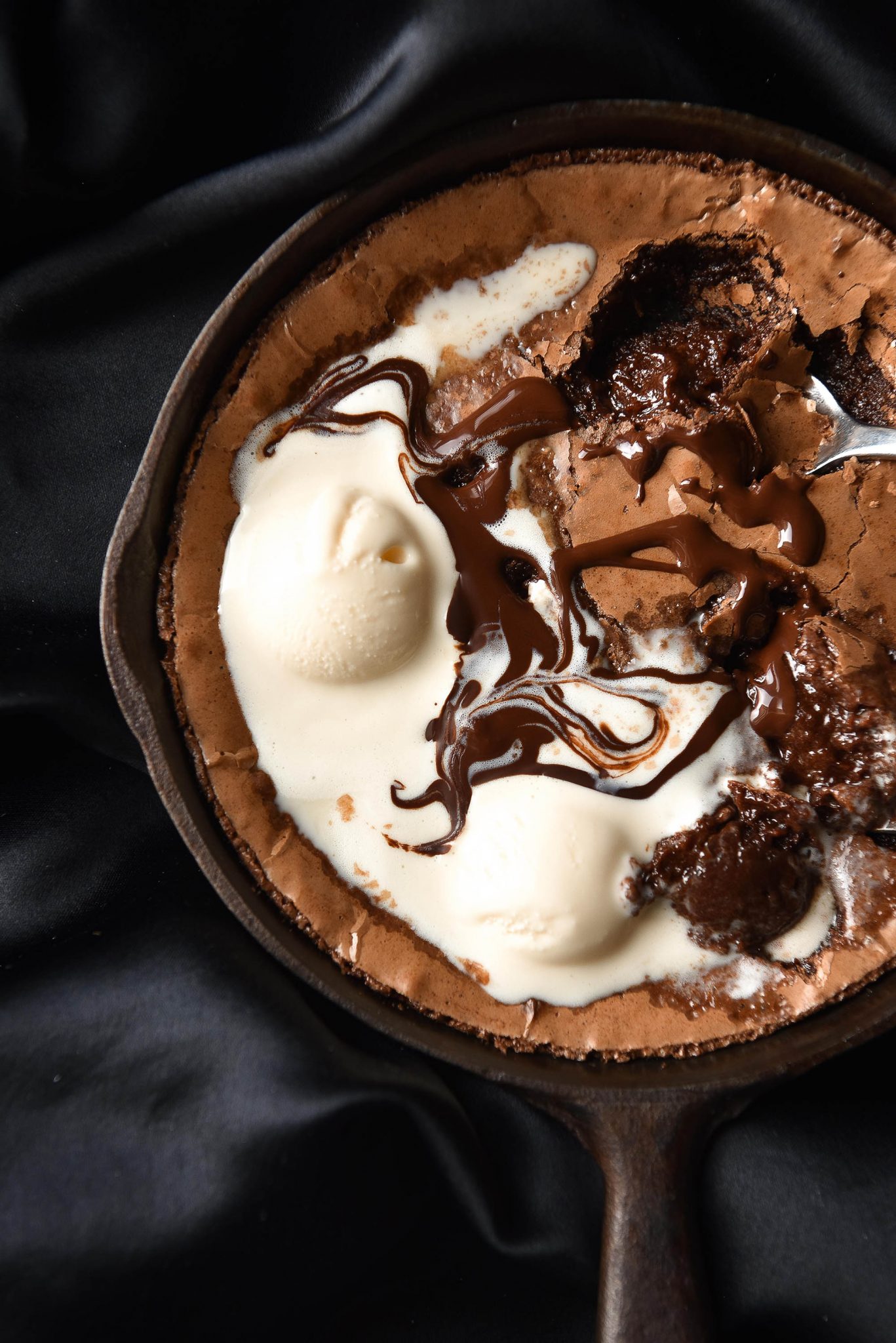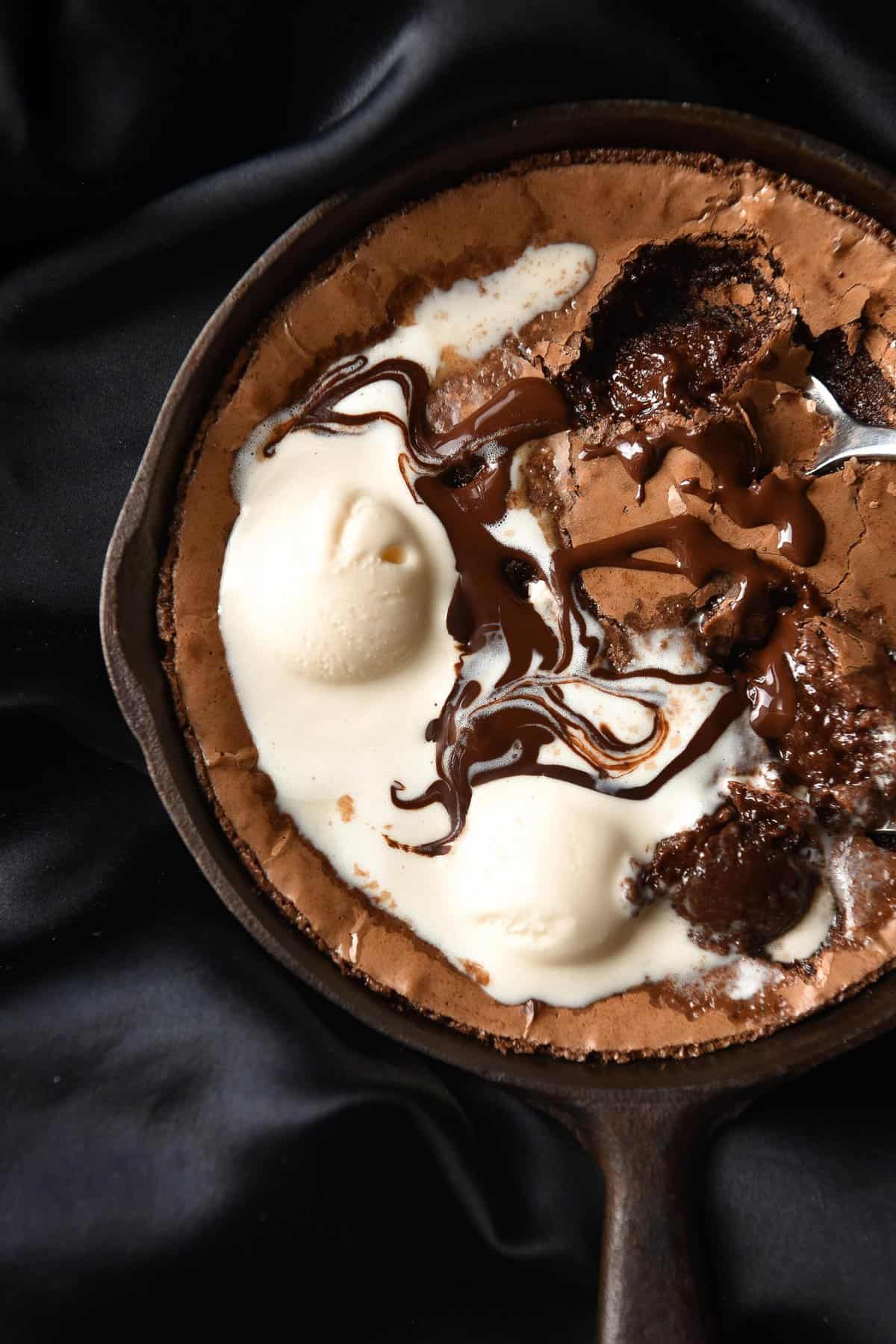 More gluten free chocolate recipes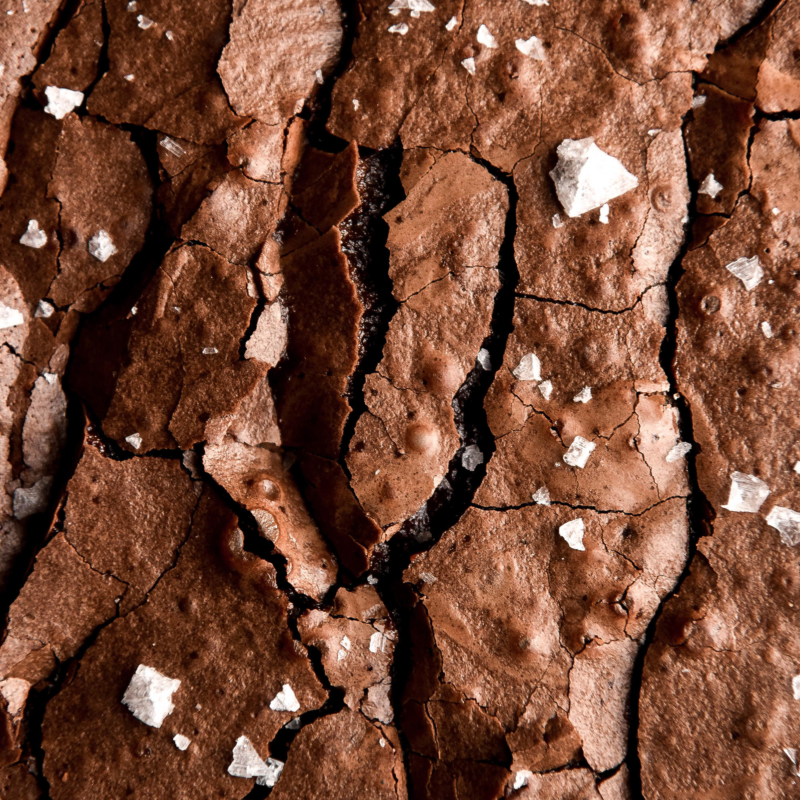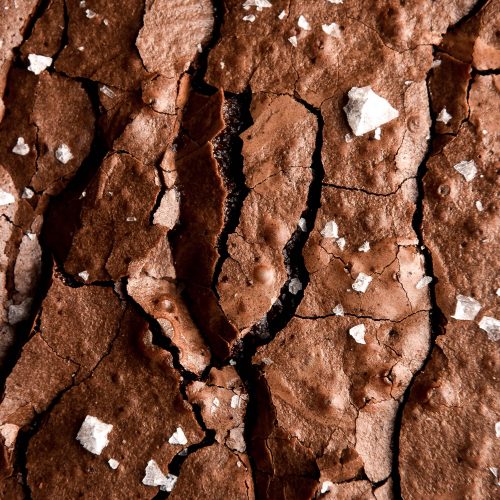 Flourless brownies without nuts (xanthan gum free)
Gluten free, grain free, nut free, FODMAP friendly, low lactose
Ingredients
125

g

butter (salted or unsalted)

200

g

dark chocolate

I recommend 40-50%

3

extra large eggs

1

cup

(220g) caster sugar (or 110g caster sugar and 110g light brown sugar)

50g Dutch Processed or regular cocoa

1/2

teaspoon

table salt
Instructions
Preheat your oven to 180 degrees Celsius or 356 degrees Fahrenheit.

Lightly and line a 24cm x 24cm baking tin. The greasing will help secure the baking paper in place. Set aside.

Add the chocolate and the butter to a small heatproof bowl and place it over a small saucepan half filled with water. Cook over a low-medium heat until melted.

Attach the whisk attachment to your stand mixer and add the eggs and sugar. Beat on a medium high speed for around 5-7 minutes. The mixture should look pale, light and fluffy. Scrape down the bowl and beat another minute.

Weigh the cocoa powder into a bowl and pour over the hot water. Whisk to combine. The mixture might look dry and a bit lumpy – this is fine. Blooming the cocoa will help develop an extra rich chocolate flavour.

With the mixer on low, add the cocoa paste and melted chocolate mixture to the bowl along with the salt. Beat on low to combine, then on a medium high speed to ensure the mixture is smooth and evenly distributed. Scrape down the bottom of the bowl and mix one last time.

Pour the mixture into the lined baking tray, and place into the oven. Cook for around 23-30 minutes, or until the sides of the brownie look firm, but the centre still squidgy.

For best results, allow to cool and then transfer to the fridge to chill completely. I make these the night before to allow them to thoroughly chill.