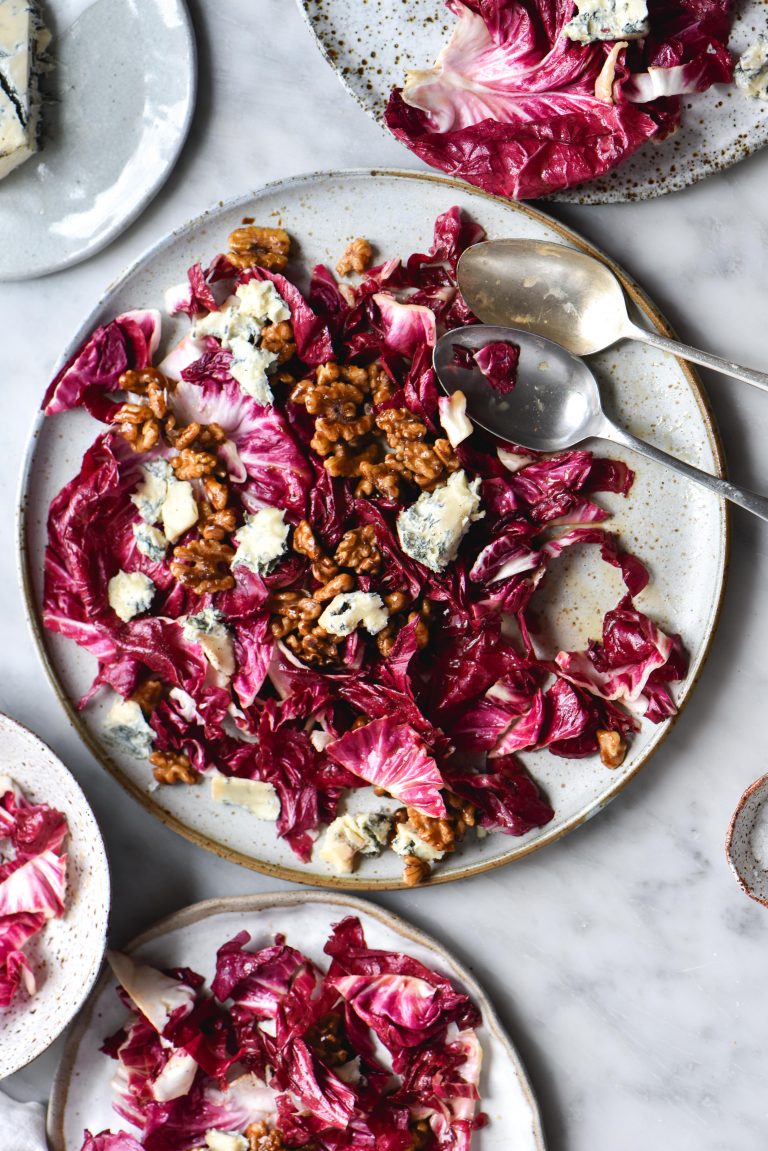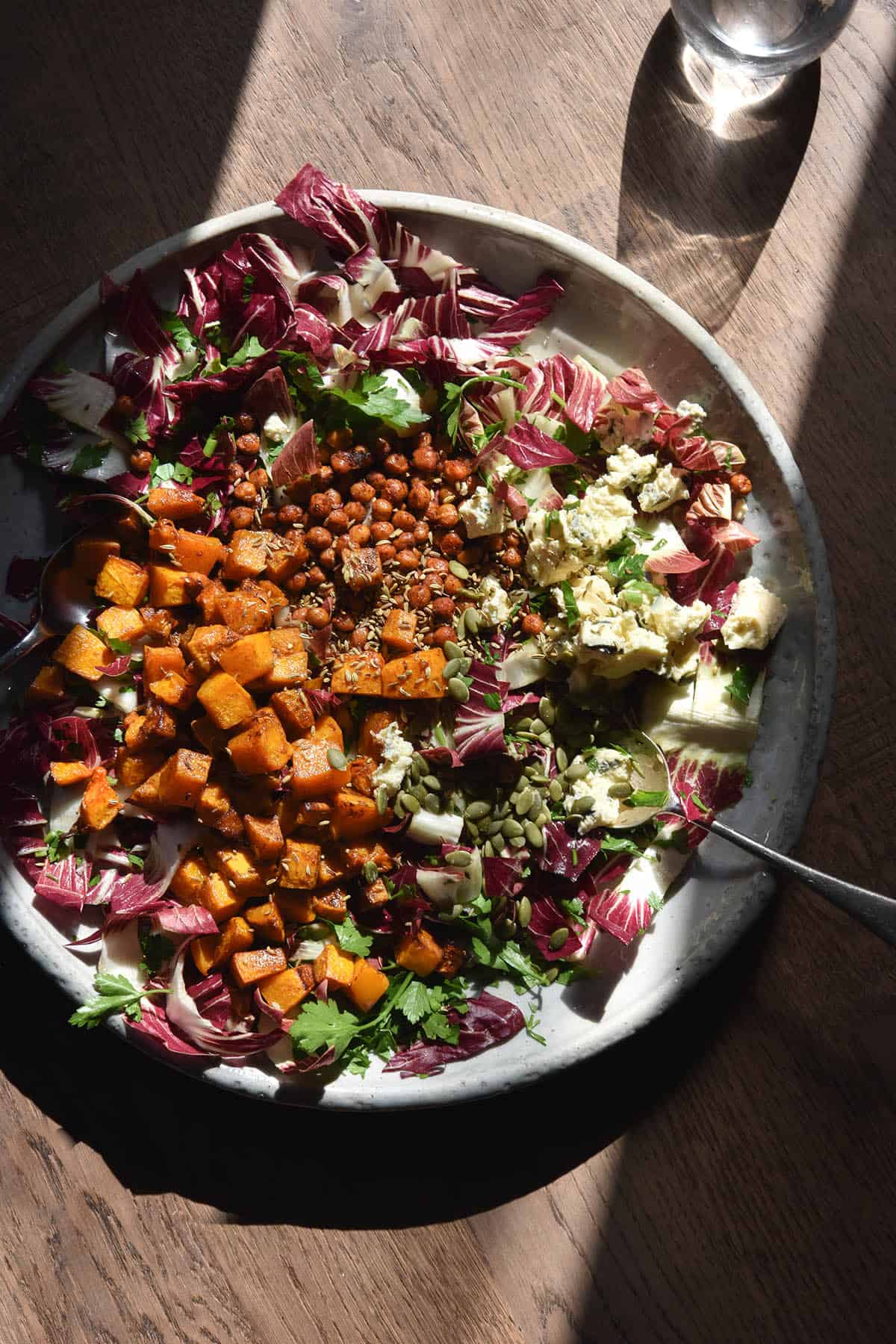 It has taken me 31 years to realise that simple really is best. I've neglected developing salad recipes for years, too enticed by the challenge of the baked good or the intricate lasagne. This year that changes, and the change starts with this radicchio salad. The salad is studded with hunks of blue cheese and honey cinnamon walnuts. It's at home on a winter table as it is at a BBQ. The best part? It takes all of 10 minutes to pull together.
Radicchio salad with blue cheese and honey cinnamon walnuts
The radicchio salad is FODMAP friendly, gluten and grain free. It also happens to be SIBO bi-phasic stage 2 friendly and it is easily adapted to be vegan. Although I haven't tried it, I daresay you could substitute the walnuts for pumpkin seeds for a nut free option, too. You might need to add a little less honey because they have a less intricate surface area than walnuts.
One last radicchio salad sell: it's ready in 10 (as I've said) and all the ingredients have a good fridge life. You can buy them in advance (radicchio lasts about 1-2 weeks in the fridge) and throw them together just before your pals arrive (or after they arrive, for that matter.) TOO EASY.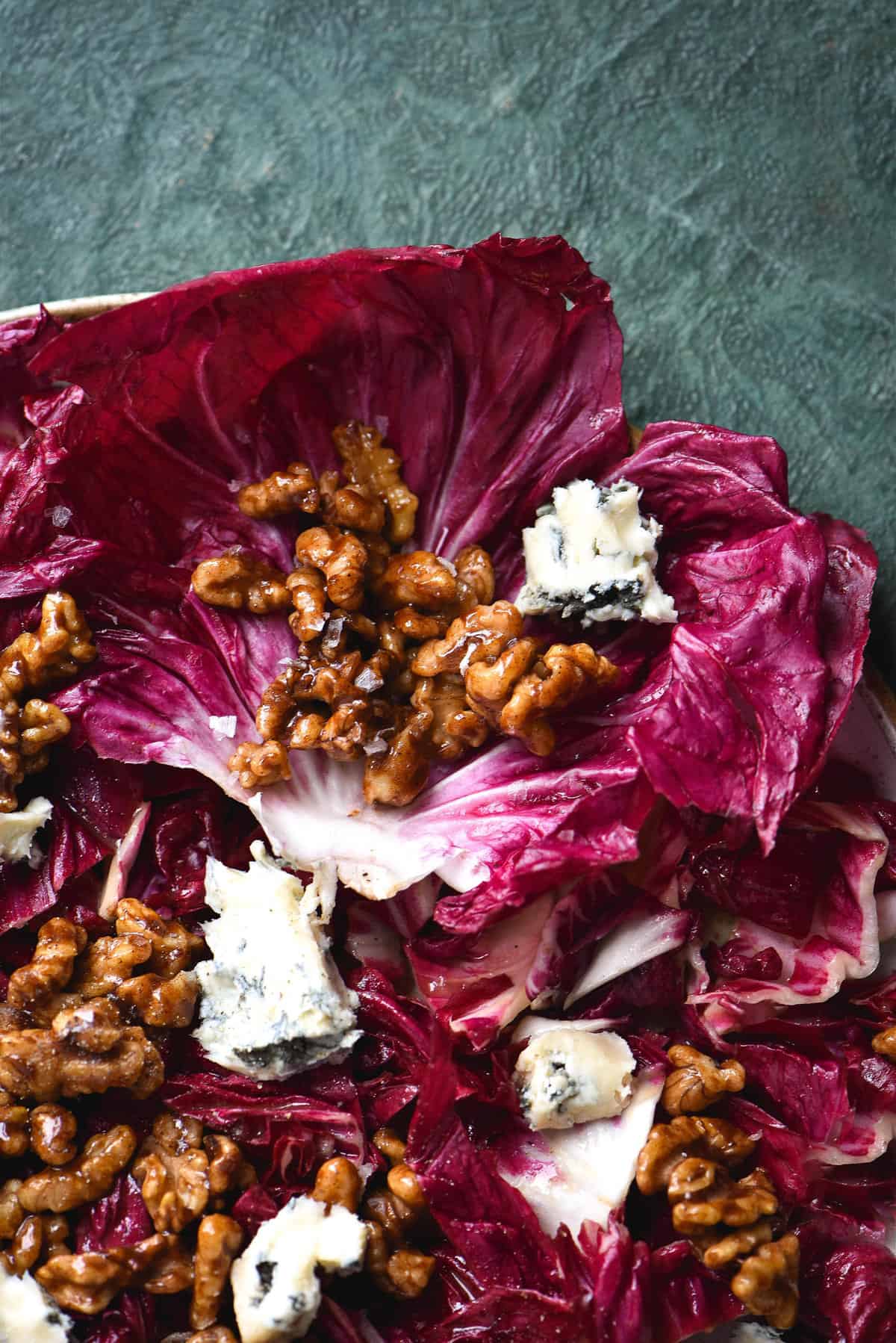 Radicchio salad notes
Firstly, I know that radicchio can be a polarising ingredient, so you can use other lettuce greens if you would prefer. I love the bitterness in combination with the creamy blue cheese, but not everyone does. On that note, you could use a different cheese, if you're a blue hater. I'd suggest a nice sharp cheese like a pecorino
Secondly, dressing is critical! I have used an easy, 1 minute jar vinaigrette made with olive oil, honey, red wine vinegar, dijon mustard and seasoning. It takes ONE MINUTE and you can use what you have on hand – sherry or balsamic for the vinegar, maple for the honey. This vinaigrette has absolutely changed my salad game. Something that also took me 29 years to discover.
Another aspect of the salad that barely takes any time? The honey and cinnamon walnuts. Simply combine the oil, honey and cinnamon in a saucepan over a medium heat and add the walnuts. Move them around in the pan for a minute or two until nicely coated. Decant them onto a lined baking tray to cool and harden, and sprinkle them with sea salt flakes while they're warm. Voila! The most delicious, simple addition to a simple and delicious salad.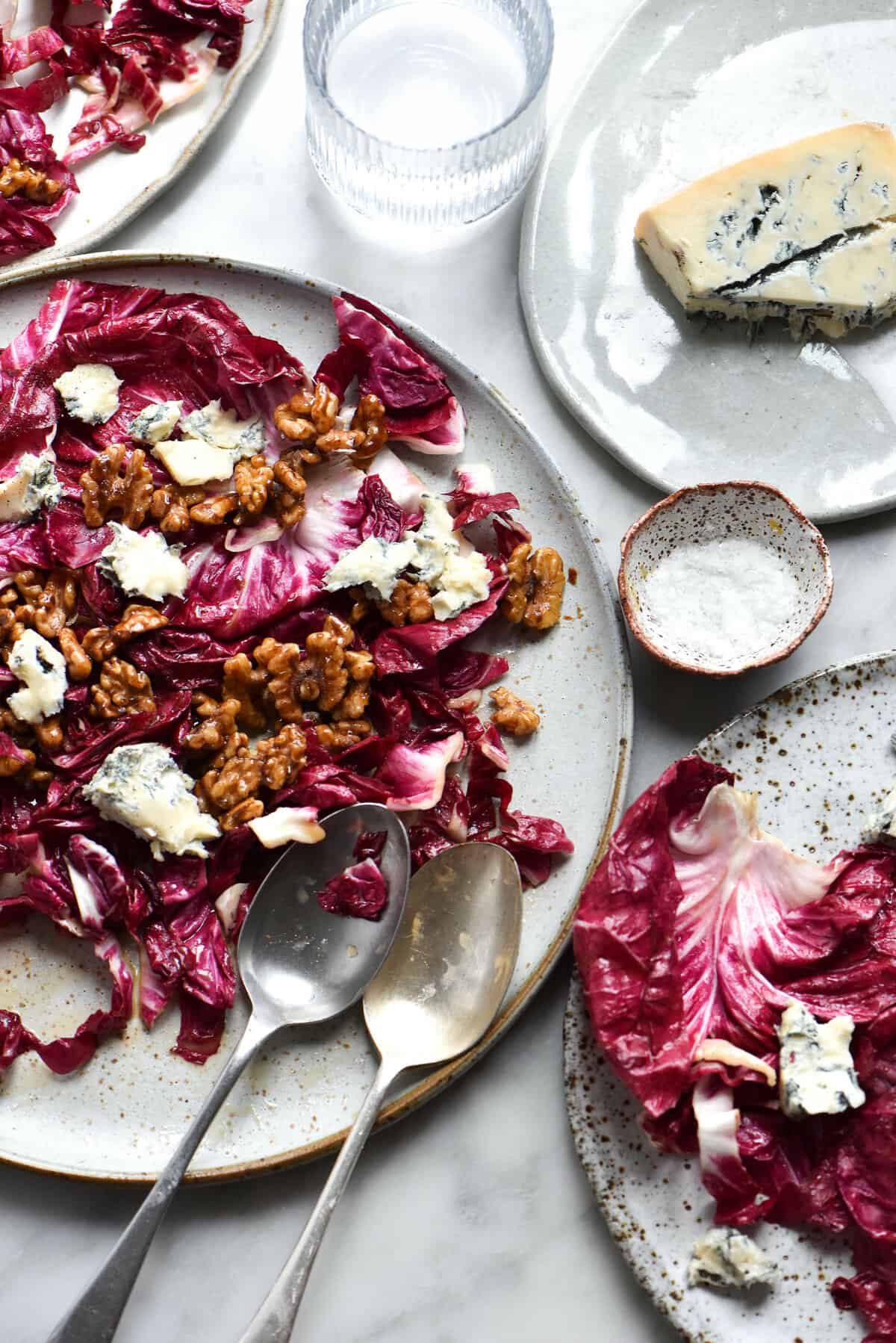 Substitution notes for your radicchio salad
We've covered a lot of them, but I figured it would be helpful to house them all in one place.
If you don't like blue cheese, you could substitute a sharp, tangy pecorino or even a truffle brie. You can obviously also use a plant based substitute, too.
I don't particularly like the idea of substituting out the radicchio, but you can if you're really against it. I find the bitterness of the radicchio plays with the creamy blue cheese and sweetened walnuts perfectly, though.
You can make the dressing with sherry, red wine or pomegranate vinegars – whatever you have on hand. Same with the sweetener – maple syrup is a worthy replacement.
In terms of the nuts, you could pecans in place of walnuts if that's more your speed. To keep the recipe nut free, I recommend using pepitas. As I have mentioned, I would suggest adding a little less honey because they have less surface area than walnuts.
To make the salad vegan: substitute the honey in the dressing and on the walnuts for pure maple syrup. Use a good quality vegan alternative for the blue cheese.
To bulk it up? Roast around 500g Kent or Japanese pumpkin in olive oil and salt until soft and golden. I like to roast mine at 200c/400F for around 45 minutes. See the below section on optional additions.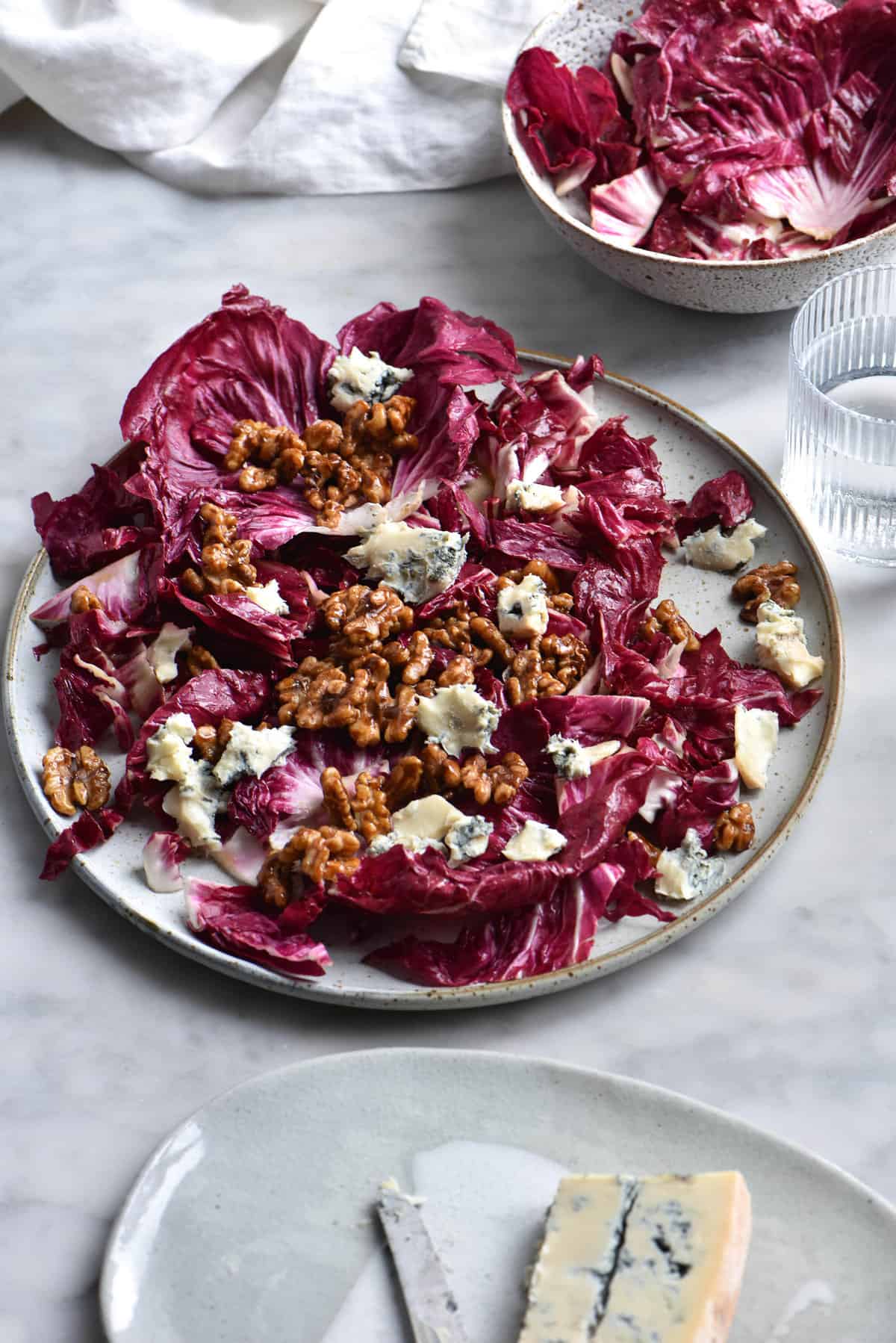 FODMAP notes for your radicchio salad
You would need to eat 5 cups of radicchio in a single serve to ingest a moderate amount of oligos. So on the radicchio front, we're all good. Make sure you check the FODMAP content of other greens, if you're subbing radicchio out. That said, salad greens are rarely an issue.
There are two tablespoons of honey total in this recipe. Half a tablespoon contains a moderate amount of fructose, so if you're particularly fructose intolerant I would suggest using maple syrup in one or both of the honey applications. I used honey because I'm currently on the SIBO elimination diet and it's the only sweetener I'm allowed to have. Plus, I don't seem to have an issue with it. If you do, adjust accordingly. Make sure you use a pure maple syrup (not a maple flavoured syrup) if you swap.
Walnuts are friendly in serves of 30g per serve, and moderate in fructans at 135g per serve.
Blue cheese has an almost negligible lactose content and is absolutely FODMAP friendly, contrary to popular belief about cheese. If you have a dairy allergy, use a plant based alternative.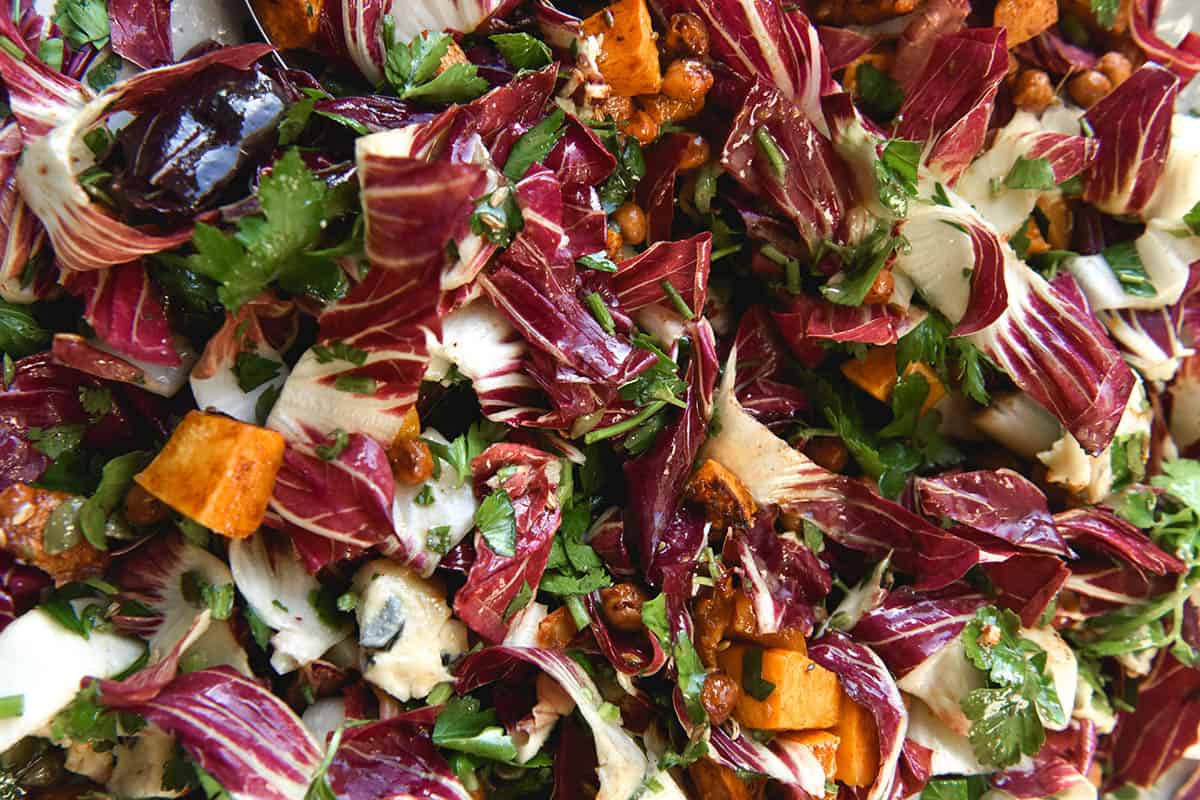 SIBO bi-phasic notes
This recipe is suitable for stage 2 of the SIBO bi-phasic diet due to the honey and blue cheese content. This does not include the optional smoky chickpeas, as legumes are off limits,
Radicchio can be consumed without limit in both stages of the diet, according to the elimination protocol from SIBO doctor.
Honey is permitted in 2 tablespoon serves per day, which bring a 1/4 serve of this salad well within that limit. If honey were your only concern, you could eat the entire salad yourself.
Make sure the Dijon mustard you buy doesn't contain sugar. Maille Dijon is a reliable brand that you can get at the supermarket in Australia. Just make sure you get the plain one and not the honey one (I think that one does contain sugar).
Walnuts are accepted in 10 walnut serves per person per serve. Whether you're serious enough to count out precisely 10 walnuts is up to you.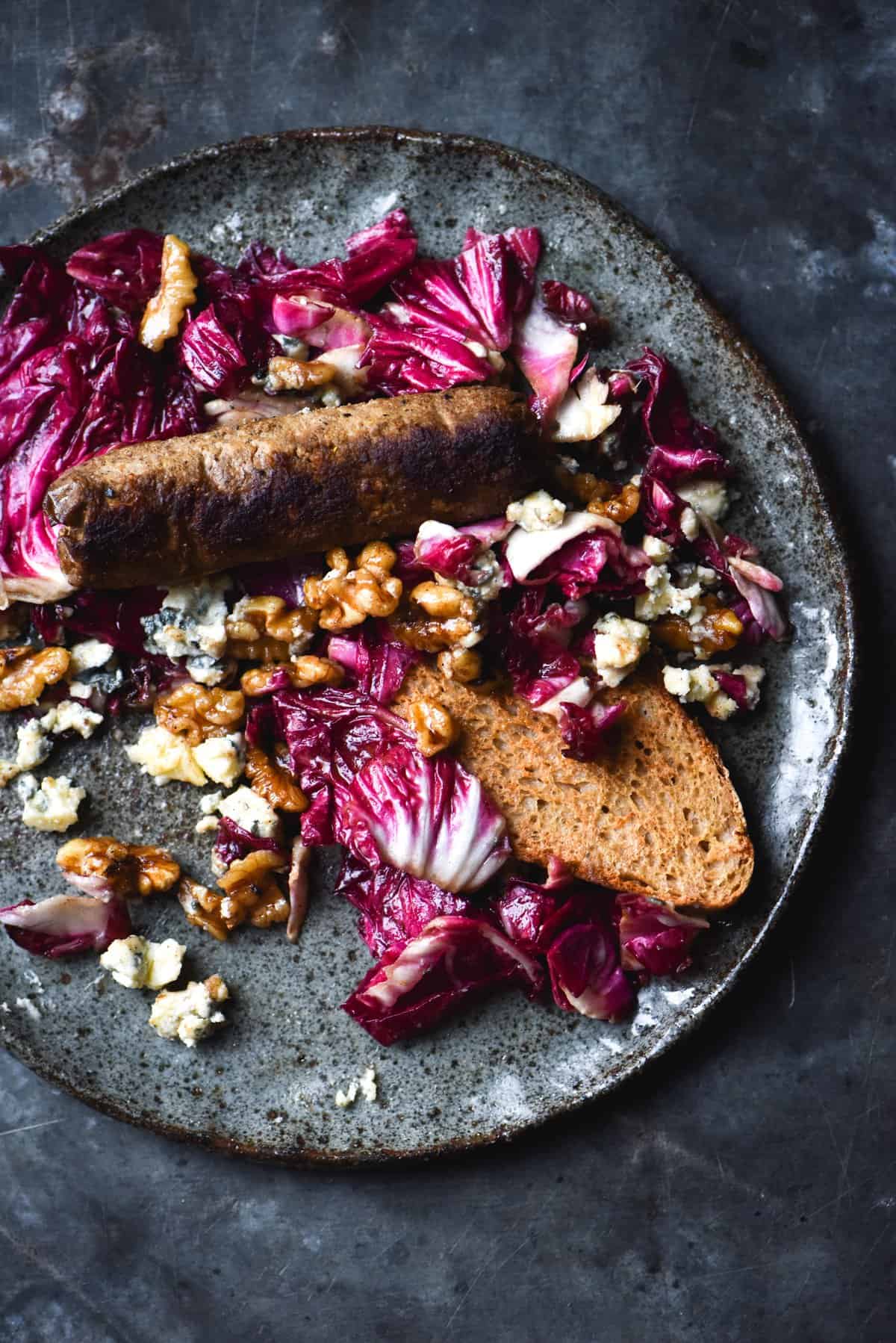 Adding the optional pumpkin and chickpeas
I didn't want to add the methods for optional extras to the recipe card. I know people who make this salad as it is, so I didn't want to mess that up for them.
To add the cinnamon roasted pumpkin, you will need 500g of Japanese or Kent pumpkin. These have an unlimited FODMAP quantity, whereas butternut does not. You will also need some oil, salt, cinnamon and 15 minutes of your time. The recipe for the pumpkin is in the recipe card of this recipe for quinoa, kale and pumpkin salad. Realistically, though, you could just make it up because it is very simple.
To add the smoky chickpeas, you will need 1 X 400g can of chickpeas, thoroughly rinsed and drained. Canned legumes leech out some of their FODMAPs into the canning water, which is why I recommend them for digestively challenged people. one 400g can becomes about 240-250g of chickpeas once drained. The recipe for the chickpeas is in the recipe card of this recipe for kale and chickpea salad. They take 20 minutes to make.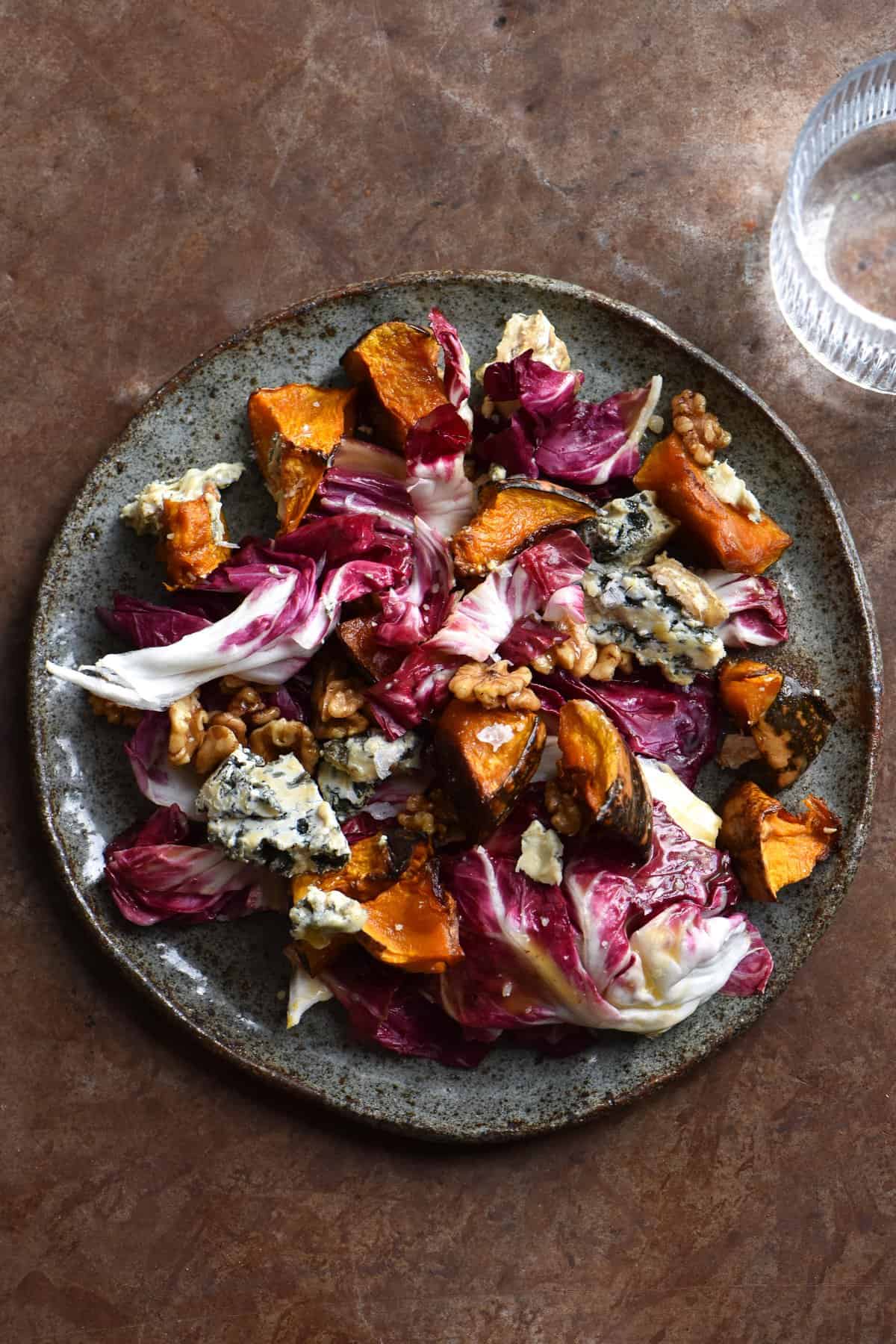 More low FODMAP vegetarian salad recipes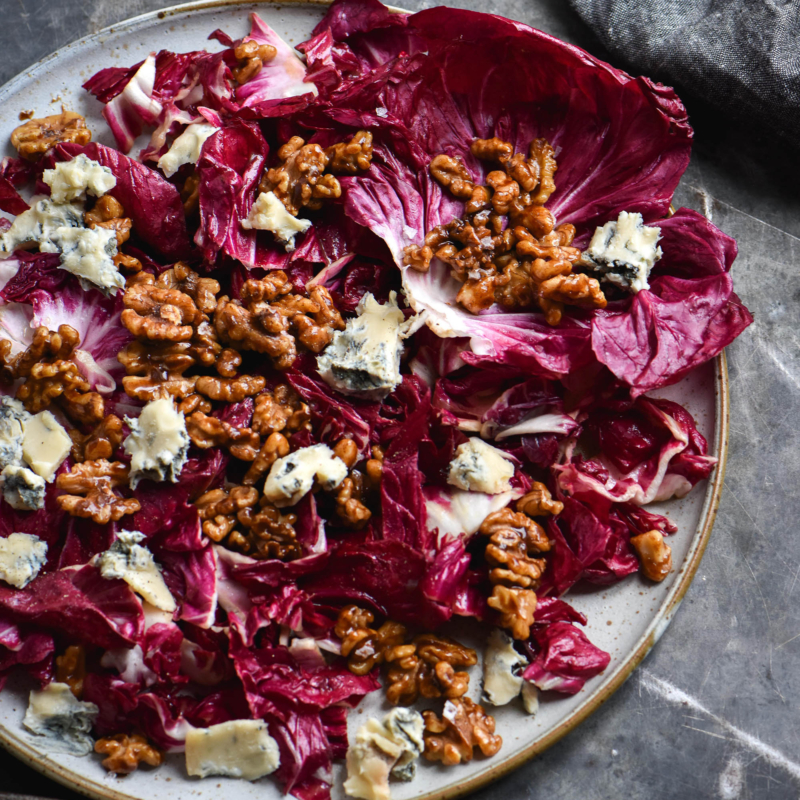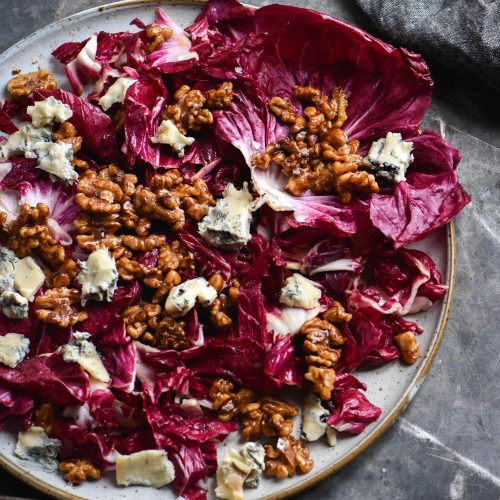 Radicchio salad with blue cheese and honey cinnamon walnuts
A delicious radicchio salad with the option to add roasted pumpkin and smoky chickpeas
Ingredients
For the vinaigrette:
2 1/2 -3

tbsp

olive oil (see notes)

1

tbsp

vinegar (sherry, red wine or pomegranate)

1

tbsp

honey or maple syrup

3-4

tsp

Dijon mustard, to taste

Seasoning, to taste
For the honey cinnamon walnuts
1

tsp

olive oil

1

tbsp

honey

1

tsp

cinnamon

1

cup

walnuts

Sea salt flakes, to finish
For the salad:
1

extra large head (or two medium) of radicchio, chopped

100-200g

blue cheese (see notes for alternatives)
For the optional extras:
1

batch

smoky chickpeas (recipe is in the notes)

1

batch

cinnamon roasted pumpkin (recipe is in the notes)

1-2

tsp

toasted fennel seeds (optional)

1

bunch of flat leaf parsley, chopped
Instructions
To make the vinaigrette:
Combine all the ingredients for the vinaigrette in a small jar with a secure lid. Shake until emulsified (this only takes a few shakes thanks to the mustard). Set aside.
To make the honey cinnamon walnuts:
Place a frypan over a medium heat. Add the oil, honey and cinnamon, followed by the walnuts. Use a spatula to move the nuts around the pan until they're all coated and there's not much liquid left in the oven, about 2 minutes. Transfer to a lined baking tray to cool, and sprinkle over some flakey sea salt while they're still hot. It adds a nice flavour contrast and some crunch.
To finish the salad:
Place the radicchio in a large mixing bowl and pour the vinaigrette over the top. Toss to coat. Add half the walnuts (with any cinnamon honey left on the baking paper) and half the blue cheese. Toss again to combine.

Arrange the salad on a serving plate and top with the remaining walnuts and blue cheese. Finish with some freshly cracked pepper and sea salt flakes for crunch.
Notes
The salad keeps well in the fridge for a few days. Because it is so quick, it is best made fresh for gatherings. 
The salad serves 4 as a side dish and 2 as a big main with a bit of protein on the size. It can easily be doubled or even tripled. 
Use 3 tablespoons of oil if you are adding the chickpeas or the pumpkin. Use 2/12 tablespoons if you are just making the radicchio.
For the smoky spicy chickpeas, use the recipe for the chickpeas in this salad here. They take 20 minutes.
For the cinnamon roasted pumpkin, use the recipe for the pumpkin here. It takes 15 minutes.
Add extra lemon juice and honey as required once the salad is assembled.