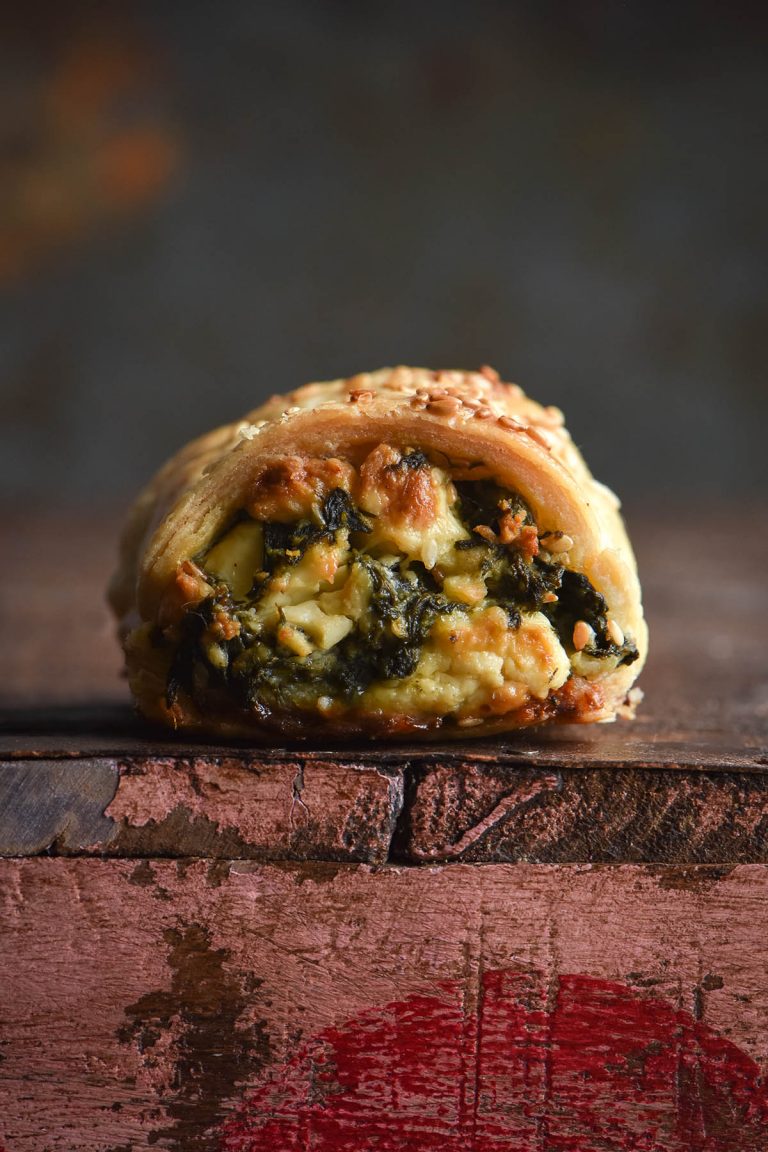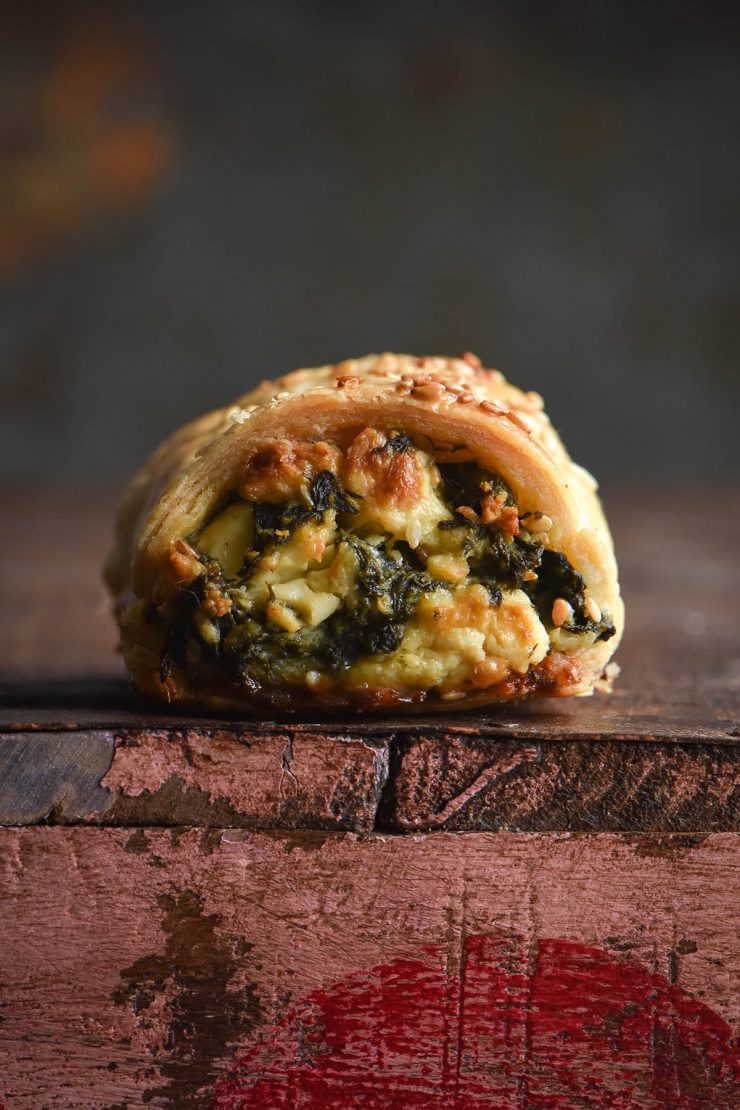 I'm so thrilled that my new cookbook, Intolerance Friendly Kitchen, is out in the world. Why? Among other things, it means I can finally share recipes that build on the recipes in the book. These FODMAP-friendly spinach feta rolls use the gluten free puff pastry recipe, and they are VERY GOOD.
FODMAP-friendly spinach feta rolls that are gluten free
The pastry can be used for any manner of things on my site, too, like the vegetarian sausage rolls or any of the pies: spanakopita style, pumpkin and leek green, the list goes on. It can also be used for any of the galettes, and in sweet applications too. You can, of course, use a store bought version here, but I think a good puff pastry recipe is such a great thing to have in your baking repertoire.
Back to the FODMAP-friendly spinach feta rolls. They're vegetarian and easy to make vegan with trusted feta and butter substitutes. The cookbook goes into options and suggestions for making a gluten free vegan puff pastry. They can easily be made nut free – I like adding toasted pine nuts for a treat, but they are optional. Lastly, they are SUCH a good thing to have in your freezer for those days or nights when you have had one marg too many.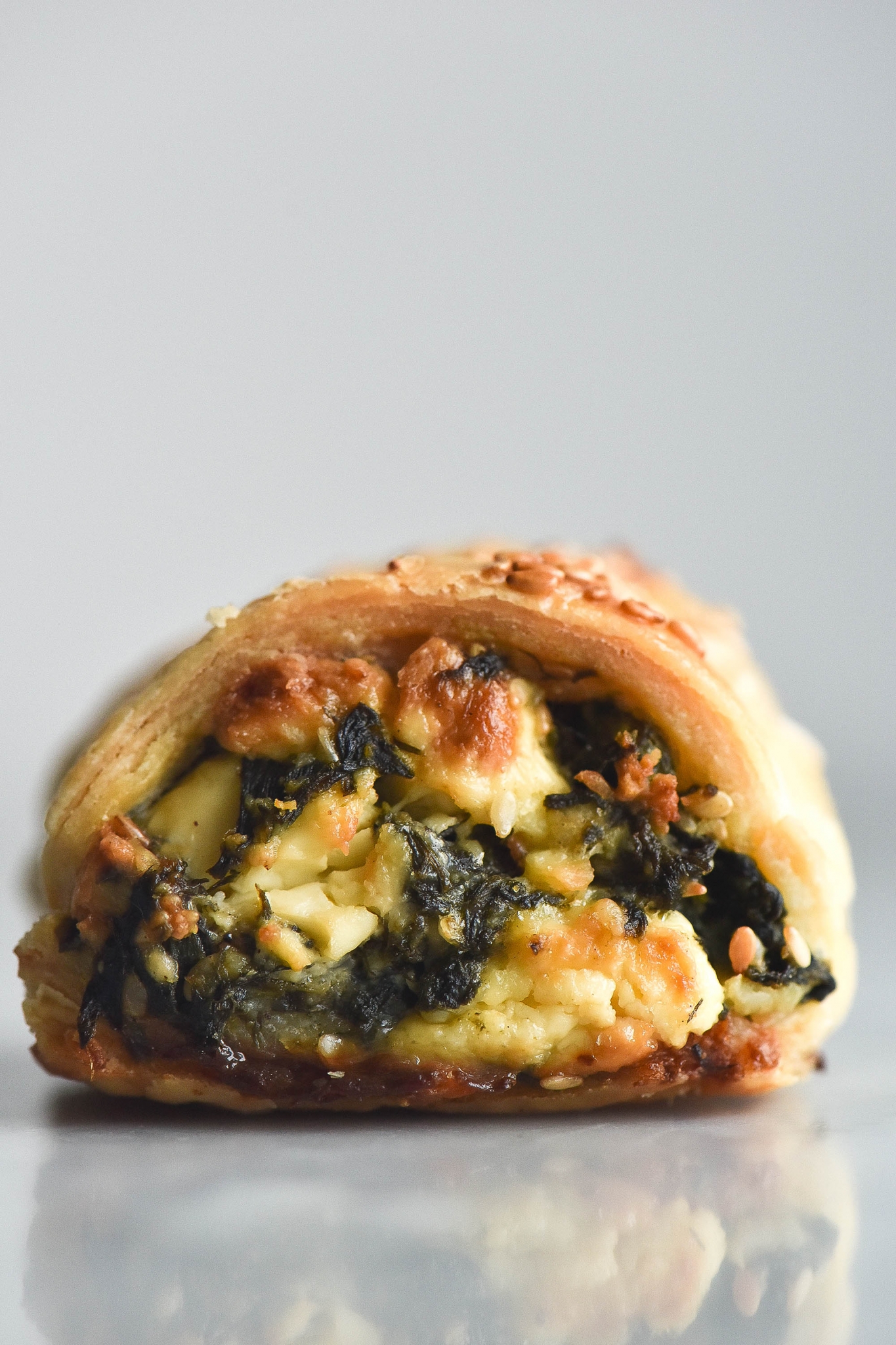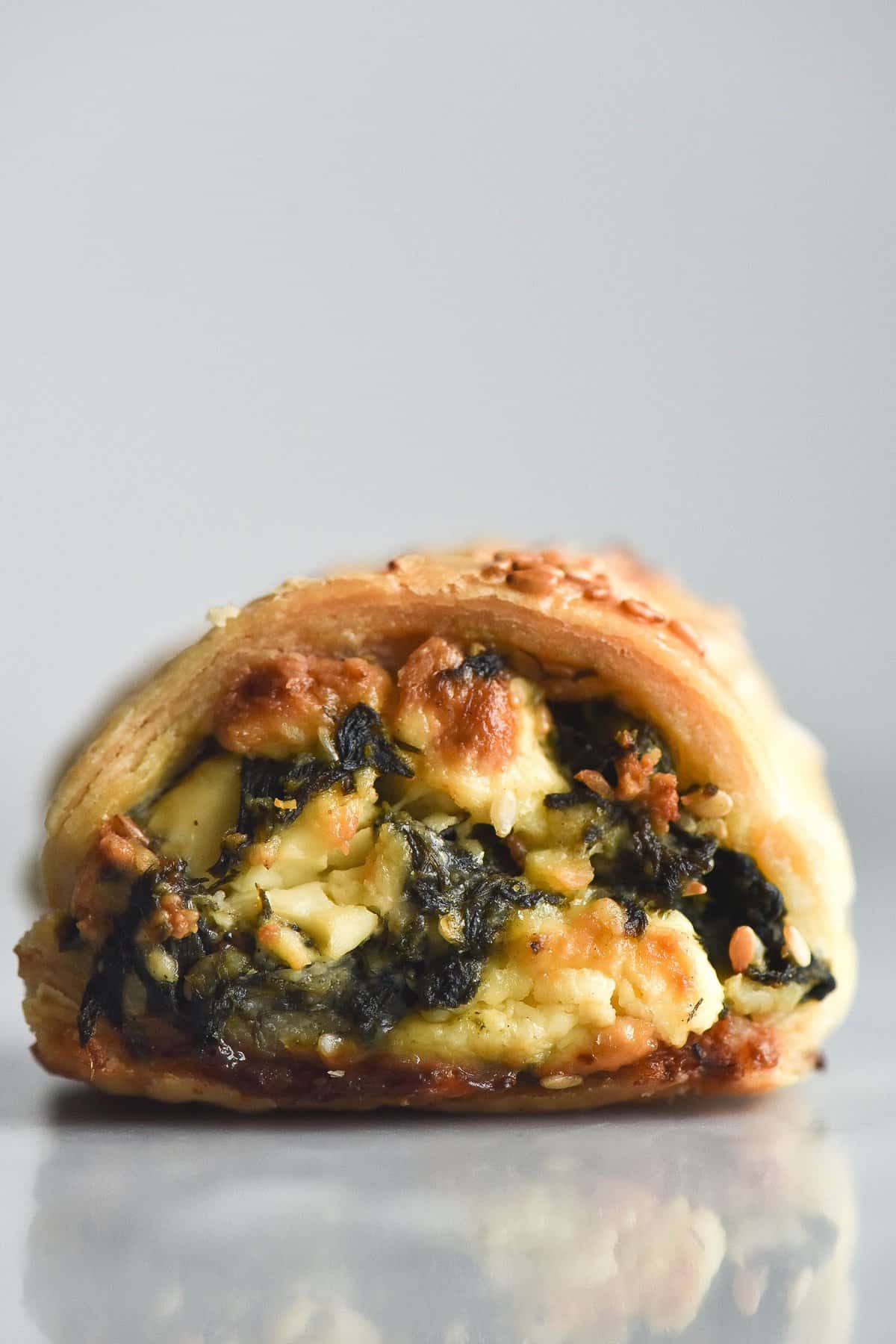 Recipe notes
I have used frozen chopped spinach for these rolls. It's easy and convenient, and the spinach generally isn't wrapped in plastic so I don't feel guilty about the waste. If you're buying frozen spinach, make sure it's chopped! I promise that it makes your life SO MUCH easier than buying unchopped.
I haven't used fresh spinach in this recipe, but it's obviously possible. After a little digging, I found a few websites that offer a hint at the conversion. They are American, so I have done my best to translate the grams and cups.
As far as my maths comprehension goes, 500g of fresh spinach equates to around 200-300g cooked spinach. The website doesn't mention whether this is thoroughly drained or not. Needless to say, undrained spinach would weigh more than drained. As such, you'd need around 1kg+ fresh spinach to make this recipe, which uses 500g frozen. I would probably err on the side of caution and buy 1.5kg. I'll update the recipe when I try it myself.
These rolls would also work padded out with some ricotta. I have a lactose free recipe here.
In terms of the herbs and spices, you can play around a little. Personally I think that the dill and nutmeg are critical and quintessential, but see what works for you.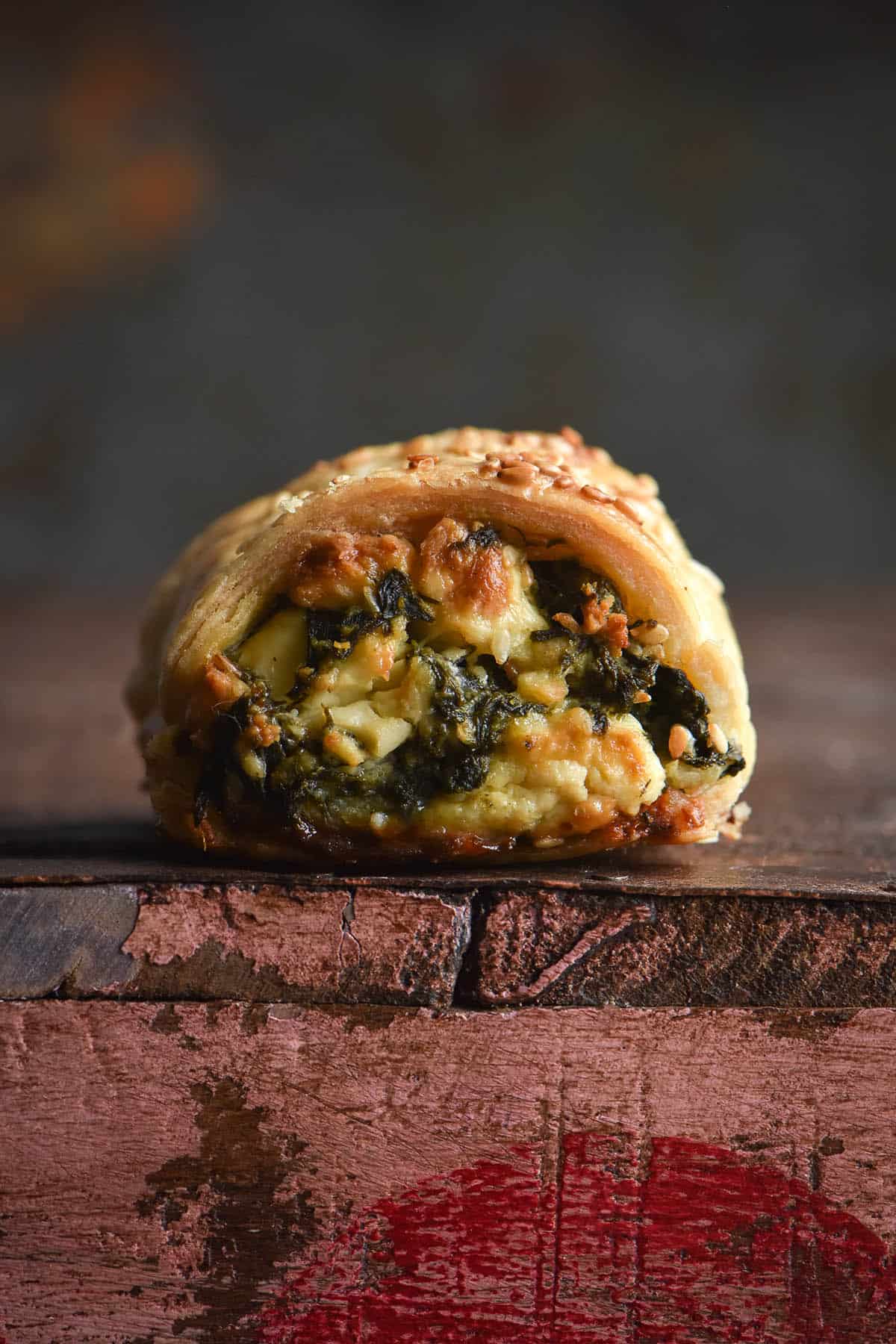 How to make these FODMAP friendly spinach and feta rolls vegan or egg free
A few quick swaps are necessary to make these FODMAP-friendly spinach feta rolls vegan. Firstly, you will need to use a vegan butter in place of the regular butter in the puff pastry. Use a block style of butter that you trust. A margarine style vegan butter won't hold form enough to roll in a butter block.
If you would prefer to use store bought, it seems that they tend to be made without butter anyway. I haven't tried them, but there are a number of free from brands popping up at the supermarket in Australia.
Secondly, substitute the feta for a plant based alternative. You may need to add a lot less to account for the differing consistency, and you might need to adjust the other flavours to suit.
Thirdly, the eggs! You can substitute the eggs in the mixture by adding more liquid (ie a plant based milk) to give the mixture a bit more binding capability. You could try an egg substitute, but I have no experience with them.
Finally, brush the rolls with milk mixed with a little agave or maple syrup. This will help seal the seams but also give your rolls a bit of browning power in the oven.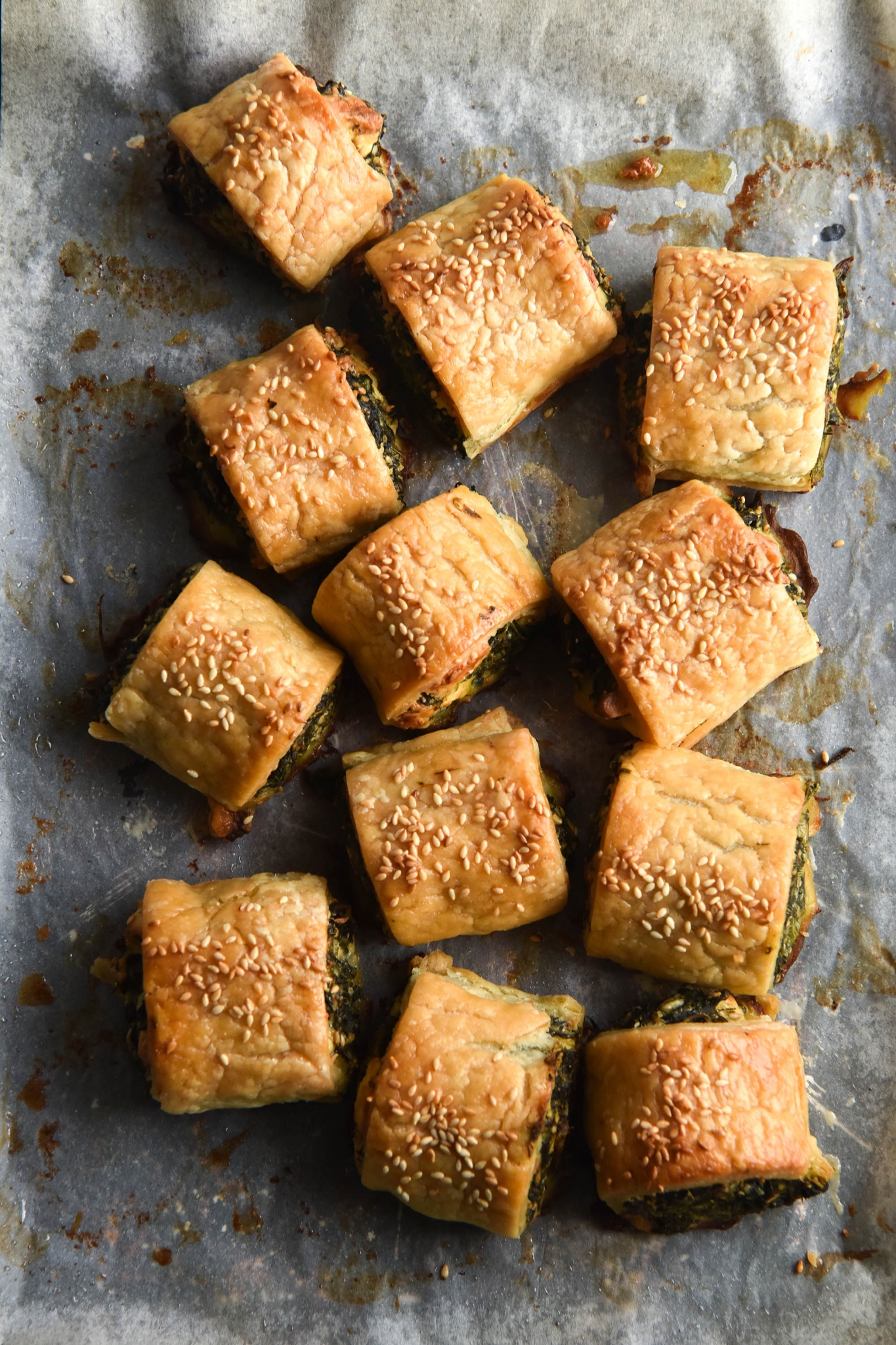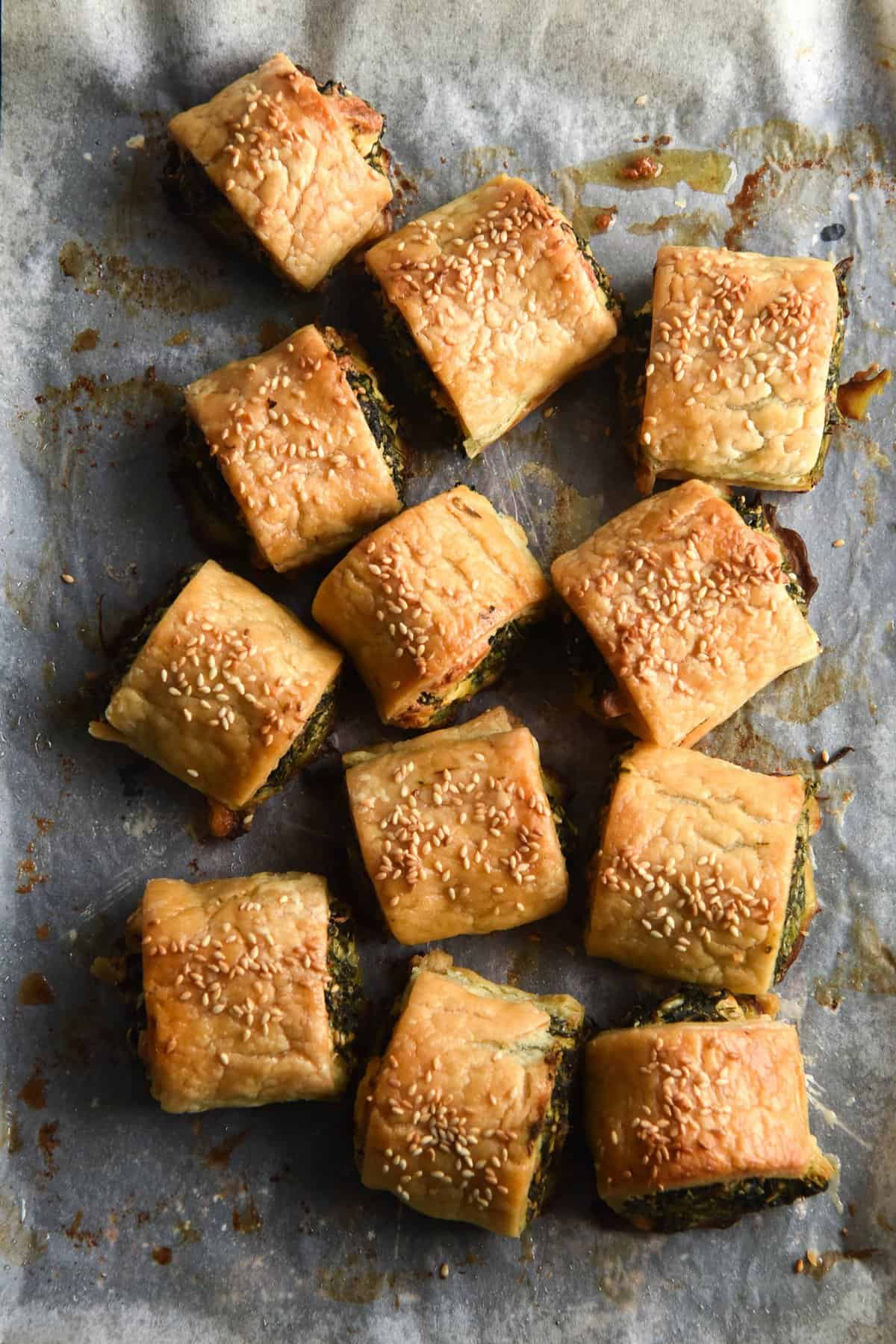 Tips for working with gluten free puff pastry
This note refers specifically to my gluten free puff pastry recipe in my new cookbook, Intolerance Friendly Kitchen. I have lots of experience in working with this pastry, so this is what I can offer tips on.
Firstly, make sure the pastry is always cold. If it starts to heat up, the butter that you have laminated into the dough will melt. With it melts all the flaky layers you have worked so hard to achieve.
Once you have finished rolling out the dough, I recommend slicing it in half with a sharp, non-serrated knife and keeping the second half in the fridge while you roll out the first piece. Chilled raw pastry equals flaky and delicious puff pastry.
Another thing I recommend is chilling the sausages of spinach feta rolls before slicing and before baking. The pastry slices more seamlessly, leaving crisp edges of laminated dough, if sliced cold. ALWAYS use a non-serrated knife to prevent tearing up the lamination.
These rolls can be frozen as logs then thawed slightly before slicing and baking in a hot oven. You could also slice chilled rolls, freeze them and bake them straight from frozen. They might need a little longer in the oven, but you can guarantee the butter will be nice and cold.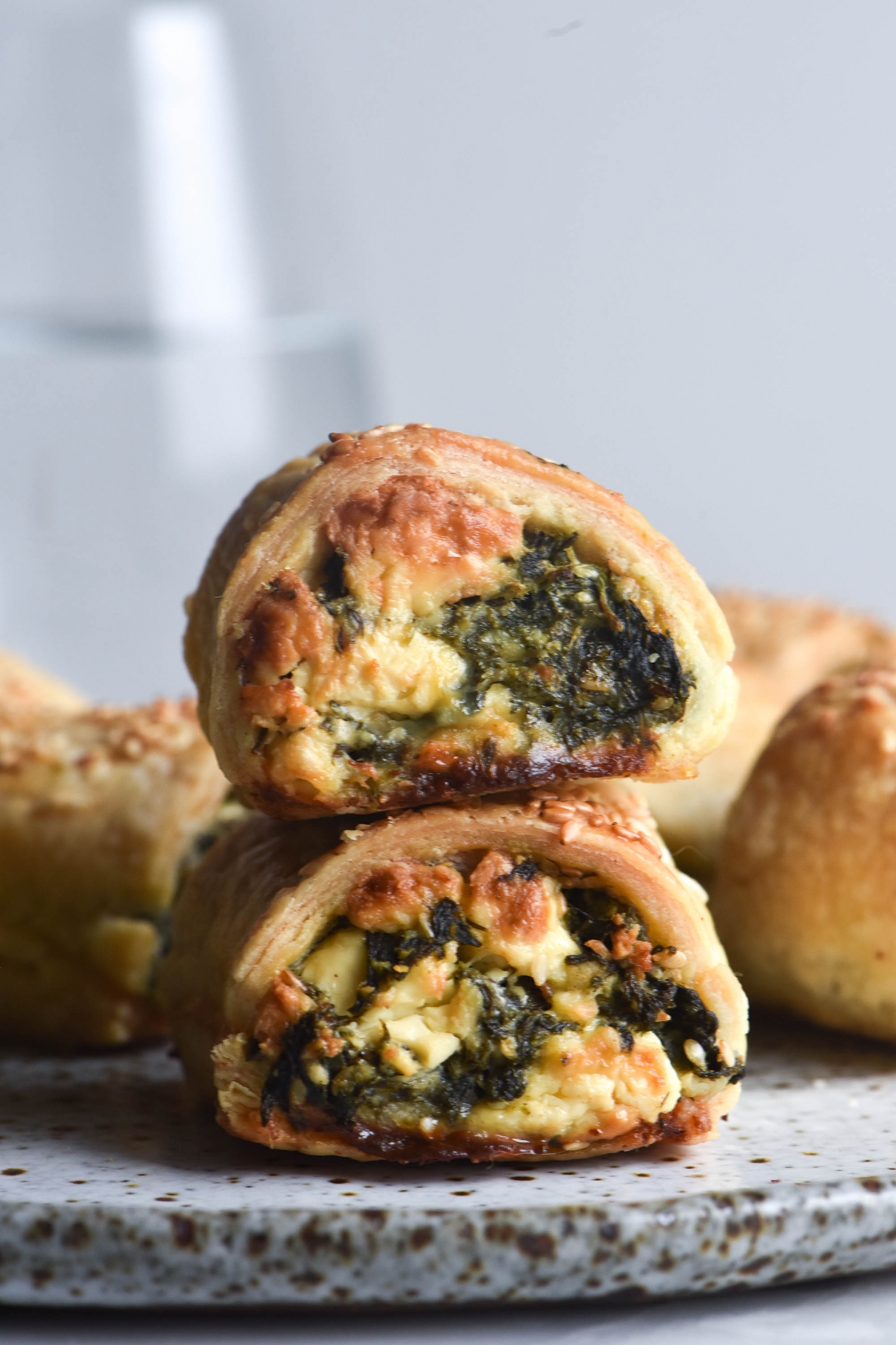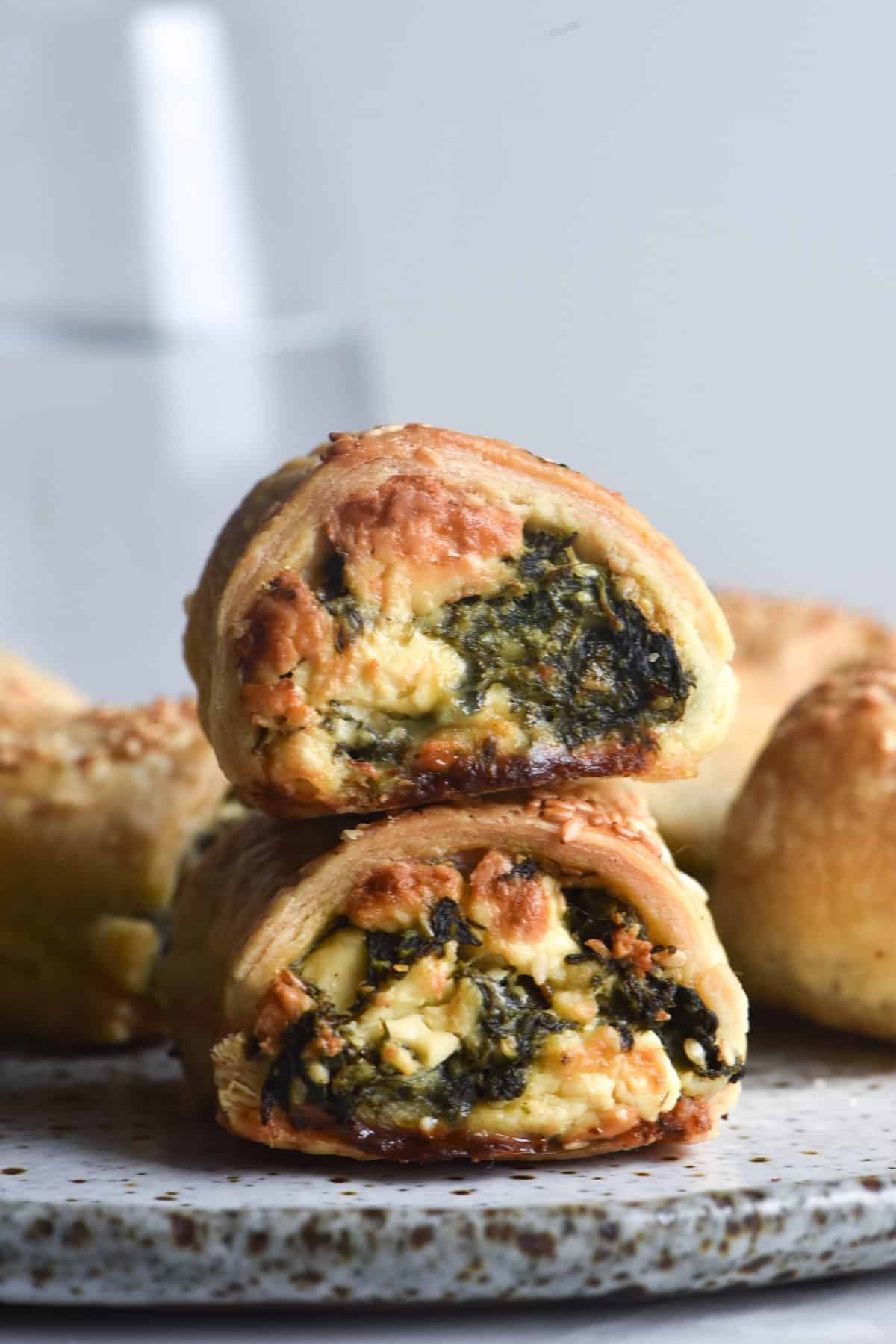 Troubleshooting
I find that puff pastry, particularly when it's made with good butter, changes very quickly. One minute it is frozen solid; the next, too soft to work with. You do need to keep an eye out when working with puff pastry, and pop it back in the fridge whenever it softens.
I find that rolling it out on baking paper that is heavily floured with tapioca flour is the best way to do it. The baking paper helps with rolling up (as in the case with these rolls) but it also helps with making the pastry transportable in the event it needs to go back in the fridge.
If you take your rolls out and they're swimming in a sea of butter, changes are the dough was too warm when it went into the oven. The butter has melted and seeped out of the pastry instead of puffing up to create flaky pastry. Next time, thoroughly chill the rolls before baking to ensure the butter is cold enough to create puff in the dough.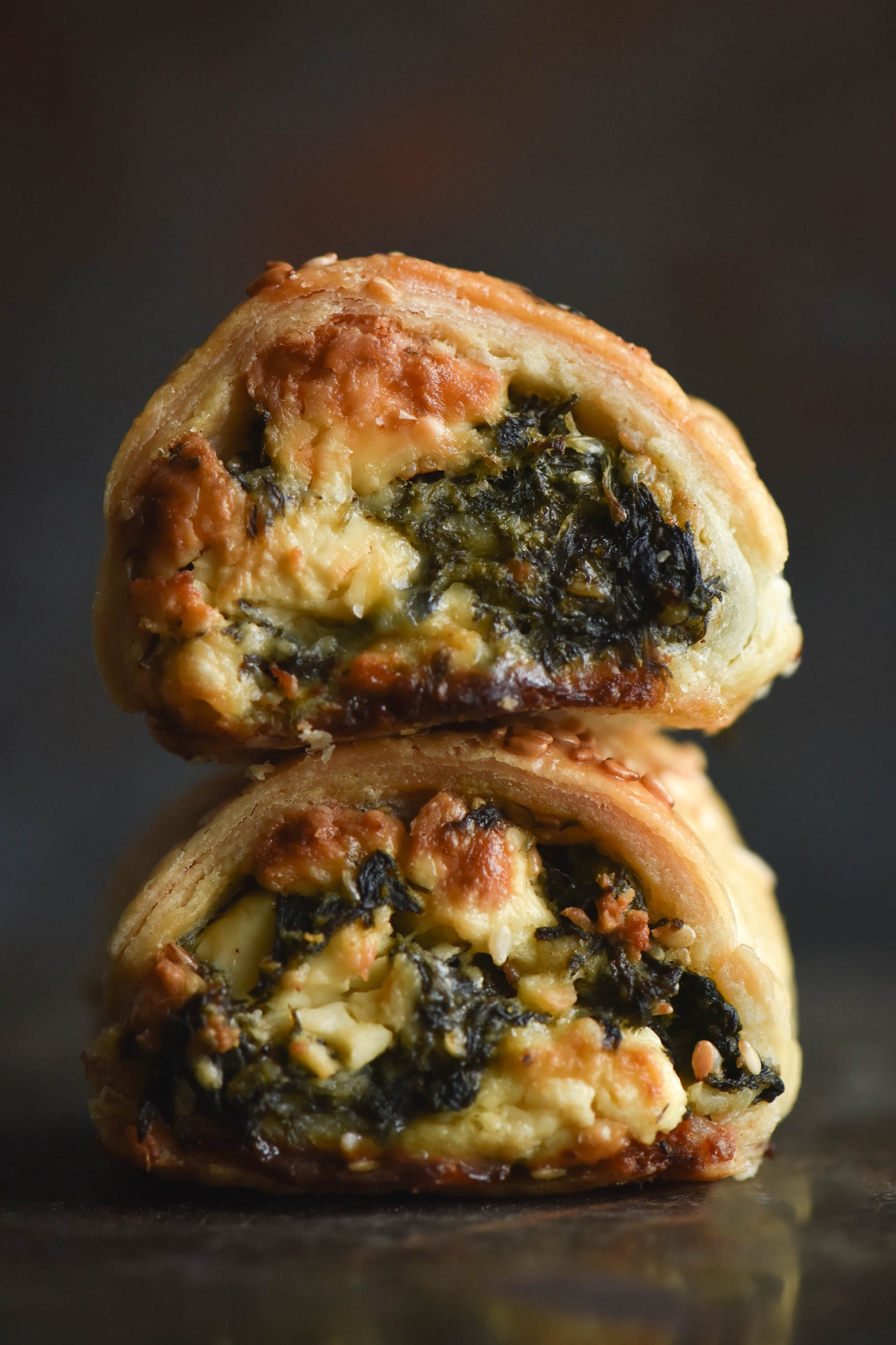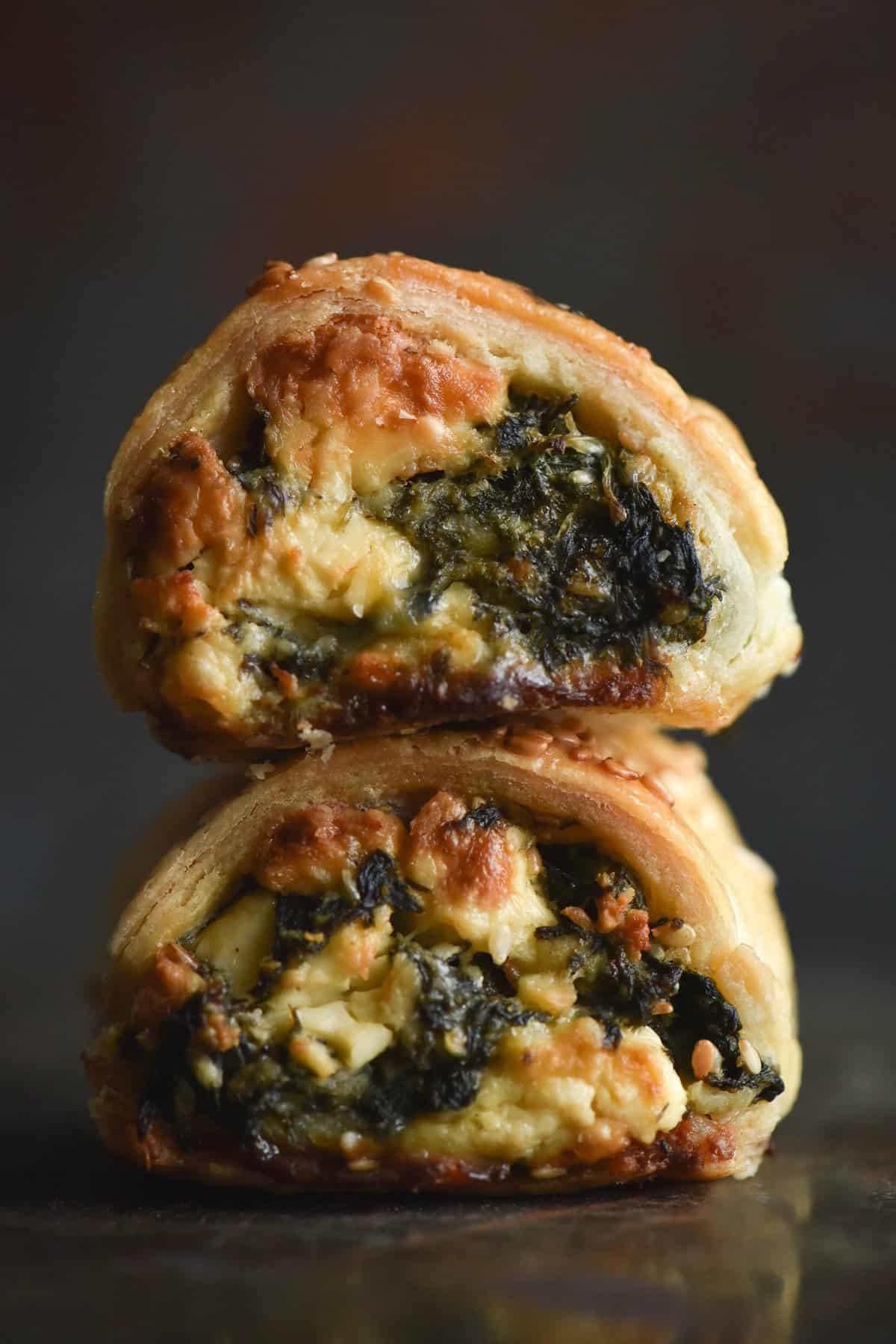 More gluten free pastry recipes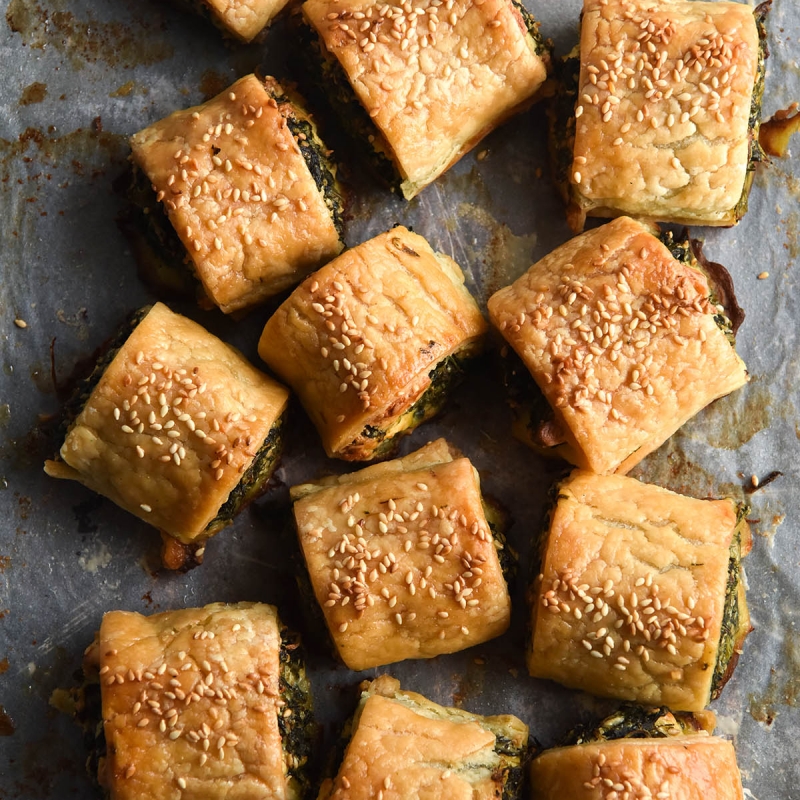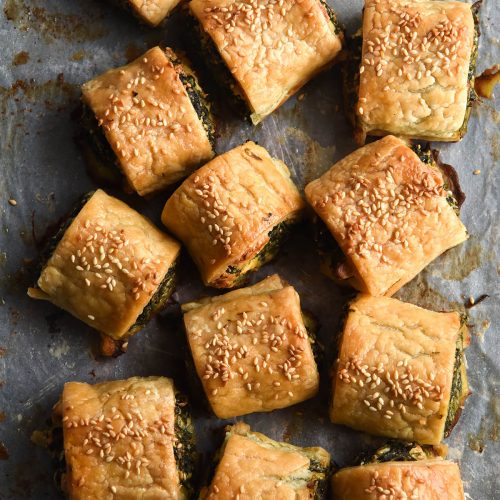 FODMAP-friendly spinach feta rolls
FODMAP friendly, gluten free, nut free option, vegan option
Ingredients
For the filling:
500g

frozen chopped spinach, defrosted and thoroughly squeezed of excess liquid

200-250g

Greek style feta, crumbled

1

bunch

spring onion greens, chopped

1/2 – 1

cup

mixed herbs (dill is a must, but I also like using some parsley)

Freshly cracked pepper and chilli flakes, to taste

Lemon juice and zest, to taste

1/4 – 1/2

teaspoon

ground nutmeg (or to taste if you are grating it fresh)

1

teaspoon

dried oregano (optional)

2

extra large eggs

1/4

cup

toasted and chopped pine nuts (optional)
To finish:
1

batch

gluten free puff pastry from Intolerance Friendly Kitchen (or two store bought sheets)

1

egg

for egg-wash (optional)

Sesame seeds, for the tops (optional)
Instructions
To make the filling:
Combine all the ingredients except for the eggs in a large mixing bowl. Taste and adjust according to your preferences. When you are happy, add the eggs and set aside.
To finish:
Preheat the oven to 200C/400F. If you're working with the puff pastry in hot weather, you will need some fridge breaks so the butter in the pastry doesn't melt. Regardless, it's always good to budget in extra chilling time for the flakiest possible pastry.

Lay out the pastry on a large floured sheet of baking paper. I use tapioca flour. If at any time the pastry starts to stick, whip a tray underneath it and place it into the fridge to set. Decide on the size rolls you'd like, and cut the pastry accordingly. I wanted medium rolls, so I cut the pastry sheet into two equal sized rectangles. If you want smaller rolls, slice the pastry intro three. Imagine slicing a horizontal A4 piece of paper into three.

Use a spoon to evenly portion out the sausage mixture between the pastry rectangles. Create a long, reasonably thick line of mixture aligned to one side of each pastry rectangle, leaving a centimetre or so to help seal the roll. This filling recipe is exactly enough to work with one batch of puff pastry from Intolerance Friendly Kitchen. Leave enough room that you can seal the rolls at the end.

Brush the seal side with egg wash, then roll it up over the filling. Figure out where the bottom seal will be (you might need to trim off extra pastry) and then brush that seal with egg wash too. Keep rolling until you have formed a tight log and trim off any excess pastry if necessary. Make sure the log sits on top of the pastry seam or it might unfurl in the oven. Repeat with the remaining pastry and filling. If the pastry is still firm, slice the log into roughly equal sized rolls. If it feels soft and melty (or even if it doesn't) pop it in the fridge for 15-20 minutes before slicing. This will help create a nice clean cut so you can see the pastry lamination and puff after baking. See the notes in the pastry tips section on baking from frozen.

Gently place the rolls on a large lined baking tray. Use a pastry brush to brush the egg wash lightly over each sausage roll. Sprinkle the sesame eggs on the wet egg, so they stick to the rolls.

Place the rolls into the oven for 25 minutes or until golden brown, puffy and cooked through. Serve warm, or allow to cool completely before freezing in an airtight container. Leftovers keep well in the fridge for a number of days.