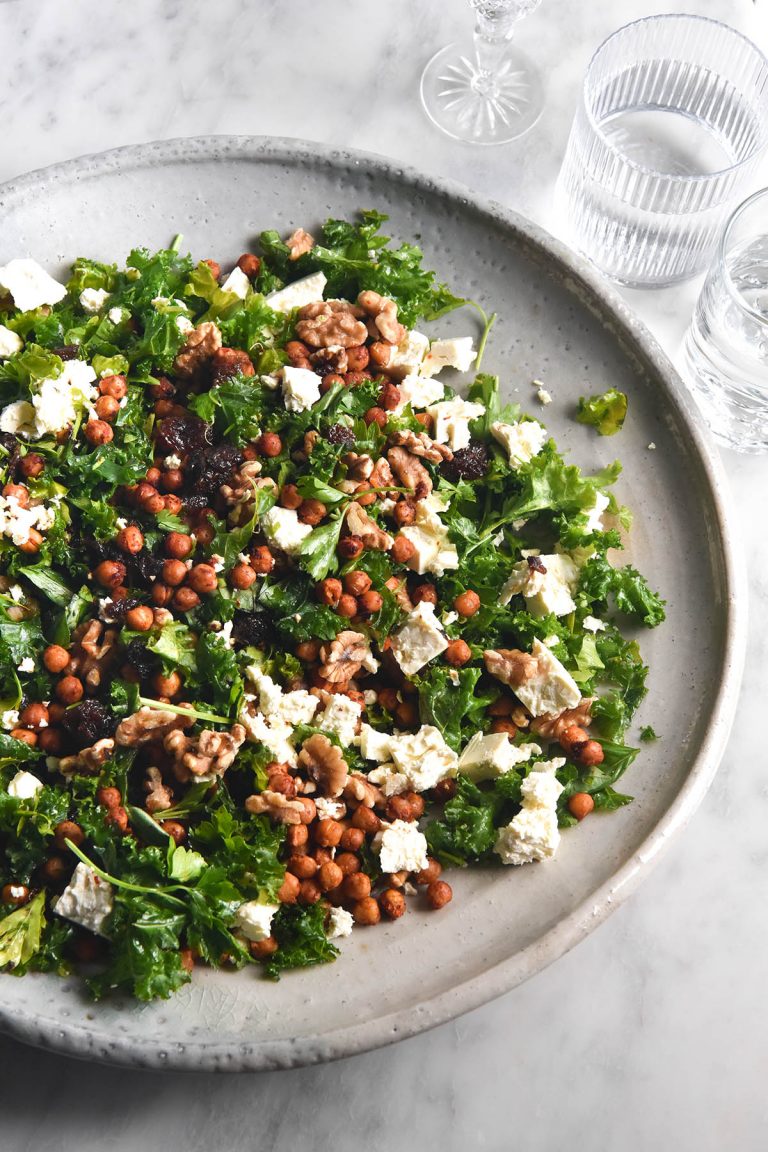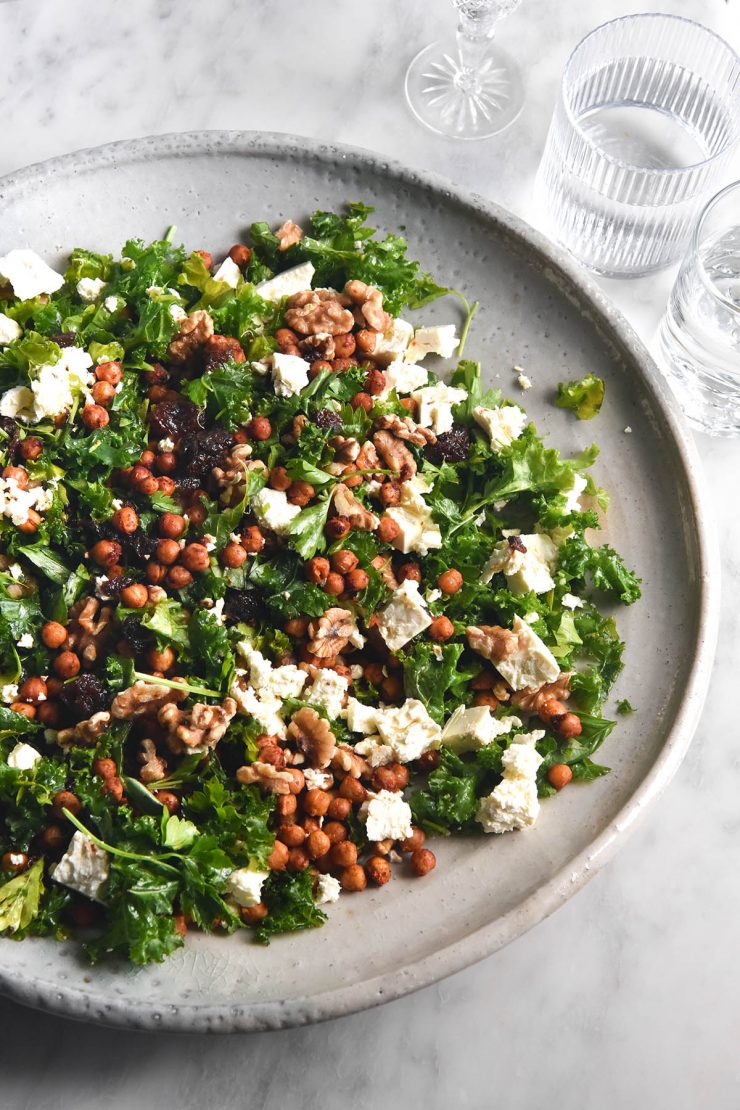 I'm posting this kale, feta and crispy chickpea salad after it got a lot of enquiries on my Instagram stories. Initially, I had intended to make my tomato, cucumber and herb salad with the ingredients. I had some wilting kale, though, so a few adjustments later and this delicious salad was born.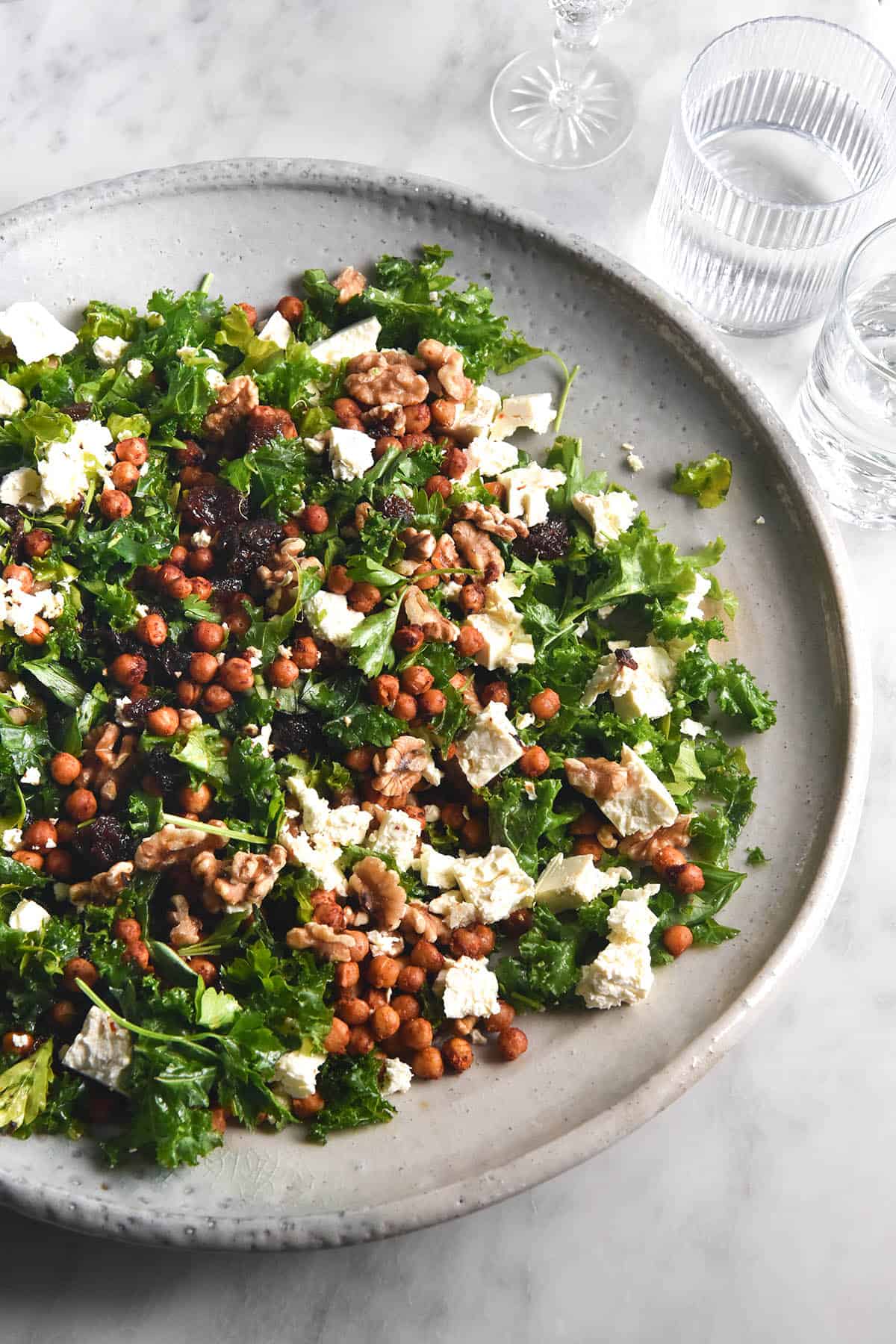 The salad comprises of massaged kale, a zingy dressing, smoked paprika and tajin chickpeas, feta, olives, walnuts, raisins and parsley. A bit of blender parmesan finishes it all off. It keeps really well in the fridge for days, which we love.
A note: I didn't set out to make this an overtly FODMAP friendly salad. If that's what you're here for, have a read of the below for some options.
Kale salad with feta and crispy chickpeas
This salad is a delicious and hearty meal prep salad that lasts for days in the fridge. It can easily be made vegan by using vegan cheese alternatives. While not overtly FODMAP friendly, it is made without onion and garlic.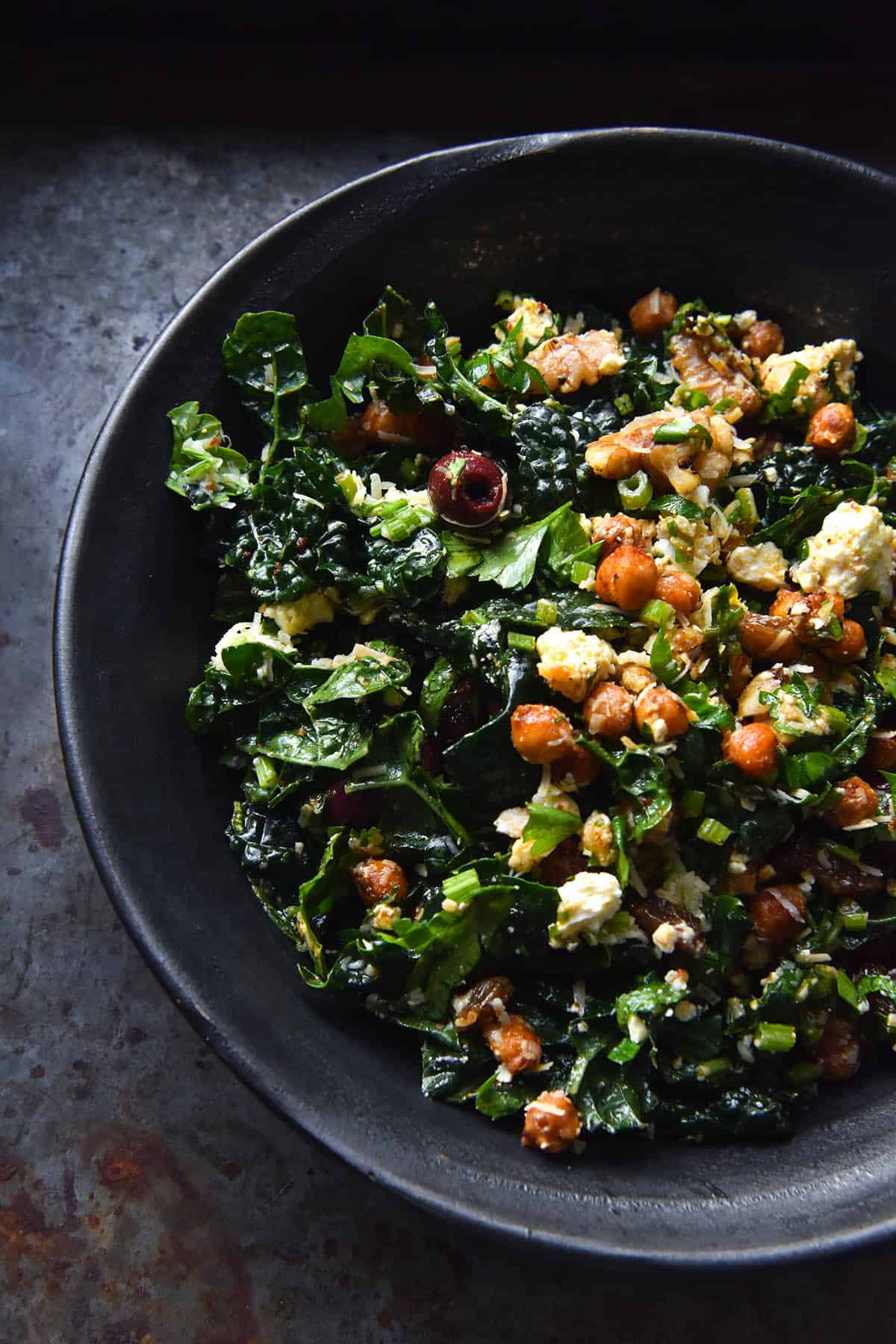 Legumes and FODMAP notes
I am trying to incorporate more legumes into my diet in a way that my body allows for. Legumes are not overtly FODMAP friendly, but they are a great source of plant protein and generally very good for you. Canned legumes contain less FODMAPs than beans from a packet because some of the FODMAPs leech out into the canning liquid. So! I'm using chickpeas in this salad and I'm using canned.
In Australia, an 400g can of chickpeas actually weigh 250g approximately once drained. This is important to remember when you are looking at a 400g can and wondering why I am using a whole can of chickpeas.
Monash says that 42g of canned chickpeas per person is a FODMAP friendly serving. So, you could safely eat just under 1/4 of the chickpeas in the salad without issue. I find I can eat more, and I'm keen to start pushing the boundaries of what I can eat. But you do what you feel comfortable with.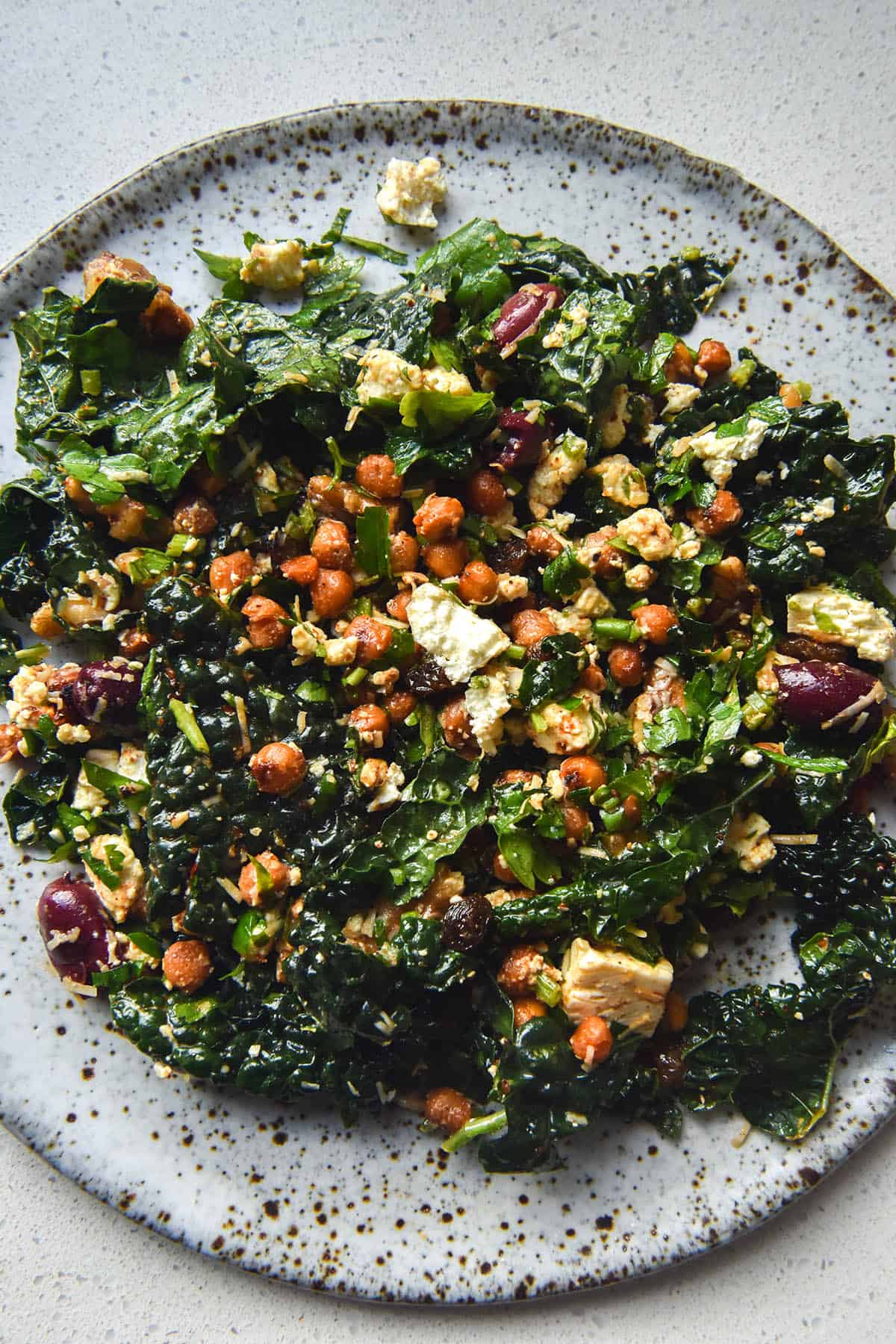 Another option
If you're not keen to use legumes in your salad, that's fine! We have some options. You could use the tofu recipe from this Vegetarian Cobb Salad recipe, or you could just make the Cobb Salad instead. Another option would be to make the Cobb with massaged Kale, if you're here for the kale specifically.
Other FODMAP notes
Raisins are more FODMAP friendly than sultanas, which is why I use them in this recipe. They are friendly at 13g (1 tablespoon) serves, whereas sultanas are at 7g (2 teaspoon) serves. They are optional, but add a nice sweet contrast to the salad.
There is 1 – 1 1/2 tablespoons of honey in the dressing. I have just discovered hot honey, so I have been using that like no tomorrow. You could also use maple syrup, if you prefer (add it to taste).
Kale contains no FODMAPs, according to Monash. However, it is a cruciferous vegetable, so it has the capacity to make you gassy. Just something to be aware of.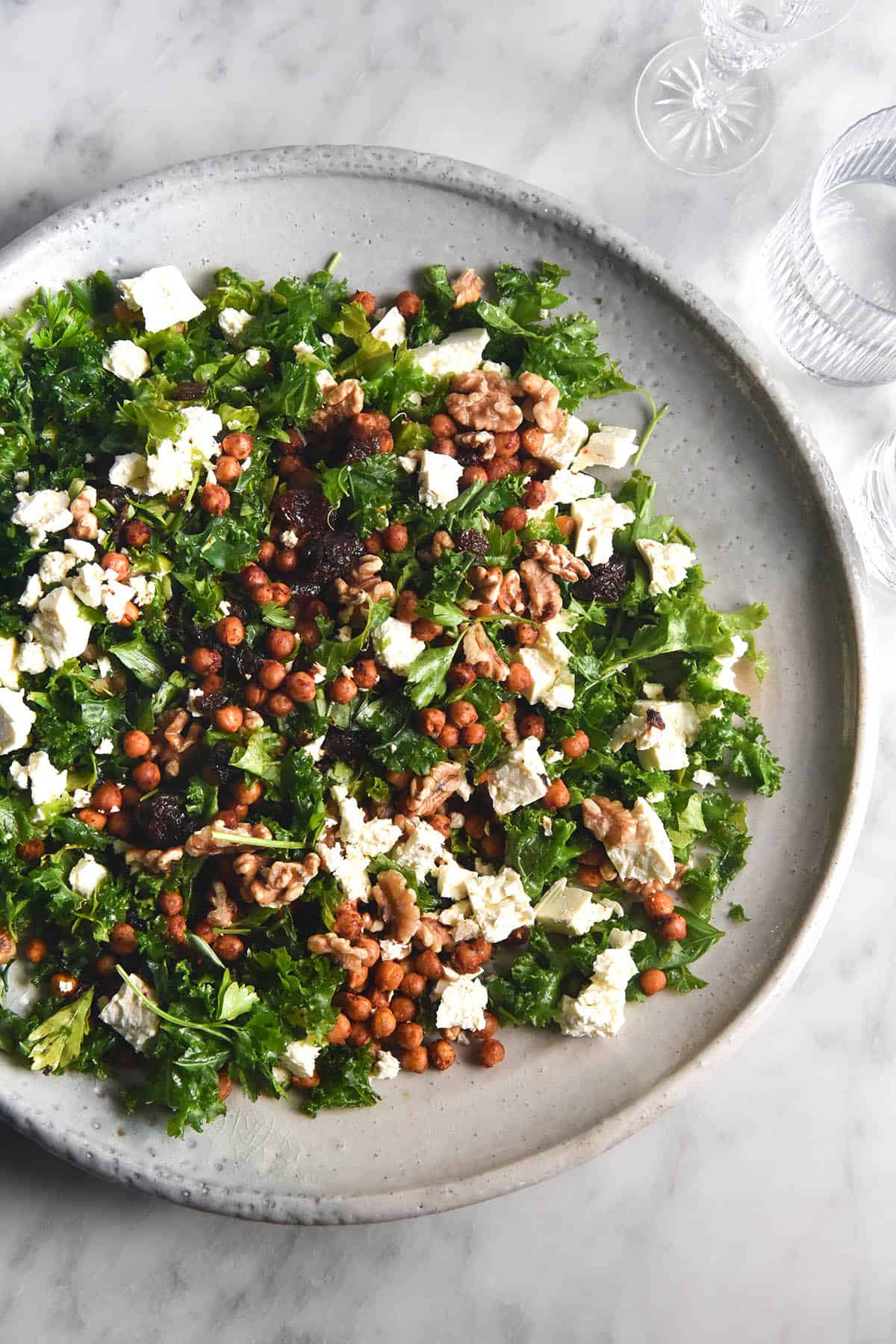 Is kale low FODMAP?
According to Monash at the time of writing, kale is low FODMAP. It contains only trace amounts of FODMAPs, and is classed as food that you can eat freely and according to appetite. That said, Monash and others have set a serving size at 75g per person.
Another thing to consider if you have a sensitive digestive system is the fact that kale is a brassica. Brassicas contain a sugar called raffinose that humans can't break down. This can cause gas and bloating, separate to the issue of FODMAPs.
If kale doesn't work for you, try my other low FODMAP salad recipes linked below.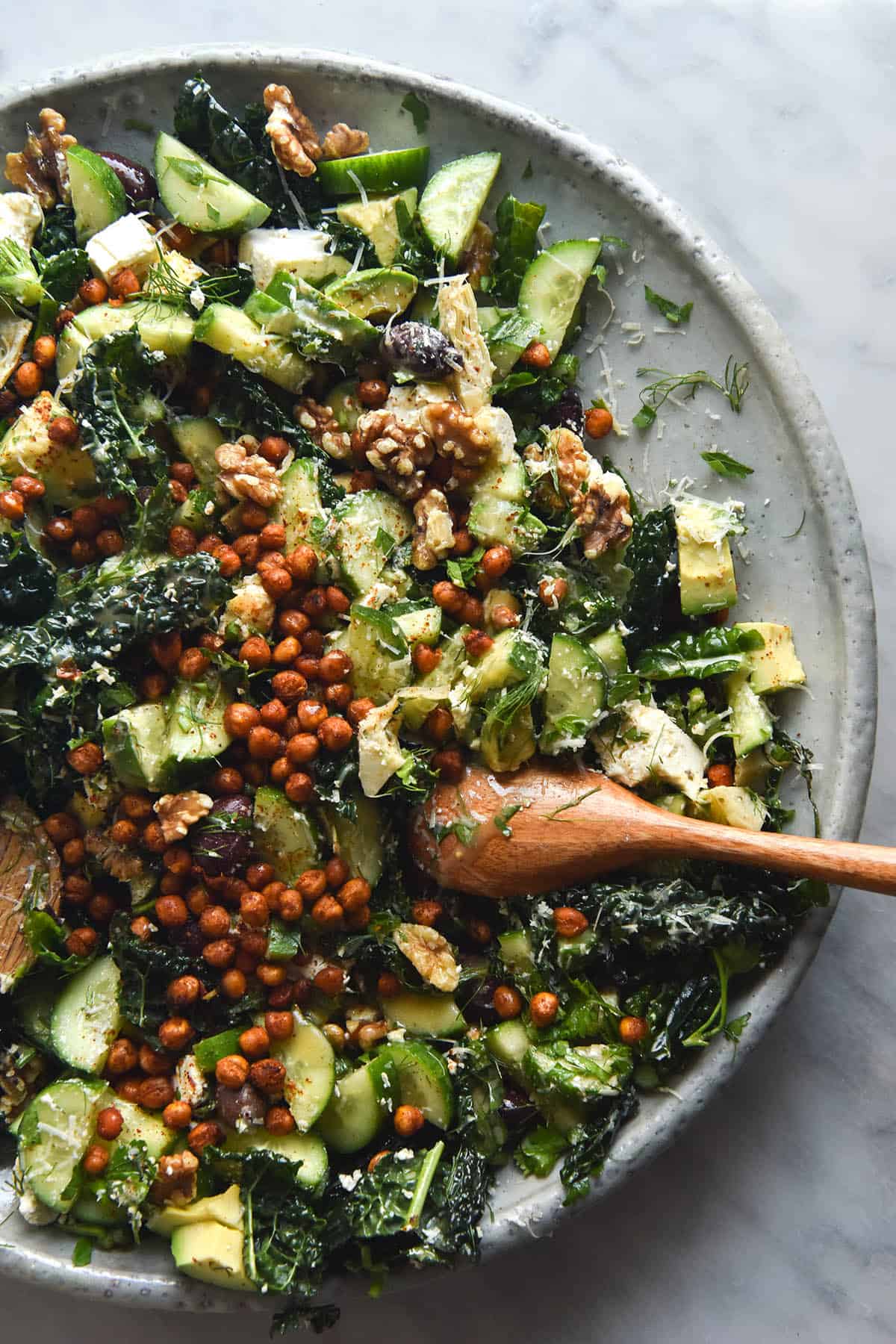 Tips and tricks for your kale, feta and crispy chickpea salad
I recommend a firmer feta here. Soft feta like Danish has the tendency to disintegrate into the salad which can end up making it too salty.
Finishing salads with parmesan dust (parmesan blended in my Nutribullet) is my go-to move for making salad exciting. For vegetarian Parmesan brands in Australia, read this post here.
Massaging the kale really does make it softer. I promise. I actually don't mind it when it's not massaged, either – see which you prefer.
The tajin on the crispy chickpeas is optional, but really delicious. It adds a zingy fresh component to the chickpeas (from the citric acid) without interfering with the crisping process. If you don't have any, you can use chilli powder to taste (don't add the same amount as the tajin). Add salt to taste, too.
You can add some cucumbers and/or avocado if you like (I sometime do). Avocado is only FODMAP friendly in 1/4 avo servings, so keep that in mind when combining it with the chickpeas and raisins. If this is all gibberish to you – add that avo (and lucky you).
I have also added some marinated artichoke hearts to the salad, just because I love them. You might see them in some of the pictures.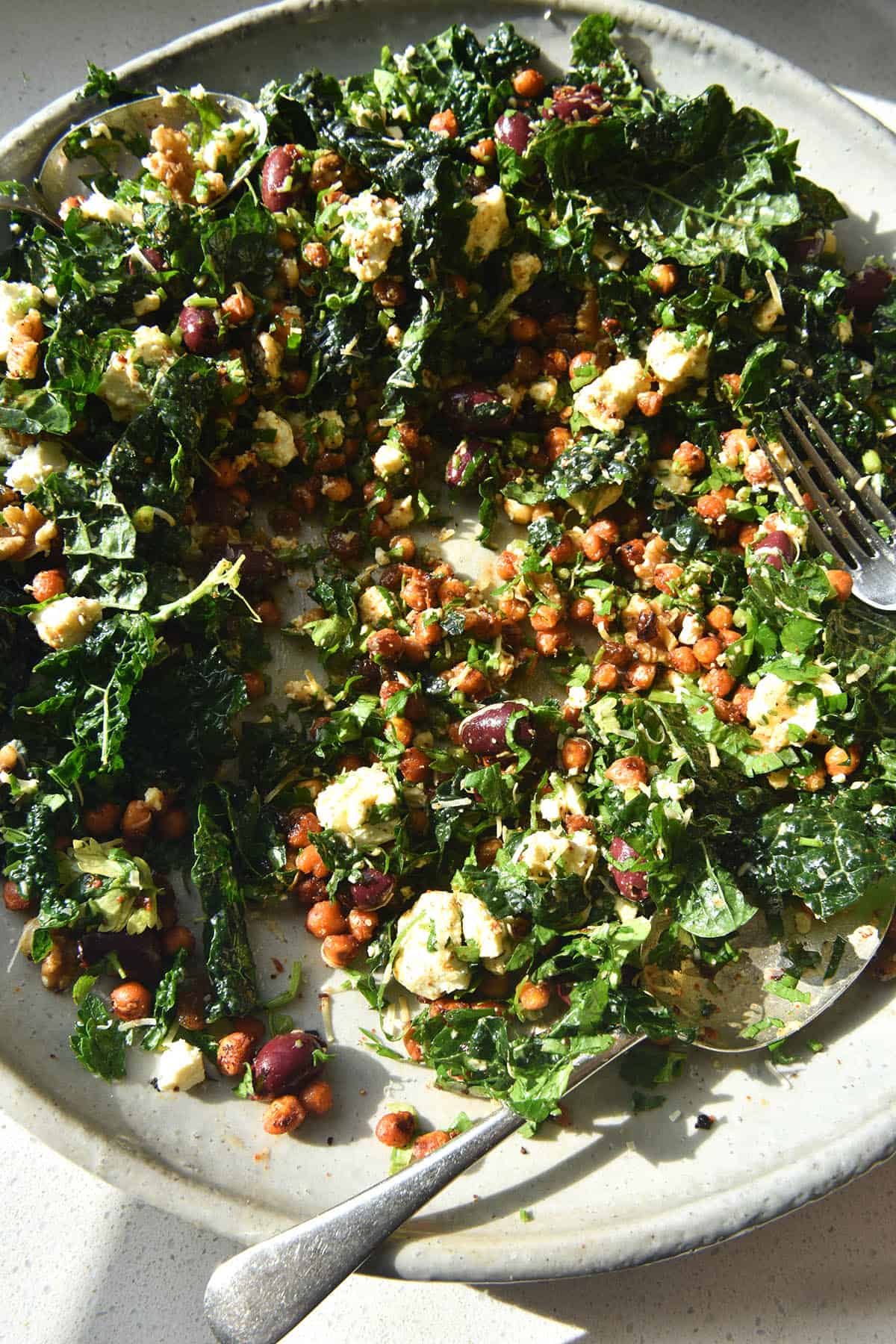 More salad recipes without onion or garlic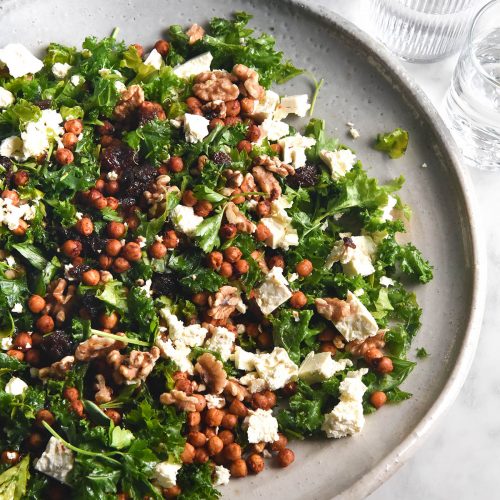 Crispy chickpea, kale, feta and raisin salad
Serves 4-6
* Cups and measures are in Australian cups and measures. Use gram weights for international accuracy.
*1 Australian tablespoon = 4 Canadian, US and New Zealand teaspoons
1 Australian tablespoon = 3 1/2 British teaspoons
Ingredients
For the chickpeas:
1

x 400g

can of chickpeas

drained and rinsed

20ml

(1 tablespoon)*

vegetable or olive oil

2-3

teaspoons

smoked paprika

2-3

teaspoons

tajin

see notes
For the salad dressing:
60ml

(3 tablespoons)*

garlic infused oil

30-40ml

( 1 1/2 -2 tablespoons)

lemon juice

1

tablespoon*

hot honey

regular honey or maple syrup

1

tablespoon*

Dijon mustard

Seasoning

to taste
For the salad:
1

bunch

flat leaf parsley

washed and finely chopped

150

g

Tuscan kale

weighed after de-stemming (1 large bunch)

180-200

g

firm feta

crumbled

1/2

cup

walnuts

1/2

cup

pitted olives

any sort, but make sure they're not marinated in garlic

1/4-1/3

cup

raisins

if you're not fructose intolerant, add as many as you like

Finely grated or blended parmesan

to your tastes, to finish (optional)
Instructions
Preheat the oven to 200C or 400F. Drain, rinse and thoroughly dry the canned chickpeas. Add the oil, smoked paprika and tajin to a medium bowl and whisk to combine. Add the chickpeas and toss thoroughly to coat. Transfer the chickpeas to a baking tray and bake for 15-20 minutes until crunchy, then set aside.

Combine the ingredients for the dressing in a clean jar and shake to emulsify. Taste and adjust according to your preferences and how sour your lemon is.

Add the chopped parsley and kale to the base of a large serving plate (or a large mixing bowl). Pour over half the dressing and use your hands to massage the dressing into the greens. After a minute or two they will soften.

Add the remaining ingredients to the salad, finishing with the crispy chickpeas. Add the remaining dressing, (optional) parmesan and seasoning to taste and according to your preferences.

Keeps well in the fridge for a number of days.