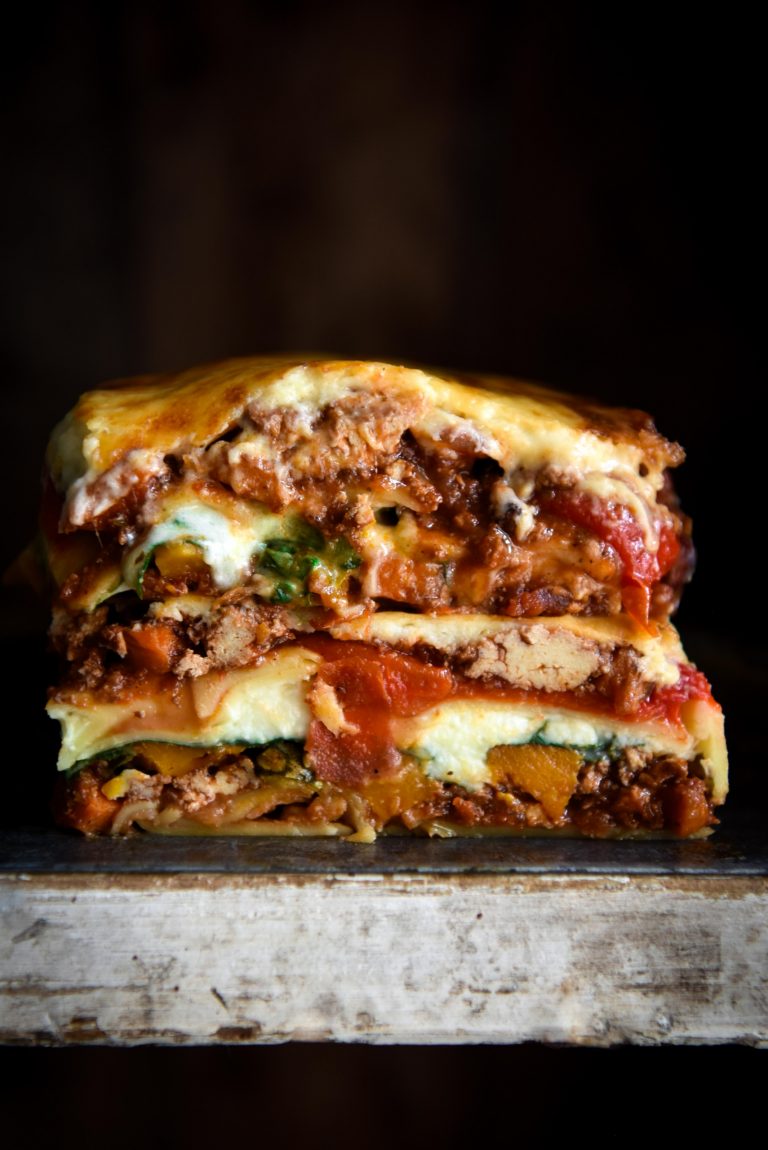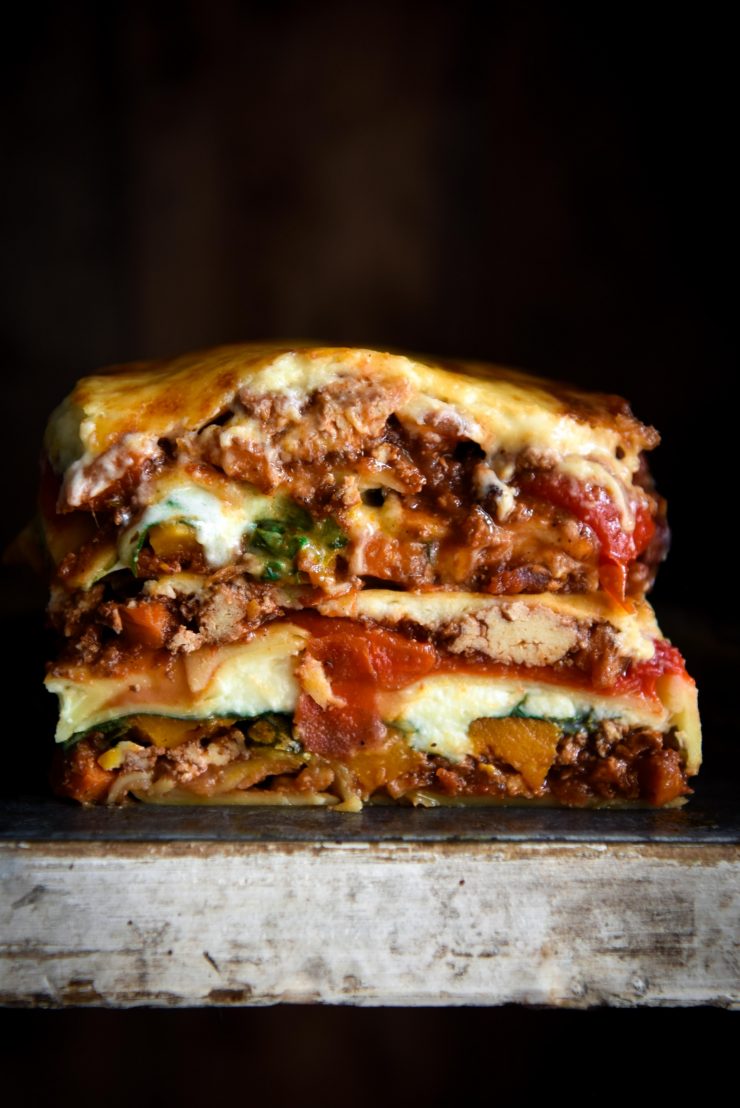 Today I wanted to create my ultimate gluten free vegetarian lasagne recipe. I'm sure you're aware that Lasagne made without onion, garlic and meat can be tricky. Add in a lactose free option? Potentially untenable! Not with this recipe for gluten free, vegetarian and FODMAP friendly lasagne. Let me set the scene: it has a rosemary infused vegetarian bolognese as a substitute for the traditional meat sauce. Gluten free lasagne noodles or sheets separate our lovely vegetarian meat sauce from roasted vegetables of your choice, and roasted red capsicums for sweetness. Next up is a layer of spinach and basil. Finally, the lasagne is rendered complete with a low lactose, FODMAP friendly bechamel with smoked mozzarella.
This gluten free vegetarian lasagne is not the quickest dish to prepare. However, good things rarely are. It is vegetarian, FODMAP friendly and gluten free. If you're catering to vegans, consider my FODMAP friendly, gluten free and vegan lasagne recipe.
Gluten free vegetarian lasagne notes
You can use whichever vegetables you'd like for the roast vegetable component. I used Kent pumpkin and zucchini. Whatever you decide, ensure it is FODMAP friendly it needs to be.
The smoked mozzarella adds a beautiful depth of flavour to the bechamel. The smokiness adds almost a meat-like quality which can be used to fool unsuspecting carnivorous guests. I buy it at various Italian delis – it's the firm one in the packet (not the tub.)
An additional flavour packing option is to use a bit of brown butter in the bechamel.
You will have some questions about tofu mince. That is absolutely ok. The original recipe, complete with all the tips and tricks, can be found here. However, I have also included a cliff notes version below.
Gluten free lasagne sheets have a tendency to curl up a little when cooking. To compensate, you really need to weigh them down with ingredients, which is why I only use two layers of Lasagne. You can use more if you like, but maybe consider giving them a quick dip in some boiling water first as an insurance policy.
My baking dish is L31cm x W23cm x H6cm, so the measurements are based on that sized baking dish. If yours is larger or smaller, you might need extra lasagne sheets/extra everything.
If you'd like to make a vegan lasagne, find my recipe here. Note that all you really need to sub out is the bechamel.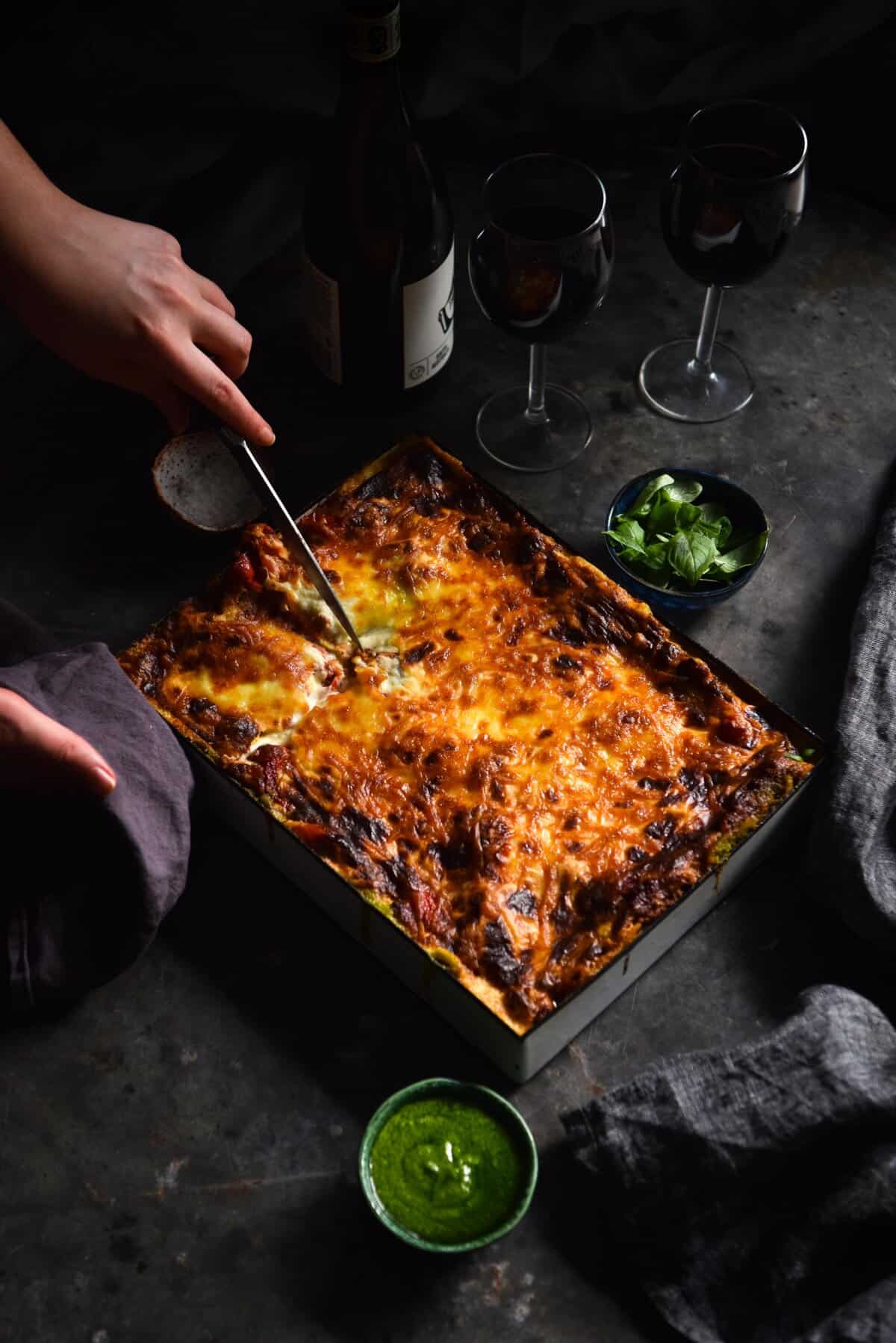 How to make vegetarian mince meat from tofu
I have been using tofu to make vegetarian and vegan mince for a while now. It is one of my favourite ways to mimic meat that is also gluten free and low FODMAP.
Another thing I have been doing is experimenting with ways to change the texture of tofu. I have written about it extensively in my pan fried tofu guide here.
There are a tips and tricks for making tofu meaty, which we will go into below. You can take them or leave them – this vegetarian mince meat works perfectly well either way.
You can simply tear the tofu up, straight from the packet
If you have time, pressing the tofu will help to drain it of excess moisture
Freezing and defrosting tofu makes the tofu spongier, with a more cooked mince like texture
Boiling the whole block of tofu in salted water creates a bouncier, chewier and more tender texture
You can use one of these tricks or all of them. To use all of them, freeze the block in the packet, boil it in salted water to defrost, press it thoroughly and then tear it.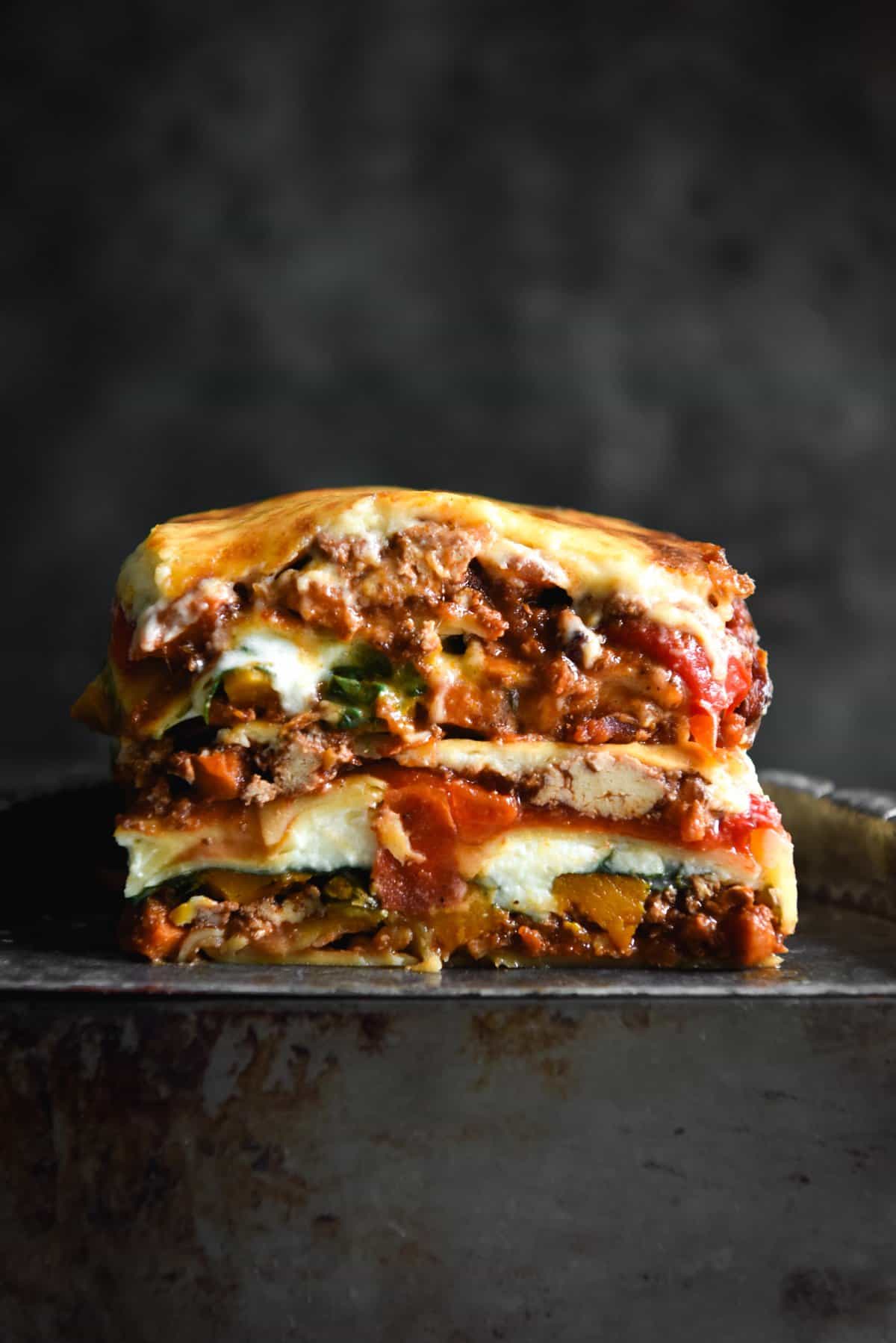 Does freezing tofu create a more meaty texture?
Yes, it does. Freezing tofu expels the moisture from the tofu block, leaving behind the physical product that has been wrung of water. This results not only in a textural change, but also in the ability for the tofu to absorb more sauce and thus flavour.
Frozen and defrosted tofu is texturally very akin to mince meat once cooked. You can also use the process for any tofu dish, torn or not. Marinating the tofu after freezing and defrosting will allow it to infuse with far more flavour than it would otherwise.
Place the tofu block in the freezer (inside it's packet) the night before you want to use it. I keep a few in there (as you would mincemeat) so they're ready whenever I fancy bolognese.
When you're ready, defrost the tofu. I have found the easiest method for defrosting is to throw the block (still in the packet please!) in the sink as you're doing the dishes. The water has to be hot, obviously. Allow it to sit for around half an hour or so – the longer the better. There are a few more defrosting suggestions in the original post.
Once the block is completely defrosted, remove it from the packet and wring it out semi-thoroughly with your hands. Once a considerable amount of liquid has been removed, tear the tofu into mince meat like little chunks. Voila! Your mincemeat is ready to go.
FODMAP notes for your gluten free vegetarian lasagne
This lasagne is on the indulgent side of the FODMAP friendly scale. Serving 6-8, it falls well within acceptable levels for tofu consumption (170g per serve) and mozzarella consumption (40g per serve, although the upper limit is 680g so I suspect you can get away with eating a little more.)
You can also use my low FODMAP Nomato sauce recipe to replace some or all of the tinned tomato. One batch of Nomato sauce makes approximately 1.2kg, which is equivalent to 3 x 400g cans of tinned tomato.
Choose FODMAP friendly vegetables for roasting to keep the content down, if you need to.
If you decide to use jarred roasted capsicums, make sure there isn't any added garlic or other generally unfriendly ingredients.
If you want to include the pesto layer, find my recipe for FODMAP friendly pesto (just use all pine nuts and all parmesan).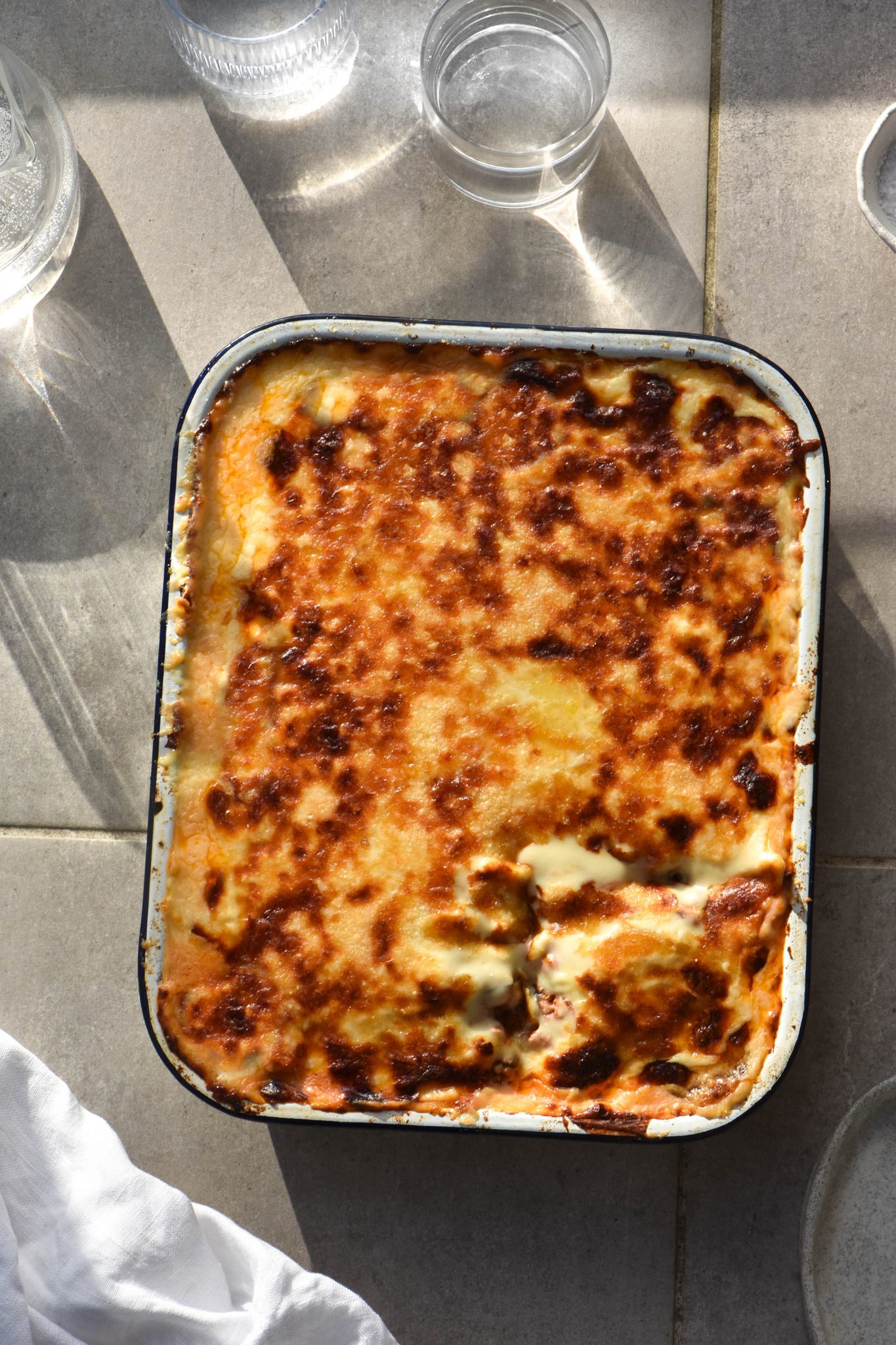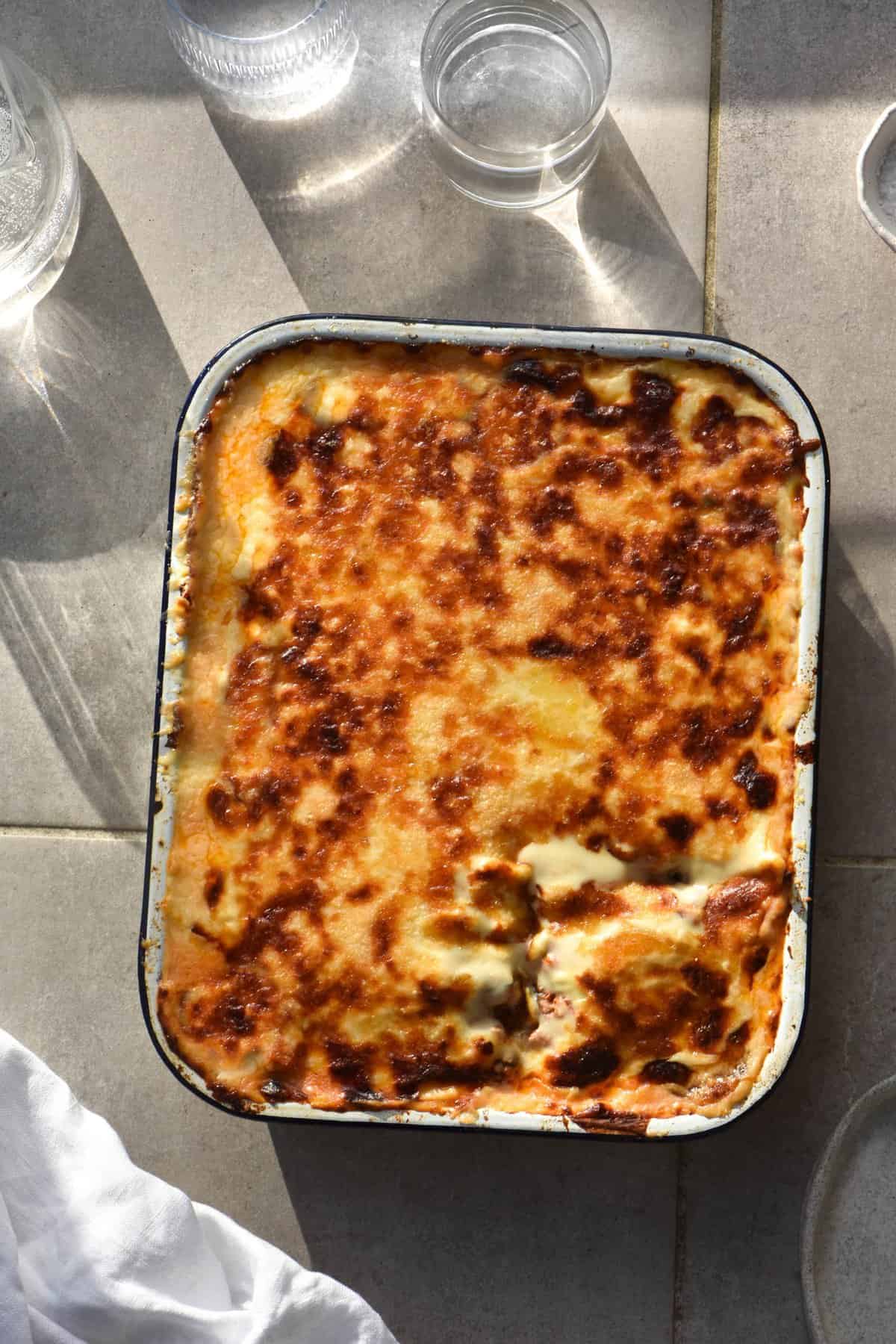 More FODMAP friendly Mediterranean recipes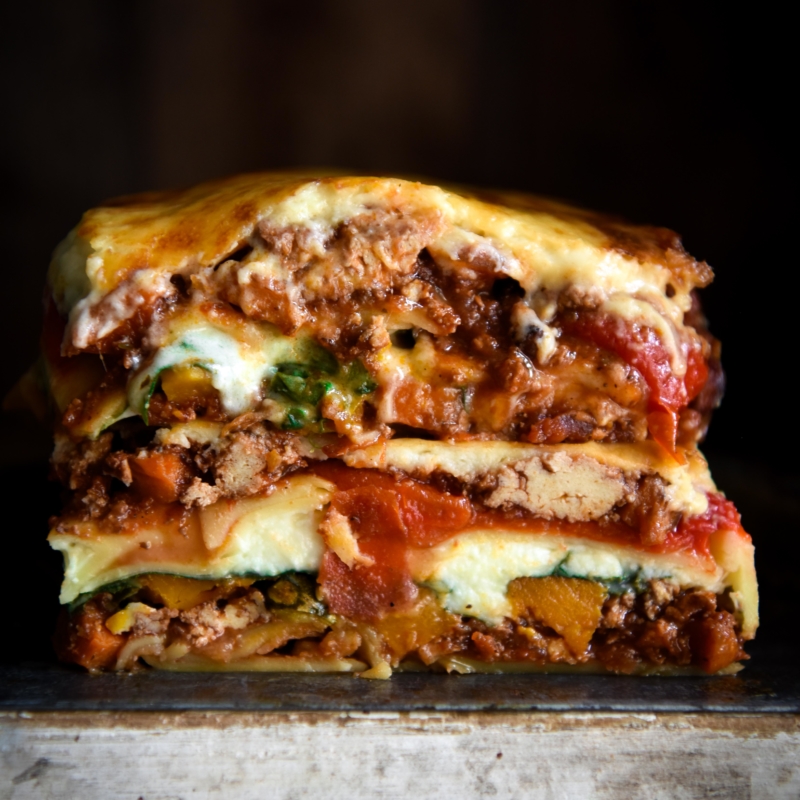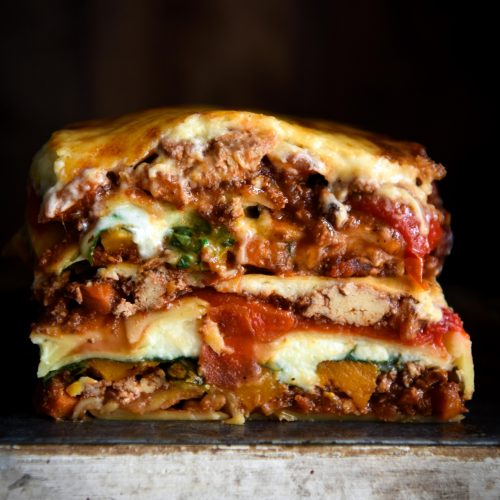 Gluten free vegetarian lasagne (FODMAP friendly)
Gluten free, vegetarian, FODMAP friendly, nut free
Serves 6-8
Equipment
1 Length 31cm x Width 23cm x Height 6cm baking dish (or larger)
Ingredients
FOR THE VEGETARIAN BOLOGNESE :
3

tablespoons (60ml)

oil

2

large carrots

chopped

2

tablespoons

(40ml) tamari

1

tablespoon

(20ml) balsamic vinegar

2

tablespoons

light brown sugar

4

tablespoons

tomato paste

1

tablespoon

dried oregano

450

g

frozen and defrosted tofu

see notes

1

cup

(250ml) red wine

2 X

400g

cans of plain tomatoes (see notes)

1

sprig rosemary

optional

Pepper

1/4

teaspoon

cinnamon and/or nutmeg

optional
FOR THE BECHAMEL:
100

g

butter

4

tablespoons

gluten free cornflour

4

cups

lactose free full cream milk

100

g

smoked mozzarella, plus extra for topping

you can use regular if you can't find smoked

100

g

freshly and finely grated parmesan

Salt

to taste

Good pinch of nutmeg

optional but delicious
FOR THE ROASTED VEGETABLES:
4

red capsicums

for roasting (you can buy a jar of pre-roasted if you prefer, but check the ingredients for onion or garlic)

500

g

Kent or Japenese pumpkin

cubed

1-2

zucchini

cubed (see notes about using your preferred veg)
FOR THE LASAGNE:
1

packet Barilla Gluten Free Lasagne sheets

1-2

large handfuls spinach

Bunch of basil

Seasoning

to taste
Instructions
TO MAKE THE ROASTED VEGETABLES:
Preheat the oven to 180 degrees Celsius or 356 degrees Fahrenheit. Arrange the capsicums on a lined baking tray and place them on the top rack of the oven.

Arrange the pumpkin and zucchini on a separate lined baking tray, coated with a little olive oil, salt and pepper. Note that if you want caramelised pumpkin and zucchini, you will need to cook them separately to the capsicums, as they create a lot of steam as they cook. I cook them together for time and ease.

Cook the pumpkin for 30 minutes to an hour, and the capsicums for an hour. They should be blistered on top and the flesh soft.

When they're ready, remove them from the oven and cover the capsicums with a tea towel (either in a steel bowl or just on the tray) to sweat. This will make it easier to peel their skins off when the time comes.

Set the vegies aside. When the capsicums are cooled a little, use your hands to peel off the skins and remove the cores and seeds. Tear into rough strips and set aside, discarding the skins and cores (into the compost if you have it!)
TO MAKE THE VEGETARIAN BOLOGNESE:
Heat the olive oil over a medium heat in a skillet or heavy bottomed saucepan. Add the chopped carrot and cook for around 15-20 minutes until it is well caramelised and shrivelled in size.

While the carrot is cooking, whisk together the Tamari, balsamic vinegar, light brown sugar, tomato paste and oregano in a small bowl. Whisk until a uniform, thickened sauce has formed.

When the carrot is cooked, gather all the ingredients, ready to go. Add the tofu to the pan and allow to cook for a couple of minutes to lightly brown it. A few crispy edges are always a good time. Add the sauce to the pan and stir to coat the carrots and tofu, before following with the red wine and tinned tomatoes. Add the sprig of rosemary, if you're using it, and allow the Bolognese to cook for around 10-20 minutes.

A lovely deep red sheen should develop and the liquid should have reduced considerably. The tofu should have absorbed colour and sauce, and should appear very much like mince.

Adjust the Bolognese for seasoning and set aside.
TO MAKE THE BECHAMEL:
Melt the butter in a large saucepan over a low-medium heat. Once it has melted, add the cornflour and whisk until combined. Allow it to cook off for a minute or two, before adding the milk. Continue whisking at semi regular intervals until the mixture starts to thicken. Once it reaches your desired thickness, add in the parmesan, and continue whisking to combine.

When the parmesan has melted, add in the grated mozzarella. It will become very gloopy as the mozzarella melts – I find it easier to use a spoon at this stage. The gloopiness will become a delicious, melty and stringy béchamel – fear not. Salt the béchamel to taste and remove it from the heat.
TO MAKE THE LASAGNE:
Preheat the oven to 180 degrees Celsius or 356 degrees Fahrenheit if it isn't already on.

Take a large L31cm x W23cm x H6cm baking dish (or even deeper/bigger if you have one) and line the base with enough lasagne sheets to just cover the bottom.

Add half of the Bolognese mince, ensuring you've got even coverage. Add the roasted pumpkin and zucchini, topped with half of the béchamel. Spread it with a spoon as best you can, making sure you get it to the edges of the dish. Be aware that it's easy to misjudge 'half' and then end up with a half-topped lasagne, so you might want to go a little easy on this béchamel layer, just to be safe.

Next up, add the spinach and basil layer. You can wilt and drain the spinach and basil if you'd like – this will remove a little extra moisture from the lasagne, which is good. Totally optional though (and you might need to buy extra spinach to compensate for the wilt.)

Now, another layer of lasagne sheets, topped with the roasted capsicum strips, then the final layer of Bolognese. FINALLY, gently spread the remaining béchamel over the top, trying not to disturb the mince. Because the béchamel is so cheesy, you don't really need to add any extra cheese on top.

Place the lasagne on a baking tray to catch any spills, and then into the oven for 30-40 minutes until the top is beautiful and brown.

Slice into 6-8 large pieces and serve.
Notes
You can also use my low FODMAP Nomato sauce recipe to replace some or all of the tinned tomato. One batch of Nomato sauce makes approximately 1.2kg, which is equivalent to 3 x 400g cans of tinned tomato.