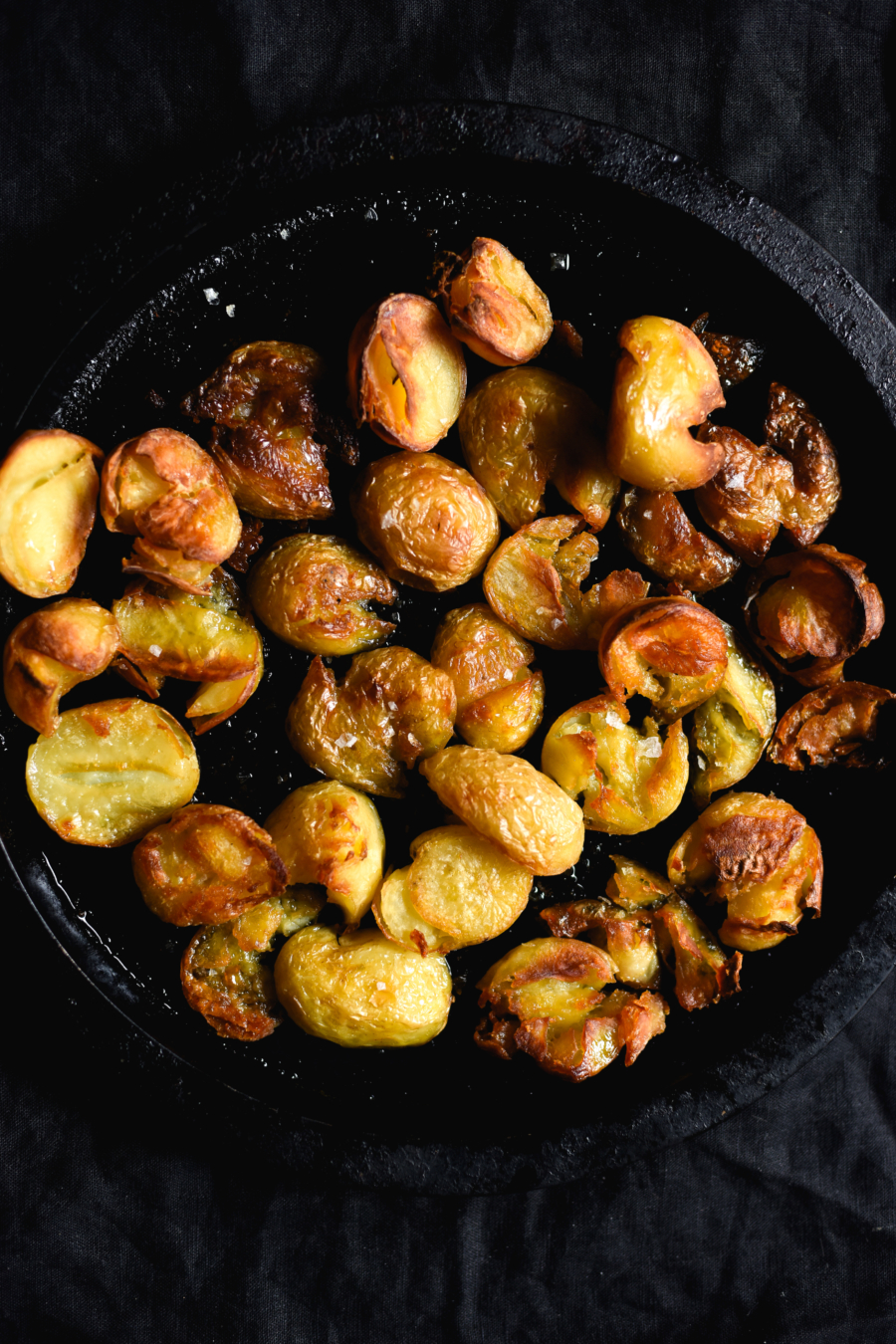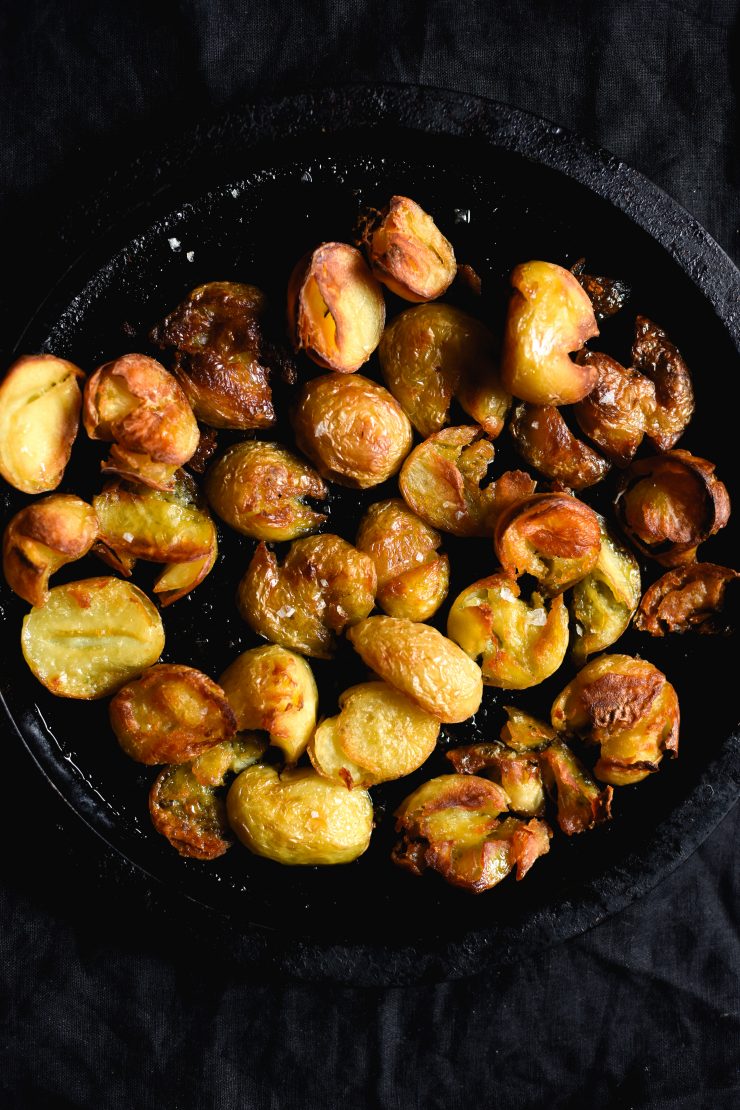 These salt and vinegar potatoes (smashed and roasted) are one of my favourite ways to cook potatoes. For crispiness, I do love the baking soda method and the deliciously crispy potatoes they produce. For easy flavour, though, it has to be these salt and vinegar roasted potatoes. Eating potato straight off the roasting tray is accepted; nay, encouraged.
Salt and vinegar roasted potatoes
Salt and vinegar potatoes are made by pricking fork holes in potatoes and boiling them in white vinegar. Next, the potatoes are sliced and roasted in hot oil. Finally, they are finished with salt for a crispy, salty vinegary potato.
These potatoes are basically a salt and vinegar chip in roast potato form. By pricking fork holes in the potatoes and boiling them, we are flavouring the potato from the inside out.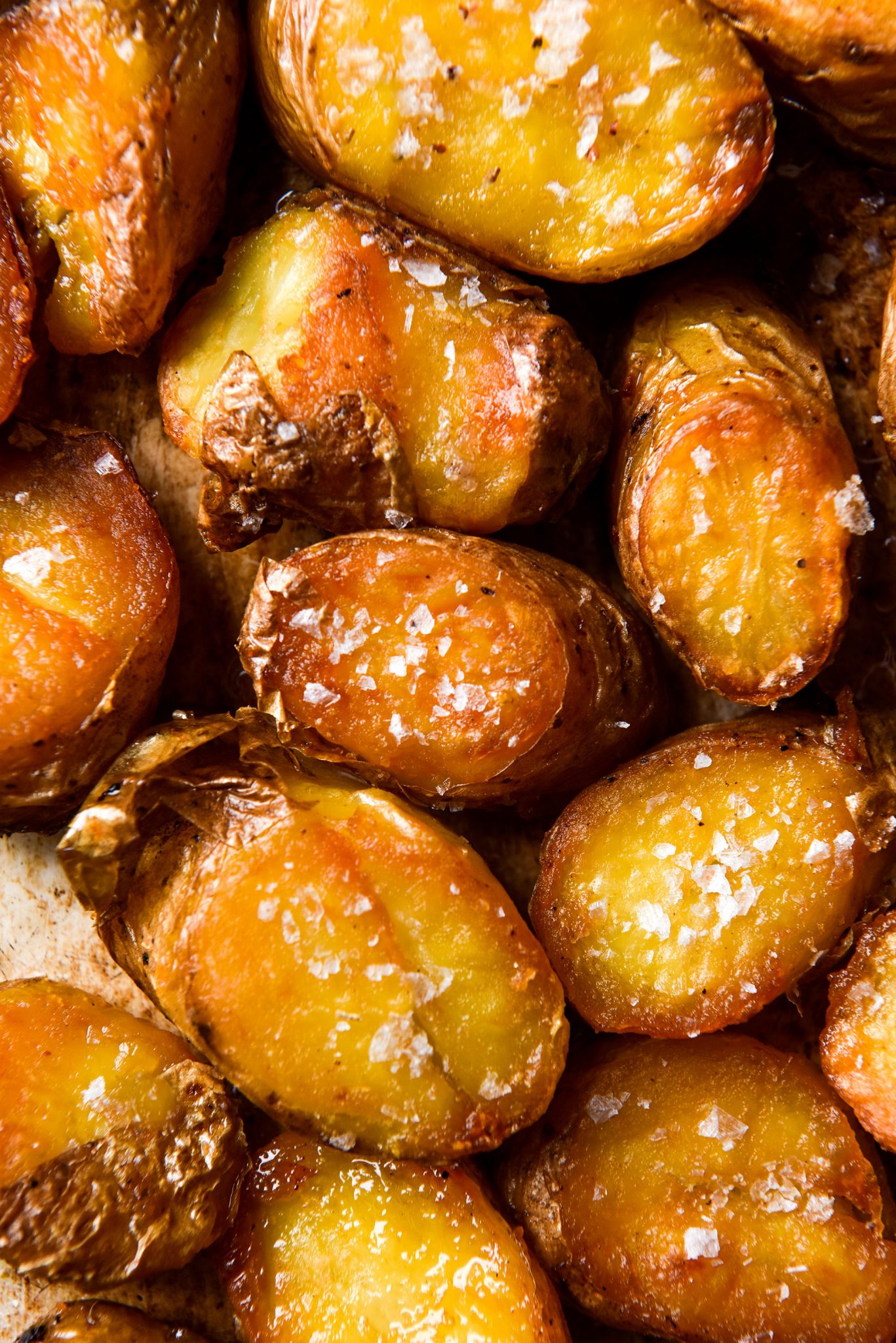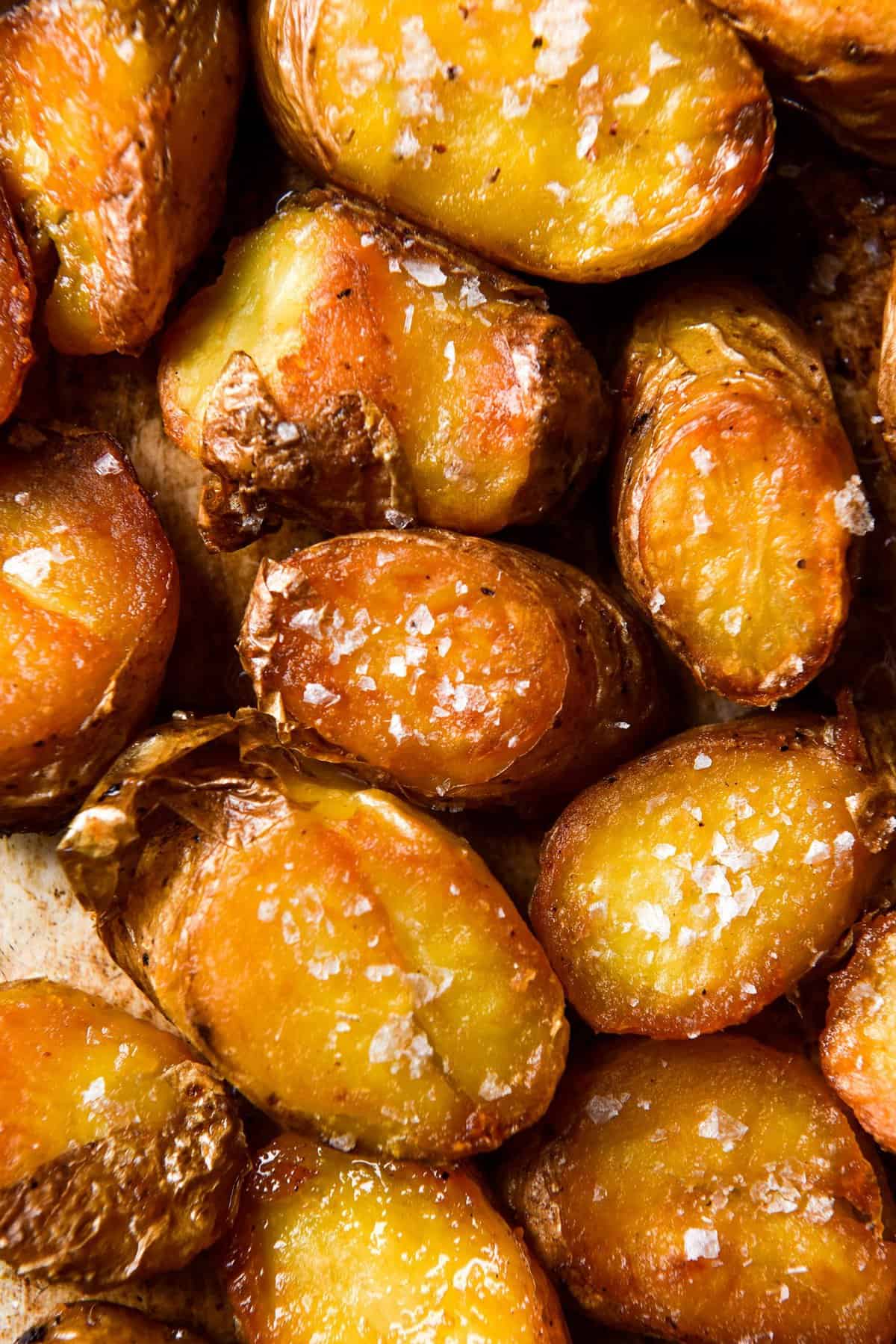 Recipe notes for the salt and vinegar roasted potatoes
I use plain white vinegar for these potatoes. This is most reminiscent of salt and vinegar chips, in addition to being cost effective. Hypothetically you could use any light vinegar, but they will be expensive potatoes!
You can cut back on the vinegar to make them more cost effective, if you like. They will simply have a more subtle vinegar taste. This could be rectified by sprinkling a little over the top to finish.
Generally speaking, an all rounder variety potato is best for the purpose of salt and vinegar potatoes. When roasted, they're the perfect balance of structural integrity and fluffy interiors.
That said, you can work with what you've got. Just be aware that waxy potatoes don't smash as well as creamy ones.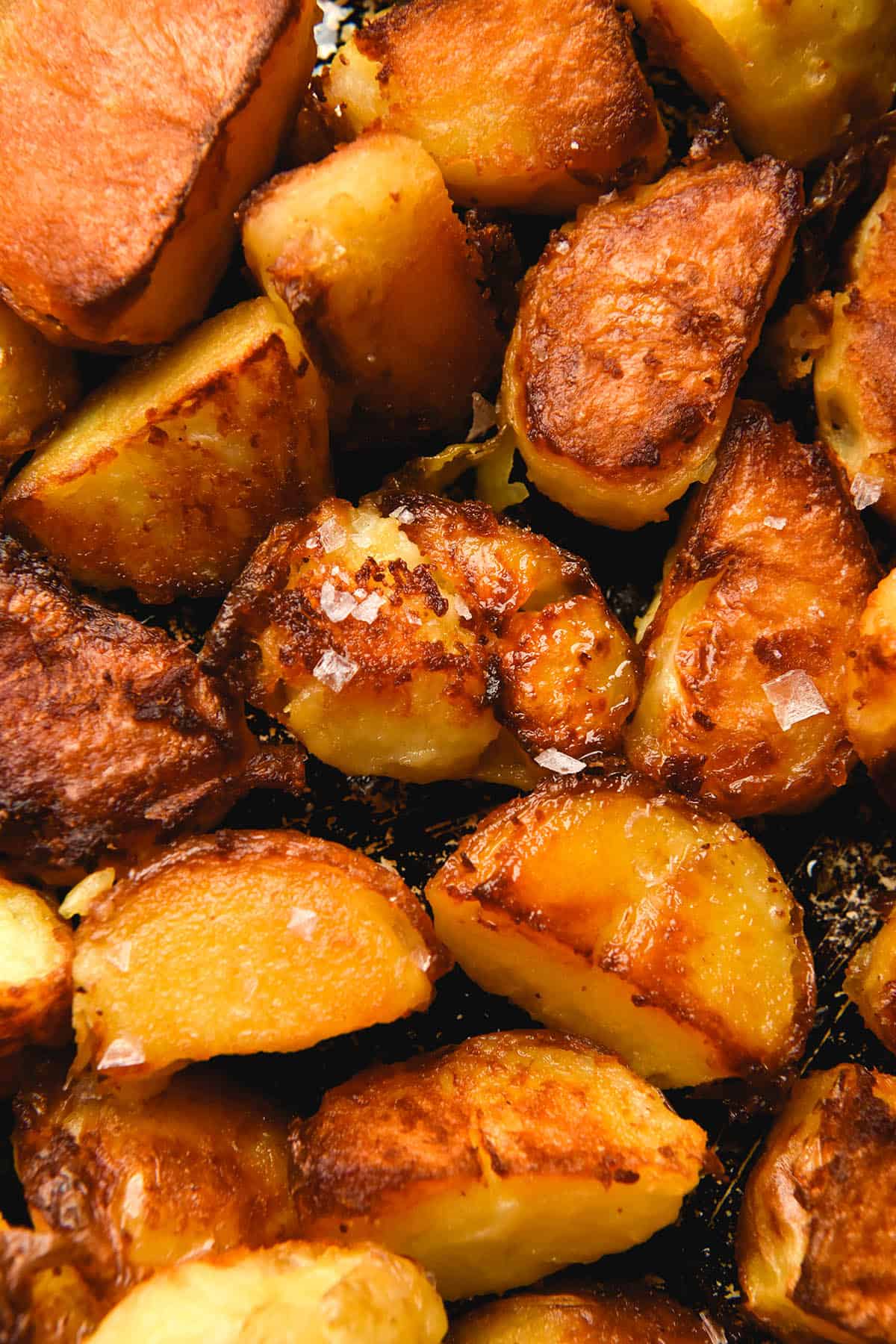 Tips and tricks for your salt and vinegar potatoes
The fork pricking stage is very important because it allows the vinegar to permeate the potato flesh. Salting the water well will also assist in flavouring the potatoes from the inside out.
Smashing the potatoes is optional but rough edges are responsible for crispiness. If you'd prefer, you could simply shake the potatoes in the pot to rough them up a bit.
Preheating the oil is an important step in creating crispy potato skins. It means that when the potatoes hit the oil, they immediately crisp up as opposed to absorbing lukewarm oil.
These days, I recommend salting the cooking water and then not again until after roasting. This is because salt draws moisture from vegetables. Moisture is the enemy of crispiness, and it could also contribute to a dry potato innard.
I've said this in the crispy kipfler recipe and I'll say it again: potatoes don't wait. Once they're ready to go, they're ready to go. With the exception of the boiling, you really can't cook potatoes in advance – they're fluffiest and best when fresh. That's not to say I don't eat the leftovers cold the next day, but still.
Salting the potatoes immediately after removing them from the oven is the final step. Salt clings to hot oil – it doesn't cling as well to lukewarm or cold oil. I recommend good ol' table salt (or a fine salt) for this purpose, or some sea salt flakes for crunch and aesthetics.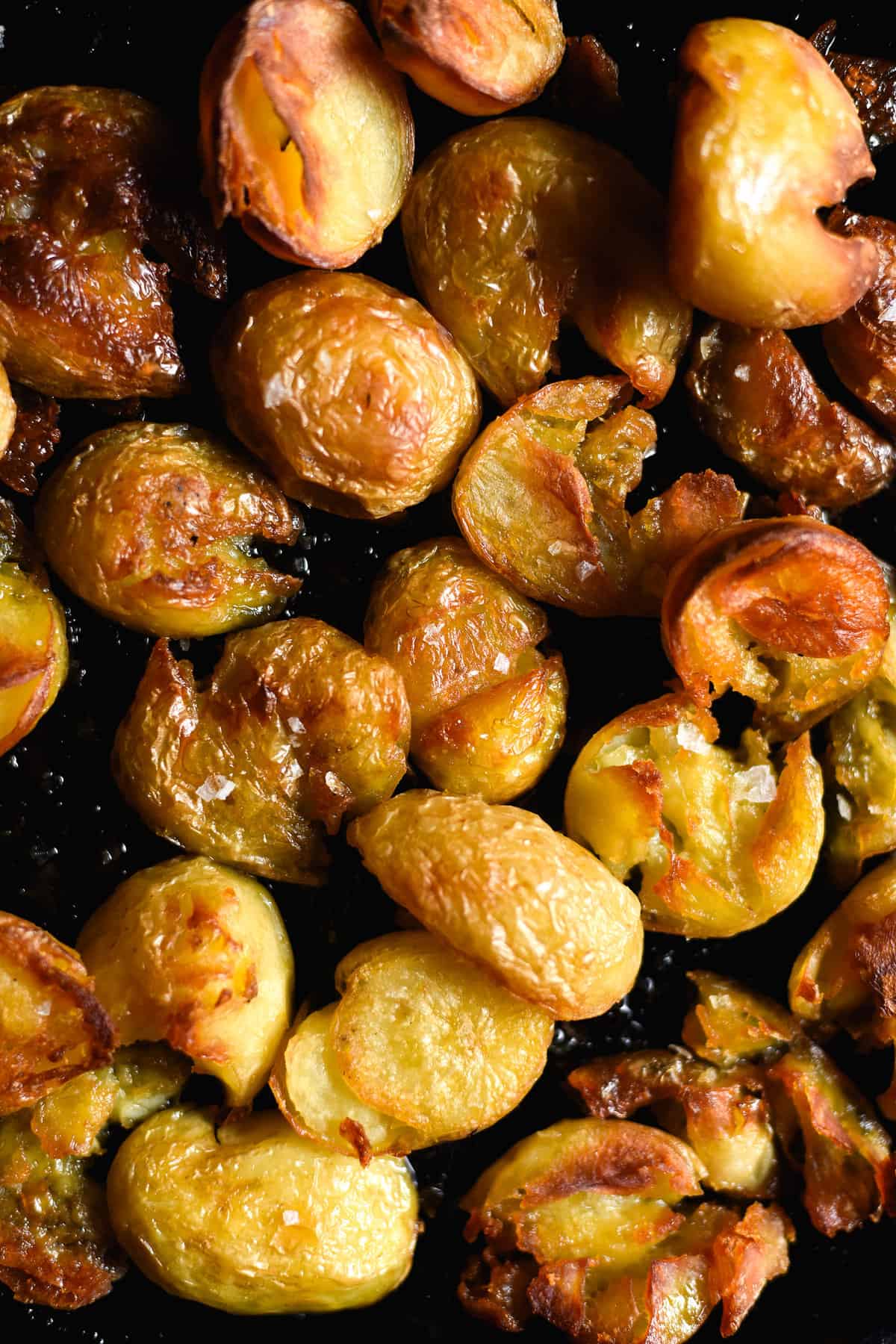 More FODMAP friendly potato recipes
Into potatoes? You're in luck because so am I. Here are my personal favourite potato recipes – there's FODMAP friendly, gluten free and vegan options for everyone.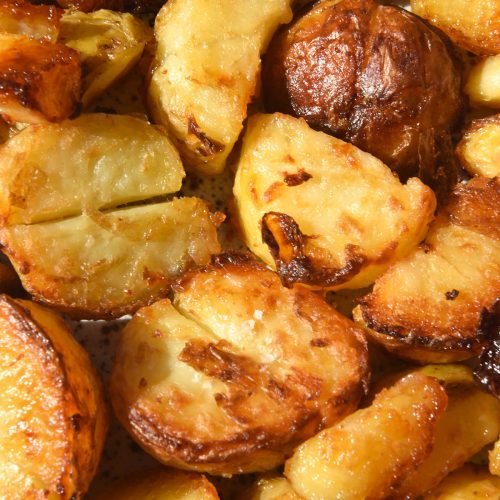 Salt and vinegar roast potatoes
Gluten free, vegan, FODMAP friendly
Ingredients
1-2

kgs

baby potatoes (depending on how many you fancy)

for roasting (Maris Piper, Dutch Cream, King Edward, Sebago and Coliban are good potatoes for roasting)

4-5

cups

white vinegar

I just buy a 2L bottle to make sure I have enough to cover the potatoes

table salt, to salt to potato water

Generous good quality olive oil

to cover the bottom of a large baking tray

Generous good quality sea salt flakes, to finish

Maldon 5eva (but you can also use table salt)
Instructions
Generously prick each potato with a fork (about 8-10+ fork pricks should do it – this is to allow the vinegar to permeate the potato)

Place them into a medium pot, and cover with the vinegar, and a good sprinkle of salt. If the vinegar doesn't cover them, top it up with water. Turn the heat to medium high, and allow the potatoes to bubble away for a good 15-20 minutes, size dependent. Preheat the oven to 180C or 356F.

Once the potatoes are completely cooked and a knife slides through the biggest potato easily, turn the heat off. Allow them to sit in the vinegar and soak up a little extra flavour for 5 or so minutes. After this, drain them in a colander, and allow them to steam dry and cool a little, for around 10-15 minutes.

While the potatoes are cooling, coat the bottom of a large baking tray with the olive oil, and place it into the oven.

Once the 10-15 minutes are up, use your hand or a utensil to roughly (but gently) smash the potatoes. The more edges exposed, the more crispiness! Carefully add the potatoes to the hot oil, spread evenly. They should sizzle a little on impact, which will start forming a crispy base straight off the bat.

Now for some patience. For maximum crunchiness, cook the potatoes for at least an hour, if not an hour and 20 minutes. You can take them out whenever you need to, but the crunchiness is worth waiting for, if you have the time. Note that the time is highly dependent on the size of your potatoes: bigger pieces will need more cooking time.

Straight out of the oven, sprinkle the potatoes with the salt of your choice. Serve with whatever you fancy. I like mixed herbs and some rocket, but I also like a big bowl of Kewpie mayo and not much else.