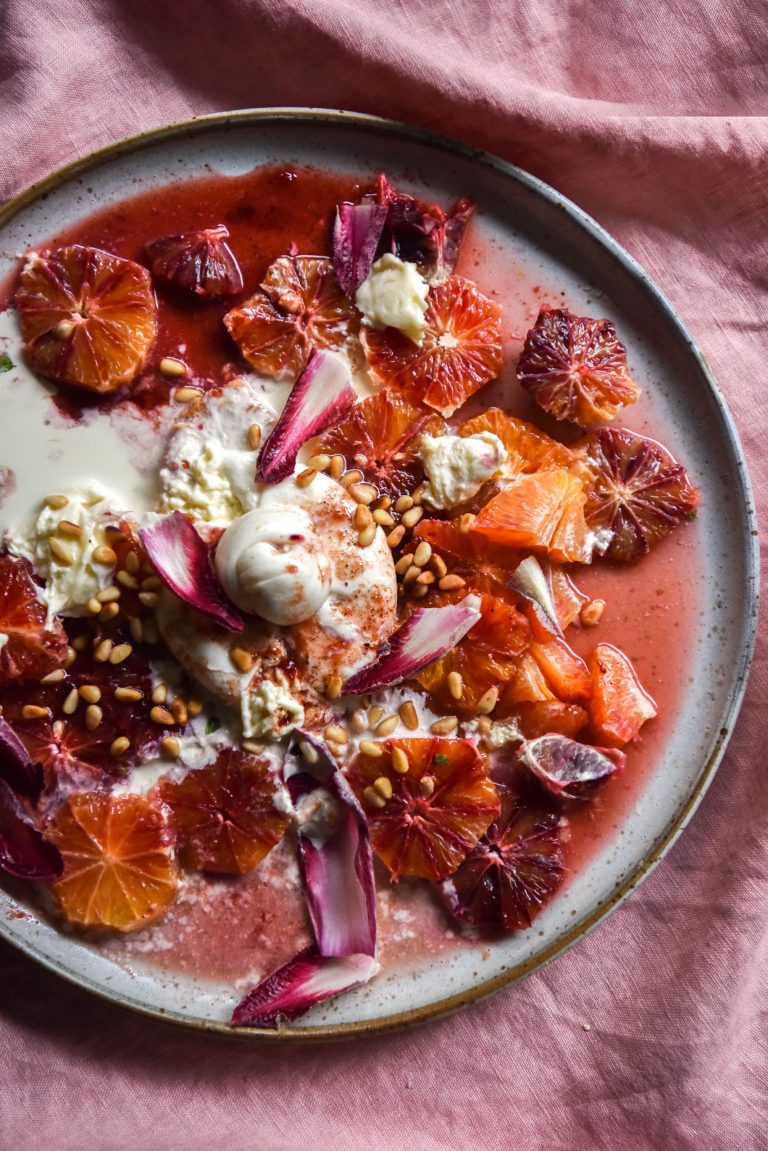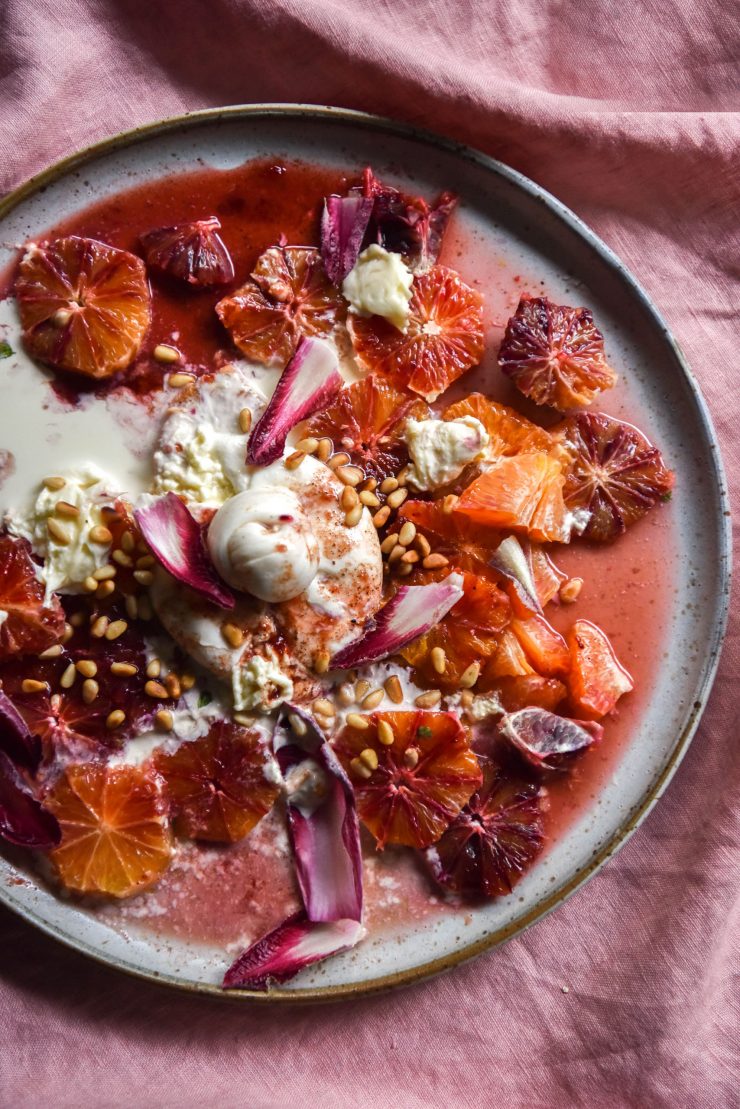 This blood orange, burrata and pine-nut salad is basically a two for one. Two for one with my previous recipe, spiced roasted pumpkin with radicchio, pine nuts, fetta and Christmas dressing. Toast a couple of extra pine nuts, make double the dressing and boom! You have two salads with about 10 minutes extra work. A Christmas miracle.
Blood orange season here in Australia seems to have extended a little longer than usual. Apparently the growing season is August to late November, but I managed to find some in Brunswick. If you can't find them, festive as they are, regular oranges will absolutely suffice.
Blood orange, burrata and pine-nut salad notes
Quantities are super loose here. It's really just a recipe template and an opportunity to show off some nice photos I took. Scale up, scale down, your choice!
I think this dressing would also work really well on a burrata caprese – nice tomatoes, nice basil, burrata and flaky salt. I intend to take that to my Friendmas this weekend.
You can add the herb of your choice to this recipe. I used mint and then took it off for some monotoned pink photos, of course. Witlof or radicchio also look lovely, and add a bit of crunch and bulk to the salad.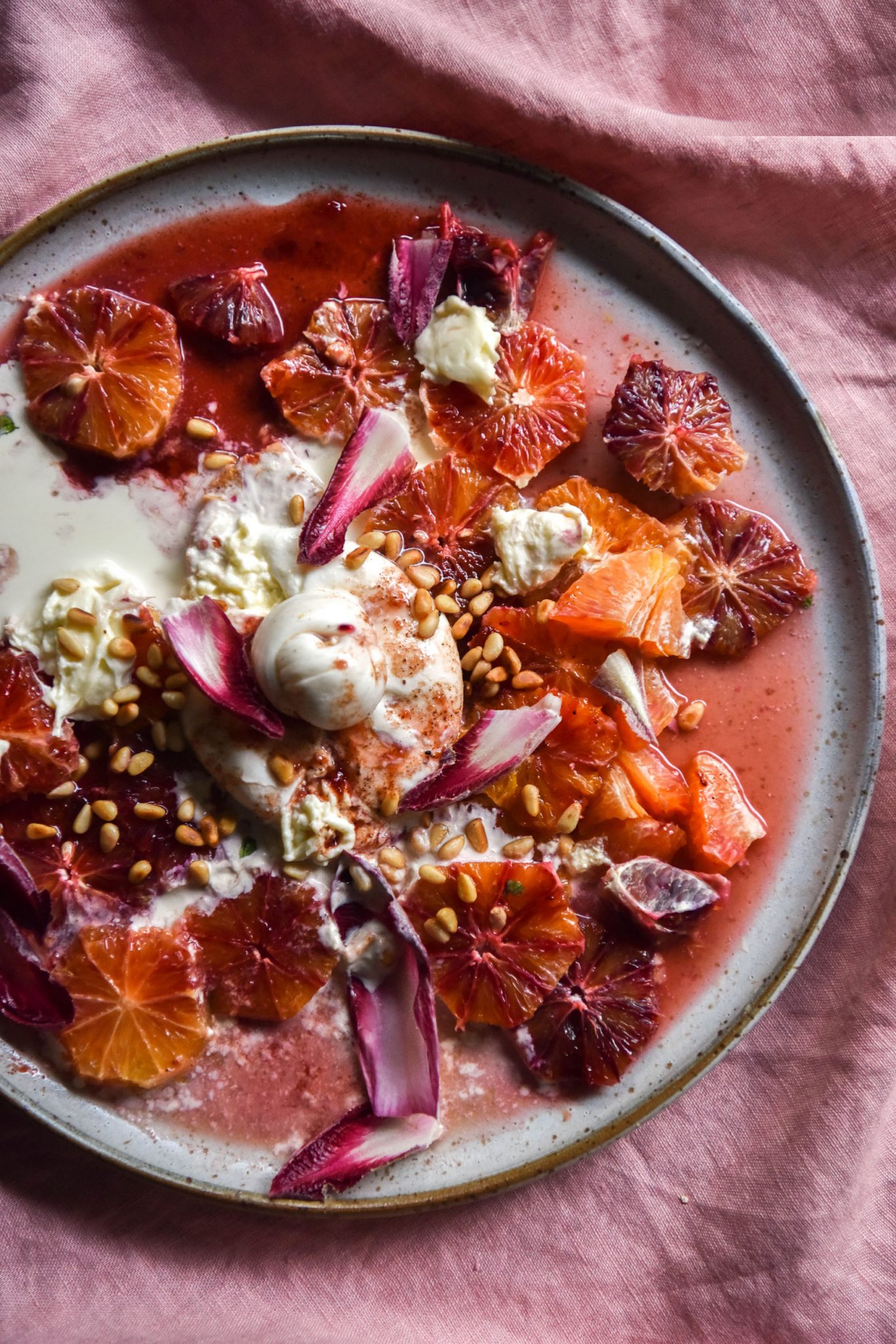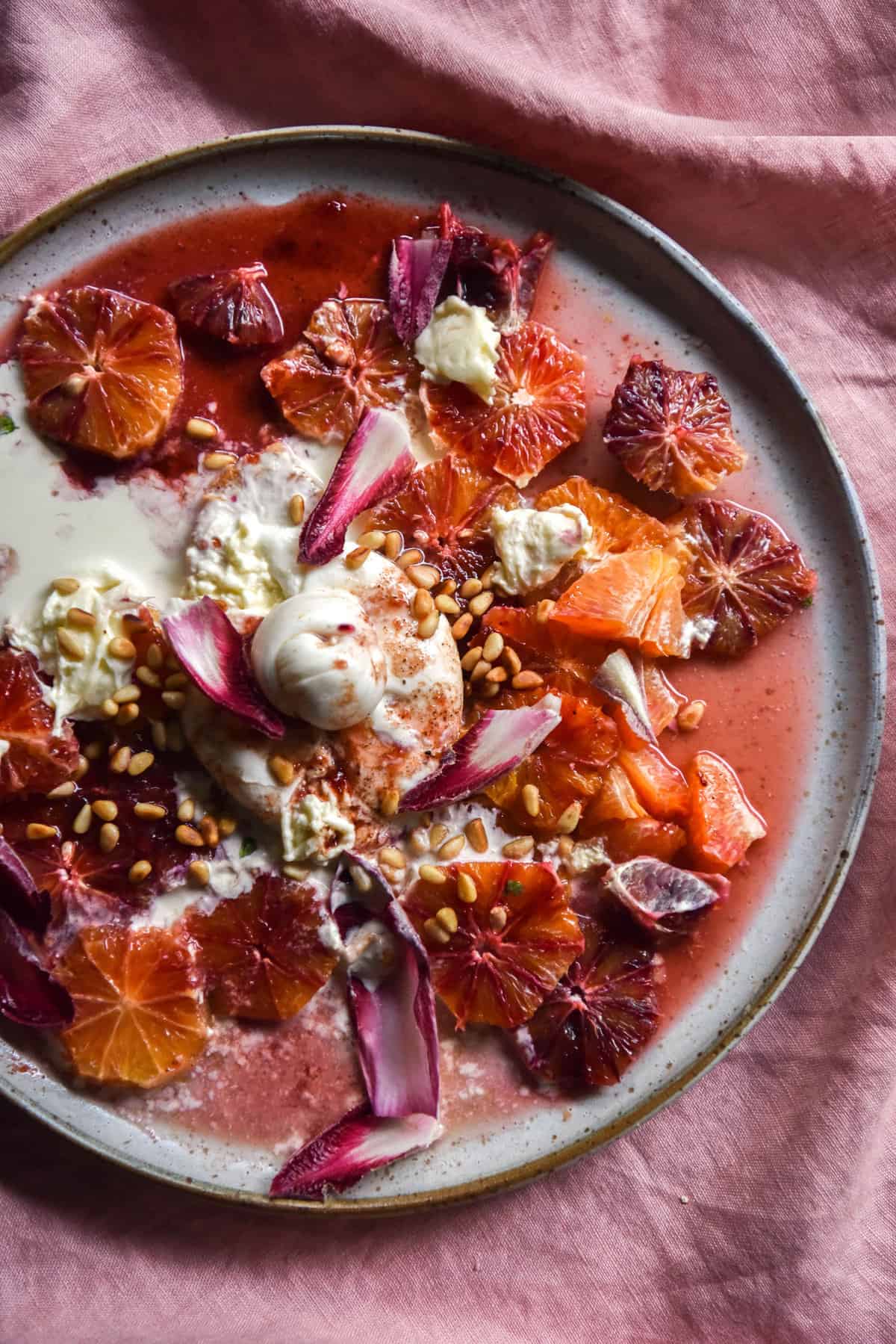 FODMAP notes
I hate to be the bearer of bad news, but there's not really such a thing as a lactose free burrata ball. If lactose is considerable issue for you, it might be worth searching out other recipes. I have a citrus, olive, feta and dill salad recipe in my cookbook – you could combine it with this dressing and lactose free feta.
Pine nuts are a FODMAP friendly nut. However, If you need the salad to be nut free you could use lightly toasted pepitas instead.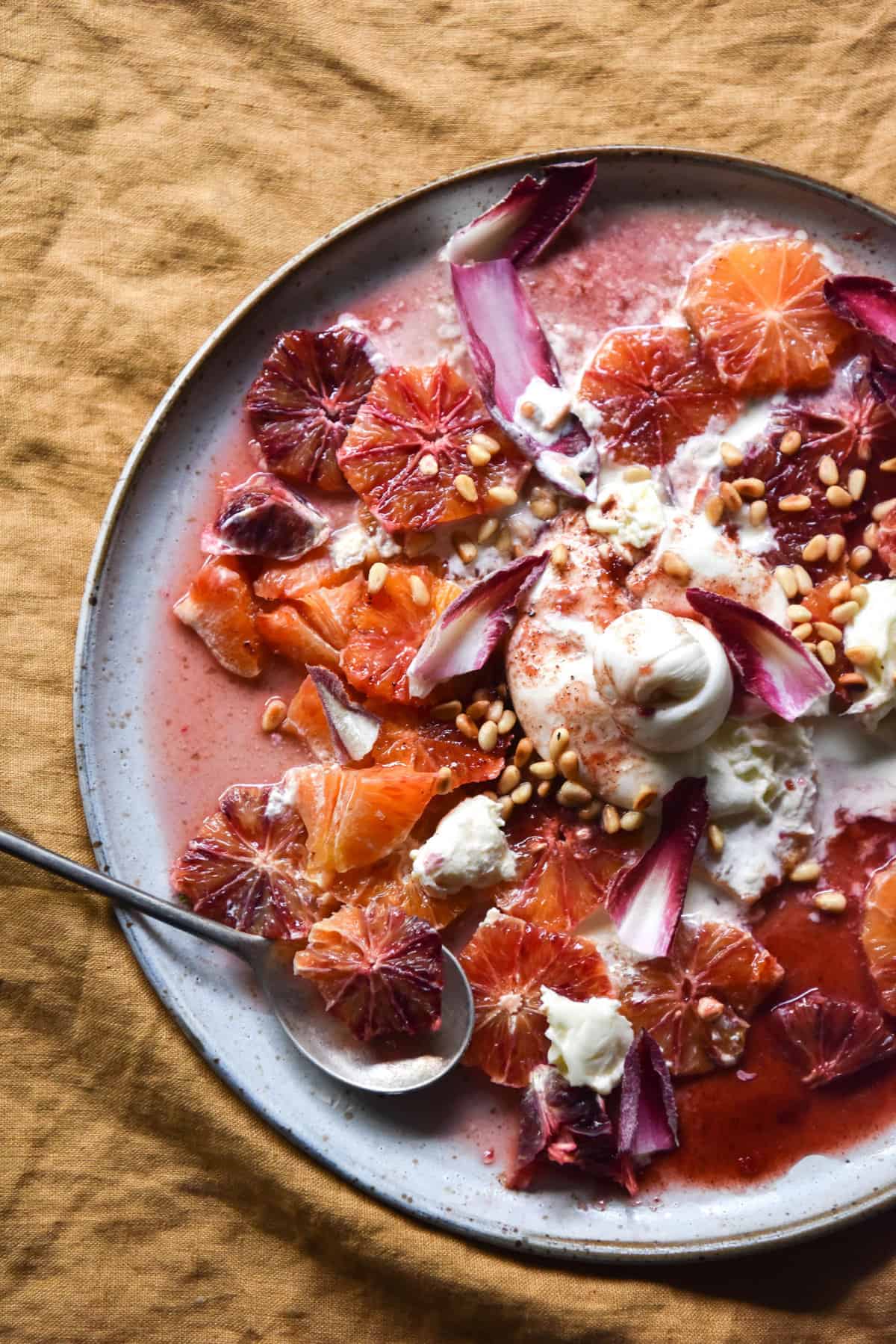 More salad recipes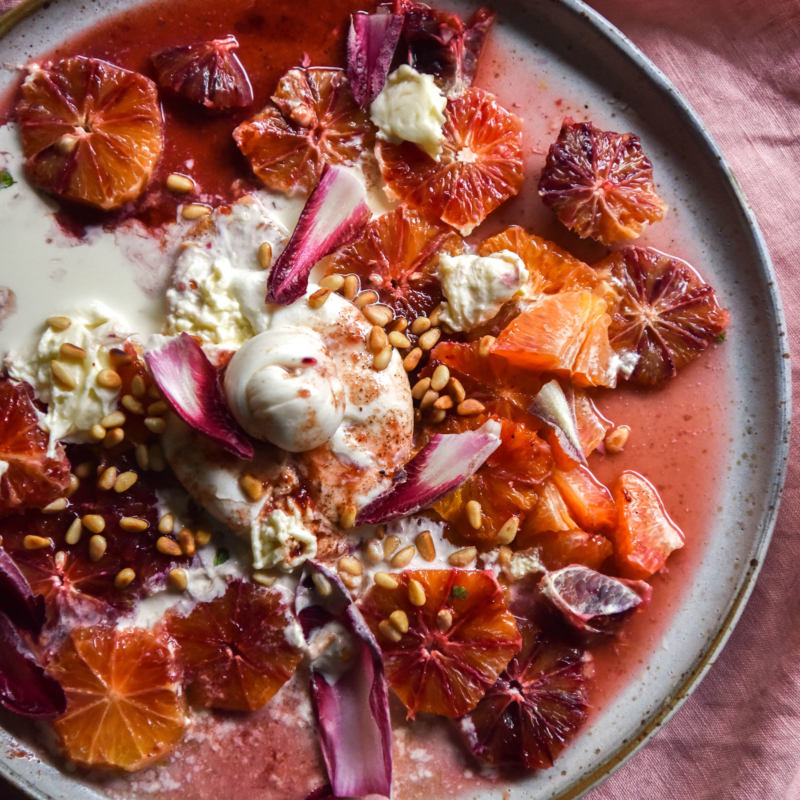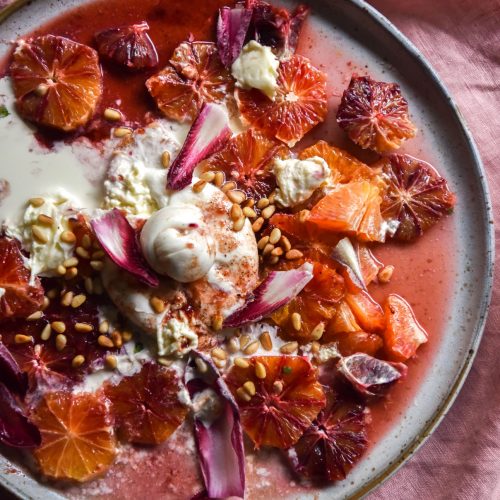 Blood orange, burrata and pine nut salad with a Christmas spiced syrup
Gluten free, vegetarian, adaptable to be nut free
Serves 4-6 people
Ingredients
For the Christmas spiced dressing:
3

tablespoons

(60ml) fresh orange juice

blood orange juice makes the dressing a lovely red

3

tablespoons

(60ml) lemon juice

3

tablespoons

caster sugar

1/4

teaspoon

nutmeg

1/4

teaspoon

ground cinnamon

1/4

teaspoon

ground clove
For the salad:
1-2

balls of burrata

depending on how many people you're catering for (see notes)

6-10

blood oranges

skin removed and sliced (use regular if blood aren't available

Handful of toasted pine-nuts

Herb of choice

optional (I used mint)

1

head of witlof

optional

Freshly cracked pepper and sea salt flakes

to finish
Instructions
To make the Christmas spiced dressing:
Place all the ingredients in a small saucepan over a low heat. Cook for around 5-10 minutes, or until the dressing has reduced and some syrup-like. Remove from the heat.
To assemble:
Arrange the salad ingredients on a serving platter. Just before serving, pour over some Christmas spiced dressing (to taste) and create a small hole in opposing sides of the burrata so that the cream oozes out. Season and serve immediately.