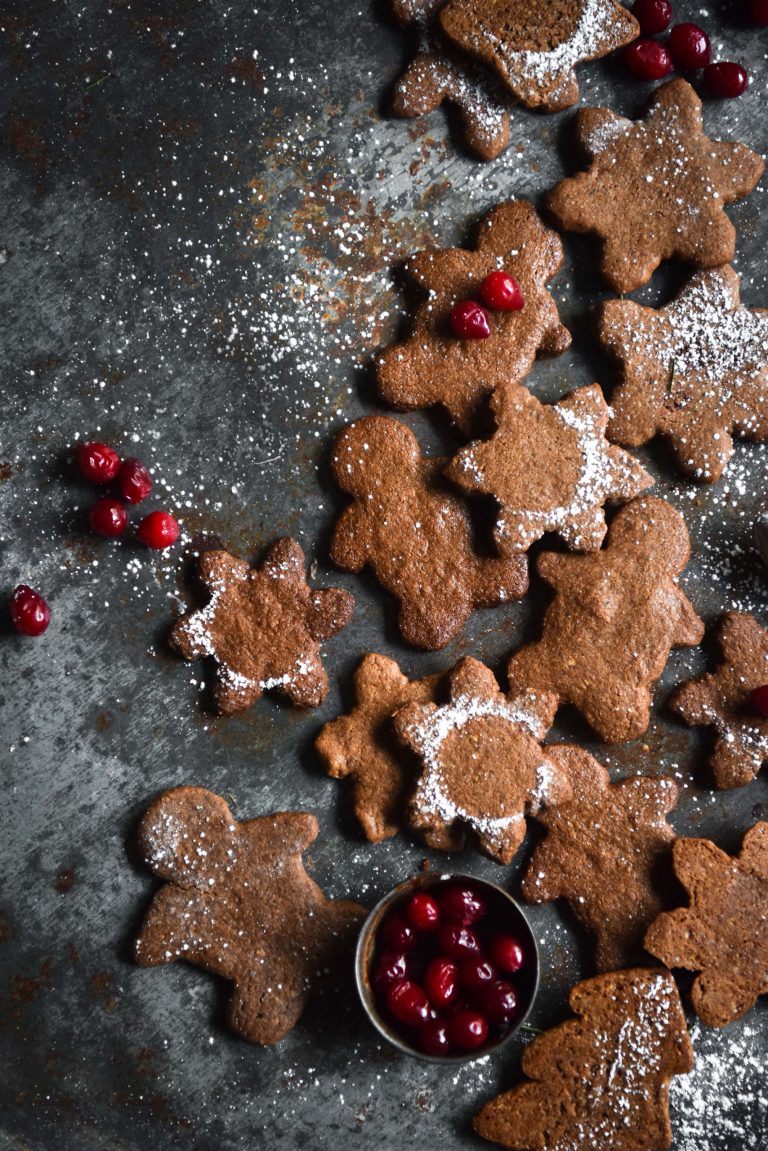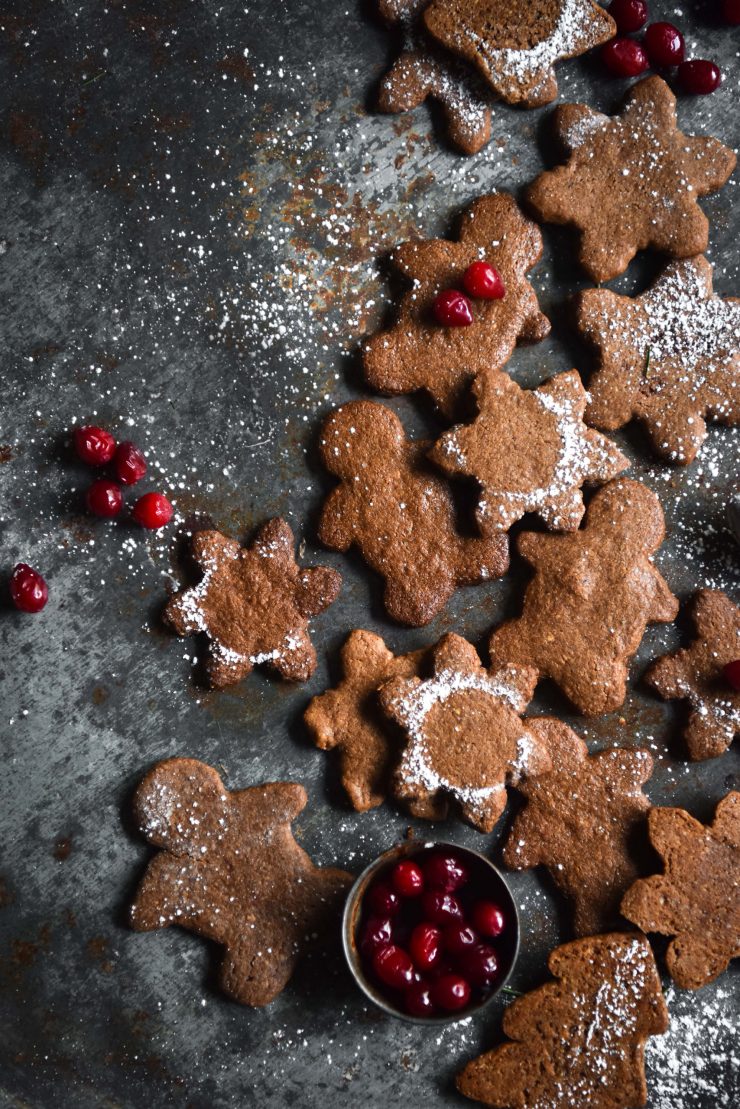 I've made gluten free gingerbread enough times to know that it normally ends in a mess of sticky flour on the bench and a sworn oath not to bother next year. For whatever reason, gluten free gingerbread is truly an absolute faff – more so than practically any other baked good. This year however, I decided to play around with my almond butter cookie dough. The result is this grain free gingerbread recipe that is probably the easiest one you'll ever make. Coupled with that? It's vegan, gluten free, grain free, refined sugar free and FODMAP friendly.
Using naught but almond butter, maple syrup, baking powder and spices, these cookies are easy to make and delicious.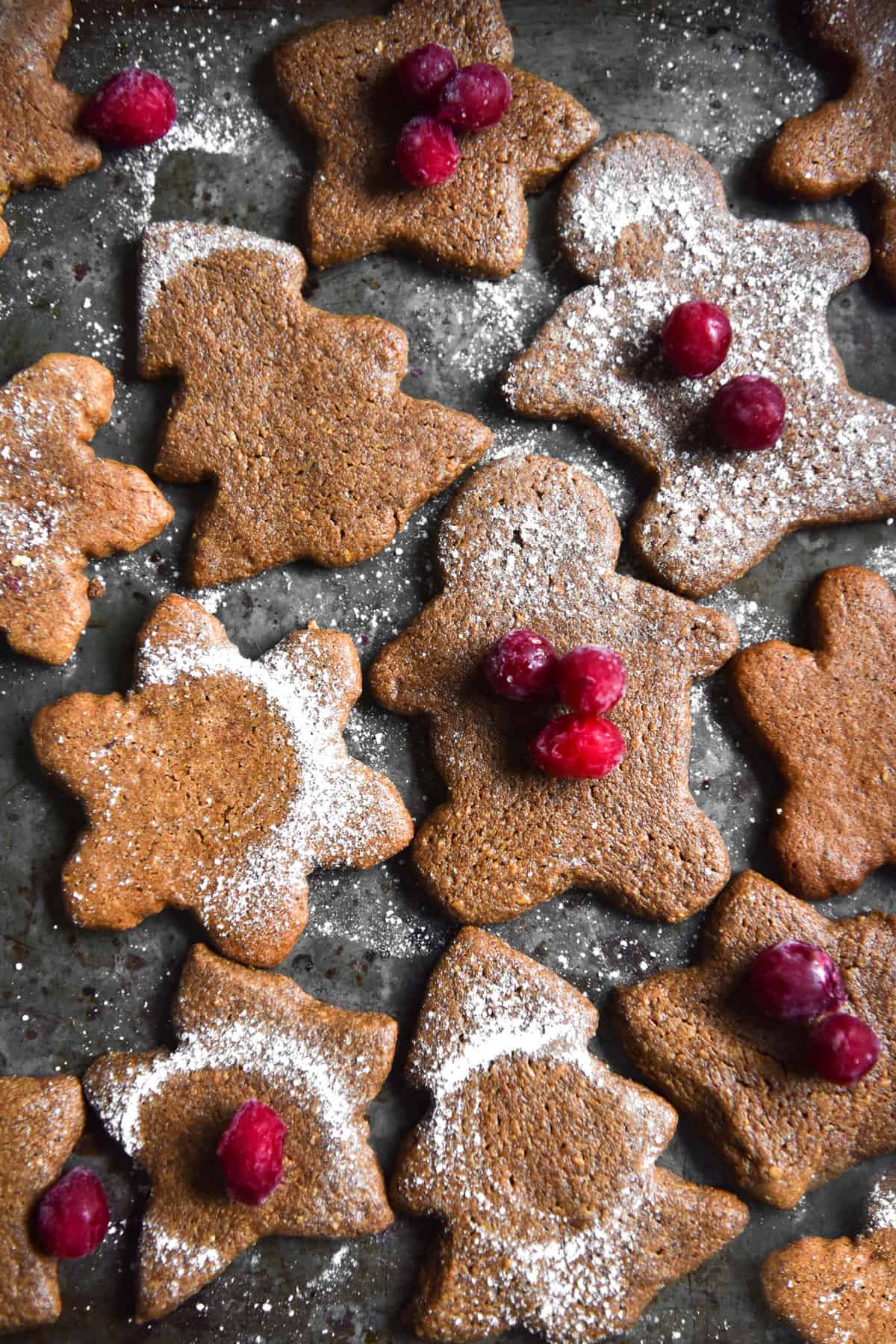 Grain free gingerbread tips
The success of the cookies depends on the texture of your almond butter. Read the almond butter section below for tips.
Make sure you use pure 100% maple syrup, not 'maple flavoured syrup.'
I like a lot of ginger in my gingerbreads. If you don't, start small and adjust to taste (keeping in mind that the flavours dull a little as they cook.)
Using lightly oiled hands helps the dough from sticking you to you as mould it. If you're having a lot of trouble, however, simply spread the dough on a lightly oiled baking sheet and stick it in the freezer for 10-20 minutes.
Anecdotally, I noticed that the gingerbread were less likely to form cracks if I cooked them on the bottom oven shelf. I recommend cooking them in batches.
Be sure to store the gluten free gingerbread in an airtight container – they tend to go a little soggy if they're left on the counter all night.
Which almond butter should I use?
I wouldn't recommend a dark roasted almond butter for this recipe. I think it would make the cookies too 'well browned' in taste, and would give a definitive almond flavour to them, which we don't really want.
That said, it MUST be roasted. Raw almond butter gives me nightmares.
I have had the best luck with supermarket variety, 100% almond butter. It's oily but not too oily and mostly smooth.
If your almond butter is too thin or oily, you won't be able to bring the mixture together into a mouldable dough. If it's too thick or dry, you'll get cracked gingerbreads. So, a middle ground is important.
I haven't tried this recipe with any other nut butter. You could potentially try peanut, although I do wonder if that would be an odd flavour combination. Almond butter is quite sweet, subtle and flexible to different flavours which is why it works so well.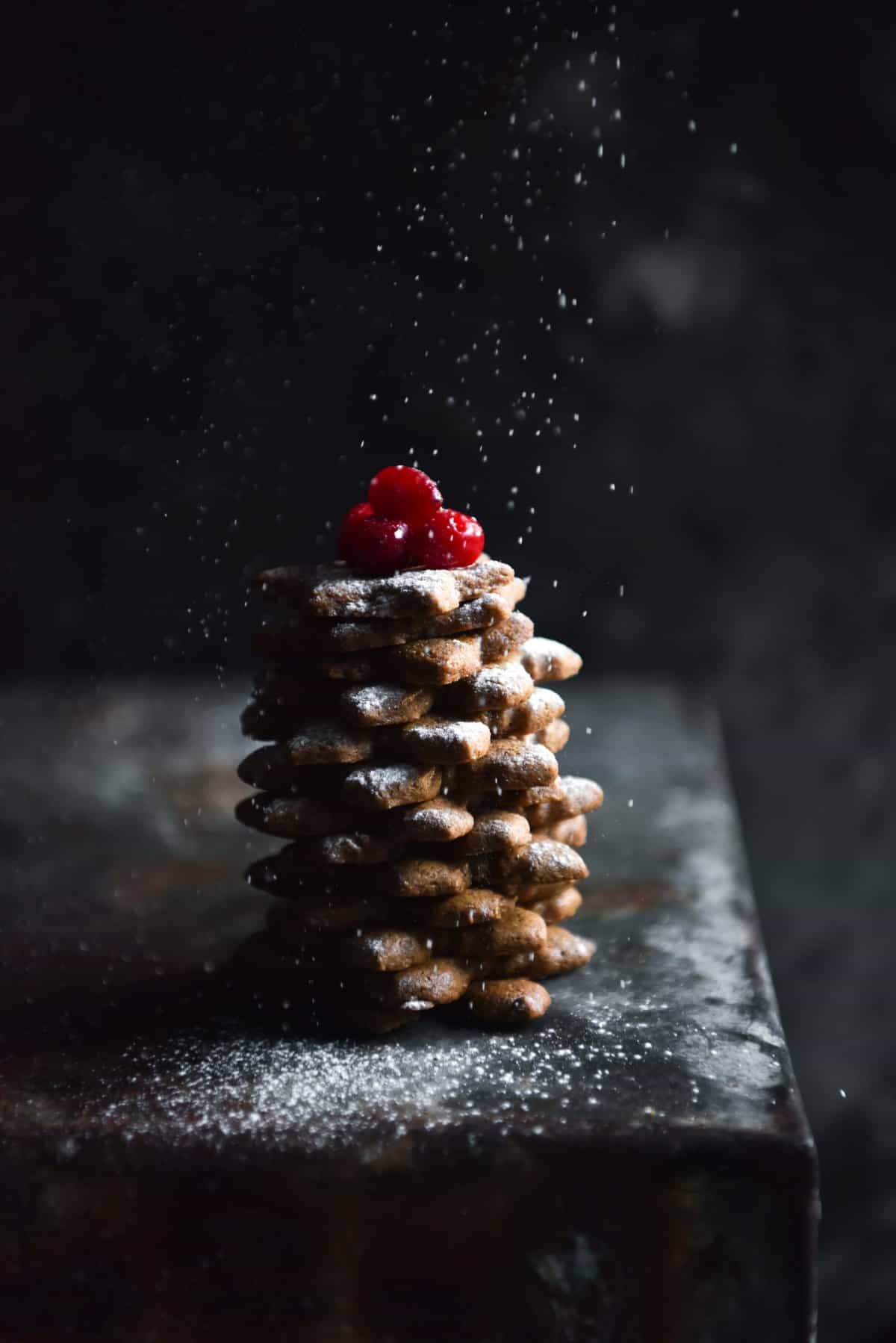 More grain free recipes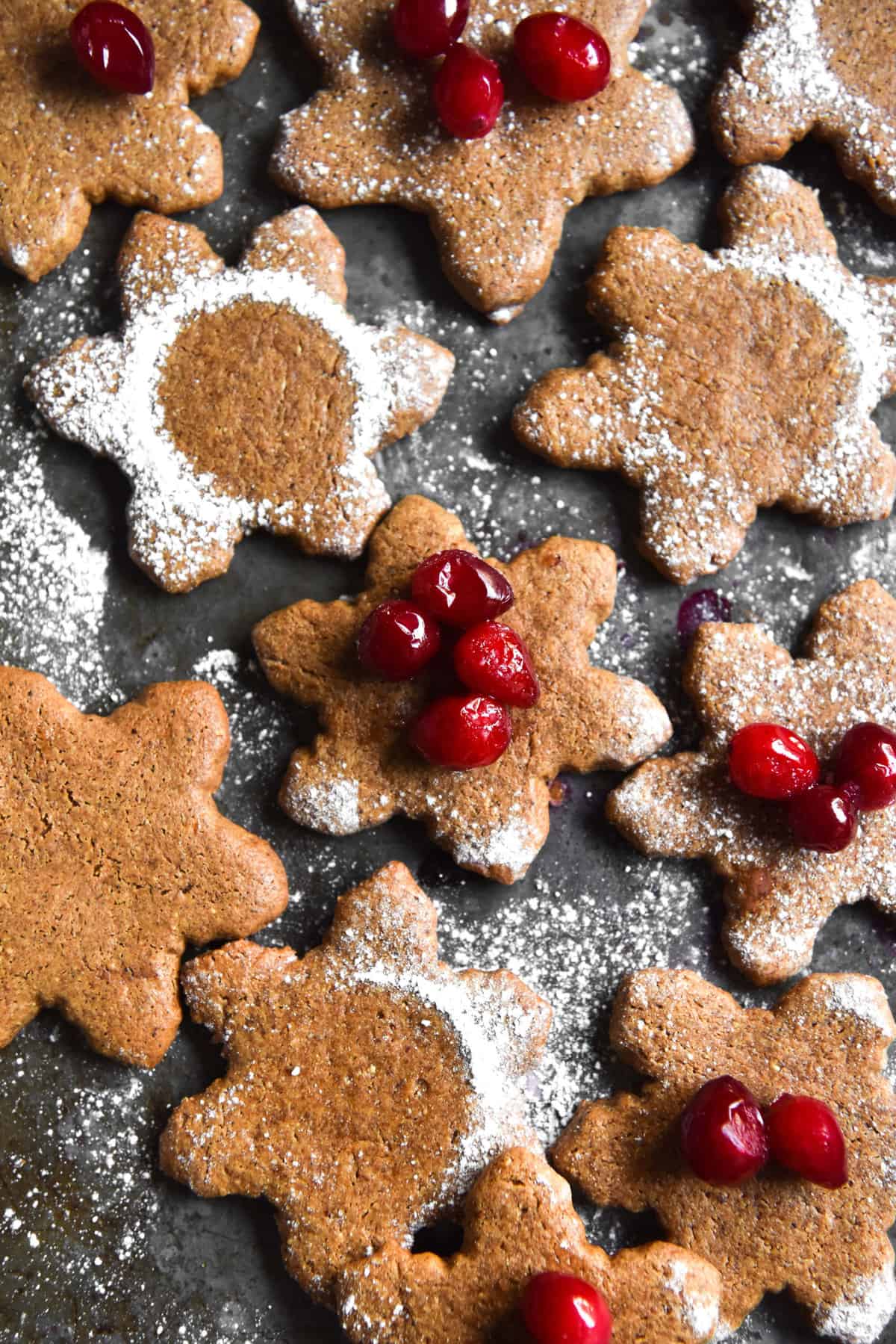 Grain free gingerbread (vegan)
Gluten free, grain free, vegan, refined sugar free
Contains nuts
Ingredients
1

cup

(225g) light roasted almond butter (see notes)

6

tablespoons

(120ml) pure maple syrup

1

tablespoon

ground ginger

2

teaspoons

ground cinnamon

2

teaspoons

ground nutmeg

1/2

teaspoon

ground clove

1

teaspoon

baking powder

2

teaspoons

vanilla bean paste

Pinch

of fine salt
Instructions
Preheat the oven to 180 degrees Celsius or 356 degrees Fahrenheit. Lightly grease a sheet of baking paper.

Combine all the ingredients for the cookies together in a medium mixing bowl. Mix until the batter thickens and becomes solid enough to pick up. This might take a little while, 5 or so minutes, and sometimes it helps to have a break from stirring. It seems to thicken while it rests. See the notes on the best almond butter to use to make sure you're not fighting a losing battle.

Once the batter is thick, lightly oil your hands, and transfer the dough onto the oiled baking sheet. I find it easiest to flatten the dough out using the palm of my hands. The thickness is up to you – I like a thick gingerbread, but you might like a thinner one. Mine are roughly 1/2 a centimetre thick – adjust the cooking time if you like yours thicker/thinner.

You can begin gently cutting the cookies straight away, but I find it easiest to put the flattened dough in the freezer for 15-20 minutes. When the dough is cold it is far less likely to be stretchy and petulant.

Place the cookies on a lined baking sheet, leaving some room for spread-age (this depends a little on the almond butter you use.) Bake anywhere from 8-15 minutes, according to your taste. 8 is a chewy on the outside and soft on the inside bake (with my oven) and 10+ leans towards a more well cooked and crunchy bake. Your call.

Allow the cookies to completely cool before touching or moving them – they will still be soft and will harden as they cool. Once cooled, store in an airtight container to prevent them from going soggy. Eat within a few days.