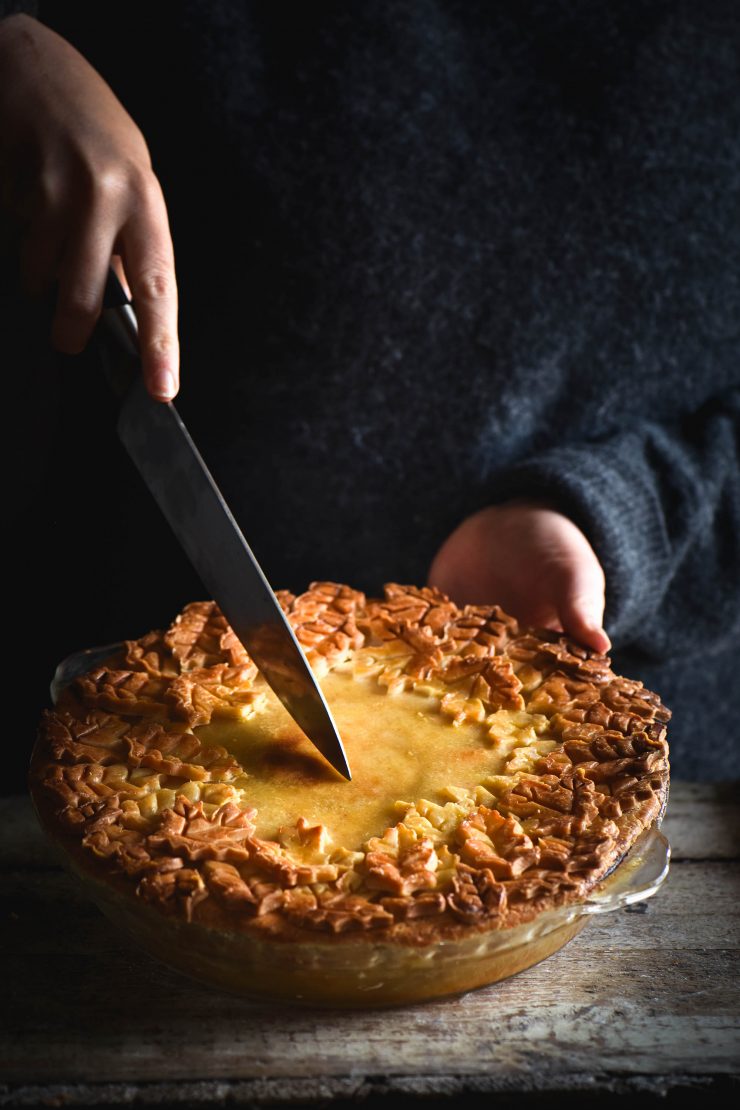 Now that I've developed a recipe for that offensively easy gluten free yoghurt pastry, I'm looking for things to make with it. First was the easy spanakopita style tart. Today is this gluten free pumpkin tart with sage and goats cheese.
If I could have, I would have named it 'VERY pumpkin tart.' For people who get a bit funny about big eggy bits in a tart (me) this one is for you. It is, indeed, mostly vegetables – the eggs are just here to hold everything together. It feels seasonally appropriate across the board – the end of pumpkin season here, and the beginning elsewhere.
The combination of pumpkin, sage and goats cheese isn't exactly news. Classics are classics for a reason, though, right? As we will go into below, you can experiment with flavour combinations here anyway.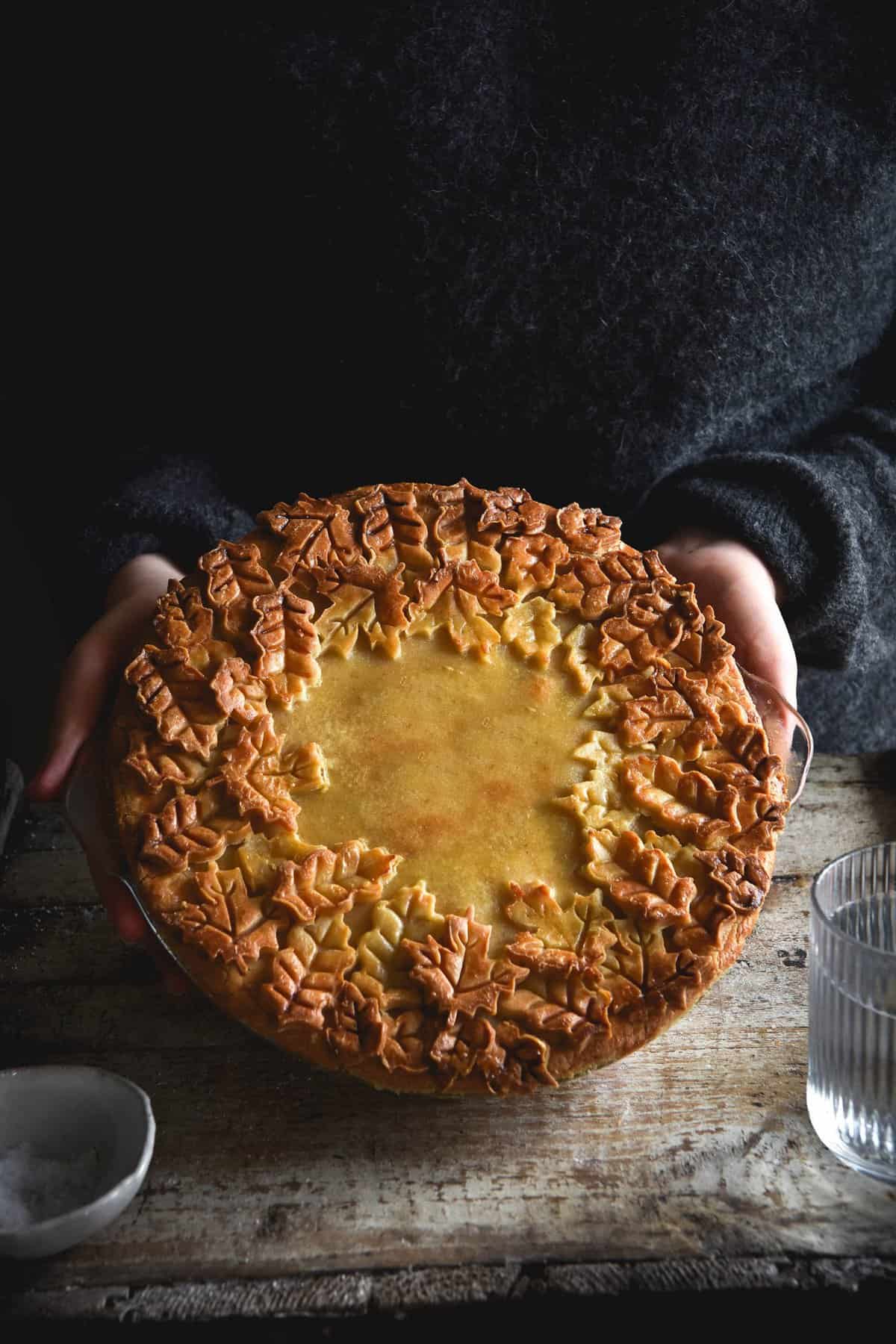 Gluten free pumpkin tart (low FODMAP)
This gluten free pumpkin tart is FODMAP friendly, low lactose, xanthan gum free, nut free and has a starch free option. It's a beautiful addition to a picnic or to an allergy/intolerance aware holiday table.
The pumpkin tart uses sage, leek greens and dried herbs to create a rich and flavourful base. It is then filled with delicious roasted pumpkin, eggs, yoghurt and goat's cheese to form a veggie packed pie.
The pastry is made from a simple mix of white rice flour and tapioca flour. It uses butter and yoghurt for a flexible and easy yet buttery gluten free pastry.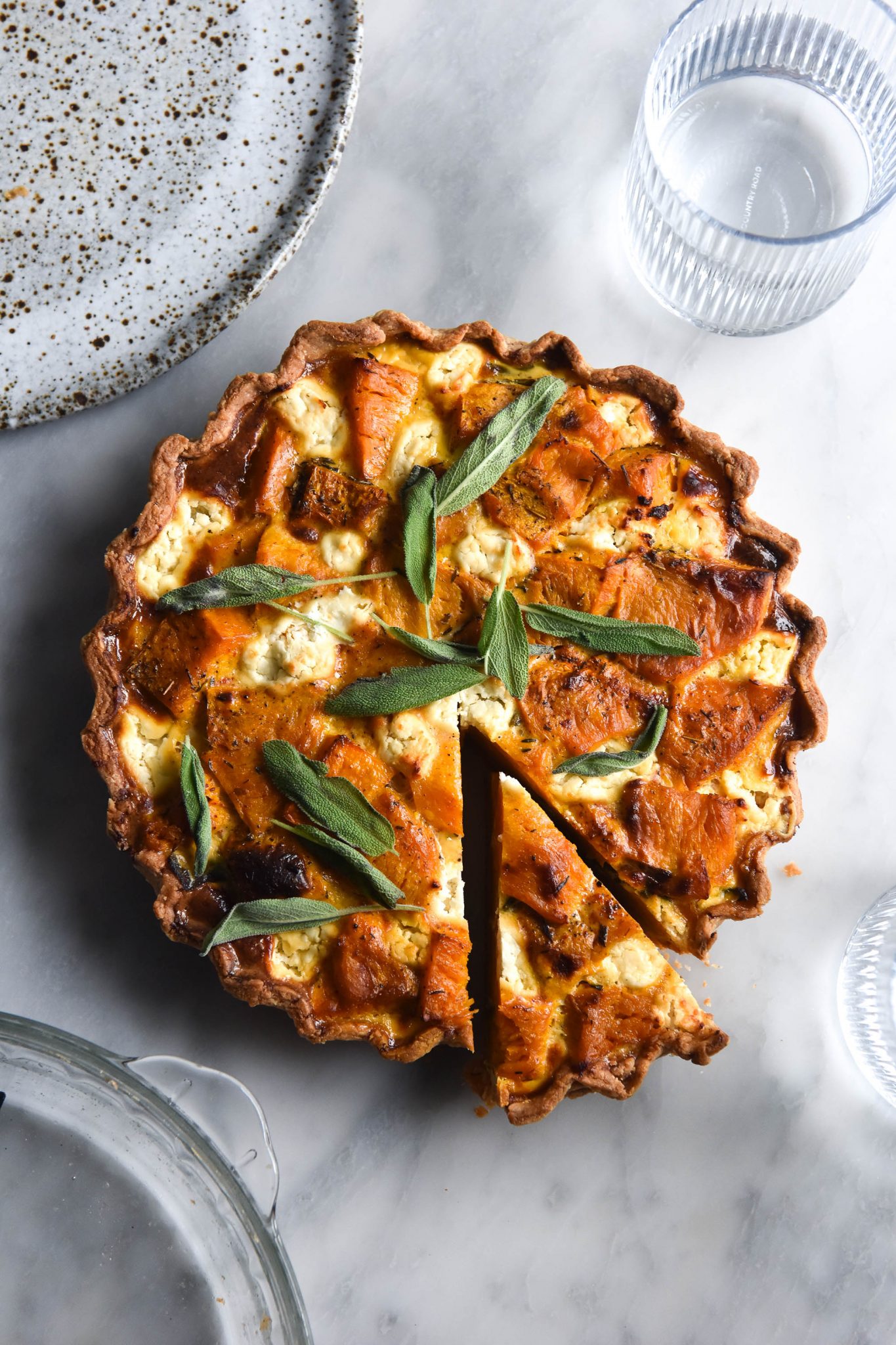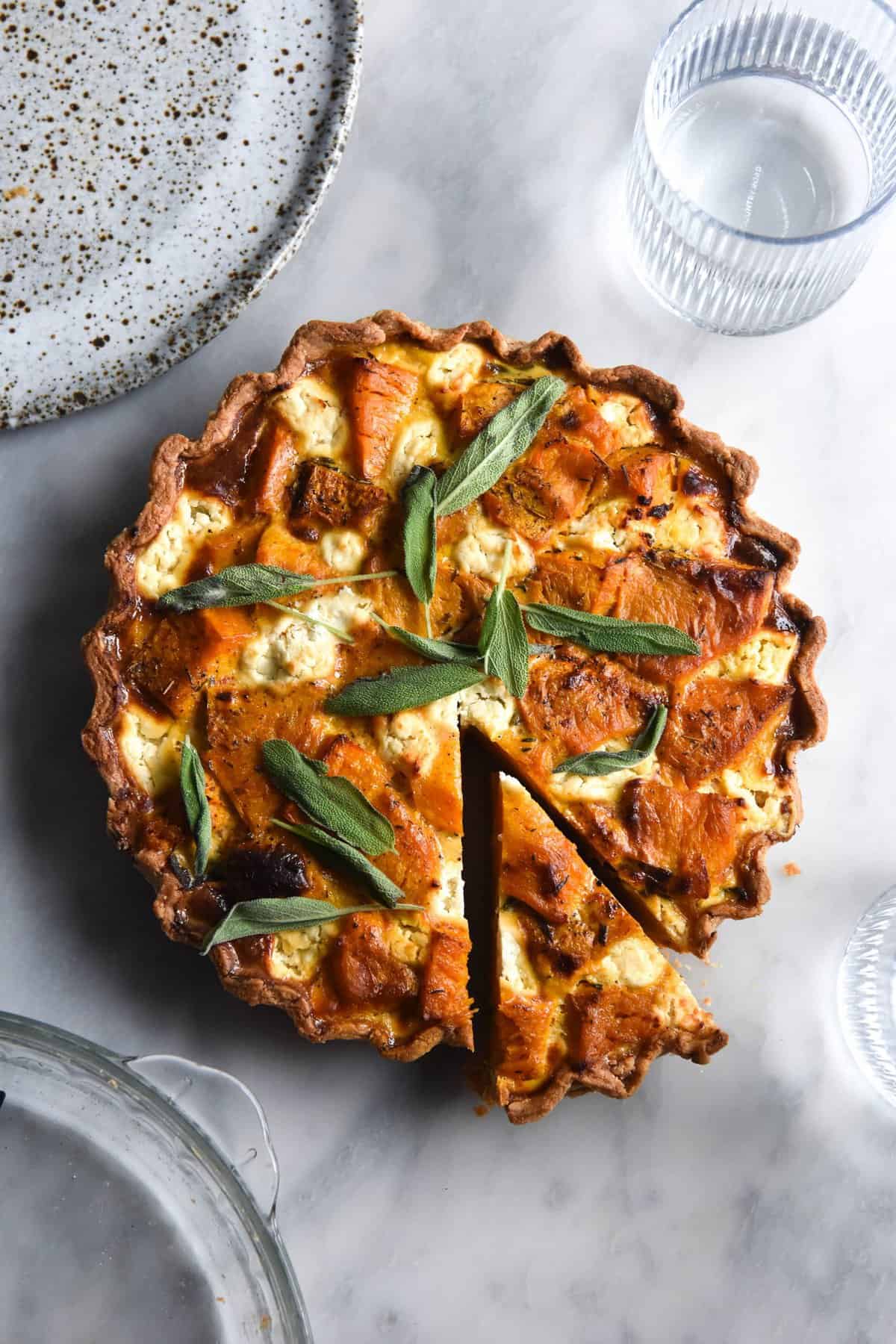 Recipe notes for your gluten free pumpkin tart
Use Japanese or Kent pumpkin, which are considered FODMAP friendly by Monash. I always like to roast a little more pumpkin than I need, just in case.
I have used leek greens in this recipe to add extra colour and flavour. Leek greens are considered FODMAP free by Monash, so they are a great way to add some depth. Make sure you wash them very very thoroughly as they tend to collect a lot of dirt. They're woodier than the white part of the leek, but will soften in the oven.
I recommend roasting your vegetables in a baking dish, rather than on a tray. This will keep the moisture in and soften the leeks, rather than crisping or burning them. I also recommend salting the vegetables before baking. Salt draws liquids out of vegetables, so they will stay nice and moist during the cooking process.
Using marinated goats cheese is a great way to add extra flavour to this tart. I love Meredith marinated goats cheese. Sure, it contains garlic, but in such a small amount that it shouldn't present an issue. If you're uncomfortable with that, buy plain.
On the note of marinated goats cheese, use the marinading oil to roast the vegetables. It adds an extra layer of flavour and uses it up. You can also use the oil from marinated olives or other vegetables.
Nutmeg adds a really nice layer of flavour to this tart. I recommend adding it even if you don't like nutmeg. You can also add a pinch of clove, or some dried thyme, sage or rosemary for an extra flavour hit.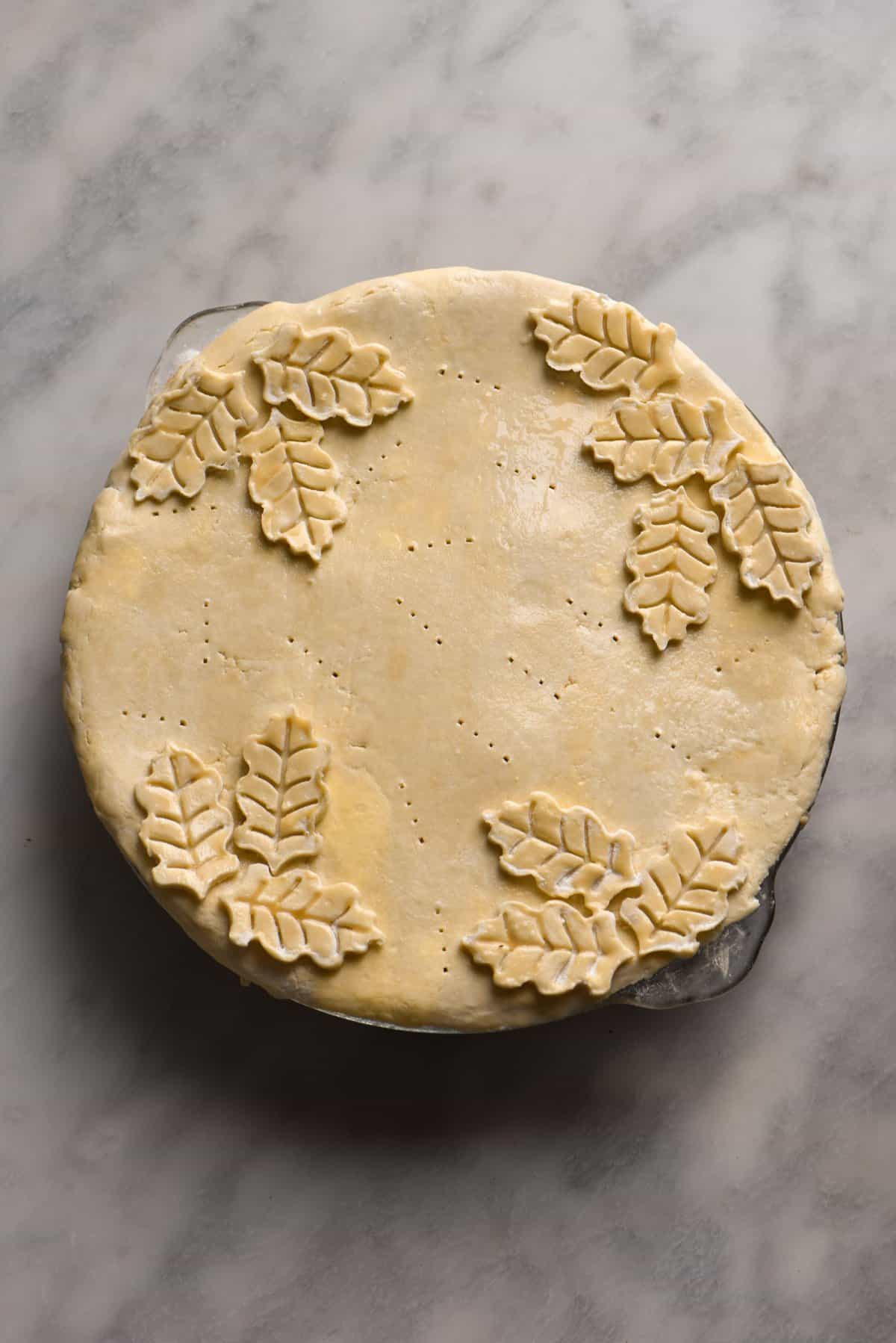 Substitution notes for your gluten free pumpkin tart
You can play around with the cheese you prefer in this recipe. My first suggestion would be a nice blue cheese.
Hypothetically speaking, you could experiment with a different herb. Personally I think sage is the best here, but you do you.
Don't like pumpkin? First and foremost, why are you here? Secondly, try my spanakopita style tart.
See the section below on using all wholegrain flours for your pastry, if that's what you would like to do.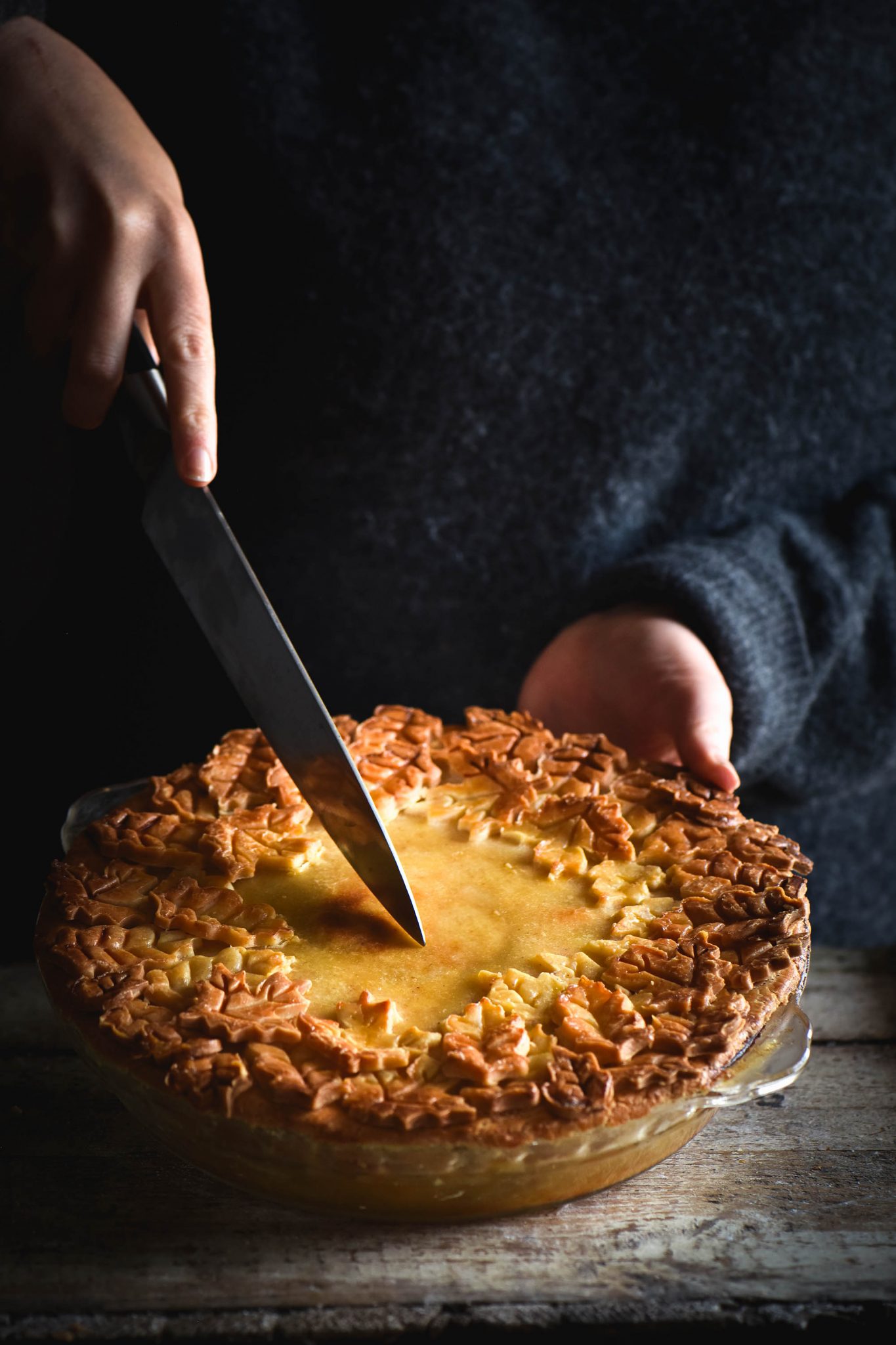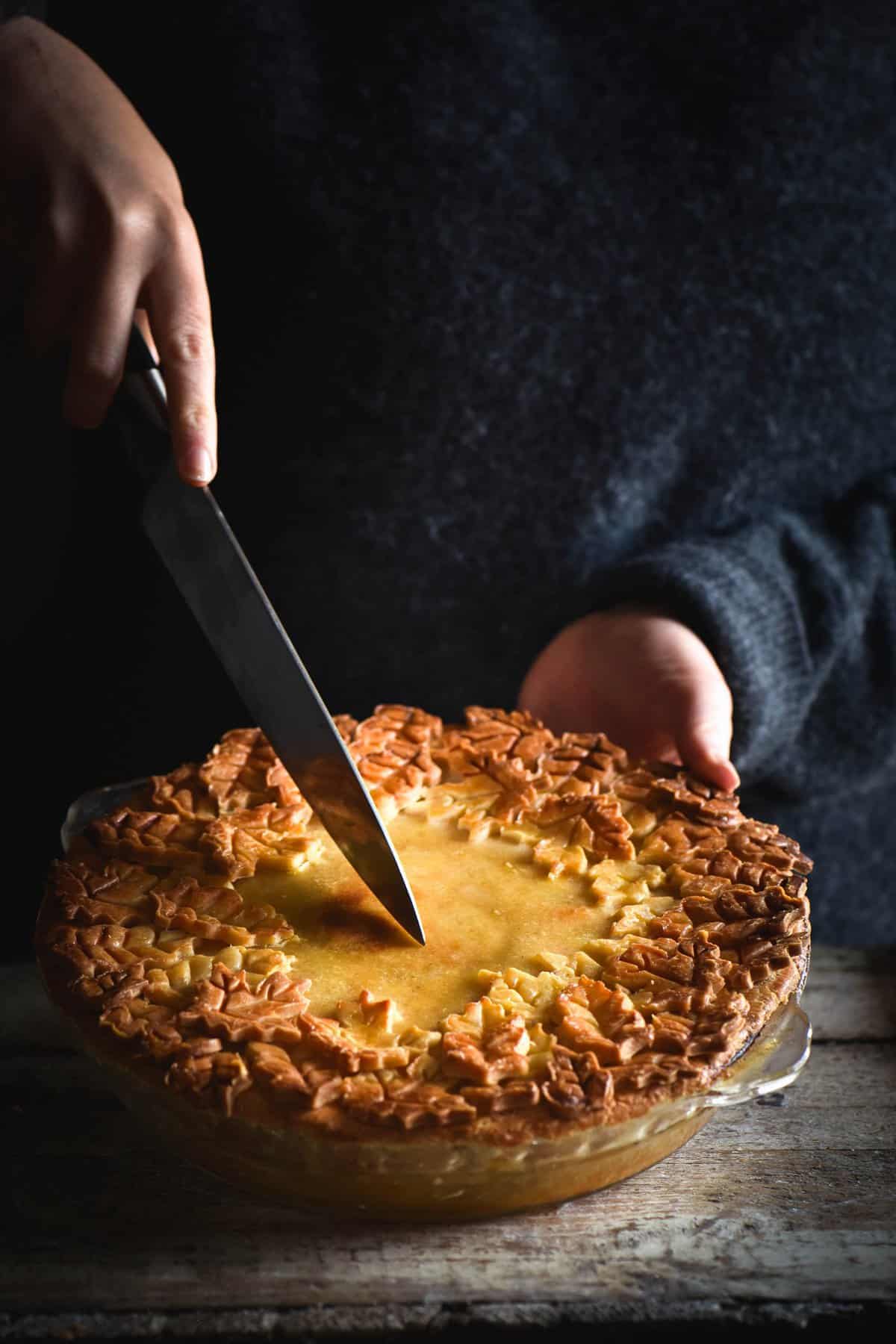 Ingredients notes for your gluten free yoghurt pastry
I guess, first up, we should discuss yoghurt. I recommend a full fat, plain yoghurt, ideally pot set. Low fat or light yoghurts will result in a less flaky pastry and a more leaky filling. This is why I suggest full fat. In Australia, I like Jalna pot set yoghurt. They do a number of full fat, lactose free products, including a lactose free Greek Yoghurt. I love them!
The flours I have used in this recipe are fairly standard – white rice flour and tapioca flour. I generally use these because I know people have access to them. We will discuss more in the flour section below, where I will give some suggestions for substitutions.
I have used psyllium husk powder for the binder in this recipe. Every gluten free baked good needs a binder – sometimes that is egg, sometimes a gum, like xanthan. Binders hold everything together, as gluten normally does. Pastry can be a real pain to work with without a binder, particularly if you plan to do any decorative or lattice work. I have added some notes on using xanthan gum if you plan to do any intricate decor.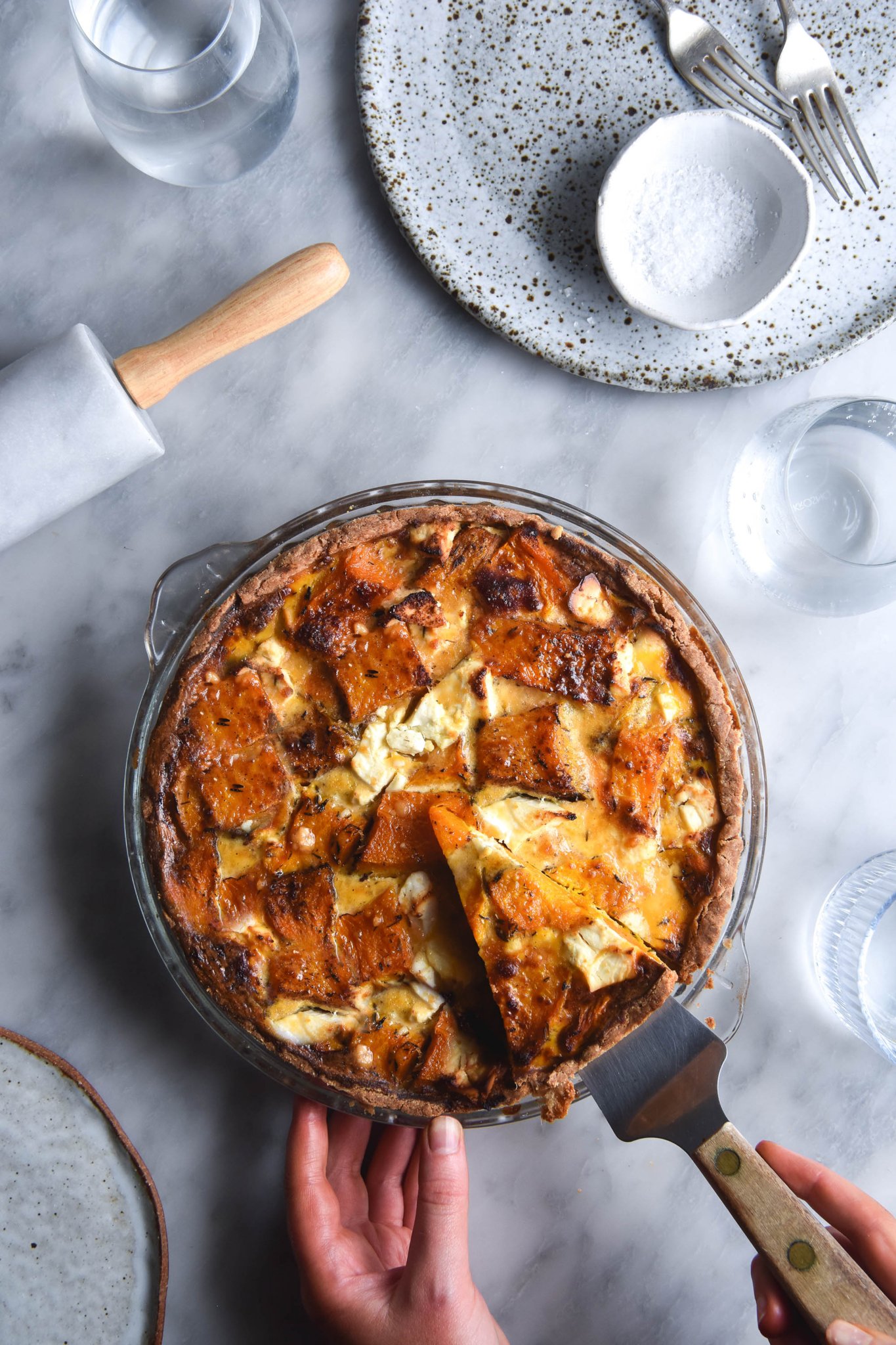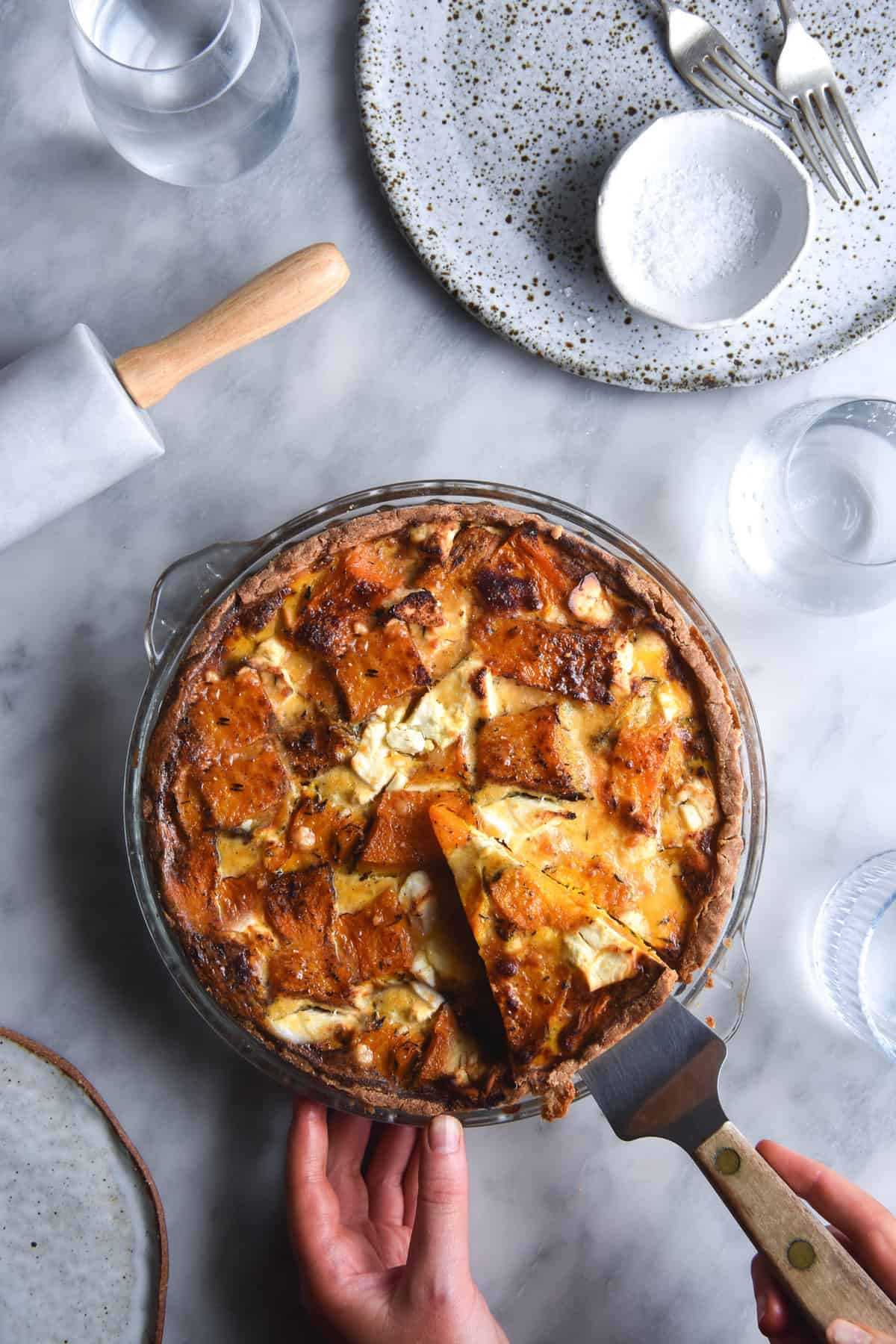 Gluten free flour notes
This recipe uses white rice flour and tapioca flour as the standard duo. They are easy to find for most people, and have a bland flavour and light colour akin to a regular glutenous baked good. That said, this recipe is very amenable to flour substitutions. . Keep in mind that different flours need different levels of hydration. Rice flours are generally the thirstiest of the lot, so you will probably need to use less yoghurt. Add it only as necessary.
It is also possible to use all wholegrain flours for a starch free pastry option. I highly recommend adding 1-2 teaspoons of extra psyllium husk powder to compensate for the lack of stretch in wholegrains when compared to starches. I also recommend pairing a lighter flour (like buckwheat or sorghum) with a heavier flour, white or brown rice. You can experiment and see what works for you. Keep in mind, again, that you will need to adjust the amount of yoghurt and the baking time to suit.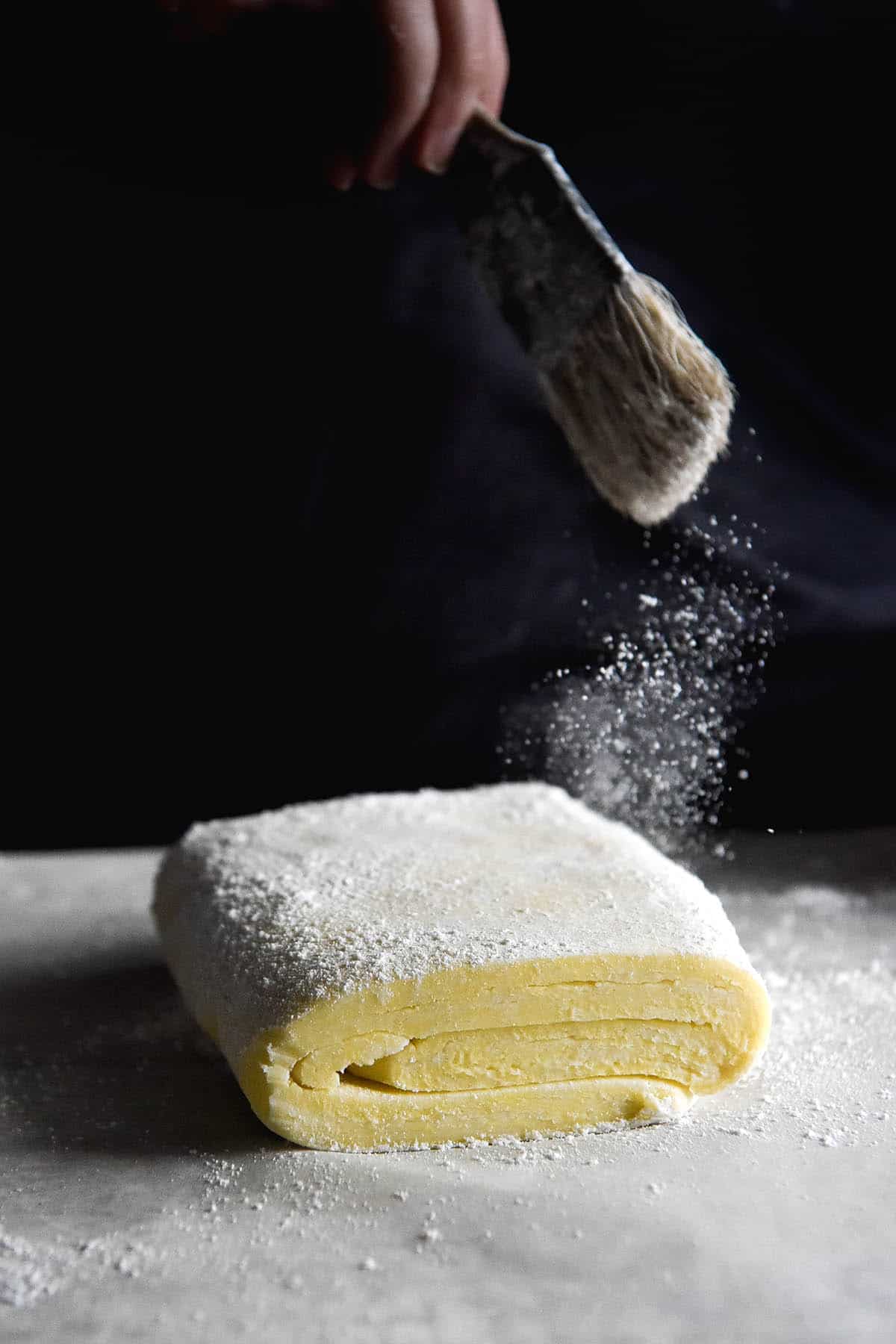 A note on blind baking
One of the things I like about this pastry and this tart is that you don't need to blind bake the pastry. Because the filling is quite thick and the pastry sturdy, it doesn't melt into a hot mess during baking. You couldn't do the same with, say, a strawberry pie, but it works really well here.
The good thing about not needing to blind bake is the time it saves. Blind baking this pastry takes 40 minutes – 30 minutes with the pie weights in and an additional 10 minutes with the pie weights out. Tarts aren't known for being a speedy meal, so the bonus is we're saving time.
Is the pastry better blind baked? Yes, it is, but not really in a huge way in this case. The bottom, as well as the sides, will have a crispy, buttery taste if blind baked. If not, the bottom is more nondescript. Still holds the pie together without being stodgy, but just doesn't taste quite as buttery. A trade I'm willing to make, given that the sides of the pastry will still have that buttery taste either way.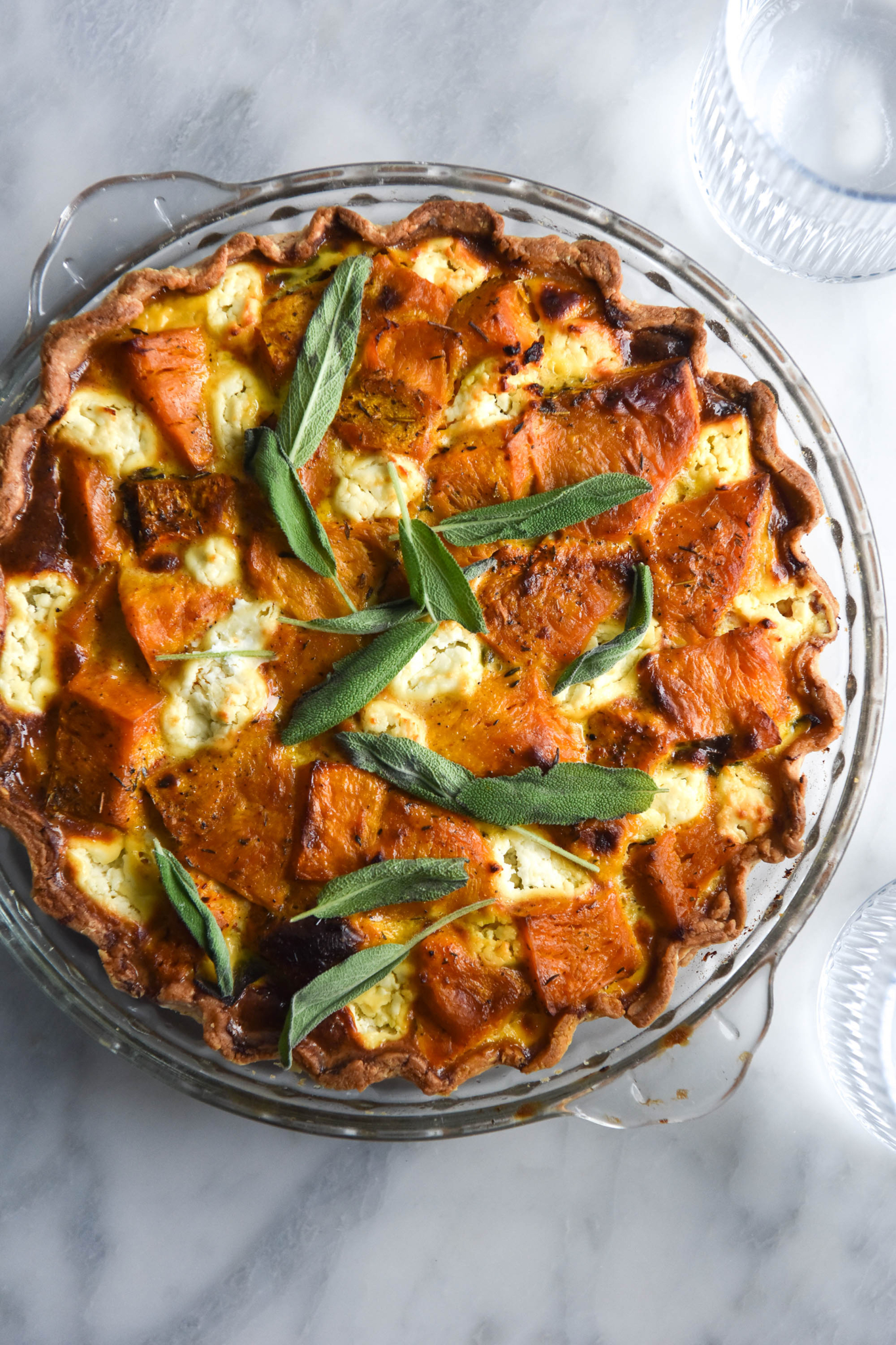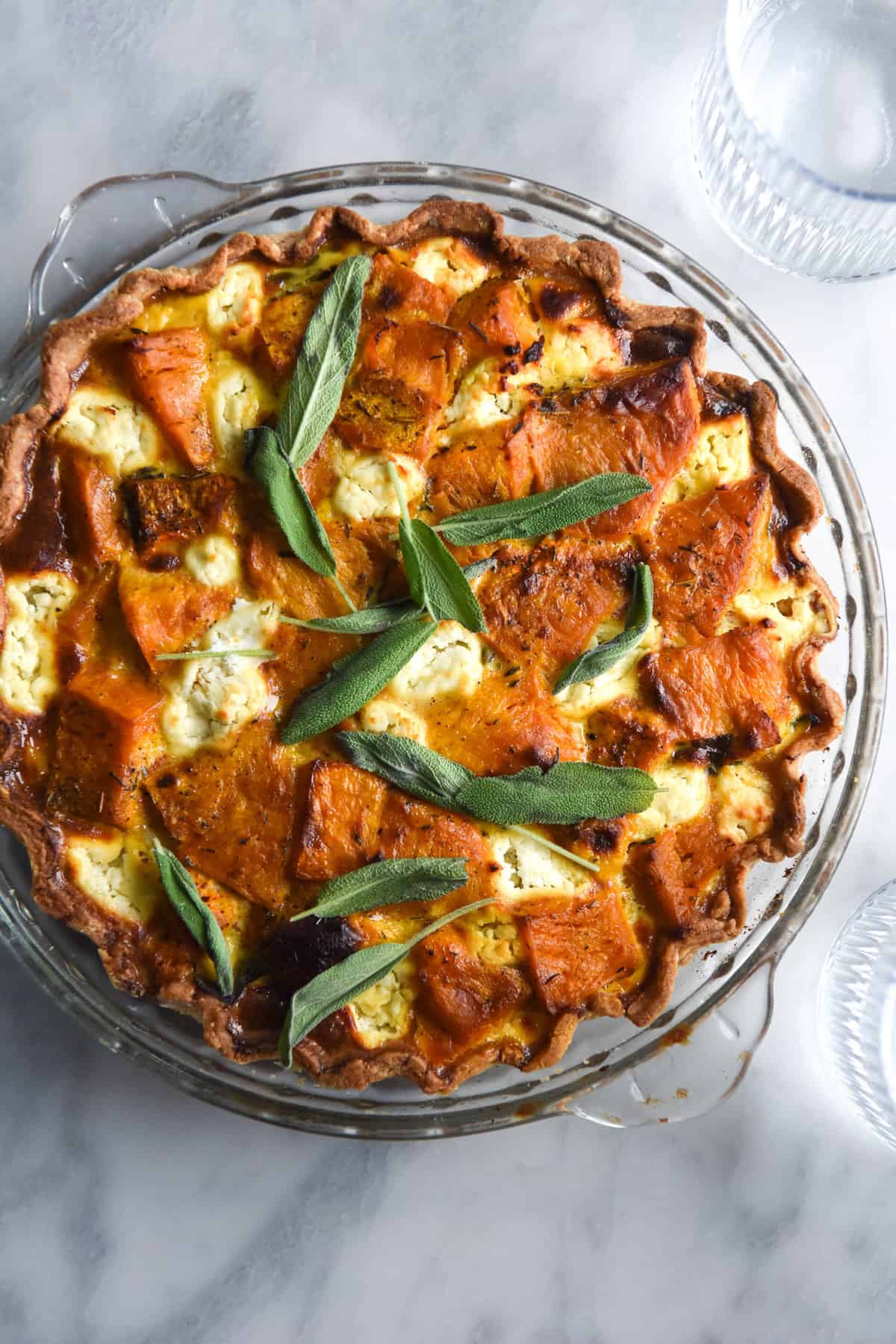 Working with gum free pastry
Gluten free pastry can be a challenge, and none more than the gum free variety. I find that the yoghurt seems to make this an easier pastry to work with, but the psyllium husk plays a crucial role, too. Psyllium husk is a natural fibre binder in gluten free baking. It's not included for fun – it helps hold the pastry together.
I have found that psyllium husk powder works best in this recipe. I generally buy psyllium husks and then grind them in my spice grinder as necessary. The husks work too, but I found the pastry was just a little more prone to cracking as I rolled it out.
I also found that rolling this pastry straight after making it worked better than chilling it first. It is more flexible fresh which makes it easier to manipulate. Chilling it in the pie dish allows it to be flaky but also nice and neat.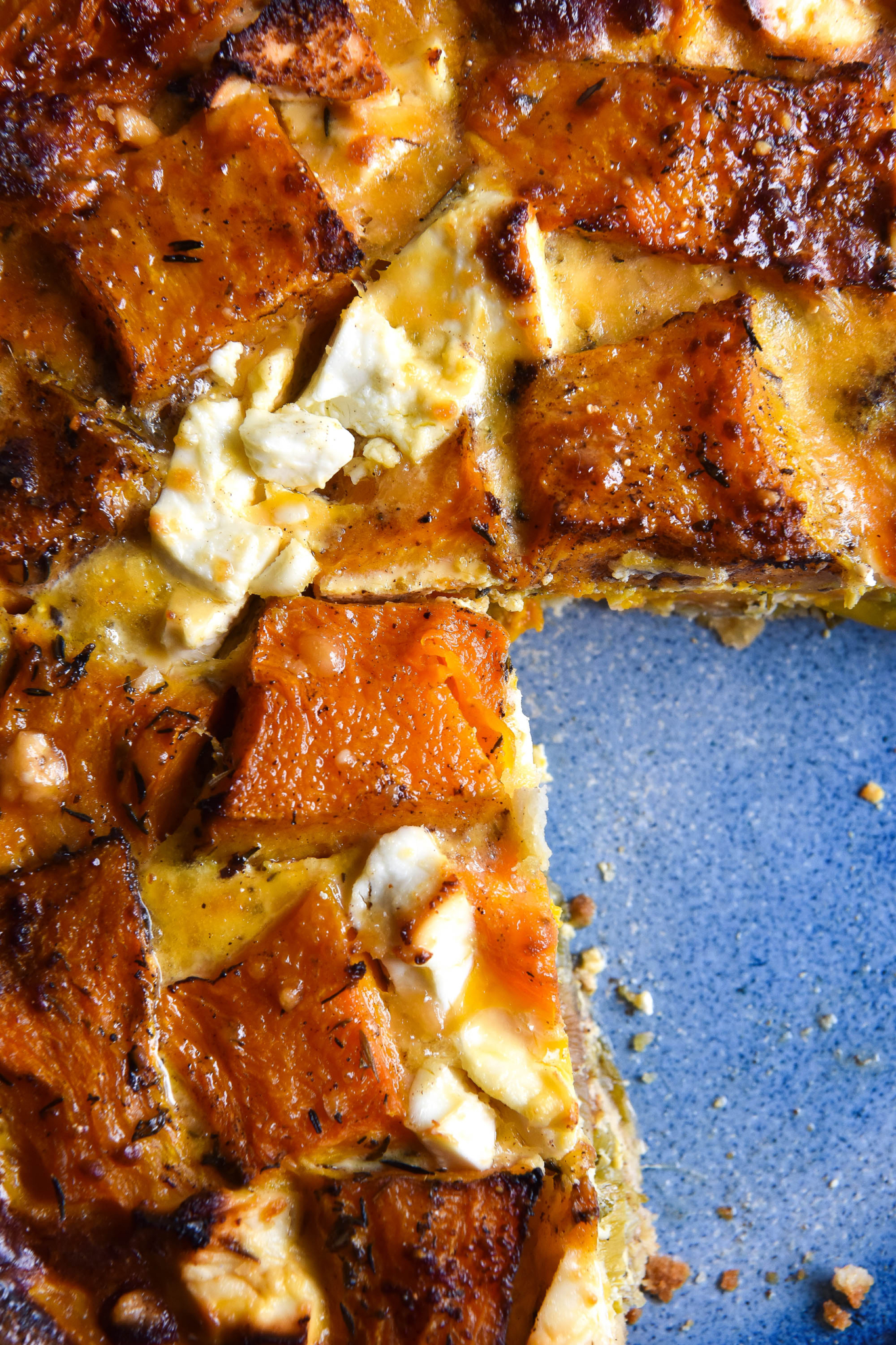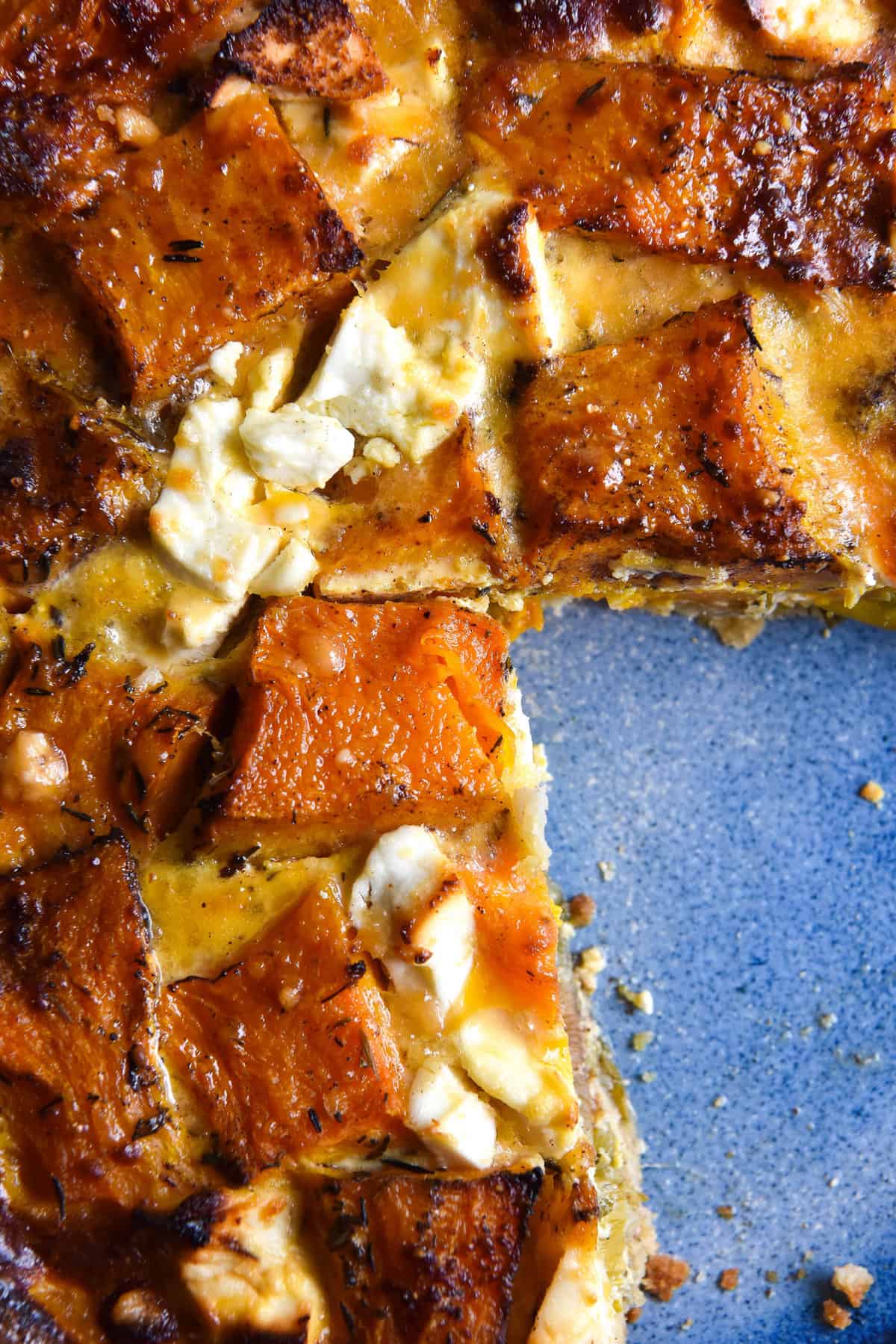 Tips for working with gluten free yoghurt pastry
As discussed, roll and shape the pastry right after you make it. It is at it's flexibility peak, like me after a few wines.
Use your rolling pin the press down on the lump of pastry to secure it and flatten it before rolling. I find this helps prevents cracks.
Patch up as cracks with your fingers as they appear. The warmth from your hands will help bring it together.
Make sure your paper and rolling pin are well floured to prevent sticking. Nothing worse than having to scrape the whole thing up and start again.
Don't expect it to have as much flexibility as glutenous pastry, or even pastry with xanthan gum. It needs a little more TLC, but the gum free result is worth it.
If you plan to do lattice work, crimped edges or any fancy pastry work, use the starchy option. The starch free version is trickier to work with and won't hold up to intricate stuff.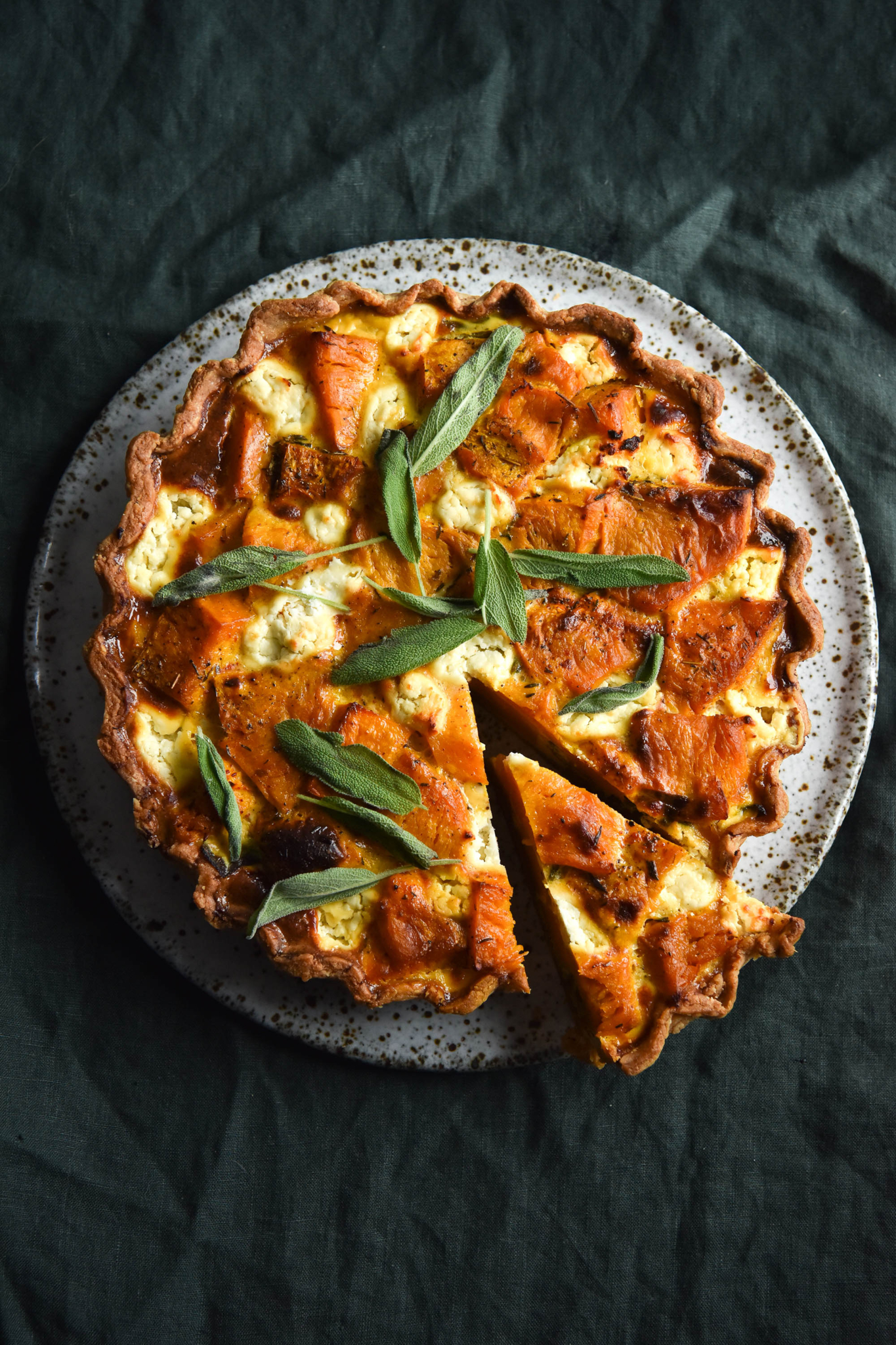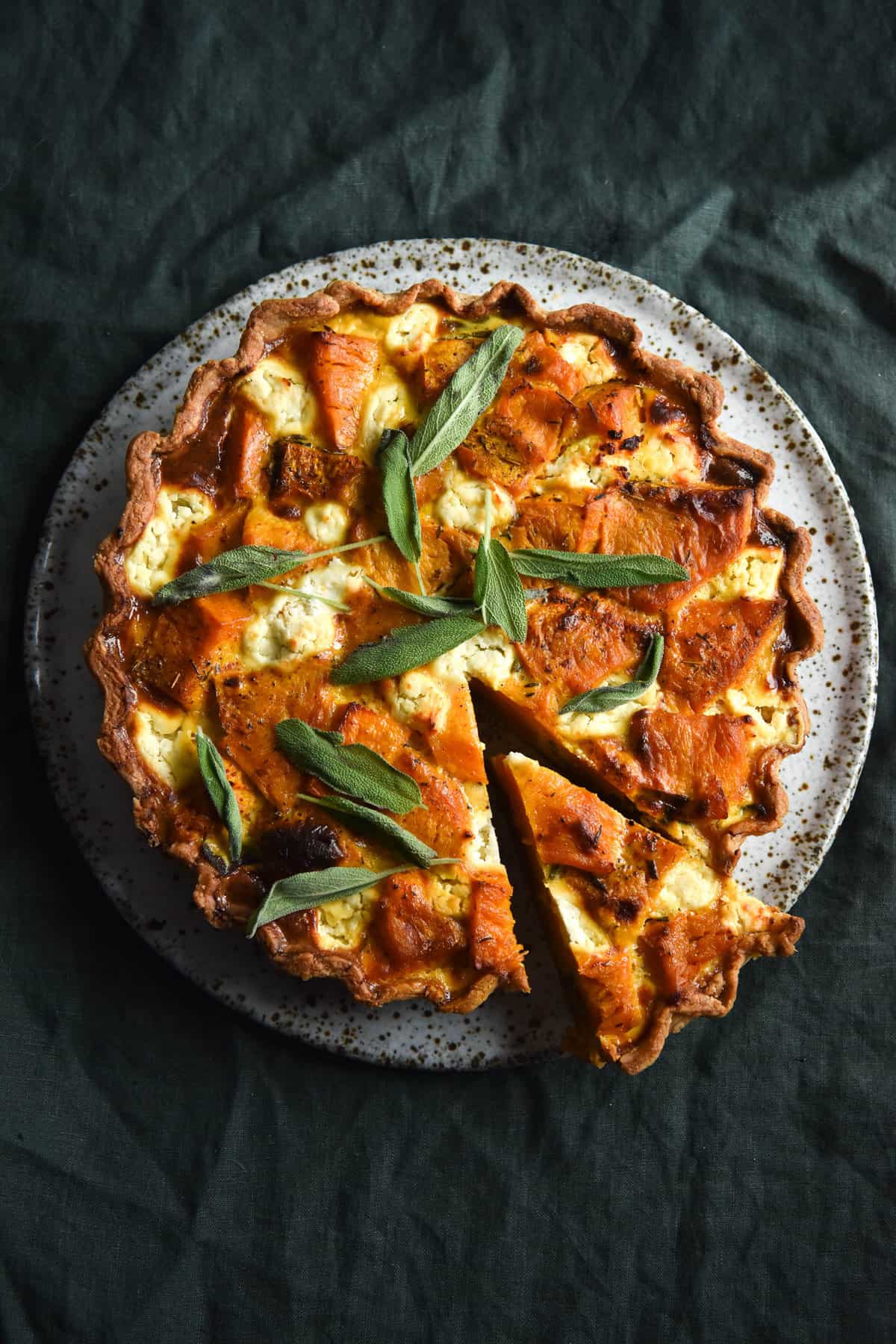 To make a tart with a pastry lid
Making a lidded tart is as simple as making 1 1/2 quantities of the pastry. If you plan to do anything intricate, I recommend using the starch option for the pastry. I found the starch free option way too fragile for any sort of fancy decor. I found a tart with a lid took significantly longer to bake – add an extra 15 or 20 minutes onto the baking time.
More hearty gluten free vegetarian and low FODMAP recipes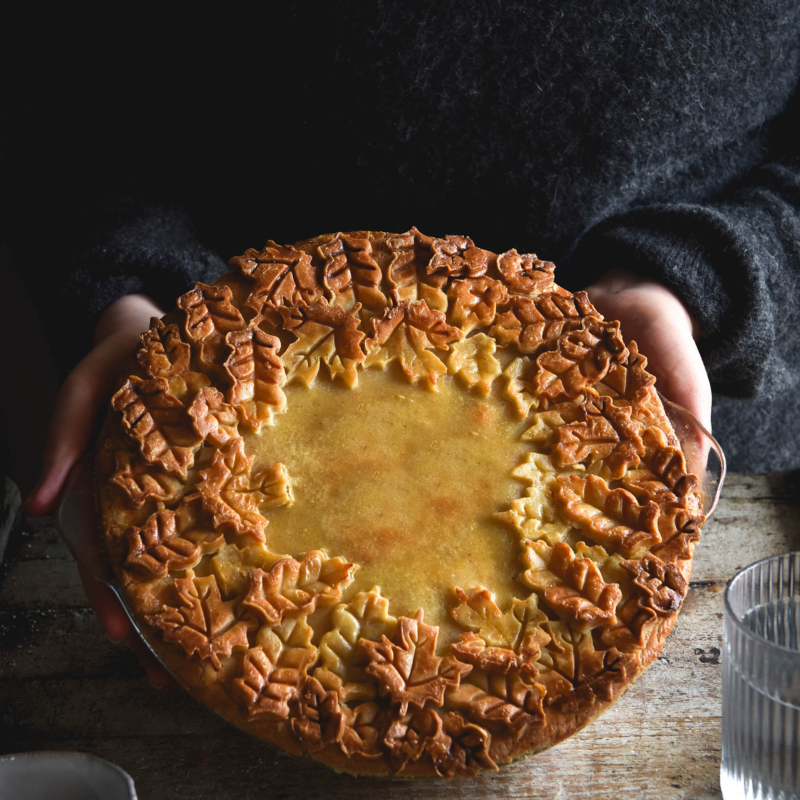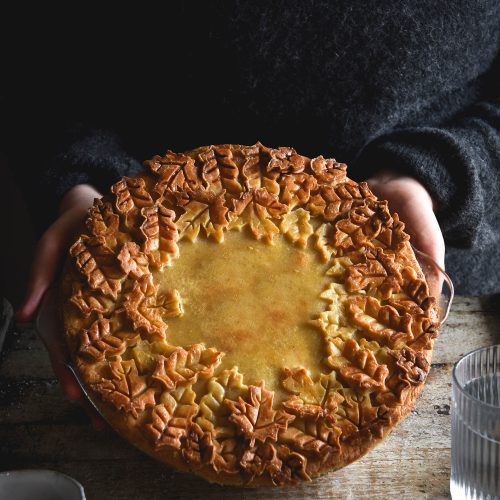 Gluten free pumpkin, sage and goat's cheese tart
Nut free, FODMAP friendly, gum free, starch free option
Equipment
1 x 25cm (10 inch) pie dish
Ingredients
For the roast vegetables:
1

kg

Japanese or Kent pumpkin

cut into cubes

Green part of 2 leeks

finely chopped

1

bunch sage (20g)

2-3

tablespoons

olive oil

1/2

teaspoon

ground nutmeg

1

teaspoon

dried thyme

or another dried herb, optional

1/2

teaspoon

salt and some freshly cracked pepper
For the pastry:
160

g

(1 cup) fine white rice flour

60

g

(1/2 cup) tapioca flour (see notes)

1

teaspoon

fine salt

2

teaspoons

psyllium husk powder or 1 tablespoon psyllium husks (see notes)

125

g

butter cold and cubed

75

g

full fat Greek or plain lactose free yoghurt

see notes

Ice water to bring the dough together I needed
To finish:
4

extra large eggs

100

g

full fat Greek or plain lactose free yoghurt

1/2

teaspoon

salt and freshly cracked pepper

50

g

finely grated parmesan

optional

150-200

g

goats cheese or feta
Instructions
To make the pastry:
Combine the flours, salt and psyllium husk in a large mixing bowl. Add the cold cubes of butter, and use your fingers to rub the butter into the flour until only small bits remain. It should resemble a course meal.

Stir in the yoghurt, then get your hands in and distribute it evenly. Add the water – just enough to form a smooth dough with no dry bits on the bottom of the bowl. Use the least possible amount of water to achieve this – drier pastry equals crispy, flaky pastry. Bring the dough together into a ball.

Lightly flour a sheet of baking paper with tapioca flour. Roll the dough out into a large rectangle – about 35cm x 30cm to be wider than the pie dish lip. Patch up any cracks as they appear. The dough should be about 1/2 centimetre thick.

Place your pie dish, upside down in the centre of the dough. Slide one hand under the baking paper and into the centre of the dish. Use the other hand to hold the dish base. Flip the dish over and let the pastry fall into it. Be generous in letting the hanging parts of pastry fall into the dish or it will break.

Patch up any cracks and press the pastry firm up against the sides of the dish. Trim the overhanging edges with scissors and neaten them up or crimp them as you see fit. Use a fork to poke some air holes in the pie base and pop it in the fridge to chill.
To finish:
Allow the roasted vegetables time to cool before assembling the tart. Whisk the eggs with the yoghurt, seasoning and parmesan if you're using it.

Arrange the vegetables in the pie dish. I like to put the leeks on the bottom so they don't burn, and finish with the pumpkin pieces. Once the tart is half full, add half the egg mixture and half the goat's cheese or feta. Repeat with the remaining ingredients. Gently press the filling down to distribute it evenly in the dish.

Place the pie in the oven with a large piece of foil sitting over the top but not touching the pie or preventing air flow. This will stop the pastry and filling from getting too brown as the pie bakes. Bake for 40 minutes, then remove the foil and cook for an additional 20 minutes.
Notes
You can make a starch free pie crust as per the instructions in the body of the post
The pastry is particularly fragile without starch, so make sure you read the notes carefully.
If you want to make a starch free crust, you will need to use extra psyllium husk for binding. I would recommend 3-4 teaspoons of psyllium husk powder or 2 tablespoons psyllium husk. Even if the crust falls apart as you're rolling it, you should still be able to patch it into your pie dish.