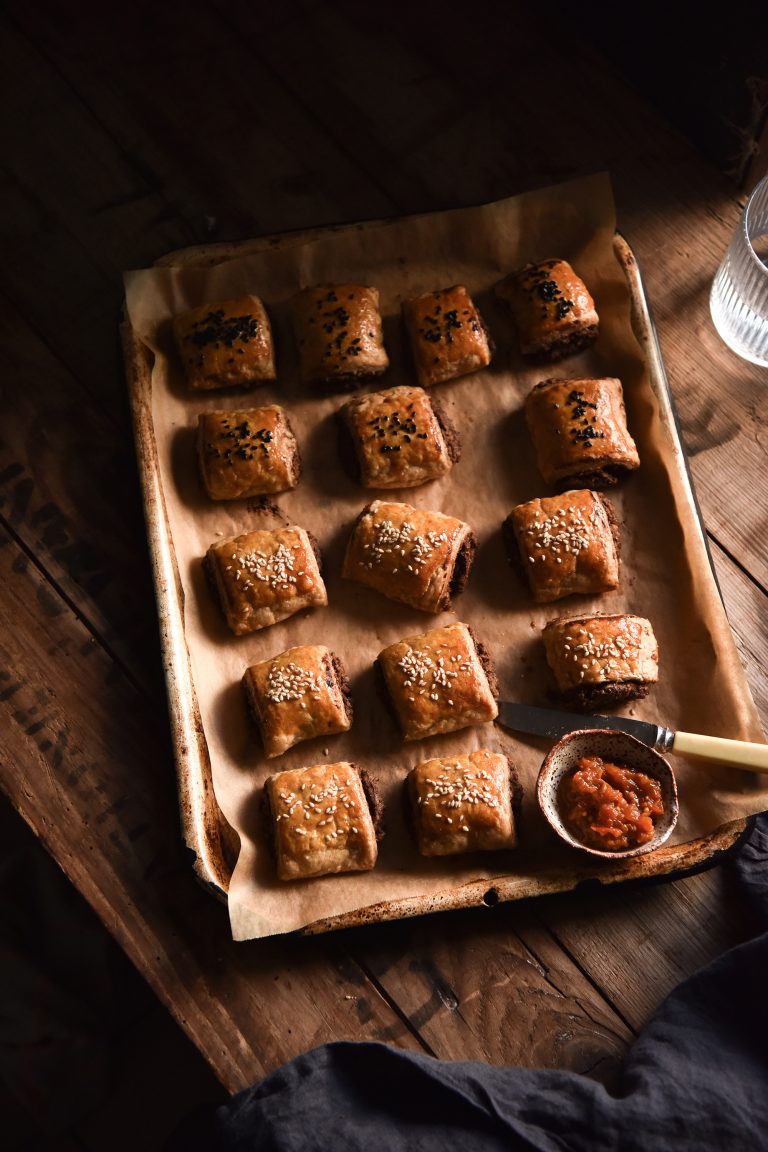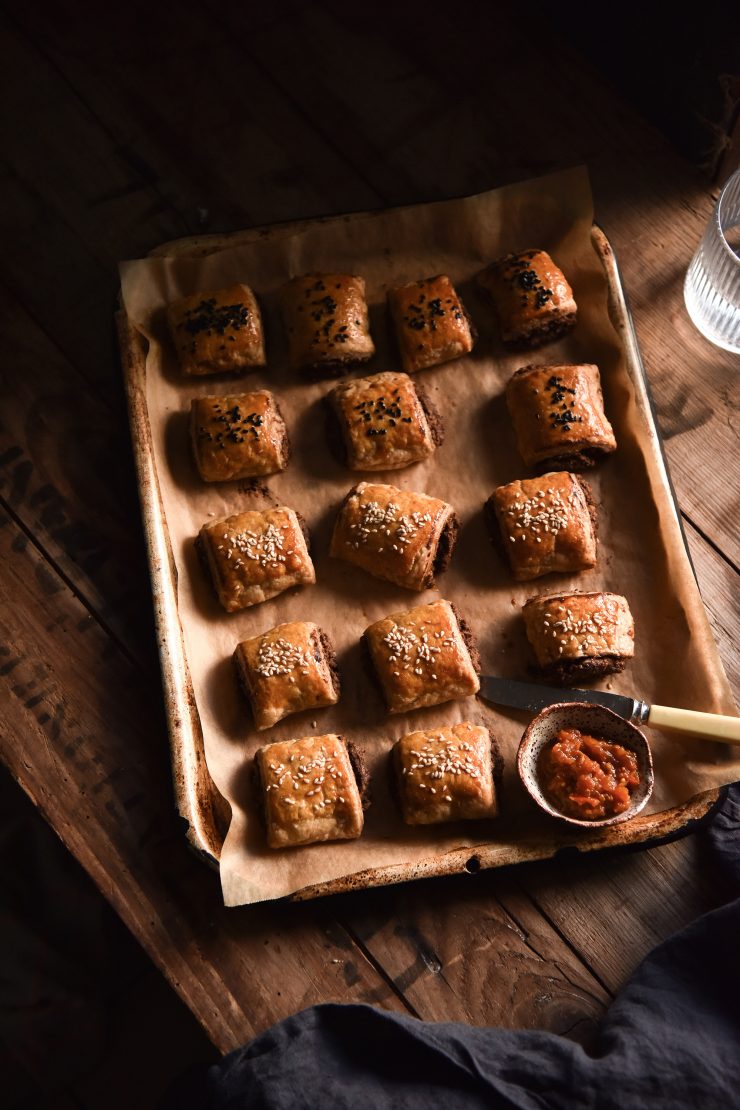 Sausage rolls. Surely the staple of any football grand final party, or basically any party of substance, as far as I'm concerned. Aside from fairy bread, sausage rolls are my 'beeline item' at any gathering. Or, should I say, were.
When I went vegetarian, I still had commercial options. Namely, spinach feta pastries, which I still have dreams about. When I went gluten free, however, those options rapidly diminished. THEN I WENT FODMAP.
I care not for football or watching any sort of sport on tv, but I care deeply about party food. More importantly, party food that is accessible to all. With that in mind, I created these vegetarian, FODMAP friendly and gluten free sausage rolls. They're super easy to make and ready to go in less than an hour. About the same amount of time as it takes to dig up a packet of the regular variety from the depths of your freezer. Their perfect accompaniment? My easy FODMAP friendly tomato sauce.

THE LOWDOWN – SAUSAGE ROLLS AND FODMAP
Regular vego sausage rolls seem to contain fake gluten meat, legumes, onion or garlic. These ones use walnuts, tofu, cottage cheese and egg. Please don't be put off by that visual. Walnuts are considered high FODMAP at 135g servings or less – this recipes divides 100g of walnuts between 16 odd rolls. Cottage cheese is considered reasonably high FODMAP in one cup serves – this recipe contains 1/2 cup, divided amongst 16. Finally, balsamic vinegar is considered reasonably high FODMAP at 2 tablespoons – this recipe has 3 tablespoons, divided amongst 16. Just in case ur wondering.

PASTRY NOTES – STORE BOUGHT
I used both gluten free shortcrust pastry and gluten free puff pastry when testing this recipe. These are store bought options. Although I'd like to work on my own recipe for puff pastry, it would need to be started days in advance. I am a huge advocate for baking from scratch, but quite frankly, some things are made by experts for a reason.
There are recipes available online, or a number of gluten free pastry options at health food shops. Woolworths have a brand, and Careme is reputable as well. Although Careme don't seem to have a gluten free puff pastry, they do have a spelt option. Spelt is FODMAP friendly, and low gluten, so good for non coeliacs or people who don't need to eliminate gluten entirely. The rolls made with shortcrust pastry were nice, but didn't have the shattering crunch of a puff pastry variety.
A RECIPE UPDATE: HOW TO MAKE YOUR OWN GLUTEN FREE ROUGH PUFF PASTRY!
A lot of people on Instagram asked me where they could find a good quality gluten free puff pastry. It's not easy to find in some places, which is why I decided to make my own version. While this pastry is not puff pastry (it's more of a rough puff style) it tastes incredible. It's also flaky, buttery and incredibly easy to make. Probably easier than trying to find good gluten free pastry at the shops. Just saying.
I suggest laminating the pastry (a process of rolling the pastry over itself to create buttery layers). This is what makes it a rough puff pastry (otherwise known as a cheat's puff pastry). I have written an in depth guide to the pastry which you can find right here. You can also check out this video below.
If, however, you don't want to laminate the pastry, you can check out my video for a 10 minute version. Hot tip: it's the same pastry but without all the rolling, folding and turning. It won't be as flaky and as reminiscent of traditional sausage rolls, but it is an option.
GENERAL SAUSAGE ROLL NOTES:
How thick the sausage filling is will depend on how well you drain the tofu. If you feel that it's too runny, add a teaspoon of psyllium husk and pop it in the fridge. You should be able to pick it up with your hands.
If you're making your own pastry, I would recommend having 2 batches on hand. Depending on how much you fill them and what size you make them, you should only need 1 – 1 1/2 batches. Famous last words though – it's just so much easier to have more than you need on hand.
As mentioned, you could definitely pad these out with some finely grated vegetables. I'd probably say carrot would be the easiest option. You could use zucchini too, but I recommend thoroughly draining the grated product first.
The oven temperature depends on the type of pastry you are using. If you are using gluten free puff pastry, it is recommended to put the rolls into the oven at 200 degrees. This gives the puff pastry a good push to puff up. After ten minutes, you can turn the temperature back down to 180, to continue cooking the rolls through. Have a read of the packet you're using and see what they advise. If you're using shortcrust pastry, keep the oven temperature at 180 degrees Celsius.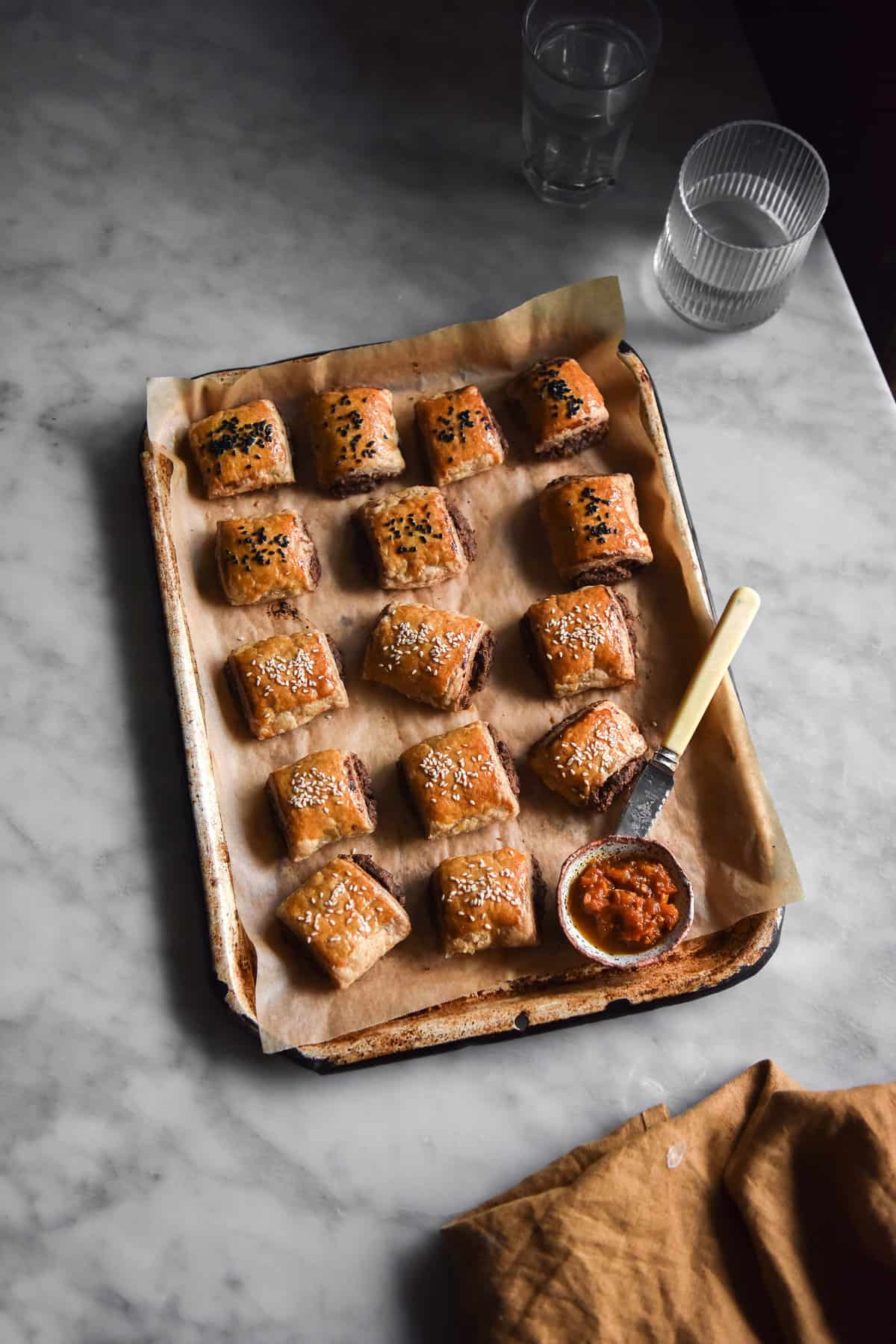 Sausage rolls (that are vegetarian, gluten free and FODMAP friendly)
Ingredients
For the cooked mixture:
1

tablespoon

oil

I used olive but vegetable would also work

1

small-medium fennel bulb or 1-2 carrots

finely chopped

2

tablespoons

balsamic vinegar

2

tablespoons

maple syrup or brown sugar

1

tablespoon

tamari

2

+ tablespoons water

use it as you see fit

1

teaspoon

oregano

tarragon, allspice and ground clove

2

teaspoons

dried sage powder

1/2

tablespoon

miso paste

I used a sweet brown rice miso paste, but any gluten free one will work

1/2

tablespoon

tomato sauce
For the blender:
200

g

firm tofu

1/2

cup

plain cottage cheese

1

cup

walnuts

100g

1

egg

I always use extra large eggs
To finish:
1 - 2

sheets gluten free puff pastry

read intro

1

egg

whisked

2

+ tablespoons sesame seeds

I used a combination of black and white to top the rolls
Instructions
Defrost the pastry, if you haven't already. Once you have, preheat the oven to 180C or 356F (see notes)

Heat the oil in a medium saucepan over a medium heat, and add the fennel. Allow it to cook down for a few minutes. Once it has become translucent, add the balsamic vinegar, maple syrup, tamari and water, and continue to cook down until the fennel is completely soft and the liquid has become syrupy.

Once it has cooked down thoroughly, add the spices, generous salt and pepper, miso and tomato paste. Add water at any time you deem it necessary - the mixture should resemble a thick syrup. Once combined and cooked, remove from the heat.

In your food processor, combine the tofu, cottage cheese, walnuts and egg and blitz until smooth-ish. Some lumps are fine. Once combined, add the cooled fennel mixture, miso paste and seasoning to taste. Continue to blitz until the mixture is uniform in a light-medium brown colour.

Lay out the defrosted pastry on a floured counter. I used tapioca flour for mine. Decide on the size rolls you'd like, and cut the pastry accordingly. I wanted small rolls, so I cut the pastry sheet into three equal sized rectangles. Imagine slicing a horizontal A4 piece of paper into three.

Use a spoon to evenly portion out the sausage mixture between the pastry rectangles. Create a long, reasonably thick line of sausage mixture to one side of the pastry in each case. Leave enough room that you can seal the rolls at the end. Roll the pastry over the sausage mixture. The edges of the pastry should be bench side down. Apply a bit of pressure to seal the pastry on the bottom of the sausage roll.

Use a sharp knife to slice the logs into equal sized sausage rolls. Gently place them on a large lined baking tray.

Use a pastry brush to brush the whisked egg lightly over each sausage roll. Sprinkle the sesame eggs on the wet egg, so they stick to the rolls.

See the notes above on pastry before you start cooking the rolls. If you're using puff, cook the rolls at 200C or 400F for the first 10 minutes, and then continue cooking for 15-20 minutes on 180C or 356F. If you're using shortcrust, keep the oven on 180c/356F the entire time.

Once the sausage rolls are browned and crispy, remove from the oven and serve.
If you'd like to make your own pastry, see the videos and this recipe here: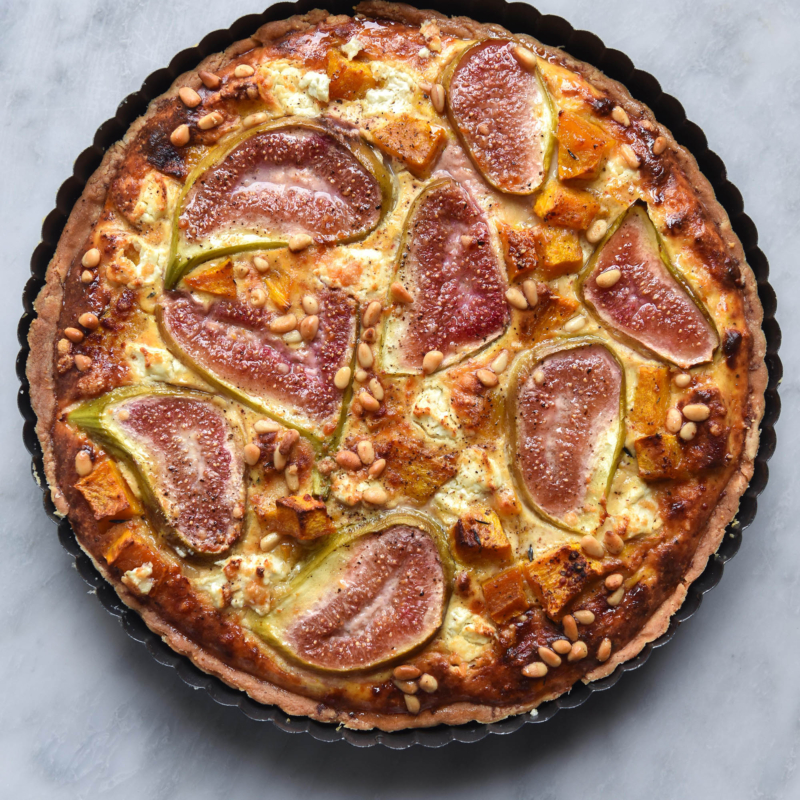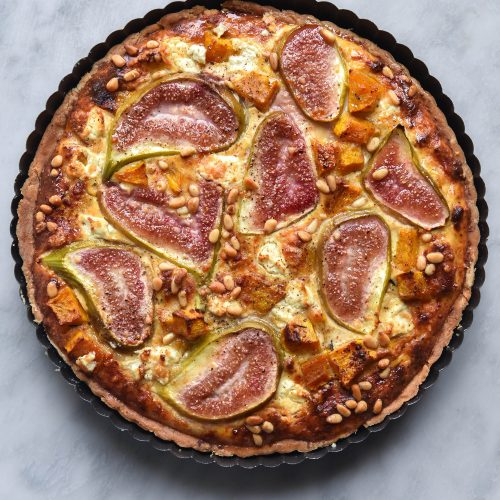 Gluten free flaky pastry
Nut free, gluten free
Makes enough for 1 large pie or tart with some ornamental pastry toppings
Ingredients
For the flaky pastry:
130

g

1 cup brown rice flour (see flour notes for alternatives)

50

g

1/2 cup tapioca flour

1

teaspoon

xanthan gum

1

teaspoon

fine salt

125

g

good quality butter

cubed and chilled

75

g

full fat sour cream

chilled

Ice water

only as necessary
For a sweet pastry option:
40-60

g

2-3 tablespoons of caster sugar (or icing sugar)
Instructions
Start by ensuring that all your liquid ingredients are super cold. Put the butter and sour cream in the freezer, and put ice in your water ahead of using it.

Mix the flours, xanthan gum and salt together in a large mixing bowl. Add the cubes of cold butter and coat them with the flour mix. Use your fingertips to gently rub the butter into the flour mixture. At first it might be slow and difficult if the butter is very cold, but gradually you'll warm it with the heat of your hands and it will start to be more flexible. You don't want to completely melt the butter – just rub it into the flour in little sheets. This is what makes the pastry puffy and flaky. Think of the hand motion as being the same as the one you make to signal someone is rich.

Once the butter has been rubbed into the flour mixture, it should have visible butter chunks but look dry on the whole.

Add the sour cream in dollops and use a spoon or your hard to incorporate it. It will get a little messy.

Once most of the sour cream has been incorporated, use your hands to gently bring the dough together without smushing the butter bits.

Add the ice water, a tablespoon at a time. Use your hands to bring the dough together between each teaspoon, and stop as soon as the dough is smooth. I've found this dough can take anywhere from 3 1/2 – 5 tablespoons of water. Yours might be different, but go by feel and stop as soon as it forms a ball with no dry flour bits.

Tightly wrap the dough in a beeswax wrap or cling film and place in the fridge for 30 minutes to an hour. Your pastry is then ready to roll out and use!

You can freeze the pastry, well wrapped in an airtight container. Allow to come to temperature before attempting to roll out.