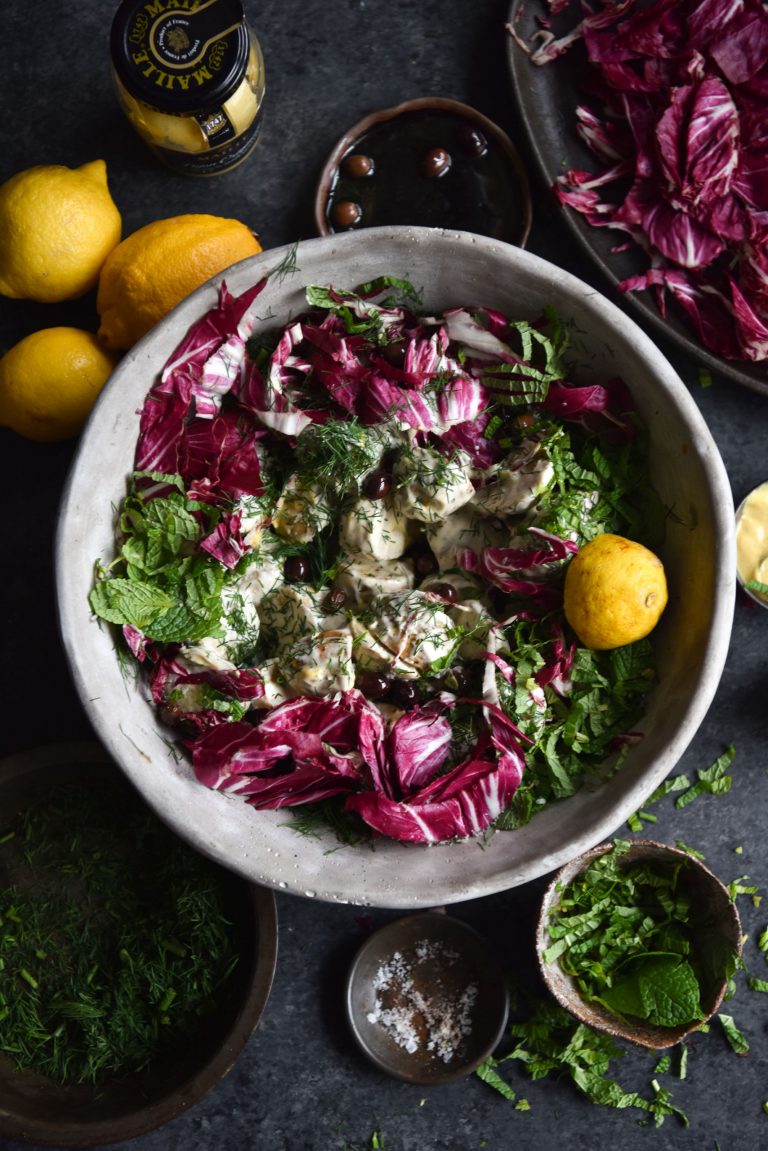 I'm excited to share this recipe for FODMAP friendly vegan potato salad. It combines all of my favourite ingredients: potatoes, mayonnaise, olives, radicchio and pine nuts, for a delicious vegan potato salad. Unlike a regular potato salad, this version involves flavouring the potatoes while they cook, and again with the punchy, vibrant vegan mayonnaise dressing.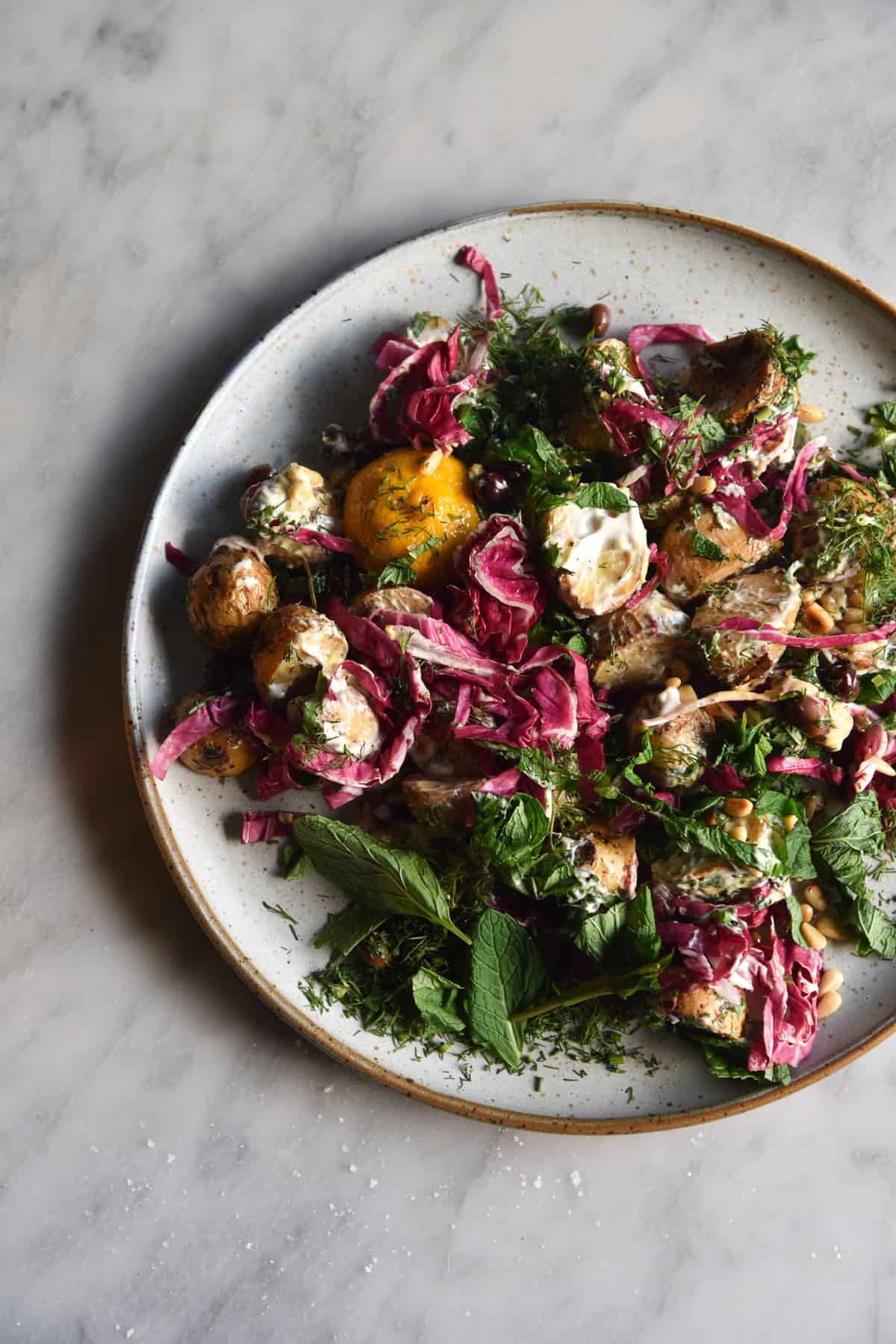 FODMAP friendly vegan potato salad
This delicious vegan potato salad is gluten free, grain free, vegan, dairy free (obviously) and FODMAP friendly. It can also be nut free very easily.
This potato salad is flavoured in two different ways. Firstly, the potatoes are oven cooked in a bath of lemon juice, mustard, oil and herbs. This adds an intensely fragrant flavour to the potato flesh from the get-go. Secondly, they're dressed with a simple vegan mayonnaise, mustard and lemon juice combo, which is tossed with bright herbs. Add to that some radicchio for a refreshing bitter hit, some olives for savoury saltiness, and some toasted pine nuts for a rich bit of crunch. This is the Rolls Royce of vegan potato salads.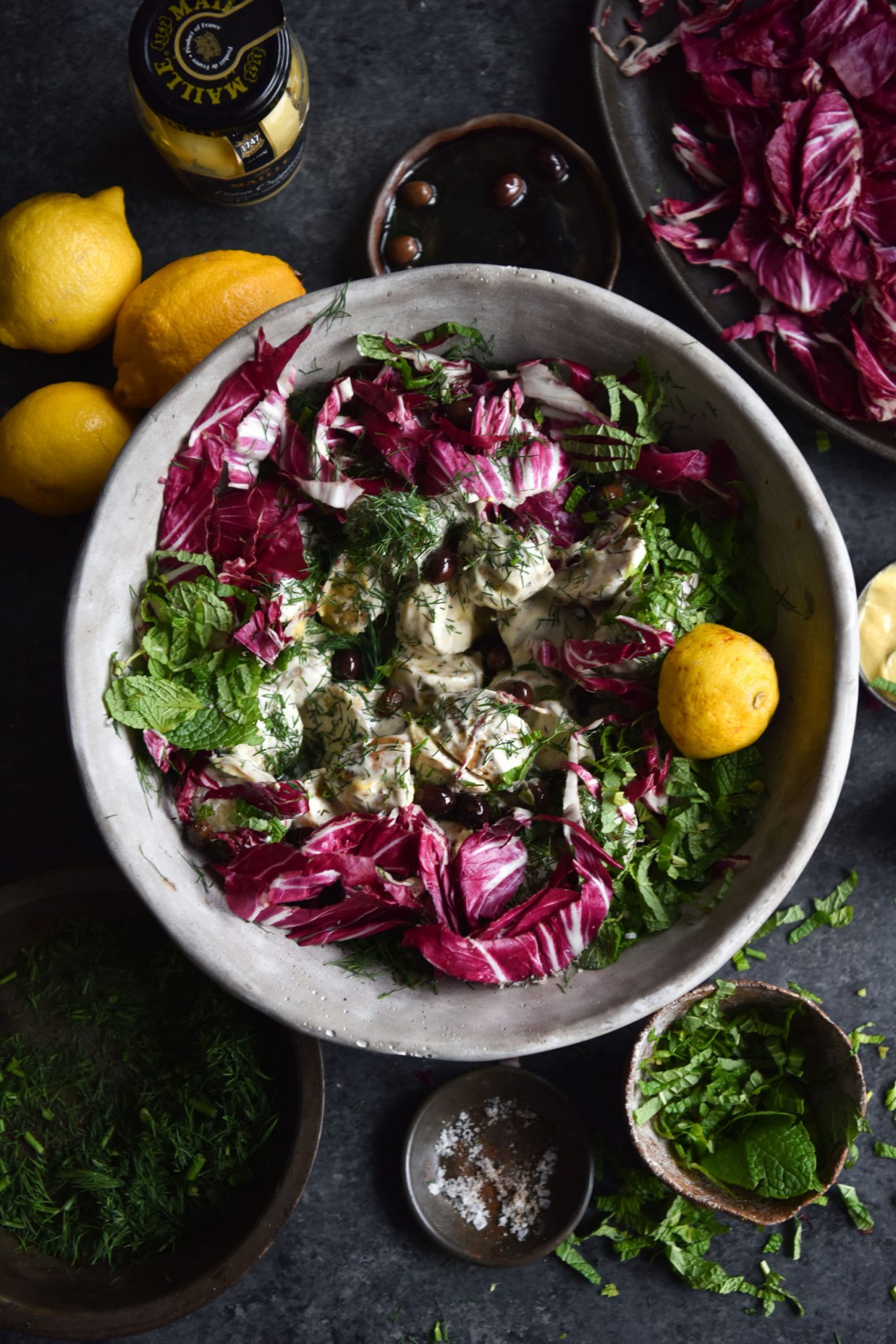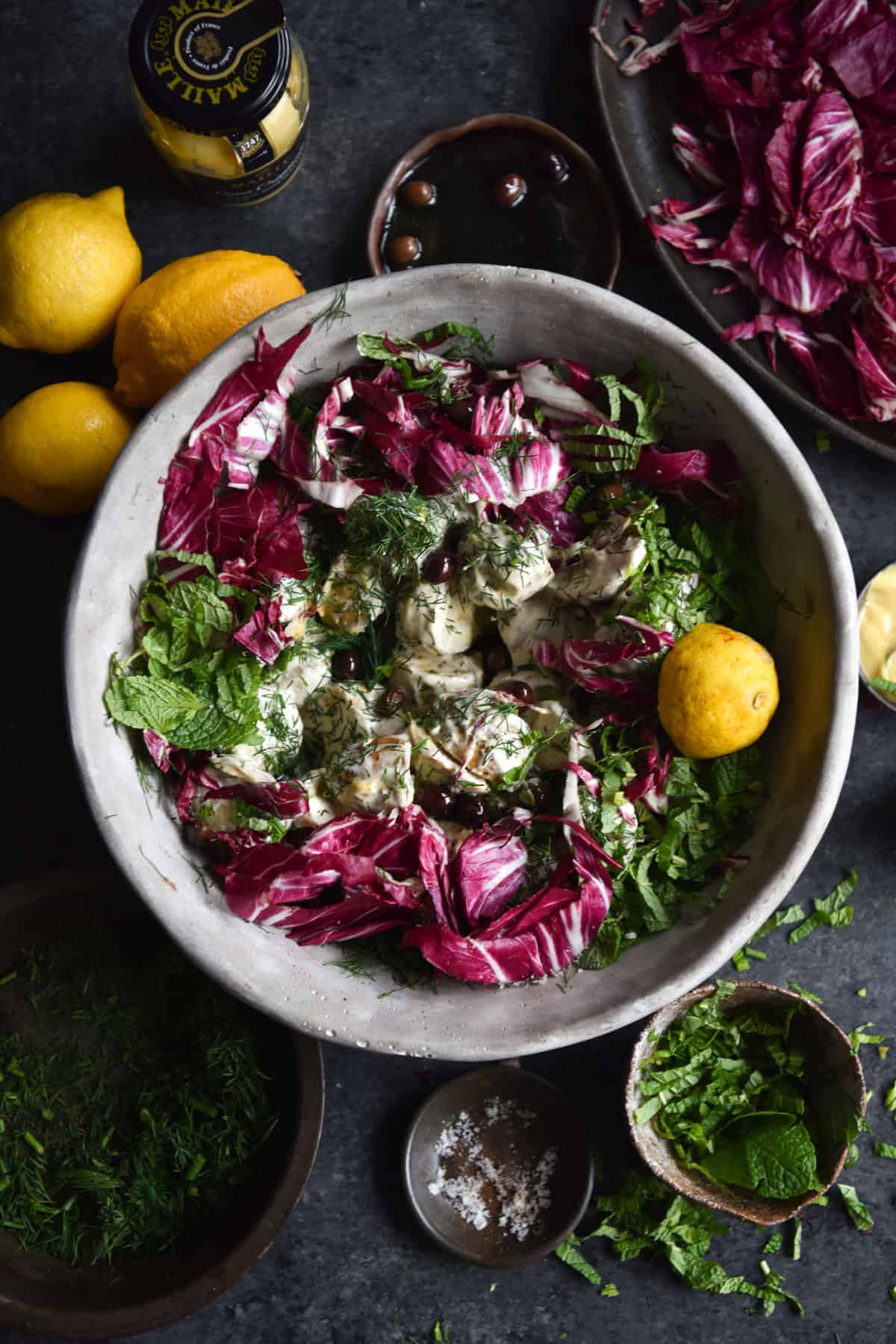 FODMAP notes for your vegan potato salad
This recipe is reasonably smooth sailing in terms of FODMAP ingredients. There are a few things to look out for, however. The main one is the brand of vegan mayo you decide to use. I used Vegenaise, which is made from canola oil. I have only seen the original version here in Melbourne, but on their website it suggests that they make other varieties. Make sure you choose a variety without garlic to keep it FODMAP friendly, and refer to the Monash app if you're unsure.
You can also make your own vegan mayonnaise, if you'd prefer. I have never done it, but here is a link to a simple recipe with no funny ingredients. This is great option if you can't find vegan mayo – there are 4 easily acquired ingredients in this recipe, one of which is salt.
The only other ingredient to mention is the olives. Olives themselves, whether they're Kalamata or Castelvestrano (the bright green ones) have no FODMAPs detected. However, make sure they're being sold in brine, not a garlicky solution. Make sure they're not stuffed with sneaky garlic cloves, too. Never a fun time.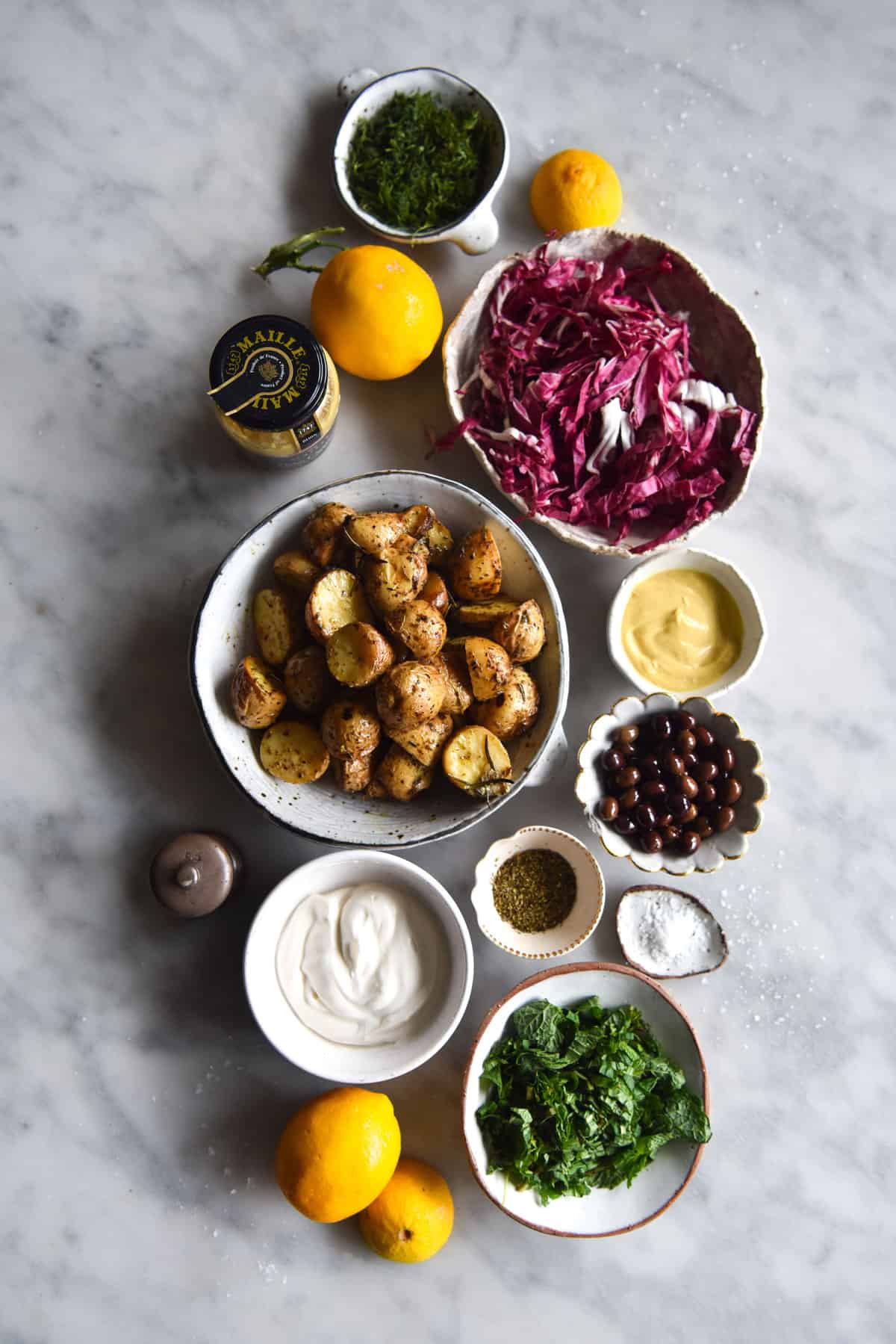 Tips and substitution options
The herby baked potatoes are a great dish on their own. Add a bit of feta for a Greek style potato dish.
You can use whichever herbs you prefer for this salad. I personally love dill and mint in a mayonnaise based potato salad, but you can swap these out as you see fit.
If you don't like radicchio, you could use spinach, rocket or another salad green.
You could use half Maille wholegrain mustard and half Maille Dijon Originale mustard in the dressing, if you'd like to add a textural element to the mayonnaise.
If you can't find Dutch Cream potatoes then another variety like Sebago. Whatever you choose, make sure they are either an all rounder or waxy variety. Starchy potatoes tend to fall apart when cooked for potato salad.
To keep the recipe nut free, simply omit the pine nuts or use toasted sunflower seeds and/or pepita seeds as a substitute.
Vegan mayonnaise is often found at the supermarket in Australia, but also in health and specialty stores. If you can't find any, there are plenty of recipes online to make your own, such as this one. Either way, Make sure the recipe contains FODMAP friendly ingredients.
If you don't need this recipe to be FODMAP friendly, you could add some garlic to the roasting potatoes, and add a bit of the resulting roasted garlic puree to the mayonnaise dressing.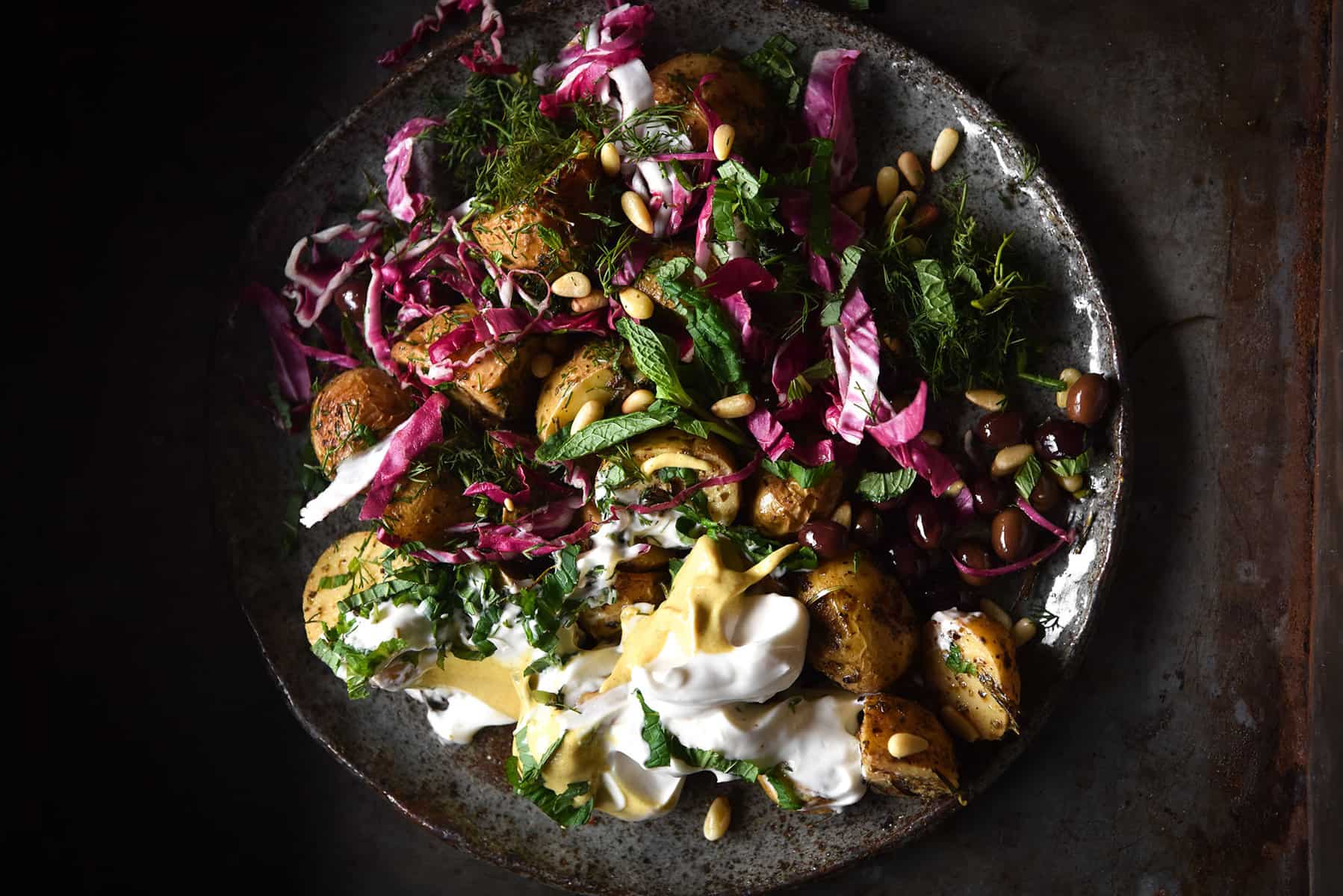 More salad recipes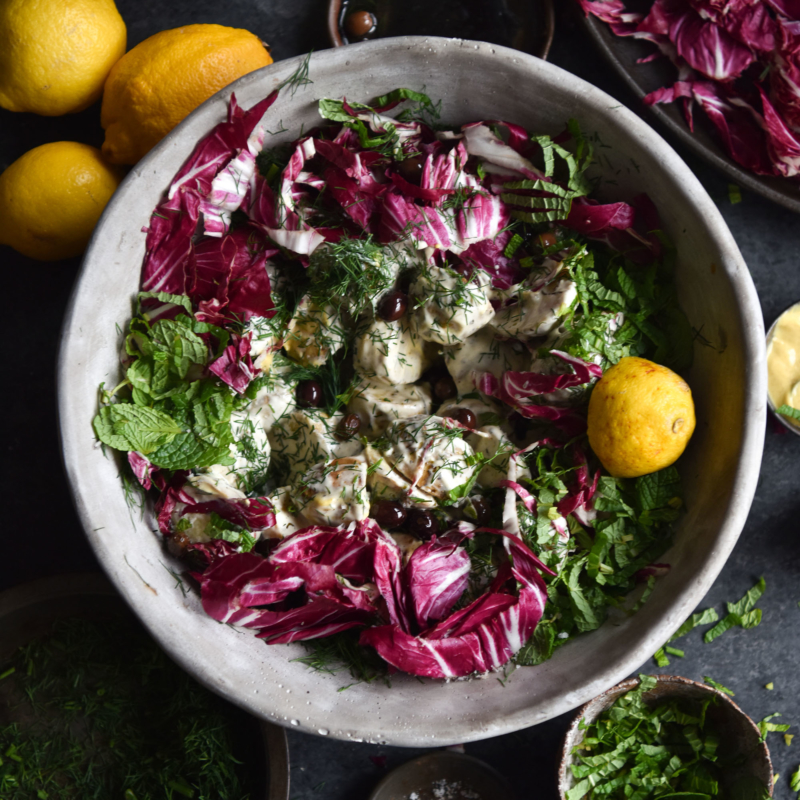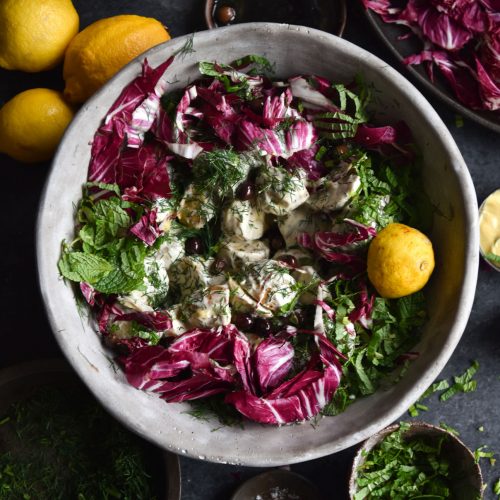 Vegan, FODMAP friendly potato salad
Gluten free, vegan, dairy free, FODMAP friendly, adaptable to be nut free
Serves 4 as a main or 6-8 as a side
Equipment
one large baking dish (3+ litre capacity)
Ingredients
For the potatoes:
1

kg

all rounder or waxy potatoes

I used Dutch Cream

1/4

cup

olive oil

1/2

cup

water

1

tablespoon

Maille Dijon Originale mustard

1

bunch of rosemary

1

tablespoon

dried oregano

2

large lemons

both juice and rind

Generous salt and freshly cracked pepper
For the mustard mayo dressing:
2/3

cup

vegan

FODMAP friendly mayonnaise (I used the brand Vegannaise)

1 1/2

tablespoons

Maille Dijon Originale Mustard

5-6

tablespoons

fresh lemon juice

Pinch

of salt and pepper

to taste
To finish the salad:
1

bunch of mint

chopped

1

bunch of dill

finely chopped

1

small head of radicchio

chopped

handful of olives

handful of toasted pine nuts

chopped or whole
Instructions
Preheat the oven to 180 degrees Celsius or 356 degrees Fahrenheit.

Wash the potatoes and cut into reasonably large bite sized pieces.

Pour the water and oil into your large baking dish. Add the lemon juice, oregano, dijon mustard and seasoning. Stir to combine. Arrange some rosemary sprigs in the bottom of the dish, reserving a few to thread between the potatoes. Add the lemon rinds, a couple at either end of the dish. Finally, arrange the potatoes, and stir them around a little with your hands to coat them in the flavours.

Cook the potatoes for 30 minutes. Once the 30 minutes is up, generously toss the potatoes in the dish to submerge any parts that are becoming crispy. Return to the oven for another 30 minutes.

While the potatoes are cooking, mix together the ingredients for the mustard mayonnaise dressing. Taste and adjust for seasoning and your personal preference.

Toast the pine nuts gently in a dry pan, and finely chop radicchio and herbs. Finely chopping the dill is particularly important, as long strands of dill in a potato salad can be annoying to eat.

Once the potatoes have cooked for an hour, remove them from the oven. After allowing to cool for a few minutes, remove them from the baking dish, leaving any liquid, rosemary or lemon rind behind. Transfer them to a large mixing bowl. You can use this tray of leftover flavourings to lightly roast cabbage or capsicum as an accompaniment to the meal.

Add the mustard mayonnaise dressing to the salad, and gently mix to combine. Add 3/4 of the olives, pine nuts, herbs and radicchio, and continue mixing until everything is incorporated and covered in dressing. Plate the potato salad, and add the remaining ingredients. Not only do some fresh ingredients look pretty, but they add a textural element as they're not coated in dressing. Serve warm or cold.